Greetings and salutations everyone and welcome to another blog here on BlueCollarBlueShirts.com. I'd like to welcome all of you to this site, as I talk about the FIRST PLACE New York Rangers! (More on the standings in a bit – but I will celebrate the three-hour period when the Rangers were first place in the division! You take your victories when you can get 'em! Power of Positivity!)
What did I say over a week ago, when the Rangers upset the first place Florida Panthers? If you don't recall (and just like Steve Valiquette's never-ending comments about his own career on these M$GN broadcasts), I'll shamelessly remind you – I predicted a four-game winning streak. And after downing Columbus and New Jersey previously, that's exactly what happened on Tuesday night, as the Rangers knocked off an Original Six rival, the storied Montreal Canadiens, by a final score of 3-2.
For the FIRST PLACE New York Rangers (I'm going to enjoy this and let me have my moment), this is now their second four-game winning streak of the season. The team will "drive for five" on Thursday night, when they return to Toronto and take on another Original Six opponent in the Leafs. However, tonight's blog is all about beating Montreal. That said, I'll get into the game with Toronto at the end of this blog.
Of my many usual talking points that I hammer repeatedly on this site, where the horse is long dead and buried despite my repeated beatings (and I'm not advocating for animal cruelty at all, for those cancel culture cretins looking to twist the intention of my words – I'm just using an old expression in American lexicon); one of those points is this – "Good teams find different ways to win." And that's what happened on Tuesday night.
For the first time this season (and despite a previous Jarred Tinordi tilt from earlier in the schedule), the Rangers let the fists fly, with both Jacob Trouba and Ryan Reaves showing off their heavyweight pugilism skills. At certain points in this contest, the game felt like an episode straight out of the old 1990's USA Networks "Tuesday Night Fights" series. What a homage to "Hitman" Hearns!
And really, on the franchise's unofficial 95th birthday (the Rangers played their first game on 11/16/1926, but obviously were founded earlier that year), what better way to honor the founder of the franchise, Tex Rickard himself, a Rickard who made his name, reputation and money by promoting boxing/fighting?
---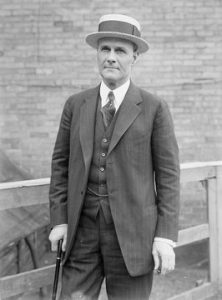 While I'd urge you to read my book to find out more about Tex Rickard; for the sake of this blog, if you don't know already, Rickard founded the Rangers over 95 years ago. Rickard, who wasn't a hockey fan, and only founded the team to generate revenue for his newly acquired and built Madison Square Garden, was a successful boxing promoter and then posthumously inducted into Boxing's Hall of Fame. (Rickard died young, but before passing away, saw his new team win the Stanley Cup in their second season.)
What led to Rickard founding the Rangers, was when Big Bill Dwyer, a Prohibition era bootlegger and looking for legit revenue to put on his taxes, brought the New York Americans (formerly the Hamilton Tigers) to Rickard's M$G.
At the time, hockey wasn't really a major factor in the New York sports scene (kind of like today, sadly), as horse racing, baseball and boxing received the most attention. However, when the Amerks produced profitable gates at Rickard's venue, "Tex's Rangers" soon became a thing, where the team, some 95 years later, still remains today.
Of course, none of this was mentioned on the broadcast tonight, as it was more important to inundate us with 767867896986 stories about Vally's career, 7676767967896789 plugs for Vally's imaginary stat company and 678678678967896789678968 gambling advertisements. No joke, all of those "BET 365" ads has me currently hating Jessie Pinkman and "Breaking Bad" now.
As my book suggests, and as you probably know already – it just drives me nuts that the Rangers ignore their own history. Anytime I can work Ranger history into these blogs, I will.
---
When it comes to the team's 95th birthday, the only thing mentioned on tonight's broadcast about the date was during the #CadillacTrivia segment. In a question where my Rangers fan card should've been revoked had I not had the answer; we were asked, "who scored the Rangers first goal in their 1-0 win over the Montreal Maroons on November 16th, 1926?" The answer was a simple one – Bill Cook, who the team omits from their rafters to this very day. Hell, that AfroJack DJ will probably get a banner before the two-time Stanley Cup champion and captain of eleven seasons does. SAD!
But yes, that was then. How about the now?
Aside from the team's birthday, the Rangers had another anniversary to celebrate. However, it was never mentioned once on the broadcast that this was the three-year anniversary of Ryan Strome joining the team – the second-best hockey trade that previous general manager Jeff Gorton had ever made. (Zibanejad for Brassard being the first, and where I give an asterisk to the Fox acquisition, due to Fox forcing that trade himself.)
And in another news item, prior to Tuesday's victory, and what will be our lede story of the NEWS segment – Sammy Blais and his unfortunate season-ending torn ACL injury.
---
There is a lot to get into tonight, especially in regards to news, and of course – the game review itself.
Let's now run through all of the usual segments, get into the game review and then look forward to the next game and beyond.
Up first, everyone's favorite segment to scroll through – the PLUGS, where if you haven't bought my book already, there's no better time to – especially with the franchise celebrating a milestone birthday.
---
The first plug of tonight's blog – the mandatory plug for my new book, "The New York Rangers Rink of Honor and the Rafters of Madison Square Garden". And let me say this – thank you to everyone who has bought one, as my Amazon sales have exceeded all expectations, where for a limited time (that damn Mark Messier who just released a book!), my book was number one on the Amazon hockey book sales charts.
As mentioned previously, the book is now available in hardcover, in paperback and in Kindle formats. To purchase a copy of the book, visit this link:
https://www.amazon.com/Rangers-Rafters-Madison-Square-Garden-ebook/dp/B09CM5N2WD
For those still looking for signed paperback versions of the book, I have 4 copies left for sale for $25 (includes shipping price) through me directly. Here is all the information on that:
---
Here are my last few blogs, in case you missed them:
---
---
---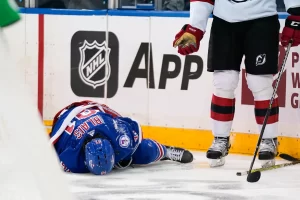 On Tuesday morning, Larry Brooks confirmed the worst news possible in regards to Sammy Blais – #91 is done for the season. In addition, Blais will have to wait a few weeks to get his surgery, as he waits for all of his swelling to go down.
This is horrible news on so many different fronts, where you have to look at the human aspect of it first – and then look at the Rangers themselves.
For Sammy "The Bull", this injury "whacks" him from the remainder of the season. Since he will need to wait to get his surgery, this rules out a playoff return as well; in the LIKELY (or so I say) event that the Rangers qualify. While Blais will obviously be paid his full salary during the remainder of the season, this was also a contract year for "Who-Nevich".
To just look ahead, it's now tough for Blais to get a huge raise come contract time. Even worse, he was playing well, where he was earning time with the Rangers top line. Had Blais continued to play well throughout the rest of the season, he would've earned and received such a raise. Now, between surgery and rehab (and the possible complications and setbacks that come along with it), it's not even a guarantee that he will be 100% come the start of the 2022-23 season.
And as Gallant told the media on Tuesday afternoon – the timing couldn't have been any worse, as Blais was just getting accustomed to a new city, a new team and new teammates.
While speaking of Gallant, here is the Rangers head coach on this unfortunate news:
---
For Blais, the human being, all you can do is wish him the best of luck. For the Rangers, they now have a hole to fill and there are several different options to explore.
And of course, P.K. Slewban, public enemy number one already this season, should have a target on his #76 jersey the next time he takes the ice against the Rangers – whether it's with the Devils, or in the event that Slewban becomes an expiring-contract trade-deadline acquisition for someone else.
(And as far as the Rangers lack of retaliation on Subban from Sunday's game, I won't go down that road again. Just check out my last blog, where I covered all of this in full, and you can find the link to that blog in the "PLUGS" segment. That said, I'll have a few comments in the game review segment, when talking about the fight Reaves had tonight.)
One more time, all the best to Blais as he undergoes the surgery process and rehab.
Let's now take a look at what the Rangers can do, in light of this bad news.
---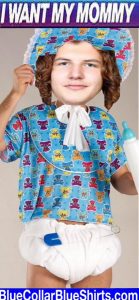 For right now, Barclay Goodrow, Gallant's swiss-army knife player (meaning that he can slot in on any line and at any position), is Blais' replacement on the Rangers first line. With Filip Chytil returned to active duty, #72 slots back into his role as the Rangers third line center – a job that Goodrow was keeping warm during Chytil's most recent injury.
I don't foresee Goodrow as the Rangers top line winger all season, especially since I think he provides more value as the team's third line center. In fact, and as suggested in this space before – I think Chytil would be better suited on a wing, and with Goodrow taking draws as a centerman.
I know many people were shouting Kravtsov's name from the roof-tops on Tuesday afternoon. However, these people also forgot that as part of Kravtsov's loan agreement with KHL's Traktor, the mercurial Russian can't re-join the Rangers organization until the completion of Traktor's season. At the earliest, Kravtsov can come back during the early days of March. A Traktor playoff run would also extend Kravtsov's stay in the KHL as well.
Furthermore, who knows if Chris Drury and company even want Kravtsov back?
As mentioned when the Rangers first made news of the loan official, I thought we saw a lot of "lip service" in that press release. Gun-to-head: I still think the Rangers first option is to trade Kravtsov. After all, how many times can you be burnt by this kid?
In addition, as we've seen with Kravtsov, when things don't go his way, he takes the first flight out to Russia and suckles his mother's bosom. (Figuratively, although who knows, maybe this is a literal thing too!) Whether or not Kravtsov could help this team is one thing to debate; but one thing that can't be disputed is this – Vitali Kravtsov is unreliable.
And it should also be said that Kravtsov and Blais are two different players who have completely opposite games. They also have different maturity levels and mindsets too. So simply stating "Kravtsov for Blais" is the opinion of someone who hasn't fully assessed everything.
---
Sticking with the theme of staying within the organization, perhaps Alexis Lafreniere can be returned to the first line eventually. That would be the easiest way to fill Blais' vacated spot. With Julien Gauthier on the roster, #15 could slot in as a third line winger, a role that he's been in-and-out of all season. And really, with Blais out – this is Gauthier's time to shine, and he did a good job of it tonight.
The Rangers, for what feels like the 566655675678th time this season, did recall Greg McKegg from Hartford following this Blais news. While it's more than likely that the minutes and games that Gauthier and Chytil will receive will now increase; McKegg also provides some veteran depth for the bottom six, while others get promoted within the line-up.
Here's another crazy, yet not-so-crazy, idea that I conjured up, where admittedly, this is probably one of the last options the Rangers would explore – K'Andre Miller on the wing and a Hartford call-up of defenseman Zac Jones.
This move would kill two birds with one stone, as this move would break up that horrific Rangers second defensive pairing, give the Rangers some size on a wing and bring up a defenseman who would've made the team out of camp anyway, had there been no such thing as a salary-cap. (Trouba can't be sent to Hartford!)
Before you jump down my throat about this idea, for your consideration:
— Miller is a natural forward and converted into a defenseman for the Rangers.
— As recently as of last week, after Miller's highlight reel goal, Gallant brought up the idea of throwing Miller on a wing – even if he did say this somewhat tongue-in-cheek.
— While Gallant was half-joking; by just even saying this, it tells you that this thought has crossed his mind. It may also be an admission that the second-pairing isn't getting the results like the head coach and organization thought they would.
— Without question, the Miller/Trouba tandem have been a weakness for the Rangers this season. However, the Rangers don't want to damage their top pairing by splitting up Fox and Lindgren, in an attempt to shore up other issues. The Rangers are also hellbent with their "Swedish" nationalist idea, and don't seem likely to break up the Nemeth/Lundkvist pairing either. This idea would be a good way to get Zac Jones into the mix.
Again, while all of this is unlikely, it's just an idea. Another idea is to try to find help via a trade.
---
When it comes to any other final in-house options, the Rangers could give a look at guys like Morgan Barron and Timothy Gettinger – two players that have a game closer to Blais' than Miller or Lafreniere do. Of course, for the Rangers, it's all about finding the right ingredients for their roster stew – and perhaps the Rangers may change the type of stew that they originally planned on serving to the NHL this season.
If the Rangers pivot from their plans, they could look around the league, especially since they were listening to Kravtsov offers just a few weeks ago.
Two possible available wingers who immediately come to mind are Vladimir Tarasenko and Phil Kessel. Of the two, Kessel seems more likely to be traded, even if it was Tarasenko looking for a way out during the off-season. However, with the St. Louis Blues playing well (two points out of first place as I write these words), maybe the Blues #91 is second-guessing his previous thoughts of departure. Then there is the whole salary cap issue with Tarasenko, who carries a salary-cap hit of $7.5M, and which extends into next season as well.
Phil Kessel, playing for an Arizona Coyotes organization that should be kicked out of the league, as it's fully clear that they are tanking their season (imagine being a desert dogs season ticket holder); and a team that currently possesses a league-worst record of 1-13-1 – he would be the more affordable option.
While Kessel carries a salary-cap hit of $8M a season; based on recent Coyotes history, it's highly likely that they'd be willing to eat 50% of that contract in order to make a move happen. In turn, the Rangers could get Kessel, whose contract expires after this season for only $4M. (Less than that number, due to games played thus far.)
Of course, it should also be mentioned that it's tough to make trades at this point in the season, especially when you're dealing from a position of weakness. The Rangers would most likely have to send a better package to Arizona (or elsewhere) for a winger at this moment – opposed to waiting until the trade deadline, when bottom-feeding teams are in a hurry to deal off rentals.
At the end of the day, the Rangers do have options (both inside and outside the organization) and we'll have to wait to see what they'll do.
In closing out on all of this, I do think the Rangers will eventually look outside for help, especially with the playoffs (and being a threat in them) being a goal. Then again, if Lafreniere, Kakko, Gauthier or someone else can really go on a run, perhaps the Rangers will be happy with what they have. However, that seems like a long-shot, and when it comes to the playoffs – you can never have enough savvy battle-tested veterans on your roster.
And oh yeah, one reason why Blais was acquired this off-season in the first place (not FIRST PLACE) – his status as a Stanley Cup champion. Both Tarasenko and Kessel have rings to their names too.
---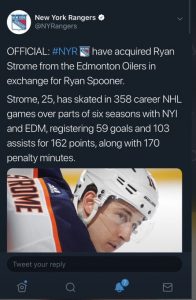 With all the news of the day covered (and I haven't even got into the Ottawa/Rangers game postponement, as I'll save that for the end of the blog), here was Gallant's line-up for this game, where Filip Chytil made his return – a story that felt like an afterthought considering the Blais news:
FIRST LINE: Kreider/Mika/Goodrow
SECOND LINE: Panarin/Strome/Kakko
THIRD LINE: Lafreniere/Chytil/Gauthier
FOURTH LINE: Hunt/Rooney/Reaves
FIRST D-PAIR: Lindgren/Fox
SECOND D-PAIR: Miller/Trouba
THIRD D-PAIR: Nemeth/Lundkvist
And in net, CZAR IGOR Shestyorkin.
---
BOX SCORE time.
The following information and graphics come from the new world-wide leader in NHL coverage, ESPN.com:
SCORING: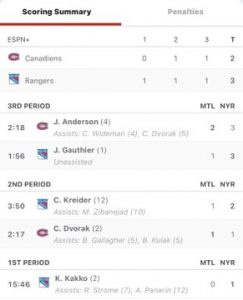 PENALTIES:
TEAM STATS:
GOALIES:
| | | | | | | | | | | |
| --- | --- | --- | --- | --- | --- | --- | --- | --- | --- | --- |
| SA | GA | SV | SV% | ESSV | PPSV | SHSV | SOSA | SOS | TOI | PIM |
| 34 | 3 | 31 | .912 | 29 | 0 | 2 | 0 | 0 | 59:34 | 0 |
| | | | | | | | | | | |
| --- | --- | --- | --- | --- | --- | --- | --- | --- | --- | --- |
| SA | GA | SV | SV% | ESSV | PPSV | SHSV | SOSA | SOS | TOI | PIM |
| 33 | 2 | 31 | .939 | 30 | 0 | 1 | 0 | 0 | 60:00 | 0 |
---
I can go on-and-on (and as I usually do) about how Vally sunk the M$GN broadcast of this game, but I'll make a few points and then move on:
— I don't know if Vally has a self-confidence issue or what, but he can't go a minute without bringing up his own career, especially whenever Henrik Lundqvist (great as usual in his new role) is sitting beside him. Anytime Vally talks to Lundqvist, it comes off like a young kid jumping off of a diving board and saying, "MOMMY, MOMMY, MOMMY, LOOK AT ME!" Maybe Vally can join Kravtsov in Russia, especially since the back-up goaltender brought up his own days in Russia on this broadcast – days that had nothing to do with this game.
— On a night where the Rangers won two fights, Vally said he didn't like fighting – what a shocker. I guess hitting people over the head with charts, heat-maps and spray charts won't lead to positive results.
— The best analysis of what was going on in Rangerstown, USA is whenever Henrik Lundqvist and Dave Maloney shared their opinions. M$GN should really team these two up full-time.
— I laughed hysterically when Vally said at the top of the broadcast, "it's important to be humble". As mentioned, and as usual, he then went on to plug his fake news stats company 67567567567855 times and then talked about his legendary career 767679679976896 times too. Such humbleness. What a regular Mother Theresa.
— Vally also called the Montreal Canadiens "Charmin Soft" and several times at that. The Habs would then fight twice, which upset Vally during the post-game show, a show I then had to turn off. Who is the soft one here – the team fighting in a one-goal game or the one crying his eyes out over fighting?
Of course, not mentioned during any of this, was the team's 95th birthday, the Strome anniversary, and outside of Maloney wishing good luck to Sammy Blais – what the Rangers could do with #91 finished for the season. At least we got some CLEAR SIGHTED BULLSHIT ANALYTICS though – including a stat from 2019, a stat that had NOTHING to do with this game.
Ugh, please ship the seven foot jackass to the Islander broadcasts with the lonely Shannon Hogan, PRONTO!
Let's now get into this game itself.
---
The Montreal Canadiens started Cayden Primeau in net for this game, as the son of Keith Primeau made his first-ever NHL start. Of course, despite being a rookie under the bright lights of M$G – the younger Primeau put forth an all-world effort, as if he was the second coming of Patrick Roy. Don't let the three goals allowed stat fool you – Primeau was great in net tonight.
And yes, as we all know – this always happens. It doesn't matter if it's a junkie plucked out of Penn Station or what – anyone making their first start against the Rangers always turns into a superhero.
The Rangers played their best hockey of the game in this first period, where they imposed their will all over the Habs, pestering Primeau with seventeen shots on goal, winning the face-off battle, dominating the hits department and driving zone possession. Heck, just five seconds into the period, Kakko put his first of three shots of the game on goal.
That said, the Habs would have a little jump early, where CZAR IGOR denied three shots, including a shot out of Ben Chairot. However, from there, it was all Rangers – including another strong shift out of the fourth line, the best fourth line since the days of Vigneault, where both Dryden Hunt and Ryan Reaves were denied by Primeau. Furthermore, this is now the third-consecutive game where a goalie has made a "ski-mask" robbery save on Reaves.
As the Rangers dictated the pace, Primeau was able to deny a Fox blast and Gauthier's ensuing rebound. "GOALLESS GAUTHIER" was at it again – but fortunately, he'd shed this nickname later in the game, where wouldn't you know it – he scored the game winning goal on record.
The Rangers second line were flying all over the place all game, where Panarin and Strome almost hooked up for a goal, and where Kakko's wraparound attempt was then broken up by a Montreal defenseman.
8:30 into the period, new first liner Barclay Goodrow was boxed for cross-checking Savard. However, before the Montreal power-play could get going, just twenty seconds into it, Rooney drew his first of two penalties, where on both of them, Chris Wideman was boxed. (Not UFC fighter Chis Weidman – who perhaps the Rangers could use with Blais now out!)
After the four vs four foreplay produced no results, and with under ten minutes to go, the teams returned to full strength. Josh Anderson, a Larry Brooks favorite, rocked Jacob Trouba with a hit. Keep that in mind for later. Also logging a hit during this was Ryan Reaves, knocking down Petry.
As the Rangers continued to shoot and shoot, and where Primeau denied Chytil on a series of shots (also keep this in mind for later), the Blueshirts finally broke through with 4:14 remaining in the frame:
The Kid Is BACK! pic.twitter.com/1e2SOwwJ1I

— Rangers on MSG (@RangersMSGN) November 17, 2021
1-0, GOOD GUYS and another goal for Kakko, his second in as many games!
On this goal, once again, the Rangers second line drove the offense and Panarin and Kakko hooked up to erase the nil-nil score. In addition, Strome was credited with the secondary assist, making this a pure second line goal all-around!
Of course (because this always happens too), immediately after scoring, the Miller and Trouba pairing gave up a great chance, where CZAR IGOR bailed out his befuddling defensemen.
With 3.6 ticks remaining, Trouba went into watch-mode again, where this time, and despite not having a stick, CZAR IGOR kept the Montreal doughnut on the board.
After one period, 1-0 GOOD GUYS.
And for the second consecutive game, the Rangers were on-pace for a high number of SOG, and led this department 17-12 at the time.
---
The second period saw the Rangers come back to reality, and where the woeful Canadiens clawed their way back into the game.
Just 2:17 into the period, new Montrealer Christian Dvorak tied the game, swooping around Igor's net, shooting a puck off of #31's left pectoral and where on the bounce, the puck went into the net. 1-1. Fox and Lindgren, who played great tonight, were on the ice for this one. I'll save you from another one of my "ANALYTICS MEAN NOTHING" rant – but yeah, the numbers of Fox and Lindgren take a hit here, despite the second-pair being bailed out repeatedly by CZAR IGOR all game.
With the Rangers needing some jump, at the 3:22 mark of the period, this happened:
Michael Pezzetta thought he had a chance fighting Ryan Reavespic.twitter.com/LvnSO60SVn

— Rangers Videos (@SNYRangers) November 17, 2021
Here's Ryan Reaves, often criticized by the chart losers, knocking out Michael Pezzetta, with the one in the "bleu, blanc et rogue" jersey looking to make a name off of Reaves.
I know everyone is going to say (and as they did on social media), "WHY DID REAVES FIGHT TONIGHT AND NOT CHALLENGE SLEWBAN LAST GAME?"
As I said last blog, and as Reaves would later say in is post-game interview – he wasn't going to risk a penalty in a tied game. In fact, to jump ahead, you can listen to the man himself here, as Reaves gave one of the best post-game interviews of the season:
---
I can't lie, I'm fist-pumping like a "Jersey Shore" jerkoff after watching Reaves' interview.
In addition, Pezzetta challenged Reaves, where #75 in blue said he was caught by surprise. #76 in Devils red wasn't going to engage with Reaves.
If you get anything out of this, Reaves has a high hockey IQ, isn't going to put his team in jeopardy and knows when to strike.
And let's face it – the same people criticizing Reaves for not going after Slewban are also the same people who would criticize Reaves for taking a dumb penalty too. Sometimes, you can't win – especially with those folk.
Something else to take out of this, besides Kakko's "HOLY SHIT, THIS IS THE FIRST TIME I HAVE EVER SEEN THIS" reaction, as if he was some teenager finding "scramblevision" porn for the first time? This:
That's CK's 12th of the year! 🤯 pic.twitter.com/wOUEO26WEe

— Rangers on MSG (@RangersMSGN) November 17, 2021
2-1, GOOD GUYS, just 28 seconds after the Reaves victory, as Mika Zibanejad found Chris Kreider for the redirection goal. This was Kreider's 12th goal of the season, second-best in the league to only Leon Draisaitl.
And if you had Kreider tied with Alex Ovechkin in goals, 16 games into the season – buy a lotto ticket.
Right after the goal, the second line almost doubled the lead, but Primeau held on. Instead, with 13:07 remaining, K'Andre Miller tripped Jake Evans, putting the Habs on their second power-play of the game.
The Rangers penalty kill was hairy here, but between Fox and Lindgren blocking shots, and CZAR IGOR doing his job too, the PK got out of this unscathed – despite being caught on the ice for over two minutes.
As Adam Fox was making every great hockey play known to man; the second line continued to shine, creating a turnover in the neutral zone, where Primeau was able to stop Kakko's attempt for a second goal. Right after, Panarin found Strome point-blank in front of Primeau, where the new Canadien goalie made his best save of the game, a glove save on a wicked shot.
The final minutes of this period was mostly Montreal, where yep, you guessed it, CZAR IGOR bailed out the shart-inducing second-pair of Rangers defensemen again. I can't stress how many chances Trouba and Miller gave up tonight, including with 1:55 remaining, especially when Trouba directly gave up a puck to a Hab.
2-1 GOOD GUYS after forty minutes, where Montreal was starting to take over the circle and catch up in the SOG department too.
Also of note, at this point in the game, the Rangers had blocked 17 shots, with the Fox (5) and Lindgren (4) pair leading the way. It just goes to show you how many shots Montreal were able to get off.
Up next, a crazy third period, where once again, you had to chain-smoke, bite your fingernails, rub your lucky rabbit's foot or whatever else you do during stressful situations!
---
After Montreal won the first draw of the period, Toffoli was able to get behind the Miller and Trouba pairing, and fired off a slap shot – a save for Mr. Shestyorkin.
Then, just 1:56 into the period, Julien Gauthier, who we've seen so many times before making individual plays, where he shows off his great stick-handling and effort only to come up empty – finally potted a puck past an opposing goaltender. 3-1 GOOD GUYS!
However, before the confetti could come down from the ceiling; on the face-off following, Montreal won another draw, went right down the ice, and boom – Josh Anderson brought back his team within one-goal again. 3-2, with Anderson scoring just 22 seconds after Gauthier.
It was at this point in the game, where despite no more goals allowed, the game really picked up.
As the Miller and Trouba pairing continued to put you on the edge of the seat, and as the Rangers continued to go for backhanded shots (it feels like there is an emphasis on this lately, especially with the positive results the Rangers have been getting); Kreider made "Selke" type of plays, including a poke-check to put the Habs offside with twelve minutes remaining.
With ten minutes remaining, Filip Chytil absolutely skated Primeau out of his jock, where the jock presumably went flying into the useless Phish banner in the M$G rafters. Unfortunately, despite a wide open net, where the white netting was as bright as a movie star's teeth, Chytil sent the puck straight into the cross-bar. This is stuff I've talked about before on this site – all of Chytil's stop-and-go starts, due to being injury prone, always stunts his momentum. The Chytil from two weeks ago would've bagged this one.
Under nine minutes to play, Ryan Lindgren bled for the first time this season, eating a stick to the left nostril. After being patched up by Jim Ramsay, #55 would return to the game.
With 7:46 to go, Rooney drew Wideman for another penalty. The Rangers PP1 unit teed off like Shooter McGavin here, but couldn't put the puck in the goal hole.
As we surpassed the FOXWOODS FINAL FIVE mark, the two teams traded chances. With 1:20 to go, Montreal pulled Primeau. However, the Rangers couldn't score on this empty net opportunity once again, where off the top of my head, I think the Rangers only have two ENG's this season – both by Barclay Goodrow.
After a Montreal timeout with 51 seconds to go, 23 seconds later, Goodrow baited that idiot Brendan Gallagher. After talking trash, Goodrow fell to one knee where Gallagher then sucker-punched Goodrow. The key here, and which was only noticeable on replay, is that Goodrow stayed down on purpose, didn't engage and made sure that the referee saw he was down. In turn, the Montreal threat was over and the Rangers would get a power-play to close out the game.
And yeah – Gallagher should be suspended for this. Baited or not, he sucker-punched a downed opponent. Then again, seeing how the league allowed Sidney Crosby to tackle someone and throw a player head-first into the boards a few days ago – who knows?
Also, with the game in hand, this is when Trouba decided to wake-up, where he immediately charged the Habs, defending a teammate, where really, that teammate (Goodrow) didn't need defending.
As the final horn went off, 3-2, GOOD GUYS, your final. But wait, there's more!
With the game now complete, and M$G playing their corny joy-luck club music, Josh Anderson and Trouba got into it again, where the Rangers alternate captain opened up a can of whoop-ass. I've never seen Trouba so angry before, as he was talking trash and kicking ass. Can we see this Trouba full-time? I loved this version of #8 in blue.
Once the game was over, the standings read like this:
Couple of things here, as I know this is not a true first-place standing, especially since the Carolina Hurricanes won their west coast game with Vegas later in the evening, and because of the games in-hand. However, stay with me:
— A week out from the Thanksgiving Day tent-pole, the Rangers are playing great hockey – despite whatever some ANALytical nerd tells you, as they foam at the mouth with their Natural Stat Trick and Evolving Hockey websites.
— The team has rarely been 100% healthy this season and have played a ton of road-games; yet here we are, a few days out from Thanksgiving, with the Rangers having a secure grip of a playoff spot.
— I was mocked by many, when I said all summer-long, that the Rangers would finish third overall and make noise in the playoffs. Yeah, it's extremely early, but I'm looking pretty good with that prediction right now.
— Speaking of that third place prediction, even with the games in-hand, if the teams below the Rangers catch-up and win-out, at the very least, the Rangers maintain third place in the most competitive division in hockey.
— While losing Blais hurts, this roster is still gelling and haven't peaked yet. After all, Mika Zibanejad is hardly playing to his potential and you have to think he'll eventually make a run. (Maybe when the Flyers pop-up on the schedule?)
— During the DQ era, win-streaks were far and few-between, where a three-game win streak was celebrated like a winning powerball ticket. The Rangers now have two win-streaks of four games this season, in just sixteen games played.
— And how great is it, even if these standings only reflected a time period of three hours; that the Rangers were in FIRST PLACE, while the trashy Islanders were in LAST PLACE! A win over the nomadic Islanders at the IBS Arena on Thanksgiving Eve will only add to the elation.
---
Up next for the Rangers: a step-up in competition, as the team plays the reinvigorated Toronto Maple Leafs on the road on Thursday night.
As noted at the top of this blog, Saturday's tilt with the Ottawa Senators has been postponed, due to a COVID outbreak with Canada's capital team. No make-up date has been announced yet, but I think we'll see it on January 16th, 2022 – as both teams have off that day, the Tirefire arena is open on that date, and both teams have off-days following.
Personally, and for the Rangers, this postponement is great news.
For me, I have my niece's/god-daughter's birthday party at the same time when this game was supposed to be played (she's turning four), so now I won't miss any of that game.
For the Rangers, this game was supposed to be the first set of a back-to-back, and another three games in four nights. Now, following Toronto's game, the Rangers will have two nights off, before hosting the Sabres at M$G on Sunday. Either the Rangers will try to go on a six-game winning streak on that night, or try to right the ship against an inferior opponent.
If there's anything that's negative about this postponement, it's for our friends at the "Blueshirt Underground Show" (who return with a new episode on Wednesday night, search for "Blueshirt Underground Show" on YouTube at 7PM, 11/17), who had scheduled a watch-party for this game. The pandemic has wreaked havoc on their successful watch-parties, and now, they'll most likely wait until 2022 to have one.
---
If you haven't already, subscribe to this blog for the next update:
---
As far as Gallant's goaltenders go, if the plan is to work Georgiev in, I see that start coming on Sunday against Buffalo. I can't see Georgiev, despite his good track record against Toronto, taking the start against a team that Igor just shined against.
Looking ahead, after Buffalo, the Rangers play the Islanders in their final game before Thanksgiving. I know that Georgiev also has a reputation of being an Islander Killer (I've made 656756755 horrible photoshops reflecting this fact in the past), but those days are over. You gotta go with your best goaltender against your biggest rival – or so I say!
And as I say goodbye to you tonight – hell yeah, I'm happy with this team.
Stay FABULOUS my friends.
As always here, thanks for reading and…
LET'S GO RANGERS!
Sean McCaffrey
BULLSMC@aol.com
@NYCTHEMIC on Tweeter