Greetings and salutations everyone and welcome to another blog here on BlueCollarBlueShirts.com. Eh, can't win 'em all.
I don't know what it is, whether it's the pandemic driving people crazy or what – but for whatever reason, both during this game, and immediately following this game, once again the "SKY IS FALLING" people slithered out from underneath their rocks and intensely went to work, where these cretins pushed their "gloom and doom" narratives.
In all of my years watching hockey, following hockey, writing about hockey and really, anything else related to hockey in general, I can give you two facts here:
1. I've never seen a team finish an NHL season undefeated, much less at 82-0.
2. Win or lose, I've never heard a coach or player ever say, "I really have to give credit to our analytical department for that win. Our expected shots total really made an impact and was the difference."

And spoiler alert – I'll have more on ANALytics later tonight.
---
Yeah, losing sucks and no one ever wants to see his or her favorite team lose, but this is true as well – the never-ending crying after every loss seems to be more apparent than ever before. I know that pro sports (and athletes) can tread into the "what have you done for me lately" waters; but even so, to get upset about this loss seems silly to me. In fact, to go on a tirade about this loss would be moronic.
Of course, the same people who are on the ledge after every loss are also the same people who shed buckets from their eye sockets after every win too. "YEAH THE RANGERS WON, BUT WHAT ABOUT THEIR EXPECTED STATS? THEY GOT DESTROYED IN THE CORSI BATTLE TOO!"
Ugh!
All of this said, I won't sugar-coat this loss either, outside of saying that this game isn't the end of the world – despite what others may lead you to believe.
---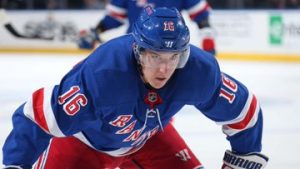 While I try to cover everything about every game for you on this site; if you're looking for a one word explanation about this loss, that word is "FACEOFFS".
The Rangers were absolutely disastrous at the circle tonight, where the Leafs destroyed them in this statistic to a tune of 37-9! Yes, the Rangers only won nine faceoffs of the forty six pucks that were dropped in front of them.
The Rangers, already the worst faceoff team of the league, matched up against one of the better faceoff teams of the league, the Toronto Maple Leafs. While going into this game, I don't think anyone would've predicted the Rangers to win the dot battle – to be held to a single digit is atrocious. However, despite this faceoff futility – the Rangers were within one shot of leaving Toronto with at least one point in the standings. And yes, that's my "glass half-full" perspective!
Without question, the Rangers brutal showing at the circle is the lede story when describing this loss. However, despite playing an otherwise strong defensive game, there are other things that did the Rangers in, such as:
— Special teams swing games. I know I say this all the time, but here's some simple math that somehow eludes Steve Valiquette on these broadcasts – the Maple Leafs power-play was 1-1. The Rangers power-play was 0-1. In turn, the Leafs special teams were perfect, at 100%, while the Rangers special teams finished at a 0% success rate. In a 2-1 game, special teams were all the difference.
— The top stars couldn't get going offensively (again). I know this is another line I use, whenever I talk about the younger players on the team when I compare them to the "Fat Cats"; but while it's great for the third line (and those players) when they are the best Rangers line of the game – that's not the best thing for the Rangers as a team.
(Of note: unlike everyone else, I refuse to refer to the current Rangers third line as the "Kid Line", as that nickname is a lazy one. In addition, Toronto already had a "Kid Line" dating all the way back to the 1930s – Conacher/Jackson/Primeau. Come up with something original! Then again, outside of Larry Brooks (and maybe Colin Stephenson) – no one currently on the NYR beat knows anything related to hockey history.)
— Leafs net-minder Jack Campbell, who just had an amazing game. Like many opposing teams running into the Rangers this season with CZAR IGOR in net (including the Leafs themselves), the Rangers ran into a hot goaltender in this contest. It happens.
— While I rarely, rarely (and did I mention rarely?) complain about the officiating (I'm not Howie S.!), the stripes in this game were just baffling. I'm not saying the Rangers would've scored on an extra power-play or anything like that – but at least they would've had a chance.
— Too much fancy passing, especially with the team chasing a goal late in the third period. Sometimes, you're better off going for a "puck on pads" play (setting up a rebound), rather than trying to find the perfect pass, especially when there is a ton of traffic when trying to make such a pass.
— Last but not least, Toronto is on a huge winning (and point) streak right now. Sometimes you catch teams at the wrong time. While that might sound like an excuse, it's also true too.
---
As far as any major news and notes prior to puck drop – there wasn't anything, outside of all the coverage that CZAR IGOR is now receiving.
Not only is #31 featured on the cover of the biggest hockey magazine on the market, but on Thursday, he was also getting a ton of coverage in Toronto too – the capital of the NHL.
CZAR IGOR is no longer a Rangers secret, as he's currently receiving not only nationwide coverage, but international coverage too. If there's anything to take out of this, it's that CZAR IGOR has the eyes of everyone, where if he can continue to do what he's doing – he should receive Vezina attention too.
(And yes, I know it's about the front of the jersey, and not the back of the jersey; but it's always great whenever a player on your team wins a major individual year-end award. Need proof? Paging Mr. Fox!)
At this time, let's get all of the usual segments out of the way and then get into the game review.
Up first, everyone's favorite segment to scroll through – the PLUGS segment!
The first plug of tonight's blog – the mandatory plug for my new book, "The New York Rangers Rink of Honor and the Rafters of Madison Square Garden". And let me say this – thank you to everyone who has bought one, as my Amazon sales have exceeded all expectations, where for a limited time (that damn Mark Messier who just released a book!), my book was number one on the Amazon hockey book sales charts.
As mentioned previously, the book is now available in hardcover, in paperback and in Kindle formats. To purchase a copy of the book, visit this link:
https://www.amazon.com/Rangers-Rafters-Madison-Square-Garden-ebook/dp/B09CM5N2WD
For those still looking for signed paperback versions of the book, I have 4 copies left for sale for $25 (includes shipping price) through me directly. Here is all the information on that:
---
Here are my last few blogs, in case you missed them:
---
---
---
As mentioned above, and in a complete 180 from 48 hours prior – there was nothing major breaking prior to this game, outside of a rumor that the Rangers MAY look to add a forward, via a trade, as a replacement for Sammy Blais. I wouldn't really consider that breaking news, as I think it's obvious that the Rangers would like to find veteran help.
Line-up wise, everything stayed the same since the Blais injury, as Gallant went with the same line-up that he used in Tuesday night's win over Montreal.
As a refresher, here was what Gallant went with in this 2-1 loss to Toronto:
FIRST LINE: Kreider/Mika/Goodrow
SECOND LINE: Panarin/Strome/Kakko
THIRD LINE: Lafreniere/Chytil/Gauthier
FOURTH LINE: Hunt/Rooney/Reaves
FIRST D-PAIR: Lindgren/Fox
SECOND D-PAIR: Miller/Trouba
THIRD D-PAIR: Nemeth/Lundkvist
And in net, CZAR IGOR Shestyorkin.
---
BOX SCORE time.
The following information and graphics come from the new world-wide leader in NHL coverage, ESPN.com:
SCORING:
PENALTIES: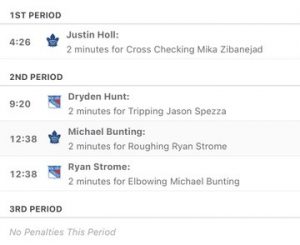 TEAM STATS:
GOALIES:
| | | | | | | | | | | |
| --- | --- | --- | --- | --- | --- | --- | --- | --- | --- | --- |
| SA | GA | SV | SV% | ESSV | PPSV | SHSV | SOSA | SOS | TOI | PIM |
| 28 | 1 | 27 | .964 | 25 | 2 | 0 | 0 | 0 | 60:00 | 0 |
| | | | | | | | | | | |
| --- | --- | --- | --- | --- | --- | --- | --- | --- | --- | --- |
| SA | GA | SV | SV% | ESSV | PPSV | SHSV | SOSA | SOS | TOI | PIM |
| 30 | 2 | 28 | .933 | 28 | 0 | 0 | 0 | 0 | 58:25 | 0 |
---
The M$GN pregame show wasn't as horrific as it has been lately. Of note, Henrik Lundqvist did his second consecutive game, which I think is a first for him this season. I'd have to go back and look it up, but it feels like the former franchise goalie is already up to 6-7 broadcasts this season, just 17 games in.
Originally, it was reported that Lundqvist would do twenty games this season, with the option of doing more games always open. Who knows what he has going on later on this season, but it feels like he is enjoying his new role (and he's good at it), and he should easily smash that twenty game number.
Steve Valiquette, following his horrendous showing from Tuesday night, was much better in this go-around. While he still had to work in stories about his legendary and iconic NHL career – we also weren't bombarded with his imaginary stats from his fake news stats company.
Even better? In Vally's best showing of the season (or so I say!), he actually did an EYE TEST segment, where he expertly broke down some of the passes that both Mika Zibanejad and Adam Fox have made this season, and like Patrick Mahomes throwing a no-look pass, how these passes led to Ranger goals (usually Kreider cashing in!)
Igor's THN cover was also mentioned, where Giannone joked if he'll ever get on the cover of "GQ" magazine, like Lundqvist once did. This joke was funny, as opposed to the never-ending "HANK, I KNOW YOU, PLEASE ACKNOWLEDGE ME" jokes that Vally usually makes at Lundqvist's expense.
All in all, I thought this was one of the better broadcasts of the season, where I still think Lundqvist should be teamed-up full-time with a skater, such as a Dave Maloney or someone else, in order to give us both a goalie and skater perspective on these broadcasts. We don't need two goalies on these broadcasts.
---
The first two periods of this game are easy to sum up – defense, defense, defense.
While both Shestyorkin and Campbell made tremendous saves throughout; both teams, unlike last time, limited the shots on goal. In fact, after twenty minutes of action, the Leafs out-shot the Rangers by a paltry total of 7-5, where both teams had long stretches of time without a shot on goal.
Ryan Strome (who as mentioned, was disgustingly bad at the faceoff circle), lost the first faceoff of the game, a trend that would continue throughout. (Toronto, after one period, led this statistic by a tally of 10-3.)
Kaapo Kakko, riding a two-game goal streak, wouldn't pick up a goal in this game, but would later up his point streak to three games. In the Rangers first shot attempt of the game, Kakko, who has been feeling it lately, made a power move to the net, only to come up short.
The new line of Lafreniere/Chytil/Gauthier had a strong shift, which was another theme that continued throughout the sixty-minute affair. While Lafreniere was the least noticeable of the three (zero shots on goal), both Chytil and Gauthier played well, with Gauthier really standing tall among all, where he was the most offensively-oriented player of the game.
After a Kevin Rooney turnover, CZAR IGOR batted away a chance from Jason Spezza. However, on Toronto's next possession, Morgan Reilly, from the blue line, shot what looked to be an innocent looking puck, a puck that soon beat CZAR IGOR. 1-0 bad guys, just 3:41 into the game.
On the goal, Jacob Trouba was screening Shestyorkin, but at the same time, Reilly took advantage too. And with the way Igor has bailed out his second-pair defensemen all season, it was only a matter of time before one of these fluky shots beat the otherwise stellar goaltender. I'd give Reilly the most amount of credit here, rather than doing the blame-game, as he took advantage of the situation afforded to him – and as he is supposed to do.
Forty seconds later, the Rangers would get a chance to tie it, as Justin Holl cross-checked Zibanejad while behind Campbell's net. On their lone power-play of the game, the Rangers were brutal here, where they didn't register a shot on goal. In fact, Toronto easily cleared the puck five times during their kill and that was that.
Right before the ten minute mark eclipsed, Trouba and Wayne Simmonds were battling for a puck behind Igor's net, where they accidentally dislodged the net in the process. During this, Simmonds kicked in a puck from behind the net. This was pretty funny, as Trouba himself was laughing too. Yeah, this was ha-ha stuff, but as always noted on this site – Trouba is at his best when he's pissed off, and not as gleeful as a schoolgirl.
With 7:35 remaining, the SOG statistic was 3-1, in favor of the home team. That wouldn't last long, but this just tells you how much emphasis there was on defense. Also hurting the Rangers SOG stats was the fact that Mika had one of those games again, where every puck that touches his blade goes into Scott Norwood mode.
After Marner came within a pubic hair of doubling up the lead, and as Ryan Lindgren broke up a Leafs odd-man rush; Gauthier swooped around Campbell's net, where Toronto's goalie kept the Rangers off of the board.
As the first period horn went off, we remained 1-0 bad guys. At the time, while I wouldn't say the Rangers were playing "bad" or anything like that – I thought that they just needed to find their game. It would just take the third period to eventually find it.
---
After our customary question out of the mouth of Sam Rosen (SECOND PERIOD, WHAT DO YOU LOOK FOR HERE JOE?), Matthews won another face-off, spiraling Strome's numbers to hell.
Igor would make a bevy of saves here, denying Kase point-blank, and then swallowing up a blast off of the stick of Spezza.
As Strome continued to lose-and-lose draws, he showed his frustration, where he slammed his stick on the glass, as if he were Babe Ruth playing tee-ball.
Three things here, in regards to Strome's PDA – aka public display of anger.
One, we've seen players get penalized for this in the past. Two, I liked it, because it showed me that he cared. Three, like a slammed penalty box door, I wonder if DQ and Gorton were still here, if Strome would've been exiled from the team for this?
With the Blueshirts third line continuing to look like world-beaters, especially when compared to the top six; with 12:29 to go, Igor made another stop on Matthews. CZAR IGOR has had Matthews' number all-season, where he denied #34 in Leafs blue seven times last month. Igor stopped him three times tonight.
After Igor stopped Marner, where the puck took a "pop-fly" bounce, Gauthier once again went to the net, where he was denied again.
With 10:40 remaining, Dryden Hunt was boxed for a trip. Originally, the refs boxed Lundkvist for this, only to correct their call. Like Sam Rosen, the referees confused #27 for #29.
The Rangers penalty kill logged more shots on goal here than the power-play did, where Campbell made two saves. Unfortunately, the Rangers penalty kill also gave up a goal here, as Morgan Reilly beat Igor from close by, while Trouba did his act where he waves his stick at the shooter.
2-0, bad guys, with 9:01 remaining. This would also be the last Toronto goal of the contest.
With 7:22 remaining, Ryan Strome and Michael Bunting went at it. Keep this in mind for later. As a result, both players were boxed for two minutes, which then gave us some four vs four foreplay.
Once back at full-strength, and with the two goalies trading saves, Barclay Goodrow almost pulled a "Chuck Knoblauch", where after being interfered with (the refs decided to ignore the penalty), he momentarily stopped playing and barked at an official, where he plead his case. Fortunately, this didn't bite the Rangers in the ass, as Goodrow then went back to playing. Had Toronto scored with a numbers advantage here, it would've been horrendous.
After forty minutes, we remained 2-0, where the Rangers woes at the circle were abundantly apparent, as Toronto had won 23 of the game's 29 draws.
In other words, the Rangers would go on to average three faceoff wins a period – not the best game-plan when trying to win games. That said, despite these issues, the Rangers provided a thrilling third period, where perhaps if there was another minute left on the clock, they would've won this game. Of course, there's also that old adage too – "shoulda, woulda, coulda".
---
On social media, during the second intermission, I made the points I've already made on this blog, in regards to faceoffs and SOG. Micheletti would then make these same exact points at the start of the third period, as Shestyorkin was forced to make a save, just 13 ticks in, on one-time Ranger agitator (former Bruin) Nick Ritchie.
After Shestyorkin denied the pajama boy wearing the #91 on his back, 3:30 into the period, Hunt redeemed himself, after previously taking the penalty that led to Toronto's PPG:
huge goal for the start of the 3rd from Dryden Hunt! pic.twitter.com/ufG2K9Tx8o

— Rangers on MSG (@RangersMSGN) November 19, 2021
2-1, bad guys but with plenty of time left. Unfortunately, and as you know, that equalizer never came – but not because of a lack of effort. Also of note: both Kakko and Strome received assists here.
From this point on, the Rangers looked like they were on bath salts, as they were driving and creating offense all over the place. However, Campbell was just in the zone. It happens.
Toronto head coach Sheldon Keefe (that analytical weasel who has never gone past a first round), noticed that the Rangers were flying around and then took a timeout with 15:29 remaining. Rarely, do you see a timeout called when you have a one goal lead, and where aside from three minutes, the Leafs were playing a smart defensive game. It's just too bad that the Rangers didn't score one of those ticky-tacky offside review type of goals as an equalizer!
The Rangers would get chance-after-chance following the timeout, where Campbell denied Panarin on a mini-breakaway (Toronto defense caught up to him last second), as the Breadman went backhanded.
With ten minutes to go, Chytil won a pair of offensive zone faceoffs. Let me say that again, "WITH TEN MINUTES TO GO". I bring this up, because this would be the last faceoff that the Rangers won in this game. And to show you how bad it got, Gallant had Kakko taking draws over Strome in the latter stages of the match.
In a blown opportunity, with under seven minutes to go, Fox created a turnover in the neutral zone and then set-up Panarin perfectly. Rather than shooting, #10 decided to go for a give-and-go play, a play that Toronto easily snuffed out.
Right before the FOXWOODS FINAL FIVE mark, Ryan Strome and Michael Bunting got into it again. This time, Bunting dropped the gloves while Strome refrained. No matter, as the refs decided not to penalize Bunting at all, despite the man in the Leaf crest on his chest committing roughing and instigating infractions. Nothing beats home cookin'.
And with all of the gambling ads on these broadcasts and throughout the league, you have to wonder if these Canadian officials were looking to boost their income with his no-call too.
(And you know had Reaves dropped the gloves, it would've been an automatic penalty and perhaps a suspension too.)
With 3:30 to go, Campbell made a shaft of his stick-save on Panarin. "Artie" couldn't score tonight, despite so many opportunities in this final frame.
In another example of a no-call, Gauthier was then tackled, but the refs kept their whistles in their pockets for this too.
In what I thought was the best save of the game; with 90 ticks remaining, Campbell absolutely robbed Trouba – and worse than whenever Trouba robs the Rangers when his paycheck clears.
Under a minute to go, the happy-go-lucky Rangers went into their fancy pass act, where with 36.1 seconds remaining, instead of shooting, Panarin sent an errant puck to Kreider, where the puck then deflected off of the stick of #20 and into the crowd. Upon the stoppage, Gallant called his timeout.
After another faceoff loss (where just one faceoff win and a blast during these final ten minutes could've provided the tying goal – and I can't stress this point enough), Mika, with 7.5 seconds left, went wide again.
After losing the final face-off the game, the Rangers somehow got the puck back, but Strome and Panarin couldn't finish the job as the final horn went off. A few extra seconds – who knows? An offensive zone faceoff win while Igor was pulled with under two minutes remaining – who knows?
What we do know is that after sixty minutes, Toronto won this game by a final of 2-1.
---
While the goals never came for the Rangers tonight, and as Gallant would say in his post-game – outside of the faceoff issue, this wasn't a bad effort. Not one bit. Again, sometimes you just run into a hot team with a hotter goaltender. To get upset about this loss would be idiotic.
Speaking of idiotic, how about this tweet that was forwarded to me from a reader:
Seriously, what is wrong with these ANALytical folk?
Maybe because I'm part of an older generation than the other bloggers that are out there, but it's always been my belief, that as kids, we get into sports and root for our favorite teams after our parents expose these sports and teams to us. NEVER EVER, during my childhood (and I'd EXPECT you guys would say the same), did my parents say, "(Insert player here) is playing well, but his expected stats are not up to snuff. Yea, it's great that he had a hat trick, but his Corsi numbers are alarming."
I will never understand the love-affair that some people have for analytics. Furthermore, are these fans now breeding, and rambling on-and-on about analytics to their uneducated offspring?
Call me a boomer, call me what you want – but give me the eye-test, and the pretzels and beer that go along with it, whenever watching a game. You can take your charts, graphs, hieroglyphics and spreadsheets and shove them up your five-hole!
I mean really? How can anyone get enjoyment, not only when trying to predict something as imaginary as "EXPECTED STATS", but then watch a game while trying to track such tomfoolery? I rather root for my team and stay in reality.
Here's a fact: the only stats that truly matter are wins and losses.
And as I always say – analytics, which mean nothing anyway, mean even less come playoff time. If any of this crap meant anything and could indicate the results of games – someone would be cashing out at the Vegas sports-books.
---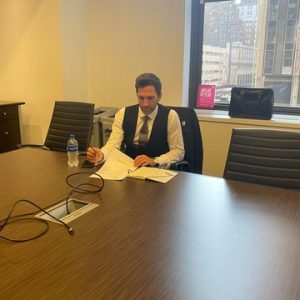 As we wind down here, a few plugs for some New York Rangers themed podcasts, as all three of my favorite programs released new episodes within the last 24 hours.
Up first, "The Blueshirt Underground Show", who returned on Wednesday night. To listen/watch their show, click the play button below:
Of note, if you were a fan of Howard Stern when the shock-jock was in his prime, you'll love the WWE-inspired promo that BSU "whackpacker", Matt M., cut on a rival listener/contributor, Jeff aka "Cutter". Once you get a feel for BSU and the personalities, you'll love the non-hockey segments that come along with it.
---
At midnight, November 18th, "2 Guys 1 Cup" returned with their latest take on the Blueshirts. Also included was a tribute to Steve Somers, who just recently retired from his digs at WFAN. To listen to co-hosts Shawn S. and Roc talk NYR, click the link below:
After sweeping the 3 games since our last episode, we pay homage to the great Steve Somers of WFAN radio here in NY, which former Ranger Shawn feels should be a target at the trade deadline…and Roc is against it, and a preview of Thursday's game #NYR https://t.co/BXRP2xfHx6

— 2 Guys 1 Cup (@2G1CRangers) November 18, 2021
For the first time since the show's inception, the two co-hosts had a clear-cut debate, with polar-opposite opinions on former Ranger JT Miller.
---
Closing out the podcast plugs tonight, is Ron Duguay's "Up in the Blue Seats" podcast, where producer/co-host Jake Brown had a short interview with Henrik Lundqvist. To listen to the show, click the link below:
Up In The Blue Seats Podcast: @RonDuguay10 & @MollieeWalkerr talk about the hot @NYRangers with @NYP_Brooksie 🔥

Plus my 1-on-1 interview with #NYR legend @HLundqvist from the @CTHaltALS charity hockey game ⬇️🏒

Apple: https://t.co/8Ob4oSOVSw
Spotify: https://t.co/gIlOXq7NV7 pic.twitter.com/OHfMjYu574

— Jake Brown (@JakeBrownRadio) November 18, 2021
Of note, this was one of the shorter episodes of the show's two-year history. And unfortunately, Duguay wasn't heard from as much as he was last episode. In addition, the Lundqvist interview took place during a busy charity event, meaning that this interview couldn't compare to the amazing interview that the program recently conducted with Mark Messier.
---
If you haven't already, subscribe to this blog for the next update:
---
Up next: a Sunday tilt with the Buffalo Sabres.
As mentioned previously on this site, Saturday's game with Ottawa has been postponed, due to COVID issues with the Senators.
After the game with the Sabres, one more game before Thanksgiving – a road game at the IBS Arena in Belmont against the Islanders.
Stay FABULOUS my friends.
As always here, thanks for reading and…
LET'S GO RANGERS!
Sean McCaffrey
BULLSMC@aol.com
@NYCTHEMIC on Tweeter