Greetings and salutations everyone and welcome to another blog here on BlueCollarBlueShirts.com. Now that's amazing Suzyn!
While there is no such thing as a "MUST WIN" game at this point in the season; at the same time, there are games you should just flat-out win – especially if you consider yourself a playoff team. Going into Sunday's night game with the Buffalo Sabres (who aren't playing as lowly as many thought they would), the Rangers pretty much had to win this game. And as you'll soon see, Gerard Gallant also shared this opinion based on his decision to pull goaltender Alexandar Georgiev during a tied game.
Of course, had the Rangers lost this game, it wouldn't have been the end of the world – despite this being the "popular" opinion of many. However, and needless to say – losing to the Sabres would've created negative vibes throughout Rangerstown, USA.
And leave it to Ryan Lindgren, who created an overwhelming force of positive energy, after scoring the game winning goal with only .4 seconds remaining – his first goal of the season.
After the 2-1 loss to the Toronto Maple Leafs from Thursday night (a loss that I thought no one should've been upset about), it became all eyes ahead to Sunday's home tilt with the Sabres. I didn't think there was any reason to shake-up the line-up at all after the Toronto loss. However, head coach Gerard Gallant, like a fantasy football player, did tinker with his line-up on Sunday. More on that in the news segment of tonight's blog.
---
Going into this game with the Sabres, there weren't that many news and notes – outside of a bogus Mika Zibanejad false negative COVID-19 test result. (More on this too, in the news segment.)
However, after this game – there are plenty of things to discuss, including Zibanejad. That said, topping the headlines (and what will be the lede story everywhere else you visit), is Rangers back-up goaltender Alexandar Georgiev – where the word "former" may soon precede "Rangers back-up goaltender."
I know I've brought up some of these following talking points in the past, but after this game, I saw a ton of negative reaction pertaining to Georgiev – including from the resident stooge of the M$G Networks, Steve Valiquette.
(Of note: Prior to Georgiev, Vally has never mentioned Ranger goalie contracts in the past. Now, this topic of conversation suits him. However, talking about an $8.5M back-up goalie and that contract? PERISH THE THOUGHT! (Talk of Trouba's contract too? Fat chance!)
In addition, Vally's scathing commentary, in regards to whenever he talks about NHL back-up goalies, always feels like it comes from a position of extreme envy – whether it's Georgiev, Hammond or others. Mr. Ten Goals Allowed vs Dallas, who always fancies his career as if he were Ken Dryden, continues to be overly critical of any back-up with a better career than his – and that's a ton of back-up goalies!)
But to be fair – it's not just Vally burying Georgiev. It's many in the fan base, and many throughout the hockey world too – including Rangers alumni Ron Duguay, who has been calling Georgiev a "career minor-leaguer" since day one of this season.
After this game, Vally busted out the shovel and threw heaps of dirt on the #40 Rangers jersey – which was ironic, considering he used to wear it himself. (Georgiev, despite his current issues, was/is the better #40 of the two.)
Was Vally wrong when orating Georgiev's NHL career obituary? Probably not, but to repeatedly use the word "Hartford" felt more like a desire, rather than as a clear-cut analysis from the seven-foot jackass. Then again, it was only two weeks ago, on this very network, where Vally was openly suggesting that both Alexis Lafreniere and Kaapo Kakko should go to Hartford too. Hmmm.
(Amazing how that talk has died down too, where everyone has a hot take but runs away from those opinions like a Kenyan in a foot-race.)
---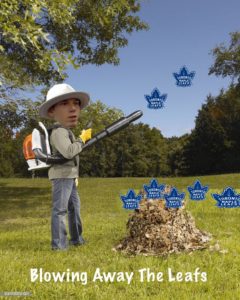 I don't want to rake every Georgiev start with a fine-tooth comb (assuming there are more to come), but as Vally said, it was the opinion of many that it's now time to send Georgiev packing. I'm not there yet, but at the same time, it wouldn't surprise me if that's what winds up happening – especially with NHL veteran Keith Kinkaid (who didn't run home after being sent to the AHL, like a mercurial Russian that we know), playing well in Hartford.
And as you'll soon see in the game review segment of tonight's manifesto – I was predicting (and hoping) that Georgiev would be pulled at the start of the third period.
In other words, while I'm firm but fair and do believe that Georgiev had a bad night out – I don't think it's Wolfpack time just yet. I think he gets one more start before that happens.
(And I have to get this out of my system too – for all of the Tony DeAngelo haters that are out there, who would you rather have on your roster right now – DeAngelo or Georgiev?)
---
One of my familiar talking points about Georgiev this season (as a possible explanation of his eye-opening regression), is the fact that his game and skills are suffering from all the time off.
At his best, two seasons ago, Georgiev was playing regularly, posting shutouts, winning at the previously-tough-to-play-at Barclays Center and posting double nickel saves against the offensive powerhouse known as the Toronto Maple Leafs.
Fast-forward to today, and anytime a shooter puts a puck in Georgiev's direction – you are holding your breath and gritting your teeth in anticipation of a goal allowed. There may also be a need to change underwear too – like Georgiev himself.
In a different scenario, such as the one from several seasons back, Georgiev could be a successful back-up goaltender. Heck, with more playing time, maybe he could even challenge for a starter's spot – as he once did, and as he currently desires.
(During the off-season, while not asking for a trade, Georgiev let it be known that he'd like to compete for a starter's job, whether with the Rangers or elsewhere. Perhaps this spot start, against a weak-goaltending team, was a way to showcase him for such a trade, an idea, if so, didn't exactly play out as intended.)
However, that was then and this is now. This is CZAR IGOR's team, no questions about it. Shestyorkin should play as much as possible and that's not up for debate.
And unlike Shestyorkin's predecessor (who also had Georgiev as a back-up), Henrik Lundqvist, there are no more "spot starts" and/or favorable games to give to Georgiev.
Whether it's the Islanders, the Leafs or whoever – Georgiev's history no longer applies. Igor should get all the big games, no matter the opponent. In fact, it should be Igor getting all of the divisional rivals on the schedule too – Georgiev's previous favorable history with the Islanders be damned.
Maybe Georgiev does need a change of scenery to keep his NHL status current. It's apparent that he can't play to his potential starting every 5-6 games and/or once every two weeks. And this is a team game, so you can't force-feed Georgiev starts either – especially when you have your starter of the present and future in Shestyorkin.
If it wasn't clear already – Georgiev and his $2.4M+ salary is not helping the Rangers, nor their salary-cap either.
---
I hate to sound down after a win (and I'll brighten up after this segment), but yeah – this game should've been decided in the second period. Instead, it took to the very end of regulation to pick up the victory, and nearly twenty minutes after Georgiev was pulled.
I'll get more into in this during the game review, but while I don't think you can hang Georgiev for every goal allowed; at the same time, when your team is riding high, you have to make a big save. Big saves aren't coming as often as they used to, which I do think is due to all of the lack of playing time.
However, and as stated, that's just Georgiev's situation right now. If he can't deliver during the limited action he receives – the Rangers will eventually have to look elsewhere. Igor can't play in all 82 games and you can't be wondering "what's next?", whenever #40 takes the barrel.
The job of an NHL general manager is a tough one. With a $2.4M+ cap hit, sending Georgiev to the AHL will only decrease his trade value, which then again, seems like a Rangers specialty – especially when you consider the recent situations with Tony DeAngelo and Vitali Kravtsov. On the other hand, if Georgiev continues to play like this, his trade value will have sunk anyway.
The Rangers got lucky tonight, despite a tremendous third period where they dictated both the pace and the action, playing their best period of hockey once Georgiev was given his baseball cap and towel.
I could only shudder to think of the reaction right now, had Georgiev remained in the game and afforded any Sabre the game winning goal.
Just like Kreider's shoot-out goal over the Devils from a few nights ago; CK20 helped set up the game winning goal in this match, which led to Mika Zibanejad finding Ryan Lindgren for the celebration. This also allowed Georgiev to get off of the hook again. That said, if this continues – Georgiev will be hooked from the NHL entirely.
I'll talk more about Georgiev in the game review, but what I am noticing, and what you've probably noticed too, is this – after every Georgiev start, more and more excuses are made – where admittedly, I'm full of them! (Hey, at least I'm honest!)
Ultimately, while I do think these excuses (and explanations) are valid, you can only make them for so long. Plus, this is Georgiev's situation right now. It's not going to change. He isn't going to supplant Igor. If Georgiev can't adapt to this new role, the Rangers will have to find someone who will.
For Georgiev, his next NHL start (if this one wasn't his last with the Rangers), could be his last start in the big league for a while. If he does get another start, let's see how his teammates rally for him – especially after seeing the way the Rangers played tonight, once CZAR IGOR took over the pipes. It was pure night-and-day.
---
With Georgiev's situation discussed, let's go back into "glass half-full" mode. After all – the Rangers won tonight!
There are many positive takeaways from this game, such as:
— Once again, the Rangers showed their RESOLVE and found a different way to win.
— The Rangers found their shooting touch, putting 36 pucks on net.
— While everyone will be raving about Ryan Lindgren's game-winner and Panarin's three assists – once again, the most consistent forward on this team, Chris Kreider, had another beast of a game. Kreider picked up another power-play goal tonight, but he did so many other things that don't show up in the box score. He wreaked havoc in front of Dell's net all game, won puck battles, and just made the lives of the Sabres miserable. This version of Chris Kreider, the 2021-22 version, is my favorite version yet.
— Adam Fox had another two-point game, as the current Norris winner continues to pace all NHL defensemen in points.
— The Trouba and Miller pairing, who have had their issues this season, were pretty good tonight. In addition, each member of this duo picked up a goal – where both goals erased one-goal deficits. Keep it going.
— The Rangers third line (I refuse to call it the "Kid Line", for reasons described last blog), all played well and were extremely noticeable. All three line members had chances in this one (where it felt like Chytil could've had a hat trick or two), and they never looked lost out there.
— Kaapo Kakko, whose chemistry with his veteran linemates continues to increase; scored another big goal. Not only was this Kakko's third goal in four games, but this goal also extended his point streak to a career-high of four games.
— The Rangers fourth line, the best fourth line the franchise has had since the 2013-14 and 2014-15 seasons; continued to excel and made their presence felt. Ryan Reaves (who really is emerging as a voice and team leader), led all skaters in hits, with seven in all.
— If I've said it once, I've said it a million times – special teams swing games. The Rangers power-play went 1-1 tonight, while their penalty kill went 2-3. Had the Sabres scored just one more PPG in this game, I'd likely be singing a different tune right now.
— The way Gerard Gallant showed everyone (including the media and Mika Zibanejad), and as if he were a modern-day Tony Danza – "WHO'S THE BOSS!"
---
At this time, let's get the PLUGS segment out of the way, and then get into everything else.
The first plug of tonight's blog – the mandatory plug for my new book, "The New York Rangers Rink of Honor and the Rafters of Madison Square Garden". And let me say this – thank you to everyone who has bought one, as my Amazon sales have exceeded all expectations, where for a limited time (that damn Mark Messier who just released a book!), my book was number one on the Amazon hockey book sales charts.
As mentioned previously, the book is now available in hardcover, in paperback and in Kindle formats. To purchase a copy of the book, visit this link:
https://www.amazon.com/Rangers-Rafters-Madison-Square-Garden-ebook/dp/B09CM5N2WD
For those still looking for signed paperback versions of the book, I have 3 copies left for sale for $25 (includes shipping price) through me directly. Here is all the information on that:
---
Here are my last few blogs, in case you missed them:
---
---
---
The only real news prior to tonight's victory was Mika Zibanejad's COVID-19 status from Saturday. After originally being placed on the COVID-19 list, and not being allowed to practice – hours later, he was cleared after a "false positive."
At the time, Chris Kreider didn't seem too concerned about this during his media interview, saying he "wouldn't deal with hypotheticals", alluding that this was most likely a bogus test result. Gallant would later the say the same, while using different words.
And really, Mika already had COVID and is vaccinated, so to think he actually contracted the virus again was a silly notion in the first place.
Perhaps even sillier? Testing vaccinated players. If they're sick or don't feel right, then they should ask for a test. Why waste all this money on testing vaccinated players (tests that often produce false positives) – money that could go to much better causes, including the NHL's current "Hockey Fights Cancer" campaign.
In other news (as I don't want to go on a COVID-19 rant here), on Sunday afternoon, the Rangers announced the following:
UPDATE: Libor Hajek completed his conditioning assignment and has been recalled from the Hartford Wolfpack.
As originally mentioned when Hajek was first sent down to Hartford; he and his agent agreed that Hajek would temporarily go down to the AHL for conditioning purposes. This was never a demotion – this was just to keep Hajek in game shape.
In his pregame interview from Sunday, Gallant gave no indication that Hajek would play for the Rangers in the near-future. Why they even re-signed Hajek in the first place still remains a mystery. While Hajek comes cheap, the Rangers are already loaded at the defenseman position and have many prospects in their farm system as well.
---
With the news now covered, here was Gallant's line-up for this 5-4 squeaker of a victory:
FIRST LINE: Kreider/Mika/Goodrow (Eventually, Hunt and Goodrow were flip-flopped, starting in the second period.)
SECOND LINE: Panarin/Strome/Kakko
THIRD LINE: Lafreniere/Chytil/Gauthier
FOURTH LINE: Hunt/Rooney/Reaves
FIRST D-PAIR: Lindgren/Fox
SECOND D-PAIR: Miller/Trouba
THIRD D-PAIR: Nemeth/Tinordi (Lundkvist got a timeout tonight, as Gallant brings him along.)
And in net, Alexandar Georgiev – only to be replaced by CZAR IGOR in the third period.
---
BOX SCORE time.
The following information and graphics come from the new world-wide leader in NHL coverage, ESPN.com:
SCORING:
PENALTIES:
TEAM STATS: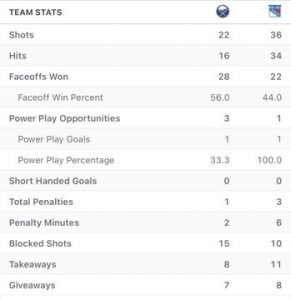 GOALIES:
| | | | | | | | | | | |
| --- | --- | --- | --- | --- | --- | --- | --- | --- | --- | --- |
| SA | GA | SV | SV% | ESSV | PPSV | SHSV | SOSA | SOS | TOI | PIM |
| 36 | 5 | 31 | .861 | 31 | 0 | 0 | 0 | 0 | 58:59 | 0 |
| | | | | | | | | | | |
| --- | --- | --- | --- | --- | --- | --- | --- | --- | --- | --- |
| SA | GA | SV | SV% | ESSV | PPSV | SHSV | SOSA | SOS | TOI | PIM |
| 18 | 4 | 14 | .778 | 13 | 0 | 1 | 0 | 0 | 39:10 | 0 |
| 4 | 0 | 4 | 1.000 | 3 | 0 | 1 | 0 | 0 | 20:00 | 0 |
---
Unlike the norm here, I'm not going to dissect the M$GN pregame show tonight, as it was about raising money and awareness for the NHL's (and NYR's) Hockey Fights Cancer campaign.
I will say, the best of luck to Rangers equipment manager Cass Marques, as he is currently battling cancer and away from the team. Every M$GN personality, Valiquette, Giannone, Micheletti, Maloney and Rosen – all mentioned Marques during the broadcast and wished him all of the best. You also felt that they were 100% sincere when expressing their best wishes for Marques too.
Also of note: many Rangers said they were fighting for Marques on their "Hockey Fights Cancer" cards.
---
If there's anything else I want to say about the pregame show, and this isn't related to these on-air personalities, it's the following:
If you're a grown man who brings oak-tag signs/posters to games, begging for sticks, pucks, jerseys, jock straps or whatever – you are a Father Finkin' loser.
The only time this is acceptable is if you're doing this for your kid. Anytime else – you are a loser, and this can't be debated. If you do this, you're just like those creeps who jump up-and-down, like a methed-out "Price is Right" contestant, whenever they do those free t-shirt tosses.
You're an even bigger loser, if you've never had cancer (again, if you're doing this for your kid, this is the exception), and are shoving your way to the glass during warm-ups, in your attempt to get free swag while showing off your arts-and-crafts homemade poster.
This is a new trend throughout these last few seasons, where GROWN ADULTS think they are entitled to free shit just because they bought a ticket to a game.
I've been going to hockey games all my life, and even when I was a kid (and later as a teenager when I first started attending games with my friends), I don't recall GROWN MEN making up posters with glitter and foo-foo shit all over them, begging for free equipment. All of this became a regular occurrence during the last few years.
I have no problems with kids doing this, and I 100% support players giving out stuff to these young kids, because that's how you grow new fans and create new fans for life. Adults doing this? It's sad and disgusting. These people have no shame or code of moral ethics.
Tonight on the broadcast, I saw a gaggle of adults cramming the glass, all with posters made-up, saying stuff like this:
— "PLEASE 'STICK' IT IN ME ARTIE!"
— "PUT A PUCK IN MY FIVE-HOLE FOXY!"
— "GIVE ME SOME OF THAT LAFFY TAFFY!"
— "SAVE ME WITH A FREE JERSEY IGOR!"
---
Seriously, if you're an adult, and can afford a ticket, travel, and all of the other costs associated with attending a game – then you can also buy all the pucks, sticks and jerseys that you like too.
To try to worm your way to the glass, WHILE KIDS WITH CANCER WHO ALSO HAVE POSTERS AND REQUESTS are there too – you're just a pathetic person and should probably be sent to Guantanamo.
Unlike others, I haven't advocated Ryan Reaves to fight anyone and everyone all season. However, I wouldn't have minded if he gave a right hook to any weasel adult trying to get free swag, especially while a kid with cancer is right next to them trying to do the same.
Of all nights for these cretins to scratch-and-claw their way to the glass, while a kid with cancer is right next to them – it's absolutely pathetic. I'd ban them from M$G for life.
And just to show you that I practice what I preach here – if you've seen my road-trip blogs, you know I usually pony up the bucks to sit good, since who knows when I'll get to visit these cities again. During warm-ups, I always let the kids who want to stand near my seats do so – while I go get a beer or something.
Over the course of time, I've caught several pucks at games, both during warm-ups and with pucks going over the glass. Only once did I keep a puck, because there was no kid around me. EVERY OTHER TIME, I found a kid a few seats away from me and gave them the puck.
After all (and again, if you've seen my road-trip blogs where I've talked about this), if I want a puck, I'll just buy one – as I always do on the road, as I collect those overpriced "match-up" pucks, with the date of the game printed on them.
I think I made my point. Let's now get into the game review!
---
Following a classy ceremony for a 19-year old woman who just beat cancer and an amazing national anthem; Ryan Strome lost the first draw of the game. His faceoff issues from Toronto followed him here tonight, as he only won three out of the ten faceoffs that he took in this contest.
Overall, after being spanked at the dot 37-9 in Toronto, the Rangers lost this statistical category, albeit a little bit more respectably tonight, as the Sabres won 28 draws as opposed to the Rangers 22 victories. Either way, faceoffs remain a troubling issue for the Blueshirts.
In a game where goaltending was optional, as Georgiev entered this game with a 3.77 GAA and a save percentage of .870, while his peer (Aaron Dell) at the other end of the ice had worse numbers than that; the two goalies (combined) had their best period in the first frame. After that, it was all downhill – at least for Georgiev, as Dell, despite the five goals allowed, had a great third period in net.
This first period was kind of a snoozer. Using the "it was a 6PM start" is an epic excuse, considering the Rangers had two days off prior. Plus, it's not like the Sabres are world-beaters either.
As both goalies exchanged saves early on, Ryan Reaves and his line were noticeable. Once again, the fourth line spent a lot of time in the o-zone and when they weren't – they were laying the body. On one shift, both Reaves and Rooney welcomed the Sabres to M$G in the form of a ferocious hit.
Filip Chytil, as he'd do all game, had many chances to score, but it was the same old story – he gets hot for a while, gets hurt and then it takes a while for him to get his scoring touch back. As was the case, he'd later miss a wide-open net in this game.
At the 8:33 mark of the period, Chytil would be boxed for tripping Vinnie Hinostroza. The Rangers penalty kill here were lights-out, denying the Sabres of a SOG, and where both Nemeth (block and a clear) and Lindgren (big hit on Asplund) stood tall.
After returning to full-strength, Georgiev continued to play well, denying Cozens from two feet away. It was here that I thought Georgiev would regain some of his footing, but come the second period, that hope was dashed.
With about 6:50 to go, Kakko held Zemgus Girgensons. The Sabres would have nearly two minutes of a delayed penalty 6×5 attack here, where I felt bad for the official after holding up his arm for so long. Once the Rangers touched up, the Sabres got their power-play, where with 4:17 remaining in the period, Asplund scored the power-play goal. 1-0, bad guys.
Of course, during this PPG, Trouba was there and looking right at Georgiev as the puck went in. Can you blame Georgiev for giving up a PPG with a bunch of traffic in front of his own net? Can you blame any back-up goalie for giving up a PPG under these circumstances? I don't think you can, but of course, these goals allowed, especially anything five-hole against Georgiev, will be magnified.
In a period that you wanted to see end, and hoped that the Rangers would sniff some sort of salt, whether smelling or bath; with 48.8 seconds remaining, and following Mika Zibanejad continuing his excellent Scott Norwood impression – Chytil drew Jacob Bryson for an interference call.
On this potential "wraparound" power-play, the Rangers wouldn't need power-play time to extend into the second period, as with 23 seconds remaining, Chris Kreider, the league leader in PPG's, added another to his record:
What's his name? Chris Kreider.

What does he do? Score power play goals.

🎥 @NYRangers pic.twitter.com/HqDBCt3fgd

— Rangers Videos (@SNYRangers) November 21, 2021
1-1!
On this goal, Panarin picked up his first of three assists, finding Kreider in the circle. Kreider then tucked the puck between the post and Dell's right shoulder. This goal was huge for many reasons, with the biggest being that it gave the Rangers some momentum after a lifeless Terry Schiavo first period.
After the goal, we remained at 1-1 as the horn went off. Up next was the second period, a period that pulled a complete 180 from the first twenty minutes of this game.
---
After a Filip Chytil interview that matched all the drab and dreary vibes from the first period, Strome once again lost another opening faceoff.
Very quickly, Georgiev made two saves to start the period. He wouldn't make three consecutive saves though.
Just 2:26 into the period, Vinnie Hinostroza stripped Tinordi of the puck, went one-on-one with Georgiev and roofed the puck top shelf and glove-side. Can you blame Georgiev for this? I don't think so. 2-1, bad guys.
Yes, maybe Igor stops this, but you can't compare Georgiev to the Igor of today, nor compare him to the prime years of Henrik Lundqvist and Mike Richter either. This goal allowed was on the "Tin-Man".
After the goal, the Rangers woke up a bit, as Julien Gauthier, Jacob Trouba, and Tinordi, perhaps looking to play "make-up ball" here, all went to the net. Right after, Georgiev stopped Cozens again.
About six minutes and change into the period, Dryden Hunt drew a penalty. The Rangers would never need the power-play, as during an extended 6×5 delayed penalty attack (similar to the one Buffalo had earlier in the first period), Trouba played mop-up duty, and after a few whacks and cracks out of Kreider and Lafreniere, it was #8 in Rangers blue finding the equalizer.
2-2, at the 8:03 mark.
(Of note: it was a great night for offensive performances out of the blue line, as Trouba, Miller and Lindgren all scored goals. Fox also picked up two assists.)
(Also of note: Kreider was in beast mode here, screening Dell, pushing skaters out of his way and pretty much set-up Trouba to walk in and score. Kreider doesn't get an assist here, but his play, and usage of his body, made this goal happen.)
With 11:07 to go, it looked like the Sabres had scored the go-ahead goal, but it was ruled that Eakin had made contact with Georgiev. The refs immediately waved off the goal as the puck went into the net, but if they saw the contact – why didn't they call goaltender interference? Ah, the wacky rules of the NHL, where you can watch these games forever and still have no clue what goaltender interference is, nor know when those penalties will be called.
Up next, four goals, with each team picking up two a piece, in a time-span of only 1:22. I thought Sam Rosen's head was going to explode while calling all of this. Micheletti also went into a "FABULOUS" overdrive.
At the 12:07 mark, Panarin made a great pass to Kakko. Kakko then did a give-and-go play with Strome, where at the end of it, #24 in blue finished off Dell. 3-2, GOOD GUYS.
Fifty seconds later, Tage Thompson tied it, as he shot a puck right through the legs of Tinordi and past Georgiev. I don't think Georgiev even saw this one, as it looked like he was screened. 3-3.
15 seconds after Thompson's goal, Rasmus Dahlin bombed one from the point. 4-3, bad guys. Of the four goals allowed, this one was 100% on Georgiev. (Of course, losing a bunch of faceoffs during this stretch didn't help matters either – just sayin'!)
At the 13:29 mark, 17 seconds after the Sabres pulled ahead, K'Andre Miller (no relation to Colin Miller Joe!), tied the game again. 4-4!
Here are a few of these goals from this crazy stretch of time:
madness at the Garden pic.twitter.com/MUwnqy6Ft2

— Rangers on MSG (@RangersMSGN) November 22, 2021
And it could've been five goals scored in two minutes, as right after, this is where Chytil missed a vacated net after receiving a pass from Lafreniere. Of note, Lafreniere probably should've shot this puck, especially with Dell shaking like a man trying to hold a massive shit in a wobbly elevator.
Also of note? Chytil's head, hanging down and touching the boards in front of the Rangers bench. He knew he could've had a huge multi-goal game.
I also want to share with you what I said on social media at this point in the game:
I know you don't want to shred Georgiev's confidence, and I know this won't happen, but I'd have Igor start the third. These are two points you can't throw away, while trying to be nice to a struggling goalie.
As stated, I thought come the final frame, it was time to give Igor the net. You just couldn't dick around with the Sabres and throw a win/two points away. While I wanted this to happen, I must admit – I was shocked when Gallant displayed the same sentiment.
I talked enough about Georgiev already, but yeah, this yanking will wreck his confidence. Glass half-full? It shows you that Gallant wasn't going to risk a loss either. He knew the Rangers had to win this game.
With under a minute to go, the Rangers would make one last-ditch effort for the go-ahead goal, when Trouba, of all people, put on the moves, did a spin-o-rama, a shot which Dell saved, and with Lafreniere waiting in the wings for the rebound. No dice, but nice try.
4-4 after forty minutes. What a wild and crazy period.
And to go back to social media real quick, I also said this following the period:
It would be nice if Mika (-2, 1 SOG) could be a hero here.
While Mika wouldn't get anymore SOG, much less a goal in the third period – he would improve his plus/minus number, as a result of his eventual game winning assist.
---
As mentioned, come the start of this this period, Georgiev's night was over, with Igor, like Mariano Rivera, being put into "close out" duty. Igor would make the save and help get his team the win.
Again, I was fine with this decision, especially when you consider the fact that the Rangers are off for the next two nights. Playing Igor for twenty minutes won't effect him for Wednesday. If anything effects Wednesday's game, it's COVID. (More on this at the end of this blog.)
In addition, and if you want to play conspiracy theorist here – the Rangers really turned it on during these final twenty minutes of action.
By the time there were five minutes remaining in the period, Igor had only faced two shots on goal. Was this the Rangers playing one of their better third periods of this season, or were they jacked up with Georgiev now gone? Hmmm….
All in all, Igor denied four lousy Sabre shots, where he could've been scrolling around on his social media pages during this third period. It was the easiest game and win of his career – and I've seen them all.
Conversely, Dell faced a barrage of shots, where to his credit, he denied all-comers. The Rangers had their best SOG disparity of a period here, where they out-shot their "Winter Classic Rival" by a tally of 15-4. Usually, the Rangers are on the wrong end of these types of statistics.
In addition, the Rangers (especially during the final years of the Lundqvist Era), were usually on the wrong end of late back-breaking goals allowed too.
Not this time or game though, as to fast-forward through this period here (as this period was pretty much Dell making save-after-save, except with three minutes left when Hunt rung one off the iron), with .4 seconds left on the clock, Zibanejad found Lindgren for the game winner:
What a win! pic.twitter.com/nkVYFgy6mS

— Rangers on MSG (@RangersMSGN) November 22, 2021
5-4, GOOD GUYS. There's Kreider again, using his body, as Zibanejad made one of the best touch passes ever for #55's goal – the fifth and final Rangers goal of the game.
After going through the motions and dropping one last puck, 5-4, GOOD GUYS, your final!
---
JUST INCREDIBLE!
I wouldn't say this game was the best win of the season (the 4-0 shutout of Columbus or the 2-1 OT win over Toronto are my candidates for that distinction); nor would I say that this game was the most exciting win of the season (hate the shootout all you want, but that win over the Devils was exciting as hell), but yeah – this was an impressive, thrilling and breath-taking way to win. Even better was the way Sam Rosen just let his fandom all hang out, as he was celebrating Lindgren's goal like it was 1994. I loved every moment of it.
However, because there is always some sort of drama, we had this right after the game:
Wtf? pic.twitter.com/gVfsdpZR6T

— moldybread (@JLiq_) November 22, 2021
---
At the time, people thought that perhaps Gallant was scolding Mika for not shooting, as the head coach was previously screaming at his team to shoot the puck more. However, that wasn't the case.
After the game, Galllant gave a simple explanation – he wanted Mika to stop crying at the refs. Prior to Lindgren's winner, Mika was tripped at center ice with thirty seconds remaining, yet didn't receive a call.
Just like how he controls the NYR media, where you always know that Gallant is in charge (unlike David Quinn), the Rangers head coach publicly displayed that he was in control of his players too, giving a tongue-lashing to one of his biggest stars.
I'm not saying Gallant should be doing this all the time (nor do I think these situations will become a regular occurrence either), but it was nice to see Gallant treating a superstar as if he were anyone else. Plus, you will see these same officials again-and-again, and there is no reason to create a vendetta with them – especially after a win.
At the end of the night, just like his false positive COVID test, Mika will quickly get over this. This story, while it looked like something major at the time – pretty much amounts to nothing. Gallant made his point. Mika understood it. All is good. We move on to the next one.
What's not good, are the LAST PLACE New York Islanders. (I loved writing that sentence!)
---
Tonight was a good win for the Rangers, even if it took a while to get it. However, all that matters is that they won a game they were supposed to win. How they did it doesn't really matter.
And yeah – while you don't win a Stanley Cup in November, these points earned now count just the same as the points and games in March and April. The Rangers are doing a fine job of racking up points, as we approach the Thanksgiving tent-pole of the NHL season.
The Rangers now have two days off, where on Thanksgiving Eve, they will play at the new M$G II – a home game at the IBS Stable in Belmont.
Similar to the game that was supposed to be played in Ottawa this past Saturday, this game may be postponed too – due to the Islanders roster being ravaged by COVID-19. How are all of these vaxxed players getting COVID? I don't have an answer to that.
---
From my Islander sources (including the great Andy G. and his buddy Tim in accounting), it's thought that if this weekend wasn't the Islanders debut at their new venue, then the NHL would have postponed these two games, which both turned into Isle losses – as the Islanders lost to both the Calgary Flames (5-2 on Saturday) and the Toronto Maple Leafs (3-0 on Sunday).
Obviously, the NHL wants to avoid postponing games – especially when there is a lot of money on the line, as these first three games at the Islanders IBS arena are.
To show you how much money was made at Belmont over the weekend, on Saturday night, the Islanders debut in their new home, the Isles set the league-record for most beer sales ever recorded during a regular season game.
(Of note, this stat was provided to me by Isles superfan Cord L., who is a walking encyclopedia of meaningless Islander information – including the length of their flights on the road! I was also able to confirm this beer sales figure after Cord first reported it. You won't get this stuff on any other hockey blog!)
This fact/stat/record shouldn't surprise you. After all, consider the following:
— There are no pregame bars or places to go to before a game – yet.
— The Isles are strictly enforcing a no tailgate policy – a huge slap in the face to their once Coliseum faithful.
— It was a Saturday night.
— With a new venue, fans, rather than arriving late or bullshitting elsewhere prior to puck drop; entered the building in full force, where they wanted to explore the new digs. This gave the Islanders a capacity crowd the second that doors opened, rather than the place filling up right before game time.
— Unlike beer sale rules from previous seasons, teams can now sell booze up until the ten minute of the third period. Previously, beer sales were cut off once the third period started.
— You have to be piss-drunk to watch the Islanders in the first place!
---
As I am writing these words, I am seeing that the NY Post is also hinting at the idea of Wednesday's game being postponed. I have tickets for this game, and with the Isles reeling right now, all I can say is – GAME ON!
The Isles will have two nights to get their shit together, whether it's guys returning or calling up players from the AHL. Since they didn't postpone the first two games, why postpone the biggest money making game on the schedule? And wouldn't it make the NHL and Gary Bettman look bad if the Isles decided to postpone now, rather than doing so when they should've on Saturday?
While the idea of postponement is a real thing, I say "suck it up buttercup!"
Plus – the Islanders and their fans have been diseased for years anyway! (And please, don't twist the intention of my words around – this is a joke and not my way of making light of anyone who lost anyone during this pandemic. It's okay to laugh!)
---
If you haven't already, subscribe to this blog for the next update:
---
Up next: the Islanders (hopefully).
Of note, I may be extremely late posting a game recap/blog on Wednesday night, since I'm going to the game and because Thanksgiving is the next day. Maybe I'll get something quick up, but it sure won't be as lengthy as this blog.
I'd also like to do a stand-alone picture gallery blog (with thoughts) on the new IBS arena. Despite my hatred of the Islanders, I've had many people that I know and respect, tell me that this is the greatest arena for a hockey game on the planet today. I'll be the judge of that!
If I don't post anything else before Thursday – have a Happy Thanksgiving – even if you're an Islander fan!
---
Rangers-wise, after T-Day, the team goes to Boston on Black Friday for an afternoon matinee. This kind of sucks for the players and everyone else involved with the team, as they will have to spend Thanksgiving away from their families and in Boston.
Then again, there aren't that many Americans on the Rangers, and one of the few Americans, Chris Kreider, is from Boston. Still, it can't be easy for the other Americans on this team, but I guess that's part of the job.
Lastly, check out Stan Fischler's Java Jive (FischlerReport.com) tomorrow, as my feature piece on the Arizona Coyotes will be on it.  I'm not sure if it will be behind a paywall or not, but if it is, I'll run it here next blog.
Stay FABULOUS my friends.
As always here, thanks for reading and…
LET'S GO RANGERS!
Sean McCaffrey
BULLSMC@aol.com
@NYCTHEMIC on Tweeter