Greetings and salutations everyone and welcome to another blog here on BlueCollarBlueShirts.com. Off of puck drop here tonight, this blog may be shorter than usual, as I have a flight to Canada tomorrow. I also have about 50 emails to respond to as well & I want to do all that before my trip.
If I've said it once on these blogs, I've said it a million times – the NHL is league of "Any Given Sunday's". After being trounced by Tampa and "Father Fink'd" by Florida, the Rangers regrouped, rebounded and went on to defeat the best team in the NHL on Wednesday night, defeating the Washington Capitals by a final score of 4-1. Similar to their win at home over Tampa earlier this season, I felt this was a huge team win for the Rangers, as everyone did their part tonight. Even better, the Rangers "name-brand" players, were major factors in this victory.
In tonight's victory, the Rangers got a solid performance out of Henrik Lundqvist, who admittedly, was bailed out on four occasions by the goal post & crossbar in this game. But hey, if Washington is picking those spots, they can only blame themselves for not moving the puck a centimeter lower, to the right or to the left.
Kaapo Kakko, who made his return after missing two games with the flu, picked up two assists, with his first assist coming off as picture perfect.
Artemi Panarin, who I've said may become the best free agent the Rangers have ever signed, once again led the way, scoring two power-play goals in the contest. For as much as the special teams failed the Rangers in the state of Florida, the special teams did a 180 tonight, picking up two huge goals. Even better, the penalty kill, which was ranked 28th in the league going into this game, finished 2/3.
The lone Washington power-play goal, which was the lone Washington goal of the game, came after an error from Brady Skjei. Without this error, who knows, maybe Lundqvist would've picked up a shutout in his 454th career win, a win that now ties him with Curtis Joseph for 5th all-time.
And quickly, because I know others will spend time on it, two things about Lundqvist and the All Time Wins list. Obviously, it's a nice feather in the cap, but it's also a record that needs an asterisk. Lundqvist is surpassing goalies who played in the tie era. He's also passing goalies who didn't play in 82 game seasons. Thus, Lundqvist has an advantage over his predecessors. However, to be fair here, you can only play in the era you're in, so it's a nice thing for Lundqvist to have.
Lundqvist will eventually move ahead of CuJo and will be fourth on the All-Time Wins list. That being said, Lundqvist will eventually slip to fifth place, as Marc-Andre Fleury currently has 450 wins and is several years younger than Lundqvist. I don't think anyone can argue this – MAF will surpass Lundqvist here and who knows, one day may catch Patrick Roy, who has 551 career wins.
And lastly while on this topic of the All-Time Win Leaders, here's the updated list:
| | | |
| --- | --- | --- |
| 1 | Martin Brodeur | 691 |
| 2 | Patrick Roy | 551 |
| 3 | Roberto Luongo | 489 |
| 4 | Ed Belfour | 484 |
| 5 | Curtis Joseph | 454 |
| 5 | HENRIK LUNDQVIST | 454 |
| 6 | MARC-ANDRE FLEURY | 450 |
| 7 | Terry Sawchuk | 445 |
| 8 | Jacques Plante | 437 |
| 9 | Tony Esposito | 423 |
I don't know if it will happen with the Rangers or not, but Lundqvist is big on his individual stats. I think one day he will catch Luongo. I don't see him catching Roy though. With MAF being on a good team and still playing well, I really do think he catch Roy. (Again, MAF doesn't have to worry about ties.)
Also, this list makes you really appreciate Marty Brodeur, which as a Ranger fan, is high praise!
In case you've been living under a rock, let me tell you once again, that on Sunday, the Rangers waived Micheal Haley, sent Lias Andersson to Hartford and recalled Timothy Gettinger.  I did a huge blog about all this on Monday. To read that blog, and all my other most recent blogs, check out below:
---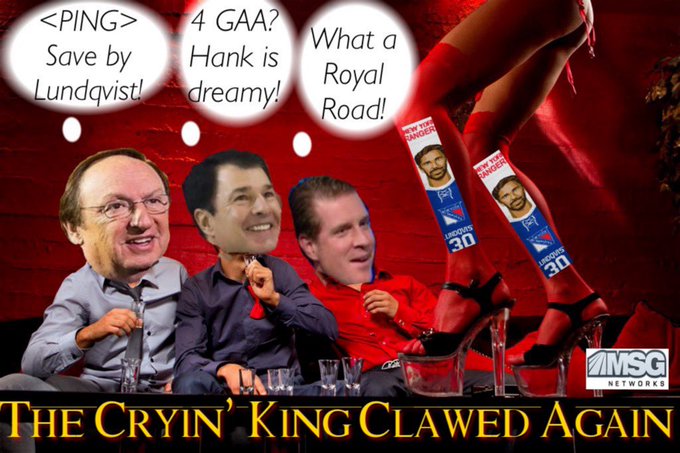 ---

---
---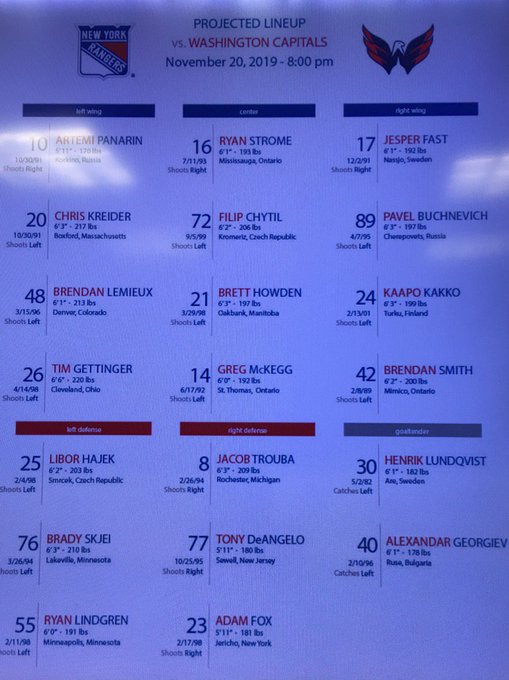 Going into tonight's game with Washington, I thought the Rangers were going to get spanked. After all, Washington is the best team in the league. While Washington was missing the elite Nicklas Backstrom, in addition to missing Carl Hagelin and Garnet Hathaway (suspension), I still thought Washington were much better than the Rangers. Of course, on paper (and on charts) means oo-gatz; that's why the teams play the games!
Entering this contest with the Rangers, the Capitals previously won the last seven games between these two teams. They also have one of the best power-plays in the league and the Rangers have had issues with trying to stay out of the box. You also never know what kind of game you'll get from these Lundqvist these days. In the same vein, you never know what kind of game you'll get out of this defense either. What scared me the most about this game, were the Ranger special teams, who have been Father Finkin' awful as of late.
Of course – ANY GIVEN SUNDAY, and that's what we had here tonight.
I should also mention this. Whenever you think the Rangers have been kicked in the dick so hard, that they just look out of it, they always step up. It seems like after every bad loss, the Rangers are beating one of the best teams in the league, whether it's Tampa, Buffalo and now Washington. Now, here on 11/20/19, David Quinn has to string some wins together and keep this team motivated for more than one game at a time.
(And yes, I know Tampa aren't what they were last season. We didn't know that when the Rangers beat them at the time.)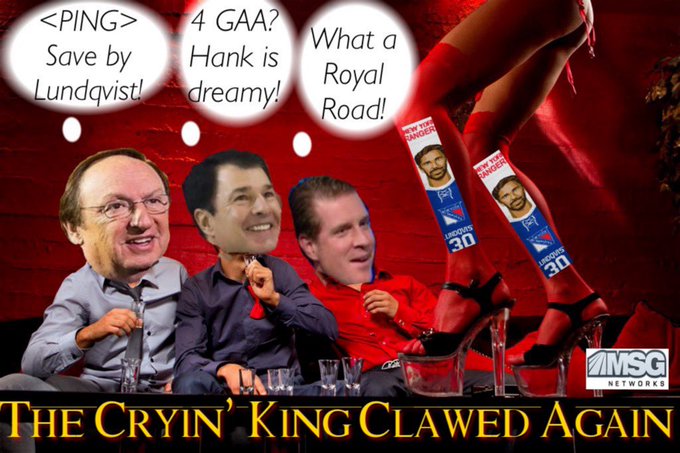 As far as my predictions about this game, I was more wrong than right. Here's the GAMBLING segment!
This is what I said before the game:
O/U season record: 11-7

If you're lucky you can find this game at -6. If not, I still see this game hitting at least 7 goals.

Lundswiss is getting the nod, so he's good for 4+ goals by himself. #NYR usually get 3+ vs good teams, even if they lose.

Caps PP will destroy Hank. pic.twitter.com/SkfmvpTibn

— BlueCollarBlueShirts (@NYCTheMiC) November 20, 2019
Well, I did get the Rangers scoring 3+ goals thing right! The Caps also got a PPG in this game, but they didn't exactly "destroy" Lundqvist either.
And if Washington didn't hit four freaking posts tonight, maybe the over would've hit! Shoulda, woulda, coulda! That said, I'll take this 4-1 victory and be wrong any day of the week, twice on Sundays!
My over-under record now drops to 11-8. Three measly games over .500. Minga.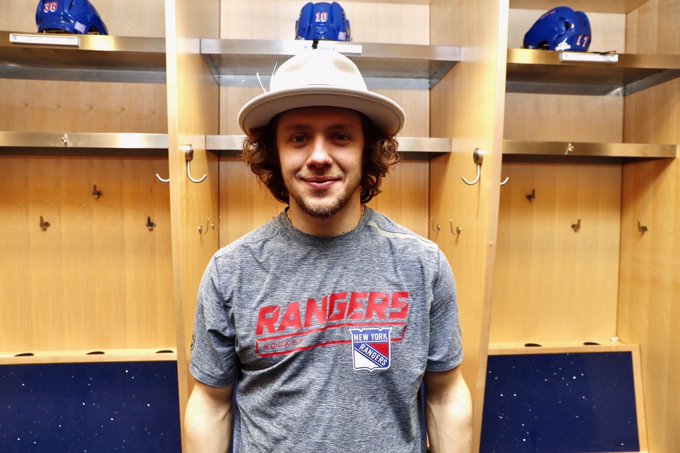 I don't want to get too much into this, as like I said, I got an early flight tomorrow, but I thought the NBC pregame show was great. Of course, they had something to talk about, with Mike Babcock being fired in Toronto and the St. Louis Blues having the injury bug. I always enjoy seeing Bob McKenzie, as I feel he's one of the last old school reporters around. And as I've said in the past – all big Ranger news is broken in Canada.
Real quick, and this isn't a shot at Panarin, but isn't Alex Ovechkin one of the most likeable players in the league? He does a ton of charity work. Then, even when the cameras are off, he always finds little kids in the crowd, whether he's home or away, and gives them pucks, sticks and whatever else you can think of. He even saw a kid in Calgary wearing a Capitals #8 sweater and then invited that kid into the Caps locker room. Very often, we hear horror stories about athletes, especially the NFL ones, so I think someone like Ovechkin should get equal headlines.
If there is anything you take out of this – it is that NHL players do so much good. I rather read about the great stuff that they are doing, which betters communities and enriches lives, than read about these NFL thugs who are punching women in the face. (Another NFL player, from the Miami Dolphins, did this very exact thing two days ago. Sickening. Even worse, he punched a pregnant woman. These National Felony League athletes have no sense of decorum.)
Oh and before you go there, this isn't a black vs white thing either. PK Subban is one of the biggest givers in all of the NHL. The guy loves being part of the community and is involved with a ton of charity work. This is an entitled American vs everyone else type of thing, and it pains me to say that as an American. (And one last aside here, I'm talking percentages here. Not every American NFL player is bad. Many American NHL players are good people. I am just commenting on the stories that garner headlines.)
Ovechkin did an interview, before this game, with NBC. Of course, he did this interview in English, rather than in his native Russian. When I think of Panarin, and again, this is not a shot, as I know English is tough to learn (after all, I don't think I could learn how to speak Russian) it would help Panarin if he learned how to speak English fluently. Ovechkin gets a ton of endorsements, is one of the faces of the league and is marketable. If he didn't speak English, he wouldn't get these opportunities. If Panarin can figure out English, he could be the face of marketing campaigns and be in all these commercials too. I assume Panarin cares about this stuff, since he hired someone to run and to promote his social media channels.
From what we see, Panarin is just as good as a guy as Ovechkin. He is someone the NHL can bank on. If he learned English, he could add even more dollars to his insane bank account.
And now, at this time, the official box score from ESPN.com:
SCORING SUMMARY: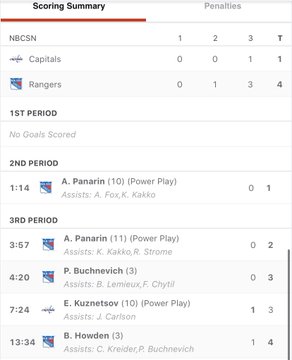 PENALTIES: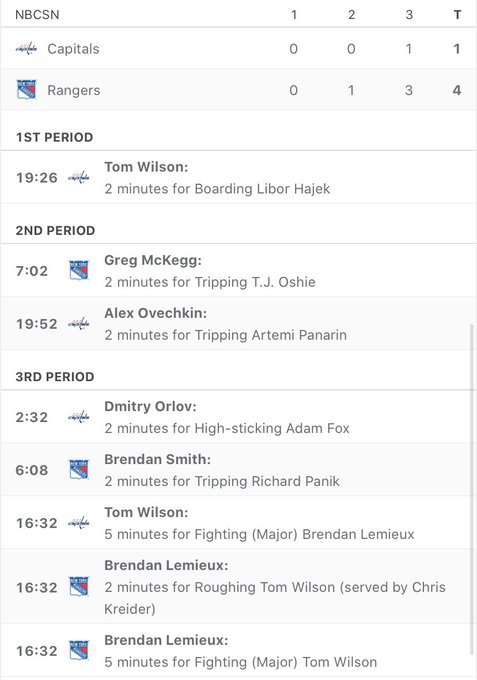 GOALIES:
| | | | | | | | | | | |
| --- | --- | --- | --- | --- | --- | --- | --- | --- | --- | --- |
| SA | GA | SV | SV% | ESSV | PPSV | SHSV | SOSA | SOS | TOI | PIM |
| 31 | 4 | 27 | .871 | 22 | 0 | 5 | 0 | 0 | 57:46 | 0 |
| | | | | | | | | | | |
| --- | --- | --- | --- | --- | --- | --- | --- | --- | --- | --- |
| SA | GA | SV | SV% | ESSV | PPSV | SHSV | SOSA | SOS | TOI | PIM |
| 31 | 1 | 30 | .968 | 22 | 2 | 6 | 0 | 0 | 59:46 | 0 |
With a first period that ended at 0-0, the story of the first period was how well the third line of Kaapo Kakko, Brendan Lemieux and Brett Howden were playing. By the time the game was over, these players picked up multiple points and Lemieux held his own in a heavyweight prize fight with Tom Wilson. Of course, the Rangers strength in this game was the effectiveness of their power-play. That being said, the third line really stood out tonight. What's that phrase? "FAST, PHYSICAL, RELENTLESS!" That sums up the third line perfectly tonight.
Oh, and for what it's worth, before the game, Rangers beat reporter Leslie Treff reported the following on Twitter:
"More scouts here tonight than I have seen for awhile."
I don't know what that means, but if you want to speculate and throw out names, I would imagine Chris Kreider is someone being scouted. (No clue if the Blues scouts were there tonight.)
The first period was largely a back-and-forth affair. As noted, Kakko really stood out and tried to set Lemieux up several times. On one play, the puck just missed Lemieux's stick. On another, Holtby made the save.
Later on in the period, Tony DeMAGAngelo broke up a Caps two-on-one. While Lundqvist was solid tonight, making 30 saves, he was probably only seriously challenged two or three times tonight. Most of the Caps shots came from deep, and the ones that were from close, wound up finding iron. In fact, as I remarked on social media, the posts had more black marks on them than the mattress of someone who smokes cigarettes in bed!
I also said that Lundqvist should take his posts out to dinner at Peter Luger's tonight. I was told that Lundqvist is a credit card guy and that Peter Luger's only takes cash. Eh, maybe he can take them out at the new "TRACKS", on 31st Street. Then again, there's nothing wrong with a late night bite at ROSE'S Pizza in Penn Station!
The two bright spots, of the first 6 minutes of the game, were Holtby making a kick save on Lemieux and the fact that the Rangers weren't in the box.
Later on in the period, referee FURMAN SOUTH, took a puck to the face, as the puck ricocheted off the boards during an Ovechkin clearing attempt.
For starters, who names their kid FURMAN SOUTH? It sounds like a porn star name. I wonder if his middle name is "GOING"?
We had a break after this play, as Rangers trainer Jim Ramsey patched South up. This took about 3-4 minutes. South was right back out there. Freaking hockey referees are tougher than athletes in other sports. This is a 6 month injury in baseball. Of note, during the first intermission, South would take five stitches to his lip area. Tough son of a bitch.
When we resumed, Holtby would make a great save, while screened, on Brady Skjei. Holtby just assumed where the puck was going, held his glove high and made a clean save. Great job.
Later on in the period, Trouba took one of his Tim Allen MANLY shots, where you do the Tim Allen from "Home Improvement" grunt after seeing it. (I don't know how you type that sound out. Is it OOOH OOOH OOHH?) A Cap blocked the shot. That had to hurt.
In the second half of the period, the Rangers got messy for a bit. Ovechkin, surprised, would find the puck on his stick. He was caught off-guard and weakly tapped the puck wide. The crowd chanted "HENRY" after this. I swear, they must air a graphic on the scoreboard telling the crowd to do this, because you have these idiots going nuts, as if they were a coked out "Price is Right" contestant.
In the waning minutes of the period, Johnny "Norris" Carlson hit the post. That was the Caps third post of the period. Sometimes the posts are your best friend, sometimes they are your worst enemy. For the Rangers, the posts will be enjoying some Labatt Bleue on the plane to Ottawa.
With 33 seconds left in the first period, Tom Wilson, running around like a wildman, blatantly boarded Libor Hajek. This put the Rangers on the power-play. Of note, Tony DeAngelo has replaced Adam Fox on the first PP unit. Well deserved.
The Rangers couldn't get a PPG with these 33 seconds of a man advantage to close the period. They would make the Caps pay early into the second period.
0-0, after one. Of note, the Caps were out-shooting the Rangers by a tally of 10-9, so nothing crazy here.
The second period had two highlights. The first one came at 1:14 into the first period, as Artemi Panarin finished a puck, that was superbly delivered to him, by Kaapo Kakko:
The BREAD MAN with a quick visit to the bakery! 🚨

The @NYRangers strike FIRST. ⚡️

Presented by: @NewAmsterdam pic.twitter.com/0GeDfoTkpW

— NHL on NBC (@NHLonNBCSports) November 21, 2019
1-0 GOOD GUYS!
On the goal, this came just about the same time the power-play was about to expire. Perfect pass, perfect finish, perfect PPG. I can't praise this goal enough.
A couple of minutes after this Rangers PPG, we had the second highlight of the period. I present to you the following clip in full, as my words can't do it justice:
Luke's father spent the last year in Afghanistan.

Tonight, he returned and surprised his son. ❤️ pic.twitter.com/HK4nUAN4Ar

— NHL on NBC (@NHLonNBCSports) November 21, 2019
I don't want to get political here and do my "Father Fink the NFL and their kneelers" spiel, but this was amazing.
You had this kid, who hasn't seen his father in over a year, at the game. His father, a solider who served in the US military and was stationed in that third world shithole called Afghanistan, just returned home. I don't know what charity or organization put this together, but this was a Disney on Ice moment. Watching the kid run up the stairs to see his dad – man oh man, who is cutting onions in here? Seriously, this was like a Hallmark movie right here. All you needed was Candace Cameron playing the role of "happy mom".
I do have to say this – how can this kid give two Father Finks about the game after this moment? Whatever the case, stick taps to whoever set this up and to put a cherry on top on all of this – the Rangers won the game.
After this moment, I was expecting Lundqvist to immediately give up a goal. Yes, asshole Sean is back!
Instead, the Caps hit the crossbar. Whew. 1-0 game still.
After some more back-and-forth, with 36 minutes played in the game, the Rangers had 14 shots. On their 14th shot, Chytil had a breakaway, but Holtby stoned him.
Also of note, Pavel Buchnevich was benched for a bit here, with Kakko being shuffled up a line. Buchnevich wouldn't remain benched for the whole game though, as we'd later see.
The final minute may have been the most explosive minute of the period. Holtby would rob Lemieux. The Caps then marched down the ice and deployed their attack. Lundqvist made a few saves here. Nothing crazy, but these saves were important. Giving the Caps a tying and momentum-changing goal here would've been the drizzling shits. To his credit, Lundqvist denied each comer.
With 8 seconds left in the period, this period ended just like the first period – with the Capitals taking a penalty. This time, it was Alex Ovechkin tripping Panarin. Keep that in mind, Panarin drew another penalty. What can't this guy do? If he can learn some English, maybe he will get the "C" one day.
8 seconds of PP time wasn't enough for the Rangers, so at the end of 40 minutes, the Rangers remained up 1-0 and had 1:52 of PP time to start the third.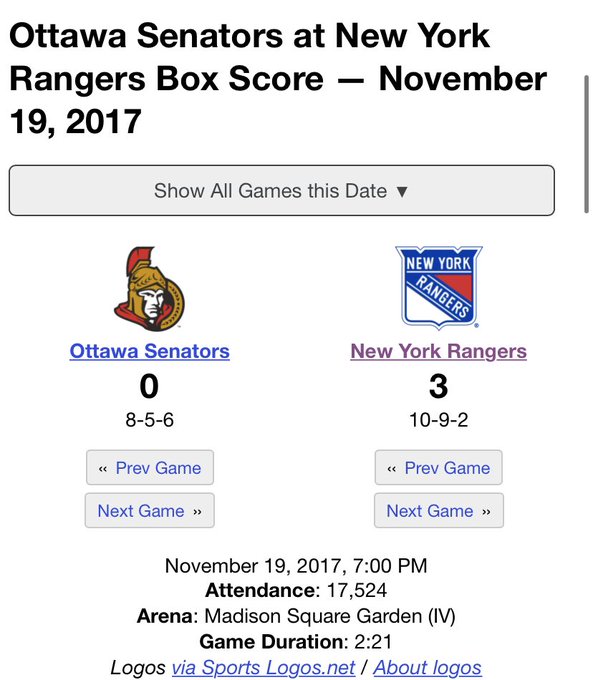 In a 1-0 game, a game where the Rangers were great defensively, my social media accounts started blowing up, with a lot of talk about Lundqvist having a shut-out going. Of course, some of it, which is good-ribbing, is well-deserved. However, don't these people know about superstitions and jinxes? Furthermore, don't they know that Lundqvist isn't MAF, and is no longer capable of posting a shut-out anymore?
And to be honest here, at the time, I personally thought Lundqvist was going to get the shut-out; jinxes, superstitions or black vodoo magic be damned. The Rangers were denying the Capitals offense. Lundqvist had the puck luck and the iron going for him. The only way I saw the Caps scoring, was either on a power-play or when they pulled Holtby. I thought if the Rangers could stay out of the box, they would get Lundqvist his precious shut-out, which is something he hasn't done in two years.
Oh, and just the fact people were giddy with the possibility of Lundqvist getting a shut-out, tells you all you need to know. It's so rare these days, like a lunar eclipse on Friday the 13th, that people get amped for the slight possibility of seeing one. A shutout isn't like a perfect game or a no hitter in baseball. After all, as talked about in my last blog, a rookie in MacKenzie Skapski got one, in just his second NHL game played!
The Capitals would kill the Rangers power-play to start the third period. Immediately after, Dmitry Orlov high-sticked Adam Fox to put the Rangers back on the PP. Of note, the Rangers had a little of 6 v 5 time, with the delayed penalty. Fox went to the bench. During times like this, the trainer should check on his player and take a little razor and blade his player, as if they were pro wrestlers. This way, you get an extra two minutes of PP time! I know, I'm a genius!
On the next Ranger power-play, once again, there was Artemi Panarin scoring, with Kakko picking up the assist. However, this time, it was the offensive awareness of both players, which led to the goal. Here's Panarin cleaning up:
Bring your bread emojis. 🍞@artemiypanarin x 2 🚨 #WSHvsNYR pic.twitter.com/b5Ae5bUOKA

— NHL on NBC (@NHLonNBCSports) November 21, 2019
2-0, GOOD GUYS!
Immediately after, as in 23 seconds after Panarin's PPG, Filip Chytil set-up the previously benched Pavel Buchnevich, after the Rangers won the opening face-off:
BUUUUUUCH! Pavel Buchnevich puts home the GORGEOUS Chytil feed! Rangers up 3!#PlayLikeANewYorker pic.twitter.com/yvjUMKOALL

— HD365 (@HockeyDaily365) November 21, 2019
3-0, GOOD GUYS. What a pass, what a goal.
At the 6:08 mark of the period, Brendan Smith got boxed for tripping. During this Washington power-play, Evgeny Kuznetsov scored an easy PPG. In related news, Brendan Smith has been sent to Hartford, as demanded by Henrik Lundqvist. I kid, I kid.
On the Caps PPG, there wasn't much Lundqvist could do here. Skjei blew the coverage and boom, there was the goal. As I said up top, with each goal scored in this game, there wasn't much the goalies could do. The skaters finished on perfect shots, set up by pretty puck movement.
At the 13:34 mark of the period, Kreider found Howden, who was camped out and all alone in front of Holtby. 4-1, GOOD GUYS. I wonder what a Rangers -1.5 bet would've paid out tonight? Probably something like +450.
With the game surpassing the FOXWOODS FINAL FIVE mark (Talk about great advertising, I still remember this slogan from 6-8 years ago) Tom Wilson, who was goading the Rangers all game, finally got Brendan Lemieux to bite:
Hell of a scrap between Lemieux and Wilson #NYR pic.twitter.com/Xr51pGG6EG

— Rob Taub (@RTaub_) November 21, 2019
Couple of things here. I thought Wilson won the fight. If this was a UFC fight, I would've given Wilson the 48-47 score here. This fight was pretty much 55% Wilson, 45% Lemieux. Not bad for Lemieux, as he took on an NHL heavyweight prize fighter here.
Normally, I wouldn't advocate taking a fight with a three goal lead and less than 5 minutes left, but I see it from Lemieux's side. Wilson was a pain in the ass all game, trying to lay the hammer on everyone, was shit-talking all game and Lemieux finally had enough and defended himself and the team. Plus, after all, these two teams are divisional rivals. If this was a one goal game, I think it's a different story.
Somehow, after this, either Lemieux got an extra two minutes or Kreider was penalized for something. The broadcast couldn't make heads or tails of this Capitals power-play. In fact, this penalty isn't even listed in the box score; that's how stupid and full of bullshit this call was. I don't know what it is, but it seems that time and time again, we're seeing an extra two minutes added to teams, after a fight. Unnecessary. This should've been clean five minute major for five minute major trade-off. (Speaking of Five Minute Majors, hey Travis!)
If you were betting the over as I predicted before the game, with a 4-1 score, you were rooting for a Caps PPG and a Rangers empty netter. Instead, the score would remain at 4-1, as despite the Capitals pulling Holtby during this, the Rangers prevented the Capitals from "capitalizing" (pun intended) with the two-man advantage.
The Capitals, who failed to score here, would put Holtby back in the net after their power-play expired. They conceded the loss and as the final horn went off, the Rangers picked up a HUGE two points and Lundqvist got his 454th career victory.
All in all, a great team win for the Rangers and probably a game Lundqvist won't forget any time soon either.
As I write these words, it's about that time I start packing for my trip to Montreal & Ottawa.
Blog-wise, I finished reading George Grimm's "Guardians of the Goal" book. I'll probably review that once I get back. If you want a quick review, I'll say this – this was another great book from Grimm. As someone who knows a lot about Rangers history, there were one or two things I took out of this book that I previously didn't know. For other fans, you'll get a lot more out of it than I did. Grimm also has a different opinion of Lester Patrick than me, but that's something for the review when I get to it!
As mentioned, I'm meeting the Boucher family on Friday, then driving back to Montreal after the game with Ottawa. I have an early early early, as in 6:30AM, flight from Montreal to NY on Sunday. Maybe I'll recap the entire trip while on the plane ride home. If I can find time to write after the Ottawa game, I will. No promises though!
Goaltender-wise, I didn't expect Lundqvist to play tonight at all. After tonight's game, and because of Lundqvist's horrific record in Montreal, a city where he hasn't started a regular season game in two years now, I see Lundqvist starting Friday vs Ottawa and Georgiev getting the nod on Saturday vs Montreal. We'll see.
And while on Ottawa & Montreal, both teams are playing above expectations. Whether it was the trade of Vladislav Namestnikov or what, the Senators, who everyone had pegged as bottom-of-the-barrel losers, are now three points out of a playoff spot. Furthermore, THEY HAVE A BETTER RECORD THAN THE TAMPA BAY LIGHTNING!
Montreal, who many figured to be a middle-of-the-pack team, are third place in their division, with four points to spare.
Conversely, the Rangers are near the bottom of the Eastern Conference, with 20 points. They also have games in hand though.
A trip that perhaps once looked winnable on paper, will be two games full of trials and tribulations. It's up to Quinn to get his team ready for the task and put a winning streak together. Let's hope the Rangers have a better trip up north, than they did down south, just a week ago.
I don't know when I'll see you next, but I'll see ya soon.
ALLEZ ALLEZ ALLEZ MONTREAL!
As always, thanks for reading and…
"LET'S GO RANGERS"
Sean McCaffrey
BULLSMC@aol.com
@NYCTHEMIC on twitter
PS: Not one of you got the graphic from the last blog correct. Two people came close though. Check the last blog for more.