Greetings and salutations everyone and welcome to another blog here on BlueCollarBlueShirts.com. As I write these words, right after the Rangers 3-2 overtime win over the Pittsburgh Penguins on Tuesday night, I can feel the electricity pouring out of my finger-tips. Hopefully, by the time I get to the end of this manifesto, the high of this win will wear off. After all, I got TRAFFIC COURT early tomorrow. I'll talk more about that at the end of this blog.
On Tuesday night, with a rare 7:30PM start time, the New York Rangers hosted the Pittsburgh Penguins, in a game broadcasted nationally on the NBC Sports Network. While I'm aware it's only one game, in this one game, Kaapo Kakko showed the national audience in America what he can do. In tonight's Ranger victory over their despised Metropolitan division rivals, Kakko would score both the first goal and the last goal of the game. Each goal was impressive. Even better – Kakko also picked up his first ever overtime game winning goal.
Away from Kakko's best performance of his young career, Alexandar Georgiev, who had some shaky moments in this game, put on a dominating showing in the third period, which kept the game tied and allowed Kakko to have his heroics in overtime. Then, when you look at the rest of the line-up, the young Rangers also got strong games out of Tony DeAngelo, Brendan Lemieux, Adam Fox and Filip Chytil. Even better, Artemi Panarin, who could be the best big name free agent the Rangers ever signed, also had another strong game.
For a team missing their two oldest and most tenured players, in Henrik Lundqvist and Marc Staal, the new era of Rangers battled together and picked up a huge two points. Games like these are glimpses into the future, where the Rangers aren't saddled with players who no longer fit on this rebuilding team anymore.
To be fair tonight, neither team was 100% in this game. As mentioned in my last few blogs, Mika Zibanejad and Marc Staal are still out. In an update on Zibanejad, he is not expected to make the trip to Florida, for the two games with the Bolts and the Panthers. Zibanejad's first line center counterpart on the Pittsburgh Penguins, and someone who also has had to deal with concussion issues in his career, in a one Sidney Crosby, was also out for this game. Crosby may be out for a while, with what's being described as a "lower-body" injury.
Just like the tenured Marc Staal, Pittsburgh defenseman Kris Letang did not play in this game either. It seems like Letang's style is catching up to him as time goes on, as he is often injured more times than not. That being said, for Penguin fans who may use the excuse that they didn't have Crosby or Letang in this game, well the Rangers didn't have Zibanejad and Staal either.
For the first time in the Crosby vs Rangers era, the Rangers actually have an elite forward on the roster and his name is Artemi Panarin. Going into this game, it is/was known that Evgeni Malkin usually shoulders the load when Crosby is out. Both Panarin and Malkin would trade assists in this game.
While Panarin & Malkin both logging assists in this game might be more coincidental than anything else, the fact is that the Rangers have the same offensive threat that the Penguins have had for years. And perhaps, because of Panarin, it allows someone like Kaako to fly under-the-radar and pick up two huge goals.
And lastly, perhaps David Quinn is on to something with Kakko on the third line. After all, what third liner or third pair defenseman is going to stop the guy? If the top players on the opposing team have to worry about Panarin, it allows Kakko to backdoor the Rangers to victories.
At this time, before motoring on here, here are my last few blogs, in case you missed them:
---
---
---
---
---
Obviously, because of Kakko's two goals, he will get the lion's share of attention tonight and it's all deserved. Outside of this blog, I wonder how much talk there will be about all the little things that Kakko did well in this game too.
Forget Kakko's two goals tonight for a minute here. If you watched the game after Kakko scored his first goal to right before the time he scored the game winner, you saw a locked in and dialed in Kaapo Kakko tonight. Kakko was playing defense, blocking shots with his stick, showing off his offensive awareness and most importantly, knew when and when not to hog the puck.
I've talked about this on prior blogs. In previous games, there are times where Kakko goes into Kobe mode and hogs the puck. As I said then and I'll say again here, I have no problem with it. Elite players do need to get selfish with the puck at times. However, what makes those players elite, is knowing when to dish the puck to a teammate and when to go for it. Whether it's confidence or being with the same linemates for a few games in a row now, there were times in this game where Kakko looked to go into puck hog mode, thought about it, and then passed it off. This extended Rangers time in Pittsburgh's defensive zone. These shifts showed me maturation and development from Kakko.
Later on in the game, with the teams tiring a bit, there was Kaako making a huge hit to extend the Rangers puck possession. Kakko also took some hits too, but never was worse for the wear. When you add all this to his two huge goals, this was easily Kakko's best game of his career.
Again, let's give some credit to David Quinn too here. I, like many of you, want to see Kakko on the top line. However, Kakko has found most of his success on the third line, especially with Brendan Lemieux on the other wing with him. Later on in this game, it would be Lemieux setting up Kakko for his first goal of the contest. By putting Kakko on the third line, Kakko is finding success.
Make no mistake here – one day, Kakko will be the everyday first line right winger for the New York Rangers. That day isn't today, but games like this are a step in the right direction, for both Kakko and the Rangers.
As I've said a million times on this blog, you have to trust the coach and the front office. These guys know these players better than any of us do. Of course, everything looks right after a win, but even if the Rangers didn't win this game, you could see Kakko trending upwards tonight.
At this time, let's go to the GAMBLING segment of the blog. Here's what I said before the game:
Season over-under record: 9-6

I'm on a 3 game losing streak, but that changes tonight. #nyr has their real starting goalie tonite & no Crosby to worry about. Jump on the UNDER at -6.5 before someone wakes it up & drops it to -6.

Love NYR to win. Love -1.5 for the $ even more pic.twitter.com/xWPL6adNQA

— BlueCollarBlueShirts (@NYCTheMiC) November 12, 2019
With five total goals scored, I'm off the schneid! My record now improves to 10-6. It was another UNDER game with Georgiev in net. While I only track my over/under predictions on this blog, I was shocked to see the Rangers pegged as a home dog by the Vegas odds-makers tonight. Soon enough, these odds-makers will wake up and show the Rangers some respect!
Before jumping into the period-by-period review, how about this stat about Tony DeAngelo, after picking up an assist in today's game? This comes from the Rangers & the NHL:
"Tony DeAngelo extended his point streak to five games. He became the second Rangers defenseman in last 20 years to record a point in five or more games in consecutive seasons. The other: Brian Leetch (6 GP in 2000-01 and 6 GP 2001-02)."
Again, and I know I'm sounding like a broken record here, but the Rangers need to lock down Tony DeAngelo, Brendan Lemieux and Ryan Strome, while they still can, at a team-friendly deal. If these three continue to do what they are doing, the Rangers won't be able to afford them, come this Summer. If I was Gorton, I would be talking to their agents right now and trying to lock them down to four-year deals.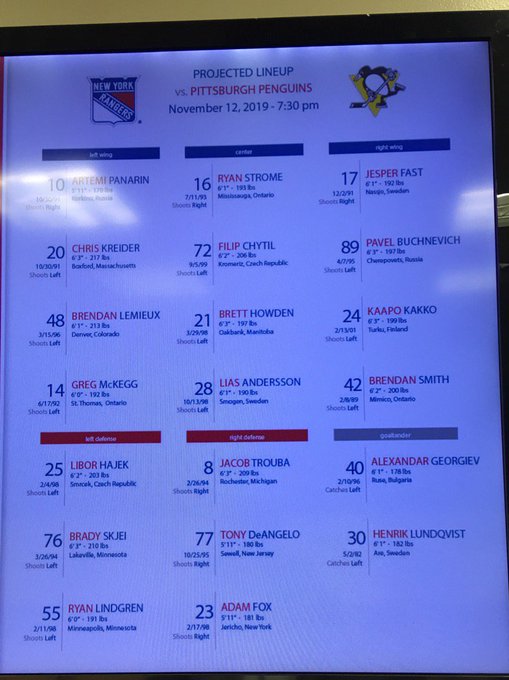 Line-up wise, as mentioned in my last few blogs, with the injuries to Staal & Zibanejad and the Rangers playing well, David Quinn has been using the same line-up. As a result, Micheal Haley is the only lone healthy Ranger scratch.
Goaltending wise, after looking like crap on Sunday, David Quinn opted not to use Henrik Lundqvist and started the best goaltender the Rangers have had in the last two seasons, in a one KING ALEXANDAR GEORGIEV. Unlike Lundqvist, who hasn't beat the Penguins in his last 9 starts, Georgiev held the Penguins to two goals and won the game. Hmmm, maybe Georgiev should now say, "Give me two goals and I got this." I kid, I kid. Or am I? Muahahahaha! As Mr. Burns from "The Simpson's" would say, "EXCELLENT!"
At this time, let's go to the official box score, courtesy of ESPN.com:
SCORING SUMMARY: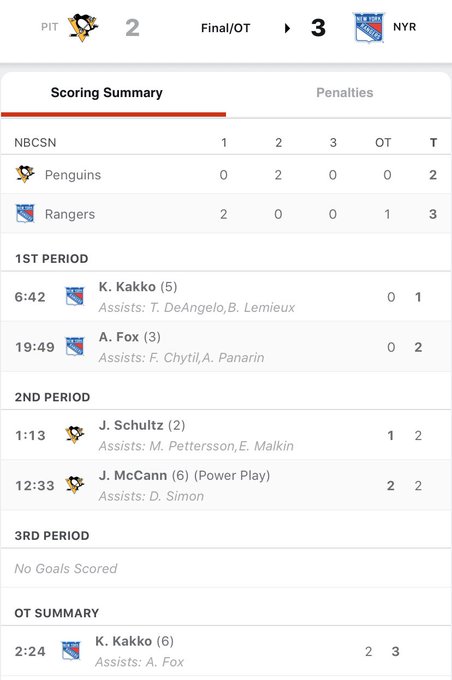 PENALTIES: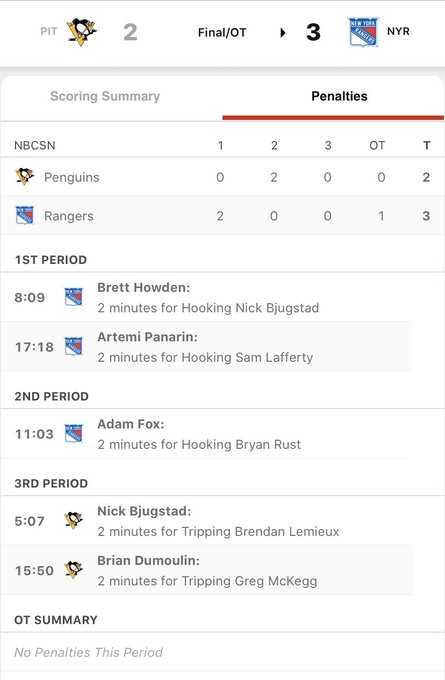 GOALIES:
| | | | | | | | | | | |
| --- | --- | --- | --- | --- | --- | --- | --- | --- | --- | --- |
| SA | GA | SV | SV% | ESSV | PPSV | SHSV | SOSA | SOS | TOI | PIM |
| 27 | 3 | 24 | .889 | 22 | 1 | 1 | 0 | 0 | 62:24 | 0 |
| | | | | | | | | | | |
| --- | --- | --- | --- | --- | --- | --- | --- | --- | --- | --- |
| SA | GA | SV | SV% | ESSV | PPSV | SHSV | SOSA | SOS | TOI | PIM |
| 32 | 2 | 30 | .938 | 26 | 1 | 3 | 0 | 0 | 62:24 | 0 |
This was an NBC game, so that means no Valiquette and his stupid charts, which correlates the Rangers to the tides off the moon, during the pregame show tonight.
And let's face it, this is the only chart that matters: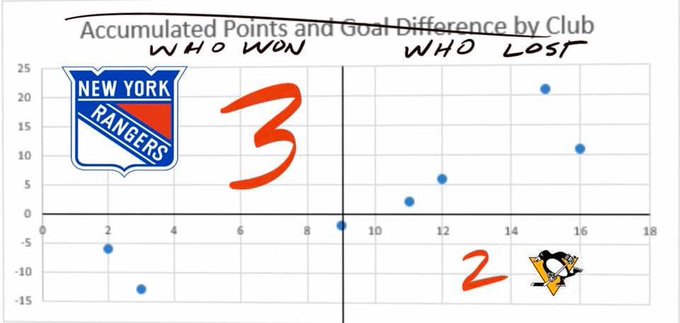 Unfortunately, Joe Micheletti was there tonight and, for EFF's SAKE (I've been told by many of you that I should limit my cursing and use my f-bombs more infrequently, so when I do use an f-bomb, it carries more weight) Micheletti was horrible.
That being said, Joe Micheletti was FUCKING TERRIBLE during this broadcast. (There's one f-bomb, my bad! That should also be the last f-bomb too!)
This is how the whole game went tonight, in the eyes of a one Joseph Micheletti:
"Filip Chytil is 20 years old. Do you know that Chytil is 20 years old? I think Chytil is 20 years old. Oh wow, Chytil is 20 years old. Wait, I think he's 20 years old and a few days. Do you know that Chytil just turned 20 years old?"
Seriously, Micheletti reminded me of that guy from "Back to the Future", who kept saying, "I think he took his wallet!":
Micheletti didn't hold back his love for ages with just Chytil. Every time a Ranger touched the puck, there was Joe Micheletti, going on incessantly, with how old a player was. Kaapo Kakko is 18. Tony DeAngelo is 24. Lemieux is this. Andersson is that. Back in the day, you'd usually hear the heights, the weights and the hometowns of the players. Now, Micheletti is like a walking Facebook birthday notification. It's only a matter of time before he starts rattling off the Social Security Numbers of each player.
Seriously, Micheletti is one more "Chytil is only 20 years old" from joining Ranger fan Steve Voogel on his road-trips all over the world, to see teenage Ranger prospects hone their craft. With all the time Micheletti spends talking player ages, he's earned a seat across from Chris Hansen, from the TV show "Catch a Predator".
And while I've said in the past that I use Joe Micheletti and his man-love for Henrik Lundqvist as comic-relief on these blogs, I am not trying to be funny here. Micheletti needs to give it a rest with the ages of the players. I mean, can you imagine going to work and saying, "My boss is this age. My co-worker is this age. John from accounting, who is currently in the shitter right now, is this many years old." We get it Joe, these players are not 38 years old like your Swedish cupless loverboy!
Tonight's game saw the Rangers play three different styles in each period. The Rangers kicked Pittsburgh's ass in the first. The Rangers got scared and were chasing Pittsburgh in the second. In the third, the teams were more evenly contested, but both goalies would hold their respective forts down. In the overtime, Pittsburgh should've won this game, but a turnover changed their fate and there was THE 18 YEAR OLD KAAPO KAKKO (as Micheletti reminded us, about 78967896789678967896 times) scoring the game winning overtime goal.
The Rangers came out guns blazing in the first. Murray stopped Buchnevich after a perfect pass from Fox and would then stop the following two Ranger rebounds. Buchnevich could've had a hat trick tonight, but to his credit, Murray had the number of Buchnevich all game. As he has been for the last few games, despite no goal tonight, Buchnevich played well.
If there was any weak link on the Rangers tonight, it was once again Brady Skjei, who perhaps has more rope to hang himself with, since Staal is out and because there is no reason to tinker with what Brendan Smith has been doing in his dual-role. Quickly, while on Smith, I thought Smith had another good game tonight, especially on the penalty kill.
After a few saves from Murray, Georgiev would get tested, after Brady Skjei made a brutal turnover to the Penguins best player, in Malkin. Save by Georgiev. Whew.
Kreider, another victim of these blogs in recent weeks, would then find himself all alone, dead center in front of Murray. Kreider decided to aim for the boards, as if he was Scott Norwood looking at uprights.
Whether it was the youth in these Ranger legs or what, the Rangers kept bringing it to the Penguins and time-and-time again in the first period, the Penguins would be forced to ice the puck for a quick breather.
At the 6:42 mark of the first period, DeAngelo got the puck, dished it to Lemieux, and Lemieux, showing off his offensive awareness, two-line passed the puck to a streaking Kaapo Kakko. As a result, we had our first goal of the game:
OH MY KAAPO KAKKO! 😳 pic.twitter.com/9gOkXx2ibH

— NHL on NBC (@NHLonNBCSports) November 13, 2019
1-0, GOOD GUYS.
For Ranger fans, this was a type of goal that made food taste better, beer taste better and made fresh air feel better. Kakko used his skill-set to find the little bit of space that Murray was offering and beat him. I wouldn't fault Murray on this goal at all. Kakko just found that tiny area and deposited the puck through it.
Three minutes later, Howden would go off the ice, for the first of three hooking calls against the Rangers. Listen, I don't want to be one of those, but for the first 40 minutes of this game, the Penguins had three straight power-plays to the Rangers 0. All three of these calls were calls you would never see in the playoffs. However, to be fair, the refs made up for it in the third period, as the Rangers got two power-plays and the refs ignored a blatant cross check from Lindgren on Malkin.
After killing the Penguins power-play, Lias Andersson, who Larry Brooks just pressured by writing an article on why the Rangers should trade him, made a bad turnover, as Andersson drop-passed the puck to no one. Georgiev bailed him out and made the save.
While on Andersson here, because it's now a topic since everyone reads Larry Brooks, I don't care if the Rangers trade him. DeAngelo has become the crown jewel of that trade. That said, the article that Brooks wrote did Andersson no favors. You just put a ton of pressure on a guy that didn't need it. As far as Hartford goes, Andersson has been in the league for three years now. When do you cut the bait and move on? I'm not saying the Rangers need to trade Andersson right now. What I am saying is that I don't think Hartford serves a purpose anymore.
And lastly on this, if Brooks never wrote this article, no one would be talking about trading Lias Andersson right now.
As the first period progressed, Skjei showed his penchant for having trouble when it comes to clearing pucks. Next time you watch a Rangers game, watch how easily Tony DeAngelo gets the puck up ice and how Skjei, on the same pairing as DeAngelo, struggles.
With less than three minutes remaining in the first period, Panarin was called for hooking. This was a fugazi call. Thankfully, the Rangers killed off this Pittsburgh power-play.
With the period winding down and the Rangers nursing a 1-0 lead, all I could think about was that game with Carolina from last week. In that game, Carolina was kicking the Rangers ass, yet the score was 0-0. At the end of the period, the Rangers got a late goal, stole the momentum and took the wind out of the sails of the Hurricanes. If Pittsburgh scored here, it would've done the same thing to the Rangers. At least in my opinion.
Thankfully, the opposite happened here. With just 9 seconds remaining in the period, Panarin set up Adam Fox for his biggest goal of the season:
Adam Fox takes the beautiful Panarin dish and snipes it home to double the Rangers lead!#PlayLikeANewYorker pic.twitter.com/H5ySqrB3gx

— HD365 (@HockeyDaily365) November 13, 2019

2-0, GOOD GUYS!
Talk about a huge goal. If the Penguins went to the locker-room down 1-0, it wouldn't have been a big deal. Now being down 2-0, the Rangers took the upper-hand here. As we would later find out, this Fox goal would be the last Rangers goal of regulation.
2-0, after twenty.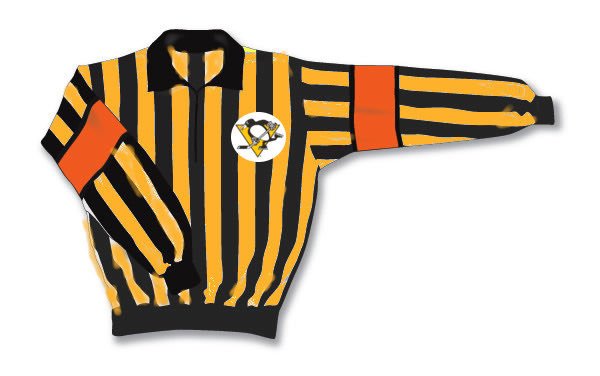 Couple of things about these Pittsburgh Penguins:
— Prior to tonight's game, they didn't have a PPG in a month.
— The Rangers power-play is the sixth best in the league. The Penguins PK is a top 5 PK in the league, having stopped 18 of the last 18 power-plays against them.
— The Penguins are one of the worst first period teams in hockey, scoring only 8 first period goals.
— The Penguins are one of the best come-from-behind teams in hockey, erasing two goal deficits left and right.
— In the Penguins last two games, the Penguins erased a three goal deficit and a two goal deficit. The Penguins would make it three games in a row of erasing two+ goal deficits tonight.
The second period was night and day from the first period. The Penguins came out flying, while the Rangers crapped themselves. There were points in the period where the Rangers couldn't muster two passes together. Every loose puck went Pittsburgh's way.
In his press conference after the game with Florida, HC David Quinn said that the Rangers sit back when they get leads. He would know better than me, but I just feel the other team is more desperate and goes the extra mile to make a play. I don't think the Rangers, with a lead, say "eff it" or anything like that, I just think you have to credit the opposition too.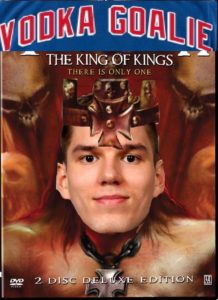 The Penguins opened up the period on fire. The Rangers had no answer. 73 seconds into the period, Justin Schultz, all alone, walked right up to Georgiev and found some open net in the top corner. 2-1, GOOD GUYS.
Can't blame Georgiev here, as this was a perfect shot, reminiscent from that game where he lost in overtime from a shot in the same spot. I know my buddy Al Demauro thinks that Georgiev dips his head too much in these situations, but on goals like this, I think you have to credit the shooter for finding the minimal space that Georgiev allows. And really, if Georgiev dipping his head is an issue, I'm sure Benoit Allaire will address it with him.
On the goal, the Rangers were lost, couldn't change and it looked like varsity vs junior varsity on the ice.
The Penguins revved up things in this period. The Rangers shot on goal advantage was erased. As the period progressed, around the half-way mark of the game, the Rangers put together some offensive chances, but Murray stone-walled them all. Of note, DeAngelo was a great offensive presence here and had Buchnevich lined up for a goal. The puck took a weird bounce, just as it got to the stick of Buchnevich, who as mentioned, could've had a hat trick tonight.
And let me be clear here, because I know people love to twist my words around on social media – none of these opportunities that Buchnevich didn't cash-in on weren't his fault. Murray made the big saves. Credit goes to the man in the barrel here.
At the 11:03 mark of the second period, Adam Fox got called for a BS penalty. Again, this was a nothing penalty, and this was the third and final call against the Rangers for hooking tonight. With all the hooking calls, you would think the Rangers were doing the stroll at Hunt's Point.
On the Penguins power-play, a PP that was scoreless for a month prior to this, Jared McCann picked up the PPG. 2-2 game. There went the two goal lead.
I will say this, while I thought Georgiev wasn't as sharp as usual in this game, as he was fumbling pucks and looked a bit nervous, you couldn't really pin either goal against him. As you know, I rarely blame goalies for PPG's, unless it's something egregious. This goal wasn't egregious.
Fortunately for the Rangers, Georgiev's best work came when it counted the most, in the third period and in overtime. Games like these is when I'm happy Georgiev is in net. When things go south, Lundqvist usually wets himself and starts screaming at everyone. (Strome also admitted this in an interview several games ago.) When things go south for Georgiev, he shakes it off and continues to battle.
The biggest save of this period, which may have jump-started Georgiev again, was when with 33 seconds left, a deflected puck was saved while Georgiev was being screened. If that puck went in, this would've been a different game. Georgiev would make a ton of saves in the third period, but this was the save that kept the Rangers alive.
2-2, after 2 periods of play.
The third period was Georgiev's best period, as he buckled down and kept Pittsburgh off the board. Pittsburgh logged their most amount of shots in this period, nearly doubling what they put on net in the first two periods.
The Penguins came out hot again in this period, but luckily, the Rangers survived the storm. It also seemed that the Rangers couldn't win a face-off, after an icing, to save their lives either.
Five minutes into the period, Brendan Lemieux, you know the player these chart nerds hate, drew a tripping call against Nick Bjugstad. The Rangers PP, which has been good as of late, as they are now the 6th best PP in the league, couldn't do anything against this Penguins PK. The Penguins shut it down like Jon Taffer.
After the kill, a fresh Malkin swooped right in front of Georgiev. I thought it was over here, but Georgiev kept the best Penguin off the board. Game on.
As we passed the 10 minute mark of the period, the Penguins offense roared and Georgiev would make 5 saves in a minute's time. Whew.
In 2-2 game, with minutes remaining, Micheletti was still rattling off player ages. Stuff like this is worthless and is a waste of breath. Knowing that Jack Johnson is 32 years old did nothing for me, while watching this game, especially at this point of a tightly heated contest.
As the game progressed towards its final stages, Ryan Lindgren got away with a blatant two-handed cross check to the back of Malkin. The two were going at it, but the ref had his back to the play, as if he was a WWF referee in the 1980's. This was like Mr. Fuji throwing salt in the eyes of Hulk Hogan, only for the ref to be looking elsewhere.
From this play on, the game got insane, with both teams having multiple chances to break the tie. Both Georgiev and Murray stepped up huge here and kept the game at 2-2.
With 4:10 remaining, Brian Dumoulin got called for tripping. On the Rangers power-play, they had 90 seconds in the Penguins defensive zone, moved the puck well and were able to prevent the Penguins from clearing the puck. However, the Rangers didn't get one GOOD LOOK at the net. With 30 seconds remaining in the Rangers power-play, the Penguins got the clear, got the change and would go on to kill the penalty.
As the clock approached triple zero, all you could do was hope for the tie and the point. Unlike the game with Florida, a game the Rangers should've won flat-out, especially since they scored five goals; a point here would've been a win with the way the Rangers were looking in the final 40 minutes of this match.
Georgiev would have to make a big save with seconds remaining in regulation, as he denied a Penguin from his door-step. OH MY GEORGIEV!
After two goals per period, both goalies were flawless in the third and the game remained 2-2. This game was going to overtime.
These three vs three overtimes are fun when your team isn't involved in them. As usual, this 3 vs 3 produced many turtlehead-touching-cotton moments.
The Rangers would win the opening faceoff of the overtime, but the Penguins would eventually get the puck. For the next two minutes, the Penguins controlled the puck and the Rangers, I believe DeAngelo, Panarin and Kreider respectively, were gassed to hell. They couldn't move. Somehow, Pittsburgh tripped over their own dick and cleared the puck for the Rangers. Pittsburgh totally let the Rangers off the hook here. I'm not exaggerating at all – the Rangers were statues during all of this. The Rangers got lucky that Pittsburgh flubbed and were then able to make a change.
At the 2:24 mark of overtime, the Rangers would have their best chance to win this game. Adam Fox (two point game for him) would find Kakko and that's all she wrote:
Kakkoooo Tuesdayyyy 🚨🚨 pic.twitter.com/ujN9S2tkbG

— Spittin' Chiclets (@spittinchiclets) November 13, 2019
3-2 GOOD GUYS, YOUR FINAL FROM M$G!
Two things of note on this goal. What a perfect pass from Fox and an even better finish from Kakko. The other thing of note, I jumped up and Ric Flair "WOOOOOOOOOOOOO'd" so loud, that my downstairs neighbor of 9 years, started slamming her ceiling/my floor with what I assume was a broom. I could also hear her screaming "SEEEEEEEAAAAAAAN!" Also worth noting, this isn't the first time this has happened. She wanted to murder me during the 2014 and 2015 playoff runs, when I would have all my friends and neighbors over during every Ranger playoff game!
In closing here, what a huge TEAM win for the Rangers. If you want to be player-specific here, how can you not love what you saw from Kakko tonight?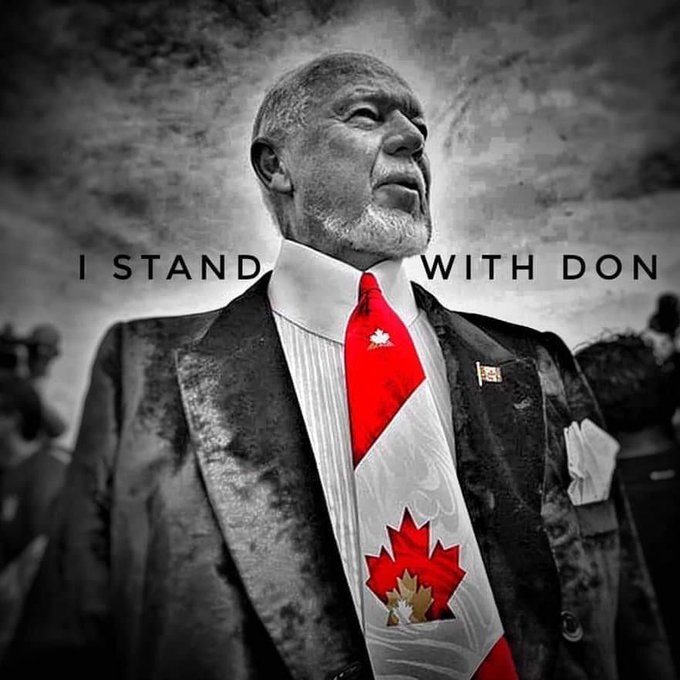 Time is of the essence here, so I can't go too long about this. I pretty much gave my thoughts on all of the Don Cherry stuff in my last blog.
On Monday, the 85 year old Don Cherry was fired by Sportsnet, for his patriotic comments. Of note, Sportsnet replayed Cherry's comments three times, which goes to show you, they are the latest entity to bow down to the liberal social justice warriors. They were fine with it, that is, until people cried on social media.
It just sucks, that we now live in a world where personalities, and everyone else really, has to censor themselves from expressing their opinions. This limits creativity. This stuff is also a reason why Donald Trump won the election, despite every poll predicting that he would get crushed. People don't want to admit they aren't liberal, because they don't want the backlash. However, in the privacy of their own homes and in the voters booth, people can be free to express themselves.
When I see liberals getting people fired and attacking anyone who has an opinion that differs theirs, it just reminds me of fascism. People like Hitler and Kim Jong Un are people who want/wanted to stomp out opposing views. They built their power based off censorship.
All Don Cherry said is that he wanted people to rally behind the veterans. He is now the villain.
On Tuesday night, Cherry fought back, even doing an interview for Fox News. He said he didn't want to offend anyone, but he didn't walk back his opinions either. He feels that everyone should support their country and support the people who fought for freedom in their respective countries. WHAT A BAD GUY!
At his age, it's tough to see Cherry landing with an American (or Russian, as the KHL put out an offer to him) outlet. I hope he returns to Sportsnet, in his Coach's Corner segment, where he belongs. If not, if he so inclines, I think he can make money with a podcast or a YouTube channel. However, he belongs on Sportsnet.
It's just a shame – if Cherry dies tomorrow, there will be people giving him flowery tributes all over, but the people who would be doing that, aren't there for him now.
Cherry has a long legacy with the NHL and this one moment shouldn't erase all the good stuff he's done. He's not a criminal. Maybe he phrased his comments wrong, in this era of PC, but to dub him with the "R" word, as in racist, well that's just liberals being liberals.
Sportsnet owes it to themselves, to Cherry and to their viewers, to bring him back.
The saddest thing about this? Watch Cherry be replaced by some chart nerd who never did anything at the NHL level, besides play with an abacus and Microsoft Excel.
As I blaze through the end of the blog, I'm just going to copy and paste what I wrote on Facebook earlier today:
Anyone have to fight a red light ticket before???

I got three of them, in consecutive days, with all three of these tickets mailed to me three months after the "violation". Now I have to go to court tomorrow, to save $500 on something I didn't even do wrong.

I have no problem with cameras on lights. They can help cops in violent crime cases or with traffic accident disputes. However if communities are cutting down on traffic cops because they have these red lights, then they should hire someone to use google maps to toss out BS tickets.
Within three seconds on google, I found my defense. You can make a right on red in Long Island and I did the same thing three times going to work.

There has to be a better system as I'm sure I'm not the only one who has to waste time going to smelly Hempstead to fight these erroneous man vs machine tickets.
As I close on tonight's blog, this was a great win for the Rangers and at least for FUTURE SEAN, it will worth being tired tomorrow morning! I can't believe I have to waste my time, losing a day of work and my money in fighting these stupid tickets. As time goes on, as humans, we're going to be defenseless in this war versus machines. A stupid faulty camera can ruin our day and rob us of valuable time in life. SAD!
Up next for the Rangers, the Lightning will try to extract some revenge on the Rangers, as the Rangers travel to Tampa. The Rangers, behind Georgiev, previously beat the Lightning two weeks ago at M$G, in what I thought was the best win of this young season. The Lightning didn't forget that loss, I promise you that.
As far as the line-up goes, I would run back this line-up from tonight, and that includes Georgiev in net. After all, the Bolts have given Lundqvist fits during his entire career, so I would play the trends and ride the hot hand with Georgiev here.
Until then, I'll be back Thursday night. For now, enjoy this win and relish in the great game that Kakko had!
Til next time, thanks for reading and….
"LET'S GO RANGERS!"
Sean McCaffrey
BULLSMC@aol.com
@NYCTHEMIC on tweeter