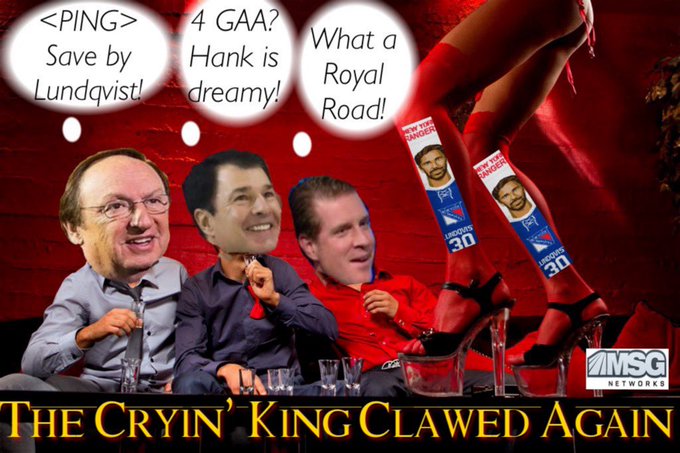 Greetings and salutations everyone and welcome to another blog here on BlueCollarBlueShirts.com.
On Saturday night, the Rangers traveled to the desolate city known as Sunrise, Florida. Despite this being a road game for the Rangers, it was anything but, as Ranger blue jerseys filled the BB&T arena. From fans I talked to in attendance, Ranger fans out-numbered Florida Panther fans, by a ratio of 8:1. Despite this "home crowd" advantage, just like a week prior, when these two teams skated at M$G, the Florida Panthers once again beat the Rangers by one goal. However, in this game, no overtime or shoot-out were needed, as the Panthers clawed their way to a 4-3 regulation victory.
Oh, and how about this meaningless stat? The last time the Rangers swept the two Florida teams, while on the road, I was at both games! Isn't that amazing Suzyn? And real quick – if you have ever have the means and the time, you should attend both arenas. Both arenas are amazing, fan-friendly and will provide a great time. Ticket prices are also easily affordable. Between NY transplants and cheap airfare, that's why you see a ton of Ranger fans at these games.
For the Rangers, obviously, they didn't want to lose this game, especially after being spanked 9-3 by the Bolts, just 48 hours prior. While Kaapo Kakko remained out with the flu, meaning that the Rangers are now without Mika Zibanejad, Kaapo Kakko and Marc Staal, I don't think you can use the injuries as an excuse for this loss. The Rangers were right there with the new and improved (as in new head coach Joel Quenneville & new 2 time Vezina goalie Sergei Bobrovsky) Panthers every step of the way. Unfortunately, despite holding a lead in the second period and keeping Florida scoreless in the third, it just wasn't enough.
And while on Kakko, several of you wrote in to me, so you all deserve credit. When it comes to Kakko and the flu, perhaps he is more prone to being ill, because of his diabetes and Celiac disease. Again, I'm not a doctor, but I won't dismiss this thinking either. However, since signing with the Rangers, this is the third time he's been out with an illness. Will this be something to keep an eye out on or is this just a fluke? Time will tell, but it is something to think about.
If you're looking for the short version of why the Rangers lost this game, you can look at two different things here – special teams and Henrik Lundqvist. Simply put, the special teams of the Rangers were once again horrific. Lundqvist was no better. While Sergei Bobrovsky doesn't look to be in Vezina form, with the Rangers pressuring Bobrovsky for most of the third period, Bobrovsky came up big when it mattered most. Goaltending was a difference in this game, but when your special teams can't produce one positive result, you're not going to win many games either.
In case you forgot what happened last time when these two teams played, you can find that blog, and my most recent blogs, below:
---
---
---
---
---
As I continue on with this manifesto, I have to say this – the Florida Panthers play an exciting brand of hockey. I don't know if it will translate into a deep playoff run or not, but they are fun to watch. These pair of games with the Rangers, despite the Rangers taking the loss in both of them, have been electric. If you're going to spend three hours of your time watching hockey, I much rather watch a loss like this, than a slow and plodding loss. There was also not one point in this game where the Rangers were ever out of it, which made the game somewhat more enjoyable.
Without question, the special teams of the Rangers have been troublesome of late. They are now three games without a power-play goal. Prior to this slump, the team was 6th overall in the league on the power-play. They are now in the middle of the pack. Again, granted, not having Zibanejad and Kakko out there doesn't help, but it's not like the Rangers are failing on the power-play because they are missing those two. The Rangers do set up chances, but opposing goaltenders have been making the saves.
If there is any cause for concern, it is the Rangers penalty kill, which is now one of the bottom five penalty killing units in the league. The penalty kill is getting so bad, that opposing teams are just scoring seconds into their power-play. That means the Rangers are losing the face-off in their own zone, and within seconds, the other team is celebrating a power-play goal. In the last two games alone, the Rangers gave up two quick power-play goals, early into the first period. You can't expect to win games when you're constantly playing from behind.
As you're probably aware of, there are about 736473433578963589637896345893689 articles and social media postings, all shouting for the head of Lindy Ruff. I've made my opinions known on Ruff already – I just never understood why the Rangers retained Ruff when they fired Alain Vigneault. Maybe they thought Ruff could help mentor and assist Quinn's transition to the NHL.
During this David Quinn era, the Rangers have had one of the worst defenses in the league. However, how much of that is because the team is rebuilding and has a lot of youth dressed on their blue line? How much of the Rangers struggles at defense and on the penalty kill, are a result of Ruff's system? How much of it has to do with the players? I mean, time and time again, Brady Skjei has been horrible in games all season. Is that really Ruff's fault? Plus, with the league changing and always trying to promote offense (it's working, as the days of 1-0, 2-1 scores are now a rarity these days) there is no way for a defense to be flawless. There will always be turnovers and broken coverage.
In the same vein that the Rangers thought they needed to go with a development coach, when they fired AV and hired DQ, there may be something to using that line of logic with the coach of their defense. Perhaps a new voice is needed. Perhaps a recently retired player, who understands playing the game in this new era, is needed. We've already seen the Rangers hire Brad Richards to help the centers out. Perhaps someone like a Dan Girardi could help these Rangers out, defensively?
And I'm just using Girardi's name here. I don't think he has any interest and I don't think it will happen, at least not any time in the near future. I'm just using his name as an example. Based on what he says on his podcast, he loves his life in Tampa and keeps a strong association with the Lightning organization. Perhaps a better candidate would be someone like a Kevin Klein? Again, just spitballing here.
In either event, coaches are paid and stay based on results. While Quinn will get a pass, especially with a five-year contract, I think Ruff is long past the point of having a pass. It may be time for the Rangers to shake things up and get a fresh set of hands on things.
If you're a regular reader here, you know the deal. These blogs are always more than just the game review. There are two things about the broadcast that had me peeved.
For starters, let me share with you this information:
#TodayInNYRhistory 11/16/1926: 1st ever @NYRangers game – 1-0 win over Montreal Maroons. Late 2nd period goal by Captain Bill Cook. Hal Winkler became the first goaltender in NHL history to record a shutout in his first career game.

— NYR Alumni Reports (@NYRalumni) November 16, 2019
Again, if you're a regular reader here, you know all  about my work and blogs about Ranger history. Quick spoiler here: I plan on meeting with the Boucher family this Friday, so stay tuned for a blog update on that. I've been talking to the family for four years now, so it's going to be great for me personally, to put a face and a handshake with the people I've been talking to online.
When it comes to the Rangers, I've talked about this a billion times – they are the worst franchise in the NHL and in all of NY sports, when it comes to promoting their history. Instead of the halls of M$G being hallowed, it's basically a cold and heartless arena, with the arena catering to people with money. The Rangers are more concerned with selling kale vegan smoothies with a side of hummus, than creating emotion and passion in the once famous "blue seats."
Tonight was the 93rd anniversary of the Rangers first game, a 93rd birthday if you will. NOT ONCE WAS THIS MENTIONED ON THE BROADCAST. Do you know what was mentioned on the broadcast tonight? The name Henrik Lundqvist, and about 7637436489436836893465 times.
Not only did you have Steve Valiquette going on and on and on and on and on and on and you get the point, about Lundqvist, the Rangers actually hired that creepy little Father Finkin' deformed shit from "Stranger Things". You know, this mongoloid, with the hockey player mouth:
I guess I should say this, for the new readers, and there have been a lot of you lately. I'm completely joking about Matarazzo's physical appearance and using my comments for comedic effect. I harbor no ill-will for the guy. My issue is with the Rangers and their lack of respect for their history. I also can't stand MSG Networks turning into the Lundqvist News Network.
Whatever the case, during the last three seasons, the Rangers have paraded this freak from "Stranger Things", as if he was the Pope, Elvis and Abe Lincoln, all rolled into one body. They had this kid butcher the National Anthem. They give him more scoreboard time than the team itself. Just looking at this kid, makes me long for the days when the Rangers would show that female chef with the wacky blonde hair non-stop. I think her name is Anne Burrell. Now, every time I see Gaten, I wish he was locked in a seedy motel room with Lundqvist's personal friend, Mario Batali! (I'm JOKING, for the people who think I cross the line too much!)
After Steve Valiquette came up for air after talking about Lundqvist, the Rangers rolled a one minute video, of Gaten Matarazzo, reciting a love poem, as he gave us his "Ode To Lundswiss". You gotta be kidding me. This is a rebuild, and we are hiring this little kid, that Father Finkin' pecker from those Verizon commercials, to give us sonnets on Lundqvist?
Immediately after Matarazzo was done with his love song, we then went to Joe Micheletti, who absolutely fawned and almost had a heat stroke when talking about Lundqvist. It's like no one else exists in the franchise. If it wasn't for Panarin's good game, which the MSG Networks crew were forced to talk about after the game, it would've been a 100% broadcast dedicated to Lundqvist. Even with that said, immediately after the game ended, Valiquette said this was pretty much a 3-2 win for Lundqvist. Is he smoking the Father Finkin' laced pot? The Rangers lost 4-3 and these four goals add more fuel to my Lundqvist is overpaid and overrated arguments: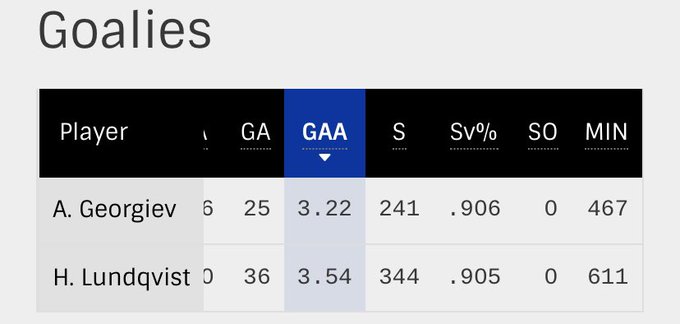 Here's what I'm proposing. Make the pregame show one hour. For the first half hour, have Valiquette, Micheletti and whatever child off the street they want to hire, do their verbal fellatios of Lundqvist. Then, once 6:30PM hits, force these guys to not talk about Lundqvist for thirty minutes straight. This way, they get all their Lundqvist crap out of their system and then Ranger fans can have a broadcast that focuses on the team, and not just one player.
I've wasted too many words on this already, especially since I've been talking about this for years. I just found it sad, pathetic, horrific and absolutely mortifying, that on the 93rd birthday of New York Ranger hockey, that fact wasn't mentioned once. Hiring some jerkoff kid to tickle Hank's balls was more important. SAD SAD SAD SAD SAD SAD SAD!
Moving along. Here's the GAMBLING segment of tonight's blog.
This is what I said before the game:
Season over/under record: 10-7

These hooks have marred my record by three games. This game is tough, I think the final has a 50/50 shot of landing at 6 or 7 total goals.

Lundqvist in net, play the trends & go OVER.

FLA can score (6-5 win just 6 days ago) & #nyr will be mad. pic.twitter.com/9Jlt9OSUsS

— BlueCollarBlueShirts (@NYCTheMiC) November 16, 2019
The over hit by the mid-way point of the second period. My record now improves to 11-7 on the year. And let me do the self pat on the back thing here – I said this game would finish with either 6 or 7 goals. It landed on 7, which was the minimum number of goals for the over to hit. WINNING!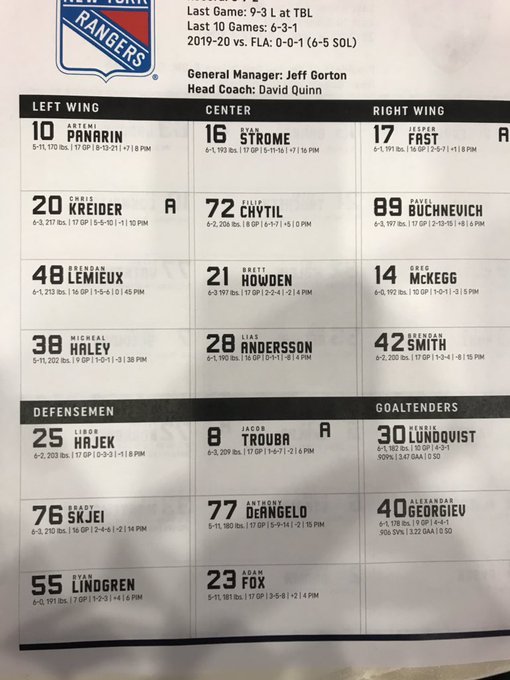 With Kakko still out, the line-up from Thursday was used again tonight. I just wonder with Buchnevich having a bad game and with Haley being absolutely horrible, if Kakko isn't ready to return, could the Rangers finally bring up my boy Vinni Lettieri?
After all, how about this:
Vinni Lettieri has tallied a power play goal for the Wolf Pack in the first period tonight. He leads Hartford with 12 points (five goals, seven assists) in 16 games this season. #NYR

— NYR Stats & Info (@NYRStatsInfo) November 16, 2019
Again, if you're a regular reader here, my fandom of Vinni Lettieri, blah blah blah, my nieces and more blah blah blah – the Rangers did re-sign Lettieri during this last off-season. You have to figure he gets one last crack at it, before the Rangers move on from him. I know the deal, others get more priority than him, as he was a walk-on, as opposed to a draft pick or a highly touted prospect the Rangers traded for.
That said, we've seen Chytil just tear it up since being recalled. While Lettieri's previous stints didn't produce success, I believe he deserves one last crack at it, before the Rangers cast him off for good. If it doesn't work on the next go of it, then feel free to throw that "4A" label on him for life.
Put it this way – who would you rather see – Micheal Haley, who provides no value to the Rangers future, or Vinni Lettieri, who has potential and will be hungry as hell to prove to the world that he belongs in the NHL?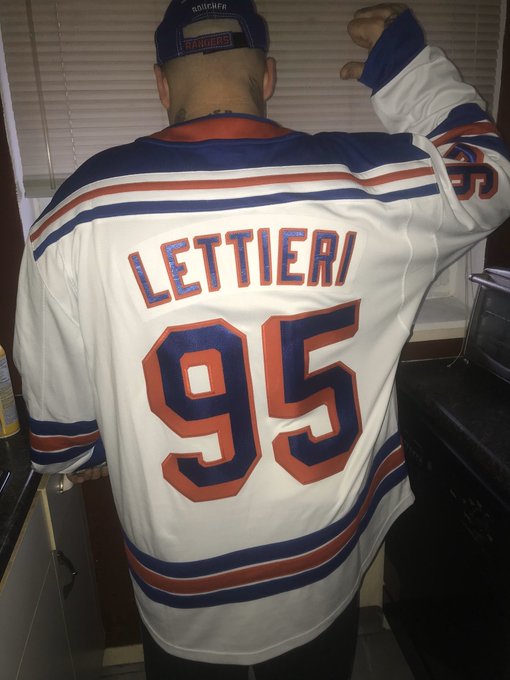 3000 words in already, you still with me? Let's talk about the game.
As always, here's the official box score from ESPN.com:
SCORING SUMMARY: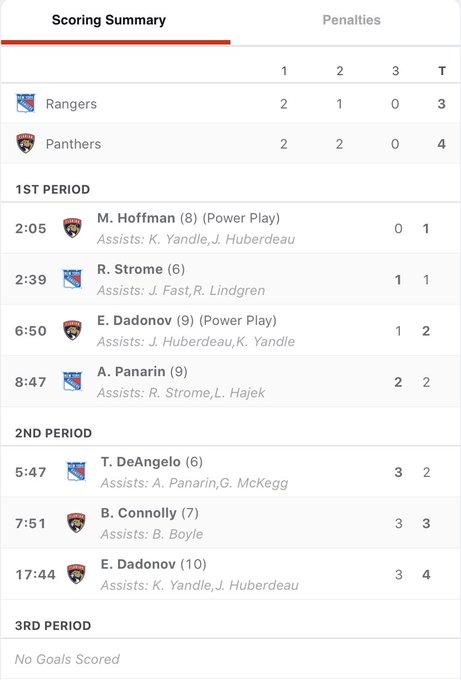 PENALTIES: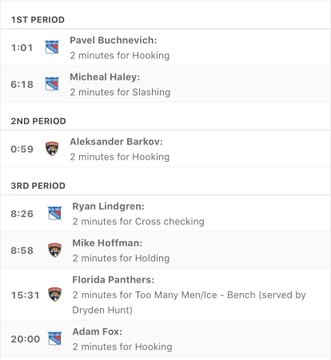 GOALIES:
| | | | | | | | | | | |
| --- | --- | --- | --- | --- | --- | --- | --- | --- | --- | --- |
| SA | GA | SV | SV% | ESSV | PPSV | SHSV | SOSA | SOS | TOI | PIM |
| 30 | 4 | 26 | .867 | 23 | 2 | 1 | 0 | 0 | 57:22 | 0 |
| | | | | | | | | | | |
| --- | --- | --- | --- | --- | --- | --- | --- | --- | --- | --- |
| SA | GA | SV | SV% | ESSV | PPSV | SHSV | SOSA | SOS | TOI | PIM |
| 33 | 3 | 30 | .909 | 26 | 0 | 4 | 0 | 0 | 60:00 | 0 |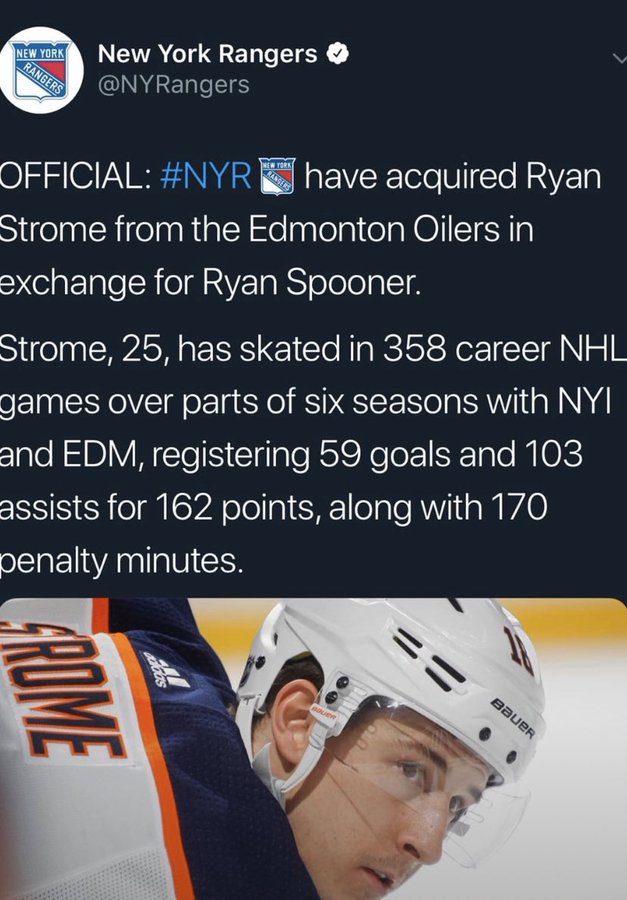 Three last things on the MSG Networks broadcast and I promise I'm done, that is, until I start talking about Sam Rosen giving Jim & Eddie, of Blueshirt Underground Video, about a year's worth of material.
Anson Carter said that Chris Kreider was a football player on skates. I don't know what that meant. Maybe he means Kreider is a bad place-kicker, because most of Kreider's shots go wide.
The Bud Light Bar segment remains worthless. They should have Brian Leetch's wife as the barmaid, while Ron Greschner, Brian Leetch and Pete Stemkowski talk Ranger hockey. Talk about ratings. If you want even higher ratings, the Rangers should put Blueshirt Underground Video's RUM GRESCHNER on the air!

Oh, and after talking about it for years, I have a close mutual friend of Stemkowski. I'm supposed to go drinking with him soon. I'll report back once it happens!
My buddy Bob had a great tweet tonight, which all my wrestling fans will understand and appreciate:
They should have Duguay return as a run-in like CM Punk did in WWE.

— Drunk Leprechaun Boz (@Bozfirstsince81) November 17, 2019
For those not in tune with the wrestling world, long story short – CM Punk was a wrestler for the WWE, that quit nearly six years ago. He just returned to the WWE this week, as part of their in-studio show. (Akin to say, the NHL on NBC pregame show, an hour before puck drop.) I'll say this, if Ron Duguay showed up at the Bud Light Blueshirt Bar, and cracked Vally with a steel chair, I would be cheering!
In what felt like something out of the bizarro world, Skjei forced a turnover early into this game. Then, in what felt like something out of every recent Rangers game of late, at 1:01 into the game, the Rangers took a penalty. The offender this time was Pavel Buchnevich.
Just two minutes into the game, Florida's PP, 5th in the league, beat the Rangers PK, which was 26th in the league while this game was played. I imagine the PK slipped down even more, once Saturday's slate of NHL games concluded.
Here's Mike Hoffman ruining Henrik Lundqvist's first chance of a shutout in two plus years:
Mike Hoffman can shoot it a bit. pic.twitter.com/ScoWir593p

— /Cam Robinson/ (@Hockey_Robinson) November 17, 2019
1-0, BAD GUYS, just two minutes into the game.
On the goal, this is stuff we've seen goalies routinely save around the league. It's a good shot, but Lundqvist has to stop this.
Put it this way – you know it's a bad goal allowed when Joe Micheletti doesn't even have an excuse for it. To Joe's credit, he said there was no screen and gave us his Micheletti 101 here – "this is one Hank would like to have back."
Just 34 seconds after this goal, Jesper Fast made a great pass to Ryan Strome. Strome tipped the puck past Bobrovsky. 1-1 game. You knew the over was going to hit in this game!
I'll save you my Strome spiel. A big FATHER FINK YOU to anyone who hates on him. He's been great since Zibanejad went down.
Of note here, after the bad penalty (can't blame the refs here) by Buchnevich, Quinn stapled Buchnevich to the bench for a few shifts and shifted Lemieux onto the second line.
Also of note, Quinn double-shifted Strome & Panarin all game, as both logged a game high 27:57 of ice time. That's nearly half the game. And no joke, Panarin was noticeable on every shift tonight, as he has been. He's been such a beast. I know the talk about captaincy was a huge talking point during the off-season and preseason. I think if Panarin can learn some English, he may be the perfect candidate. He's the team's best player, and Zibanejad, who by default is second best, is still levels below Panarin, skill-wise.
After the Strome goal, Panarin set up TDA for a great chance. Bob robbed TDA. TDA wouldn't forget.
At the 6:18 mark, Haley took a horrendous slashing penalty, as it was horrendous that he did that. This put Florida's PP to work again. It also led to Quinn benching Haley for nearly 75% of the game.
On Florida's PP, Evgenii Dadonov scored about 30 seconds into the power-play. This was a 50/50 shot for a goaltender. 2-1, BAD GUYS.
Just like the first Florida goal scored, the Rangers would rebound again. This time, it was Artemi Panarin, who I can't praise enough tonight:
This Panarin kid is pretttttty good #PlayLikeANewYorker | @NYRangers pic.twitter.com/g1uFsSCsTI

— Rangers on MSG (@RangersMSGN) November 17, 2019
2-2 game. This was a seeing eye type of goal. Hey, great shooters have great luck. Again, Panarin absolutely dominated this game and was head & shoulders among everyone else on the ice. I can't say enough great things about his game tonight. Panarin also increased his point streak to 11 games.
In fact, I'll say it here – I can't name a better free agent signing in the Rangers 50+ year history of having access to free agents. Obviously, free agency has changed a ton from its infancy to today, but name one better free agent? (And I'm excluding Adam Graves here, because he was an offer sheet signing and the Rangers had to send back compensation.)
I know it's early, but really think about the Rangers and free agency, especially with all the turn of the century signings. I know we're not 20 games in yet, but still, Panarin has been absolutely amazing.
As the game progressed, Lundqvist would give up bad rebounds, flop around, hump the ice and keep looking behind himself after every Florida shot.
After the two goals by each team, the two teams buckled down a bit and would go scoreless in the final 12+ minutes of the first period.
Of note, a Panther, I think Ekblad, took a shot. It hit the post, Sam Rosen shrieked, "SAVE BY LUNDQVIST." On the replay, Micheletti was trying to find any piece of cloth from Lundqvist's jersey that may have touched the puck. It was a pure iron shot. This was another one of those, "I wish Sam Rosen would spend more time with his grandchildren" type of games. Sam Rosen would later orgasm and scream "GIVEAWAY", followed by a long pregnant pause that went nowhere. Jim and Eddie, you're up!
2-2 after one period. The shots on goal stat saw Florida lead 12-9, so this was an improvement.
In the second period, Panarin drew Aleksander Barkov for hooking, 30 seconds into the period. The Rangers would pull Lundqvist for the extra attacker, but no dice.
On the power-play, TDA would be robbed by Bobrovsky again. This was the robbery of robberies here. However, the third time would later be the charm.
The Rangers PP wouldn't come up with a goal here, so special teams wise, Florida was 3-3 (two goals, one kill) while the Rangers were 0-3. (Two goals against, one power-play killed.)
At the 5:47 mark, after having two robberies committed against him, DeAngelo finally picked up the score. Here's Panarin setting up DEMAGANGELO (credit, as always, to @NYRKELSMADS):
We know the score is tied now, but this Tony D goal was too beautiful not to post.#PlayLikeANewYorker | @NYRangers pic.twitter.com/SYxL1N5isN

— Rangers on MSG (@RangersMSGN) November 17, 2019
3-2, good guys.
On the goal, this was Panarin, once again, finding offense. If the Rangers won this game, he would've been the first star. This was also TDA's 6th goal of the season, with all 6 goals coming within a foot of the goaltender. That tells you that TDA has great offensive awareness and knows how to execute. He also knows how to pick his spots.
Less than 90 seconds, because Lundqvist is washed up, Brett Connolly just embarrassed Lundqvist:
What a pickup Brett Connolly has been! 💯#FlaPanthers 3#NYR 3

Watch the @FlaPanthers LIVE on FOX Sports Florida 📺 | Fox Sports Go: https://t.co/eQx4Hu06oT 📱 pic.twitter.com/QbUPo7fb0W

— FOX Sports Florida & Sun (@FOXSportsFL) November 17, 2019
3-3. Once again, Lundqvist gives up a bad goal. I can think of only one bad Georgiev goal allowed this season, and that was in the game with Tampa. I can think of a dozen bad goals allowed by Lundqvist this season.
And isn't amazing Suzyn, how the Rangers & MSG provide us with all these stats, full of nice round numbers, but the numbers $8.5M, 38 years old, 0 Stanley Cups and 3.54 GAA never come up? Shocker!
With 2:16 remaining in the period, Lundqvist gave up his usual momentum-turning, end of the period goal. Evgenii Dadonov beat Lundqvist for the second time in the contest. 4-3 BAD GUYS. Unfortunately, little did we know at the time, this would be the game winning goal.
I mean really, what is it going to take for JD, Gorton or whoever, to have that talk with Lundswiss and say "it's time we see different people?" The guy has a GAA nearing 4.00 & has no value. His attitude sucks too. When do they say, "it's time we embrace the new era" and call up IGOR?
4-3 after two periods.
The Rangers really brought it in the third period, but would never find the tying goal.
The Rangers would kill a Florida PP, mid-way through the third period, when Fast drew a penalty. As time was expiring on Lindgren's penalty, the Rangers tried to set the puck up while on the four vs four. Instead, once Lindgren left the box and TDA came on to play on the NYR PP, the Rangers dicked around and did absolutely nothing. Another failed PP, even if it was only 30 seconds in duration.
The Rangers would also have an elongated time with the puck, while 5 vs 5. Skjei would eventually take a shot, but it would be high and wide. This was another terrible game for him and another game where you questioned the contract Gorton gave him.
Take your Ranger fandom out of it. If Skjei was on any other team, what would you think his deal would be? $2M? Instead, he is making over $5M a season, and to give him even $2M would be generous.
With under five minutes to go in the game, Florida would be banged for one of those infamous "too many men on the ice" penalties. Once again, the Rangers power-play failed. In other words, Florida cashed in on two of their power-plays. The Rangers would finish 0-3. Even I, someone who wants Lundqvist gone more than any other fan, can't just single out Lundqvist here. The Ranger special teams are horrific lately.
With 2:29 remaining, and a faceoff to the right of Bobrovsky, Quinn pulled Lundqvist. The Rangers would have chances, but Bobrovsky slammed the door. Florida almost got the empty netter, but TDA would break up a chance.
As time wound down, the Rangers just couldn't finish. Buchnevich, who had another bad game after a decent stretch of good games, fanned on a wide open look, while the Rangers employed their 6 vs 5 attack.
4-3 would be your final from Sunrise, Florida. Not a terrible loss, especially after the game from Thursday, but this was a game the Rangers could've won, or at least picked up a point in. Instead, their record drops to 8-8-2, which looks like .500 on paper, but in reality, is two games under .500. Making matters worse, the FATHER FINKIN' Islanders won tonight, after being down 3-0 to the Flyers.
Worth noting, Shestyorkin leads the AHL with a 1.77 GAA, has a .936 save percentage and is 7-1-2. Let me share you this one more time: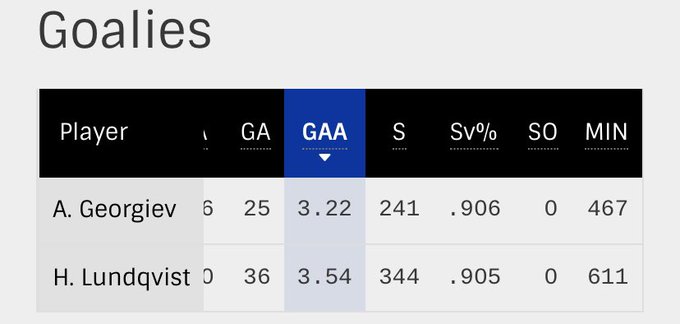 The sad thing? I just saw Larry Brooks, who previously put unnecessary pressure on Lias Andersson, politic for the Rangers to send Georgiev to the AHL and to call up CZAR IGOR. Yeah, Georgiev is the problem here. I swear, I think Henrik Lundqvist is like J. Edgar Hoover and has dirt on every one, which means no one can suggest that he isn't what he one was.
In conclusion on tonight's game, this wasn't the worst loss the Rangers have had. It wasn't even a top three loss. If anything is truly disappointing, it is the fact that Panarin's great game was wasted by the grampa in net and by the special teams.
Moving forward here, Brooks, who does have clout, is politicking for two major transactions, as he wants Lias Andersson traded and Georgiev sent down for Shestyorkin. The Rangers now have three days off, so I wouldn't be shocked if something happens in-between games. I might chime in with a blog between now and Wednesday night, when the Rangers host the Washington Capitals.
If there is no new blog between now and Wednesday, I'll be back Wednesday night. After that, I'm off to Ottawa & Montreal. Due to the fact that those games are back-to-back, I might just do both game recaps in one blog on Sunday morning, while on my flight home. I'm really looking forward to this trip, as I will be meeting the Boucher family. I'll also be hunting down Gretzky whisky and the new Mark Messier whisky. And oh yeah, the Rangers will be playing two games. Who knows, maybe I'll see Shestyorkin when I'm out there too..
Until next time, as always, thanks for reading and…
LET'S GO RANGERS
Sean McCaffrey
BULLSMC@aol.com
@NYCTHEMIC on the twitter machine
PS: I hate doing this type of bragging, so don't take this as a brag, take this as a humble thank you. I think everyone knows this fact – negativity sells. It's why every news network across America leads with bad news on their broadcasts. The Thursday blog about the Tampa drubbing of the Rangers did the best site traffic of the season. I know I have friends in Tampa and all, but whether it's word of mouth or people wanting to wallow in the misery with me, more people read and shared this blog, than any other blog this season.
As you know, I don't beg for money here, (I'll take donations to pay for my road-trips if offered!) I don't run ads (I refuse them) and I don't break up long articles for 90877898070 short articles, as a cheap way to drive up web traffic. It's always been one blog, no ads, 10K words. While it's not always 10K words, I'm sure it always feels that way. It's always been my mission, that if I get your one click, I'm going to give you everything I got. And really, who recaps games like I do?
Oh, and if there is one thing I want to do now, just like how I introduced the term "LUNDSWISS" to the NYR lexicon, I can't wait to see people start using "FATHER FINK" on social media, instead of using the f-word!
Anyway, thanks for reading. It's always nice to know, especially with the people that email in, that people enjoy these missives from a maniac! LGR!