Greetings and salutations everyone and welcome to another blog here on BlueCollarBlueShirts.com.
"Lightning crashes, a new mother cries
Her placenta falls to the floor
The angel opens her eyes
The confusion sets in
Before the doctor can even close the door"
Give yourself a pat on the back if you recognize the above lyrics from "Lightning Crashes", by the band Live. Remember them? They were big in the mid 1990's. In tonight's game, Tampa took the placenta of the New York Rangers and shoved it right up their Steve Valiquette coined "royal road." Oh, and unfortunately, with 9 total goals allowed, the Rangers weren't closing any doors tonight!
In my last blog, I talked about making a conscious effort to limit the profanity and the f-bombs in these blogs. In fact, since I mentioned my last blog, let me get the plugs out of the way here and then get into this pile of poop game. As always, in case you missed them, here are my last few blogs:
---
---
---
---
---
On Thursday night, riding a high after Kakko's game winning goal in overtime against the Penguins, the Rangers got absolutely spanked by the Tampa Bay Lightning, losing by a final of 9-3. The Rangers got beat so bad, that I have several jokes here:
— The Rangers got beat like they were the significant other of an NFL player.
— The Rangers got beat so bad, that Rihanna invited them to a victim support group.
— The Rangers got beat so bad, that after the game, they told reporters that "Tampa only beats us, cause they love us."
Often on these blogs, I've talked about the Rangers taking one step forward and two steps back. In tonight's game, they didn't just take two steps back, they fell down the effing stair case and hit every step on the way down. This game was a black eye on all of the good work the Rangers have done thus far this season.
That said, truth be told, just like a big win, this big loss doesn't make or break the season. It's a horrific loss no doubt, but it's only one game out of 82. If the Rangers were losing games 6-2, 4-0, 5-1, etc and then lost this game 9-3, it would be a major cause for concern. However, the Rangers have been racking the points lately and ran into a Cup contending team that showed us why they are a Cup contending team.
Furthermore, the Rangers were without Mika Zibanejad, Marc Staal and Kaapo Kakko. While these three injuries are no excuse for the spanking the Rangers got tonight, it doesn't help matters either.
When you dissect this 9-3 loss to the Tampa Lightning, I don't think you can single out one player. The team played bad as a whole. If anything could go bad, it did. The special teams were absolutely atrocious. Tampa Bay finished 5-8 on their power-play. FIVE POWERPLAY GOALS. EIGHT DIFFERENT POWER-PLAY ATTEMPTS! Conversely, the Rangers power-play finished 0-4. The refs didn't make things easy on the Rangers either, and you could argue that after some early bad calls & no-calls from the referees, the Rangers could never get out of the hole. However, that being said, to blame the refs for this game would be a cop-out and it would also be erroneous.
Away from the special-ed special teams, the Rangers, when 5 vs 5, were abysmal and dismal. (Hi Walt Frazier!) In the first two periods especially, every time the Rangers got the puck, Tampa swarmed them. At one point, I believe at the half-way mark of this game, the shots on goal were something like 25-4. That's not a typo. FOUR EFFING SHOTS ON GOAL in 30 minutes of play. You're not going to win many games like that.
Whether it was Tampa on a high after their two wins in Sweden, remembering how the Rangers thumped them two weeks ago or a combination of the two; Tampa Bay treated the Rangers as a revenge game. With the way Tampa brought it to the Rangers, you would think that the Rangers killed their dog before puck drop. It looked like the Rangers told the most offensive mother joke of all time and Tampa, despite their blue color scheme, were seeing red all game. And in fact, Tampa did see red all game, as in the red light behind the Ranger goaltender tandem of Alexandar Georgiev and Henrik Lundqvist.

I'll get into the goaltender stuff as I get into the period-by-period review, but this wasn't a game where the Ranger goaltenders were going to be buying drinks for their teammates afterwards. In fact, the Ranger skaters probably owe Georgiev and Lundqvist a bottle of Dom and Johnny Walker Blue. And after the way this game went, the goaltenders probably need a nice stiff drink.
These Jekyll and Hyde rebuilding Rangers are going to be prone to bad games. It happens. Despite the Rangers rebuilding around a 38 year old expensive goaltender, a move that NOT ONE TEAM in hockey has ever done, this team is in a rebuild. You just need these games to be an aberration and not the norm.
It's SAD that this game played out this way. Going into this game, I had high hopes for the Rangers and thought the Rangers would keep it going, after their overtime win on Tuesday. Whether the Rangers were ill or not, as I'll get into below, I don't know.  What I do know is this wasn't a proud moment for the New York Rangers.
At this time, let's go to the GAMBLING segment. This is what I said before the game:
Season over/under record: 10-6

KING GEORGIEV v Vasilevskiy tonight, the two best goaltenders for each team in net tonight. Take the UNDER.#NYR win gives these teams identical records. No way NYR should be such a dog. TBL will come out hot, but haven't played since Sweden. pic.twitter.com/UtNQPAOOEI

— BlueCollarBlueShirts (@NYCTheMiC) November 14, 2019
TBL could be slow tonight, as they haven't played in 5 days. Rangers could jump up in front early in the first period.

Want the value? Bet #NYR -1.5. Some books you can get odds for over 5:1. This bet hit last week against Carolina & and at same payout…

LGR

— BlueCollarBlueShirts (@NYCTheMiC) November 14, 2019
WRONG WRONG WRONG WRONG WRONG!
Hey Donald, how did I do tonight?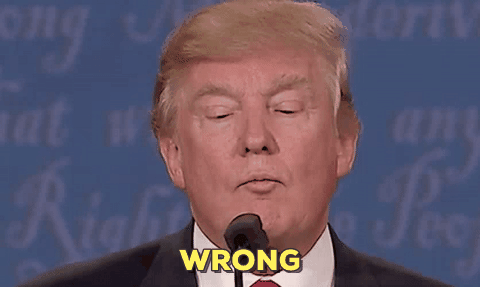 Hey Willy Wonka, how were my picks?
I now drop to 10-7 with my over/under picks this season. As you can tell from above, I actually thought the Rangers could win this game by two goals. Instead, they lost by a touchdown, in a final score that would give a field goal kicker a wet dream.
Say it with me Jennifer Eberhart – SAD!

Going into tonight's game, David Quinn planned on using the same line-up as he did in the last few games. In fact, before the game, the Rangers even sent out that same line-up to the reporters sitting in media row. To Quinn's credit, in his press conference before the game, he did say a few players on the team were feeling ill with the flu. Then again, Michael Jordan once had the flu in Game 5 of the 1997 NBA Finals and put on an epic performance. As we would find out, these Rangers aren't Michael Jordan. Shocker.
With Kakko out with the flu, Gregg McKegg was bumped up from the fourth line to the third line and skated with Lemieux & Chytil. Micheal Haley, who has been the healthy scratch during this recent stretch of the Rangers picking up points, skated with Smith & Andersson on the fourth line. Defensively, everything stayed the same.
When it comes to Kakko, I have a few thoughts here. For starters, if everyone in the country can get a free flu shot at CVS, how does Kakko, who is around doctors and trainers all day, can't get one? I mean, he's a professional athlete and around one of the best medical staffs in sports. You're telling me that either he's scared of needles or the Rangers didn't think to give him one?
And all jokes aside here, I'm not a doctor (I'm sure you may have figured that out) but I wonder if Kakko, who has spent his whole life in Europe (Finland) is prone to these American flu strains?
Think about it, as Americans, if we travel to another country for leisure, we're told to get shots in advance, to prevent against local diseases, especially if you're traveling to Latin America. The same principle has to apply here, right? This is the first time Kakko has ever lived in America, so his immune system can't be as strong to American flu strains or common colds, like his American counter-parts, right? I'm not trying to be funny here, as I think this is a legit point to bring up.
Oh and how about his point that @Vioola_86 brought up to me? Maybe Kakko's Type-1 diabetes increases the chances of him getting sick too?
While I'm not blaming the flu or illnesses for tonight's 9-3 shellacking, I wonder how healthy this team was tonight? It looked like the team had the bubonic plague tonight, with a tad of aneurysm sprinkled in.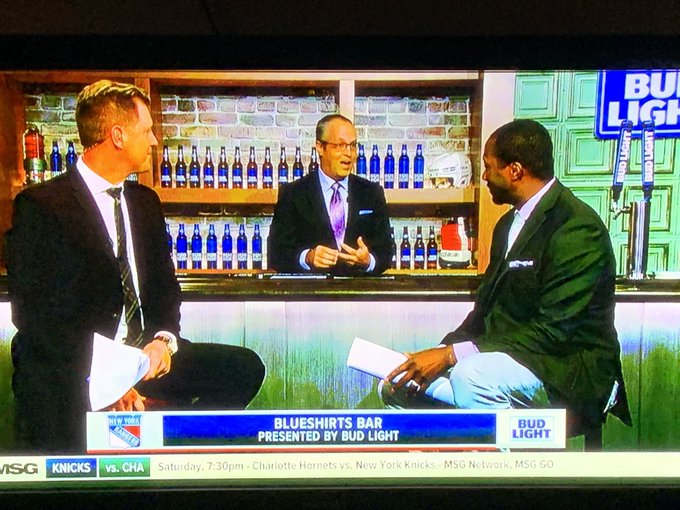 The MSG pregame, intermission and post-game shows were horrific tonight. For some reason, these three start in the studio, walk over to their fake looking bar where no one drinks at, and then walk back to their seats at the studio. What's the point?
I thought Steve Valiquette was beyond horrible tonight, especially during the second intermission segment. Steve was begging, nearly on the verge of tears, for David Quinn to pull Henrik Lundqvist. Vally said that this game wasn't fair to Lundqvist. Are you kidding me? The guy makes nearly the most in the league to play goaltender, but he can't be relied on? IT'S A REBUILD! WHY ARE WE KOWTOWING TO THIS GUY?
The most priceless thing Vally said on the air tonight, aside from bringing up the topic of sunburns up with Anson Carter (no joke on that, because I'm sure someone will twist my words) was when he was talking about Panarin being a star. Vally commended Panarin for playing hard all game and not giving up. Just 30 minutes prior, Vally was wailing on the air for Quinn to pull the man who puts stars in Vally's eyes, in Henrik Lundqvist, which Quinn wound up doing.
It is my theory that Steve Valiquette did something extremely stupid when he was with the Rangers. Whether it was an act with a donkey or a goat, I don't know. It is my thinking that Vally did something stupid and Lundqvist has that event on video. Then again, it could be the other route, where Vally was dead broke one day and Lundqvist loaned him a few bucks. Maybe Lundqvist even helped Vally get hired by the MSG Networks. Who knows?
All I can tell you is that I think one of the two events must've happened, because Vally's head is so far up the ass of Henrik Lundqvist, that if Lundqvist stops short, Vally will leave Hank's ass and fly out his mouth.
I'm not going to go into my whole spiel of how I do actually enjoy Vally. I've said it 767986767896 times. He's a great guy and on the down low, does have a great sense of humor. I can speak to this first-hand, as he's broken my balls a few times, both in person and on social media.
In my opinion, when the dust clears, I don't think Vally can talk about Lundqvist without bias and it ruins his work. After all, just two weeks ago, Vally was campaigning for Georgiev to be traded. What makes more sense for a rebuild? Trading Georgiev or moving on from Lundqvist? It's also infuriating listening to Vally when he says the complete opposite about everyone else on the team. Vally is for young forwards, young defense and for a youth movement. However, he stops short of applying the same thinking to the goaltender position and because of that, Valiquette comes off as FAKE NEWS. And don't even get me started how Vally brings up the contracts of other players, but is mum on the King with No Cup.
SAD!
Oh and despite my rant on Vally here, I think his true calling is coaching, which I've said before. There are things he says sometimes, away from the goaltending, where they later happen in the game. He obviously knows how to break down plays too. I know he has young kids, so maybe he's waiting for them to grow up before chasing a coaching job somewhere.
And in closing on this topic, while I think Vally can't talk about the goaltending without being skewed, you can't knock a guy for taking a job that supports his family. He probably could get a higher profile job in hockey, but I think he stays with the MSG Networks because it's what's best for his family. Just keep that in mind. I will always respect a good family man and Vally is that.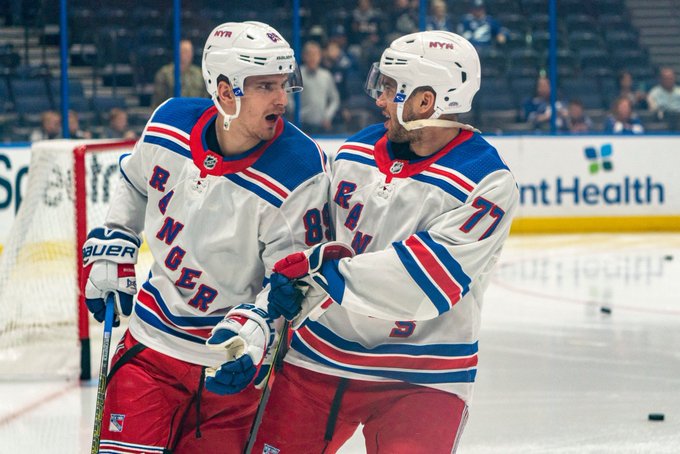 2400 words in. I guarantee you that no other Rangers blog, or Tampa blog for that matter, has provided so much content on this game without even talking about the game yet! Buckle in folks!
And now finally, let's go to the official ESPN.com box score of this train wreck:
SCORING SUMMARY: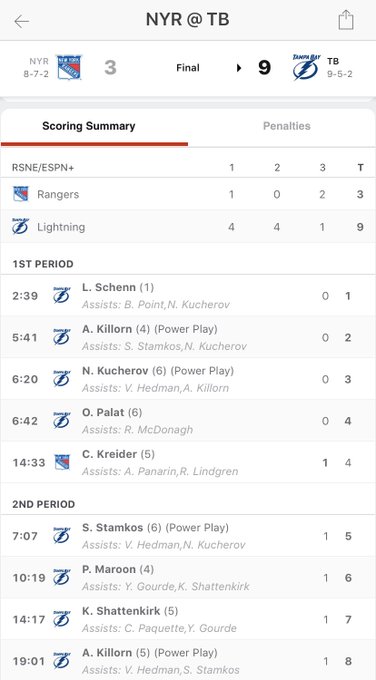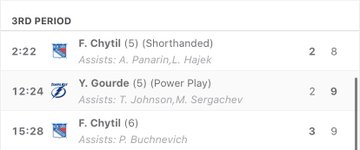 PENALTIES: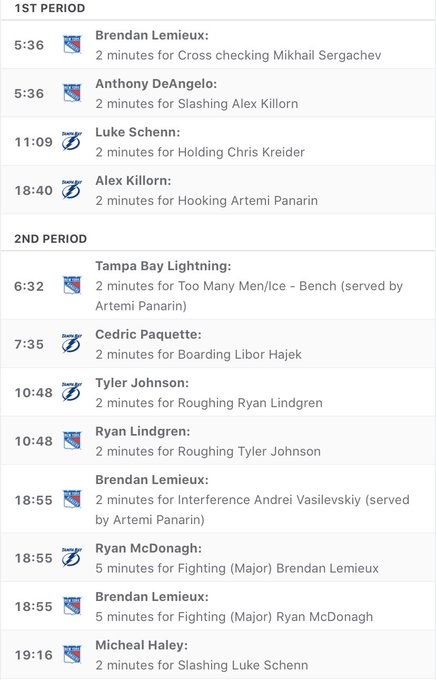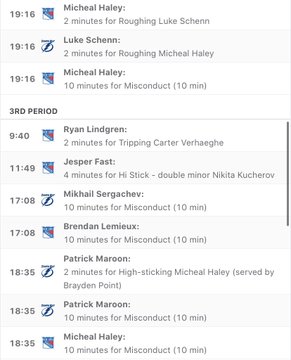 GOALTENDERS:
| | | | | | | | | | | |
| --- | --- | --- | --- | --- | --- | --- | --- | --- | --- | --- |
| SA | GA | SV | SV% | ESSV | PPSV | SHSV | SOSA | SOS | TOI | PIM |
| 26 | 5 | 21 | .808 | 5 | 0 | 16 | 0 | 0 | 26:42 | 0 |
| 19 | 4 | 15 | .789 | 14 | 1 | 0 | 0 | 0 | 33:18 | 0 |
| | | | | | | | | | | |
| --- | --- | --- | --- | --- | --- | --- | --- | --- | --- | --- |
| SA | GA | SV | SV% | ESSV | PPSV | SHSV | SOSA | SOS | TOI | PIM |
| 23 | 3 | 20 | .870 | 12 | 3 | 5 | 0 | 0 | 59:23 | 0 |
| 0 | 0 | 0 | .000 | 0 | 0 | 0 | 0 | 0 | 0:00 | |
Off puck drop here, as I approach my period-by-period comments, there will be no gif's or videos of the goals tonight. There were too many and what's the point!?!
Actually, I'm lying. There's one gif I want to share with you tonight, and that's David Quinn in the first period:
🤬🤬🤬🤬🤬 pic.twitter.com/Mn8YLG88ep

— Tom Urtz Jr. (@TomUrtzJr) November 15, 2019
When David Quinn was doing this epic f-bomb rant, all I could think about was an inside joke my dad has with me and my brother. Growing up, there was a priest at my dad's church named Father Fink. As time went on, and as my dad, my brother and I would all watch games together, there would be times on TV where you would see an athlete or a coach drop f-bombs repeatedly. My dad would always say, "Oh look, he's saying Father Fink!" As I write these words, about 25+ years after the first time my dad used "Father Fink" to replace the f-word expletive, I'm still thinking about Father Fink. And as you'll see as we go along here, this was a pure Father Fink shit show of a game tonight!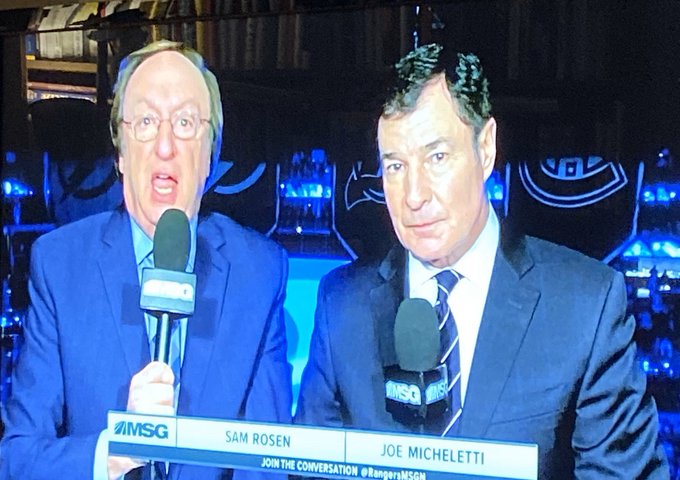 Things started innocently enough in this game, as Ryan Strome won the opening faceoff. It would all be downhill from there.
Not even three minutes into the game, Luke Schenn would beat Georgiev from deep. On the replay, it looked like Georgiev was screened, but you can't be giving up long goals to Luke Father Finkin' Schenn. 1-0 bad guys. To me, this was probably the worst goal Georgiev has given up this season. I don't do the expected vs unexpected stats, but I expect Georgiev to make these saves, as he's done all season.
Right before this goal, Brendan Lemieux was boarded: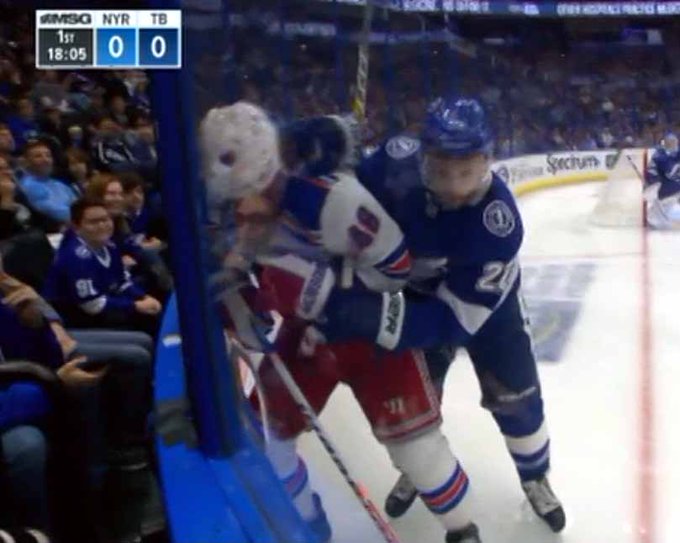 A minute after this goal, Lemieux got called for a fugazi cross-checking on Sergachev. Listen, if you want to call this cross-check, how do you ignore the blatant boarding on Lemieux, just two minutes and change earlier?
With a delayed penalty, Tampa employed their 6 vs 5 attack. Skjei would break up the play, but the refs let Tampa continue to roll. Georgiev would make two saves here. Right after, Georgiev got hit by Killorn. DeAngelo got pissed off and LIKE YOU SEE IN EVERY GAME DURING A POST WHISTLE SCRUM, DeAngelo shoved Killorn away from Georgiev. The refs then called DeAngelo for slashing here. This was Father Finkin' BS right here.
As a result of this hot garbage, Tampa got a 5 vs 3 power-play. The 1-0 lead wasn't enough I guess.
Of course, right off of puck drop, and after boxing the MAGA boys, there was Killorn to score the PPG, just five seconds into the 5 vs 3 Tampa power-play. 2-0, BAD GUYS. This is when Quinn went on his Father Fink monologue.
30 seconds after Killorn's goal, Nikita Kucherov walked right in and beat Georgiev for the second PPG. 3-0, and we were only played 6:20 of hockey here.
Making matters worse, 22 seconds after this goal, Ondrej Palat, untouched, flew right by the Rangers defense and beat Georgiev one-on-one. 4-0 bad guys, at 6:42. This goal ended Georgiev's night, or so we thought.
On Georgiev here, he made four saves on eight shots before being pulled. Not his best game, obviously. Aside from the Schenn goal, which to his credit, Micheletti blamed a screen on, I thought he was left for dead. You can't hang a goaltender for PPG's and on the last goal, it was a one-on-one thing and Georgiev was shot.
For the first time in two years, Henrik Lundqvist was activated off the bench and had to play in relief. The last time Lundqvist played in relief is when Pavelec was still here and he only entered that game because Pavelec got hurt. As mentioned on these blogs, Lundqvist HATES HATES HATES playing in relief. However, if this is a team game, he has to do his job when asked. After all, Georgiev did the same thing for Hank when he was giving up bad goals to Boston.
As the first period progressed, it felt like Tampa was showing respect to Lundqvist's once great career. After shooting several lasers at Georgiev, Tampa decided to shoot high and wide, as if they were a roster made up of Chris Kreider's.  While this was going on, you could see David Quinn heating up hotter than the Florida sun. The refs got under his collar and I don't blame him.
As this game continued, I have to single-out the performances of Filip Chytil and Brendan Lemieux. Maybe it's because they are on the same line, but both of them broke their asses out there. Lemieux, who couldn't let Killorn get out of his mind (Similar to Lemieux's game with Tkachuk with Ottawa) was gunning for anyone in a blue jersey all game. Chytil stuck with his game, but Tampa's defense was smothering.
While my predictions before the game were horrible, as this game went along, some of the stuff I started tweeting out would happen later, such as Shattenkirk scoring. I also said this at the ten minute mark of the period, with the Rangers trailing 4-1 and after Vasilevskiy's first save of the game:
Too late now , but this would be a game where you would hope Kreider would do something in, especially with KK out #nyr

— BlueCollarBlueShirts (@NYCTheMiC) November 15, 2019
Of note here, at this point in the game, not only were the Rangers losing 4-0, they were being out-shot 12-1.
At 11:09, Kreider drew Schenn for holding. The Rangers PP could've really used a goal here, but despite some good puck possession, they only got one shot off – a Jacob Trouba shot as time was expiring on the PP.
At the 14:27 mark of the game, Panarin would find Kreider all alone with Vasilevskiy. Whether Kreider meant to or not, he made a move and the puck slipped off his stick and softly went through the wickets of the reigning Vezina Champion. 4-1, BAD GUYS.
On the goal, it looked like Kreider may have lost the handle, and was fortunate. In either event, he's known for his A-Rod goals, and in a game where the Rangers lose 9-3, I'm not shocked that Kreider picked up a goal! While I'm being an asshole about Kreider here, he did finish, but you want to see this all the time, not just once in a blue.
Of note, Panarin got an assist here, giving him a career high 10 point game streak. You already know my feelings on Panarin already. He could be the best big name free agent signing in Ranger history.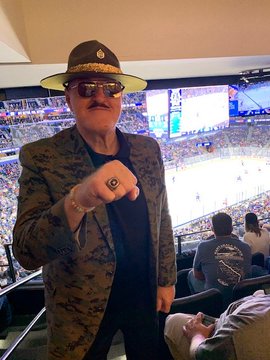 Panarin would draw Killorn for hooking, with 1:20 left in the first period. The Rangers did nothing with the power-play. Mercifully, the period would end, and the score remained 4-1.
The funniest thing about the intermission? This tweet:
Only thing worse than the score is listening to the human hemorrhoid… pic.twitter.com/pidgkyHp8M

— Old Man "Boozing" Boyle (@oldman_boyle) November 15, 2019
The Rangers started off the second period with 40 seconds of power-play time. No dice. 0-2.
Micheletti, who was once again horrible tonight, started blaming Kakko's absence as the reason why the Rangers PP were struggling. Come on now. After all, Kakko played just 48 hours prior and the Rangers didn't score a PPG in that game either. You're telling me Kakko is the difference between the Rangers PP executing and not executing? Get lost.
Then, right after talking about Kakko, Joe "Dingleberry" Micheletti brought up Tampa's playoff failure to Columbus as a reason for Tampa's motivation tonight. What does that series loss have to do with this game? I'm surprised Micheletti didn't tell me the age of Erik Cernak tonight! (Micheletti did run down the ages of Chyil, Andersson, Kakko and everyone else again though!)
While Lundqvist was able to hold off Tampa for a bit, it also felt like Tampa was slowing down a bit too. However, that wouldn't last for long.
At 6:32, the Rangers were boxed for too many men on the ice. On the Tampa PP, Stamkos scored a perfect beauty of a goal, beating Hank with ease. Don't twist my words – this goal was all on Stamkos and the odds weren't with Hank on this one. 5-1 BAD GUYS.
After this goal, Cedric Paquette was boxed for boarding Hajek. Despite this Rangers power-play, which failed, the Rangers had no shots up to this point in the period, with 7:30 of the second period expired. SAD! THEY ONLY HAD FOUR SHOTS ON GOAL!
Seriously, it just felt that the Rangers were done. Even when on the power-play, it was Tampa winning every loose puck battle.
At 10:19, Shattenkirk found the BIG RIG, in Patrick Maroon and he easily beat Hank. 6-1 BAD GUYS. Hank looked like he wanted to OJ the first Ranger he saw. He was FATHER FINKIN' mad, big time.
With a 6-1 score, I tweeted that Shattenkirk would be next to join the party. Three minutes after the Maroon goal, Shattenkirk beat Hank on a shot he should've had. 7-1, BAD GUYS. On the goal, I think Hank was spent and in FATHER FINK THE WORLD mode. Don't blame him, and I love to blame him for anything I can.
Right after this, the Rangers got a shot on goal. I forgot that Vasilevskiy was even playing in this game, because it was so long that we saw him have to do anything.
Around this time in the game, the Rangers were frustrated and lost it.
With 1:05 remaining in the period, Lemieux skated into Vasilevskiy. Lemieux looked like he tried his best not to make maximum impact with Vasilevskiy, but he still bowled him over anyway. Defending Vasilevskiy's honor was RYAN FATHER FINKIN' MCDONAGH! McDonagh would take Lemieux down.
Of note, during his entire Rangers career, I can't remember McDonagh ever defending Lundqvist like this. I do recall McDonagh fighting after a Flame collided with Talbot though! (Oh and a big FATHER FINK YOU to Jim Schmiedeberg, of BLUESHIRT UNDERGROUND VIDEO, who beat me to this joke on social media! Eh, you know I love you guys and your show regardless! Still, that's my joke and my facts!)
Of course, because the refs must've had Tampa Bay and the over tonight, they assessed Lemieux an extra two minutes here. Right off of puck drop, Alex Killorn scored a PPG on Lundqvist. 8-1 BAD GUYS. You would've got a first degree burn if you touched Lemieux here. He was fuming, as he was fighting with Killorn all game, and every time Killorn got away with something, he went on to score a goal.
After this goal, which gave Tampa the two-point conversion after their touchdown, Schenn and Haley went at it. "Went at it" might not be the right term, as the two Greco Roman'd wrestled and Schenn got the takedown. Both went to the box and at this point, the box score needed a hard cover version.
Mercifully, the period came to a close, with Tampa leading 8-1. If anyone needed a mercy rule for an early conclusion, it was the Rangers. Unfortunately, there were still 20 minutes left to play. MINGA.
In the second intermission, Valiquette declared his undying love for Henrik Lundqvist and deemed it unfair that Lundqvist had to play in this game. He advocated for Lundqvist to be pulled, as it was damaging his numbers and mental psyche. Quinn would pull Lundqvist and Georgiev returned.
I'm sure it's happened before, but I can't remember the last game in Rangers history, where the goalie who was originally pulled, would come back into the game, without an injury or equipment reason. In fact, I would bet that Lundqvist was never asked to return to a game during his entire career.
And I'll say this quick, because you all know my opinions on this already. I have no problems with Georgiev taking his lumps. He needs to grow, just like this young team in front of him needs to grow too. That said, when Vally is too busy worrying about Hank than a player who should be with this franchise in the years to come, it shows an extreme bias. Vally's love for Hank is not new news though.
The Rangers would win the third period with Georgiev in front of them. To Georgiev's credit, after being battered earlier, he was able to compose himself. Put it this way – the guy made 16 short-handed saves tonight, to Lundqvist's 0. I don't want to turn this into another Georgiev vs Lundqvist thing here, but man oh man, if I was the GM of this team, I would've set sail on Lundqvist a long time ago and let Georgiev and CZAR IGOR get their time.
The third period was another penalty box affair. You would think they were offering free BJ's to anyone who could get to the penalty box tonight. Just check the PENALTY section above, as it's just too much to get into, and really, it had no effect on the outcome of this game at this point.
2:22 into the third period, Chytil scored. Nice looking goal. My buddy Gary Reid brought this up – "this wasn't an "A-Rod" goal." I agree with him. I hate to be Micheletti here, but when you're 20 years old, no goals are A-Rod goals. I use the "A-Rod" goal stuff for veterans, not for young kids trying to make their name and their presence felt on the roster.
Georgiev would make a ton of saves here, making 17 saves in the period. Of note, Tampa recorded 45 shots on goal tonight, as opposed to the Rangers 23 shots on goal. In other words, Tampa was one shot on goal shy of doubling up the Rangers. SAD SAD SAD!
In a period where all you wanted to see was the clock hit triple 0, at 12:24, Yanni Gourde scored the fifth and final Tampa PPG of the game. 9-2 BAD GUYS.
The best tweet of the night about this game? This one:
Tampa's 2nd PP has more ice time than Lias

— Hockey (@Les_Grossman_) November 15, 2019
I talked about Andersson in my last blog, so check that blog out for my thoughts on Andersson. That said, I was cracking up when I saw this tweet. The SAD thing? Mr. Grossman is accurate here, even if Andersson played a season high of 11:44.
In a period that felt like it would never end, because of all the penalties, Filip Chytil scored with under five minutes to go. 9-3 BAD GUYS. On the goal, Buchnevich, who was in Bad Buchnevich mode tonight, missed an easy goal and Chytil cleaned up for him. While on Buchnevich, he missed a ton of chances in this game, but as noted, he's been playing well recently. The whole team played bad tonight, so it's tough to finger-point Buchnevich here.
The Rangers would get a power-play to close the game. With my over/under bet long dead and with the Rangers out of it, I was hoping the Rangers would score one more goal, just so Lundqvist would get the loss for this game. That would even out the loss Georgiev took, when he relieved Lundqvist in that game with Boston. However, no dice here, as the Rangers power-play was deader than Amy Winehouse. 9-3 remained the score at the final horn. BAD BAD BAD loss for the Rangers.
One last thing here, before I hit the final segment of tonight's manifesto.
Prior to the game, the MSG Networks showed us footage of all the Ranger fans at the game. I was horrified. You had grown men with signs like this:
"GIVE ME A PUCK HANK, I LOVE YOU AND WILL SUCK YOUR ASSHOLE!"
"I NEED A STICK BUCHNEVICH, I PLAY 89 IN POWERBALL!"
"HOLD ME PANARIN AND GIVE ME YOUR USED CONDOMS, I LOVE YOU!"
Okay, the signs weren't that graphic and I'm exaggerating. However, my point is this, if you're 18+ and male, and begging for free shit, you're FATHER FINKIN' pathetic. If you want a stick, a puck or a jersey, go buy one. Furthermore, if you ever catch a puck, give it to a kid. And yes, I'm giving female fans a pass here. Sue me.
If you're a male and a grown adult, and you're begging for free crap, you need to re-evaluate your life. You're already a life-long fan. When it comes to free player-used stuff, this is where the players should be making new life-long fans. The kids deserve this stuff. They don't have any money. You already have your memories. Let the kids make memories and get free stuff.
And let me not stop right there. It is so super douchey for any grown male to be carrying a sign at a game. You should be carrying a BEER in your hand. I have no respect for any grown male who has a sign begging for free stuff, especially when they have a White Claw in the other hand. If you're a White Claw drinkin' fan, begging for free crap; then you my friend, are a black mark on civilization! End rant!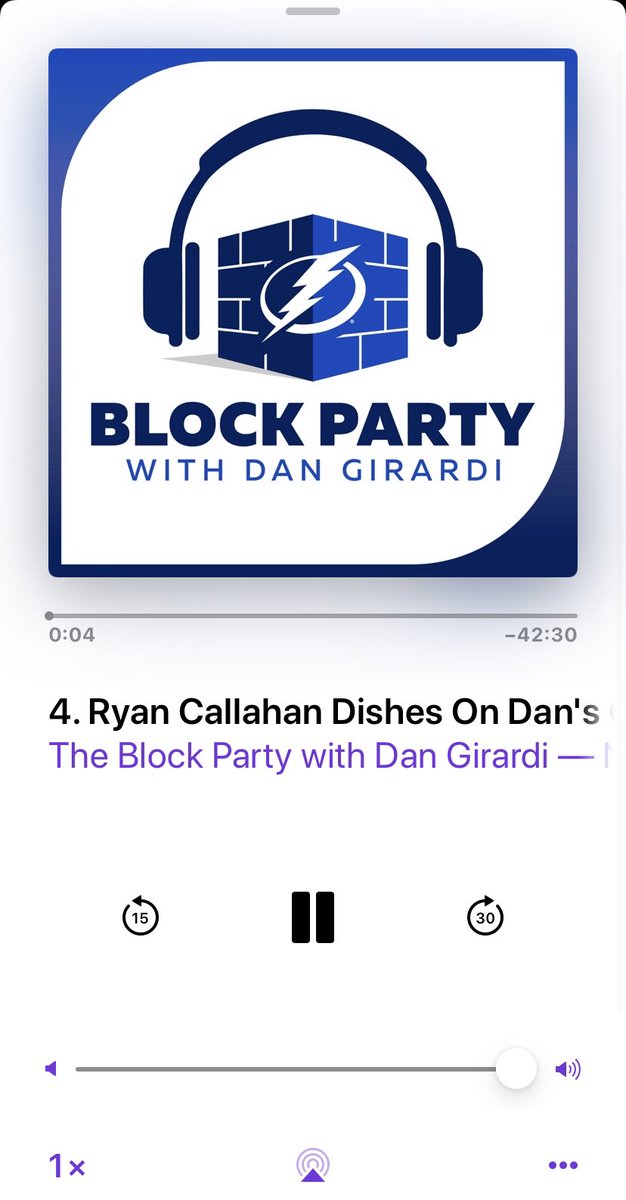 Lastly, as we head home here, I want to give another plug to the Dan Girardi "BLOCK PARTY" podcast. To listen, click the link below:
Everyone go check out Dan Girardis latest episode of The Block Party. Thanks for having me on had a ton of fun with it!!! https://t.co/YQbgjUJmmF

— Ryan Callahan (@TheRealCally24) November 13, 2019
In Girardi's latest podcast, he interviews Ryan Callahan.
In case you don't know or if you missed it, here are my blogs on Girardi and Callahan's retirement, as I was a huge fan of both players: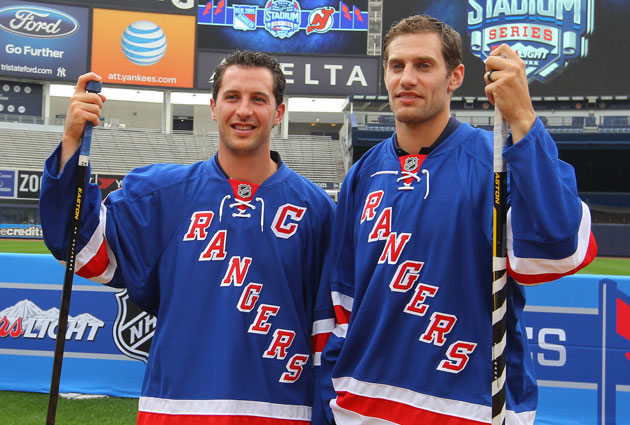 On Girardi's latest podcast, he interviewed his BFF, in Ryan Callahan. Call me a sucker, call me a fool, but it does warm me a bit, knowing that Callahan and Girardi are great friends to this day. These two have so much in common, not just because of their career paths, but because of the style these two played. Both were WARRIORS, both blocked shots and really, both of these men had their careers cut short because they played for John Tortorella. That's not a bad thing, but without question, both of these two got beat up, while playing for Torts. As I've said 8673434789 times on this blog, without these two, Lundqvist never wins his Vezina.
On the podcast, Cally tells a funny story about Girardi, like a grown male fan making a sign at a game, leap-frogging some kid for a used towel from the "artist" known as Drake. I guess Girardi is Canadian, so he really wanted this towel from his fellow Canadian!
The two, in this 45 minute episode, talk about their playing days. You can tell they are great friends, as Girardi already brought up in previous episodes.
For Ranger fans, the two big questions are questions that any Ranger fan would want answered – "How did Cally feel about the 2014 NYR Cup run" and "how did Cally feel about the 2015 ECF win over the Rangers?"
I thought Cally answered these questions as any human would. He was happy, but felt jealously about the Rangers in 2014. He was ecstatic in 2015, calling that run a career highlight.
Later on in the interview, they talked about Lundqvist and money. They also talked about their love for the city of Tampa. Of note, Callahan is still contracted to the Senators and thanked the Senators for allowing him to do outside projects, such as his new work with the NHL Network.
Check out the interview for yourself. It's worth the listen.
Up next for the Rangers, a rematch with the Panthers. Hopefully, the Rangers play a more defensive game than they did tonight.
It's already been announced that Lundqvist will be the man in the barrel in this game, which is another reason why Quinn pulled Lundqvist in this game with Tampa, once the final result was long decided.
I forgot to mention this, in the period-by-period breakdown – Jacob Trouba didn't play in the third period, as he was out with an "upper body injury". No update on his status yet. All we can hope for is that he's able to return and that Kakko is feeling better. If Trouba isn't ready to return, I would think we would see Smith go back to his natural position. If it's a lingering issue, maybe NYR goes to Hartford. Maybe it's time to call up Vinni Lettieri, who has no issues with putting shots on goal.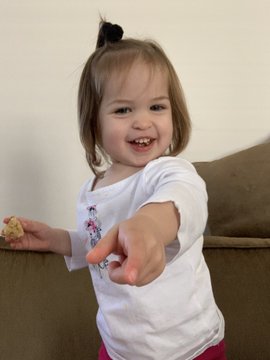 Oh, and because some of you asked – here's how my red light tickets went, as talked about in my last blog. I wound up having to pay $300 out of the $500 assessed against me. The picture above was my niece's reaction. She may as well have done the Nelson from "The Simpson's" HA HA laugh at me!
Speaking of Erin, her second birthday is this Saturday. I plan on watching the game, but the blog may be held off until Sunday. Either way, come back here late Saturday night/early Sunday morning for the Rangers/Panthers review.
Until next time, as always, thanks for reading and….
LET'S GO RANGERS!
Sean McCaffrey
BULLSMC@aol.com
@NYCTHEMIC on tweeter
PS: 7000 words on a horrible game. MINGA!