Greetings and salutations everyone and welcome to another blog here on BlueCollarBlueShirts.com. Oh well.
For a team full of cliches, "can't win 'em all" most certainly rings true right now.
Another truth?
My daily season-long disclaimer on this site, you know, this one:
"WHATEVER THE RANGERS DO IN THE REGULAR SEASON DOESN'T MATTER. THEY CAN ONLY BE JUDGED BY WHATEVER THEY DO IN THE 2024 STANLEY CUP PLAYOFFS!"
---
While I know that many Blueshirt backers right now are currently rushing to ledges, loading their shotguns and swallowing enough pills to take down a T-Rex following the Rangers' 6-3 loss in JFK's least favorite city – not me.
Again, just go back to my disclaimer.
Win-or-lose, and as I have been saying ever since Peter Laviolette was hired (especially since he said the same thing during his introductory press conference) – the only thing that matters is how this team finishes come the 2024 Stanley Cup Playoffs.
NOTHING ELSE.
And oh yeah, what was the end result of tonight's loss?
The first-place Rangers held onto their first-place lead in the Metropolitan Division standings – and where the second-place team of the division, the Philadelphia Flyers of all teams, remain four-points back – and where the orange-and-black have played two extra games than their I-95 rivals dressed in red-white-and-blue too.
So yeah, while there are still some things concerning about this team (and that's the case for all 32 teams in the league – as no team is without their own individual flaws), such as the lack of production from Mika Zibanejad – it's just silly to go bat-shit insane over one loss – especially with a 2023-24 Rangers team that entered tonight's match on a 11-0-1 winning streak – a franchise best – and that encompasses 97-seasons – and yes – I know that the almighty asterisk applies here as well.
(If you need a history explanation on why this stat/fact deserves an asterisk, then just my read my books! And what time better than now to buy them – especially since they are currently discounted during this site's Black Friday sale!)
And have I mentioned yet that LAVY'S LOT, now with their 12-3-1 record, have only lost three of their sixteen games played in regulation?
Only the current odds-on favorite to win the Presidents' Trophy this season, the Boston Bruins, have lost less games in regulation (1) than the Rangers.
Furthermore, have you forgotten that against a first-place team tonight (which the Stars are), and on the road no less, that the Rangers are without their $9.5M Norris Trophy winning defenseman?
And if you think that Filip Chytil is a difference maker – then the Blueshirts are without their projected second center too.
So again – pardon me if I'm not overreacting and throwing things right now.
---
Outside of blowing a two-goal lead on Monday night, which is probably why most residents in Rangerstown, USA are experiencing both deja vu and PTSD right now – most of this 6-3 loss felt like "just one of those nights."
Let's count the ways:
— 0-2 in video replay reviews, where unlike the other 7895567675856565 reviews that the Rangers have been screwed on this season, these pair of reviews weren't egregious? Check.
— A "Rusty Russian" (I love my alliteration!) CZAR IGOR who is still trying to regain his form after his long layoff? Check.
— The first game of the season where the Rangers' second line didn't get on the board despite their many excellent scoring chances? Check.
— Another poor effort from a defenseman who shouldn't even be in the NHL right now (Jones)? Check.
— A second-ranked Rangers' power-play that met their match in the league's second-best penalty kill, where despite that, the Blueshirts still mustered up one PPG regardless? Check.
— Another no-show from Mika Zibanejad? Check, check and check.
---
When you have all of that going against you, then it's tough to win.
And as stated about 7956756767855 times this season – for as red-hot as Artemi Panarin is – you also knew that his franchise-best of fifteen straight games with a point to open a season would eventually get snapped.
It just happened to be tonight, and as a result, something else that I successfully predicted wound up becoming true too – a lot of people turning on Zibanejad.
As repeated so many times this season, so many times that I can just write this sentence from muscle memory; Panarin, and his linemates, have hid and sheltered a lot of the issues from the other half of the Rangers' top six, Chris Kreider, Mika Zibanejad and the "Right Wing Soup Du Jour."
While Panarin, Lafreniere and Trocheck all played well tonight; sans a power-play goal scored by the now cemented (and returned) second center of this team – they didn't score in this loss.
On this rare night, as in the one game this season that they didn't pick up a 5 x 5 goal in – it was time for the first line, paid over $16M in total, to do some of the heavy lifting.
They once again did not – and where only Chris Kreider gets a pass.
If there was anything that truly baffled me following this loss, then it was when some Ranger fans were actually criticizing Peter Laviolette's decisions tonight – and this is coming from me – the man who dubbed him as "LATERALETTE" – as I felt his hiring was a complete lateral move.
Do you remember this?
Here's the evidence: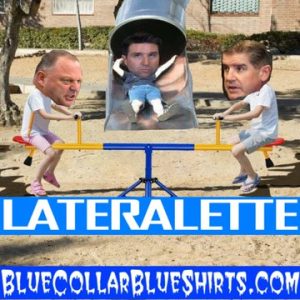 During what turned out to be the most disastrous period of the season for the Blueshirts, a third period where they surrendered five goals in all (and a cumulative total of six goals unanswered too), there were many fans, pundits, media members and whoever else, you name it, and they were all there, that critiqued Laviolette's decisions, including, but not limited to, the following:
— Hitting the line blender.
— Reviewing a goal scored against.
— Pulling his goalie with 4:06 remaining when trailing by two.
— Pulling his goalie again after surrendering a short-handed goal.
---
In my eyes, and as I'll explain fully during the GAME REVIEW – I was fine with all of Laviolette's decisions and line of thinking – especially since I just viewed this game as "one of those nights" – and with all due respect to "can't win 'em all."
When things are spiraling out of control, then sometimes you have to take risks.
On this night, it didn't work out.
Another night, and as we've already seen this season, it does work out.
Just like any gambler, no one wins 100% of their bets.
(Heck, being a gambler that hits 51% of the time is considered as "Hall of Fame" worthy!)
Also not helping matters?
A Rangers' time-old tradition – and one of my "RANGER KILLERS" that's featured in my new book too:
A back-up goalie having the game of his life against the Blueshirts – and as former Devil, Scott Wedgewood, had tonight.
While we'll get into this entire game below, the main message that you should take away from me tonight?
More cliches, including, "WE LIVE TO FIGHT FOR ANOTHER DAY!"
---
A quick reminder – I'm currently running a Black Friday sale on all of my books.
For all of the information, then visit: https://bluecollarblueshirts.com/111823/
At this time, let's get into the pregame news and notes – and then try to blow through this GAME REVIEW as fast as humanly possible – or at least for me!
---
Following the big win(s) on Saturday night, when the Rangers trumped the Devils and brought down the officials too – the club then held an optional practice on National Felony League Sunday morning.
Once through with the light sweat, the team then boarded their Delta plane bound for Dallas, TX.
Come Monday morning, GAME DAY, the Rangers held a mandatory practice in the Big D, where it was revealed that Adam Fox had made the trip – and better than that – skated with his team too.
While Fox still isn't eligible to return until November 29th, his physical presence spoke volumes.
For starters, the fact that he's on the ice right now tells you that it's highly probable that he'll be able to return on 11/29.
Again, key phrase, "HIGHLY PROBABLE," as this won't be confirmed until that date.
Another fact?
As an American, Fox is putting his team above his family.
After all, it would have been very easy for Fox to do his rehab in New York and then spend American Thanksgiving with his family on Thursday.
(And just to give you some background: American players are in the "minority," as the NHL is largely made up of Canadians, Europeans and Russians – players that don't traditionally celebrate the American Thanksgiving Day holiday, much less had ever grown up with it either.)
Since the team will be in Pittsburgh on Thanksgiving Eve and with a game scheduled on Black Friday in Philadelphia at 1PM; the Rangers won't be in New York for turkey day.
Of course, the City of Brotherly Love is close enough to the Big Apple, but with a matinee start on Friday, the Rangers will be spending their Thanksgiving night in some smelly Philly hotel room.
(I don't know this for a fact, as I'm just throwing stuff at a wall here: Maybe the families of the American players can make the drive down I-95 in order to spend T-Day with their loved ones. It should also be noted that Laviolette is a family-first guy, but then again, the team could use the holiday for some team-bonding time too.)
In any event, the news about Fox traveling with the team can only be viewed as positive.
Conversely, Filip Chytil is not with the team, nor has an update been given about his most recent concussion either.
---
In other injury news, and I first brought this up when Fox went down; Big Ben Harpur, who was injured during the Hartford Wolfpack's November 3rd game against the Lehigh Valley Phantoms (Flyers' AHL affiliate), is done for the season.
The Rangers' junior varsity squad announced on Monday, 11/20, that Harpur just had a pectoral surgery to address the issue, where as a result, this surgery is season-ending for the big boned d-man.
The best of luck to Harpur, who received a two-year extension from Blueshirts' general manager Chris Drury last year – a contract offered-and-signed following his strong work under Gerard Gallant last season.
At the very least, and with a guaranteed deal for next season – Harpur won't have to worry about his future this summer.
---
Following the Rangers' practice on Monday morning, the head coach the spoke to the media.
Here is the AM edition of "LAVY'S LOUNGE":
---
As you'd expect, Lavy was happy about Fox being on the trip.
While Lavy wouldn't give a target date for Fox's return (and he's been consistent about this, and really, with all injuries sustained); obviously, the head coach thought it was good for the team to have their alternate captain on this trip.
As far as anything else said by the head coach, Lavy, while addressing the struggling Kaapo Kakko, said that he thinks that it's only a matter of time before the second-overall Finn gets going.
And for what it's worth – no one asked Lavy about Zibanejad.
---
Here was Laviolette's line-up for the sixteenth game of this 2023-24 season:
FIRST LINE: Kreider/Zibanejad/Wheeler
SECOND LINE: Panarin/Trocheck/Lafreniere
THIRD LINE: Cuylle/Bonino/Kakko
FOURTH LINE: Vesey/Goodrow/Pitlick
FIRST PAIR: Miller/Trouba
SECOND PAIR: Lindgren/Gustafsson
THIRD PAIR: Jones/Schneider
STARTER: CZAR IGOR
BACK-UP: Quick
HEALTHY SCRATCH: Mackey
INJURED RESERVE: Chytil
LONG TERM INJURED RESERVE: Fox
---
BOX SCORE time.
The following graphics and information come from ESPN.com:
SCORING:
PENALTIES:
TEAM STATS: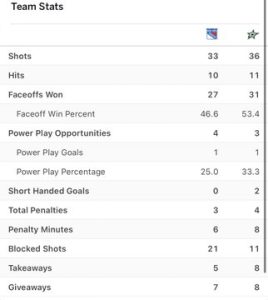 GOALIES:
| | | | | | | | | | | |
| --- | --- | --- | --- | --- | --- | --- | --- | --- | --- | --- |
| SA | GA | SV | SV% | ESSV | PPSV | SHSV | SOSA | SOS | TOI | PIM |
| 33 | 3 | 30 | .909 | 27 | 3 | 0 | 0 | 0 | 59:48 | 0 |
| | | | | | | | | | | |
| --- | --- | --- | --- | --- | --- | --- | --- | --- | --- | --- |
| SA | GA | SV | SV% | ESSV | PPSV | SHSV | SOSA | SOS | TOI | PIM |
| 34 | 4 | 30 | .882 | 26 | 3 | 1 | 0 | 0 | 58:57 | 0 |
---
For the first time in weeks (due to the Rangers' Western Canadian road-trip – and that whole Hall of Fame induction ceremony too), Henrik Lundqvist, "THE KING OF COMMENTARY," was thankfully back tonight.
Sadly, so was Sieve Vagistat – but at least he gave up his undeserved center seat for the first time this season to the Class of 2023 headliner.
Lundqvist immediately showered praise upon Panarin, when he said, "His skill level, his shot, his skating, his everything, his consistency. He's delivering. He came into this season on a mission. I know the rumblings about his playoffs, but I'm so impressed with him."
I know I've said this before, but I'll say it again:
Yours truly, and as we all know, who was never a fan of Lundqvist's final contract with the Rangers, is 100% an eye-test guy.
So is the man with his jersey number hanging in the rafters of M$G.
It's just crazy to me that 99.9%, if not 100%, of what Lundqvist says is stuff that I've previously said on this site.
(And I'm not saying that he's "stealing" from me or anything like that – I'm just saying that I'm surprised that we have the same perspectives and outlooks.)
(And after those many long years where I bitched about his contract – justified bitching at that, as I was proven correct in everything that I ever said about it – today, it is a relief, a weight off of my shoulders, to only talk about him for what he is – a Rangers' icon – and the best freakin' analyst in hockey today.)
No joke, Lundqvist brought up the word "playoffs" three times tonight, where he was basically alluding to the fact that this team will only be judged by whatever they do once there.
And as noted above, he even brought up Panarin's playoff troubles too – while also acknowledging the Hart Trophy candidate season that "The Breadman" is currently experiencing.
And of course, right after Lundqvist laid down some facts – there was the miserable Vagistat to junk up everything that the Hall of Famer said with his usual analytical-driven bullshit.
After all, you don't need charts to see that Panarin is on one hell of a heater right now.
On Rangers' captain Jacob Trouba, Lundqvist said, "I love watching him as a fan and I loved him playing in front of me. You know what he's about. He never takes the easy way out. He's massive for any goalie. I just love him."
High praise from #30 for "THE GREAT EIGHT!"
In what could've been a funnier bit than it was, Lundqvist said, when addressing the pissant to his left, "I know that you have some numbers about the Dallas Stars."
Of course, Vagistat, who spends every broadcast telling you 97567567878658675675765 stories from his epic NHL career of 46 games, once again ignored the number ten – as in the ten goals that he once allowed to these Stars in 2009.
But please Vagistat, continue to tell us all about your bloody groin for the 9567567567858675765th time!
After showing us highlights from the game when these two teams last hooked up (the Miller last second goal and the Fox overtime game-winner), Vagistat said, "I want to go to the bar!"
I thought he was talking about "The Ramrod" or "The White Swallow," but instead, he was talking about the "Bud Light Bar" on set.
Once arrived at the bar that nobody drinks at, Lundqvist quickly talked about his HOF induction, where once again, he cited the importance of family – and how he was so emotional when not only speaking in front of his family – but to his family too.
When I hear him speak this way – I can see why so many were angry with me when I criticized (and often at that) his contract. (But I was right about it – just sayin'!)
He also flashed his HOF ring – a nice piece of hunkin' jewelry!
Come 8PM, we went to Dallas, and where the lower-bowl of the arena looked like Newark, NJ – full of Rangers' blue.
Also in the arena?
Sam Rosen and Joe Micheletti – and what's left of their hairlines too.
Seriously, I just can't stop staring at whatever is clinging on for dear life at the top of Jumpin' Joe's forehead.
As is customary, Sam and Joe spent their pregame time tonight by pumping up the other team.
"If he wanted to score more, then he would," said Micheletti when speaking about Stars' d-man Miro Heiskanen.
While Micheletti tried to explain whatever that meant, I think that if the Norris contender wanted to score more, then he'd do just that.
After all of that, it was finally time for puck drop.
GAME REVIEW time – and where I'll try to limit the alleged pain too!
---
FIRST PERIOD
It wasn't all bad.
In fact, the "bad" only really took place during the final frame.
But of course, the Rangers, and just like any other team in the league, play sixty-minutes – and not forty-minutes – and even if you win the first forty-minutes – then the final twenty-minutes can still drop you like an overhand right from an in-his-prime Mike Tyson.
To both the credit of Sam and Joe, our affable announce duo had no problem calling out the slumping dee-jay tonight – including at puck drop – and where for the fifteenth time this season, Micheletti said, "You know Sam, I really think Zibanejad is going to get on the board tonight."
Micheletti's "Mika Predictions," and much like Zibanejad's one-timer success rate, remains at zero percent.
In what would be a trend all game – and through no fault of his own – Lafreniere, who for some reason, was only credited with three shots on goal (I counted five), was stopped by Wedgewood at just the 1:20 mark.
During all five of his scoring opportunities (and there were others where passing plays were broken up or shots were deflected), Wedgewood just had #13's number.
The former Devil also had Lafreniere scouted, and as he did here, as Laf's go-to-move, the tricky backhander, was denied at this particular moment.
The Rangers vs Back Up Goalies – a feud that's older than the warring in Israel these days.
As Laviolette rolled out his lines in an order of 1-2-4-3; Rosen stated that he was told by the head coach that we should expect a lot of CZAR IGOR in the next few games, as both the bench boss and backstop want to shake off the rust from #31's recent sixteen-day layoff.
After tonight, there's still a whole lot more rust to be knocked off.
At just the 3:27 mark, Rosen, and as he always does, blurted out, "GOOD PACE JOE!"
Again, the game still had 56:33 remaining at the time.
As mentioned earlier, the second line, while not scoring tonight, still had their chances and played well.
Down to 15:45 remaining, Panarin set-up Lafreniere on a tee, but again, Wedgewood was in Dominik Hasek mode tonight.
A minute later, "THE GUS BUS" broke up a Duchene try in the Rangers' end and then tried to set-up offense in the other end, but the Stars survived.
Come 14:07 remaining, "THE WALLFLOWER," Kaapo Kakko, who stalks and makes love to these wooden boards like Michael Del Zotto chasing and slobbering over a porn star, and while in his natural habitat, the yellow paint; coughed up the puck which then set up a Stars' 4 x 2 odd-man (or is it an even-man, as four and two are even-numbers!) rush.
Thankfully, the Stars went offside during this said numerical rush, thus negating the threat.
Now with 13:20 left on the clock, the second line once again motored their way into the Dallas zone.
This time, Wedgewood made a hell of a save on Trocheck. On the rebound, Laf returned the favor to Panarin, but "The Breadman" couldn't bake – as he went a hair wide.
On this line's next shift, and with 10:56 remaining, Trocheck set-up Lafreniere, but again, and say it with me in the Jan Brady voice, "WEDGEWOOD, WEDGEWOOD, WEDGEWOOD!"
Down to 9:59 remaining, I admit it – I was cracking up – as Kakko, who just seems handcuffed to the boards these days, received a huge hit into his wooden lover and then went flying like someone going sky-diving.
And it's okay to laugh at this since the Finn didn't receive an injury as a result of this big-time body blow.
With 9:35 remaining, Duchene blatantly elbowed Tyler Pitlick in the face. The refs called the penalty – but as interference – and not for what it was – a dirty elbow to the head.
Please, don't ever tell me that this league cares about concussions.
And really, this could've been a five-minute major, but we know that tonight's lead official, the on-the-take Kevin Pollock (he was the official during that gambling-influenced game against Columbus), wasn't going to call that.
There wasn't much doing on this Rangers' power-play, where the only thing of note was that following three rapid whistles, the PP1 unit left the ice for the PP2 unit with 1:13 remaining on the man-advantage – the earliest the second quintet power-play team have taken the ice this season.
And yep – I'd leave Panarin out there the entire two-minutes, especially if Laviolette is going to double-shift him anyway – but that wasn't the case tonight.
(No media member asks Laviolette about why this is the case either – but when you have "accredited" full-time beat reporters like Wince out there, a clueless clown who doesn't even know who Rod Gilbert is, then I'm not that surprised anyway.)
And since this is usually the case, right after the failed Rangers' power-play, they took a penalty of their own, a complete coach-killer at that – the lovely "too many men on the ice" infraction.
With 7:08 left on the clock and with the Rangers' on the kill – that's what they did.
And they didn't give up a SOG either.
Also of note?
Nils Lundkvist was one of Dallas' "power-play quarterbacks."
The Stars would have been better off with Zack Wilson!
---
Following Pavelski fanning on a shot that would've been a goal had he connected; now down to 3:58 remaining, Trocheck drew the second Stars' penalty of the game, as Sam Steel tripped him while in the neutral zone.
Better than that?
Whenever a player who draws a penalty then scores on the power-play – and as Trocheck did here – and just 23-seconds into the man-advantage:
Vinny Trocheck is on FIRE. #NYR PP has scored in 13/16 games.

6 game point streak now for Trocheck. pic.twitter.com/fgu66MkMKA

— Jonny Lazarus (@JLazzy23) November 21, 2023
---
1-0, GOOD GUYS!
This was kind of a fluky "puck luck" goal, but Trocheck has been so hot recently that I'm more apt to give him 100% credit – rather than to "discredit" this goal by attributing it to "puck luck."
GUS BUS (who extended his scoring streak to six straight games tonight) found a wide-open Kreider. The man of ten goals this season then went wide himself.
The puck, following the miss, hit the back boards (who were dreaming of Kakko to rejoin them), made slight contact with Trocheck's leg, and now with the puck – a piece of rubber that without this slight contact – then physics tells you that it would've bounced towards the other direction – the second line center then swooped around the net and deposited the puck into the net via the wraparound.
Heads-up play for NONNA TROCHECK'S BAMBINO.
As the period reached its conclusion, a bunch of Rangers came up with blocked shots, which is why CZAR IGOR only had six saves and a shutout to his name.
That wouldn't last.
1-0, GOOD GUYS, through twenty-minutes.
Here's what I said at the time:
1-0, GOOD GUYS, after 20. 1P Thoughts:
— A pretty much near-perfect road period (only blemish was the too many men on ice penalty)
— Second line remains on fire
— GUS BUS – the best six-figure man in hockey?
— Wouldn't mind Cuylle with the BFFS
— Keep it rolling! #NYR

— BlueCollarBlueShirts (@NYCTheMiC) November 21, 2023
---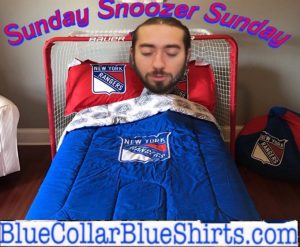 SECOND PERIOD
You had to know that the first-place Stars would try to wrest control of this game in this frame.
And for most of this period, the Stars were the better team – but by the time that the horn went off at the end of this second stanza – the Rangers were still up by one goal.
As we got ready for puck drop, Sam, and as he always is, was genuinely excited when talking about all of the Ranger fans that were in-attendance (but he didn't mention reader and buddy Mike S. by name)!
It's something simple like this, a feel-good and authentic moment, that you'll miss when the Hall of Fame barker finally retires.
As Zibanejad lost another faceoff to open the period (47.1% tonight – not bad – but not great either), the second line then came on, and not even a minute in – Wedgewood then made a pair of jaw-dropping saves on both Lafreniere and Panarin.
Again – the second line played well – the pucks just weren't going in on this night. It happens.
Down to 18:21 remaining, CZAR IGOR made his "SEVEN HEAVEN" save of the game – which then sparked off loud "I-GOR! I-GOR! I-GOR!" chants from the friendly Ranger crowd.
Sadly, heaven would soon turn into hell – but we'll talk about the third period once we get there.
The large early chunks of this period saw Dallas dominate both possession and zone time, but the Rangers would always find a way out of it.
Then, when the Rangers had chances?
Wedgewood stopped them all, including saves on Lafreniere, Panarin, Mika, Lindgren and Kreider, and as he had done with 14:22 remaining.
Following some strong work from the fourth line, and Trouba breaking up a Dallas threat too, I tweeted this out with 11:40 left in the period:
Igor freeze, 11:40 to go. Feels like #NYR is going to need one more as Dallas has been on the verge of pulling a Jim Morrison – breaking through.

— BlueCollarBlueShirts (@NYCTheMiC) November 21, 2023
---
Both things were true – as the Rangers would get their second goal – but the Stars did break on through to the other side too.
At the half-way mark of the game/period – a ton of hairiness – and speaking of hair – have I mentioned THAT IT'S FINALLY TIME FOR ZIBANEJAD TO SHAVE HIS HEAD?
At this moment, CZAR IGOR made a breakaway save on Benn – but not cleanly. This then allowed the Stars to embrace an all-out attack, where as a result, the third-pair of defenders, Braden Schneider and Zac Jones, had their fifth 3:00+ shift of the season.
Jones is not an NHLer – and Schneider is suffering without a veteran to lead him.
Down to 8:15 remaining, a fresh-legs Lafreniere was able to get the puck, kill time, and above all else, let his team change.
Again, it's a shame that the Rangers lost tonight, because Lafreniere's strong game will get lost in the mix (and that goes for his linemates too) – as most reports will spend the bulk of their time on Mopey Mika and CZAR IGOR's RUSSIAN RUST.
On this same shift, Panarin went wide from five-feet out, but only because he was trying to swoop around a defender.
With 6:22 remaining, pigs flew, hell froze over and Sam Rosen was 100% lucid, as this happened:
The bounce Kaapo Kakko needed.

Huge goal for 24 and #NYR pic.twitter.com/J0gxY7hcQN

— Jonny Lazarus (@JLazzy23) November 21, 2023
---
2-0, GOOD GUYS!
On this play, a "Puckko Luckko" goal for Kakko; as the second-overall pick was actually trying to pass the puck through the crease, but the rubber caught a piece of Dallas defender Ryan Suter instead. As a result, the puck took a fortunate bounce right past Wedgewood.
And go figure – here you have Lafreniere and Panarin shooting everything possible – but Wedgewood stopped all of it.
Conversely, here you have the dead-as-a-doornail Kakko scoring in this fashion.
I had to laugh.
What also was comical was how I was receiving the "FINNISH FLASH IN THE PAN NO MORE" rhetoric, despite you know, this being a puck luck goal – and Kakko's second goal in sixteen games played this season.
Listen, I get it.
Everyone wants every Ranger to play well and to deliver – but to think that this goal changed anything?
Hell no.
Following this "strike," Kakko continued his act where he humped the boards to kingdom come.
And for good measure, and since it's "THE RANGERS' WAY" (trademark pending) – just 47-seconds later – the Stars returned this game to a one-goal deficit.
Following a K'Andre Miller turnover (he didn't look so hot tonight either), the Stars then had a 3 x 1 odd-man rush – and boom – there was old man Benn to finish off CZAR IGOR.
2-1, good guys.
And yep – here was your daily per-game "BLUESHIRTS' BRAIN FART" that breaks up a NYET NYET shutout for CZAR IGOR.
A minute later?
Another 3 x 1 odd-man rush for the Stars, but this time, HARTEMI SELKE broke it up with his ferocious and timely back-check.
With under a minute remaining and during a stoppage, it was mentioned that Micheletti's son-in-law, Mike "They Dropped Me Off a Stretcher" Modano, will be honored in Dallas on March 16th, 2024, as the Stars will be erecting (heh-heh Beavis, you said "erecting") a statue in his honor.
I know this is a tired topic on this site – but yeah, one more time and especially for new readers – it just sickens me that the Rangers haven't given the bronzing treatment to any of their legends.
I talked about this subject at length in my first book; but for the quick-and-dirty version here, every other Original Six team has statues of their legends in front of their arenas.
Furthermore, most teams in the league have done the same, including "recent" franchises such as the Tampa Bay Lightning and these Stars from Dallas.
In my dream world, where I win the Powerball and then pry away the Rangers from current owner James Dolan?
Then I'd build multiple statues, statues for each era, including "The Bread Line" (Frank Boucher and the Cook brothers), Rod Gilbert, "The Core Four of '94" (if you don't know these names, then your name must either be Wince or Mollie) and Lundqvist.
2-1, GOOD GUYS, through two periods.
Here's what I said at the time:
2-1, GOOD GUYS, after 40. 2P Thoughts:
— A reminder that the other team, especially a first-place team at home, is paid to play hockey too.
— Good for Kakko, but nothing really has changed – hope it holds up as the GWG tho.
— The classic brainfart to ruin Igor's SO – this…

— BlueCollarBlueShirts (@NYCTheMiC) November 21, 2023
---
THIRD PERIOD
Let's just hit the low-lights and call it a night:
— In the opening minute, both Kreider and Trouba could've scored the 3-1 insurance goal, but Wedgewood had his ski-mask on and then robbed both of the Rangers' team-leaders.
— And yep, and you knew it was coming at the time too – right after these pair of stops – boom – Joe Pavelski tied the game, as the Rangers were scrambling, which then allowed the long-time veteran to pound the vacated net like Kakko pounding the boards to completion.
— So what could've been 3-1 was now 2-2 – and with 18:59 remaining.
— On the next shift for the Rangers' first line, Wheeler, Zibanejad and Kreider had three scoring chances in total – but never hit the net.
— Down to 14:22 remaining, Goodrow, when changing, clipped Mason Marchment in the head with his stick. While this wasn't a deliberate penalty, it was a penalty in the spirit of the rule – as you have to control your own stick – and as is taught to any aspiring hockey player during their first time on the ice.
— Similar to Trocheck, Marchment, who drew the power-play, then scored on it.
— 3-2, bad guys.
— Originally, Pollock and company said NO GOAL, citing goaltender interference. However, and unless you haven't watched one second of this team this season – then you knew how this was going to eventually play out.
— Head coach Peter DeBoer challenged the call and no less than five-seconds later – the refs, who originally blew the whistle prior to the goal being scored, upheld the goal – and as they always do.
— My opinion? This was a good goal – as there was no goaltender interference. CZAR IGOR, and as he did against the Devils, didn't finish the play. He made the initial save here, but didn't have all of the puck under his glove, which then allowed Marchment to finish the play – and score the goal.
— So to cry about the refs, despite the Rangers being bent over backwards during every video review replay this season? That doesn't apply here.
— Put it this way: Had the roles been reversed – you'd want this goal to stand for the Rangers – and as we have desired about 96675675675685 times this season.
— Long story short? There's just no consistency from these officials, as while this was a clear-as-day good goal for the Stars (despite the inept officials prematurely blowing their whistles like Kakko performing "Finnish Fellatio" on the boards) – we've seen these goals get overturned against the Blueshirts in the past.
— Right after that? Hintz slashed Kreider – but no call. On brand, on brand!
— Making matters worse? After the no-call, the following:
4-2, 11:36 to go. I said that CZAR IGOR was going to have to come up big this period, he didn't. Tough night for the third pair too. #NYR

— BlueCollarBlueShirts (@NYCTheMiC) November 21, 2023
---
— Tyler Seguin scored on this clear-as-day goal too. 4-2, bad guys.
— Laviolette challenged this goal for goalie interference – but one, there was no evidence to suggest as much, and two, even if there was – there was no way a video replay review was going to go in the Rangers' favor.
— My opinion? Laviolette, seeing how this game was going, said "Father Fink It" and threw a desperate Hail Mary – but like most Hail Mary plays – this came up short too.
— But unlike others, and despite the power-play now afforded to the Stars – I was fine with this. The Rangers were just unraveling here, so why not take a chance?
— The Rangers killed this penalty, so the only thing lost here was an extra two-minutes of an even-strength attack.
— Once returned to 5 x 5, this is when Laviolette went to the line blender – a move that I was told by "TURK TRUTHERS" was something that Gallant invented – and the only head coach to employ this strategy too!
— It was too crazy to keep up with everything, but both 13 and 10 were double-shifted – and played with Missing Mika too.
— Kakko was later returned to the first line with the BFF's and with 7:21 remaining, drew Dadonov for holding.
— With their red-hot power-play now given a chance to strike within one – the Blueshirts didn't even register a SOG. Not even the Panarin-to-Kreider tip-in tries were working – a sign that this game was all but lost.
— But alas, one last glimmer of hope, as with 4:06 remaining, Lafreniere was tripped by Johnston.
— Many Ranger fans whined about this on Tweeter (and I was tagged in a lot of it too), but I had no problem that when down by two goals – Laviolette pulled CZAR IGOR for the extra attacker.
— Again, sometimes you have to gamble – and at the rate this game was going – why not? You were already down by two and not scoring – so what's the difference if you lose by three when trying to defy and overcome the odds stacked up against you?
— And let's face it: Anyone crying about Laviolette's decision is mainly doing it from a 20/20 hindsight perspective.
— Had the Rangers scored here, then everyone would be celebrating the head coach as a genius – and leave it to me – the guy who did not want Gallant fired, nor Lavy hired either, defending him right now!
(But to be fair – the last Ranger coach that I truly "hated" was Bryan Trottier. Once I get over a Rangers' coach being fired, I usually support the successor – and as I am doing today.)
— From his own blue line, and after a meek initial Rangers' attempt, Steel scored into the empty net.
— 5-2, bad guys.
— Lavy pulled CZAR IGOR again with his team still having over ninety-seconds remaining on their power-play – and again – why not? There was nothing else to lose.
— And while the inept Blueshirt beat reporters didn't ask him this – I thought that with this game pretty much over with – that Laviolette was trying to give Panarin one last chance to pick up a point, which then would've extended his point-streak to sixteen consecutive games.
— That never happened, and with 2:56 remaining, Hintz let one fly into the empty twine in the Rangers' end.
— 6-2, bad guys.
— This was another example of why the EYE TEST is the only thing that matters, because officially, the Stars were credited with two shorthanded goals tonight – thus boosting all of their stats, including their penalty kill.
— In other words, now, and whenever people talk about the Stars' PK, they'll have two extra shorties attributed to them – and where the words "EMPTY NET" will never be uttered.
— With fifteen-seconds remaining, and with Wedgewood pondering what bar to celebrate in – Goodrow scored following a rebound afforded to Trouba.
— 6-3, bad guys – and with this goal, his first of the season, #21 now has more even-strength goals than #93.
— Not good.
— 6-3, bad guys, your final.
Here's Laviolette after the loss:
---
Final Thoughts?
You take it on the chin and move on.
Plus, answer me this question:
Would you rather a pair of wins over the Devils and Penguins or one win over the Stars?
Win on Wednesday night in Pittsburgh, and that's all that will matter.
If not, then the Rangers will be on their first "losing streak" of the season – where even if that were to be the case – one, they'd still remain in first-place, and two, did anyone ever imagine two consecutive losses taking place this "late" into the campaign to begin with?
I'll be back on Thanksgiving Eve with a Rangers/Penguins review.
As noted this past Saturday night, I'm going to a Rangers' watch party on Black Friday at my local watering hole.
In other words, no "live-tweeting" during that match against the Flyers, and if I write anything on this site about that game, then it will be short.
See ya Wednesday, ya filthy animals!
PLUGS TIME! (Buy a book and support my Rangers' induced therapy bills. After all, I don't run ads on this site!)
---
My fourth title and tenth book is now available for preorder!
"The Top 100 Villains of New York Rangers History," is now available for preorder.
For complete information, please visit: https://bluecollarblueshirts.com/rangerkillers/
---
My second plug of tonight's blog – the mandatory plug for my book, "The New York Rangers Rink of Honor and the Rafters of Madison Square Garden."
As mentioned previously, the book is now available in hardcover, in paperback and in Kindle formats. To purchase a copy of the book, visit this link:
https://www.amazon.com/Rangers-Rafters-Madison-Square-Garden-ebook/dp/B09CM5N2WD
For those still looking for signed paperback versions of the book, I have re-ordered more copies. I now have a few signed copies for sale at $25 a pop (includes shipping price) through me directly. Here is all the information on that:
---
My four-volume set of books, "One Game at a Time – A Season to Remember," is a game-by-game recount of the Rangers 2021-22 campaign.
My second title as an author, "One Game at a Time – A Season to Remember," is now available in eBook, paperback and hardcover formats.
To obtain signed copies, visit: https://bluecollarblueshirts.com/onegamebook/
To purchase all four volumes on Amazon, visit: Amazon.com – "One Game at a Time."
---
The greatest volume-set of books on Rangers' history today!
"Tricks of the Trade – A Century-Long Journey Through Every Trade Made In New York Rangers' History," a four-volume set of books that meticulously covers every trade made in franchise history, is now on sale.
All four volumes of the title can be purchased on Amazon.com and are presented in three different formats – eBook, paperback and hardcover.
To purchase Volume I: Conn Smythe (1926) – Craig Patrick (1986), visit Amazon.com
To purchase Volume II: Phil Esposito (1986) – Neil Smith (2000), visit Amazon.com
To purchase Volume III: Glen Sather (2000-2015), visit Amazon.com
To purchase Volume IV: Jeff Gorton (2015) – Chris Drury (2022), visit Amazon.com
To purchase signed copies of all four volumes, visit https://bluecollarblueshirts.com/tricksofthetrade/
---
Here are my last few blogs, in case you missed them:
---
---
---
If you haven't already, subscribe to this blog for the next update:
---
Don't forget to order my recently released four-volume set of books, "Tricks of the Trade!"
If you don't order through me, all four volumes are now available on Amazon.com
For more details, check out: https://bluecollarblueshirts.com/tricksofthetrade/
Thanks for reading.
LET'S GO RANGERS!
Sean McCaffrey
BULLSMC@aol.com
@NYCTHEMIC on the Tweeter machine