Greetings and salutations everyone and welcome to another blog here on BlueCollarBlueShirts.com. How about those New York Rangers?
And how about these 2023-24 Blueshirts, who only seem to advance in the standings this week as they remain idle too?!?!?
I didn't even know that was mathematically possible!
---
Back in my day, when I used to walk 965753773474733478378 miles to school, uphill, and in the blistering snow, there was no such thing as NHL bye weeks, nor scheduling quirks where my favorite hockey team sat restless and without games for days on-end.
But alas, here we are, as the Rangers are currently "enjoying" a five-day break, a scheduled timeout that's not even their official bye week, where once returned to action this Saturday (11/18 for a "home game" in Newark, NJ against the Devils), the Blueshirts will then play five games in the next eight-days, which also includes their first back-to-back set of the season.
Whoever came up with this schedule may have the same mental affliction as that Jacob Trouba stalker that's currently polluting social media these days – but we'll talk more about the captain being alleged, falsely at that, of being a ragin' and woman-hatin' sexist in just a bit.
If you're Blueshirts' bench boss Peter Laviolette, then it's my belief that this mini vacation away from the ice couldn't have come at a worse time.
Sure, while the walking wounded on the roster will all receive some extra time to heal up, and maybe Mika Zibanejad and Kaapo Kakko can use this time to find their games too; but with the way that Lavy's team is playing – do you really want any break in the momentum?
For the head coach, this timeout from play is akin to pumping the girl of your dreams – but at the last second – and with a lower head both ready and desperate to explode – you're told no more – an epic and tragic case of "BLUE BALLED BLUESHIRTS!"
Put it this way: Despite the five nights of inactivity, and where it now feels like the Rangers last played a game during the Richard Nixon administration – the Blueshirts still remain comfortably atop of the Metropolitan Division:
As repeatedly mentioned on this site – I don't put much into the "Thanksgiving Tent Pole Theory" anymore, a theory which suggests that if you are in the mix come Turkey Day, then you have a strong chance of becoming one of the sixteen teams contending for the Stanley Cup come the Spring.
While I do believe that there was a whole lot of credence to this theory in years' past (I was a firm believer); presently, between all of the three-point games (overtime losses), salary cap theatrics, league-wide parity, trade deadlines and of course, injuries too – I think New Years' Day, and not Thanksgiving – is when you can first start safely making playoff assumptions.
But of course, since January 1st takes place six-weeks after Thanksgiving – shouldn't that be the case (Sherlock) anyway?
That's some elementary stuff my Dear Watson!
Just one glance at these current Metropolitan Division standings and I believe that my current thought process is correct.
While I've been wrong before (somehow, this has happened in the past if you can believe it!), I still don't envision the Washington Capitals, nor the Philadelphia Flyers either, as playoff teams.
I also don't see the Pittsburgh Penguins and the New Jersey Devils missing the cut either.
But the second-to-last-place New York Islanders?
That does seem right!
---
Obviously, Stanley Cups aren't won in November – they are won in June.
Heck, that's one of the reasons why I've been running this disclaimer on this site all season, you know, this one:
"WHATEVER THE RANGERS DO IN THE REGULAR SEASON DOESN'T MATTER. THEY CAN ONLY BE JUDGED BY WHATEVER THEY DO IN THE 2024 STANLEY CUP PLAYOFFS!"
But for now, and since none of us possess a DeLorean built by Doc Emmett Brown, all we can do is be ecstatic about the Rangers' present state of affairs – but know come April – all of the worrying, chomped fingernails, chain-smoking, angina and loose diarrhea will return.
And let's face it.
Even if Artemi Panarin scores 100 goals and picks up 100 assists this season – once the regular season becomes the postseason – then you will also be nervous about him too.
And go figure, because outside of both Chris Kreider and Jacob Trouba, Panarin is the only "FAT CAT" meeting and exceeding all expectations this season thus far – something that you can't say about the other highest-paid players on this team, and all for different reasons for that matter, such as Mika Zibanejad (minimal production), Kaapo Kakko (no production at all), CZAR IGOR (injury), Filip Chytil (concussions) and Adam Fox (long-term injury).
But in spite of all of that, and where the injury issues are the most alarming – the Rangers, with Panarin leading the way, are also being lifted by their role-players, six-figure veterans and young studs, such as Alexis Lafreniere, Ryan Lindgren, K'Andre Miller, Jonathan Quick, Nick Bonino, Barclay Goodrow, and yep, the biggest and most pleasant surprise of them all, "THE GUS BUS," Erik Gustafsson.
---
Prior to tonight's main event segment, "Eleven Thoughts About the 11-2-1 First-Place New York Rangers," let me get some business out of the way first.
After all, Buffalo Trace Whisky (aka "Blog Fuel") ain't cheap!
And neither are my road-trips!
From now, and until December 1st, 2023, I am running a "Black Friday Sale" on this website.
Since I am not tech savvy (it's still amazing that I'm able to maintain this website, as my computer skills are on par with my photoshop skills!), this offer is exclusive to readers of this website and on an email basis.
Currently, I have ten books on the market (and thankfully, Amazon does all of the hard work for me), but you can only get these prices of my signed books through me.
Here are the deals that I'm offering you:
My first book, "The New York Rangers Rink of Honor and the Rafters of Madison Square Garden," can now be had for only $5.
My first four-volume set of books, "One Game at a Time – A Season to Remember," can be had for $30.
My second four-volume set of books, a series that I'm truly proud of, "Tricks of the Trade – A Century-Long Journey Through Every Trade Made In New York Rangers' History," can be had for only $40.
My newest book, my tenth in total, "The Top 100 Villains of New York Rangers History,"  can be had for only $20.
(All books come in paperback format.)
To take advantage of these offers, then email me at BULLSMC@aol.com with your shipping address, your order and your preferred method of payment (Paypal, Venmo and Zelle are all accepted).
I will then send you a payment request with the shipping price included.
(And go figure – it sometimes costs me more money to send books to Canada than it does to Europe!)
For more information about all of these titles, then please check out the PLUGS segment which is located at the end of this blog.
Moving on!
---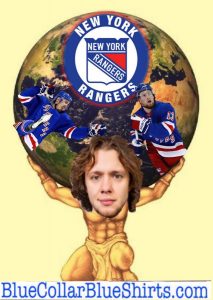 Eleven Thoughts About the 11-2-1 First-Place New York Rangers
One: Can Artemi Panarin win the Hart Trophy?
The following is not a display of "homerism," nor is this written from a Blueshirts' lens either.
Instead, it's a fact:
Artemi Panarin has as good of a shot as any of winning the Hart Trophy in 2024.
While gambling odds on NHL future bets change both day-to-day and game-by-game, for your consideration, here was how the sharps in Vegas pegged this race at the start of the season:
Connor McDavid +210
Jack Hughes +325
Auston Matthews +700
Nathan MacKinnon +1200
David Pastrnak +1200
Leon Draisaitl +1500
Matthew Tkachuk +2000
Cale Makar +2000
Kirill Kaprizov +2000
Artemi Panarin?
He fetched a price of +10,000, meaning that should he win the Hart Trophy in 2024, and in the event that you placed such a wager, then a $100 bet will net you a cool ten-grand.
Not too shabby.
While I don't want to go on another rant pertaining to gambling; I only bring this up because these numbers do tell you how the "experts" viewed Panarin at the start of the season – and where today – "The Breadman" becoming "Hartemi" now fetches a price of +1600 (depending on what sports book that you use).
Presently, Panarin, in the midst of a fourteen-game scoring streak, where not only has he picked up a point in every game played this season, but he's also racked up a bevy of multi-point affairs during this streak too, has 24-points – good for second-place overall in the league.
The three men above him, all with 26-points to their names, Quinn Hughes, J.T. Miller and Elias Pettersson (and all from Vancouver – and who could have saw that coming? I guess Rick Tocchet and company don't miss Vitali Kravtsov!), have all played in sixteen games.
In other words, since these three Mother Canuckers all have two more games played than Panarin, and should #10 in Rangers' blue maintain his over point-per-game average, then he'll easily surpass this trio for tops in the league by Black Friday.
But it's not just about the points – that is – unless you vote for the Norris Trophy. (Hello Erik Karlsson, a minus-26 last season.)
What's been so impressive about the freshly shaved Panarin is everything else.
After all, we all know what he can do when he's at his best – he scores – which is why his recent playoff outing was so disappointing for Blueshirt backers.
When you watch the Russian winger take to the ice this season, gone are the never-ending cross-ice turnovers to kingdom come, turnovers that seemed to be a routine staple of his game last year.
Whether this is a Laviolette system/structure thing or the removal of the cursed fluffy locks, I don't know.
I just know that whatever it is, it's working out, and that it's working out big-time.
Defensively, Panarin, now in his fifth year of his seven-year deal with the Rangers that pays him $81,500,000 overall ($11,642,857 annually), the highest-paid winger in the league is playing to his contract.
And just to think.
Following his disastrous 2023 Stanley Cup Playoffs, many fans were trying to figure out how to get #10 to waive his no-move clause – as he seemed destined to be more like Mike Gartner (look him up Mollie) than Glenn Anderson.
But for as bad as Panarin could be at points last season – he could always score – and just like last season – where would the Rangers be without him today?
And yep – only a strong showing in the 2024 Stanley Cup Playoffs can alleviate all fears about him.
Easily and already the greatest free agent signing in all of franchise history (although one of the most perplexing too come playoff time), "The Breadman" is now back-checking like never before, and better than that – instead of creating his own ill-advised turnovers – he's now forcing them.
While I don't want the following to sound like I'm taking anything away from Alexis Lafreniere (to be clear – I AM NOT), two different things can be true too:
Where would the first-overall pick be right now if he was playing with anyone else but Panarin?
Perhaps that's only a question that Kaapo Kakko can answer.
Between his scoring, defensive wizardry, clutch factor and now propping up his teammates to new levels; Panarin, now 32-years-old, may finish this season as his best yet, as he's presently on pace to shatter his previous career highs in goals (32), assists (74) and points (96).
And it shouldn't be lost that he's doing all of this with his "back-up/second center," Vincent Trocheck, a player who he didn't have much chemistry with last season following the departure of his good friend Ryan Strome to Anaheim.
Panarin is also doing this with a Lafreniere who didn't enter this season on a high note either, especially following his poor preseason showing.
Furthermore, with the Rangers' top line, sans Chris Kreider, struggling, and mightily struggling at that – opposing squads are now focusing the bulk of their energies on just stopping Panarin.
Despite such efforts, it's been nothing but a green light – or should I say red lamps – for the Go-Go-Go, Best in the Show, HARTEMI Panarin.
---
Two: How long is Kaapo Kakko's leash?
Kakko, the fifth-year Finn, now in his final year of a two-year contract that annually pays him $2,100,000, in a word, has been "HORRIBLE" this season.
I've brought up the following before on this site and I'll say it again:
I wonder where Kakko and Lafreniere would be right now had their roles been reversed, meaning that what if it were Kakko who got the benefit of playing with red-hot Panarin, while Lafreniere was saddled with Mopey Mika?
Ironically enough, that could have been the case, but it was Kakko, and by heads-and-shoulders (shampoo that he will no longer need should he take my advice and shave his head like Panarin did), that had a much better preseason than Lafreniere – which is why it was the Finn, and not the French-Canadian – that got first-line honors to begin the campaign.
And with the way that the Panarin line ("Bread Line 3.0") is playing right now – you'd have to be a fool to fix what's not broken.
(And just based on the way that they play, Lafreniere, who does have some "third line grit/dog" in him, may be a better fit with Panarin to begin with. Again, I'm not trying to detract from Lafreniere, but a bulk of his goals are tap-in goals scored from two feet or less away – an area that Kakko refuses to explore. In other words, Lafreniere has put himself into a position to succeed. Kakko has not.)
During the first four-years of his career, and usually at the end of every season too, Kakko, whether directly saying it himself, or using the media to decipher his code, has said some iteration of the following:
"I want first line minutes. I want power-play time. I want all the ice time. My coaches need to see this."
For Kakko, he can no longer blame David Quinn and Gerard Gallant.
Kakko, now under his third head coach, is receiving top-six minutes, where he's presently averaging over fifteen-minutes per game. While he isn't on the first power-play unit (he's on the PP2 unit), why should he be? After all, he doesn't score on 5 x 5 play, nor does he ever go to the net either.
(For a comparison, look at the two players younger than Kakko that are also on the same PP2 unit, Cuylle and Lafreniere – as this duo always looks to crash nets.)
Furthermore, and as has been the case ever since Gallant took over this core – the first power-play unit is one of the Rangers' biggest strengths.
Simply put, for "The Wallflower," who seems married to the boards while also living in grave fear of open ice, one goal and one assist isn't going to cut it.
Laviolette himself admitted as much, as after nine games of relatively nothingness from #24, the head coach then demoted Kakko to the third line – and in favor of the 37-year-old Blake Wheeler.
(This is why Kakko is "only" averaging 15-minutes per-game, as prior to this move, he was averaging a little over 18-minutes per-game.)
In his five games on the Rangers' third line, it's been nothing but goose eggs for Kakko, including many games with zero shots on goal.
(Conversely, Cuylle is just flourishing on this same line – and in spite of Kakko.)
As noted about 97678678967896678967 times this summer, into the preseason and now in the present day – the message is still the same – this is a Stanley Cup or bust team.
Even if the Rangers should move on from Kakko, where in such an event, the Finn then goes on to have a Hall of Fame career – it doesn't matter. It's all about winning the Stanley Cup in 2024.
Does Kakko give this team the best chance to win right now?
I don't think so – which is why whenever you see Ranger trade rumors flying around (we'll get into that next), it's always a right-winger at the top of the wish list.
What Kakko doesn't have among the other struggling Rangers (including Zibanejad) is a reputation.
There's just no track record of previous success – which is why whenever he's scored a goal in the past – it's then celebrated like the ball dropping in Times Square at 12:00AM New Years' Day.
To go back to Panarin, "The Breadman's" success has really overshadowed a lot of the team's deficiencies – and where the second-overall pick is at the top of this list.
Put it this way: If no Panarin?
Then you'd see much more vitriol for players such as Kakko and Zibanejad right now.
We'll find out how long Kakko's leash is soon enough, because if he can't get it going, then he'll force two hands, Laviolette's and Drury's, to make moves.
And we've already seen Laviolette move one of his hands, when he demoted Kakko to the third line.
The next move could be to the press box.
The move after that, should nothing change?
A trade for a right-winger, which brings us to our next thought.
---
Three: Who will be the Rangers' top prize at the 2024 NHL Trade Deadline?
Assuming that Kaapo Kakko doesn't have an epiphany, and this is just who he is, a poor man's version of Jesper Fast, then what?
Simply stated: The Rangers need help at the right-wing position.
On Tuesday, November 14th, the Hall of Fame scribe, Larry Brooks, reported with 100% certainty that not only will Patrick Kane not be brought back to New York (Holy double-negative Batman!), but in addition – Rangers' general manager Chris Drury never had any interest in such a reunion to begin with.
When I first read Brooks' report, one thing immediately came to mind:
Brooks flip-flopped on this subject during all of last season.
Following 90767678969678678969868 "will he or won't he" articles, where Brooks was the staunchest of defenders depending on whatever side of the bed that he woke up on that day; indeed, Kane did join the Rangers last season – even after first acquiring Vladimir Tarasenko to shore up the hole on the right side of the offense.
After that thought first came to my mind, another thought, based off a fact, came to my mind. This one:
On Monday night, Brooks, along with Chris Drury, Glen Sather and James Dolan, attended Henrik Lundqvist's Hall of Fame induction ceremony in Toronto.
(And kudos to the present-day "King of Commentary." It was well earned and deserved. I thought he gave one hell of an acceptance speech too.)
Brooks, the only reporter with real sources on the beat today, and to go further than that, the only beat reporter that personally talks to both Sather and Dolan too, had to chat with his old pals face-to-face on Monday.
And while I'm totally speculating and assuming here – I'm sure a few drinks were shared (sans Dolan, who is a recovering alcoholic – and this is by his own public admission – and not me breaking any personal news about him here) during all of the Lundqvist hoopla/celebration too.
In other words?
I'm sure that Brooks shared a few words with the Rangers' brain-trust on Monday – and where the Blueshirts' conduit was told that Kane was a no-go.
Let me be clear – I don't think that Brooks is making up anything, nor am I suggesting that he's lying about anything either. In fact, the opposite.
That said?
The Blueshirts, mainly through Sather, have used Brooks as their messenger pigeon in the past, especially during contract battles.
(Check out the archives of this site for more on this, as I've covered them all, and where the Mats Zuccarello contract negotiations from 2015 stands out the most to me.)
What am I getting at?
Maybe the Rangers have no interest in Kane whatsoever. Or maybe they are just using Brooks to put this (and their) message out there, in the hopes that Kane, who is rumored to be talking to nearly half of all current playoff contenders right now (and finding out that not many teams want to meet his alleged asking price), will then take less than his asking fee in order to return to New York.
Put it this way: If Kane wants $2.5M+, then yeah, it doesn't make much sense for Drury to separate water from land again in order to bring him back to the Big Apple.
But if Kane will settle for six-figures, like other aging veterans on this team, such as Wheeler and Quick did this summer?
Then who says no?
To make this crystal clear – stories change all of the time, especially in this never-ending 24/7 news cycle.
The absolute truth that Brooks heard on Monday may not be the truth a week from now.
However, and with that said, let's assume that Kane is 100% out of the picture right now (and where for yours truly, I wouldn't rule it out until Kane finally signs his name somewhere).
Then what?
Every playoff contender beefs up at the trade deadline and the Rangers are no different than anyone else.
While I doubt that we'll see a major overhaul as we saw during the 2022 NHL Trade Deadline (and that was a rarity – as the Rangers actually had excess cap room to make all of those deals, when they brought in the likes of Frank Vatrano, Andrew Copp, Tyler Motte, Justin Braun, etc); at the very least, the Rangers, who go hand-in-hand with BIG SPLASH like peanut butter-and-jelly, will soon jump off of the high diving board again.
Right now, the right-wing position is the team's biggest need – although that could change soon enough – but we'll talk about Filip Chytil in our next thought.
There are a bunch of big names set to become unrestricted free agents (deadline rentals) in the summer of 2024, where for my money, and in my opinion too – Vladimir Tarasenko, currently of the last-place Ottawa Senators, would be the best fit for the Rangers.
Not only does Tarasenko have some familiarity with the Rangers – he was also one of their best players during the 2023 Stanley Cup Playoffs.
And what's a better way to fight for one more big-time deal, especially with the salary cap exponentially increasing next season, than by having a strong showing during the 2024 Stanley Cup Playoffs?
And yes, I know – many of the names currently being bantered about are all former Rangers – but that's just coincidence to me.
Among these names are Frank Vatrano, but of course, he still has another year left on his deal at $3,650,000.
But again, the Stanley Cup is this year's goal and you can worry about next year's cap over the summer – and where again – the cap is expected to increase anywhere from $4M-$5M next season.
Another target could be Anthony Duclair, now in the final season of his $3M deal in San Jose. But unlike the players with vowels at the end of their names – I'm not so sure if "THE DUKE" is the best fit.
When it comes to some of the other top players set to hit unrestricted free agency in 2024, I can't see players on current playoff clubs, such as Steve Stamkos (TBL), Sam Reinhart (FLA), Jake Guentzel (PIT) and Tyler Toffoli (NJD) being traded – and especially not to the Rangers.
A top player, a center, and not a right-winger, who could be considered?
Elias Lindholm of the Calgary Flames, as very fast, Calgary has become the new Winnipeg and Columbus – a city that no NHLer wants to play for.
Prediction: Should Kane be out of the running, then expect the Tarasenko rumors to continue until he's moved too – assuming that the Senators don't turn their season around.
Another reason why a Tarasenko Rangers' return makes sense, at least for Ottawa?
The Senators were just fined and lost a first-round pick – and for a team like the Rangers, with their eyes on the silver chalice – first-round picks can be afforded.
---
Four: Is this the beginning of the end for Filip Chytil?
Listen, I'm not trying to sell fear on this site (but I am trying to sell you some books – which is why I don't run ads on this site – all I ask is that you buy my books!) – but it's not looking good for the Czech center right now.
I've talked about concussions to the point of ad-nauseam on this site, but one more time:
Once you get one concussion, then you're more susceptible to receiving another, another after that, and so on and so forth.
And yes – every player (and human being) recovers from these head traumas differently.
Just because someone recovers in a day doesn't mean that someone else will do the same.
I've seen this first-hand during my days in the wrestling business and as a fan of the Rangers, I've seen it in hockey too.
While the amount of documented concussions that Chytil has endured varies (some say as low as five, some say as high as seven); either way, what's being ignored here is the amount of undocumented concussions that he suffered prior to coming to North America.
Whenever the topic of concussions, in regards to the Rangers, comes up, I am reminded of both Pat LaFontaine and Eric Lindros, where to be fair, these pair of former Blueshirts had already suffered through numerous concussions and were also at the end of their careers by the time that they had arrived to the City That Never Sleeps.
(LaFontaine even had a concussion clause in his Rangers' contract – something that would never fly today. After all, Gary Bettman has practically banned this word from his league, while also defiantly stating that chronic traumatic encephalopathy (CTE) doesn't exist.)
While both Hall of Famers played well for the Blueshirts, their prime years were long behind them.
(For more on both players, and really, everyone else who ever played for the team in franchise history, then check out my "Tricks of the Trade" books. Have I mentioned yet that I'm running a Black Friday sale on them?)
However, unlike these centers like Chytil himself, I think a better comparison for the #72 of the Blueshirts of today, is a former Rangers' defenseman, the 40th-overall pick of the 2005 NHL Entry Draft, Michael Sauer.
The one-time promising rearguard received his final concussion of his career on December 5th, 2011, following a big hit from Dion "Sloppy Seconds" Phaneuf.
At only the age of 24-years-old, Sauer never played again (and for that matter, never announced any sort of an official retirement notice either).
Today, and very much like Sauer, Chytil is also 24-years-old – and just as was the case a dozen years ago – the Czech is going to have make a hard decision – or perhaps the Rangers will have to make it for him.
At some point, the human being, and his welfare, has to come above the sport of ice hockey.
No one wants to see Chytil as a drooling vegetable at the age of 30-years-old.
Today, we know that CTE exists (despite what Bettman says), but there's no medication that can prevent it, nor battle it either.
Since I last wrote you, the Rangers have held both an optional (Monday) and mandatory (Tuesday) practice, and where Chytil, whose seven-days on the IR has since passed, wasn't at either of them.
Furthermore, Laviolette confirmed that Chytil isn't even skating on his own yet either.
In other words, this latest concussion is serious – and should be treated that way too.
While either way, caution is the best route to go down, and you can't force Chytil to stick to any sort of a timetable either; I do wonder if his best decision is to leave the game on his own accord – rather than the game forcing him out of it.
Maybe I'm being too dramatic, but I have seen this movie before – and all of its sequels too.
And for as perhaps as inhumane and/or cruel as it sounds – the show must go on.
With not much middle-depth in Hartford, Drury may have to look for a center prior to the trade deadline.
Again, while you can't compare concussion injuries, as everyone is independent of another; another current Ranger that once battled non-stop concussions is Mika Zibanejad – and a player who fortunately hasn't had an issue with this affliction for some time now.
Instead of concussions affecting his head, it now seems like a mental block is affecting his head – and a head, that like Kakko – perhaps should be shaved cue-ball bald too.
---
Five: When will Mika Zibanejad turn it on?
Fourteen games into this 2023-24 campaign, the $8.5M first line center is sitting on two goals and eight assists, where of these ten-points accumulated, all of his goals are on the power-play, while only three of his assists have taken place during full-strength action.
I don't want to rehash everything that I've been saying for some time now, but yes, it's true:
I did predict a slow start for Mika ZibaneDAD – not only because of the new child at home – but because more times than not – he always starts off slow.
He's just lucky that this year, especially following that 2023 Stanley Cup Playoff no-show, that Panarin is hiding all weak spots.
But it's time to get it all rolling – and as I think we all know that he will.
However, it is frustrating watching him take all of these one-timers, about 7896567567678567858 in all, that go everywhere but to the net – and one-timed misses that I think Laviolette should start fining him for.
(For example: For every one-timed shot that doesn't hit the net, then Zibanejad should be forced to donate $5,000 per-miss to the Garden of Dreams. And he should also shave his head and donate his hair to the charity too!)
Chris Kreider, with ten-goals, leads the team in this department, so I'm not worried about him.
And like his BFF Zibanejad, Kreider is also a key component of both the PP1 and PK1 units.
In other words, while Zibanejad won't detract from what Kreider is doing, you can make the argument that he isn't helping out Kakko – a right-winger who we all know is in some serious need of aiding and abetting.
With a busy week ahead, it's time for Zibanejad to get over this slow start.
---
Six: What did the other 31 teams in the league NOT see in Erik Gustafsson this summer?
While Gustafsson has had some big seasons before, including a 2018-19 campaign when he scored 17 goals and picked up 43 assists (60 points) for a bad Chicago Blackhawks team; what has happened to him since that season?
Following the best season of his career, the Swede then played for the Flames, the Flyers, the Canadiens, returned to the Blackhawks, the Capitals and the Leafs.
The Rangers marked his eighth team in only a time-span of three-years!
Holy Derick Brassard Batman!
A steal, if not an all-out robbery, and as perpetrated by Drury; "The Gus Bus," only on the books for $825K this season, and assuming that he keeps this up, will receive a significant raise this summer.
Put it this way: Have you noticed that Adam Fox has been gone since the dirty knee-to-knee hit committed against him by Carolina's Sebastion Asshole?
While maybe you notice it whenever you watch Zac Jones do whatever he does; you haven't noticed the MIA Fox amongst the Rangers' top-four of rearguards.
Not only does Gustafsson have three goals and seven assists to his name, he also leads the team in the almighty plus/minus stat too (+7).
He's also the best active scoring blue-liner on the team, where only Fox (3-8-11) has comparable numbers.
And while Gustafsson was promoted as someone who could score this season – he is no slouch defensively either. In fact, the complete opposite.
Gustafsson has been a revelation for the Rangers, and due to the Fox injury, a savior too.
It makes me wonder – what did the other 31-teams not see this summer that Drury saw?
Whatever the case, Gustafsson, who was sold to his general manager by his head coach, has been, and in a word, "FABULOUS" (Sam)!
Also looking fabulous these days?
The next player in our eleven thoughts.
---
Seven: Has Alexis Lafreniere overcome his inconsistency issues?
The first-overall pick of the 2020 NHL Entry Draft, and also the slugger of the Quebec senior mens' league, Alexis Lafreniere, currently has seven goals and four assists in his fourteen games played.
His total of eleven points is also third overall on the team (Panarin, 24, Kreider, 14).
And really, when you see that only Panarin and Kreider are above Lafreniere in scoring, that's not a bad thing either.
After all, these two are paid nearly $20M in total to rack up the points.
Much was said about Lafreniere's offseason and preseason, stuff that was all true, but what's also true is that following a slow start, the second-line right-winger is now on a heater.
(What have you done for me lately, am I right?)
But I ask, and at the risk of playing Devils' Advocate, the following question:
Can he keep it up?
Maybe I'm jaded, maybe I'm well-versed in this franchise's history, or maybe it's something else – but we've seen this before.
Lafreniere will go on these long stretches where the word "bust" is at the tip-of-your-tongue (while many others have said it, I'm glad that I have never said it – and for that matter – I have never referred to Kakko as a "bust" either – and despite contrary opinion), but right after these no-show stretches – BOOM – there he is a with a few highlight reel goals which then keeps the hope alive.
But now, and at the age of 22-years-old, the fourth-year winger, presently under his third coach (and we all know about his unorthodox entry into the league so there's no reason to get into all of that again), these former "few highlight reel goals" are now becoming commonplace.
But in a way – this SHOULD be the case.
After all, he now has more years and games under his belt – and no – I don't think this is a coaching thing either. I think it's more of an experience thing – and "The Breadman" doesn't hurt either!
He has had his time on the top line before, and both under DQ and GG, but it just feels like he's now finally putting it all together.
Similar to concussions, everyone develops at their own pace. What worked for Alex Ovechkin, Sidney Crosby, Connor McDavid, Austin Matthews and others of that ilk doesn't necessarily happen for other former first-round overall picks.
(Heck, even another former first-overall pick, a fellow French-Canadian to boot, Guy Lafleur, took a while to get going.)
One standard that ripped throughout the streets of Rangerstown, USA this summer was that for the Blueshirts to reverse their fortunes, then the club would need big years out of the former "kids" – Lafreniere, Chytil and Kakko.
While Meatloaf once sang, "two out of three ain't bad," the Rangers are lucky that they are least getting something out of one of these three players.
As you can tell, while I do believe that Panarin deserves some credit for Lafreniere's new-found success; at the same time, you can't take away from #13 either.
He's putting himself into situations to succeed.
And for all of the "tap-in" goal talk, talk which I have said and talk which is also true?
It sure as hell worked out for Phil Esposito!
Furthermore?
Over the years, how many Rangers have we seen NOT score on these "tap-in" and elementary scoring plays?
Give me the guy who can cash in these tries.
---
Eight: How long can the Rangers survive without their two hardware winners?
As of this writing, CZAR IGOR is back at practice, and fingers-crossed, will be ready for the Devils – and the first game played between these two warring clubs on either side of the Hudson River since May 1st, 2023 – aka Game 7.
Adam Fox?
He won't be eligible to return until the Thanksgiving/Black Friday weekend is over, which is November 29th, when the Rangers rematch with the Red Wings.
As mentioned, the Rangers are extremely fortunate to have THE GUS BUS in their ranks, but from the "No Shit Sherlock Department" – they need Fox back as fast as possible.
That Schneider/Jones pairing would suggest as much.
A bonus thought?
While it has to happen, it's going to be tough to "relegate" Gustafsson back to third-pair and PP2 status once Fox is ready-and-able.
Without a regulation loss since whatever that was against Nashville in the fourth game of the season; the "NEXT MAN UP" Blueshirts have personified that mantra.
But this team will need to be 100% come April, so in a way, you just hope that all of these injuries are purged from their systems now.
Silver lining?
Fox, who usually logs the most minutes on the team, has looked "gassed-out" during the end of recent seasons and then into the playoffs.
Perhaps this time off is a blessing in disguise.
Ditto CZAR IGOR – although I do now wonder if these chronic groin injuries will continue to recur.
And since we are talking about injuries, it should be mentioned that Ryan Lindgren, injured in Sunday's night win against Columbus, was a full go at Rangers' practice on Tuesday.
According to Laviolette, double-nickel, the heart-and-soul of this team, should be in the line-up on Saturday night in Newark.
---
Nine: How great has Will Cuylle been?
A year ago at this time, Cuylle, who has said that he moderns his game after the Tkachuk brothers (and Tom Wilson too), was chomping at the bit in Hartford – and in a way – was pissed-off about being there too (in a good way).
You see, Cuylle knew that he had what it takes to play at the NHL level – and we're agreeing with him today!
A scorer in Hartford, but used in a third-line grinding role with the varsity club, Cuylle has three goals, two assists and a plus/minus rating of +2 in fourteen games of action – and where the notion of #50 ever playing with the Wolfpack again is now a distant thought.
And if it isn't a big-time rental to fill the right-wing void, then following the Kakko and Wheeler experiments, it should be Cuylle who gets the next chance to skate with Mika and Kreider.
Cuylle, and where a lot of this advertising was self-promoted, has lived up to the billing.
Not only can he score (don't forget that he was also robbed of one goal and two assists this season, due to horrific video replay reviews), but he's crashing nets, hitting anything that moves and driving play.
While I know that all of that sounds cliche – it's also 100% on the mark too.
It has to be seen to be believed.
You'd never know that he was a rookie, as based on these fourteen games, he already looks like a savvy and grizzled veteran, ala Barclay Goodrow or Nick Bonino.
Speaking of Bonino, our next topic to discuss!
---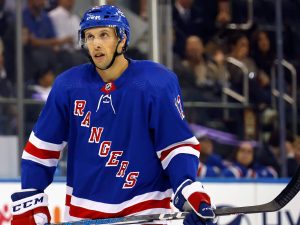 Ten: How big has "The Bonino Effect" been?
Hopefully, come June of 2024, we will all be laughing about how most of us mocked Drury's off-season – and where yours truly gets no exemption status either – as I was very critical of what I thought was a blah, yet understandable (cap-related) summer.
Back-up goalie Jonathan Quick, following the worst season of his career?
He's been lights-out and is currently enjoying a throwback to his prime years season.
Erik Gustafsson? We've already discussed him.
While Blake Wheeler has largely been meh, and Tyler Pitlick hasn't really stood out either (he's not really an upgrade over Jimmy Vesey, which if you recall, is how this season began), Drury, and akin to his 2022 NHL Trade Deadline – the former Little League champion, and like Lafreniere – has hit the ball over the fence this summer. (Yes, I went there!)
While everyone loves big goals and big saves, which both Gustafsson and Quick have respectively provided; perhaps lost in all of the jubilation is the fact that presently (as I write these words on 11/16) – the Rangers are the top faceoff team in the league.
THIS IS NOT A MISPRINT.
I REPEAT, THIS IS NOT A MISPRINT.
With a success rate of 56%, the Rangers lead the league in faceoff percentage, and to boot, Vincent Trocheck, of all people, leads the league at the dots with an overwhelming winning percentage of 64.4%.
For a club that has never come close to sniffing the top of the league when it comes to the dots ever since the mid-1990s, I think a big pat on the back has to go out to Nick Bonino.
Not even the team's current general manager, and former captain, Chris Drury (the last season when the Rangers were over 50% at the circle – and "The Pizza Man" was at the "center" of it), could fix his team's issues at the circles.
Bonino, the two-time Stanley Cup champion, whose unorthodox method of using his stick in reverse (or backwards) to win draws, is now seeing his move mimicked throughout the team – and where Trocheck, Zibanejad and even Goodrow has taken draws in this fashion this season – and have won them.
(Prediction: Expect this to soon become a league-wide trend too.)
And just to think:
How many previous training camps featured former officials, players and everyone else under the sun, all in-attendance and all with the sole goal of improving the team's success rate at the circles?
I don't know how many millions of dollars that the Rangers have spent over the years when trying to bump up their faceoff winning percentage, but I do know that for the low, low, low price of only $800,000 – "The Nick Bonino Effect" has been worth every penny – and then some.
Bonino, as a role-player, has more than delivered – and without a shadow of a doubt – has positively influenced this team too.
Up next, the best, dumbest, silliest and most deranged stuff for last!
Yep, it's time to talk about Stephanie Dolce, aka "The Social Media Gal," and whose remarks about Rangers' captain Jacob Trouba went viral on Wednesday.
---
Eleven: Idle time leads to insane lunacy!
In a story that I don't think would have picked up much traction had it not taken place during a five-day break; an overzealous and self-proclaimed hockey blogger and podcaster (which to my knowledge – I have never seen her write or talk about anything hockey related in these mediums) named Stephanie Dolce (she puts her real name out there – and all over the place too – so I am not "doxxing" her – her real name is just as known as mine), actually accused Jacob Trouba of being "sexist."
Take a look at these screenshots that were forwarded to me – and from multiple readers:
---
Originally, I was kind of hesitant to bring up this story, because one, I don't like attacking other fans unless warranted, two, it's so freakin' dumb, and three, and perhaps most importantly, I can't say with full certainty that Ms. Dolce, a woman in her mid-30s who still lives with her parents, doesn't suffer from any some sort of a mental affliction.
(For what it's worth, she says she is on the level and on the up-and-up.)
However, and after seeing her double-down on social media, and then release a 24-minute podcast where she continued such talk about Trouba (and plus – many of you guys and gals have asked me for my opinion on this) – I just couldn't ignore it.
The genesis of this story is that Ms. Dolce spent the entire summer begging, pleading and demanding Trouba to appear on her podcast that nobody that I know listens to – and for that matter – ever heard of either.
By last count, there were something like 78678678678969678 tweets where Dolce tagged Trouba in – and where she stated that he must have coffee with her – and that she'd "behave" during such a meeting of lattes.
Perhaps lost to Dolce, and this may belong in a "Diary of a Delusional Social Media Mess," is the fact that while many NHL players (and really, this goes for most celebrities too) have social media accounts – they aren't checking their responses, tagged tweets, DMs, etc.
More times than not, as in 99.9% of the time, celebrities and NHLers use social media to promote their charities, projects and to speak positively about their teammates & teams.
What they aren't doing is scouring Twitter, and looking to see what psychopath "promises to behave" during a prearranged meeting at some random Starbucks.
And if you're the wife of Trouba – would you want your husband meeting with a female fan (perhaps stalker too) – and who made sexual innuendos when demanding some milk and sugar dipped in the brew?
---
Obviously, I can't call up Trouba and ask him about this, and for all of my complaints about how bad the Rangers' beat reporters are – I don't expect them to bother the captain with such nonsense either.
But unlike the accredited reporters, your favorite bullshit beer-bellied blogger can continue to shed light on this "story!"
I don't know this for a fact, and I am 100% speculating here, but I doubt that Trouba ever saw any one of Dolce's 6789567567856785678567856785 tweets.
Furthermore, even if he did, what does he owe her?
In addition, what kind of precedent would this set?
Any moron (which most bloggers and podcasters are, present company obviously excluded – as after all, I am a ten-time award winning author!) can open up a blog, a podcast, a YouTube account, whatever.
If Trouba was to meet with her, then what?
Would he have to meet with the other 97867567567567567856785 bloggers and podcasters that have no listeners and readers too?
What's next? Trouba Time at the father's basement of Derek "NO FLEX?"
While Dolce's behavior and requests are borderline manic, if not flat-out psychotic – she knew what she was doing when she plastered all over social media that Jacob Trouba was a sexist.
I mean really, do I have to defend this?
The man left Winnipeg (but to be fair, not many NHLers want to live there) and demanded a trade to New York – ONLY BECAUSE HE WANTED TO SUPPORT HIS WIFE'S MEDICAL CAREER – A CAREER THAT COULD ONLY ADVANCE IN THE BIG APPLE!
In many interviews since joining the Rangers, do you know what topic Trouba has complained about the most?
The salary cap – and the taxes that players have to pay – and where the NYC income tax rate is the highest in the land.
Another fact, and as repeated many times before on this site?
Most Rangers, as in 99.9% of them, don't live in NYC.
Like us, it's too expensive for them!
Most of the players live in Westchester, Brooklyn, Connecticut and in other areas (in previous eras, Long Island, Queens and New Jersey were popular destinations), as you get more bang for your buck living in these locales when compared to NYC.
DESPITE THE INSANE TAX RATE AND EVEN WORSE COST OF LIVING IN NYC – TROUBA IS ONE OF THE FEW RARE RANGERS THAT CALLS NYC HOME – BECAUSE OF HIS DEVOTION TO HIS WIFE!
What's next? Israel President Isaac Herzog is anti-semitic?
Let's also not forget that Trouba has routinely praised his mother, A FEMALE, for encouraging and supporting his hockey career too.
As any hockey parent will tell you – it ain't cheap – and many weekends are lost too.
Apparently, (Hee-Haw, Hee-Haw, Hee-Haw) Dominick the Dolce was pissed-off that Trouba <GASP>, HAD THE AUDACITY TO APPEAR ON THE BIGGEST PODCAST IN THE LEAGUE, "32 THOUGHTS" – AND IN AN INTERVIEW THAT WAS FILMED DURING THE LEAGUE'S MEDIA WEEK IN LAS VEGAS PRIOR TO THE FIRST PUCK DROP OF THE 2023-24 SEASON!
WHAT A CHAUVINISTIC PIG!
And have I mentioned yet that the Rangers don't allow their players to appear on any podcasts, interviews, blogs, whatever, that aren't league-sponsored?
That didn't stop Dolce, who after being told this fact multiple times over, continued to berate Trouba and paint him out as a "sexist."
Fortunately for this wild woman, I doubt that Trouba ever saw any of this (but he's probably heard about this now after the fact), but even if he did – do you really think he is going to file a defamation lawsuit against her?
After all, what can he take from her?
Her Brittney Spears poster from her childhood bedroom?
I know that I'm going way too long on this (and if you can believe it – I'm restraining myself from going on any longer, especially since I think this is the attention that Dolce so desperately desires); but let's close with this, TROUBA TALKING ABOUT HIS WIFE DURING AN INTERVIEW CONDUCTED BY A WOMAN:
Our opening night feature on the New York Rangers new captain, Jacob Trouba, his wife, Kelly, and the incredible commitment they made to each other 🤍 pic.twitter.com/GzVp8MfDjj

— Emily Kaplan (@emilymkaplan) October 11, 2022
---
Yep, there's your captain, acting like a regular A.C. Slater. (Yes, a "Saved By The Bell" reference.)
"Oink oink Jesse!"
One last thought, and I'll make it quick since I know this blog is long enough!
---
I've talked about the Hall of Fame so much on this site, where you should know by now where I stand, including who I believe are the two biggest omissions from the hallowed halls in Ontario, Alex Mogilny and Stan Fischler.
Another omission that I didn't feel strong about until recently?
Mike Richter.
And while I won't accuse anyone of being "racist," and as Ms. Dolce might do – I also don't think it's a coincidence that Mogilny (Russian), Fischler (American) and Richter (American) aren't in.
Heck, it's already being reported that the Hall of Fame wants to stay away from anything Russian-related until the present conflict created by President Vladimir Putin is over with.
Fischler?
If he was born in Toronto instead of in Brooklyn?
Then I think he would've been in – and inducted many years ago at that – as I do believe in a Canadian bias.
When it comes to Richter, the recent inductions of both Mike Vernon and Tom Barrasso, who were ignored for so many years, makes me believe that it's now #35's time to get his moment in the Toronto sun.
I don't know if I like the phrase "Hall of Very Good," but what I'm about to say next is 100% true:
For any borderline player, which to be fair, Richter is – you can look at any omission and/or inductee to make your case.
I mean just look at some of the Ranger goalies who are in.
Chuck Rayner never won a Stanley Cup and had a losing record. Eddie Giacomin, who also never won a Stanley Cup and while beloved, was outplayed by his back-up (Gilles Villemure) for many years. Ditto Henrik Lundqvist, where during the final years of his career, was routinely out-played by his cheaper back-ups in the cap era (Cam Talbot, Antti Raanta, Alexandar Georgiev and Igor Shestyorkin.)
Dave Kerr, a former Vezina Trophy winner like Lundqvist and also a Stanley Cup champion like Richter (the only Ranger goalie to win both), isn't in – and largely because he didn't have the years/longevity (his career was cut short due to money and World War II).
For a Hall of Fame that hasn't really been too kind to goalies until recently, and similar to Barrasso and Vernon, it's time to rectify other previous omissions, such as Curtis Joseph, Tim Thomas, and of course, Mike Richter.
I have written so many words about Richter before, so I'm not going to give you his resume again.
You can Google or Wikipedia his name for all of that.
But let it be known, and I think this fact is overlooked all of the time, especially during Richter v. Lundqvist debates – Richter played in an era where three of the best goalies of all-time, Dominik Hasek, Martin Brodeur and Patrick Roy, were all active – and in their prime years too.
When you look at the greatest generation of goaltenders, the 1960s, all of them are in, including Jacques Plante, Terry Sawchuk, Johnny Bower, Glenn Hall, Gump Worsley, etc.
It's time to apply that same logic to Richter, one of the best goalies of the 1990s.
And that's my story and I'm sticking to it!
---
Up next: Rangers vs Devils this Saturday.
As far as practices, the Rangers return Friday in Tarrytown, where really, the only things to monitor is the statuses of both Lindgren and Shestyorkin – but both already seem good to go.
Don't forget about the Black Friday sale, which brings us to…
PLUGS TIME! (Buy a book and support my Rangers' induced therapy bills. After all, I don't run ads on this site!)
---
My fourth title and tenth book is now available for preorder!
"The Top 100 Villains of New York Rangers History," is now available for preorder.
For complete information, please visit: https://bluecollarblueshirts.com/rangerkillers/
---
My second plug of tonight's blog – the mandatory plug for my book, "The New York Rangers Rink of Honor and the Rafters of Madison Square Garden."
As mentioned previously, the book is now available in hardcover, in paperback and in Kindle formats. To purchase a copy of the book, visit this link:
https://www.amazon.com/Rangers-Rafters-Madison-Square-Garden-ebook/dp/B09CM5N2WD
For those still looking for signed paperback versions of the book, I have re-ordered more copies. I now have a few signed copies for sale at $25 a pop (includes shipping price) through me directly. Here is all the information on that:
---
My four-volume set of books, "One Game at a Time – A Season to Remember," is a game-by-game recount of the Rangers 2021-22 campaign.
My second title as an author, "One Game at a Time – A Season to Remember," is now available in eBook, paperback and hardcover formats.
To obtain signed copies, visit: https://bluecollarblueshirts.com/onegamebook/
To purchase all four volumes on Amazon, visit: Amazon.com – "One Game at a Time."
---
The greatest volume-set of books on Rangers' history today!
"Tricks of the Trade – A Century-Long Journey Through Every Trade Made In New York Rangers' History," a four-volume set of books that meticulously covers every trade made in franchise history, is now on sale.
All four volumes of the title can be purchased on Amazon.com and are presented in three different formats – eBook, paperback and hardcover.
To purchase Volume I: Conn Smythe (1926) – Craig Patrick (1986), visit Amazon.com
To purchase Volume II: Phil Esposito (1986) – Neil Smith (2000), visit Amazon.com
To purchase Volume III: Glen Sather (2000-2015), visit Amazon.com
To purchase Volume IV: Jeff Gorton (2015) – Chris Drury (2022), visit Amazon.com
To purchase signed copies of all four volumes, visit https://bluecollarblueshirts.com/tricksofthetrade/
---
Here are my last few blogs, in case you missed them:
---
---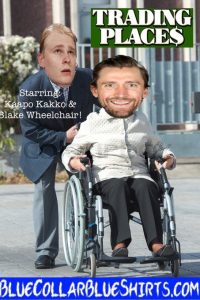 ---
If you haven't already, subscribe to this blog for the next update:
---
Don't forget to order my recently released four-volume set of books, "Tricks of the Trade!"
If you don't order through me, all four volumes are now available on Amazon.com
For more details, check out: https://bluecollarblueshirts.com/tricksofthetrade/
Thanks for reading.
LET'S GO RANGERS!
Sean McCaffrey
BULLSMC@aol.com
@NYCTHEMIC on the Tweeter machine