Greetings and salutations everyone and welcome to another blog here on BlueCollarBlueShirts.com. WOW!
Heck, and as Sam Rosen belted out during Sunday night's M$GN broadcast, "THAT'S CLUTCH BABY!"
Another thing that Rosen belted out, and all game at that?
"I don't agree with these officials Joe."
---
In case that you're new here, and as a reminder for regular readers – I hate, hate, hate, and did I say hate, crying about the officials.
But there is just no way that you can ignore the one-sided display of deceit, ineptness and <GASP> flat-out mental retardation that was exhibited by these four bozos on the ice – a quartet of men with their heads firmly lodged up their assholes, and who were all proudly wearing their Foot Locker employee attire too – and where this foursome collectively masquaraded and posed around as licensed and competent NHL officials during the Rangers' come-from-behind 4-3 shootout victory.
And if these four men aren't legally retarded, incompetent and mentally defective, then they are cheats and on the take – a much worse offense.
After all, it's no one's decision to be born retarded, incompetent and/or defective, but it is a personal decision to gamble, and worse than that, then have your gambling impact your work.
There's just no other way to explain their actions.
It's either that they aren't good at their jobs or that they are gambling on these games – and nothing else in-between.
And isn't it sad, that following an elating Rangers' victory, coupled-in with the big news from the weekend that included Henrik Lundqvist back on the ice for the first time in three-years and Kris Knoblauch departing Hartford for Edmonton, that yours truly (and I'm sure that this is going on everywhere else in Rangerstown, USA too – if not in other league circles too), is forced to lead by talking about these creeps in the black-and-white stripes?
Even a 1997 Earl Hebner, in Montreal, Quebec, has more credibility than the fearsome foursome of Pollock, Blandina, Gawryletz and MacPherson.
And I'm not exaggerating for effect at all – and where keep in mind – I'm saying all of this FOLLOWING A RANGERS' WIN!
---
Put it this way: How bad were the officials tonight?
So bad that even Rosen and Micheletti criticized them all game, where at one point, the Hall of Fame play-by-play man lost his cool and had to be restrained by Jumpin' Joe!
And no – I am not making up any of this!
Keep in mind, this duo is the same pair that called the COVID-19 pandemic "a situation" (as Rosen once again did tonight), never have a bad word to say about anyone and will defend every Ranger decision to the death.
Heck, while a little choked up at the time, Rosen even defended Jim Dolan's decision to fire John Davidson, his best friend, as team president.
While Rosen and Micheletti wouldn't accuse the officials of gambling, they did question their competence.
I know that this is both a tired and redundant trope, especially since I've written about this topic many times before (including just ten-days ago) – but when you see 7895676755785675 gambling commercials during every NHL game (and this isn't exclusive to just the NHL, as this is now commonplace during any broadcast in sports) – then what else are fans supposed to think?
Tonight's game set back the profession of officiating by a hundred years – if not more than that.
Hell, the officials were even worse than the present state of football in New York City. Ditto the baseball teams.
In a way, it was ironic that the Rangers, due to turn one-hundred-years old in three-years time, was founded by boxing promoter Tex Rickard – and where many fixed fights took place under his watch. (He was never in on it, but people took advantage of him – but alas, I digress!)
I've seen this officiating crew work in the past, many times at that, and where during these said contests officiated – I never questioned their competence level before.
So unless all four men were kicked in the head prior to tonight's game – I am of the opinion that they gambled on this game – and that the league, who never holds their officials accountable for whatever reason, needs to open an investigation into their finances.
If it was okay to open an investigation into Shane Pinto's gambling, then it should be okay to do the same to all NHL employees – and most certainly the on-ice officials – and the people sitting in the Toronto war rooms too.
While I will explore every single criminal act committed by these officials tonight during the GAME REVIEW; for now, here's something to take a gander at:
Again, let me be clear: I am not exaggerating.
I also feel justified to bestow such pressing and damning accusations and allegations after listening to Sam and Joe repeatedly call out the officials throughout the broadcast.
And let's face it, and as I'll remind you of below – Sam and Joe aren't exactly the biggest "homers" in the world either.
Hell, they spent more time pounding their puds to Columbus' Adam Fantilli tonight than anything else, as no one loves a young player on the opposing team more than Sam and Joe.
So to accuse Sam and Joe of wearing Blueshirts' goggles would be false.
The NHL let this dirty animal into their beds – gambling – and when you saw the line fluctuation prior to tonight's game and then saw how it was called – something smells as fishy as whatever is between the legs of Sieve Vagistat.
I am calling for the league to open an investigation against these officials – and publicly announce it.
As the league conducts this investigation, I am also asking the league to suspend all four of these officials, pending the result.
There is something seriously off, when a player can sneak attack an opponent with an elbow, and as Sean Kuraly did to Ryan Lindgren tonight, without fear of severe punishment.
It's even worse when one official called for a five-minute major for the infraction, only to overturn it a few minutes later – especially since Lindgren never returned to the game after the illegal elbow.
And I haven't even mentioned how a fight, following this Pearl Harbor elbow (gloves were dropped, punches were thrown and referee heads were lodged into their five-holes) was then assessed as a pair of roughing minors.
And yes – I'll also get into the Will Cuylle goal that was "overturned" during the GAME REVIEW – where the word "overturned" is in quotes because you know – THE OFFICIALS NEVER MADE A CALL ON THE ICE TO BEGIN WITH!
---
As mentioned, there's a lot to get into tonight and since I know that I'll be talking about the officials throughout the GAME REVIEW, I'll end this talk after these following remarks.
Seriously, an investigation needs to happen.
If not, then the league is telling you that they are okay with what happened on Sunday night – and as we've seen so many times before – these officials will negatively affect another playoff series come this Spring.
I'll just never get over the fact that the league wants to hold every employee accountable, except the ones who can influence the final result of a game – and no matter what the players, who are supposed to decide these games, are doing.
Heck, I was surprised that the officials didn't overturn Alexis Lafreniere's game-tying goal tonight, a score that took place with just eleven-seconds remaining.
And after what I saw tonight?
I'm surprised that these officials, who currently must be hiding from Fat Tony, bank creditors and maybe the Armenian mob too, didn't try to reverse tonight's final game decision.
That's how bad it was.
In fact, the officials were so bad (HOW BAD WERE THEY?), that had the Rangers lost tonight, then I would have thrown my daily season-long disclaimer out the window, you know, this one:
"WHATEVER THE RANGERS DO IN THE REGULAR SEASON DOESN'T MATTER. THEY CAN ONLY BE JUDGED BY WHATEVER THEY DO IN THE 2024 STANLEY CUP PLAYOFFS!"
That said, win-or-lose, the goal remains the same – although every Ranger fan should feel happy for the next five-days – prior to the Blueshirts' Saturday night dance with the Devils.
But we will move on from this topic for now, because there is plenty of other stuff to talk about tonight and time is of the essence!
At this time, all of the pregame news and notes, and where "LAVY'S LOUNGE" was the least of it.
---
Following the win over the Wild on Thursday night, come Friday, the team had the day off.
Prior to Sunday night's puck drop, Rangers' general manager, Chris "The Salary Cap Accrues" Drury, sent both Louie Domingue and Connor Mackey back to Hartford, only to then return them to New York once the cap accrual process was completed.
UPDATE: At 10PM Monday morning, both Domingue and Mackey were returned to Hartford. I'd send Kakko there too – but more on that below.
While of course, these are just paper transactions, as despite what some social media experts think – these players aren't running back-and-forth and jettisoning from the two cities all the time; but I did think it was a shitty thing to send Domingue down (impacts his real-life money) for the day, especially following his excellent performance against Minnesota.
But that's the world that Gary Bettman wants his employees to live in, where the officials are allowed to gamble on games and where the teams with money have to support his 25-year-old pet project, aka his failure in the desert known as the Arizona Coyotes.
That said, there was another transaction, a real and physical one, as opposed to on paper, that took place right after the Rangers' win from Thursday night, as goaltender Dylan Garand was returned to the 'Pack.
When Garand wasn't recalled when Mackey and Domingue were, then by the process of deduction, it told us that either Quick or CZAR IGOR would be ready for Sunday.
Also not known at the time?
Who would start against Columbus.
---
On Saturday, and following another drama-free Rangers' practice, Laviolette spoke to the media:
---
The biggest takeaway that the clueless birdbrain Blueshirt beat reporters took out of this, outside of the fact that it was Quick, and not CZAR IGOR, that was cleared for action on Sunday, was that Laviolette hosted a "FAMILY FUN DAY" following the practice.
No word on who won the cornhole tournament.
I saw many people rave about Laviolette for doing such a thing, where of course, they then had to immediately plaster social media with talk such as,"GERARD GALLANT NEVER DID THIS! HE HAD NO FAMILY TREE SYSTEMS!"
Not mentioned in any of this stuff from the "TURK TRUTHERS?"
The Rangers are significantly older under Laviolette – and as all of those six-figure veteran contracts on the roster would suggest.
In other words, there are more players on this team with wives and kids than when compared to both the David Quinn and Gallant eras.
Heck, most of those DQ rosters would have been better off served with a MONTREAL STRIP CLUB NIGHT, where the team could then make it hail with all of the loonies and toonies in the strip club capital of Canada.
(If you don't know, there is no such thing as a $1 bill in the Great White North – just coins.)
But let me be clear: I am not knocking Lavy at all. I'm just knocking the people who have to bury Gallant whenever Laviolette does something excellent.
At the end of the day, I thought this was a good gesture and another positive way to promote chemistry.
In fact, and as a proud uncle myself, I did enjoy this news. Kudos to Lavy.
I'm just saying that Laviolette also has a roster to do such a thing, where the same really couldn't be said for his pair of predecessors.
That's all.
But of course, the Rangers' beat reporters won't tell you this – but unlike tonight's referees – they aren't on the take – they are just incompetent.
---
Come Sunday, game day, Laviolette confirmed that Quick was ready to go, while also praising other players on the team:
---
Again, not much here – which is a good thing.
If I had any bone to pick, and this is extremely insignificant, then it was the fact that Lavy gave the nod to Quick, rather than Domingue, in net.
While I 100% understand Lavy's decision, I just thought that Domingue had deserved it.
And after watching Domingue's post-game interview from the other night, where the topic of FAMILY was stressed, then it did catch me a little off-guard when Lavy didn't reward Domingue with a start in front of his family – especially since this could be the last time that the veteran joureyman wears a Rangers' sweater this season.
But again, this is a personal issue – and perhaps not one that's soley team-focused either – and yep – a tough decision that Lavy had to make.
---
As Laviolette was preparing his team for tonight, there was other stuff going on in Rangerstown, USA.
Laviolette was asked about our next topic (Lundqvist), but wasn't asked about his peer in Hartford (Knoblauch).
After all, the Rangers' beat never knows what's going on and has to wait for the real reporters in Canada to tell them the news first.
And once Elliotte Friedman is done breaking news, then, and only then, can Mollie, Wince and that disgusting ilk, play reporter.
"CHECK IT OUT MOLLIE, I JUST FOUND OUT THAT CONNOR MCDAVID ONCE PLAYED UNDER KNOBLAUCH! HAVE YOU TRIED THE KALE SMOOTHIE YET?" – Wince
"Who is Connor McDavid? AND YES I HAVE!" – Mollie
---
Here's some media of Lundqvist's Hall of Fame weekend thus far.
Up first, what the Rangers have put out:
---
Here is what B/R Open Ice has shared:
For the first time in over 3 years, Henrik Lundqvist takes the ice 👑 pic.twitter.com/o7gqXzylJM

— B/R Open Ice (@BR_OpenIce) November 12, 2023
---
Henrik Lundqvist receives his Hall of Fame blazer 💧 pic.twitter.com/xIVSFfjAWD

— B/R Open Ice (@BR_OpenIce) November 12, 2023
---
As mentioned on Thursday night, for whatever reason, perhaps incompetence (there's that word again) – the NHL and the Hockey Hall of Fame refuse to air the annual HOF game played in Toronto.
And you'd think that the M$GN would fight for the right to air this (or to party too – yes, that's a Beastie Boys reference), but you'd be wrong.
In an exhibition match resembling "The Beerest of Beer Leagues," Lundqvist looked more than fine in Sunday's HOF game, where he even went a perfect 6-6 in a shoot-out, which then gave his team a 4-3 win.
(And isn't it amazing that's what later played out at M$G on Sunday night – and with that identical 4-3 score too – although the officials in Toronto – and not the ones in their war room – did not bet on the game that they worked!)
Whether Lundqvist played well or not did not matter, because really, the only takeaway was this:
Following his major life-or-death health scare from three-years ago – Lundqvist was able to do this physical activity.
That's a win.
A bigger win for #30?
Not only did his doctors clear him for this game, but the Swedish netminder also believes that he can continue playing these stress-free games too.
That's music to the ears to all of the charities that the Rangers work with, as I'd imagine that they can fetch a bigger sum for charity games if Lundqvist is playing in them.
After all, I believe that Lundqvist can draw a bigger crowd than Sieve Vagistat.
Duh.
While of course, it's only natural to have bad feelings and regrets about not being able to dictate your terms on your way out; at least he's healthy and can live a normal, or whatever is normal for an international celebrity, with $100M in the bank to boot, life.
The only thing worse than having his heart issue force him into retirement?
Having to work with Sieve Vagistat in retirement.
No one deserves that.
Moving along.
---
The following story is not a case of hindsight being 20/20, because if you go back and read the archives of this site from May through June of 2023, then you'll see that I said this at the time – and many times over at that:
"If it's not Knoblauch as Gallant's successor, then I don't see how much longer he hangs around in Hartford."
While I did believe that Knoblauch would eventually bolt from the organization at the first opportunity afforded to him – I'm not playing the role of a revisionist historian either.
Not only did I believe that the firing of Gallant was a mistake, but following what I thought to be a rash decision, and assuming that "The Turk" had to go – then I was hoping that Drury would hire Joel Quenneville as head coach #37 in franchise history.
As you all know by now, Drury went with the safest candidate possible, Peter Laviolette.
(And that's not a bad thing, it's just what it was.)
Prior to Lavy being named as the team's new head coach, the end result of a lengthy search – there were many fans, pundits, whoever, you name it, that wanted a Knoblauch promotion.
I can't say that I was one of them, but I did understand the rationale behind such feelings.
After all, Knoblauch had success in his previous short stints behind the Rangers' bench when filling in for both Quinn and Gallant due to their Covid-related issues.
And while you can say that the team played up for Knoblauch (just like how they often do for their back-up goaltenders), you can't deny that the head man in Hartford was well-liked and respected – and much like his former GM with the Wolfpack, now running the show on 33rd & 7th, Drury himself – Knoblauch also knew the organization inside-and-out.
On Sunday afternoon, and following what can only be considered as one of the most disappointing starts in Edmonton Oiler history, the club's general manager, Ken Holland, and the team's CEO of hockey operations, former McDavid agent Jeff Jackson, announced the firing of their head coach, Jay Woodcroft.
Whether the firing of Woodcroft was right or wrong is something for Albertans to discuss (after all, this blog is already too long!); either way, this decision impacted the Rangers, as the Oilers named Knoblauch as their eighteenth head coach in franchise history – and their fifth bench boss ever since the 2015-16 arrival of Connor McDavid (Todd McLellan, Ken Hitchcock, Dave Tippett and Woodcroft).
Here's how the Oilers covered the news, courtesy of https://www.nhl.com/oilers/news/release-oilers-relieve-woodcroft-manson-hire-knoblauch:
EDMONTON, AB – The Edmonton Oilers announced Sunday morning that Head Coach Jay Woodcroft and Assistant Coach Dave Manson have been relieved of their duties.

Kris Knoblauch will assume head coaching duties immediately, while special advisor Paul Coffey will join the bench as an assistant.

Knoblauch was in his fifth season as bench boss of the American Hockey League's Hartford Wolf Pack – affiliate of the New York Rangers – and had led the team to a 7-3-1 record.

Prior to joining Hartford, Knoblauch spent two season as an assistant coach with the Philadelphia Flyers after guiding the Erie Otters to the Ontario Hockey League championship in 2016-17.

The 45-year-old from Imperial, Sask. played five seasons as a winger with the University of Alberta Golden Bears before starting his coaching career in 2006-07 as an assistant with the Western Hockey League's Prince Albert Raiders. He won a WHL title with the Kootenay Ice in 2010-11 before taking over as bench boss of the Otters in 2012-13.

He coached Oilers captain Connor McDavid in Erie for all three of his OHL seasons.

---
Here's how the Wolfpack covered the news, courtesy of https://www.hartfordwolfpack.com/news/detail/wolf-pack-name-steve-smith-interim-head-coach:
HARTFORD, CT – New York Rangers President and General Manager Chris Drury and Rangers Assistant General Manager and Hartford Wolf Pack General Manager Ryan Martin announced today that the club has named Steve Smith as interim Head Coach of the AHL's Hartford Wolf Pack.

Smith, 60, is in his third season with the Wolf Pack. He was named an Assistant Coach with the club on August 24th, 2021, and spent the last two seasons in that role under Head Coach Kris Knoblauch. Smith spent two games as the Wolf Pack's interim Head Coach during the 2021-22 season while Knoblauch was with the Rangers due to COVID-19 protocols.

Prior to joining the Wolf Pack, Smith served as an Assistant Coach with the NHL's Calgary Flames (1997-98), Edmonton Oilers (2010-14), Carolina Hurricanes (2014-18), and Buffalo Sabres (2018-21).

Smith enjoyed an 804 game NHL career, playing with the Oilers, Chicago Blackhawks, and Flames. He scored 375 points (72 g, 303 a) in his career, and won the Stanley Cup three times as a member of the Oilers (1987, 1988, 1990).

Earlier today, the Oilers announced that Wolf Pack Head Coach Kris Knoblauch has been named the team's new head coach.

Knoblauch was named the seventh head coach in Wolf Pack history on July 29th, 2019. He posted a record of 119-90-18-14 in 241 games as the Wolf Pack's Head Coach.

---
In perhaps some irony, and where this chatter was already there previous to the Woodcroft firing – many felt that former Rangers' head coach, "THE TURK," would be named as the new bench boss in Oiltown.
Instead, it was Gallant's former co-worker, Knoblauch, who got the gig – and where all of the talk about this hire is centered around Knoblauch's successful history with McDavid – something that the Oilers even went out of their way to mention in their own press release.
From a Rangers' perspective, while losing Knoblauch isn't something that they desired, Drury did allow the Oilers to interview him.
While it doesn't happen often, Drury could have held Knoblauch to his contract and not allow him to leave, much less interview for the gig.
As the story usually goes, and as it did here, if an AHL head coach (and this applies to NHL assistant coaches too – but usually during the summer – and not in-season) can get an NHL head coaching gig elsewhere, then their general mangers will allow them to interview for the position.
Heck, the same even applies to assistant NHL general managers too – and as Drury can personally attest to himself.
(He turned down numerous GM jobs prior to landing his current spot with the Rangers – but he also had the luxury of knowing that he'd be next in New York following the departure of his mentor, Jeff Gorton.)
Since Laviolette is currently locked into his spot in New York, and with no immediate career advancement ahead of him, as he was proverbially running on a hamster wheel in Hartford – Knoblauch, and how could you blame him, accepted one of the few, as in one of thirty-two, head coaching jobs in the NHL.
And Drury supported him every step in the way too – and don't think that this fact isn't noticed either.
Good luck to Knoblauch moving forward, but I'd suggest that unless the Oilers fix their goaltending, a constant issue ever since Cam Talbot departed the blue-and-orange, then the end result will stay the same – a continual chase for their first Stanley Cup since 1990.
And should that be the case, then just like previous Oiler centers from the past, including Wayne Gretzky, Mark Messier and yes – even Ryan Strome too – perhaps McDavid will become the next Albertan to relocate to Manhattan.
One can dream!
---
Here was Laviolette's line-up for the fourteenth game of this 2023-24 season:
FIRST LINE: Kreider/Zibanejad/Wheeler
SECOND LINE: Panarin/Trocheck/Lafreniere
THIRD LINE: Cuylle/Bonino/Kakko
FOURTH LINE: Vesey/Goodrow/Pitlick
FIRST PAIR: Miller/Trouba
SECOND PAIR: Lindgren/Gustafsson
THIRD PAIR: Jones/Schneider
STARTER: Quick
BACK-UP: Domingue
HEALTHY SCRATCH: Mackey
DAY-TO-DAY: CZAR IGOR
INJURED RESERVE: Chytil
LONG TERM INJURED RESERVE: Fox
---
BOX SCORE time.
The following graphics and information come from ESPN.com:
SCORING:
SHOOTOUT:
PENALTIES: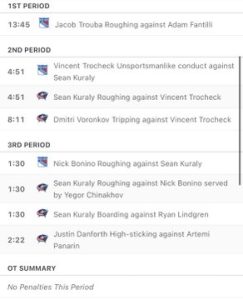 TEAM STATS:
GOALIES:
| | | | | | | | | | | |
| --- | --- | --- | --- | --- | --- | --- | --- | --- | --- | --- |
| SA | GA | SV | SV% | ESSV | PPSV | SHSV | SOSA | SOS | TOI | PIM |
| 40 | 3 | 37 | .925 | 30 | 7 | 0 | 0 | 0 | 65:00 | 0 |
| | | | | | | | | | | |
| --- | --- | --- | --- | --- | --- | --- | --- | --- | --- | --- |
| SA | GA | SV | SV% | ESSV | PPSV | SHSV | SOSA | SOS | TOI | PIM |
| 28 | 3 | 25 | .893 | 24 | 1 | 0 | 0 | 0 | 62:56 | 0 |
---
At 6:30:00PM, and knowing that Lundqvist had more pressing matters on his plate, I tuned into the M$GN – and with the hopes that Sieve Vagistat was under the weather.
(And to be clear – I wasn't rooting for a serious disease – I was just rooting for a common head cold!)
At 6:30:01PM, and after seeing that Vagistat was healthy as a horse (or more fitting – a jackass) and not replaced by Mike Rupp, Ryan Callahan or anyone else, I then flipped back to the National Felony League – as I'd rather watch my Giants take an epic ass-kicking to end all ass-kickings instead of listening to Vagistat for even one second.
Come 7:00PM, I returned to the M$GN, where I, nor anyone else either, knew it at the time, but Sam Rosen was about to remind us why he's a Hall of Famer.
(Of note: Sam Rosen, along with the Rangers' brain-trust of Senile Sather and Chris Drury, will be attending Lundqvist's Hall of Fame induction ceremony on Monday night.)
And sure, while Slammin' Sammy still can't tell the difference between Boone and Bruce Jenner, can't hear pucks hit the post, regularly confuses K'Andre Miller for Tyler Pitlick (both their jersey numbers start with the number seven) and will always rave about the opponent too – when Sam is fired up, and as he was tonight – there's no one better.
During Sam and Joe's five-minutes of action prior to puck drop, the two raved about Adam Fantilli – and as they'd continued to do until the poor officiating took them off track.
Finally, and I know it took us a while to get here – THE GAME REVIEW.
---
FIRST PERIOD
In a game featuring the first and worst of the division, the cellar-dwelling Blue Jackets, who had played on Saturday, didn't look like a team that was playing their second game in back-to-back days.
And for all of the talk about bad Garden ice, following Saturday night's UFC event and the Knicks' Sunday matinee – I didn't really see anything to suggest such evidence.
After all, the ice at M$G is always bad – and as the players themselves have stated numerous times over. (During player polls, M$G is always ranked as one of the NHL venues with the worst ice in the league.)
The crowd at M$G was much better than the ice, as right away, the Garden had their voices heard – and especially since there isn't anything else to cheer for in New York sports these days!
(The same applies for the current state of NYC too – but alas, I digress again!)
Zibanejad, playing in his 500th game as a Ranger tonight, where to pay tribute to that milestone, he then went 0-500 with his one-timer to nowhere, won the first draw of the game.
It was later noted by one of the few beat reporters who actually does have a clue, Johnny Lazarus, that Zibanejad is now taking faceoffs backwards like Nick Bonino.
Perhaps he can shoot his one-timers this way too!
Mika's linemates, Chris Kreider and Blake Wheelchair, had an early two-vs-one odd-man rush, but Elvis, while looking shaky as his namesake sitting on a toilet, was able to prevent the early goal allowed.
Following the near-goal, Sam and Joe, and as they were about Fantilli, then started to talk up Johnny Gaudreau too.
For whatever reason, Rosen wanted Mr. Hockey, who only has one goal this season (an empty net goal at that), to get going tonight.
Bless Sam's heart.
The Rangers' fourth line, which had another good game tonight, saw Jimmy Vesey force an o-zone turnover at the 3:00 mark. In a response, Sam and Joe had another lengthy discussion about Fantilli and Gaudreau.
A minute later, a Miller blast was denied by Elvis, as the Columbus goalie ate up this shot like a peanut butter and banana sandwich. However, Merzlikins did give up a juicy rebound, but there was no Ranger to cash it in.
Come 15:24 remaining, Quick made his first tough save of the period, when he stopped Alexandre Texier (who I was calling Mark Teixeira in my ode to Sam) on a 4 x 2 Columbus odd-man rush.
(This wasn't a bad odd-man rush to allow, as it only began because the Blue Jackets blocked a Rangers' shot in their zone, where afterwards, the puck then took a fortunate bounce for the visitors.)
Right after that, and with 13:44 remaining, Quick made another huge save, this time when he stopped Kirill "Not The Thrill" Marchenko as the Russian crashed the crease.
And for JQ32?
He had no fear.
Following nearly every tough save made, and rather than freezing the puck for a whistle; instead, he played every puck, which then allowed the Rangers to find their offense.
This was the case here after this save on Marchenko, because right after, Vincent Trocheck hit the post (very audible at that), which then led to, "Save by Elvis Joe. Oh pardon me Joe, I think it hit the post!"
As we neared 12:00 remaining, "The Bread Line III" as I have dubbed them as, the Rangers' second line, made you question if you should even be referring to them as the "second line" anymore.
The first line?
With 11:40 remaining, Wheeler, in his tribute to his center, nearly splintered the backboards with a slap shot that came nowhere close to Elvis' jumpsuit.
At around the half-way mark of this period, while the Rangers looked like the better team, once again, it were the opponents who were able to hang in there.
And in a way, it was also around this time where Columbus showed some more life too.
As Quick racked up the saves, out of a TV timeout, the Rangers honored Zibanejad for his 500th game as a Blueshirt.
Sam and Joe's response, as they talked over the whole thing?
More praise for Fantilli.
You can't make this up!
With seven-minutes remaining, the GUS BUS made a pair of hits in his own end which then set-up Trouba for a shot in the other end – a save for Mr. Blue Suede Skates.
Right after that, Trouba had another chance to score, as Panarin, who can do no wrong these days, had his captain perfectly set-up – but "THE GREAT EIGHT" then shot the puck wide.
Now down to 6:15 remaining, our first display of the officials being sponsored by Draft Kings:
Clean hit by Trouba, but Trouba gets 2 min for that punch. #NYR pic.twitter.com/bLu5Dr6r7O

— David 🏒 (@DaveyUpper) November 13, 2023
---
Once again, "THE TROO TROO TRAIN" cleanly hit another station, this time Marchenko, and once again, Trouba wound up in the penalty box following his legal hit.
Following Trouba's hit on Marchenko, the apple of Sam and Joe's eye, Fantilli himself, challenged the Rangers' captain to a fight.
Despite both hands and a gauntlet being thrown down – ONLY TROUBA WAS PENALIZED – FOR DEFENDING HIMSELF!
As both Sam and Joe accurately stated – what else was Trouba supposed to do?
Trouba, while not obliging Fantilli (perhaps because he didn't want to clean the clock of the Columbus rookie), was forced to jab himself out of the 2 vs 1 attack.
Just look at the clip.
It's clear as day that Trouba was warding off two opponents – AND WHERE FANTILLI INSTIGATED A FIGHT WITH HIM – yet only the Rangers' captain was penalized here – two-minutes for "roughing" the player who started with him after the CLEAN hit on Marchenko.
What are we doing here Pollock and company?
PROMO CODE: FIXED
Sam and Joe were absolutely irate – and it was nice to finally hear them call out the officials for once.
Rosen was going off on the officials so bad that Micheletti even offered to rub his shoulders in an attempt to calm him down. I'm not making this up!
Rosen also said that he had to restrain himself and move on – and you never hear our favorite senior citizen speak in this manner.
As loud chants of "ASSHOLE" echoed throughout the building, where I'm to assume that Vagistat replied with, "Who, me?"; the Rangers' PK only allowed one shot on goal and that was that.
Rosen, and just like us, was still infuriated about the bullshit call.
He doesn't have it often anymore, but when Rosen has his fastball, then damn pal – it hits the mitt harder than Nolan Ryan.
However, and despite the momentum-swinging successful penalty kill; just thirty-seconds later, and with 3:34 remaining, Justin Danforth scored.
1-0, bad guys.
There wasn't much Quick could do on this one, as he was screened by multiple players, and from both teams, as Danforth, from the circle to the left of the Rangers' goalie, was able to "pull a Kreider," and successfully deflect/tip an Erik Gudbranson shot attempt.
As the game progressed, and as you were wondering if Halloween in Finland isn't just a one-day holiday, but an all-year event; it was tough to find Kakko on the ice, as he continues to play in his ghost costume – and where his assumed white sheet now blends into the white boards.
With 1:14 remaining, who else but the GUS BUS and CHRISTOPHER JAMES KREIDER?
Take a gander at the Rangers' equalizer:
KREIDER. TIED GAME.

(via @NYRangers) pic.twitter.com/K5fHjObbzv

— Rangers Videos (@SNYRangers) November 13, 2023
---
1-1!
This goal was all about the GUS BUS.
On this scoring play, Gustafsson made two strong defensive plays in his own end, joined the rush up-ice, got the puck from Wheeler and then BOOM – found Kreider for the top-shelf one-timed tally, where "top shelf one-timed tally" are four words not in Zibanejad's vocabulary these days.
If only Gustafsson had a plus/minus rating of -26 while playing on a last-place team, then perhaps he could win the Norris Trophy this season.
As Rosen told us that Wheelchair has been solid this season (he picked up the secondary assist on this goal, but make no bones about it – this goal was all about Gustafsson – and Kreider being able to capitalize too), the first period reached its conclusion.
1-1 after 1.
Here's what I said at the time:
1-1 after 1. 1P Thoughts:
— GUS BUS makes you forget that Fox is out.
— Shave Mika head-to-toe.
— Is Kakko even playing or is he now part of the boards like osmosis?
— Loved hearing Sam getting riled up – good for him – but he has to stop blowing Fantilli.
— You'd never…

— BlueCollarBlueShirts (@NYCTheMiC) November 13, 2023
---
SECOND PERIOD
Sadly, we were "treated" to Vagistat during all of the intermission breaks, and where no less than 56785678565685685865 times, did he bring up the upcoming five-day break and how the Rangers were looking forward to partying.
There was no evidence to suggest any of that.
Just because Vagistat was a self-admitted party man, a huge hit at "The Ramrod," it doesn't mean that the Blueshirts of today are always as glassy-eyed as the seven-foot jerkoff.
Unlike Vagistat, who mainly sat on his ass during his NHL career, the Rangers of today not only actually play – but most of them are family men with kids – and as Laviolette's recent display at practice would suggest.
Rather than continuing to push the "RANGERS ARE LOOKING TO BOOZE AND COKE IT UP FOR THE NEXT FIVE DAYS" narrative, as if these were the Don Murdoch Rangers – perhaps Vagistat could have stated that the Rangers are down a few players, Columbus is a desperate team and that yep – the other team is paid to play hockey too.
Get this asshole off of this network!
HE PROVIDES NOTHING.
---
Despite all of the stuff about the officials from tonight's game, don't lose sight of the following either:
These gamblers took away, if not all-out hid, the fact that Rangers didn't look so hot for large chunks of time.
And by the end of the game, Alexis Lafreniere's performance also sheltered some flames away from Kakko too – a second-overall pick where the word BUST remains at the tip of my tongue – but I'm still hesitant to outright proclaim it.
(And unlike others, I'm glad that I never called Lafreniere a "BUST" either – but admittedly, I did question his work ethic.)
---
Watching Kakko and Cuylle play together on the same line is both eye-popping and informative.
Cuylle was constantly forechecking and hitting anything that moved. While he was "only" credited with three hits, it felt like much more than that.
Kakko? No hits.
Furthermore, Cuylle, now in his rookie season when opposed to the fifth-year Finn, was constantly crashing the net and wound up finishing with four shots on goal.
Kakko? He finished with one shot on goal, which is one more than his previous few games played – combined.
Throughout this period, and this continued as the game progressed, Cuylle was in the middle of everything, while Kakko, like a shy teenager attending his first school dance, was a "WALLFLOWER," as he WOULD NOT LEAVE THE BOARDS.
Keep this in mind as you read along.
---
Following a strong save made on Laine's backhander at the 53-second mark, back in the visitor's end, Cuylle made another big hit – while Kakko, from the boards, watched him do it – and didn't even try to retrieve the puck after the collision.
I was a shitty hockey player in my day, the most shittiest stay-at-home defenseman that you'd ever lay eyes upon (my goalie wanted me to stay-at-home too) – but even I would try (but fail) to get the puck when watching one of my teammates make hit-after-hit as Cuylle did tonight.
Similar to other second periods from this season, this middle frame was all about the Rangers' goalie, as Quick had to make big save after save until the opponent, like Jim Morrison, finally broke through to the other side.
With 16:32 remaining, Trouba ate a huge hit from Dmitri Voronkov.
The captain's response?
Like Wayne and Garth, "PLAY ON," as Trouba wasn't a bitch and crying about it.
A minute later, both Miller and Fantilli had a nasty entanglement at the corner boards to the left of Quick, where fortunately for Kakko, he wasn't on the ice at the time, or else he would've been bowled over.
More fortunate? Both Miller and Fantilli were fine afterwards, as this looked worse than what it turned out to be.
With 15:14 remaining, Sean Kuraly and Ryan Lindgren exchanged words during a faceoff in the Rangers' zone.
Five-seconds later, and following another CBJ faceoff win and shot on goal (Quick froze it), Lindgren and Kuraly went at it and then this morphed into Lindgren vs Danforth and Trocheck vs Kuraly.
Despite Danforth instigating and first jumping into this scrum, it were only Trocheck and Kuraly who received off-setting minors.
Micheletti and Rosen, and again, to their credit, called out the poor officiating – but they didn't suggest that these bozos had money on the game.
PROMO CODE: FATTONYISGOINGTOTAKEMYHOUSE
Down to 13:45 remaining, and now on the foreplay, the Rangers, who were being out-shot this period 10-1, saw Kakko, with nothing but open ice in front of him between him and Elvis, decide to pass back to the blue line – a free clear for Columbus.
Patrick Kane can't get here soon enough.
Seriously, even if the Rangers waived Kakko tomorrow, would anyone pick up his salary?
Who could afford it anyway, besides the bad teams looking to bottom out in order to "win" the draft lottery?
Perhaps the get-around/loophole here is to designate Kakko to Hartford for "conditioning purposes," as that's one way to prevent #24, a disgrace to Ryan Callahan who once wore that number, from being exposed to the waiver wire.
Now down to 12:10 remaining, and with the two teams returned to full-strength; Lafreniere set-up Trocheck for the best Rangers' scoring chance of the period thus far, but "Filip Chytil Who?" then went wide by a country-mile.
(Of note about Trocheck? He's now leading the league in faceoff percentage – another major asset to the "BREADLINE 3.0!")
A few seconds later, Dmitri Voronkov cowardly tripped Panarin – one of the most dirtiest trips that you'll ever see.
The Rangers' power-play couldn't take advantage here, as following 78567567585685 Mika one-timers to everywhere but the net; the PP2 unit came on with 37-seconds remaining, where Kakko (why is he on the power-play?) then did his ballerina act.
However, and with both power-plays now 0-1; down to 8:43 remaining, another example of the Rangers "PAYING IT FORWARD" this season:
Laffy with the goal 🚨

(via @NYRangers) pic.twitter.com/aBxjnppQoG

— Rangers Videos (@SNYRangers) November 13, 2023
---
2-1, GOOD GUYS!
And you couldn't call this another tap-in goal for Lafreniere either!
Similar to the play that happened earlier, this time, the winger and center exchanged roles, as Trocheck perfectly set-up Lafreniere – and the first-overall pick didn't miss.
Hell of a snipe – and maybe he should continue to play softball in the summers!
Furthermore, Artemi Panarin picked up the secondary assist, thus extending his point streak to fourteen consecutive games, as "The Breadman" is now tied with "Mr. Ranger," Rod Gilbert.
And it's a shame what the officials did during their crooked affair, because it feels like Panarin's historic milestone is somewhat left to the wayside a bit.
I know I've said it before, but what's one more time, the following:
I still wonder what would've happened had Lafreniere and Kakko flip-flopped lines this season.
Everyone is racking up the points with Panarin while Kakko has hit rock bottom.
And yes, it's true:
While Panarin looks like the guy from the 2019-20 season, it doesn't help that Zibanejad still looks like the shell of himself from the 2023 Stanley Cup Playoffs.
But of course, this is true too:
Lafreniere definitely has more snarl, jam, grit, whatever other adjective that you want to use, in his game when compared to Kakko.
Another truthful fact?
The Rangers quickly imploded following this go-ahead goal.
---
Just seventy-eight seconds later, Rosen's jinxes all came to the light.
After telling us how Columbus was the worst second period team in hockey, and following the non-stop praise for Fantilli, the third-overall pick of the 2023 NHL Entry Draft tied the game.
2-2.
Rosen couldn't even hide his excitement, as I think his boner knocked his toupee off of his head.
Twenty-one seconds later?
Kuraly put the Blue Jackets up 3-2.
Once again, the Rangers, who haven't only been prone to this during this particular season, but in every season ever played, gave up two quick goals in succession.
I don't know if it's a mental lapse after scoring a go-ahead goal or what, but Wheeler and Jones did themselves no favors here – and where following the pair of strikes – Quick was shown at the Rangers' bench trying to talk them up during a TV timeout.
As Kakko continued to make love to the boards (I think he was trying to stick his weiner into the holes in the glass where the photographers put their cameras through), there was Cuylle again, extending another shift with a strong forecheck.
With 4:16 remaining, and for the first time on the broadcast, Sam and Joe brought up Knoblauch's departure to Edmonton.
"Oh Joe, he handled that whole Covid situation well!"
Similar to the word "concussion," I guess the word "pandemic" is also a no-no on Ranger broadcasts!
With 1:37 remaining, the officials decided not to hide it anymore and told everyone watching that they had big bucks on this game:
This is a GOOD GOAL. But still waiting on a very long review. Not sure whats taking so long. #NYR pic.twitter.com/LBVos7Umt0

— David 🏒 (@DaveyUpper) November 13, 2023
---
In what was a legit ten-minute review in real-time; the officials waved off a goal as scored by CUYLLE HAND LUKE.
(And for what it's worth – this was the third Rangers' goal taken away from them this season when playing Columbus. And of course, for a team who seemingly can't lose these days – I personally flew to Ohio to see one of these rare losses! The agony!)
DESPITE IT BEING CLEAR AS DAY THAT CUYLLE HAD SCORED, the refs said no.
Crazier than all of that, and something that Sam and Joe didn't bring up?
THE OFFICIALS NEVER MADE A RULING ON THE ICE – SO WHAT CALL WERE THEY REVIEWING?
As you know, there has to evidence to overturn a call on the ice – BUT NO CALL WAS EVER MADE!
The officials then made up an excuse about phantom whistles – BUT WHY WOULD YOU ATTEMPT TO BLOW A WHISTLE WHILE A PUCK IS IN PLAY?
It was also nice, and as we saw about 95675678567856785675785 times as we waited out this lengthy disgrace committed against hockey, that when Cuylle was crashing the net and scoring the goal, that little fairy, Kaapo Kakko, was standing to the side of the net and poking at it like a midget wacking himself off in a trash can.
I wonder what coach asks his players to stand by the side of the net and wack at the mesh, rather than crashing the crease?
Sam Rosen was going absolutely ballistic about this review that was longer than one of these blogs.
And when the officials said no goal?
I thought that Sam Rosen, and akin to a 1990s Frank Rizzo, was going to march on down to ice level and slap the jaws loose of every official on the ice.
And had he done so, then I would have bailed him out of jail!
Poor Sam, as his forehead was beet red – and it was easy to understand why.
After all, my face was also the same color.
I guess give the officials some credit here.
Instead of immediately screwing the Rangers, they decided to take their time when doing so.
How polite and gentlemanly of them!
Heck, they could've even asked Tweedle Dee and Tweedle Dumbass, Wince and Mollie, for dinner suggestions before screwing the Blueshirts.
GARBAGE.
The score remained at 3-2, bad guys, after forty minutes – and where once again (but it was never worse than this) – the officials completely took you out of the game.
It's one thing for one bad call or two (again human error and nobody is perfect), but a game full of them?
At least Bettman doesn't hold them accountable.
Here's what I said at the time:
3-2, bad guys, after 40. 2P Thoughts:
— Refs gave CBJ one power-play and took a Rangers' goal off of the board – but hey – it's all good – they aren't held accountable.
— Refs almost as bad as the Giants.
— Refs aside, Rangers looked like shit that period. CBJ doesn't look…

— BlueCollarBlueShirts (@NYCTheMiC) November 13, 2023
---
THIRD PERIOD
Perhaps being revived following the travesty of injustice as perpetrated against them by the officials; the Rangers absolutely dominated this final frame, so much so, that they even out-shot their opponents to a tune of 17-3.
Following an intermission where this MR Vagistat told us that there was no evidence of a Cuylle goal (I had no clue what this moron was talking about), the final frame began.
At just the 90-second mark of the period, the officials, who like birdbrain Mollie, "didn't give a shit" if you knew that they had money on this game or not, decided to insert themselves into this game with no lube again:
Elbow to the face. Lindgren leaves the game, and if he's hurt we're in BIG trouble. Another review lose they call it only 2 min. pic.twitter.com/NkntSLxv7u

— David 🏒 (@DaveyUpper) November 13, 2023
---
Originally, the officials got this right – or at least the five-minute major aspect of this penalty correct.
DESPITE KURALY CLEARLY ELBOWING LINDGREN IN THE FACE – the officials called a five-minute major for "boarding."
By not calling elbowing, the correct call, the officials were then allowed to review the penalty.
DESPITE LINDGREN GOING TO THE LOCKER ROOM AND FINISHED FOR THE NIGHT – the officials overturned their call and then "awarded" Kuraly with only a two-minute minor.
And oh, because Nick Bonino had defended Lindgren – he was boxed too.
AND DID I MENTION THAT BONINO AND KURALY HAD DROPPED THE GLOVES, WHERE THE RANGERS' FOURTH LINE CENTER THEN KICKED THE SNOT OUT OF KURALY, ONLY FOR BOTH PLAYERS TO THEN RECEIVE TWO-MINUTE MINORS INSTEAD OF A PAIR OF FIVE-MINUTE FIGHTING MAJORS?
PROMO CODE: EFF YOU!
Did the officials want Kuraly on the ice for whatever reason? Perhaps a prop bet payout?
Kuraly should have been kicked out of the game for his two five-minute majors here, but instead, he traded minors with Bonino and ultimately, the Rangers only got a traditional two-minute man-advantage out of this – and where that wasn't even a good thing – as you were now more concerned about Lindgren, the heart-and-soul of this team, than anything else.
More about Lindgren below.
Following 976789679686 Mika one-timers that are allergic to the opponent's net; with 1:08 remaining on the power-play, the Blueshirts somehow received a 5 x 3 power-play – as the officials actually boxed Danforth for high-sticking Panarin.
I was shocked, because while this penalty was egregious and clear as day – I didn't expect the officials to call it.
But then again, they saw what Mika and Kakko were doing on the power-play tonight, so I guess they weren't worried about the Rangers tying the game.
The Rangers didn't score during this most advantageous situation, where the never-ending Mika one-timers to nowhere continued. Ditto Kakko, when at the boards on the goal line, kept on firing pucks back towards Quick.
And because of how bad the officials were, this game was the one exception to the rule:
"If you don't score on a 5 x 3 powerplay, then you deserve to lose."
As this game continued to be maddening, and where the officials also took you out of it too; the Rangers kept peppering Elvis, but the CBJ netminder was able to prevent the tying tally.
Since this is getting long (and it's already Monday morning – and I'll explain below why it took longer than usual to post this tome), you can follow my Twitter account, https://twitter.com/NYCTheMiC , for the rest of the minute-by-minute play-by-play.
At the FOXWOODS FINAL FIVE mark, the Rangers, still trailing 3-2, were out-shooting the Blue Jackets 15-1.
As we approached triple zeros, Laviolette decided to double-shift Panarin. "The Breadman" was then promptly hooked and tripped – but again – no call.
Down to the two-minute warning, AND THIS WILL BE FORGOTTEN BECAUSE OF LAFRENIERE'S HEROICS AND THE HORRIBLE OFFICIALS, BUT IT SHOULDN'T BE, Quick made a pair of jaw-dropping saves in order to keep the one-goal margin in-tact.
Right after the two saves recorded, he then left his net for the extra attacker.
As I was wondering if Laviolette should fine Zibanejad $5,000 for every one-timer that doesn't hit the net, and as the officials were happy about their knee-caps staying in one place too – Lafreniere flipped the script – and he flipped it so freakin' bad that the officials were powerless to overturn the best tap-in goal scored yet:
LAFFY TIES IT UP WITH 11 SECONDS TO GO

(via @BR_OpenIce) pic.twitter.com/xJ6Z0kodiF

— Rangers Videos (@SNYRangers) November 13, 2023
---
3-3, TIE GAME!
WOW!
Once again, there was Panarin, who picked up another multi-point game of the season tonight, who fired a shot from the point. Kreider (because you know it wouldn't be Mika), then got the rebound and made a swift short pass to Lafreniere for the no-doubt-about-it SMD goal!
I know some people think that I'm devaluing Lafreniere whenever I describe the bulk of his goals as "tap-ins" – which is a fact – but what these people forget is that I have also said at the same time that he puts himself in the right position to score these goals.
That was the case here.
Plus, and as you're all keenly aware of – how many Rangers have missed the nets on these tap-in tries?
Not Lafreniere.
Furthermore?
How many of Phil Esposito's 717 goals were scored this way?
Call him a tap-in merchant if you must, but every goal counts the same, and man, oh man, was this goal ever satisfying – and where I was hoping for Lafreniere, as an encore, to tomahawk one of these officials with his stick.
It would've been worth the penalty!
Tied at three after three.
Overtime would be needed.
Here's what I said at the time:
3-3 after 3. Regulation time thoughts:
— I want to see Sam and Joe go Stone Cold Steve Austin on these officials after this game.
— Watch a Mika one-timer go for the GWG. #NYR

— BlueCollarBlueShirts (@NYCTheMiC) November 13, 2023
---
OVERTIME/SHOOTOUT
This five-minute three-vs-three overtime was much more exciting than the last time the Rangers took part in one of these "bonus frames," as rather than playing keepaway – both teams actually looked to score.
In what was action-packed and fast-paced, the game remained tied following the 3 x 3 portion of the contest, and where for a cherry on top – Quick stopped Gaudreau with one-second remaining.
A shootout (which Ranger fans liked tonight) was needed.
In the top of the first, Panarin couldn't get a clean shot off.
In the bottom of the first, Gaudreau hit the post so hard that even Rosen heard it.
Now in the second inning, Mika shot a puck right into Elvis' pads while Quick came up with a huge save on Laine.
With the game on the line, Laviolette went to his second-hottest forward of the game, Lafreniere:
LIVE LAF LOVE 🫶

(@NYRangers) pic.twitter.com/FTH1jTfvLu

— Rangers Videos (@SNYRangers) November 13, 2023
---
We've seen Lafreniere score these highlight reel goals before, not as often as we'd like, but we've seen it.
He did it again here, as his dekes and backhander knocked Elvis off of his toilet.
The only thing left to do was to come up with one more save.
And that's what happened, as Quick stopped OFF THE MARK TEIXEIRA, where for good measure – the puck fell onto the top of the net – a puck that Quick then slapped out of the way to kingdom come – and a slap that he most likely would've liked to land on Pollock's face too!
1-0, in the shootout, 4-3, GOOD GUYS, your final.
---
Somewhere, these officials are now in hiding – if not from their wives who may have looked at their bank accounts, but from whoever they are gambling with.
Here's Laviolette after the win – where I was just hoping he would rip the officials to shreds – but he didn't:
---
Again, since Laviolette didn't call-out the officials, the only real thing of note was that Lindgren is considered as "day-to-day" with an upper-body injury.
We'll see where this goes, but as mentioned, the Rangers don't play again until next Saturday.
This is so minor and it doesn't matter, but I thought it would've been worth it to call out the officials and take the fine.
It's the only way for the league to take notice.
As long as the coaches and players stay quiet, then everything remains status quo.
You need someone with a voice, and as Laviolette has, to call out these officials – and if he were to suggest gambling – then imagine the firestorm that would create.
---
As you have probably noticed, I am posting this blog way late – 1PM Monday, rather than at 2AM or 3 AM Monday morning!
Besides needing sleep (Sunday was a long day and I had a long weekend prior to it – and for the first time in a while, I had to put sleep over writing – and it helps that the Rangers are off for a bit too!); I also wanted to see how the NHL would respond to my tweet:
Waiting for the @nhl to announce an investigation into the four men on the take during tonight's #nyr #cbj game. Blog will be delayed until tomorrow, as I want to see the league's response.

— BlueCollarBlueShirts (@NYCTheMiC) November 13, 2023
---
Three-minutes later?
I received this response:
Stay classy NHL.
PROMO CODE: GAME TAMPERING
---
As we get to the end here, there was no way in my wildest dreams that I thought that I'd be sharing this graphic with you during the summer and into the preseason:
While I can't let go of my season-long disclaimer, and contrary to popular opinion – I am trying to enjoy this.
But I know the history too – a history that's impossible to ignore, including what happened in May of 2023.
There's a whole lot of positivity in Rangerstown, USA right now, and justifiably so, especially when you consider the 8-0-1 record following whatever that game was against Nashville.
And as we all know, the Rangers are largely doing this with second- and third-string goalies – and with Fox and Chytil out of the picture too.
If there's anything that you want to see moving forward, then it's for Zibanejad to finally wake up and then go on one of his usual torrid scoring streaks.
And the topic of Kaako must be addressed too – and where to quote a 1997 Vince McMahon, "IT'S GOTTA BE, IT'S GOTTA BE, I'M TELLING YOU, IT'S GOTTA BE KANE!"
Winning the Stanley Cup remains the goal, and I don't care if Kane has no hips – anything is better than Kakko right now.
Fortunately for him, the Rangers have enough cushion to extend this leash.
Put it this way: If the Rangers and Blue Jackets flip-flopped records, then what would the sentiment be right now in regards to both Mika and Kakko?
Praise the hockey gods that STONE COLD ARTEMI NOHAIRIN is hellbent on winning the Hart Trophy this season.
Ditto Erik Gustafsson's drive for the Norris Trophy!
Enjoy the break!
---
I'll probably be back with something in-between now and the dance with the Devils; but for now, I'm back to working on my Phil Watson book – a fiery head coach who wouldn't have sat idly by as these officials tried to swing a game against his team.
Without a doubt, Sunday night's win was the most resilient victory of the season – and in a season thus far full of them.
PLUGS TIME! (Buy a book and support my Rangers' induced therapy bills. After all, I don't run ads on this site!)
---
My fourth title and tenth book is now available for preorder!
"The Top 100 Villains of New York Rangers History," is now available for preorder.
For complete information, please visit: https://bluecollarblueshirts.com/rangerkillers/
---
My second plug of tonight's blog – the mandatory plug for my book, "The New York Rangers Rink of Honor and the Rafters of Madison Square Garden."
As mentioned previously, the book is now available in hardcover, in paperback and in Kindle formats. To purchase a copy of the book, visit this link:
https://www.amazon.com/Rangers-Rafters-Madison-Square-Garden-ebook/dp/B09CM5N2WD
For those still looking for signed paperback versions of the book, I have re-ordered more copies. I now have a few signed copies for sale at $25 a pop (includes shipping price) through me directly. Here is all the information on that:
---
My four-volume set of books, "One Game at a Time – A Season to Remember," is a game-by-game recount of the Rangers 2021-22 campaign.
My second title as an author, "One Game at a Time – A Season to Remember," is now available in eBook, paperback and hardcover formats.
To obtain signed copies, visit: https://bluecollarblueshirts.com/onegamebook/
To purchase all four volumes on Amazon, visit: Amazon.com – "One Game at a Time."
---
The greatest volume-set of books on Rangers' history today!
"Tricks of the Trade – A Century-Long Journey Through Every Trade Made In New York Rangers' History," a four-volume set of books that meticulously covers every trade made in franchise history, is now on sale.
All four volumes of the title can be purchased on Amazon.com and are presented in three different formats – eBook, paperback and hardcover.
To purchase Volume I: Conn Smythe (1926) – Craig Patrick (1986), visit Amazon.com
To purchase Volume II: Phil Esposito (1986) – Neil Smith (2000), visit Amazon.com
To purchase Volume III: Glen Sather (2000-2015), visit Amazon.com
To purchase Volume IV: Jeff Gorton (2015) – Chris Drury (2022), visit Amazon.com
To purchase signed copies of all four volumes, visit https://bluecollarblueshirts.com/tricksofthetrade/
---
Here are my last few blogs, in case you missed them:
---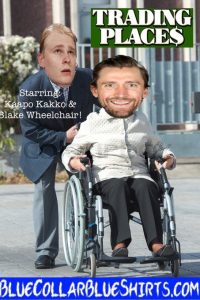 ---
---
If you haven't already, subscribe to this blog for the next update:
---
Don't forget to order my recently released four-volume set of books, "Tricks of the Trade!"
If you don't order through me, all four volumes are now available on Amazon.com
For more details, check out: https://bluecollarblueshirts.com/tricksofthetrade/
Thanks for reading.
LET'S GO RANGERS!
Sean McCaffrey
BULLSMC@aol.com
@NYCTHEMIC on the Tweeter machine