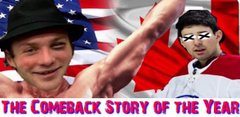 Greetings and salutations everyone and welcome to another blog here on BlueCollarBlueShirts.com. As I write these words, I'm back in New York, fresh off of my road-trip to Ottawa & Montreal.
Off puck drop here, I apologize for the delay with this blog. As you know, I attended the Rangers 6-5 thrilling victory over Montreal on Saturday night. Once the game ended, my buddies & I had to hit the Montreal bars, just to see and hear the reaction. I'll get into all of that as I continue.
In addition, there's a lot to talk about today. I'm going to be hitting a ton of different things in this blog, and I didn't want to half-ass a blog, especially after the way the Rangers played on Saturday. So buckle up, this is going to be a long one!
Oh, and as you know, the mantra remains the same here – "10,000+ words, no ads, one click." I will never post 667856756567858 short articles for artificial site traffic. This blog is as real as it gets. I definitely could've broken this blog up into a bunch of smaller ones. And hey, if it's too long, you can always read a bit and come back. If you really want to read this blog in one sitting, get some Chinese food in Montreal. You'll be able to read this blog ten times over while sitting on the throne!
With all the great vibes that are surrounding the Rangers right now, vibes that have somewhat made the loss to Ottawa forgettable, what also may have been swept under the rug is the fact that after the Rangers win over the Montreal Canadiens last night, the Rangers have now completed 25% of their season. Time flies, doesn't it? It seems like yesterday when the Rangers were drafting Kaapo Kakko.
As I sit back and reflect now, while my stay in Canada was short this time around, despite attending two games, this was one hell of a road-trip. It's a road-trip I surely won't forget. This may be my most favorite road-trip ever, even with that terrible game with Ottawa.
While sitting in the Bell Centre in Montreal last night, with the Canadiens leading 4-0, I had several thoughts racing in my head. For starters, there was no way we could go to the bars after the game. Who needs that noise? I also started thinking about this blog and my past road-trips. If this game continued the way it was going, I would've had only one highlight of my trip – meeting the family of Frank Boucher.
Speaking of meeting the family of Frank Boucher & the game with Ottawa. I talked about that in my last blog. In case you missed that blog, or any of the more recent blogs that I've done, you can find them below:
---
---
---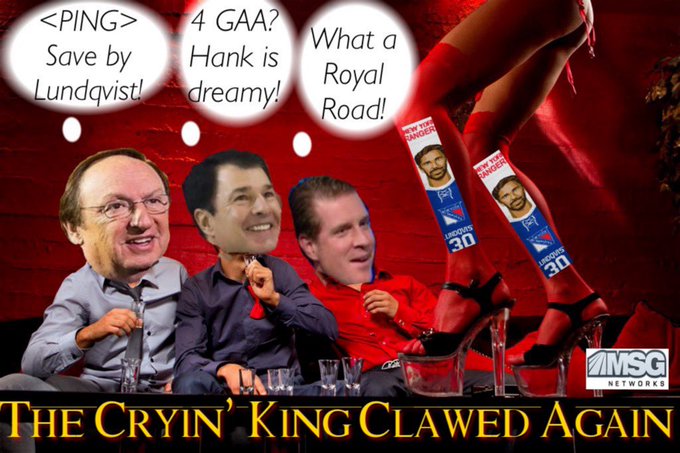 ---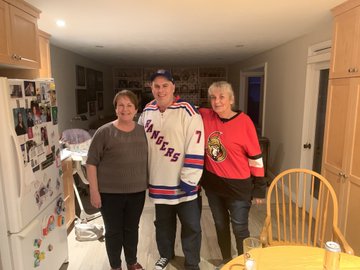 Last season, TEN O'CLOCK TOMMY and I traveled about 4000 miles round-trip, as we attended games in Colorado & in Arizona. In those two games, the Rangers lost both games by a total score of 12-1. 4000 miles round-trip, to see the Rangers lose two games and score only one measly goal.
During this trip, TEN O'CLOCK TOMMY, BORGATA RAY and I all traveled about 1000 miles round-trip. With the way things were going in Montreal, I was getting flashbacks to the trip to Denver & Phoenix. At the 2:51 mark of the second period of this game with the Canadiens, the Rangers were down 4-0. After watching the Rangers lose 4-1 the night previous, things weren't going our way. Losing 4-0, at that moment in time, we saw the Rangers give up 8 goals, while only recording one goal, during a 24 hour time period. With the total goals at 8-1, in favor of the opposition, I saw the blog headline in my head already – "at least we got to meet the Boucher family & pick up some 99 Gretzky Whisky".
About 90 minutes after Shea Weber put the Canadiens up 4-0 on the Rangers, the mood had changed. The headline had changed. A road-trip, that looked like it was going to be pointless and winless, wound up being one of our most memorable road-trips ever. The Rangers, down 4-0, would win the second and third periods, giving them a historic 6-5 victory over the Habs. Rallying back from a four goal deficit was something the Rangers haven't done in 28 years. For as great as this win was for the Rangers, this was a loss that Montreal Canadien fans won't forget any time soon either. The Canadien fans were seeing red, just like the red lights reflecting off of the jersey of Carey Price in the second and third periods.
Upon returning to Montreal from Ottawa on early Saturday morning, I did a blog about my time in Ottawa. After waking up Saturday afternoon, I checked out the Ranger news. I didn't expect any line-up changes, just because the team was on the road and aside from the recently waived Micheal Haley, the Rangers weren't carrying any spare players. Turns out I was wrong, because despite just calling up Timothy Gettinger several days ago, David Quinn decided to scratch Gettinger against Montreal. In his place was the recently waived and unclaimed Micheal Haley.
I've talked about this before, so no long spiel here, but I have to say this again – David Quinn is around these guys full-time. I am not. That said, I don't know how you can blame Timothy Gettinger for the Ranger troubles in Ottawa on Friday night. The team was just horrible in that game. Lundqvist was bad and his meltdowns didn't help. The defense was bad. The penalty kill was bad. The power-play was bad. The team couldn't score. So to single out Timothy Gettinger here, I can't say I was a fan of that. After all,  I just don't get the obsession with Haley on this roster.
I guess I should jump up and fast-forward here a bit, while on the topic of Timothy Gettinger. As I was starting this blog, the Rangers just tweeted this out: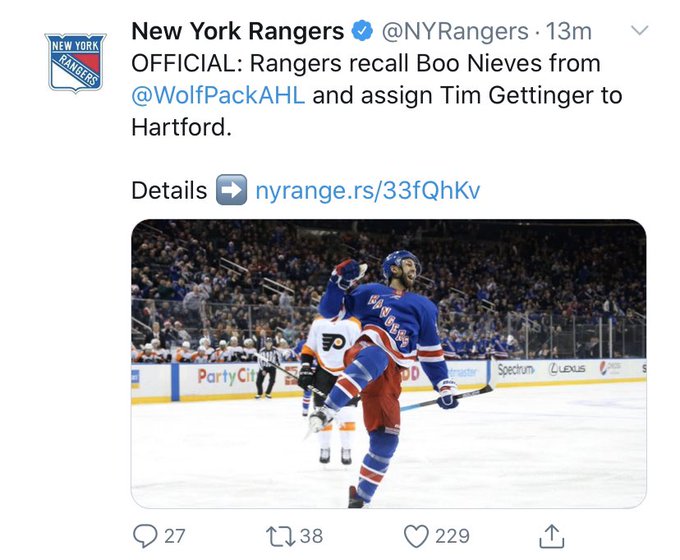 For whatever reason, the Rangers & David Quinn didn't like what they saw out of Timothy Gettinger. I can't say Gettinger was great either, but with only a two game time-table, how can you really get a full assessment? Plus, in that horrible game in Ottawa, Gettinger assisted on the lone Ranger goal of the game! As a reward, the Rangers response was to scratch him against Montreal & send him down to Hartford.
To me, this is just another example by the Rangers, of being a "one step forward, two steps back" team this season. I mean really, even with all the great feelings surrounding Rangerstown right now, would it surprise anyone if the team lost on Monday night to the last place Minnesota Wild?
Think about it – less than a week ago, the Rangers waived Haley and called-up Gettinger. Less than a week later, Gettinger is a healthy scratch and back to Hartford. Meanwhile, Haley is still playing and logging minutes for the Rangers.
And let me be clear here. This isn't a hit-piece or a "FATHER FINK YOU HALEY" thing either. I am just looking at the roster transactions the Rangers made and trying to figure out the logic behind them. When I look at these moves, in my opinion, it tells me that the Rangers were fine with cutting the cord on Haley a few days ago, but now, they think they need him in the line-up, even if it's at the expense of their future.
To compound matters, Greg McKegg was injured in the game with Montreal on Saturday night. McKegg, who is a fourth line spare for the Rangers, doesn't play every game. So you're telling me, that with McKegg potentially missing games, plus the fact that you were willing to move on from Haley last week, that Gettinger has been that bad after two games, that his time is up? That's really my only issue here.
For the sake of posterity, here's the Rangers press release on the call up of Nieves & Gettinger being sent back to Hartford:

The New York Rangers announced today that the team has recalled Boo Nieves from the Hartford Wolf Pack of the American Hockey League (AHL). In addition, the Blueshirts have assigned Tim Gettinger to Hartford.

Nieves, 25, has skated in 20 games with the Wolf Pack this season, registering one goal and seven assists for eight points, along with 10 penalty minutes. He ranks fourth on Hartford in assists in 2019-20, and he has tallied six assists/points in the last 14 contests. Nieves notched an assist in his last game with the Wolf Pack yesterday at Syracuse.

The 6-3, 214-pounder has skated in 124 career AHL games over parts of five seasons (2015-16 – 2019-20), all with the Wolf Pack, registering 20 goals and 40 assists for 60 points, along with 38 penalty minutes. Nieves has also skated in 72 career NHL games over parts of three seasons (2016-17 – 2018-19), all with the Rangers, registering five goals and 14 assists for 19 points, along with 20 penalty minutes. He established NHL career-highs in several categories with the Rangers last season, including games played (43), goals (four), and points (10). Nieves has posted a plus/minus rating of even or better in 57 of his 72 career NHL games (79.2%).

The Syracuse, New York native was selected by the Rangers in the second round, 59th overall, of the 2012 NHL Entry Draft.

Gettinger has skated in two games with the Rangers this season, registering one assist and a plus-one rating. He tallied his first career NHL assist/point on Nov. 22 at Ottawa. Gettinger has skated in 17 games with the Wolf Pack this season, registering four goals and two assists for six points, along with six penalty minutes.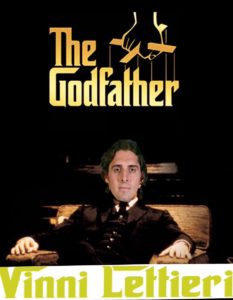 I know, I know, I know – this is supposed to be about the huge win over Montreal. I'm getting there!
When the Rangers called up Gettinger, I figured it was for the penalty kill & because he's known as a defensive forward. Now, with the Rangers sending Gettinger down and calling up Nieves, it has me puzzled. While Nieves is not known for his offense, it's not like he's winning the Selke award any time soon either.
It would've been much easier to say the Rangers needed a spark or something to put some pep in their step, had the team followed up their loss to Ottawa with a loss to Montreal. Instead, the Rangers put up a touchdown in less than 30 minutes in that game with Montreal. That said, if you're looking to call up the best skater in Hartford right now, then you would go with Vinni Lettieri.
I will say this – both Lettieri & Nieves are in the same boat, at least contractually. After being bounced up & down last season, neither showed that they truly belong at the NHL level. Despite that, the Rangers re-signed both of these guys, during this past off-season, with both men receiving one-year deals. If it's Nieves this time, then Lettieri should be the next name on the list. The Rangers do need to give both Nieves & Lettieri one last chance here, because if they don't, what was the point of re-signing these two players in the first place?
And if you're Nieves and Lettieri, you better show up and produce when you get on the ice. As we've seen, the Rangers have no problem deporting you to Hartford after only two games played. Just ask Gettinger!
Oh, and this has to be said too – if Nieves doesn't pan out, and the Rangers want to send him back to Hartford as they did with Gettinger, Nieves will have to clear waivers. However, if Nieves doesn't work out, and the Rangers do want to send him back to Hartford, are there really any teams in the league who are begging to be in the Boo Nieves business?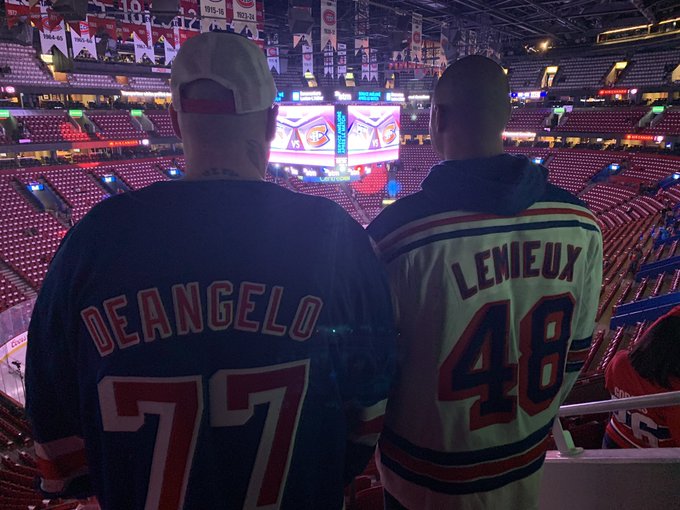 After seeing that Haley was playing against Montreal, and finishing up checking out all the other Ranger news, it was time to leave the hotel and hit the town before the game. However, before leaving the hotel, I tweeted out the following, as I enter the GAMBLING segment of the blog:
Season over/under record: 12-8

Georgiev vs Price, the two best goalies among the four goalies dressed for this game, go head-to-head.

Both #NYR & #Habs play low scoring games. These -6.5 lines are too high for teams struggling to score.

I'm for THE UNDER here. NYR to win too! pic.twitter.com/M8HykH6w7E

— BlueCollarBlueShirts (@NYCTheMiC) November 23, 2019
With 11 total goals scored, I couldn't have been more wrong. My over/under season record drops to 12-9. But hey, I did have the Rangers winning this game too! That's more important! Always try to find the silver lining!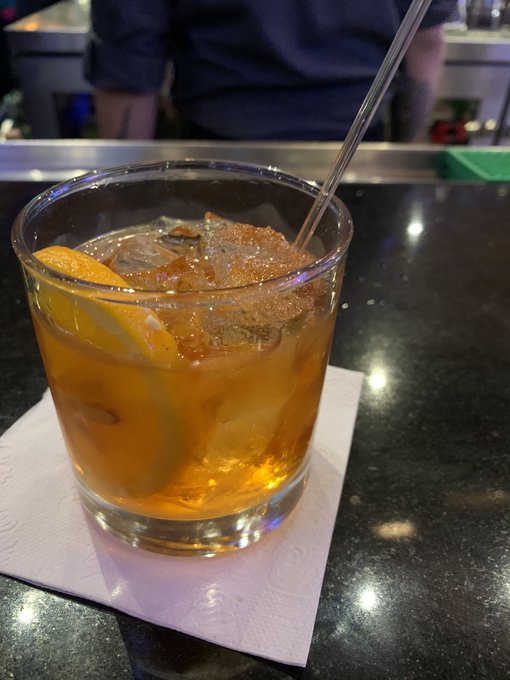 After having a few drinks before the game, we made our way to the Bell Centre. For those who have never been, here are some pictures that I took from both outside and inside the arena: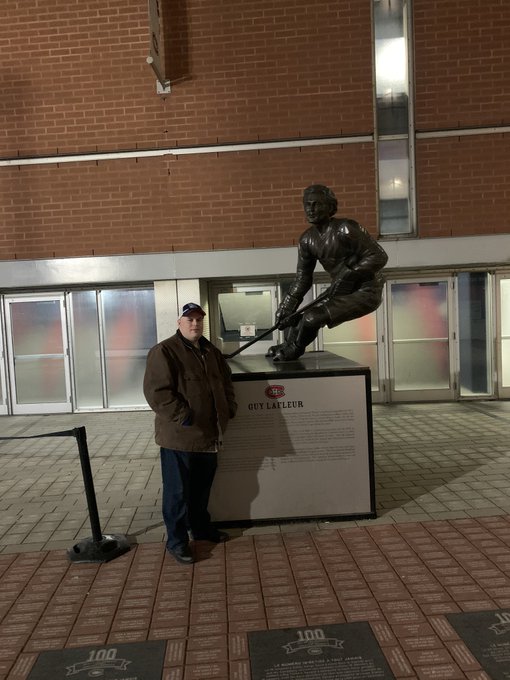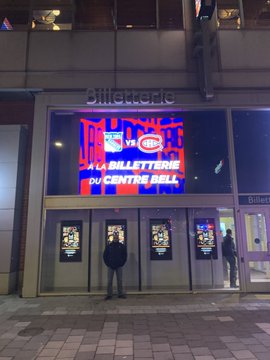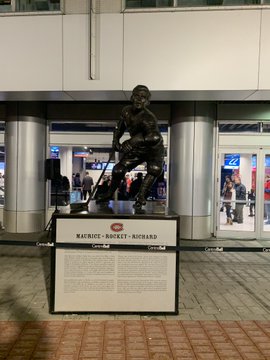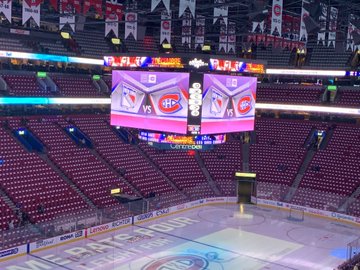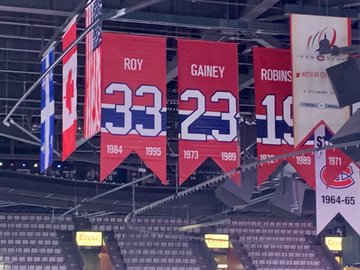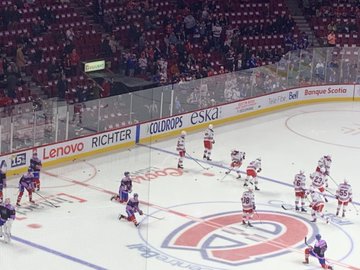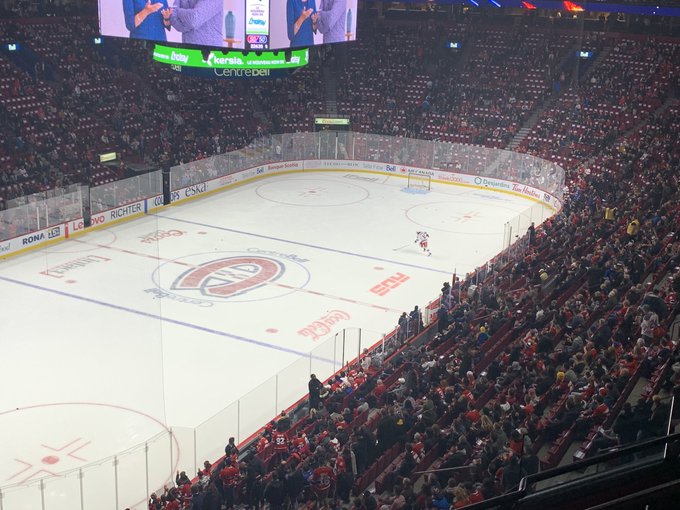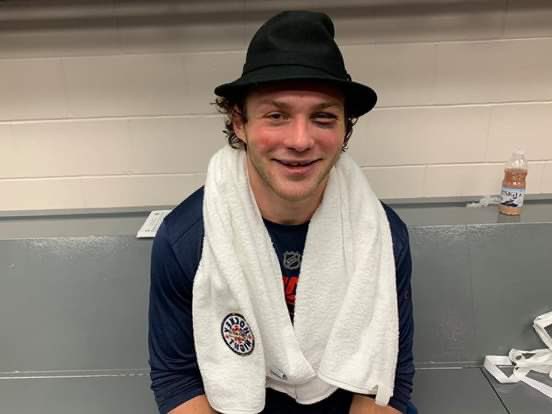 Like most road-trip blogs, my game recap/review isn't going to be like the normal ones I do. I'm also starting this blog nearly 24 hours after this game was completed, so I'm not going to do run down everything. By now, you probably know what happened. I'm just giving you my opinions and a different perspective here. The normal recaps will resume on Monday night.
As I sat in my seat, with a fresh Molson Export Ale in my hand, I watched the pregame warm-ups. The goaltenders, in Carey Price of Montreal and Alexandar Georgiev of the Rangers, both looked really solid. While we know the shooters don't test the goalies in warm-ups, Georgiev looked fantastic, stopping everything. On the other end of the ice, Price looked like the former Hart & Vezina goalie that we know him to be. Three hours later, both goalies would put forth their worst performances of the season. Isn't that amazing Suzyn?
I'll get more into this at the end, but for as much as this is a team game, this was also a game about individual performances. For the Rangers, this game was Lemieux's step to the next level. This was also a game where Panarin continues to show us why he's worth the "elite" label. It was also a tale of two games for Alexandar Georgiev. This game was also a roller-coaster for Jacob Trouba. And lastly, if you're looking ahead, it's another game where you see Brady Skjei play and then wonder if he's worth $5.25M a season, what's Tony DeAngelo going to be worth this summer? $50M?
When you're losing a game 4-0 and even when you come back to win it at 6-5, I don't know if you can really call it "the best game of the season". That is, providing you haven't lost all your other games of the season. To me, this was the biggest "statement" game of the season.
If the Rangers were somehow to turn it all around and shed their "consistently inconsistent" label, you would then go back to this game as the catalyst for all of it. But again, as mentioned up top, if the Rangers lay a stinker against Minnesota on Monday, the Rangers will be right back where they were after the game with Ottawa.
For the first time all season, Alexandar Georgiev had a really bad game. Far too often, especially from the Cult of Lundswiss, the common crutch is to blame the defense for everything. People forget that the other team is paid to play too. No defense is perfect. Goalies have to make saves too, especially one making $8.5M and stunting this rebuild.
Now I know what you may be thinking – Georgiev also had a bad game with Tampa. Again, I hate to use the defense crutch or excuse, but Georgiev was getting beat by Tampa's lethal power-play and breakaway goals. Then, when Lundqvist entered that game, he got torched too. While neither goalie was particularly great in that game, the team was way worse. As I said in that blog, I don't think either goalie had a chance in hell during that smackdown.
In this game with the Habs, I thought the Rangers played well to start. However, Carey Price lived up to his billing and was stopping everything. On the other end, Georgiev was shaky and was giving up bad goals off of shots we've seen him routinely stop during his young career.
While there were some screens and defensive lapses, most notably from Brady Skjei and Jacob Trouba, Georgiev has to make these saves. He also let in goals of the dribbling past him variety, in addition to being beat on clean shots. With the way this game was going, it was going to take a miracle to beat Carey Price. Georgiev having his worst game of the season just put the Rangers in an unenviable hole and it looked like the game was over after the first period.
Of course, whenever Georgiev has a bad game, my social media mentions get flooded. I feel like I need to make a new tab on this site, called "The Rebuild" and just copy & paste that link whenever this happens. I've done long rants on this topic already, so I'm just simply going to say this – like everyone else on this team, Georgiev needs to take his lumps too. He's $8M less than Lundqvist and has been better both statistically and on the ice. The team, as we saw in this game, plays up for him, which is huge.
If Georgiev has a bad game, like he did here, it's not the end of the world. If it becomes a common occurrence, then you have to second question him. However, Georgiev has been better most nights than not. With this team in a rebuild, he needs to be in that locker room and on the ice. He needs to experience the highs and lows with this team.
I'll get more into CZAR IGOR SHESTYORKIN later, but if Lundqvist didn't have this jedi mind trick over the organization, any GM running this team would go with the two cheaper, younger and better goaltenders, especially during a rebuild. To switch sports for a second, we have seen the Giants do this with Eli Manning. Across the river, we have seen the rebuilding Devils do this too, as they have sent Corey Schneider to the AHL.
Simply put, Georgiev, like every other goalie on a rebuilding team, needs to be playing. Worrying about trying to get "Lundqvist into a rhythm", as David Quinn said earlier this week, is the wrong approach. In a perfect world, Shestyorkin/Georgiev should be your tandem for the next era, similar to what Richter/Beezer or Giacomin/Villemure once were for this organization. This is no longer a one goalie league, at least not in the regular season. Starters/number 1 goalies are getting less starts now than any other period in professional hockey/NHL history. Every Lundqvist start is just a waste of time and you're also taking valuable Allaire time away from these two young goalies.
So what am I getting at here? If you're aware of my opinions and these blogs, you know I'm a supporter of Georgiev. That said, the first half of this game was a nightmare for him and you couldn't pin the goals on the defense.
If there was anything worse than Georgiev's rough start, it were these two Pakistani people sitting behind me, who refused to stand for either national anthem played before the game. These are the low life losers that Don Cherry is talking about. I just don't get why I'm supposed to respect their right to sit down and not respect the national anthems of two countries, but they are allowed to disrespect me, America and Canada, by sitting down and playing with their phones during the anthems? Deport them all. If they can't stand for the flag of the country they are living in, then they can go back and live in their third world shithole ass-backwards country. Enjoy the malaria.
The Rangers did start this game off by playing well, and were getting good shots off at Price. Price just stopped everything. The Canadiens would then jump out to a quick 1-0 lead, after a goal from Max Domi. By the half-way mark of the period, Artturi Lehkonen doubled up the Habs lead, as the Habs led 2-0.
The worst of the three goals allowed happened with 30 seconds remaining in the period, when Max Domi beat Georgiev on something Georgiev usually stops 100/100 times. Talk about a momentum goal for the Habs and a pin to a balloon goal for the Rangers. 3-0 after one period. As I went to take a leak and grab a brew during intermission, the rotunda was flooded with happy Canadien fans, who all alerted anyone wearing a Rangers jersey what the score was.
And quick side-bar here – if you're a Canadiens fan, is this what you're proud of? You have the best franchise in NHL history. You have the most amount of Stanley Cup victories. Of the Original 6 teams, the Rangers have the least amount of Stanley Cup wins. Is winning this game 3-0, against a rebuilding Rangers team, something to really pump your chest out about? Hab fans certainly have seen better things in franchise history.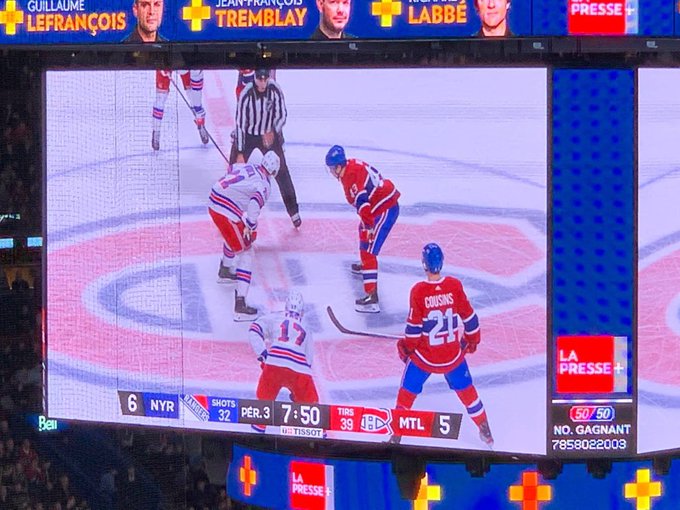 Not even three minutes into the third period, Shea Weber beat Georgiev. This was all on Georgiev. Down 4-0, and with the game seemingly out of reach, this is where you would switch goalies. If Igor Shestyorkin was on this team, this move surely would've happened. However, we all know that Lundqvist DESPISES playing mop-up duty. Furthermore, he's scared of playing Montreal, as he's said in the past. Lundqvist hasn't won a regular season game in Montreal for over a decade now, so there was no chance in hell Lundqvist was going to be a team player here. Isn't it funny how Lundqvist demands more playing time, just not in situations like this?
In fact, David Quinn was even thinking about making a switch after this goal, as he said this after the game:
"One of the things I was thinking, you bring Hank in, you might ignite the crowd. It's a little dramatic when you bring a guy in in this building, because he's got to come in through the tunnel, and there's a big hoopla, bringing him in."
Why would it ignite the crowd? It would ignite the crowd because every Montreal Canadien fan in that building is aware of Lundqvist's history in Montreal. Has David Quinn ever worried about the crowd before when pulling Lundqvist? Furthermore, is Quinn in pro wrestling now, where he's worried about crowd reactions?
Whatever the case, for the next 37 minutes, Georgiev would buckle down and would only give up one more goal. In fact, he wound up finishing two saves shy of 40. It's funny, I was telling TEN O'CLOCK TOMMY & BORGATA RAY, that I was hoping Georgiev would get 40 saves. That way, I could've trolled and said "LED BY GEORGIEV'S 40 SAVES, RANGERS COME UP BIG IN MONTREAL!" Admit it, you laughed.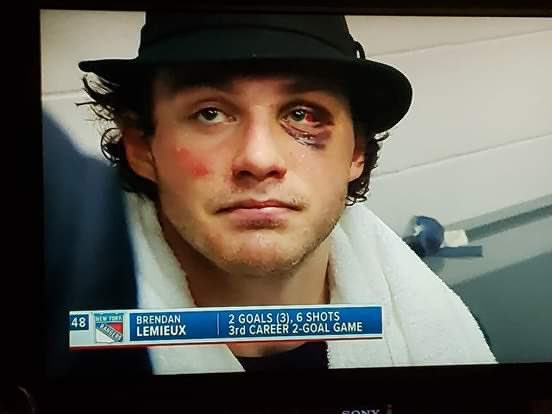 Whether it was poutine gas, sick of hearing the Montreal goal horn or sick of hearing a crowd with a thick French accent berating them, the Rangers turned it around. Starting at the 6:10 mark of the period, the Rangers would score the next three goals of the game.
Filip Chytil got things started off first. At the time, this just seemed like an "excuse-me, pardon me" type of goal. 4-1, BAD GUYS. The Ranger fans in attendance, and there were a lot of Ranger fans there, maybe 15% of the crowd, which is a lot in hockey happy Montreal, didn't even stand up to celebrate. And as mentioned in the past, when it comes to someone like a Filip Chytil, I wouldn't call this an A-Rod goal. It was his 7th goal of the season though, so that stint in Hartford has worked wonders.
Less than a minute later, Pavel Buchnevich beat Price. Again, the Ranger fans in attendance didn't stand up, but there was a light applause. The other sound you heard were Ranger fans creeping to the edge of their seats a bit.
150 seconds after Buchnevich's goal, Lemieux, who was just fantastic in this game, scored. I didn't know this until after the game, but his father Claude Lemieux was in attendance. With the game Brendan had here, the Rangers should bring Claude around more often. 4-3, BAD GUYS and this is when Ranger fans stood up and roared. Like that Phil Collins song, you could feel it in the air tonight.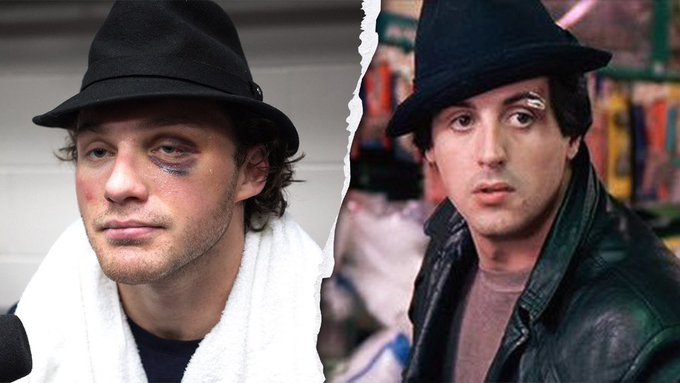 If there was anything worrisome after Lemieux's tally here, it was the fact that the Rangers got a few power-plays, including a 33 second 5 vs 3 power-play. The Rangers couldn't score here. I for sure thought the Rangers squandered this big opportunity. A PPG here would've given the Rangers a four goal second period. And that would've been something, as I tweeted this out after the first period:
Let's have a casual four goals for period here #NYR

— BlueCollarBlueShirts (@NYCTheMiC) November 24, 2019
Whatever the case, the Rangers didn't get a PPG here. Instead, the two teams closed the second period out at 4-3, in favor of the home Hab team. During intermission, as I went to take another piss and get another beer, the once happy & loud Montreal Canadien fans, of just an intermission break ago, were quiet. It's like they were attending the funeral of a small child.
It should be mentioned, Georgiev would be forced to make many tough saves in the second period. Despite having a nightmare of a game, once again, he was able to be cool, calm and collected.
Here's something Steve Valiquette will never tell you. The Rangers battle for Georgiev and play better for him. I've talked about all this stuff in the past. Seeing these past two games first-hand is all the evidence I need. During the game with Ottawa, Lundqvist let everyone in the building know that he was rattled after every goal. He was doing his hissy fits as I recapped. In this game, Georgiev took his beating like a man. Inside, he must've felt like what Lemieux's face looks like. However, Georgiev wasn't crying. He wasn't slamming his stick. He wasn't screaming at his teammates. Georgiev bottled up whatever emotions he had and in turn, because he wasn't lambasting his team or throwing bitch fits, the team was able to rally for him.
Oh, and isn't it funny how Steve Valiquette has politicked for the Rangers to send Georgiev to Hartford after giving up four goals, but whenever Lundqvist gives up four goals, it's always the defense's fault? I don't want to do another thing on Vally here, but based on the feedback I've gotten from my previous comments, more and more of you readers/followers on social media have had it with Vally too. The man just can't talk about the goaltenders without showing his biases.
No joke, in the last two weeks, I have received a ton of comments on Valiquette and none of them are positive. When people are saying they rather listen to Mike Milbury or Joe Micheletti, you know there is a problem. Vally needs Ron Duguay back, as Duguay was able to keep him in check and it made for a more balanced & better broadcast.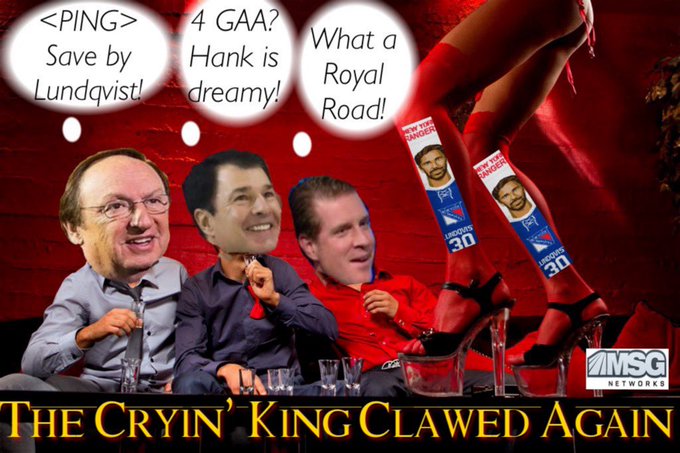 Five minutes into the third period, Artturi Lehkonen would score. 5-3 BAD GUYS. Of the five goals Georgiev gave up tonight, this wasn't really on him as much as the others were. This would also be the last Canadien goal of the game and to his credit, Georgiev saved his best work in crunch time.
In a move ripped right out of many Ranger games of the past, this time, the Rangers would be on the right side of things, as less than 30 seconds after the Habs got their insurance goal, Artemi Panarin scored on a shot that Carey Price usually saves one million out of one million times. 5-4 BAD GUYS. All those cheers for the Lehkonen goal were quickly drowned out by Ranger fans cheering for the Breadman.
Three minutes later, after a bullshit penalty called against Panarin, Brendan Lemieux scored a short-handed goal. This was perfect. 5-5. FOUR GOAL LEAD ERASED! You could literally smell the shit from Hab fans, as they were shitting themselves after this goal allowed.
Oh and now at 5-5, Georgiev had something like 9 more saves than Price. It's just as I predicted – Georgiev out-dueled Carey Price!
With less than 8 minutes remaining, Jacob Trouba flung an innocent shot at a screened Carey Price. The puck got past Price. 6-5, GOOD GUYS! In the arena, obviously, this is where the tide turned for good, as Ranger fans were going nuts, while Hab fans sulked in their seats and cursed out their American fan counter-parts out in French.
Of course, the referees would try to help the Habs out here, as they called a suspect "too many men on the ice" penalty against the Rangers. I mean really, you could call this penalty after every line shift in the NHL. You're calling it here, with five minutes to go in a one goal game?
In a final five minutes of heart attack hockey, the Rangers would hold on. Georgiev did his best work here. I also want to mention that Skjei is absolutely a train wreck on the penalty kill. I don't know why he's even on it. He can't clear a puck to save his life. You're better off throwing out the offensively skilled Tony DeAngelo here and letting him just get to the puck and clear it. It just felt that every time Skjei went to clear a puck, it would just never cross the blue line.
If there was one thing we didn't get as Ranger fans, it was the Lemieux hat trick. Lemieux almost had it, as with Price pulled, Lemieux flung the puck from near Georgiev and came within a foot of an empty net goal. It would've been a nice thing to talk about, but really, outside of a personal achievement & getting the insurance goal, it's no big deal.
The Rangers fight back and come back. 6-5, your final from Montreal. STATEMENT GAME OF THE YEAR. THAT'S SHOWING PASSION AND THE WILL TO WIN.
I want to say this. I don't know how many hockey games I've been to in my lifetime. Maybe 500+ or something like that. I really don't know. What I do know is this, this is one of the most memorable games I've ever been to. Again, I can't call it the best, but it's just something I won't forget. The mettle of this team and perhaps the state of the team were on the line in this game, and these guys fought back and beat a great team in their great arena.
All that's left to say here now is this – FOLLOW THIS WIN UP AND BEAT MINNESOTA ON MONDAY. Enough of the good win/bad loss tradeoff shit!
Oh, and how about Alexandar Georgiev? He's done something Lundqvist hasn't done in 10 years worth of regular season games – win in Montreal. Isn't it amazing Suzyn how Talbot, Raanta and Georgiev have all won in Montreal during the last 10 years?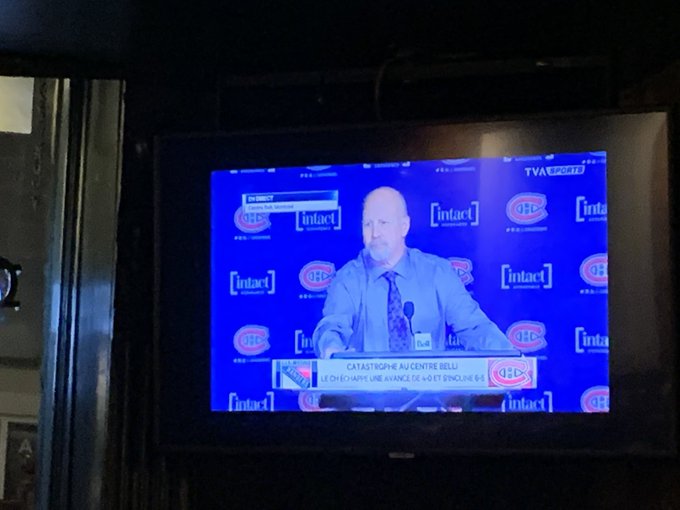 Before getting into everything else, as I got more to say here, (go figure) I have to talk about leaving the arena and the Montreal bar scene.
As the arena filed out and as thousands of people mobbed the streets, Hab fans were furious. Of course, a Saturday night game, high ticket prices and alcohol will "enrich" the experience of the common fan.
As I've said during the past 6 years, since I first started going to every Ranger/Montreal game in Montreal, the city of Montreal and their hockey fans, are just great. We've met a lot of people during our trips there and see these people every time we return. It's always a good time. And if you love drinking, you'll love the Montreal bar scene, as there is something for everyone.
Anyway, for the first time since Raanta did it three or so years ago, the Rangers actually won here. Of course, because of the fashion in how the Rangers won, the Hab fans were more furious than usual after a loss. In the streets, as everyone were making their way to the hundreds of bars located within walking distance of the Bell Centre, you had Hab fans cursing and trying to engage Ranger fans into a fight. You know my motto – "these guys don't fight over my job, so I'm not fighting over theirs." When Brendan Lemieux is punching out Tom Wilson over an argument about me and what I do at my job, then maybe I'll fight when a Canadiens fan besmirches his name. Until then, no dice!
Canadien fans bring an electric environment to the Bell Centre. While there are a ton of suites at the Bell Centre, like M$G or in Toronto; at the Bell Centre everyone is life or death with the game in front of them. No one is eating sushi or drinking kale wine smoothies. It's why I love going there, everyone is invested and is a hardcore.
As TEN O'CLOCK TOMMY told me after the game, "I'm going with you and BORGATA RAY to every Montreal vs Ranger game in Montreal now." The environment in Montreal is second to none, with only the Vegas Golden Knights providing a similar experience.
Go figure, Vegas is one of the hottest places to see a game in the league today. That said, obviously, there's a lot more history with the Habs and their fans, than there is in Vegas. All I'm saying here, is when it comes to a hometown crowd, the markets of Montreal & Vegas are louder & more passionate than anything I've seen in my trips to 20+ NHL arenas. Even with Ottawa drubbing the Rangers 24 hours prior, the crowds in Ottawa & Montreal were night and day. I guess that's to be expected though.
The funniest thing I saw after the game, were this gaggle of women, trying to pick fights with men in Ranger jerseys. And we would later be included in this, as some drunk Canadien Canadian told BORGATA RAY to, and I quote, "SUCK MY (Insert the D word of the male genitalia.)" Then again, it is 2019 and we have to applaud anyone who has a sex gender surgery. Maybe she was packing heat in her pants.
The bar we decided to go to after the game was "Hurley's", which is our favorite bar in Montreal. We saw some familiar faces and had some light ribbing take place. Ranger fans also started a "LET'S GO RANGERS" chant, which angered the Hab fans in the bar.
This was the craziest post game environment I've ever experienced after a regular season game. If it ever happens again, I have to go to a NYR vs MTL playoff game, in Montreal. If you could bottle this energy, you could fuel 100 rocket ships. I might be rambling a bit here, so let me just say my point and move on – if you can ever go to a Rangers vs Montreal game in Montreal, do it. For NYers, it's a 55 minute flight and a flight you can usually find for $150 or less round-trip, providing you book months in advance.
If you look at the top of this blog, there is a link in the menu section, called "The Stubhub Trick". I am now here to make an addendum to the Stubhub trick.
I have to give full credit to BORGATA RAY here, as he came up with this.
As we were sitting in our seats for this game, we had seats on either side of us, that were empty. We noticed that these seats were both listed on Stubhub and on Ticketmaster. Since BORGATA RAY & I have never been confused for being anorexic, we are always happy when we get a "buffer seat". Here's a new trick on enhancing your chances of "man-spreading" at a game.
Once you get to your seats and if you notice the seats next to you are empty, go on the Stubhub and Ticketmaster apps. From there, check to see if the seats next to you have sold or not. If they haven't, what you can do, is try to purchase these seats. Don't worry, you won't be charged.
All you have to do is make an attempt to purchase the seats. From there, you have ten minutes to finish your transaction. Just don't finish the transaction. Let the timer expire and rinse, wash & repeat. By doing this, you lock out anyone trying to purchase these seats. You can do this three times, before Ticketmaster and Stubhub lock you out from doing this. However, this gives you 30 minutes of time. Plus, if you're with a friend, they can do the same thing off of their phone, which means between two people, you can lock the seats out for an hour.
While this may suck for the person trying to sell the tickets, maybe they shouldn't have listed their tickets for over face value in the first place. Serves them right!
Come on – who else is dropping this hot knowledge on you like this blog? Enjoy your buffer seat my friends.
Before getting into some final thoughts on the Rangers, I have to talk about the tweets Tony DeAngelo sent out today.
If you missed them, here they are:
I see these tweets all the time and it's actually hilarious how people think that these charts are what everything should be based on 😂😂. @strome18 has been one of our best players since being traded here last year.. Watch the games. https://t.co/PEUtPLGs0B

— Tony DeAngelo (@TonyDee07) November 24, 2019
You don't have to play them either. Computers will predict the score too!

— Tony DeAngelo (@TonyDee07) November 24, 2019
If Tony DeAngelo bitch-slapping chart nerds wasn't enough for you, there was also this:
I don't take it personally. But btw it's not maga. It's now KAG

— Tony DeAngelo (@TonyDee07) November 24, 2019
I have never been more proud to own this: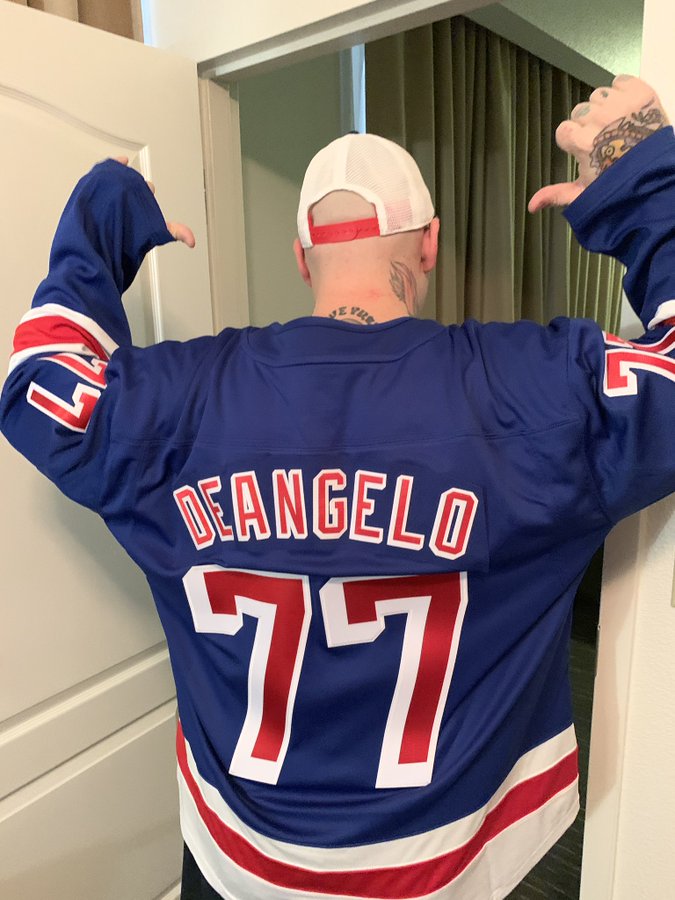 How great is Tony DeAngelo? It's nice to see a player come out, and speak out against these chart nerds. After all, who would you rather see on TV during Ranger games, Steve Valiquette or Ron Duguay?
I've talked about this countless times on this blog, so just refer back to my past work. Ryan Strome has been excellent and has really carried the load since Zibanejad got his concussion upper-body injury last month.
Whatever your opinion is on ANALytics, put that aside. Look at what Tony DeAngelo did here. Tony DEFENDED his teammate from some basement chart humping pimply faced mook. In this age where social media is dominant, what Tony did here, was the social media equivalent as dropping the gloves for a teammate who received a cheap shot.
Aside from Henrik Lundqvist, every one on this Rangers team is younger than me. (Lundqvist is older than me by 3 months.) Like Lundqvist, I didn't grow up with social media. In fact, when social media first came out, I wanted nothing to do with it and laughed about all these idiots with their MySpace's. Fast-forward to today, I probably spend two-three hours a day on social media.
For these young Rangers, they have lived in a world where social media was always around. These guys probably wouldn't even know how to work a payphone! In this era, these younger players are aware of what's being written about them on social media. I can account to this first-hand.
Since this blog has now been around for 5+ years, more and more people have found out about it, including guys on the current roster. There have been several who have DM'd me, liked a tweet or retweeted something. (I'm not naming names here, as I always keep any conversation I have private, unless I'm told otherwise. For example, when Ron Duguay wasn't renewed, he gave me the okay to report the story.)
And really, I'm not the only one. Players comment and talk to fans all the time. You have players even offering to send out swag to fans, such as the Lias Andersson/Steve Voogel story I talked about a few blogs ago.
Even an "older" player, one who is now retired like Dan Girardi, on one of his most recent podcasts admitted to having "burner" accounts. All of these players have them. I mean after all, these guys spend thousands of hours a season traveling and cooped up in hotel rooms. What else are they supposed to do with that downtime? Just like any one else, they check social media, they check their name and they also have their families & friends reporting back to them.
If Ryan Strome came out and buried this moronic fan, people would say, "Strome is being petty" or "I can't believe Strome is wasting his time replying." However, when a teammate does it, like TDA did here, it shows unity and it is great for team chemistry. While I doubt anyone could've imagined social media playing an influence in a professional hockey locker room, it does. You can bet that the next time Strome sees TDA, they will have a fist-pound and a laugh about this. Furthermore, I will bet that the next time Strome messes up in practice, DeAngelo will bust his chops and say, "that's going on your chart!"
I've done rants on these chart people before, so refer to the past blogs, as this blog is already going way too long already. I'll leave my thoughts on charts with this – "Give me a beer & a ticket to the game over an abacus and Microsoft Excel, any day of the week, twice on Sunday's!"
And as far as TDA's tweet supporting Donald Trump and Trump's slogans, well that's a bonus for me. If you don't like Trump, that's fine. I just like how TDA doubles down on his beliefs and pretty much is giving the finger to the people who hate TDA, just because TDA supports the President.
Thank you Tony for Making the Rangers Great Again!
Three more things here, and I'm out.
I just wanted to add more thoughts on Brendan Lemieux. Three ex-Rangers that are somewhat making the news these days, are Sean Avery, Ryan Callahan and Mats Zuccarello. Avery has campaigned to replace Don Cherry for Sportsnet. If anything, he would be better suited with the MSG Networks. Callahan is currently on the NHL Network. Zuccarello is coming into town Monday night. What do all three of these guys have in common? At one point in time, they were huge fan favorites, who Ranger fans treated as legends.
Now I'm not saying Avery, Cally or Zucc are going to the HOF or anything. They aren't having their numbers retired. They were three great Rangers, and perfect candidates for my Rangers Rink of Honor.
As time and time goes along, Brendan Lemieux is finding himself in the same air as these guys. Even before the game with Montreal, you're seeing more and more support for Lemieux.
As mentioned, I attended both games in Canada this weekend. While I saw jerseys from the 1994 team, Lundqvist jerseys and even Zuccarello jerseys, I also saw about 20 fans wearing Lemieux jerseys. While that number might not sound like a lot, to see 20 different people, Tommy included, all wearing Lemieux jerseys in Canada, it tells you he's growing on fans. I'll be interested to see what MSG looks like in the coming months, as I can see the fans who once adorned M$G in Avery, Cally and Zucc jerseys, all trading those relic jerseys for the new #48 Lemieux jersey. Ranger fans have always loved the warrior types and Lemieux is just that.
And please, keep in mind – two Lemieux goals a game aren't going to happen at a frequent rate. It might not even happen again this season. However, I do think you will see him give 100% all the time and that will always win the hearts of Ranger fans.
Rather than do a long report card thing here, I just wanted to comment on the Rangers, individually, as we approach Thanksgiving, which used to be the old watermark to determine how a team is doing. To me, in this current era, with competition tighter than ever before and considering what St. Louis did after New Year's, I would consider New Year's to be the new benchmark, when it comes to assessing teams.
FORWARDS:
PAVEL BUCHNEVICH – I think he's been up and down this year, with more good games than bad games. You can see why the Rangers have invested in him. There are times where he is a whiz kid out there. There are other times where your head just drops. I do think he's ticking upwards though.
---
FILIP CHYTIL – If I was doing a report card, I would give him an A+. We all know the deal. He took his time in Hartford and used his disappointment to put together a strong run here in this 2019-2020 season. I'm excited to see where he's at in April. I think the best is yet to come.
---
JESPER FAST – He's the silent Ranger, where maybe you don't notice him during some games, but that's because he's doing his job. He will never be an offensive presence, but he is strong defensively. I really think he's a solid third line or fourth line type, and can make a career of being that type of player, but Quinn likes to use him to complement the offensive threats on this team.
---
MICHEAL HALEY – Less said the better. He might be a great guy and all that, but he serves no role on this team, especially a rebuilding one.
---
BRETT HOWDEN – the new whipping boy of the chart nerds, especially ever since Andersson was sent to Hartford. I think he's a work in progress and because of what the Rangers traded to get him, he will get more opportunities than others.
---
KAAPO KAKKO – while as Ranger fans, we want to see him be a first line superstar over night, that's not happening. What is happening is a progression and he will shine in the years to come.
---
CHRIS KREIDER – I've talked about him a lot on these blogs. He's turning 29 next summer and will be a FA. He's not doing much to increase his payday. And really, is he going to be any better of a player in his 30's, as he is right now? If I were running things, I would want to re-sign Strome, TDA & Lemieux, as mentioned 7968657896978 times on this blog. Part of doing that would be trading/moving on from Kreider, to free up money to do so.
---
BRENDAN LEMIEUX – he could be the new heart & soul of the team. The guy wants it. You can see he wants it. You want him to get it. Just look at the pictures I've used of him in this blog. Is there anyone that personifies the term "hockey player" any better than Lemieux does?
---
GREG MCKEGG – serviceable, but if he's anything more than a one and done season player for the Rangers, I'd be shocked.
---
ARTEMI PANARIN – what more can I say about Panarin? I've said it all already about him this season. He could be the best free agent the Rangers have ever signed. He's the All-Star of this team. If he ever could learn English and speak it fluently, I could see him getting the "C" & getting a ton of endorsements/commercials.
---
RYAN STROME – Brassard for Zibanejad is the best trade of the Gorton era. Spooner for Strome is the second best trade. Strome has been great in his role and has exceeded all expectations in filling in for Zibanejad on the first line.
---
MIKA ZIBANEJAD – before his injury, he was putting together a career year. You just hope he can get back healthy.
---
DEFENSE:
TONY DEANGELO – I think you know my position on him. Lock him up now before he gets more money to go elsewhere in the off-season.
---
ADAM FOX – he's progressing nicely and doesn't look like a rookie. How about this TDA story? When Fox was acquired by the Rangers, and TDA still hadn't signed his new one year contract, despite the two players playing the same position (right handed defenseman) TDA reached out to Fox & welcomed him to the team. Instead of being worried about Fox  perhaps replacing him, TDA once again, showed that he was team first guy. And people whine about his maturity, as if he sits around making poo poo and fart jokes all day. (He might do that too, I don't know about it if he does!)
---
LIBOR HAJEK – Just like others on this rebuilding team, we are seeing growing pains with him. I do question his toughness at times. Even Chabot on the Senators brought this up.
---
RYAN LINDGREN – In my opinion, he has shown us that he should've been here on Opening Night and not Libor Hajek. Based on what we've seen this season, I would rate Lindgren over Hajek.
---
BRADY SKJEI – if Jeff Gorton can find a way out of this contract via trade, pull the trigger. Usually defensemen fall off in their 30's. We're already seeing Skjei decline from that playoff series from 2017. Open up the money for players who are performing on a daily and consistent basis.
---
BRENDAN SMITH- you know the deal, bad contract. However, for his role on the team, he's been better than anyone could've thought. Another team player, although that doesn't excuse him for his past transgressions (coming into camp out of shape, fighting with Lettieri, etc.) That said, based on this season alone, he's pulled a 180.
---
MARC STAAL – another player we all know the deal about. Injuries, father time and blocking shots have taken him a long way from his prime. I think it's kind of SAD that no one seems to care to find out what's the latest on his injury. And really, that's because with him out, the Rangers are doing addition by subtraction. Like my feelings about Lundqvist, Staal plays no part in the Rangers future, and there is better talent that would be better off with the time. I do want to be clear though – I'm a fan of his and respect what he's done. You can just see he's not what he once was.
---
JACOB TROUBA – you're seeing a lot of hate online in regards to Trouba. Usually, you'll see something like "FIRE LINDY RUFF", followed by a rant on Trouba. Trouba is fine to me, although when he does make a mistake, it's usually glaring like the sun through a car windshield.
---
GOALIES:
ALEXANDAR GEORGIEV – another player you already know my feelings about. I feel the Rangers, as a team, are better when he starts. The priority of this team, when it comes to goalie starts, is on the wrong person.
---
HENRIK LUNDQVIST – I assume you know my opinions on him already. Just check out my OTTAWA blog for my latest rant. I will never never never never never have any sympathy for this guy. He could've left at any time. The hissy fits and burying his teammates after games infuriates me.
---
IGOR SHESTYORKIN – While I want a tandem of Georgiev/Shestyorkin, we all know the Rangers must kowtow to Lundqvist at all times. I imagine, with Georgiev only having a handful of games left before he's no longer waiver-exempt, that Georgiev will go to Hartford for a while, while the Rangers still do the "WE MUST BUILD AROUND LUNDQVIST" ordeal. Shestyorkin, keep in mind, has played professionally for years. Currently, he is the best goalie in the AHL today, as he should be, considering his age and experience. He's made the transition to the North American game, at least at the AHL level, look effortless. While there is nothing to suggest that he is anything like Kravtsov, you can't keep the guy in the AHL forever.
---
If you're still here with me, you get a gold star. This is the longest blog of the season. But hey, if I'm going to be late with a blog, I'm going to give you my all when I get to it!
Up next for the Rangers, a home game with the last place Minnesota Wild. Of course, this game will have a ton of interest because it's Zuccarello's return to M$G.
If your familiar with my opinions and work on these blogs, you know that I was a huge fan of Zucc. Loved every aspect of his game. I would rather him here than Kreider. However, he's not here and Zucc is with the Wild.
Of course, as you can imagine, expect a huge presentation for Zucc tomorrow. I would also expect Lundqvist to start in this game. Let's hope Lundqvist isn't crying all game, like how he was when the Rangers traded Zucc to Dallas, during last season's trade deadline.
Place your bets in the comments section below. Here's what you're betting on. I'm giving you a line of -1.5, in regards to how many points Zuccarello picks up in Monday night's game against the Rangers. For bonus pats on the back, feel free to share how you think Zuccarello will score. I'll go with a goal and two assists!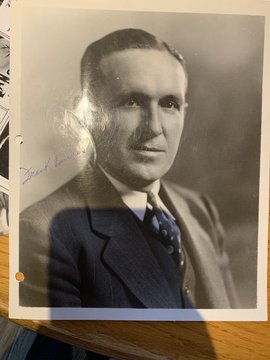 I'm back in NY and have a ton of catching up to do, both in real-life and with this blog. I still have blogs to do on George Grimm's new goaltender book, in addition to recapping my time with the family of Frank Boucher. It's just finding the time to do it, and with the Rangers having four games this week (Monday vs Minnesota, Wednesday vs Carolina, Thursday at Boston, Friday at New Jersey) those blogs may have to wait until next week.
In addition, I'm going to the game on Wednesday night, so that blog will be posted later than usual. However, Monday night's game review blog will be posted at its normal 1AM time! Let's hope I can finish that manifesto earlier than that. I will say this, that blog will be much shorter than this one!
Thanks again for reading. As always…
"LET'S GO RANGERS!"
Sean McCaffrey
BULLSMC@aol.com
@NYCTHEMIC on twitter
PS: If you're reading this, and I made you wait to the end here, one of the biggest thrills of my weekend – Brian Baird trash talking me after the Ottawa game and Frankie Baird texting me as the Rangers made their comeback in Montreal complete. Hockey makes new friends and if anything else, I'll take this weekend over any other Ranger related thing I've ever done.