Greetings and salutations everyone and welcome to another blog here on BlueCollarBlueShirts.com. A step in the right direction – but will it be one step back again on Friday night?
The Rangers snapped their three-game losing streak in Ottawa on Wednesday night, and as much as this pains me to say this – it felt like a hollow victory. Of course, the reason for that is all of the never-ending losses we've previously endured and witnessed.
It's just hard to get "rah-rah" right now – but hopefully, that feeling will return – and soon!
That said, a win is a win, where to restore both faith and credibility – this can't be another "one-and-done win."
Instead, the Rangers have to use tonight's victory to propel themselves into a winning streak, where prior to traveling to Vegas and Colorado next week, the Rangers will see teams they should pounce on, including these same Senators on Friday night, Chicago and St. Louis.
In a perfect world (and we know how that goes), the Rangers SHOULD be able to rip-off a four-game winning streak before heading to Sin City on Wednesday, December 7th. But as Gerard Gallant always says – "one game at a time."
---
Once again, I'm pressed for time tonight.
It's funny, originally I was supposed to start a 3PM-11PM schedule at work; instead, I'm now working 6AM-4PM (and sometimes beyond).
In other words, I apologize in advance if I blow through some things! (And have a few typos included too!)
When I assess tonight's game as a whole, I thought it was a mixed-bag.
On one hand, the Rangers desperately needed a win. The Tom Petty inspired "Free Falling" had to stop. Fortunately, they achieved that goal.
On the other hand, I didn't think the team looked that impressive, outside of a few key players, such as Halak, Lindgren, Jimmy Vesey and Barclay Goodrow.
At one point, when the game was 2-1, and in favor of the GOOD GUYS; I was bracing myself for the inevitable letdown allowed goal. Thankfully, it never came. However, at the same time, I was also thinking about Artemi Panarin, who finished the game with another goose-egg next to his name in the box score.
I know this is repetitive and redundant, because I say it all the time; but what's one more time:
"While it's great for Jimmy Vesey when he's the best forward on the team, that's not great for the Rangers."
There have been too many games this season where players like Vesey, Gauthier and Goodrow have out-shined "THE FAT CATS." Tonight was no different.
As I'll say later – I thought the Rangers' fourth line was the best and most consistent trio of the game.
I also believe that Panarin's production, or lack thereof, will be swept under the rug a bit – as most problems are – following a win.
---
For a lot of the negative trends that we've seen this season – none of them reared in their ugly heads tonight.
In other words, we didn't see the following:
— An opposing player scoring his first goal of the season.
— A blown lead.
— An ex-Ranger scoring a goal (Nick Holden, Derrick Brassard and Tyler Motte all play for the Senators).
— Getting "GOALIE'D" by the opposing team.
And heck, with a sick Sam Rosen behind the microphone, we also weren't bombarded with 97867867896 "reverse jinxes" either!
I know I should be elated following a Rangers' win, but instead I'm just relieved – perhaps like the team themselves.
As mentioned with my comments on Panarin – winning glosses over a lot of things, including another 0-fer Rangers' power-play tonight and being more than doubled-up at the dot (36-15).
Of course, no NHL team goes 82-0, nor paints a Picasso either in every victory. However, these Rangers have to prove that they can win games more often.
Put it this way: if the Rangers were a winning team right now, and with a playoff berth secured to boot; then you'd look at this win as a "good win."
Instead, there is still cause for concern, where only the future will tell us if this was the start of something or more of the same.
Before getting into everything else from tonight's game; here's the pregame news that took place prior to tonight's contest.
---
On Tuesday, prior to their flight to Ottawa, the Rangers, following their 5-3 loss to the Devils, reconvened for practice.
Once returned to the practice facility in Tarrytown, NY, and in what's now becoming habit – Gerard Gallant shook up his lines.
Due to Vincent Trocheck needing a maintenance day, Vitali Kravtsov was re-inserted into the line-up. However, at the time, it was suggested that Kravtsov would be replacing Ryan Carpenter, and not Trocheck, on Wednesday night. (Carpenter slotted in for Trocheck, Goodrow moved to the fourth line and Kravtsov went to the right wing.)
And that's what happened tonight.
Perhaps bigger than that, the head coach also broke up the Jacob Trouba and K'Andre Miller pair, where Trouba was teamed-up with Zac Jones, while Miller skated with Braden Schneider.
Following the practice, Gerard Gallant held an interesting edition of "TURK TALK." Here it is:
---
Gallant, as he'd later do on Wednesday afternoon, made some interesting comments on Tuesday, where his remarks on Trouba were most telling.
Here's Gallant on his captain:
[On Trouba's added responsibilities as captain]: "I don't see that, honestly. The only thing different is maybe with the media, the captain has to do more media, but he hasn't changed in the dressing room or the way he comes to practice or is around our team and our guys. I don't think that has any effect."
[On Trouba's injuries]: "It definitely affects it, for sure. There is no doubt. We all do our jobs and try to do them the best we can and when you're not 100% you still do the best you can, you are still a good player, still a valuable player for us. When you've got some injuries you can't do certain things."
[On the possibility of Trouba taking some time off]: "He takes some practice days off. He wouldn't allow that, trust me."
---
We've talked a lot about Trouba on this site during this past month, where I've often repeated and explained the following two opinions:
— I don't think the "C" is weighing Trouba down. I think that's the lazy go-to excuse for many, whenever they see a captain struggling.
— Trouba's first year as captain reminds me of Kevin Shattenkirk's first year with the Rangers.
However, when Gallant said that Trouba "wouldn't allow time off," it does make me wonder who's steering this ship.
Similar to a prize-fighter, whether it be a boxer or a mixed-martial artist; sometimes these warriors need to rely on their corners to throw in the towel – especially since they'll never be the ones to admit the truth. It's not in their DNA to give up.
As they say, "you can live to fight for another day."
Again, without knowing what's specifically ailing Trouba, it's tough to really speculate or say anything definitive. However, we do know that he's hurt – that's a fact that can't be denied.
While we can all appreciate what Trouba is doing; at the same time, it may be time for Gallant to throw in the towel for him.
At this rate, Trouba isn't helping the team – or at the very least – not in the way that he should.
Furthermore, we're not even at the 30% mark of the season yet. It's one thing to play hard and gut it out during the playoffs; it's another thing to continue to play hurt during the regular season, especially when there are not many signs of improvement.
Rather than looking like he's on the road to recovery; instead, it looks like Trouba's injuries are worsening.
It's most likely best for Trouba to take some time off, heal, get to 100% and then return for the latter stages of the season; rather than running the risk of these injuries compiling, thus rendering the captain useless during the crunch time of the season, and hopefully beyond that, the playoffs too.
I also believe, had Trouba been 100% healthy, then there is no way he would've allowed Leon Draisaitl to make a fool of him this past Saturday. (This play was the talk of the hockey world – and as you'll soon see!)
Whatever is bothering Trouba is hampering not only his play, but his reputation too.
I know that the Rangers are in a bad spot right now (trust me – I'm well aware of this), but with upcoming games against opponents that aren't exactly world-beaters (although the Rangers have a knack of turning these bad teams into the late 1990s Red Wings), now would be as good as a time as any to give Trouba a powder.
---
On Wednesday, around noon, the Rangers held their pregame skate in Ottawa. Following the light pump, Gallant spoke to the media again, where he continued to make interesting comments.
Here's Wednesday's edition of "TURK TALK":
---
Gallant opened the interview by saying that he wouldn't reveal his line-up, nor comment on the status of Trocheck. Gallant said he wanted to try something new by keeping all of this information to himself. (You know, despite the NHL demanding their fans to bet on every game under the sun.)
Furthermore, when it was suggested that Jaroslav Halak may start, Gallant wouldn't talk about that either.
As he has done several times before, Gallant took umbrage with the line of questioning regarding the younger players on the team, such as Lafreniere, Kakko and Kravtsov. Gallant said he's trying to win games and that all of these players are still in a development stage.
Funny enough, when the media later interviewed Lafreniere, they tried to call out the Rangers' first-overall pick for not performing in the way that Jack Hughes has done thus far, as the Devils' star was drafted one year before Lafreniere.
Lost in all of these false narratives – the $11.6M man, Artemi Panarin, and his struggles. No one seems to bother to ask about Mika's lack of goals while at 5 vs 5 either.
We can talk about "the kids," and many of you guys and gals do – but when your highest-paid star isn't producing – then that's the number one concern to me.
In something that perhaps Jets' quarterback, Zach Wilson, could learn from; Gallant also praised CZAR IGOR for taking responsibility for his recent struggles. Gallant said that Shestyorkin always holds himself 100% accountable for all of his bad games and never places any blame on his teammates.
---
Before getting into tonight's line-up and the GAME REVIEW; I do think these recent "TURK TALKS" were telling.
In fact, some of these recent interviews remind me of the line of questioning that former coach, David Quinn, had to deal with on a daily basis.
For the first time since taking over the Rangers' bench, the media is really pressing Gallant at a frequent rate – and more so in comparison to whenever these "reporters" talk to the captain.
After all, NOT ONCE, has the media brought up the Draisaitl incident to Trouba. More telling? The media doesn't even ask Trouba about his own injuries and about the idea of taking time off.
(Of note: more on Trouba and the NYR beat during the GAME REVIEW!)
I also don't understand peppering Gallant with non-stop questions about Lafreniere and Kakko. I know that everyone wants to see these two play to their draft status; but there has been nothing from this season to suggest that Gallant is holding the reins back on them either.
Is it Gallant's fault that both Jimmy Vesey and Julien Gauthier have been better (and have produced more too) than the two lottery picks? As said, it's not like Gallant didn't give Kakko and Lafreniere chances – they both started in the Rangers' top six – and like it or not – they need to score. They don't, at least not at any sort of a consistent rate.
And to waste time endlessly talking about Kravtsov? Well, I think I've made my opinion known on this subject once or 9856789585678567 times before!
---
Here was tonight's line-up:
FIRST LINE: Kreider/Mika/Vesey
SECOND LINE: Panarin/Chytil/Kakko
THIRD LINE: Lafreniere/Trocheck/Kravtsov
FOURTH LINE: Blais/Goodrow/Gauthier
FIRST PAIR: Lindgren/Fox
SECOND PAIR: Miller/Schneider
THIRD PAIR: Jones/Trouba
STARTING GOALIE: HALAKNESS MONSTER
BACK-UP: CZAR IGOR
---
BOX SCORE time.
The following graphics and information come from ESPN.com:
SCORING:
PENALTIES:
TEAM STATS:
GOALIES:
| | | | | | | | | | | |
| --- | --- | --- | --- | --- | --- | --- | --- | --- | --- | --- |
| SA | GA | SV | SV% | ESSV | PPSV | SHSV | SOSA | SOS | TOI | PIM |
| 36 | 3 | 33 | .917 | 27 | 5 | 1 | 0 | 0 | 57:41 | 0 |
| | | | | | | | | | | |
| --- | --- | --- | --- | --- | --- | --- | --- | --- | --- | --- |
| SA | GA | SV | SV% | ESSV | PPSV | SHSV | SOSA | SOS | TOI | PIM |
| 35 | 1 | 34 | .971 | 29 | 5 | 0 | 0 | 0 | 59:57 | 0 |
---
As you know, I don't watch these M$GN pregame shows whenever Sieve Vagistat there is by himself. However, friend of the site, Anthony V., recapped these thirty minutes to me:
Can't deal with Vagistats stats tonight. East West mentioned 10x, goals expected mentioned 5x, net front presence mentioned 8x, seam pass mentioned 3x. Ugh

— WeloveMess (@feelthemess) November 30, 2022
---
I was also told that the worst back-up goalie of "The Lundqvist Era" then compared himself to the best back-up of that period of time, in a one Cam Talbot. You can't make this up.
Seriously, I can't think of another NHL analyst/former player that talks more about his own career than Vagistat. That's why I don't watch these pregame shows anymore!
Once Sam and Joe took over at 7PM, the Hall of Famer apologized for being sick. Rosen's voice was strained all night, but much like Lindgren himself – Rosen "played" while beat-up and injured!
For all of the fun that I have whenever talking about Sam and Joe's love for the other team (and that's all it is – good fun); in the same vein, I must also tip my cap to them.
Here you have Rosen, sick as a dog, while Micheletti is dealing with real-life issues (his brother has cancer), yet these two show up for work everyday. I commend them. It can't be easy for either one of them right now.
GAME REVIEW TIME!
---
FIRST PERIOD:
Before getting into the action, I have to say this – I don't know if it was the way M$GN mic'd up the barn in Ottawa, all of the empty seats or what – but this building was so quiet (HOW QUIET WAS IT?), that you could hear the players talking to each other all game.
There were many times that you heard players communicate tonight, whether it be "GET THE PUCK DEEP," "ONLY TEN SECONDS," "RIGHT SIDE," or something else. I found this interesting, because the crowd in Ottawa was so dead (HOW DEAD WAS IT?), that I heard the players talking more clearly than when these games were played in front of no fans during the pandemic.
Mika Zibanejad, once again absolutely dreadful at the circles tonight (4-12 for a faceoff percentage of 33.3%), lost three quick ones to Tim Stutzle – the opening faceoff, an offside faceoff and an icing faceoff – on his first shift.
As mentioned earlier, thankfully, none of these faceoff losses burnt the Rangers tonight – including Filip Chytils' donut at the dots – 0-12. Yikes!
No joke, even with a few beers and whiskeys in me, I think I could win one of twelve faceoffs just out of pure dumb luck.
Artemi Panarin, often a riddle wrapped inside of an enigma this season, made his first turnover on his first shift when he tried to find Kakko from long distance. To be fair, Kakko stood there like a statue waiting for the puck, rather than charging at it.
Vitali Kravtsov, who admittedly wasn't bad (but I wouldn't say he was great either), was bumped off a puck on his first shift. However, as the game went on, he embraced getting physical and was often found digging pucks out of corners. If anything, he was "inoffensive," while not "offensive" either – but like this win – a step in the right direction.
And yep – this was encouraging to see – and I suspect #74 will be in the line-up on Friday too.
During the first three minutes, the Rangers almost caught Talbot off-guard on three separate occasions – a Gauthier deflection, a Fox-to-the-boards-to-Blais-rebound and Kravtsov forcing a turnover, only to then turn over the puck himself.
On his second shift of the game, Parker Kelly tested Trouba and won, when he knocked the Rangers' captain down. More on this once we get to the intermission. After all – the potty-mouthed NYR beat, and I quote, "don't give a shit" about this stuff!
However, they love quoting analytical sites. Why write about what you see when you can quote NaturalStatTrick 7896786678966 times?
Perhaps the second-pair of the Rangers' future (and maybe of the present too), Schneider and Miller, played well tonight. This was evident when Schneider broke up a Brady Tkachuk breakaway, which forced #7's shot to go wide.
Following Halak's best save of the period with 12:35 to go (a stop on Batherson); Talbot almost got beat by Trocheck.
Jimmy Vesey, absolutely phenomenal tonight (and I don't know if I'd consider this his best game of the season either, because he's played well as one of the more consistent players on this team); prevented Stutzle from scoring a backdoor goal on Halak.
Following the great play on defense, Vesey was soon rewarded with 9:26 remaining:
VESEY with the rebound!!

rangers up 1-0 pic.twitter.com/2qhSdVWAPy

— Rangers on MSG (@RangersMSGN) December 1, 2022
---
1-0, GOOD GUYS, as Vesey slammed home a rebound set-up by who else, the Bobby Orr of his generation – Ryan Lindgren!
Oh, and I should also add that was the first line forward's third goal of the season!
I know there's a lot of complaints online about Vesey on the first line, but as mentioned before – he reminds me of a Jesper Fast type, where he's there to complement the BFF duo, Zibanejad and Kreider, as a defensive component. And if he can chip in a few goals – all the better.
If that wasn't enough for you, on Vesey's next shift and with 7:15 to go; #26, while one-vs-three, forechecked the hell out of the Senators and was almost able to spring a puck loose.
After Mika Selke made a hell of a defensive play to bail out his goaltender; "Jumpin' Joe" went on a predicted spiel about Shane Pinto and how he was from Franklin Square, NY.
While Pinto would later score, I wouldn't consider this a true "reverse jinx" – just because Micheletti & Rosen praised every other Senator too, including a nice five-minute segment on the Tkachuk Family Tree.
"THEY BITE HARD JOE!"
Down to 3:35 remaining, Matthieu Joseph tried to get cute with Halak. Immediately, as in a nano-second later, Miller immediately charged at the Senator and threw him into the boards. Both players took off-setting penalties here – penalties that you'd never see called during the playoffs.
However, the main thing about this play – the fact that Miller wasted no time in getting physical and protecting his goalie. I enjoyed that.
After nothing doing during the foreplay, outside of Panarin shooting at the side of the net; with twenty ticks left on the clock, the Sens attacked a stick-less Halak. The Rangers survived all of this, and after one period, we remained 1-0, GOOD GUYS.
Here's that I said at the time:
1-0, GOOD GUYS, after 20. 1P Thoughts:
— Vesey has been good on both ends.
— Kravtsov hasn't been offensive, or inoffensive lol
— SOG 13-7, FO's 17-5 (not a typo) OTT; Hits 14-13 #NYR
— No PP's yet
— Kinda waiting for the other shoe to drop. We'll see.
LGR!

— BlueCollarBlueShirts (@NYCTheMiC) December 1, 2022
---
During the first intermission, someone sent what I wrote about the media's laissez-faire policy about the Trouba/Draisaitl play to the two millennials of the Rangers' beat, Wince Mercogliano and Mollie Walker.
Check this out and have a laugh:
Just re-watching these media interviews with Gallant & Trouba. It's amazing how the #NYR beat reporters don't ask Trouba about taking time off (nor the Draisaitl incident either), but they ask Gallant about it. Why not go straight to the horse's mouth?

— BlueCollarBlueShirts (@NYCTheMiC) November 30, 2022
---
Right, because Trouba makes the lineup…

I also talked to Trouba about it the other day when the cameras weren't around and, as you might expect, he said he's feeling better and is good to play. But it's easier to be angry on Twitter than actually think things through 😂

— Vince Z. Mercogliano (@vzmercogliano) December 1, 2022
---
Don't see where the incident with Draisaitl was asked? Can you link me to that?

— BlueCollarBlueShirts (@NYCTheMiC) December 1, 2022
---
No, because nobody gives a shit about that but you 😂

— Mollie Walker (@MollieeWalkerr) December 1, 2022
---
I wish I had more time to get into this, but I do have my 5AM train for work tomorrow!
A few quick things, because many of you asked me about this, so let me bullet-point my reaction:
— First, if you haven't seen it already, here was my full reaction to the Draisaitl/Trouba play: https://bluecollarblueshirts.com/112822/
— Notice how the professional and accomplished reporters of the beat took no offense to what I said? (And while they won't admit it – I do privately talk to two of them! One of them has all of my books too!)
— Mollie Walker said "nobody gives a shit" about the Trouba/Draisaitl play. Based on the responses to what she said, where even people who aren't a fan of yours truly (the younger fans despised my opinions about Lundqvist's old contract and can't admit that I was right – and let's face it – I do cater to an older audience because I'm TEAM BOOMER!) spoke out against the most clueless reporter of the beat.
— I don't want to rehash everything I've ever said about this current beat, but yeah – reporters, no matter the subject, used to have to make their name elsewhere – and then come to New York. Just ask Howard Stern about this.
— I understand that the younger reporters have to make their bones and are still learning on the job – but if you think this current crop are as good as the ones from eras (or even an era) ago – then I think you're wrong. It's just a different era and things are done differently.
— The relationships between reporters and the players aren't the same either – after all, back in the day, the reporters and players would travel together – and bond over drinks too. I'd be surprised if the younger members of the beat drink anything stronger than a can of "WHITE CLAW;" but then again – I don't think these players are knocking back the suds like the days of old either.
— Yes, this is me, who has written several history books on the team – but Walker really doesn't know anything about the team's history, outside of the Lundqvist Era moving forward. There are a million examples of this, but one of her most recent inaccurate comments – "Braden Schneider is the first Ranger since Ron Greschner to wear #4."
— Mercogliano acted as if he was Trouba's PR man and somewhat put answers in the captain's mouth too. I rather hear Trouba talk about the subject instead of hearing Mercogliano tell me what he thought Trouba would say.
— As noted earlier tonight, my only bone of contention is this – this Draisaitl/Trouba clip was viewed over a million times, was the hottest topic of discussion in all of the NHL, the Oilers themselves had a laugh at this (the team shared the clip on their social media outlets) and not one member of the beat thinks asking Trouba about this is worth it?
— For reference, here's one of the clips hitting over a million views:
1.2mil, nobody gives a shit!! pic.twitter.com/Vex2ADa1dh

— – (@rajer__) December 1, 2022
---
— Unlike what Mercogliano was trying to sell – this isn't about accusing Trouba of being soft or anything like that. It's about asking him his reaction to this – just like you would with any other controversial play.
— Yes, there is bias here (after all, Stan Fischler wrote the foreword to one of my books and I contribute to his columns on The Hockey News) – but IMMEDIATELY after this happened, I received an email from "The Maven" that read, "Sean, quick, I need thoughts on Draisaitl/Trouba." When a U.S. Hockey Hall of Famer, and someone who should be in the one in Toronto too, thought so much of this play – then I think it's something worth asking the player himself.
— I did find it funny that these two "reporters" got bent out of shape – in something that I didn't even ask them personally! (It's not worth my time asking them anything because I just don't find them very good at what they do, as opposed to Larry Brooks, who I think, and by far, is the best reporter on the beat.) They found my tweet and were immediately riled up! I still got it!
— Maybe this is a generational thing (BOOMER!), but this was another example of the younger members of the beat being thin-skinned. I'm not the first person they've cursed out over a valid question/opinion, and I won't be the last.
— I wonder if Hugh Delano (look him up if you don't know who he is – and I'm sure Mollie & Wince don't know who he is) ever told fans, "no one gives a shit about Eddie Giacomin!"
— Lastly, as I have spent too much time on this – if you think I'm wrong here, then please look at the line of questioning the Canadian reporters ask the players that they cover. It's night-and-day when compared to what we currently have. It's also why you don't have reporters straight out of college covering the Canadiens and Leafs.
---
SECOND PERIOD:
I am happy to report that once with the lead – the Rangers never surrendered it. Baby steps!
Adam Fox started off hot, as within the first 45 seconds, he had Talbot twice on his heels.
At the two minute mark, a Brassard shot squeezed by Halak, but before you could talk about another blown lead or a former Ranger scoring; Trouba cleared the puck from the goal line.
Nine seconds later, Kravtsov took an o-zone penalty for holding Erik Brannstrom.
This Rangers' penalty kill was strong, although their second PK was stronger.
On this PK, Lindgren immediately blocked a shot, a slapper from Debrincat. Lindgren was hobbling all over the place in agony. The Sens then shot the puck so hard that went out of the zone, allowing #55 to change – and heal.
As is usual – Lindgren never missed a shift.
HOCKEY PLAYER.
By the end of these two minutes, Halak made one save while the team recorded four blocks.
Down to 9:30 remaining, Goodrow and Gauthier had a two-vs-one opportunity but Brannstrom broke it up. No matter, as the fourth line, arguably the Rangers' best line of the game, stuck with the play. With the puck still in the zone, this happened 22 seconds later:
GOOOODY nets one!

anddd rangers are up 2-0 pic.twitter.com/FZJv7pJQKM

— Rangers on MSG (@RangersMSGN) December 1, 2022
---
2-0, GOOD GUYS, as GOODY GOT IT!
Once again, Lindgren ripped a shot, this time from the point, and with both Goodrow and Gauthier crashing the net – it was #21 who got there before #12 for the deflection goal.
I don't want to make this a thing about Ryan Carpenter, but as said previously on this site – Goodrow provides more value as a fourth-line center for this team – and not just because he scored this goal.
After Vesey made another defensive play and got the puck out of the zone; Trouba turned over the puck with 6:25 remaining. As Jones bailed out his new partner, the Senators stuck with the puck and Shane Pinto split the Trouba/Jones pair for the only goal Halak gave up all game – and a goal that I wouldn't pin on #41 either.
2-1, good guys, with 6:13 remaining.
Down to 5:31 left on the clock, Gauthier slew-footed Tkachuk, although I thought this was accidental. In other words, this wasn't P.K. Slewban 2.0.
The Rangers' PK was out of this world. Put it this way, the Sens' power-play was stifled so bad (HOW BAD WAS IT), that the home crowd booed their favorite team.
The Rangers just smothered the Sens as if they were a grease fire at a dive diner. They had multiple short-handed attacks and Fox wouldn't even let these guys sniff Halak.
Once returned to full-strength, and now back on the ice – Panarin had a wide-open look at Talbot – and you know the rest – turnover after a forced pass.
2-1, road team, after forty minutes. Here's what I said at the time:
2-1, good guys, after 40. 2P Thoughts:
— It's great for Vesey & Goodrow when they are the best #NYR – not great for the FAT CATS & team.
— SOG 23-20 NYR, Hits 23-22, FO's 26-8 (not a typo), Sens
— PK has been great, 2-2, no PPs yet
— Can they finish?
LGR

— BlueCollarBlueShirts (@NYCTheMiC) December 1, 2022
---
THIRD PERIOD:
I can't lie – I was waiting for the Senators to tie this game – just because we've seen this movie so many times before this season. Fortunately, that's all it was – a feeling – as the Rangers held up their end of the bargain.
After playing so loosey-goosey with leads, and perhaps coasting too; the Rangers amped up the aggressiveness during this final frame.
At the 1:40 mark, the Sens took a delay of game for airmailing the puck over the glass.
To his credit, and as Micheletti was riding him for never shooting; Panarin actually shot the puck – twice – two saves for Talbot.
As the PP was set to expire, Chytil almost scored the first Rangers' PP2 unit PPG of "The Turk Era."
As we surpassed the five-minute mark, Halak made an absolute robbery of a save on Kelly. Had this went in, it would've been a tied game and those negative vibes would have returned. Instead, Halak shut them down.
During one of those M$GN in-studio commercial segments, Vagistat told us that he could feel the season turning around – for the tenth time in a month's time.
Again, I don't want to sound down after a win, but let's face it – at the time, this was a one-goal lead over a bad hockey team. I just want to see a winning streak.
As the Rangers kept forcing the issue, the third goal, the insurance goal, finally came:
ohhh yesss KREIDER deflects it in🔥

rangers up 3-1 pic.twitter.com/SWQCvA1VEs

— Rangers on MSG (@RangersMSGN) December 1, 2022
---
3-1, GOOD GUYS!
Once again, there was Ryan Lindgren (who during my Quarter-Pole Report card, I ranked as the second-best player on the club – second only to Fox) firing a puck, where on this occasion, it was Kreider who benefited. This deflection goal was Kreider's 11th of the season – tying him with Zibanejad for tops on the team.
Let's bullet-point the FOXWOODS FINAL FIVE:
— The Rangers not only kept their foot on the gas, they stomped on the pedal.
— No joke, the team hit three posts, including Panarin, Trocheck and Trouba. What would a Ranger game be without iron?
— Chytil took a dumb retaliation penalty (although understandable), to negate a Rangers' power-play with 3:30 to go.
— During the final forty seconds of the Sens' power-play, Talbot left the net for the extra attacker.
— Trouba was officially credited with three blocks during all of this, but it felt like thirty.
— Also worth mentioning? Every Ranger d-man, sans Fox (1), finished with three blocked shots tonight.
— Following a Halak freeze with 21 seconds remaining, the Senators and head coach, DJ Smith, took their timeout.
— No matter, as the Rangers, who were hellbent on getting the puck out of the zone, survived and thrived.
3-1, GOOD GUYS, your final – and with a rematch against these same Sens on Friday night at M$GN.
Here's Gallant after the game:
---
Best win of the season? Hardly. A "MUST WIN" game? This wasn't that either. A NEEDED win? Most definitely.
It was nice to hear Gallant praise the entire team in his post-game interview. Better than that, seeing a lot of the unsung heroes shine.
Do it again on Friday.
If I can get some time tomorrow, I'll chime in with more thoughts. If not, see ya Friday night.
PLUGS TIME!
---
On Tuesday night, our pals at "The Blueshirt Underground Show" returned with a new episode. To watch/listen, click the play button below:
---
My first plug of tonight's blog – the mandatory plug for my book, "The New York Rangers Rink of Honor and the Rafters of Madison Square Garden."
As mentioned previously, the book is now available in hardcover, in paperback and in Kindle formats. To purchase a copy of the book, visit this link:
https://www.amazon.com/Rangers-Rafters-Madison-Square-Garden-ebook/dp/B09CM5N2WD
For those still looking for signed paperback versions of the book, I have re-ordered more copies. I now have a few signed copies for sale at $25 a pop (includes shipping price) through me directly. Here is all the information on that:
---
My four-volume set of books, "One Game at a Time – A Season to Remember," is a game-by-game recount of the Rangers 2021-22 campaign.
My second title as an author, "One Game at a Time – A Season to Remember," is now available in eBook, paperback and hardcover formats.
To obtain signed copies, visit: https://bluecollarblueshirts.com/onegamebook/
To purchase all four volumes on Amazon, visit: Amazon.com – "One Game at a Time."
---
"Tricks of the Trade – A Century-Long Journey Through Every Trade Made In New York Rangers' History," a four-volume set of books that meticulously covers every trade made in franchise history, is now on sale.
All four volumes of the title can be purchased on Amazon.com and are presented in three different formats – eBook, paperback and hardcover.
To purchase Volume I: Conn Smythe (1926) – Craig Patrick (1986), visit Amazon.com
To purchase Volume II: Phil Esposito (1986) – Neil Smith (2000), visit Amazon.com
To purchase Volume III: Glen Sather (2000-2015), visit Amazon.com
To purchase Volume IV: Jeff Gorton (2015) – Chris Drury (2022), visit Amazon.com
To purchase signed copies of all four volumes, visit https://bluecollarblueshirts.com/tricksofthetrade/
---
Here are my last few blogs, in case you missed them:
---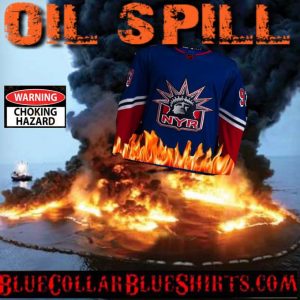 ---
---
If you haven't already, subscribe to this blog for the next update:
---
Don't forget to order my new four-volume set of books, "Tricks of the Trade!"
If you don't order through me, all four volumes are now available on Amazon.com
For more details, check out: https://bluecollarblueshirts.com/tricksofthetrade/
Thanks for reading.
LET'S GO RANGERS!
Sean McCaffrey
BULLSMC@aol.com
@NYCTHEMIC on the Tweeter machine