Greetings and salutations everyone and welcome to another blog here on BlueCollarBlueShirts.com. Are you even surprised anymore?
Simply stated – what once was anger is now acceptance.
Following the Rangers' uninspiring victory in Ottawa on Wednesday night; I opened up my game review blog with this introduction:
"A step in the right direction – but will it be one step back again on Friday night?

The Rangers snapped their three-game losing streak in Ottawa on Wednesday night, and as much as this pains me to say this – it felt like a hollow victory. Of course, the reason for that is all of the never-ending losses we've previously endured and witnessed.

It's just hard to get "rah-rah" right now – but hopefully, that feeling will return – and soon!

That said, a win is a win, where to restore both faith and credibility – this can't be another "one-and-done win."

Instead, the Rangers have to use tonight's victory to propel themselves into a winning streak, where prior to traveling to Vegas and Colorado next week, the Rangers will see teams they should pounce on, including these same Senators on Friday night, Chicago and St. Louis.

In a perfect world (and we know how that goes), the Rangers SHOULD be able to rip-off a four-game winning streak before heading to Sin City on Wednesday, December 7th. But as Gerard Gallant always says – 'one game at a time.'"
---
Winning steak? What a foolish idea! This team can't even string two wins together!
And to think about three or more consecutive wins? You have a better shot of winning "Powerball" – or yours truly hitting my daily 4-0 prop bet!
Sadly, "one-and-done," sums up this season.
I've been running this site for over eight years now. Without question, this is the most disappointing regular season I've covered yet.
Sure, there were many heart-breaking playoff series' along the way – but at least those teams made the playoffs.
Plus, when it comes to the Rangers choking during the playoffs – that's a time-honored tradition for the franchise.
Four Stanley Cups in nearly 100 years would suggest as much.
These 2022-23 Rangers?
As we all know, this team had many high expectations bestowed up on them, well-deserved preseason praise at that – yet all they've done is nothing but disappoint – following what now feels like fluke blow-out victories from the start of the campaign, against Tampa and Minnesota. (Wins that now feel like they took place ages ago.)
In all of my years of watching hockey – and yes, there is a recency bias here – I can't think of another alleged playoff contender that has found more ways to lose than this current crop of Blueshirts.
When it comes to the final results of these games, the Rangers are the "same old shit."
However, like a snowflake (real snowflakes from the sky – not the millennial Ranger beat reporters) – no two losses are the same – even when the same old shit goes down.
During the latest choke-job in Rangerstown, USA; Turk and company had a 2-1 lead with under a minute remaining in regulation. Brady Tkachuk, off of a deflection, scored the equalizer. Not only did this goal tie the game, but it also gave the Senators' captain a Gordie Howe hat trick. (His second of his career – at least it wasn't his first – as the Rangers LOVE giving up negative "firsts" this season.)
For good measure, and after a former Ranger, Cam Talbot, made the best save of the game yet; a breakaway save on Mika Zibanejad during the waning seconds of the 3 x 3 overtime period – Tkachuk, with the defensively useless Artemi Panarin draped on his back, poked a puck past Igor Shestyorkin for the game-winning goal.
But yet again – more of the same.
Rather than focusing on the positive things that had previously occurred during Friday's contest, such as Vitali Kravtsov's first goal of the season, Trouba's brawl with Tkachuk, another solid effort from Braden Schneider, etc; instead, we're talking about another Rangers' loss to an NHL bottom-feeder – an all-too familiar story.
---
At 5:00AM on Friday, I boarded my LIRR train, destined to Penn Station, where I met up with my friend, co-worker, and admittedly, my boss too (he doesn't let me forget this), the often mentioned "EDDIE WHISTLES."
(This is also my way of telling you that I've been up since 4:30AM – and it's now 11PM as I write this sentence. Thankfully, I'm off on Saturday!)
During our 45 minute journey to NYC, and since we're working only five minutes away from M$G; we debated about attending tonight's game. Surprisingly, ticket prices weren't that bad – perhaps an indication of people abandoning this ship.
(I also believe that the abundance of Devil fans in-attendance this past Monday night spoke volumes too.)
After all, more times than not (as in 99% of the time) – Friday night games are extremely expensive – and for all of the obvious reasons.
As we got past Woodside and into the tunnel; we ultimately decided to pass on this game.
In fact, I even said this to EDDIE WHISTLES: "you're better off saving your money and betting on the Senators."
While I would never bet against the Rangers (and whenever Mr. Whistles wants to bet on the Islanders – I tell him I won't allow that) – if I put my brain above my heart – I would've cashed out nicely tonight – as once again, the heavy favorite Rangers did it again – they made a winner out of the underdogs.
(For those who care about such things – the Rangers have only won one game this season when favored by -165 or more – the 1-0 overtime win against the Flyers – their only overtime win of this campaign.)
---
There's a lot to get into tonight, where yep – a lot of this is going to sound repetitive and redundant. I apologize in advance – but hey – I can only work with the terrible material that I'm given!
Let's get into all of the pregame news and notes first – and then into the latest blunder on Broadway.
---
Following the Rangers' win in Ottawa on Wednesday night; a day later, and now returned to New York, the team took off on Thursday.
On Friday morning, eight hours before puck drop, the team held a light practice. Once finished, Gallant held his daily pregame "TURK TALK." Here it is:
---
The most interesting thing to come out of Gallant's chat with the media was that the head coach said he'd be bumping Vitali Kravtsov to the second line, thus returning Kaapo Kakko to the third line. (And this actually worked out – at least for Kravtsov. It most certainly didn't work out for Kakko.)
More interesting than that? As the head coach talked about Kravtsov, Gallant "knocked on wood" (literally – as his knuckles rapped the table that he was sitting at) – an admission of the Russian's battles with staying healthy.
As far as anything else, Gallant hinted that CZAR IGOR would start tonight. I did expect #31 to get the nod over #41 – but I also saw the argument on why Halak should've started.
After all, "THE HALAKNESS MONSTER" had just seen (and beaten) this team 48 hours prior.
Let me be clear – and this isn't a knock on Igor – but if a goalie, starter or back-up, has a good game during the first match of a home & away series – it does make sense to go right back to him.
That said, had Gallant started Halak tonight – then there would've been talks about a "goalie controversy."
There's no reason for the head coach to open that Pandora's Box.
Igor is the starter. Halak is the back-up. Simple as that.
---
I received a ton of feedback from you guys and gals, regarding my recent "spat" (I think – or should I say KNOW – that the millennial beat reporters cared more about what I said than yours truly caring about whatever they say), with the two clueless wonders of beat, Wince Mercogliano and Mollie Walker.
When it comes to Mercogliano, he twisted my words around, in regards to Jacob Trouba.
Go back and read what I said – I never called Trouba soft. Instead, I said I wanted to see some retaliation.
Mercogliano also said that he felt that the Rangers still had a chance to win against Edmonton following Draisaitl's goal. Apparently, Wince doesn't know this team as well as we do! (And Trouba fought tonight during a tied game – THE HORROR – HE RISKED A PENALTY!)
When it comes to Mollie Walker – I can't think of any other public figure who personifies the label of "stereotypical millennial," more than her.
What do I mean by that? The following:
Whenever you talk to the younger generation ("GET OFF MY LAWN" too!), the often self-entitled have no regards or cares about history.
More times than not, they feel that their era is the only thing that matters.
Whatever happened before they were pissing and shitting into diapers never happened.
Whether it's Walker not knowing that the Rangers actually had a #4 on the 1994 Cup winning team (Kevin Lowe) or something else – she once again showed her ignorance on Friday – a common occurrence from "The Queen of the New York Post." (No joke, that's what she calls herself on her own podcast.)
(Furthermore, I'm not even talking about Trouba, the rest of the league, and the Rangers themselves, all talking about the importance of fighting and the Draisaitl play. Heck, even TNT covered this story on Wednesday night too – but don't worry – Mollie still doesn't give a shit!)
In a clip that was shared to me no less than fifty times from you guys and gals this Friday morning; apparently, on her "Up in the Blueseats" podcast (I tried listening to several episodes post Duguay – but it's unbearable – the only segment worth listening to is whenever Larry Brooks is on and he wasn't on the most recent episode); Miss Walker, in another bout of her infinite wisdom, credited Chris Kreider for one of the most oldest and most famous quotes in all of NYC sports; Reggie Jackson's "I'm the straw that stirs the drink."
Walker thought it was the coolest thing ever (she said as much) when Kreider called Lindgren "the straw that stirs the drink," where she also credited #20 for coming up with this now 45-year old quote from #44.
Someone called her out on Twitter about this, and to her credit, she owned up to it:
Yeah I clearly dated myself a little bit there 😭😅

— Mollie Walker (@MollieeWalkerr) December 2, 2022
---
All of this makes me wonder – do they even teach history in high school and college anymore?
And how can any sports reporter (or reporter in general) worth their weight avoid doing research?
BREAKING: Walker believes that Aaron Judge came up with the "Sultan of Swat" nickname too! (Okay – I'm joking – but it is believable!)
I guess since Jackson's quote doesn't appear on some analytical website, Walker can't be bothered to learn the origination of it.
And this isn't the first time where Walker wasn't aware of a famous quote.
After all, this is the same "reporter" who mocked Mark Messier for quoting a famous Conn Smythe quote, "if you can't beat 'em in the alley, you can't beat 'em on the ice."
Of course, outside of perhaps knowing what the "Conn Smythe Trophy" is; I doubt that Walker even knows who Smythe was, much less knows that he was the first general manager of the team she "covers."
(But she'll now know after reading these words! I'm always teaching the "youts!" And for Ms. Walker – that's a quote from "My Cousin Vinny!")
And yep – I believe all of this stuff is just a generational gap/divide. I'm such a BOOMER!
Finally, while on this silly subject – Walker interned under Stan Fischler and currently has daily access to the mind of a Hall of Famer, Larry Brooks, too. Her lack of knowledge, and really, her passion for the career she chose for herself, is quite appalling.
(What do they teach in journalism classes these days anyway? Transcribing quotes and that's it?)
Much like the Rangers – talk about a blown opportunity for "The Queen."
Two excellent hockey minds to pick, and instead – she wastes time talking about shoes on her Rangers' podcast. (I'm not making this up – that clip was also sent to me on Friday morning.)
I've spent too much time on this birdbrain. Moving on.
---
Here was tonight's line-up:
FIRST LINE: Kreider/Mika/Vesey
SECOND LINE: Panarin/Chytil/Kravtsov
THIRD LINE: Lafreniere/Trocheck/Kakko
FOURTH LINE: Blais/Goodrow/Gauthier
FIRST PAIR: Lindgren/Fox
SECOND PAIR: Miller/Schneider
THIRD PAIR: Hajek/Trouba
STARTING GOALIE: CZAR IGOR
BACK-UP: HALAKNESS MONSTER
---
BOX SCORE time.
The following graphics and information come from ESPN.com:
SCORING:
PENALTIES:
TEAM STATS:
GOALIES:
| | | | | | | | | | | |
| --- | --- | --- | --- | --- | --- | --- | --- | --- | --- | --- |
| SA | GA | SV | SV% | ESSV | PPSV | SHSV | SOSA | SOS | TOI | PIM |
| 27 | 2 | 25 | .926 | 20 | 4 | 1 | 0 | 0 | 63:54 | 0 |
| | | | | | | | | | | |
| --- | --- | --- | --- | --- | --- | --- | --- | --- | --- | --- |
| SA | GA | SV | SV% | ESSV | PPSV | SHSV | SOSA | SOS | TOI | PIM |
| 37 | 3 | 34 | .919 | 26 | 5 | 3 | 0 | 0 | 64:42 | 0 |
---
Once escaping the blithering and moronic Sieve Vagistat at 6:30PM; thirty minutes later, I returned to the M$GN – where I was pleasantly surprised to see Kenny Albert on the call.
If only Dave Maloney replaced Joe Micheletti too! Then we'd be cooking with gas!
As mentioned on Wednesday, Rosen was extremely sick, yet gutted through the broadcast.
Gallant later said that Rosen was "day-to-day with an upper-body injury." (Okay, I'm making that up.)
What I'm not making up is that Albert said he'd be back on Saturday night (against Chicago) and that Rosen is expected back on Monday, when the Rangers host (and will probably lose to) the Blues.
I know I've said it before, but what's one more time – it's my opinion that Albert is the best play-by-play man in the game today. After all, that's why he's the national voice of TNT, and before that, NBCSN.
And yep this too – once Rosen finally calls it a career – M$GN should back up a Brink truck and pay Albert whatever he wants, in order to give up his other commitments and then join the TV crew on a full-time basis.
Long story short – this was the best commentated broadcast of the season – even if I did miss some of the "Rosenisms," such as "OH JOE," "SECOND PERIOD, WHAT DO YOU LOOK HERE FOR JOE?" and everyone's favorite, "IT'S A GOAL, NO IT'S A SAVE, WAIT IT HIT THE POST, AND THAT'S A POWERPLAY GOAL FOR FRANK VATRANO!"
Bless his heart!
---
FIRST PERIOD:
In game featuring my two favorite goalies of the past decade, CZAR IGOR vs CAM TALBOT; it was #33, and not #31, who came out victorious.
As a general statement – despite the big saves they'd later make during crunch time – I didn't think either goalie looked particularly great tonight.
Shestyorkin made several errors (including two bad turnovers), but since the Senators are so bad – they'd never make him pay.
On the visitor's end of the ice, Talbot routinely gave up monster rebounds, but since the Rangers are so bad – they'd never make him pay either.
And speaking of the word "bad," let's hit a line that's unfortunately appeared on this site more times than not, you know, the following:
"It wasn't all that bad…"
---
Right away, and after Zibanejad shockingly won the first face-off of the game; Micheletti mentioned how bad the Rangers were against the Senators in the face-off department on Wednesday night.
By the end of this game, the Sens only won two more draws than the Rangers (37-35); but when it came to zone draws, the disparity felt much greater than these numbers would suggest.
In what shouldn't shock anyone, only Trocheck (63.2%) and Goodrow (58.3%) had winning faceoff percentage stats. Zibanejad (42.9%) and Chytil (40%), while still having losing numbers, did much better than they did 48 hours prior.
Then again, they couldn't do much worse. (If you recall, Zibanejad finished at 33.% while Chytil finished 0-12.)
Just 54 seconds into the match, Chytil made a tremendous move and got right to Talbot – the first save of the game for the former Ranger.
Once returning to Talbot following the save; at just the 1:20 mark, Chytil high-sticked Jake Sanderson – and drew blood – a four-minute double-minor penalty for the Czech.
And oh yeah – this was another o-zone penalty for the Blueshirts.
The Rangers' penalty kill, who entered this game as fourth-best in the league, were absolutely phenomenal here.
Put it this way – CZAR IGOR only had to make one save during these four minutes.
This was a complete team effort from the two PK units, including Mika Selke, Miller, Fox, Vesey and Goodrow. Seriously, this was a man-down master-class.
Here's what I said following it – one of my usual talking points:
Sens' PP only one SOG in four minutes, #NYR PK was amazing. Rangers deserve a goal after this , and if you can't score on a four or five minute PP, you deserve to lose.

— BlueCollarBlueShirts (@NYCTheMiC) December 3, 2022
---
While the Rangers did get that goal – of course, they later pulled a "Ranger" – and found a new way to lose.
6:30 into the game, Kravtsov, fearing contact, turned over the puck. This was the only bad play that I saw out of #74 tonight.
Ten minutes into the period, the Rangers were out-shooting the Senators 4-1 – but the road-team also had nine shots that went either high or wide.
Down to 9:29 remaining – a goal that some parts of the fan-base treated as if it were a Game 7 game-winning goal from a Stanley Cup Final:
Kravtsov's first of the season gives the Rangers the lead! #NYR pic.twitter.com/p2E1RfUgVf

— Rangers on MSG (@RangersMSGN) December 3, 2022
---
1-0, GOOD GUYS, Kravtsov's first goal of the season. Finally.
Since the start of this home-and-away series with the Senators, this was the fourth consecutive "greasy" goal for the Rangers.
On this goal, Kravtsov, after receiving a puck from Panarin, shot at Talbot, only for Travis Hamonic to block it – with his throat.
With the Sens' d-man writhing in agony (he stayed down and needed assistance to the locker room following the goal – but he'd later return at the start of the second period); Kravtsov picked up the rebound off of Hamonic and then beat Talbot far-side.
Obviously – this was a huge monkey off of the back for Kravtsov – and had the Rangers won tonight – most likely your lede story too.
I will say, this was a great individual effort from Kravtsov, but I'd pump the brakes on the Calder Trophy talk. We'll see if this was a fluke goal or the start of something in the weeks ahead.
Either way, in his first true test in the Rangers' top six, between this goal and the way he finished the game (where just finishing the game is always part of the story with him); Kravtsov passed.
Of course, no one cares about that now, due to the disgusting and embarrassing loss.
Also of note – M$GN reported that Kravtsov was the 17th Ranger to score a goal this season. In other words, Trouba, Miller, Blais (and Igor & Halak too!) are still looking for their first tallies of this campaign.
Since it's the Rangers' way – right after the goal – the team gave up a two-vs-one odd-man rush – one that Libor Hajek, now back in the line-up, broke up.
Similar to Kravtsov's goal, the play of both Schneider and Hajek will get lost in the weeds. However, I thought both of the young rearguards played extremely well.
Down to eight minutes remaining, and despite that four-minute power-play too; the Sens only had one shot on goal. Part of this was because the Senators were terrible, as all of their shots came nowhere close to Igor. And during the rare times where the Senators had the goalie in their cross-hairs – the Rangers blocked these shots.
With 6:05 to go, Igor made his second save of the game – a stop on former Ranger, Tyler Motte. The last Ranger to wear #64 was snake-bitten by the CZAR all game.
Officially, Motte was credited with three shots on goal, but it felt like thirty. And then there was a disallowed goal, which we'll later get into.
Down to 5:03 left on the clock, Hajek and Goodrow tag-teamed for one of the best saves of the game:
Goodrow stretches out on the goal line for the save!!!! …except Hajek's stick got it first. Hey, the puck stayed out – all that matters. pic.twitter.com/zx3BbCg11r

— Rangers on MSG (@RangersMSGN) December 3, 2022
---
As Goodrow extended across the goal line, Hajek made sure the rubber didn't cross the goal line. This was just one of the many breaks CZAR IGOR received tonight.
As we made our way to the end of the period, there were many icings and offside calls. We also saw Igor make a turnover from behind his own net, but Schneider made sure it didn't backfire. Another break for Igor.
Down to 2:39 remaining – I thought Kravtsov looked more impressive here as opposed to when he scored his goal.
Following Parker Kelly crashing the net; #74 immediately got involved in a scrum. I liked this, only because the Russian looked like he was scared of contact earlier during the game – but he redeemed himself here. The little things!
We remained 1-0, good guys, after twenty minutes played.
Here's what I said at the time:
1-0, GOOD GUYS, after 20. 1P Thoughts:
— Huge monkey off the back for Kravtsov – also glad he didn't celebrate like it was G7 of SCF.
— Igor a bit shaky but doing his job.
— SOG 9-9, Hits 8-8, FOs 12-11 Sens – but it feels like #NYR are getting dominated on d-zone draws
LGR

— BlueCollarBlueShirts (@NYCTheMiC) December 3, 2022
---
SECOND PERIOD:
Aside from a handful of games from this season; there's always one standard twenty-minute chunk of time where the Rangers completely check out. Tonight, the Blueshirts decided to take this second period off.
Prior to the middle frame starting, for some unknown reason, Sieve Vagistat, during his worthless intermission segment, told us about his fandom of Charles Manson. What's next, supporting Kanye West's ridiculous comments?
The Sens came out like gangbusters to start this period, as Igor had to stop Stutzle, Chabot and Batherson.
As we hit 16:13 remaining, the Rangers' fourth line had a good shift. Gauthier wrapped around Talbot's net and set up Schneider for a shot. As Blais was screening "THE GOALBUSTER," the returning Artem Zub cross-checked #91.
The Rangers' power-play was awful here and didn't register a shot on goal. $50M doesn't get you what it used to.
Once returned to full-strength; Igor made a pair of stops on Debrincat and Batherson with 13:15 remaining. At the time, the Sens were out-shooting the Rangers 8-1 in the period. Micheletti astutely asked, "what happened to the defense?"
Come 10:45 remaining, Kakko iced the puck – and wasn't happy about the call. This was one of the rare times that you noticed that #24 was in the line-up.
As we neared the half-way mark of the game/period; Kravtsov looped around the net and found Schneider – a somewhat lucky save for Talbot.
Down to 8:46 on the clock, Claude Giroux scored – or so we thought, as the former Flyer scored a rebound goal.
However, Gallant challenged this goal for offside – and won.
And as I always say whenever one of these pubic-hair offside goals are overturned – I hate this rule – whether it benefits or hurts the Rangers.
But yep – the rule is the rule – and as long as coaches can challenge goals whenever they think a player was a millimeter offside – they'll always challenge them – and win these challenges too.
Bottom line – instead of a tied 1-1 game, the Rangers caught a break here. It wouldn't last long.
With 7:56 on the clock (as in fifty seconds following the reversal); Trouba tripped Batherson. Twelve seconds later, and now on the power-play, Stutzle, while crashing the net with two other Senators, scored.
1-1, during a play where perhaps a whistle could've been blown. However, I am making an excuse here – although I've seen the officials blow their mouth apparatuses during similar plays.
With the second line back on the ice, Kravtsov almost had Chytil set-up for a tap-in goal. This was arguably the second assist #74 could've logged tonight.
As we hit 5:02 remaining, we had CAPTAIN vs CAPTAIN violence:
CAPTAINS BATTLE!

What a tilt between Tkachuk and Trouba 👊 pic.twitter.com/EfuKzPZTdk

— Sportsnet (@Sportsnet) December 3, 2022
---
No word if Mollie Walker gave "a shit" about this or not.
As far as this fight goes, this was a hell of a brawl. While no player won this tilt – every fan – and of both teams – won.
And here's another one of my tired talking points, especially to the clowns who hate fighting: every fan in the arena stands up and makes noise whenever dukes are thrown.
Less than three minutes later, Auston Watson and Barclay Goodrow participated in the second fight of the game.
Unlike the first round of fisticuffs between the two clubs; this fight was very underwhelming.
Trouba and Tkachuk threw bombs. Watson and Goodrow threw rabbit-jabs, where after being nearly bored to tears; the officials skated in and broke-up this stalemate.
The funny thing about these two fights that Mollie Walker doesn't give a shit about? There was nothing dirty or controversial that had taken place before the gloves were dropped. Instead, both teams were trying to find their next level following these two melees.
Now down to ninety seconds remaining; Blais caught "Trocheckitis" and hit the post.
1-1 after two periods, and in a game that the Rangers, and as always, let a bad team hang around in.
Here's what I said at the time:
1-1 after 40. 2P Thoughts:
— Wacky and long period. Nothing dirty or controversial happened prior to the two fights.
— SOG 20-15, Hits 16-15, FO's 26-21, all OTT
— Mika 33.3 at the dot – third game in a row
— #NYR just stopped playing D for a good ten plus minutes.
LGR

— BlueCollarBlueShirts (@NYCTheMiC) December 3, 2022
---
THIRD PERIOD:
It's late, I'm half in the bag and my eyelids are as heavy as the weight on Gallant's mind.
In other words, let's bullet-point the rest of this shit-show.
— During the intermission, Lindgren praised Trouba's fight and said it was "huge." Mollie Walker doesn't give a shit.
— Also during the intermission, Dave Maloney called the team lethargic and hoped the "old time hockey fights" would wake up this sorry sack of losers. (He didn't say "sorry sack of losers" verbatim, but he may as well have.)
— Pinto almost scored on the Sens' first shift – Fox broke it up.
— The Rangers' invisible top six, sans Kravtsov, was called out by Micheletti. That's how bad it was.
— At the 3:33 mark, Fox drew Stutzle for a slash. Thirty seconds later, and now on the power-play, Panarin lazily dumped a puck into the zone – a freshly baked turnover – which then allowed the Sens to kill an easy twenty seconds off of the clock.
— Down to forty seconds remaining on the power-play – Trocheck hit what felt like his 79566756567857865785th post of the season. Seriously, the union painters at M$G must love him – he gives them work on a daily basis.
— In what was really Trocheck's ninth iron of the season; following it, Kreider missed an empty net. As opposed to 48 hours prior – this time – this blown opportunity blew up in the Rangers' faces.
— After the failed man-advantage; with 13:57 remaining, deja vu struck. This time, Schneider shot a puck at Talbot. Instead of Hamonic blocking it; this time, it was Zub who ate rubber. With the puck loose, and after a miss by Kreider; Zibanejad scored.
— 2-1, GOOD GUYS, the third game (out of twenty-five), where Zibanejad has scored an even-strength goal.
— At the time, this thought overtook my mind – no lead is safe.
Here's how the Rangers failed to protect/extend this lead:
— Blais went wide.
— Kravtsov went wide.
— Kravtsov took his second o-zone penalty in as many games.
— The Rangers killed the penalty. Motte then scored with 7:18 remaining, but the Rangers soon won their second challenge of the game when it was ruled that the ex-Ranger pushed Shestyorkin's pad (and the puck) into the net. In other words, the Rangers were now 2-2 on video challenges.
— Chabot, following the goal reversal, then flubbed a point-blank shot.
— Miller and Trouba were re-united during crunch time – and then gave up the tying goal – even if it wasn't the end result of bad play.
— Talbot was pulled with 1:33 to go, following an Igor freeze, and where Sens' head coach, DJ Smith, didn't bother  to take his timeout after the stoppage.
— Kakko had a chance to put the game away. He didn't.
— With the extra skater on, and with 49 seconds to go; Chabot bombed a puck from the point. The puck then hit both captains, Trouba and Trocheck, and went past Igor. 2-2 – and with the air sucked out of M$G too.
2-2 at the end of regulation.
Here's what I said at the time:
2-2 after 60. 3P Thoughts:
— Against a non bottom-feeder, this would be a #NYR loss.
— SOG 34-25, Hits 26-23, FO's 36-34
— Another game without a 60 minute effort.
— I don't even know if I would say OTT stole a point – Rangers have been haphazard since 2P
LGR

— BlueCollarBlueShirts (@NYCTheMiC) December 3, 2022
---
OVERTIME:
Following some back-and-forth; with ninety seconds to go, Kreider had Zibanejad sprung for a breakaway.
No joke, Mika had all-day to score. He could've sat at a Japanese hibachi table and then enjoyed a sushi chef putting on a thirty-minute show. Instead, Mika decided not to deke and Talbot then made the best save of the game.
Right after Tablot made the denial, and with just 18 seconds remaining in overtime (and with everyone awaiting a shoot-out too); Brady Tkachuk, with Panarin feebly trying to slow the Sens' captain down (is it even worth putting him out there during 3 x 3 – his defensive deficiencies have burnt the team all season during these overtimes); beat Igor on a shot that perhaps the 2022 Vezina winner should've stopped.
3-2, bad guys.
3-2, bad guys, your final.
Simply stated – the Rangers have no killer instinct this season.
Whenever the first sight of adversity shows up, this team turtles.
Here's a pissed-off Gallant after the game:
---
To make things easier for me, here's the copy-and-paste version of what Gallant said, courtesy of Adam Rotter from https://nyrangersnews.com/2022/12/02/what-gerard-gallant-said-after-the-loss-in-ot/#more-195627:
"It wasn't good enough. We had two chances in OT, but we didn't play well enough to even be there, to be honest with you. We were fortunate to be 2-2, but, no, it wasn't good enough…., especially the first two periods."
Were you unhappy with the whole game, "The third period we were better at times, but, no, we just played, probably 15 minutes of the game we played well, the way we want to play and we were fortunate to be where we were at. Shesterkin made some great saves to keep us in it early."
You seemed to get momentum from Trouba's fight, "that was one spark and Goody tried to spark something up because we were pretty flat before that. That was pretty frustrating for our group. It's too bad that you have to have a couple of fights to get your team motivated to play hard, they just gotta play harder and start better and play better."
It seemed like you were controlling the first period, "I wouldn't say we controlled it. They weren't great either, I'd say. We had probably 15 good minutes of a 65-minute hockey game and that is not close to good enough for our group. We are coming in our building and just beat the team in Ottawa and played a decent game and come in and play like that tonight, after losing the last couple at home the way we did, it's not acceptable for our group."
Is there something to playing the same team twice, "No, nothing."
On the frustration level, "It's frustrating as a coach, I'll tell you that and I'm sure the players are frustrated, but we tried different things, we had a morning skate this morning, which we don't usually do, changed up a little bit to try and get some jump and it just looked like we were coming flat again."
On Kravtsov scoring, "it was a big goal, he buried a chance and that will be good for his confidence moving forward."
What is the message heading into tomorrow, "We better play better than we did tonight. You gotta get ready, it's back to back at home. No travel, it's easy, just get ready to play a good game tomorrow."
How would you assess the PP, "It looked pretty sloppy and then we had three great chances and hit two posts at the end of it. It wasn't as good as it usually is, but, again, we had scoring chances and turned a lot of pucks over with our entries and didn't get much done and then 30 seconds left on the PP they had three unbelievable chances….but we gotta score."
Is there a common thread between all the games you keep blowing at MSG, "No, tonight is different than those other games. Tonight was a team that, I thought, played better than we did tonight, obviously, but it was a 2-1 hockey game, so it was different than the games we lost to Jersey and Edmonton."
---
I will say, I did appreciate Gallant calling out his team – but this is all the same old shit.
Heck, if I ever do a book recapping this season, where I used "ONE GAME AT A TIME" as my title when doing so in regards to the 2021-22 season; "SAME OLD SHIT" may be the title when dissecting this 2022-23 campaign.
I don't want to fully explore this again, as I've already explained all of the following during the past two weeks on this site – but no, I don't think Gallant is getting fired, and no, I don't see Barry Trotz as the next coach of the Rangers.
Long story short – I believe all of this losing falls on the players – and not on Gallant.
Plus, the Islanders (Lou Lamoriello) would have to approve a Trotz interview – and I can't see the Isles trying to help the Rangers.
Furthermore, hiring a new coach would be Drury admitting his own failure.
I just don't see it.
---
An Original Six tilt on Saturday night awaits us next, at "The World's Most Expensive Arena," between the Blackhawks and Blueshirts.
I expect Patrick Kane to receive some cheers – but as previously mentioned on this site – why would he waive his NMC to join a team on the playoff brink?
Perhaps more likelier? He lands in Colorado.
Food for thought as I part with you? The Rangers are now 4-9 at home this season.
In addition, I also expect Halak in net against Chicago.
Back at it tomorrow night. I need to go to bed!
PLUGS TIME!
---
My first plug of tonight's blog – the mandatory plug for my book, "The New York Rangers Rink of Honor and the Rafters of Madison Square Garden."
As mentioned previously, the book is now available in hardcover, in paperback and in Kindle formats. To purchase a copy of the book, visit this link:
https://www.amazon.com/Rangers-Rafters-Madison-Square-Garden-ebook/dp/B09CM5N2WD
For those still looking for signed paperback versions of the book, I have re-ordered more copies. I now have a few signed copies for sale at $25 a pop (includes shipping price) through me directly. Here is all the information on that:
---
My four-volume set of books, "One Game at a Time – A Season to Remember," is a game-by-game recount of the Rangers 2021-22 campaign.
My second title as an author, "One Game at a Time – A Season to Remember," is now available in eBook, paperback and hardcover formats.
To obtain signed copies, visit: https://bluecollarblueshirts.com/onegamebook/
To purchase all four volumes on Amazon, visit: Amazon.com – "One Game at a Time."
---
"Tricks of the Trade – A Century-Long Journey Through Every Trade Made In New York Rangers' History," a four-volume set of books that meticulously covers every trade made in franchise history, is now on sale.
All four volumes of the title can be purchased on Amazon.com and are presented in three different formats – eBook, paperback and hardcover.
To purchase Volume I: Conn Smythe (1926) – Craig Patrick (1986), visit Amazon.com
To purchase Volume II: Phil Esposito (1986) – Neil Smith (2000), visit Amazon.com
To purchase Volume III: Glen Sather (2000-2015), visit Amazon.com
To purchase Volume IV: Jeff Gorton (2015) – Chris Drury (2022), visit Amazon.com
To purchase signed copies of all four volumes, visit https://bluecollarblueshirts.com/tricksofthetrade/
---
Here are my last few blogs, in case you missed them:
---
---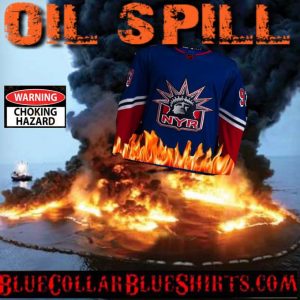 ---
If you haven't already, subscribe to this blog for the next update:
---
Don't forget to order my new four-volume set of books, "Tricks of the Trade!"
If you don't order through me, all four volumes are now available on Amazon.com
For more details, check out: https://bluecollarblueshirts.com/tricksofthetrade/
Thanks for reading.
LET'S GO RANGERS!
Sean McCaffrey
BULLSMC@aol.com
@NYCTHEMIC on the Tweeter machine