Greetings and salutations everyone and welcome to another blog here on BlueCollarBlueShirts.com. I'm back from California, where I'm still adjusting to the three hour time zone difference – and a difference of sixty degrees or more too! (I will also miss wearing shorts in the middle of the winter!)
As always is the case after a Rangers loss – the social media scene of Rangerstown, USA is currently a tire-fire. And it should be stated that no one in the Rangers front office (nor the players and coaching staff themselves), give a crap about that. That's why they get paid by the organization and we do not – they know better.
After all, as the old expression goes, "once you act like a fan, you will soon sit with them." There goes my chances of receiving a press credential! That's for the better anyway – I could never stay silent in a press box! (And I'm sure sucking down beers like they are going out of style is frowned upon too!)

Despite the Rangers overwhelming success this season; according to the people who think that analytics are the end-all, be-all – if a team doesn't finish 82-0, and doesn't post expected stat numbers that will have Steve Valiquette's eyes light up, just like opponents used to light him up whenever he tended net for the Rangers – then the season is a waste.
(And after that run-on sentence, there's no chance of receiving a press credential now!)
The most ironic thing about the ANALytic community being all up-in-arms about the Rangers – you know, the second-best squad in the Metropolitan Division and a top ten team of the league all season long? Here's the answer:
It were these same jackals, who predicted doom and gloom for the Rangers during the off-season, during the preseason, at the start of the regular season and still to this very day. It's why these bozos pounce like a lion on a piece of raw meat whenever the Rangers lose a game. They'd rather celebrate a loss than being proved wrong after a win – wins that the Rangers have a lot of this season. SAD!
(And did I mention that this most recent "SKY IS FALLING" overreaction followed a game that the Rangers lost without their head coach behind the bench, and about half of their regulars missing from the line-up too? For these people, they subscribe to the motto of "never let the truth get in the way of a good story!")
And oh yeah, as mentioned on past blogs, I'm still waiting for these things to happen:
— An NHL team to finish a season as undefeated.
— An NHL player, head coach and/or general manager to thank their analytical department after a win, whether it be a regular season win or a Stanley Cup victory.
I won't hold my breath waiting!
---
Before getting into all of the Rangers news from these past two off-days, just a few more thoughts about my time out west.
I had a few people asking me, "what are your favorite three NHL arenas/cities, and your least three favorite NHL arenas/cities?"
It should be stated that I've been to 23 different NHL arenas and cities, and some cities/arenas multiple times at that. The places I haven't been to yet are Buffalo, Washington, Columbus, Pittsburgh, Minnesota, Winnipeg, Dallas, San Jose and Vancouver.
I say this only to say that what I'm about to say next is only from my own experiences, as I haven't been to every NHL city/arena – yet. One day, hopefully sooner than later – I'll be able to talk about all of the 32 NHL cities/arenas from a first-hand perspective.
(For what it's worth, I have been to both Washington and Minnesota, but never attended games there. I also should've had Buffalo and Pittsburgh crossed off of my road-trip bucket list too, but that whole pesky COVID-19 thing took place in March of 2020, just two weeks before I was supposed to visit both cities.)
As far as my three favorite NHL cities and arenas, those places are Montreal, Las Vegas and Tampa. I also have to give a tip of the cap to Nashville too, another city that's a great place to see a game. (And the nightlife there ain't too shabby neither!)
Three cities that I have no plans on ever returning to are Seattle, Los Angeles and Sunrise (Panthers).
When it comes to the arenas (and not the cities themselves) that do it the best, and provide the best fan experience as well – those three places are Las Vegas, Montreal, and ugh, the IBS Arena in Belmont.
The three worst arenas, when it comes to the overall fan experience, are Los Angeles, Sunrise and yep, you guessed it – Madison $quare Garden.
(And yes, all of this is from my own experiences and are just opinions. You're entitled to feel differently than me!)
---
As far as my most recent particular trip to Vegas, Anaheim and Los Angeles goes; obviously the most fun was had in Vegas. That's self-explanatory. Also self-explanatory? I blew the majority of my trip money in Vegas too. (That damn Wheel of Fortune slot machine!)
From day one, the Vegas Golden Knights have done everything right by their fans. That can't be debated.
And as mentioned on previous blogs, I think the tragedy in the city during their inaugural year also helped to unite and bond the fan base even more so with the franchise. Going all the way to the Stanley Cup Final didn't hurt either.
When I look at an NHL arena, and perhaps this is the "Larry David" in me, I examine two things first – the size of the upper-rotunda and the bathroom scene.
Unlike M$G, where the 200s/400s rotunda at intermission looks like herd of zombies straight out of "The Walking Dead," most NHL arenas have spacious upper decks. You can walk around freely without bumping into anyone – which is probably an even bigger thing to consider during this "Era of 'Cron."
Also unlike M$G, these arenas have plenty of bathrooms, which is absolutely crucial during intermission.
Rather than spending the entire intermission trying to squirt out a beer (where in some cases, you may miss some of the game too), arenas away from M$G have plenty of bathrooms – where you'll spend five minutes tops, from the time you stand in line, to the time when you zip up. This is the straight dope you won't find anywhere else!
---
While Vegas remains one of my all-time favorite cities and arenas to visit; I thought the Honda Center in Anaheim was nice. It reminded me of what the Nassau Coliseum could've been, had anyone put any "TLC" into it.
The home of the Ducks, while smaller than other arenas, still provides spacious rotundas and more importantly – is clean and pristine. Perhaps a reason for the cleanliness is because not many fans fill up the seats inside of the venue. In other words, the Ducks don't need to put much money into maintenance!
Thirty minutes away in Los Angeles, and as somewhat expected, the new Crypto Whatever Arena is more of an NBA venue than a true NHL home. That's understandable, since the arena houses two NBA teams, where the LA Lakers (as opposed to the Clippers) receive top billing.
When it comes to the two cities themselves, Anaheim is more like a Long Island or a Connecticut, when compared to the dirty and drug-filled streets of Los Angeles; streets that pretty much were the equivalent of the blocks (and Penn Station) surrounding Madison $quare Garden. I suppose that's why Disney has a park in Anaheim, rather than in the more populated city of Los Angeles.
I've been to Vegas twice now to see the Rangers. I would 100% go back again, and as I plan on doing – as seeing the Rangers in "Sin City" is now a yearly trip for my friends and I.
I would go back to Anaheim, but I wouldn't go out of my way to do so. I would never go back to Los Angeles, as I'm satisfied with my one-and-done bucket list experience there.
If there's anything that I'm hoping for, is that whether it's next season, or a season in the future – the Rangers play San Jose and Vegas in back-to-back games. In that event, then I can cross San Jose off of my list and enjoy Vegas too, as I have no future plans of ever going back to the LA/Anaheim area again.
That about wraps up the "diary" version of this blog. Let's now get into the Rangers themselves – a team, like every other team in the league right now, which continues to make news every day. (Screw you omicron!)
---
On Tuesday morning, following Monday's 3-1 loss to the Kings, the Rangers made several roster transactions. The two biggest moves saw Braden Schneider joining the team, while Nils Lundkvist packed his bags and moved to Hartford.
Before getting into everything, here's the Rangers official press release on these transactions, courtesy of: https://www.nhl.com/rangers/news/rangers-recall-defenseman-braden-schneider-from-hartford/c-329676922?icmp=int_web_nyr_news_rightrail
New York Rangers President and General Manager Chris Drury announced today that the team has recalled defenseman Braden Schneider from the Hartford Wolf Pack of the American Hockey League (AHL) and promoted him to the active roster.
Defensemen Nils Lundkvist and Tarmo Reunanen as well as goaltender Tyler Wall have been re-assigned to Hartford.

Schneider, 20, has skated in 24 games for the Wolf Pack this season, registering nine assists/points and a plus-6 rating. He ranks third among Wolf Pack defensemen in assists, points, and plus/minus.

The 6-2, 202-pounder has totaled 10 assists/points over 26 career games in the AHL and a plus-8 rating. He made his AHL/professional hockey debut on Feb. 7, 2021, and he tallied his first career AHL/professional hockey league assist/point on Feb. 11, 2021.
A Prince Albert, Saskatchewan native, Schneider played parts of five seasons for the Brandon Wheat Kings of the Western Hockey League (WHL), where he served as captain in 2020-21 and assistant captain from 2018-19 – 2019-20. Schneider registered 21 goals and 94 assists for 115 points in 207 career games with Brandon and had a plus-50 rating. In 2020-21, he was awarded the Bill Hunter Trophy, given to the WHL's top defenseman.

In 2019-20, Schneider was selected to the WHL Eastern Conference's First All-Star Team, and he established WHL career-high in several categories, including assists (35) and points (42). That season, Schneider ranked first among all WHL draft eligible defensemen in assist and points and was named the winner of Brandon's Mike Adamski Hardest Working Player Award.

Internationally, Schneider has represented Canada in several tournaments. Most recently, he helped Canada win on a gold medal at the 2021 IIHF World Championship, where he posted one assist in nine games. Schneider helped Canada earn a silver medal at the 2021 IIHF World Junior Championship, as he registered three points (one goal, two assists) and a plus-eight rating in six games in the tournament. He also helped Canada win a gold medal at the 2018 Hlinka Gretzky Cup, and he was named one of the Top Three Players on his Team while representing Canada at the 2019 IIHF U18 World Championship, as he recorded three points (two goals, one assist) and a plus-nine rating in seven games. Schneider also served as the captain for Canada-White at the 2017 World U17 Hockey Challenge.

Schneider was selected by the Rangers in the first round, 19th overall, of the 2020 NHL Entry Draft.

---

Schneider is already with the team in San Jose, where he took his first NHL practice on Wednesday, January 12th. Photo Credit: NYR
As mentioned about 8976786786789678967896 times before on this site; for whatever reason, the analytical and glass half-empty fans seem to spend 99% of their time criticizing the team over 12th/13th forwards and/or 6th/7th defensemen.
Sacrilege to these folks are any comments addressing that Kakko and Lafreniere haven't broken out just yet (and I've explained why in the past), Panarin looking rusty on Monday, Filip Chytil looking lost, Zibanejad's early struggles and that K'Andre Miller has regressed tremendously from his first few games from last season. Instead of talking about the big name players, and the players who get a ton of ice time – the bulk of their focus is on the Rangers fourth line and third pair defensemen. Ludicrous.
And spoiler alert: Braden Schneider is not a player for the analytical folk. He's my type of player – a beer and pretzels eye-test type, where his strong suit (and as he's said himself) is as a defensive defenseman – and not as a player who will chase for the offensive-oriented Norris Trophy.
There's so much to break down here with all of this news, so let's address everyone involved, while saving Schneider, the main event of these transactions, for last.
Up first, Nils Lundkvist.
---
Unlike others, I take no satisfaction in being correct over a negative prediction. That said, when Nils Lundkvist first signed with the organization (and just check the archives of this site for proof), I said I thought he should've got his feet wet in Hartford first.
My thoughts on Lundkvist's arrival to North America weren't rooted in rocket science. Far from it.
All anyone had to do was take one look at Kaapo Kakko, another European native, and the trials and tribulations he's gone through. Even now, in his third season, Kakko's biggest strength comes from the defensive end of the puck, which is not what anyone imagined nearly three years ago. It's also why people celebrate like it's New Year's Eve whenever Kakko puts a puck into the net.
At this point in time, Kakko is no offensive wonder-kid, and needless to say, the Rangers didn't draft him #2 overall in 2019 to become the second coming of Jan Erixon, much less Jesper Fast.
This isn't to write Kakko off or anything like that; but as talked about before on this site, with his ELC soon to set to expire, what the Rangers do in the off-season with him will be interesting. If there's anything I'm 100% certain about, it's that he WON'T be getting a similar contract from the Rangers, as the #1 overall pick of that 2019 NHL Entry Draft, Jack Hughes, received from the New Jersey Devils.
I don't want to keep playing my "Greatest Hits" here; but as talked about many months ago, put yourself in the shoes of one of these overseas kids, whether they be of European or Russian descent. These guys grow up not dreaming of the Stanley Cup, but either winning a gold medal for their country or the championship of the league they grew up watching. The NHL, and the North American game in general (whether it be the AHL, ECHL or one of the minor leagues in Canada), is completely different from both the European and Russian leagues and game.
Not only do these kids have to learn a new brand of hockey (and let's not forget that some of these kids don't speak English either), they have to leave their families and friends too. Once making the trip over the pond, while hockey is the focus – they must also acclimate and get accustomed to a new country, surroundings and a way of life.
For an example (and assuming you're a North American like me), how would an eighteen year old version of yourself do if you were just thrown into Russia out of the blue?
Just like Kakko (who I talked about in-depth a few blogs back), I don't think Nils Lundkvist is a "bust" or anything even remotely as dire as that. He is undergoing a transition period, where from day one, I thought he had tough circumstances to overcome, as he was thrown directly into the fire at the NHL level, rather than learning the game at the AHL level – an AHL level where he's now at today, and presumably, for the remainder of the season. (Barring anymore "Big Homie Omi" outbreaks.)
---
I don't want to go on another diatribe about Tony DeAngelo again; but one of the reasons, if not the biggest, for Lundkvist's immediate placement in the Rangers line-up, was because of the now former #77 in blue.
Even prior to the DeAngelo drama, Lundkvist was a Rangers draft pick, who many compared to DeAngelo, since both defensemen are more known for their offense than their defense. Similar to DeAngelo with the Rangers; over in Sweden, Lundkvist was once the quarterback of his team's power-play too.
Once the DeAngelo stuff went down, the Rangers needed someone to replace his production. This opened the door for Lundkvist, who many thought could slip right in and do what DeAngelo once did. That hasn't been the case just yet, and that's through no fault of Lundkvist's own either. After all, it took DeAngelo a few seasons to get where he's at today, where he's still racking up the points this season, over in Carolina.
Had the DeAngelo situation never taken place (an unnecessary issue created by former general manager Jeff Gorton himself), the Rangers most likely would've let DeAngelo fulfill the rest of his contract with the team. In the meanwhile, Lundkvist could've played significant minutes in Hartford, where he would've grown comfortable with this new style of hockey. Then, if the Rangers thought DeAngelo was too expensive, they could've either traded him or just let him walk, with a ready-and-able Lundkvist waiting in the wings.
(And yes, we all know that the DeAngelo situation was one of the worst cases of asset management in all of Rangers history. I think I may have talked about this once or 78678796785789578956 times before!)
In reality, the DeAngelo stuff did happen and Lundkvist was then forced right into a role, and perhaps not one that was best for his development. After all, playing third pair minutes, where he's rarely getting power-play time either – isn't the best learning experience possible.
To me, I can very easily envision Lundkvist finishing out the rest of the regular season in Hartford. I say this because why else would the Rangers issue a major press release about these transactions?
And as talked about many times before (I use this phrase a lot, don't I?), with Zac Jones now up, you can't play both of them. Heck, Jones might not even get time now, as the Rangers have a clog of defensemen in their current ranks – more on this in a bit.
Rather than Lundkvist struggling at the NHL level all-season, the Rangers are now fixing a preseason mistake. After all, we all know that Jones had the better preseason than Lundkvist, but since the Swede was imported over, and with the Rangers looking to rectify the DeAngelo debacle – Lundkvist was given the keys instead. This was always a "Hail Mary" type of deal and a deal that wasn't particularly fair to Lundkvist either.
---
When it comes to defenseman Tarmo Reunanen and goalie Tyler Wall, who were also sent back to Hartford on Tuesday; this was always going to be the case once the omicron-impacted Rangers recovered. There's no place on the NHL roster for either one of them right now.
Obviously, with Shestyorkin and Georgiev playing well (and Kinkaid too), Wall won't see a minute of NHL action this season, unless some sort of GHOSTBUSTERS COVID variant breaks out. Wall's best opportunity to play may occur next season, where presumably, Georgiev is starting in net elsewhere. Even then, Wall may be another season or two away from backing up CZAR IGOR.
Defensemen-wise, we all know the story. Adam Fox, Ryan Lindgren and Jacob Trouba are locks. Their spots are guaranteed, and rightfully so.
K'Andre Miller, who is struggling right now, also seems to have his spot sewn up, despite not looking much better than Lundkvist and the other third pair guys himself.
When it comes to the third pair of Rangers defensemen, the Rangers have skated Jarred Tinordi, Patrik Nemeth, Zac Jones, Libor Hajek and the previously mentioned Nils Lundkvist himself.
Gallant's Gang haven't been able to find a steady third pair just yet. And to be fair, that's really not on Drury and Gallant either, because in the salary cap era, you will always have one weakness. Plus, how many NHL teams have a regular starting six of d-men, night-in and night-out? The answer – not many.
With Braden Schneider now here, and where I assume he will be playing in San Jose and beyond (unless he has a complete nightmare of a showing on Thursday night, which I don't expect), the Rangers are exploring their options.
An NHL roster is a numbers game. You can't play everyone.
Again, as talked about 8767867867896789678967896 times before, the Rangers could use a centerman (see ya Chytil), help for the top six (which has been case since the Blais/Slewban incident) and a veteran defenseman.
By trying out all of these players on the third pair, I think Drury is now assessing what he has, as he prepares for the trade deadline. He just has too many defensemen right now, where some of them don't seem to have long-term futures with this club.
And if Lundkvist is now out of the equation, and forever as long as that may be (where he himself could perhaps even be traded too) – that hurts the stock of Nemeth, who was only signed in the first place as a "Swedish Babysitter" for #27. (I still maintain that the Rangers should've re-signed Brendan Smith for 1/3rd of the price, rather than signing Nemeth. However, Smith isn't Swedish and that was that, despite Smith's positive influence as a mentor for Kakko.)
Let's now get back into Schneider.
---
As mentioned earlier, I think Schneider is here not only for San Jose, but for the next few games and perhaps beyond. There's no reason to call him up otherwise, much less issue a full-blown press release about the call-up.
Based on what we've seen and heard out of both Drury and Gallant since their arrivals; these two prefer a physical and big boy team. Schneider checks these boxes, where the only thing right now he's lacking is experience – something he'll soon receive.
Jones, Lundkvist and to a lesser extent Libor Hajek, don't check those boxes. While Tinordi and Nemeth do (which is probably why they were paired up together last game, where for all the hate they get from the analytical assholes – Miller was much worse than them), I don't see the Rangers entering the playoffs, much less past the trade deadline, with these two as the featured players of the Rangers third d-pair. In fact, we may never see them teamed up together ever again.
Very often, especially with playoff-bound teams, NHL squads get an injection of positivity after a call-up of a young player. We've seen this time-and-time again, and if things go right, perhaps Schneider will be that guy.
If there's anything I don't like, although I do enjoy the passion and positive vibes, is that many Ranger fans (and media members) are setting insane and lofty expectations on Schneider, a player who hasn't even played an NHL game yet.
And I can tell you that all of these young players do check social media. It's all they've ever known in life. To have to read these expectations has to feel daunting and overwhelming.
While I'm rooting for Schneider to do well in his debut (and beyond), I also understand that this is a huge moment in his life, and a whirlwind period of time too.
After all, just listen to Schneider for yourself, as he spoke to the Rangers media on Wednesday afternoon:
---
I thought Schneider gave a a superb interview. For a twenty year-old, he sounded like a true pro.
Again, just imagine yourself at twenty years old, and now imagine being tasked with having to give an NHL club a spark. Then, to add to the pressure, just imagine if your immediate future was on the line too.
If Schneider does well, it's an NHL paycheck for him for the rest of the season, and fingers-crossed, for the remainder of his pro career. If he struggles out of the gate, it could be a demotion to Hartford and a longer career-path to the NHL. And if you're not aware, and as any pro can tell you – an NHL paycheck is vastly different, and I mean vastly, than an AHL paycheck.
For Schneider, and as I'm sure the Rangers coaching staff and players like Chris Kreider, Jacob Trouba and Mika Zibanejad will tell him – take a deep breath, try to enjoy it, don't change your game and most importantly – try to relax.
From how Schneider spoke on Wednesday, he seemed even-keeled, although once getting back to his hotel room, I'm sure his mind was racing around with the energy of 78678678696 Kenyans during the NYC Marathon Race. I'm sure his own parents must be beaming as well, as they try to settle him down too. And really, how can anyone blame Schneider if he's overcome with emotion and giddiness right now? We all would be if we were in the same situation.
For Schneider, who says he tries to model his game after Shea Weber (even if he doesn't possess the same power behind his slap shot); the latest "new toy" of the Rangers defense will try to impose Blueshirt opponents with his power and physicality – two traits that Gallant and Drury want to see on display.
What may help Schneider, at least for the interim, is that he will make his debut under the only professional coach he's ever known – Kris Knoblauch.
Speaking of, here's the temporary Rangers bench boss from Wednesday:
---
Like Schneider, and really, like most of these guys; I thought Knoblauch gave a good interview – even if much wasn't said. After all, he's only here to do whatever Gallant tells him to do and he isn't going to rock the boat.
What Knoblauch said, and what I have felt all season too, is that the Rangers usually respond and rebound well after bad losses. Even with the omicron nonsense, I don't imagine the Rangers losing to San Jose – a fact that JB Smoove will probably mention 7867868374963478963789637846348 million times during Thursday night's broadcast – especially with sports gambling now legal in New York. (A topic for another time.)
As far as who Schneider teams up with tomorrow, I don't think it will be Zac Jones, as I think the Rangers would want a veteran there with him. More likelier than Jones is Nemeth or Tinordi, where I think the Rangers feel safer with the former than the latter. I suppose Hajek could be an option too, but even then, I still think the Rangers have Nemeth slotted higher on the depth chart.
If there's anything I want to stress here, it's this – GOOD LUCK SCHNEIDER, and for the fans, keep your expectations realistic! Good game or bad game, that's all it is – "a game," and only one at that.
---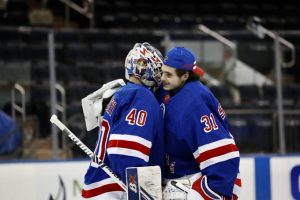 As far as anything else, as I'm not going to feign hysteria after only one loss like everyone else; CZAR IGOR remains on the runny nose list and did not practice on Thursday. Georgiev and Kinkaid did, with "The Bulgarian Beast" leaving the ice first. That tells us that he will most likely get his fifth straight game in net in San Jose on Thursday. Hopefully, CZAR IGOR will be back for Philly on Saturday.
Lastly, before going to the PLUGS segment, my triple vaccinated friend, BORGATA RAY, tested positive for the omicron on Wednesday, our first full day back from the west coast. Yours truly, and my other road-trip friend, TEN O'CLOCK TOMMY, tested negative.
All three of us feel fine, but since I was around someone who has tested positive, I guess I won't be going to Philly on Saturday as I originally intended. Instead, I'll use more of this time at home to work on book number two and three! (Then again, TEN O'CLOCK TOMMY does have a penchant for cheesesteaks…)
PLUGS time!
---
On Monday, prior to the start of the Kings/Rangers game, "The Blueshirt Undergound Show" returned. To watch their near two-hour episode, click the play button below:
---
On Wednesday morning, our pals over at "2 Guys 1 Cup" returned with their latest episode. To listen to Shawn and Roc talk puck, click the link below:
Episode 31 is up! #NYR https://t.co/CSF4LXzNO0

— 2 Guys 1 Cup Podcast (@2G1CRangers) January 12, 2022
---
The first plug of tonight's blog – the mandatory plug for my new book, "The New York Rangers Rink of Honor and the Rafters of Madison Square Garden".
As mentioned previously, the book is now available in hardcover, in paperback and in Kindle formats. To purchase a copy of the book, visit this link:
https://www.amazon.com/Rangers-Rafters-Madison-Square-Garden-ebook/dp/B09CM5N2WD
For those still looking for signed paperback versions of the book, I have re-ordered more copies. I now have 4 signed copies for sale at $25 a pop (includes shipping price) through me directly. Here is all the information on that:
---
Here are my last few blogs, in case you missed them:
---

---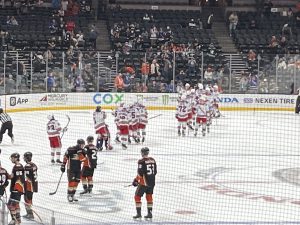 ---
---
If you haven't already, subscribe to this blog for the next update:
---
Up next: the Rangers look to knock off Jaws and company at the Shark Tank. After that, the Rangers finish up their longest road-trip of the season in Philadelphia on Saturday.
As always here, thanks for reading and…
LET'S GO RANGERS!
Sean McCaffrey
BULLSMC@aol.com
@NYCTHEMIC on Tweeter