Greetings and salutations everyone and welcome to another blog here on BlueCollarBlueShirts.com. Horrendous – including my $300 bet on this game!
As mentioned earlier this week (and during the past few weeks as well); I'm in Vegas right now and fingers crossed, and omicron be damned too – plan on attending the next two Ranger games, as the Blueshirts now head to California to play both the Ducks and the Kings.
(Also of note: I posted a photo gallery blog of my time in Vegas, which you can view here: https://bluecollarblueshirts.com/nyrvegastrip22/)
It should also be mentioned that it's extremely late as I type these words, I may have had a few vodkas, I have a four hour drive ahead of me, and I'm also concerned about Saturday night's Rangers/Ducks game being postponed.
And for the life of me, can someone please explain to me why the NHL is postponing a Ducks game (as they did on Thursday, against the Red Wings), after four positive (and which could be false too) COVID tests? What's the point of taxi squads if you're going to postpone games after every fart and cough anyway?
And, please, get well soon ex-Ranger Vinni Lettieri! (Lettieri was one of the Ducks with a case of the snot rockets.)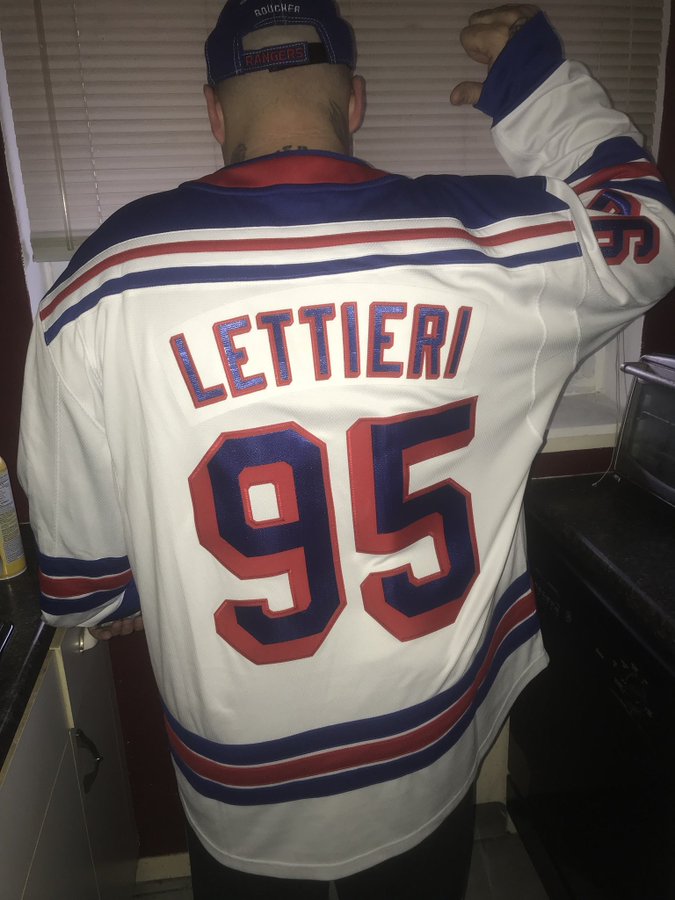 This is going to be a much shorter blog than usual, extremely short at that, as I'm pressed for time, on vacation and typing this up on a laptop that's older than Sam Rosen himself.
(And not for nothing, that loser Steve Valiquette returned to the M$GN tonight, and look what happened – the Rangers winning streak was snapped with the seven-foot analytical asshole back at the desk.)
Some pregame notes at this time, if you will.
Up first, on Wednesday, the two returning Rangers, Ryan Reaves and Gerard Gallant, met with the media.
Let's start off with Ryan Reaves, who said the following to the messenger pigeons:
"It's a little bit weird driving by my house on the bus."
Reaves later on went to say that he still lives in Vegas and plans on living in "Sin City" once retired from his days as an active NHLer.
Here's #75 from Wednesday:
---
Rangers head coach, Gerard Gallant, also talked about his return to Vegas on Wednesday. Here's his press conference:
---
Of note, both Gallant and Reaves said that the Rangers couldn't enjoy Vegas on this go-around, due to <cue eerie music> OMICRON!
From what I heard, the Rangers originally planned to stay at a high-end casino on the strip (either the Aria or Cosmopolitan), but plans changed due to the bullshit flu test. Instead of being able to enjoy Vegas, the team was forced to stay cooped up at a hotel off of the strip.
Also of note, since the Rangers were dealing with the fake flu, that meant they didn't have to deal with the "Vegas Flu" on this trip. (For those who don't know, the "Vegas Flu" means partying in Vegas.)
Vegas Flu, omicron, or whatever; it didn't matter, as the Rangers still found a way to get their asses handed to themselves anyway.
---
Going into this game, Gallant made mention that Vegas was the only team that he hadn't beaten while as a coach in the NHL. He'll now have to wait until next season, in order to get a win over all 32 NHL franchises. (As a result of this 5-1 loss, the Rangers finish 0-1-1 against the Knights this season.)
At 6:28PM PST, just two minutes before puck drop; it was announced that CZAR IGOR, akin to his Russian comrade Artemi Panarin, tested positive for a runny nose. In turn, Georgiev was tabbed as the starter for this game, as the Rangers entered this contest without their best forward and starting goaltender.
(And quick FYI: despite the 5-1 final, you can't pin this loss on the goaltender. The Rangers never made a showing in this game at all.)
With two significant pieces out of his line-up, here's what Gallant went with:
FIRST LINE: Kreider/Mika/Kakko (Kakko looked lost tonight; Kreider got the lone NYR goal of the game)
SECOND LINE: Lafreniere/Strome/Goodrow (Not good enough)
THIRD LINE: Hunt/Chytil/Gauthier (HORRIBLE)
FOURTH LINE: Rooney/McKegg/Reaves (started the game due to Reaves' history with the Knights.)
FIRST D-PAIR: Lindgren/Fox
SECOND D-PAIR: Miller/Trouba
THIRD D-PAIR: Hajek/Jones (Lundkvist rode the pine for another game)
And in net, Alexandar Georgiev
---
While this has nothing to do with anything; prior to this game, I was 4-0 when watching the Rangers on the road this season. Now I'm 4-1, as a result of the Rangers dropping a 5-1 decision to the Vegas Golden Knights on Thursday night.
This game was pretty much horrible from puck drop to the final horn, as the Rangers offense couldn't get much of anything going.
The Rangers were out-shot 35-19 in this game and never really sustained much o-zone time throughout the sixty minutes of regulation.
And as the story goes, and as I've been saying on this site all season – "SPECIAL TEAMS SWING GAMES."
The Rangers had a chance to jump up 1-0 with five minutes remaining in the first period, but after a power-play that did everything but score; the Blueshirts took a penalty late in the first period (a Lindgren trip on Stephenson), and Vegas immediately scored thereafter.
And of course, a former product of the Rangers system, Jonathan Marchessault, scored the power-play goal to put the Knights up 1-0.
Down 1-0 after twenty minutes, the Rangers got a goal out of Chris Kreider, his 21st of the season, which tied the game at 1-1. However, that would be it for the Rangers.
Mark Stone and Mattias Jamark (and after Georgiev made a bevy of huge saves), would score later on in the second period to give the home team a 3-1 lead after forty minutes.
A dismal third period performance out of the Rangers in the final stanza resulted in two more goals for the Knights, as both Brett Howden (who else) and Marchessault (two goals tonight) scored.
Howden, who had his best game of the season against the Rangers on 12/17; scored 2:11 into the third period, to put his team up 4-1.
The game, which was now pretty much over at this point at 4-1; saw Marchessault add the cherry on top at the 12:59 mark, which then gave his team a commanding 5-1 lead – and a 5-1 score which held up as the final score.
---
Again, I'm not going as long as usual here, since I'm on the road, this game sucked and because my laptop blows more than this game itself.
After Georgiev stopped 10 of 11 shots in a first period, the Knights claimed a 1-0 lead after their power-play goal.
Kreider's early second period goal created hope, but that would soon be dashed, as the Rangers pretty much played sloppy for the remainder of the game and couldn't generate any offense whatsoever.
The bulk of this game felt like one huge tourniquet on the Rangers, as the pressure was constantly applied on them. During the rare moments when they did have the puck – they looked just as lost as a tourist when attempting to navigate the Vegas strip.
Not encouraging was the fact that the Rangers, who only put two shots on goal during a third period on this same Vegas team from 12/17; finished with only four third period shots on goal in this game – and where all of these shots on goal came with the victor of this game having already been long decided.
If there's anything else good to talk about tonight, it's that Vegas did a wonderful job in honoring both the returning Ryan Reaves and Gerard Gallant. Check my Twitter page (@NYCTHEMIC) for those tribute videos.
This game was a disaster for the Rangers.
They never looked like a formidable opponent during any point in this game. I know that both Panarin and Shestyorkin were out with the sniffles, but even so – the Rangers are much better than this. This has to be upsetting for both Reaves and Gallant.
I have to cut this blog short since time is an issue tonight, but for the Rangers, they need to forget about this game, and move on – and also hope for no COVID interference as well.
PLUGS time!
---
Up first, our buddies at "2 Guys 1 Cup" returned late Tuesday night/early Wednesday morning, with a brand new episode that ran just a tad over two hours. To listen to Shawn and Roc talk NYR puck, check out:
Episode 30- New Year, New Line? Is available now wherever you get your podcasts. #NYR #HockeyTwitter #podcast

— 2 Guys 1 Cup Podcast (@2G1CRangers) January 5, 2022
---
---
The first plug of tonight's blog – the mandatory plug for my new book, "The New York Rangers Rink of Honor and the Rafters of Madison Square Garden".
As mentioned previously, the book is now available in hardcover, in paperback and in Kindle formats. To purchase a copy of the book, visit this link:
https://www.amazon.com/Rangers-Rafters-Madison-Square-Garden-ebook/dp/B09CM5N2WD
For those still looking for signed paperback versions of the book, I have re-ordered more copies. I now have 14 signed copies for sale at $25 a pop (includes shipping price) through me directly. Here is all the information on that:
---
Here are my last few blogs, in case you missed them:
---
---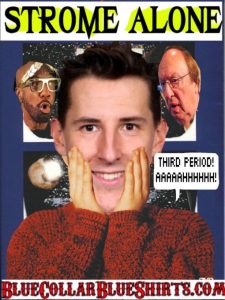 ---
If you haven't already, subscribe to this blog for the next update:
---
Up next: The Rangers head to Anaheim to play the Ducks, hockey gods be willing. Screw COVID – live you life, and stop cowering!
And one last time, why do we have taxi squads if the NHL is going to postpone games anyway?
---
I should be back Saturday night, with a better recap (more details) than this one.
After all there will be no "Vegas" element interfering with that write-up and more importantly – the Rangers will hopefully put on a performance that's worth writing about – which was not the case in Vegas.
I'm now off to California, where my buddy Borgata Ray will be manning the wheel, as we take this epic drive out west.
As always here, thanks for reading and…
LET'S GO RANGERS!
Sean McCaffrey
BULLSMC@aol.com
@NYCTHEMIC on Tweeter