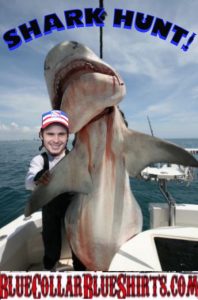 Greetings and salutations everyone and welcome to another blog here on BlueCollarBlueShirts.com. The first place New York Rangers do it again!
(Of note: I covered all of the Ranger news from the last two-off days already, including the major news regarding the call-up of Braden Schneider and the Hartford demotion of Nils Lundkvist. You can find that blog here: https://bluecollarblueshirts.com/11321/)
On a night where the Rangers lost another player to the head cold list (this time Alexis Lafreniere); a star Ranger returned, as CZAR IGOR, without even a full practice under his belt, reclaimed the Rangers net and then logged a 37 save shutout for the Blueshirts. Incredible – or should I add the word "InKREIDible" at this time too?
If that wasn't enough for you; the twenty year old Braden Schneider, in his NHL debut, not only was a stud defensively in this game, but for shits-and-kicks – he scored a goal too. (He also helped the Rangers to get off of the "schneid" as well – har, har, har!)
And I haven't even mentioned that Chris Kreider (two goals) and Adam Fox (one assist), who were named to the All Star team on Thursday evening – also had tremendous games, where they both earned their All-Star distinctions.
But wait, there's more.
Despite the Rangers being ravaged by the NHL's wet fart list (including the head coach); the members of the Hartford Wolfpack, now with the familiar diagonal R-A-N-G-E-R-S letters on their chest, all played like they belonged – including newcomer Anthony Greco, who played tonight due to Lafreniere's current status on the NHL's snot-rocket list.
And oh yeah, there's this: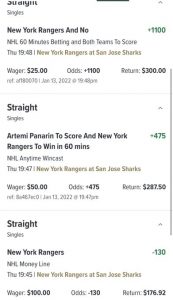 More important than everything I've already mentioned? This:
And just to think (and as mentioned last blog), the ANALytical LOSERS, yes LOSERS, were crying about the Rangers after their 3-1 loss to the Kings – a loss where the Rangers were missing half of their team and their head coach too.
No joke, following the loss to the Kings, and prior to tonight's game – there were about 786786789678967896789 different articles and social media postings, with titles such as "HOW TO FIX THE RANGERS" and "WHO THE RANGERS SHOULD TRADE FOR RIGHT THIS SECOND!"
Yes, this is only one game, but as you'll soon see below – both Kris Knoblauch and I felt the same thing on Thursday afternoon – the Rangers always respond well after bad losses. They rebounded once again in San Jose, where of course, this was the one road game in California that I skipped out on! There's always next season!
DIARY TIME!
I must confess – I'm extremely giddy right now, and perhaps a bit tuned up too.
As mentioned last blog, one of my road trip buddies, BORGATA RAY, has been 'Cronned. In turn, my neighbor/good friend/fellow road-tripper, TEN O'CLOCK TOMMY, and I are forced to quarantine.
Despite testing negative ourselves; we aren't allowed to go back to work right now. However, we turned this "negative" into a "positive," by watching hockey and drinking Tito's vodka all night long. This game-plan worked out for us – and adding a few bucks to our pockets wasn't a bad thing either!
Also of note? I live in a condo. My downstairs neighbor wasn't too thrilled about TEN O'CLOCK TOMMY and I celebrating this 1AM win like a bunch of college-aged drunks during a night out on the town on Thanksgiving Eve!
THAT CONCLUDES THE DIARY SEGMENT FOR TONIGHT'S BLOG!
---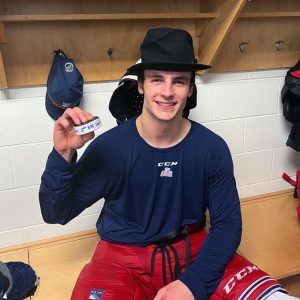 There's so much POSITIVITY (both Rangers and COVID related) to get into tonight, despite whatever the analytical bozos are preaching. Let's start with the news first and then work our way into the game review. Sound good to you? Good!
---
New York City, known as "the city that never sleeps," also has a hockey team in town where the news doesn't take a rest either. However, in this latest edition of "As the World Turns," we have some good news to report.
On Thursday afternoon, the Rangers announced that CZAR IGOR was out of runny nose protocol. In a corresponding move, goaltender Keith Kinkaid was sent back to the Rangers taxi-squad.
With CZAR IGOR as the first recent Ranger to enter (and now exit) COVID protocol; the Rangers could soon find themselves back to near 100% by Saturday, when players like Ryan Reaves, Barclay Goodrow, Julien Gauthier and others have their five-day sentences lifted. In addition, "The Turk," Rangers head coach Gerard Gallant, should also be back for Saturday's tilt with the Philadelphia Flyers.
As of this writing, Dryden Hunt, who was getting top-six minutes prior to his recent upper-body injury, remains on the IR, with no update yet on his return. That said, he did skate around on Thursday morning, during the Rangers optional practice.
It should also be stated, that if you're an eternal pessimist, players like Adam Fox, Jacob Trouba, Chris Kreider, Kaapo Kakko and K'Andre Miller have all avoided the omicron variant thus far.
I think Jim S. of "The Blueshirt Underground Show" said it first, but the point remains the same – when the schedule lightens up at the start of February, and similar to mothers from a bygone era that used to host "chicken pox parties," in an attempt to expose their children to the pox at a young age, so they'd be fully healthy later on in life; should the Rangers have a "Big Homie Omi" party for the players who haven't been on NHL COVID protocol yet?
I can see it now – "THE RANGERS OMICRON PARTY, AS SPONSORED BY CAESERS, DRAFTKINGS AND FANDUEL! PLACE YOUR BETS ON WHAT RANGER TESTS POSITIVE FIRST!"
Yes, this will never happen, and yes, I agree this is both silly and brash. However, the point remains the same. Wouldn't you rather everyone on the Rangers get the 'cron now and do their time on the five-day list, rather than losing any player for the playoffs?
And when it comes to the playoffs, that's a whole other can of worms. Who knows if omicron will still be a thing then? And if it isn't, will some sort of new variant breakout across the league?
You know how I feel already, so I won't give you another rant here – but yeah, STOP TESTING HEALTHY AND VACCINATED PLAYERS.
That stated, will the NHL allow what's essentially a head cold to impact their playoffs? Will a team have their playoff hopes dashed because of a virus that's no longer gravely/non-life threatening for their players?
These are all valid concerns, even if the idea of a "'Cron Party" isn't.
Let's now switch gears from a hypothetical that will never happen to REAL news.
On Thursday afternoon, and following the Rangers pregame skate; Knoblauch addressed the media. To listen to what Knoblauch said, and who hopefully did his last pregame interview of the season (and nothing against him, I just want Gallant back, as you all probably do too), click the play button below:
---
With CZAR IGOR returned for the purpose of deployment, Knoblauch didn't tip his hand in regards to his starting goaltender. Instead, he said that Gallant was going to make that call prior to puck-drop. The only thing we knew for a fact was that Igor would throw on his familiar #31 jersey on for this game – whether he was in net or on the bench.
(And let's face it, both Gallant and Knoblauch knew who was going to start in net at the time of this press conference, as did both Shestyorkin and Georgiev. However, I'll spare you from another one of my rants about the NHL being in bed with gambling outfits, only to deprive fans/gamblers/marks of pertinent information.)
Also of note, while Georgiev did leave the ice early during Wednesday's practice (as is custom for a starting goalie); he did stay on the ice late on Thursday, which hinted that CZAR IGOR would be returning to his rightful spot in net for this game with San Jose.
Knoblauch also mentioned that CZAR IGOR was skating during his time on the runny nose list, which led us (or at least me) to believe that he was ready to go – despite not having a full practice with the team under his belt in a while.
Knoblauch also confirmed that Braden Schneider, recently called-up from Hartford, and who also bypassed the taxi-squad for the main roster, would play in his first NHL game.
If that wasn't enough for you, just an hour or so before puck drop, it was announced that Alexis Lafreniere has now joined the COVID-19 list. In turn, Anthony Greco, born in Queens, NY (this was only mentioned about 967676796789678967896 times on the broadcast tonight, as Greco became the first ever Queens native, and a Rangers fan too, to ever suit up for the Blueshirts), played in his first NHL game of this season.
Greco, just like everyone else from the 'Pack, including Gettinger, Johnny Hockey, The Baron and Schneider; looked excellent tonight. No matter the circumstances, the Rangers continue to personify the adage of "NEXT MAN UP," and without ever missing a beat.
I don't care who you are or the circumstances; but for a Rangers team full of new faces, rookies and minor-leaguers – to come together as one, and shut-out an NHL team (on the road nonetheless) – well that's mighty impressive to me.
It should also be mentioned that once the regulars return, where outside of Schneider – most of these Hartford players will either be sent to the taxi-squad or back to Hartford. Nothing against these Hartford players, but none of these forwards are going to replace Goodrow, Reaves, Lafreniere, etc.
Despite knowing their time is limited on the varsity team, these players have given it their all and have all looked awesome. It's just a shame that Filip Chytil, unlike these Howlers, hasn't done the same. And yeah – if anyone belongs in Hartford right now, it's the ghost in the #72 jersey.
The COVID-impacted Rangers used yet another new line-up this season for this game, a line-up that also included the previously mentioned Braden Schneider and Anthony Greco. Here's the line-up that proxy head coach Kris Knoblauch used in this 3-0 victory:
In case that graphic is too blurry, here's the text version:
FIRST LINE: Kreider/Mika/Kakko
SECOND LINE: Panarin/Strome/Chytil
THIRD LINE: McKegg/Rooney/Greco
FOURTH LINE: Gettinger/Barron/Brodzinski
FIRST D-PAIR: Lindgren/Fox
SECOND D-PAIR: Miller/Trouba
THIRD D-PAIR: Nemeth/Schneider
And in net, CZAR IGOR.
---
One last news item, and then off to the game review.
On Thursday evening, about three hours prior to puck drop in San Jose, the NHL announced their 2022 All Star rosters. To view the complete list, visit:
https://www.nhl.com/news/2022-nhl-all-star-game-rosters-captains-announced/c-329733482?tid=277549086
Two Americans, Chris Kreider and Adam Fox, were announced as All-Stars. Congratulations to them.
For the Rangers, it's the first time since the 2011-12 season where multiple Rangers were selected to the best of the best game (Lundqvist, Girardi and Gaborik). It should also be mentioned that the All-Star Game has not been played every season since that time either, due to the Olympics and COVID-19.
The Rangers will have a chance to send one more player to the All-Star Game, under the "Last Man In" voting system. Since the Metropolitan Division has two goalies in already (Anderson of Carolina and Jarry of Pittsburgh), the Rangers are pushing for Mika Zibanejad to get in. (And it's a shame, because really, CZAR IGOR deserves to be there too. Need evidence? Just look at tonight's win!)
To vote for Mika, click this link: https://www.nhl.com/news/c-329732518
Also worth noting? Cam F'N Talbot will be representing the Minnesota Wild at the All-Star Game, providing he's healthy. You knew I had to mention that!
---
BOX SCORE time.
The following information and graphics come from the new world-wide leader in NHL coverage, ESPN.com:
SCORING:
PENALTIES: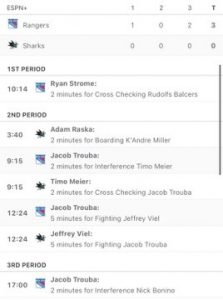 TEAM STATS: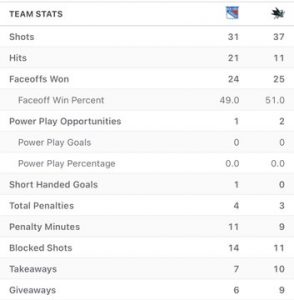 GOALIES:
| | | | | | | | | | | |
| --- | --- | --- | --- | --- | --- | --- | --- | --- | --- | --- |
| SA | GA | SV | SV% | ESSV | PPSV | SHSV | SOSA | SOS | TOI | PIM |
| 30 | 2 | 28 | .933 | 26 | 1 | 1 | 0 | 0 | 58:56 | 0 |
| | | | | | | | | | | |
| --- | --- | --- | --- | --- | --- | --- | --- | --- | --- | --- |
| SA | GA | SV | SV% | ESSV | PPSV | SHSV | SOSA | SOS | TOI | PIM |
| 37 | 0 | 37 | 1.000 | 35 | 0 | 2 | 0 | 0 | 60:00 | 0 |
THREE STARS: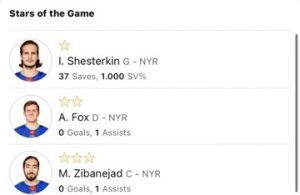 When it comes to the M$GN broadcast tonight, I was smacked in the face by reality – a cold one at that.
Prior to my road-trip, where I attended the previous three Ranger games before this one; Steve Vagistat had a case of the omicron, and had missed several broadcasts – a ray of sunshine for anyone sick of his never-ending fake news analytics and bullshit war stories. Plus, Dave Maloney, who filled in, is infinitely better than Vally.
Having to see Vagistat back on my television was tough to stomach, especially when not even five minutes into the broadcast, he plugged his crappy horrible analytic company twice. I rather watch 7896786868678969 JB Smoove commercials than see Vally yammer on about analytics and/or his legendary 46 game career ever again.
It was nice to see Sam and Joe back on the air, although with them remaining in the studio during all of these recent Ranger road-trips and games, I do wonder if the M$GN will ever say – "why send our crew on the road? It's cheaper to keep them in-house."
As mentioned before, while Sam's fastball is long gone (he erred on another goal call tonight, which to be fair, wasn't his fault since he's watching the broadcast from a horrible camera angle and on a dark-tinted feed too); as fans, I do think we miss out whenever Joe Micheletti isn't inside of the arena. He's usually pretty good when talking about plays away from the puck and with what's going on between whistles.
And for whatever reason, and as mentioned – the M$GN used a higher-than-normal camera angle tonight, where at the start of it, I wondered if I forgot what watching games on TV was like, especially since I've been in-attendance during the last three games. Thankfully, I later found out that it wasn't just me – it was everyone.
(On a sidebar here – I watched the Bruins/Flyers game on ESPN prior to tonight's Rangers/Sharks game. My advice – don't fix what's broken. Just because you can use 786786869696 different camera angles, that doesn't mean you have to do so. I'm sure epileptics will agree with me.)
Game review time!
---
In another Rangers road game in California; the "Shark Tank" was half empty, where the half empty crowd was full of Ranger fans, as was evident by a loud "LET'S GO RANGERS" chant at the start of the game.
Mika won the first draw of the game, where he also finished his night at the dot by winning 14 of 24 faceoffs, for a winning percentage of 58.3%.
2:10 into the first period, K'Andre Miller made a great defensive play, where he broke up a Hertl scoring chance.
And for all the fans who think that Hertl is the "easy fix" for whatever Ranger woes they envision – well Hertl didn't seem to be that guy tonight – and just like how Eichel wasn't that guy last season, in his pointless effort against the Rangers last season.
Unfortunately for Miller, this was his best play of the game.
In fact, I don't think I'm wrong or out of line when saying this – it was K'Andre Miller, and not Braden Schneider, who looked like he was playing in his first NHL game tonight. And it's not because Schneider scored either, as the newest Ranger was making solid defensive plays all game, and as he promised during his media interview from Wednesday – he was constantly pushing the puck up ice to his forwards, rather than forcing anything stupid.
Perhaps even bigger than all of that? Schneider wasn't a turnover machine like #79 has been as of late.
Around the 3:30 mark of the period, Filip Chytil, as he was in LA, was absolutely rocked after a thunderous hit committed by a Shark. This factored into the rest of the game, as Chytil looked scared of contact for the remainder of the contest.
I don't want to go on another Chytil tirade here, but yeah – once this team returns to full health, he needs some time off, or even better – a new jersey. He is the weak link of this team, and even worse – the weak link of this team even with a ton of AHLers in the line-up. This experiment of him on the second line didn't really work out.
As Schneider continued to push pucks up ice and as CZAR IGOR continued to make saves; with 13:20 to go in the period, Adin "Over The" Hill stopped Kreider. He wouldn't be so lucky later on in this period.
Miller, as mentioned, wasn't that hot tonight, which has been the case this whole road-trip. Once again, he continued to commit brutal turnover-after-turnover, where fortunately, CZAR IGOR, unlike Georgiev, was able to rectify all of these mistakes. And that's not a shot at Georgiev – it's just to say that CZAR IGOR is one of the greatest goaltenders in all of the NHL today.
Patrik Nemeth (and more on him in a bit), with 11:25 to go in this first frame, was stopped by Hill after a solid shot from the slot.
With 9:46 remaining, Igor, who continued to pile up the saves, saw Ryan Strome commit a cross-checking penalty, as #16 in white was boxed for his infraction on Rudolfs Balcers – a common name anywhere in this country!
For all the talk about how the Rangers are struggling to score goals five-vs-five (and that talk is credible), what's also a fact is how hot the Rangers special teams are, as both the penalty kill and power-play are top five in the league.
Not even a minute into the penalty kill, Mika Zibanejad found Chris Kreider during a two vs one chance, and this happened:
Kreider stays hot #NHLAllStar pic.twitter.com/Fucynzp720

— Rangers on MSG (@RangersMSGN) January 14, 2022
---
1-0, GOOD GUYS!
Of note, this was also Kreider's first short-handed goal of his career, as the now two-time All-Star took Zibanejad's perfect pass, boomed the puck at Hill, and then saw the puck trickle past the Sharks netminder.
And for a team that hadn't scored in the first period of any of these road games, this short-handed goal, where SHG's are a huge momentum-lifter already – this goal was particularly big.
(This was also the goal that Sam Rosen missed, but I don't blame him here.)
After the Rangers killed off the Strome penalty, Igor continued to look rock solid, never looking sick (unless you're talking about the word "sick" from a slang-perspective), where he also stopped a Weatherby wrap-around attempt with 7:02 to go.
As the period wound down, the Rangers got too unselfish a bit. It may have cost them a goal or two.
On one play, Kreider tried to return the favor to Mika, as rather than shooting on a breakaway, he held off and tried to feed his centerman. Turnover. Panarin would then do the same thing later on.
And I get it – you want to do the right thing and "pay it forward" to a teammate that helped you out. However, sometimes you have to be selfish. I guess that's easy for me to say from my couch though!
As we got into the final minutes of the period, the Rangers continued to block shots, eight in all in this first period (fourteen overall), where everyone was stepping up in front of the rubber, including Greco and Schneider.
With under thirty seconds remaining, Barron blocked one more shot for good measure, as the Rangers took a 1-0 lead into the locker room after twenty minutes.
---
Once the second period concluded, this game was reminiscent of the first time these two teams played, although with much more action and physicality during this go-around. However, both games ended the same – a SHUTOUT for the Rangers!
As Igor continued to do his thing, and as Schneider already looked like a grizzled veteran; this period became the Jacob Trouba show.
3:40 into the period, K'Andre Miller was absolutely crushed by Adam Ruska. Ruska boarded Miller here, and despite this looking like a five-minute major, Ruska only received a two-minute minor. And maybe because Miller was dazed a bit (he went to the locker room to get checked out, only to quickly return to the game), he didn't seem mad about getting his world turned upside-down. However, Trouba did get pissed, as #8 in white charged at the Sharks, where he looked to unleash his ruthless aggression.
The Rangers power-play would get chances here, but came up short.
As Hill stopped Panarin, Mika and others; at the mid-point mark of the game/period, Trouba and Meier got into it, where they were about two seconds away from having a UFC fight. At the 9:15 mark, both were boxed for their aggressiveness, which led to two minutes of foreplay.
Once back at full-strength, CZAR FATHER FINKIN' IGOR, continued to dominate, where he stopped Cogliano during the center's breakaway opportunity. Right after, another Rangers hero of the night, Braden Schneider, broke up two back-to-back Shark scoring chances.
With 7:36 to go, Trouba had enough of the Sharks bullshit, and got into boxing match with Jeffrey Viel Parmesan. Trouba ate some shots here, but I thought he won this fight, although slightly.
Now with 5:46 remaining, Meier streaked to the net, where Patrik Nemeth, as he's done about 767868967896789689 times before this season, checked an opposing player right into CZAR IGOR. I don't know what it is, but Nemeth has a knack for creating goalie collisions. Thankfully, Igor was fine here. Even better – he made the save here too.
As we got to the end of the second period, the Wolfpack line continued to play well, where they really played above their role. Three newcomers – and all of them did their job to perfection. You can't ask for anything more.
Hell, even another newcomer to the Rangers, the 28 year old Anthony Greco, made the most of his opportunity too, as he generated some offensive chances. He even put five shots on goal, second-best to only Chris Kreider (six).
As the horn went off to signal the end of the second period, we remained at 1-0 GOOD GUYS.
Without saying the "s" word, as in "shut-out," "TEN O'CLOCK TOMMY" and I gave that "we're gonna hit this bet" look. Igor would then help out our bank accounts!
---
Entering the third period, the Rangers were nursing their slim one goal lead. Of all people, and not even ninety seconds into the final frame, it was Braden Schneider who gave the Rangers their insurance goal:
Braden Schneider scores in his first NHL game. #NYR #NHL (Full Goal plus replay) pic.twitter.com/lBoM2NeYHc

— David 🔹 (@DaveyUpper) January 14, 2022
---
2-0, GOOD GUYS!
It should be mentioned that Ryan Strome, as he often does, set up the Rangers rookie for his first goal of the season. Of note, despite whatever Adam Herman is reporting – Tony DeAngelo didn't steal this puck!
And Part I: As brushed upon last night – can you imagine being Schneider, or a family member of his, and seeing this all go down? What a moment.
And Part II: Schneider never scored a goal in Hartford, as he's mainly a defensive-defenseman. If only Kakko and Chytil could score at the rate that Schneider is now scoring at!
And Part III: Yes, it's only one game, but Schneider has played himself into this line-up, even without this goal.
And Part IV: NHL rosters are a numbers game, and also a game of "what have you done for me lately?" In other words – this was not a good night for Nils Lundkvist – especially if the Rangers consider Zac Jones as the better player of the two players with similar offensive mindsets.
---
Up 2-0, the Rangers continued to motor on, including a great shift from the Strome line and the Trouba/Miller pairing, who kept the puck deep for about a minute or so.
However, the Rangers also did get sloppy a bit here, but no matter – as CZAR IGOR made save-after-save, including two tough ones on Gregor.
In what I thought determined the victor of this game; with exactly three minutes left on the clock, Trouba was boxed for interference on Bonino. For whatever reason, Sharks bench boss Bob Boughner didn't pull his goaltender to give the Sharks two minutes of a six vs four attack. Instead, Boughner waited until there were only 26 seconds left on the power-play (1:26 of game time remaining) to do so.
Seriously, what was Boughner thinking? You're down by two goals. I can understand if you were only down by one and wanted to wait  – but with the two-goal deficit, what are you waiting for? However, this boneheaded mistake is something for Sharks fans to concern themselves with, and not something for me to worry about!
The Rangers would kill the Trouba penalty, and with Hill now out of the net, Kreider sealed the deal with 28 seconds remaining, where he picked up an empty net goal – his 200th career goal. What a night for the man who should be captain of this team.
3-0, GOOD GUYS, 3-0, your final!
Another team-wide win, and an impressive one at that!
(And if only my friend, who debated this before the game, laid that $100 bet on Kreider to score two goals – he would've had another smooth $2,000 in his wallet. Live and learn!)
---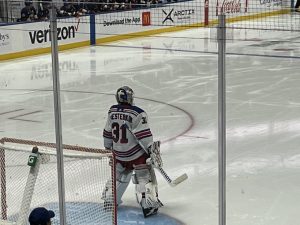 Poor Steve Valiquette and all of the Vally Virgins – once again, the New York Rangers defied all of the analytic BS and kicked ass tonight. I'll take a 3-0 win over EXPECTED STATS any day of the week, twice on Sundays!
PLUGS time!
---
The first plug of tonight's blog – the mandatory plug for my new book, "The New York Rangers Rink of Honor and the Rafters of Madison Square Garden".
As mentioned previously, the book is now available in hardcover, in paperback and in Kindle formats. To purchase a copy of the book, visit this link:
https://www.amazon.com/Rangers-Rafters-Madison-Square-Garden-ebook/dp/B09CM5N2WD
For those still looking for signed paperback versions of the book, I have re-ordered more copies. I now have 4 signed copies for sale at $25 a pop (includes shipping price) through me directly. Here is all the information on that:
---
Here are my last few blogs, in case you missed them:
---
---

---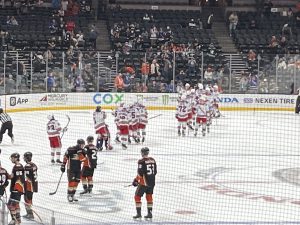 ---
If you haven't already, subscribe to this blog for the next update:
---
Up next: the longest road-trip of the season concludes on Saturday night, with the Rangers returning to the east coast for a game against the struggling Philadelphia Flyers.
Of note: The Rangers are now through with the Pacific Time Zone as well. From this point forward, every game will start no later than 8PM, with a majority of Blueshirt contests starting at 7PM.
As always here, thanks for reading and…
LET'S GO RANGERS!
Sean McCaffrey
BULLSMC@aol.com
@NYCTHEMIC on Tweeter