Greetings and salutations everyone and welcome to another blog here on BlueCollarBlueShirts.com. These 2022-23 Rangers absolutely suck.
I don't even know where to begin right now, but I will tell you that the days of being angry about this season are long over for me.
As you may know, there are five stages of grief – denial, anger, bargaining, depression and acceptance. I'm now at Stage Five – acceptance.
Following my delusions of this team being able to right their sinking ship, I was denying the facts in front of me – this team wasn't playing very well.
As the losses piled up to bad teams, such as San Jose, Columbus, Nashville, Anaheim, Ottawa and every other bottom-feeder of the league; I was very angry, as my temper was flaring like a pack of hemorrhoids.
When the Rangers started to slip in the standings, and dropped to a status of "outside-looking-in;" I was bargaining with myself. After all, one win streak and they'd be right back in it.
After watching this team continue to make world-beaters out of the league's worst, where the Blueshirts became the NHL equivalent of the Washington Generals; I started to feel down and depressed about the sorry state of affairs in Rangerstown, USA.
Now, on December 3rd, 2022, I've accepted the truth.
They suck.
---
The Rangers, at the 31.7% mark of the season and following 26 games played; the club now possesses a 11-10-5 record (a losing record of 11-15), "good" for 27 points overall.
Despite still being a point shy of a second wild-card berth; I'm also not foolish enough to ignore that they have played more games than everyone that they are currently chasing.
Furthermore, as the "Welcome Mat" of the league, where the Rangers must be inspired by their own charity, "The Garden of Dreams," since they always allow every down in the dumps team to piss in their mouths and then thank them for doing so; if they can't beat the dregs of the league, then how in the hell do you expect them to beat a half-way decent team, much less a playoff contender?
Face the facts: the first 30% of the season was supposed to be the "easy" part of the schedule. Instead, the Rangers have practically lost to every bottom-of-the-barrel team in the league.
Up next this month, and to close out 2022 – a murderer's row of opponents, including the Golden Knights, the Avalanche, the Devils, the Leafs, the Penguins, the Islanders and the Lightning.
Sandwiched in-between these tough teams are a few more games against bad teams such as the Blues, Blackhawks and Flyers. However, who in their right mind thinks that the Rangers can handle business anymore?
This team would get blown out by a pee-wee team from Flin Flon, Manitoba. (But Panarin would still get his fugazi secondary assist and be happy.)
And when you listen to what the players and the head coach had to say following this ABSOLUTE WORST LOSS OF THE SEASON – the writing is on the wall. They are done. Kaput. Fin.
It's gotten to the point that this team is so freakin' bad (HOW BAD ARE THEY?) that they could even repair Kanye West's image – and make him a national hero too.
---
As you can tell from my tone during these past few weeks; my once cheery attitude of sheer optimism is shattered.
In fact, I had a few readers email me during the past few days, where one long-time reader, former minor-leaguer Joe L., told me: "keep your head up."
While I respect Mr. Joe and his opinions – sorry – I can't keep my head in the sand any longer.
After all, that's what acceptance is all about.
This team is just a sorry sack of losers, where it all starts at the top with the highest-paid players.
In a game against the second-worst team of the league, a Chicago franchise that has their eyes set on winning the 2023 NHL Draft Lottery, and in a contest that many, including M$GN ANALyst Sieve Vagistat, labeled as a "MUST WIN GAME;" the Rangers didn't only just shit the bed – they splattered the expensive walls of M$G with fecal matter too.
In a gut-check game they could ill-afford to lose – the Rangers were just gutted and gut-punched.
And for the "MUST WIN" talk?
Apparently, Gerard Gallant didn't receive that message, as he turned to his back-up goalie, Jaroslav Halak, to pick up these crucial and potential two points.
However, to blame Gallant's goaltender decision and Halak himself is a fool's errand.
Even if the worst Ranger goalie of the last twenty years, Sieve Vagistat, was in net tonight – there was no room for excuses to be made.
Bottom line: the Rangers don't score and they came out flatter than a warm plate of piss.
---
While the Rangers continued their uncanny ability to find new ways to lose; the same old shit we've seen all season was fully on display during this inexcusable and unacceptable 5-2 loss.
Sadder than all of that? Going into this game (my social media feeds don't lie) – I never expected the Rangers to win. (I'll share the proof below.)
That's how bad they've become.
Everything that I predicted prior to tonight's shit-show took place, including the following:
— The Rangers hit four posts, as they continue to set a league-record for most <DINGS> heard around the NHL.
— And yep, Vincent Trocheck also hit his 98767867967896789689769th post of the season.
— The Rangers, now back in their cursed Liberty jerseys, continued to go win-less in them. More on this in a bit.
— Artemi Panarin continued to pick up his "A-Rod" points, you know, his fugazi secondary assists – points that only come during blowouts – just like Alex Rodriguez home-runs during the height of his days with the Yankees.
— The Rangers turned another struggling goalie into the second coming of Patrick Roy, where on this night, Petr Mrazek got to role-play the great Tony Esposito.
— And even when a cold-as-ice back-up goalie had to enter the game at the start of the third period, the biggest frame of the season yet; the Rangers barely challenged him.
— The Kids, oh the kids, these lottery picks that were once thought to pick up the scoring this year – they were absolutely listless and unnoticeable – sans Alexis Lafreniere – after missing a wide-open net. But don't fret Lafreniere – Chris Kreider missed a few too.
— The Rangers abysmal power-play continued their horrific and odorous stench & stretch of going scoreless, sans a meaningless Zibanejad goal scored – when the team was already down 3-0.
— The once third-best penalty kill in the league? They allowed the shit-on-the-bottom-of-your-shoe Blackhawks to score three power-play goals tonight – a new way to lose!
— Negative firsts? We had those too! Patrick Kane, more on him in just a bit too, scored his first power-play goal of the season. Boris Katchouk picked up his first assist of the season. The three power-play goals scored by the 'Hawks were the most they've scored during a game this season too.
— And these Blackhawks, who entered this game on an eight-game losing streak? The Rangers, 3:1 favorites tonight (you had to be smoking bath salts and crystal meth to risk $300 to only win $100 on these unlovable losers), made sure the road team's losing streak wouldn't be extended to nine games.
I was going to say that after tonight, I expect the Blackhawks to now lose their next eight games in a row, but since the Rangers travel to Chicago on December 18th, that won't be possible.
I'm sure the Blueshirts will be blown out of the Windy City on that night too.
Sorry if I sound like a miserable sore loser right now – but what else can I say? I can only work with the material I'm given and the Rangers don't give me much positive stuff to talk about.
Let's get into all of the pregame news and notes, including the roster transactions, and then rifle through this wretched night at M$G.
---
Since the Rangers played on Friday night (where they embarrassed themselves), the team did not practice on Saturday morning. However, the team did release the following news right before noon:
I had a few thoughts when I first heard the news – and then saw the reaction.
For whatever reason, some fans get bat-shit crazy over third-pair defensemen and fourth-line forwards. If that's your focus, then in my opinion, your priorities are all out of whack.
As frequently mentioned on this site, while you do need some production out of your fringe players; more times than not, these role-players aren't exactly difference makers in regards to wins and losses.
For the 2022-23 Rangers, I'm more concerned about the highest-paid player on the club than anyone else, Artemi Panarin.
Whether it's "The Breadman's" never-ending battle with horrendous turnovers, not being able to score during one-goal games, not shooting the puck or something else; he's the one that really needs to get going – not Libor Hajek, not Zac Jones, not Sammy Blais and not the newest Ranger either, Ben Harpur.
It's not my intent to slam Panarin here, because even during this most recent slump, he's still arguably the greatest free agent acquisition of franchise history, but two things can be true too.
After a Hart Trophy worthy 2019-20 inaugural season in New York, Panarin has been on a steady decline ever since – and don't let his secondary assists that pad his point totals fool you.
Scarier than that – these are supposed to be his prime years.
---
As far as the players involved in Saturday's transaction goes – I wasn't surprised.
After all, I've been saying for a while on this site that while I admire Zac Jones & his drive to get better and do the right things (including playing during the rookie exhibition matches against the Flyers over the summer) – I just don't think he's an NHLer – yet.
Keep in mind, Jones never envisioned himself in the NHL at this stage either.
If you recall, once winning the Frozen Four in 2021, the then sophomore from the University of Amherst-Massachusetts told Ron Duguay and Mollie Walker on an episode of "Up in the Blue Seats" that he wasn't ready for the NHL. During the interview, Jones implied that he'd like to finish all four years of his schooling – and then go pro. Jones also felt that he wasn't big enough to play in the top league of hockey and needed some time to grow/fill-out his body.
However, the Rangers came calling and the money was too good to refuse. See ya college, hello NHL.
According to reports, it's believed that Rangers' general manager, Chris Drury, and company want to give Jones more playing time.
If you recall, I first said this should've happened a few weeks back – and even as most recent during my "Quarter-Pole Report Card" blog.
Rather than playing third-pair minutes and sitting in the press box; Jones who is still only 22-years old, will get top-pair minutes in Hartford. It's better for his development.
I think what's also lost among most fans is that the NHL isn't a developmental league – despite strong desires for players such as Kaapo Kakko, Alexis Lafreniere, Vitali Kravtsov and Jones himself.
I think if the Rangers had a mulligan, a do-over, then they would've sent all of these players to Hartford at the start of their careers. (Kravtsov situation aside.)
And I don't think I have to remind you that the Rangers' rebuild was completely unorthodox, due to having superstars such as Artemi Panarin, Mika Zibanejad, Chris Kreider and others in first-line and power-play roles.
However, what's done is done and all of these young players are learning on the fly – and it isn't working out.
After all, "The Kids" were hoped to replace the production lost from the departures that took place during the off-season. It hasn't happened.
When it comes to Ben Harpur, it will be interesting to see how he'll be used. At a cap-hit of $750,000, he's cheaper than Jones, who runs the Rangers $925,000.
In a way, I think this tells us that the Rangers value someone like a Matthew Robertson more than Harpur, as it's likely that the latter will be a healthy scratch on most nights. (And as Harpur was tonight.)
Robertson, just like Jones, will only help his development by logging top minutes in Hartford.
Despite what others may be putting out there – Libor Hajek has been decent this season.
Sure, just like anyone else, Hajek is prone to a bad play or two (and he made a horrific one tonight), but for the most part, he's been reliable.
I think sending Jones down is a vote of confidence for Hajek and I don't think you'll see the same time-share between Hajek & Harpur as we saw with Hajek & Jones.
When it comes to the recall of JONNY HOCKEY, this was kind of interesting.
After all, if the goal is to accrue cap space for the deadline – why add another salary to the payroll? (Especially since Brodziniski didn't even play tonight!)
It was reported prior to the game that a mysterious Ranger forward was injured and would be unable to play tonight. However, keep in mind that Ryan Carpenter is still on this roster and since Barclay Goodrow can play any position (and to a lesser extent, Jimmy Vesey too), there didn't seem to be a need to add to the salary cap.
If it were up to me (and you may have heard – it's not), if the Rangers wanted to get a look at Brodzinksi, then at the very least, I would've waived Carpenter. It's not like Carpenter would be missed. Plus, it would save the Rangers a few bucks too.
At the end of the day – it was Carpenter in the line-up during this loss – while the two Wolfpackers took in this shit-show from the press box.
---
Here is what Gallant had to say about the moves of the day during his pregame edition of "TURK TALK":
---
Gallant, in a somewhat jovial mode considering the circumstances, pretty much said that the organization wanted to give Zac Jones more playing time. The head coach also added that this move wasn't 100% permanent and that Jones, Hajek and Harpur would all be re-evaluated in the upcoming days.
In other words, this all sounded indecisive, even if the moves were logical.
As far as anything else, Gallant wouldn't confirm his line-up, outside of saying that Jaroslav Halak would start.
Again – the NHL wants you to gamble on these games but won't give you line-up information until minutes before puck drop.
Once the Rangers took the ice for their pregame warm-up at 7:00PM; the club then announced that Filip Chytil was injured (again), this time with a "lower body injury."
As you'd expect, the Czech is currently "day-to-day" – again.
---
Here was tonight's line-up, a collection of players that should pool up all of their money and issue refunds to any sucker who attended this fiasco:
FIRST LINE: Kreider/Mika/Vesey
SECOND LINE: Panarin/TrocheckKravtsov
THIRD LINE: Lafreniere/Goodrow/Kakko
FOURTH LINE: Blais/Carpenter/Gauthier
FIRST PAIR: Lindgren/Fox
SECOND PAIR: Miller/Schneider
THIRD PAIR: Hajek/Trouba
STARTING GOALIE: THE HALAKNESS MONSTER
BACK-UP: CZAR IGOR
---
BOX SCORE time.
The following graphics and information come from ESPN.com:
SCORING:
PENALTIES (Deep Breath):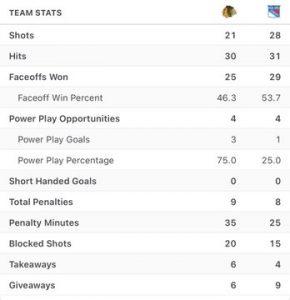 GOALIES:
| | | | | | | | | | | |
| --- | --- | --- | --- | --- | --- | --- | --- | --- | --- | --- |
| SA | GA | SV | SV% | ESSV | PPSV | SHSV | SOSA | SOS | TOI | PIM |
| 6 | 1 | 5 | .833 | 5 | 0 | 0 | 0 | 0 | 20:00 | 0 |
| 22 | 1 | 21 | .955 | 17 | 4 | 0 | 0 | 0 | 40:00 | 2 |
| | | | | | | | | | | |
| --- | --- | --- | --- | --- | --- | --- | --- | --- | --- | --- |
| SA | GA | SV | SV% | ESSV | PPSV | SHSV | SOSA | SOS | TOI | PIM |
| 20 | 4 | 16 | .800 | 13 | 2 | 1 | 0 | 0 | 57:35 | 0 |
---
Henrik Lundqvist had the night off, so I didn't watch the M$GN pregame show. However, here's what I said at the time during these thirty minutes:
Petr Mrazek, who is struggling this year, starts for the Blackhawks. Expect him to turn into Tony Esposito tonight. #nyr

— BlueCollarBlueShirts (@NYCTheMiC) December 3, 2022
---
It's Montefiore, EINSTEIN, #NYR game night. Rangers are wearing the cursed Liberty jerseys so the final result has already been determined. No Lundqvist, just Vagistat. Time to hit the east-west button on my remote and watch the Flyers/Devils for the next 30 minutes.

— BlueCollarBlueShirts (@NYCTheMiC) December 4, 2022
---
Jaroslav Halak vs Petr Mrazek (1-5-1, 4.27 GAA, .878 save percentage). You know what will happen. And don't forget that OLD FRIEND Colin Blackwell is a Blackhawk too. #NYR

— BlueCollarBlueShirts (@NYCTheMiC) December 4, 2022
---
As noted earlier – everything predicted here came true, including:
Mrazek had the best game of his season prior to his injury, the Rangers continued to play like shit in those jerseys they should've burned long ago and the Blueshirts allowed another bad team to celebrate on M$G ice.
Once returned to M$GN at 7:00PM, we were treated to the returning Kenny Albert, who filled-in for the sick Sam Rosen for the second game in as many nights.
Rosen picked a good time to get sick. Then again, I'm sure he's sick to his stomach after watching these past two games from home.
Micheletti, as Vagistat also did throughout the broadcast, pretty much called this a "MUST WIN GAME."
Not only did the Rangers lose this "MUST WIN GAME;" they were throttled too.
Now what? Is the season over?
GAME REVIEW time.
---
FIRST PERIOD:
"It was all bad."
Let's get the Patrick Kane stuff out of the way, who of course, not only scored tonight, but picked up the 1,200th point of his career too.
For whatever reason, the useless Mollie Walker put out a column on Saturday, an article that read as if a bot using "Mad Libs" wrote it. The article was a tired one – the Rangers assumed quest to land Patrick Kane.
Again – the Rangers Father Finkin' suck. Why would Kane waive his NMC to join this club?
Instead, maybe the feckless turnover machine known as "The Breadman" should waive his NMC and return to Chicago.
Furthermore, I was kind of surprised about the following too – I expected Ranger fans to cheer every time Kane touched the puck tonight. However, due to all of the losing and with no playoff shot in sight – I think the educated fans at M$G have given up on that idea.
Had the Rangers been able to do what they were supposed to do, then I think there would've been a little more noise for #88 tonight, akin to when Kevin Shattenkirk was playing with St. Louis and Washington during his contract year. (And isn't it amazing Suzyn how that all worked out? Ugh!)
Since Mika Zibanejad can't win a faceoff to save his life these days (he finished with six wins and thirteen losses, "good" for a losing percentage of 31.6%), Vincent Trocheck, "The Iron Man," a nickname due to all of the iron that he hits – and not a tribute to any sort of consecutive game streak played – took the first draw of the game – one that he won. (Trocheck finished tonight's pig-sty affair with a winning faceoff percentage of 65%.)
The Rangers showed some pep early, but would quickly unravel.
In two themes that ran all night on Broadway; the Rangers either shot high or wide. When they did put the puck on net, Mrazek turned into Tony Esposito.
Put it this way – the Rangers were credited with 28 shots on goal – and 70 shot attempts.
In just the first three minutes alone – Kreider, Mika, Hajek, and Trouba all went wide.
After littering the boards with rubber marks during this time, the puck soon left the zone and entered the Rangers' end of the ice.
At just the 2:38 mark, and following a Hajek turnover in his own end (behind Halak's net), Reese Johnson, the Stan Mikita of his generation, scored his second goal of the season, following his deflection of a Jake McCabe bomb from the point.
1-0, bad guys – and just that quick.
At the 4:45 mark, Alexis Lafreniere had a look at a net that was basically akin to the size of one of those nets currently in Qatar.
Here's your 2020 first-overall pick looking like shit:
Pretty much sums up the year so far #NYr pic.twitter.com/9XTRFI90ru

— Brad Paradis (@UpstateAngler) December 4, 2022
---
Not only did Lafreniere miss the net from a few inches away; for good measure, Mrazek kicked the puck away too.
As we hit the eight minute mark, and with the Rangers on a long attack; Panarin shot directly at a Blackhawk. The puck left the zone and allowed a tired 'Hawk squad to make a full shift change.
Down to 8:29 remaining (sorry, I'm going to blow through this game because it's not worth my time and I'm just in a state of disgust); Kreider interfered with McCabe at center ice.
To the Rangers' credit, the penalty kill looked good here.
Put it this way – following this kill and with 6:00 left on the clock, the Hawks only had two shots on goal. Of course, that also meant that they were shooting at a 50% success rate.
Under six minutes to go, the Rangers had a 3 x 2 odd-man rush, where Kreider decided to shoot from forty feet away – an easy save for Tony O.
As the Hawks extended their shot-less streak to near thirteen minutes; Tony Esposito then stopped Miller. Despite giving up a big rebound, the Rangers couldn't cash it in.
Following a Kakko shot that went high; Sammy Blais and the fourth line came on the ice with nearly three minutes remaining. "BLAIS DAY" forced a turnover, a result of good forechecking, but once alone with Tony Esposito – he shot wide too.
A minute later, Mika had a mini-breakaway chance, where Tony Esposito poke-checked the puck before Zibanejad could get any real wood on it. Right after this, and with the net looking like the size of the Lincoln Tunnel, Kreider shat his pants in front of Tony Esposito and shot wide too.
Down to 1:49 remaining, the Rangers received a break, when Tony Esposito was accused of intentionally knocking his net off of the pegs. I thought this was a fugazi call, as it looked like Tony O. had simply skated backwards into his own net, meaning that this was accidental and not intentional. However, that wasn't my problem.
What was my problem was the anemic Rangers' power-play, who only had one PPG during their last 21 periods played. That streak would extend to 22 periods once the horn went off.
1-0, bad guys, after twenty minutes, where the crowd at M$G not only booed the team for the first time this season during the power-play – but also booed the team off of the ice too.
Here's what I said at the time:
1-0, bad guys, after 20. 1P Thoughts:
— Same old shit, play well, the other team leads.
— Blais is hurting, but why is he on the PP?
— Mrazek has a 4.27 GAA mind you.
— SOG 10-4, FO's 8-6 #NYR ; Hits 10-8 Hawks
— NYR don't look gassed after playing last night – yet.

— BlueCollarBlueShirts (@NYCTheMiC) December 4, 2022
---
SECOND PERIOD:
During the intermission, Vagistat said that he thought the Rangers' downward spiral began following their loss to the Islanders. While I'd later agree with Vagistat's thoughts during the post-game segment; I thought he was dead-wrong here.
As I've been saying ever since it happened – the Tom Petty inspired "Free Falling" began with the loss to David Quinn's Sharks.
Following the Hawks killing off the remaining eleven seconds of the Rangers' power-play; the road-team prevented Schneider's GOOD LOOK from the slot. #4's new partner, #79, then went wide.
With 16:38 remaining, Jacob Trouba went into train mode and leveled Jujhar Khaira – the player who the captain trucked last season. (Khaira missed several games after the hit – and to the credit of M$GN – they immediately had the footage from last season ready to go for us.)
Khaira, who wasn't concussed this time around, immediately challenged Trouba to a fight. As opposed to Trouba's brawl with Tkachuk, this fight was tame, where no winner was to be found. The refs eventually broke up this stalemate while the two were still standing.
For Trouba (and this was just a harbinger of what was to come), this was the second time during his Rangers' career where he had back-to-back fights in as many games. Unlike the first time this happened – he didn't pick up any points during these two weekend games. (Last season, he had two consecutive games of Gordie Howe hat tricks.)
Down to 15:45 remaining, Kreider seemingly missed another empty net. M$G booed. On replay, it was revealed that Tony Esposito and his 4.27 GAA got a piece of it.
And oh yeah, after slowing down the puck, the rubber also hit the post.
Vitali Kravtsov, following his best game of the season from 24 hours prior, was a complete ghost tonight.
In fact, if it wasn't for the turnover that he made here with 14:00 remaining – I would've never realized that he played tonight.
While most of this team looked like shit; this is pretty much what I expected after his first goal of the season – a long stretch where he goes back to being worthless.
Up next, the turning point of the game. Let's bullet-point all of this:
— At the 6:17 mark, Seth Jones took a stupid roughing penalty on Kakko.
— The Rangers now had a power-play and a chance to tie the game.
— Tony Esposito then made three quick saves on Fox, Trocheck and Kreider.
— At the 7:34 mark, Zibanejad tried to "out-stupid" Jones and took a stupid penalty when he slashed the Wayne Gretzky of our lifetime, Connor "Who?" Murphy.
— In other words, we now had 44 seconds of foreplay.
— As the Hawks' 1:15 worth of a power-play began, at the 8:24 mark, Ryan Carpenter took a bone-headed penalty when he hooked Caleb Jones.
— End result? 1:11 of a 5 x 3 Hawks' power-play.
— In other words, what once was a Rangers' one-man advantage turned into a two-man disadvantage – the Rangers' way – and a new way to lose too.
— Thirteen seconds into the 5 x 3 power-play, Patrick Kane scored an easy goal. Nothing Halak could've done here.
— 2-0, bad guys.
— A minute after that, and now on the traditional 5 x 4 power-play; Max Domi scored. While this was a power-play goal, this shot from the circle was one Halak should've stopped – but at this point – it wouldn't have mattered.
— 3-0, bad guys – the Rangers' heralded penalty kill had given up two power-play goals in just sixty seconds of action.
At this point, M$GN should just sell the rights to these games to Comedy Central.
It was also at this point where I felt if Gerard Gallant was ever going to get fired in-season – then it will be prior to Monday's game.
I felt even stronger about this after listening to "The Turk" speak following this horrific loss.
Down to 9:14 remaining, Zibanejad drew Boris Katchouk for hooking. The Rangers' PP1 unit stayed on the ice for the full two minutes, where the only thing of note, besides former Blueshirt, Colin Blackwell, eating his ex-teammates alive, was Kreider hitting the post again.
The Rangers' power-play was now 0-3 after this.
After Kakko missed a wide-open net and following another poke-check from Tony Esposito on "The Iron Man," Vincent Trocheck; the game took a nasty turn, following a slew of penalties that went down with 2:47 remaining. (Check the PENALTIES section for all of them.)
Here's what kicked off what will most likely be the top story on Sunday, sans Gallant's status, of Rangerstown, USA:
Jacob Trouba lays a big hit on Andreas Athanasiou, and Jonathan Toews immediately comes to his teammate's defense.

Trouba has turned into a Chicago villain. #Blackhawks pic.twitter.com/Mtsdg8V3Jy

— Charlie Roumeliotis (@CRoumeliotis) December 4, 2022
---
Following another TROO TROO Train hit, and his second fight of the period – Trouba went off on his team as he made his way to the locker room:
Jacob Trouba slams his helmet and yells at the Rangers bench before being sent to the locker room pic.twitter.com/7cPLX0S51k

— Rob Taub (@RTaub_) December 4, 2022
---
There are a few ways to look at Trouba's public display of frustration.
On one hand, he was definitely trying to fire-up his team, as he screamed a few expletives at them once firing his helmet onto the ice. According to an in-between the benches John Giannone, he told us that the G-Rated version of this message was, "WAKE UP!"
On the other hand, one can look at this and say that much like the chorus of Nirvana's "Lithium," which was played right before this play on the M$G speakers, where the lyrics are, "I'm not gonna crack;" that indeed, the captain cracked.
As mentioned numerous times before on this site, whenever a captain struggles, you'll always hear the chatter of "the 'C' is weighing him down."
This Trouba meltdown will give the people who believe this to be true some ammo.
In my eyes, I side with this theory – Trouba was just trying to fire up his team – but yes this is also a fact – the losing is getting to him.
And good – he should be pissed off about his crappy team.
Somehow, the Rangers got a power-play out of this.
Here's how I recapped it in real-time:
Fox, to Mika, PPG. Whoop-de-doo! 2:09 to go, 3-1, bad guys. I guess Trouba taking a penalty worked out? I was told that never works out! #NYR

— BlueCollarBlueShirts (@NYCTheMiC) December 4, 2022
---
3-1, bad guys – and the first of two Panarin fugazi secondary assists too.
That's how we remained once the period ended.
Here's what I said at the time:
3-1, bad guys, after 40. 2P Thoughts:
— Trouba is trying, I give him that.
— SOG 22-12, FO's 20-14 #NYR ; Hits 22-20 Chi
— Special teams all the difference.
— At least Tony Esposito won't finish with a shutout.
— Rangers can still win this, but I wouldn't bet that.

— BlueCollarBlueShirts (@NYCTheMiC) December 4, 2022
---
THIRD PERIOD:
No reason to prolong this any further. Let's bullet-point the final frame.
— Arvid Soderblom took over the Hawks' net, as Mrazek injured something at the end of the second period.
— Despite a cold goalie in net – the Rangers only put six shots on goal – where many of them came once Halak was pulled with four minutes remaining.
— And despite Trouba's two "wake-up call" fights – his team showed no fight (or heart) at all.
— To make sure that everything that could go wrong went wrong, Trocheck hit a post no less than three minutes in.
— Once Trouba left the box after serving all of his penalties; the Rangers gave him stick-taps. It would've been better if they gave him some goals too.
— On Trouba's first shift once returned to the game; with 15:28 remaining, the officials assessed him with a fugazi hooking call on Kane. In my eyes, Trouba cleanly stripped Kane of the puck. I don't know how this was a hooking penalty.
— Fourteen seconds into the Hawks' power-play, Taylor Raddysh scored a deflection goal.
— 4-1, bad guys. The fat lady had sung, and she was belting the tunes loud.
— As I was awaiting to hear what these bums would say during the post-game interviews; I was hoping that a media member would screw around with Gallant and ask, "do you think you should burn the Liberty jerseys?" While of course, they'd never ask such a silly question – it would've been funny to see Gallant's response!
— Down to 12:00 remaining, Kenny and Joe were in "wrap-up mode," as they previewed Monday's game against the Blues. The two also talked about Albert's insane schedule, as he remains the hardest working man in sports. (Don't forget, he called three 2020 pandemic playoff games on back-to-back nights, six in total. No one is busier than KA.)
— Albert & Micheletti then reminded us that the Hawks had lost their last eight games. Nothing like salt in the wound!
— Halak, who at this point, had surrendered four goals on fourteen shots; received "Bronx Cheers" on every save made following the Hawks' third PPG scored of the contest.
— Soderblom, who could've went to Chinatown for a "rub-and-tug," made his second save of the period with 6:45 remaining, when he robbed Jimmy Vesey.
— As Goodrow & Blackwell took off-setting penalties with 4:14 remaining; I remembered that my friend Ira offered me free tix to tonight's game. Since I hate traveling to NYC, and since I have to go there every day of the week – I decided to pass on the offer on my off-day. A wise decision. A better decision? If I put my brain before my heart – and hammered the +278 Blackhawks tonight.
— With 4:00 to go, Gallant pulled Halak. Panarin immediately hit a post afterwards.
— Down to 2:45 remaining, Panarin went wide, Mika went wide, and as Kreider was crashing the net, McCabe shoved #20 into his own goalie. As a result of the push, the wide shot hit Kreider's skate and went into the net. A puck-luck goal – and another fugazi secondary assist for Panarin.
— 4-2, bad guys.
— Following some icings and Halak leaving the net two more times; Domi scored an empty net goal with 1:14 left on the clock.
— 5-2, bad guys.
— Gallant didn't bother pulling Halak again after this.
— For good measure, the Rangers allowed the Hawks to have one final odd-man rush with just seconds remaining.
5-2, bad guys, your final, the absolute worst of the season – and that can't be disputed.
---
Here's the head coach following the game:
---
No lie – as I was posting the clip above – I checked the Rangers' social media pages to see if Gallant had been fired.
It's late, I'm burnt out, and all of this typing is wearing out my finger-prints, so let's go to Adam Rotter, who provided a transcript of this post-game interview.
The following comes from https://nyrangersnews.com/2022/12/03/what-gerard-gallant-said-after-the-loss-to-chicago/#more-195663 :
Was this the same or different than the prior games, "it was different, definitely different."
What was different, "the way we played. We gotta make some adjustments on some of the goals getting scored, wrist shots from the points, deflections and screens in front of the net. But I thought we played faster and harder, but same result, so we gotta make some adjustments to a couple of different things, but we definitely played harder than we did the other night."
On Trouba fighting and trying to light a spark, "He's trying to get the guys on board and pull them with him. Obviously we don't want Troubs fighting three times in a weekend, but he's trying to get something out of our guys and do the best we can, that is what leadership is all about. Sometimes it doesn't happen in one night or two nights, but you gotta keep working at it and working hard and battling hard and we'll come out of it sooner or later."
Do you see enough compete level, "I saw more tonight than I did the other night, put it that way. And its just gotta be a team thing, it can't be 15-14-13, it has to be 20 and that is what Troubs is sending a message and we've all seen it."
Is it hard to justify the compete level as you see the losses pile up, "well it's frustrating, but you're not going to win if you don't compete. That is the bottom line, no matter how skilled your team is or whatever, compete comes first."
Did you expect momentum to carry over from the second to the third, "Yea and you know, the big thing….I thought we got momentum from that, first or second shift, Trocheck goes down and hits the post short-side and then I think we lost some momentum. The guys kept saying 'come on, how many posts are we going to hit before it goes in' and what was it? 3 or 4 again tonight? I think that frustrates them a little bit, it's part of the game, you gotta work through it and then they get the fourth goal and that play I just talked about, wrist shot from the point, screen in front of the net with traffic."
Is it harder to battle through with how the team is playing, "well, at least we're getting some of those chances, I was happy with some of the chances, but, again, you gotta keep working. Nothing comes easy in this league and you gotta work through it and find a way….and we will."
What kind of adjustments do you need to make, "getting in those lanes. Again, they are PPs and you are trying to cut off different seams and our PK has been great all season long, so. Again, when they've got two guys in front of you you gotta make sure you are blocking that shot up high or covering the lane."
Do you feel like you are getting the response you want, "Well obviously the last two nights it wasn't as good as we want. Again, it's not everybody. Tonight was better, Trouba is trying to set an example for our team and Goodrow does the same thing. I'm not saying that fighting is all, but Trouba throws a big hit and we got some momentum from that and you just gotta bring more guys into battle and we talk about that all the time. If we are going to win it's about battling for pucks in the corner, battling on the half wall. You gotta be involved in that, that is how you win games, on board play."
---
Print the following out, because you may never see these words appear on this site again:
Steve Valiquette absolutely knocked it out of the park in his response to Gallant's comments.
Word-for-word – he said everything that I was thinking.
Among the things the two of us agreed on:
— Gallant was way off. The team did not look like they had played hard at all.
— The team did not look better tonight than they did last night. They looked much worse, significantly worse at that.
— The Rangers have no pulse.
Valiquette then went on to say that Gallant (assuming he isn't fired by Monday), should start benching his millionaires after this wretched performance.
The problem with that (and I do think Vally is right) – there's just nobody to replace them – unless you want to call up all of the Wolfpack.
Jacob Trouba also spoke to the media, where the most notable thing to come out of it is that he paused in silence for a minute, when asked, "What happened during the third period? Where did the momentum go?"
Trouba, after his lengthy pause, said, "I gotta be careful of what I say."
I don't have to be careful of what I say, so I'll say it for him – THEY SUCKED.
---
I still have a lot of thoughts racing in my mind, so I'll close with these bullet-points:
— Whatever Gallant is preaching, the choir isn't listening.
— I understand that it's Gallant's job to stay even-keeled and support his overpaid and disappointing players – but if there was ever a time to go full-blown Torts, tonight was the night. His post-game interview really let me down.
— However, this is all on the players. Where's their pride?
— As time passes and revisionist history is written, the 2022 ECF performance will go down as another major WHAT IF, of many, for the franchise – rather than being remembered for what it was – a Cinderella run with many breaks along the way.
— I just don't know how they can rectify this. I don't think there is a button to press or magic wand you can use to fix whatever is plaguing this team right now.
Finally, I admit it – I was dead-wrong about the team's chances this year.
At this point – this is the worst season since the second Dark Age era, solely due to the expectations following the run from last season.
Whatever they decide to do between now and Monday will be interesting, where everyone will have their eyes on the status of Gallant – for as merited or as unmerited as this may be.
Of course, they can continue to talk the talk, but since they can't walk the walk – all of their cliches and hurt feelings are meaningless.
As Trouba said during his interview, this is a results business.
It's now time for Drury to make this a consequences business too.
If something breaking happens on Sunday, I'll return then. Truthfully, I'm hoping nothing happens. I need a day away from this team.
They've "Ranger'd" me out.
In any event, I'll definitely be back on Monday night, when St. Louis makes New York sing the "Blues."
Ugh.
PLUGS TIME!
---
My first plug of tonight's blog – the mandatory plug for my book, "The New York Rangers Rink of Honor and the Rafters of Madison Square Garden."
As mentioned previously, the book is now available in hardcover, in paperback and in Kindle formats. To purchase a copy of the book, visit this link:
https://www.amazon.com/Rangers-Rafters-Madison-Square-Garden-ebook/dp/B09CM5N2WD
For those still looking for signed paperback versions of the book, I have re-ordered more copies. I now have a few signed copies for sale at $25 a pop (includes shipping price) through me directly. Here is all the information on that:
---
My four-volume set of books, "One Game at a Time – A Season to Remember," is a game-by-game recount of the Rangers 2021-22 campaign.
My second title as an author, "One Game at a Time – A Season to Remember," is now available in eBook, paperback and hardcover formats.
To obtain signed copies, visit: https://bluecollarblueshirts.com/onegamebook/
To purchase all four volumes on Amazon, visit: Amazon.com – "One Game at a Time."
---
"Tricks of the Trade – A Century-Long Journey Through Every Trade Made In New York Rangers' History," a four-volume set of books that meticulously covers every trade made in franchise history, is now on sale.
All four volumes of the title can be purchased on Amazon.com and are presented in three different formats – eBook, paperback and hardcover.
To purchase Volume I: Conn Smythe (1926) – Craig Patrick (1986), visit Amazon.com
To purchase Volume II: Phil Esposito (1986) – Neil Smith (2000), visit Amazon.com
To purchase Volume III: Glen Sather (2000-2015), visit Amazon.com
To purchase Volume IV: Jeff Gorton (2015) – Chris Drury (2022), visit Amazon.com
To purchase signed copies of all four volumes, visit https://bluecollarblueshirts.com/tricksofthetrade/
---
Here are my last few blogs, in case you missed them:
---
---
---
If you haven't already, subscribe to this blog for the next update:
---
Don't forget to order my new four-volume set of books, "Tricks of the Trade!"
If you don't order through me, all four volumes are now available on Amazon.com
For more details, check out: https://bluecollarblueshirts.com/tricksofthetrade/
Thanks for reading.
LET'S GO RANGERS!
Sean McCaffrey
BULLSMC@aol.com
@NYCTHEMIC on the Tweeter machine