Greetings and salutations everyone and welcome to another blog here on BlueCollarBlueShirts.com. WHAT A WIN!
On Friday, December 27th, the Rangers played their final game of the decade at Morgue $quare Garden. How fitting it was, that the Carolina Hurricanes were the Rangers final home opponent of 2019. As a result of the Rangers 5-3 victory tonight, the Rangers have now defeated the Carolina Hurricanes at home, in 18 of their last 19 games played. That's one win for Carolina at M$G during this decade. That's pretty sick when you think about it.
Despite the Rangers history against Carolina at home, and their two wins against Carolina this season, I didn't have a good feeling about this game going into it. In fact, I talked about this topic, among others, in-depth, during last night's blog. And what a segue-way to tonight's PLUGS section!
Say it with me folks – here are my last few blogs, in case you missed them:
---
---
---
---
---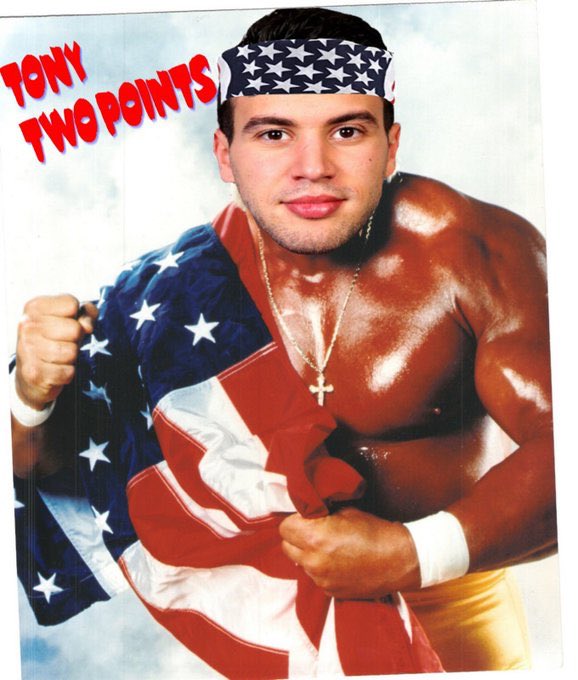 Going into this game with Carolina, I just couldn't shake off the loss to Philadelphia. I felt that loss to Philly was the dagger to the Rangers playoff hopes. And who knows, it may very well be. That said, as I said in last night's blog, the Rangers are still alive in the playoff hunt and need to pick up at least 8 points in their next five games, just to keep pace with the rest of the Eastern Conference.
In the Rangers first test, here against Carolina, the Rangers aced the test, by defeating the Hurricanes. Even better, in what was a "four-point" game, (Rangers get two points, Carolina gains 0/prevented from getting two points) the Rangers beat the Hurricanes in regulation, leaving Carolina pointless on the night. That said, the Rangers can't get too full of themselves now, as they will now head to Toronto for a game on Saturday night, during the featured "Hockey Night in Canada" game. However, I'll get more into the game against Toronto at the end of this blog.
In tonight's victory over Carolina, the Rangers won by two goals. And this is no coincidence – in this win over Carolina, the Rangers scored two power-play goals and the Rangers penalty kill went 5-5. That was the difference of the game – special teams, as the Rangers executed and produced on their special teams, while Carolina did not. For once, it was nice to see the Rangers on the winning end of this equation. Far too often, the Rangers have failed on special teams and it has cost them points and wins.
Moving forward, the Rangers must continue to play well on special teams, especially with a bunch of tough opponents coming up on the docket. Special teams swing games, just like how it swung this game tonight.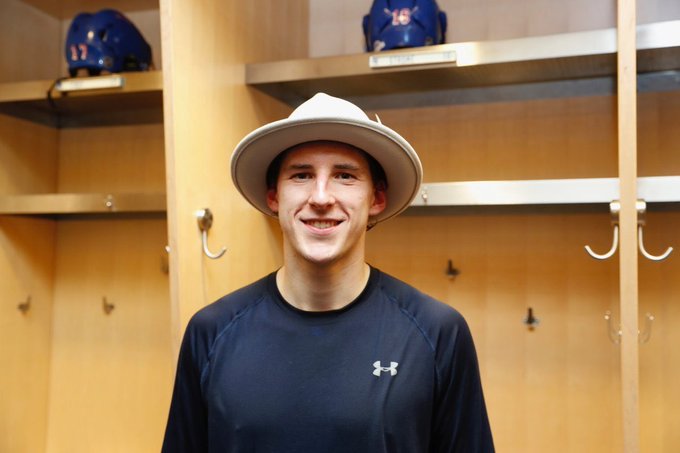 At this time, let's go to the GAMBLING segment of the blog. Here's what I said before the game:
Season over-under record: 18-17-1

I was able to get this game at -6. I think Carolina is going to blow away the Rangers tonight. Both teams are coming off crazy losses. Carolina will be looking for revenge & I don't see them choking this "four point" game.

TAKE THE OVER.#nyr pic.twitter.com/Vbsule3WcN

— BlueCollarBlueShirts (@NYCTheMiC) December 27, 2019
Well I get the win tonight and my record improves to 19-17-1. That said, I couldn't have been more wrong about this game. I really expected Carolina to play with a sense of urgency. I thought they would look to avenge their previous losses to the Rangers. I really believed that Carolina would pounce on a reeling Rangers team. Instead, the Rangers went out there and nearly hit the over all on their own, with five total goals for. But hey, what a great feeling! I get the win and so do the Rangers! WINNING!
If there is anything that isn't winning, it's this: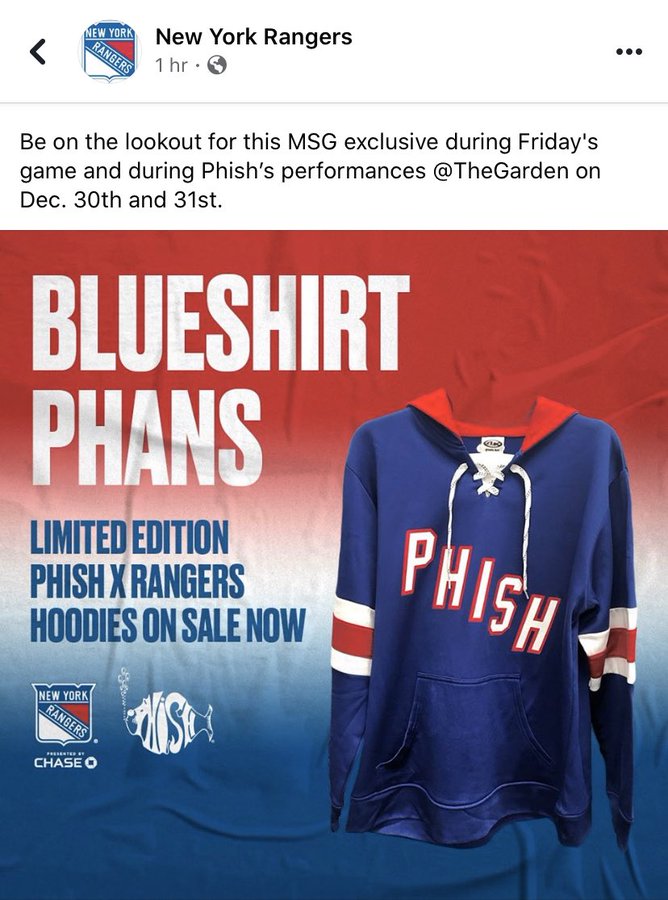 It just amazes me, that the Rangers are pushing merchandise of a drug abusing hippie band. They even have a stupid Phish banner in their rafters, while guys like Frank Boucher, Ivan Johnson, the Cook brothers, Emile Francis, Ron Greschner, Bryan Hextall, Dave Kerr, Lester Patrick and others, remain ignored by the franchise. I guess Rangers owner James Dolan, an admitted addict, values people who abuse drugs more than players who had Hall of Fame careers or won Cups for the Rangers. SAD!
It is just hypocritical to me, that the franchise will do these anti-drug personal service announcements, but in the next turn, promote merchandise for a band that promotes drug use. Hey, just like good pot, as long as the money is green, Dolan and the Rangers are okay with it.
Next.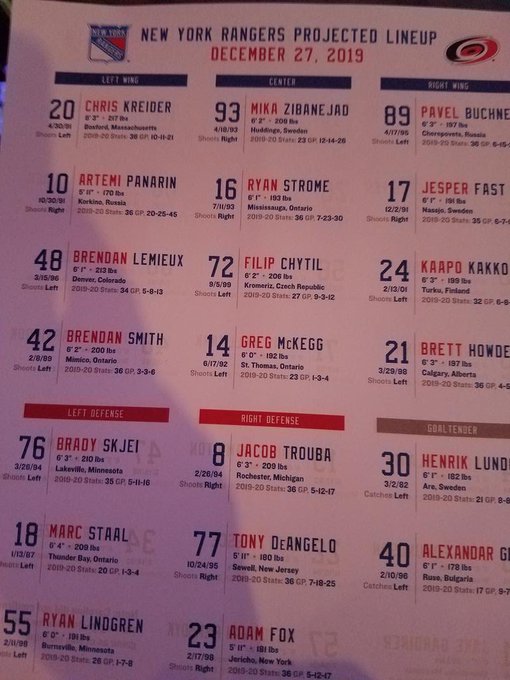 Line-up wise tonight, Kaapo Kakko returned in tonight's game. Kakko missed the last two games, as he was nursing a blocked shot boo-boo. Here in this game with Carolina, Kakko was barely noticeable to me. He did have one chance to score though, (Chytil fanned on a one-timer pass to Kakko) but outside of that, I can't recall seeing Kakko doing much of anything. To be fair, that could be the TV viewer experience. Maybe live, where you can watch everything going on, maybe Kakko was more productive. However, I just didn't see it tonight.
The M$G Networks pregame show was full of Lundqvist propaganda as usual. Lundqvist's last game against Philly, where he gave up five goals, was completely ignored. In fact, after tonight's game, in the post-game show, Valiquette, who you know, has begged the Rangers to trade or move on from Georgiev after two different Georgiev shutouts this season, campaigned for Lundqvist to start tomorrow night's game with Toronto.
No joke, Vally said, "Lundqvist has been great on back-to-backs this season." Lundqvist just gave up five goals to Philly during his last back-to-back game. Like anything else that paints Lundqvist in a bad light, that fact, and a real stat of FIVE GOALS ALLOWED in Lundqvist's last back-to-back start, were ignored.
However, the M$G propaganda didn't stop there.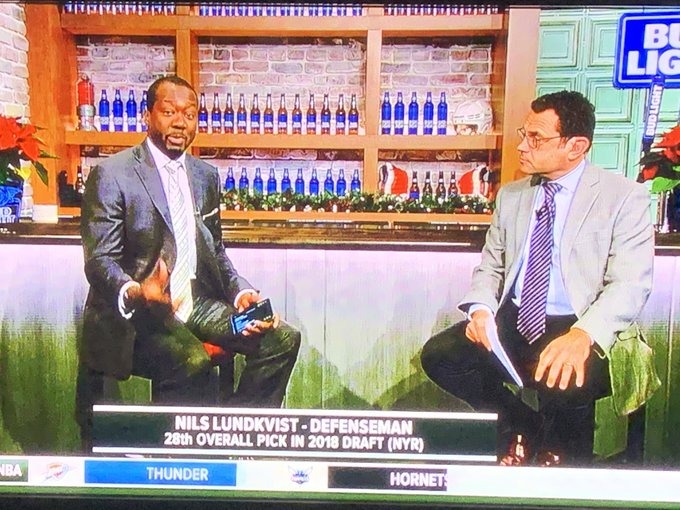 Anson Carter, who is being a good little M$G soldier these days, started off the Bud Light Bar segment by slobbing over Lundqvist. After that, Carter started singing the praises of Gordie Clark. What a week to do that. Lias Andersson, the supposed crown jewel of the 2017 NHL draft, you know, the player Jeff Gorton said "was the most NHL ready", has deserted the franchise. In turn, Carter praises Clark. Maybe this was the Rangers/M$G/Carter's passive-aggressive jab at Andersson. The Rangers have had issues with both Andersson & Kravtsov this season, Kakko is currently struggling and Carter's hot take is to make Gordie Clark seem like the Rangers secret weapon. Hilarious. What timing.
If there was anything decent about the pregame show, Al Teethwig continued his interview with JD. There wasn't much to this segment of the interview, as there was in the first part of this interview, which aired on Monday night.
In this second part of the three-part interview, JD said he feels that the Rangers are a playoff team. JD also said that scouting wise, everyone has to adapt to the evolving changes in the game of professional hockey, not just in North America, but in Russia, Sweden and in other hockey hotbeds.
JD talked about his time in Columbus, saying he felt they were right there. After all, in three consecutive postseasons, Columbus lost to the eventual Stanley Cup champion or Stanley Cup Finalist. (Pittsburgh/Washington/Boston.) JD then also said he was happy for the St. Louis Blues and their fans, for their Stanley Cup win this past June. That was pretty much it for this interview. Again not much.
Finally, after Giannone said "Lundqvist was the featured player tonight" (What a shock), Joe Micheletti gave us his Taco Bell Take, which of course, featured Lundqvist. Some rebuild.
No joke, this pregame show was 30 minutes long. 27 minutes of the pregame show featured Lundqvist. What is this franchise going to do if and when Lundqvist does leave? (I'm not sold that the Rangers will ever move on from Lundqvist. I think even after he dies, the Rangers will freeze him like Walt Disney and put him in net. Fans will still blame the defense for every goal allowed.)
Oh and of note, despite a pregame show that was dedicated solely to Lundqvist, there wasn't one peep about his last game, where he gave up five goals. Funny how that works.
At this time, let's go to the official box score, courtesy of ESPN.com:
SCORING SUMMARY: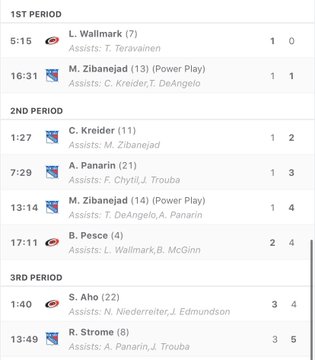 PENALTIES: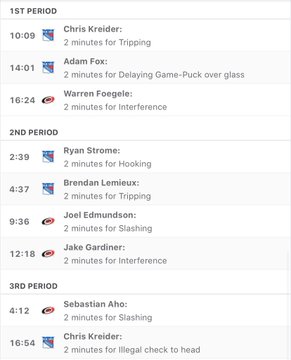 TEAM STATS (Look at the special teams)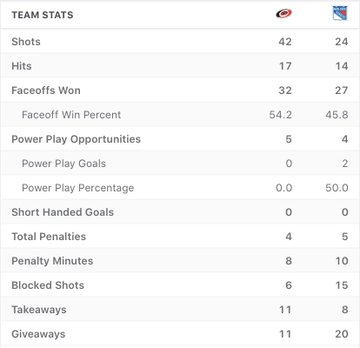 GOALIES:
| | | | | | | | | | | |
| --- | --- | --- | --- | --- | --- | --- | --- | --- | --- | --- |
| SA | GA | SV | SV% | ESSV | PPSV | SHSV | SOSA | SOS | TOI | PIM |
| 42 | 3 | 39 | .929 | 23 | 2 | 14 | 0 | 0 | 60:00 | 0 |
| | | | | | | | | | | |
| --- | --- | --- | --- | --- | --- | --- | --- | --- | --- | --- |
| SA | GA | SV | SV% | ESSV | PPSV | SHSV | SOSA | SOS | TOI | PIM |
| 24 | 5 | 19 | .792 | 16 | 1 | 2 | 0 | 0 | 57:48 | 0 |
Once the Lundqvist News Network finished up their pregame show, we finally had puck drop. Sam Rosen's breaking news, as the puck hit the ice was, "David Quinn wants to win." What a scoop.
Chytil, who I thought played well tonight, got the first Rangers shot of the game. Reimer made the easy save. After that save, Micheletti started yammering on, about how Rod Brind'Amour should be in the Hall of Fame. No mention of Frank Boucher for the rafters though.
In the early moments of the first period, Lundqvist misplayed a puck and it almost cost the Rangers. Fortunately no goal. Right after this, Zibanejad would get deep into the Carolina zone, burn a defender and had an excellent scoring chance against Reimer. Reimer made the save here, but Zibanejad would get him back two-fold.
The Rangers kept up their attack, as on a two on one break, Chytil and Kakko rushed up the ice. Chytil fanned on a pass to an open Kakko. This was more unfortunate for Kakko in my opinion, as he could've really used the goal here. It would've boosted his confidence and would've helped to get him going again. Instead, this was a failed opportunity, an opportunity that does no damage to Chytil, as he's been superb ever since being called up from Hartford.
At the 5:15 mark of the first period, Carolina got on the board first, after a goal from Lucas Wallmark:
Teuvo Teravainen with a no-look centering feed to Lucas Wallmark for the game's first goal. Wallmark's point streak extends to 5 games. 1-0 Hurricanes in New York. pic.twitter.com/oMx5NPi8xA

— Brett Finger (@brett_finger) December 28, 2019
1-0, BAD GUYS.
On the goal, Brady Skjei, who was a turnover machine all night, turned the puck over and boom, this led to Wallmark's goal. Lundqvist could've made a save here, as the puck went through the five hole. Still, this play doesn't happen if Skjei was better with the puck. Oh and of note, as you could probably predict, Rosen was calling Wallmark "Walmart" all night. I guess it's better than saying "CUM SQUASH", when referring to Comtois of the Ducks.
After this goal, the Rangers got sloppy a bit and got away from what they were doing in the first five minutes of the contest. What stung at this point in the game, was that the Rangers had three good chances to score and failed on each one. On Carolina's lone chance, they got a goal. Fortunately, the tide would turn.
After a TV timeout, we resumed play, where the Rangers had a four vs three chance. I'll give you one guess on who turned over the puck here. Why yes, it was Brady Skjei!
At the 10:09 mark, Chris Kreider was called for a blatant trip of Neiderreiter. While the referees missed some calls tonight, on both teams, I thought the refs were pretty fair in this game. The Rangers took five penalties in this game, and you really couldn't argue about any of them, except for maybe the last one. More on that penalty as we continue.
Carolina came into this game with the 5th best power-play in the league. By the time the game was over, the Rangers killed every single Carolina power-play. Impressive. The Rangers would go on to kill this, with Lemieux almost having a short-handed opportunity.
Artemi Panarin, the MVP of the Rangers and the guy who should go to the All-Star Game (I don't know how these M$G dickheads can actually ponder the idea of Lundqvist going to the ASG over Panarin) gave us glimpses of what was to come. After killing the Carolina PP, Panarin forced a turnover and skated at Reimer. Unfortunately, Panarin got too fancy and this led to nothing. Still, Panarin showcased his play-making abilities here, and that would factor in as this game progressed.
With under 8 minutes to play, Ryan Lindgren would break up a Carolina two on one break. Fox would then hoist the puck over the glass, giving Carolina another power-play. The Rangers killed this. And kudos to this Rangers PK, they were incredible tonight.
At the 16:24 mark of the period, Foegele was boxed for interference, giving the Rangers their first power-play try of the game. Before Rosen and Micheletti on TV, and yours truly on social media, could rattle off the negative Ranger power-play stats off, Mika Zibanejad scored 7 seconds in to the power-play:
Wait for the slo-mo 😍 😍 pic.twitter.com/iOQ1DJ8jZk

— Rangers on MSG (@RangersMSGN) December 28, 2019
1-1.
On the goal, Strome creates space for Zibanejad, Tony DeMAGAngelo finds Kreider and Kreider makes the sweet pass to Zibanejad. Bang.
On the ensuing faceoff, Trouba would high-stick Wallmark. No call. Rangers got away with one here. Then, with a minute left in the period, Ryan Strome rung one off the iron.
At the end of the first period, the score was tied at 1-1, and Carolina had a 15-9 SOG advantage. However, this was a game about the QUALITY of shots and not about the QUANTITY of shots.
The second period was all Rangers.
After a terrible intermission segment, where Vally decided to talk about Yo Yo Ma instead of showing the goal against Lundqvist, (I am not making this up) we resumed play.
Lundqvist would stop a Carolina one-timer at the early onset of the period. After that, this game was dominated by the Rangers.
90 seconds into the period, Kreider & Zibanejad teamed up again:
1st goal: Kreider to Mika
2nd goal: Mika to Kreider

We don't hate it pic.twitter.com/geMlYlnSPi

— Rangers on MSG (@RangersMSGN) December 28, 2019
2-1, GOOD GUYS.
On the goal, it was just a perfect rush, a perfect pass and a perfect finish. And hey, look at what Kreider was saying after the goal! I believe he said "NICE FATHER FINKIN' PASS, NICE FATHER FINKIN' PASS!" If you're finding this blog later on in this season, this is where the term FATHER FINK originates from – when athletes get caught using the f-bomb on TV. Check the old blogs for more. (And to be clear, I'm not against athletes using the word, it was just a term my dad used when I was a kid, when cameras would zoom in on athletes using the eff word.)
Right after this, Strome would be called for hooking, at the 2:39 mark. The Rangers were on their way of killing this penalty, but with three seconds left, Lemieux would be called for interfering with Reimer. Unlike other Lemieux calls against this season, this penalty was legit. This would then give Carolina 5 vs 3 power-play, albeit, a three second one.
And guess what, despite having to be on the penalty kill for four straight minutes, the Rangers handled business again, as the PK went 4-4. Just superb, just superb.
Of note, during the second PK of the period, Carolina looked like they had a PPG, when Aho trickled a puck past Lundqvist. This kid's face says it all: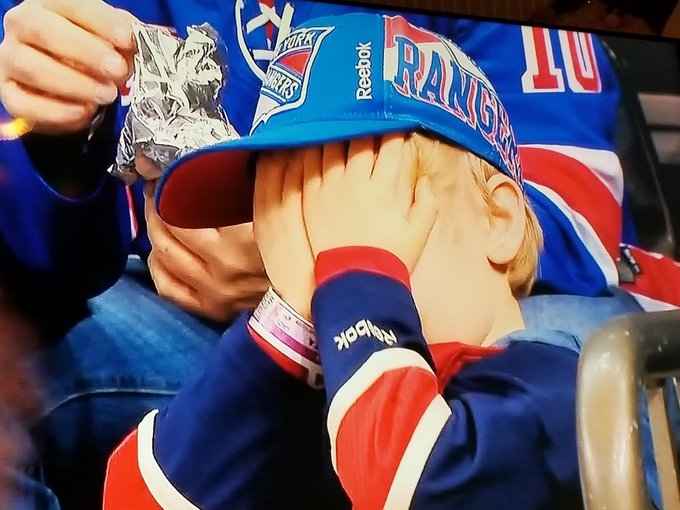 However, after a lengthy review, it was determined that a Hurricane was offside by a hair. No goal.
I've talked about this before, so I won't do the whole long spiel here. I just hate these reviews. While it went the Rangers way, these reviews hurt and slow up the game, in my opinion. A player is offside by less than the length of a half eaten tic-tac, and an offside that had nothing to do with the goal, erases the goal off the board.
I just wonder how many goals would've been taken away from Gretzky, had these rules been in place. If the goal of the league is to increase scoring, these ticky-tacky offside reviews don't help the game. That said, it's in the rule book, so coaches will always review these things when warranted.
To be clear, David Quinn made the right call here, I just hate these reviews, no matter the teams playing or who scores. It's one thing if a guy is offside by a foot or more, it's another when the blade of a skate is offside by a millimeter.
Want to know the funniest and most ironic thing about this review? This was probably the turning point of the game. Instead of the game being 2-2, and with Carolina on a power-play for a failed review, instead, the game remained at 2-1 and the Rangers avoided another Carolina PP, which would've gave Carolina three straight power-plays in a row.
The Rangers would go on to kill the remainder of the Carolina PP. Then, once at even strength, the Rangers made it 3-1, GOOD GUYS:
🍞 🍞 Breadman gives us a 2 goal lead 🍞 🍞 pic.twitter.com/MNsZDT3taz

— Rangers on MSG (@RangersMSGN) December 28, 2019
Sometimes, you score goals off of skill. Sometimes you score goals off of luck. In this goal, we saw both skill and luck.
As you can see from the clip above, Chytil skates right to Reimer. Chytil doesn't shoot, despite having a great opportunity. Instead, Chytil slows down, freezes and tosses the puck in front of three players. Somehow, Panarin finds the puck and roofs it above Reimer. Rangers goal. I'm telling you, if Panarin doesn't clean up this puck and score, people would've killed Chytil for passing. It worked out here. Crisis averted.
And after this goal, despite 32+ minutes left to play, Sam & Joe called this the play of the game. I don't get why they have to jump the gun on this stuff. I feel it's a jinx!
At the half-way mark of the period, Kreider drew Edmundson for slashing. This put the Rangers back on the PP. Panarin would set up Zibanejad, all alone in front of Reimer and Zibanejad couldn't handle the pass. This would've been a great scoring chance. And I have to say it here, in case you can't tell, Panarin was setting up his teammates left and right all game.
The Rangers would be stopped on this power-play, but would get another power-play, two minutes and change later, when Gardiner interfered with Buchnevich. After Kreider came close on a backhand shot, DeAngelo got the puck to Panarin, Panarin didn't get the puck exactly where he wanted it, yet the puck found Zibanejad, all alone, and at a perfect shooter's angle at Reimer. Despite defensemen to his right, Zibanejad got the shot off and beat Reimer. 4-1, GOOD GUYS. Two power-play goals to boot!
While I didn't think Carolina was particularly great tonight, I have to admit, the Rangers had some puck luck in this game and they made Carolina pay.
With under three minutes remaining in the period, Brett "I'm not Joe" Pesce beat Lundqvist on a two on one break. 4-2, GOOD GUYS.
Right after this, Sam & Joe started pushing tickets again: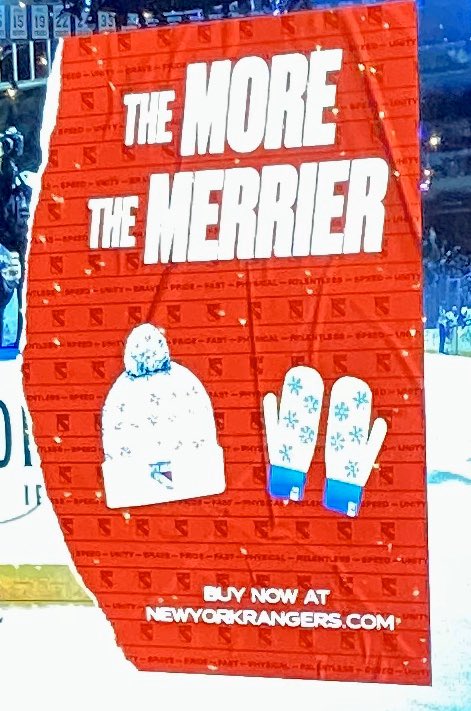 Towards the end of the period, Zibanejad would break up a Carolina breakaway chance. We then got to triple zeros of the second period, with the Rangers maintaining their two goal lead.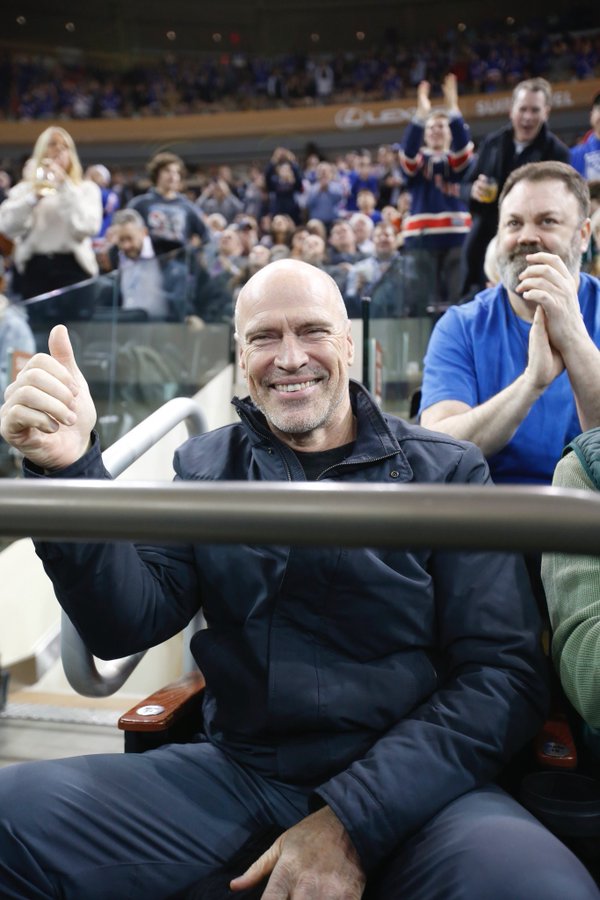 Carolina came out hot to start the third period. Carolina would apply early pressure in the Rangers zone. After Lundqvist bobbled a puck, which prevented a freeze or a Rangers clear, Carolina capitalized on his turnover and quickly beat Lundqvist, 100 seconds into the period, after a goal from Sebastion Aho. 4-3 GOOD GUYS.
With over 18 minutes to play, I have to admit that I was shocked after the game. I for sure, thought Hank would blow this three goal lead. However, the $8.5M man was able to win a game that the Rangers scored five goals in. Too bad he couldn't do that in playoff games in 2015 or 2017.
After being benched during parts of the game, Brady Skjei was back on the ice. The M$G cameras then caught Lundqvist crying to Skjei about something. I guess it's cool to see two players, with horrendous contracts, conversing.
Carolina continued to play like gangbusters in this period. The turning point of the period was when Carolina blew a 3 vs 2 chance. Fast would then draw a slashing call, about five minutes into the period.
On the PP, Panarin, who was trying to find teammates all game, would try to set up Strome. Panarin probably should've been selfish here and took the shot himself. However, with the way he's playing this season, how can anyone second guess his moves?
Carolina would then go on to kill the Rangers PP. This is the point in the game where M$G showed us that Messier was in the house. In fact, it seems like he's always in NY during Christmas time. I mean, remember this picture from three years ago: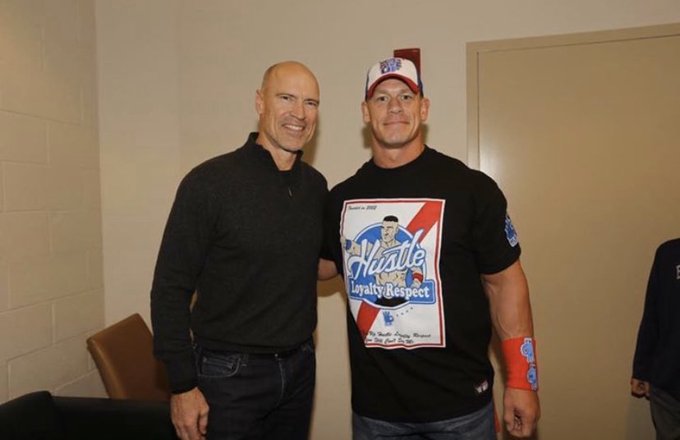 After a period that started off as all Carolina, the Rangers hustled and broke their holes here. This is what a 60 minute game is all about. The Rangers didn't rest with the lead. The hard work would pay off, as with just under 6 minutes to go, Panarin, who already tried to set up Strome for a goal on two separate plays, finally got his wish. Panarin, who just razzles and dazzles the puck like no other Ranger this century, made a pass that only he could make, finding Strome all alone in front of Reimer. 5-3, GOOD GUYS.
Best thing about this goal? Ryan Strome started doing the Panarin "Rockette" leg kick. That's great for Ranger fans. However, if I'm on the other team and I saw that, I think I would be looking to cream Strome on the next shift. It's like a showboating homerun hitter bat-flip. It's a celebration that shows up the other team. Personally, I got a "kick" out of seeing Strome celebrate here, but if someone ran him on the next shift, I would understand.
At this point in the game, you had to assess what you saw. Zibanejad? Big game. Kreider? Big game. Panarin? Big game. Younger players, like Tony DeAngelo and Filip Chytil stood out too. And how about Trouba with two assists tonight as well?  Of course, you also have Henrik Lundqvist, who had another good game against Carolina. You know my takes about him being on this team, and how I feel that the Rangers are just spinning on a hamster wheel with him & his disgusting contract here, but he played well enough to win too.
With under four minutes to go in the period, Kreider would be called for "illegal check to head", after a hit on Hamilton. Live, this looked like a clean hit. M$G didn't give us a good replay of the hit. I will say, M$G did give us a replay of Zibanejad getting high-sticked right before this call on Kreider, which was a no call. However, I can't go crazy about the refs here, as they let Trouba get away with a minor in the first period.
Carolina, down by two, pulled Reimer while on their fifth and final failed power-play. With the two man advantage, Lundqvist did his best work of the game here. Then, when plugging a Ryan Strome feature, Sam Rosen said, "Strome will make a good analyst some day." Joe then said "SHUT UP SAM!" I was in Father Finkin' tears.
JIM SCHMEIDEBERG, of BSU Radio, if you're reading this, please get me the audio of that on your next show! Speaking of Jim, congrats to him and his new fiancee Jennifer Eberhart, as the couple announced their engagement on social media today. Both of these people are great Ranger fans and better people. I wish them all the luck moving forward.
And oh, as I said on social media – Jen now has more rings than Lundqvist. HEYYO!
Despite having an empty net for about two minutes or so, the Rangers couldn't hook up Zibanejad with a hat trick. No worries, as the Rangers went on to win the game 5-3.
This wasn't the biggest win of the season or anything like that, but to me, it was a very important win. I really thought the Rangers were going to get their ass kicked in this game, and instead, I was pleasantly impressed, as the Rangers really showed us that they gave a damn. Perhaps that loss to Philly had them as incensed as I was!
That said, this is no time to be popping bottles, as the Rangers will play Toronto in less than 24 hours. More on that, after the Lemieux news.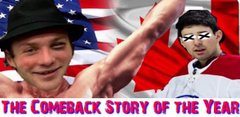 While it wasn't mentioned on the broadcast, nor do we know how it happened as of this writing, after the game, Rangers beat reporter, Vince Mercogliano, tweeted out the following:
Brendan Lemieux fractured his hand. DQ didn't have a ton of info but he's going to miss some time. #NYR

— Vince Z. Mercogliano (@vzmercogliano) December 28, 2019
This news obviously sucks. Lemieux provides that sandpaper, that grit and that JAM, that all NHL rosters need.
And not that this is news to you, but I am not a doctor. I have no clue how long Lemieux will be out for. All I can tell you, is that based on a Google search, a fractured hand can take 3-4 weeks, before it fully heals. That said, I don't know the severity of the injury. He could be out for longer than 3-4 weeks. Again, no one knows, as this news just broke. Plus, it's not like NHL teams are the most forthcoming when it comes to injury-related information.
With the Rangers embarking on a four game road trip, which covers three time zones and four different Canadian cities, you have to expect that they will call someone up. After all, who wants to see a line of Haley/McKegg/Smith for four straight games? In addition, if someone gets hurt, while the Rangers are in Western Canada, it's a long flight from Hartford to get a replacement. I would imagine it's also an expensive flight too, during this time of year!
I don't think you have to guess who I would want called up right now. Of course, I want VINNI LETTIERI to be called up!
With Lemieux out, there are a few candidates the Rangers could call up. We've already seen Gettinger and Nieves flame out here. Phil DiGiuseppe, who was called up on Monday, before being sent down shortly thereafter, could be a candidate for the call-up.
Of course, Vitali Kravtsov could be called up, but I would hate to see that. I think that rewards someone who has a sense of entitlement around him. Kravtsov has been a complete baby this season, so I think he deserves a nice long timeout in Hartford. I think giving him a promotion here sends the wrong message to the Wolfpack guys, the guys who have actually busted their ass for an opportunity to play with the Rangers this season.
If you're a regular here, you know all my thoughts on Lettieri. Real quick, for those who don't know, I think the Rangers have to give him one last look, before stamping the "4A" or AHLer label on him for life. After all, why re-sign him this off-season, if you don't think he has any potential to make it?
And to be fair, it's up to Lettieri to produce if he's called up. If he doesn't, it's on him and the Rangers can move on from him this summer.
I've talked about Lettieri a ton on these blogs, and now I want him called up even more. We have seen Lias Andersson pout and leave like a bitch. We saw Kravtsov run to Russia, before getting demoted there, and then come back groveling to the Rangers. Lettieri, who you know, deep down, wants to be on this team, has taken his demotion in Hartford, without a word of negativity. Right now, he's one of Hartford's best players, and should get a reward for towing the company line.
That said, if it isn't Lettieri, I get it to an extent. However, in my opinion, there is no perfect candidate to reward than Vinni Lettieri right now. And really, if it's Lettieri or someone else, whoever the player is, they will have a good shot of staying with the team if they play well. This player, if they play well, will most likely get over three weeks with the Rangers. Once Lemieux returns, perhaps this player could bump off Micheal Haley or Greg McKegg.
Moving along here, and as we hit the home-stretch, the Rangers will now travel to Toronto. The Leafs beat the Devils, in New Jersey on Friday night, in overtime, by a final of 5-4. The biggest thing of note here, is that Toronto started their back-up goalie, in Michael Hutchinson, who came into this game with a 1-5 record, a GAA of over 4.00 and a save percentage of under .885. That means the Rangers will get the impressive Frederick Andersen on Saturday night.
If there is anything we know about this Leafs team, they have given up a ton of goals of late. They gave up four goals to a crappy Devils team. Prior to that, they gave up six goals to Carolina. For the Rangers, they must continue what they did tonight. They must execute on the power-play. They must finish on odd-man rushes. They can't just clam up and hide, like they did in Philly.
Goalie wise for Toronto, despite Valiquette pounding his pud over Lundqvist in the post-game, where he begged Lundqvist to be the starter, it makes no sense to start Lundqvist tomorrow, especially if winning and rebuilding is the goal here. Georgiev hasn't played in over a week now. How long do you want to keep him on ice? Plus, after the last game with Toronto, where Georgiev lost, perhaps he will have some extra motivation to put forth another 40+ save effort (which he did twice last season) against these Leafs.
If this was scripted like pro wrestling, you know what I would book tomorrow – a Georgiev shut-out and a Vinni Lettieri game winning goal!
I'll be back tomorrow night, after the tilt with the Leafs.
As I said in last night's blog, we are now one down, four to go, as the Rangers tease a playoff push.
HUGE WIN TONIGHT!
As always, thanks for reading and…
"LET'S GO RANGERS!"
Sean McCaffrey
BULLSMC@aol.com
@NYCTHEMIC on tweeter