Greetings and salutations everyone and welcome to another blog here on BlueCollarBlueShirts.com. For my Christian readers, I hope your Christmas was Merry. If you're Jewish, I hope your Chinese food & movie was good. And if you celebrate Kwaanza or Boxing Day, then I hope you got your rocks off too.
And that now concludes the pleasantries segment of this blog!
---
"Make his fight on the hill in the early day
Constant chill deep inside
Shouting gun, on they run through the endless grey
On the fight, for they are right, yes, by who's to say?
For a hill men would kill, why? They do not know
Stiffened wounds test there their pride
Men of five, still alive through the raging glow
Gone insane from the pain that they surely know
For whom the bell tolls
Time marches on
For whom the bell tolls
Take a look to the sky just before you die
It is the last time you will
Blackened roar massive roar fills the crumbling sky
Shattered goal fills his soul with a ruthless cry
Stranger now, are his eyes, to this mystery
He hears the silence so loud
Crack of dawn, all is gone except the will to be
Now they see what will be, blinded eyes to see
For whom the bell tolls
Time marches on
For whom the bell tolls"
"For Whom The Bell Tolls" by Metallica (1984)
Oh, and for those who aren't aware of the music portion of this song, here you go:
As I start this blog, here on the eve of the NHL season resuming operations, in regards to the New York Rangers, the song, "For Whom The Bell Tolls", comes immediately to mind.
Going into Friday night's game with the Carolina Hurricanes, the Rangers have played 36 games (43.9% of the season) and sport a record of 17-15-4, which is good for 38 points. As it stands right now, in regards to a potential playoff berth, the Rangers are currently 8 points away from the second wild card and 9 points away from the third seed in the division.
Just like the Rangers last game, in the game against Philly, which was played right before the Christmas break, come Friday, 12/27, the Rangers will play another "four point" game, when they host the Carolina Hurricanes. For those who don't know, Carolina currently holds the second wild card spot in the Eastern Conference. The Canes are also one point shy of the third seed in the Metropolitan division, chasing those same Philadelphia Flyers that the Rangers just got smoked by. Funny enough, the Rangers are 2-0 against Carolina this season.
Before moving ahead, here are my last few blogs, in case you missed them:
---
---
---
---
---
While other writers, bloggers, podcasters, Twitchers, Facebookers, YouTubers and Tweeters, all worry about meaningless All Decade Lists or are currently writing 20/20 hindsight articles (as Larry Brooks recently did, in regards to the Hayes/Trouba article that just ran in the NY Post on Christmas Eve) I've decided to look at something else that actually matters – the upcoming do-or-die schedule and potential future NY Ranger roster moves.
Oh and really, as I touched upon last blog, does anyone really give a crap about an All Decade List, no matter what the subject? After all, how does the "Top Ten Rangers of the 2000-2009 Decade" effect your life today? All of these lists are a way to create click-bait and arguments, during a lull period of the NHL season. If you're into that stuff, that's cool; but to me, it's just meaningless space filler content.
When I look at the lyrics of "For Whom The Bell Tolls", I think the words are very befitting of not just Chris Kreider, but of these 2019-2020 New York Rangers, as a whole.
During the past two weeks, NY Rangers head coach David Quinn has talked about his goal of making the playoffs. I have also chimed my opinion in on this topic as well. If you missed my last few blogs, the short of it is that I want to see the Rangers make the playoffs; but after that loss to Philly, I think the dream is over.
And to be clear, I'm not using the word "obvious", when I say that I want to see the Rangers make the playoffs. After all, there are large sections of this fan base that would like to see the Rangers "tank" and try to get a good draft pick. To me, I just can't waste countless hours on this blog & thousands upon thousands of dollars on this team, just to see them lose. Plus, with the way things are, I don't think the Rangers are bad enough to bottom out. Unfortunately, I don't think they are talented enough to make the playoffs either. They are somewhere in the middle.
And really, even if the Rangers did flatten out and hit the bottom-of-the-barrel, how confident can you be in their drafting? The Lias Andersson & Vitali Kravtsov situations should have you scared straight!
When you look at the Rangers this season, they have given up way too many "easy" points this season. While I'm aware that every game has that "Any Given Sunday" vibe to it, meaning that anyone can beat anyone on any given night, for the most part, good teams usually beat bad teams.
Just look at this season thus far. The Rangers have lost games to crappy teams such as the New Jersey Devils, Ottawa Senators (twice), LA Kings & the Anaheim Ducks. The Rangers are currently 9 points out of a playoff spot. Now I know this is a stretch, but if the Rangers handled business against these bad teams, that's 10 points. If the Rangers had those 10 points, they would have the third seed in the Metropolitan division and have a point lead over the two other Eastern Conference wild card teams.
I do want to be clear with you here. I understand that I'm dealing with a hypothetical here, but look at some of the wins this Rangers team has picked up this season. As of 12/27/19, the Rangers have beaten several playoff teams this season, such as Winnipeg, Carolina (twice), Pittsburgh, Washington, Montreal and Vegas. For a team that has beaten some pretty good teams this season, it just drives you up a wall when the team pisses away easy points.
With the table now set for you, I am not exaggerating when I say this – the next upcoming five games will determine the fate of the Rangers, their playoff hopes and their roster moves, here in this 2019-2020 season. And you know what's crazier? In the rare event that the Rangers win these next five games, they will still have a ton of work to do, in order to keep pace for a playoff berth.
In the next five games, games that run through Saturday, January 4th, which for all intents and purposes, signals the unofficial end of the holiday season, the Rangers have tough competition with all five opponents. When these five games are complete, the season will also be exactly 50% complete.
On Friday, 12/27, the Rangers will host the Carolina Hurricanes, who are in the playoff mix. The Rangers have stolen four points from the Hurricanes already, so I expect a pissed off Carolina team to come hot into M$G. For the Rangers, this game may dictate how the following road-trip turns out. A loss to Carolina could mean the wheels are off the road. A win over Carolina may help to take a little sting out of the loss to Philly & may help the Rangers gain their confidence back.
Win or lose against Carolina, the Rangers won't have any time to think about it, as they will immediately hop on a plane after the game, where they will take the hour or so flight to Toronto. On Saturday night, 12/28, 24 hours after the game with the Canes, the Leafs will host the Rangers during the feature game of "Hockey Night in Canada."
The Leafs embarrassed the Rangers just a week ago, doubling them up 6-3. The Leafs are currently second place in the Atlantic Division, with 44 points. Of note, the Atlantic Division is much weaker than many thought it would be. Put it this way, the two wild card teams of the Eastern Conference, are both Metropolitan division teams, in Pittsburgh and Carolina. Both Pittsburgh & Carolina have more points than second place Toronto. And that's a Pittsburgh team without Sidney Crosby and that's a Carolina team without Justin Williams.
I mean, do you really want to know how bad the Atlantic Division is this year? The Tampa Bay Lightning, who many had repeating as Presidents' Trophy winners, currently have 40 points. That's two more points than the Rangers. That's also the same amount of points as the depleted Columbus Blue Jackets, who lost players like Panarin, Bobrovsky and Duchene during the off-season.
That said, the Leafs massacred the Rangers on M$G ice on 12/20. The Leafs also want to create some distance between themselves and their arch-rival, in the Montreal Canadiens, who only trail the Leafs by two points in the Atlantic division.  Once again, this will be another tough test for the Rangers.
After the Carolina/Toronto back-to-back, the Rangers will fly to the province of Alberta, where they will play the Edmonton Oilers on New Year's Eve. The Oilers are currently in third place, in what may be the toughest division in hockey today, in the Pacific Division.
The Oilers have been a weird team this year. While they currently have a playoff berth, they have lost some questionable games this year. However, when you have a player like Connor McDavid on your team, you're alive in every game you play. The Oilers also have a great fan base and their new arena will be rocking on New Year's Eve.
It just doesn't get any easier after this. After the tilt with the Oilers, the Rangers will then face the Oilers arch-nemesis, when they play the other side of "The Battle of Alberta", when they take on the Calgary Flames. Who knows, maybe Cam Talbot will start this game against his old Blueshirt squad?
The Flames (43 points) are currently the second wild card in the Western Conference. However, they are also three points away from first place, as both Arizona (first place) and Vegas (second place) both have 46 points overall. The Rangers, who many teams get wide eyes over; will be a team the Flames look to get two easy points from.
The Rangers will complete their annual Western Canada swing on Saturday, January 4th, when they take on the Vancouver Canucks. Of note, this game is a 10PM EST start time, so sneak in a nap before the game! At least many of us have off on Sunday!
As of 12/27, the Canucks are one point shy of a wild card berth and two points away from third place in the Pacific Division. In other words, they have a good of a shot as anyone of making the playoffs this season. The Canucks will get a Rangers team, playing their fourth game in a Canadian city in a 7 day time frame. The Rangers will also be in three different time zones, during this Western Canada road-trip, as well.
As you can see, in the next five games, the Rangers face stiff competition, as all five teams they will play have serious playoff aspirations. Realistically, asking for 8 points (or four wins) during these next five games may be a tough request. However, if the Rangers don't get those 8 points, and with the way the rest of the schedule is for the Eastern Conference, the Rangers could find themselves, 15+ points out of a playoff spot, come a week from Saturday. That is why, to me, and in my opinion, if the Rangers don't come out on fire, starting against the Hurricanes, David Quinn and his crew can forget about the playoffs. A 15+ point deficit is just too much to come back from, at the half-way mark of the season.
Now, I know what a contrarian might say. The St. Louis Blues were in dead last place, at this time last year. What happened next for the Blues? They went on an epic run and rode that run right into hoisting the Stanley Cup in June. However, these Rangers aren't those Blues. For starters, the Blues were a veteran team and made a coaching change in-season. The Rangers are one of the youngest teams in the league, and don't have that experience & battle scars to fall back on.
And let's face it – how did the Blues get hot last year? They dumped goaltender Jake Allen as a starter and rode the hot hand, in the 25 year old rookie, in Jordan Binnington. And just a FYI, for those wondering: CZAR IGOR SHESTYORKIN turns 24 years old, on December 30th. Just saying.
For as much as David Quinn says things with a sense of profoundness and definition, more times than not, he speaks out of both sides of his mouth. Here are just three recent examples:
— David Quinn says we'll never see another "too many men on the ice penalty again" and if it happens, it's on him. What happened after he said that? In the very next game, the Rangers took one of those penalties and Quinn absolved himself of all responsibility.
— David Quinn says he will fix this power-play and he's had it with the lack of production. What happens? The power-play hasn't scored in their last 18 tries and has been scoreless in the last five games.
— David Quinn says he will "ride the hot hand goaltender". What happens next? Quinn says he wants to get Lundqvist "into a rhythm" and after two separate Georgiev shutouts, Quinn has benched Georgiev in favor of Lundqvist. What happened in those two games that Georgiev should've started? Lundqvist lost both of them, including a game to the last place LA Kings.
If you're a regular reader here or just know me from social media, I don't have to give you my Lundqvist spiel again. All I'll say is that Georgiev & Shestyorkin should be taking the starts & the Rangers should handle the $8.5M Swedish elephant in the room. By allowing Lundqvist to take up cap space, practice time, Allaire bonding and starts, you're just not doing the future of the goaltending position any favors.
I don't think the Rangers are good enough to sustain any sort of winning streak, because after all, they haven't been able to rip off 4,5,6,7+ wins in a row this year. In my opinion, the Rangers are just dicking around by not calling up Igor Shestyorkin already. You know my opinion and takes on this by now – I would've said Father Fink the Wolfpack and had Shestyorkin & Georgiev battling for starts all season. Who knows, maybe if Igor was here, the Rangers would have more wins this season and perhaps the Rangers could've pulled a St. Louis Blues here.
And while realistically, goaltending isn't the major issue for the Rangers this season, Lundqvist's cap hit is. You're getting better production for $8M less. And this isn't a Rangers thing, this is a league-wide thing.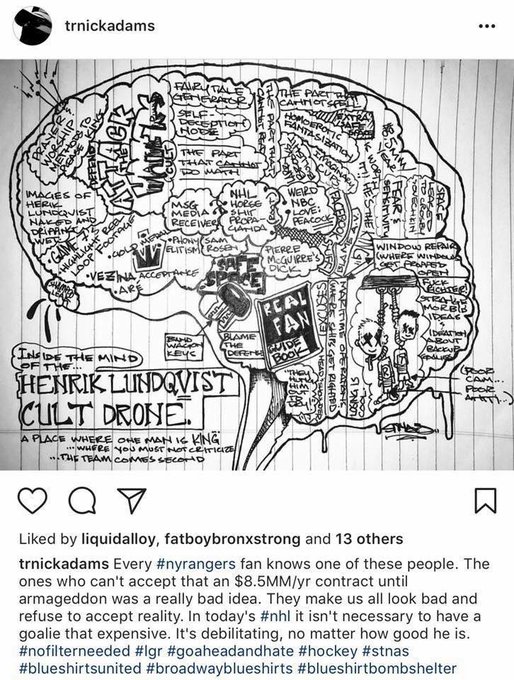 In a perfect world, the Rangers sweep these next five games and return home to fight for the playoffs. However, the world isn't perfect. I hate to say this, because I am someone who roots for a win every game – I just don't see the Rangers rattling off five wins here. I think they will be lucky to get two wins in these next five games. If anything concerns me the most, it's the power-play. The PP has swung games all season and has changed the tides of games.
After the loss to Philly, where the Rangers went 0-4 and blew a 5×3 power-play, David Quinn said he was going to "shake the power-play up." What can he really do though? Is he going to put Marc Staal on it? Is he going to bump a left hand shot like Chris Kreider or Pavel Buchnevich for this guy:
Unfortunately, while I'm rooting for the playoffs with every fiber of my being, as I said, that loss to Philly killed the dream for me. I think that once the game with Vancouver is complete and the Rangers have finished 50% of their season, the "SELL CHRIS KREIDER" articles and stories will really get revved up.
Listen, I like Chris Kreider. Many of you do too. That said, if you go by Jeff Gorton's history alone during this rebuild, he's sold. He's not holding onto any potential unrestricted free agent. He's going to get something, even if it's a third round pick. Since the rebuild letter, Gorton has already said toodles to Rick Nash, Ryan McDonagh, JT Miller, Kevin Hayes, Michael Grabner, Dan Girardi, Kevin Shattenkirk, Derek Stepan and others. Oh, and on a side-note, how great would JT Miller be for the Rangers right now? He's absolutely killing it in Vancouver this season.
In an ideal world, Gorton gets Marc Staal & Henrik Lundqvist to waive their NMC's. It won't happen, because the Rangers have this deranged love for Lundqvist, where they are sacrificing a key position of their rebuild for him. Again, I don't get this, especially with JD here. After all, JD once was the beneficiary of the 1975 Rangers rebuild, when the Rangers waived the beloved Eddie Giacomin without telling him, thus letting the younger JD become the starter. You know the rest – three seasons later, the Rangers were in the SCF. (And if they played Boston instead of Montreal in 1979, they probably win that SCF.)
When you look at the Rangers, and assuming they won't force Staal or Lundqvist to waive their NMC's, the biggest rental prize the Rangers will offer to playoff teams is Chris Kreider. I've talked about this earlier on this blog and in-depth on past writings – Kreider will turn 30 during his next big contract. Is he really ever going to get better than he is right now? Kreider provides more value for a playoff team full of veterans, than he does with this Rangers squad in 2019-2020.  And I know some will argue with me on this – I think Kevin Hayes, if signed a year ago like Ron Duguay & I said (I've shown proof of my tweets about this in past blogs) would've provided more value than Chris Kreider ever could.
Again, and I know I said this before – just look at what Ryan Strome is doing with Artemi Panarin. Strome previously played with John Tavares & Connor McDavid. However, it's Panarin who is giving Strome a career resurgence. Can you imagine what Kevin Hayes would've done with Panarin?
I don't think it's a matter of if. I think it's matter of when, in regards to the Rangers parting ways with Kreider. What hurts the Rangers, is that Kreider hasn't really played well this season. Kreider currently has 10 goals and 11 assists, at the near half-way mark of the season. However, and NHL GM's and scouts do look at this stuff, a lot of those points came against weaker teams. 20% of Kreider's goals this season came against that depleted and down and out Ducks team from last Sunday. Kreider also has a few "A-ROD" goals in there, scoring when the game result was already decided.
The fact of the matter is this, when the Rangers play tough and top teams, CK20 is nowhere to be found. He's the poster boy for "Consistently Inconsistent". The most ironic thing about all of this? If the Rangers do sell/trade Kreider, they are not moving at him at his maximum potential. However, for CK20, a guy in a contract year, if he's moved, he has a chance to redeem himself. All he would need is a good playoffs and he will bank in the off-season. And for Kreider, if he wants to make top dollar in the summer, it's imperative that he comes up big in the second half and in the playoffs. It's crazy, his whole first half of the season could be forgotten.
With the assumption that Gorton won't force Staal or Lundqvist to waive their NMC's (and let's face it, this is going to kill the Rangers next season with Shestyorkin and K'Andre Miller here) away from Kreider, there are several other players that the Rangers could move. If the Rangers could move these guys, the Rangers could reward their players from Hartford, if the Calder Cup isn't a goal. (And really, what's more important long-term – Shestyorkin getting NHL playing time or winning the Calder Cup?)
Here are some players, that could potentially be moved, by Jeff Gorton:
— Jesper Fast – this is a tricky one to me. Fast is 28 years old and making under $1.9M this season. He will be a UFA this summer. His status seems under the radar, because of the Kreider situation.
What will Fast command on the open market? He's a great defensive forward, but the real question is this – is he replaceable? I think Fast is replaceable, but if you can keep Fast for $3.5M or under, I think it's worth it. He's beloved by everyone, as he always wins the player of the year award from the roster. That tells you a lot. He's not here to light lamps. He's here to play strong defensively and he does just that. I hope the Rangers keep him, but I wouldn't go over $3.5M or over four years for him.
— Gregg McKegg & Micheal Haley – they provide nothing. That said, what team is going to trade for these guys? What value does Haley & McKegg give a playoff team? I rather just waive them, and let guys like Lettieri and Di Giuseppe play. (Of note, in case you missed it, Phil Di Giuseppe was sent back to Hartford, after the Rangers loss to Philly on Monday.)
— Brendan Smith & Brady Skjei – both have terrible contracts, which is why I think the Rangers are stuck with them. Would anyone realistically trade for either one of these guys right now, unless the Rangers picked up 50% of their contract? The sad thing? Smith, at 30 years old, has had a better season than Skjei at 25 years old. As I mentioned with Staal, you have guys like K'Andre Miller & Nils Lundkvist coming up through the system. One of these veterans have to go.
— Anthony DeAngelo & Brendan Lemieux – of everyone on this list, these two players provide the most value to any playoff contender, because both of these players are cheap and both of these players are gamers. If you read these blogs night in and night out, you know my take here already. THE RANGERS MUST RE-SIGN THESE TWO AND LET THESE TWO PLAYERS BECOME PILLARS OF THE NEXT RANGERS PLAYOFF RUN. Giving up on either of these guys would be idiotic, moronic and down right RETARDED! (And if you're offended by the word "retarded", I don't know what to tell you.)
— Alexandar Georgiev – like Lemieux & TDA, Georgiev will be a restricted free agent this summer. Again, you know my take – keep him here and let him split time with Igor. After all, during this Lundswiss Error, what have the back-up goalies brought back in return? The Talbot trade basically netted nothing. The Raanta trade, while coupled with Stepan, brought back DeAngelo and a crybaby bust.
— Matt Beleskey – he's getting paid, but he's buried in Hartford. No one is trading for him, unless 30 NHL team flights crash.
My prediction? Kreider gets moved. NYR tries to move Haley & McKegg and fail to move them.
And oh yeah, Lias Andersson will be a goner too, with not much of a return. If and when Andersson gets traded, I see the Rangers getting a bust of another team in return. After all, what is Andersson going to bring back? He wasn't going to bring much back to begin with and after his selfish stunt, he isn't going to help the Rangers get anything decent back now.
To conclude on this topic, all we can hope for is the Rangers to get a fire in their hiney hole and go on an epic winning streak. The NHL, while a league of parity, is not a league that rewards teams for going one step forward, two steps back. After all, 30 years ago, 16/21 teams made the playoffs. Now it's 16/31. That's ten more teams to compete with and in a league that no longer has ties. (This Rangers team has lost more overtime games than won.)
As always, I'll be here on BlueCollarBlueShirts.com to recap the next five upcoming games. I'll be back tomorrow night to talk Carolina with you.
Two quick hits and I'm out.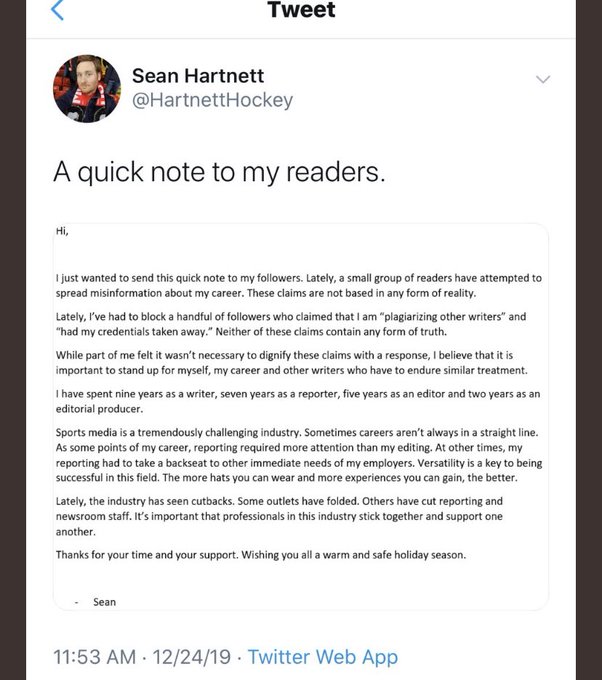 In recent blogs, I talked about resident WFAN660 hack, in Sean Hartnett. In blogs from years ago, I showed you how he blatantly plagiarized Rick Carpiniello, lifting sentences word-for-word.
Seems like I'm not the only person who notices that Hacknett is a fraud, who plagiarizes material repeatedly. This above tweet, from Hacknett, which was released on Christmas Eve, is evidence that Hacknett feels guilty about his copy and paste ways.
There are a few hilarious things about Hacknett's tweet whine for support. They are, in no order of importance:
— Hacknett tries to pretend that he has peers, and tries to make it seem that other Ranger beat reporters have been accused of plagiarism. NOPE. Only Hacknett has been accused of this. Not one other Ranger reporter (or blogger for that matter) has been accused of (or have been proved of) plagiarism. Only Hacknett has been proven of this. For Hacknett to lump himself in with real reporters of the Rangers beat, well to me, that is just FAKE NEWS.
— Hacknett, has indeed lost his press credentials with the Rangers. HE'S NEVER COVERED ROAD GAMES. And now, he's not even in the Garden for games. If he had a press credential, he would've posted a picture of it here. However, it's been rescinded, hence no evidence of his press credential in his tweet.
— Hacknett, who I covered a few blogs ago for unprofessionally attacking Tony DeAngelo over TDA having political beliefs that differ from Hacknett's, has pulled all his anti-TDA tweets down. Instead, he's now retweeting positive TDA tweets, like TDA supporting Oskar Lindbolm. From a source that I have, I've been told that WFAN told Hacknett to delete all his tweets besmirching TDA over political reasons. It's why that coward Hacknett is trying to suck the D of TDA right now. Hacknett knows he messed up here. NOT ONE OTHER RANGERS CREDENTIALED BEAT REPORTER, HAS EVER KNOCKED TDA FOR HIS POLITICAL OPINIONS. Only Hacknett has.
— Immediately after this tweet, Hacknett did a "Top Decade List", a list that Rick Carpiniello wrote two days prior to Hacknett's. I wonder if Hacknett forgot to edit out Rick Carpiniello's email address after posting his copy and paste job? How long before Hacknett rips off Larry Brooks again, and does a 20/20 hindsight blog on Trouba vs Hayes?
Sean Hacknett isn't a writer. He provides no individual or independent thought. He is a sad little man, who copies and pastes other people's work and pretends that it's his own. As someone who writes 10K word blogs daily, I take offense to anyone who plagiarizes, which is why I find Hacknett to be a sorry piece of shit.
One more segment and then I'll go home here!
Listen to Episode 4 of 'Up In The Blue Seats': Lemieux's Bright Future feat. Linda Cohn, Nick Fotiu https://t.co/q1nlv01ffG via @nypostsports

— Jake Brown (@JakeBrownRadio) December 26, 2019
On Thursday, the day after X-Mas, Ron Duguay released his latest podcast. I said it before and I'll say it again, for any Ranger fan, I think the BlueShirt Underground Radio/Video, Cam Connor's "View from the Penalty Box", John Scott's "Dropping The Gloves", Dan Girardi's "Block Party" and this new "Up in the Blue Seats" podcast, are the best podcasts for any Ranger fan. That said, I know time is a precious commodity, but for a podcast that runs around 35 minutes, this new Duguay podcast is an easy listen. After all, I've taken monster shits that last 35 minutes. Perfect push and grunt listening!
On the latest episode, which dropped this Thursday, 12/26, Duguay had Larry Brooks, Nick Fotiu and Linda Cohn on. While I think Larry Brooks flip-flops a lot and uses a lot of 20/20 hindsight in his writings, he still is the most senior man on the beat. And I say that as someone Larry Brooks has blocked on twitter, as he finds my style and jokes to be offensive. I could only imagine Larry at a stand-up comic show. It's come to the point where everyone finds everything offensive these days. 20 years from now, we will all be considered offensive pariahs, for using the word "asshole". It's only a matter of time before the word asshole is considered offensive to people with prostate cancer.
On the podcast, Duguay talked the current state of the Rangers. I don't hide my biases – 9/10 times, I usually share the same opinion as Duguay. After talking Rangers with Brooks, Duguay had Fotiu on, where they talked the current state of the Rangers, as well as stories from 1979. That's the stuff I love the most. History can not be forgotten! Retire Frank Boucher's #7 jersey!
Duguay closed the podcast with Linda Cohn. After hearing these two speak, even if it was only for 12-15 minutes, there are no bones about it – Duguay & Cohn would be a better duo on the M$G Networks, than what the M$G Networks have today. I'll take Duguay & Cohn over Pidto/Giannone & Vally/Carter, any day of the week and at any given time. Cohn even brought up Duguay's dismissal from the M$G Networks on this podcast. She said what I said at the time – M$G got rid of a great personality and now the broadcast has become too vanilla.
Seriously – look at these blogs that I've written this season. When I talk about the M$G Networks, what's my number one complaint? It's about how Vally has become a cheerleader, too obsessed with meaningless stats and refuses to talk about the goaltenders with any sense of realism. As Ranger fans, we are screwed. Duguay should be there. And not for nothing, I'll take Linda Cohn over Bill Pidto hawking Subway sandwiches!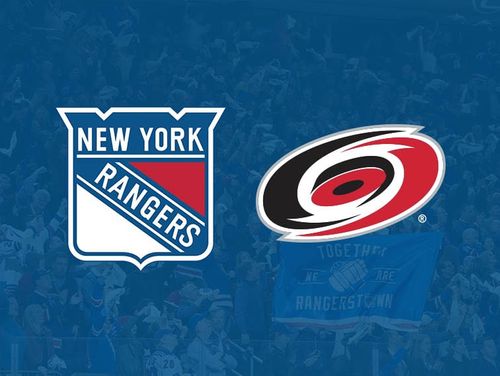 The Rangers return tonight. Not going to lie, despite the Rangers 2-0 record against Carolina, I don't have a good feeling about this game.
If Quinn stays true to what he's doing, I would expect Lundqvist to start in this game and with Georgiev taking on Toronto on Saturday.
While I think Lundqvist starts here, I don't think it matters who the goaltender is. I see Carolina coming out hungry and looking to avenge their two prior losses to the Rangers this season. And if the Rangers power-play has another O-fer, you can forget about a W here.
I'll be back tomorrow night.
As always, thanks for reading and…
"Let's Go Rangers!"
Sean McCaffrey
BULLSMC@aol.com
@NYCTHEMIC on tweeter