Greetings and salutations everyone and welcome to another blog here on BlueCollarBlueShirts.com.
Let me say this off of puck drop here – no blogger, fan, reporter, analyst, Twitcher, Tweeter, Facebooker, Youtuber, vlogger or anyone else watching a hockey game, wants to spend any time talking about the referees. We all know that officiating is a thankless job. In a game that moves a million miles an hour, it's tough to see every little thing. That said, when the referees err like they did tonight, you're forced to talk about the referees.
In tonight's 5-2 loss to the Nashville Predators at Morgue $quare Garden, the Rangers had plenty of chances to win. They had four power-plays. They failed on all four power-plays. The Rangers had 41 shots on goal, and another additional 30 shot attempts, at Nashville goalie Juuse Saros. In other words, the Rangers had opportune chances to score goals in this game. However, despite all that, the headline story of the game isn't about the Rangers failures tonight; it is how bad the referees were in this game.
And if you're a Nashville Predators fan, while no one can deny how great Saros was in this game, the bad officiating will trump the efforts of Saros tonight. From just a quick glance of media accounts of this game, the main topic was the piss-poor officiating. Again, Saros was on-point tonight, but he's the "B" story of this game. The refs on the take, especially in Jean Hebert, who has always been anti-Rangers, were Father Finkin' awful tonight. After all, take a look at this: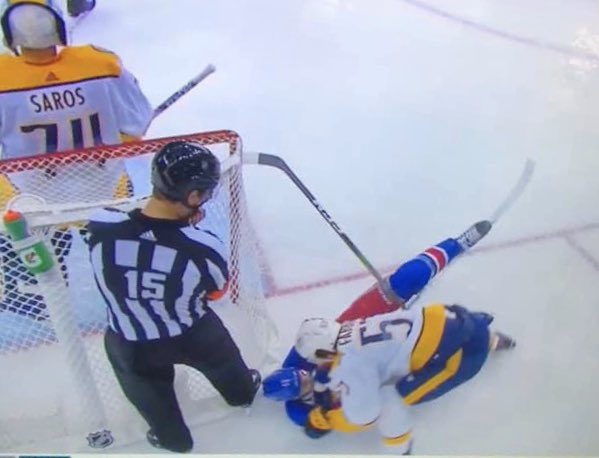 When looking at this Rangers 5-2 loss, you can't just blame the officials for the entire loss. The Rangers did themselves no favors either. However, this was the worst officiating performance we've seen all season, and these refs didn't help matters for the Rangers at all.
Seriously speaking here, after this game, the NHL should check the bank accounts of every official that was on the ice tonight. The biggest offender, as mentioned, was Jean Hebert, who ignored calls, had a vendetta against Brendan Lemieux and was fine with players getting concussions. More on this to come.
And really, you don't have to take my word on these officials as the gospel either. If you watched this M$G Networks broadcast, you had Sam Rosen, Joe Micheletti, Steve Valiquette and Dave Maloney, all spend ample time tearing apart the officiating. We have not seen these M$G Network guys go after the officials once this season. In this game, all four of these men were red in the face, when talking about the bad officiating.
Again, and I'm saying this one more time to be clear here, you can't solely blame terrible officiating for this loss. However, truth be told, the officiating in this game tonight was a farce. It warrants an investigation. These refs should be suspended and re-trained. At the very least, because this wasn't the first time, Jean Hebert shouldn't be allowed on Ranger ice again.
After this game, somewhere, a few fat Italian men, dressed head-to-toe in Fila track suits, are counting plenty of $100 greenbacks, while dining at a restaurant in Little Italy. I wouldn't be surprised if Jean Hebert, and his peers, weren't wiping spaghetti sauce stains off their stripes right now either. What a mezza fanook!
At this time, before going into detail on these refs on the take, here are my last few blogs, in case you missed them: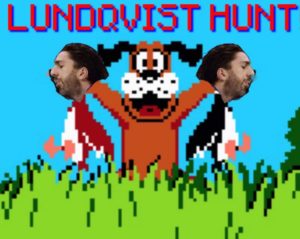 ---
---
---
---
---
---
---
To expand on what I said at the top of this blog, no fan starts a blog, a podcast or a whatever, to talk about the referees every game. However, the refs were so egregious and one-sided tonight, that you're forced to talk about them. It's a major story that can't be ignored. I'll get into everything as we go along here, but can someone tell me how this isn't a five minute major penalty:
Buchnevich takes an elbow to the head from Ellis 😳 pic.twitter.com/HaGRS3uJfY

— Rob Taub (@RTaub_) December 17, 2019
Of note, Ellis was called for a two minute minor here, the same two minutes that Lemieux got for a simple shove when trying to create space in front of the net, which you see 79679679696 times in every hockey game ever played. And the NHL tells us they want to do what they can, in an effort to limit concussions!
And really – even if Ellis wasn't head-hunting here, and this was just a simple accident, the fact remains is that he did elbow Buchnevich right in the temple. After this penalty, the REFS WATCHED PAVEL BUCHNEVICH GO TO THE LOCKER ROOM, TO BE LOOKED AT BY A CONCUSSION SPOTTER. So the refs, KNOWING THAT BUCHNEVICH WAS HURT SO BAD, THAT HE WAS GOING TO SEE THE CONCUSSION SPOTTER/DOCTOR, gave Ellis an everyday two minute minor and said play on. Incredulous. Incredible. Inept.
I really hate talking about the officials, but during the second period of this game, my blood was absolutely boiling. When listening to Micheletti during the game, and then Maloney during the intermission, I could feel their rage through my television as well. What are these refs doing? Who paid them off?
Oh and before moving on here, I saw people on social media say, "Well, Ellis will get fined and/or suspended." That's great, but that doesn't help the Rangers here. Plus, if anyone should be fined and suspended, it should be these referees, that not only allowed this, but allowed this game to get out of control. What is NHL Player Safety going to do here? Have talks in Vegas, where all they will do is visit strip clubs, chow down on buffets and pull handles on slot machines? This was absolute bullshit.
Ellis, even if he claims this elbow to the noggin wasn't intentional, needs to be fined and suspended. However, the referees are supposed to be "the adults" here. They let this crap flow with free reign. If NHL Player Safety is looking to hang anyone, it has to be these referees. THESE GUYS ARE PAID TO MAINTAIN ORDER. We had anything but that, here in this game. Someone could've gotten seriously hurt. I'm not a snowflake or a liberal or anything like that, but you just can't tell me you care about these players and allow these referees to get off scot-free.
Moving along. Gambling segment time. This is what I said before the game:
Season over-under record: 17-15.

Georgiev is in net. Nashville can score but Georgiev played them tough in Nashville 6 weeks ago. #nyr plays better on Georgiev starts anyway.

I could see #nyr scoring but go UNDER. Value is on NYR, even with line movement because AG in net. pic.twitter.com/l6uaFaduPl

— BlueCollarBlueShirts (@NYCTheMiC) December 16, 2019
Talk about the bad beat of all bad beats. In a 3-1 game, with 2:42 remaining in regulation, Artemi Panarin scores. 3-2.
I've said this before – I don't care if I'm wrong on the over-unders, as long as the Rangers win. However, Nashville then scores two empty net goals and makes the score 5-2. What could've been a win or a push, turns into a loss. Maybe the refs had the over too!
With the loss, my record drops to 17-16 on the season. Sorry Tommy.
The funniest thing about all of this? Once Alexandar Georgiev was announced the starter for this game, the money line dropped by $10 dollars. That means the Vegas bookmakers, who really are the smartest people in all of sports, had more confidence in Georgiev starting, than they do with Lundqvist starting.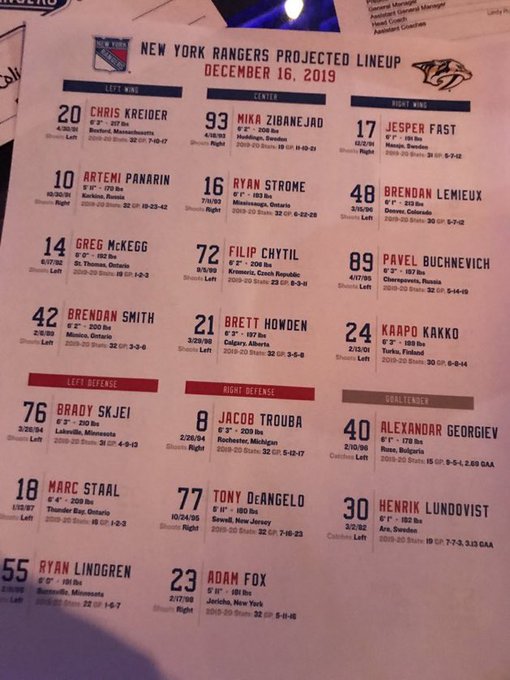 Going into this game, the only news item was that Georgiev was going to be starting. Quinn, who is no stranger when it comes to talking out of both sides of his mouth, said that he "wants to ride the hot hand." After announcing Georgiev as the starter today, Quinn followed that up by saying, "whoever started in Anaheim wasn't going to start this game. This start was predetermined." So what is it? These starts are predetermined or are you riding the hot hand?
When it comes to David Quinn, despite starting the wrong goalie at the wrong time, as he should've just let Georgiev play all the California teams, as has now allowed Georgiev to cool down after that shut-out against Vegas; the biggest criticism you hear about DQ, is his never-ending line-up tinkering. He is like Ruxin in "The League."
While I think you can understand what Quinn is going for, as he wants to establish accountability and find perfection, it just seems that every time Quinn changes his lines, he sacrifices line chemistry. I also think all these line changes lead to all the "too-many-men-on-the-ice" penalties that the Rangers take.
In this game, he had Fast back on the first line. From fourth line to first line. Whatever. Quinn then puts Kakko on the fourth line, which I thought may have had something to do with Kakko's BFF on the team, in Brendan Smith. Maybe DQ thought the slumping Kakko would be able to dominate that line and would play better with someone that Kakko has good off-the-ice chemistry with. After all, let's face it – Kakko hasn't been great since returning to the line-up after his illness.
I don't really go up-in-arms about the lines like other people, but if there is one thing we've seen this season, it is that Panarin & Strome have been a great 1-2 punch together. That came with playing together and finding chemistry. In some of these games, especially in the last two games, we've seen the Rangers struggle to score. I wonder how much of that has to do with chemistry and lack of practice time together?
Quinn will never do it, as he would fidget like a heroin addict needing a fix, but it would be something to see Quinn run the same four lines, for five games in a row.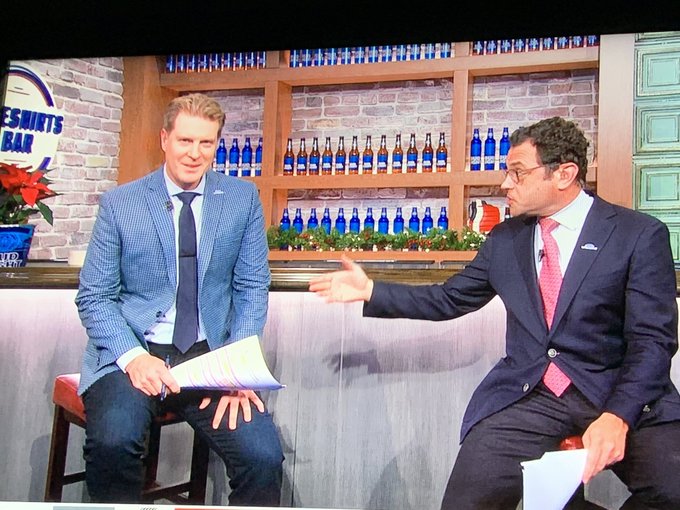 As usual, with Valiquette back, the pregame show was worthless. The only thing of note was a segment with David Quinn and his coaches, where Quinn just circled a monitor for three minutes. If anything, with all these guys decked out in Rangers gear, it felt like a Fantatics.com Christmas commercial.
At this time, let's go to the official box score, courtesy of ESPN.com:
SCORING SUMMARY: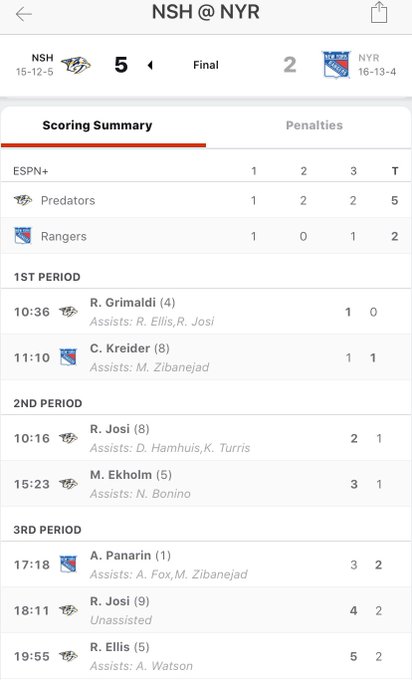 PENALTIES: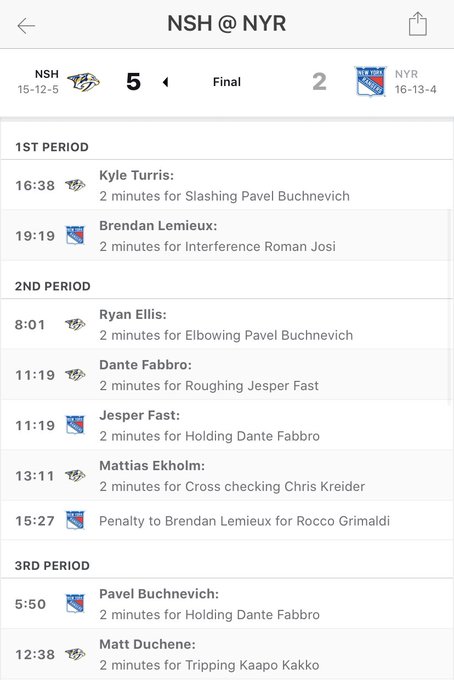 GOALIES:
| | | | | | | | | | | |
| --- | --- | --- | --- | --- | --- | --- | --- | --- | --- | --- |
| SA | GA | SV | SV% | ESSV | PPSV | SHSV | SOSA | SOS | TOI | PIM |
| 41 | 2 | 39 | .951 | 27 | 1 | 11 | 0 | 0 | 60:00 | 0 |
| | | | | | | | | | | |
| --- | --- | --- | --- | --- | --- | --- | --- | --- | --- | --- |
| SA | GA | SV | SV% | ESSV | PPSV | SHSV | SOSA | SOS | TOI | PIM |
| 22 | 3 | 19 | .864 | 17 | 0 | 2 | 0 | 0 | 58:44 | 0 |
I guess I have to talk about the goaltending to start here, because after all, if Georgiev doesn't have a shut-out, the Cult of Lundswiss cretins immediately blow up my social media accounts. And yes, I'm talking about you @TIMRANGERS , who will tweet and message me about how much he hates Lundqvist, but if Georgiev gives up a goal, he's screaming from the rooftops too!
When you look at Georgiev's stats tonight, they don't look great. However, if you watched the game, Brady Skjei scored on him for the first Nashville goal. After that, the Rangers would blow two different power-plays, and after failing on each power-play, Nashville rushed up the ice and beat Georgiev. The third goal in this game, as we'll get into, was a classic jack-in-the-box breakaway goal.
If anything, I think Georgiev has set such a high bar, that people now have insane expectations for him. That's a good thing. Fans now have higher expectations for a goalie making $8M less than Lundqvist.
And as I've said 8678966786896 times, even if Georgiev plays bad, I rather see these young goalies, who are $8M cheaper than Lundqvist, get playing time and to take their lumps with this team. The whole team/this new core, needs to grow together and experience the highs and lows together. Playing Lundqvist does nothing for the future, except stunt it.
The most ironic thing here? Lundqvist and Nashville's Pekka Rinne are two of the most expensive goalies in the league. Both goalies are also Cupless and choked in the biggest moments of their careers. Today, these two aged-out and broken down Euro-goalies, are now routinely out-played by their much cheaper and much younger back-up, game in and game out.
I wouldn't say Georgiev was bad tonight. It's not like he was belly flopping and hanging out in the second deck like Lundqvist was last game. There were no bad goals allowed. However, Saros was much better and just more proof to everything I've been saying – you don't need a high priced goalie to win games. The talent disparity between starting and back-up goalies has never been slimmer.
The opening of this game was a familiar scenario – with Zibanejad driving and attacking the net. Unlike the game with Anaheim, Zibanejad didn't find an early goal here.
1:45 into the period, Georgiev made a huge save. No temper tantrum was thrown at the defense here.
Soon after, Yakov Trenin drove and collided with Georgiev, while knocking the net off the moorings. No call for goalie interference here. However, if Nashville scored here, then goalie interference would've been called and the goal would've been waved off. Funny how that works. First missed penalty by these zebra jackasses tonight.
Later on, Skjei made a bad turnover. Another save for the King of Kings. After this point, the period then started tilting in the Rangers favor. However, as mentioned in past blogs, this was one of those Craig's List "MISSED CONNECTION" ad games. The Rangers would get shots, but they would miss so many near chances. They could've hung a four spot on Saros in this period, but as they say, it's a game of inches.
The first missed chance was Fast setting up Trouba. Just missed. Then Fox sets up Lindgren right to the right of Saros. Instead of taking the easy shot, Lindgren tried to feed Strome at the goalmouth. Turnover.
After these two fails, Nashville would apply some pressure on Georgiev. Panarin's line would make the clear. The Rangers then took control of the game again, with Chytil having the best chance of the game. However, Grimaldi broke up his opportunity at Saros.
At this point in the game, we had a plug for the All-Star game, where Sam & Joe, with straight faces, tried to sell us on Lundqvist being an All-Star. How can anyone watch all these games and not vote for Artemi Panarin?
At the 10:36 mark of the first period, Grimaldi broke up the nil-nil tie:
.@RGrimaldi23 goes five-hole 👏#Preds | #NSHvsNYR pic.twitter.com/Q6OGoFguS7

— Nashville Predators (@PredsNHL) December 17, 2019
1-0 BAD GUYS. I don't know if I mentioned this in my Nashville blog, but when I went to the Nashville/NYR game six weeks ago, I saw a ton of fans in Grimaldi jerseys. He's a huge fan favorite there.
On this goal, Grimaldi takes a good shot, the puck bounces off Skjei and the puck trickles by Georgiev. We've seen Georgiev make these saves before, which is why you're seeing people upset about this goal now. As mentioned in past blogs, Skjei is just a train wreck.
30 seconds after this goal, Kreider tied it:
There's something about Sam Rosen yelling, "Kreider shoots, he scores!!!!!!!"#NYR #LGR pic.twitter.com/4GUVcneTjs

— Rangers on MSG (@RangersMSGN) December 17, 2019
1-1 game.
On this goal, Zibanejad forced a turnover, fed Kreider on the 2 vs 0 break and CK20 finished. This was the lone moment of Rangers puck luck in this game, as Saros almost had the save here. And as this play was happening live, I was just hoping Zibanejad would take it himself!
And despite the final score, this game was another example of this team rallying and playing better for Georgiev. The power-play and the refs sucked for sure, but it's not like the Rangers were truly that bad tonight. We've seen them play much worse.
Buchnevich, who isn't having any puck luck at all these days, would fail on two chances. He was one second shy of having an easy tap-in rebound goal. Then, right after, Chytil set him up but he couldn't handle the puck.
After Buchnevich's flubs, Panarin's line would dominate the puck for 100 seconds. They had so many chances and GOOD LOOKS, but couldn't finish. However, with 3:22 remaining in the period, Kyle Turris was boxed for slashing.
The Rangers would put forth their best power-play of the game here, logging 3 shots on goal. Credit to Saros, he stopped everything here. This made the Rangers 0-1 on the PP.
With 40 seconds left in regulation, we had the referees trying to swing the game again:
That is an absolutely awful call. Lemieux was furious. #NYR pic.twitter.com/5KsEMj4bHY

— Rob Taub (@RTaub_) December 17, 2019
The referees actually called a shove, while trying to establish space in front of the goaltender, against Lemieux here. I don't know if Lemieux had sexual intercourse with one of the ref's sisters, but this is a call you would NEVER NEVER NEVER see called in the playoffs. Even worse, as this game went on, this penalty was the equivalent of elbowing someone in the head. It also seemed like the refs had a vendetta against Lemieux. There was no way to explain this call from the refs.
The Rangers would kill the first half of this power-play and as we finished the first period, the score remained 1-1.
In the second period, the Rangers would kill the final 1:20 of the Nashville PP. Of note, the sushi in the Delta Club must've been really good today, as for the first 2:30 of this period, it seemed like every seat in the middle lower bowl was empty. They would fill up after the first whistle.
Early into the second period, we had our biggest example of the Rangers having no puck luck today:
!!! How did this NOT go across the goal line?!?!?!? 👀 pic.twitter.com/tqC76izdRu

— Rangers on MSG (@RangersMSGN) December 17, 2019
Somehow, Panarin had a sure-fire goal, but at the last second, the puck had a "video game glitch", changed movement and came toward Saros. This could've been 2-1 GOOD GUYS here, but instead, the game remained tied. If this puck went in, I wonder if this game outcome would've been different. This kind of gave Nashville some life. I mean really, does it get any closer than this:
After this near-goal, Trenin bloodied up DeAngelo with his stick. NO CALL.
Oh, and around this point in the game, David Quinn did his magic act, of changing his lines as the game progressed. Lemieux and Kakko were flip-flopped. I don't know if DQ was blaming Lemieux for that fugazi penalty or what, but it just seemed strange to change the lines at this time.
Soon after, Panarin would have another chance to score, but he would hit the post and the puck took a fortunate bounce for Saros. It could've been 3-1 here. Just no puck luck at all.
With 8 minutes played, we had the Ellis elbow on Buchnevich, which I talked about at the top of this blog. Only two minutes. What a Father Finking joke.
On the Rangers power-play, which should've been a five minute major and would've changed the course of this game, the Rangers failed. Immediately after failing on the power-play, Roman Josi, using Adam Fox as a screen, shot the puck through Fox's legs and the puck went past Georgiev. 2-1, BAD GUYS.
You know it's bad when I'm agreeing with Steve Valiquette. I said on Twitter, at the time of this play, how this non-major call just changed the game. If a five minute major is called, this play never happens. Valiquette would go on to say the same thing in the postgame. Instead, because of bad officiating, Nashville only has to kill two minutes, which they did with ease and once at full strength, they march right up the ice and get a goal. SAD!
After this goal. Fast was tripped. NO CALL. However, Fast was called for this:
@4EverBlueshirts wtf is this ref watching? pic.twitter.com/xrkwfoqLkF

— Bob Ginda (@Commish43) December 17, 2019
Jesper Fast got a two minute holding penalty for this. To be clear here, ref Jean Hebert called Fast for a penalty here. Fast was on his back, got crosschecked four times and was punched twice, ALL WHILE HEBERT IS WATCHING EVERYTHING, FROM ONE FOOT AWAY. Somehow, Fast gets a penalty for this.
HEBERT NEEDS TO SUSPENDED AND FINED FOR THIS. Is he smoking the vape or the bath salts?
With all the bullshit going on with these refs, the blood temperature was rising and this is when you knew the fix was in. Micheletti was going off here and he was 100% correct for doing so.
After the game, Vally also said something that I said on Twitter, while this was going on live. (I know he follows me from a burner/fake account, as I'll prove at the end of this blog.)
While all this bullshit was going on, especially after the hit on Buchnevich, you had fans asking for Lemieux, DeAngelo, Smith or whoever, to step up and beat up Ryan Ellis. However, the refs chose a side. They were rolling with the Predators. If anyone picked a fight with a Predator here, you knew what was going to happen – the Rangers would've at least got a two minute minor for instigating, if not a game misconduct. The Rangers couldn't defend themselves because the referees showed their true colors – they were wearing the Nashville yellow, just like the yellow stripe down their cowardly backs.
Obviously, you would've loved to see the Rangers fight here and stick up for themselves. However, in a one goal game, you can't give Nashville a power-play. The refs weren't calling this game fairly, so the Rangers had to tip-toe around.
In fact, the refs continued to show their bias during the next TV timeout, as they gave Brendan Lemieux a 10 minute misconduct penalty for this:
Brendan Lemieux got 10-minutes for this?! 🤦 🦓 pic.twitter.com/3GKKBvQpGL

— Rangers on MSG (@RangersMSGN) December 17, 2019
Are you kidding me?  You could see the refs counting their money that they received, as a payoff, during this call.
Again – a concussion seeking elbow to the head is a two minute minor. Getting beat up while on your back is a two minute minor. Lemieux playing hockey is 12 minutes worth of penalties. Just pure and unfiltered bullshit here.
At this point in the game, I was expecting the refs to give Lemieux a penalty for spilling his water bottle in the locker room. This was pure WWF shit here.
Prior to the Lemieux penalty, and I don't know if this was a make-up call or what, but with 6:49 remaining, Ekholm was boxed for a cross-check. Once again, the Rangers power-play failed and immediately after leaving the box, Ekholm took a pass and beat Georgiev on a breakaway. 3-1 bad guys.  Complete shit show of a game.
3-1 after two periods, and with a second period that may be the worst officiated period of NHL hockey this season.
To open up the third period, Quinn just kept juggling up his lines. It was getting so bad, that even the reporters that cover this team, such as Vince Mercogliano and Colin Stephenson, couldn't keep up. I know I couldn't keep up with what Quinn was doing while watching on TV. And really, there was no point in shaking up the lines. The Rangers were getting chances and were getting more shots off. Bad officiating and Saros playing well did the Rangers in. It's not like the team was stagnant, tired, not trying or anything like that.
If anything, instead of worrying about his lines, David Quinn should've gave this team one of those ultimate "IT'S US AGAINST THE WORLD" rah rah speeches. Instead, bouncing Kakko around was more important.
Oh, and before the period started, I have to be fair here. Vally didn't show or talk about the goals allowed against Georgiev. I talked in my last few blogs how Vally was omitting goals given up by Lundqvist. That being said, this is a disservice. Show the plays. I don't care who scores, I just want to see the slow-mo replay.
And while on the intermission, Dave Maloney's eyes looked like they were going to pop out of his head, as he talked about the bad officials. The Rangers had no chance to get aggressive here, because they would've got kicked out of the game if they farted wrong.
The Rangers would once again get chances in the third period, but wouldn't capitalize. Zibanejad had a shot after a great pass from TDA. Panarin's line kept forcing Nashville into icings. However, each and every time, the Rangers either missed a chance or Saros would make the save.
The refs were getting so bad in this game, that when they were raising their arms to signal a potential offside, I thought they were calling a penalty against Lemieux, for not sitting with proper posture while on the bench.
During another elongated attack in the Predators zone, Skjei would eff up and let the puck cross the blue line. He's horrible man. Marc Staal would then be tripped. NO CALL.
5:50 into the third period, Buchnevich, frustrated after blowing his 8308467389th chance in front of Saros, took a dumb holding penalty. This was a legit penalty, but the refs were so far off the deep end, that this was all coming off as one-sided.
The Rangers would escape this Nashville power-play, after Turris, while all alone in front of Georgiev, rung a puck off the post.
At even strength, Chytil would have a chance, but he went high and wide. He was probably scared of getting a penalty for shooting the puck at the goalie.
As the period surpassed 10 minutes, Adam Fox would be tripped and taken down by Trenin. NO CALL. Right after, while going to the net, Brendan Smith would be tripped. NO CALL. I don't know if it was funny at this point or what, but the refs were just toying with the Rangers.
Finally, with 7:22 remaining in this 3-1 game, Duchene was finally called for one of the many Predator trips, this time on Kaapo Kakko. The Rangers did nothing with the power-play.
With 2:42 remaining and with Georgiev going to the bench, Panarin sniped one past Saros. 3-2, bad guys. The Rangers were still alive.
In this now 3-2 game, instead of waiting a bit, Quinn immediately pulled Georgiev again before the Rangers had control of the puck. This led to a pure 200′ goal, from Josi:
Josi from waaaaaaay downtown 😎#Preds | #NSHvsNYR pic.twitter.com/WiaEH5z63F

— Nashville Predators (@PredsNHL) December 17, 2019
4-2 bad guys, with 1:49 remaining.
On this goal, I saw many people slam Quinn for pulling Georgiev too early. I get it, but at the same time, who was banking on Josi scoring from 200 feet away? Quinn wanted to keep up the pressure, so I really won't slam him like others are doing now.
At this time, I texted Tommy. I said you knew Nashville was going to eff the under bet. And that's what happened, as with five seconds left, Ryan Ellis, who should've been kicked out of this game in the second period, scored the Predators second empty net goal of the game. 5-2 bad guys and that was your final.
When it comes to making a final summary of this game, the Rangers looked alright, but had a never-ending uphill battle with these officials. That said, the Rangers had chances and they missed. They pretty much only scored one goal again, sans Panarin's late goal. The power-play, like most of the team, is a Jekyll & Hyde act, that sometimes produces, but can go games at a time without scoring.
I know the Cult of Lundswiss wants to blame Georgiev here, but if Lundqvist gave up these goals, it's everyone in the world's fault and we'd have the temper tantrums. I don't think Georgiev got beat on anything bad, it's just that we've seen him make some super-human saves this season. My opinion doesn't waver – I want Georgiev & Shestyorkin full-time. If the Rangers could ever get out of this Lundqvist contract, for $8.5M, they could add Taylor Hall over the summer. And yes, that's a segue-way to my next topic!
In case you missed the news, Taylor Hall was traded to the Arizona Coyotes on Monday afternoon. Since there are a lot of working parts and conditions to this trade, here's the full story, courtesy of CBSsports.com:
After days of anticipation, the New Jersey Devils have dealt Taylor Hall. The 2018 Hart Trophy winner and Blake Speers were sent to the Arizona Coyotes in exchange for Arizona's first-round pick in 2020, Arizona's third-round selection (conditional) in 2021, as well as prospects Kevin Bahl, Nick Merkley and Nate Schnarr.

The first-round pick heading to New Jersey in the trade will be top-three protected. The conditions of the third-round pick are as follows: If the Coyotes win a playoff series or if Hall signs an extension with the club, the pick becomes a second-rounder. If both happen, the pick becomes a first-rounder. 

Hall is in the final year of his current deal, which carries a $6 million cap hit, pro-rated at just over $3.5 million. The Devils will retain 50 percent of Hall's salary in the deal.

The trade end days of speculation that Hall's days in New Jersey were numbered. He did not dress for the Devil's last few games, presumably because the team was openly listening to offers.

It's a strong play by the Coyotes, who currently sit atop a relatively weak Pacific division, putting them in a great spot to make the playoffs for the first time since 2012. Arizona has a strong defensive team aided by fantastic goaltending, but they need some help in the scoring department — their 2.63 goals per game average ranks them 24th in the NHL. Adding Hall, a premier offensive threat on the wing, should help them in that regard. 

Through 30 games with the Devils this year, Hall has six goals and 19 assists. 

After arriving in New Jersey in a trade from the Oilers in 2016, Hall spent three full seasons with the Devils, including a 29-goal campaign in 2017-2018 that resulted in him winning league MVP.
As a Rangers fan, smiling when the Devils fail is a prerequisite for me.  Taylor Hall, who won the Hart Trophy while with the Devils, is now out of Newark. And let's face it – that Hart Trophy win was bullshit. The only reason Hall won the Hart Trophy that year is because the Devils made the playoffs that season. In turn, they were bounced out in the first round, in five games. The true MVP of that season was Connor McDavid, who didn't get Hart consideration because the lowly Oilers didn't make the playoffs. (McDavid would win the Ted Lindsay award instead, which goes to the best player, as voted by the NHLPA.)
As someone who has been to something like 20+ NHL arenas, I have been to Arizona. I found them to have a passionate fanbase, a fanbase that doesn't want a relocation, which has been rumored. (Houston is one city.) Furthermore, I love their arena, the set-up and how you have a hockey arena & an NFL stadium in the middle of an outside mega-mall. They also have a bad-ass casino nearby. As mentioned in my Arizona road-trip blog from last season, Tommy and I cleaned up there!
I think Hall in Arizona is good for the league. You need these small market teams, especially in the sunbelt, to grow. With Phil Kessel already there, Arizona is showing the league that they aren't happy with their small market status. They want some respect. After all, when was the last time you saw a Coyotes game on American National TV, or as an opponent, during Hockey Night in Canada?
Arizona gave up a bunch of their future for Hall, and I applaud them for it. They can re-sign Hall, if Hall chooses to stay in Glendale. For a player like Hall, I rather have someone proven, than gamble on the future. (Hello Lias Andersson, ironically acquired by the Rangers in a trade with Arizona.)
Unlike the other professional sports leagues, where you can basically guess who will make the playoffs before the season even starts, in the NHL, it's a league of parity. No one predicts every team that will make the playoffs. Shit, even when we do know the brackets, we have no clue who is going to win. Just ask Tampa and Calgary fans about last season's playoffs!
ANYTHING CAN HAPPEN IN THE STANLEY CUP PLAYOFFS. The Coyotes are smart to go "all-in", especially being in first place in their division. Adding Hall gives them firepower against teams like Colorado, St. Louis and Vegas, teams that Arizona will most likely see in the playoffs.
This move is a win-win. This is great for Arizona and this is great for the NHL. It is now the NHL's responsibility to feature Arizona in national games. Then again, I wouldn't hold my breath – the best player in the league is rarely featured in America/NBC, in McDavid of the Oilers. I never accused the NHL of knowing how to market!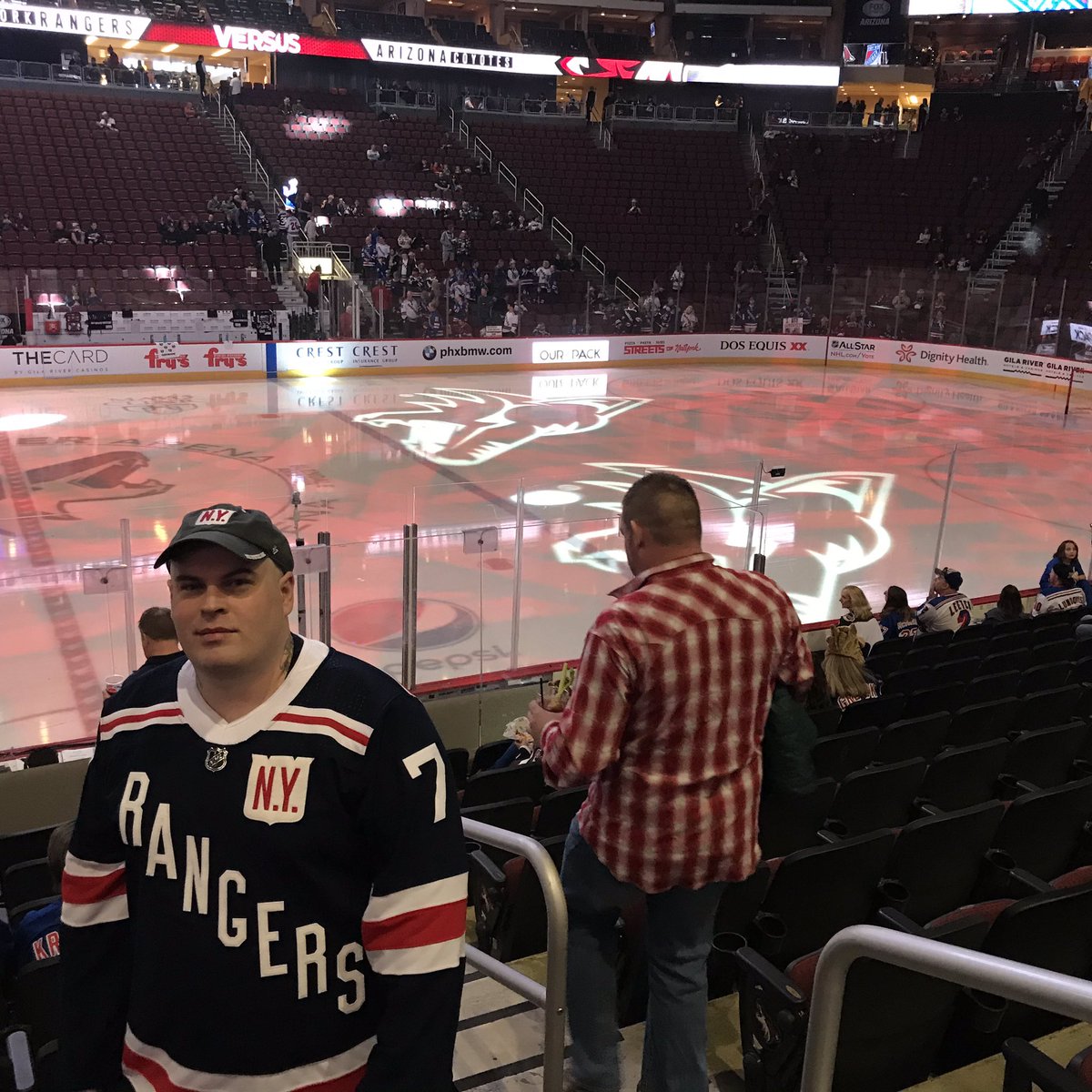 If there is more proof to my "no one knows what's going to happen in the NHL" theory, it is the fact that the Devils, who many projected to be a playoff team (and certainly not a bottom-of-the-barrel team) are now rebuilding while rebuilding! Hall is gone and you have to figure that PK Subban, who the Devils gave up a bunch of picks and prospects for, is the next piece to be moved. However, with a hefty salary and toilet bowl production, who is going to trade for him, even if the Devils assume half his salary?
The funny thing here? He would be perfect for Nashville right now, but I can't see that trade being done.
The Devils are an absolute mess, as they've already fired their coach this season. As someone who had to live through the late 1990's/early 2000's, I couldn't be happier! If my buddy SPIGGY is reading this (one of my best friends from high school, who I recently reconnected with once he found this blog) I know you're happy too! EFF MARTY! FU JERRY!
Oh and one last thing on the "Yotes" and Hall. How about HALL & OATES getting in on the action?
We were here first

— Daryl Hall & John Oates (@halloates) December 17, 2019
Just excellent. This is when social media is good!
One last segment!
A few blogs ago, I talked about Steve Valiquette, who used to follow and interact with me on Twitter, blocking me for my opinions and criticisms. Turns out, Vally, who on Saturday night, ironically was calling people on the Ducks "soft as Charmin", he has now become a thin-skinned neurotic, blocking anyone who has criticized him.
During the last few days, I've been inundated with screen shots and tweets, from many readers, all showing me how Vally has blocked them from Twitter too. Originally, I was going to post all these screenshots, but I don't want to bore you or bog down this site's bandwidth with all of those photos! If you want to see the evidence, just look at my Twitter page, where I retweeted everyone that sent me their stories about Valiquette!
I don't know if this is SAD or funny, but the craziest thing about all of this? I'm on a Twitter thread, with about 20 different people. Everyone criticized Vally on the thread. By the time the game was over with the Ducks on Saturday, all 20 people on that thread were blocked by Vally, which proves to me, that he has a burner account and searches his name to see who criticizes his awful work on the M$G Networks.
I'm no where near the celebrity that Vally is. I'm not even a celebrity at all. However, like Vally, I do have my critics, that despise my takes on Lundqvist. That's fine. I don't block any of those people. The only people I block are the ones that make death threats, report me for my language or wish me physical harm. None of these people will ever follow through on any of that crap (and no one has ever said anything like that about Vally) but I'm not going to give those people the satisfaction of reading my stuff.
For someone on TV, and for someone who calls for the jobs of players, I find Vally to be very vain by blocking fans. It can't help the M$G Networks out, when you have a guy blocking any fan that disagrees with your opinions. Plus, you have to look at it this way: (And I do this with my fans and detractors.)
For some people, you will be Batman. You're the hero with your takes and opinions. For others, you're the Joker, and you're hated. However, and I take this from my pro wrestling days and from the movie "Private Parts", 10/10 times, the people that hate or dislike you, read/follow your stuff more than the people who actually like and love you. If anything, Vally should encourage criticism, as it opens himself to more followers, debate and viewers. Instead, he just shuns them. To me, that comes off as a frightened and insecure little man, despite Vally's 6'6″ frame.
And really, if he wants to block me for my takes on this blog, that's fine. But now he's blocking any fan that disagrees with him. That's millennial behavior.
I just hope that you guys know, that no matter what, I always say it as it is, or at least try to be fair. Look at my stuff on Micheletti this month. I love to break his balls, but I think he's been great recently. Even in this blog alone, I said I agreed with Vally twice.
In closing, I think this all comes to "if you can't take it, don't give it." I know I can take it. (After all, unlike other people on social media, I post pictures of myself. I use my real name. I don't hide under an alias.) I just don't think Vally can roll with the punches. That probably explains why his eyes are always red during every broadcast!
Up next for the Rangers, they host the Toronto Maple Leafs on Friday, in an original six match-up. Once again, the schedule blows here. We now have three days off, followed by three games in four days.
As far as this blog goes, I'll come back if something big breaks. I'm also working on a blog on Dave Kerr, as I'm waiting to get some exclusive pictures from Kerr's family to use.
Until next time, thanks for reading and as always…
"LET'S GO RANGERS!"
Sean McCaffrey
BULLSMC@aol.com
@NYCTHEMIC on tweeter