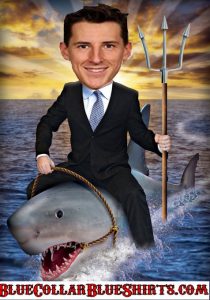 Greetings and salutations everyone and welcome to another blog here on BlueCollarBlueShirts.com. It is extremely late as I write these words, as I attended M$G on December 3rd, 2021, where the Rangers continued their winning ways, by knocking off the San Jose Sharks to a tune of 1-0.
During this 2021-22 season, I have coined a lot of cliches, where in this particular game – all of them rang true.
Need evidence? Here you go:
— "Special Teams Swing Games."
The Rangers power-play went 1-3 tonight, while the Sharks power-play went 0-2.
Ryan Strome's power-play goal, scored at the 6:03 mark of the first frame, wound up being the game winning goal. Strome's slapper, followed by strong defense and even better goaltending, was all it took for the Rangers to earn two points in the standings.
— "Good Teams Find Different Ways To Win."
For the second time ever in franchise history (95 years!), two Ranger goaltenders recorded a combined shut-out.
Prior to tonight, where Igor Shestyorkin (19 saves in 45:06) and Alexandar Georgiev (9 saves in 14:52) blanked the Sharks; the last two Ranger net-minders to team up and shut-out a team was on December 15th, 2016 (at Dallas), when Henrik Lundqvist and Antti Raanta teamed up to do so.
(While this is a most impressive feat, it should also be mentioned that prior to the "Great Expansion of 1967", NHL teams didn't carry two goaltenders on the regular. And as was the case tonight, it usually takes an injury to make this happen. After all, why would you pull a goaltender who has a shut-out going?)
— "Gerard Gallant's 'One Game at a Time' Rangers Never Give Up."
In one of my newer cliches, Gallant's gang, who always displays their RESOLVE no matter how hairy things can get; once again found themselves "sticks up" at center ice, following a sixty minute affair.
For the Rangers, while this victory earned them a season-high five wins in a row – it also gave the team seven consecutive wins at home too.
And as we all know – "home cookin'" is better than any meal that you can find on the road! LGR!
---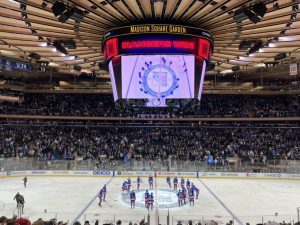 As mentioned, I was at the game tonight (I don't take notes when attending a game, I only do that when watching the games on TV) and it's very late as I write this blog.
In other words, I won't be doing my normal style of a game review tonight. That will return tomorrow night, when the Alexandar Georgiev led Rangers host the struggling Chicago Blackhawks.
Instead of the usual, I will just share my observations from "The World's Most Expensive Arena."
Let's roll.
---
If you don't know what happened already, with 19 saves under his belt in a 1-0 game, and on his way to his second shut-out of the season; CZAR IGOR Shestyorkin left the game with some sort of "lower-body injury". At this time, we don't know specifically what this injury is.
As of this writing, it's being reported that CZAR IGOR will have an MRI tomorrow to assess whatever his injury is. However, according to head coach Gerard Gallant, the injury "isn't as bad as it looks".
To hear it from the horse's mouth himself, here's "The Turk's" post-game interview, which I took as a sigh of relief:
---
Obviously, things in Rangerstown, USA will be very touch-and-go, should CZAR IGOR miss any significant amount of time. All you can do is hope that Gallant's diagnosis is accurate, and that come Tuesday night, in Chicago, CZAR IGOR is where he needs to be – in net for the Rangers.
Again, it's late as I write this, and we have no updates on CZAR IGOR just yet. Whether he can back-up Saturday night's starter, Alexandar Georgiev, or not – well that's not known at this time.
What is known, is that Keith Kinkaid (who many fans already want backing up CZAR IGOR right now, in light of Georgiev's recent struggles), will not be on the Rangers bench tomorrow.
On Twitter (following Friday night's 1-0 blanking of the Sharks), Kinkaid confirmed that he was one of the many players on the Hartford Wolfpack right now to have COVID-19.
(See my previous blog for more on Hartford's battles with the virus, where yeah, yet again – I don't know how all of these vaccinated players are contracting COVID-19 in the first place. Are they licking toilets at Penn Station? Are they having relations with horses at the IBS Arena? Are they having post-game meals in Chinatown?
In addition, I haven't heard of one fan contracting the virus while inside any NHL arena – so how are the players, who are in much better shape than the people who pay to see them, getting sick time-and-time again?)
Should the Rangers need a back-up goaltender on Saturday night, and providing they don't want me jumping off of a bridge by making Steve Valiquette the emergency back-up goaltender; Adam Huska may be available. However, it's not known if Huska has COVID-19 or not. Another option could be an emergency recall of Tyler Wall, currently in Jacksonville for the ECHL Icemen.
Furthermore, and in regards to Huska; who knows if the Rangers want to run the risk of putting a Wolfpack roster member in their locker room right now either – despite the recent recall of Morgan Barron. (More on Barron below.)
In other words – cross your fingers, rub your lucky rabbit's foot or do whatever you do for good luck, and hope that CZAR IGOR is fine to wear a baseball cap on the Rangers bench tomorrow night.
---
On Thursday, December 2nd, Gallant met with the media, where he said he would be giving each of his goaltenders a start during this back-to-back set at M$G. And as usual, Gallant wouldn't reveal his starting goaltender until two hours prior to puck drop.
That news wasn't surprising, although Gallant was also asked if the goaltender who started the first game had a great game, would he reconsider that decision. Gallant gave an open-ended answer in response. And now, following tonight's game – that hypothetical is now moot.
In addition, Gallant was asked what he would do if there was an injury to one of his skaters, in the event that he couldn't call anyone up from COVID-plagued Hartford. In addition, spare forward Greg McKegg has the virus too.
One suggestion (based off of a joke Gallant said a few weeks back, following a game where K'Andre Miller had a coast-to-coast goal) was to put K'Andre Miller on the left wing – #79's natural position. Gallant immediately shut that notion down, mentioning that Libor Hajek is still with the team, and in a pinch, perhaps could use #25 as a winger instead.
Of course, these ideas were only bantered around due to the vicious puck Barclay Goodrow received to the face on Wednesday night. But wait, there's more.
Late Thursday night, the Rangers recalled Morgan Barron from Hartford. At the time, this told us, at the very least, that Barron doesn't have COVID-19.
However, Goodrow (despite sporting some nasty stitches above his eye), was able to play following that tough-to-watch play from Wednesday night.
In turn, Barron took in this game from the press box, which also meant that he wasn't around the team to expose them to COVID either, in the event that he's carrying it undetected.
As a result, here was Gallant's line-up for tonight's game, which is the same line-up that he's been using lately:
FIRST LINE: Kreider/Mika/Kakko
SECOND LINE: Panarin/Strome/Hunt
THIRD LINE: Lafreniere/Chytil/Gauthier
FOURTH LINE: Rooney/Goodrow/Reaves
FIRST D-PAIR: Lindgren/Fox
SECOND D-PAIR: Miller/Trouba
THIRD D-PAIR: Nemeth/Lundkvist
And in net, CZAR IGOR.
---
BOX SCORE time.
The following information and graphics come from the new world-wide leader in NHL coverage, ESPN.com:
SCORING:
PENALTIES:
TEAM STATS:
GOALIES:
| | | | | | | | | | | |
| --- | --- | --- | --- | --- | --- | --- | --- | --- | --- | --- |
| SA | GA | SV | SV% | ESSV | PPSV | SHSV | SOSA | SOS | TOI | PIM |
| 27 | 1 | 26 | .963 | 23 | 0 | 3 | 0 | 0 | 59:07 | 0 |
| | | | | | | | | | | |
| --- | --- | --- | --- | --- | --- | --- | --- | --- | --- | --- |
| SA | GA | SV | SV% | ESSV | PPSV | SHSV | SOSA | SOS | TOI | PIM |
| 9 | 0 | 9 | 1.000 | 8 | 0 | 1 | 0 | 0 | 14:52 | 0 |
| 19 | 0 | 19 | 1.000 | 18 | 0 | 1 | 0 | 0 | 45:06 | 0 |
---
Since "I was dere, ok" (read that in Mike Francesa's voice), I didn't see the M$G broadcast of the game. Much like the Rangers themselves tonight – that's a win for me too!
And to quote Mike Francesa one more time, when it comes to these random DJ's that M$G forces upon us (tonight it was some "uddah fool" named "Modern Machine", who as his name suggests, just played around with his laptop) – "nobody cares, ok."
Lastly Part I: when speaking of gas-bags, while Mike Francesa wasn't "dere" on Friday night; politician (and sometimes WFAN co-host, like Francesa used to be) Chris Christie was. Of note, I saw the former governor of New Jersey at a snack bar across the aisle, as I was getting a Heineken tall-boy in the 100's rotunda. I'm not making this up.
Lastly Part II: if you follow me on social media, you'll see that I was sitting in the bridges for this game – for the first two periods anyway. However, with M$G at what I'd peg at a 65% capacity, I moved down to section 107 – center ice during the second intermission.
Lastly Part III: you can't buy off ushers anymore. The days of crumpling up a $20 bill and hand-shaking it to an usher are long gone. Cameras ruined that old time-honored tradition.
The trick to get by the ushers when attempting to move down, is to have two beers in your hand (I guess a food item would work too!), and just walk down to those seats like you've been there before. Any hesitation will arouse suspicion, especially when entering the best seats in the house – where there are multiple ushers in each aisle.
And of course, you must also do some in-arena scouting, to make sure the seats you're sneaking into are empty. You won't find this info in any NYR beat writer report! Good luck to all of you who try this – it works!
---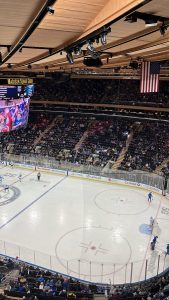 I don't know if I'd exactly call this game a "goaltender's duel" – despite no even-strength goals allowed by the three goaltenders who played.
And in my eyes, I've seen much better 1-0 games, where the two goalies were absolutely lights out.
(A Rangers/Islanders game at the Nassau Coliseum from April of 2013 still sticks with me, when Dan Girardi scored against Evgeni Nabokov in OT, giving Henrik Lundqvist a shut-out. That's still the best 1-0 game I've ever seen live, as I wasn't at M$G for Game 6 of the 2014 Eastern Conference Final – one of the best 1-0 games in Rangers history.)
As mentioned, a Ryan Strome power-play goal, following Noah Gregor's goaltender interference on CZAR IGOR, was the lone tally of the game.
And isn't it amazing Suzyn (that's my line L.B.), that CZAR IGOR, ONCE AGAIN, ate another big crash, but yet, it was a non-contact injury that forced his exit from this game? Can't make this up.
And please – for the people who hit me up on social media and brought up Igor's past history with injuries, can I quote Mike Francesa one more time with this – "WILL YOU CAWM DOWN?"
Seriously, a long-time season ticket holder, who otherwise, opinions I do respect – told me that "Igor has never played more than 39 games a season."
Omitted from that fact was that CZAR IGOR began his NHL career in January of 2020, when the Rangers were also playing three goalies (Georgiev, Lundqvist and Igor himself.)
Needless to say, last season was a truncated schedule due to COVID, where the team only played 56 games.
And let me share this too:
The Rangers are winning at a historic rate right now, yet I still have people hitting me up with the "doom and gloom" bullshit. I know I'm very over-the-top with my "glass half-full" mentality – but really, how can anyone try to find the worst in this team right now?
(And if you want to find someone even more positive than me, talk to my buddy "Dancin'" Larry Goodman. You won't find a more optimistic fan out there. Plus, I always enjoy my beer drinking sessions with him too!)
I mean, we've waited so long for this team to start winning again, yet some pessimistic people are acting like these are the World War II era of Rangers.
Seriously, twenty-two games in, the Rangers have only lost four times in regulation, where three of those losses are easily explained – Georgiev's start against Washington in the opener, and the two games with Calgary, which I have already written about 9876786786879698 words on already – check the archives if you need the full explanation.
(The fourth loss was a 2-1 road loss to the red-hot Toronto Maple Leafs, a team the Rangers had previously defeated, also on the road, prior to that loss. It's a loss that didn't concern me at the time, nor concerns me as I write these words.)
---
With the Sharks defeating the crappy Islanders twenty-four hours prior; going into this game, I once again predicted a Rangers shut-out.
While it wasn't a complete game shut-out for CZAR IGOR – it was a Rangers shut-out nonetheless. I'm claiming victory here, even if it's with an asterisk attached! (Hi Linda!)
I know I've said this before – but yeah, when you're at a game, sometimes you miss things – just like how you miss things when watching on TV.
I only say this, because I thought the Sharks blew a lot of opportunities tonight, as from my vantage point, many of their shots went high and/or wide. (This also goes back to why I didn't think this was the best 1-0 game I've ever seen too.)
That's not to take anything away from CZAR IGOR and Georgiev, two goalies who made great stops throughout; but at the same time, I didn't think the Sharks tested the Ranger goaltenders as well as they could've. In fact, Adin Hill, on the other end of the ice, faced better competition – at least so I say.
Following Strome's early PPG, I thought my "4-0, Rangers" prediction was looking pretty good. I didn't know that I wouldn't see another goal for the following 54+ minutes – the remainder of the game.
As stated at the top of this, "good teams find different ways to win." That includes Mika Zibanejad and Artemi Panarin, who despite many chances, only finished the game with one shot on goal each. (Zibanejad did assist on Strome's goal, where the center in the #16 jersey pretty much scored all by himself, after taking a pass, pumping the puck and then booming it past Hill.)
Defensively, while the Sharks did crack the Rangers defense at times; I also go back to one of my other cliches – "the other team is paid to play hockey too."
I didn't think K'Andre Miller or Patrik Nemeth looked particularly hot tonight; but at the same time, despite some chances, the two, like everyone else on the team, held the Sharks off of the board. That's all you can ask for.
And this may shock you based on my past comments about his contract – I thought Trouba, as he was last game, was the best Rangers defenseman of this contest, and that includes the top pair of Adam Fox and Ryan Lindgren.
To be clear, this isn't like Fox or Lindgren had an off-night or anything like that (in fact, Fox had one assist and blocked a team-high three shots); but I just thought Trouba was more noticeable – especially with his five hits and with all the cover-work he does on behalf of his second-year mate.
---
As the Rangers protected the first period lead, in the second and third periods, the Rangers had a few chances to get the insurance goal. It never came, where to his credit, Hill, the Sharks goaltender, came up with a few big saves – especially when he denied Chris Kreider from nearby. (Hill also made a big short-handed stop on Panarin too.)
At the 14:52 mark of the third period, you could collectively hear every ass inside of M$G clench, when CZAR IGOR left the game. With a struggling and ice-cold Georgiev entering the game, you somewhat expected the Sharks to take advantage. Thankfully, that never came either.
Instead, Georgiev made a bevy of saves, nine in all, including looking flawless during a Rangers penalty kill after Miller tripped Logan Couture.
I was happy for Georgiev. He really needed this. While Igor gets the win on record, Georgiev did his job.
I know that Georgiev hasn't looked hot this season, but I still believe what I've said all season – Georgiev is at his best when he plays frequently. However, that won't happen (nor should it) with CZAR IGOR fully supplanted as the Rangers starter.
That said, the Rangers need a back-up goaltender, that when he starts, you don't automatically say "oh no!"
For Georgiev to quiet down the "BRING UP KINKAID" or "BRING UP HUSKA" stuff – he'll need to follow up this near 15 minute solid showing with a complete 60 minute performance against Chicago.
---
When it was all said and done, and in a game where defense was most certainly at a premium – the Rangers posted their second shut-out of the season.
With two games ahead against the second-to-last place Chicago Blackhawks; even if Igor is to miss anytime, the Rangers will once again have to find a new way to win. I think they will. Make it a six-pack winning streak on Saturday night!
And again, sorry for going short tonight. Regular programming resumes tomorrow!
Plugs time, and then the big finish!
---
On late Thursday night/early Friday morning, the "2 Guys 1 Cup" podcast returned. To listen to the show, click the link below:
— 2 Guys 1 Cup Podcast (@2G1CRangers) December 3, 2021
---
Also on Thursday night, Ron Duguay's "Up in the Blue Seats" podcast returned. To listen to that show, check out:
Up In The Blue Seats Podcast: @RonDuguay10, @MollieeWalkerr, @JakeBrownRadio & @NYP_Brooksie talk #Rangers win streak, Panarin-Marchand, I-GOR chants & @BillPidto on his journey to MSG Network. #NYR #NoQuitInNY

Apple: https://t.co/TKhvcN4IO9
Spotify: https://t.co/pYnTVHGwme pic.twitter.com/Ch84Amlx0q

— New York Post (@nypost) December 2, 2021
---
I do want to say here, while I like both shows (I wouldn't plug them if I didn't like them), I'm starting to enjoy what "2G1C" brings over the revamped "Up in the Blue Seats".
I know this is me, as a "self-professed" Rangers historian, but Shawn and Roc, the co-hosts of "2G1C", know their stuff.
On the other show, Jake Brown admits he's not a hockey guy, and I think I could ask Mollie Walker ten simple Ranger trivia questions and stump her on all of them. I don't think I could do the same to Ron Duguay or Larry Brooks though – where for my money, the Hall of Fame reporter continues to have the best segment on "Up in the Blue Seats".
Again, that's just my opinion, maybe it's not yours.
And this isn't a knock on anyone either, because as previously mentioned on this site, I do like the "Morning Talk" vibe that Walker and Brown provide. I just don't find them to be as knowledgeable as their two other co-hosts, nor as knowledgeable as Shawn & Roc, or like Jim S. & Eddie G. of "The Blueshirt Underground Show" either. That's all.
---
The hardcover version of my book, available now at Amazon.com
The first plug of tonight's blog – the mandatory plug for my new book, "The New York Rangers Rink of Honor and the Rafters of Madison Square Garden". And let me say this – thank you to everyone who has bought one, as my Amazon sales have exceeded all expectations, where for a limited time (that damn Mark Messier who just released a book!), my book was number one on the Amazon hockey book sales charts.
As mentioned previously, the book is now available in hardcover, in paperback and in Kindle formats. To purchase a copy of the book, visit this link:
https://www.amazon.com/Rangers-Rafters-Madison-Square-Garden-ebook/dp/B09CM5N2WD
For those still looking for signed paperback versions of the book, I have 3 copies left for sale for $25 (includes shipping price) through me directly. Here is all the information on that:
---
Here are my last few blogs, in case you missed them:
---
---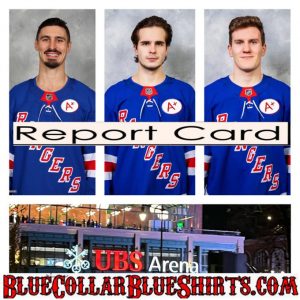 ---
If you haven't already, subscribe to this blog for the next update:
---
Up next: Right back at it Saturday night, where the Rangers will host the Blackhawks. After that game, the two teams rematch on Tuesday night, in the windy city.
See ya tomorrow night.
Stay FABULOUS my friends.
As always here, thanks for reading and…
LET'S GO RANGERS!
Sean McCaffrey
BULLSMC@aol.com
@NYCTHEMIC on Tweeter