Greetings and salutations everyone and welcome to another blog here on BlueCollarBlueShirts.com. Sorry to sound like a "hater" – but tonight's 6-4 win over the Blues was one of the least impressive victories I've ever seen.
But hey – the Rangers won. At the end of the day, that's all that matters.
That said, unless you want to bury your head in the sand – most of the negative stuff that has plagued the team all season was all there again on Monday night.
Rather than a "statement victory" for the Blueshirts; instead, this game felt more like another bad loss for the Blues than anything else.
The road team, who entered this game on a three-game losing streak, have been horrendous in net.
As the 30th ranked team in both goals allowed and save percentage, the Blues have a goal differential of -23.
Goaltender Jordan Binnington, who has never been the same since winning the Stanley Cup in 2019 (but you can never take that away from him), was a complete mess on Monday night – especially during the Rangers' three-goal third period.
Again, I hate to sound so negative following a win (however, can you blame me after witnessing this team from these past few weeks?) – but once the final horn went off, I was left thinking the following:
"In a game played between two horrendous hockey teams, the Rangers were just a little less worse than the Blues."
---
About every 48 hours, the Rangers' new cycle usually features both Kaapo Kakko and Alexis Lafreniere – the two lottery picks that have performed as well as my daily 4-0 bets.
A lot of what we've seen this season from these two took place again on Monday night, where just like a "Gordie Howe Hat Trick" – these two now have their own hat tricks named after themselves.
An Alexis Lafreniere Hat Trick is one goal, one assist and one horrific offensive zone penalty.
A Kaapo Kakko Hat Trick is one post, one failed breakaway and one miss at an empty net.
We saw all six of these plays tonight.
But hey, let's not leave "The Breadman" out of this too!
An Artemi Panarin hat trick is one bad turnover, a fugazi assist and poo-pooing the idea of a back-check.
We also saw those three things tonight too!
---
I don't know, maybe I'm just a salty and cranky curmudgeon right now (having to be up at 4:15AM every day for my new shift at work is part of this – which is why I'm going to have to race through this blog tonight); but there was just nothing that really impressed me tonight.
Following two periods of play, and with the Blueshirts down to the Blues by a score of 4-3; there was wide-spread panic and fires in the streets of Rangerstown, USA.
Put it this way: Henrik Lundqvist seemed irate. Sieve Vagistat, the worst back-up of Lundqvist's Era, was demanding that Gallant bench Lafreniere. (Lafreniere then went on to pick up an assist on the tying goal, and for good measure – then scored the game winning goal too.)
As far as Gallant himself? With his squad looking like a bunch of Terry Schiavo's on ice; you could hear every reporter, podcaster, blogger, fan, whoever; all making up their short lists of possible Ranger coaching candidates – all with this sentence attached – "The Turk has lost the team."
And again, maybe I'm being too down right now – but I expect these short lists to appear all over the place following the Rangers' next two games on the road, against two of the upper-echelon teams of the league, the Vegas Golden Knights and the Colorado Avalanche.
If anything, following a win that I considered to be "hollow;" I thought that Gallant should be treating Jordan Binnington to a steak dinner, as in a rare occurrence – it was the Rangers' opponent who let them off of the hook – and played the role of "slumpbuster" too.
Let's get into all of the pregame news and notes, and then into the GAME REVIEW.
---
In case you missed it, my latest for Stan Fischler appeared on "The Hockey News" on Monday afternoon.
You can read the full thing here:
https://thehockeynews.com/news/fischler-report-figuring-out-the-flawed-new-york-rangers
For the purpose of this blog, here's what I wrote there, stuff that's just exclusive to the Rangers:
(Of note: Stan gives me these assignments and I write to what he asks out of me.)
---
DEFINITION OF CRUMBLING: THE RANGERS CRUMBLING AFTER GETTING LOSER'S POINT WITH OTTAWA AND A BIG 0 VS CHICAGO ON SATURDAY.
The Broadway Blueshirts, predicted to build upon their strong finish from last season, are in a state of destruction, similar to the duster scene from "The Wizard of Oz." However, for Gerard Gallant, who many now have on the hot seat – clicking the ruby slippers and reciting, "there's no place like home" hasn't rung true.
Currently on the outside-looking-in, "The Turk's" terrible tribe are currently 4-10 at home. Last season, the club finished 27–10–4 on MSG ice.
While there is plenty of blame to go around, perhaps most concerning is the Rangers' failure to beat the cellar-dwellers of the league.
Through 26 games played, the Rangers have already lost to the Sharks, Blue Jackets, Senators, Ducks, Predators, and Blackhawks.
Compounding to the misery were back-to-back home games where the Rangers gave up four answered goals in each, in losses to the Devils and Oilers.
Worst of all, neither Gallant, nor his players, including team captain Jacob Trouba, seem to have an answer for the malaise.
By the way it's going, by the time the ball drops in Times' Square on New Year's Eve – the Rangers will have completely dropped out of playoff contention.
---
Following the Thanksgiving Eve trade of Ryan Reaves, the Rangers have compiled a record of 1-4-1. Conversely, with "The Grim Reaver" now in their line-up, the Wild have gone 4-1. Simply stated – toughness still matters in the NHL – just ask Rangers' captain Jacob Trouba.
Since the departure of Reaves, Trouba was embarrassed by Leon Draisaitl. Despite some Ranger beat reporters thinking that this obvious blemish was nothing to speak of; following the incident, Trouba has dropped the gloves three times, where he's fought Brady Tkachuk, Jujhari Khaira and Jonathan Toews in draws.
And should you believe that the newly affixed "C" on his sweater is adding to the pressure – Trouba snapped during Saturday's embarrassing loss to the Blackhawks, when he threw his helmet on the ice and cursed out his team, as he went to the locker room following a late second period bout with Toews..
Trouba, who did rebound last season during his third year in the Big Apple, has reverted to the player from his first two seasons in New York.
As one of the league's worst defensemen today, where perhaps injuries are part of this – many are clamoring for the captaincy to go where many wanted it to go during the summer, to the longest-tenured Ranger himself, Chris Kreider.
Not helping matters in New York are the recent struggles of 2022 Vezina Trophy winner, Igor Shesterkin. Whether it's a new sire in his house-hold impacting his routine or what; the once super-human Shesty has been anything but. While there is plenty of season left; at the present time, #31 in blue has no chance of defending his Vezina crown.
Jaroslav Halak, formerly known as a "Ranger Killer," due to his past success against his new club, currently has a 1-6-1 record. However, it's tough to blame the 37-year old for his record. After all, through Halak's eight games played, the Rangers have been outscored by a cumulative total of 26-11, where in only 25% of these games, have the Rangers scored two or more goals.
Due to the recent comments made by Barry Trotz, where he expressed interest in coaching an Original Six team, there are many in the streets of Rangerstown, USA who want the former Islander bench boss to switch sides.
Lost in all of that? Should Gallant get the pink slip – the Isles, who are still paying Trotz, would have to give their blessing in order for Trotz to stand behind the Rangers' bench. That seems highly unlikely.
---
As noted on this site in the past; during the past three years, the best back-up goalie of franchise history, Gilles Villemure, was battling brain tumors and cancer.
At one point, he was in hospice care and in a life-and-death situation.
Fast-forward to today, the now 82-year old is doing much better.
While not completely out of the woods; he's now back to traveling and being able to get around.
On Saturday, during the Rangers' loss to Chicago, my buddy Garrett spotted #30 at the Delta Lounge at M$G:
The only good thing from last night – my friend saw Gilles Villemure at M$G. From hospice care after a bout with cancer, the best #nyr back-up of all time, now at 82, is healthy enough to travel. Too bad the team wasn't healthy. Glad to see #30 doing better either way. pic.twitter.com/UyDX28Wnu8

— BlueCollarBlueShirts (@NYCTheMiC) December 4, 2022
---
Obviously, seeing Villemure at M$G was a great thing. I know that many were expecting the worst for him for a period of time there. He's now made a full recovery and all the best to him and his family moving forward.
Let's now talk about the current Rangers.
---
After being recalled by the Rangers on Saturday, a day later, football Sunday, the Rangers announced the following:
---
A day later, Monday morning, the Rangers returned JONNY HOCKEY to New York:
Brodzinski, similar to an elevator, experienced nothing but ups-and-downs during the past 72 hours – but by the end of it – he made his 2022-23 NHL season debut on Monday night.
The Rangers, who took off on Sunday (I'm not sure if this is written in black-and-white, but I believe the new CBA mandates that teams aren't allowed to practice after playing back-to-back games), practiced on early Monday morning.
Outside of the Brodzinski news, the only real thing of note was that Filip Brittle remained out with his latest "day-to-day" injury – hence the reason for the Brodzinski recall – and not exactly a vote of confidence for Ryan Carpenter either.
Here was Monday morning's edition of "TURK TALK":
---
Again, I'm pressed for time tonight, so I can't recap this in the way that I want to. However, among the highlights and low-lights:
— Gallant once again buried analytics and said that the people who make them don't do it right and tend to be extremely generous.
— Gallant got fed-up with the non-stop Alexis Lafreniere line of questioning, and at one point, told Wince Mercogliano to stop putting words in his mouth when trying to push his own narrative.
— Gallant didn't seem to have many answers about why the Rangers were struggling.
— Gallant praised Jacob Trouba.
---
As is often the case – the Rangers' beat reporters failed to ask two major questions.
The first one was something that I thought was obvious to ask, an iteration of – "have you spoken to Chris Drury about how to right this ship?'
I thought this question had to be asked, especially since earlier in the day, Emily Kaplan, of ESPN, reported that James Dolan has taken an interest in both Gallant and the state of his club.
I will say – while I'm not doubting Kaplan's reporting – I just don't believe she talked to James Dolan himself.
Furthermore, and as repeatedly mentioned on this site – Chris Drury doesn't privately talk to reporters either.
The only reporter with a direct line to Big Shot Jimmy is Larry Brooks – as was evident when Dolan granted the Hall of Fame scribe an exclusive interview in May of 2021, following the firings of Jeff Gorton and John Davidson.
So despite Kaplan's report going viral in the streets of Rangerstown, USA; not one Ranger "reporter" asked Gallant about this.
And yes, I know that it's highly likely that Gallant would've replied with "no comment," or just blown off the question entirely; but at the very least, someone should've asked:
"Turk, ESPN (a league partner mind you) reported today that James Dolan is concerned about the team. Can you confirm this and do you have any thoughts about this?"
Instead, the millennial beat reporters wanted to pepper Gallant with questions about analytics.
You can't make this up.
---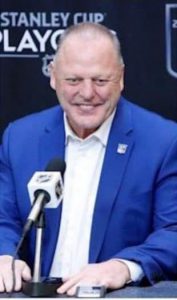 Here was tonight's line-up:
(Note: Miller and Trouba were reunited after being split up during the past several games.)
FIRST LINE: Kreider/Mika/Vesey
SECOND LINE: Panarin/Trocheck/Kravtsov
THIRD LINE: Lafreniere/Goodrow/Kakko
FOURTH LINE: Blais/Brodzinski/Gauthier
FIRST PAIR: Lindgren/Fox
SECOND PAIR: Miller/Trouba
THIRD PAIR: Hajek/Schneider
STARTING GOALIE: CZAR IGOR
BACK-UP: Jaroslav Halak
---
BOX SCORE time.
The following graphics and information come from ESPN.com:
SCORING:
PENALTIES:
TEAM STATS:
GOALIES:
| | | | | | | | | | | |
| --- | --- | --- | --- | --- | --- | --- | --- | --- | --- | --- |
| SA | GA | SV | SV% | ESSV | PPSV | SHSV | SOSA | SOS | TOI | PIM |
| 24 | 6 | 18 | .750 | 16 | 0 | 2 | 0 | 0 | 56:47 | 0 |
| | | | | | | | | | | |
| --- | --- | --- | --- | --- | --- | --- | --- | --- | --- | --- |
| SA | GA | SV | SV% | ESSV | PPSV | SHSV | SOSA | SOS | TOI | PIM |
| 29 | 4 | 25 | .862 | 25 | 0 | 0 | 0 | 0 | 60:00 | 0 |
---
I thought the M$GN pregame show was a mixed-bag – the usual.
While Henrik Lundqvist knocked it out of the park; Sieve Vagistat continued to talk about his own career. In addition, John Giannone played fake news cheerleader.
Before going to the studio, we saw the familiar camera shot of the Rangers leaving the tunnel. Say whatever you want about Ryan Reaves, but I thought the team looked lifeless as they left the locker room for the ice.
Maybe I'm looking too much into it, but they didn't seem to have any energy or emotion at all – and that later became a story during the first period. (And I said this at the time too – before the first period was played.)
Lundqvist poignantly opened the broadcast by saying, "the best way to turn this around is to show emotion. Show that you care. There can't be any passengers. The energy will spread if you care on every shift."
I'd concur.
Right after this, Giannone talked about how the Rangers were close to playoff spot.
Not mentioned during any of this? How the teams that the Rangers are chasing have either two or three games in-hand.
When speaking about Igor's recent struggles, Lundqvist said: "as a goalie, you can't fix things that are out of your control [the skaters]. You just can't be talking. You need action."
Sieve Vagistat, in all of his brilliance, told us that Shestyorkin hasn't been the same goalie when compared to last year.
While I know this is an excuse (and I've been making it all-season on this site), yet still both valid and worth your consideration – these guys never mention that he has a new kid at home. And when you look at Igor's numbers at home vs the road, it's night-and-day.
It was then mentioned that Binnington had lost his last five games, where his own coach, Craig Berube, has told his goalie to stop worrying about the theatrics (fighting, cheap hits, mouthing off, etc) and instead – worry about stopping pucks. (These words aren't verbatim, but you get the gist.)
In stats that actually mattered; it was brought up that the Rangers have hit fifty posts this season – most in the NHL. Vincent "THE IRON MAN" Trocheck has hit more posts than anyone, ten in all.
As Lundqvist laughed and said that he loved the post as a goalie; Sieve Vagistat did his usual act of: "MOMMY, MOMMY, MOMMY, HENRIK, PLEASE LOOK AT ME, I'M GOING OFF THE DIVING BOARD!"
Lundqvist barely acknowledged whatever meaningless story that Vagistat was sharing about his career – much like I did.
Prior to going to Sam and Joe, Lundqvist's key to the game was a good one – get Binnington to crack.
Once leaving the studio for the announcers, Sam and Joe begged for Buchnevich to score did (he did), Micheletti called Robert Thomas "young and fabulous," and then talked about what a great game this should be.
Of course, after telling us how great this game should be – Micheletti then brought up how both teams currently suck.
GAME REVIEW TIME.
---
FIRST PERIOD:
Sorry that I have to race through this, but I have a train to catch in just four hours – and need some sleep before boarding.
Thankfully, both teams did me a solid here – as neither team looked to give a shit during the first fifteen minutes or so.
Put it this way: at just the six minute mark, the Rangers were out-shooting the Blues 2-0.
As a whole, and despite the goals that came at the end of the period, I thought this start was uninspiring.
The team has sucked lately, you needed something good to happen – and it just looked like they were going through the motions.
While the goals would later come, in the form of a touchdown to boot – during this stretch of time, I would've liked to seen anything positive – whether it be speed, fore-checking, big hits, or whatever else you want to come up with.
I don't know, but in my eyes, it just looked like the Rangers looked timid and conservative. Fortunately, the Blues were timider and more conservative.
As the period progressed and as we hit the ten minute mark, you could hear the sounds of flushing from the M$G urinals.
And I should mention this too – prior to the game, these once expensive ducats plummeted on the secondary market, so bad (HOW BAD WAS IT?), that the get-in price was only $40.
My, oh my, how a losing streak can change everything.
You know it's bad when even the broadcasters are calling out the team, as both Joe Micheletti and Dave Maloney, who was in-between the benches, did during this. There was just nothing going on.
Down to 10:55 remaining, the Rangers received a break when Acciari, rather than Trocheck or any other Ranger, hit a post while on a breakaway.
Three minutes later, Ryan Lindgren was boxed for tripping Leddy.
The Rangers' penalty kill, one of their strong suits (despite giving up three power-play goals to "chitty" Chicago on Saturday); were great here, but I also think they were aided a bit by how bad the Blues' power-play was.
As you were thinking that Vlad Tarasenko was going to score his first PPG of the season (Sam and Joe were hellbent on reminding us that #91 hasn't scored a PPG during his past 46 games); the Rangers limited the Blues to one SOG during these two minutes – an Igor save on OLD FRIEND (and his driving buddy), Pavel Buchnevich.
Following the kill, I said this in real-time, a sentiment that many agreed with:
Igor stops Buchnevich again, 4:30 to go. Both fan bases are thinking the same thing right now – where is the passion? Is anyone on the ice playing pissed off and angry? #NYR

— BlueCollarBlueShirts (@NYCTheMiC) December 6, 2022
---
Lafreniere, who had a very Jekyll and Hyde game, soon had a 3 x 2 odd-man rush with nearly three minutes to go. However, when trying to find the trailer (Barclay Goodrow), #13 hit the back of #21's skate.
In game that had the familiar stench of "same old shit" (at least until the third period); with 2:46 remaining, we saw a pulse:
THERE WE GOOO! SCHNEIDER puts the Rangers up 1 pic.twitter.com/g9erG64KJZ

— Rangers on MSG (@RangersMSGN) December 6, 2022
---
1-0, GOOD GUYS!
Once again, it's the third-pair and fourth line lifting the Rangers.
On this goal, Sammy Blais had Binnington completely screened. Gauthier found Schneider at the top of the right circle, and boom, another goal for "Baby Trouba," where that nickname is completely silly.
After all, #4 now has three goals this season. The $8.5M #8 is still looking for his first goal of the season.
Of course, right after scoring – Igor had to make a tough save on Krug. This was just a temporary band-aid (much like how I feel about the final result too); as just seventy seconds following Schneider's goal, Buchnevich (who else?) scored.
1-1.
With Ranger leads lasting as long as a teenage male playing "pocket rocket" with himself these days; on replay, it was shown that Igor initially made the stop on his comrade, only for Adam Fox, when trying to sweep the puck from the goal line, accidentally kicked it in.
However, the Rangers would soon regain the lead – as in just 68 seconds later.
Following a Kyrou hook on Trouba with 33.3 seconds left on the clock; just six seconds into their struggling power-play, it was the team's MVP, the 2021 Norris Trophy winner, Adam Fox, who put the Rangers ahead:
IT'S A POWER PLAY GOALLLL!!

FOXY puts the Rangers up 2-1 pic.twitter.com/wbGOmAOLhM

— Rangers on MSG (@RangersMSGN) December 6, 2022
---
2-1, GOOD GUYS.
And unlike what we've recently seen – this time it were the Rangers scoring a back-breaking goal at the expense of their opponent.
Here's what I said at the end of the period:
2-1, good guys after 20. 1P Thoughts:
— A boring period until the end.
— Nice to see #NYR with the lead, but we know how these 2Ps goes for them.
— SOG 9-6 STL; Hits 8-5 NYR, FO's 10-all
— Rangers special teams perfect
— Nice to see Panarin take over lmao
— FOX = MVP

— BlueCollarBlueShirts (@NYCTheMiC) December 6, 2022
---
SECOND PERIOD:
Another utter disaster of a middle frame from the Blueshirts.
Right before the period began, I said this:
Let's see how #NYR protects this lead and handles this crucial 2P. Mika loses the draw (again) and we're off.

— BlueCollarBlueShirts (@NYCTheMiC) December 6, 2022
---
Twelve seconds later, and after Zibanejad lost the opening faceoff (he lost all three of them tonight) – Tarasenko scored.
2-2.
This was so bad (HOW BAD WAS IT?), that Sam Rosen couldn't even get out that the Blues are a horrible second period team, with a goal differential of minus fifteen.
However, and to their credit, just 55 seconds later, the Rangers regained the lead.
On this play, Trouba kept the puck in the zone, Panarin actually shot a puck and Trocheck, in a miracle, deflected/tipped a puck without catching the post. Instead, the rubber went right past Binnington at the 1:07 mark.
3-2, GOOD GUYS.
And following a dreadful opening from both teams, we now had five goals scored within 3:53.
In what was the turning point of the game, but a turning point that the Rangers would later recover from with a new turning point of their own; at the 6:40 mark, Trouba blocked a Tarasenko shot.
For some inexplicable reason, Tarasenko snapped and immediately went to fight Trouba.
Maybe I'm trying to sell you my own narrative here, even if Mollie Walker doesn't give a shit; but I do wonder if Trouba getting punked by Leon Draisaitl was a factor.
This was just a regular shot block, but for whatever reason, Tarasenko took major offense.
Here's where it got wonky: DESPITE TARASENKO ATTACKING TROUBA, THUS FORCING THE RANGERS' CAPTAIN TO DEFEND HIMSELF – the officials gave both men off-setting roughing penalties.
What was Trouba supposed to do? Let Tarasenko wail on him?
What should've been a Rangers' power-play turned into two minutes of foreplay.
However, just fourteen seconds into the 4 x 4; Lindgren was boxed again, this time for hooking Schenn.
The Rangers' PK was absolutely phenomenal – the Blues didn't even get a SOG. Goodrow particularly stood out, while in the triangle on the 4 x 3 kill, when he blocked passes and cleared pucks.
However, once returning to full-strength; Lafreniere immediately held Parayko.
Third time was a charm for the Blues.
It looked like the Rangers would get out of this – and score a goal too – but what we've seen all season took place again here.
Binnington stopped Vesey on a mini-breakaway. Afterwards, on the next Rangers' possession, Kakko had a clear path breakaway.
Per the norm – Kakko didn't "Finnish" – har-har-har.
Despite having Binnington's jock hanging around the 1994 banner in the rafters; Kakko did his usual Harlem Globetrotter act, couldn't lift a puck, couldn't tuck a puck into an empty net and then hit the post.
On one hand, Kakko does get chances, so it tells you that he's doing something. On the other hand, once there, he has full blown 2021-22 "Gauthieritis."
Instead of going up 4-2 (and a SHG too); right after Kakko's latest flub – a better younger player, Jordan Kyrou, ripped a puck past Igor for his tenth goal of the season.
3-3 and with 8:56 remaining.
Just eighty-one seconds later, the Blues, now on their 78957656675765 odd-man rush of the game; scored the go-ahead goal.
On this play, the Blues had two-vs-one odd-man rush. After Igor initially stopped Schenn; captain Ryan O'Reilly scored the easy rebound goal.
4-3, bad guys.
And isn't it amazing Suzyn how every team captain scores against the Rangers this year?
Following tonight's game, and among all full-time Rangers – only team captain Jacob Trouba and former Blue, Sammy Blais, are without goals.
Down to 5:30 remaining, a Saad backhander, where backhanders are Igor's kryptonite (to be fair – these are the hardest shots to stop for any NHL goalie), hit the post.
Again, it was nice to see another team come down with a case of the "Trocheck's."
The rest of this frame was a waste of time, where the only thing worth noting is that following Trocheck's goal – the Rangers only put one more shot on Binnington (six in the period, twelve overall).
4-3 bad guys after forty minutes – and with people on the ledges too.
Here's what I said at the time:
4-3, bad guys, after 40. 2P Thoughts:
— "We worked hard, we played hard, we talked hard, blah blah blah."
— Absolutely pathetic response.
— They could score 100 goals in 3P – doesn't change a thing.
— SOG 22-12 STL; Hits 16-14, FOs 23-18 #NYR
— GG's seat getting warm

— BlueCollarBlueShirts (@NYCTheMiC) December 6, 2022
---
THIRD PERIOD:
Following a very somber intermission segment, and Blueshirt backers talking about all sorts of people, including Mark Messier, Barry Trotz, Joel Quenneville, Chris Drury, Kris Knoblauch, Mike Babcock and whatever other coaching candidate you could think of; we resumed.
Thirty seconds in, Kravtsov whiffed at a wide-open net. Ninety seconds in, Lafreniere, who won't be winning the Lady Byng trophy anytime soon, turned over the puck in the o-zone.
At the four minute mark, Binnington stopped Trocheck – the first Rangers' SOG in nearly fifteen minutes.
Kakko, following a Blues' turnover, was left all alone in the slot. He shot it right at Binnington.
Fortunately, this is when the Stanley Cup champ goalie unraveled.
Down to 15:12 remaining, K'Andre Miller shot from "Downtown Julie Brown." It looked like Binnington made the easy save, but the puck trickled past him.
4-4 – Miller's first goal of the season.
It was nice to see a "negative first" at the expense of a Rangers' opponent – a feat that's as rare as seeing Haley's Comet these days!
Just like their goalie, the Blues crapped their pants too. While they'd continue to receive breakaways and odd-man rushes – they rarely shot the puck at Igor.
Down to 13:06 on the clock, Binnington almost gave up an identical goal to Lindgren as he had to Miller. However, he was able to handle this loose puck – this time.
With 11:38 left on the clock, Zibanejad, now teamed with Kakko and Lafreniere on his wings, fired a puck from the high slot. Lafreniere, positioned correctly, got a piece of the puck.
5-4, GOOD GUYS. Fortunately, Gallant stuck with Lafreniere and didn't listen to Vagistat!
And as mentioned earlier – this was the game winning goal too!
As Kakko remained dumbfounded; with 6:41 remaining, Trocheck tried to give the game away, as he blatantly hooked Tarasenko.
The Rangers' penalty kill, fantastic for the most part tonight – had their best showing during these two minutes.
Following one of the worst neutral zone turnovers that you'll ever see by Barbashev; Kreider grabbed the rubber, and now on a breakaway, showed Kakko how it was done.
6-4, GOOD GUYS, a SHG for the now newly minted "CK13."
And needless to say, for this fragile group – this was a HUUUUUUUUGE insurance goal.
After Kreider's goal which was scored just 25 seconds into the PK; the Blues were toast.
All they did was make blind pass after blind pass and drop pass after drop pass, where on all of these passes – led to turnovers.
As we hit 2:55 remaining, Binnington took a seat.
Since this was a two-goal lead, you didn't really sweat this out – especially with how bad the Blues were/are – but what will be overlooked is how the Rangers couldn't hit the empty net.
While 7-4 or 6-4 isn't much of a difference – the Rangers could've put this game to bed before triple zeroes hit.
Only Vesey, with his biggest fan, Susan Sarandon in the building, came close.
6-4, GOOD GUYS, where I do think this was concerning/telling – during the post-game interviews, most of these guys were treating this as a big win.
While it was a needed win for them – once again – the Rangers didn't play a sixty-minute game, and were just twenty minutes away from a full-out war-zone on Broadway.
As said earlier – this game was more about the Blues being bad than the Rangers playing well.
Here's a happy Gallant, Binnington's biggest fan, after the game:
---
While I thought Gallant overrated this win by saying that it was "big" (consider the competition); I thought he nailed everything else:
— This game was three different periods. A low energy one, a shitty one and a great one.
— This game wasn't perfect.
— It was nice to see Lafreniere overcome another bad penalty.
— Another Ranger was snake-bit – Kakko.
— It was big for Miller to finally get his first goal of the season.
— Igor's goals allowed weren't really on him. While Gallant didn't say this – it's just a shame Shestyorkin's numbers are getting shredded this season.
— Getting a win before the road-trip was positive.
---
As I close tonight – again – sorry that I'm so negative and don't have an ounce of "rah-rah" in me.
There's just been too many bad losses this season, where following the disgusting defeat to the Sharks – it's been win one, lose one, two or three, and then get lucky. Rinse-wash-repeat.
I also can't ignore the first forty minutes of this game either.
For me to return to my previous glass half-full optimistic attitude and approach – I'll need to see this team rip off a major winning streak.
It just can't be the same old shit, which would be getting smashed by both Vegas and Colorado during their next two games.
I don't know, and maybe this is just me; but I get a vibe from this team that once they get a win – following that victory – they think they have the right to play with their heads in the clouds.
After all, and I'm doing this off the top of my head – they've only had two winning streaks this year of two games or more.
Bottom line – they need to sustain and just start winning games.
And let's face it – tonight's victory should've been the fourth game of a winning streak – but somehow and someway – they were embarrassed by both Ottawa and Chicago over the weekend.
I don't want to be miserable after a win, so I'll end tonight's manifesto with this – hopefully this is the start of something big.
I need to go to bed and catch this train!
Maybe back tomorrow night. If not, see ya Wednesday night after the game in Sin City.
PLUGS TIME!
---
My first plug of tonight's blog – the mandatory plug for my book, "The New York Rangers Rink of Honor and the Rafters of Madison Square Garden."
As mentioned previously, the book is now available in hardcover, in paperback and in Kindle formats. To purchase a copy of the book, visit this link:
https://www.amazon.com/Rangers-Rafters-Madison-Square-Garden-ebook/dp/B09CM5N2WD
For those still looking for signed paperback versions of the book, I have re-ordered more copies. I now have a few signed copies for sale at $25 a pop (includes shipping price) through me directly. Here is all the information on that:
---
My four-volume set of books, "One Game at a Time – A Season to Remember," is a game-by-game recount of the Rangers 2021-22 campaign.
My second title as an author, "One Game at a Time – A Season to Remember," is now available in eBook, paperback and hardcover formats.
To obtain signed copies, visit: https://bluecollarblueshirts.com/onegamebook/
To purchase all four volumes on Amazon, visit: Amazon.com – "One Game at a Time."
---
"Tricks of the Trade – A Century-Long Journey Through Every Trade Made In New York Rangers' History," a four-volume set of books that meticulously covers every trade made in franchise history, is now on sale.
All four volumes of the title can be purchased on Amazon.com and are presented in three different formats – eBook, paperback and hardcover.
To purchase Volume I: Conn Smythe (1926) – Craig Patrick (1986), visit Amazon.com
To purchase Volume II: Phil Esposito (1986) – Neil Smith (2000), visit Amazon.com
To purchase Volume III: Glen Sather (2000-2015), visit Amazon.com
To purchase Volume IV: Jeff Gorton (2015) – Chris Drury (2022), visit Amazon.com
To purchase signed copies of all four volumes, visit https://bluecollarblueshirts.com/tricksofthetrade/
---
Here are my last few blogs, in case you missed them:
---
---
---
If you haven't already, subscribe to this blog for the next update:
---
Don't forget to order my new four-volume set of books, "Tricks of the Trade!"
If you don't order through me, all four volumes are now available on Amazon.com
For more details, check out: https://bluecollarblueshirts.com/tricksofthetrade/
Thanks for reading.
LET'S GO RANGERS!
Sean McCaffrey
BULLSMC@aol.com
@NYCTHEMIC on the Tweeter machine