Greetings and salutations everyone and welcome to another blog here on BlueCollarBlueShirts.com. It took only nineteen seconds to ruin all of the good vibes and celebration in Rangerstown, USA tonight.
Then again – and to be fair – the Rangers had already begun their spiral with around ten minutes or so remaining in regulation, en route to their eventual 3-2 overtime loss to their Original Six peer.
Prior to one of the most horrific displays of defense that you'll ever see, and as was the case during the nineteen seconds worth of overtime; this game was a mixed-bag – but at the same time – there was more good than bad.
The reunited third line, the first-round draft pick line (as mentioned numerous times before, I refuse to refer to the Lafreniere/Chytil/Kakko line as "The Kid Line" – after all, these three players are adults with nearly 200+ games of NHL experience each – and let's not forget that Chytil is already in his sixth NHL season); this trio of young men did all of the heavy lifting tonight.
Before Chytil started flirting with a natural hat trick; it was the Czech's Finnish right-winger who was shining the brightest.
Between stellar defensive plays, getting the puck deep and not giving up an inch; Kakko stymied the Leafs.
Come the second period, "Chytilmania" then ran wild, as within a time-span of 4:20, #72 scored a pair of goals – which was good for him, but not for the rest of the team – as these were the only Ranger tallies of the contest.
And yep – had the Rangers won this game – then tonight's blog header photo would've featured the third line center smoking a maple "leaf" blunt!
But that's not what happened.
What happened was the Rangers lost, where once again, the highest-paid players of this team did oo-gatz offensively against another upper-echelon team of the league.
The polarizing Artemi Panarin, who does an excellent job of compiling points during blowouts, but rarely is a factor in games like these, finished with another goose-egg in the box score. The 2023 All-Star continued his maddening ways of committing 978667878689 turnovers per game – where you just have to wonder if All-Star voters solely look at the points accumulated – and not the actual play on the ice itself.
Mika Zibanejad had several chances to get the Rangers an insurance goal when up 2-1 on the scoreboard; but once again, as the primary shooter on the Rangers' power-play – his first power-play unit went 0-2 tonight. This $50M PP1 unit is now 2 of their last 28.
Just by the law of averages, you'd think they score – but again – that isn't the case.
Chris Kreider, the hero of last season, was an all-out mess – where just like one of those comedy movies, where two people change bodies – it looked like he was the Alexis Lafreniere of the last few months, while the first-overall pick looked like a stud tonight.
And while I don't want to play my "Greatest Hits" again; this much is true too – it all starts with Panarin.
The $11.6M man has no chemistry with Trocheck, and in turn, it throws the entire line-up out of whack, where Kreider, who has been better than his fellow left-winger all season, is now skating on his off-wing.
And while the newly dubbed "TVG Line," featuring Vesey/Trocheck/Goodrow, have individually produced goals this season; due to Panarin's problems, the Rangers no longer have a 1-2 top-six scoring punch.
If it weren't for the Rangers' third line, then they would've been blanked on the scoreboard tonight.
Another issue – while the Rangers can blow-out a bad team now-and-again; very rarely, against playoff-bound teams, can the top nine all sync together. It's usually one line gets hot, while the other lines are not.
And one last remark about what many refer to as "THE KID LINE?"
With Cuylle (20), Leschyshyn (23) and Gauthier (25) on the Rangers' 7865675675th incarnation of a fourth line this season – as opposed to Kakko (22 in two weeks), Chytil (23) and Lafreniere (21) – who are really the kids now – especially when you factor in all of the NHL experience between these two trios?
---
In what really amounted to another roller-coaster of emotions type of a game; by the end of the first period and down 1-0 – you would've been extremely happy had the Rangers clawed their way back and stolen a point.
Twenty minutes later, you were "King Konging" your chest, as the Rangers, behind Chytil's two highlight reel goals, were now up a goal themselves, by a score of 2-1.
However, the final frame then ensued, and whether the Rangers ran out of gas, wet their pants, got a case of the yips or what – they completely unraveled.
The final ten minutes of this game was an all-out Toronto barrage, where with 4:11 remaining, the elite sniper known as Timothy Liljegren scored his fourth goal of the season.
Rather than preparing to celebrate a huge win and an even bigger two points in the standings; instead, you were chomping on your fingernails and just hoping that the Rangers would escape this match with at least one point.
And that's what they did, where come the overtime, and now tied at 2-2 – you were somewhat relieved that the team came away from this game with something.
Then just nineteen seconds later, and before you could even finish flushing your toilet after your commercial break induced piss – Mitch Marner made fools of Zibanejad, Panarin and Miller – and that feeling of relief soon turned into an all-out feeling of rage.
No joke, watching the nineteen seconds of overtime was akin to sitting at a blackjack table and just losing all of your money within three hands. There was no foreplay or "tickling of the balls" here. Instead, it was like an NFL kicker winding up and squarely connecting his foot directly at your genital region.
And that's what bothers me the most about this loss.
This entire blog, and really, anything else you may read or hear throughout Rangerstown, USA – should have all been positive.
Rather than focusing on these positives, which were Chytil, that entire third line, CZAR IGOR, a 3-3 penalty kill, Cuylle's debut, shutting down Toronto's top guns, and the excellent TNT broadcast; instead, we're wondering about the lack of production from the Rangers' "Fat Cats" – and that hockey god forsaken abysmal power-play.
Silver lining?
Chris Drury, from his perch at the top of the Scotia Bank Arena, witnessed it all.
Help will soon be on the way – even if the Rangers may have to wait until March 3rd to get it.
But of course, this fact doesn't excuse the highest-paid forwards on the team either.
My daily 5AM train awaits me, so let's hit all of the pregame news & notes first – and then get into tonight's GAME REVIEW.
---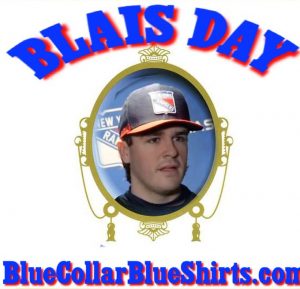 In case you missed it, I covered everything from the Rangers' very busy off-day, Tuesday, here: https://bluecollarblueshirts.com/12423/
A day removed from the call-up of Will Cuylle, and the news of Sammy Blais' conditioning assignment in Hartford too; on Wednesday, following the Rangers' pregame skate, both the newest Ranger and the head coach spoke to the Toronto/Canadian media.
Here's what the hometown Cuylle had to say:
---
As you'd imagine, Cuylle, wearing #50 on behalf of the Blueshirts, was extremely excited about making his NHL debut.
Cuylle said he expected to have anywhere from 20-30 friends and family members in the crowd, and with many more of his pals and relatives watching the game on television.
As he said just 24-hours prior, Cuylle talked about what he'd bring to the table and knew what the head coach and organization desires from him – hard-work, grit, defense and you know the rest.
---
Here was Wednesday's pregame edition of "TURK TALK":
---
While Gallant didn't really reveal anything new when speaking in front of a different crop of reporters, intelligent reporters at that; "The Turk" did hit a bevy of topics – which were all repetitive for people who follow his comments on a daily basis.
Among the rehashed subjects, the following:
— Gallant said he believed in Lafreniere, and that his healthy scratch from a few weeks back was just a way to get him going and to give him a "kick in the butt."
— Gallant also mentioned that Lafreniere, and all of his young players in general, are in an unorthodox situation – as the bench boss is not going to take away minutes and power-play time from players like Panarin, Kreider and Zibanejad for the inexperienced players with no track records. Maybe he should.
— In perhaps his most damning comment, Gallant was asked about Kravtsov again, to which he replied, "he just played twenty games. I would've liked to see him score goals. Score fifteen goals [and keep yourself in my line-up]. I like the kid."
— In perhaps his second-most damning comment, Gallant brought up how the birdbrain Rangers' beat reporters (my words, not his words verbatim) always challenge and question him, but he's happy with his team. After all, "The Turk" is already one of the most winning coaches of franchise history – a point often lost whenever his detractors talk about him.
— On Barclay Goodrow, Gallant again brought up how once the Rangers acquired him last summer and how Jon Cooper, "The Turk's" pal and the former coach of Goodrow in Tampa, called him up and said, "you're going to love this guy." Gallant confirmed these feelings.
— Gallant praised what he knew about Cuylle and said he was looking forward to seeing how he does.
---
Here was the line-up from Wednesday night, which I believe was Gallant's 46th different line-up of the season:
FIRST LINE: Panarin/Mika/Kreider
SECOND LINE: Vesey/Trocheck/Goodrow
THIRD LINE: Lafreniere/Chytil/Kakko
FOURTH LINE: Cuylle/Leschyshyn/Gauthier
Defensively, everything remained the same:
FIRST PAIR: Lindgren/Fox
SECOND PAIR: Miller/Trouba
THIRD PAIR: Harpur/Schneider
STARTING GOALIE: CZAR IGOR
BACK-UP: THE HALAKNESS MONSTER
PRESS BOX: Hajek & Kravtsov
---
BOX SCORE time.
The following graphics and information come from ESPN.com:
SCORING:
PENALTIES:
TEAM STATS:
GOALIES:
| | | | | | | | | | | |
| --- | --- | --- | --- | --- | --- | --- | --- | --- | --- | --- |
| SA | GA | SV | SV% | ESSV | PPSV | SHSV | SOSA | SOS | TOI | PIM |
| 29 | 2 | 27 | .931 | 20 | 5 | 2 | 0 | 0 | 59:55 | 0 |
| | | | | | | | | | | |
| --- | --- | --- | --- | --- | --- | --- | --- | --- | --- | --- |
| SA | GA | SV | SV% | ESSV | PPSV | SHSV | SOSA | SOS | TOI | PIM |
| 35 | 3 | 32 | .914 | 24 | 8 | 0 | 0 | 0 | 60:19 | 0 |
---
While tonight should've been an all-around excellent night for the Rangers; at least the TNT broadcast was.
For me, it's always a breath of fresh air whenever watching these TNT games – and getting a break from Sieve Vagistat's never-ending charts, Sam Rosen bumbling and fumbling over words and goal calls, and Joe Micheletti telling us how everyone and their mother "works hard."
And as opposed to the M$GN's somewhat robotic, stuffy and forced presentation; I really enjoy how TNT allows their personalities to come off as natural, loose and comedic.
One last thing about the M$GN before giving you a few more thoughts about TNT? This:
Valley was on Real Kyper and Bourne today. When asked about Lafreniere's progress Steve said in a humorous but truthful tone that he's been warned a few times about this subject. Then said next question please.

— Danny Mack Sports (@DannyMackSport1) January 25, 2023
---
Ah, the old James Dolan edict still lives at 33rd and 7th! Just ask Kenny Albert's father, the Hall of Fame Marv, all about it!
Furthermore, I was later informed that apparently, Sieve Vagistat is the co-host of "The Athletic's" Rangers' podcast, as ran by former Islander scribe/fan, Arthur Staple. I've never listened to the podcast, so I can't confirm this first-hand – but allegedly, Vagistat is more critical about Lafreniere on that podcast than he is in-studio.
And when I heard all of this and then thought about it – what Vagistat told Kyper and Bourne sounds right.
If you recall (and you can just check the archives of this site for more); earlier this season, Vagistat was extremely critical about Lafreniere, where he suggested that #13 should be scratched, be stapled to the bench and have his ice time taken away.
As Lafreniere continued to struggle, such talk soon subsided – even if it was now extremely warranted.
In other words, while I don't find Vagistat's arts & crafts and charts & graphs to have merit, I 100% believe the veracity of the comments he made here.
---
The TNT Network opened up their broadcast by joking about Rick Tocchet, their former co-host, who had to wait out his contract with the network before bouncing Bruce Boudreau out of Vancouver. This was an on-going theme all night, where to TNT's credit – they made it fun – even if I didn't like how it all went down for "Cousin Brucie."
And yep – I hope Boudreau fills the new vacated seat at the TNT studios – should that be his desire. It would be perfect television.
Paul Bissonnette, a noted Rangers' hater (he really hams it up and I think it's all an act), trolled Lundqvist about the Rangers. I enjoy the dynamic these two have, as it's a natural story-line as old as time – good vs evil.
On Auston Matthews, and really, all top stars in general, Lundqvist said, "Top guys don't make excuses. They need to find a way."
Apparently, the Rangers' FAT CATS didn't receive that message tonight.
On the two goalies both sporting the same initials of I.S., Igor Shesterkin and Ilya Samsonov; Lundqvist brought up how most goalies rarely talk to their head coaches – and instead – mainly talk to their goaltender coach.
While we knew that was always the case with Lundqvist and Benoit Allaire; Lundqvist then added that he only spoke to his head coach about three times a season.
In a wake-up call regarding my own aging process; TNT mentioned that defenseman Mark Giordano was the oldest  skater in the league at the age of 39 years old. Only goaltender, Craig Anderson (41) is older.
I'm forty years old by the way – but unlike other people my age – I don't fly over multiple continents and stalk players like a hockey fan's version of Jared Fogle!
In some more comedic Lundqvist and Biz bickering/bantering; Biz wanted to make a bet that if the Leafs won tonight, then Lundqvist would give him all of his suits. Lundqvist wisely declined the offer, but did say that Biz could have one of his ties – probably a Christmas gift that Vagistat gave him!
In a case of yours truly pulling an all-out Sam Rosen "REVERSE CURSE," I present to you the following tweet that I made at the time:
Carter says Igor reminds him a lot of Hank – couldn't be further from the truth. Two completely different styles, plus Hank was better on breakaways while Igor is better with puck-handling. #NYR

— BlueCollarBlueShirts (@NYCTheMiC) January 25, 2023
---
Keep that in mind for later.
As the broadcast progressed, we had a Swede-on-Swede interview, as Lundqvist interviewed Zibanejad. Hank brought up that Mika just bought a new townhouse and was awaiting a dinner invitation. Funny stuff.
Just as entertaining is when Biz brought up Ryan Reynolds, and how "Deadpool" had recently tried to "tongue dart" himself down Lundqvist's throat – another event that most likely made Vagistat green with envy!
The crew then debated the topic of "load management;" where Lundqvist said players want to play – and shouldn't be scratched down the stretch. Instead, he thought their minutes could be limited, as being sent to the press box could throw off their routines.
TNT then closed their amazing pregame show (keep in mind, their national co-partner, ESPN, rarely has a pregame show) by showing us footage of Will Cuylle's solo skate.
GAME REVIEW time.
---
FIRST PERIOD:
The first twenty minutes of this game were kind of wacky, because by the end of it, the Rangers had dominated the hits and face-off wins stats. They also led the SOG stat by a slim one-shot margin.
However, by the end of the frame, the Leafs were up by one goal – and where it felt like they completely assaulted the Rangers during 5 x 5 play.
In what be the case all game; the Rangers' third line, on their first shift, generated offense. At the 2:00 mark, CZAR IGOR made a homerun pass to Kakko, and both the Finn and his center swarmed Samsonov's net.
And really, I can't stress this enough – this third line ABSOLUTELY CARRIED the Rangers tonight. As I write these words, I can't think of one shift where they weren't noticeable.
At the 2:10 mark, Cuylle made his debut. No less than twenty seconds later, he was a -1 in the box score.
Just three ticks shy of the 2:30 mark; noted sharpshooter, Pontus Holmberg, beat CZAR IGOR on a back-handed breakaway.
1-0, bad guys.
Since Ranger fans love to finger-point and find a goat following every goal allowed; I saw a lot of people jump on both Ben Harpur and Julien Gauthier. I didn't agree with these opinions.
In my eyes, I thought this goal was the end result of all five skaters getting lost and making mistakes, and where yep, and as noted earlier too – CZAR IGOR isn't exactly the best goalie all-time whenever challenged on a breakaway – especially whenever the puck comes at him backhanded.
While the backhanded shot is the hardest shot for a goalie to stop, and while all five Ranger skaters were partly to blame here; again, another goal allowed to bottom six nobody.
And just like two games ago, both the Rangers and CZAR IGOR allowed the other team to score on their first shot on goal. (Ironically, the Rangers also scored on their first shot on goal on Monday. Isn't that amazing Suzyn?)
This should be stated and stored in your mind too – despite three Toronto power-plays – the Rangers never allowed Toronto's top players to score during regulation time.
This feat would've been more impressive had the Rangers' top guys scored – and didn't allow Marner to make fools of them in the overtime. It's also an accomplishment that will largely be forgotten due to the way this game ended.
Right after their breakaway goal; the Leafs almost scored a second, but Mika got back and prevented Matthews from putting his team up 2-0.
At the five-minute mark – this much was evident – Kakko was the team's best forward. While he didn't have a SOG yet, neither did the rest of the team at this point of the game.
Down to 14:42 remaining, the Rangers received their first power-play of the game, when the Leafs were nailed for too many men on the ice.
A quick aside on the officiating tonight.
While I'm not blaming the officials for this loss, as this loss squarely falls on the Blueshirts themselves; this much is true too – the Leafs received three power-plays tonight – all minors called on the Rangers.
Despite three separate infractions committed by the Leafs where a Ranger was fouled – not one call. The Rangers only wound up with two power-plays tonight because of the obvious – the too many men on ice and a delay of game.
And heck, even this too many men on the ice call was delayed, as it took the officials fifteen seconds to notice what the Leafs had did.
But of course – it's not like the Rangers' power-play, at least not their PP1 unit, is doing much these days.
The Rangers made Samsonov come up with four saves during these two minutes, but by the end of it, the Rangers' PP1 unit were now 2 of their last 27. Not good.
Also not good was when Trocheck had a GOOD LOOK at an all-alone Samsonov – but forced a pass to Mika instead – a turnover – and a turnover that the TNT broadcasters quickly jumped on Trocheck over – and as they should have done.
Down to 11:18 remaining, Samsonov lost his stick. Rather than making him pay; instead, Trocheck was boxed for tripping Calle Jarnkrok.
The Rangers' PK, 3-3 on the night, received some luck here, especially when Matthews pulled a Panarin one minute into the man-advantage – when he went wide from one foot away.
Igor also made a mini "Statue of Liberty" glove save on Matthews during this PK.
As Kakko continued to excel; now under 8:30 remaining, Miller absolutely crushed Liljegren with a monster hit. Liljegren would get the last laugh.
At the same time, Mika ate a shot right around his knee cap. However, this took place right before a TV timeout, and once the pain subsided – he never missed a shift.
HOCKEY PLAYER.
As everyone not named Kakko, Chytil and Lafreniere struggled to generate offense; with five minutes remaining, Chytil challenged Samsonov. The goalie made the save, but on the rebound afforded, Miller hit the lower shaft of the goaltender's stick. This should've been a goal – and at this point – was the best Rangers' scoring chance of the contest.
Down to 3:45 remaining, Trouba, as often he does, shot a puck, didn't hit the net, the other team got the puck, and went on an odd-man rush – where in a rarity – Trouba got back before a puck could be deposited into the Rangers' net.
Following a brutal turnover from Trocheck in the Rangers' d-zone with two minutes remaining; the only line that did anything almost hooked up for a breakaway goal – but a homerun pass from the blade of Kakko took a weird bounce near the Leafs' blue line, thus preventing Chytil of going one-on-one with Samsonov.
For good measure, just as the period was set to expire, Kerfoot blatantly interfered with Zibanejad, but as previously mentioned – every Leaf on the ice were saints tonight in the eyes of the officials.
1-0, bad guys, after twenty.
Here's what I said at the time:
1-0, bad guys, after 20. 1P Thoughts:
— Toronto much better at 5×5 – only #NYR to really stand out at even-strength is Kakko
— SOG 9-8, Hits 12-3, FOs 15-6 – all Rangers – but it feels like they've been chasing more times than not.
— These early GA are becoming a trend.
LGR

— BlueCollarBlueShirts (@NYCTheMiC) January 26, 2023
---
SECOND PERIOD:
The Filip Chytil Show.
At the 2:06 mark, Samsonov swallowed up a thunderous blast from the stick of Harpur.
As Keith Jones astutely stated – there was not one Ranger screening or looking for a deflection/rebound.
As Mr. Jones was going on-and-on about that (and again – he was right); three seconds following the save, this happened:
Filip Chytil equalizes off the faceoff!

(via @BR_OpenIce)pic.twitter.com/8xZEV2qvk2

— Rangers Videos (@SNYRangers) January 26, 2023
---
1-1!
I'm telling you, this was one of the best goals I've ever seen.
As I rack my brain, I can't think of anyone from this era who has scored in this fashion as Chytil did here. I know that both Mark Messier and Mario Lemieux did it, and I think maybe Brad Richards did it with Tampa once too – but in recent times – I can't think of a soul.
As the official skated to the circle to drop the puck, the puck landed on the ice – and immediately – as in less than a nanosecond later – Chytil fired the puck right at Samsonov. Boom, just like that.
The TNT cameras did a good job of covering this goal, as upon replay; Chytil had noticed something, as he was whispering something to his line-mates – where I'm assuming he was telling them what was about to transpire.
And go figure – Chytil, the team's worst center at the dots – and he's the one who scored in this way.
That's hockey Suzyn!
From this point on, and until the latter stages of the third period – the Rangers took complete control of this game. At least this Chytil line did, but again, one more time – the Rangers' top six also negated the Leafs' top six.
I bring this up because I want to make this point too:
All over Rangers' social media, I see the same old shit – "GALLANT DOZN'T KNOW WHAT HE'Z DOING! HE MUST PLAY THE KIDS! THE KIDS, THE KIDS, THE KIDS, THEY MUST BE ON THE FIRST LINE!"
Lost in all of that? The fact that Gallant has this trio playing against other third and bottom-sixers of the league.
Does this line have as much success as they did tonight if they were primarily matched up against the Leafs' first line and first-pair? I'm not so sure.
Just food for thought – but another point that's never brought up by anyone – especially by the birdbrain beat reporters!
Of course, since it's always the Rangers' way – right after Chytil's goal – two bouts of hairiness before taking over.
Igor made a save on one Leaf, while Leschyshyn, who hasn't really done much to stand out since arriving, made a lazy and brutal turnover in the Rangers' o-zone.
Down to 15:10 remaining, and what feels like for the tenth time this season – Panarin hit the mask of a goaltender – rather than the back of the goalie's net.
Two minutes later, Kakko, who is really coming into himself these days, made a perfect stick lift on a streaking-to-the-net AM34.
This spectacular defensive play then led to this:
FILIP CHYTIL 2 GOALS IN 4:20!

(via @BR_OpenIce)pic.twitter.com/Eizcte5tnL

— Rangers Videos (@SNYRangers) January 26, 2023
---
2-1, GOOD GUYS – a PURE THIRD LINE GOAL to boot!
Following Kakko's play in his own end; the Rangers marched up ice, Lafreniere won a puck battle in no-man's land, fed the entering-the-zone Kakko – and the Finn then took the puck, deked out a defender, and boom – found Chytil, all alone, for an easy one-timer at Samsonov's vacated net with 13:29 remaining.
Give credit to Chytil for "finnishing;" but this goal was all about the Finn himself.
Sadly, this was the last Rangers' goal of the game – and with over half of the game left to be played.
As you were just hoping for Chytil to pick up his hat trick; instead, with 10:33 remaining, he was boxed for tripping Joey Anderson.
While this penalty was pretty reckless – how can you get on Chytil? He was being aggressive and producing results.
To kick off the penalty kill, the following happened, and here's what I said in real time:
#NYR PK gets an immediate 3 x 1 – Mika-to-Kreider, off the left side of Samsonov's glove – remember that play, 10:10 to go

— BlueCollarBlueShirts (@NYCTheMiC) January 26, 2023
---
As the great Hank Hill made famous, "yep."
Following another Matthews' miss at an open net; the Rangers had killed the penalty. Even better, Chytil was sprung for a jack-in-the-box try at Samsonov – and smashed the post.
Again, "yep."
In a span of no less than two minutes, what could've been a three-goal Rangers' lead remained as a one-goal difference.
Yep.
As the period progressed, Miller tried a homerun pass to Lafreniere, but had too much on it. However, #13 turned on the jets and prevented an icing.
Down to 3:40 remaining, Cuylle made a pair of hits in the Leafs' d-zone, which extended a Rangers' attack. At the time, Cuylle had four hits – tops on the team. (By the end of the game, several other Rangers totaled four – which is where Cuylle finished – while Trouba finished as the hit-leader with five body-blows in all.)
With 2:59 remaining, Schneider was boxed for holding Anderson. Go figure, Joey "Freakin'" Anderson drew two penalties tonight.
During the delayed penalty attack, Matthews made short work of Panarin, but the Rangers survived. In addition, Miller was interfered with – no call – which made Gallant irate – as was evident by his screaming at the bozos in the Foot Locker gear.
The Rangers, true to form, killed off this penalty and would enter the final frame with a lead.
Here's what I said a the time:
2-1, GOOD GUYS, after 40. 2P Thoughts:
— Chytil is having quite the game. One of the best #NYR goals in a while.
— Igor & Kakko lookin' good too.
— SOG 22-20 TML; Hits 25-9, FOs 17-6 NYR
— Cuylle, 4 hits, leads NYR
— FINISH THEM!
LGR!

— BlueCollarBlueShirts (@NYCTheMiC) January 26, 2023
---
THIRD PERIOD:
Let's fast-forward a bit through the agony and bullet-point the rest of this game.
After all, I'm already dreading my 4:15AM alarm clock as I write these words nearly at midnight:
— Prior to the start of the period, with Lundqvist on guitar; Biz serenaded Tocchet (live on video) with Green Day's "Time of Your Life." Again – TNT does an amazing job – and even more amazing? The fact that TNT gets more out of Lundqvist than M$GN does.
— Following a miss from Mika; Chytil's line returned only for a defenseman to prevent #72 of goal #3.
— Down to 16:30 remaining, Cuylle was horse-collared – no call.
— Four seconds later, Liljegren sailed a puck over the glass (as forced by Cuylle), which gave the Rangers' power-play a chance to score the insurance goal.
— Right away, Mika had found Kreider wide-open for a deflection/tip goal – but the puck trickled through both the crease and Samsonov at the wrong angle – and went wide – rather than into the net.
— In other words, this was the second goal Kreider could've scored tonight – and as he would've done last season.
— The Rangers' PP1 unit finished this latest devastation by going 0-2 on the night, 2 of their last 28.
— Special teams swing games and due to the piss-poor powerless play – the Rangers have swung themselves out of many points in the standings.
— 14:02 to go, Samsonov made a great stop on Chytil. The hat trick, the hat trick, the hat trick!
— "Yep."
— Down to 12:00 remaining, Gauthier took one stride too many, which allowed Giordano to shove him, thus preventing JG12 from scoring the much needed insurance goal.
— In exhibit #8767867968967896 of how Sam Rosen's hexes, vexes, curses and jinxes are contagious; I present to you the following tweet made in real time:
12:15 to go and I hope I'm not pulling a Rosen here, but #NYR have done a great job of limiting shots at Igor this period. And as I say that, without fail, Toronto SOG following an Igor turnover, net off the pegs, so we get a stoppage and Matthews hits the post for good measure.

— BlueCollarBlueShirts (@NYCTheMiC) January 26, 2023
---
— Yep.
— Following two saves made on Chytil and Mika; with 8:49 remaining, this game turned for good.
— At this point of the game, CZAR IGOR made a save on a Toronto two-vs-one odd-man rush.
— Panarin turned over every puck that hit his blade.
— Igor prevented Captain Pajamas from tying the game with 6:18 remaining.
— Toronto then spent a minute in the Rangers' zone, and right up to the FOXWOODS FINAL FIVE mark.
— As Toronto was just dominating the puck and zone time; the inevitable – an equalizer goal scored with 4:11 left in regulation by Timothy Liljegren.
— 2-2 – a goal that you knew was coming because the Leafs were all over Igor like a fly on a "Fat Cat."
— Down to 2:24 remaining, Lindgren, still without a goal this season, sent two shots wide.
— Approaching ninety seconds left on the clock; Kreider made a brutal turnover in the Rangers' o-zone – but fortunately, CZAR IGOR proved true.
— With 1:26 remaining, and with his team (sans the third line) skating like chickens with their heads lopped off; Gallant took his timeout in an attempt to settle everything down.
— With 41 seconds remaining and now out of the timeout – Panarin had a chance to redeem himself and become the game's hero – but Samsonov denied his fellow Russian of scoring a backhanded goal while a foot away from the net.
— For good measure, with less than a second remaining (this would've counted had it gone in); Captain Pajamas hit the center of Igor's crossbar. And had that puck went in – we wouldn't have had the "at least they got a point" rhetoric.
Here's what I said at the end of regulation:
2-2 after 60. Regulation thoughts:
— Maybe a "loser mentality," but I'm happy with the point against this team.
— #NYR have blanked Toronto's top guys, but Leafs have done the same.
— SOG 33-26, FOs 26-25; Hits 35-14 Rangers
— NYR had their chances to close…
— LGR

— BlueCollarBlueShirts (@NYCTheMiC) January 26, 2023
---
Up next, one of the worst defensive plays I've ever seen in my life:
MITCH MARNER JUST PUT THE TEAM ON HIS BACK pic.twitter.com/6esxCTqo0k

— Spittin' Chiclets (@spittinchiclets) January 26, 2023
---
Yes, these 3 vs 3 overtimes are gimmicks, but c'mon – this was IN-EXCUSE-ABLE!
And I said this at the time, so this isn't hindsight being 20/20 (or in this case 23/23) – but I have no clue why Gallant opted to start Miller here, rather than who he usually starts, you know, the best d-man in the NHL today, Adam Fox.
Of course, the media didn't ask Gallant about this, so we're only left to speculate and ponder why.
Regardless of Fox or no Fox – watching this was as painful as walking barefoot from one end zone to the other, in a field full of nothing but Legos, broken glass, Sam Rosen toupees, Vagistat's charts and infected COVID-19 needles.
Marner blew past both Panarin and Mika, while all Miller did was half-heartedly wave his rake at the Leaf.
And CZAR IGOR?
While I understand that Mika, Panarin and Miller did him no favors – he came way out of net and misplayed this.
It's a shame – because I really thought that Chytil, had he had the chance to play, would've had his Disney moment here.
Instead, we witnessed an ending worse than the "Dexter" finale.
And I'm not kidding or exaggerating – this one play somewhat negates what otherwise was a strong effort (especially defensively) for the team – especially if you take into consideration that Toronto is a great team and that the other team is paid to play too.
Here's the head coach following the loss that his g.m. also witnessed:
---
As he usually does, Gallant accentuated the positives from the game and said he liked what he saw.
Again, he's the head coach and he has to be a pillar of optimistic stability.
And this too – yes, the Rangers received a point in the standings – so the night wasn't a complete loss.
Still, the horrible power-play and the way this game ended left a bad taste in your mouth.
---
The Rangers will try to right the ship this Friday night at M$G, when they host the Vegas Golden Knights.
Following that game, the Blueshirts will have the next nine nights off.
I'll definitely return with a much longer blog than usual (that says a lot) on Friday – after all – I don't have that damn 5AM train to catch on Saturday.
If something major happens tomorrow, I'll return then, but truth be told – I'm crossing my fingers and hoping that the team takes the day off.
Sometimes, you just need to get away after a bad loss – but then again, with a huge break coming up – the Rangers may just decide to hit the practice rink in Tarrytown on Thursday.
Final thought before going home here?
It just sucks that Filip Chytil, and his line, isn't the top story from this game.
If not tomorrow, see ya Friday night.
PLUGS TIME!
---
My first plug of tonight's blog – the mandatory plug for my book, "The New York Rangers Rink of Honor and the Rafters of Madison Square Garden."
As mentioned previously, the book is now available in hardcover, in paperback and in Kindle formats. To purchase a copy of the book, visit this link:
https://www.amazon.com/Rangers-Rafters-Madison-Square-Garden-ebook/dp/B09CM5N2WD
For those still looking for signed paperback versions of the book, I have re-ordered more copies. I now have a few signed copies for sale at $25 a pop (includes shipping price) through me directly. Here is all the information on that:
---
My four-volume set of books, "One Game at a Time – A Season to Remember," is a game-by-game recount of the Rangers 2021-22 campaign.
My second title as an author, "One Game at a Time – A Season to Remember," is now available in eBook, paperback and hardcover formats.
To obtain signed copies, visit: https://bluecollarblueshirts.com/onegamebook/
To purchase all four volumes on Amazon, visit: Amazon.com – "One Game at a Time."
---
The greatest volume-set of books on Rangers' history today!
"Tricks of the Trade – A Century-Long Journey Through Every Trade Made In New York Rangers' History," a four-volume set of books that meticulously covers every trade made in franchise history, is now on sale.
All four volumes of the title can be purchased on Amazon.com and are presented in three different formats – eBook, paperback and hardcover.
To purchase Volume I: Conn Smythe (1926) – Craig Patrick (1986), visit Amazon.com
To purchase Volume II: Phil Esposito (1986) – Neil Smith (2000), visit Amazon.com
To purchase Volume III: Glen Sather (2000-2015), visit Amazon.com
To purchase Volume IV: Jeff Gorton (2015) – Chris Drury (2022), visit Amazon.com
To purchase signed copies of all four volumes, visit https://bluecollarblueshirts.com/tricksofthetrade/
---
Here are my last few blogs, in case you missed them:
---
---
---
If you haven't already, subscribe to this blog for the next update:
---
Don't forget to order my new four-volume set of books, "Tricks of the Trade!"
If you don't order through me, all four volumes are now available on Amazon.com
For more details, check out: https://bluecollarblueshirts.com/tricksofthetrade/
Thanks for reading.
LET'S GO RANGERS!
Sean McCaffrey
BULLSMC@aol.com
@NYCTHEMIC on the Tweeter machine