Greetings and salutations everyone and welcome to another blog here on BlueCollarBlueShirts.com. What a night – or should I say – "what a Knight!"
Be forewarned – this is the longest blog/manifesto of the season – and that says a lot coming from me! It may also be the longest blog that I've ever posted on this site – and that says much more!
After all, it's Friday night – and I don't have that damn 5AM train to catch on Saturday!
Rather than entering Penn Station in a state of grogginess at this moment (my good pal, Eddie Whistles – and our favorite NYC resident too, the infamous SCRATCHY – can tell you all about my daily grumblings as I routinely climb up the stairs of Track #18 in my worn-out work boots); instead, I'm publishing this blog at five in the mornin'!
And before rockin'-and-rollin', these three things too:
Once posting this, I'm taking the weekend off – so feel free to read this tome in sessions!
Two, I'm trusting myself in my writing – which means this – I'm typing without proof-reading!
Furthermore, I'm really going to adhere to my "10,000 words, no ads, one click" mantra tonight!
In other words, grab your favorite beverage – or perhaps a "Dude Wipe" or two if that's where you do your reading – as there's a lot to discuss tonight!
---
Despite what the resident seven-foot stooge posing as a hockey ANALyst on the M$GN has said a few times this season; tonight, and just like the previous 48 games the Rangers have played this season – Friday's contest wasn't a "MUST WIN GAME."
However, it was an important game – because after all – who wants to enter a nine-day break with a loss – and with a two-game losing streak to boot?
And please, don't take the following as a knock at the expense CZAR IGOR.
Take what I'm about to say next as a compliment paid to Halak – and some truth in regards to the present state of the Rangers' goaltenders:
CZAR IGOR is 21-8-7 this season, with a 2.45 GAA and a .918 save percentage.
THE HALAKNESS MONSTER, following tonight, is now 6-6-1, with a 2.56 GAA and a .908 save percentage.
While of course, this isn't an Eddie Giacomin and Gilles Villemure thing going on here; for Halak, his numbers have skyrocketed since starting the season at 0-5-1.
And while the team in front of Halak has most certainly improved during his previous five starts – that wasn't necessarily the case on Friday night.
Need proof? Look no further to the number one star of tonight's Rangers' victory, #41 himself.
In another litmus test/gut check game for the Rangers, against another upper-echelon playoff contender of the league (that explains why Panarin finished this game with a goose egg in the box score – but more on him to come); it was Halak, not anybody else, who kept the Rangers alive, prior to a late Filip Chytil insurance goal, and an even later Jimmy Vesey empty netter.
While the Rangers did score two late first period goals, a fluky goal for Chris Kreider, and a goal from his latest & newest linemate, Vincent Trocheck; prior to going up 2-0, Halak had amassed fourteen saves – and where outside of maybe one or two of these stops – none of them came easy.
The only blemish on Halak's stat sheet tonight shouldn't have even taken place – as a tripping penalty, committed by Carrier on Alexis Lafreniere during the second period went uncalled – despite, you know – two officials clearly watching this infraction take place.
For the team from Sin City, the Vegas Golden Knights, and as the least penalized team in the league – the officials treated them like Saints.
As everyone was waiting for one of these bozos masquerading around as respected and competent NHL officials to raise their arms; instead, "The Hotdog Man," Phil Kessel, and just like squeezing out the last ounce of ketchup out of a Heinz plastic container, #81 squeezed a puck past Halak – which then brought the visitors within one goal of tying the affair.
This would be the only goal that Halak afforded to the road team – and as mentioned – a goal that should've never occurred in the first place.
As the game progressed, and as the two teams entered the final frame; it were the Knights who applied severe pressure on the Rangers – akin to all of these never-ending gambling commercials that apply pressure on a new & young generation of fans.
However, Halak wasn't having it.
In turn, the back-up goalie, who unexpectedly made this start, finished the match with 33 saves on 34 shots faced.
The Chytil and Vesey goals only allowed the tight-as-a-snare-drum five-holes of Ranger fans to relax and breathe – and no – this isn't a PRIDE night joke!
But of course, I must close this intro with a twist on one of my favorite sayings:
"While it was great for Will Cuylle, Jimmy Vesey and Braden Schneider that they all had good games; it wasn't great for the Rangers that their 1-2 scoring punch, Mika Zibanejad and Artemi Panarin, finished with a combined zero points."
And this as well – and as talked about a lot during the past week – Panarin's struggles aren't only hurting himself – he's now sinking the top center of the team too.
---
Before getting into the GAME REVIEW and every detail and piece of minutiae from tonight's affair; up first, the pregame news and notes – where we have a TON of stuff to talk about tonight.
And as promised a few times during the past two weeks on this site – following the game review – three unique stories from three different people regarding PRIDE NIGHT – where yep, this too – that's where I'll cover the latest controversy surrounding this night.
For what it's worth, I'd rather keep all of that stuff together – instead of bogging you down with anything that can be deemed as political-related.
After all, I do believe in the "stick to sports" mantra – but as mentioned when I covered the Ivan Provorov story – all four sport leagues force us to talk about this subject – for better or for worse.
Let's cover all of the latest news from Rangerstown, USA.
Up first, Ben Harpur, who didn't wear a nameplate of "Dover" on Pride Night.
"OH JOE, BEN DOVER JOE! THAT JOKE IS OLD AND HORRIBLE JOE. WHAT ARE YOU IN SIXTH GRADE JOE?"
---
Following the Rangers' news of the Jimmy Vesey contract extension, claiming the cheap Jake Leschyshyn, sending Sammy Blais to Hartford and calling up Will Cuylle too; on Thursday, the Rangers' off-day (they didn't practice) – the club announced that they had re-signed defenseman Ben Harpur to a two-year extension.
Here's how the Rangers covered it, courtesy of https://www.nhl.com/rangers/news/rangers-agree-to-terms-with-ben-harpur-on-two-year-extension/c-340445848?icmp=int_web_nyr_news_rightrail:
New York Rangers President and General Manager Chris Drury announced today that the team has agreed to terms with defenseman Ben Harpur on a two-year contract extension through the 2024-25 season.

Harpur, 28, has skated in 18 games for the Rangers this season, recording one goal and two assists for three points and an even rating. Harpur scored his first goal with New York on January 19 against Boston. Since Harpur made his Blueshirts debut on December 15, the Rangers hold a 11-4-3 record for 25 points and have allowed the third fewest goals against per game (2.33) in the NHL.

The Hamilton, Ontario native has notched two goals and 16 assists for 18 points in 174 career NHL games between the Rangers, Nashville Predators and Ottawa Senators.
Harpur began his season with the Hartford Wolf Pack of the American Hockey League (AHL), where he tallied five points (3G-2A) in 17 games. In 193 career AHL games between the Wolf Pack, Milwaukee Admirals, Toronto Marlies and the Belleville/Binghamton Senators, Harpur has registered 10 goals and 51 assists for 61 points.

The 6-6, 231 pound defenseman was originally selected by Ottawa in the fourth round, 108th overall, of the 2013 NHL Entry Draft.
---
While the Rangers didn't announce this (despite other teams always announcing their contract information – but the Blueshirts never do); it was later reported that Harpur's two-year pact comes with an annual salary cap charge of $785,500.
Just like Jimmy Vesey, who previously expressed these thoughts and comments that Harpur later said on Friday – the Rangers' sixth defenseman was relieved to get this deal done – and now will no longer have to worry about his future and finances over the summer.
A day following the deal, and prior to tonight's game, a happy Harpur spoke to the media:
---
As you'd expect, Harpur was elated to get this deal done.
Harpur, who admitted that during this past summer, he thought that he'd never play in the NHL again; the man with a new contract felt a wave of emotions once Drury offered him his new deal – feelings of elation, positivity and all-out relief.
Even better? Harpur, a native from Hamilton, Ontario, a suburb of Toronto, was able to sign this deal in the big city while the Rangers were there this past Wednesday. As a result, he was personally able to share this good news with his friends and family – and that goes a long way in creating positive vibes between player and management.
What I liked the most about Harpur's comments from Friday were these words, "complacency is dangerous."
As #5 would continue to say, just because he got this new deal, that doesn't mean that his hard work stops here.
Harpur even added that he feels like every game is a try-out for him and that his spot is never 100% safe.
If you're a regular reader of this site, then you know this to be true – I'm a huge fan of these blue collar players, hence the name of this site – and I always fist-pump whenever I see good things happen for them.
Congrats to Harpur.
Let's now take a look at what this deal means.
---
Just like Vesey and the rest of the depth-players that Drury has secured for the Rangers' immediate future; this Harpur deal is another no-risk/high reward contract.
If Harpur continues to play to his role and plays well, then great – the Rangers' defense remains as is.
If not, Drury can waive and/or send Harpur to Hartford – and with no salary cap penalties/costs incurred.
And again, to go back to Vesey, as this Harpur deal is a near replica of his – it does make you wonder about the rest of the depth/role players under the organization's umbrella.
When Vesey was re-signed, that wasn't exactly the best news for Vitali Kravtsov, Sammy Blais, borderline forwards on the Wolfpack, etc.
In this case, Harpur's – this isn't exactly the best of news for players such as Libor Hajek, Matthew Jones and Zac Jones – and we'll soon discuss the latter.
Moving forward, and when it comes to the NHL Trade Deadline – I can still see Drury adding another reliable depth-defenseman – just to have a security blanket in the event of an injury to one of his starting six.
As Gallant has stated, and numerous times at that, including on Friday during his pregame "TURK TALK;" Jones and Hajek failed to lock-up the 3LD position all to themselves. Harpur did.
Should one of the six blue-liners get hurt for any amount of time; I think Drury is going to look elsewhere, solely because for a "WIN NOW" team – they know that Jones and Hajek aren't the answers. They had their chances and it just didn't work out for these two this season.
While I can see Hajek holding on for the remainder of the season, where hopefully for him, come the summer, he can get the hell out of New York and try to resume his NHl career elsewhere; I think this Harpur deal makes Jones trade-bait, which now brings us to our next story.
---
I've discussed Jones' tenure with the Rangers many times before, so I won't play my "Greatest Hits" again.
Simply stated – it hasn't worked out, where keep in mind – prior to signing with the Rangers, Jones said that he felt that he wasn't ready for the NHL – but he couldn't turn down an NHL offer either – which is why he decided to become a "college drop-out."
However, for Mr. Jones ("and me" – yes, that's a "Counting Crows" reference) – he did receive some good news on Friday, when he was named as an AHL All-Star.
Here's the official press release, courtesy of https://www.hartfordwolfpack.com/news/detail/wolf-pack-d-zac-jones-named-to-the-2023-ahl-all-star-classic:
HARTFORD, CT – The American Hockey League announced today that Hartford Wolf Pack defenseman Zac Jones has been named to the Atlantic Division roster for the 2023 AHL All-Star Classic presented by Bell in collaboration with Manulife Bank.
Jones, 22, has skated in 22 games with the Wolf Pack this season and scored 14 points (4 g, 10 a). The native of Richmond, VA, has also appeared in 16 games with the New York Rangers (NHL) scoring two points (1 g, 1 a). Jones scored his first career NHL goal on October 29th against the Dallas Stars.  
Jones is the second Wolf Pack player to be named to the 2023 AHL All-Star Classic. He will join rookie forward Will Cuylle.
Jones and Cuylle join a lengthy list of Wolf Pack players to be selected to represent the team in the AHL All-Star Classic, including G Igor Shesterkin (2019-20), D Ryan Graves (2015-16), F J.T. Miller (2012-13), F Artem Anisimov (2008-09), D Dan Girardi (2006-07), F Ryan Callahan (2006-07), G Al Montoya (2005-06), D Fedor Tyutin (2003-04), F Derek Armstrong (1998-99, 1999-00, 2000-01) and F Ken Gernander (1998-99, 1999-00).
The 2023 AHL All-Star Classic will take place on Sunday, February 5th, and Monday, February 6th at Place Bell in Laval. The 2023 Rona AHL All-Star Skills Competition takes place on Sunday and will feature the two Eastern Conference divisions taking on the Western Conference divisions in seven unique skills events.
The 2023 AHL All-Star Classic then takes place on Monday night. The four divisional teams will participate in a round-robin, three-on-three tournament featuring six games of ten minutes each. The two teams with the best records at the end of the round-robin will face off for the championship in a six-minute 3-on-3 battle.
---
My first thought when I heard that Jones had made the AHL All-Star team? This: the disparity in the level of play between the NHL and AHL is enormous.
I can't profess to watching much of the 'Pack this year; but from what I heard – it isn't pretty.
Then again, most of the younger players that would, and perhaps should, be in the AHL right now, are with the varsity club.
My second thought? This: there's never been a better time than now to sell Jones.
At his diminutive size, and because of his natural RD position, and just like former Ranger, Nils "Who?" Lundkvist too – there's no spot for him.
Simply stated – he's not bumping Fox, Trouba or Schneider, which as a result, makes him expendable.
It's no secret that the Rangers will be looking for a top-six right-winger at the trade deadline.
How they acquire such a player remains to be seen, but as mentioned many times before on this site – I think you'll see some sort of package involving Jones, Kravtsov and/or a 2023 first-round pick as one side of the equation.
The Rangers want to win the Stanley Cup. Maybe Jones works out in the NHL one day, but for now, the Rangers will have to give up some of their youth in order to receive an accomplished NHLer – but I think you've heard enough about Patrick Kane all-season!
And how about Will Cuylle also being named to the AHL All-Star Game?
With the next nine nights off – I expect Cuylle to be returned to the Wolfpack on Saturday, where he will then go on to play in the game.
And when the Rangers return on February 6th?
I then expect Cuylle to return to the big club – and where Sammy Blais will officially be waived, cleared and howlin' with the Pack on a full-time basis.
I just don't see any NHL team claiming Blais and his $1.525M contract, where as stated two nights ago – makes me wonder why Drury didn't waive him out-right in the first place.
Was Drury drunk when he kept Blais' contract on the books? I don't know.
What I do know, is that the Rangers' owner, "THE STRAIGHT SHOT" JIM DOLAN, may prevent his fans from imbibing at games played at "The World's Most Expensive Arena."
---
I know this talk gets old, but these blogs are long and I don't want to write the same stuff over-and-over – but yes, refer to the archives of this site for all of my opinions on James Dolan.
Long story short? His obsession with Glen Sather has hurt his hockey team – and now for over twenty years.
While Dolan spares no expense with the Rangers (he spends to the cap ceiling, spends top dollar on all amenities including travel, hotels, doctors, specialists, therapists, etc – and never bats an eye when doing so); similar to his previous decision of sticking by Isiah Thomas, who cost Dolan nearly $20M in sexual harassment lawsuits – the head-honcho at 33rd & 7th rarely gets involved with the Rangers – which is why when he fired the former regime, at the presumed request of Sather – it was a true eye-opener.
Of course, and that said, when the Dolan family first took over M$G (you can read more about this in my "Tricks of the Trade" volume set of books); the Rangers were kind of like that old 25 cent pack of gum you'd use to buy as an impulse purchase while checking out. (Do they still make Winterfresh anymore?)
For the family Dolan; owning M$G, the Knicks and the network were always the biggest prizes.
The Rangers were always "little brother" – despite having much more success than the basketball team.
Also known about Dolan? He can be petty, vain, vindictive, and quite frankly – an asshole.
Just ask Charles Oakley.
In recent months, Dolan has used his facial recognition software at M$G to boot people from the arena.
This has sparked a debate – is this software legal and warranted?
To me, I'm fine with it. I don't do anything wrong – so what do I care if M$G has video of me entering their doors?
Plus, this footage can be used in pending criminal investigations, preventing serial drunks/morons from returning (remember that Ranger fan who cold-cocked the Lightning fan last season?), and can be used to create a safer environment.
And let's face it – our mugs are everywhere, from traffic light cameras to ATM cameras – and whatever other 38883783747272 recording devices that we pass through during our daily travels.
In this latest Dolan debacle, the owner has been using this footage to eject lawyers from M$G in pending cases against him from his properties – including the lawyer representing the Tampa Bay fan who was viciously knocked out last May.
While it does seem overboard to kick out law-abiding attorneys, and their families, from his properties; at the end of the day – it's his right.
Attending events at M$G isn't a birth-given right – it's a privilege – even if the owner is being quite revengeful whenever having his meatheads escort innocent people from his arena(s).
Again – just ask Charles Oakley.
As a result of all of these ejections, Dolan has now found himself in a war with the State Liquor Authority, and as first covered/reported by the New York Post here: https://nypost.com/2023/01/27/james-dolan-repeats-he-might-nix-msg-alcohol-sales-amid-facial-recognition-fight/
As the story goes, Dolan is now fighting with the SLA, and in a veiled threat that he's now repeated multiple times & in several different media outlets to boot – he's willing to ban beer and booze sales during Ranger games.
Of course, it are the Ranger fans who will be punished – not Knick fans, not concert-goers, not anyone else. Ranger fans.
I have no clue what alcohol sales generate at M$G (I'd imagine it's a lot, due to the $25 price for a tall-boy of domestic beer); but if I had to guess – and solely based on my own experiences – then it's my belief that hockey fans consume more suds than any other audience.
Whether Dolan follows through with this threat or not remains to be seen; but in any event, once again, it's Dolan's rarely-used-toy, the Rangers, who take the brunt of his latest beef.
My advice for veterans of the booze game such as myself?
Invest in one of those hollowed out canes that they sell on Amazon.
Just work on your limp!
---
While the petulant silver-spooned man-baby was fighting his one-man war with the SLA; Dolan also spoke about his hockey team to various news outlets, including WFAN and Fox Five News.
Even though I believe, that gun to his head, Dolan would be lucky to name five Rangers; the boss did glowingly speak of his club, when he told WFAN:
"We made quite a jump last season. What happened was, the season before the season we went to the semi-finals, we should have been in the playoffs, we should have made it through the second-round, everybody was disappointed. So we did, we made some changes and then they realized a lot of their potential. And Chris [Drury] has done, by the way, is a fantastic job. I can't believe that there is a Rangers fan that doesn't like Chris Drury."
I agree with Dolan, and I've said once or 7896786789678967 times before – the only reason why most Blueshirt backers were upset about the firing of the old regime was because John Davidson was so beloved.
But let's face it, in all of his years as an NHL executive – JD hasn't won anything – and where more times than not – his teams don't make the playoffs either.
Another interesting comment that Dolan made? When Dolan said that he had Chris Drury speak to his offspring – atter sonny boy Dolan pleaded with his father that the Rangers should acquire a player. (The name of the player wasn't revealed.)
In other words – like father, like son.
Dolan's meddling son, with a billion dollar inheritance in his future, is now telling a hockey-lifer, a winner at all levels, Chris Drury, what he should do.
Go away young Dolan!
As far as anything else, Dolan gave Drury another stamp of approval, said that he thought that the Rangers have a good chance of winning the Cup – and in perhaps a story that isn't getting the press that it should – nixed all rumors of moving MSG to a new location.
Dolan confirmed that despite all of the redeveloping around Penn Station and the soon-to-expire lease itself – there will be no "M$G V" anytime soon.
One last pregame story, I swear!
---
Following the Rangers' morning skate on Friday; Gallant spoke to the media:
---
Not much new was said, but Gallant did praise Harpur and also stated that he was happy about the new contract that his defenseman received.
This too – Gallant once again disparaged analytics and promoted the "EYE TEST!" My type of a coach!
---
Here was the line-up from Friday night, which I believe was Gallant's 47th different line-up of the season:
FIRST LINE: Panarin/Mika/Vesey
SECOND LINE: Kreider/Trocheck/Goodrow
THIRD LINE: Lafreniere/Chytil/Kakko
FOURTH LINE: Cuylle/Leschyshyn/Gauthier
Defensively, everything remained the same:
FIRST PAIR: Lindgren/Fox
SECOND PAIR: Miller/Trouba
THIRD PAIR: Harpur/Schneider
STARTING GOALIE: THE HALAKNESS MONSTER
BACK-UP: CZAR IGOR
PRESS BOX: Hajek & Kravtsov
---
BOX SCORE time.
The following graphics and information come from ESPN.com:
SCORING:
PENALTIES:
TEAM STATS:
GOALIES:
| | | | | | | | | | | |
| --- | --- | --- | --- | --- | --- | --- | --- | --- | --- | --- |
| SA | GA | SV | SV% | ESSV | PPSV | SHSV | SOSA | SOS | TOI | PIM |
| 39 | 3 | 36 | .923 | 30 | 4 | 2 | 0 | 0 | 59:28 | 0 |
| | | | | | | | | | | |
| --- | --- | --- | --- | --- | --- | --- | --- | --- | --- | --- |
| SA | GA | SV | SV% | ESSV | PPSV | SHSV | SOSA | SOS | TOI | PIM |
| 34 | 1 | 33 | .971 | 25 | 6 | 2 | 0 | 0 | 59:25 | 0 |
---
Once the M$GN broadcast began, this much was obvious – although it was never said on-air – the Rangers were wearing their cursed "LADY LIBERTY" jerseys during warm-ups – and not the PRIDE/RAINBOW jerseys as previously promised and advertised.
(The main takeaway here – the Rangers, like every other team, auction off these jerseys to raise money for the PRIDE community. Since they didn't wear them, these auctions will never place.)
As mentioned earlier, I'll save all of the PRIDE stuff for the end of tonight's blog.
---
Lundqvist's first remarks were, "I'm hoping for a happy Friday night at M$G."
So was I – and we both soon had that wish granted at around 9:45PM EST.
Lundqvist then said he was happy to hear Harpur's good news. Vagistat then chimed in, but I have him tuned out to the point that every time the man with the bad CVS blonde hair dye speaks, he sounds like the teacher from "Charlie Brown."
Lundqvist, who never talks about Halak's career success against him (off the top of my head, I can't think of any other goalie that had a better record against "The King" as "The Halakness Monster" had); #30 did say the following about his former rival: "in the end, it's all about winning."
And that's what Halak did tonight, in arguably his best win of the season.
Following Hank's remarks, the smug Vagistat plugged his worthless charts, spoke about his even more useless "Spidey Senses" (remember when this seven-foot braying jackass told us that these senses would find Jack Eichel in a Rangers' jersey?), and then begged Lundqvist to acknowledge his existence.
Lundqvist then returned and said what I previously wrote on Twitter – the Rangers would empty the tank tonight, as they didn't want to enter the break on a bad note.
To close the pregame show, Vagistat then compared his pathetic NHL career to Lundqvist's, and also mentioned how he prioritized partying over playing.
It showed. Just ask the Dallas Stars!
---
Once our favorite bumbling buffoons entered the broadcast, Sam Rosen and Joe Michletti; Rosen tried to set a world record for saying the following words as many times in two minutes: "Vegas," "Pride," and "Delta" – as every time the confused play-by-play man brought up the fact that tonight was "PRIDE NIGHT" – he always had to tell us that it was Delta who was sponsoring it.
"OH JOE, THOSE LGBTQ'S AND THAT MILE HIGH CLUB JOE!"
Funny enough, once we went to the first commercial break, an ad for Panera Bread ran.
The tag line? The following: "Bread doesn't go stale."
Apparently, Panera Bread hasn't watched "The Breadman" these days.
As we were reminded again about who was sponsoring this night; M$G had a PRIDE member drop the puck, the NYPD came on the ice (they received a great reception) and actor/musician/I never heard of him either, Mike Scott, sang the National Anthem.
It only took us 5,000 words to get here, but finally – GAME REVIEW TIME!
---
FIRST PERIOD:
One more time. In a word, this period was "HALAK."
Since Jake LeschyLGBTQshyn, as presented by Delta, had previously played for the Knights; his line, the fourth line, began the game. The second-newest Ranger won the opening faceoff – and this too – I thought this was his best game yet.
The new number fifteen in blue won 8 of 13 faceoffs – good for a team-high 61.5%.
Thirty seconds in, a harbinger of what was to come – another goose egg for Artie Panarin. He rarely shows up against top-tier competition, and tonight was no different – as his first shot on goal was deposited right into Hill's glove.
As I got down on my knees (not a PRIDE joke) and praised the hockey gods that tonight was the last time that the Rangers would wear these horrible Liberty Jerseys – up next was a barrage of never-ending odd-man rushes.
Halak stopped all of them – and bailed out all of his teammates in the process.
As we hit 16:38 remaining, Lafreniere set-up Kakko, but this was a case of "close, but no cigar," – where we may need to update that old adage to "close, but no drinking, not inside of M$G anyway!"
As Jumpin' Joe and Slammin' Sammy got a raging hard-on when speaking about "OLD FRIEND" Brett Howden – who fortunately, and in a complete 180 from last season – was a no-show/non-factor tonight; Karlsson got right to Halak – but missed the net.
This miss then led to Sam and Joe to bawl their eyes out, as they recapped every injury ever incurred by a Knight.
"OH JOE, MARK STONE PULLED HIS PELVIS WHEN DOING THE MACARENA AT 90s NIGHT AT THE FLAMINGO JOE!"
"SAM, IT'S PRIDE NIGHT AS PRESENTED BY DELTA. SHOULD I MASSAGE HIS FABULOUS PELVIS WITH MY SERPENT TONGUE?"
Down to 13:55 remaining, Harpur neutralized a Vegas threat, while Hill did the same, when he made a stop on Lafreniere.
Right after that, the '23 All-Star, Artemi Panarin, missed the net while a foot away – aka – the usual.
How Panarin made the All-Star Game over Mika Zibanejad is beyond me.
As eight minutes had come-and-gone; Trouba, in a rarity, had a long distance shot on goal reach its intended target – but Hill, who wasn't "over-the-hill" tonight – made the stop.
On the next play, Miller tried to break up a Vegas two-vs-one odd-man rush; but couldn't. However, Halak did, and he recorded two saves here.
Up next, a pair of robberies which began with 11:15 remaining.
The first save saw Halak make his best denial yet, a stone job on Jack Eichel. On the other end of this "Battle of the Back-Ups;" Hill made a hell of a stop on a Kakko-to-Chytil deflection/tip attempt.
I'm not making this up – for the first of three times tonight, and whenever speaking of the third line – Micheletti talked about how much he loved threesomes.
On this occasion, Micheletti said, "this is an amazing young threesome." He sounded like that European fan who stalks all of these teenage players and prospects on a 24/7/365 basis.
At the ten-minute mark, this much was true – the back-up goalies of their respective clubs were the best players on the ice. And that kind of rang true for the remainder of the game – at least for the Rangers.
As both goalies continues to impress; with 8:17 remaining, Goodrow was boxed for holding Eichel.
Prior to the power-play commencing, we were shown Stephane Matteau, who is in town, and who has also been making the rounds during the past two weeks, honoring "the captain of the gay community."
Not mentioned? Was this captaincy an elected or appointed position?
"OH JOE, SEX POSITIONS JOE, AS PRESENTED BY DELTA JOE! THE KAMA SUTRA JOE!"
Following Zibanejad, Kreider and Fox (a "threesome" that should've began the overtime period against Toronto) killing a minute of this Vegas power-play; Pietrangelo then pulled a Trouba – and left permanent rubber marks on boards.
"SAM, RUBBER CONDOMS ARE FABULOUS, BUT I PREFER LAMBSKINS SAM. MY FAVORITE CONDOMS THOUGH ARE THE ONES MADE BY DELTA, WHO PRESENTS THIS ABSOLUTELY FABULOUS PRIDE NIGHT SAM!"
Speaking of Trouba, he also blocked a shot during this PK – one that hit the post – rather than trickling past his goaltender.
Later on in the game – Halak would have to make save on his captain.
Following more saves from Halak, who definitely deserved "JA-RO" chants tonight; Panarin, with 4:45 remaining, continued his wretched ways of turning over the puck with these nonsensical passes to nowhere.
For a player who repeatedly says he doesn't listen to his coach – it shows.
Here's one of the many "HALAK HIGHLIGHTS" from these first twenty minutes:
Halak standing tall in the first! #NYR pic.twitter.com/l8Lv60YJhF

— Rangers on MSG (@RangersMSGN) January 28, 2023
---
PRIDE NIGHT or no PRIDE NIGHT – the same old shit took place during this broadcast – as once returned from a commercial break – Sam and Joe were hellbent on trying to get Jack Eichel to score a goal.
While their love-fest and verbal fellatios for Eichel wasn't as strong, nor as obsessive either, when compared to their undying love for all things Boston and New Jersey; this was all sickening.
Thankfully, Chris Kreider would remove Sam and Joe's filthy desires from their tired mouths; as with 3:52 remaining, this happened:
Vinny T makes his move, splits the defenders, and Kreider scores his 20th of the season! #NYR pic.twitter.com/eQ5KNFNwbC

— Rangers on MSG (@RangersMSGN) January 28, 2023
---
1-0, GOOD GUYS!
In Kreider's 700th game, "CK20" scored his 20th goal of this 2022-23 season. I expect he'll score at least ten more, which-and-when he does – will give him his second-highest goal total of his career.
And yep Part I: This was complete fluke goal, but at the same time – Kreider was in the right place & at the right time – and as a result of crashing the net – his new center was able to bounce a puck in off of him.
And yep Part II: Kreider's new center finished with two points tonight. His old center, sandbagged by Panarin, finished with zero.
And yep Part III: You're probably sick of all my Panarin criticisms from the past month, so I'll end it here, but I do want to say…
And yep Part IV: He remains the most polarizing player of recent history and is flirting in-and-out of Rick Nash territory.
Even if Panarin never scores again – he's still the greatest free-agent signing of franchise history.
I just miss the player who I saw during his first season in New York.
---
Of course, because it's the Rangers' way – following the goal, the Blueshirts lost their 78967868786796th consecutive face-off after scoring – which then led to save by Halak.
With 2:45 remaining, and following a Hill save on Fox and Halak's 15th stop of the period; Joe brought up his love of threesomes again – while Sam shot pre-ejac when talking about his fondness for all of those Lundqvist gambling commercials.
And yep Part V: It's a shame listening to what a sell-out Sam has become. It's gotten so bad that I don't even remember why he's in the Hall of Fame in the first place.
Following another ski-mask save from Hill, this time on Vesey; we got under a minute remaining.
Here's how I recapped what happened next in real-time:
Hill turnover, Trocheck can't make him pay, but #NYR stick with it, Lindgren shot sent wide, back to Nonna Trocheck's bambino, and it's now 2-0, GOOD GUYS. A two point game for Trocheck as he buries a puck from two feet out. Second line motoring. 42 ticks remaining.

— BlueCollarBlueShirts (@NYCTheMiC) January 28, 2023
---
Here's Trocheck's first goal in his last twelve games played:
Goodrow with the perfect below the goal line pass to Trocheck and its' 2-0 #NYR pic.twitter.com/yhRMcI25YT

— Rangers on MSG (@RangersMSGN) January 28, 2023
---
2-0, GOOD GUYS and that's how we remained once the period concluded.
Here's what I said once the horn went off:
2-0, GOOD GUYS, after 20. 1P Thoughts:
— Back-Ups are Battling on Broadway. Halak is having his best game yet.
— Both Kreider & Trocheck needed those goals.
— I hope I can reverse curse Panarin into a goal.
— SOG 15-14, FOs 12-10 VGK; Hits 10-9 #NYR —- Sloppy start
LGR

— BlueCollarBlueShirts (@NYCTheMiC) January 28, 2023
---
SECOND PERIOD:
I don't know if I'd say this was the "worst period of the game for the Rangers;" but in any event – it was "the least-best."
Just two seconds in, this middle frame began with a bang (not a PRIDE joke):
Will Cuylle gets into his first fight in his 2nd NHL game 🥊

(via @RTaub_)pic.twitter.com/gIQIa6PlXj

— Rangers Videos (@SNYRangers) January 28, 2023
---
What a tilt for "CUYLL HAND WILL," as the newest Ranger, and Keegan Kolesar, following their chat at the circle, traded hands for over a minute.
This fight was a pure draw – where there were no losers. Both men were winners – and so were the fans.
And Yep Part VI: This was Cuylle "earning his stripes" – and why you won't see the mercurial Vitali Kravtsov bumping him any time soon.
Also of note? RIP to Bobby Lewis, the former director/producer of the M$GN, who sadly died on Friday.
For all of my Sam & Joe jokes, these two did a great job in paying their respects to him – as Lewis had retired ten years ago – and was still a huge fan of the club.
As everyone and their mother were seeking a replay of the Cuylle/Kolesar fight; I said the following on the Twitter machine:
Cuylle has already made more of an impact than Panarin, and as I type this, at the 1:14 mark, Bread is boxed for tripping Karlsson in the #NYR o-zone. Dumb dumb dumb.

— BlueCollarBlueShirts (@NYCTheMiC) January 28, 2023
---
Yep Part VII: Where art thou my 2019-20 Hart Trophy finalist?
This was a strong PK – for Halak at least.
This is also where Trouba accidentally booted a puck at his own net – and Halak came up with another save – although this one doesn't go down as one – even if it was one of the biggest that he made.
Kakko, who was a beast once again tonight in the defensive end; also showed off his offensive skills.
Following the kill; Kakko set up Leschyshyn, but the fourth liner couldn't score. Kakko then set-up a returning-to-the-ice Panarin for a one-timer from the slot – but the Breadman whiffed.
With 15:03 remaining, complete chicanery:
Phil Kessel banks a sneaky shot off Halak and into the net from below the goal line, bringing Vegas within 1!#VegasBorn pic.twitter.com/jwyoAvhXNY

— Hockey Daily 365 l NHL Highlights (@HockeyDaily365) January 28, 2023
---
As someone who bets 4-0 every game – this one hurt.
Once again, a Halak shutout was ruined, this time because of incompetent officiating.
The refs swallowed (a PRIDE NIGHT joke) their whistle and allowed Lafreniere to be tripped by Carrier.
Kessel then scored, where this is true as well – Halak should've stopped this one.
That said, how can anyone get on Halak for this goal?
He was phenomenal and this was another case where a Ranger goalie stops every insane shot known to man, only to let a softie sneak in.
2-1, good guys – and where it looked like Gallant wanted to go into UFC mode and choke out these zebras.
Down to 11:41 remaining, we saw Cuylle set-up Schneider who then set up Leschyshyn; but the fourth-line center, maybe now on borrowed time, missed from a foot away.
Following another Panarin cross-ice pass to god knows where; the second line came on, and with 8:20 remaining – Hill prevented Trocheck from a three-point game.
Not to be outdone – Halak made another robbery save himself – when he stopped Kolesar on a Vegas 3 x 2 odd-man rush.
With 5:45 remaining, this is when Rosen astutely informed us that, yes – Kravtsov and Hajek were scratched tonight. Good to know.
Thirty seconds later – another turnover from the $11.6M man.
Come 3:42 remaining, Cuylle had his stick held at center ice (not a PRIDE joke) – but no call.
So if you're counting, the Knights nowh ad two power-plays, while the officials ignored two Vegas infractions.
In an effort to showcase their ineptness; with ninety seconds to go, Vegas iced the puck, but the refs didn't call this either. Instead, five seconds later, they called an icing on Lindgren instead – and #55's face screamed murder all over it.
2-1, GOOD GUYS after two periods. Here's that I said at the time:
2-1, GOOD GUYS, after 40. 2P Thoughts:
— #NYR will need another goal, not gonna win with this version of Panarin and officials.
— Not many nights when 2+ lines click.
— SOG 27-25, Hits 24-22 NYR; FOs 23-19 VGK
— NYR PK 2-2, no PP's
— Halak 1st star thus far
— LGR

— BlueCollarBlueShirts (@NYCTheMiC) January 28, 2023
---
THIRD PERIOD:
Following "The Ramrod's" favorite resident, Sieve Vagistat, telling us how "everyone loves Coolie/Cuylle," the final frame began.
Halak opened the period like the previous two – by making a sav -, this time on Roy.
At the 1:40 mark, Lindgren sent a puck towards the head of Panarin, and as #10 went for it – "The Breadman" found himself as the meat of a Vegas Golden Knights' sandwich. (Maybe a PRIDE joke.)
With 17:18 remaining, and as Halak continued his brick wall performance – the Garden Faithful informed us that "POTVIN SUCKS!" What he sucks wasn't revealed, here on PRIDE NIGHT. (A bad joke!)
Following Hill saves on both Vesey and Kreider; the Rangers finally received their first power-play of the game, as even these white-and-black Helen Kellers' saw Nic Hague interfere with Lafreniere as #13 was driving to the net.
However, these two minutes of a man-advantage amounted to nothing.
By the end of the night, the Rangers' power-play finished 0-2.
Much worse than that? The Rangers' PP1 unit is now two of their last thirty.
I believe the technical word to describe this failure is "shit."
Have I mentioned that Panarin earns $11.6M and rarely scores in games against top opponents yet?
Down to 11:15 remaining, Halak did something that we didn't see in 2014 – he stopped Alec Martinez.
As we neared ten minutes left in regulation, I tweeted the two following things:
Mika loops around, tries to bank it off the back of Hill. Good try, but no good. 10:30 to go. You feel like Eichel will score the equalizer with the way Sam and Joe are talking. #NYR

— BlueCollarBlueShirts (@NYCTheMiC) January 28, 2023
---
Riveting post-game programming scheduled by M$GN tonight – Vagistat and Gingras talking clothes. Better programming? Airing that Hank/Richter chalk talk from two weeks back. #NYR

— BlueCollarBlueShirts (@NYCTheMiC) January 28, 2023
---
Fortunately, the first thing didn't happen – as Eichel didn't score.
Unfortunately, the second thing did happen – and I can only wonder what kind of demographic/audience that the M$GN was catering to – and who they assumed wanted to listen to Vagistat and Gingras talk about the clothes that they buy at JCPenney.
This game wasn't over yet.
Halak made three Michael J. Fox saves, as this "THREESOME SAM" looked shaky.
Chytil made a bad o-zone turnover, but Kakko, as he did all game, bailed out his line mate.
However, Chytil redeemed himself, as with 5:40 remaining, a huge sigh of relief:
This goal by Chytil is the epitome of #NoQuitInNY pic.twitter.com/ZOLTMnSNlF

— Rangers on MSG (@RangersMSGN) January 28, 2023
---
3-1, GOOD GUYS, as Chytil scored the insurance goal, and better for him – with his parents watching – as mother and father were in the stands.
This was a puck-luck goal – but who cares? Chytil made it happen.
After several stunts from the theatre of "Harlem Globetrotter;" the Czech was rewarded here, as his puck bounced off Shea Theodore and crossed the goal line.
This was Chytil's 16th goal of the season – as he's set career highs in goals, points and assists this season.
And some "TURK DOUBTERS" will stay defiantly state that Gallant doesn't know how to develop talent!
FOR SHAME, FOR SHAME!
For good measure, right after the goal, Panarin, while looking at a net that Hill had vacated – hit the post.
I'm not making this up – and M$GN didn't show a replay of this either.
That said, with 4:10 to go, Panarin drew McNabb for holding – but you know how these two minutes went.
But to be positive – at least the Rangers burnt two minutes off of the clock – and kept their two-goal lead in-tact.
With 1:40 remaining, Hill went to the bench, and there would be no foreplay with the Vegas net empty.
Just 15 seconds following Hill's ass cheeks hitting wood (not a PRIDE JOKE); Vesey, from the Rangers' d-zone, airmailed a puck that found its target.
4-1, GOOD GUYS.
4-1, GOOD GUYS, your final, from the Delta Pride Night Arena!
Can't say it enough – this was a big win.
Had the Rangers lost, it would've been nine days of doom-and-gloom – and who needs that?
Here's my favorite coach and yours, THE TURK, following the win:
---
As you'd imagine, Gallant was very happy about the win – but wasn't asked the question that was on a lot of people's minds – "what happened to those PRIDE jerseys?"
And this is where the hockey/"stick to sports" portion of tonight's never-ending manifesto will end.
Seriously, my fingers are killing me (not a PRIDE joke); where one day, I should do a 24-hour BLOG-A-THON – write, update every fifteen minutes, and raise money for some sort of noble charity – perhaps the Garden of Dreams. (That's the one I donate the most money to.)
And unlike other bloggers – I don't beg for your money either!
GoFundMe's – what a joke!
That said, if you do want to support this site – all I ask of you is to buy my books. (All ordering information is located in the PLUGS segment.)
Before getting into the PRIDE stuff – my parting words on this game and everything else:
— This was a great win – and the Rangers needed it.
— I'm taking the weekend off, as mentioned at the start of this blog that would need hard-cover binding if you printed it out.
— Enjoy the WWE Royal Rumble and the two NFL Conference Championship games.
— Despite the team being idle; I'll have some stuff posted on this site next week. I'll also cover how Fox, Panarin and CZAR IGOR did during All-Star weekend too.
— Time permitting, I'll recap a Hartford Wolfpack game next week too – as in previous years – these blogs have been a hit.
— The rest of my free time with nine days of no Ranger hockey?
I'll be working on my latest book project, "The Top 100 Ranger Villains of All-Time."
---
For readers who don't want any social commentary or political talk – this is where I bid you adieu.
Thanks for reading and I understand if this is where you close your browser.
For everyone else – let's talk about PRIDE NIGHT – where I also have three interesting stories from fellow readers to share with you.
Up first – the latest PRIDE NIGHT controversy; followed by the three reader testimonies.
---
Let's get this out of the way first.
Following the Provorov PRIDE NIGHT "controversy" in Philadelphia from January 19th; I covered everything, gave you all of my thoughts, shared all of my opinions, and said everything that I needed to say here:
I share that link, a blog that was well-received, because I'm not going to say all of it again here.
Straight to the point – I don't care about what people do, who they pray to and etc.
Furthermore, while I understand that many of these themed nights are transparent (we're only a few days away from the NHL dusting off Willie O'Ree again, only to put him back on the shelf once the calendar flips to March 1st); I also understand why these nights are held – it's good for both business and public relations.
Again – refer to the link/blog above for everything.
---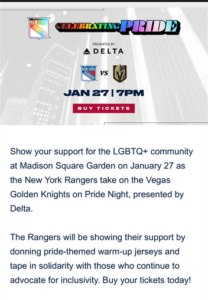 I know this blog is going on forever – which is why I wished that the Rangers just wore those rainbow jerseys – and as they have done every season since embracing "wokeness."
It would've saved me a few words – and I could've been in bed by now too!
For whatever reason, and for the first time since the inception of PRIDE NIGHT – the Rangers opted not to wear these jerseys, which in turn – meant no charity auction for these threads either.
Here's what I can confirm to you, from my "SAUCES" – where this too – Stan Fischler isn't my source – but someone who knows him is:
The Rangers didn't want a public relations disaster on their hands, following what happened in Philly with Ivan Provorov.
And that's really all I know besides the following:
— The Russian Rangers, including CZAR IGOR and Panarin, have worn these jerseys before.
— The fact that Halak, and not tonight's expected starter, Shestyorkin himself, was in net.
— M$GN wouldn't bring this up at all – even after stating last week that these rainbow jerseys would be worn and then auctioned off for charity – just as they've done in every season prior to this one.
— Not one media member asked the Rangers about this.
---
Here's what I can't confirm to you and what is 100% speculation on my part – speculation that will naturally take place by everybody else, perhaps you included – following the Rangers advertising one thing – and then doing the complete opposite:
— Someone on the Rangers refused "to wear the ribbon."
— With many Russians on the Rangers, one of them is a Russian Orthodox, just like Provorov.
— A national reporter will find out the full story – and where I expect that we'll then hear a name of a Ranger who refused to wear the jersey – which will then lead half of the fanbase to turn on him – and where the other half of the fan base will increase his jersey sales.
— After what happened in Philly, the Rangers didn't want to take a risk of pissing off the majority of their fan base – heteorosexual males.
— The Rangers/M$GN are currently accepting money from Qatar – via their commercials/ads – and didn't want to piss off this lucrative sponsor.
Again – all of the above is speculation – and as designed by the team themselves.
---
Just as an addendum to the PRIDE blog that I wrote two weeks back, I want to say the following, before sharing the reader testimonials with you.
I'm all about business and I understand capitalism too.
It's why that despite fifteen different theme nights this season (out of 41 home games) – that I'm surprised we don't have even more.
(For a full list of the remaining theme nights that the Rangers will offer, check out: https://www.nhl.com/rangers/tickets/theme-nights)
During the 2022-23 season, here are the theme nights that the Rangers had scheduled:
Hispanic Heritage Night, Healthcare Appreciation Night, Firefighter Appreciation Night, Military Appreciation Night, Hockey Fights Cancer Night, Educators Appreciation Night, NYC College of Technology Graduate Night, Garden of Dreams Night, Syracuse University Night, Pride Night, Binghamton University Night, The Black Experience Night, Law Enforcement Night, Women's Empowerment Night and Fan Appreciation Night.
(Of note: the Rangers don't play on 3/17 this year – St. Patrick's Day – but they do have all of their green – their favorite color – merchandise for sale.)
The most "offensive" theme nights in my eyes? All of the college nights!
Where are my alma maters, Nassau Community and Queens college?
FOR SHAME NEW YORK RANGERS! FOR SHAME! YOU'RE COLLEGE-ISTS!
How dare you ignore my beloved and heralded UNC – University of Nassau Community!
---
Joking aside; what surprises me the most when I look at all of the expensive theme nights offered by the Blueshirts (again – the only color the Rangers care about is green); I'm in a complete state of shock, that for an organization that will sell you officially licensed dildos, toilet seat lids, anal plugs, ceiling fans, Chia Pets, POGS, flesh lights – you name it – and they'll put their logo on it – that we don't have these nights:
Italian Heritage Night, Jewish Appreciation Night, Chinatown Night, Sexy Swedish Night and maybe this one too – "Russian Orthodox Night!"
My Provorov crack aside; when you look at the make-up of M$G, and Ranger fans in general (and outside of true-blooded Americans like myself) – a large chunk of Blueshirt backers are either Italian, Jewish, Swedish and Russian.
To a lesser extent, there are also Asian and Filipino fans.
That's why I'm surprised that the Rangers haven't slapped their logo on such merchandise – because it's not above them to sell a t-shirt that costs them $1 to make for $40 bucks in gross profit or more!
And yep Part VIII: Once we find out the reason why the Rangers didn't wear these PRIDE warm-up jerseys – I'll have it for you here. You know that the truth will eventually come to the surface.
---
Last, but certainly not least – the reader testimonials.
As teased during the past two weeks on this site – I want to share with you three different perspectives about perhaps the most controversial and debated topic in the NHL right now – PRIDE NIGHT – and how people from different backgrounds view it.
I share these three testimonials for these three reasons:
One, I don't believe in "echo chambers." I gave you my opinions – why not share the opinions of others?
Two, this is a decisive topic for some. Like anything else I do with my writing, whether it here, on Stan's site or in my books – I want to give you every angle possible.
Three, for a topic that can get heated, maybe the following will give you a new outlook.
That said, my last caveat – I'm not trying to preach one opinion over the other, no matter what it is, to you here.
I'm just giving you all of this – and then you can decide what's best for you.
I just want to offer you these takes – and maybe you'll take something out of it.
I know that I did – especially from Becca – as despite my friendship with my transgender friend – I just can't understand the decision – and how can I?
As you may have asummed – I've never been there – but I can respect it.
After all, how does one's personal decision impact my life? It doesn't.
Let's now go home with three brave readers – two of them who were extremely courageous enough to put their names and pictures to these stories. (You'll find out why the third didn't/couldn't.)
(Of note: I edited the following three entries only for grammatical purposes, not content – and where as you'd expect – I went crazy with the commas and dashes!)
---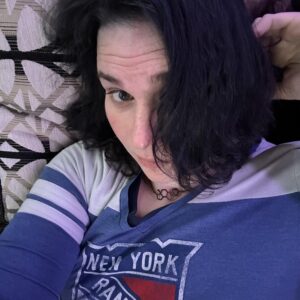 Pride Night Point of View from a Transwoman: 
On October 25th, 1993, a baby was born at Pocono Medical Center, in East Stroudsburg, PA, to parents from New York. A few months later – the Rangers would win their first Cup since 1940.
I get it – that's an interesting way to open this entry – but what can I say? The Rangers and I have always had a somewhat special bond – and to be given the chance to write an entry for this blog detailing my experiences as a transwoman in life is a real great honor.
I started this journey in April 2020 during the height of the pandemic. I started what is known as "Hormone Replacement Therapy," which is a concoction of Estrogen, spironolactone and for extra umph, progesterone.
These pills would make me into the woman that I have always seen myself as since my dreams during my days in middle school.
I am now 29-years old and started HRT at 26. These past three years and the changes during that time have been immense. However, it is not all sunshine and daisies. I had to conceal this life for so long in the environment that I grew up in, which was outside of Philadelphia (ew I hate Philly sports) and from being bullied for many different reasons – including one being as a Rangers/Yankees/Giants fan!
Being called gay by kids my age was hard. In middle school, when I first started to have these thoughts, I tried to suppress them by doing sports and other "manly" things. Hell, even in high school, I became a volunteer firefighter and enlisted in the national guard.
I did so much to conceal who I truly was. However, the breaking point to unleash who I truly was took place after I got married in 2019. I know that I'm horrible for saying that, but after I was legally married, something in me just clicked in my brain that made me realize that I wasn't really a man on the outside – and I needed to let the female I have always felt on the inside come out.

See, being trans, I have also faced a lot of interesting questions in my life in regards to – do I like guys now or girls? Do I still have my penis and how do I pee?  I've also been told that I am doing this for attention. Like what?!?!
I've also been told that I am not a true trans person because I follow sports very closely. I will routinely watch the Rangers game if I can, whether it be at home or wherever I'm always close to my phone keeping an eye on them.
In fact, last season, after my mom died in November 2021, I really thought the Rangers were going to make a run in the playoffs – especially after beating the Penguins in that thrilling Game 7 and after beating the undefeated Hurricanes at home.
I had hope – I really did think that the Rangers would win it all – and for my mom who was also a diehard Rangers fan. She even named all of her cars "Mess," and she loved the likes of Ron Duguay – and would sing that jean commercial song every now and again. We all know that song… "Ooo La La Sasson."
The last time my mom came down to visit me in Maryland (where I live today) was around my birthday. She treated me to getting my nails done – Rangers' Blue of course -and we watched our boys come back and beat the Senators.
My mom was very happy to have a girly girl like me as her daughter – and granted – I was once her son.
She was happy to see me happy in my life. My mom and I had a rocky relationship before I came out and when I did come out to her, it did upset her at first, but with her working at the Financial aid office at WCU – she would see LGTBQ members come in and say that their families had abandoned them.
My mom didn't want that for us, so for the last few months of her life our relationship got better – and that's something that I will always cherish. 
Now my opinion on Pride Night is this… Cool… that's it… I know right?
I mean I would love to go to a Pride Night. Hell, I would love to go to any game in general.
However, Pride Night is a very awesome gesture that the world of sports does… and I support it. However, I also support those who do not support it, like Provorov in Philly.
Does it make him a bad person for not wearing the pride stuff? No, it does not. He has his reasons and I respect them – just like he would probably respect my reasons as to being who I am.
The amount of backlash he has been given is insane. He's not preaching violence, he is not saying hate words. He just stated his religious beliefs and he has every right to do that – just like I have every right to transition and live my life too.
You know, and not to make this entry all about me, but I can relate to this player in some ways. I just had vocal feminization surgery… and a lot of my family has come forth saying that my transition has been a mistake and stated that I am a fake. Like uhhhh – that's so nice of you to say -and the backlash I am receiving for having this surgery done.
To be told that I should've asked the families opinion. First, like who are you?!?! Are my life choices of changing my voice affecting you that much? Just like Provorov and his beliefs have been distorted, my transition and want of transitioning have been distorted and it sucks.
But going back to Pride night and all the other nights they do… it's awesome and I support it… hell every year I try and get a shirt, but with everything else the Rangers put out they are always sold out.
And I get it – every Rangers fan, myself included, tries to get the latest merch that they release -whether it be the new retro classic jersey (bring back the Diagonal NEW YORK Jersey) or even a piece of MSG ice – we all want it.
FYI: I'm not asking for anyone reading this to get me a pride shirt – but if you do – I would greatly appreciate it – just saying lol!
In closing, being Trans has its challenges just like everything else in life – but being trans does not make a weirdo.
It also doesn't make for a secret fetish. I am a human being who loves her NEW YORK RANGERS!
But more important above all else – I love being who I truly am.
I always envisioned myself as a beautiful female and here I am… giving my input on it to the best RANGERS fan blog I know!
If anyone ever has any questions about LGTBQ related things reach out to me at Rebeccaagearity@gmail.com and I will answer your questions.
I would also like to dedicate this entry to my mother Ann Mitchell. A diehard Rangers' fan from 1962-2021 – and the memories of her and I watching "Oh Baby" as a child are still fresh in my head. I miss and love you every day mommy… thank you for the love and support… 
LET'S GO RANGERS!!!! 
-BECCA GEARITY
---
I often find my heart breaking when I read the comments on Pride night postings for my beloved sports teams: the NY Rangers, Yankees and Giants – and I love the NY Rangers.
While I feel perpetually frustrated, at what seems like them pulling the wrong strings for hoisting that Stanley Cup – I will live and bleed for the Red, White and Blue colors that they wear.
I also wish that we had a fun mascot, but I know that's not a NYR thing.
I run Facebook groups for all of my favorite teams and consider my fellow fans as my sports family. I welcome members of all persuasions and political affilitations – even if they are hurtful to me – including my friends. I also have a no politics rule in all of my groups since there is enough of that out there.
So here's the part of my story that may lose some readers. I love Pride Nights. Something chokes me up about them – but the hatred and vitriol they receive online, and the comments made during them – it makes my soul wither.
I just wish that people could open their minds and realize how lucky they are not to need a Pride night.
For me, it's not a night that tries to convert or force the woke agenda down the throats of straights and nuclear families throats. It simply means a night of visibility to me.
I was born in 1977, and when I grew up – I NEVER saw myself anywhere. TV shows and childhood books were all about Daddy and Mommy and boy meets girl. These things are wonderful and I have two amazing parents that adopted me and raised me with so much love.
I think everyone in the world should feel safe to live, love, travel and be with the person that they chose.
I was always left wondering why I never felt like I fit in. I don't "look gay," so nobody ever speculated that I was a lesbian – but I was always comfortable with the guys as a feminine tomboy that loved sports.
When hanging with the guys – I was always nervous around other women. I later found myself loving classics like "Back to the Future", "Adventures in Babysitting", "Karate Kid" and many of the other 80s classics.
In retrospect, I clearly had a crush on Elisabeth Shue and while I've never felt like I wanted to be a guy – I think I envied her love interests in the movies. I also love me some Cobra Kai! Plus, one of my best friends and neighbors is friends with Josh, one of the creators, which is so cool.
Sadly, there are many countries where being a woman alone can get me in a perilous situation, let alone as a gay woman.
Many countries lock up gays, try to rape them straight, or hurt them. The least is just vicious rhetoric, but that still leaves deep pain emotional and contributes to the high suicide rate in LGBTQ+ people.
In this country, the anger and hatred towards gays, bi and lesbian is on the rise. It is even worse for my trans friends.
I often hear that "gay" is ok – but trans is a mental illness, fad, or sick and evil.
Rest assured, my Trans friends have it hard enough. They are stuck in a body that they never felt right in and people want it wiped off the face of the earth.
Drag queens aren't a threat they are just fun and fabulous. None of them are trying to take advantage of your children or convert them. They are just living their life.
And if your goal is to find a few bad apples, then you can find that in any community – straight, gay, trans or otherwise.
I often see social media posts celebrating people that won't wear pride jerseys, saying why don't they have a "Straight Night" or "Nuclear Family" night – and I can see the point – but the reason we need a pride night is for all the things that I mentioned above.
I think every player should have the right to decline participation if their "religion" justifies their anti-GLBTQ stances.
Imagine, if you will, a world where the roles were reversed and people used "religious freedom" to demonize your straightness – and worse than that – the violence and anger around the world.
If anytime a book or tv show mentioned a straight relationship, and then it was vilainized and there were laws for "Don't say Straight" and teachers were forced to out you as straight – even if your parents were super straight phobic – and might hurt you or put you in aconversion program because of it.
In closing, I couldn't love these Rangers more (unless they could finally end this darn drought. 1994 I was still in high school. I'm getting old!)
I hope this helps you see a little perspective. Some will remain as inflexible and dug in on their beliefs as ever. That's ok though. Isn't it great that we live in a country where you can have a voice even if you don't agree with each other? I hope the laws that stifle history and voices stop though.
For all talk about our beloved Rangers, please join my Facebook group at: https://www.facebook.com/groups/NYRangersManiacs/
Jen
---
Our final piece comes from a father of a current PWHPA player – where admittedly – a lot of what you'll read below had to be edited/censored – just because of how small the women's hockey world is.
This parent, and as you'd expect, didn't want to run the risk of creating any issues for his daughter – a woman who currently collects a PWHPA paycheck.
Here is his email to me:
Sean –
Please do your best in editing this and keeping my daughter's name out of your article. That's how bad it is for non-lesbians in the PWPHA today, but I want to share this information with your site readers.
My daughter, a great hockey player, started at a young age and made it to the top level of women's hockey – where she plays for [team name redacted].
[Name redacted] has a [color redacted] hair, model looks, does her nails, the make-up, the whole lot – but as a player and fan – she idolized, and models her game after Ryan Callahan. I raised her right!
While she takes pride in her looks – all of that goes out the window once the skates are on.
Truthfully, because [name redacted] isn't a superstar – she doesn't have clout or enough power to initate change.
My daughter is straight – in a league, much like the WNBA – is predominately lesbian – where most of these lesbians are bullies and have no time for people not like them. (Also the NHL doesn't subsidize this league like the NBA does with the WNBA, so she's playing out of her love of the sport and not for financial security.)
I hate to say it – my daughter really has no friends or teammates that she can hang out with. Since most of them hang out in lesbian bars and at drag shows, my daughter spends her free time elsewhere. (Also – this isn't the NHL meaning that the travel isn't as intense and more free time is available.)
Due to bullying and ostracization from a league of mostly lesbians; my daughter has thought about quitting. How inclusive is that?
Is hockey for everyone – or is it just for whatever minority group (are they even minorities anymore?) that these leagues are promoting during that given/assigned month?
For your readers, my daughter plays like how Barclay Goodrow plays today – a strong role-player, who can play on any line and gives her all for her team.
However, since she isn't Hilary Knight, another lesbian and the current face of womens' hockey – her plight isn't heard – and is flat-out ignored.
I have no issues on how anyone runs their life or who they are – but is it fair when the preconceived roles are reversed?
Players like Kyle Beach and Luke Prokop are now revered. Will the same happen in the PWHPA for the rare straight players?
For my daughter's sake I hope so – she is too talented to quit now.
Thank you for running this,
[Name retracted]
---
One last time – what Becca, Jen and [name redacted] here, and with no pun intended, did tonight – took balls.
It may not mean a lot to you, as a reader who may forget these words once closing your browser – but I can tell you – that for this "SAM, WHAT A THREESOME" – this wasn't easy.
They poured their hearts out.
What you do with their words is your perogative.
My perogative? Hitting the publish button, taking the weekend off and if possible – "a threesome hours Sam" of consecutive sleep.
And if you're reading these words, as we approach word number 13,000 – thanks for sticking around!
Finally…
PLUGS TIME!
---
My first plug of tonight's blog – the mandatory plug for my book, "The New York Rangers Rink of Honor and the Rafters of Madison Square Garden."
As mentioned previously, the book is now available in hardcover, in paperback and in Kindle formats. To purchase a copy of the book, visit this link:
https://www.amazon.com/Rangers-Rafters-Madison-Square-Garden-ebook/dp/B09CM5N2WD
For those still looking for signed paperback versions of the book, I have re-ordered more copies. I now have a few signed copies for sale at $25 a pop (includes shipping price) through me directly. Here is all the information on that:
---
My four-volume set of books, "One Game at a Time – A Season to Remember," is a game-by-game recount of the Rangers 2021-22 campaign.
My second title as an author, "One Game at a Time – A Season to Remember," is now available in eBook, paperback and hardcover formats.
To obtain signed copies, visit: https://bluecollarblueshirts.com/onegamebook/
To purchase all four volumes on Amazon, visit: Amazon.com – "One Game at a Time."
---
The greatest volume-set of books on Rangers' history today!
"Tricks of the Trade – A Century-Long Journey Through Every Trade Made In New York Rangers' History," a four-volume set of books that meticulously covers every trade made in franchise history, is now on sale.
All four volumes of the title can be purchased on Amazon.com and are presented in three different formats – eBook, paperback and hardcover.
To purchase Volume I: Conn Smythe (1926) – Craig Patrick (1986), visit Amazon.com
To purchase Volume II: Phil Esposito (1986) – Neil Smith (2000), visit Amazon.com
To purchase Volume III: Glen Sather (2000-2015), visit Amazon.com
To purchase Volume IV: Jeff Gorton (2015) – Chris Drury (2022), visit Amazon.com
To purchase signed copies of all four volumes, visit https://bluecollarblueshirts.com/tricksofthetrade/
---
Here are my last few blogs, in case you missed them:
---
---
---
If you haven't already, subscribe to this blog for the next update:
---
Don't forget to order my new four-volume set of books, "Tricks of the Trade!"
If you don't order through me, all four volumes are now available on Amazon.com
For more details, check out: https://bluecollarblueshirts.com/tricksofthetrade/
Thanks for reading.
LET'S GO RANGERS!
Sean McCaffrey
BULLSMC@aol.com
@NYCTHEMIC on the Tweeter machine