Greetings and salutations everyone and welcome to another blog here on BlueCollarBlueShirts.com. As tonight's blog header photo suggests – "On To The Next One."
If you read last night's blog, which covered the Blueshirts dominance over the Chicago Blackhawks (and plugged at the end of this recap); going into Wednesday night's game with Colorado, I thought this contest was a Rangers "scheduled loss".
While I'd never count out this team during any game this season; there was just too much going against the Rangers prior to puck drop. (Explained in-detail during last night's blog.)
Between not getting into their own beds until 4AM Wednesday morning and playing a physical game just twenty hours prior (and I haven't even mentioned the time-zone change either) – this game against the red-hot (and rested) Colorado Avalanche was going to be tough to win.
After the Rangers 7-3 loss to the Avalanche on home ice; Rangers head coach Gerard Gallant said that he wouldn't make excuses, but he also pretty much said what I'm saying here – the team was tired and beat-up a bit, following the win from the night before.
Yes, these guys are all professionals, but during the grueling grind of an 82-game schedule, there are going to be games where you're at a major disadvantage. This game was one of them for the Blueshirts – especially having to play the favorite to win the Stanley Cup under these conditions. (Both the NHL "experts" and the Vegas odd-makers have pegged the Avalanche to hoist the Stanley Cup in 2022.)
---
I'll get more into Rangers goaltender Adam Huska as we continue on tonight; but the biggest decision Gallant had to make prior to this game was who his starting goaltender was going to be. Gallant rolled the dice and went with Adam Huska, a Huska who is currently fourth on the Rangers goaltending depth chart.
As we all know, if CZAR IGOR wasn't injured, Huska wouldn't be here. And if Keith Kinkaid wasn't currently on the NHL/AHL COVID-19 list, Huska wouldn't be here either.
However, Igor is out and Kinkaid is unavailable, thus creating this opportunity for the new #32 in blue.
Unfortunately, and despite a pretty good showing in the first period – like an avalanche, it all went downhill pretty quickly for the 24 year old Slovak – where it wasn't all 100% his fault either.
By going with Huska tonight, rather than going with his better goaltender in Alexandar Georgiev; it told me that Gallant was willing to "punt" this game, and then get back to business on Friday, when the Rangers play next in Buffalo. Gallant simply didn't want to burn out his current starter under these tough circumstances.
---
You can debate who should've started this game all you want until you're blue in the face. However, I won't engage in such talks. I'll just back up "The Turk" here.
While last night I did say that I would've went with Georgiev for this game with the Av's; unlike Gallant – I'm a hockey FAN, and not a hockey MAN.
Gallant is with these guys all the time and has won 287 more NHL games than I have. He also has a Jack Adams award on his mantle, while I have a bottle of Jack Daniels beside me as I write these words.
I know the argument for starting Georgiev in this game. After all, I made it last night.
However, and for as much as some fans don't want to hear this (especially the ones who paid to attend this game), you have to look ahead. Yeah, Gallant has preached "One Game at a Time" all season, but with the deck stacked against the Rangers tonight – I had no problem with his decision.
You can never just matter-of-factly state or assume, that had Georgiev played tonight, that things would've went exactly the same; but really, the team did look gassed a bit. While this was unfortunate for Huska and his debut – it's all about what's best for the Rangers – and not what's best for one rookie goalie. (And a rookie goalie that's really not in the future plans of the Rangers, as it's Tyler Wall who the organization is higher on.)
In turn, Gallant somewhat sacrificed Huska tonight for the greater good. The Rangers got this "scheduled loss" out of the way, and come Friday, I'm sure they will be back to their winning ways.
And with the way the Rangers have played this season, are you really going to second-guess any of Gallant's decisions?
(If there was anything "bad" about Huska starting tonight, it means that he won't get a chance to channel his inner MacKenzie Skapski, against those same lowly Buffalo Sabres, this coming Friday night. After all, like TNT – "I love drama!")
---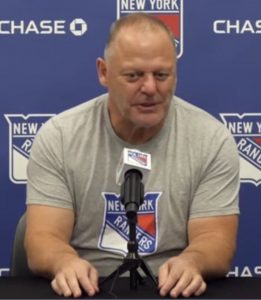 In what really was a "house money" game (meaning that it didn't matter if the Rangers lost tonight, and had they won even better); Gallant brought up the intense schedule as the reason for giving Huska this tough start.
While not saying this directly; I think the decision to start Huska tonight also tells you that CZAR IGOR won't be ready by Friday, where you have to think that Georgiev will return to the net against Buffalo, as the Rangers continue to do what they are supposed to do – knock off bottom feeders.
Here's Gallant prior to the game, talking about going with Huska:
---
As far as anything else that Gallant said, the head coach said no other line-up changes, as "The Turk" continues to dress what's been working.
As a refresher, here was tonight's line-up:
FIRST LINE: Kreider/Mika/Kakko
SECOND LINE: Panarin/Strome/Hunt
THIRD LINE: Lafreniere/Chytil/Gauthier
FOURTH LINE: Rooney/Goodrow/Reaves
FIRST D-PAIR: Lindgren/Fox
SECOND D-PAIR: Miller/Trouba
THIRD D-PAIR: Nemeth/Lundkvist
And in net, Adam Huska.
---
BOX SCORE time.
The following information and graphics come from the new world-wide leader in NHL coverage, ESPN.com:
SCORING:
PENALTIES:
GOALIES:
| | | | | | | | | | | |
| --- | --- | --- | --- | --- | --- | --- | --- | --- | --- | --- |
| SA | GA | SV | SV% | ESSV | PPSV | SHSV | SOSA | SOS | TOI | PIM |
| 1 | 0 | 1 | 1.000 | 1 | 0 | 0 | 0 | 0 | 1:33 | 0 |
| 29 | 3 | 26 | .897 | 22 | 2 | 2 | 0 | 0 | 58:26 | 0 |
(Of note: Johansson only entered this game due to a Kuemper equipment issue, with the winner of this game having already been long decided. Johnasson would play for one whistle, where Kuemper then returned to his net.)
| | | | | | | | | | | |
| --- | --- | --- | --- | --- | --- | --- | --- | --- | --- | --- |
| SA | GA | SV | SV% | ESSV | PPSV | SHSV | SOSA | SOS | TOI | PIM |
| 39 | 7 | 32 | .821 | 27 | 2 | 3 | 0 | 0 | 59:42 | 0 |
---
I won't go into my "GREATEST HITS" mode, and tell you how great Henrik Lundqvist was in-studio while Steve Valiquette remains terrible; but yeah, same old story tonight.
After Lundqvist relays poignant information about his career, Vally then tries to chime in with some stories about his own career of all of 46 games. It's ridiculous. Listening to these two is the equivalent of Jerry Seinfeld telling stories from his career, while some junior high school knock-knock joking chucklehead tries to one-up Mr. Seinfeld.
Even worse is how soft Steve Valiquette is – even softer than one of his xeroxed charts drenched in water.
For all of his insults, where he often refers to goaltenders who are enjoying better careers than his, as "Charmin Toilet Paper Soft" – no one is softer than the seven foot doofus himself.
I have to give credit to #30, a Swede who didn't grow up in North America, nor was fully entrenched with the NHL game, prior to becoming an NHLer himself.
All season long, including tonight, Lundqvist has preached the virtues and values of "OLD TIME HOCKEY", where on this broadcast, he raved and praised Jacob Trouba, regarding #8's physicality and fights.
Lundqvist, as he did the night before, also praised the players who have challenged Trouba to a round of fisticuffs – where the former Ranger goaltender said that these opponents were just defending their teammates. Makes sense to me.
For whatever reason, Valiquette, a Canadian boy who grew up on the movie "Slap Shot", flinches from this talk – just like a little girl running away from a potential bee sting.
In example number 67895675675857856785 of why you need a skater on these broadcasts with the man known as "The King"; what the hell does Steve Valiquette know about fighting or the everyday grind of an NHLer?
Heck, give me DAN CLOUTIER instead of Vally – at least Cloutier gets it. Just ask Tommy Salo! Plus, Cloutier was a much better back-up for Mike Richter than Valiquette ever was for Lundqvist!
With Chris Drury, Gerard Gallant and the team themselves embracing physicality and fighting; you just can't have Steve Valiquette on the verge of tears on these broadcasts, whenever there is a big hit or trading of the dukes. Get me a skater who has been through the wars – whether it's Ryan Callahan, Sean Avery or someone else.
Lundqvist, as mentioned repeatedly on this site this season, is a freaking natural in his new gig with the organization. I really have enjoyed what he brings to these broadcasts. You just need some contrast and comparison along with him, and it can't be his coffee boy. It has to be a skater, preferably an ex-Ranger.
And it's my opinion that Vally is anti-fighting, just because none of that can be tied up and put on a pretty chart.
Get rid of these analytical bums! There's a reason why no national broadcast has an analytic person on their panels – no one wants to hear from these geeks.
Speaking of fighting, let's now get into Trouba.
---
For someone who once debated about buying a customized #8 Trouba jersey, where I would've put a dollar sign in front of the eight and the letter "M" following the number; the "$8M" man is starting to win me over as of late.
I talked about Trouba's contract last night (and really ever since he got to New York), so I won't do that again here.
That said, while I maintain his cap hit isn't great; as each game passes, Trouba is getting better and better. He's finally looking like the player that former Rangers general manager Jeff Gorton thought he would be.
On this night in Rangers history, Jacob Trouba became the first Blueshirt to ever record a Gordie Howe Hat Trick in two consecutive games. Let that sink in. (Also remember that prior to last night, Brian Leetch, in 1988, was the last Ranger d-man to pick up one of these style of hat tricks.)
As a bonus, Trouba was also the fastest NHL player to ever do so too – as he accomplished this rare display of dominance in less than a time-span of twenty four hours.
(And yes, I know Gordie Howe only had two of these hat tricks himself. In fact, I think everyone knows this. This might be the most redundant factoid in all of NHL history. Telling me that Gordie Howe only had two of these hat tricks himself – well it's pretty much the equivalent of reciting the six teams that compromised the "Original Six".)
Prior to Trouba accomplishing this neat little feat, only Doug Risebrough, on behalf of the Montreal Canadiens, had done this, previously doing so in 1975. (February 15th and February 16th of that year.)
And if Trouba can find a dance partner, a red light and an apple on Friday – he'll be the first player in all of NHL history to record three consecutive Gordie Howe Hat Tricks. Hmmm – Rasmus Dahlin has a punchable face, no?
---
While yes, in the grand scheme of it all, these Gordie Howe Hat Tricks are just a cool little thing; at the same time, it tells you how involved Trouba is.
In two straight games, Trouba has picked up multi-point games. He's also fought for his team too. That's the stuff of a team player and someone who is making an impact on a game. (That said, I'm not rushing to put the "C" on his jersey either. I much rather see Kreider or Fox with that distinction.)
And just like the night before, Trouba also led the team in hits tonight (3). Perhaps more impressively, he also blocked four shots as well.
Come the conclusion of this game, I thought Trouba was the best Rangers skater of this tilt, as he's now becoming a regular candidate in this department. That's all you can ask for and I'm happy to see it – even if the final score didn't go the way I wanted it to go.
Then again, for a team of cliches this season, here's one more: "you can't win 'em all."
And oh – perhaps even more impressive about Trouba's two Gordie Howe hat tricks? The fact that Rosen and Micheletti-head didn't even notice. I guess I shouldn't be shocked about this, because at one point in the game, Rosen confused Nils Lundkvist for K'Andre Miller, because you know, they look so much alike!
Let's get into this game review, which I can promise you – will be much shorter than last night's version!
---
Before getting into the game review, I just want to say here what I said last night and what I said on social media prior to puck drop – this was a "HOUSE MONEY" game to me. Whatever the Rangers did here, I wasn't going to get nuts about. (Unless they won of course, as that would've been huge all things considered.)
Seriously though, the Rangers had everything against them tonight, so unlike others, I can't rip anyone to shreds for this game. It is what it is.
(But as you'll see in the game review, I will bring up how it doesn't matter who the Rangers play and when the Rangers play – Rika Zibanenash can't score if his life depended on it right now. Unlike others, I won't bury my head in the sand about this.)
I know some people are pointing out that the Rangers are having trouble with Western Conference teams, considering that of the five Ranger regulation losses, three of them have been blowouts to teams playing on the other side of the Mississippi.
However, and as brought up a few blogs back – just like those two games with Calgary, the Rangers were also at a disadvantage tonight, due to the schedule. Call it an excuse, but it's a fact too.
And like I said last night, I wish the Rangers would've had tonight off, after that big win over Chicago.
At the end of the day, I just would've rather seen a true litmus test between the Rangers and Colorado on a level playing field. Instead, the geniuses at player safety had the Rangers crossing the country and a time zone, playing two games in less than 24 hours, while Colorado was able to stay idle in-between. Great job boys.
---
To quickly jump ahead, once the first period of this game was over, I was giddy as a school girl or like Vally fawning over Lundqvist. Then the final forty minutes happened.
This is my way of saying that the Rangers looked like they were going to overcome the insurmountable odds stacked against them, only to falter and wither away as the game went on.
And really, this was a rare case this season (and easily explainable), where the Rangers didn't get better as the game went on.
Nathan MacKinnon, who we were reminded repeatedly by Sam and Joe, only had one goal this season prior to tonight (interestingly enough, they didn't bring up how Zibanenash hasn't scored during the last fourteen games); lost the opening faceoff of the game to Zibanenash himself. 35 seconds later, new Av's netminder, Darcy Kuemper, made a stop on Kaapo Kakko.
In a game that was somewhat "revenge" games for both Jack Johnson and Patrik Nemeth; Sam and Joe only mentioned that Johnson had a "terrible" season with the Rangers. No mention that Nemeth himself was a former Av.
Of course, Johnson is playing much better in Colorado right now than he did in New York; where prior to the game, he himself said his Rangers tenure was just a bad "cup of coffee."
4:41 into the period, Mikko Rantanen picked up his eleventh goal of the season. 1-0, bad guys.
On this goal, Adam Fox may have screened Huska a bit, but at the same time, Huska got some of the puck before it bounced off of him and into his net. However, just before you could say "oh no" (that would come in the second period, and several times at that); Huska buckled down, where he finished the period making 16 saves on 17 shots faced.
And while on Huska, if there was anything noticeable prior to the Avalanche (and avalanche) second period five-spot, it was that he gave up juicy rebounds left-and-right. The Rangers just were able to get to them first.
I don't know if this was a Huska thing, a nerves thing, Colorado taking advantage of all of these wide-open shot opportunities or what – but the many rebounds did stick out to me.
Less than two minutes later, Trouba got the goal given up to Rantanen back:
Jacob Trouba knots it up early at 1!

(via @NYRangers)pic.twitter.com/ozhMLD1XnW

— Rangers Videos (@SNYRangers) December 9, 2021
---
1-1!
On this goal (which was pretty much set up by Ryan Reaves), #75, caught on a shift change where he was out there with Panarin and Strome, got the puck to "The Breadman" and then screened Kuemper. Trouba fired a wrister from the blue line and boom, another goal for #8.
Originally, I thought Reaves tipped this in for his first goal of the season, but he never touched the puck. However, his pass and screen created this goal.
Things were looking up.
Following the puck drop after the goal; Reaves then drew a penalty, when former Islander Devon Toews tripped him.
The Rangers power-play, which has been hot as of late, were horrible here. In fact, the PP1 unit had a dreadful game, going 0-5 overall. (The Rangers PP2 unit scored the lone Ranger power-play goal of the game, as the team finished 1-5 in this department.)
It were Colorado's special teams giving it to the Rangers here, as the PP1 unit couldn't even maintain the puck – much less find a shot on goal.
With 8:57 remaining, it was Colorado's turn on the power-play, after Strome tripped Rantanen. Just like the Colorado penalty kill prior, the Rangers penalty kill came up big here, where Kuemper denied Kevin Rooney on back-to-back chances. (A mini-breakaway and a 2 x 1 chance with Goodrow.)
As we got under three minutes, Rika Zibanenash streaked towards Kuemper, where Jacob MacDonald then tripped him. MacDonald should've known better – it's not like Mika was going to score. Those days now seem like a thing of the past!
After the Rangers PP1 unit looked lost again, the PP2 unit came on, leading to this milestone for Nils Lundkvist:
Nils first NHL Goal. Kakko getting the puck. #NYR pic.twitter.com/aesm9O0gsT

— David 🔹 (@DaveyUpper) December 9, 2021
---
2-1, GOOD GUYS, a POWERPLAY GOAL for #27 in blue, his first of the season.
After all this hype about his offensive skills – it was nice to see Lundkvist finally get his first goal of his career.
Of note Part I: it's being reported by Adam Hermtrans that Kaapo Kakko stole Lundkvist's puck. Apparently, there is some sort of Finnish vs Swedish race-war between the two!
(And if you can't tell, I'm joking here. In reality, Kakko collected Lundkvist's milestone and tossed it over to Jim Ramsay for safe-keeping. However, I'm sure that won't stop Adam Hermtrans from making something up, as he once did when Tony DeAngelo did the same exact thing after K'Andre Miller's first goal!)
Of note Part II: Trouba and Chytil assisted on this goal, giving Trouba 2/3rds of his eventual Gordie Howe Hat Trick. And with Chytil scoring later in the game, these two were the only Rangers to have multi-point games tonight.
With 9.4 seconds remaining, Huska made his sixteenth save of the period, which preserved the Rangers lead.
After twenty minutes, the streaking Rangers were up 2-1, in a game that didn't seem promising going into it.
No joke, I was doing the King Kong beating my chest stuff at this point. That would be the height of my excitement from this game, outside of Trouba picking up his Gordie Howe hat trick in the second period.
---
Going to the locker room up 2-1, perhaps the intermission led to the Rangers cooling off; while Colorado, much like the Rangers themselves during the majority of this season, finding their composure.
Perhaps being a self-admitted cock-eyed optimist, I was celebrating Huska for making 16 saves – rather than focusing on the Rangers giving up 17 SOG in the first period.
13 seconds into the second period, Huska denied MacKinnon on a good attempt. Two minutes later, Huska was already up to 20 saves as the shots kept on coming.
After Kuemper denied Rika Zibanenash, #93 had a one-on-one chance with the struggling goalie, where Zibanenash, like the city of Denver itself, got high. How he misses the net from one foot away on a consistent basis I'll never know.
To me, this was the turning point of the game, that is if you don't count the issues the PP1 unit had tonight.
With Rika Zibanenash failing to push the score to 3-1 as he should've; the puck then ricocheted and eventually wound up on the stick of MacKinnon. MacKinnon then deked K'Andre Miller out of his skates and then poked a puck right past Huska. 2-2.
This play was brutal. Not only does Zibanenash fail again, but MacKinnon embarrassed Miller here. That said, if you're going to be embarrassed, at least get showed up by a Hart Trophy Finalist, and not some fourth-liner, as #79 did on this turn of events.
Even worse was Huska here, who despite the quirks of Zibanenash and Miller, should've stopped this puck. After all, he made a bevy of great saves prior to this.
This goal was the beginning of the end.
Just 93 seconds later (Rika Zibanenash's number!), Makar wristed a puck from near the blue line and Kadri deflected it past Huska. 3-2 bad guys, with 13:49 remaining in a long period for both Huska and the Rangers.
For what it's worth, this was a tough one for Huska to stop.
(And while I still think Fox wins the Norris; Makar had the better game of the two candidates tonight. Saying otherwise would be lying.)
After Johnson rung a puck off of Huska's iron, a very audible ding at that, with eleven minutes remaining, Reaves was questionably called for a trip on Kadri.
With 9:18 left in the middle frame, Alex Newhook scored the power-play goal, a one timer from the circle to the right of Huska. Tough to blame a rookie goalie for a PPG allowed. 4-2 bad guys.
The broadcast was no better at this point.
Between Micheletti shrieking out the word "FABULOUS" 78956786796789698 times when praising the opponent, there was also a camera shot of American turncoat and soccer player Megan Rapinoe. The M$G crowd, to their credit, booed the purple-haired Benedict Arnold. (Neil Best, covering the game for Newsday, reported this too – albeit while not using these words that I'm using!)
With 8:47 remaining, Trouba just absolutely rocked MacKinnon's world, in a hit somewhat similar to the Khaira hit from last night. While MacKinnon was able to leave the ice under his own power, he did have to go to the locker room for medical attention. (MacKinnon would return to the game in the third period.)
And just like last night – this was a clean hit. Nothing dirty about it all. Trouba is just a big boy and he's popping people if they aren't paying attention. (I'm about this-close from getting a Trouba jersey these days! This is the Trouba I want to see all the time – the angry INCREDIBLE HULK Trouba.)
Captain Gabriel Landeskog, and to his credit (this is what Vally was crying like a bitch about during the M$GN postgame), immediately charged Trouba after watching his buddy MacKinnon get trucked.
The two fought here, with Trouba looking to get the better of this battle. (This wasn't a one-sided victory like Trouba's win over Stillman from the night prior, but a slight victory over Landeskog nonetheless.)
This is also where Trouba earned his Gordie Howe Hat Trick. I may have mentioned this once or 66767969786 times tonight. (Hey – I have to find something positive to talk about tonight! Plus, as is evident, this is a FIRST in the 95+ years of Rangers history!)
What was funny about this, was that Landeskog got hit with the instigator penalty following the fight.
Stillman, who did the same exact thing last night, didn't receive a penalty following his actions.
Aaaaaah – the good old NHL officials, where you never know what they are going to call and when they are going to call it. No consistency at all.
(For the record, I wish they'd get rid of the instigator penalty once and for all – especially when it's randomly enforced, as we've seen on display during these last two games.)
The Rangers power-play was again awful here – an easy kill for the Av's.
Following a bullshit call on Ryan Lindgren (high-sticking), as #55 and Newhook were going at it, only for the Rangers defenseman to go to the box; the Rangers penalty kill came up big, even if Rantanen rung one off the post – the second iron for the Av's in the period.
As you were hoping for the Rangers to get out of this period only down by just two goals; the Italian kid, you know, Logan O'Connor, scored two quick goals in a span of 22 seconds. 5-2 bad guys, 6-2 bad guys, where despite all the ice on his jersey – Huska was hung out to dry on both occasions.
6-2 bad guys after two periods, a second period which was the worst period of this Rangers season.
Want my optimistic take at this point in the game? Perhaps getting blown out here will give the Rangers some extra motivation on Friday.
---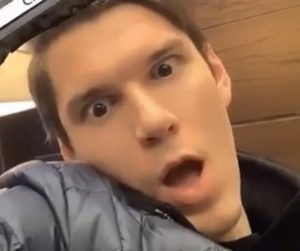 If there's anything to really note in the third period, it was the fact that Gallant kept Huska in the game. I was fine with that. No point in throwing Friday's starter into this mess. I rather Georgiev 100% fresh for Friday, as it was highly unlikely that the Rangers were going to have two consecutive games of four-goal third periods. (Then again, I didn't expect two consecutive Trouba Gordie Howe Hat Tricks either!)
This third period was akin to garbage time during an NFL blowout.
There would be two goals scored in this period, as Filip Chytil picked up an "A-Rod" goal, making the score 6-3.
I know Chytil isn't a "fat cat"; but that's what this goal was – a garbage time and meaningless goal, a goal that only matters to the back of #72's trading card. Too bad he missed on chances earlier in the game, potential goals which would've extended the Rangers lead.
Less than two minutes after Chytil's goal, Rantanen scored again. 7-3 bad guys, which was also your final.
As far as anything else worth talking about from this period, each team killed off several penalties. Trouba also got it into it with Kurtis MacDermid, after Sam Girard bowled over Huska with under ten minutes to play. Yeah, the Rangers took this tough loss, but Trouba kept fighting for his teammates right to the final horn. Respect.
I also want to mention that the Rangers power-play was 1-5 tonight. The penalty kill was 4-5. The Avalanche also posted the same exact numbers with their special teams.
And lastly, while I know what this game was – but where oh where, has Mika Zibanejad's goal scoring touch gone to? I've seen the "Little Rangers" hit more twine at M$G during intermission than #93 this season.
---
Here's Gallant after the game:
---
Gallant's take is pretty much mine, although I'm more lenient (at least publicly) than the head coach. I'll make the excuses while Gallant won't outright make them. That said, he knows the deal. This wasn't the start of anything catastrophic. No reason to make any changes after this tilt, outside of the goaltender.
To wrap-up on this game – I wouldn't worry about it. Worry if the Rangers get blown out by Buffalo on Friday. This team is fine and still remains one of the top teams of the NHL.
After all, the Rangers still remain not only one point out of first place in the division; but one point away from being the top team in all of the league.
And as mentioned, I 100% expect to see Georgiev on Friday night, as Igor Shestyorkin isn't skating and/or practicing yet.
PLUGS TIME!
---
The first plug of tonight's blog – the mandatory plug for my new book, "The New York Rangers Rink of Honor and the Rafters of Madison Square Garden". And let me say this – thank you to everyone who has bought one, as my Amazon sales have exceeded all expectations, where for a limited time (that damn Mark Messier who just released a book!), my book was number one on the Amazon hockey book sales charts.
As mentioned previously, the book is now available in hardcover, in paperback and in Kindle formats. To purchase a copy of the book, visit this link:
https://www.amazon.com/Rangers-Rafters-Madison-Square-Garden-ebook/dp/B09CM5N2WD
For those still looking for signed paperback versions of the book, I have 3 copies left for sale for $25 (includes shipping price) through me directly. Here is all the information on that:
---
Here are my last few blogs, in case you missed them:
---
---
If you haven't already, subscribe to this blog for the next update:
---
Up next: Friday night, in Buffalo against the Sabres.
Time permitting, I hope to post my book review of "Tales of Brooklyn", by Stan Fischler, by the end of the week too.
Stay FABULOUS my friends.
As always here, thanks for reading and…
LET'S GO RANGERS!
Sean McCaffrey
BULLSMC@aol.com
@NYCTHEMIC on Tweeter