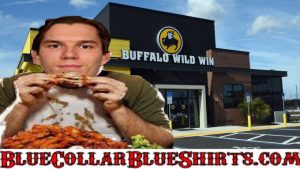 Greetings and salutations everyone and welcome to another blog here on BlueCollarBlueShirts.com. HOW ABOUT THOSE FIRST PLACE NEW YORK RANGERS?
And no joke – I'm going to Vegas and California for the Rangers west-coast road-trip in January. Now I'm thinking that I should save my money and start investing in playoff tickets instead! (Feel free to donate to the BlueCollarBlueShirts.com X-Mas fund if it behooves you! After all, I don't run ads on this site or have a Patreon like every other Rangers-themed website! It's all a labor of love here!)
---
Before getting into all of the usual segments that are featured during these game recaps, such as the introduction, news, box score, game review and plugs segments; let's jump right into the lede story, and then get into everything else.
On Friday night in Buffalo, the Rangers, victorious by a final score of 2-1 over their 2018 "WINTER CLASSIC RIVALS" – are now not only in first place in the Metropolitan Division – they're tops in all of the league.
PRESIDENTS' TROPHY SAYS WHAT?
Savor these graphics, courtesy of ESPN.com:
---
If you're a regular reader here, or just finding this site during this epic 2021-22 season; prior to this campaign, I've made all of my opinions on this team well-known, and with these two feelings of the most prominence:
One, I received everything I had ever wanted during these last two off-seasons. Two, I thought the Rangers would be really good this year. This also explains my often mocked "glass half-full" mentality. To complain about this team – well that would make me a hypocrite of the grandest proportion.
Admittedly, during my 2021-22 season preview blog, I had the Rangers pegged to finish third overall in the division. While yes, there is still a lot of time left (as in 56 games to go), needless to say – the Rangers control their own destiny. That's all that any fan could desire.
There will be a lot of twists and turns during the next several months (including a February break, which I'll get into later on tonight), but at the near one-third mark of the season, the Rangers are not only in first place in the toughest division in hockey (the Metropolitan division), but they are also a true threat to win the Presidents' Trophy too – the Western Conference be damned.
Man, oh man! I'm sure glad I got in my Rangers bet to win the Stanley Cup in 2022, at odds of +2800 prior to the commencement of this season!
(For you non-gamblers, this means that I risked $100 to win $2800 on the Rangers chances of hoisting the Stanley Cup in June. And yes for you naysayers – I make this same $100 bet at the start of every season – much like my recent 4-0 final score game predictions!)
---
I won't bore you again with another one of my long-winded anti-analytic rants; but really, ever since new management took over, Rangers general manager Chris Drury has focused on constructing a complete roster – rather than going down the loser's route of fancy-boy and made-up "expected" stats.
And if you go down the rabbit hole, which are the archives of this web site; you'll see that I said at the time that I was in favor of the firings of both John Davidson and Jeff Gorton. Or at the very least, I wasn't upset about it.
After all, every time Davidson gets fired, his teams get better. I embraced the change.
Plus, the second Drury started making moves for players like Sammy Blais, Ryan Reaves and Barclay Goodrow, I was fully aboard the "Drury Train" – even if I wasn't a fan of his when he once played for the franchise.
With that said, I still wish that Glen Sather was removed from the organization! The Rangers need to remove his stink, a Cupless stench of over 21 years. It's a new day, yes it is!
---
I've hit you with so many cliches this season regarding this team, where all of them are true.
And more-and-more, and with each game played – the team personifies every positive cliche that you can come up with. In fact, this team is inventing new positive cliches as well!
Whether it's "special teams swing games", "find a new way to win", "one game at a time", "next man up", or something else – the Rangers continue to roll.
Is every game going to be pretty? Of course not. To think otherwise would be foolish.
As you'll soon see when I get into tonight's 2-1 win over the Sabres – I thought this game should've been a blowout.
If it wasn't for a video replay with under a minute to go in this game, the tone of this blog would've been extremely different. However, you can only deal with what happened – and not what Steve Vagistat or someone else tells you what they "expected" to happen.
And what happened in reality, as opposed to the "expectations" displayed on some geek's spreadsheet?
The Rangers, as they were supposed to, rebounded after their "scheduled loss" from Wednesday to the Colorado Avalanche. In turn, they knocked off a bottom-feeder in the Sabres for two points in the standings. It's all you can ask for. A win is always a win – no matter how ugly or pretty it looked.
Even better? The team is now 3-0 during Georgiev's last three starts. And that doesn't even include his twelve minutes of relief from last Friday, during the 1-0 combined shut-out over the San Jose Sharks.
In fact, the player I once dubbed as "THE KING OF KINGS", has now stopped 84 of his last 89 shots, where on all five goals allowed, none of these goals were his fault.
As I'll soon get into, and as he's done ever since Shestyorkin went down; Georgiev has rose to the challenge, just like other players on this team who also received opportunities after injuries – including Julien Gauthier, Dryden Hunt and other Blueshirts.
OH BABY!
---
As we start rockin'-and-rollin' here; a few words about Mr. Trouba and the history he has made over the past few games.
Before getting into the NEWS and GAME REVIEW segments; I just wanted to follow up on Jacob Trouba entering Rangers history, as the first Blueshirt to ever record two consecutive Gordie Howe hat tricks on consecutive nights. (And as mentioned on Wednesday night, only Doug Risebrough, back in 1975, had accomplished such a feat in the 100+ year history of the NHL. Trouba is in rare air here!)
Here are some REAL STATS that the analytical people won't give ya!
The Rangers all-time leader in Gordie Howe Hat Tricks, is a man featured heavily in my "New York Rangers Rink of Honor and the Rafters of Madison Square Garden" book (where I campaign that this man deserves to have his #4 jersey hanging from the rafters), Ron Greschner.
Greschner, a career-long Ranger, picked up six of these accolades.
It should also be noted that the NHL, nor the Rangers, officially records these hat tricks. (These Gordie Howe hat tricks are more of a fan thing, even if these hat tricks do tell you how involved a player was during a game.)
I'll save you from another rant on why I think it's a disgrace that Greschner's #4 isn't hanging from the ceiling of Madison Square Garden. You can buy my book (plugged below) for the full argument.
And while on this topic of Gordie Howe hat tricks; Rick Tocchet, now currently in-studio rather than behind a bench (I'm sure he'll return to one soon enough), is the all-time leader in this department, with eighteen Gordie Howe hat tricks in total.
Tocchet is only one of nine men to have posted ten or more Gordie Howe hat tricks.
The others? In order:
Brendan Shanahan (17), Brian Sutter (17), Wilf Paiement (16), Cam Neely (12), Jarome Iginla (11), Keith Tkachuk (10) and Al Secord (10).
If you noticed, I have left out a name.
Joining these names, with ten Gordie Howe hat tricks of his own, is this guy:
The current Rangers head coach has ten of these accomplishments to his name. Combined with all of his fighting, Gallant did finish his NHL career with 480 career points too. If it weren't for back injuries (and losing ice time in the penalty box because of his fighting) it's very likely Double G would've surpassed 500 career points.
Speaking of Gallant, let's now get into the NEWS segment of tonight's manifesto.
---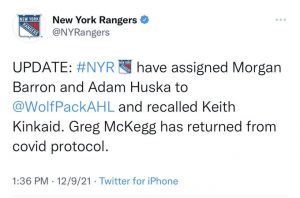 After back-to-back games on Tuesday and Wednesday night, the Rangers had off on Thursday. That said, even with the off-day, the team didn't sleep in their own beds on Thursday night. Instead, the team boarded a short flight to Buffalo, in preparation for this game with the Sabres.
While the team didn't take to the ice on Thursday; that didn't mean that general manager Chris Drury took the day off too.
At around 1:30PM Thursday afternoon, the Rangers announced four roster transactions. Let's take a quick look at them, one-by-one:
— Adam Huska was sent back down to Hartford. This was elementary my dear Watson, and as explained during Wednesday's night blog. Simply put, he was always the fourth man on the Rangers goaltender's depth chart. And with Tyler Hall thought to be the goalie of the future (or perhaps backing up CZAR IGOR one day), this could've been a one-and-done franchise start for Huska.
— Keith Kinkaid, now off of the COVID-19 list, was recalled. Again, as talked about on Wednesday, with CZAR IGOR still out, I thought the second the man known as "Kinky" came off the COVID-19 list, he'd be recalled. If he wasn't on the list, it would've been him – and not Huska – recalled in the first place. (Gallant would later confirm this.)
I should note here, that when CZAR IGOR comes back, and assuming Georgiev stays – Kinkaid can be returned to Hartford without having to clear waivers, since this is an emergency call-up, per the rules of the current NHL CBA.
— Morgan Barron was returned to Hartford. While I know Barron (and many fans) would like to see him crack into the line-up – the Rangers line-up is pretty concrete for the time being. There's no reason to have him in the press box every night when he can be playing major minutes for the Wolfpack.
— Greg McKegg, like Kinkaid, is now off of the COVID-19 list. In turn, McKegg returns to his role as the team's thirteenth forward, where presumably, he's now struck up a friendship with Libor Hajek – a Hajek who has spent every game in the press box this season.
---
Prior to tonight's game, Gallant met with the media, where in the biggest story – Gallant confirmed that CZAR IGOR was skating with the team.
We still don't know when Shestyorkin will return, but as opined here previously – I wouldn't rush him back until he's 100% healthy. And with team 3-1 in his absence (and where I don't put anything into the loss against Colorado) – there's just no reason to rush the Russian.
To just look quickly ahead at the upcoming schedule, the Rangers return home on Sunday night, where they'll host the Nashville Predators. CZAR IGOR was FABULOUS when the Rangers were in Nashville a few weeks back, but this is a different Rangers team right now. I'd let Igor get a few practices under his belt, and if he is 100% – then I'd call his number on Tuesday night, when the Rangers travel to Colorado for a rematch.
And with the horrible, and "anything can go wrong, including paying our taxes", Arizona Coyotes, following the game with the Av's – I'd then go right back to Georgiev. (We all know about Gallant's history and what he's said – he doesn't like giving goaltenders back-to-back games, unless he's in a "must-win" situation, which the Rangers are far from at this moment in time.)
However, and as noted in the past – I'm just a beer-bellied blogger. Gerard Gallant is the head coach and has forgotten more about this game than I could ever know! In Gallant We Trust!
(But yeah, I think that's the way it will go down!)
Of note: after writing the preceding paragraphs, I checked in on Gallant's post-game press conference. Here it is, presented to you without opinions attached (I'll do that on the other side of this video!):
---
Gallant's words pretty much summed up what I thought. They won't rush Shestyorkin back.
And with the team taking Saturday off (meaning no practice), I can't see the Rangers starting #31 on Sunday. Plus, with Georgiev playing well – there's just no reason to force the issue.
In other news away from the goaltending, the Rangers announced on Friday afternoon that Jarred Tinordi has been to sent to Hartford for a "conditioning" assignment.
With Nils Lundkvist improving and being less of a liability; there's no reason for Gallant to scratch the rookie Swede at the moment, as the head coach has done several times this season, and in favor of Tinordi.
By default, this now makes Libor Hajek the seventh defenseman of the team, at least on paper. (The Rangers could always recall Tinordi or perhaps even Zac Jones, if that's their intent.)
---
As far as anything else that Gallant said, the head coach said no other line-up changes, as "The Turk" continues to dress what's been working.
(Of note, some members of the NYR beat thought that Libor Hajek was going to play in steed for Ryan Lindgren, a #55 who had a maintenance day on Friday morning. However, Lindgren was in the line-up, where as usual, he was part of the first pair.)
As a refresher, here was tonight's line-up:
FIRST LINE: Kreider/Mika/Kakko
SECOND LINE: Panarin/Strome/Hunt
THIRD LINE: Lafreniere/Chytil/Gauthier
FOURTH LINE: Rooney/Goodrow/Reaves
FIRST D-PAIR: Lindgren/Fox
SECOND D-PAIR: Miller/Trouba
THIRD D-PAIR: Nemeth/Lundkvist
And in net, Alexandar Georgiev
---
BOX SCORE time.
The following information and graphics come from the new world-wide leader in NHL coverage, ESPN.com:
SCORING:
PENALTIES:
TEAM STATS:
GOALIES:
| | | | | | | | | | | |
| --- | --- | --- | --- | --- | --- | --- | --- | --- | --- | --- |
| SA | GA | SV | SV% | ESSV | PPSV | SHSV | SOSA | SOS | TOI | PIM |
| 31 | 2 | 29 | .935 | 26 | 0 | 3 | 0 | 0 | 58:48 | 0 |
| | | | | | | | | | | |
| --- | --- | --- | --- | --- | --- | --- | --- | --- | --- | --- |
| SA | GA | SV | SV% | ESSV | PPSV | SHSV | SOSA | SOS | TOI | PIM |
| 37 | 1 | 36 | .973 | 33 | 0 | 3 | 0 | 0 | 60:00 | 0 |
---
To blend a story into the M$GN broadcast segment here; on Friday, I went on social media following Gary Bettman's press conference regarding the 2022 Olympic games. Simply put, and I know this sounds selfish – I don't want any Ranger going to the epicenter of the Wu Flu right now.
And it's not just the coronavirus, where allegedly, all athletes will then have to quarantine for three weeks.
(Plus, what happens if someone tests positive, whether it's a false positive or not? In this scenario, and as Robin Lehner, who has pulled out of the Olympics, had explained – some of these players may not be able to return to the league until April.)
Between the communism, human rights issues and everything else that's horrible about China – I just don't see the risk matching the reward here. This is the NHL – and not Lebron James, a Chinese sympathizer.
And to be fair, when it comes to winning and hockey – I care more about the Rangers winning the Stanley Cup than I do about Team USA winning a gold medal in hockey.
After all, the Rangers are year-in and year-out – the Olympics are only once every four years.
Outside of the American flag on their jerseys, I just have no interest concerning international hockey. The Rangers will always be #1 in my book. (I know other people, especially of different nationalities, will not share this opinion and that's fine too. To each their own – I will just always care more about the Rangers than Team USA.)
Imagine my surprise, when Steve Valiquette, during the "Bud Light Bar" segment of tonight's broadcast (you know, where nary a beer or bottle of booze is ever opened), echoed all of my opinions.
Vally pretty much said everything I said word-for-word on Twitter just hours prior. A rare time where the EYE-TEST FAN and the ANALytic MAN see eye-to-eye! (And I'm not suggesting he took my tweets and recited them – all I'm saying is that we share the same opinion.)
Vally, like yours truly, felt that it's just not worth going to China right now, between the uptick in COVID-19 reports and all of the other bad shit in China.
(Of note, Vally didn't say "bad shit" about China, but I'm sure if you caught him off-air, he'd say that.)
What Vally didn't suggest, and what I suggested, was this alternative: screw the Olympic games. Put together a "World Cup of Hockey" tournament instead of playing the Olympic games during the February break.
The reason for this suggestion is two-fold.
Not only does it get the NHLers away from a virus-plagued communist dump; but with the players owing the league something like a billion dollars (due to pandemic-related losses), at least this idea would help put a dent in some of the debt. (Of note, you don't hear anyone talking about the players' debt to the owners right now.)
I know this idea is somewhat on-the-fly; but ever since the start of the pandemic, haven't we all (including the NHL) adapted to everything on-the-fly? And would it be that tough to put this altogether? The toughest thing to figure out would be where to host it and the travel/hotels associated with this idea.
(My suggestion – the IBS Arena. At least fans can see a winning hockey team in this scenario! Plus, I'm selfish – I'd like to see one of these games in-person, and the IBS Arena is a 15 minute ride away for me!)
---
From a Rangers perspective, if NHLers do go to China; it's very likely that Chris Kreider, Adam Fox, Filip Chytil, Igor Shestyorkin, Mika Zibanejad, Artemi Panarin and maybe Kaapo Kakko would be part of it. Do you really want to risk losing any of these guys for a significant amount of time, due to the virus and quarantining?
The Rangers are red-hot right now, and with the trade deadline immediately following the February break, followed by a playoff push; I give you these four words – "Father Fink The Olympics!"
I know that these players want to play for their country. I'm not down-playing or disrespecting that. Far from it. I get it.
However, under these present circumstances, it's just not worth it. I much rather see something that the league can control, such as a "World Cup of Hockey" tournament (again, to help pay off debt as a driving factor), rather than losing man-power because of China.
I was just shocked to hear Steve Valiquette, a former player, agree with my view on this issue.
And needless to say, this is also where it would've been nice to have Henrik Lundqvist (who returns Sunday) on the broadcast, to get his take, since he is an Olympic gold medalist.
(I still maintain, that the Olympics are more of a priority for non-Americans than Americans. This is a generalization, but really, I feel that most American sports fans only care about what the Americans do in basketball and hockey – and not any other Olympic event – such as bobsledding, curling, or whatever else they do at the Olympics.)
---
I'll lay off my usual disdain for Vally's comments tonight, especially since he agreed with me on the biggest topic discussed on the broadcast. After all – I'm sure he'll piss me off again on Sunday!
(And for you new and old readers alike, as a reminder – I don't "hate" Vally. I do think he's a nice guy. I've seen it first-hand and have heard more stories confirming what a good guy Vally is away from these broadcasts. I just don't think he should be the featured analyst for the Rangers – especially with Lundqvist now around. Plus, I'll never be a fan of analytics – nor all of the plugs for Vally's company.)
Additionally, since I always try to give you every side of every story – the fans who love analytics love the guy. That can't be debated.
At the same time, I just wonder about new fans who watch these broadcasts.
Do they think whenever Vally repeatedly talks about his epic and legendary career of 46 games played, that he really was the equivalent of Ken Dryden or a Georges Vezina, as Vally regularly makes himself out to be?
And in closing on this – yes, just to make it to the NHL is a huge accomplishment. It means you were (or are) one of the best players in the world. It also means that you once dominated at a minor-league level too.
However, and as someone who wants a skater on the broadcasts, in order to give us a contrast and comparison; when you have one of the best Ranger goaltenders of all-time there, in Henrik Lundqvist – you don't need Vally.
Almost at the GAME REVIEW segment – one last topic, I swear! (And it's related to this game too!)
---
During this site's history (and especially during playoff time), I always bring up how Buffalo is the league's top American television market during the playoffs. (Only Canadian cities garner better ratings – and that should make sense to you.)
Over the last several years, and despite the Sabres struggles – the city of Buffalo is always the biggest television market of non-playoff teams. In fact, there have been times where the city of Buffalo (and its surroundings) have outdrawn the markets of playoff teams.
It really is a shame. I do have sympathy for our fellow New Yorkers, the Empire State fans who live near the Canadian border. (There are many Canadian transplants in Buffalo, which is why these playoff television ratings are so high. It's also why, that prior to every Sabres game, they sing the Canadian National Anthem there too.)
Prior to checking the attendance figures for this game, I had this crowd pegged as 50% Ranger fans, 40% empty seats and 10% Sabre fans.
Upon looking at the attendance figures, the Sabres reported a crowd of 9,703, which is 50% of the arena's capacity. Of course, those numbers are also inflated, because the Sabres (and like any other sports franchise) reports the tickets that were sold – and not the actual number of fans that crossed the turnstile. (Need proof of this? Just check out the attendance figures of the Islanders from the past two weeks.)
Put it this way, since these are the only "analytical numbers" that I care about.
From Friday morning, and up until thirty minutes to puck drop; a Ranger fan could've got a seat behind the Rangers bench for anywhere from $85-$150. These tickets will run you ten times as much at M$G.
For fans just looking to get inside of the arena, you could've got a ticket for $9 on the secondary market. And with the lower bowl practically half-empty, you then could've moved down, and had not only a buffer seat – but a buffer section to yourself too!
Knowing Buffalo's playoff television ratings, this just tells me how poorly the Sabres are run.
The Sabres have a great fan base, but they've been beat up so many times by the organization, and with over a decade's worth of losing under their belt (and the Jack Eichel stuff doesn't help either) – they've finally had it. I don't blame them. It's just not worth the money (for as little as it is), nor the hassle, to attend these games – that is, unless you root for the visiting team.
Yes, the Rangers will always be my number one, but as a fan of the league in general (hence my guest-spot on Stan Fischler columns) – someone needs to step in and fix that organization.
On the bright side, as I look at this glass half-full – at least Buffalo isn't Arizona!
GAME REVIEW TIME.
---
Just like CZAR IGOR during the early part of this season; it was goaltender Alexandar Georgiev who did the heavy lifting for the Rangers tonight, where he made 36 saves on 37 shots faced.
On the other end, Ukko-Pekka Luukkonen (from here on in, referred to as "UPL", since his full name makes my spell checker go battier than Sam Rosen whenever calling a goal these days), the goalie for the Sabres, was nearly as impressive – as he made 29 saves off of 31 shots against.
Last week at this time, despite a 1-0 final, a game where the Rangers won over the Sharks; I said that game wasn't really a goaltender's duel. I thought both teams just played better defense and the goalies just held up their end.
In this game, this was a goaltender's duel. Of the three goals scored in this game, none of them were on either goaltender. One goal was a fluke puck-luck goal, one goal was a puck on pads rebound off an odd-man rush, and the other goal was a rebound, where nary a Ranger was in sight.
That said, especially when talking about the first period – the Rangers should've blown the Sabres out. Instead, they had to sweat out a full sixty minute contest.
Put it this way – after the first period, the shots on goal were 12-5, faceoffs were 11-4 and the hits were 9-1 – all in favor of the Rangers. And the Rangers had plenty of GOOD LOOKS too – looks that they rarely converted on all game.
It was a hectic third period where the Sabres really picked up the pace of the game, as is evident if you check the TEAM STATS section of tonight's manifesto.
If there were any two stats that the Rangers dominated all game, it were the hits and special team categories. Even late into the third period, the Sabres only had one hit. ONE HIT! That's unheard of, and as Joe Micheletti frankly stated during the broadcast.
And when it comes to "special teams swing games"; the Rangers power-play was 1-2, while their penalty kill was 2-2.
While the Rangers power-play goal wasn't the game winner, it was the difference between a win and a potential overtime loss.
---
As noted, the Rangers absolutely dominated the first period, where I couldn't believe the score was only 1-0 after twenty minutes. The Rangers very easily could've had a 4-0 lead, but between failing on chances and some good saves out of UPL – the blowout never came.
Trouba, as he's been doing a lot of lately, put pucks on net to open the game.
After UPL denied Chytil of a backhander (the third line combined for nine shots in all, with Lafreniere scoring later on in the game, following a Fox puck-on-pads play), Barclay Goodrow and John Hayden danced around at the 2:55 mark. Despite pretty much circling each other, until Hayden dragged Goodrow down; each man earned a five minute fighting major.
With Goodrow and Hayden in the box, the Rangers soon had two chances to go up 2-0.
Rika Zibanenash had a mini breakaway, where despite being a foot away from UPL, he couldn't put the puck on net. On the next possession, K'Andre Miller rang a puck off of the iron – his first of two dings in the game.
At the 4:31 mark of the period, Mark Pysyk tripped Artemi Panarin. The Rangers power-play, which had an off-night on Wednesday, got their first of two chances in the game here.
Just 17 seconds into the power-play, this happened:
Mika finally gets one!!!! pic.twitter.com/5ldZIvY4rO

— cam (@Camden_fix) December 11, 2021
---
Of note, notice the word "finally". Also of note, notice Cam's great seats for this game!
This goal was hilarious.
After Panarin forced a puck, which should've been a turnover; the puck took a fortunate Rangers bounce, right to Zibanejad, where the centerman easily deposited the puck into the gaping net. 1-0, GOOD GUYS.
What was so funny about this, is that Sam Rosen, Joe Micheletti, and later Steve Valiquette; all raved about the passing and execution of this PPG. By the way they were talking, you'd think they were talking about a Team Canada power-play goal from the 1980s.
Rather than using the phrase "puck luck" or "fortunate bounce"; all three of these guys raved as if this was a set play, where Panarin was trying to pass a puck off of the skates of a Sabres defender.
I'm not here to play the role of "Debbie Downer" at this moment; but to pretend that this was some excellent display of passing, which then turned into a goal – well that would be lying. However, I'm happy that this puck went in anyway!
Six minutes in, Georgiev made his first save of the game, and his first of eight saves against the $9M bust known as Jeff Skinner. And as you know by now, while Georgiev wasn't tested much in the first period – he would soon be very busy in this game.
With 12:52 remaining, Kyle Okposo hooked Patrik Nemeth. The Rangers would get their second and final power-play of the game here.
The Rangers had the puck in the Sabres zone for the full two minutes here, but couldn't score. UPL was great during this Sabres kill, even stopping Panarin on a one-timer try.
Following the Sabres kill, the Rangers kept on bringing it, but UPL was up for the challenge, including a denial of Gauthier on a mini-breakaway.
With 69 seconds remaining (heh-heh Beavis, you said 69), Georgiev made his best save of the game at this point, denying Vinny Hinostraza from inches away, during a redirection/deflection attempt.
It was also around this point in the game where Sam Rosen realized that the Rangers were wearing their home blue jerseys, rather than wearing their road whites. Apparently, the Sabres had some sort of "white out" gimmick tonight, where they wore their road jerseys on home ice. For some reason, the Sabres also scheduled "empty seats" night too.
With twelve seconds remaining, Georgiev made one more save – his fifth of the first frame.
After one period, we remained at 1-0, where again, and I can't stress this enough – the Rangers should've had a four-spot here.
---
Kakko, while not scoring, was noticeable tonight. He put a good shot attempt towards UPL, only for his puck to be deflected into the wrong netting – the net above UPL.
After UPL denied Chytil (if any Ranger should be traded for center help, #72 would be my pick), and after denying Hunt; Georgiev came up with a pair of FABULOUS saves himself.
On back-to-back Sabres attempts, Georgiev made an odd-man rush save and then spit on his kryptonite, where he also made a BREAKAWAY save on Girgensons. When Georgiev is making these types of saves, watch out. This is when he's at his best.
(And while everyone was trashing and kicking the guy when he was down, who told you that Georgiev would be fine in Igor's absence? Blogs don't lie! Hmmmm!)
Georgiev, who was barely tested in the first period, had already made the same amount of saves in the first period as he did in the first six minutes of this second stanza.
As the Sabres found their mojo in this game, Georgiev continued his amazing play, making another odd-man rush save and freezing loose pucks.
While the Sabres were pretty much the better team of the final forty minutes, it would be the Rangers scoring the only goal in this period.
With 10:13 remaining, this happened:
Yup basically the same goal pic.twitter.com/XhXoxjWtEI

— Rangers on MSG (@RangersMSGN) December 11, 2021
---
2-0, GOOD GUYS, as Lafreniere cashed in a rebound, following a Fox puck-on-pads play. Of note, this was the second assist for Mr. Norris – another multi-point game.
And when speaking of Fox, as usual (and what we have now taken for granted), he was also a beast defensively in this contest.
In what showed me that Georgiev was really feeling it; following the Lafreniere goal, he came way out of his net, to push a puck up ice. Georgiev, who isn't exactly CZAR IGOR in the puck-handling department (ask Tony DeAngelo about this), dripped confidence here.
After Miller dinged iron for the second time, with 8:43 to go in the period, Trouba was boxed for hooking Brett Murray. (No relation to Bill Murray Joe!)
The Sabres made a good go of it here, with Georgiev making key saves. It would take until there were 47 seconds remaining on the Rangers kill to get the puck out of the zone, thanks to Ryan Lindgren.
Georgiev wasn't done yet. Far from it.
With the teams back at full-strength; Georgiev made a huge blocker save, then on his next shot faced, made a CHILD PLEASE GLOVE SAVE on Tage Thompson, after the Sabres right-winger blew by Trouba and Miller. The Bulgarian was in the zone!
After these saves, it was UPL's turn, where he stopped Mika and Kakko. Right after, and from a distance of a mere pubic hair away; UPL made his best save of the game, denying the uber-successful Chris Kreider.
As we approached the end of the period; there was some physicality going on between the new Ranger "BAD BOYZ", Ryan Reaves and Jacob Trouba, as they easily smacked around Jeff Skinner and Tage Thompson. Unfortunately, despite a heavyweight like Reaves out there, the zebras broke up a potential main event fight between "The Grim Reaver" and Thompson.
The refs weren't done yet, as with 44 ticks remaining, they boxed Ryan Reaves for cross-checking Olofsson. To be fair, this was a legit penalty.
As the horn went off, we remained at 2-0, and in favor of the GOOD GUYS.
At this point in the game, with 19 saves, and the bulk of them being tough ones – this was the Alexandar Georgiev show. It's just a damn shame he didn't get a shutout, as you'll soon see.
---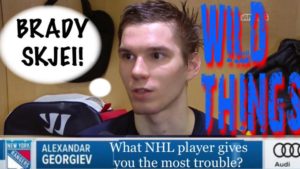 As mentioned, at this point in the game, Georgiev had 19 saves. He'd nearly hit that mark in this third period, where he made 17 saves during these last twenty minutes of action.
This was easily the worst Rangers period of the game. At times, it looked like they were playing that "PREVENT" defense, where more times than not, you just prevent your chances of winning. And to his credit, UPL did his job – as the Ranger shooters could never find that third goal which would've created breathing room.
Also, it should be noted that during the intermission, it was reported that Adam Fox had recorded his 100th career assist during his 151st career game played. He's the sixth fastest NHL defenseman to do so. (Former Ranger Sergei Zubov is first (127 games). Ironically, the player that Fox is often compared to, Brian Leetch, also reached this milestone in 151 games.)
And take this for what you will, but if Tony DeAngelo wasn't as hot as he was during Fox's rookie season (where TDA was the the PP1 quarterback at the time), who knows – maybe Fox would've hit this milestone earlier.
---
With the Sabres still on the power-play, the Rangers did their job, with both Mika and Lindgren making huge clears on the PK.
This third period was a highlight reel for Georgiev. (It may also be a showcase to a potential trading partner, should the Rangers/Drury entertain that idea.)
And yes, I know the Georgiev haters will say, "IT WAS SHITTY BUFFALO";  but that also means that those people have an agenda.
Simply stated – Georgiev faced a ton of tough shots in this period (and during the second period too), and he just kept making save-after-save. I often think these people forget, that even with Buffalo's woe and high school attendance numbers – the Sabres are still paid professionals.
Georgiev's #40 was called frequently early and often in this period, where he stopped Colin Miller (no relation to K'Andre Joe – a real quote out of our beloved "bless his heart" Sam Rosen) and Skinner. This is also where Trouba and Reaves took notice of Skinner too.
After Pysyk cross checked Reaves (no call), #75 went to the bench limping, where he was shown wincing a bit on the bench. No matter, as Reaves would soon return to the game, like the warrior he is.
In some life from the Rangers during this final frame; UPL stopped Fox and Kreider, with 12:10 remaining. Following these saves, Ryan Lindgren had a GOOD LOOK, but opted not to shoot, as the Rangers went into PREVENT mode here. That would soon backfire.
In their second three on one odd-man rush of the night; the Rangers third line would fail to capitalize, following a Chytil block in front of Georgiev, where Chytil then couldn't finish off UPL on the other end, despite the numbers advantage.
With the Rangers looking somewhat overwhelmed during the final 7-8 minutes or so, and with 5:23 remaining and with Georgiev's no-no still active; Brett Murray broke up the shut-out. On this play, Murray poked in a rebound past Georgiev, as the Sabres left-winger picked up his second goal of the season.
2-1, good guys.
It was also at this point in the game, where I had a flashback to the first period, and how the Rangers failed to score on a bunch of different opportunities.
Also – so much for my Rangers -1.5 bet. (And if you care about my gambling, I did hit a nice parlay, where I bet the Rangers, Panthers and Avalanche to win on Friday night, at over 2:1 odds!)
With 3:45 to go, UPL stopped Gauthier. I'm not here to bury Gauthier, but it's a lot of the same old – he can get to the net and create chances, but he can rarely finish on them.
Just 44 seconds later, Kakko, from a foot away, airmailed a puck over UPL's head.
In a final three minutes that was basically all Sabres; with 1:25 remaining, UPL went to the bench for the extra attacker. 29 seconds later, it looked like the Sabres tied it, following a goal from Olofsson.
If you love drama, you'll love what happened next. However, if you just wanted to win this game, in real-time, this was ass-clenching and nerve-wracking.
The referees reviewed this goal for whatever reason, where I think they were checking to see if it was kicked in. It was – but it was Patrik Nemeth who kicked the puck past Georgiev. 2-2, and OH NO, or so we thought.
After the referees said good goal, Gallant told the referees to look at it again. While not officially a coach's challenge here, the refs reviewed the play one more time, where this time, they looked at the entire play as a whole.
It was here, where the refs (and everyone else) noticed that Rasmus Dahlin was offside. And it wasn't close either, as the former number one overall draft pick (2018) was offside by a country-mile.
NO GOAL.
(And yes I hate these ticky-tacky offside reviews, especially where the offside had nothing to do with the goal. That said, Dahlin was blatantly offside and it's in the rulebook. Nemeth got a reprieve here.)
Upon resetting the clock, where we were back to 1:26 remaining, UPL's ass returned to his seat on the bench.
Georgiev would save his best for last, where he made two quick saves with sixty seconds remaining.
Thirteen seconds later, Georgiev would make two more saves, where following them, with 43.6 seconds left on the clock, the Sabres took their timeout.
Following a hectic race to triple-zeroes, the Rangers held on. 2-1, GOOD GUYS, your final. Whew.
---
As mentioned at the top of this blog, with this win, the Rangers are now tops in the division. LGR!
However, the Florida Panthers, who played at 9PM EST in Arizona; won their game 3-1. They now have 40 points – one more point than the Rangers.
But really, while a Presidents' Trophy is nice – who cares? It's still December and the only thing that I care about is the division – where the Rangers have one more point, and a game in hand, over the second-place Washington Capitals.
Really, all that matters is that you can determine your own fate, which the Rangers currently do. I rather worry about them handling business, rather than worrying about another team needing to lose.
Not the best win, especially considering the competition – but the only thing that matters is that the Rangers won.
Pavel Buchnevich who?
And at the risk of sounding too giddy here, and for fans who have been around for at least seven years – MACKENZIE SKAPSKI WHO?
And if you can't tell by this longer-than-usual manifesto – I AM LOVING THIS TEAM!
PLUGS TIME!
---
The first plug of tonight's blog – the mandatory plug for my new book, "The New York Rangers Rink of Honor and the Rafters of Madison Square Garden".
As mentioned previously, the book is now available in hardcover, in paperback and in Kindle formats. To purchase a copy of the book, visit this link:
https://www.amazon.com/Rangers-Rafters-Madison-Square-Garden-ebook/dp/B09CM5N2WD
For those still looking for signed paperback versions of the book, I have re-ordered more copies. I now have twenty signed copies for sale at $25 a pop (includes shipping price) through me directly. Here is all the information on that:
---
Here are my last few blogs, in case you missed them:
---
---
If you haven't already, subscribe to this blog for the next update:
---
Up next: Sunday night, at home, when the Rangers host the Nashville Predators.
Time permitting, I hope to post my book review of "Tales of Brooklyn", by Stan Fischler, sometime next week (the latest) too.
Stay FABULOUS my friends.
As always here, thanks for reading and…
LET'S GO RANGERS!
Sean McCaffrey
BULLSMC@aol.com
@NYCTHEMIC on Tweeter