Greetings and salutations everyone and welcome to another blog here on BlueCollarBlueShirts.com. Apparently, these NHL officials aren't fans of Disney movies.
On a night full of pomp and circumstance at Madison $quare Garden, and with the threat of snow impacting travel plans home too; a sold-out crowd (first of the season) watched the team drop a 3-2 decision to the Minnesota Wild.
This was a heart-breaker, but at the same time – the Rangers should've never been in this position in the first place.
As M$G set a beer and concessions sales (regular season game) record on this night (scheduling this game on a Friday night and opening doors three hours prior to puck drop most certainly helped), a jacked-up (and probably boozed-up too) Garden faithful were loud and proud, not only during Lundqvist's jersey retirement ceremony – but during the first period too.
Unfortunately, come the second period, both the Rangers and their fans gassed out a bit.
The Rangers (and their supporters) would get "one last second" wind (literally), as with just one second remaining in the third period, and with the Wild clinging to a 3-2 lead – it looked like the Rangers had tied the game. Or so we thought.
In a call that will sting until the Rangers play again, this happened with just one second remaining in regulation:
Sam Rosen and Joe Micheletti were incredulous by the no goal call #NYR pic.twitter.com/rCMxtEMr2X

— Rob Taub (@RTaub_) January 29, 2022
---
Despite this looking like a good goal, the officials waived off the goal immediately after it happened.
After a review, the officials stood with their original call. So much for home cookin' on this night. What a bunch of zebra scrooges.
In fact, it would've been easier to accept this loss had this play/goal never happened at all. Instead, the Rangers were robbed of at least one point in the standings and are now on a two-game losing streak.
That said, the Rangers should've never been in this position in the first place, as after racing out to a 2-0 lead, once again, and just as they did 24 hours before – the team blew a two-goal advantage.
And yes, and as we'll get into during the game review – the irony here isn't lost.
Up 2-0, Henrik Lundqvist joined the booth, where Sam and Joe then ignored the game, including not even mentioning another bad penalty committed by Alexis Lafreniere.
During Lundqvist's brief appearance with Sam and Joe, the Wild quickly tied the game.
And if you're really a fan of cruel irony, just as Henrik Lundqvist was saying "don't let that guy score," in reference to his buddy Mats Zuccarello; BOOM – there was the former Ranger in the #36 jersey, ripping a slap shot for a power-play goal.
You can't make this up.
---
Let's do all the Lundqvist stuff now, and then get into the game itself.
The M$G Network, who treated this night as it were a Superbowl broadcast (and as they should've, as not only did the Rangers/M$G make their most money of the season with this game, but the M$GN will most likely garner their best television ratings of the season too); in turn, we had an all day/night affair of Henrik Lundqvist coverage.
And I'm not joking about all of the money that the Rangers/M$G made on this night either, where ticket prices, both to attend the game, and to watch the game inside of the Hulu Theater, were astronomical.
(I'm just glad I bought tickets way ahead of time, before this Lundqvist Night announcement, only because Cam Talbot is on the Wild. I then flipped them for a nice profit! #ThankYouHank. And after the final result – I feel better with my four-figure profit!)
Even something that costs little to make, such as a program, was selling for $30 a pop. Neil Best, reporter for Newsday, stated that he was told that the amount of trash clean-up (beer cans, food wrappers, etc) was the worst it has ever been, including during the 1994 Stanley Cup Final.
And don't get me started on those stupid NFT's.
However, this was all to be expected, as for many inside of M$G on this night, Henrik Lundqvist was the first superstar they've ever known. They sure came out to support him.
Just like Mike Richter for me, Eddie Giacomin for fans older than me, and Gump Worsely for fans way older than me – Henrik Lundqvist is a bonafide superstar of a generation.
And one day, perhaps in the year 2042 or beyond, CZAR IGOR will be that guy for a new generation of fans – when his #31 is retired!
Even better, rather than waiting decades, as the franchise previously did with Harry Howell, Andy Bathgate, Jean Ratelle and Vic Hadfield; this night was celebrated in front of an audience that grew up loving Henrik Lundqvist. This was one of two major precedents that were broken tonight. More on the other to come.
For literally five consecutive hours at M$G, it was all about Henrik Lundqvist.
Up first, Henrik Lundqvist's press conference with the media, where #30 talked for forty minutes prior to taking the ice:
---
Obviously, a forty minute press conference is too much to recap here, but Lundqvist basically said what you'd expect him to say – he's happy, he's grateful, he loves the Rangers, loves the fans, and blah blah blah.
When it comes to never winning the Stanley Cup, Lundqvist said, "when I think back, it's all about what happened and not so much what didn't happen. I'm extremely grateful for all the big years we had."
Lundqvist also added:
"The past fifteen years have been the best fifteen years of my life, being part of this organization. This means everything to me and my family."
I thought this press conference was a nice thing for the fans, but a lot of what Lundqvist said here would be echoed in his ceremonial speech. I just don't think anything new was learned here, that's all.
---
At 5:30PM, the M$GN aired a "Before The Journey" special on Henrik Lundqvist, where Steve Valiquette interviewed his ex-teammate. And if you didn't know that Vally once backed-up Lundqvist, the chart boy only mentioned it 7867868678969689686 times tonight.
Yes, I'm not the biggest fan of Vally, but even if I were his biggest fan, I think Kevin Weekes should've hosted this interview instead. After all, Weekes did a great job of interviewing Lundqvist last year, when #30 was going through his health issues.
(Weekes also brought up a great point tonight too. Lundqvist is a freakin' natural on television. While that might not surprise you, keep in mind that English isn't the Swede's native language. You wouldn't know that by listening to him speak.)
My biggest bone of contention with Vally was apparent during this mini "shoot interview" – he just can't stop talking about his own career. It all comes off as very "Al Bundyish."
In addition, as Jim S. of "The Blueshirt Underground Show" said – Vally is the equivalent of a bridesmaid wearing a white dress at her friend's wedding. He always needs to steal the spotlight. What's next? Mike Dunham pumping his own tires at the expense of Mike Richter?
Maybe when the Rangers have "Steve Valiquette Night," where they'll presumably hang a heat map in the rafters; maybe then we can hear Lundqvist speak for ten seconds without being interrupted.
No joke, during this interview, Lundqvist talked about winning the Vezina Trophy. Before Lundqvist could expand on his thought, Vally quickly chimed in, "I WAS THERE."
A lot of the time, it feels like Vally needs to be validated by Lundqvist, akin to a little kid on a diving board screaming, "MOMMY, MOMMY, MOMMY – LOOK AT ME, CANNONBALL!"
(Plus – any good interviewer knows that you let your subject do the bulk of the talking, a theory that Vally obviously doesn't subscribe to. I wonder what his "EXPECTED INTERRUPTION" stats are?)
A nice takeaway from the interview? It seems that Lundqvist plans on spending the majority of his time living in New York City, where he will continue his tremendous work with the Garden of Dreams.
Following the sad passing of Rod Gilbert, it feels like Adam Graves is currently the defacto successor to "Mr. Ranger," in regards to the title of "Team Ambassador." I think Lundqvist could also be a guy to follow into the footsteps of Gilbert and Graves too – just as he did in following these two Ranger legends into the rafters of Madison $quare Garden.
---
Following Valiquette's interview with Lundqvist, M$GN hosted a "Blue Carpet" ceremony, live from the Hulu Theatre, where not one "blue carpet" was shown.
At the time, I really enjoyed this thirty minute segment, but following Lundqvist's ceremony, my feelings had changed. I'll explain what I mean here in just a bit.
A couple of the Rangers alumni were interviewed by Michelle Gingras during this "Blue Carpet" segment.
Mike Richter was up first. #35 told Gingras that you don't know how profound the experience of having your jersey retired truly is, until it happens. Richter then added that he lost five pounds, due to sweat, on his night. The topic of nervous sweats would be a common theme throughout the broadcast, and the game itself. (Weekes would bring this up too. In addition, I had "meat sweats" after watching the final forty minutes of this game.)
The great Kevin Weekes (who should be in some NHL front office right now) was also interviewed, where he said that he always knew that Lundqvist was going to be special. Weekes also said that Lundqvist was a "blue collar person." I always knew he was fan of this site!
All joking aside – Lundqvist and blue collar? I don't know about that. After all, just look at the gifts he received during his ceremony. I can't imagine many construction workers sipping on $1,000 bottles of wine while schlepping a 20'x20′ Louis Vuitton trunk around to their latest magazine cover shoot.
Justin Tuck, as mentioned a few blogs ago, has always been a huge Rangers fan, ever since first joining the New York Giants many years back. Of every celebrity/big-name that was in the house, he's the only one that had his own Henrik Lundqvist jersey, and didn't need a "freebie" from the team. Tuck also spoke highly of Lundqvist.
Dan Girardi also spoke to Gingras, where he said that Lundqvist made his job easy, but also mentioned that he blocked as many shots as possible for Lundqvist. That would be the truth, as Girardi, as the NHL's all-time blocked shots leader, spent more time blocking shots for Lundqvist than any other goalie he played in front of.
After Vally talked about his legendary 46 game career for the 87678667868967896868676th time, we saw video of Ryan Callahan, John Tortorella, Marty Biron and Dominic Moore entering the venue. I suspected we'd see them at the ceremony too, but I'd be wrong, which is why in hindsight, I thought this segment was unnecessary.
---
I know the chart geeks love to twist my words around, especially since they've been wrong with the majority of their opinions over the years. I was told that they were crying about my remarks on social media tonight, which quite frankly, I found humorous. After all, their hero was honored and they were talking about me. I didn't know my opinions meant so much to them!
That said, some of you readers also took issue with what I said, and I got an earful from some of you guys and gals. That's why I now feel the need to break everything down, because you readers, the only people I care about, deserve an explanation.
Following the ceremony, I said this:
"Not hating, I'm stating – this just wasn't the best one [ceremony] only because outside of Weekes (who wasn't really there for the wars with Hank), we got nothing from Hank's teammates. Maybe that's telling."
I'll give you the blow-by-blow recap of what happened at the ceremony in just a second, but going into this night, myself, and many other fans, were all wondering who would show up in support of Lundqvist. (The biggest name that the majority of fans wanted to see return to M$G, myself included? Jaromir Jagr.)
Listen, I 100% get that someone like a Ryan McDonagh couldn't be there, especially since he played on Thursday night, there was a snowstorm in NYC on Friday night, and the Bolts play on Saturday night. However, what I didn't get, that for all the people who were there, including Torts, Callahan, Girardi, etc – why weren't they on the ice?
During previous Ranger tributes/ceremonies, whether player-specific or for a team, like the 1994 squad – we've seen many of the alumni from that era seated at ice-level. For whatever the reason, outside of the "Core Four of 1994" (Messier, Leetch, Graves and Richter), and Kevin Weekes too – we didn't see anyone else. In fact, Weekes was the only player to talk about Lundqvist during the ceremony.
Now knowing what went down, I think the Rangers/M$GN could've cut out/dropped the whole Blue Carpet segment.
One of the coolest things about a traditional Opening Night, or a special ceremony like this, is seeing all of the old alumni show up in support. (One of the biggest reactions in recent years, is when Marty St. Louis showed up prior to the 2016-17 home opener.)
---
Inside of the building tonight were many players who spent a ton of time with Lundqvist (and who were there for his deep playoff runs too), including Mats Zuccarello, who now wears a non-Rangers jersey. However, Ranger fans don't care about that, and as was evident, with the numerous "They aren't saying boo Joe, they are saying ZUUUUUUUUUUUUUC" chants that were belted out all night.
While this wasn't a "Comedy Central Roast" or anything like that; I was also hoping to see a dais of Lundqvist's peers, where they then would've said a few words and told a few jokes about Lundqvist.
I just didn't understand why the Rangers brought in a bunch of their alumni, only to have them sitting in a suite, rather than sharing stories with the fans.
If time was an issue, all you had to do was nix the blue carpet deal. Nothing against Michelle Gingras, but I rather hear Torts speak inside of M$G, rather than hearing thirty seconds of softball/lighthearted questions.
Some fans wondered if COVID-19 was an issue. I don't think so, because after all, you did have Lundqvist's family and the 1994 guys all on the ice. You also had Lundqvist's ex-teammates enjoying themselves in a suite. So I don't think the 'cron had anything to do with this decision.
While I 100% understand that Weekes is one of Lundqvist's good pals – it's not like Weekes went through the wars with Lundqvist either. At the very least, he wasn't there for those playoff runs like the other men were.
Rather than the blue carpet special, I would've liked to have heard from Zucc, Callahan, Girardi and the others at ice-level. Did the Rangers not want them to speak? That was what was telling to me – especially since a precedent has long been set.
And let's face it – outside of James Dolan and Glen Sather (more on them in a bit), anyone who the Rangers would've included on such a potential dias, wouldn't have been booed.
Please don't twist my words around, which I know is a daily thing for some people.
The whole ceremony was classy, well-done and went off without a hitch. I guess I just wanted and expected more.
I wanted to see Chris Drury, in his #23 jersey. I wanted to see Cally, with a "C" on his sweater, one more time. I wanted to see Zuccarello talk about one of his best-friends. And I would've been fist-pumping, had Jaromir Jagr been there too – the player who Lundqvist took the torch from, as the face of the franchise.
And who wouldn't enjoy some back-and-forth banter with Sean Avery and John Tortorella too? (I don't even think Avery was there, which was TELLING too.)
I hope you now understand my previous comments and points! I was hoping this night was just going to be a "Best of Your Life" type-of-a-deal. It wasn't.
Silver lining? At least Steve Valiquette didn't give a speech during this!
Ceremony time.
---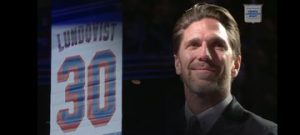 At 6:30PM sharp, the ceremony began. Mike Richter opened up and then tossed to a video package, of many video packages that were aired tonight. Of note, Rick Nash and Tom Renney were included. Again, no Sean Avery, which may be TELLING!
Sam Rosen, who might get a banner himself one day (if you can honor Phish and Billy Joel, you can put Rosen's name up there too), was the master emcee of the ceremony.
Rosen did a great job in his role as the host.
The Hall of Fame announcer said with Lundqvist's jersey now in the rafters, it will define excellence and inspire new generations of fans in the years to come. (That's why I wish the other legendary Rangers, Rangers that the team ignores in the present-day, would be up there too. In fact, I heard there's a book out there about this!)
Rosen mentioned that Eddie Giacomin, Vic Hadfield and Jean Ratelle couldn't make it to M$G. Due to their ages, travel and corona, this didn't surprise me.
Rosen also paid tribute to Rod Gilbert, Andy Bathgate and Harry Howell, mentioning that all of them were there in spirit. I thought that was a nice touch.
During all of this, the camera would constantly flash to Zuccarello, where every time, the crowd responded with a hearty "ZUUUUUUUUUUUUUUUUUUUUC."
The Core Four of 1994 were all introduced individually, and in this order: Leetch, Graves, Richter and Messier. I was glad that they were in the house, as they were the only members of the rafters of Madison Square Garden in-attendance tonight.
After bringing out the Cup champion alumni, Rosen then introduced Lundqvist's family. This included Hank's parents, twin brother Joel, sister Gabriella, wife Therese and his two daughters.

After all of these introductions, for the last time, Henrik Lundqvist came out of the Rangers tunnel. I was really hoping he'd be in his gear, only to shed it immediately afterwards, but that wasn't meant to be. Of course, we then heard huge chants of "HEN-RIK," something else you'd hear a lot of on this night.
And of course, with these fans all having grown up with Lundqvist, the energy in the building dwarfed the reactions that Ratelle, Hadfield, Bathgate and Howell once received – which was a damn shame. At least the Rangers didn't wait thirty years to honor Lundqvist.

Following another video package, which closed with the line of, "Henrik Lundqvist, New York icon," Sam Rosen gave Lundqvist the "Sean Kuraly" treatment, and read off #30's Wikipedia profile.
As Rosen was running down all of Lundqvist's accolades, he mentioned the Swede's Steven McDonald awards. The name of "Steven McDonald" was met with a loud and positive crowd reaction. That was nice to hear. (A member of the NYPD also sang the national anthem tonight too.)

Rosen then talked about Lundqvist's charity work, as #30 looked like he was fighting back tears. Of note, and since this was topic of much-debate for some reason – Lundqvist didn't cry once. Rosen also called Lundqvist a "model," but didn't mean it in a cover-boy way. He meant it in a role model way.
After the pleasantries, Rosen said it was time to shower Lundqvist with gifts. Of note, Lundqvist didn't just get an oil painting, as the Rangers gave a 90-year old Bill Cook in 1986. (Yep – #5 should be in the rafters too!)
Tennis legend John McEnroe, a long-time friend of Lundqvist, gave the goalie a custom-made guitar. It was funny listening to Rosen rattle off whatever model this guitar was, as if he was the second coming of Slash from "Guns N' Roses."
The guitar was painted by the same Swedish air-brush artist that had painted all of Lundqvist's masks. Nice touch.
Rangers trainer, Acacio Marques, who just fought off cancer, was up next. Marques gave Lundqvist a puck display featuring pucks from every single one of Lundqvist's seventy shutouts (playoffs included). I thought this was the best gift of the lot. I have no way of knowing this, but I think this gift was the one Lundqvist appreciated the most.

Following that gift, Rosen brought up Lundqvist's affinity for wine. The six alternate captains then presented Lundqvist with three special bottles of booze. A huge "LET'S GO RANGERS" chant broke out in a response. The bottle display case was also autographed by the team.
Up next were the Stanley Cup champions, who presented Lundqvist with a custom-made Louie Vuitton trunk. This thing was enormous, where you could fit the bodies of twenty Islanders inside of it. It looked like you'd need a crane to lift the thing.

After the gifts, Wally Pipp Kevin Weekes spoke. It really sounded like he was setting up for a punchline of, "then you took my job," but that never came to be. Instead, Weekes just talked about how Lundqvist took over NYC, the Rangers, the NHL, and everything else he could conjure up, where he followed up all of things with the two words of "by storm." Really, I thought he was going to say, "then you took over my job by storm too!"
Weekes, in his speech, also said that Benoit Allaire is one of the greatest goalie coaches in league history. He then closed out by saying that he thinks that Lundqvist should be in the Hall of Fame in Toronto.
As you were kind of waiting for Zuccarello, or another ex-teammate, to come out and speak about Lundqvist, instead, we went right to the main event.
---
Lundqvist opened up by talking about his draft and meeting Glen Sather for the first time. Lundqvist recounted how Sather asked him, "are you ready for NY?" Lundqvist said he was.
Lundqvist then talked about his first game and the intensity that he always brought to the rink.
Lundqvist said his teammates learned real quick not to talk to him on game days. During this, the camera panned to Mika. Everyone got a good laugh at Mika's facial reaction, as #93 hammed it up.
Lundqvist added that he took every win and loss home with him, and that it had to be tough on his wife. His wife then made a joking look. The crowd loved this as well. It was pretty funny.

For whatever reason, there was a lot of cat-calling during all of this. While the cat-calling were positive remarks, it wasn't necessary. Just like people screaming out during the National Anthem, I thought this was kind of trashy. It was Lundqvist's night, and not some drunk's night, while sitting in section 103.

As Lundqvist paused a bit during this (as at times it looked like he was thrown off-guard by all of the cat-calling), he then said that he felt a ton of commitment to the Rangers and vice-versa.
Lundqvist then thanked everyone, including the fans.

Lundqvist then thanked people by name, where the names of James Dolan and Glen Sather were greeted with resounding and heavy jeers. I don't think Lundqvist was expecting that either, as once again, he was thrown off a bit, this time by a negative (and well-deserved) fan reaction.
Lundqvist then thanked the trainers, Benoit Allaire, his family (his daughter yawned during this, which was pretty funny) and his wife.
In closing, Lundqvist imparted a message to the current Rangers of today: "Enjoy the ride. You're playing in the greatest city in the world." Well, it's a better city with Deblasio no longer around!
Following his message to the 2021-22 group; Lundqvist, his wife and his kids, all walked to the other end of the ice, where his jersey was then raised to the ceiling.
This concluded the ceremony.
---
Right after the ceremony, an emotional Lundqvist was then thrown straight into the "Square Space Studio." Surprisingly, no Zuccarello or anyone else, but we did have Vally; as the chart-humper then tried to make the night about himself.
Vally then asked Lundqvist where would he display that amazing puck collection. Hank said that he couldn't think about it right now. What a dumb question.
Giannone, as he often does, mentioned that no superstar athlete that he's ever covered, was more accommodating than Lundqvist himself. Giannone said Lundqvist, in fifteen years, may have only blown him off twice.
(Giannone didn't say this, but one of those times was right after the Zuccarello trade, which means that Lundqvist rarely blew him off after a bad game.)
I'm nearly 5,000 words in, and as you know, I do one big-ass blog, with no ads or spyware. I'm going to skip the M$GN pregame show segment tonight, because really, it was just Lundqvist stuff, and the same video packages that we previously saw during the past 2.5 hours of the broadcast.
At this time, let's get into the pregame news, and then into the game review, where quite frankly, the game was the secondary story tonight – at least in the eyes of M$GN.
---
Somewhat put to the back-burner on Friday (due to the Lundqvist love-fest), was the fact that Adam Fox, following his injury from Thursday night, was placed on the injured reserve list. As a result, not only did he miss tonight's game with the Wild, he'll miss the final two games prior to the All Star break too, when the Rangers play the Seattle Kraken on Sunday and the Florida Panthers on Tuesday.
Whether or not Adam Fox plays in the All Star Game is undetermined, as stated by Gerard Gallant.
Going into tonight's game, I said on social media (and still feel in these next two games) that it will have to be Jacob Trouba that carries the defense. He's come on strong during the Rangers last 25 games, and he will have to continue to be a rock while the Rangers are without their Norris Trophy winner.
Here's "The Turk's" pregame presser:
---
Here's what "The Turk" went with on this historic night inside of M$G:
FIRST LINE: Lafreniere/Mika/Kreider
SECOND LINE: Panarin/Strome/Goodrow
THIRD LINE: Hunt/Rooney/Reaves
FOURTH LINE: McKegg/Brodzinski/Gauthier
Defensively, we had this:
FIRST D-PAIR: Lindgren/Schneider
SECOND D-PAIR: Miller/Trouba
THIRD D-PAIR:  Hajek/Jones
And in net, CZAR IGOR.
---
Just a few notes on the line-up.
I was surprised to see Morgan Barron get the night off, especially in favor of JOHNNY HOCKEY. I'm not questioning Gallant here – I'm just saying I was surprised to see it.
After auditioning Gauthier on the first line last game, #15 was put on the fourth line tonight. Alexis Lafreniere got another crack on the top line, where at times he looked good, but once again, he took another dumb penalty. This penalty would hurt the Rangers – especially since Adam Fox, part of the team's PK1 unit, wasn't around.
Braden Schneider was bumped up to Fox's spot, where he played a career-high of 20:03. I thought he did good in this unenviable position of having to fill-in for the team's best skater, but obviously, he's not #23.
Zac Jones, who returned to the line-up, looked solid in my eyes. For the first time this season, he mirrored his strong work from the preseason, including one play, where he hauled ass and prevented the Wild's offense from an attack.
There were no updates on Filip Chytil or Kaapo Kakko.
And this goes for the entire team itself, rather than singling out any particular player – they all played well in the first period and then it all spiraled.
---
BOX SCORE time.
The following information and graphics come from the new world-wide leader in NHL coverage, ESPN.com:
SCORING:
PENALTIES:
TEAM STATS: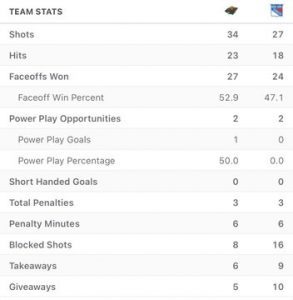 GOALIES:
| | | | | | | | | | | |
| --- | --- | --- | --- | --- | --- | --- | --- | --- | --- | --- |
| SA | GA | SV | SV% | ESSV | PPSV | SHSV | SOSA | SOS | TOI | PIM |
| 27 | 2 | 25 | .926 | 19 | 0 | 6 | 0 | 0 | 60:00 | 0 |
| | | | | | | | | | | |
| --- | --- | --- | --- | --- | --- | --- | --- | --- | --- | --- |
| SA | GA | SV | SV% | ESSV | PPSV | SHSV | SOSA | SOS | TOI | PIM |
| 34 | 3 | 31 | .912 | 31 | 0 | 0 | 0 | 0 | 58:57 | 0 |
---
After way too much Vally on the broadcast, and after a long night already inside of M$G, at 8:19PM, we had puck drop. However, just before the real puck drop, Lundqvist dropped out a ceremonial first puck, with Zibanejad and Zuccarello taking the "pose-for-a-picture" draw.
As "HENRIK" chants bounced all over the iconic ceiling, the Rangers fourth line started the game, where Rooney lost the opening draw. I found it odd that Gallant started his fourth line in this game, especially since none of them have a connection to Minnesota.
In a first period where the crowd energy was just as explosive as a nuclear bomb; the Rangers soon matched that energy. Without question, this was one of the best first periods of not just this recent stretch of games, but of the season too.
After Talbot and CZAR IGOR exchanged saves, just 2:15 in, Barclay Goodrow drew Kevin Fiala for a high-sticking call.
I'll try not to keep saying this, but yeah, not having Adam Fox hurt the Rangers tonight. However, they did get four shots on goal during this power-play, but wouldn't score.
Five minutes in, Gauthier, with his god-awful shooting percentage, got to the net and you know the rest.
Also of note, anytime Zuccarello touched the puck, this young crowd treated #36 as if this was the Eddie Giacomin return game from 1975. And just like that game, the visitor triumphed tonight. That said, after Zuccarello tied the game, and after his constant tussles with Strome and Kreider, those "ZUUUUUC" chants soon subsided.
In perhaps a tribute to Lundqvist, CZAR IGOR lost his stick, but he made a save and the Rangers got out of this with no damage done.
With 11:08 remaining, this happened:
Trouba to Goodrow and just listen to this Crowd. The Garden is ELECTRIC ⚡️ pic.twitter.com/lcrUR5HSPF

— Rangers on MSG (@RangersMSGN) January 29, 2022
---
1-0, GOOD GUYS, on this beautiful tic-tac-toe goal, where Strome dished to Trouba and then Trouba passed the puck over to Goodrow, as #21 keeps up his torrid scoring pace.
This was his tenth goal, and where like Chris Kreider, any goal Goodrow scores this season is now a career-high. This was his tenth, which also means that this was the first time Goodrow has cracked double-digits in the goals scored department.
(Remember when the analytical losers were crying and screaming "gloom and doom" when the Rangers traded for Goodrow and Reaves this summer? They're always wrong, they're always wrong! They'll be even more wrong once the playoffs start.)
Following the best shift the Wild had in this period and with 8:45 to go; Trouba then bombed a puck, where Lafreniere came close to getting the rebound. However, he missed, and the score remained at 1-0, good guys.
In somewhat of a dirty play, Zuccarello cross-checked Strome, as the hobbit attempted to send #16 in blue into the Wild bench. This then led to Strome and Jordan Greenway getting into it, where it should be mentioned that the Wild's left-winger created havoc on the Rangers all game.
This then led to two-minutes of foreplay, as somehow Strome got a penalty for being checked into the Wild bench.
As the Rangers were buzzing, and now back to full-strength, I said this:
Obvious observation: #NYR must keep this energy going all game.

— BlueCollarBlueShirts (@NYCTheMiC) January 29, 2022
---
As you know, this didn't happen.
However, with 2:52 to go, this happened:
Kreider between the legs for his 31st goal of the season 😳 Are you KIDDING me?!! 🤯 pic.twitter.com/8nw72YE8cz

— Rangers on MSG (@RangersMSGN) January 29, 2022
---
2-0, GOOD GUYS, as Trouba, having to carry the defense in Fox's absence, picked up his second assist of the game on Kreider's rebound full of wizardry.
Unfortunately, this wouldn't only be Trouba's last assist of the game – it would be the Rangers final goal of the game too.
After the goal, we then had a scrum in the corner boards to the right of Talbot, where Kreider and Zuccarello were getting into it. While this wasn't as bad as Lemieux's filthy and dirty cross-check on Ryan Lindgren, it did seem that Zuccarello had a problem with his ex-teammates all night. Maybe he was pissed that he wasn't asked to speak during the Lundqvist ceremony!
With 2:02, Johnny Hockey was boxed for slashing Matt Boldy.
The Rangers PK did their job here, and as the first period came to a close, the score remained 2-0, GOOD GUYS, and with two seconds left on the Wild power-play.
Of note, the SOG were 12-5 Rangers. That would flip after the second period.
---
Not even a minute into the second stanza, Rooney and Reaves had a 2×0 break. However, Foligno got there at just the last second, where he broke up a Reaves-to-Rooney pass. It very easily could've been 3-0 here, and had that happened, maybe this game would've played out differently.
After Micheletti shrieked out the word "FABULOUS" for the 483838343483839398334893rd time (he also said "FABULOUS" four times during his two-minute pregame segment alone); Goodrow won a faceoff, Strome then soon forced a turnover on Talbot, and Jones then had a shot stopped by "The Goalbuster."
Following a Johnny Hockey turnover, and Lindgren's inability to catch-up; Freddie Gaudreau (he spells his name differently Joe), had a breakaway. Braden Schneider, trying to break-up this opportunity, held Gaudreau. Instead of a power-play, the Wild got a penalty shot here, where following Igor's tremendous save, the crowd exploded with "IGOR, IGOR, IGOR!" chants.
Unfortunately, this would be the last highlight of the contest for the Rangers.
With 14:51 remaining in the period, it was evident – the Rangers were gassed, couldn't continue their play from the first period and the Wild were playing on a different level. This would continue right to the final horn.
Talbot's toughest work of the period came with around eleven minutes remaining, where he made a save and then made a beaut on a Reaves rebound try.
As we hit the half-way mark of the period/game, Lundqvist joined Sam and Joe in the booth. The tide would soon turn.
As Sam and Joe just ignored the game at this point (and as they'd do until Lundqvist left the booth), with 7:42 to go, Fiala was left all alone in the slot. 2-1, good guys. Sam and Joe barely mentioned the goal.
Thirty seconds later, Lafreniere was boxed for interfering with Hartman. Sam and Joe didn't even bother to mention this, nor mention that the Wild were about to go on a power-play.
And yep, Lafreniere continues to take bad penalties.
Just under a minute later, this happened:
SOUND UP📢@HLundqvist: "Can't let that guy score"

Mats Zuccarello: "And I took that personally" pic.twitter.com/WLuVm7RlV3

— Jonny Lazarus (@JLazzy23) January 29, 2022
---
I mean, you can't make this up, right? 2-2.
Not even a nanosecond after Lundqvist said "you can't let that guy score," in reference to his Norwegian pal; there it was, a slap shot, a rare slap shot at that, from the pissed-off hobbit.
And while I'm only talking about the "Father Time" years of Lundqvist's career right now – here are the Rangers blowing a two goal lead, where both Wild goals were scored once #30 went to the booth. Really, you can't make this up at all.
Prior to this game, the Rangers were 2-5-3 on jersey retirement nights. I really felt that the Rangers would make it 3-5-3 going into this contest. Instead, they fall to 2-6-3, which could be another reason why the Rangers ignore so many legends from their rafters!
And as you'd imagine, no one was chanting "ZUUUUUC" anymore either.
The rest of the period saw the Rangers rarely get any time in the zone, as the Wild kept on firing, firing, and firing away.
In fact, as the second period came to a close, the Wild had put up nineteen shots on goal, plus the penalty shot that Igor saved.
After two periods, we remained at 2-2, and where the SOG stat was now 24-19, and now in favor of the road team. It would only get worse.
---
The third period saw M$G get eerily silent. The Rangers also looked like they were attending a funeral, rather than a celebration themselves.
For the fans, they had a looooooooooong night inside of M$G tonight, where it wouldn't surprise me if their buzz (both emotional and alcohol-related) wore off and that they were completely hungover for the final frame. However, that doesn't excuse the Rangers performance, as just like the middle period, they spent most of this period chasing the Wild around.
Just 1:49 into the period, Gaudreau, previously denied on his penalty shot, beat Libor Hajek and then found himself one-on-one with Igor again. This time, he scored. 3-2, bad guys and you could feel the energy just scurrying out of the building, just like a NYC pizza rat.
After a long shift where the first line got caught in the d-zone, with 15:14 remaining, the crowd actually started booing. NY sport fans can fickle.
A few seconds later, Hartman boarded Trouba. I really felt this hit was going to awake the sleeping giant, where to be fair, #8 did have two assists in the game already. While Trouba did get pissed a bit (you always notice it when he's tossing bombs at goalies), the tying goal never came.
Cam Talbot and the Wild survived this Rangers power-play, where one last time, Fox wasn't on it. The Rangers finished 0-2 on the man-advantage tonight. The Wild went 1-2. As I always say, "special teams swing games." So do referees.
After the kill, Hartman, now out of the box, rang a puck off of the iron with 12:11 to go.
As Cam Talbot continued to deny Blueshirt shooters, with 8:14 remaining in regulation, Gallant was absolutely furious about something. He would be even madder at the end of this game.
As we got under five minutes to go, I'm surprised that "The Turk" didn't put Mika and Panarin together, as he's done in the past with the team down by one and chasing.
Following a quick scare to Kreider, where the man of 31 goals was attended to by Rammer, only to immediately return to the game; the Rangers couldn't get possession of the puck. When they did, there were only 75 seconds remaining, which is when Igor went to the bench.
After an ill-advised icing, Igor had to return to the net, only to go back to the bench, now with 40 ticks to go.
With one second left, we had the play that was shared at the top of this blog. So much for a feel-good/Disney moment.
Of note, the crowd were none too pleased either, as we had a long delay following the review, due to fans throwing trash on the ice. During this, we had loud chants of "ASSHOLE," where I'm not sure if these chants were directed to Valiquette or the officials.
3-2 bad guys, your final.
---
Here's Gallant after the loss:
---
I share Gallant's post-game presser here, only because you can see that he wasn't thrilled with how his team handled the final forty minutes. It also looked like he caught himself, as it looked like he was about to snap on Mollie "Give the Kid a Break" Walker. Instead, he unloaded a bit on Vince Mercogliano, as "The Turk" has previously done about 3-4 times this season.
(Of note: Gallant never gets snippy or confrontational with Larry Brooks. Just sayin'. Also of note: after previously editing out Gallant's sharp-tongued remarks in the past, these comments were uploaded to the Rangers YouTube page, unedited.)
What started out as a feel-good night, and an even better first period, quickly was shot to shit. At least the Rangers will have a bottom-feeder on Sunday, when they host the Seattle Kraken during a Sunday matinee affair. They have to win that game.
PLUGS time!
---
The hardcover version of my book, available now at Amazon.com
The first plug of tonight's blog – the mandatory plug for my new book, "The New York Rangers Rink of Honor and the Rafters of Madison Square Garden".
As mentioned previously, the book is now available in hardcover, in paperback and in Kindle formats. To purchase a copy of the book, visit this link:
https://www.amazon.com/Rangers-Rafters-Madison-Square-Garden-ebook/dp/B09CM5N2WD
For those still looking for signed paperback versions of the book, I have re-ordered more copies. I now have 2 signed copies for sale at $25 a pop (includes shipping price) through me directly. Here is all the information on that:
---
Here are my last few blogs, in case you missed them:
---
---
---
If you haven't already, subscribe to this blog for the next update:
---
Up next: the Kraken at 1PM, right before the NFL's championship games.
As always here, thanks for reading and…
LET'S GO RANGERS!
Sean McCaffrey
BULLSMC@aol.com
@NYCTHEMIC on Tweeter