Greetings and salutations everyone and welcome to another blog here on BlueCollarBlueShirts.com. Another night, another game, another slow first period, and when it was all said-and-done (and what is most important) – another win for the FIRST PLACE NEW YORK RANGERS.
And just as nice, the Rangers ability to win on home ice – which had been an issue during recent seasons. Everyone loves a home cooked meal!
---
Just like many games from this recent stretch; once again, the Rangers had another first period that's not worth writing about – outside of the final two seconds. (And I suppose Brendan Lemieux too.)
In fact, with just thirty seconds remaining in the first period, the Rangers had only one shot on goal. As in the number one – and no, that's not a typo.
However, following a dirty cheap shot by "OH JOE, OLD FRIEND BRENDAN LEMIEUX JOE," the Rangers fortunes soon fell into their favor – as Chris Kreider scored a power-play goal with just 1.5 seconds remaining in the period, which then gave the home team a 1-0 lead.
It would take another 35 minutes for the Rangers to score again, with Barclay Goodrow beating Jonathan Quick for the Rangers second goal, an equalizer which tied the game at 2-2.
After many numerous chances from both offenses, where both goaltenders, CZAR IGOR and Jonathan Quick, were at the top of their games; following a whistle-free overtime, it would take a six-round shootout in order for the Rangers to raise their sticks in victory at center ice.
The Rangers, who have found so many different ways to win this season, and for the first time since October 23rd, 2021 (3-2 win over the Ottawa Senators); the squad entered the third period trailing, and when the game was over – they had won the contest.
The fact that the Rangers have only won two games this season when trailing at the start of the third period – well that is admittedly a crazy stat, but like most stats – it doesn't tell the whole story either. As is the case 100% of the time – the eye test tells the complete story.
After all, the Rangers are currently 28-11-4, where in many of their wins, they have either been tied entering the third or had a commanding lead.
And while there have been some blowout losses along the way, losses which are easily explainable (travel, Huska starting against Colorado, COVID, etc), more times than not, the Rangers are rarely trailing in games come the start of the third period. Tonight just happened to be a rare exception. Even better, the Rangers came through.
---
I don't want to sound like a broken record after every win, but at the risk of playing my "Greatest Hits" here; once again, the Rangers continue to personify all adages and mantras.
Whether it's "Find-A-Way-To-Win," "Next Man Up," "Win the Period, Win the Game," "One Game at a Time," "Resolve and Rebound," or whatever else you want to use – the Rangers embody all of it. It all starts with head coach Gerard Gallant, and it trickles down to his six alternate captains, where it's then all absorbed by everyone else on the team, both veterans and youngins alike.
(And speaking of the often-mocked decision to go with six alternate captains – it sure has worked out, no? That said, if it's not going to be Chris Kreider, who in my opinion, should've received the "C" during the off-season – they may as well give to Adam Fox now. What's the point in waiting? He's as deserving and as ready as anyone.)
A new wrinkle in tonight's victory, is that as the NHL inches closer-and-closer to the trade deadline, the Rangers have been linked to about 78967867679698678 different players, where you have to wonder what Chris Drury's phone bill is looking like right now. And if he's using his cell phone, he better have a charger that works!
However, since Pavel Buchnevich was traded away during the off-season (you may have heard about that one), and because the team's stars like Adam Fox, Mika Zibanejad and CZAR IGOR all inked long-term deals prior to game one of this 2021-22 season – the top players, sans Ryan Strome (who I hope is re-signed), don't have to worry about their futures. They all know where they will be resting their head during the next season and beyond.
When it comes to the organization itself, we're most likely to see prospects, draft picks and disgruntled malcontents (Vitali Kravtsov) dealt away at the deadline. None of the Rangers regulars are playing in fear of having to deal with a potential stressful relocation.
And despite Strome's status as a pending UFA, it's not like he has to worry about being traded right now either. If any center needs to worry about being dealt, it's the currently injured Czech, Filip Chytil.
As a result, night-in and night-out, the Rangers have been able to focus on hockey, and as fans (and Drury himself) – we're all being rewarded.
---
Let's get into the pregame news, which we have a lot of, and then get into tonight's game itself.
On Sunday, January 23rd, during the team's off-day, Rangers general manager Chris Drury made several transactions.
When it comes to the never-ending AHL and taxi-squad transactions, Johnny "HOCKEY" Brodzinski, Timothy Gettinger, Anthony Greco, Zac Jones and Tarmo Reunanen were all sent back to the Hartford Wolfpack.
In news that the team didn't publicly announce (but was reported everywhere else), was that the Rangers had waived defenseman Jarred Tinordi. Of course, this news made the analytical fans (fans who blame seventh defensemen and thirteenth forwards during any time when the team struggles), extremely giddy.
For what it's worth, Tinordi, 29 years old, has only played in seven games this season. He also had a brief conditioning stint with the Hartford Wolfpack as well.
Obviously, with both the recent ascension of Braden Schneider, combined with rumors of Chris Drury running up James Dolan's phone bill – Tinordi had became disposable and expendable.
(And as mentioned at the start of this season, I always felt that Tinordi was a "one-and-done" Ranger anyway.)
Following a wild weekend of the NFL's playoffs, on Monday, the Rangers had their pregame skate in Westchester. After the light practice, head coach Gerard Gallant met with the media:
---
Prior to Gallant's press conference, it was announced that Filip Chytil and Kaapo Kakko weren't at the morning skate.
Gallant, who said that both players were "day-to-day" on Saturday night; on Monday morning, he said that Chytil's status remained the same. However, Chytil didn't play tonight.
Kaako's status did change, where the young Finn's status worsened from "day-to-day" to "week-to-week," and as quoted by Gallant himself. Then, following Gallant's chat with the media, Kaako was placed on the IR, which means that #24 will be out for at least one week, retroactive from this past Saturday night.
When it comes to these two injuries, of course, you don't want to see anyone hurt. However, for a team that's employed the "NEXT MAN UP" mantra all season – I think this was great news for Morgan Barron, especially with Chytil now out.
(Ask any non-starter athlete that's ever played – while they aren't breaking out the pom-pom's, and rooting for injuries, they also know that an injury to a regular opens the door for themselves. It's human nature to feel this way.)
When it comes to Kakko, it sounds like he will have to wait until after the All Star Game to record his first goal of 2022.
---
Furthermore (and following Gallant's presser), the Rangers made a few more moves, where they called up Morgan Barron from the taxi-squad. In addition, the previously waived Jarred Tinordi, who did clear waivers at noon on Monday, was then assigned to the taxi-squad, rather than being sent down to Hartford.
As far as Gallant's press conference itself goes, I found it informative.
What I truly liked, is just like he so often does, is that he went out of his way to praise his role players (fourth liners/third defensive pair). This time, despite not being asked, Gallant specifically spoke highly of Greg McKegg.
It's the little things, and I'm sure McKegg, and others like him, truly appreciate this. I think you can also accredit some of the Rangers success to the head coach and in the manner which he handles his players during these media sessions.
If there's one thing you should be fully aware of by now, it's this – don't trust these NYR beat reporters with an agenda and/or trying to sell clickbait for their websites – websites that are full of never-ending ads and spyware.
Prior to Gallant's press conference being made public (uploaded to YouTube); one beat reporter was trying to sell fear and/or an angle, of how Gallant teased dressing a roster with 11 forwards and 7 defensemen for tonight's game.
Of course, had you listened to what Gallant actually said, he said it's an idea that he'd only consider because of the current health statuses of his gang. It's not something that he wants to do, but if he had to do it temporarily for one night, he'd do it. (Right after saying this, Gallant then preached the importance of being able to roll out four lines – another reason why the Rangers have been so good this season.)
And of course, during the pregame skate, Gallant had indeed dressed a traditional line-up of 12 forwards and 6 defensemen. (Two goalies too!)
---
Here's what "The Turk" went with on Monday night at M$G:
FIRST LINE: Kreider/Mika/Panarin
SECOND LINE: Lafreniere/Strome/Goodrow
THIRD LINE: Hunt/Barron/Gauthier
FOURTH LINE: McKegg/Rooney/Reaves
Defensively, we had this:
FIRST D-PAIR: Lindgren/Fox
SECOND D-PAIR: Miller/Trouba
THIRD D-PAIR:  Hajek/Schneider
And in net, CZAR IGOR.
(Quick notes: about 8-9 minutes into the first period, the superstar line was broken up. Hunt went to the top line, where Panarin then went to his regular spot on the second line. Lafreniere was then downshifted to the third line as well. These moves worked out well, as once Panarin returned to his normal spot, the Panarin/Strome/Goodrow line created the most five-vs-five offense of the game, including scoring a late third period goal to tie the game.)
---
BOX SCORE time.
The following information and graphics come from the new world-wide leader in NHL coverage, ESPN.com: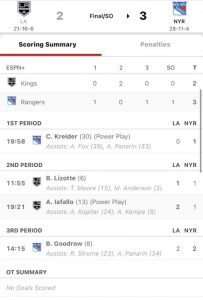 SHOOTOUT:
PENALTIES:
TEAM STATS:
GOALIES:
| | | | | | | | | | | |
| --- | --- | --- | --- | --- | --- | --- | --- | --- | --- | --- |
| SA | GA | SV | SV% | ESSV | PPSV | SHSV | SOSA | SOS | TOI | PIM |
| 30 | 2 | 28 | .933 | 15 | 0 | 13 | 0 | 0 | 65:00 | 0 |
| | | | | | | | | | | |
| --- | --- | --- | --- | --- | --- | --- | --- | --- | --- | --- |
| SA | GA | SV | SV% | ESSV | PPSV | SHSV | SOSA | SOS | TOI | PIM |
| 36 | 2 | 34 | .944 | 27 | 1 | 6 | 0 | 0 | 64:27 | 0 |
---
Speaking of Steve Valiquette, and the M$GN pregame show, tonight was "PRIDE NIGHT" at M$G. By the end of the game, the Rangers had set the Kings straight. (Har-har-har! And while I had this joke in my holster, I saw others making this same joke, including Adam B.)
I'm not going to give you my entire spiel on "PRIDE NIGHT" again on this site. You can check the archives of this site for all of that.
The only two things I will say about it, is that I've never known the Rangers to exclude anyone, no matter their race, sexual preference, creed, or some other defining trait, from M$G.
When it comes to color, whether it's skin color or a color of the rainbow, the only thing the Rangers care about is green, as in greenbacks/cash. After all, just look at what they are charging for Henrik Lundqvist night tickets and merch. (More on that in just a second.)
The only thing about PRIDE NIGHT that I don't agree with, is whenever the Rangers (in this case, John Giannone), preaches about sex change operations as if it's a normal thing. What bothers me about it, is that Giannone (and others) are suggesting that we talk to our children, and/or the kids involved in our lives, about the greatness of transgender surgeries, with a hockey game being that forum in which to engage these talks.
I don't care what anyone does, who they sleep with, what they finger-blast to, or whatever else people do in their own homes and in life; but when I'm at a hockey game, I just want to watch hockey – I don't want to preach the values of turning an outtie into an innie – especially when it all comes off as phony. (What would John Giannone know about experiencing a gender change? Then again, Vally is there. I kid, I kid!)
(And I don't even want to get into how transgender athletes are making a mockery of sports, with swimming and MMA being the biggest. To be clear, I don't care if transgender athletes compete, I just think that they need their own leagues. It's not fair for biological women to be dominated by biological men. If you disagree, you're entitled to do so – as I try to respect everyone's opinions, even if they aren't my own.)
If there is one point that I hope you get out of all of this, and just as a reminder, as I've said this before, it's this – I just think we're robbing young kids of their childhood, by forcing topics of a sexual nature on them. But I guess that's the new reality, as this generation is exposed more and more to sex/gender talk, even at the Pre-K level, when a child asks their parents, "why does so-and-so have two mommies/daddies?"
(And also as mentioned before, it's not just sexual stuff that's being exposed to young kids, it's everything – gambling, vaping, pot, etc – with gambling advertisers being the biggest offenders.)
Kids grow up quicker today, more so than ever before. Whether that's a good thing or a bad thing, that's up for you to decide.
Lastly (I know I said I would go short on this, so my apologies to you), if you're going to have all of this sex/gender/operations talk – at least tell me the line-up that's playing in the game too.
Then again, straight, gay, transgender or whatever – very often, the M$GN broadcasts gloss over the line-ups, something that I'll never understand!
---
For Henrik Lundqvist, who definitely deserves his #30 in the rafters of Madison Square Garden; I was shocked when I saw fans of his go bonkers over the insanely marked-up prices that the Rangers are presently charging for Lundqvist Night swag.
For starters, there is no irony that Lundqvist merchandise (and the ticket prices for this game) are rooted in money. I think you know my point on that already!
More importantly, the Rangers are the most-valued franchise in all of the NHL, with a net worth of $2B+.
Simply stated – they are not going to miss a beat whenever attempting to take money out of the wallets of their fans.
And following a pandemic, where every NHL franchise lost millions and millions of dollars – the Rangers are not going to fail when trying to capitalize on what should be a good-feeling type of a night.
In fact, I wonder when it's all said-and-done, how much money will the Rangers profit off of this night? $5M? $10M? Without question, it will be the most profitable game of the season, and that includes the playoffs, due to all of the merchandise, jacked up ticket prices and a sold-out Hulu Theatre.
My advice for fans looking for Lundqvist Night swag? Get a $10 shirt off some creep in the streets prior to the game. And if you want official garb, just wait three months when all of this stuff is discounted.
And if you want Henrik Lundqvist NFT's, you can Paypal or Venmo me $1,000 and I'll make you one of my horrible photoshops, exclusive only to you! What a bargain!
---
Tonight's broadcast started with Michelle Gingras recapping the Kakko and Chytil injury news from earlier in the day.
In some rare positive news out of the mouth of the seven-foot jackass, Steve Vagistat reported that Chris Kreider, on Sunday, his off-day, went all the way out to Connecticut. While there, Kreider dropped in at some local arena, where he then spent time taking pictures and signing autographs for special needs children. That's captain material. What a great guy, especially since the team was coming off a back-to-back set and had a rare day off here.
On Sunday, my off-day, I was wolfing down chicken wings and slamming beers. Kreider was impacting the lives of kids who were born with a disadvantage. Makes you think.
Since I have the maturity level of a sixth-grader, I was cracking up like a hyena when Henrik Lundqvist, and twice at that, extolled the virtues of "taking good dumps." In fact, I have often preached the same myself! A good Vally a day keeps the gastroenterologist away!
After a segment with the great Dave Maloney, where the former captain said that he thought last game was Jacob Trouba's best (I can see that, but I also consider the competition too, where I was more impressed with Trouba's Gordie Howe Hat Trick games); we had a segment where John Giannone interviewed some gay man named Matt Wood, where I will be classy and not make a joke about Matt's surname! See, I'm maturing!
I got two things out of the Matt Wood interview.
One, for a franchise that will sell you officially licensed toilet paper, I'm surprised that they aren't selling PRIDE NIGHT/rainbow jerseys. You'd have to think they'd make millions if they made those.
Two, and for whatever reason, the "C" on the PRIDE NIGHT jersey was on the right side of the jersey, rather than on the left side, as is normal/traditional. Instead of where the "C" should've been, there was an Adidas logo.
---
Lundqvist, who previously made mention that he was familiar with Jonathan Quick, was then trolled by the seven-foot douchebag with the Clairol hair-dye addiction.
Steve Vagistat, as he often does, mocked Lundqvist, and this time, joked about Alec Martinez. Lundqvist didn't seem thrilled about that. I don't think any Ranger fan was, especially after hearing this crap spewing out of the charthole of an ex-Islander, which Vagistat is.
The biggest moment of Henrik Lundqvist's career, and the biggest Rangers' series of the last 25+ years, and Valiquette is joking about Game 5 of the 2014 Stanley Cup Final (and the whole series as a whole.)
I admit, a lot of my Vally stuff on these blogs/site is to make you laugh. It's for comedic effect. I've often said I don't hate Vally, but he's so easy to get a laugh out of whenever typing out one of these manifestos.
Not tonight. He's an asshole.
While I don't wish for anyone to be fired/lose their jobs, I truly hope he is canned, or even worse – sent to Islander broadcasts. Just get this pigeon off of the air. He brings absolutely nothing to the table, and even less when you have a goalie infinitely better than him along for the ride.
Vagistat, looking to save face (and need I remind you, suggested that the Rangers trade Braden Schneider a few nights back), during the first intermission, put band-aids all over his face, teasing that Lundqvist had punched him out for his stupid remarks. Too bad that didn't happen. Also too bad, that it wasn't Ryan Reaves who clocked the smirking jackal right in the face.
Seriously? 2014 jokes on a Rangers broadcast? Maybe for an encore, Vally can make fun of Steven McDonald next.
Ron Duguay, a huge fan-favorite, didn't have his contract renewed after saying the truth – women leagues don't feature hitting.
A worse truth than that? The Rangers lost the 2014 Stanley Cup Final to the LA Kings. To have this cretin joke about it – that is a worse offense than whatever Duguay was perceived of doing. At the very least, I never questioned Duguay's dedication to the Rangers.
And Part I: if Vally ever had an NHL career that was worth speaking of, then perhaps Lundqvist could joke back at the doofus. What's Lundqvist supposed to say in response? "Remember that time you got my coffee order wrong?"
And Part II: Lundqvist is too nice. If Vally pulled this same shit with Phil Esposito today (when talking about 1979); despite Esposito being in his late 70s – he would've wiped the grin off of the face of the jackass.
Rant over (I had to vent and clear my system.) Game review time!
---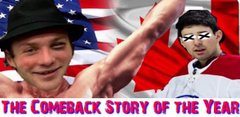 After Sam and Joe had some pregame face time, where Rosen enthusiastically belted out "PRIDE NIGHT JOE" (I would pay good money to hear Sam Rosen explain the process of a gender surgery, "OH JOE, THEY REMOVE THE PENIS JOE"), we had our opening puck drop.
Strome's line, then at the time featuring Alexis "No Shots On Goal" Lafreniere, then took possession of the puck.
There wasn't much going on early, where the Kings spacemen silver helmets became a quick topic of conversation. (And man, oh man, are those helmets ugly.)
Over five minutes in, Igor made a save on Dustin Brown, where the CZAR flashed his cow. At the same time, the Rangers were also looking for their first shot on goal.
In foreshadowing what was to come, Brendan Lemieux then laid a hit (albeit clean), on ex-teammate Adam Fox, which sent the Norris winner to the ice.
After Kevin Rooney logged the Rangers first SOG at the 5:54 mark of the period, the second line had the best Rangers shift of the period, where they sustained pressure and created chances – but couldn't get a SOG.
With 12:33 to go, Mika (no points tonight, as he was a focus of the Kings' defense), tried a nice self-pass off of the boards, but the Rangers were offside.
Following a Rangers turnover, the Kings then had a 3×2 odd-man rush, where Byfield whiffed on. Crisis averted.
Ten minutes down, the Rangers still only had the Rooney SOG to their SOG statistic. At the time, I was thinking that Gallant should've told his team that the first period was over, as the Rangers usually play better during the second stanza of games.
With 9:35 to go, Trouba was boxed for high-sticking Viktor Arvidsson. The elite Rangers PK did their job, where the goaltender was the best penalty killer during these two minutes.
Now with five minutes to go, Kevin Rooney was the featured player of the "SLEEPER REPORT," as sponsored by "Sleepy's." The whole first period felt like a snoozer.
In what I thought would've been the true turning point of the game, akin to the cheap-shots Larsson laid on Fox last game against Arizona; with 3:38 to go, this happened:
Video of Brendan Lemieux's 5-Minute Major pic.twitter.com/1RygxWkZoN

— Jonny Dustbag (@Luca_NYR) January 25, 2022
---
As you can see, anything could've been called against Lemieux here – charging, roughing, cross-checking, interference, boarding, or being an asshole. The refs decided on charging, where upon review, the officials not only gave Lemieux a five minute major – they gave him a game misconduct too, which then ended the former #48 in Rangers blue's night.
Listen, I can understand being caught up in the heat of the moment, and sometimes bad penalties, and even dirty ones, can happen accidentally. I 100% can comprehend that.
And when it comes to the disgusting shot Lemieux laid here, I also understand that sometimes an opposing player puts their numbers out at the last second. It's a fast game. Sometimes, these big hits can't be avoided.
So even if I wanted to give Lemieux a pass for this, with using "the heat of the moment" as an excuse – I can't.
Following this penalty, Lemieux was sent to the box, where he remained for a few minutes as the officials reviewed their five minute major call.
During this time, Lemieux was cursing up a storm, challenging Lindgren to a fight, and just trash-talked the Rangers defenseman to kingdom come.
Just based on what we saw here, you'd have to think that Lindgren and Lemieux didn't get along when #48 was with the Rangers. While I don't know that for a fact – what else is one supposed to deduct after seeing this?
Time-and-time again, whether it's former teammates, or just opposing players – after a bad penalty where someone could've been seriously hurt, we'll see the offender apologize to his victim. As they say, "shit happens."
In this case, Lemieux was basically doing the Tom Wilson stuff from last season, where he was doing the tough man pose, a pose that players better be careful of using these days. (I'm not going to get furthermore into the PK Subban story other than that – but I'd also like to see "slew-footing" removed from hockey too.)
I just didn't comprehend this at all. Lemieux committed about ten different penalties on one play with this cheap-shot, and rather than being remorseful and/or apologizing – he went nuts as if he were a 1970s Broad Street Bully.
Lindgren, who was bleeding from the bridge of his nose following this hit, never missed a shift.
In fact, we saw #55 screaming from the bench, "YOU'RE GOING TO GET IT," in a response to Lemieux's taunts from the privacy of his cozy penalty box cell.
However, Lemieux would never "get it," as following the review, he was booted from the game.
I always liked Lemieux. The archives of this site will tell you as much. After tonight, I'm done.
Goodbye and good riddance – and not for the hit, but for the way he reacted after it. Lindgren could've been seriously hurt here, and a player that's not as tough as #55 may have lost their season after this hit.
I can't stress this enough – sometimes dirty hits can be accidental. I don't think this was, and Lemieux's reaction tells me as much.
After a long delay, Lindgren was also boxed for two minutes, for a retaliation cross check. Horrendous officiating.
Once the two minutes of foreplay were over, the Rangers then had 1:38 left in the period to employ their power-play.
With thirty seconds left, the Rangers still had one shot on goal.
The Rangers would then get two more, and on their third of the period, and with just 1.5 ticks remaining, Chris Kreider scored his 30th goal of the season:
NHL's leader in goals, Chris Kreider 🙌 pic.twitter.com/4hpojQTgdU

— Rangers on MSG+ Tonight (@RangersMSGN) January 25, 2022
---
1-0 GOOD GUYS, as with every goal scored, Kreider sets a new single-season career high.
On this goal (and as we've seen many times before this season), Fox found Kreider, and CK20 (or is it "CK30," and perhaps soon-to-be "CK50"!?!?), used his backhand move to beat Quick for the PPG.
1-0 good guys after twenty, where despite an anemic offensive performance, the Rangers had the lead.
---
In a second period where you wish Lemieux had played in, just so you could see Lindgren get his pound of flesh; the Rangers were better offensively. However, so were the Kings, who ultimately won this period 2-0.
After the Kings killed off the remainder of the Lemieux major (Quick finished with 13 short-handed saves tonight, where a bulk of them were impressive), Hajek broke up a potential Kings odd-man rush. Hajek would later get hurt in this period, where he went to the locker room, but he would return for the third frame.
With Panarin already back with his favorite center Ryan Strome, the second line, as they'd do all game, would get a ton of chances, only for Quick to deny them time-and-time again.
With 12:51 to go, Quick made his best save yet – where he made a robbery of a glove save on an all-alone, and in the slot, Jacob Trouba. This should've been 2-0, but kudos to Quick.
In what was turning out to be a hard-fought and physical affair, Gauthier streaked to the net, but couldn't finish at the half-way mark of the period/game.
However, with 8:05 to go in the period, and following a second line turnover (Strome/Goodrow missed connection), Blake Lizotte raced towards Igor. Trouba tried to get in front of Lizotte, but in turn, wound up accidentally screening his Vezina candidate. Lizotte then fired a laser. 1-1.
Now with 5:32 remaining, Goodrow drew Danault for a blatant tripping penalty. The Rangers would have a chance to regain the lead with their power-play.
Of note, at the time of this PP, the SOG were 20-8. Following this power-play that the Rangers didn't score on, the SOG were 20-13, as Quick made five more saves in these two minutes.
Under two minutes to go, Panarin made a hell of a razzle-dazzle move on Anderson, where he backhanded a puck past Quick – or so we thought. Instead, the puck hit the crossbar, and didn't give "The Breadman," nor Ranger fans, the bounce which was so deeply desired.
With 1:19 to go, Goodrow high-sticked Kempe. Upon further inspection, Goodrow drew blood, which then gave the Kings a double-minor power-play. (Of note, Goodrow wasn't doing the King Kong shit that Lemieux had done earlier.)
Then, with 38.7 seconds remaining, Alex Iafallo, left all alone to the left of Igor, scored a backhanded power-play goal, to put the black-and-silver up 2-1. That would remain the score after forty minutes of action.
It would also be the last goal that Igor gave up. (Not including the shootout.)
2-1, bad guys, in a game where special teams were key.
---
After killing off the remainder 1:22 of Kings power-play time; now back at full-strength, Igor made back-to-back saves at the 3:45 mark. The CZAR would then stop Iafallo, where the Russian made a clean glove save.
On the other end, Quick denied Schneider, from a spot where #45 scored in the game against San Jose.
Olli Maatta soon high-sticked Ryan Strome. The Rangers would have a long 6×5 attack here, but couldn't find the tying goal. Despite a ton of chances, the power-play wouldn't score here either. In fact, CZAR IGOR would make his best save of the game during this Rangers man-advantage, where he denied the Kings on a 2×1 PK odd-man rush. That save would prove to be crucial.
As we approached ten minutes to go, and really, for most of the third period; the Rangers kept feeding each other in the white space a foot away from Quick's blue paint. To his credit, Quick was there to stop everything.
Following a soft, soft, soft and do I mean soft boarding call assessed to Alexis Lafreniere – which led to another successful PK for the Rangers, the Blueshirts continued to attack Quick. It would soon pay off.
After about 78078779707807907907 tries, the second line finally got on the board. On this goal, which came with 5:45 remaining, Strome found Panarin, "The Breadman" teed off, and there was Goodrow for the deflection goal. 2-2!
This goal woke up a nervous M$G. Then, right after, Igor made a huge save on Byfield, which then incited huge chants of "IGOR! IGOR! IGOR!"
With 1:14 to go, Kempe tripped Mika as #93 in blue was streaking into the Kings zone. This gave the Rangers a chance to close out the game in regulation, but the PP1 unit failed to do so.
Following a timeout to set-up the power-play; the Kings, behind Quick held on. 2-2 after sixty minutes, and where the Rangers would open up the overtime with 46 seconds of a 4×3 power-play.
---
We never got one second of 3×3 play during the overtime. Instead, following the successful Kings penalty kill; we had 4:14 of pure 4×4 hockey, where not a whistle was to be had.
With ten seconds to go in overtime, Julien Gauthier went to the net, where he, and not the puck, went into Quick's twine.
Up next, a shootout to determine the winner.
In the first two rounds, Kempe, Kreider, Arvidsson and Mika were stopped, and in that order.
In what could've been the final round, Kopitar beat Igor.
With the game on his stick, Panarin went into slow-motion, pulled off his Harlem Globetrotter moves, and then following his puck-demon display, beat Quick.
In the fourth round, the first bonus round, Iafallo and Strome were stopped.
In the fifth round, Byfield beat Igor.
Now with the game on the line once again, it was Alexis Lafreniere, the penalty machine, who backhanded a puck right through Quick's five-hole. The Rangers got another life-line here!
In what would be the sixth and final round, Igor sonned Arthur Kaliyev.
Adam Fox, who had never participated in a shootout before, then had a chance to win the game. And that's just what he did, as he went backhanded for a top shelf goal while skating right into Quick's crease. Shootout 3-2, Rangers, final score, 3-2 Rangers! Another win for the GOOD GUYS!
---
It would have absolutely sucked to lose to this hated Kings team, especially after the Rangers loss in LA two weeks back (ugh, I was there live), while also experiencing their worst bout with COVID of the season.
Even better, now with two days off, the Rangers don't have to swim in the waters of negativity, and can enjoy another epic win during these next two days of practice.
All they do is win – despite whatever some jerkoff from the analytical community may suggest!
Let's Go Rangers!
PLUGS time, including news on a new podcast centered around hockey trading cards.
---
Eddie Gieck, of "The Blueshirt Underground Show" (which I believe returns with a new and live episode this Tuesday night), in addition to his BSU duties, has created a new live podcast for fans to enjoy, entitled "Rock'Em Sock'em Hockey Cards."
Here's a full press release about Gieck's latest project:
Rock'em Sock'em Hockey Cards Podcast is a Youtube podcast specifically for Hockey Card Collectors

The Ultimate Show for the Hockey Card Enthusiast
Discussing old and new products, and real-time analysis of current NHL players in regards to the hobby

Ronkonkoma, NY – 1-25-22 – The Rock'em Sock'em Hockey Cards Podcast is hosted by Edward Gieck, who is well-known as the co-host of the hit podcast, The Blueshirt Underground Show.

Rock'em Sock'em Hockey Cards Podcast is dedicated to the ice hockey card collector. The show will focus on pricing, new releases, and critiques of new products. It will be delivered in the same lighthearted, but opinionated, views that only Ed can deliver. The show will embrace the fun aspect of all things hockey cards and NHL hockey.

To connect with Ed and the Rock'em Sock'em Hockey Cards Podcast:

Join the facebook group https://www.facebook.com/groups/350959308680820
Follow us on instagram @rockemsockemhockeycards
Subscribe to our Youtube channel https://www.youtube.com/channel/UCb9uzUtKJ1xM202g8s_Va-Q

Edward Gieck, Host
Troublizing@yahoo.com
---
The first plug of tonight's blog – the mandatory plug for my new book, "The New York Rangers Rink of Honor and the Rafters of Madison Square Garden".
As mentioned previously, the book is now available in hardcover, in paperback and in Kindle formats. To purchase a copy of the book, visit this link:
https://www.amazon.com/Rangers-Rafters-Madison-Square-Garden-ebook/dp/B09CM5N2WD
For those still looking for signed paperback versions of the book, I have re-ordered more copies. I now have 4 signed copies for sale at $25 a pop (includes shipping price) through me directly. Here is all the information on that:
---
Here are my last few blogs, in case you missed them:
---
---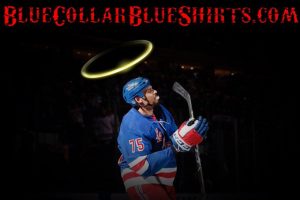 ---
If you haven't already, subscribe to this blog for the next update:
---
Up next: the Rangers travel to Columbus, Ohio, for a divisional game with the Blue Jackets. 24 hours after that, it's Henrik Lundqvist night at M$G. The ceremony will be held at 7PM, an hour prior to the scheduled 8PM puck drop between the Rangers and the Mats Zuccarello & Cam Talbot led Minnesota Wild.
As always here, thanks for reading and…
LET'S GO RANGERS!
Sean McCaffrey
BULLSMC@aol.com
@NYCTHEMIC on Tweeter