Greetings and salutations everyone and welcome to another blog here on BlueCollarBlueShirts.com. As they say, "a win is a win!"
In what can best be described as a "snoozer," especially following a first period that may as well have been sponsored by Ambien (and those proposed ads sure would beat all of these never-ending gambling commercials that are plastered all over the M$GN); the Rangers scored three quick goals in a time-span of six minutes during the second period, en route to their eventual 4-1 victory in Montreal.
Following rapid-succession goals from Chris Kreider, Braden Schneider and Filip Chytil; the Rangers entered the final frame up 3-0. As you may expect, at the time, I was rooting for just one more tally – and the first 4-0 final score of the season!
Sadly, it wasn't meant to be.
The Rangers, who somewhat took their foot off of the gas during the final twenty minutes, were also "reverse cursed" by the two bumbling buffoons in the booth; as prior to Joel Armia's goal scored with just 5:14 remaining in regulation, both Sam Rosen and Joe Micheletti were going on-and-on about how the Canadiens' right-winger hadn't scored a goal during the past two years.
While the Blueshirts did Jaroslav Halak no favors at the time, in an attempting to preserve what would've been the first shutout for THE HALAKNESS MONSTER as a Ranger; as is always the case – you just knew by the way these two dolts in the booth were talking – that of course – Armia, of all people, would be the one to ruin the no-no.
Now up 3-1 at the FOXWOODS FINAL FIVE mark of the contest; the Habs threatened to strike within one (especially after a loud <DING> that echoed around the Bell Centre); but ironically, it was Sam and Joe's favorite player, Armia himself, who took a selfish (and dirty) crosschecking penalty with just 2:32 remaining to seal the deal on his team's fate.
Filip Chytil, for the second time in as many games, officially put the Canadiens away with just seventy seconds remaining, following his empty net power-play goal.
Funny enough, for a head coach who hadn't seen his second power-play unit score one goal since first arriving to New York; recently, this quintet has scored four goals, and with the Czech in the #72 jersey scoring 75% of them.
To be honest, while all that matters is the win, and the two points too; this game wasn't much to speak about.
If the recent games against Tampa and Carolina felt like playoff games; then conversely, this game had all the makings of a dull preseason affair.
But hey, no matter who you beat during one of your games on your 82-game schedule, each win counts the same – two points for.
Following this match, and as a result of the rest of the games played around the league; the Rangers, who resident M$GN douche, Sieve Vagistat, has said have lost three "MUST WIN" games this season – they are now six points away from the top of the division:
While I don't want to make this another "FIRE VAGISTAT" manifesto; following the game, I stomached some of the post-game show, where the seven-foot jackass was going on-and-on about Halak, and how back-up goalies need to rack up points.
Of course, none of that ever mattered when Vagistat was giving up ten goals left-and-right per game.
What I'm getting at here is that I just don't understand some of the vitriol for Halak.
To solely blame him, or to blame him at all, for the Rangers not being in first-place right now is ridiculous.
There's no reason to go back and cry over spilled milk, which is all of the bad losses that the Rangers had endured from earlier this season; but needless to say – Halak wasn't, nor isn't, the problem.
Instead of blaming the back-up goaltender, I think I'd take a deeper look at the things that really caused these crushing losses, such as Mika's goal scoring drought, the turnovers from Panarin & Trouba, a powerless play, a lack of production from the forwards known as "The Kids," and you get the rest.
Plus, despite yours truly being the biggest fan of his – CZAR IGOR wasn't that hot at home either – a trend that continues to exist today – where lately – he's been better, while his numbers continue to get pulverized in NYC.
Heck, if you throw away CZAR IGOR's numbers from games played at M$G this season – then #31 would be your no-doubt-about-it, repeat Vezina Trophy winner right now.
And as I write these words, I am realizing that I'm falling into the trap that M$GN set – as I'm leading with a negative story – rather than talking about another W in the win column – the team's third in as many games played.
What should be the focus is how the Rangers are now working their way to the upper-echelon level of the league!
Let's move on!
---
As you probably know, and perhaps sick of too – yes, I have that damn 5AM train to catch for work on Friday morning.
However, good news – I don't have to work this weekend!
Better news? With the Rangers hitting the half-way mark of the schedule this Saturday, when they play Game #41 against the Devils; come Sunday, I'll do my annual Mid-Season Report Card, where I'll have more time to really explore this entire roster.
However, for now, I have to get this out of my system, as I'm currently beaming ear-to-ear:
Finally, these clueless birdbrain beat reporters and the goofs at the M$GN too, are seeing the light and saying what I've been saying all season – BRADEN SCHNEIDER IS THE BEST "KID" ON THE TEAM!
Of course, they are only saying this over ten weeks after I first said it – but at least these mooks have turned the corner.
While Kakko has heated up a bit lately, and you can't really knock Chytil either (and who I don't consider to be a "kid" anyway); suffice to say, Lafreniere has been a disappointment – such a disappointment – that after a tough start from Mr. ICU himself, Vitali Kravtsov – it's the TOOTHBOY, and not the first-overall pick – that's been better – and by leaps & bounds at that.
Simply stated: as Kravtsov is progressing – Lafreniere is regressing.
However, the most consistent, productive, rock-solid, and any other positive adjective that you want to use here, KID OF THE TEAM? Look no further than to #4, Braden Schneider.
It really is incredible how great the third-pair (but should be on the second-pair) defenseman has been.
Tonight marked Schneider's 22nd consecutive game without a minus in the plus/minus statistic. That's insane.
And oh yeah – he scored tonight's game winning goal too!
Just as impressive? After being anchored with a not-ready-for-the-NHL Zac Jones, and a why-did-they-even-bring-him-back Libor Hajek; INSTANTLY, as in the second he was called-up, Schneider has formed a bond with his new brother of the blue line, Ben Harpur.
The two have been incredible – where you really have to take a step back and appreciate it all.
Here you have two players, at different points of their careers, and who prior to a few weeks ago, had never played with each other before – creating instant chemistry – and with no issues at all.
Maybe Artemi Panarin and Vincent Trocheck should take a page out of their book!
And yep, this too, and as I've been saying for a bit on this site – one day, it will be Schneider, and not K'Andre Miller, nor his partner, Jacob Trouba either, who will steal a Norris vote or three away from Adam Fox.
Who knows, that may even happen as soon as this season!
Since time is an issue and because I'm already rambling & gushing; let's move on and get into the pregame news & notes, and then get into the GAME REVIEW.
---
In case you missed it, I covered all of the off-day news from Wednesday, including Jimmy Vesey's contract extension, here: https://bluecollarblueshirts.com/1423/
---
On Thursday morning, the Rangers held an optional skate at the Bell Centre in Montreal.
While that was going on, the team also announced that they had recalled Gustav Rydahl from Hartford – the Wolfpack's Swedish center who wasn't in French-Canada at the time. Instead, he was boarding a plane destined for north of the border.
Initially, it was thought that perhaps Rydahl was called-up as an insurance policy, due to Filip Chytil's recent battle with the common cold.
However, that wasn't the case, as the first thought that popped into my mind was later confirmed by Gerard Gallant:
Rydahl may not even be a call up for Chytil. Maybe Brodzinksi's wife went into labor. Guess GG will tell us later. #nyr

— BlueCollarBlueShirts (@NYCTheMiC) January 5, 2023
---
Following the light morning skate, Gallant held his daily "TURK TALK," where if one thing was extremely noticeable, it was this – the Montreal media members are far superior than the collection of junk that Ranger fans are used to with their current crop of beat reporters – including Mollie "I Don't Give a Shit" Walker – who once again on Thursday – did her usual hyena laughing act throughout the interview.
At this rate, Ms. Walker now reminds me of the Toby character from "Seinfeld." "MY TOE!" (And not "MATTEAU" – a player who Walker probably isn't familiar with either! If it didn't happen before her time, then she "don't give a shit!")
It's truly a shame.
While both New York and Montreal are two of the league's biggest markets; it are the reporters who cover the "rouge-blanc-bleu" that blow away every "red-white-blue" scribe, sans Larry Brooks.
Here was Thursday's edition of "TURK TALK":
---
Gallant, after naming Jaroslav Halak as tonight's starter ("he's one of our goalies too"), confirmed that Rydahl was called-up due to Mrs. Brodzinski being set to pop.
As previously mentioned on this site – all the best to JONNY HOCKEY and his growing family.
When it comes to Halak getting the nod in net – I was fine with this.
While I'd like to see CZAR IGOR roll as often as possible; with a more important game ahead, and a quick turnaround to boot (the Rangers play in Newark at 1PM Saturday) – if there was ever a time to sandwich-in another Halak start, then a game against the lowly and rebuilding Canadiens was the right time.
Gallant, who had to know this was coming, was then peppered with questions from the Montreal media regarding Alexis Lafreniere.
The head coach pretty much said what he always says – he has full confidence in Lafreniere, he's only 21-years old, he didn't have an orthodox start, there are players slotted higher than him on the depth chart, his lack of power-play time and added this new wrinkle – he believes that #13 could one day be a 50+ goal scorer in the league. And if that ever happens – then Lafreniere will become the fifth Ranger in franchise history to ever do so.
Gallant, now in front of a new audience, reiterated that his recent scratch of Lafreniere had nothing to do with the player's attitude or anything else truly negative.
As "The Turk" has been saying, the scratch was all about giving Lafreniere a breather, a "reset" if you will, and trying to get him going again.
When it comes to Lafreniere himself, he too spoke to the media, where as you'd expect – he was jacked up prior to this game. After all, the first-overall pick was ready to play in front of a ton of family members and friends – where going into this Original Six tilt – if there was ever a time for Lafreniere to show up, then tonight was that night.
The Montreal media also asked Gallant about another hometown native, Julien Gauthier. Of course, and as he always does, Gallant spoke highly of his player.
The other French-Canadian on the team, Sammy Blais, wasn't brought up to the head coach.
As far as anything else from Gallant, the head coach also praised Mika Zibanejad.
Gallant said even when #93 isn't showing up on the box score, he's been happy with his first line center all season, where he brought up Mika's defensive skills and role on the penalty kill.
---
Here was Thursday's line-up:
FIRST LINE: Kreider/Mika/Kakko
SECOND LINE: Panarin/Trocheck/Kravtsov
THIRD LINE: Lafreniere/Chytil/Vesey
FOURTH LINE: Blais/Goodrow/Gauthier
FIRST PAIR: Lindgren/Fox
SECOND PAIR: Miller/Trouba
THIRD PAIR: Harpur/Schneider
STARTING GOALIE: THE HALAKNESS MONSTER
BACK-UP: CZAR IGOR
---
BOX SCORE time.
The following graphics and information come from ESPN.com:
SCORING:
PENALTIES:
TEAM STATS:
GOALIES:
| | | | | | | | | | | |
| --- | --- | --- | --- | --- | --- | --- | --- | --- | --- | --- |
| SA | GA | SV | SV% | ESSV | PPSV | SHSV | SOSA | SOS | TOI | PIM |
| 30 | 3 | 27 | .900 | 23 | 3 | 1 | 0 | 0 | 59:37 | 0 |
| | | | | | | | | | | |
| --- | --- | --- | --- | --- | --- | --- | --- | --- | --- | --- |
| SA | GA | SV | SV% | ESSV | PPSV | SHSV | SOSA | SOS | TOI | PIM |
| 18 | 1 | 17 | .944 | 13 | 3 | 1 | 0 | 0 | 59:46 | 0 |
---
Come 6:30PM, I tuned into the M$GN and was happy to see that Lundqvist was back. I can't say the same about the smug jackass known as Sieve Vagistat.
For whatever reason, despite you know, a franchise goalie in-studio; instead, it was the horrendous former back-up who opened this broadcast – and then polluted it with his never-ending bullshit – the usual garbage – "East-West passing, royal road, backdoor coverage, I know Benoit Allaire, did I ever tell you about that night at the Ramrod and etc."
As repeatedly mentioned on this site, I am still shocked that Lundqvist is an EYE-TEST guy – and doesn't sugar-coat anything either. He's refreshing to listen to.
Once Vagistat was done using his second asshole to spew his shit (his mouth); Lundqvist poignantly said, "if you can't get your emotions up and your focus on details where it needs to be…. then it's a challenge. Get there, commit to the game plan and they'll have a big win tonight."
And that's kinda what happened.
After giving his pregame thoughts, Lundqvist talked about his former teammate, Jimmy Vesey, and his new deal, when he said, "I'm happy for Jimmy – he's a nice guy, works hard. He had a good start [to his career], scored a lot of goals and then jumped around. This is a big moment for his career. He's done the best he's could. You need to adjust your game. He's a good role-player and he gives the Rangers what they are looking for."
While he didn't say this verbatim, Lundqvist pretty much said what I wrote on this site last night – Vesey's career path is somewhat akin to another former Ranger & Devil, Bobby Carpenter.
Right after this, Vagistat, who need I remind you, was the worst Rangers' back-up goalie of this century; started to criticize Halak. As is often the case, Vagistat's jealousy issues with back-up goalies shone again here, just as they do whenever he's talking about Antti Raanta, Andrew Hammond, Alexandar Georgiev, etc.
Funny enough, and for the first time that I can ever remember on this broadcast; as Vagistat was doing his clown show act, where he jokes about Lundqvist's career – John Giannone shut this down quick, and reminded the Clear-Sighted Asshole about his ten goals allowed game against Dallas!
Kudos to JOHN GIANNONE, FROM THE PROJECTS IN BOONTON! (That's an old callback from a blog that I posted eight years ago!)
Seriously, Vagistat has become so exhausting, infuriating and nauseating to listen to, that if the M$GN ever fired him – then for me, it would be almost as good as the Rangers winning their fifth Stanley Cup.
Once away from the stooge, Lundqvist brought up how he's seen some really bad defense throughout the league this season, defense so bad, that he thought it was the worst he's ever seen. There was no mention of the Rangers' captain during this.
On playing in Montreal, the Caesars Sportsbook spokesperson said, "It [Montreal] is tough. It's dry in the building and they have fast ice. The atmosphere can get to you at times. I was very bad in the regular season in Montreal but in the playoffs, I was locked in."
Once out of the studio and now in Montreal, the two jinxers, Sam Rosen and Joe Micheletti, got face-time.
Micheletti, who I thought was really good tonight, sans the hexing and vexing stuff, repeated what I have said on this site – the Rangers will go as far as Panarin goes. When Panarin plays well, the Rangers usually win. When Panarin is stale, the Rangers don't play as well.
Yes, obvious stuff – I know!
From there, Sam Rosen listed every negative Montreal trend known to man and then pretty much got on his hands-and-knees and begged for players such as Kirby Dach, Cole Caufield and the previously mentioned Joel Armia to have big games.
GAME REVIEW time.
---
FIRST PERIOD:
We can blow through these first twenty minutes in bullet-point fashion.
— The Canadiens registered their first shot on goal with 3:07 remaining.
— The Rangers played down to the level of their competition.
— The Habs won six faceoffs in this period. Chytil (1-5, 20%) lost four of them.
— Lafreniere's line started the game since it was homecoming. However, Lafreniere continues to struggle, as aside from his one SOG that was registered with only five seconds remaining in regulation – he was a ghost and completely unnoticeable.
— Who was noticeable was Lafreniere's French-Canadian peer, Julien Gauthier, who within the first five minutes, made three keeps at the blue line and generated the few chances the Rangers would receive in the period.
— And what does it say that during Lafreniere's big return, that it was #12, and not #13, who was better, and significantly at that, than the player who received the most coverage prior to the puck being dropped?
— Once the first line took the ice, Mika forced a turnover in the Habs' d-zone, and perfectly set-up Kakko. Kakko refused to shoot the puck and then forced a puck for a turnover himself, following his reckless pass back to his center.
— This Kakko turnover took place not even a minute into the game, where right away, Micheletti jumped on the Finn – and Jumpin' Joe was right.
— Speaking of Micheletti, he had the line of the game at around the half-way mark of the period, when he said, "I don't know what team is taking this crowd out of the game Sam!"
— Needless to say, while you couldn't knock the effort, this period was as exciting as a dulling toothache – just ask Kravtsov all about this!
— And while on this Micheletti comment, at the ten minute mark, the SOG stat read as Rangers 2, Canadiens 0.
— To the Rangers' credit, Fox, Trouba, Mika, Lindgren, Schneider and Fox either broke up home team breakaways and/or odd-man rushes.
— With 5:00 remaining, Sam Rosen expertly opined, "this game is not exciting Joe."
— At the time, I had that feeling that once the Canadiens put their first SOG, then it would go in. And that's what almost happened with 3:07 to go, when Halak, who could've been stuffing his face with Montreal hot dogs all period if he wanted to, was forced to make a hairy save on Dadonov.
— As we hit 2:05 left on the clock, Armia went wide from two feet away. This is when Sam and Joe first started their reverse curse stuff with Armia and then mentioned that he hadn't scored a goal since 1984. (I may be exaggerating with the year here!)
— Sam & Joe then spent the rest of the period talking about how Henrik Lundqvist will be working a rare Saturday afternoon, when the Rangers play next. They had nothing else to talk about – and I can't blame them.
— To close out the period, Halak stopped Suzuki while Gauthier got to the net on a breakaway – and you know the rest.
ZzzzZzzzZzzz
Here's what I said at the time, following this nil-nil period that was as exciting as a soccer game to most Americans, myself included:
Scoreless after 20. 1P Thoughts:
— Last three minutes had some action, outside of that ZZZZzzzzzZZZZ
— Gauthier, best forward thus far
— SOG 6-4 #NYR, Hits 10-8 MTL, FO's 6-6 – Chytil 1/5 for a piss-poor 20%.
— Gotta stop playing down to the competition, take it to them.

— BlueCollarBlueShirts (@NYCTheMiC) January 6, 2023
---
SECOND PERIOD:
Prior to the commencement of this middle stanza, the following was announced: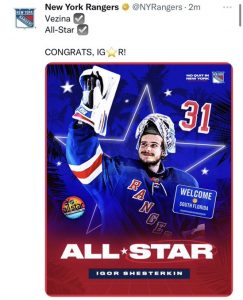 Congrats to CZAR IGOR – where I have to imagine that he will be joined in Florida with the league's best defenseman – Adam Fox.
As the first few minutes of this period played out like the one that had preceded it, I noted the following at the three minute mark:
Here we go, Sam is willing Armia into a goal tonight #NYR

— BlueCollarBlueShirts (@NYCTheMiC) January 6, 2023
---
And yes – maybe I'm salty about 4-0 not hitting tonight – as it should have!
With not much to talk about, Micheletti actually talked about a Ranger, and sang the praises of Lafreniere, who as mentioned, you had to check the box score to see if he even played tonight.
Micheletti also brought up the sage wisdom and veteran savvy of Ben Harpur, and how #5 gave #13 the Broadway Hat following the win over Florida.
And when that's your top Lafreniere story – that speaks volumes.
Following Halak's best save of the game at this point, and with 15:20 to go; Fox found Kakko for a breakaway – and #24 smashed the boards as if he was a Soprano collecting a debt.
Someone said this to me on Twitter tonight, and while I don't hope this to be the case, the point is valid: are we witnessing the start of another one of these long point-droughts from Kakko?
That said, I thought Kakko was pretty good tonight, where he really stood out whenever battling for loose pucks at the boards – where's he's picked up a bunch of assists lately. It's been a nice turnaround for the second-overall pick, as he once was shy of contact – but that no longer applies anymore.
Down to 14:03 remaining, Kravtsov was caught for a too-many-men-on-the-ice penalty, as once prematurely getting on the ice, he immediately touched the puck. This stuff happens and I really can't slam him for this – and you know that I would if I wanted to!
And if you're an optimist, which I claim to be, then the glass half-full take following this boneheaded penalty was this – this infraction led to the first Rangers' goal of the game!
As Mika was doing his usual act, you know, clearing pucks and not giving f***s about the other team; with just fourteen seconds left on the penalty kill, and following two tremendous back-to-back saves from Halak too; CHRISTOPHER JAMES KREIDER forced a turnover – and then waxed Jake Allen on a breakaway:
Joe called the shorty… and is irked by it 🤣🔮 pic.twitter.com/iMou6i5CjR

— Rangers on MSG (@RangersMSGN) January 6, 2023
---
1-0, GOOD GUYS – the first goal of the game with 12:16 remaining.
And in a rare occurrence; prior to this goal, a Micheletti "REVERSE CURSE" actually played out in favor of the team that he is paid to talk about!
When the Montreal penalty kill began, Micheletti mentioned that the Habs hadn't given up one short-handed goal all season.
Maybe in the future, the two guys in the booth can keep on bringing up these stats that "reverse curse"/favor the Rangers!
For Kreider, who scored the fifth short-handed goal of his career (all under Gallant); this was also the 247th goal of his career, which ranks him eighth-overall in franchise history.
Up next, Mark Messier, who scored 250 career goals for the Blueshirts.
With many years remaining on his contract, it's not out of line to think that Kreider, should he fulfill this contract with the only team that he's ever known, will break Rod Gilbert's franchise record of 406 goals.
This short-handed goal pretty much gave the Rangers all of the momentum they would need to win this game.
As Halak made a few more saves, and got a break too, when Drouin, on a Habs' 2 x 1 odd-man rush, hit a post so damn hard that I was surprised the officials didn't stop the game to clean up all of the paint chips that were left on the ice; with 7:32 remaining, the Rangers scored two more goals in a time-span of 59 seconds:
Schneider & Chytil with 2 quick shots and 2 quick goals 🚨 pic.twitter.com/dd1Vx4uczb

— Rangers on MSG (@RangersMSGN) January 6, 2023
---
2-0, GOOD GUYS, following Schneider's rip from the high slot, as he took a perfect pass from Panarin and then made short work of Allen.
And yep, fanboy mode (even if I am forty years old and sadder than that – I'm also old enough to be Schneider's father too!) – I'm looking forward to getting my #4 Rangers' jersey in the mail next week!
Following Schneider's fifth blast of the season; Arber Xhekaj (Oh Joe, it's pronounced JACK-AI, JOE!), made two strong defensive plays on both Vesey and Chytil, but no matter – this duo wouldn't be denied.
3-0, GOOD GUYS, as Lindgren, from the boards, found Chytil at the top of the left circle, and the Czech, who as mentioned, was NOT punished by Gallant; fired a wicked wrist shot right past Allen.
It took a while, but at this moment – the Rangers were doing exactly what they were supposed to be doing – running up the score and winning a game against a bad team.
Simply stated – a loss tonight would've been embarrassing.
Now under five minutes remaining, Edmundson tried to get cute with Kravtsov, but #74 wasn't biting, nor should have he bit – especially with his teeth! I kid, I kid!
In reality, up 3-0, there was no reason for Kravtsov to get baited by perhaps the "future" former Habs' defenseman's antics.
Down to 2:58 remaining, Vesey almost pushed the score to 4-0; but following a sweet set-up from Fox, #26 flubbed the shot, thus preventing us of a pure CRIMSON, straight outta Harvard, goal.
It's not my intention to keep harping about Lafreniere – but it's tough not to – especially with all of the pregame coverage and how Sam & Joe kept bringing up how he had 9876786968796 family members and friends in attendance.
As the period was winding down, here's what I said at the time:
Halak, blocker save, on Holden Caufield. 2:25 to go. You'd like to see Lafreniere get on the board somehow, really a non-factor tonight in a game that's huge for him. #NYR

— BlueCollarBlueShirts (@NYCTheMiC) January 6, 2023
---
Following an Allen save on Harpur, we remained 3-0, GOOD GUYS, after forty minutes.
Here's what I said after the period:
3-0, GOOD GUYS, after 40. 2P Thoughts:
— Boring start, but #NYR woke up. CK20's SHG kicked it all off.
— Interested to see what the Montreal media has to say about 13.
— I can't wait to get my Schneider jersey in the mail lol
— SOG 19-11, FOs 18-14 NYR, Hits 15-all
—LGR

— BlueCollarBlueShirts (@NYCTheMiC) January 6, 2023
---
THIRD PERIOD:
In a habit that needs to be kicked; now with a three-goal lead, the Rangers played a "Prevent" defense; where much like in football – it just created headaches.
Whether they went into cruise-control mode or what; the Rangers let the Canadiens hang around – and where you couldn't really exhale until Chytil's late empty net goal.
Both goalies made a pair of strong stops to start this period, as Halak made a nifty denial on a Dach deflection, while Allen, following some circus passing from the road team, stopped what would've been a Kravtsov cherry-on-the-top goal.
It's getting late, and my job, and my 5AM train and blah-blah-blah.
Let's fast-forward a bit and talk about the most meaningful plays from the final minutes of action.
As the two goalies traded saves, and as the Rangers tried to limit the Habs' zone time; down to 10:16 remaining, Panarin took another one of his dumbass and elementary penalties, when he tripped noted sniper, Jordan Harris, as the Hab was entering the Rangers' zone.
Silver lining? At least this wasn't an offensive zone penalty, which Panarin is prone to. However, up 3-0, there was no reason for this.
Halak came up with another monster stop, thus preserving his shut-out at the time, when he stopped JACKAI while he was screened. Then, with just 28 seconds left on the penalty kill; Mika sprung Kreider loose for another breakaway, and his second opportunity at a short-handed goal.
This time, Kreider was slashed by JACKAI himself – and a penalty which should've gave Kreider a penalty shot.
However, the officials ruled in favor of the traditional two-minute minor, which really, up 3-0 and with 8:43 left in regulation, was the best scenario for the Rangers anyway – my 4-0 bet be damned!
The Habs' PK won this battle during these two minutes, where they were the aggressor, rather than the team with the man-advantage.
As the Habs were doing everything but scoring goals here; down to 5:30 remaining, Armia finally put the home-team on the board – and much to the delight of Sam & Joe.
3-1, good guys.
For 55 minutes, this game never hit, "run the clock and get the hell out of dodge" levels. That wouldn't be the case once we hit the FOXWOODS FINAL FIVE mark, as the Rangers couldn't clear pucks, kept on turning over the rubber and allowed the Habs to have free reign at Halak.
Down to 2:47 remaining, and in a play that may be forgotten in light of the Rangers' win; Armia heard a thunderous <DING>, thus preventing him from scoring his second goal of the season – and much to the dismay of Sam & Joe.
Frustrated with missing the net; just fifteen seconds later, Armia cross-checked Lindgren right in the ribs, and in a disgusting and dirty fashion at that.
While I believe that Lindgren will be okay – this should be a penalty that results in a fine and/or suspension. This was just flat-out unnecessary and was done with intent to injure.
This was also a penalty that killed any chance of the Habs coming back too.
Following another minute or so of nothingness from the Rangers' first power-play unit; the second group came on, and with 1:10 left on the clock, Chytil took Fox's pass and deposited the puck into the empty net.
4-1, GOOD GUYS.
For good measure, while they were scrambling when short-handed; the Habs got nailed for having too-many-men-on-the-ice, as the Rangers then spent the remainder of the game on the power-play.
It was during the final five seconds, where both Chytil and Kakko tried to set-up Lafreniere, but #13 was stopped by Allen – as Montreal head coach, the former Ranger, Martin St. Louis, waved the white flag and didn't pull Allen again.
4-1, GOOD GUYS, your final.
Best win of the season? Hardly. Doing what you were supposed to do? Definitely.
Here's your favorite head coach and mine, Gerard Gallant, following the victory:
---
All in all, a solid "move on win" for the Rangers, and better for them – they didn't let this "trap game" stunt them.
Up next, the much-anticipated showdown in Newark, where both teams enter that game with a lot on the line.
And let's hope that Lafreniere can get going in that game, where I really feel strongly about this after receiving this tweet tonight:
@NYCTheMiC Would Lafreniere even make Canada's WJ team right now?

— David Voorhees (@DavidVoorhees12) January 6, 2023
Egads!
---
Barring anything crazy breaking tomorrow; I'll be back Saturday afternoon with a recap of the latest chapter from "The Battle of the Hudson." Then, on Sunday, "The Mid-Season Report Card," where needless to say – we'll see a lot of improvements in the grades when compared to my "Quarter-Pole Report Card!"
LGR!
PLUGS TIME!
---
On Wednesday, January 4th, our buddies over at "The Blueshirt Underground Show" returned with a new episode.
To check it out, click the play button below:
---
My first plug of tonight's blog – the mandatory plug for my book, "The New York Rangers Rink of Honor and the Rafters of Madison Square Garden."
As mentioned previously, the book is now available in hardcover, in paperback and in Kindle formats. To purchase a copy of the book, visit this link:
https://www.amazon.com/Rangers-Rafters-Madison-Square-Garden-ebook/dp/B09CM5N2WD
For those still looking for signed paperback versions of the book, I have re-ordered more copies. I now have a few signed copies for sale at $25 a pop (includes shipping price) through me directly. Here is all the information on that:
---
My four-volume set of books, "One Game at a Time – A Season to Remember," is a game-by-game recount of the Rangers 2021-22 campaign.
My second title as an author, "One Game at a Time – A Season to Remember," is now available in eBook, paperback and hardcover formats.
To obtain signed copies, visit: https://bluecollarblueshirts.com/onegamebook/
To purchase all four volumes on Amazon, visit: Amazon.com – "One Game at a Time."
---
The greatest volume-set of books on Rangers' history today!
"Tricks of the Trade – A Century-Long Journey Through Every Trade Made In New York Rangers' History," a four-volume set of books that meticulously covers every trade made in franchise history, is now on sale.
All four volumes of the title can be purchased on Amazon.com and are presented in three different formats – eBook, paperback and hardcover.
To purchase Volume I: Conn Smythe (1926) – Craig Patrick (1986), visit Amazon.com
To purchase Volume II: Phil Esposito (1986) – Neil Smith (2000), visit Amazon.com
To purchase Volume III: Glen Sather (2000-2015), visit Amazon.com
To purchase Volume IV: Jeff Gorton (2015) – Chris Drury (2022), visit Amazon.com
To purchase signed copies of all four volumes, visit https://bluecollarblueshirts.com/tricksofthetrade/
---
Here are my last few blogs, in case you missed them:
---
---
---
If you haven't already, subscribe to this blog for the next update:
---
Don't forget to order my new four-volume set of books, "Tricks of the Trade!"
If you don't order through me, all four volumes are now available on Amazon.com
For more details, check out: https://bluecollarblueshirts.com/tricksofthetrade/
Thanks for reading.
LET'S GO RANGERS!
Sean McCaffrey
BULLSMC@aol.com
@NYCTHEMIC on the Tweeter machine