Greetings and salutations everyone and welcome to another blog here on BlueCollarBlueShirts.com. In a word, Saturday's matinee "sucked."
While the Rangers never looked dominant, and for sure, were the worse team between these two rivals; behind CZAR IGOR's carry-job, the Blueshirts, also backed behind goals from Jimmy Vesey, Julien Gauthier and Chris Kreider, were up 3-1 as the third period began.
Enter Sam Rosen, where I'm half-joking here – but needless to say – his never-ending reverse-jinxes struck again.
As the senile announcer was going on-and-on about every Devils' stat known to man, while only pausing to tickle the testicles of Jack Hughes (the usual); the Devils then scored a pair of quick goals within a time-span of 2:04, thus tying the game at 3-all at the 10:32 mark of the third period.
Of course, Hughes, who Sam Rosen has a fifty foot raging erection for (and funnier than that – Rosen blew another goal call too – aka – the usual); the face of the Devils' franchise was involved in both goals, assisting on Bratt's 3-2 goal, and then scoring the equalizer just 124 seconds later.
Following the two unanswered Devil goals, and as scored by two of their top stars; the Rangers' 1-2 scoring punch, Mika Zibanejad and Artemi Panarin, could never respond – much less put a puck on net.
While Zibanejad was shooting the puck at the boards with an all-out hostile rage, as if the wood had owed him money; Panarin may as well have worn a ski-mask when cashing today's game check, as no less than two times – "The Breadman" missed vacated nets – where on both tries – a goal would've put the Rangers up by three.
Due to CZAR IGOR, the Rangers, who would've never had a chance to win this game without him – survived – and got a chance to play for a second point in the standings come overtime.
Following another Zibanejad breakaway miss; at the 2:47 mark, noted sniper, Damon Severson, scored his first goal in his last twenty games played, his third of the season, after some foolishness from Alexis Lafreniere – where today's affair was no better than the games that preceded this one for the first-overall pick of the 2020 NHL Entry Draft.
While of course, Sam Rosen, and his fat mouth too, weren't the reasons for this Rangers' loss; it is becoming more-and-more of a chore than ever before whenever listening to him do his opposing team cheerleader act.
Away from the biggest jinx of franchise history; truth be told – the Rangers didn't play well during Game 41.
While I wouldn't knock their hustle, nor their effort either, simply stated – the Devils wanted it more. Their top forwards showed up – the Rangers' highest-paid "FAT CATS" did not.
At the end of the day, while the Rangers CZAR IGOR earned a point in the standings today; this should've been a two-pointer, and where for the next two-and-a-half days – we should be talking about the SECOND-PLACE in the division Blueshirts.
Instead, now at the half-way mark of the season, the Rangers, who did narrow the gap following their poor start to this 2022-23 campaign, remain in third-place – where let's face it – this is a good thing all things considered – especially when compared to where they were at the 25% mark of the season.
---
Going into both this game and this weekend – I was excited.
No joke, I really thought the Rangers would handle business on Saturday, where afterwards – the tone of this blog would be cheery and nothing but "RAH RAH."
Then, once completed with this GAME REVIEW blog, I was looking forward to my NFL Sunday, where prior to the Giants' game, I was going to write a happy-happy joy-joy (yep – a "Ren & Stimpy" reference!) "Mid-Season Report Card" blog.
While I'll still do all that, where obviously, the ecstatic emotions have subsided a bit; I guess what shouldn't be lost in this loss is the fact that the Rangers got another point in the standings today – and created more distance from the teams who are chasing them:
At this time, let's cover all of the pregame news & notes – and then get into the GAME REVIEW.
---
Following the Rangers "another day at the office" victory against the Canadiens from Thursday night; a day later, Friday, the team remained in Montreal, where Gallant held an optional practice, a light skate that was well-attended.
Not much of note took place at the practice, as this practice was more of a way to keep the team together rather than anything else.
With Saturday's matinee affair with the Devils looming; I thought this was smart game-plan from "The Turkmaster General."
Rather than immediately flying back home, where there are distractions once returned; instead, the team stayed together and then later flew to Newark, in preparation for today's tilt.
And with over 48 hours off until the Rangers play next (Tuesday night, when the Blueshirts host "OLD FRIENDS," Ryan Reaves and Mats Zuccarello, now of the Wild) – why not?
Following the non-mandatory practice which was held at the Canadiens' training facility, head coach Gerard Gallant spoke to the media.
Here was Friday's "TURK TALK":
---
Similar to the practice, not much went down during this edition of "TURK TALK" – that is, unless you have an over-under bet on how many times Mollie "Chuckles" Walker will laugh her way through these things.
And this isn't misogynist statement (as whenever you criticize a female in sports, that's what people will accuse you of); but once again, I just don't understand how new reporters, male, female or other, can immediately get jobs in New York.
Just ask Howard Stern about this, the New York native, and who has long been known as "THE KING OF ALL MEDIA" for some time now – and who had to make his bones outside of the biggest media capital in the world before returning home.
Of course, it's not just Mollie "I Don't Give a Shit" Walker either (Wince Mercogliano comes to mind here – and for a good discussion on his work, check out the latest episode of "The Blueshirt Underground Show," as I thought co-host Jim S. was perfect in his assessment of him); but she was the only full-time member of the beat at Friday's "TURK TALK," sans Colin Stephenson.
And to be even more fair – I thought Stephenson (I believe it was him – and if it wasn't – my full apologies) asked a dumb question too.
At one point during the "TURK TALK," Stephenson asked Gallant, "did you ever play or work with [Devils' head coach] Lindy Ruff?"
Not for nothing, but this is something anyone could've found out on Google.
Simply stated: this was not a question that a Montreal reporter would ask Martin St. Louis about one of his peers – these reporters would know the answer.
It's funny, ever since Ms. Walker made her "I DON'T GIVE A SHIT" comment to me – anyone who has a bone to pick with her immediately tells me about it. And there are a lot of "bone pickers" out there! (However, Sam Rosen isn't one of them. He only "picks" his "bone" whenever talking about Jack Hughes!)
While I do find some of it funny, and admittedly, I also spend way too much time criticizing the horrible beat reporters too, as if I'm a WATCHDOG Phil Mushnick during his daily NY Post columns – but yeah, I do have to start distancing myself from this stuff – after today!
Why distance myself? I'm just saying the same stuff over-and-over, and it's taking attention away from things that should get equal to or better attention, such as the great Braden Schneider!
And let's get this out of the way too, because apparently, Walker (who subscribes to liberal politics – and that's her "right" too), on Friday, found herself in an online Twitter beef with the super conservative political pundit, Matt Walsh:
Hey @MattWalshBlog, in my experience, men who believe in spaces that are only for "male energy and aggression" are so insecure about their own inability to live up to masculine expectations that they project it onto everyone else.

You try to unpack that… Good luck! https://t.co/gXemyiSyY3

— Mollie Walker (@MollieeWalkerr) January 7, 2023
---
Can you imagine Foster Hewitt battling political commentators during his heyday? (Mollie's response? "Who's Foster Hewitt? I don't give a shit!")
But again, let's be fair and present all angles – Walker's Hall of Fame co-worker, someone who I do respect a lot, Larry Brooks, also lets his political beliefs impact his writing – especially whenever he's chastising Alex Ovechkin for his relationship with Vladimir Putin.
And one more time, in the effort of fairness – unlike his peers – Brooks never let his political beliefs get in the way on how he treated and wrote about Tony DeAngelo – the biggest political lightning rod of the league.
Furthermore, while this latest "WOMYN POWER" stuff from Walker could've been said differently, as she was speaking in generalities and stereotypes (not that I'm above that either!); I did agree with the point she was trying to make – a point that didn't exactly land during her enraged state.
Above all else – every single one of us either has a mother, wife, girlfriend, aunt, niece, sister, friend, whatever; that's female. For some of you – you may even be female yourself!
And as mentioned numerous times before – I believe this Rangers' fan site/blog/manifesto-mania has the largest female readership among the lot of them.
The most common response I get from the female readers from this website? "I like the comedy and all of the funny references" – stuff you won't find from the 7896786789678967896789 blogs and podcasts out there that solely focus on ANALytical talk.
(And when I think about it, "The Blueshirt Underground Show," the most comedic Rangers' themed podcast out there, also has a large female audience. The same can't be said about the ANALytical podcasts.)
At the end of the day, I guess it's tough to make pie charts and heat maps entertaining – but if someone would laugh their way through a Microsoft Power-Point "EAST-WEST PASSING" presentation – then it would be Walker herself!
Long story short – even for this "BOOMER," and someone who loves their history too – I have no problem with the old female stereotypes going the way of the dodo. I also don't mind women in sports – as long as they are qualified.
Sadly, I also believe there are a lot of "demographic" hires too – where we don't see as many Kim Jones, Linda Cohn and Suzyn Waldman types, pioneers in their own right, and as we ought to – but I'll let you formulate your own opinions on Leah Hextall!
While I'll always believe that you need former NHLers (sans Vagistat – see I'm an equal gender offender!) on your broadcasts/studio panels; as you need to draw from their experience; when it comes to writers, play-by-play people, color analysts, and really, any other job in the world – as long as you're qualified and can do the job – then go for it.
The days of women being dainty little things, and who were once thought were at their best as "barefoot and pregnant;" I'm glad those days are over.
Again, just think about the women in your life – would you want them reduced to that?
---
To expand on what Walker said – Mr. Walsh was dead-wrong in his assessment in regards to women and their sports fandom.
While I'm not female myself (you may have heard); from first-hand experience – which is speaking to you guys gals – there are many female fans who are diehard sports fans.
Heck, half of the Ranger Facebook groups I participate in are ran by women too, while I'm also involved in two daily Ranger fan Twitter threads where females are well-represented.
That all said, Walker has to cool the laughing through everything act, as if she was Toby from "Seinfeld."
I don't know if "unprofessional" is the right word, but not every comment made by the head coach is "Def-Comedy Jam worthy."
It's just a shame that Walker didn't make her bones by covering an ECHL team, as this is something she would've learned.
Seriously, if there was a movie like "SLAP SHOT" out there today, where like Paul Newman's film, there was some parody and comedy included during it; then you'd have a scene like this:
Mollie Chuckles: "Reggie, HAHAHAHAHAHAHAHA, this looked like a HAHAHAHAHAHAHAHA physical HAHAHAHAHAHAHAHA game. Do you think the HAHAHAHAHAHAHAHAnson brothers are too rough and do you think that HAHAHAHAHAHAHAHA Vitali Kravtsov should be on your HAHAHAHAHAHAHAHA first line?"
Reggie Dunlop: "Get me a beer Mollie."
---
I think I've gone off the rails long enough for one blog! Back to the Rangers.
As mentioned, Gallant didn't really say much during Thursday's "TURK TALK," as he did his normal routine – praised his players, wouldn't besmirch a Rangers' opponent and said that he was happy with his team.
Once returned to America, on Saturday morning, now in New Jersey – Gallant spoke to the media one more time.
Here was Saturday's "TURK TALK," a short chat of just over one minute:
---
While this was only 63 seconds long, I thought Gallant said more here than he did on Friday.
Gallant confirmed that he'd be using the same line-up as he had used during the past three games, while also telling us what we all knew – CZAR IGOR would be in net.
With his team now at the half-way mark of the season; Gallant also said what we expected – he's happy with the way his team is playing NOW – and how they had a tough start out the gate.
As far as anything else, Gustav Rydahl was returned to Hartford, as Jonny Brodzinski, now a father of two, returned to the team, following his wife delivering a healthy new girl, Olivia "HOCKEY" Brodzinski.
Congrats to the Brodzinksi family.
---
Here was today's matinee line-up:
FIRST LINE: Kreider/Mika/Kakko
SECOND LINE: Panarin/Trocheck/Kravtsov
THIRD LINE: Lafreniere/Chytil/Vesey
FOURTH LINE: Blais/Goodrow/Gauthier
FIRST PAIR: Lindgren/Fox
SECOND PAIR: Miller/Trouba
THIRD PAIR: Harpur/Schneider
STARTING GOALIE: CZAR IGOR
BACK-UP: THE HALAKNESS MONSTER
---
BOX SCORE time.
The following graphics and information come from ESPN.com:
SCORING:
PENALTIES:
TEAM STATS:
GOALIES:
| | | | | | | | | | | |
| --- | --- | --- | --- | --- | --- | --- | --- | --- | --- | --- |
| SA | GA | SV | SV% | ESSV | PPSV | SHSV | SOSA | SOS | TOI | PIM |
| 34 | 3 | 31 | .912 | 28 | 2 | 1 | 0 | 0 | 62:47 | 0 |
| | | | | | | | | | | |
| --- | --- | --- | --- | --- | --- | --- | --- | --- | --- | --- |
| SA | GA | SV | SV% | ESSV | PPSV | SHSV | SOSA | SOS | TOI | PIM |
| 43 | 4 | 39 | .907 | 34 | 4 | 1 | 0 | 0 | 62:47 | 0 |
---
One fact not mentioned by the M$GN today? The fact that under Gallant, the Rangers were 9-3 during matinee games. And yep, that stat now reads as 9-4, but still – after many years of just getting crushed during these early afternoon tilts – "The Turk" has righted the ship in this department.
The pregame show started with everyone talking about how much of a difference one month makes, as just thirty days ago, the Devils had a fourteen point lead over the Rangers.
Prior to today's game, the Rangers had a chance to erase that deficit – and jump one point ahead too. Instead, the Rangers will have to wait until next week in order to do so.
Once John Giannone brought up that today was CZAR IGOR's three-year anniversary; Lundqvist gave an assessment on his successor, when he said, "Igor is a smart goalie. He understands positioning. A lot of it is how you read. He's one of the best goalies in the game to read the play. He knows when to challenge and when to sit back."
High praise.
Right after this, Vagistat made a joke about Lundqvist's heart condition, a scary life-and-death operation that was later required, and which forced "The King" into retirement.
I get that Lundqvist tolerates the non-stop bullshit from his former (and perhaps still is) coffee boy; and I also understand that we always say the meanest things to our own friends whenever joking around – but this disgraceful comment from the seven-foot braying jackass wasn't warranted on a PUBLIC broadcast.
On matinee games, #30 said, "I had a schedule. I set my alarm early. I showed up an hour late once, but I had a great game. What you is eat [is important]. I had oatmeal and pasta."
On the Rangers/Devils rivalry, Lundqvist said the following:
"I remember my first win at M$G was against the Devils. I also broke the Rangers' shutout record against the Devils. My parents were there, it meant a lot to me for them to be there. When both teams are good, it makes it much more fun.
"Marty [Brodeur] was one of the best, if not the best. Playing against him motivated and inspired me. You don't have to work extra to find motivation. It was always fun."
And yep – I always enjoy Lundqvist on these broadcasts, because it feels like you're reading his autobiography whenever he's on.
Plus, I much rather hear from the guy who actually DID IT, rather than you know, the guy who watched him do it.
After Lundqvist talked about his tailor (a fan asked him about it); up next – three hours of Jack Hughes – where the Devils' center sure made a winner out of the Rangers' broadcasters, specifically Sam Rosen, today.
No joke, here's an artist recreation of Jack Hughes' biggest fan, Sam Rosen, from Saturday afternoon: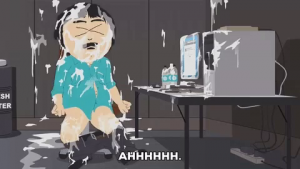 And no joke – this non-stop love affair with Hughes wasn't new either.
After all, look at this successful prediction that I made prior to puck drop, before Rosen "came" on the air:
Sam may say the word "Hughes" more than Joe says "FABULOUS" today #NYR

— BlueCollarBlueShirts (@NYCTheMiC) January 7, 2023
---
I think I've stalled long enough, as I tried to avoid the inevitable. GAME REVIEW time.
---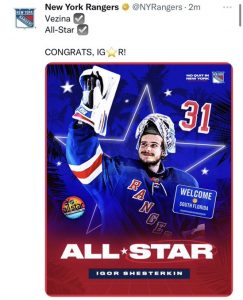 FIRST PERIOD:
We're back to this, and say it with me – "it wasn't all bad."
The first two minutes of this period were all in favor of the road team.
In just the first 51 seconds of action, Vitek Vanecek (VV for the rest of this recap), stopped a Trouba Bomb and then watched the Rangers' captain go wide on another.
Right after that, Sam and Joe brought up the Devils' recent losing ways and every other reverse curse they could come up with. However, and just for this lone occasion – these two hex-men wouldn't get their way.
At just the 1:34 mark, this happened:
Jimmy Vesey with that new contract swagger makes it 1-0 #NYR early pic.twitter.com/F5hvdqHDSf

— Rangers on MSG (@RangersMSGN) January 7, 2023
---
1-0, GOOD GUYS!
Jimmy Vesey, with his new contract signed, sealed and delivered, made a hell of an individual play here.
After receiving the puck, #26 burned his former teammates, made a move, fired a puck at VV, and boom, just like that – the Rangers had taken the early lead. And for good measure, Vesey, who is not afraid of contact, ate a hit after scoring too.
For Vesey, this was his seventh goal of the season – you know, two more goals than Lafreniere, who was credited with an assist here (even though this goal was all about Vesey's individual effort and nothing else).
Maybe this "Vesey Redemption Story" can inspire Lafreniere.
After this goal – 18:26 worth of a never-ending Devils' attack, where by the end of it – CZAR IGOR closed this first frame with nineteen saves – where in other words – he averaged over a save per-minute following Vesey's ice-breaker.
We can fast-forward through the next fifteen minutes or so, as here's how the period progressed:
— Icing, offside, icing, offside, Igor save, Igor freeze and you get the rest; as my ears are still ringing from all of the non-stop whistles.
— Following a strong defensive play/block from Lindgren, Sam Rosen confused Lindgren with K'Andre Miller – you know, because they are dead-ringers for identical twins.
— Rosen didn't confuse Jack Hughes for anyone.
— With 10:55 remaining, the Devils were out-shooting the Rangers 12-4. Vagisat & Rosen would later say that the Devils were just "volume-shooting;" but at the same time – you can't score if you don't shoot – and Igor was flawless. A lesser goalie? Maybe all of these shots on goal would've put the Rangers in a hole.
— Following some good forechecking out of Blais (more on him during the second period); Igor made a pair of back-to-back saves on a Devils' 3 x 2 odd-man rush, where the All-Star denied both Bratt and Severson.
— Following these two saves, the Devils had the edge in the face-off department, 11-3. Funny enough, the Rangers would later improve in this statistic as the game went on, where it should be mentioned that after a dreadful start; Zibanejad finished at the circles 16 of 25, good for a season-high winning percentage of 64%.
— Down to 7:21 remaining, Miles Wood bowled over CZAR IGOR. No call – but had a Devils' goal been scored here – it would've been reversed. You gotta love how the league treats goalie interference penalties!
As we hit 3:17 left on the clock, we had our first true turning point of the game – and where over two minutes later – you then thought that the Rangers had this game in the bag. At least I did.
With the Devils crashing CZAR IGOR; Schneider was boxed for interfering with Miles Wood – you know – the guy who had previously ran over Igor with free reign allowed by the officials. (And to be clear – in no way, and in no how – am I blaming the zebras for this loss today.)
After Igor made another pair of tremendous saves, this time on Bratt and Hischier; just 33 seconds after the Schneider "infraction;" Fox was then sent to the sin bin himself, for hooking Sam Rosen's dreamboat.
In other words, the Devils now had nearly ninety seconds of a 5 x 3 power-play.
They wouldn't score.
Between CZAR IGOR, Goodrow winning face-offs, Trouba blocking shots and Zibanejad clears – the Rangers kept the Devils off of the board.
And as I always say – if you can't score during an elongated two-man advantage – then you don't deserve to win.
Sadly, that wouldn't be the case around 3:45PM EST or so.
We remained at 1-0 once the horn went off.
Here's what I said at the time:
1-0, GOOD GUYS, after 20. 1P Thoughts:
— That Vesey goal now feels like an anomaly/ages ago
— CZAR IGOR
— Just settle down and come out for 2P
— SOG 19-8, Hits 7-4, FOs 13-8, all Devils
— #NYR PK 2-2
— Did I mention Igor?
LGR

— BlueCollarBlueShirts (@NYCTheMiC) January 7, 2023
---
SECOND PERIOD:
Somehow, and some way – the Rangers won this middle frame, 2-1.
Rosen, after asking his usual question of, "SECOND PERIOD, WHAT DO YOU LOOK FOR HERE JOE?" then made this remark, "OH JOE, THE RANGERS DEFENSE WAS SOLID IN THE FIRST PERIOD JOE!"
If you consider allowing nineteen shots on goal, breakaways, spending 90% of the period in your own zone and affording multiple odd-man rushes, then yeah – what a solid defensive period!
Then again, CZAR IGOR is part of the defense too – maybe that's what Sam meant! (Yeah right!)
From this point of the game and all the way through Severson's game winning goal scored in overtime; this game felt like forty minutes plus of a never-ending Devils' odd-man rush attack.
Just 42 seconds in, CZAR IGOR made a "BESSIE" (glove) save on the Bratt.
As the icings continued to accumulate; Kravtsov prevented one himself, as he hustled and negated what would've been a Rangers' icing.
While we can further explore Kravtsov and Lafreniere tomorrow during the "Mid-Season Report Card" blog; needless to say, it's been #74 that's been leaps-and-bounds better than #13 during the past dozen games or so.
I never thought I'd write those words on this site.
At the 1:50 mark, the Devils didn't have their normal 3 x 2 odd-man rush. This time, they had a 4 x 2 odd-man rush – which then led to Igor's 23rd save of the game.
As the Rangers continued to chase the Devil Dogs; a Sammy Blais hit on Sharangovich flipped the script.
Once getting the puck away from the home team; Goodrow made an outlet pass to Adam Fox, and the 2021 Norris Trophy winner (and perhaps 2023 too) then made this nifty pass to Julien Gauthier, one that #12 soon capitalized on:
Fox with the ridiculous skill assist to Gauthier 🚨 pic.twitter.com/i87fxvlwaU

— Rangers on MSG (@RangersMSGN) January 7, 2023
---
2-0, GOOD GUYS – and Gauthier's sixth goal of the season – which also meant that he now had one more goal than Lafreniere, his fellow countryman.
At this point of the game – I can't lie to you. Despite the Rangers looking very loosey-goosey with the puck; due to CZAR IGOR and now with a two-goal lead – I thought this was GAME OVER.
As Mollie Walker would say, "HAHAHAHHAHAHAHAHAHAHAHHA!"
Down to 14:28 remaining, CZAR IGOR stopped the inspiration of Rosen's blow-up doll, Jack Hughes – again.
CZAR IGOR would stop Hughes' first eight tries – but the 2019 first-overall pick then scored on the last two of his ten shots on goal he took in this game. While this was going on – Panarin finished with one shot on goal.
Now with 14:08 left on the clock, Schneider drew a penalty, as now it was Woods' turn to interfere with the Ranger.
The Rangers' power-play, which has had issues this season, looked poor here. Ultimately, they finished 0-2 in the game.
While the power-play wasn't any good today, at the same time, and if you want to play this game with me, then I thought this "power-less play" negated the excellent 5 x 3 penalty kill. However, that may be a "silver lining" perspective.
Trocheck put one shot on goal during this, and that was that, as after two Mika one-timers that went wide, and a whole lot of passing that went nowhere – this became a wasted opportunity.
Once returned to full-strength; CZAR IGOR made one of his better saves of the game, when he absolutely robbed Tartar Sauce.
However, with 10:36 left on the clock, an errant Goodrow pass resulted as a turnover, and Jack Hughes then split Harpur and Schneider, who were trying to get back following the turnover, and then #86 beat Igor too.
2-1, good guys.
So what could've been 3-0 (the Rangers' failed power-play) was now a one-goal game.
What was "funny" about this Devils goal was the following:
— People immediately blamed Sammy Blais for the turnover, because there are people who just hate him.
— Once these dolts figured out that Goodrow turned over the puck, and not Blais; they then went into their usual rhetoric of "he's overpaid," "he's not a first-liner," and blah blah blah.
— Of course, Goodrow has been one of the more consistent Rangers all season, where prior to this mistake; he was part of the successful 5 x 3 penalty kill – and had assisted on Gauthier's goal too.
Moral of the story? Sure, this play sucked – but I'm not going to rag-doll Goodrow, who played on the fourth – and not the first line – for his worst play of the season. Shit happens and the other team is paid to play too.
Plus, it's not like Goodrow was part of the two anemic power-plays either. Nor did he miss on perfect goal scoring opportunities as Zibanejad and Panarin would do all game.
— For me, do you what stunk the most about this goal allowed? This snapped Schneider's streak of 22 games without finishing a game with a minus stat. (He finished -1 today). This tally also snapped Schneider & Harpur's streak of not being on the ice for an even-strength goal allowed too – where none of this was truly their fault.
---
Following the goal – more of the same. Another Devils' odd-man rush denied by CZAR IGOR, and then a breakaway denied too, after a Lafreniere turnover.
After a TV timeout; the Rangers settled down a bit and had their best shift yet – and where the team was rewarded with just 6:45 remaining in the frame:
Classic Kreider back door goal 🚨 pic.twitter.com/iET8ueY9QH

— Rangers on MSG (@RangersMSGN) January 7, 2023
---
3-1, GOOD GUYS, as Kreider buried a loose puck past VV following VV's initial save on Miller.
This goal, and as you'd expect, was huge, as the Rangers had now regained their two-goal lead, and during a game that they weren't particularly at their best in either.
Rosen's response to the goal? A two minute ode to the Hughes' Family Tree. I wish I was making this up.
The Rangers, due to their goaltender, preserved this lead as the period concluded.
Here's what I said at the time:
3-1, GOOD GUYS, after 40. 2P Thoughts:
— Not a defensive masterclass, but a goalie one, hence #NYR winning the period 2-1.
— SOG 33-22, Hits 15-11 NJD; FOs & this says a lot, 26-20 NYR
— Other team is paid to play hockey too – can't go nuts
— 20 min away from 2nd place!

— BlueCollarBlueShirts (@NYCTheMiC) January 7, 2023
---
THIRD PERIOD:
The collapse.
Following a pair of VV saves on Trocheck; the choke job began.
This period was all Devils' and CZAR IGOR received a ton of odd-man rush practice – his most of the contest.
Let's just hit the low-lights that mattered, because I really don't want to relive all of this again:
— After Kravtsov forced a turnover in the Devils' d-zone, he dished the puck to Panarin for a breakaway. Despite "The Breadman's" status as the best shootout skater on the team; Panarin airmailed the puck into the Hudson River.
— In other words, the Rangers should've been up 4-1 here – and an assist for Kravtsov too.
— Following Panarin's flub and now with 14:13 to go; Trocheck drew Hamilton for hooking – and now another chance for the Rangers to get their first three-goal lead of the game.
— The next two minutes were abysmal, as it was CZAR IGOR who had to come up with the saves – and not VV. For the cherry on top – Kreider set-up Panarin right in front of VV's vacated net – and Panarin hit the side of the net – rather than putting the puck inside of it.
— Because this is always the way; following this power-play failure; the Devils then got one of their own, as Kakko, with 12:03 remaining (ten seconds after the Rangers' power-play had expired) was boxed for slashing Sam Rosen's idol.
— Thirty seconds into their power-play, Bratt ripped a shot from the top of the left circle.
— 3-2, bad guys, and a goal call that Rosen blew. (The puck went under the crossbar and then bounced out of the net – Rosen thought it just hit the crossbar, despite no <DING> to be heard.)
— Again, what could've been 4-1, and multiple times at that, was now a one-goal game again. And that lead was soon lost too.
— Following a face-off in the Rangers' d-zone, Rosen went on-and-on about Hughes, the Devils' losing streak, their lack of third period goals and everything else he could muster up under the sun. As he was saying that, Hughes scored with 9:28 remaining.
— 3-3 – and another win for Rosen.
— My exaggerated comedic-relief commentary on Rosen aside; keep in mind – Mika was in Gene Carr mode while Panarin blew two easy goal scoring chances.
— Fifty seconds following Hughes' equalizer; Trocheck was boxed for slashing Siegenthaler.
— While the Devils didn't record a SOG during these two minutes; they spent the entirety of their power-play in the Rangers' zone, as the buttholes of every Blueshirt backer puckered.
— As the kill was near its conclusion – Zibanejad went on a breakaway – and went high.
— As Sam continued to will the Devils into winning this game, I was left wondering this – imagine Rosen calling major moments of American history in real-time? I can hear it now:
"Oh Joe, Lincoln is really going to enjoy this play tonight Joe."
"Oh Joe, the Dallas Police work hard, and wait, Lee Harvey Oswald shoots and scores! The bullet went in Joe."
"Oh Joe, this Bernie Madoff sure knows what he's doing Joe!"
"Oh Joe, this Titanic is a sturdy ship Joe!"
Ugh.
And yes, this would all be funnier had the Rangers won today!
— Down to 2:38 remaining, Lafreniere had a chance to exorcise his demons and become a hero. However, VV robbed him – twice at that – from this taking place. When it rains it pours.
— Igor continued to rack up the saves, which at least allowed the Rangers to play for the second point – and not come out of this game empty-handed.
3-all after three periods.
Here's what I said at the time:
3-3 after 3. 3P Thoughts:
— A frustrating and entertaining game.
— #NYR haven't played well, but blowing a two-goal lead sucks.
— Rosen is the worst jinx of all-time
— SOG 40-33, Hits 21-18 NJD; FOs 36-30 #NYR — Get the second point

— BlueCollarBlueShirts (@NYCTheMiC) January 7, 2023
---
OVERTIME:
When you're hot, you're hot; when you're cold, you're cold.
Zibanejad had a chance to end this game once-and-for-all; but following a deceptive play, where he faked two Devil defenders out of their skates; Mika drove to the net, got to VV one-vs-one – and then missed the net.
In a goal allowed that many Ranger fans are roasting Lafreniere for (while ignoring what Panarin and Zibanejad did all game), here's Severson's walk-off goal:
Damon Severson. OT game winner. #NJDevils pic.twitter.com/4m358mtsNn

— Rob Taub (@RTaub_) January 7, 2023
---
4-3, bad guys, your final.
I don't know what Lafreniere and Chytil were going for here, but needless to say – it didn't work. Worse than that, Lafreniere's collision set up this goal too.
It's funny, you know those mooks who always scream "PLAY THE KIDS" until their lungs blow out?
Following the game, I saw, "WHY WERE LAFRENIERE AND CHYTIL OUT THERE?"
Gallant can't win. And neither can the Rangers if Lafreniere continues his regression.
I don't know if Hartford is the answer, but something has to give, as he is actively hurting the team now.
While he isn't the only one, he's the most noticeable.
For as ineffective as Panarin and Mika were today – they at least have successful track records. Lafreniere does not.
Furthermore, with Chytil, Kakko and Kravtsov taking major steps, you can't use the piss-poor defense of "GALLANT DOESN'T KNOW HOW TO DEVELOP FORWARDS" either.
While Gallant wasn't asked this (and as you know – we don't have a bunch of Woodward and Bernstein's asking "The Turk" questions these days); it's my belief that #13 and #72 were out there as a vote of confidence from their head coach.
And had they scored? Everyone would be screaming about Gallant's genius right now.
Here's Gallant after the game:
---
Gallant pretty much said everything I stated here: Mika had chances, Igor was incredible, Sam Rosen's hero is tough to stop, and despite the loss – this was a fun game to watch – the Rangers were just on the wrong end of it.
While I know this loss is a kick to the jewels; at the half-way mark of the season – the Rangers are in good shape.
Even if they won today; while second-place would've been nice – there are still many games to go.
And yep, that will be one of my talking points in tomorrow's "Mid-Season Report Card" blog too!
Final takeaway before going home here? If it weren't for CZAR IGOR, then this would've been a blowout. Take the point and move on.
See ya tomorrow.
PLUGS TIME!
---
My first plug of tonight's blog – the mandatory plug for my book, "The New York Rangers Rink of Honor and the Rafters of Madison Square Garden."
As mentioned previously, the book is now available in hardcover, in paperback and in Kindle formats. To purchase a copy of the book, visit this link:
https://www.amazon.com/Rangers-Rafters-Madison-Square-Garden-ebook/dp/B09CM5N2WD
For those still looking for signed paperback versions of the book, I have re-ordered more copies. I now have a few signed copies for sale at $25 a pop (includes shipping price) through me directly. Here is all the information on that:
---
My four-volume set of books, "One Game at a Time – A Season to Remember," is a game-by-game recount of the Rangers 2021-22 campaign.
My second title as an author, "One Game at a Time – A Season to Remember," is now available in eBook, paperback and hardcover formats.
To obtain signed copies, visit: https://bluecollarblueshirts.com/onegamebook/
To purchase all four volumes on Amazon, visit: Amazon.com – "One Game at a Time."
---
The greatest volume-set of books on Rangers' history today!
"Tricks of the Trade – A Century-Long Journey Through Every Trade Made In New York Rangers' History," a four-volume set of books that meticulously covers every trade made in franchise history, is now on sale.
All four volumes of the title can be purchased on Amazon.com and are presented in three different formats – eBook, paperback and hardcover.
To purchase Volume I: Conn Smythe (1926) – Craig Patrick (1986), visit Amazon.com
To purchase Volume II: Phil Esposito (1986) – Neil Smith (2000), visit Amazon.com
To purchase Volume III: Glen Sather (2000-2015), visit Amazon.com
To purchase Volume IV: Jeff Gorton (2015) – Chris Drury (2022), visit Amazon.com
To purchase signed copies of all four volumes, visit https://bluecollarblueshirts.com/tricksofthetrade/
---
Here are my last few blogs, in case you missed them:
---
---
---
If you haven't already, subscribe to this blog for the next update:
---
Don't forget to order my new four-volume set of books, "Tricks of the Trade!"
If you don't order through me, all four volumes are now available on Amazon.com
For more details, check out: https://bluecollarblueshirts.com/tricksofthetrade/
Thanks for reading.
LET'S GO RANGERS!
Sean McCaffrey
BULLSMC@aol.com
@NYCTHEMIC on the Tweeter machine