Greetings and salutations everyone and welcome to a rare weekend blog, here on BlueCollarBlueShirts.com.
On August 1st, the NHL officially returned to play, with twenty four teams vying for the Stanley Cup. The league would kick off their Stanley Cup playoffs with twelve teams a piece, in two separate "bubble" cities. As I write these words to you now, here on September 6th, the league has now been reduced to only four teams playing for the right to win the Stanley Cup. In addition, from this point on, every Stanley Cup playoff game will now be contested in only one city, in the city of Edmonton, in the lovely confines of Alberta, Canada.
During past blogs, even as recent as my last blog, I have told you that it is my opinion that this "Covid Cup" (should you use that phrase) is as legit as any past Stanley Cup playoff tournament. For fans of the Tampa Bay Lightning, the New York Islanders, the Vegas Golden Knights and the Dallas Stars; which are the four franchises still standing in this current quest for hockey supremacy, all of those fans should be excited right now and shouldn't worry about the idiotic talk about an asterisk. Of these four teams, whoever "wins the race to eight", as in the eight victories now required to win the Cup, that future championship team will be as legitimate as any other previous Stanley Cup Champion.
I have ranted and raved about these NHL playoffs ever since the first puck was dropped, a puck which was dropped on August 1st, in a qualifying round game between the New York Rangers and the Carolina Hurricanes. What the NHL has done during these times has been nothing short of impressive. As I've stated for some time now, these 2020 Stanley Cup playoffs is a feather in the hat of NHL commissioner Gary Bettman. While these great playoffs doesn't erase previous Bettman follies, what the NHL and their partners have done here during this pandemic – well it's been amazing.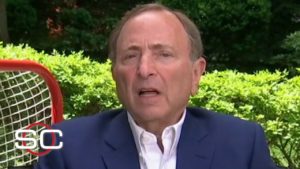 If there is anything "bad" about these NHL playoffs right now, it is that after an initial 2-3 weeks, where we had anywhere from 5-6 games every day, we're now down to one game a night! However, we all knew this day would come!
(I guess I should also mention that the announcers from each respective bubble may be happy here, as they can finally come up for air now. They'll even get a day off! There were some days and nights where Kenny Albert and Pierre McGuire were calling three games in a 12-15 hour time period. The two also made history this past Friday, when the duo became the first broadcast team to call two Game 7's in the same day. 2020 folks!)
As it stands right now, as we approach the Conference Finals, which will begin tonight, on September 6th, the NHL will air each Conference Final game on alternating nights, with puck drops slated for 8PM EST. For the next week and a half or so, for hockey fans in America, the NBC Sports Network will be daily appointment viewing at the 8PM hour. After that, it's the Stanley Cup Final, where I'd assume games will take place every other day. (I don't see any reason to schedule any back-to-back games during the Stanley Cup Final.)
In tonight's blog, I'll be recapping each second round series of the 2020 Stanley Cup playoffs. From there, I'll give you my Conference Finals preview & my predictions for each series. I'll then close off this blog with the latest New York Rangers news & notes, which truth be told, will be light on content on this go around. After all, I've previously recapped all of the latest NY Rangers news in my last few blogs, which is a perfect segue-way for the "PLUGS" segment of this blog!
Say it with me folks – in case you missed them or need a refresher, here are my latest manifestos:
---
---
---
---
---
Going into this second round of the Stanley Cup playoffs, my prediction record was 7-9, as I went 3-5 in the qualifying round and 4-4 in the first round. What that tells you, that despite yours truly watching all of these games, these playoffs remain as unpredictable as ever. Plus, who out there ever bats a thousand when predicting these games in the first place?
What should also be noted here, is something I said during my second round preview prediction blog, which you can read here: https://bluecollarblueshirts.com/82320/
As these playoffs march on, despite the addition of eight teams to this Stanley Cup tournament bracket, we are seeing the cream rise to the crop here. Of the four teams remaining, three of these teams were teams that played in the seeding round and who had received a bye into the first round of the playoffs. In other words, the Tampa Bay Lightning, the Dallas Stars & the Vegas Golden Knights all handled business.
The New York Islanders, the only team alive in these playoffs from the qualifying round, are currently the only "underdog" team left standing. I put the word "underdog" in quotes here, because if you've seen them play, they've been anything but an underdog.
And let's also face facts here – every Stanley Cup playoff tournament has upsets. Just look at last year and what happened to the two number 1 seeds of the 2019 tournament, and how those two teams combined to win one game in total, before their eventual first round exits. (Tampa Bay & Calgary.)
Lastly, before getting into the second round recaps and Conference Final previews, I have to go back to what I said from a YEAR AGO! Yes folks, it's been that long!
On September 3rd, when doing my 2019-2020 NHL Season Preview blog, (you can read it here: https://bluecollarblueshirts.com/20192020/ ) I predicted a Tampa Bay Lightning vs Vegas Golden Knights Stanley Cup Final. Those two teams would go on and have a great regular season. Now, here in 2020, under these unprecedented conditions, these two teams remain the two favorites to win the Stanley Cup. It will be up to the Dallas Stars and the New York Islanders to prevent this match-up.
Without further ado, let's take a look at what we saw in the second round of the playoffs.
---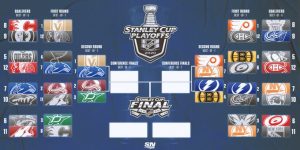 WESTERN CONFERENCE
For the Dallas Stars, who at one point were up 3-1 in this series, won this series in seven games. In turn, the Stars can now exhale a huge sigh of relief, as they represent the Western Conference in the Conference Finals. For the Colorado Avalanche, this series will always be remembered as a big "what-if" for them, as in "what if we weren't injured all series?"
The Avalanche, who came into this series as a heavy favorite to win the Stanley Cup, saw those odds inflate after Game 1 of this series, as they lost both starting goaltender Philipp Grubauer and stud defenseman Erik Johnson in that game. As we'd see as the series progressed, Colorado didn't have a goalie that could match what Grubauer was producing. Missing Johnson didn't help matters for Colorado either.
Another thing that hurt Colorado all series, was the lack of production they'd get from everyone that wasn't on their first line. While the top trio of Rantanen, MacKinnon & Landeskog (Landeskog would miss Game 7) seemed to average two-three points every game, the rest of the Avalanche forwards didn't do much to help out their top line, until Game 7 of the series, a game that the Avalanche lost in overtime.
Unlike Colorado, Dallas put forth a great team effort all series long, a great team effort that saw Dallas erase three different Colorado leads in Game 7. In that same Game 7, it would be Stars rookie, in Joel Kiviranta, who saved his best for last, scoring the game & series winning goal in overtime. For the Stars, it was their fifth and final goal of the game. For Kiviranta, it was his third goal, as he iced the Av's after his hat trick.
As Colorado kept losing players due to injuries as this series progressed, including guys like Matt Calvert, Joonas Donskoi and Conor Timmins, along with the names I've previously mentioned, Colorado would also lose their second string goaltender, in Pavel Francouz. Starting in net, for the final three games of this series for the Av's, was third string goaltender Michael Hutchinson. While Hutchinson was serviceable, as he was the winning goaltender in both Games 5 & 6, you do have to wonder, had Colorado had a healthy Grubauer, would've Colorado held onto the three separate leads they squandered in Game 7? For Nathan MacKinnon, who may win the Hart Trophy this season, he may have felt this way, stating after Game 7 that he didn't think the Av's needed to do anything to improve their roster. Like everyone else, MacKinnon admitted that injuries doomed the Av's.
Dallas, who was without starting goalie Ben Bishop at the start of this series, went with Anton Khudobin for the majority of the series. While Bishop would try to come back in Game 5, the Av's quickly chased him back to the bench. Bishop wouldn't play again in the series. (And truth be told here, this isn't a case of hindsight being 20/20. At the time, it just seemed like an unwise decision to kill Khudobin's flow and that fact would proven true, as that game went on, a game where Bishop got blown out in)
If you throw Colorado's injuries out of the equation, and in a way you should, the Avalanche were up by one goal in the final three minutes of Game 7. Despite Colorado missing a ton of talent, the fact remains that they were three minutes and change from closing out this series on top. However, after a Kadri turnover, the Stars quickly tied the game and would go on to win the deciding Game 7 in overtime.
One of the big trends all series long, was that Dallas seemed resigned to allow Colorado's top line to torch them, but would hold everyone else off the board. Through team play of four rotating lines, the Stars got contributions from everyone, including solid performances from Khudobin in net.
I had Colorado winning this series in five, and they may have, if they weren't all banged up. However, Dallas took care of business, and despite being a first-round bye team, upset the favored Avalanche here.
NHL PLAYOFFS PREDICTION RECORD: 7-10.
FIRST ROUND PREDICTION RECORD: 4-4.
SECOND ROUND PREDICTION RECORD: 0-1.
---
Winner, winner, chicken dinner! I had VGK winning this series in seven games, and that's what happened here. However, in what I didn't predict, the talk of the series was Vancouver back-up goaltender Thatcher Demko, who almost DemKO'd the Knights right out of the playoffs.
After four games of this series, the Knights were cruising to the Conference Finals, as they were up 3-1 in the series. If there was any controversy from the Knights end of things, it was about who to start in net, with a majority of Vegas fans wanting Marc-Andre Fleury in net. However, Robin Lehner, acquired at the trade deadline, continued to provide great goaltending for Vegas all series. In fact, Lehner would post a shut-out in Game 7, which was his third shut-out of the series.
Despite Vegas possessing perhaps the best center depth in the league and having two great goalies to choose from, the talk of the series was Vancouver goalie Thatcher Demko, a Thatcher Demko who entered the series during Game 5, after an injury received by Canucks starting goaltender Jacob Markstrom. In Demko's three games played, Demko would go 2-1, allowing only two goals, for a GAA of .064 and an ungodly save percentage of .985. Vegas simply had no answer for Demko. If Vancouver would've been able to score, during their many power-play opportunities in Game 7, it would've been Vancouver, and not Vegas, taking on Dallas in the Western Conference Final. Then again, the old adage applies here – "coulda, woulda, shoulda."
In the deciding Game 7 of the series, Vancouver put forth one of the worst offensive performances in modern playoff history. They were limited to six shots on goal throughout the first 40 minutes of the game, 40 minutes which included two separate two minute power-plays, where the Canucks didn't put a shot on goal. Vancouver would also get a five minute power-play in this Game 7, after a dirty cheap shot from Ryan Reaves on Tyler Motte. On that five minute man-advantage, Vancouver would only put one shot on goal.
Even with the VGK dominating Game 7 in every which way possible, Demko remained lights out. It would take a VGK power-play goal, at the 13:52 mark of the third period, to break up the nil-nil scoreless tie. Two empty net goals later, VGK won Game 7 by a 3-0 final.
While some might say that a hot goalie was able to stump Vegas, and Demko did just that, Vegas was the better team for the entire series. Vegas played as the strong Cup contender that they are. If it weren't for Demko, Vegas would've likely wrapped this series up in five games, rather than sweating it out until the near five minutes remaining mark of Game 7.
For Vancouver, after playing great and strong against St. Louis, they just could never gain any real momentum, aside from their goaltender. Special teams failed them. Whether Vancouver blew their load in the series with St. Louis or not, they just weren't the same team in this series. That said, while no one can expect Thatcher Demko to maintain this style of play for an 82 game season next season, his performance in this series does make it easier for the Canucks to say toodles to Markstrom. Vancouver should be a team on the rise in the future, even if this loss will sting a bit.
NHL PLAYOFFS PREDICTION RECORD: 8-10.
FIRST ROUND PREDICTION RECORD: 4-4.
SECOND ROUND PREDICTION RECORD: 1-1.
---
EASTERN CONFERENCE
I have talked about this series already on past blogs, so I won't go too long here.
I predicted the Bolts to win this series in five games, which the Bolts wound up doing. However, after Game 1, I had people laughing at me and saying I was crazy with that prediction. What happened next? The Bolts won the next four games, to perhaps end an era in Boston, an era that produced a Stanley Cup championship and a Stanley Cup Final appearance last year.
If there is anything that truly impresses me about Tampa in these 2020 playoffs, and really, in what's a major difference from last year to this year, it's that they don't give up anymore. They don't get rattled. In fact, with two overtime wins in this series (including a double overtime victory in the series sealing Game 5) Tampa is now 5-0 during overtime games in these playoffs.
If Tampa does go on to have an epic run here, you have to go back to Game 1 of the first round with Columbus, where Tampa won that game in the fifth overtime. Had Tampa lost that game, we may be talking about Tampa being chokers again. Instead, this Tampa Bay team, a Tampa Bay team that's without captain Steven Stamkos, is just rolling and rising to each challenge presented.
I know I've said this before, and it's worth my time to say this again – goaltender Andrei Vasilevskiy doesn't get enough credit. While he does have the new meaty contract and is now becoming a familiar face in Vezina races, when you talk the Lightning, you usually talk about all the sexy names on offense first, such as Nikita Kucherov. From there, you talk about how the Bolts have one of the best d-men in the league, in Victor Hedman.
When Rask left the Bruins (and boy, is he getting a lot of shit about that now, even from former Bruins legend & current Bolts announcer Phil Esposito) and Halak was named the starter, I never thought Boston had a chance. While the Bruins have a great team, the goaltending match-up favored the Bolts by landslide.
Even without Stamkos (and Ryan McDonagh for several games) the Bolts line-up is still as deep as ever. It seems like any forward on that team can score at any given moment. And once Tampa found their power-play again, it was lights out for the Bruins.
Tampa's ability to win the one-goal and overtime games is a new strength for them, as they display their will to win. For the Bruins, they have a ton of decisions to make right now. They still have their core and captain Chara does want to come back. You also have to wonder what the future for Rask is, as there are reports out there that the Bruins felt like Rask let them down, which of course, is 20/20 hindsight. Had the Bruins won this series, there would be no Rask talk.
While a 4-1 series score may lead you to think this series was a cake-walk for Tampa, it did take two overtime games to win this series. Of course, Tampa also had a 7-1 win mixed in here too, which tells you that when they are clicking, they are clicking. Tampa remains as a heavy Cup favorite.
NHL PLAYOFFS PREDICTION RECORD: 9-10.
FIRST ROUND PREDICTION RECORD: 4-4.
SECOND ROUND PREDICTION RECORD: 2-1.
---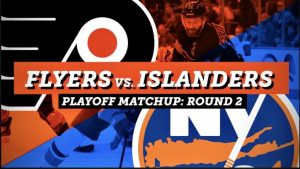 As a Rangers fan, watching this series was like watching a prison battle between a rapist and someone who kills animals. While I wanted the Flyers to win the series, just because my hatred for the Islanders is deeper, I wish both of these teams could've lost! That said, when it comes to talking hockey, I always try to be fair with you here. In other words, and this pains me to say this, but I'd be lying to you if I said otherwise – the Islanders are for real. As in real enough to win the Stanley Cup.
This may have been a boring series to some, but to me, this was as exciting as any other series, perhaps besides the Canucks/Vegas series, a series that like this Islanders/Flyers Game 7, ended with a shut-out.
I know there are a lot of New York Ranger fans out there who hate Coach Alain Vigneault. I'm not one of them. I'm actually the complete opposite. I thought he was a good coach for the Rangers, I didn't like his firing and it's my opinion that he's a Top 5 coach in NYR franchise history. That said, I do have to question some of his replay reviews in this series, even if these three losing reviews didn't really bite him. (AV challenged Islander goals in three separate games. AV lost all three challenges. On the three ensuing Islander PP's, the Isles would score once, in a game the Flyers won.)
While on AV, there are two other talks of the town going on about him right now, and I don't agree with those critics. Some are wondering why AV pulled his goalie Carter Hart in two of the games, with six minutes and change remaining. Lost in the conversation, is the fact that the Flyers were down 3-0 in both of those games. Their offense wasn't working. They were losing anyway. Why not take a chance? You're already going to lose, so why not call the proverbial "Hail Mary" and try to incite a spark?
The other talk is the pitiful performance the Flyers put forth in Game 7 and how AV has a history of teams not showing up in Game 7's. While I can see why people are talking about this, at what point do you blame the players too? Do these guys really need a pep talk or some sort of extra motivation to play in a Game 7? I think AV's teams failing in several Game 7's (people forget the fact that AV was behind the bench for several Game 7 wins too) is more of a coincidence than anything else. And you also have to remember, the other team is paid to play and wants to win as well.
That all said, I thought Barry Trotz was the better coach of the series. Whether it were his line-ups, his goaltending decisions (Trotz bounced back and forth between goalies Thomas Greiss & Seymon Varlamov, and in the two times he went with Greiss, the Isles won, including in Game 7) and the way the team plays his system, the Isles had the better bench boss. In fact, I think you can argue with me here, even if it's is my opinion 100%, that Trotz is the best coach of these 2020 playoffs. And I'm a Rangers fan saying that!
In the Flyers three wins of this seven game series, they needed overtime to win each game, including two back-to-back overtime wins after the Islanders had a 3-1 series lead. For the Flyers, who came into these playoffs as perhaps the hottest team of the 24 teams entering the two bubbles, I thought they got lucky against a weaker Montreal. What worked against a weaker Montreal team (a Montreal team that out-scored the Flyers in the series) wasn't going to work against the defensively sound NY Islanders.
The biggest problem for the Flyers was Claude Giroux, who has been a bust in the playoffs. Ex-Ranger Kevin Hayes was arguably the best skater for the Flyers. For all the talk about how great Carter Hart can be, it were the Islander goalies who shined the most, as each Islander goalie posted a shut-out in this series.
While I wouldn't count out the Flyers in upcoming seasons, the Islanders gave them a real reality check here. Even for as hot as the Flyers were in the seeding games, they were exposed a bit in their two playoff series.
On the Isles side of things, an Islander team that just dominated, out-played and out-hustled the Flyers in their 4-0 crushing Game 7 victory, they now have two huge series wins over two big divisional rivals, in both the Flyers and the Capitals. They may be the most dangerous team of the playoffs, moving forward.
I had the Flyers winning this series in seven. I close out my predictions with this record:
NHL PLAYOFFS PREDICTION RECORD: 9-11.
FIRST ROUND PREDICTION RECORD: 4-4.
SECOND ROUND PREDICTION RECORD: 2-2.
---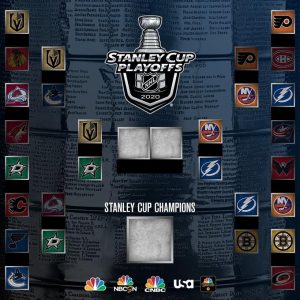 With the second round recaps now complete, let's get into the Final Four of the NHL playoffs.
WESTERN CONFERENCE FINAL
In the WOKE series of these playoffs, as both teams have embraced liberal politics to extreme backlash (with Dallas Stars team president talking about Stars fans pulling their money away from the team, which you can read more about by clicking this text, and the Vegas Police Department speaking out against the Knights, which you can read all about by clicking here ) I see Vegas winning this series with ease.
While VGK will be without the hypocritical Ryan Reaves in Game 1 of this series, a Reaves who is championing for fair play in hockey, despite executing a vicious cheap shot on Tyler Motte during VGK's Game 7 with Vancouver, (I guess Motte Lives Don't Matter for Reaves) I still think Vegas will be fine without him in Game 1.
When I look at the Stars path to the Cup, in the first round, the Stars beat a Calgary team who was without Matt Tkachuk and a Calgary team that couldn't do anything whenever their special teams were on the ice. In the second round, the Stars perhaps got lucky a bit with Colorado, due to all the injuries that plagued the Avalanche throughout that series. Barring something crazy going on in Game 1 of this series, Vegas will be healthy, even if Reaves has to sit one game out.
Conversely, when I look at Vegas and how they got here, they made short work of the Blackhawks in five games. If it wasn't for Thatcher Demko, Vegas may have knocked off the Canucks in five games too. While Dallas has been the highest scoring team of the playoffs, which is a result of strong special teams and opposing a third string goaltender at times, they won't run into that same scenario with Vegas. Vegas is strong on special teams and have two capable goaltenders, two goalies who won't be as leaky as the goaltenders Dallas just saw with Colorado.
Vegas, who we would learn was built to "win now" in their inaugural season, seems stronger than ever, as they look to make their second Stanley Cup appearance in their third year of existence. Vegas, in my eyes, is a legit Cup contender, as I've thought before this season even started. To me, Dallas got all the breaks to go their way to get this far and like most people with a dollar and a dream that go to Las Vegas, I see the luck of the Stars going bad here, as I see them crapping out.
To the Stars credit, they play a strong team game and get contributions from everywhere. They've also done well on special teams. However, like most series of these playoffs, I think two factors certainly heavily favor the Knights here, with those factors being goaltending and coaching.
As we've seen, anything can happen in these playoffs. However, one thing that we've also seen in these playoffs is that the cream is rising to the top. While I wouldn't be surprised if these games are close, I'd be surprised if the end result was.
THE PICK: Vegas in five, with a ton of talk about Fleury starting in the event Lehner has a bad game. We need more Allan Walsh tweets!
---
EASTERN CONFERENCE FINAL
To me, this series will be much closer and more exciting than the Western Conference Final. This series is so hard to predict for a myriad of reasons. To me, while you can look at some trends and numbers, it's not like that stuff guarantees anything either. One stat that pops out to me, is how Tampa is 5-0 in overtime games during these playoffs. The Islanders just dropped three straight overtime games to the Flyers. Does that play into any of these games? Hard to say, as each game is independent of another.
This series is like the old Gorilla Monsoon line of the "unstoppable force meeting the immovable object." Tampa is known for their offensive explosions. The Islanders are known for their stingy defense. That said, Tampa has played well defensively throughout these playoffs and the Islanders have been putting up 3 and 4 goal games at a clip, using their defense to create offense too.
The strongest case for the Islanders may be Tampa's recent history with Columbus. While Tampa did eliminate Columbus in the first round, in five games; in all of Tampa's wins against CBJ (including two overtime victories) each Tampa win was decided by one goal. In addition, we all know about the Columbus sweep over Tampa last year. The Islanders play similar defensively as Columbus, but possess a better roster than Columbus, here in 2020. Could Tampa fall into their old ways? Who knows? After all, Tampa has been winning all of their one goal and overtime games of these playoffs and have shown extreme resiliency throughout.
Coaching wise, Bolts head coach Jon Cooper, the longest tenured coach in the NHL, may be on his last legs here, in the event Tampa loses. After all, he was behind the bench during the biggest upset in modern NHL playoff history, when his team was swept in the first round last year Columbus. For the Islanders, in my opinion, they have the better coach in Barry Trotz, a future Hall of Famer and a coach who has been there, done that.
As of this writing, it doesn't seem likely that Steven Stamkos will return in this series. That doesn't mean he's 100% out for the series, it just means don't bet on his return. Nikita Kucherov, injured in Game 5 in the Bolts win over the Bruins, has been practicing. With the Islanders needing seven games to get past the Flyers, these last few days have helped Kucherov's chances of playing in Game 1. (It's being reported to expect Kucherov for Game 1, although it's not 100% confirmed that he'll play. However, he's had six off days to get ready.)
When I look at Tampa, a team I picked to make the SCF just a year ago, I think it's their year. There was much less pressure on the Bolts this season, than there was last season, when the Bolts had their historic regular season accomplishments. In the event the Isles knock off the Bolts or if the Bolts make the SCF and lose, I think that will be it for Tampa. If they can't win now, I can't envision this current core of Bolts ever winning. As it stands already, the Bolts are already in salary cap hell and will most likely have to shed parts next season too.
As said previously, the 2020 Bolts remind me of the 2018 Capitals. The teams have a similar style and had years of choking behind them. When the Caps blew things up a bit and when people thought their best chance at the Cup passed them by, the Caps won the Cup in 2018. Can the Bolts do the same thing in 2020? Not if the Islanders have a say.
If you believe in "rust", as the Bolts will have had six days off between their win over Boston and Game 1 with NYI, the Isles may have the edge early in this series, especially when you factor in their momentum of their Game 7 win over the Flyers. If you believe that these teams are getting spent and taxed by playing more games, a well rested Tampa should take care of NYI early on.
Tampa's biggest and least talked about strength, as mentioned earlier in this blog, is goaltending. While Varlamov has played well, he seems to be slipping a bit. I think Thomas Greiss gets the start in net for the Isles, and will continue to get the net, until he plays himself out of it. Vasilevskiy remains the only goalie of the playoffs to play every single playoff game for his team and his stock is only rising.
When you look at special teams, both of these teams have had their ups and downs, but in each team's recent wins, the special teams were getting hot. I think the key match-up will be if Trotz's penalty kill can shut down Tampa's power-play. If Tampa reverts and falls off on the power-play, the Isles will have a huge edge.
I really don't know what will happen in this series. All I know is that I see it going seven games. I see most of these games being razor-wire wins. Arguably, the Islanders are better than anyone thought. Is it fair to say they are the "upset team" of these playoffs? I don't think so, because they have every ingredient of a Stanley Cup winner. They have the coaching, the goaltending, contributions from all four lines, a stingy defense and always stay true to their winning formula.  What these Islanders don't have, and you can't knock them for this, is a core that's been through heartbreaking losses and who have been there before. Then again, neither did St. Louis last year.
For the Bolts, the pressure is on them to win here. Losing this series will lead to roster changes and perhaps the dismissal of Jon Cooper. I think Tampa's previous failures and experience will be a motivating factor for them. However, the Islanders aren't patsies here either. In 2020, they are as legit as a contender as any team of these playoffs. Even in the Islanders losses of these playoffs, they've played well enough to win.
I know I'm all over the place here, but that's because I really see this series being a good one. I don't know how anyone, with 100% confidence, can predict a winner here. Each team does different things well and when these teams are doing these things well, they are nearly unbeatable. Something will have to give here. As a hockey fan, and throwing my hatred of all things Islanders aside – I'm really looking forward to this series. I'd even venture to guess, that whoever wins this series, will go on to win the Cup.
Lastly worth mentioning here, is that both teams are departing the Toronto bubble for the bubble in Edmonton. There will be some adjustments for each team, such as a time zone difference, an ice surface difference and the way the puck plays off the boards. (Toronto's boards have been more livelier than the boards in Edmonton.) That said, neither team gains an advantage with these changes, but perhaps whatever team adapts the best will win the series.
I'm a Rangers fan. I hate the Islanders. I want to see Ryan McDonagh win the Cup. You know where I'm leaning here!
THE PICK: Bolts in 7, in perhaps what will be the best series of these 2020 Stanley Cup playoffs.
---
Real quick, let me rapid-fire through some Rangers notes before putting a bow on this. (After all, I am finishing this blog really late into Saturday night/Sunday morning, after a full day of watching all the races at the Kentucky Derby, Isles/Flyers Game 7 and the UFC. Go figure with the Flyers. With these three sporting events, the Flyers looked the most like they belonged in a glue factory and they also looked punch-drunk too!)
I also want to add this personal note too – these last two days have been great as a hockey, MMA and horse racing fan. Plus, for the people who watch baseball, basketball and have fantasy football drafts, it's been a great sports weekend, something we didn't know we'd have a few months ago. As McDonald's says, "I'm lovin' it!" If I didn't, you wouldn't be reading these words right now!
As a result of the completion of the second round of the playoffs, it is now official – the Rangers now have the twenty second pick of the 2020 NHL draft, along with their first overall pick of the draft too. This 22nd overall pick of the draft is the result of the Brady Skjei deal with Carolina. The Rangers have an abundance of picks going into the 2020 NHL draft. As previously stated, while I don't see the Rangers, in no way and no how, trading away the rights to Lafreniere, I could see the Rangers trying to move up in the draft or perhaps dealing this 22nd overall pick for roster depth. We'll see.
In another Rangers related news item, there's this:
Andersson finished today's game with five points (two goals, three assists) in HV71's 7-2 win. #NYR

— NYR Stats & Info (@NYRStatsInfo) September 5, 2020
Is this one SHL game a case of Andersson being a big fish in a small pond and playing against a bad team in a 7-2 blowout? May be. Whatever the case, it's in the best interest of the Rangers for Andersson to succeed with HV71 of the SHL. Even if Andersson never suits up for the Rangers again (as said on past blogs, I don't think the NHL is really his dream and he's happy just to play at home and there's nothing wrong with that) it only helps the Rangers if he succeeds in the SHL. Playing well ups the potential trade value of Lias Jessiman.
One more news item on a Swedish player and I'm out!
---
I always try to read everything that's out there. After all, and I know I've said this 56757857867558 times in the past, when it comes to other NYR related blogs, podcasts, MySpace's, Tik-Tok's, J-Date's, Twitter accounts, Facebook accounts, the Pony Express, smoke signals, Morse Codes, Match.com, Christian Singles, Blackpeoplemeet.com, AOL AIM chats, ticker tapes and all other sorts of media & communications, I try to follow it all. In most events, if someone else has an interesting take on their forum, you readers email me about it, either to alert me or to get my opinion on it.
In what I found funny, during this crazy sports weekend, two different NYR related blogs/sites, that try to pretend that they aren't just fans, and try to present themselves as something more than just fans with opinions, the two blogs/sites had conflicting "reports" on Jesper Fast. I put the word "reports" in quotes, because it's not like either site/blogger talked to Fast or the Rangers when filing their reports. I know the state of reporting in 2020 has changed drastically from an era and eras ago, but there's also something about going to the source, when reporting on a story.
The Forever Blueshirts site had an article, labeled as AN EXCLUSIVE, stating that the Rangers were moving on from Jesper Fast. Adam Hermtrans, of Blueshirts Bullshit, also had an article labeled as an EXCLUSIVE, stating that the Rangers were negotiating with Fast & how Fast wants to stay with the Rangers. Of course, and probably obvious to you, neither reporter/writer/blogger/whatever, talked to Fast or the Rangers directly.
In what I found funny, hence me even bringing this topic up, is how both sites admitted to emailing the agents of Ranger players relentlessly. Maybe it's me, but since I'm much older (I've been accused of being a "BOOMER", an accusation that I relish in!) than any of these other Rangers bloggers and/or website writers, I just don't have any dreams of being a reporter.
As you probably know by now, I'm happy to be a beer-bellied blogger in my free time, and don't present myself as anything else but that. The only perks I get out of doing this blog, is when people see me at a bar before a Rangers game and buy me a drink. There are also fans who get me tickets from time-to-time, and I appreciate that too. (Thank you Marc G. I appreciate the tickets you got me and I'll never forget that. Also thanks to my buddy Travis Jackson, the first reader of this blog, who hooked me up with some sweet memorabilia two weeks ago.)
That all said, I just can't see emailing the agents of players every day. I think this is also why my motto is "10k words, no ads, one click", while other sites have 3848383838 articles with two paragraphs per click.
I guess more power to these kids playing Lois Lane here, as they try to make money off whatever stuff they are writing. Who am I to derail their goals? That said, in my opinion, I'm just surprised these agents even entertain these emails. And again, I guess my goal is different than these other sites. I just like having fun talking hockey after a few drinks. These guys think they are going for the Pulitzer. More power to them, even though I think Hermtrans is a Mary. For what it's worth, I think the Forever Blueshirts guys are dedicated in what they do and don't try to preach like Hermtrans. I just find them to be more "fan-ish" than Hermtrans. And that's a good thing.
When it comes to Fast, here's my EXCLUSIVE – I have no Father Finkin' clue if the Rangers will retain him or not.
---
If you haven't already, subscribe to this blog for the next update:
As always here, thanks for reading and…
LET'S GO RANGERS!
LET'S GO BOLTS!
LET'S GO MCDONAGH!
NYR WILL DRAFT LAFRENIERE!
KEEP POLITICS OUT OF SPORTS!
HI TRAVIS, I STILL HAVE TO DO A BLOG ABOUT THE STUFF YOU GAVE ME!
Sean McCaffrey
BULLSMC@aol.com
@NYCTHEMIC on Tweeter and on Parler