Greetings and salutations everyone and welcome to another blog here on BlueCollarBlueShirts.com. It may be a slow week for the New York Rangers right now, but it's a busy time in the world of hockey.
While the Rangers remain idle; in these past 48 hours alone, we've had an NHL coach receive a pink slip (Dave Tippett in Edmonton), a member of the Rangers alumni joining Jeff Gorton in Montreal as their interim head coach (Martin St. Louis), the retirement of a borderline Hall of Fame candidate (Tuukka Rask), former Rangers head coach David Quinn winning his first game at the Chinese Olympics, and the Arizona Coyotes deciding to play in front of a capacity crowd of 5,000 fans or less.
And if that wasn't enough for you, perhaps the biggest agitator of his generation, Brad Marchand, has once again received a suspension for his latest acts of pure filth.
All of these topics will be touched upon tonight; but of course, the Rangers take precedence here amongst all.
As teased last week, and after talking to several of you about this previously, and following my appearance on my friend's podcast (Ricky Otazu) along with co-guest "Stat Boy Steven" too; the main event of tonight's manifesto are my thoughts on why the Rangers should go "ALL IN" – thoughts that are not exactly shared by the majority of fans in Rangerstown, USA.
(Holy Run-On Sentence Batman!)
Tonight, I'll explain in-full why I think the Rangers (specifically general manager Chris Drury), should push their chips to the center of the table.
However, before doing so, let's quickly recap the lone Rangers news item from this particular "bye" week.
On Wednesday, February 9th, the Rangers announced the following: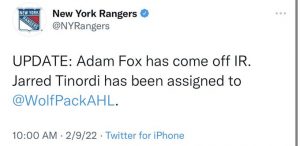 The return of the 2021 Norris Trophy winner should shock no one, as head coach Gerard Gallant had previously stated that he thought his crown jewel of the blue line (my words, not his verbatim), would be back once the Rangers return on February 15th, when the club hosts the Boston Bruins in an Original Six match-up.
In a corresponding move, the rarely-used defenseman of only seven games, Jarred Tinordi, and who had previously cleared waivers earlier this season, was sent down to Hartford.
So when it comes to #23 in Rangers blue, everything is copacetic.
As of this writing, we're still awaiting updates on the statuses of both Kaapo Kakko and Filip Chytil.
When it comes to Chytil, he was practicing with the team prior to the two-week vacation. I expect that he'll be cleared soon enough.
As far as the Finn goes, at least publicly, there's no update – yet. However, based on previous comments that had come out of the mouth of "The Turk," I have the impression that Kakko is trending towards the right direction.
And who knows – by the time you read these words, both men will have already been cleared.
Whether both of these players are Rangers or not, following the March 21st NHL Trade Deadline, still remains to be seen; as currently, many reporters, media members and fans too, have all suggested ideas that both of these players could (and should) be out the door.
And when it comes to Chytil, I'm one of those fans who thinks that Drury should move him – however, that's my opinion, and I have no source or tip about this.
I should also mention here, although I'm sure you're aware of this already – read anything you want, but don't believe anything until the Rangers say it themselves.
---
No joke, I've seen established and respected reporters out of Canada (as opposed to the clueless and young reporters that are presently on the Rangers beat), link the Rangers to about 78967868689689698 different players during their NHL Trade Deadline articles and tweets.
In these same reports, whenever talking about who the Rangers should/would/could move, one day they have Kakko gone. The next day they have Chytil out of town. Then it's Schneider. Then it's Jones. Then it's Lundkvist, and you get the rest.
Since most of these guys are just looking for clicks (they don't give you one big-ass ad-free blog like I do) – they may as well use Adam Fox's name at this point! Why not? (Outside of Steve Valiquette – does anyone really think that the Rangers are going to trade Braden Schneider?)
So if you're to follow these guys, and then take their words as gospel; expect Drury to soon make 78967867896789 trades and then have 89678678696 different players under payroll. Somewhere, Glen Sather is smacking his cigar-stained lips over this idea.
And it's even worse when it comes to the fans that claim to have sources to the Rangers upper-management.
I don't really want to give these people too much credibility by mentioning them by name (and for all I know, they are just kids behind their social media handles too – as I don't have the time, nor the desire, to figure out who are behind these accounts); but there's one guy out there, that always claims to have a source within the organization.
Due to whatever update Twitter just had, and despite me purposely not following this guy, his tweets are splashed all over my timeline, like a little kid spilling paint when finger-painting.
This particular person will tweet out 76786868968967896879669 different scenarios, and as the old adage goes, "a broken clock is correct twice a day." So whenever something he says actually happens, he then can put that feather in his cap, while ignoring the 78067867867868689687676 other things that he said that were inaccurate.
(One of his things that wound up happening – the 2019 free agent signing of Artemi Panarin. Of course, about 786786786787896896789676 other people suggested this idea too.)
What strikes me as most humorous are the people who believe and/or buy into what he says. Why? For this one reason alone: this guy has been doing this during the course of three different Ranger regimes (Glen Sather, Jeff Gorton/John Davidson and Chris Drury), where I want to stress – more times than not, he presents his opinions as facts, by claiming <drum roll please> that he has an "INSIDE SOURCE!"
So unless this guy's source is Glen Sather (still an advisor with the club), or the guy signing the checks himself (James Dolan), how has this one INSIDE SOURCE survived three different eras of Ranger hockey?
And in the off-chance (where really, it's a zero percent chance), that the source is either Sather or Dolan – do you think this one little fan is betraying that trust, in order to pop a few mentions on social media? I didn't think so either.
Rant over!
Let's get into the main event first. After that, I'll then quickly brush upon the top hockey news items of the week, followed by a quick observation, and then I'll close with the highly anticipated PLUGS segment – including my podcast appearance, should you desire to listen to it.
---
As mentioned a few times on this site already, I'm currently working on a volume set of books, where I'm covering every single trade made in franchise history. (There will also be one big-ass book released, with all of the volumes included – a book that I suspect will easily surpass 1,200 pages, should you have the strength of a Jacob Trouba to pick it up!)
When doing research for this book (and just like I did with my first book), there's a lot that goes into it.
I'm reading other books (player autobiographies), searching old newspaper archives for the sentiment/reaction of the time, checking HockeyDB.com for exact stats, conducting mini-interviews, finding old interviews, pestering Stan Fischler for his insights/thoughts, and the fun part – watching old games.
While I was alive for the 1994 Stanley Cup run (I turned twelve years old on June 13th, the Rangers then gave me a great birthday present a day later); needless to say, going back and watching games from that 1993-94 season has been a fun trip down memory lane. There was a lot that I didn't understand when watching those games as a young kid, and players who I didn't appreciate at the time. (One player that I have grown to respect tremendously, now as an unofficial "historian," is defenseman Jay Wells.)
I tell you all of this, as a way to preface my thoughts/opinions on why I think the Rangers should go "ALL IN" at the '22 trade deadline.
Call it optimistic, call it delusional, call it whatever you want – but I am admitting to you here that I'm coming off a huge 1994 kick right now, as I just finished writing about the "Big Deal Neil" (Smith) era for my upcoming book(s).
(And yes, I know the topic of 1994 can be tiring too, especially since there was a period of time where it was the only thing from Rangers history that the franchise would talk about, including all the way up to 2019.)
That said, my head isn't totally in the sand either.
There are a ton of differences between the 1994 team and the Rangers of today. (There are some similarities too though!)
When it comes to the differences, the 1994 team had the greatest captain (Mark Messier) in the entire history of professional sports. Today's Rangers have six alternate captains instead – where to be fair, this once-mocked idea has worked out thus far this season. That said, the 2022 Stanley Cup Playoffs will tell us the full story.
As far as other notable differences, there are these:
— The 1994 Rangers were built to "win now." The team had previously won the Presidents' Trophy during the 1991-92 season, but failed to win the Stanley Cup during the 1992 Stanley Cup Playoffs. The team then had a major letdown in the following season, where they didn't even qualify for the 1993 Stanley Cup Playoffs. Coaches were fired, the roster was tinkered with, and of course, "Iron Mike" then joined the fray.
These Rangers of today are coming off of a rebuild, and unless you count the 2020 bubble as playoff hockey – this is the first time this team will make the playoffs ever since the "The Letter" from 2018 was released; a letter that I hope becomes the catalyst to a 2022 Stanley Cup victory for the Blueshirts. (A boy, man-child can dream.)
In other words, there were different expectations for these two teams of 28 seasons apart.
— Neil Smith, while not truly on the hot seat, was feeling pressure to win. Chris Drury, now in the seat, doesn't have that pressure today.
— There were a lot of imports on that 1994 team, mercenaries if you will, where a bulk of them came from either Chicago or Edmonton. While you still had notable homegrown talent, like Leetch, Richter, and the four Russians; the rest of the team, including their stars, had previously played in previous Stanley Cup Finals.
Today, only Barclay Goodrow has won a Stanley Cup Final. (Sammy Blais did too, but his return this season is not expected.) And for as much as I like Barclay Goodrow – he wasn't Mark Messier, Adam Graves, Esa Tikannen, etc, either.
---
While a bunch of different things in each passing era of the NHL changes; including but not limited to, player equipment, the rules, the way the game is played, the salary cap, etc; one thing does not – the make-up of a Stanley Cup champion.
Yes, fighting is somewhat frowned upon, especially when compared to previous eras. However, physicality is something that every Stanley Cup Champion still needs. Whether it's Joey Kocur or Ryan Reaves, you need someone to lay the body, and to let the other team know that you can't, and WON'T, be pushed around.
A Stanley Cup champion also needs a strong defense, both from the men in front of the goalie and the goaltender himself. The 1994 Rangers arguably had the greatest pair in all of franchise history at the time, in Brian Leetch and Jeff Beukeboom. Today's Rangers may have the best defensive pair since those days, in Adam Fox (who draws a ton of comparisons to Leetch) and the physical Ryan Lindgren.
CZAR IGOR Shestyorkin, like a lot of these guys from the current roster, isn't battle-tested yet in playoff competition. However, if he can continue to play in the playoffs the way he's done thus far in the regular season, and then in the years beyond – he may one day settle the Mike Richter vs Henrik Lundqvist debate for greatest goaltender in all of franchise history – and take the title all to himself.
(And yes, this is me being glass half-full here; but why shouldn't I root for Shestyorkin to one day become the greatest goalie in all of franchise history? I'm all about the Rangers having future success!)
Another trait that every Stanley Cup champion possesses is depth/strong role players. I've made this point several times over the past two years – but the Tampa Bay Lightning, for all of the tremendous and perhaps future Hall of Fame talent they have possessed, never won a Stanley Cup UNTIL they were able to roll out four lines.
Once the Bolts got tough and received production out of their role players, including Goodrow himself; a Goodrow, who like his former teammate Pat Maroon, is now looking to pull off his own personal three-peat or hat trick of Stanley Cups – then, and only then, did they start winning Stanley Cup Finals.
And of course, you need your star players to shine their brightest come playoff time too.
Currently, the Rangers are watching Chris Kreider, the defacto captain to the fans, experience the best season of his career. And if both Mika Zibanejad and Artemi Panarin can get hot in the playoffs, I ask you this – "why not the Rangers?"
---
I should make myself clear here, because I don't want you to get the impression that my head is in the clouds – I don't think these 2021-22 Rangers need to win the Stanley Cup this season in order to have what would be considered as a "successful" campaign.
However, at the very least, and to be considered "successful" – I feel the team has to win their first round series. You can disagree if you want!
Qualifying for the Stanley Cup Playoffs can't be enough for this team, despite the lack of success from the previous four seasons. There's just too much talent on this club to be "one-and-done." And without sounding grim – a sweep or a five-game loss in the first round would be upsetting. (Again, my opinion, not a fact!)
Very often on this site, I have compared this team to the 2013-14 roster. In a response, some of you have told me that this team reminds you more of the 2011-12 team. That's fair too.
However you may feel, the sentiment is still the same – there is a lot of "Cinderella" in this team. I think an Eastern Conference or a Stanley Cup Final loss would leave fans happy going into the 2022-23 season. Heck, I know I would be. That said, I got my eyes on the prize, and when I look at this roster, the head coach and the general manager, I keep coming back to – "why not the Rangers?"
---
The Stanley Cup Playoffs are the most wide-open playoffs in all of sports. When compared to the NFL, MLB and NBA postseasons – it are the NHL playoffs that feature the most upsets.
Think about it. Are there many differences between NFL, MLB and NBA regular season games and their playoff games? Sure, these three sports will put more of an emphasis on defense, and MLB managers will make 767896868689689689 needless pitching changes too; but when compared to the NHL, nothing could be more different than regular season hockey and playoff hockey.
Here's a fact and not an opinion – THE STANLEY CUP PLAYOFFS ARE THE BEST IN ALL OF SPORTS.
Perhaps due to the pandemic, and all of the downtime as a result; once the NHL returned to playoff hockey in 2021, and in front of paying customers too – everyone once again realized what playoff hockey was all about. You can't go five seconds without seeing a hit. Teams don't give up an inch. NHL playoff hockey truly is Darwinism, and the ultimate test of survival of the fittest.
This is stuff that both Chris Drury and Gerard Gallant are extremely aware of. Not only did both of these men play in the NHL playoffs (where Drury also won a Stanley Cup), they've lived to tell the stories from all of the wars too.
It's also why when the moronic analytical community were laughing at them during this off-season, when they acquired many tough and seasoned players, that the two are being proven correct today – and as evident by the Rangers current win/loss record.
(And unlike others – who was telling you, and going all the way back to the off-season, that this team would be good this season? Hmmmm!!! Yep – I'm enjoying my Barry Horowitz self-pat on the back here! Thanks for obliging!)
---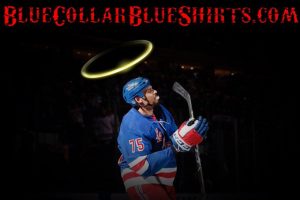 And lastly on the analytical bozos – do you think Mark Messier, Wayne Gretzky, Gordie Howe, or whatever other legend you want to conjure up here; ever looked at a heat map, moon chart, expected stats graph, or anything else that's as ridiculous as one of Steve Vagistat's Clairol hair-dye jobs?
(I'll also remind you once more on this site – I'm still waiting for the first NHL general manager, head coach and/or player, to ever say the following after winning a game, whether it be a regular season game or a Stanley Cup Final game – "we couldn't have done this without our analytical department."
Oh yeah – I have never seen anyone from a team's analytical department ever get their name on the Stanley Cup either. Just sayin'.)
In recent years, we've seen a lot of Stanley Cup champions, and finalists too, load up on players with Stanley Cup experience. This was most apparent during the 2021 Stanley Cup Final, which was played between the Montreal Canadiens and the Tampa Bay Lightning. It was also apparent in the Final that preceded this one, between Dallas and Tampa.
(And yes – before you tell me all about how Montreal had an easy path to the Finals, keep in mind, they beat a favorite in the Toronto Maple Leafs, and then beat a bigger favorite in the Vegas Golden Knights too. And this isn't the NFL, where it's "Any Given Sunday." Montreal beat both of these super powerhouses in seven-game series' – a testament to both their ability and roster.)
---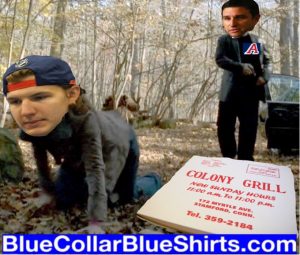 While this is a coincidence; it struck me funny when I realized that the NHL Trade Deadline of 2022 takes place on March 21st. On March 21st, 1994, Neil Smith made five trades, where three of them (even if two of these deals were directly influenced by Mike Keenan), put the Rangers over the hump, and in turn, ended the 54 year drought.
And while this is something that I expand on greatly in my upcoming book, had these trades failed – you'd never hear the end of it, especially the Mike Gartner for Glenn Anderson trade. However, the trades worked out and you can't argue with the final result – no matter how much you once loved Tony Amonte.
As it stands today, the Rangers are closer to another 54 year drought than they are to their 1994 Stanley Cup win. It's been 28 years and counting for the Blueshirts, as they continue to seek their fifth Stanley Cup in all of franchise history.
On Thursday, I appeared on the "Burgers, Brews & Brawls" podcast, which is hosted by my good friend of over twenty years, Ricky Otazu. The other co-guest of the program was "Stat Boy Steven," where despite his nickname, he's not much of an analytical guy. Instead, he is more of a pure black-and-white stat fan. (Prior to the podcast, I always thought he was one of those analytical geeks, since he's always talking with Steve Vagistat on Twitter.)
Very often on this site, I preach "everyone is entitled to their own opinions." In that same vein, I understand that every fan has their own different opinions, viewpoints and interests too. While my biggest interest (and I suppose strength too), is my affinity for Rangers history; conversely, Steve's biggest interest and affinity is for Ranger prospects. To each their own.
It's funny how fast an hour goes by, whenever you have three people on a phone call. (Of note, check the PLUGS segment for the link to the podcast.)
Steven said something on the podcast that I 100% disagreed with, where to be clear once again here – is his right.
I think what is always lost in-between all of the bickering, arguments, hatred for conflicting opinions, and fan debates; is that at the end of the day, we all want the same thing – a parade in New York City, as the Rangers hoist the Stanley Cup in front of their fans. (Maybe for ticker-tape, they can shred up heat maps?)
---
On the podcast, Steven (and he's not the only one who thinks this way), gave out what felt like a 78967867879678969786-step plan for the Rangers, where he sees them winning the Stanley Cup in 2025. Again, I'm not knocking the guy, but I thought this was kind of ridiculous.
As the adage goes, "the best-laid plans of mice and men often go awry."
Somewhat similar to analytics, what Steven's well-thought out plans didn't account for were the human element.
Who knows where the NHL will be in 2025? What will the salary cap be like? What about injuries? What about some star tearing up the league elsewhere? What about trades? Will there be another expansion team? There are millions of things that can happen between now and 2025, and while I understand you have to look ahead too – you can't give up on the present for an undetermined future. Or so I say!
While I'm a history buff, I rather live in the now than worry about the future.
Similar to Steven, I can give you a 65675675678578567856785658585675- step plan on winning the Stanley Cup in 2024, 2025 and/or 2026; but once something happens, whether it's a Rangers roster move or another team in the league's move, that perceived bullet-proof plan will quickly get shot to shit.
Long story short – my focus is on the team in its present state, because unlike Marty McFly and Doc Brown – I don't have some sort of time machine to get a clear glimpse at the future.
---
I know I talked about some of this during the 2021-22 Mid-Season Report Card blog, but without question, the Rangers have a strong nucleus.
In one last reference (I'll probably go back on this as I write these words) to my previous writings, there was something that I always said during the Henrik Lundqvist Era – "you can't win a Stanley Cup with a top five salaried goaltender." I'm not going to explain all of that again, so just check the archives for all of that. (Told you I'd go back on this!)
(And after the 2021 Stanley Cup Final, that statement was no longer true, as Tampa's goaltender, Andrei Vasilevskiy, was the highest-paid goalie of the 2020-21 season. However, perhaps he deserves an asterisk here, as in * – Nikita Kucherov, salary cap loophole.)
I bring this up, because on that same podcast with Ricky and Steven, Steven brought up a strong and credible point regarding precedents – where no team of the salary cap era has ever won a Stanley Cup after missing the playoffs in the season prior.
That said, in his eyes, he sees the Rangers tracking above the Kings, Blackhawks and Penguins, prior to their respective Cup wins. In a way, I guess I agree – as I feel the Rangers can win the Stanley Cup this season!
And while my point on top-salaried goaltenders may deserve an asterisk, at the same time – "records (and precedents) are meant to be broken."
As the great Axl Rose once sang, "…nothin' lasts forever, even cold November rain."
---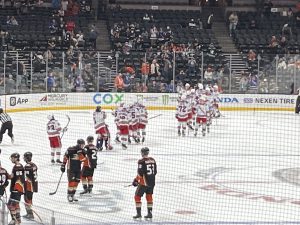 Take a look at the NHL today. Even without the benefit of a trade deadline, where whatever Drury eventually does will only benefit the team this season – who can't the Rangers beat?
The Florida Panthers, currently tops in all of the NHL, have been beaten twice by the Rangers. Ditto the second-best team of the Eastern Conference too, the Tampa Bay Lightning. And third place in that same Atlantic Division, the Toronto Maple Leafs? The Rangers have beat them twice too.
The Rangers own division, the Metropolitan Division, usually the greatest division in hockey, has been a strange one (hi Mike the Esquire and Derek NO FLEX), as the Rangers have only played Carolina (first place) and Washington (fourth place) once a piece.
In both games, which were also on the road, CZAR IGOR didn't start. Instead, back-up goaltender Alexandar Georgiev did. And when it comes to the Washington game, that was the first game of the season – so you can pretty much throw out what happened on that night.
The Rangers still haven't played the Penguins yet, which is somewhat remarkable at this point in the season.
It's the Western Conference where the Rangers have had their most struggles, as they are 0-2 against Colorado, Vegas and Calgary. Of course, should the Rangers make it all the way to the Stanley Cup Final, they'll only have to play one of these teams.
(And I have no faith in Colorado, the favorite to win the Stanley Cup, to do so. I envision another second-round exit, as I still don't think they have the goaltender to put them over the top – something I've said since the off-season.)
And while perhaps I'm sugarcoating these six Ranger losses, all of them are easily explainable, due to COVID-19, the schedule, travel, and Filip Chytil shitting the bed at home against Vegas.
However, should you yearn for "doom and gloom," and are focused on the West – what team from the Eastern Conference can't the Rangers beat in a best-of-seven series right now?
Are you worried about the chokers from Toronto? The aging out Capitals? A two-time Stanley Cup champion Tampa team that the Rangers have swept this season? Or maybe you're worried about the Carolina Hurricanes, who admittedly, have had the Rangers number ever since the bubble. To that I say – nothing great ever comes easy!
---
While a team is certainly as strong as their weakest link, that stated – the Rangers have a strong core, where these guys are also some of the best players in the league.
Artemi Panarin, who is in a "down" season for him (and I use the word "down" jokingly), is a former Hart Trophy candidate.
Adam Fox is the 2021 Norris winner and a candidate for the '22 Trophy too.
CZAR IGOR is a '22 Vezina Trophy candidate, if not a Hart Trophy candidate too.
Chris Kreider leads the league in goals scored, and may be a Hart Trophy candidate himself. He may also snap Jagr's 54 goals record as a Ranger.
Mika Zibanejad, after a horrid start, is now experiencing his best stretch of games since the 2019-2020 season, where he scored the most amount of goals during a three-month clip.
Head coach Gerard Gallant is former Jack Adams winner and a candidate for the '22 award too.
Then, when you look at the rest of the roster, defensively, you have Jacob Trouba playing his best hockey of his Rangers career, a strong and formidable defenseman in Ryan Lindgren, and a promising up-and-comer in Braden Schneider.
The Rangers also have their best fourth line since the peak years of the AV era, where guys like Ryan Reaves, Barclay Goodrow and Kevin Rooney have all played well. Even Greg McKegg, the spare-forward-turned-regular, has been solid – despite what others may claim.
Of course, as you know, as I know, and as Chris Drury himself knows – the top six could use some work. I feel these holes will be addressed prior to the deadline. (And can you imagine if Drury makes five trades, as Smith once did? Okay, that's the fan of history in me rooting for that!)
---
For a season and team full of adages, here's another – "go big or go home."
I think we can all agree that Drury will make some moves, where Filip Chytil, Vitali Kravtsov and the '22 first-round pick, will most likely be dealt. After that, it feels like either Zac Jones or Nils Lundkvist will be dealt too.
(I'm sure Drury would like to deal both Libor Hajek and Patrik Nemeth as well, but in order to do so, he'd have to provide a sweetener – because why else would an opposing team trade for either of the two?)
Of course, if Drury really wants to go all in and make a splash, he could deal Kaapo Kakko and K'Andre Miller too.
(And while I have no clue what Drury is eyeing or has on the table; as mentioned last off-season, if he could turn Kakko into Matt Tkachuk, I'd co-sign that. However, that's probably a pipe-dream. Maybe it's a fever dream too!)
Another factor to consider, is just like any other general manager, you don't want to negatively impact your team's chemistry. Too much turnover could be a detriment, especially for one of the youngest teams in the league, and the youngest playoff-bound team too.
As stated earlier, I have no sources, nor do I have an inside track into Drury's world. I'm just opining and spit-balling here.
However, if the Rangers could land Joe Pavelski, JT Miller, Phil Kessel and a LD (maybe Jakob Chychrun, the most popular name making the rounds), in exchange for Chytil, Kravtsov, a '22 first rounder, Gauthier, Miller, Lundkvist, Jones, Nemeth, Hajek and/or Kakko (for Tkachuk!) too – don't you feel you have to do it, should such an opportunity present itself?
Alone, a third line of JT Miller/Joe Pavelski/Phil Kessel would blow away what the Rangers currently have.
Even just adding two of the three (and I think Kessel is a real possibility, if not the realist, due to both Drury's affinity for Cup champions and Arizona's current situation), would improve the team tremendously. Not only would it fix the top six issues, and the third line itself too – it would also allow the Rangers to have a killer fourth line of Rooney/Goodrow/Reaves.
Another name that's currently out there? Zedno Chara, who similar to Reaves, has been the apple of the Rangers eye for some time. However, as previously talked about with Flyers center Claude Giroux, I don't imagine the Islanders going out of their way to help the Rangers.
The Rangers, of all playoff bound teams, have the most salary cap space available. Next season, they'll be right up against the cap ceiling, akin to Michelangelo painting the Sistine Chapel.
That's why, instead of laying out a 7896789678678678967896789678967896-step plan for 3-4 years down the line, I think Drury should do what Neil Smith once did (twice at that, as Smith also made big splashes during his first year as general manager, where he acquired both Bernie Nicholls and Mike Gartner), and go ALL IN.
And should these moves not work out, here's one last adage for you, one that we've seen displayed during the last 27 seasons – "there's always next year."
(Plus, wouldn't you rather be in it to win it anyway? I'll let other people worry about the 2027 Stanley Cup. Right now, I'm zeroed in on the 2022 Stanley Cup!)
In closing on this, one more time – "WHY NOT THE RANGERS?"
---
Let's now run down the top stories of the hockey world.
Up first, on Thursday February 10th, USA Hockey defeated the bat chompers from Wuhan, Team China, by a final score of 8-0. The Americans just dominated the country that has no regards for human rights, where the Chinese never had a shot of winning the contest.
And while I think these '22 Olympic games are all a farce, I think it's a bigger farce when you have native Americans (not those kind) and native Canadians playing for these horrible teams such as Team China, just because they played a few league games in that country.
Whether you're born in America, Canada, Russia or wherever; you shouldn't be suiting up for the Chinese just so you can play in a disgrace of an Olympic tournament anyway.
That's my story and I'm sticking to it! NEXT!
---
It's official – the Coyotes will be leaving the Gila River Arena in Glendale, Arizona, after months-and-months of drama and controversy with the people who run the arena.
I really liked the set-up in Glendale, as the arena is located in a huge outdoor shopping mall (the NFL stadium is right down the block too), where many bars and restaurants are also featured. Also located a few blocks away is a casino.
Starting next season, and at least two seasons after that, the Coyotes will be playing at Arizona State University.
For the full 411, check out: https://www.sportsnet.ca/nhl/article/coyotes-share-arena-asu-least-three-seasons-state-approves-agreement/
This opens up a whole new can of worms, as while the Desert Dogs would like to build a new arena in Tempe (with government/tax payer assistance of course), nothing has been approved yet.
And for all of the talk about how fans want to see the team in Quebec – that will never happen, unless some rich Frenchman decides to overpay for the team and is willing to incur heavy losses when relocating them.
Houston? Maybe. But again, you'd need a rich Texan, with the biggest of cowboy boots, to buy the team too, as current ownership (and Gary Bettman himself), seem content in losing money in the desert.
Another problem, of many, is that ASU has a capacity of 5,000 spectators. When you take into account the building's configuration for NHL games, the capacity decreases. (Elliotte Friedman, of SportsNet, has heard as low as 3,200 – which to be fair, is 3,200 more people than any NHL game in Canada right now!)
Perhaps the biggest problem, and as it's been for a while, is this – who will want to play full-time for Arizona, now on a college rink?
Arizona has a ton of draft capital heading into the 2022 NHL Entry Draft. They also have enough cap space to afford season tickets at M$G too. However, what good is it, if these draft picks decide to stay in juniors or in college, and opt not to turn pro? And you could have $786786867868689678967867896 dollars in cap space, but if no one wants to play in front of 3,000+ fans, what's the point?
It's just sad that the 'Yotes, and the powers-to-be at the Gila River Arena, couldn't work things out. Instead of just paying higher rent fees, the Coyotes are now paying for new structures at ASU, which for them, will only be temporary.
And while Arizona has one of the lowest year-in and year-out attendance figures in the league, this just guarantees that this will be the case for the next three seasons. (And you can bet your bottom dollar that the other 31 NHL owners are NOT happy about this either, as Arizona is just hemorrhaging cash right now.)
What. A. Mess.
---
As you probably have heard of by now, former Ranger Martin St. Louis is now the head coach of the Montreal Canadiens. For the full story, check out: https://www.nhl.com/news/martin-st-louis-named-montreal-coach-after-dominique-ducharme-fired/c-330633624
My sentiments on the firing of Dominique Ducharme, who just signed a contract extension over the summer with now former g.m. Marc Bergevin, are pretty much the same as everyone else's.
I thought he got a terrible shake and just had a "Murphy's Law" of a season.
Was it his fault that Montreal is ass-backwards about COVID-19 and won't let fans into the arena, thus forcing his team to play without emotion? Was it his fault Carey Price left the team? Was it his fault that Shea Weber was forced into what seems-to-be an early retirement? Was it his fault that he had his players accept offer-sheets elsewhere? Was it his fault that his players accepted free agent deals with better compensation during the off-season?
However, once Bergevin was fired and Jeff Gorton took over – you always knew that Gorton was going to find his own guy. Getting pummeled by the disastrous Devils (7-1) just gave Ducharme his paid vacation earlier than expected.
Martin St. Louis is one of those short-stint Rangers that I'll never forget, where we all know the story about the 2014 Stanley Cup Playoffs and the sad passing of his mother, Frances. He lifted the team over the Penguins in that series, enroute to the Rangers appearance in the 2014 Final.
Gorton's hiring of MSL was out of left-field. Previously, #26 turned down a gig with the Rangers, and he had also left the Columbus Blue Jackets after a short-stint, as he wanted to focus on coaching his kids. Now, with his family in Connecticut, he's now in Montreal. Of course, being offered the HC gig of the most-storied franchise in all of NHL history was too good to turn down.
As I write these words, in his first game behind Montreal's bench, MSL's Habs were defeated by the Washington Capitals 5-2. For what it's worth, the Habs played a spirited game in front of no fans, and actually out-shot the Caps 44-23.
I wish MSL all the best in his new gig – except whenever the Rangers play their Original Six rival.
---
While one head coach was hired this week (even if MSL has the "interim" label attached to his name), a coach from another Canadian franchise was fired on Thursday, as Oilers general manager Ken Holland canned Dave Tippett.
Replacing Tippett (on an interim basis for now) is the franchise's AHL head coach, Jay Woodcroft.
Similar to Ducharme in Montreal, I don't know how much you can put on Tippett's door-step.
WE ALL KNOW THE FOLLOWING – KEN HOLLAND, DESPITE EVERYONE AND THEIR MOTHER SAYING THIS FOR TWO YEARS – NEVER GAVE HIS TEAM A TRUE STARTING GOALIE.
I remarked a few blogs back, when the Rangers beat the Oilers at M$G in early January, that Tippett pretty much sounded like Alain Vigneault during his last press conference as head coach of the Philadelphia Flyers. However, prior to this firing, Holland had backed up, and publicly supported his head coach, Tippett, in all of his media interactions.
After two back-to-back losses out of the All-Star break, Holland had seen enough.
In my opinion, the Oilers could get Scotty Bowman in his prime, and they still will won't go anywhere because of their horrid goaltending situation. This feels like a desperation move from the general manager, more than a firing that will truly improve his team.
Time will tell, but even if the Oilers can climb back and grab a playoff spot – I doubt they'll do much once there.
---
This is dated news by now, but on Wednesday, February 9th, Brad Marchand was suspended for six games after his February 8th attack on Penguins goalie Tristan Jarry:
Brad Marchand punches Tristan Jarry in the side of the head, then moments later swings his stick at Jarry's head.

Suspend him. pic.twitter.com/wvUOE77vaL

— Danny Shirey (@DannyShireyPGH) February 9, 2022
---
I know that Marchand was upset about a play that took place earlier in the game, but this was stupid and reckless.
Plus, prior to this attack, Marchand wouldn't let Jarry give a puck to a young Penguins fan sitting in the Boston crowd. I mean it was funny, but why ruin something for a kid?
Marchand, all season, has been preaching that he's trying to turn his image and reputation around. Rabbit-punching a goalie, and then trying to spear him in the neck, won't do much to change that.
I've always defended Marchand on this site, because I find his agitating acts amusing, even during his game of showmanship with Mika Zibanejad from last season. This wasn't agitating. He could've seriously hurt Jarry here during this cowardly display of violence.
I guess what's truly disappointing is that Marchand is an extremely talented player. He's not a goon. He doesn't need to do this stuff to be successful. This was classless. If he wanted a fight with Jarry, then challenge him one-on-one. Playing the "knockout" game with a goaltender isn't something that should be in the NHL game. As a repeat offender, he's lucky he only got a six-game suspension.
Speaking of the Bruins, let's talk Tuukka.
---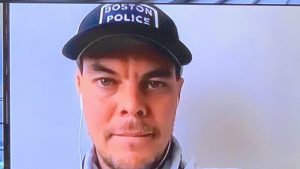 After trying to attempt an NHL comeback, on Wednesday, February 9th, Tuukka Rask, the long-time Bruins starting netminder, announced his retirement. You can get the complete story here: https://www.nhl.com/news/bruins-tuukka-rask-status-retirement-report/c-330618944
Rask's comeback was a tough one. Originally, he was supposed to begin his comeback in the AHL, but due to COVID-19 cancellations, he was thrown right into the fire known as the NHL. After an easy game against Philadelphia, he was exposed a bit in his next three starts.
Just want to throw this out there:
Goaltender A: a career GAA of 2.43 and a save percentage of .918. In the playoffs, this goalie was 61-67, with a GAA of 2.30 and a save percentage of .921.
Goaltender B: a career GAA of 2.28 and a save percentage of .921. In the playoffs, this goalie was 57-46, with a GAA of 2.22 and a save percentage of .925.
Of course, "Goaltender A" is Henrik Lundqvist, and "Goaltender B" is Tuukka Rask.
---
Up until last night, I never was truly aware of Rask's numbers when in comparison to Lundqvist's. I only learned this after listening to "The Blueshirt Underground Show," where I'll have the link for the episode hooked up for you during the "PLUGS" segment.
Two other things that should be mentioned here:
— Both goalies won a Vezina Trophy, but it was Rask who won a Stanley Cup – as Tim Thomas' back-up. Still, it's a "team game," am I right?
— Obviously, Rask had better teams in front of him over the years than Lundqvist ever did. And what did Boston's stars (The Perfection Line and Rask himself) do over the years, as opposed to the stars on the Rangers – they took less money in order to win.
I won't knock a player for trying to get the most money as possible, especially since their careers are short when compared to normal jobs; but I do respect what the Bruins players' did at contract time. They took a page out of the book from another Boston star – Tom Brady.
It's my opinion that Marc-Andre Fleury is the greatest goaltender of his generation and is a shoo-in for the Hall of Fame – a HOF that isn't exactly favorable to the goaltender position. (Ironic when you think about it, since John Davidson sits on the board of directors.)
It's also my opinion that if Roberto Luongo gets in, then it opens up a floodgate for other goaltending candidates too.
It's now my opinion, that if Henrik Lundqvist gets in, shouldn't Tuukka Rask get in too?
One more parting shot on goaltenders before wrapping up.
---
Before winding down here, isn't it funny that whenever you mention the name of "Mike Richter" on social media, within seconds, the "Cult of Lundqvist," like Batman seeing the Bat Signal, come swarming out of nowhere, where they then tell you how much Richter sucked in their eyes and how he couldn't hold a candle to Henrik Lundqvist? I have never seen a faster acting defense mechanism in all of my life! Kudos to that crew!
I wonder if in 20-30 years from now, when fans of a new generation say that "Adam Fox is the greatest defenseman the Rangers ever had," if Brian Leetch supporters will come out of the woodwork and tell them how Fox couldn't hold a candle to Leetch too? It's hilarious.
I guess what amuses me the most, is that whenever you say "player x was my favorite and the best, yadda, yadda, yadda," is that your fellow Ranger fan brethren, in their response, immediately tear down that player, you know, the same player who once played for the team that you root for. Rather than praising both players, many fans will just bury the player they didn't like as much – despite you know, that player having his name hung from the rafters of Madison Square Garden.
And it's not just Richter vs Lundqvist either, as I have seen disgusting fans from this same millennial generation also tear down both Mark Messier and Adam Graves. Of course, to these dolts, Pavel Buchnevich is the greatest player to ever adorn a Rangers jersey. If only had Chris Drury re-signed #89 – the Rangers would've won the next ten Stanley Cups!
(And wouldn't it be hilarious if Brett Howden and the Vegas Golden Knights swept Buchnevich's Blues during the 2022 Stanley Cup Playoffs? Even funnier – Jimmy Vesey outplayed Buchnevich in the Devils' massacre of the Blues on Thursday night. Ugh.)
Just some funny observations!
And for all the talk about Richter vs Lundqvist, I'll take #35's two Game 7 victories over the ones Lundqvist recorded. And yep, as stated numerous times throughout this blog – I'm fresh off of watching the 1994 team!
(And as also previously stated – I'm rooting for CZAR IGOR to one day become the greatest goalie in all of franchise history!)
Plus, when it comes to iconic saves in Rangers playoff history, what was better than this: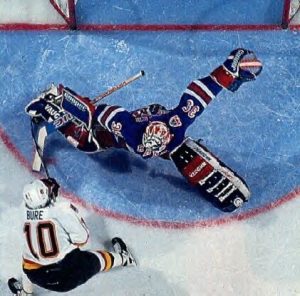 PLUGS time!
On Thursday evening, one of my good friends of over twenty years, Ricky Otazu, released the second episode of his new podcast entitled "Burgers, Brews & Brawls." Even better, I, along with "Stat Boy Steven," are this week's guests.
To listen to the one-hour episode, click this link: https://drive.google.com/file/d/1Gi8wUiYSV2ifCDmC4Mk3RWwblhKBrkmf/view
---
On Wednesday evening, Jim S. & Eddie G., the reigning and defending Rangers-themed podcast champions, returned with one of their longest episodes yet, as the duo went over two hours talking about Ranger hockey, among other things.
To listen to the show, click the play button below:
---
The hardcover version of my book, available now at Amazon.com
The first plug of tonight's blog – the mandatory plug for my new book, "The New York Rangers Rink of Honor and the Rafters of Madison Square Garden".
As mentioned previously, the book is now available in hardcover, in paperback and in Kindle formats. To purchase a copy of the book, visit this link:
https://www.amazon.com/Rangers-Rafters-Madison-Square-Garden-ebook/dp/B09CM5N2WD
For those still looking for signed paperback versions of the book, I have re-ordered more copies. I now have 2 signed copies for sale at $25 a pop (includes shipping price) through me directly. Here is all the information on that:
---
Here are my last few blogs, in case you missed them:
---
---
---
If you haven't already, subscribe to this blog for the next update:
---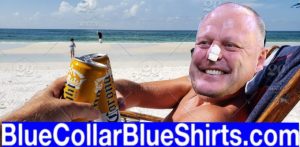 Up next: four days of practice, including a light Superbowl Sunday skate, followed by the Rangers return on Tuesday against the Marchand-less Bruins – a Bruins team that got pummeled 6-0 by the Hurricanes on Thursday night.
I'm back to working on my volume set of books. Should anything big happen between now and Tuesday, I'll return, where most likely, I'll have something up on Monday, recapping all the news from the practices.
As always here, thanks for reading and…
LET'S GO RANGERS!
Sean McCaffrey
BULLSMC@aol.com
@NYCTHEMIC on Tweeter