Greetings and salutations everyone and welcome to another blog here on BlueCollarBlueShirts.com. Two words – CZAR IGOR!
Really, what else can I say after this heart-attack hockey affair? Thankfully, it was CZAR IGOR who flat-lined the Bruins!
After ten days of vacation, followed by four days of practice; the Rangers returned to Madison $quare Garden on Tuesday night, where they then went on to defeat the Boston Bruins 2-1. It took nine shootout rounds to get the job done, but when you're on the right end of one of these gimmick contests – who cares? Two points is two points, and with the way the Metropolitan Division is shaping up – points can't be given away.
The start, the middle, the finish, and the overtime of this tilt were all centered around #31 in Rangers blue, the goaltender, CZAR IGOR. He's obviously the lede story of this game – but it should also be mentioned that the rusty Rangers also did an admirable job defensively, especially as the game went on.
Of course, while there were a few Ranger turnovers here and there, that's the story of every hockey game. No team plays a flawless game. And as mentioned about 8678967867896896 times in the past – the other team is paid to play hockey as well.
Also mentioned about 87897878700 times before during the past two-and-a-half seasons? CZAR IGOR's ability to clean up nearly every mistake in front of him, which is why I still stand firm in my belief (and as talked about last blog) that the Rangers (general manager Chris Drury) should push their chips to the center of the table prior to the NHL Trade Deadline.
When you have a goaltender like CZAR IGOR just locked in and in the zone – every game is winnable.
And here's some food for thought for you:
Remember when the chart geeks were against Igor's new contract during the off-season? Presently, Igor takes up 7% of the Rangers salary cap, and arguably, he's not even in his prime yet. The former starting goaltender of the Rangers was at 13.22% during his swansong years.
Just sayin'!
---
Obviously, this wasn't the best Rangers win of the season. Two shots on goal in the first period will tell you as much. Ditto one goal for in sixty minutes of regulation; in addition to the scoreless five minutes of threes' competition.
That said, this win is definitely one of the most memorable wins of the season, especially because of the junk and drama at the end, which I'll soon get into during the game review segment.
If all things go according to (my) plans, and after CZAR IGOR joins Davey Kerr as the only goaltender in Rangers history to win both the Vezina Trophy and the Stanley Cup; his #31 jersey will one day join the eleven others in the rafters of Madison Square Garden.
When that day happens (where I also assume that Steve Vagistat will tell anyone who is unfortunate enough to be in earshot of him about his legendary and epic career of 46 games played); prior to the ceremony, and akin to "30 Nights of Lundqvist" – we'll have "31 Nights of Igor," where this game will be one of the featured moments.
I know I'm exaggerating when comparing Igor Shestyorkin to Willis Reed, when #19 on the Knicks had his Game 7 moment during the 1970 NBA Finals; but for the Rangers of this era, Shestyorkin's performance (and like Reed, who also had a victorious night inside of M$G on his day), was the closest thing to Reed's magical game from May 8th, 1970.
However, unlike Reed, this game will also provide concern and fear for the playoffs, a topic I'll soon discuss.
In fact, let's work our way there, but up first, the NEWS segment.
---
Originally, I was going to post something on this site Monday night, recapping all four Ranger practices from Friday, Saturday, Sunday and Monday; but truth be told, there was only one real news item to come out of these practices – Kaapo Kakko remains on the injured reserve list, a designation that he will carry for at least a month, if not longer.
On Thursday, when the Rangers returned from their vacation, head coach Gerard Gallant announced that Kakko will be out for at least a month. Gallant didn't get into the specifics of Kakko's "upper-body injury," as all "The Turk" said was that his young Finn would be out for a bit.
Obviously, losing a member of Gallant's top six forwards isn't a good thing, even if Kakko has been disappointing this season. It also throws a monkey wrench into Kakko's future too.
While who knows if Chris Drury has seriously considered trading Kakko or not; in any event, with an NHL Trade Deadline ahead (March 21st), there's a chance that #24 in blue doesn't play before then. In theory, that would lessen his trade value to a potential trade suitor, should the general manager consider trading the pending restricted free agent.
What we do know for a fact, is that no matter what you think about the second overall pick of the 2019 NHL Entry Draft, is that his absence weakens the Rangers. Even if you're the biggest Kakko detractor in the world, with him out, it changes Gallant's line-up – where the bottom six forwards are impacted the most.
Until Drury makes a trade (I think we can all agree that some sort of move(s) are coming – we just don't know what they'll exactly be), Gallant is forced to tinker around with his lines.
And for what it's worth, this has been the case ever since Sammy Blais got "Slewbann'd," as the Rangers have continued to employ the "next man up" strategy, rather than looking for a veteran to replace Blais.
For Kakko, without question, he wants to return sooner or later.
As someone in a contract year, Kakko wants to do whatever he can to earn the most amount of money for next season and beyond.
As discussed before, and as we all know – he's not coming close to sniffing the money that Jack Hughes, the first overall pick of the 2019 NHL Entry Draft, will be making next season. (The Devils made their forward an $8M-per player earlier this season, in their eight-year contract renewal/re-signing with the hopeful face of their franchise.)
While Hughes' and his future is secure with his club, Kakko's is not. With the Rangers up against the salary cap for the 2022-23 season, there are a bunch of different things that could happen, including some team presenting Kakko an offer-sheet during the off-season.
Of course, the Rangers would not want Kakko to walk away for nothing in return, which is why the Finn's name has been suggested in trade rumors.
Best-case scenario? Kakko returns at 100% and then goes on to have an amazing playoffs.
While I'm not saying that the Rangers should give up on him or anything as drastic as that, at the same time – you need to see some sort of flashes of brilliance out of the Finn, and it can't just be a two-goal game against the crappy Coyotes.
---
As far as any other news and notes coming out of the practices – it was pretty much what you'd expect.
Gallant praised a bunch of his players, and continued to preach "one game at a time," especially whenever asked about his line-ups and goaltenders.
While Gallant would like to roll out a day-in and day-out regular line-up, that's somewhat out of his hands, due to injuries, COVID, and perhaps in the future – whatever trades Drury makes. In other words, what you see now is most likely something you won't see in the playoffs, outside of the regulars, such as CZAR IGOR, Fox/Lindgren, Mika/Kreider, Panarin/Strome, etc.
In a final note, Patrik Nemeth was at all four of the Rangers practices. While we know that Nemeth's issue has been one of a personal nature, as opposed to an injury; Gallant wouldn't say anything about the Swede's playing time, outside of saying that "Nemeth had four good practices."
After four practices, a Superbowl and a "Hallmark Holiday" too; we pretty much knew what the line-up would be for tonight's game with the Bruins, a Boston team that was without Brad Marchand after his cowardly attack on Penguins goalie Tristan Jarry, and who were without Patrice Bergeron as well.
Prior to puck drop, at 5PM, Gallant met with the media. Here's his short press conference:
---
The biggest thing to come out of Gallant's pregame press conference, was that he said that he didn't think Patrik Nemeth was able to return just yet. At the time, that meant that either Zac Jones or Libor Hajek would play aside Braden Schneider. As you'll see below, "The Turk" chose Jones over Hajek for this one. This decision paid off tonight.
Here's what "The Turk" went with for this first game after the break, the first of the final 35:
FIRST LINE: Kreider/Mika/Lafreniere
SECOND LINE: Panarin/Strome/Goodrow
THIRD LINE: Hunt/Chytil/Gauthier
FOURTH LINE: McKegg/Rooney/Reaves
Defensively, we had this:
FIRST D-PAIR: Lindgren/Fox
SECOND D-PAIR: Miller/Trouba
THIRD D-PAIR: Jones/Schneider
And in net, CZAR IGOR.
---
BOX SCORE time.
The following information and graphics come from the new world-wide leader in NHL coverage, ESPN.com:
SCORING:
SHOOTOUT:
PENALTIES:
TEAM STATS:
GOALIES:
| | | | | | | | | | | |
| --- | --- | --- | --- | --- | --- | --- | --- | --- | --- | --- |
| SA | GA | SV | SV% | ESSV | PPSV | SHSV | SOSA | SOS | TOI | PIM |
| 34 | 1 | 33 | .971 | 31 | 1 | 1 | 0 | 0 | 64:42 | 0 |
| | | | | | | | | | | |
| --- | --- | --- | --- | --- | --- | --- | --- | --- | --- | --- |
| SA | GA | SV | SV% | ESSV | PPSV | SHSV | SOSA | SOS | TOI | PIM |
| 0 | 0 | 0 | .000 | 0 | 0 | 0 | 0 | 0 | 0:41 | 0 |
| 32 | 1 | 31 | .969 | 29 | 1 | 1 | 0 | 0 | 64:19 | 0 |
THREE STARS:
---
The M$GN pregame show remained horrid as usual, sans Dave Maloney giving the broadcast a breath of fresh air.
I'm not even making the following up.
To begin the broadcast, John Giannone was giving us his pregame preamble, and was then cut-off mid-sentence by a BET MGM gambling commercial, where I assume they are also taking over-under action on how many times they can work their plugs/ads on a Rangers broadcast.
It was just a shame that we didn't have any commercials cut into Vally's air time, as he remained insufferable tonight.
No joke, following Igor's epic performance and story tonight, the veteran of 46 Hall of Fame worthy games, questioned Igor in net and then told two war stories from his own career.
I'm convinced that Vally has dirt on some M$GN higher-up. Maybe Vally, with his horrendous Clairol hair-dye job, goes to some salon with a M$GN big-wig. I wouldn't be shocked to hear so.
Michelle Gingras, usually inoffensive on these broadcasts, was fed some bad/misleading info from one of her producers. In her opening remarks, she said that the Bruins were without David Krejci. No shit. Krejci left the Bruins during the off-season. He's currently playing in his home country of the Czech Republic.
(Later on, Sam Rosen cleared up the error, where he said that the Bruins lost Krejci over the summer.)
Worthless Valiquette then used his homemade arts-and-crafts charts to explain that CZAR IGOR was one of the better goaltenders of the NHL today. He needed to finger-paint on graph paper to figure that out? The eye-test tells me all that I need to know about the '22 Vezina candidate.
After Gingras confirmed the Bobby Orr wouldn't be dressing for the Bruins tonight (this part I am making up!); we then went to Dave Maloney, who explained things from an eye-test perspective. Maloney praised Mika Zibanejad during this.
Maloney, who actually played more than 46 games in the NHL, and you know, was once a beloved Ranger too; then told a war story in order to make an excellent comparison to the Rangers of today. Maloney mentioned how Carol Vadnais was a mentor for him, and helped him to grow his game. Maloney said that's what Jacob Trouba is doing for Braden Schneider right now. This was infinitely better than listening to Vally shower his man-love for Islander bust Rick Dipietro.
Maloney also brought up Igor's current status as a Hart candidate. He didn't need caveman carvings or an abacus to make this assessment. For what it's worth, I think there are only two things that can hurt Igor's candidacy for MVP of the league – staying healthy and his teammates.
Obviously, Igor has a history with injuries, where all you can do is hope that he remains in tip-top shape, something that was concerning tonight and through no fault of his own. The second part, the teammates, is a good problem to have, as arguably, Chris Kreider, and his status as the league-leader in goals, is a Hart candidate himself.
In one last display of unfiltered idiocy from the seven foot clueless wonder; Steve Valiquette then questioned the Rangers third line and said that they had to be more like Tampa Bay's third line from the last two seasons.
I'm telling you, the Clairol has seeped into his birdbrain.
Anyone who has watched the Rangers this season knows that both injuries and COVID-19 have impacted the team, where in turn, Gallant can't dress the third line that he wants every night.
And oh yeah Part I – Tampa has had one of the deepest teams in all of the NHL during the past few seasons, teams that could be compared to those Detroit Red Wings super-teams from the late 1990s-early 2000s.
And oh yeah Part II: that Tampa third line, Goodrow/Gourde/Coleman, are now all making tremendous money, after all three received big raises in the off-season. Of course, this fact was ignored.
At least Sam Rosen and Joe Micheletti were there.
As noted about 789567575678585 times over the years, no one is more excited to go to work than Sam Rosen is. I also thought Joe Micheletti was spot-on all night. (Of course, I have to say that about the "FABULOUS" one, as anytime I made a comment/remark on social media about the game, about 2-3 seconds later, Micheletti said the same thing on television. I never thought I'd be sharing the same mind as "Jumpin' Joe," but here we are!)
Game review time!
---
The first period pretty much went the way that I expected, which is to mean that the Rangers were rusty.
It's something that Joe Micheletti, Adam Fox, Ryan Strome and Gerard Gallant would also say later on.
After two weeks off, it's hard to get back into the swing of things. Fortunately for the Rangers, CZAR IGOR was anything but rusty, and even better, despite not playing at their best – the Rangers came away from this game with two points in the standings.
I know some fans from the cynical realm, and Bruins fans too, will mention how both Marchand and Bergeron were out. If that's the route you want to take, so be it. I'll just zone in on the fact that the Rangers had two weeks off, and despite the inactivity – came back and won the game. After all, I think the Rangers have only won two games this season when entering a third period while trailing.
Plus, I didn't hear fans of opposing teams making excuses for the Rangers when they were ravaged by COVID-19 and injuries in early January.
The Rangers only recorded two shots on goal in this first period, where the first shot on goal took place after 12:15 of game time had expired, an innocent floater from Ryan Reaves.
In a quick moving first period, devoid of any penalties and where the whistles were limited (it took less than 25 minutes of "real time" to complete the twenty minute frame); CZAR IGOR made his first of 31 saves eighty seconds into the affair.
I thought Ryan Reaves, and his entire fourth line, was the best Rangers line of the game. They were forechecking, they were playing defense, and they were hitting anything that moved. Reaves, as usual, led the game in hits, with eight in all. Surprisingly, Alexis Lafreniere was second-best, with four hits in all.
After Reaves and Clifton exchanged thunderous clashes; the Strome line, the line that took the ice at the start of both the first and second periods (Mika's line took the opening draw of the final frame), gave up the first goal of the game.
Just 3:39 in, Charlie Coyle got the first goal of the game, following a Rangers turnover.
After Igor had a clearing attempt denied, the second line recovered and were looking to move the puck up ice. Barclay Goodrow made a blind drop pass at the blue line, only for Coyle to intercept it. Coyle then found Craig Smith (more on him later), and Smith shot the puck at Igor. Igor made the first save, but Coyle then cashed in on the rebound, which then gave us a score of 1-0, bad guys.
This would stand as the only goal allowed to the Bruins in the game, and it was the end result of some sloppiness and rustiness out of the Rangers.
For the rest of the game, while CZAR IGOR most certainly had to dig down deep (he even took a puck to the dick in the third period), otherwise, the Rangers played solid defensively.
As the clock went tick-tick-tick, it was obvious that the Rangers had trouble executing their passing game, as there were no tape-to-tape passes to be seen. It was basically a bunch of turnovers, where again – rusty, rusty, rusty. (Say that in the tune of those old "Hefty, Hefty, Hefty" commercials.)
There was even one point, with about ten minutes down and no crisp passes to speak of; where both Ryan Strome and Jacob Trouba tried to play "hero ball," where during these one-one-one efforts, they both turned over the puck.
Once Reaves got the first Rangers SOG of the game, you could see the Rangers starting to put it together a bit, as each line and each defensive pair put together long shifts in the Boston zone. However, they still had trouble getting the puck on net – but it wasn't for a lack of trying either, as the B's did a good job of blocking shots and breaking up "GOOD LOOKS."
With about five minutes to go, Reaves, as mentioned, on the most noticeable Rangers line of the game; absolutely tossed Brandon Carlo, as if Reaves was competing in a frat house midget-tossing competition.
Gauthier, who couldn't score in a whorehouse with a fistful of $100 bills in his hands, then got one foot away of Bruins goaltender Jeremy Swayman, but somehow, missed the net. Incredible.
After one period, and a late solid attempt from Fox and Kreider on one of their patented tip-in/deflection plays; we remained at 1-0, bad guys.
This period wasn't the best, as the Bruins out-shot the Rangers 8-2. However, I don't think this would've bothered anyone (okay, that might not be true, as some Ranger fans love to complain about anything), had the Bruins not had the lead.
---
Of note, Vally's top takeaway during the intermission? "Igor is going down too soon."
If anyone knows about going down too soon, it has to be Vally. It's also extremely annoying that this seven-foot doofus has the audacity to criticize Shestyorkin at all. (This wasn't the first time the douche has done so this season.) One day, I'd love to see the CZAR give his analysis on Vagistat's ten goals allowed game to Dallas.
The Rangers came out fast and furious to start the second period, but couldn't register a goal. However, they did pick up four shots on goal in the first three minutes, which was twice the number of SOG they had in the previous twenty minutes of action.
In what turned out to be a goaltending clinic; at the forty second mark of the middle period, Swayman made a save on Ryan Strome, a save that earned a "FABULOUS" shriek out of Micheletti.
Following the save, Lafreniere took a backhanded shot, a puck that presumably landed in the Lundqvist banner hanging from the ceiling.
With the Rangers attacking, Swayman was rolling around on his belly like a fish out of water, when denying a one-handed Rooney try.
During a great shift from the third line, and at the eight minute mark; both Miller and Trouba extended it, as each made a huge keep at the blue line. This put the Rangers in the Boston zone for about ninety seconds or so, and by keeping the puck deep, the Bruins were forced to ice the puck. Unfortunately, the Rangers couldn't capitalize on a tired Boston defense with a goal here.
The young rookie third pair of defensemen, Zac Jones and Braden Schneider, both had strong performances tonight. On one play, Schneider broke up a Taylor Hall scoring chance, while Jones routinely applied pressure on Boston's shooters.
Both men were playing so well, that at one point, Micheletti sounded like he was two seconds away from giving Jones a belated Valentine's Day hand-job.
And if you're into the trade talk/rumors, I think it's a given that Schneider will be a Ranger for a while. When it comes to Jones vs Lundkvist, two players who play a similar game, Jones certainly boosted his stock tonight.
Under ten minutes to go in the second period, Chytil airmailed a pass to a wide-open Gauthier, a right winger who probably would've shot the puck into the Hudson River had he received it. (I'm still on that Gauthier-for-Kessel bandwagon!)
As the Rangers kept looking for the equalizer, Swayman made his best save of the game, stopping the 2021 Norris winner from two feet away.
With just about five minutes remaining, you could somewhat notice that Igor was getting frustrated a bit. Maybe I'm over-selling the word "frustrated" here, but if you follow this team, and CZAR IGOR, like I do, then you'll notice that whenever the Rangers offense is looking anemic, the goalie will try to press the issue.
(And remember – the only goal #31 allowed in this game was the result of turnovers and the Rangers inability to get the puck out of the zone. You can't blame him for trying to spark things up.)
On his first play where this was noticeable, with Adam Fox right next to him, CZAR IGOR went for one of his patented homerun passes. The puck was intercepted at the blue line. On the second play, Igor came way out of the net, right to the side-boards to his left, in an attempt to move the puck up ice. Boston got there and Igor was forced to quickly get back and then make a save.
However, I'm not critiquing the CZAR here. I'm not Vagistat. I'm just observing here, where I should also mention that CZAR IGOR is the best puck-handling goalie I have ever seen since the days of Uncle Daddy in New Jersey. These plays have worked in the past for the CZAR. They just didn't work tonight, where some of that is due to the skaters themselves.
As the bottom six continued to force the issue, while the top six did anything but that; now, with under a minute to go, Schneider absolutely knocked the ziti out of Pasta, David Pastrnak.
At the end of the period, K'Andre Miller had two shots denied by Swayman. Miller would have the last laugh.
1-0 bad guys after two periods, where the SOG stat now read as 17-17.
---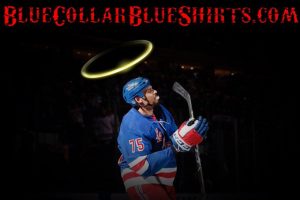 After Mika won the first draw of the third period, Swayman then stopped Lindgren from long distance.
Up next was some hairiness and scariness, where after it, the Rangers were fortunate to still only be down by one.
The Bruins received an odd-man rush, where Taylor Hall flubbed on the man-advantage. Then, after a long shift in the Rangers zone, McAvoy turned over the puck after his stick broke when attempting a slap shot.
Back on the other end, Kreider swarmed Swayman but was denied. Panarin then had two shots blocked by the yellow-and-black attack.
As Jones had a clear view of the net, Gauthier screened Swayman, but unlike Kreider, who Gauthier is often compared to ("a poor man's Kreider") – Gauthier didn't get out of the way and accidentally blocked Jones' shot.
With fingernails being bitten, as you were hoping for the tying goal, with 13:15 to go, this happened:
Chytil grabs his own rebound and tucks it in! pic.twitter.com/A7sYKQEyMg

— Rangers on MSG (@RangersMSGN) February 16, 2022
---
1-1, as who other than Filip Chytil, to put the Rangers on the board!
On the goal, it looked like Swayman had made a clean save on Chytil's initial shot, but the puck was left for the taking, and somehow and someway, Chytil put it into the net, rather than hitting a cotton candy vendor in the second-rotunda. I'll take it!
Of note, this goal could've been reviewed by Boston, as it was debatable if Chytil was offside. However, Boston didn't take the chance on what would've been a 50-50 review, because had they been wrong, it would've put the Rangers on the power-play. The Bruins, at this point in the contest, had done a flawless and remarkable job of not giving the Rangers a man-advantage.
Following puck drop after Chytil's goal, the Rangers got the puck and Trouba was denied on a bomb. The Bruins then got the puck and Taylor Hall went on a breakaway, only for this to happen:
SHESTY SAYS NO pic.twitter.com/QylYfaKy05

— Rangers on MSG (@RangersMSGN) February 16, 2022
---
WHAT. A. SAVE!
And really, I don't even know if this was Igor's best save of the game, as he'd later make seven shootout saves, a bunch at the end of the third period and then another highlight reel save during the overtime.
I know I compared CZAR IGOR to Willis Reed earlier, but here's another NBAer that you could compare Igor to – "The Human Highlight Reel" Dominique Wilkins.
This save also made M$G explode too, as a once ho-hum, and waiting-for-something-good-to-happen crowd now had every reason to cheer.
With 8:12 to go, Miller was caught for the first penalty of the game, when he tripped Coyle behind Igor's net.
Just two seconds into Boston's power-play, Igor stopped Pastrnak. Including the shootout, Igor made four huge saves on Pasta tonight.
After Schneider made a huge clear on the Rangers penalty kill, Fox got the puck, and what looked to be an innocent shot then hit the crossbar.
Following the successful Rangers kill, Igor made two more saves, which preserved the tie.
Then, with 5:16 to go, Nosek and Trouba went at it, where Nosek punched Trouba in the face. Trouba then responded, in his own self-defense. Despite Nosek starting this, both men were sent to the box – our first case of questionable officiating. There would be more to come.
During the four vs four foreplay, with twelve seconds remaining on it, Miller drew McAvoy for a trip. This then gave the Rangers a power-play, a power-play that they could never really get set up on.
Now back at even strength, and with under a minute to go; the CZAR made five stops in these sixty seconds, including two with just ten seconds remaining, and then one more on Pastrnak, as triple zeroes flashed on the scoreboard.
Up next, overtime.
---
The biggest save of this overtime period saw CZAR IGOR rob Pastrnak, following a Rangers turnover.
The biggest call of this overtime period saw CZAR IGOR get run over by Craig Smith, at the 2:48 mark.
This was absolute bullshit and totally changed the game.
First off, Igor was blatantly barreled over by Smith. Not one zebra arm went up. The Bruins then scored, only for the goal to be waved off.
With the refs not assessing a penalty on Smith yet, Lafreniere then made a run at the Bruin – and as he should have.
The refs then broke up a huge scrum, and then decided to give Smith a goalie interference call too. However, they then gave Lafreniere a roughing call too for defending his goalie. Absolute horseshit, just like the air at the IBS Arena that the Islanders play at.
Had the refs called Smith for a penalty right away, and then broke up the scrum rather than watching; then Lafreniere wouldn't have taken a penalty here. And even then, it's ridiculous to penalize a player for defending his goalie – especially after an opponent recklessly crashes into him.
Still at three vs three after the off-setting penalties; Strome found Panarin all alone in front of Swayman. I can't be clear enough, as the Bruins players that dressed in this game may as well have been with Marchand somewhere, as there was not one Boston jersey in sight during this.
Swayman stopped Panarin.
With 40.5 seconds to go in the extra period, we had more bullshit.
---
A concussion spotter decided that this would be a good time to assess CZAR IGOR. Yeah, yeah, yeah and blah, blah, blah about player safety – but really, you waited two minutes to pull Igor, and with 40.5 seconds to go in a 1-1 overtime game?
Of course this begs the question of "what happens if this occurs in the playoffs?" Hell, to go further than that, what if this happens in the final stages of a Game 7?
I understand that pulling Igor was in the best interest of his safety, but this wasn't the time for that. These players know their bodies better than anyone else. If CZAR IGOR was really hurting, he would have let someone know.
Igor, understandably, was furious. He slammed his stick against the glass as he was heading to the locker room, where the fan sitting on the glass may have let out a little fecal matter. I know I would've checked my drawers if I was sitting there!
Now, with 40.5 seconds to go, and with Igor in the locker room with a concussion spotter; an ice-cold Alexandar Georgiev took over the net. The Rangers wouldn't let the Bruins get one shot on goal during this.
With about six seconds to go, and following a whistle, I said on social media that Gallant should take a timeout, only to stall for time so Igor could return for the shootout. That's what "The Turk" did, although after the game, whether he was being truthful or not – Gallant said he only took the timeout to set-up a faceoff play.
The Rangers wouldn't score on the faceoff play, but the timeout did work.
Once back from commercial, and now with a shootout to get into; CZAR IGOR returned to the ice. This was his Willis Reed moment, as the crowd belted out IGOR so loud, that even David Quinn in China must've heard it.
Of course, the officials, still grasping onto their "Screw the Rangers" button, wouldn't let Igor return to the net right away. Instead, they talked to Toronto, where after another delay, it was determined that the CZAR could continue.
---
DeBrusk and Zibanejad exchanged goals to start the shootout. After Igor stopped Pasta, Panarin did his "Harlem Globetrotter" moves, and beat Swayman. However, Coyle then beat Igor to tie the shootout at 2-2.
With the game on his stick, Lafreniere was stopped.
In the bonus rounds, Haula and Fox were denied. Hall was then denied and then Strome shot wide.
Now in the sixth round, McAvoy went high, while Kreider pulled off his All-Star skills competition move, a save for Swayman.
Up next, we saw Frederic, Chytil, Foligno and Hunt all stopped.
Now in the ninth, Igor stopped that jerkoff Craig Smith, the same Smith that leveled Igor during the overtime.
In the bottom of the ninth, Gallant went to the bullpen once more, and then called upon left-hander K'Andre Miller. Miller then closed the game, tucking a puck right into Swayman's net, to give the Rangers the 3-2 shootout win and the 2-1 final victory!
You know the deal on shootouts, you hate 'em when you lose 'em, but love them when you win them. However you feel, this much is known – this game was like TNT, and brought the "drama."
I'm not trying to knock Georgiev here at all, but I don't think an ice-cold Bulgarian would've been able to bring home the two points. And if he did, it would've sucked for the Vezina candidate to not earn the win.
Thankfully, CZAR IGOR went all Willis Reed on us, the Rangers won, and for our starting goaltender, he beefed-up his candidacies for both the Hart and Vezina trophies.
What a wild one at the Garden!
---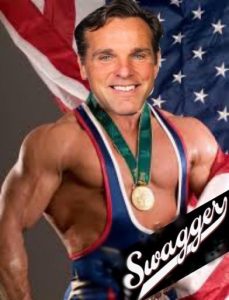 In an Olympic hockey update, the Americans are now out of the Olympic tournament, following their 3-2 shootout loss to Slovakia.
Don't even get me started about how ridiculous it is to have a playoff game decided by a shootout.
The Americans were the better team of the entire game, but personified the adage of "letting the other team hang around all game."
I'm not even going to bother to look up the exact number, but USA Hockey went what felt like 0-65756756778 on the power-play, including failing to score during a 5×3 two-man advantage.
Up 2-1 for the majority of the game, the Americans allowed the Slovaks to score with under 40 seconds to go in the third period.
Following a scoreless ten minute overtime, where the Americans dictated the pace; the Slovaks then won the five-round shootout 1-0.
Steve Valiquette trained goaltender, Strauss Mann, who did play well, was outplayed by his Slovakian peer.
This is a blown opportunity for David Quinn as well. Had he won this game, where USA Hockey were pegged as 2:1 favorites, and then went on to win the gold – he would've written his ticket back into the NHL.
Instead, his team, following their bye into the Olympic playoffs, leave the bat-chomping country with a depressing loss.
So much for Miracle 2.0! So much for "SWAGGER" too! Ugh!
For me, I'm back to not caring about the Olympics.
Let's Go Rangers!
PLUGS time!
---
The hardcover version of my book, available now at Amazon.com
The first plug of tonight's blog – the mandatory plug for my new book, "The New York Rangers Rink of Honor and the Rafters of Madison Square Garden".
As mentioned previously, the book is now available in hardcover, in paperback and in Kindle formats. To purchase a copy of the book, visit this link:
https://www.amazon.com/Rangers-Rafters-Madison-Square-Garden-ebook/dp/B09CM5N2WD
For those still looking for signed paperback versions of the book, I have re-ordered more copies. I now have 2 signed copies for sale at $25 a pop (includes shipping price) through me directly. Here is all the information on that:
---
Here are my last few blogs, in case you missed them:
---

---
---
If you haven't already, subscribe to this blog for the next update:
---
Up next: The Rangers look to dine on Wings. "Old friend" Marc Staal will be in the building for that one. I'd imagine he will get a video tribute.
As always here, thanks for reading and…
LET'S GO RANGERS!
Sean McCaffrey
BULLSMC@aol.com
@NYCTHEMIC on Tweeter