Greetings and salutations everyone and welcome to another blog here on BlueCollarBlueShirts.com. The Rangers continue to flirt with history and we're all lucky to experience it. Whatever happens in the Spring – you won't forget this regular season.
On January 27th, during my "Mid-Season Report Card" blog, I wondered who would win the Steven McDonald Extra Effort Award. You can read that blog here:
---
Now, on March 7th (as I write these words), with 56 games down and 26 to go; I'm still wondering – who will win the Steven McDonald Extra Effort Award this season?
(And if you read my "Mid-Season Report Card" blog – spoiler alert, the Frank Boucher Trophy has long been decided – it's CZAR IGOR's. I think we can also expect #31 to win the team's MVP award too.)
The Rangers 4-1 victory over the Winnipeg Jets from Sunday night, was pretty much a flawless game, where the only negative from the Blueshirts' end of things were all of the penalties that they took (six in total).
If you recall, during the past ten days on this site, I've been saying that the Rangers needed a "feel-good" win. What I meant by that, is that I just wanted to see the Rangers stomp a bad team out. They did so tonight, where again, if it weren't for six separate penalties – CZAR IGOR would've had his fourth shut-out of the season.
And damn all of those penalties to hell! Not only did I miss out on my usual prediction of 4-0 Rangers; I also missed out on this payout: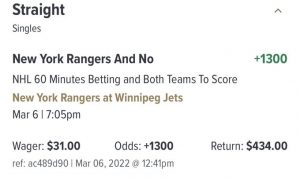 I hate to keep playing my "Greatest Hits" here, but I know this site keeps on getting new eyeballs.
To quickly rehash a point I've been making all season, including last blog, it's this – if it weren't for one bad Rangers' defensive lapse or a bad penalty taken a game – CZAR IGOR would most likely be sitting on 10-15 shutouts right now.
This game was another example of that theory being proven true.
CZAR IGOR, who is currently on track to have the best regular season of any NHL goalie in the history of the league (remember when the Cult of Lundqvist told me that I was over-hyping Igor, hmmm!), recorded 45 saves in this victory.
As a result, not only does #31 inch closer to the top of the goalie wins statistic (he'd be leading this department already if it weren't for COVID and a groin injury); but he also boosted his already league-leading save percentage and goals allowed average statistics.
It's at the point where the goalies who are trailing him, don't even have a shot of catching him. That's how incredible this season has been for the Rangers starting goalie.
What was crazy about tonight's win, is that despite CZAR IGOR's 45 saves, is that unlike most games – #31 didn't carry the Rangers to victory, nor will you be bothered about "STOLEN WIN" stats tomorrow morning.
This was a team-wide victory, where once again (and as we'll soon get into), Gallant's pushing of the buttons worked out, and with the most positive of results. The head coach just keeps on winning hands, day-in and day-out! If he were playing blackjack, I think he could draw a 20 and then hit an ace for a 21.
The Russian netminder has become a human highlight reel show game-in and game-out. While of course, he had another dominating performance in net on Sunday night – it also wasn't a game where he made 55675765765678568 robbery saves – although he did have several of these types of saves!
And had Winnipeg not been giving out free handjobs in the penalty box tonight (or so I'm led to assume); Igor wouldn't have had to make fourteen short-handed saves either. However, because of his dominance this season, we've just become accustomed to these saves – a true testament to how magical (and historic) this season has been for him and the team.
If that wasn't enough for you – not only is Igor stopping more rubber than the working women of the "red light district" – no one is better when it comes to handling the puck. Not only can he stop every puck his way – he can lead pucks into the opponent's net too.
Long story short – we're witnessing history, and you all know how much I love my Rangers history!
---
Just an FYI for you, as we hit the home-stretch of the season, as this current road-trip is the last major run of away games: CZAR IGOR is now a -150 favorite to win the Vezina. All of the money is coming in on him now. Jacob Markstrom, of the Calgary Flames, has the second-best odds at +700.
Also of note, CZAR IGOR has the sixth-best odds for the Hart Trophy, where currently, he's at +700. I'd expect that number to drop soon too!
So that's Igor, who we'll get into again soon enough. Let's talk a little about Chris Kreider, who may perhaps challenge for the Hart Trophy himself!
---
At the top of this opening, I asked you – "who will win the Steven McDonald Extra Effort Award this season?"
Obviously, CZAR IGOR is a candidate, if not the favorite.
Other candidates would include last year's winner Adam Fox and a previous winner too, Mika Zibanejad. Then, in the true spirit of the award, you could also argue for guys like Ryan Reaves, Jacob Trouba, Ryan Lindgren, Barclay Goodrow and others.
Needless to say – this is a good problem to have, especially after last season – where no one came close to sniffing Adam Fox. (Fox swept all of the awards that are exclusive to the Rangers.)
I've talked a lot this season how CZAR IGOR is stealing every headline imaginable – and rightfully so.
After all, as stated, if he continues to play like this all the way to game 82, we will be talking about the best regular season ever, not only by a Rangers' goalie – but by any goalie in all of NHL history. That covers over a hundred years and a thousand or so goalies too.
While everyone talks about CZAR IGOR for the Vezina and Hart Trophies (and all of that talk is warranted and merited); somewhat lost in the mix is the longest-tenured Ranger himself, Chris Kreider.
After tonight's game, where Chris Kreider scored two goals (38 on the season), #20 in blue trails only Auston Matthews, of the Maple Leafs, for most goals in the NHL (39).
In other words, not only will Igor leave the NHL Awards Show presentation with hardware – but Kreider has a very good chance of adding trophies to his mantle too.
The Rocket Richard trophy (as pictured in the blog header photo tonight), is awarded to the player who scores the most goals in the regular season. Why not Chris Kreider, who is presently experiencing the best season of his career?
The thirty goal plateau, which had eluded him for his entire career, has long been shattered by him this season. The forty goal plateau will soon be smashed as well.
While the Rocket Richard trophy would be a huge feather in the cap of CK20; perhaps more impressive, from a pure Rangers' fan perspective, is that Kreider has a chance not only to become "CK50" – but he could break Jaromir Jagr's franchise record of 54 goals in a single-season too.
With 26 games remaining, Kreider needs sixteen goals to tie #68, and seventeen goals to break the record. If he can continue his scoring pace, is there any reason to think that he can't do so?
Between Igor, Kreider and everyone else; this is why I still stand firm with what I originally wrote at the All Star Break (you can read that blog here: https://bluecollarblueshirts.com/21121/) –  Rangers general manager Chris Drury should go "all-in."
---
I don't care about the salary cap, the fugazi talk of "they still need a year or two," and all of that other negative junk from the analytical bozos. The Rangers are out-performing the expectations of many (not mine – I told you they'd be great this season!), and with the way the star players are playing – why wouldn't you do everything possible to give them the best chance to win?
You can't predict the future. However, you can live in the present.
For whatever you may think that can happen for this team next year, and in the years to come – right now, we're seeing historic levels of success. That's why it's my opinion that Drury should ride it. You never know when you'll get this chance again. (Need an example? The 1992-93 New York Rangers.)
In addition, for these self-appointed judges, aka other fans, who have these crazy ideas where they profoundly state how they know that the Rangers will win the Stanley Cup in 2024, 2025, or whatever other year that pops into their head like a modern-day Nostradamus – what message would Drury be sending if he doesn't improve the roster?
Furthermore, the players currently on the team want the Stanley Cup – they aren't worried about next season.
These 2021-22 Rangers are trying to WIN NOW – something that owner James Dolan stressed during the off-season. I have no way of knowing this, but I wouldn't be surprised if Dolan suggested to his new main-man, Chris Drury, to go "all in" either.
Lastly on this – I rather see the Rangers go all in, and should they fail; I'd be happier with that than wondering "what if?"
That was a long intro! Let's get into the news, and then into everything else, including the GAME REVIEW!
---
Following the Rangers 3-1 victory over the Devils from Friday night, on Saturday afternoon, the team took to the air instead of the ice. Instead of hitting the practice rink, the team boarded a Delta plane and flew to the Great White North. In other words, there was no official news or interviews coming from the team's end on Saturday.
On Sunday morning, the team took a pregame skate in the 'Peg, where following it, Gerard Gallant met with the few media members who were brave enough to endure the arctic temperatures of Manitoba:
---
During his brief chat with the media, Gallant said that Greg McKegg didn't travel with the team and wouldn't be playing during this road-trip. Gallant said that McKegg had "personal reasons" for not making the trip and wouldn't expand beyond that. Of course, with McKegg out, that robbed us of a potential "KEGGER IN THE PEGGER" headline.
Gallant also confirmed that CZAR IGOR would be getting the nod in net. And while not saying it directly, the head coach basically said that he'd be using the same line-up that he used in the win over the Devils (and is customary for "The Turk.")
As far as anything else, when responding to questions of a long-term nature, Gallant replied with his proven & tired-and-true comment of "one game at a time."
---
As just noted, Gallant gave the impression that he'd be using the same line-up in this game as he used on Friday. Not so fast.
Despite his track record this season of going with a line-up that had a strong performance during the game prior; "The Turk" decided to shake it all up, in this first game of a four-game trip.
Following the win, Gallant mentioned that he wanted to keep his players fresh. (That was a good theory that would've worked out, had the Rangers not taken six penalties in this contest – as they were short-handed 20% of the game.)
To keep his players fresh (mainly his top-four defensemen, who have been logging a ton of minutes lately); for the first time this season, Gallant, who has preached the value of rolling four lines all season – went with a line-up of eleven forwards and seven defenseman.
As a result, both Julien Gauthier and Morgan Barron were scratched. Libor Hajek, who hadn't played during the last eight games, was in, where he ultimately received 7:52 of ice time.
Hajek's minimal ice time was an attempt to lighten the load shared upon the shoulders of both Adam Fox and Jacob Trouba – where again, due to the abundance of special teams in this game – each played over twenty minutes anyway.
The best part about all of this? The analytical geeks, and these mooks who blame 12th/13th forwards and 6th/7th defensemen for everything – were going bat-shit crazy when they thought that Hajek would be skating with the fourth line. (During pregame warm-ups, Hajek skated with the fourth line forwards, but come game-time – he was the team's seventh/spare defenseman.)
---
Here's what "The Turk" went with for this international game:
FIRST LINE: Kreider/Mika/Lafreniere
SECOND LINE: Panarin/Strome/Hunt
THIRD LINE: Goodrow/Chytil/Brodzinski
FOURTH LINE: Gettinger & Reaves. (Reaves would receive second line action in this game. In addition, the three Ranger centers rotated in-and-out with the bottom six.)
Defensively, we had this:
FIRST D-PAIR: Lindgren/Fox
SECOND D-PAIR: Miller/Trouba
THIRD D-PAIR: Nemeth/Schneider
EXTRA: Libor Hajek
And in net, CZAR IGOR.
---
BOX SCORE time.
The following information and graphics come from the new world-wide leader in NHL coverage, ESPN.com:
SCORING:
PENALTIES:
TEAM STATS:
GOALIES:
| | | | | | | | | | | |
| --- | --- | --- | --- | --- | --- | --- | --- | --- | --- | --- |
| SA | GA | SV | SV% | ESSV | PPSV | SHSV | SOSA | SOS | TOI | PIM |
| 22 | 4 | 18 | .818 | 15 | 0 | 3 | 0 | 0 | 57:17 | 0 |
| | | | | | | | | | | |
| --- | --- | --- | --- | --- | --- | --- | --- | --- | --- | --- |
| SA | GA | SV | SV% | ESSV | PPSV | SHSV | SOSA | SOS | TOI | PIM |
| 46 | 1 | 45 | .978 | 29 | 2 | 14 | 0 | 0 | 59:53 | 0 |
---
While it was sad that we didn't get the normal clip of Ryan Reaves belting out, "SHESTY RELEASE US;" what wasn't sad was that Henrik Lundqvist was back in-studio.
It was announced on-air that Lundqvist will be doing more games as the season winds down, where it was my impression that Lundqvist will be on every M$GN broadcast moving forward. That's a godsend for all, as that means less face-time for Sieve Vagistat, the man of the most epic 46 games (just ask him and he'll tell you all about it) ever played in all of NHL history.
Of course, Vagistat, like a weasel, was still able to horn-in on all of Lundqvist's segments tonight.
To open up the broadcast, Lundqvist said that having long road-trips was a good thing for the chemistry of a hockey team. This is all stuff I have said earlier this season, where I think because of all the early road-trips this season – the Rangers have gelled faster than had they had a bulk of their early games from this season at home. (Of note: both Dave Maloney and Chris Kreider have said the same thing too.)
(And to rehash an old point – historically, it's harder for the Rangers to gel than it is for any other team in the league, because the players live all over the place – NYC, Westchester, Connecticut, New Jersey, Long Island, etc.)
(Also of note: later on during the broadcast, Barclay Goodrow, during the first intermission segment, said as much and confirmed what Lundqvist said. Goodrow wouldn't confirm any of the junk that spewed out of Vally's mouth though. Just an FYI!)
---
CZAR IGOR, always the top topic of conversation (and how can he not be?), was brought up right away.
Giannone said that Igor has a chance to join Ed Belfour and Carey Price as the only men in NHL history to win the goaltender's equivalent of a "Triple Crown." And when this season is all said and done – Igor may not only have his Triple Crown – but he'll also have to get an extension on his house to fit all of his hardware and accolades – where I'm hoping that the Stanley Cup and the Conn Smythe are among them!
Chris Kreider's amazing season was brought up next, where Lundqvist said that he hopes Kreider hits fifty goals. Lundqvist then doubled-down and said that he sees Kreider surpassing fifty goals. I hope so, I hope so!
To bring the broadcast down, the man who has never seen a Clariol bottle that he didn't like, did his usual act of where he makes up numbers, numbers that have nothing to do with a normal game of hockey.
After Lundqvist raved about Trouba (as #8 made his second appearance in his original NHL city tonight), it was blatantly apparent that talking about the line-up, and Gallant's changes, weren't going to be topics of conversation on this broadcast. Instead, we'd soon have talk regarding Lundqvist's hair – certainly a subject that had something to do with this game. Ugh.
(And really, if you want to talk about Lundqvist's hair, be my guest. You want to talk about what a good looking man he is – I'm fine with that too. I just think that's better served for one of those M$GN special shows, and not during a 22 minute pregame show.)
The crew then went back to CZAR IGOR during the "Henrik Lundqvist Twitter" segment; where there is this myth that Lundqvist was his mentor. To his credit, Lundqvist debunked that talk.
Lundqvist said that the two had language barrier issues, but he noticed that IGOR was open to talking to teammates – the ones that could speak Russian. Lundqvist also said he did tell Igor that he would do anything to help him out.
And really, Igor is a different goalie than Lundqvist ever was – despite what you may hear/read elsewhere.
After all, just look at the way Lundqvist played the puck, in comparison to the way Igor plays it. Two great goalies, but Igor, at this stage of his career, again – is having one of the best seasons ever in all of NHL goaltending history.
When it's all said and done, I think he'll end the Lundqvist vs Richter debate, regarding who is the greatest goaltender in Rangers history. That's what I'm rooting for!
---
For whatever reason, Vagistat started talking about how he once went shopping for a woman. (I'm not making this up to get you to laugh – he really said this.) Very relevant conversation for this broadcast. Who needs the line-up and Gallant's changes when Vagistat can talk about his affinity for "The Devil Wears Prada?"
After Lundqvist praised Kreider some more; #30 answered a good question and said that the color of stick tape affected the way in how he approached shooters. Vagistat then cut Lundqvist off, and gave us more war stories from his legendary career of 46 NHL games played.
In what was just ridiculous (again, one more time – the line-up and all of Gallant's line-up changes were ignored), Vally started talking about Lundqvist's hair. Again, I'm not making this up for a chuckle and a knee-slap.
Vally was adamant about finding out if Lundqvist uses gel or wax and if he blow dries his hair. Riveting and scintillating stuff – a very pertinent conversation! Again, I wonder who Vally is related to and/or if he has pictures of someone.
And really, the M$GN currently has Anson Carter dicking around with Shannon Hogan on Islander broadcasts. If you are paying Carter, why not flip-flop spots between he and the useless boob, this way, Ranger broadcasts (which receive better ratings than Islander broadcasts), can have a skater and a goalie on the panel, rather than Lundqvist and the worst back-up of his era?
Even if the panel was Lundqvist and Richter, I would still think that you need a skater's perspective there.
After Giannone told us that the cheeseburger lovin' Henrik Lundqvist had a birthday cake in the form of cheeseburger for his big 4-0; we finally went to Sam and Joe – who as expected, called this game from the studio, rather than going on the road.
Kyle Connor, the apple of the M$GN eye on this night, was brought up by Micheletti. Micheletti said that Kreider weighed forty more pounds than Connor. How that information meant anything to this game, I do not know.
GAME REVIEW time!
---
Before beginning, here is a general statement about this game – the Rangers completely controlled everything – the pace, the scoreboard, the puck and anything else that you to come up with. And while you may gasp "EGADS," in regards to all of the saves that CZAR IGOR made – #31 didn't have to make 76768678968969 "HIGH DANGER" (callback to last blog) saves as we're accustomed to seeing.
As mentioned repeatedly already, the only bad thing about this game were all of the penalties that the Rangers took. That was it. The Rangers, a playoff contender, did what they were supposed to do to the Jets, a playoff pretender.
Jets' goalie Connor Hellebuyck, the 2020 Vezina winner (should've been Andrei Vasilevskiy that season, or so I say), has suffered a fall from grace recently. Part of that is the team in front of him; but unlike CZAR IGOR, he hasn't been able to carry the Jets this season either.
As you all know – goaltending can be a fickle position, and also a job where the question of "what have you done for me lately?" most certainly applies.
Following Sam and Joe trying to figure out the line-up (tough to do in-studio, as opposed to being there), Hunt stripped Hellebuyck from behind the Jets' net, and then set-up Chytil. Hellebuyck bailed himself out after his error. However, just 2:01 into the game, this happened:
Goody gets us the early lead off Trouba's pass! pic.twitter.com/lWnMTpQlDN

— Rangers on MSG (@RangersMSGN) March 7, 2022
---
1-0, GOOD GUYS, as Trouba set-up Goodrow perfectly for this goal!
After Goodrow's performance last game, where he took out the trash known as P.K. Slewban; I was happy to see #21 pick up a goal in this game.
Trouba had Goodrow wide-open in front of Hellebuyck, and after scoring the goal, told Trouba, "what a Father Finkin' pass!" It was nice to see this chemistry between two of the team's 566785785675678585 alternate captains – where to be fair, this unorthodox practice has paid off and with overwhelming results.
Following the goal, Sam and Joe mentioned "Old Friend" Neal Pionk, which led me to wonder the following:
Did the Jets broadcast, after 78678678696 BET CANADA commercials, and a segment where a seven-foot jackass made up stats from the metric system; did the two announcers talk about "OLD FRIEND" Jacob Trouba?
And while on Trouba, who once again had another great game; the crowd tried to boo him early, but with the way the Rangers flat-out dominated this game – you could hear a moose fart in that building. (Unfortunately, Sieve Vagistat didn't report on the expected decibel of such said fart, nor did he mention the phrase "Stolen Fart.")
3:59 into the period, we had our first of six Ranger penalties, where Lindgren was boxed for tripping Blake Wheeler.
Igor made the first three of his short-handed saves in this tilt during these two minutes, including a stop on Connor from a foot or two away, and then another save while screened on Copp. In turn, the Rangers got their kill.
After two strong shifts from the top-six, where they possessed the puck for about two minutes or so; Fox blocked a Jets shot attempt, and Igor then tried to air-mail a pass to center ice, a puck that a member of the Jets wound up touching for an offside.
As the Rangers continued to press the issue, it was evident that the 2020 Vezina winner had the shakes. After every shot, he would look into his glove or behind his net, as his confidence wasn't there at all.
After the two goalies exchanged saves around the ten minute mark, as both Mika and Copp were denied; it was extremely apparent that JONNY HOCKEY wants nothing to do with Hartford ever again.
The captain of the 'Pack, just as he did last game, put forth another excellent performance on Sunday night. I don't know if he remains in this line-up once the team is healthy, and after the trade deadline too – but you can't knock the guy at all. He's played well.
With 8:02 to go, it was Chytil's turn to sit in the box, after he held Josh Morrissey. Once again, Igor made three more saves, and after clears from both Lindgren and Kreider, we returned to full-strength.
As the period wound down, and with 4:55 to go, the Rangers finally got their first power-play of the game, as Dylan DeMelo tripped Alexis Lafreniere.
The Rangers power-play, while having chances, wouldn't score here. However, just six seconds after the power-play had expired, Logan Stanley laid a cheap blindside hit on Goodrow. This interference call gave the Rangers man-advantage squad another opportunity. They'd bank this one.
With 2:32 remaining in the period, Kreider boosted his already career-high goals scored number:
Kreider gets his 37th on the PP 📈 pic.twitter.com/GP3FdyI6YN

— Rangers on MSG (@RangersMSGN) March 7, 2022
---
2-0, GOOD GUYS, as "The Breadman" tossed a puck into the paint, and as he's been doing all season – Kreider took the biscuit and put it in the basket. Needless to say, this was one hell of a road period.
Trouba, who must've heard about the party favors being given out in the penalty box; during a shift full of physicality and big hits, tripped agitator Pierre-Luc Dubois with 1:42 to go. In other words, the Rangers were short-handed for 30% of this period.
In what was the first "highlight reel show" save of the game; during a long Jets' attack, Igor fell to his belly, lost his stick and still made two saves anyway.
As the final horn went off, and with eighteen seconds of penalty kill time remaining – Rangers 2 – Jets 0.
One more time – the only bad thing here were all of the penalties. (Thank you Captain Obvious!)
---
During intermission, I noted that CZAR IGOR, who made sixteen saves in the first period, was on pace for 48 saves. He'd eventually finish three saves shy of that.
After Kreider broke up a Jets one-timer try; we returned to even strength.
As Sam and Joe just gushed over Barclay Goodrow (good to hear, no "good" pun intended), Strome tried to set-up Ryan Reaves, as #75 was now skating with the second line.
In what was a fast moving second period (we didn't have a whistle for nearly eleven minutes), the two goalies exchanged more saves, but could never get a freeze (not that Igor would do that anyway!)
After Fox set-up Reaves in the slot (go figure, #75 owning prime real estate), Hellebuyck then stopped Schneider and Strome.
As the Rangers continued to showcase their superiority over the Jets; with 8:34 to go, we finally had a whistle, as Dubois had a shot attempt sent into the netting. On the second faceoff of the period, Igor then stopped Schmidt, with a quick snap of the pads.
After CZAR IGOR made two more saves, with 7:06 to go, Lafreniere took the fourth penalty of the game – a hook on Paul Stastny. Forty seconds later, where the Jets had the puck the entire time – Nikolaj Ehlers scored the power-play goal. 2-1, good guys.
Kreider almost had a clear here, but the puck took a fortunate bounce for Winnipeg and that set up Ehlers tally. Just a shame, and you already know why, as I've stated the obvious about 7896786876796 times already.
With 3:12 to go, it was JOHNNY HOCKEY's time to enjoy the penalty box, as he was sent to the sin bin for high-sticking Neal Pionk.
CZAR IGOR continued his amazing penalty killing here. After killing off the Jets man-advantage, Johnny Hockey had a jack-in-the-box attempt, but no dice.
After surviving a Jets scare at the end of the period; CZAR IGOR remained in his net a bit after the horn.
I don't know if he was mad at himself (he's admitted to being mad at himself a few times this season, as he puts insane pressure on himself) or what – but perhaps he just needed a breather. After all, he already had 28 saves at this point in the game, and 11 short-handed saves to boot.
2-1 after forty.
---
Despite the Rangers tremendous success in the third period of hockey games; they usually open up these final frames with a bit of hairiness and scariness. This is my way of telling you that CZAR IGOR had to make back-to-back big saves within the first forty seconds of the third period.
As the Rangers tried to limit chances, with 16:48 to go, Hellebuyck stopped Mika, in what looked to be the most confident save that he had made yet, a strong glove save at that.
Six minutes in, the Rangers only had that Mika SOG; but with a lead, defense was the matter of the utmost importance.
After Igor made two saves in his crease, we had a pure first line goal, as Lafreniere got the puck to Mika, Mika got the puck to his winger and then this happened:
"he's the fastest kid alive"

Kreider gets his 38th on the season! pic.twitter.com/bPAkWEUt4M

— Rangers on MSG (@RangersMSGN) March 7, 2022
---
3-1, GOOD GUYS, as Chris Kreider scored the insurance goal, his 38th of the season, after effortlessly backhanding a puck right by the Winnipeg goaltender.
Now, with under thirteen minutes and change to go, the Rangers knew what they had to do, and close out they did.
After Kreider was interfered with (no call), Schneider ripped a shot. Save for Hellebuyck. However, Panarin got the rebound, fed Jacob Trouba who was standing in downtown Julie Brown, and it looked like #8 had the double-whammy insurance goal. 4-1, GOOD GUYS, and with about ten minutes left in regulation.
However, after the game, it was ruled that Zibanejad had touched a piece of the puck, so the goal was credited to him instead. That meant Schneider lost his assist as well.
In the big picture, no matter, as a Rangers goal is all that we want; but yeah, this should've been Trouba's goal. Mika said as much following the game, although I doubt Trouba cares, because like us – all he cares about is winning games.
With the game now out of reach for the struggling Jets, they fired pucks from all angles at Igor, where #31 stopped all of them. With 6:48 to go, Igor had amassed save #40.
(It's funny, when Igor gave up the PPG to the Jets, I said at the time that would be it. I don't have the exact number, but there have been at least a dozen times this season, where after giving up one goal, that's that. Igor doesn't give up anything else afterwards – which is why that Blues game was so wild and out-of-character, for both Igor and the Rangers themselves.)
As the Jets skated to another loss, Dubois tried to get in Goodrow's face, while Lowry tried to get in Reaves' face. Nothing came of it, but it's funny how losing teams always try to get tough when the final score has long been decided.
I was rooting for a CZAR IGOR or Kreider hat trick goal tonight, but didn't think we'd seen an empty net opportunity with a three goal lead. Much to my surprise, the Jets pulled Hellebuyck with two minutes to go. A minute later, for good measure, and in a senseless penalty, Nemeth tripped Nikolaj Ehlers, for the sixth Rangers penalty of the game.
Let's face it – the only thing that matters are wins; but at the same time (or at least for me), I'm rooting for Igor to pump up his numbers as much as possible, as he continues this epic and historic campaign.
With a minute on the clock, the Jets had a 6 x 4 attack. The Rangers would never get a good look at the empty net, although with just 2 seconds on the clock, Igor finally got the puck and wailed it down center ice. A Jets defender broke up the try, but even if hadn't, and had the puck went in – time would've expired anyway.
As we all know – that CZAR IGOR goal is coming one of these days!
4-1, GOOD GUYS, your final from the 'Peg.
---
These game reviews, longer and more detailed than anything else you'll find online; despite these facts, can't cover every single thing that happened.
This is my way of telling you that Adam Fox had an assist tonight, adding to his total, where he is presently tops in the league among all defensemen.
Artemi Panarin had a two-point game tonight, where despite an "off-season" for him, he still leads the team in points, with 61 overall.
Alexis Lafreniere, who also had an assist tonight, continues to shine, and as he's been doing since the All-Star break.
Braden Schneider, the youngest player on the team, continues to impress, where he looks like he's been doing this throughout his entire life.
And while Ryan Strome missed out an a good scoring chance tonight (I was surprised he was even out there during the empty net attack – and yes, I'm joking here), I thought he did well tonight too.
As Kreider said after the game, where he blew off his two goals with this comment – "two points down, six to go." That's captain stuff!
Lastly, after the win, there's this: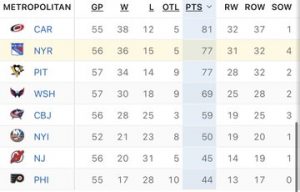 The Rangers have now secured second-place in the division, and still have a game in-hand over Pittsburgh. It's now time to climb back to the top of the division! Efforts like this one over Winnipeg – and the Rangers will do so in no time.
PLUGS time!
---
The hardcover version of my book, available now at Amazon.com
The first plug of tonight's blog – the mandatory plug for my new book, "The New York Rangers Rink of Honor and the Rafters of Madison Square Garden".
As mentioned previously, the book is now available in hardcover, in paperback and in Kindle formats. To purchase a copy of the book, visit this link:
https://www.amazon.com/Rangers-Rafters-Madison-Square-Garden-ebook/dp/B09CM5N2WD
For those still looking for signed paperback versions of the book, I have re-ordered more copies. I now have 2 signed copies for sale at $25 a pop (includes shipping price) through me directly. Here is all the information on that:
---
Here are my last few blogs, in case you missed them:
---
---
---
If you haven't already, subscribe to this blog for the next update:
---
Up next: "OLD FRIENDS" Cam Talbot and Mats Zuccarello, two players who ruined "Henrik Lundqvist Night" back on January 28th. Hopefully, the Rangers can put this game away early, rather than seeking a goal at the end of the buzzer.
As always here, thanks for reading and…
LET'S GO RANGERS!
Sean McCaffrey
BULLSMC@aol.com