Greetings and salutations everyone and welcome to another blog here on BlueCollarBlueShirts.com. How about those New York "Father Finkin'" Rangers?
While of course, there is no such thing as a "MUST WIN" game at this point of the season, and definitely nor a "MUST WIN" situation when you pretty much have a playoff berth nailed down neither; but for the Rangers, their 3-1 win over the Devils on Friday night was needed. After all, with the Rangers currently jockeying for playoff positioning – you have to handle business against the bottom-feeders, which the Devils most certainly are.
If you're into self-questioning (and perhaps self-loathing too), you can ask yourself the following – "was this the best Rangers win of the season?"
The answer to that would be "no," but nobody is perfect, that is except for CZAR IGOR SHESTYORKIN, who is not only having one of the best seasons of any goaltender in recent memory; but better than that – one of the best seasons in all of New York Rangers history too. And to be clear – that's not an opinion. That's a fact.
The Rangers, after game number 55 of the season, are now 35-15-5. The Blueshirts' 75 points has them third-best in the division. The fourth-place Washington Capitals, who have 67 points in 56 games played, now trail the Rangers by eight points.
As a result of an, "of course, it was a three-point game" between the Carolina Hurricanes and Pittsburgh Penguins on Friday night (3-2 Canes overtime victory); the first-place team from Raleigh now has 81 points in 55 games played. The black-and-yellow squad from the steel city now have 77 points in 57 games played.
(In other words, at the present moment, the Penguins have two more points than the Rangers, but the Rangers have two games in-hand. That means the Rangers still control their own destiny, in their quest to have home ice during the first round of the playoffs.)
However, despite the Rangers currently behind these two teams in the standings; what Carolina and Pittsburgh don't possess is this guy: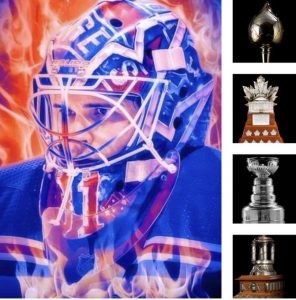 As a result of the Rangers 3-1 win at Madison $quare Garden on Friday night; CZAR IGOR boosted his already league-leading goals allowed average and save percentage statistics, where he currently ranks first overall in both categories. And if it weren't for COVID and injuries, he'd probably be pacing the league in wins too. (CZAR IGOR is currently tied for third-place in this department with 27 wins. Andrei Vasilevskiy (Tampa) and Frederik Andersen (Carolina) are in first-place, with 29 W's each.)
I've seen the Mike Richter era. I've seen the Henrik Lundqvist era too. And in case you're new here, I definitely know my Rangers history too – where only Dave Kerr, dating all the way back to the 1939-40 season, dominated the league in the same fashion that CZAR IGOR is currently doing during this 2021-22 season.
In addition, and I don't think I really have to explain this to you either – the league was definitely different some 82 years back, where the goaltending position has evolved more than any other position in all of sports today.
I can't be bothered to look up the stats (after all, I'm a tired-and-true "EYE TEST" fan), but off the top of my head; I think this was at least CZAR IGOR's tenth win (if not more than that) where he only surrendered one goal, where the goal allowed wasn't on him. In all of these games, it's usually a bad turnover or a defensive miscue, that allows the opponent to score their lone goal of the contest. That's what happened tonight.
While I'll get more into this in just a bit; what I found funny tonight, was during the pregame show, M$GN aired what they thought were the Rangers' top seven highlights from February. None of them featured CZAR IGOR – as instead, offensive plays were showcased. (And how a shootout goal is the top play of the month is beyond me, but to each their own.)
As has been the case all season, CZAR IGOR had another highlight reel game, where you could've took seven of his 32 saves from this game, and say: "these saves were better than any highlight aired during the pregame show."
He's been that good.
I know I keep "fan-boying" and gushing over CZAR IGOR during every game review on this site, but really – what else am I supposed to say? The truth is the truth!
It's kind of crazy, that now, during his first complete season as the starting goaltender, that we have just come to accept these extraordinary feats, saves that defy everything we've ever seen out of an NHL netminder.
Barring something catastrophic happening, we are witnessing the greatest regular season ever by a Rangers' goaltender. That's not a slight on the long list of amazing franchise goalies – it's a compliment and a testament to how great Igor has played this season.
I mean just think about it.
Chris Kreider scored his 36th goal of the season. Rather than CK20's chase to break the franchise's record for most goals in a season (Jaromir Jagr, 54) being the lede story, we're talking Igor. Adam Fox, you know, the 2021 Norris winner, and currently tops amongst all NHL defensemen for most assists, is also somewhat an afterthought.
And there are so many other stories being pushed to the back-burner because of CZAR IGOR, such as the team's impressive work on both the power-play and penalty kill, the rise of Alexis Lafreniere, the team's league-leading comeback and third period numbers, and the way head coach Gerard Gallant has been leading the team – a head coach who may win his second Jack Adams award because of CZAR IGOR himself!
Long story short? We're witnessing history folks.
---
I'll get into everything else during the GAME REVIEW segment, but while there are a lot good things to say and people to showcase – it was Barclay Goodrow who had me pumped up the most.
P.K. Slewban, who we all know is a dirty scumbag on the ice, where all of this kind of started recently, as he aged a bit and needs cheap-shots to keep up; got what was coming to him tonight.
With just 47 seconds remaining in the first period during a 1-1 game; Goodrow was able to avenge Sammy Blais a bit.
After a hit that #21 in blue laid on Slewban, the two jaw-jacked. Slewban tried to sneak attack Goodrow, but no matter – as Goodrow quickly dropped #76, as if Slewban was a piece of trash going to the curb.
Goodrow was relentless on Slewban all game, as he continued to get in Slewban's face following the fight, including during several scrums.
You know me – I'm an eye-test guy and always preach how important is to have toughness, grit, sandpaper and whatever other "lunch-pail" adjective you want to use here, on an NHL roster.
Goodrow defended a teammate tonight. I wouldn't be surprised to hear that he received a text from Blais once he got to the locker room.
It's stuff like this which will become even more noticeable come the playoffs. Goodrow has done it twice before, as he looks to pull a "Patrick Maroon" this season, and get his hat-trick of Stanley Cups too.
What Slewban did was disgusting. It wasn't accidental. Furthermore, he's done this all-season, where the NHL doesn't seem to mind Slewban's intentions to maim opponents. However, the Rangers won't have to see the cheap-shot artist in the playoffs, because in case you didn't know this already – the Devils suck and won't be there.
However, for whoever the Rangers play in the first round of the 2022 Stanley Cup Playoffs, they'll know this – the Rangers aren't a team that can be pushed around. You hit them, they'll hit you back, and when they do – they'll hit you twice as hard.
Give kudos to Goodrow tonight, and come the playoffs – you'll see teams second-guessing themselves on trying to run a Ranger.
At this time, let's get the NEWS segment out of the way.
---
Following the Rangers big win on Wednesday night, the team returned to practice on Thursday. During the practice, the Rangers sent out this tweet from their official Twitter account:
Head coach Gerard Gallant talked about Kevin Rooney during his Thursday press conference. He also talked about Kaapo Kakko's current situation too:
---
According to Gallant, not only is Kevin Rooney now on the injured reserve list (which means he'll miss at least a week's worth of games), but he could be out longer for that, as "The Turk" said Rooney is "week-to-week."
As far as what Rooney's upper body injury is – as is the norm, no specifics were given out. As noted on Wednesday night's blog, it looked like he was hurting after being high-sticked in the face by Vladimir Tarasenko.
Gallant also said that Kakko's recovery is taking a little bit longer than expected.
The Finn, as talked about on Sunday's blog, was seen at Madison Square Garden wearing a cast on his left hand/arm during the Rangers vs Canucks game. The head coach added that Kakko was "a few weeks away," and that he didn't know if #24 would be able to return to the team prior to the NHL trade deadline.
With no trades yet, Gallant and company are forced to fill these roster holes with players from the Hartford Wolfpack.
During Thursday's practice, Goodrow was bumped up to the third line, while McKegg went to the fourth line. With the reliable Kevin Rooney now out for the next few games, JONNY HOCKEY got the nod over both Timothy Gettinger and Morgan Barron. Of course, among the three, you'd think that Barron would get his name called first; but for whatever reason, Gallant (and perhaps Drury too) wanted to see what the newest "re-signee" can do.
That decision would pay dividends in this game.
---
On Friday, two hours before puck drop, Gallant met with the media one more time:
---
Gallant, who seemed like he was in a very good mood, confirmed that Brodzinski would be playing. He also confirmed that both Kevin Rooney and Kaapo Kakko wouldn't be traveling with the team during their upcoming four-game/eight-night road-trip.
Gallant, with a smile on his face, wouldn't confirm who his starting goalie would be, but said, "you know who it is."
Lastly, while it wasn't mentioned during Gallant's pregame press conference, Greg McKegg was scratched tonight. After the game, Gallant said that McKegg was ill and unable to play. In turn, this gave both Barron and Brodzinski a chance to skate with Ryan Reaves.
---
Here's what "The Turk" went with for Hudson River rivalry game:
FIRST LINE: Kreider/Mika/Lafreniere
SECOND LINE: Panarin/Strome/Hunt
THIRD LINE: Goodrow/Chytil/Gauthier
FOURTH LINE: Barron/Brodzinski/Reaves
Defensively, we had this:
FIRST D-PAIR: Lindgren/Fox
SECOND D-PAIR: Miller/Trouba
THIRD D-PAIR: Nemeth/Schneider
And in net, CZAR IGOR.
---
BOX SCORE time.
The following information and graphics come from the new world-wide leader in NHL coverage, ESPN.com:
SCORING:
PENALTIES: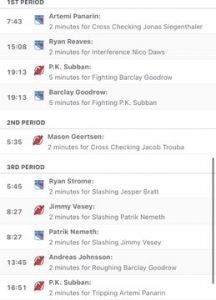 TEAM STATS:
GOALIES:
| | | | | | | | | | | |
| --- | --- | --- | --- | --- | --- | --- | --- | --- | --- | --- |
| SA | GA | SV | SV% | ESSV | PPSV | SHSV | SOSA | SOS | TOI | PIM |
| 32 | 3 | 29 | .906 | 25 | 1 | 3 | 0 | 0 | 59:18 | 0 |
| | | | | | | | | | | |
| --- | --- | --- | --- | --- | --- | --- | --- | --- | --- | --- |
| SA | GA | SV | SV% | ESSV | PPSV | SHSV | SOSA | SOS | TOI | PIM |
| 33 | 1 | 32 | .970 | 22 | 1 | 9 | 0 | 0 | 60:00 | 0 |
---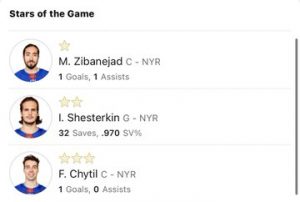 After opening up with a clip that will never get old, where Ryan Reaves belts out, "SHESTY RELEASE US;" Sieve Vagistat said that the win over the Blues was the defining moment of the season. I feel like he's said that a lot, just like how most fans say that any win is the "biggest of the season."
Vally also wondered if Kreider could hit and surpass Jagr's record of 54 goals too. I've been wondering that myself!
Funny enough, the Slewban/Blais incident wasn't brought up once during the pregame show. If this was an ESPN broadcast, we would've heard about it 78678678967896789676896 times. Micheletti would eventually bring it up, about five minutes into the game, where he was kind of forced to talk about it, as the crowd loudly booed Slewban whenever he touched the puck.
Giannone and Vally then raved about Lafreniere, and pretty much echoed what I've been saying on this site since the All-Star break.
After Vally did his thing, where he makes up a bunch of numbers and plugs his silly company; I was wondering if these two would make a point to say that missing both McKegg and Rooney could hurt the penalty kill. They didn't.
The broadcast got a breath of fresh air when Dave Maloney came on, where he praised Adam Fox during his segment. Giannone then talked about Patrik Nemeth, and mentioned that the Swede is feeling much better these days, after finally getting over COVID-19, having a healthy baby boy and because of his goal from Wednesday night.
Bill Pidto then showed us the "Top Seven Highlights from February," where Miller's shootout winner was number one. If anything, I thought Miller's wraparound goal against Detroit was far superior. After all – anyone can score on a shootout. There aren't that many players in the NHL who could've scored that wraparound goal from where Miller was in that game against the Wings.
Vally then closed out the pregame show by reiterating that he thought that the win over the Blues was the best of the season. I'd say the win over the Capitals, from just a few games back, was better than that one. However, at the end of the day, it doesn't matter. Just win!
GAME REVIEW time.
---
Following Zibanejad's faceoff loss to Nico Hischier; Kreider immediately forced a turnover and set Mika up for a good shot on goal. Save for Devils' goalie Nico Daws, where I'm surprised that Sam Rosen didn't say "Nigel Dawes" once tonight. I know I almost typed out Nigel Dawes when just writing that previous sentence!
The Rangers were all over the Devils to start, as Daws had to make three quick saves while several other Ranger shot attempts went wide.
Rosen, true to form, then told us all about Jack Hughes and how Hughes has a brother in the NHL. Bless his heart. (Hi Brenda!)
JONNY HOCKEY, who had a FABULOUS game tonight; forced a turnover near the blue line and then wristed a shot from deep. Save by Daws – but this would be the first of many great plays made by the man who just inked a new deal earlier this week.
Ryan Lindgren, banged up a bit after a late shot block in the win over the Blues; looked to be fine tonight, where within the first five minutes, he blocked a Dougie Hamilton try. He'd later record the final blocked shot of the game.
A Patrik Nemeth hit on Bastian freed up a puck, and this would lead to shots on goal for both Gauthier and Lindgren, where once again, the Devils' newest goaltender did his job.
With 12:45 to go in this period, and in a game where the Rangers were dominating; CZAR IGOR made his first and second highlight reel saves of the contest:
IGOR SHESTERKIN OH MYpic.twitter.com/SxBDetVRml

— Rangers Videos (@SNYRangers) March 5, 2022
---
Here's the CZAR stopping Hischier on a breakaway, and for shits-and-kicks – stopping Hischier on the rebound too – where the rebound save was even more impressive than the initial save.
Thirty seconds later, Panarin was boxed for a cross-check on Jonas Siegenthaler – a call that I thought was soft, and a call that just set off Dave Maloney, who was in-between the benches. The former captain astutely pointed out how Dryden Hunt ate 786786896967967896 cross-checks against Shitsburgh, where only the last one was called. Here's Panarin, not a physical type, barely making any contact and the refs blew metal right away.
CZAR IGOR, who made nine short-handed saves in this tilt, made two great ones during this first Rangers penalty kill. After making a lights-out glove save on Jack Hughes look casual; he then made another, where he kicked the rebound to JONNY HOCKEY for a clear.
(JONNY HOCKEY, filling in for both McKegg and Rooney on the PK tonight, did a remarkable job.)
Towards the end of the penalty kill, Mika stripped Hughes near the blue line, and then may have gotten away with a trip himself. That no-call made up for the Rangers being on the penalty kill in the first place.
With 8:49 to go, this happened:
Mika scores the opening goal!

(via @NYRangers)pic.twitter.com/4IJzFlapci

— Rangers Videos (@SNYRangers) March 5, 2022
---
1-0, GOOD GUYS!
In what was a pure "FAT CAT" goal, Kreider made a touch-pass to Trouba, the new "Great 8" pumped the puck towards Daws, and there was #93 for the easy rebound goal. Also of note? Alexis Lafreniere was right there for the rebound too. I bring this up, because Lafreniere could've easily scored this goal – Mika just got there first.
In other words? More superb offensive awareness from the 2020 first-overall pick.
Right after this, Ryan Strome (yikes – and you may know why already), was robbed by Daws. If only had he scored here – it would've dampened what was soon to come.
With 6:04 to go, Hischier, after already being robbed by CZAR IGOR twice already; deked out Ryan Lindgren, got to the slot and buried one past #31 in Rangers blue. 1-1, where let me stress again – this goal allowed wasn't on Igor.
It was also the last goal that the Devils would score all game.
Also worth mentioning? "Jinxin' Joe" said that the Rangers were dominating just seconds before this goal. It happens. What also happened is that the Devils continued to apply pressure, where CZAR IGOR was forced to make another big save, after Hughes "spino-rama'd" on by Braden Schneider.
With 4:52 to go, Ryan Reaves was boxed for interfering with Daws, despite #75 doing everything he could to skate by the goaltender when trying to fight for a puck in the corner boards.
During this PK, CZAR IGOR continued to showcase his puck-handling skills, where he cleared two pucks single-handedly. We also saw JONNY HOCKEY make a FABULOUS saucer pass, where the pass found the tape of Barclay Goodrow during a 2 vs 1 odd-man rush. Daws, to his credit, made this stop.
Following the kill, and as time dripped off of the clock, we saw Goodrow take down Slewban:
Subban is a bum. Goodrow rules. #NYR pic.twitter.com/buMUkttq3x

— WatchingNY (@WatchingNY) March 5, 2022
---
For all of the people who hate fighting and toughness; riddle me this – "if fighting is so bad, why does the entire crowd stand up and get loud anytime there is a fight?" The analytical crybabies will shed tears over fights on social media, but in reality – every fan inside of the arena goes bonkers whenever two men trade dukes.
I've talked about this many times in the past, but getting revenge on Slewban kind of reminded me of that Valentine's Day game between the Rangers and Flyers from six years or so back; where Wayne Simmonds got what was coming to him. Prior to Tanner Glass and Dylan McIlrath challenging Simmonds and Ryan White; Simmonds, in a previous game, laid a dirty hit on McDonagh, injuring the then Rangers captain.
While M$G was louder for that Rangers/Flyers game, and where to his credit, Simmonds manned-up and knew he had to abide by the time honored hockey tradition – Slewban tried to get the jump on Goodrow and failed miserably. And unlike Simmonds, Slewban looked for a ref to hug too. That's why I'll always have more respect for Simmonds than I do for Slewban.
(And yep, if you recall – I wanted Simmonds to be a Ranger so bad. In his prime years with Philly, he always seemed to have two-thirds of a Gordie Howe hat trick on any given night. HOCKEY PLAYER.)
As we got to the end of the period, with twenty ticks to go, Daws stopped Mika. Then, with four seconds to go, Bastian went wide and tried to get cute with Igor as the horn went off. Both Lindgren and Hunt weren't having it, and quickly swarmed the Devil. The refs broke this up immediately.
1-1 after one, where the Rangers were pretty much in control of everything but the score, as they were up in SOG 16-12, hits 15-8, and faceoffs 11-8. The penalty kill was also 2-2 too. Even better – Goodrow won his fight over Slewban!
---
The second period was pretty much a polar-opposite from the first, as not only was defense stressed – but the Rangers had trouble getting to the net too.
After Sieve Vagistat told a story about playing with children (literally), and how it somehow (don't ask me) relates to what CZAR IGOR was doing; Igor continued to shine in net.
Early on, the future '22 Vezina winner made a glove save on Mercer look easy, and rather than freezing the puck as you'd normally see in this situation – he just dropped the puck off to one of his defensemen. A little play like that prevents a defensive zone faceoff, and one of those analytical buzz phrases too – "HIGH DANGER SCORING CHANCE!"
Zibanejad, who like the rest of his linemates, oozed SWAGGER tonight; put on a good forechecking display, which then forced the Devils into an icing. This also forced the Devils into a defensive zone faceoff situation, thus potentially giving the Rangers a "HIGH DANGER SCORING CHANCE!" The terms these geeks come up with are hysterical. Hockey will always be hockey, no matter how much you try to jazz it up.
As the two teams battled for ice space, with 14:25 to go, "OLD FRIEND" Mason Geersten cross-checked Trouba from behind. This put the Rangers on the power-play.
To be nice, this power-play could've been better. The Rangers never were able to get set-up, and as a result, didn't put a shot on goal either.
For some reason, Sam Rosen then brought up that Stephane Matteau once scored a goal against the Devils during a playoff series in 1994. You may have heard about this goal. I'm all about seeing great Ranger moments, but the timing of this felt STRANGE. (Hi NO FLEX and Esquire!)
With 11:03 to go, and as you were wondering if the Rangers could find their mojo from the first period, this happened:
Chytil gives us the lead! pic.twitter.com/Jd3Xa6IXos

— Rangers on MSG (@RangersMSGN) March 5, 2022
---
2-1, GOOD GUYS!
The much maligned and criticized Filip Chytil, while wide-open, shot a puck that stained the corner boards. However, he then received a second chance, as Lindgren forced a turnover in the neutral zone. Lindgren then got the puck to Chytil, and #72 didn't miss the net on the second try. Even better for the Czech? This wound up being the game winning goal.
As the crowd still booed Slewban during any instance where the vulcanized rubber was on his blade (Hi Tom B, thanks for the donation to the site), former Ranger prospect Ryan Graves held/interfered with Schneider. No call.
With 7:27 remaining, Daws stopped Strome. On the next play, Trouba troo-troo'd Hischier. Keep your head up!
Now with 5:30 to go, Boqvist went all razzle-dazzle, where at the end of it – Igor blew out the candle.
Around this time, it was mentioned that former New York Met John Franco was in the house. Funny how you don't see Matt Harvey there anymore. Hmmm!
As we hit 2:55 remaining, CZAR IGOR flashed the cow (better known as Bessie, hi Jake!), where he made a sweeping glove save on Slewban. On the next Devils' possession, CZAR IGOR made another highlight reel save, this time where he stopped Bratt – the Devils' best offensive player this season.
If that wasn't enough for you, with 1:33 to go, CZAR IGOR stoned Ryan Graves from inches away. Graves made contact with Igor, which sent #31's mask flying away. (No goalie interference call though, despite Reaves being called for lightly brushing Daws earlier in the game. Interesting.)
As the crowd boomed, "IGOR! IGOR! IGOR!," Rosen, like a twit, wondered if Igor would be pulled for concussion protocol. In one of the funniest moments of the season, Micheletti pretty much told his partner to shut up, and that "people were listening."
This was all in good fun, as Rosen's point was fair and accurate, as he was alluding to the win over Boston. I just got a kick out of the way Micheletti responded to it.
2-1, GOOD GUYS, after forty.
---
After the Devils won the opening faceoff of the final frame, Rosen said that the fans were really into the game. The M$GN cameras then showed us a woman who was engrossed with her phone, and who couldn't be bothered to lift her head up. The unintentional comedy never ends!
It was during this crunch-time of a third period where Jacob Trouba really stood out.
Trouba, who led the Rangers in blocked shots tonight (five in total), made a big block right away, which prevented a Devils equalizer. Not to be outdone, CZAR IGOR then stopped Sharangovich for good measure.
At around the ninety second mark of the period, the Devils had about four HIGH DANGER SCORING CHANCES, where I guess "high danger" could also describe the bowels of Ranger fans at this time too.
As Sam and Joe were raving about the Devils for some indescribable reason; Hughes stripped Miller of the puck, but there was his partner, #8 in blue himself, to bail him out.
Now 5:10 into the period, Strome broke up a Devils' odd-man rush, and then went on an odd-man rush himself, where Hunt turned the puck over. Right after this, Strome took a penalty in the Devils d-zone himself, after slashing Bratt, who he had been going back-and-forth with all game.
This particular Rangers penalty kill was the CZAR IGOR show, as the goaltender said "nyet" about five times according to my count, although the official scorers' only credited him with four short-handed saves during these two minutes.
(And to be fair, I'd be a horrible statistician, as I'd always beef-up Ranger stats for the greater good!)
Following the kill, Strome had a jack-in-the-box chance, where JONNY HOCKEY made one of the most perfect passes that you'll ever see, which as a result of said pass, found Strome one foot away from in front of an empty net. Yep, you probably know this already – Strome somehow went wide.
You guys know I'm a Ryan Strome fan, but damn pals and gals – he has probably missed 78678678968679678 empty nets this season.
I know I've said this a lot on this site – but it feels whenever Strome scores a goal, it's a huge goal.
In the same vein, whenever he flubs on one of these beautiful opportunities – it feels ten times as big as had he scored. This could've been a huge insurance goal. Instead, it created one big-ass migraine.
And to go back to JONNY HOCKEY here – he easily could've had two assists tonight. Daws made a good save on Goodrow earlier (where need I remind you, #21 put the puck on net), but this play – "OO-FA!"
After Trouba worked the puck to the net, a backhander try stopped by Daws; we were now under ten minutes to go in regulation.
With 9:32 to go, it was mentioned that the Rangers only had two shots on goal in the period. Of course, they should've at least had three!
After CZAR IGOR stopped the player who once was promised free drinks for life in NYC, and the player that Susan Sarandon promised a favor to as well (Jimmy Vesey), with 8:37 to go, this happened:
Kreid's get his 36th on the season off a beautiful feed from Mika! pic.twitter.com/zBad1yONlw

— Rangers on MSG (@RangersMSGN) March 5, 2022
---
3-1, GOOD GUYS, as Chris Kreider scored his 36th goal of the season.
On this goal, it was nice to see one of these cross-ice passes work out, as Mika, from the far boards, set up Kreider for this BANG.
Right after the goal, Lafreniere, who as previously mentioned, is definitely "feeling it" these days; tried a blind-drop pass to Zibanejad. No good, but if you recall, this play did work in the Rangers win over Washington.
Nearing the FOXWOODS FINAL FIVE mark of the game, Daws stopped Miller. This set-off a scrum, where once again, BARCLAY FATHER FINKIN' GOODROW was all up in Slewban's face. In turn, Slewban ran to a ref and presumably said, "hold me."

As a result of all of this, Andreas Johnsson was penalized for a cheap-shot on Goodrow.
The Rangers power-play pretty much did everything but score here, and most certainly was far superior than the previous power-play. Mika almost had Kreider for a goal, where after missing the net, CK20 was pretty much kicking himself. This play very easily could've been goal #37.
As the Rangers kept holding the Devils off of the scoreboard; with 3:09 to go, Slewban was boxed for tripping Panarin, where #76 blatantly held out his leg when trying to stop "THE BREADMAN." Another cheap play.
And really, yes I'm burying Slewban during this entire blog, but what else am I supposed to do? I can only work with the material in which I am given!
I much rather talk about what a charitable guy he is, and how he does a ton of great work for children's hospitals and other causes – but on the ice, he's turned into a 1980s Ric Flair, as he's now "the dirtiest player in the game."
Even worse – he never backs his crap up, as he'd much rather run to an official than squaring up. And even when he does fight, like he did tonight – he pretty much pulled the equivalent of throwing sand in someone's face, and then jumping them.
With time running off of the clock, the Rangers power-play didn't get aggressive here, nor did they need to. Instead, they played keep-away a bit, and let the two minutes expire.
The Rangers maintained possession of the puck as the power-play concluded, which meant that Daws couldn't leave his net until there were 39 seconds remaining. Sadly, CZAR IGOR never got a shot at the net!
After Lindgren blocked a Hughes' attempt, we hit triple zeroes. GOOD GUYS 3 – DEVILS 1.
---
Of course, you would have rather seen the Rangers run-up the scoreboard tonight, but you'll take what you can get! A win and two points in the standings are good enough for me!
Sure, there were some issues in this game, where moving on, they need to be tightened; but when you have the greatest goalie in the league today, you'll accept those faults. After all, no team plays flawless hockey.
No one looked horrible or bad tonight, although Ryan Strome will get some heat for missing that open net. However, just like Igor making a highlight reel save, I have come to accept that Strome puts a death choke on his stick whenever seeing the oasis of an empty net.
Filip Chytil scored tonight. No one on this team needed a goal tonight more than him. JONNY HOCKEY, back for the first time since Omicron; had his best game yet as a Ranger. Team leaders, such as Zibanejad, Trouba and Kreider, all played fantastic. Barclay Goodrow, another one of the 7896789689676896 alternate captains on this team, showed team pride in this one. Lafreniere, who didn't score tonight, continues to impress and as of late, always seems to be in the right place and at the right time.
And I've barely mentioned the names of Braden Schneider and Patrik Nemeth tonight, where the rookie continues to look like a seasoned pro, while the seasoned pro, Nemeth himself, has looked like a new player since returning to the line-up.
All in all – great win. Beat the Jets and "OLD FRIEND" Neal Pionk on Sunday!
PLUGS time!
---
The hardcover version of my book, available now at Amazon.com
The first plug of tonight's blog – the mandatory plug for my new book, "The New York Rangers Rink of Honor and the Rafters of Madison Square Garden".
As mentioned previously, the book is now available in hardcover, in paperback and in Kindle formats. To purchase a copy of the book, visit this link:
https://www.amazon.com/Rangers-Rafters-Madison-Square-Garden-ebook/dp/B09CM5N2WD
For those still looking for signed paperback versions of the book, I have re-ordered more copies. I now have 2 signed copies for sale at $25 a pop (includes shipping price) through me directly. Here is all the information on that:
---
Here are my last few blogs, in case you missed them:
---
---
---
If you haven't already, subscribe to this blog for the next update:
---
Up next: The Rangers head out on a four-game road trip.
The Rangers will play the Winnipeg Jets for the first time this season on Sunday. After that, it's a rematch with the Wild on Tuesday, another rematch with the Blues on Thursday, and then a return game in Dallas on Saturday.
As always here, thanks for reading and…
LET'S GO RANGERS!
Sean McCaffrey
BULLSMC@aol.com