"Frustrating, I thought we got off to a good start, playing well, had some chances early, give up the goal, long shot to make it 1-0. I thought we were playing pretty well after that, but the shorthanded goal was the back breaker in a lot of ways – you could just sense it. They got goals on their chances and we didn't. I thought we had more chances early in the game where we could have gone up 1-0 and we didn't do it. They make it 1-0, I thought we kept playing, drew a penalty and like I said, that shorthanded goal was way too easy. Our PP obviously has to be fixed, they get a PP goal. Special teams were the difference tonight, early on anyway, but we kept competing right to the buzzer. It's not easy when you are down 4-0. It could have got ugly, and we kept playing, certainly, some positives to take out of it, and we gotta dust ourselves off and get ready to play on Saturday afternoon." – David Quinn, on 3/11/21, moments after the Bruins waxed the Rangers 4-0. Of note, after a quote like this, David Quinn may have a future in stand-up comedy, because he has to be joking about this team "competing right to the buzzer." And if DQ is not joking here, then I think that he may have CTE.
---
"I think goaltending, defense and forwards all share responsibility when a goal is scored, so I don't want to point the finger at Georgie, but their chances did go in and ours didn't. I thought there was a lull in the second where we didn't get a lot of chances once they made it 4-0. I don't want to point the finger at one person, this wasn't on one person.
I'll talk with Benny about that, [on pulling Georgiev] we've had a couple conversations regarding that and I'll keep it private between Benny and I, but listen, Georgie has played a lot of good hockey for us and he will play a lot of good hockey for us moving forward." – David Quinn, also on 3/11, while talking about another disastrous game out of Alexandar Georgiev. Of note, on Twitter, Ron Duguay stated that this should be Georgiev's last game as a Ranger. On the post-game show, Steve Valiquette hinted that Georgiev may need time in the AHL. Needless to say, like the Rangers season itself, this season has been nightmarish for Georgiev as well. Maybe Tony DeAngelo was right about this guy, know what I'm saying?
---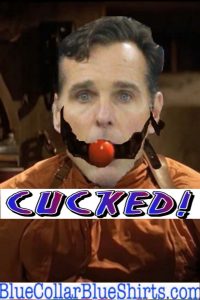 Greetings and salutations everyone and welcome to another blog here on BlueCollarBlueShirts.com. At least Cally is back with the organization.
On Thursday night, after two straight losses to the Pittsburgh Penguins; the Rangers traveled to Boston, where the Blueshirts were spanked unmercifully beyond belief by the Boston Bruins, dropping the game by a final of 4-0. And really, the final score could've been much worse, as Boston, after going up 4-0 before the 25 minute mark of the game hit, were just happy to sit back and ride the clock out. It wasn't like the Rangers were going to do anything offensively anyway – especially not on their four separate power-plays during this game.
As I said, like you said, and like many said – that three game winning streak over the Sabres and Devils meant nothing. After all, the Rangers are supposed to beat these bad teams. In the same vein, the Bruins are also supposed to beat bad teams too, which the Rangers currently are.
Since that three game winning streak, a winning streak that saw the Rangers score 15 goals in 3 games; the Rangers have now scored a grand total of 3 goals in their last three games played, while giving up 13 goals in that same time span. And really, this doesn't even feel like rock-bottom yet, as the Rangers schedule for the rest of the month is akin to the team playing the 1927 Yankees every night, with the exception of one lone game against the Sabres. Even then and at the present moment – I'm not so sure if the Rangers can handle business against Buffalo.
As I said last blog, you can start pricing out tombstones for this New York Rangers 2021 season. Even with Panarin set to return, this team just isn't good enough. Making matters worse, and really, in a rare display for this team and despite what DQ said tonight; you have to question the Rangers effort during this loss. Yes, the Rangers came out hot to start the game, but once the Bruins made it 1-0 after their second shot of the game, you knew how this one was going to end.
For your consideration, when you look at the top name players of this game, Brad Marchand (the player everyone hates but wants on their team) had three assists. Patrice Bergeron had a goal and an assist. David Pastrnak had a goal. And really, this line could've put up more points if they didn't focus on defense, once going up 4-0.
Obviously, with Rangers killer Jaroslav Halak posting his second shut-out of the season against the Rangers in this game, none of the top guys on the Rangers made the scoring sheet tonight. Top guys do big boy things. The Rangers top guys, led by Mika Zibanejad and Jacob Trouba, do nothing offensively. This game was another horrid display for both Mika and Trouba.
And when it comes to Chris Kreider, the other "team leader" of this team; I thought he was the best fat cat/top six guy on the ice tonight, as at least you noticed him. I mention Kreider here, because I saw some people do the "Casper Kreider" stuff after this game, and I didn't think that was particularly true.
That said, if there was anything apparent tonight, especially with former Rangers captain Ryan Callahan in the studio during tonight's broadcast; it's the fact that the Rangers do not have a true bonafide leader. They can pump their chests out after beating the Devils and Sabres, but when shit gets bad and push comes to shove, the Rangers just don't have a guy on that bench that can rile up the troops and motivate the team. As mentioned many times on this site, David Quinn remains the face and voice of this team. That's not a positive.
A lot of what has plagued the Rangers all season was once again apparent in this loss. The power-play is beyond brutal. For the second game in a row, the power-play gave up a short-handed goal. Just like last game, this short-handed goal allowed by the Rangers was pretty much the final dagger for the Blueshirts.
As mentioned already, the top stars didn't show up and were absolutely dominated, out-classed and out-worked, and in every which way, by the Rangers counterparts in the black and yellow.
Alexandar Georgiev, whose game has fallen off a cliff, ever since Nick Ritchie sat on his head two weeks ago; had another game that belongs in a tire-fire. Once he gave up the first goal of this game, it was over. It's like the Rangers themselves knew they had no chance after that.
The Rangers and DQ, while talking with the media, may talk the talk, but very rarely do they walk the walk. To show you how much leadership is an issue, the media was talking to Brendan Smith after the game and not guys like Mika Zibanejad and Chris Kreider. Even when things were bad during the end of their careers, both Henrik Lundqvist and Marc Staal were always there for the media. Repeatedly this season, and always after bad losses, Kreider and Mika go MIA. Brendan Smith and Ryan Strome have turned into the go-to media guys this season, which speaks volumes.
This game truly personified "the men vs the boys" adage, as the Bruins made short work of the children in blue. While there have been worse losses and much bigger drama for the Rangers this season, this game was the biggest chore and bore to watch. When the winner is determined before you even hit the 25 minute mark, and you're on the wrong end of it, it's never any fun. Just like the Rangers, I felt checked out myself once the game became 4-0.
There's a lot of stuff to get into tonight since I last left you. Aside from the Rangers/Bruins game recap/review, I also have all the latest on Artemi Panarin, Vitali Kravtsov, the NHL's new TV deal and a recap of the latest episode of Ron Duguay's "Up in the Blue Seats" podcast. If you haven't noticed already, tonight's blog is a monster of a manifesto, but rather than breaking this up into 79676696 different articles, you know the credo here – "10,000 words, one click and no ads!" However, of course, before getting into everything and anything – the PLUGS segment!
I'll keep it short tonight – here's my last blog in case you missed it:
---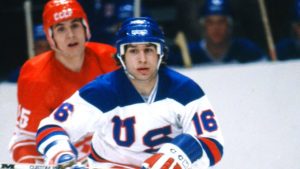 On the morning of 3/11, "Up in the Blue Seats" released their latest episode. To listen to the show yourself, click the link below:
Up In The Blue Seats Podcast: @RonDuguay10 & @MollieeWalkerr commemorate the late Mark Pavelich as they chat with @NYP_Brooksie, along with his ex-Rangers teammates Tom Laidlaw & Rob McClanahan

Apple: https://t.co/QOveadeGFH
Spotify: https://t.co/jO5khOBQBc pic.twitter.com/4S89Utmyy8

— New York Post (@nypost) March 11, 2021
---
Mollie Walker kicks off the program with the good news, by saying "Artemi Panarin is back with the Rangers." She then gives us the bad news, which is the team's current playoff hopes. Walker then gives us the rundown of everything else we'll hear on today's episode.
After a few ads, including one for MANSCAPED, which Mollie Walker doesn't read, (it's Bruce Buffer from the UFC as the pitchman here) we then go the show's intro music. After that, producer Jake Brown tells us to review and rate the show. Done and done. Brown then previews this episode, as Walker just did.
Brown wishes Mollie Walker a Happy Birthday, as Brown and Duguay sing a not-so-great rendition of the song. Ha! Walker just turned 24 years old. Happy Birthday Mollie. I didn't realize she was that young. I wonder if Brown and Duguay will get Walker a Cadillac & some MANSCAPED, the two products that are advertised on this show! I'm sure Walker would be excited about the Cadillac – the MANSCAPED pubic shaving tools not so much!
Duguay says it's a week of good news and sad news. Duguay says the program is now the 12th highest rated/listened to hockey podcast on iTunes, which is a big accomplishment, especially since the show only does one episode a week, as opposed to other podcasts that have several episodes a week. Duguay is happy with the feedback and with the show's progress.
Duguay then mentions the passing of Mark Pavelich. Duguay mentions how Tom Laidlaw and Rob McClanahan will be on the show to talk about their memories of Pavelich. Duguay says while he's sad about Pavelich's passing, he wants to start the show off positively and brings up the return of Artemi Panarin.
Duguay says Panarin won't be in the line-up on Thursday. Duguay asks Walker why is that the case. Walker says before getting into Panarin, that she wants to thank Brown and Duguay for sending her flowers and chocolate to her for her birthday. What classy gents!
Walker says the Breadman is back, which is great news. Walker says the coaching staff wants Panarin to get back into game shape. Walker says she expects Panarin back sooner than later, mentioning how the Rangers need him. Walker says how Panarin is excited to be back. Walker says the allegations, while most likely false, were serious. Walker says Panarin kept his teammates in the loop and addressed the team. Walker says Trouba, as if his word matters the most, was accepting of Panarin's return. Well as long as Trouba is okay with it!
Duguay says this is great news but wonders where Panarin was for the last two games. Duguay says he doesn't know the whole situation and is pretty sure that Panarin has a good reason for missing the last two games. That said, Duguay also feels that Panarin should've been here and that the Rangers needed him.
Duguay says he thinks Panarin should be playing right away. Duguay says while you know that Panarin hasn't been playing competitive hockey for the last two weeks, you know that Panarin has been training in some shape or form. Duguay mentions the Devils recent situation with COVID-19 and and how in their first game back after a 12 day layoff, they kicked the Rangers ass.
(Another reason why I like Duguay – I usually agree with his opinions before even knowing what his opinions are. All of his stuff on Panarin here is all stuff I said, prior to listening to this podcast. I know many of the younger generation aren't a fan of Duguay's opinions, but that's because they can't put his opinions on a chart. PHYSICALITY, TOUGHNESS and SIZE WIN CUPS, not only in Duguay's era, but in today's salary cap era too. After all, just look at the recent Cup winners.)
Duguay says he doesn't care if Panarin only plays ten minutes, because he's still Panarin, one of the greatest players in the league today. Duguay says at the very least, just put Panarin out there on the power-play. I don't think Duguay is wrong here at all.
Walker agrees with Ron, saying all of this stuff is peculiar. Walker says that DQ previously said that Panarin was skating. Walker said she's not 100% sure what's going on. (I don't think anyone is.) Walker says she's not sure if the Rangers want to see him skate before having him in the line-up again or if Panarin wasn't even skating at all, despite previous reports stating that Panarin was.
Walker says this situation was "life-altering" and people need to give Panarin a break. Walker says this could've damaged Panarin's reputation and career. (Of course, by day two, everyone knew all of this was false.)
Walker says it's tough for us to understand what goes on in Russia and that we need to give Panarin a "hot minute" to return. Walker says she thinks we'll see Panarin on Saturday. Duguay says maybe DQ wants to protect Panarin against a physical team in Boston. This wraps up the Panarin talk.
Duguay mentions that McClanahan will be on the show and how he's a good looking guy. Walker says, "if you say so!" Duguay asks Walker what does McClanahan and the Miracle on Ice mean to you? Walker mentions that she just turned 24 and only knows about the movie "Miracle".
Brown runs down the upcoming Rangers schedule. Brown asks Walker about her birthday. Walker says how her mother did a good job of making the day feel special. Walker says her mother was excited about Duguay sending flowers to the Walker residence. (Walker's mother is an on-going bit on the show.) This is fun stuff, and it's brought up how Duguay and Mrs. Walker share a birthday week and how Duguay wants to do a big birthday celebration when that week in July comes up. Duguay lays on the charm as Walker starts cracking up. This then takes us to the Larry Brooks segment.
(Worth noting on Walker only being 24? With access to Duguay and Brooks, it helps her get a wiser perspective from a different generation.)
Walker asks Brown about CZAR IGOR and his durability. Brooks says he's concerned about Igor and isn't 100% sure if Igor is "injury-prone" or not. Brooks then adds, he's not sure if the Rangers feel that way. Brooks recaps Igor's recent issues with staying healthy. Brooks said that Igor's recent injury looked much worse than it was, which is a good thing. Brooks says Igor hasn't played three straight games since joining the NHL. Brooks says once Igor comes back, he'd like to see Igor get a nice stretch of consecutive games under his belt. That's a valid suggestion/idea/point.
Brooks then talks about Georgiev, saying Georgiev isn't the same goalie from last season and hasn't been consistent at all. Brooks says Georgiev hasn't been great on "high danger" shots and says that Georgiev has been erratic. Brooks says he's concerned that Georgiev hasn't established his game this season. Brooks feels Georgiev has minimal trade value right now. What a burial of the Bulgarian!
Duguay brings up the topics of both mental and physical toughness and how Brooks was recently campaigning for the Rangers to give Mason Geersten a look, during these two upcoming games with a bruising Bruins team. Duguay wonders if toughness is an issue that the Rangers need to address. Brooks says the Rangers do need to get more physical. Brooks says the Bruins are a hard team to play against, while the Rangers are not.
Brooks says when he looks at the Rangers, he's not worried about individual players – he's worried about the team's physical make-up. Brooks says the Rangers top talent hasn't been there. Brooks feels the Rangers need to add some physical pieces for their talented/skill guys. Brooks thinks that Kravtsov is more than just a skills guy. Brooks thinks Gorton has to do some work this summer.
Walker mentions how the Islanders are tough and Brooks agrees. Walker switches gears and says Howden is invisible on the ice. Maybe she's not aware about his work on the PK and face-offs? Brooks feels the Rangers are stuck with Howden right now. Brooks feels if things were normal, Howden would be in Hartford right now. Brooks also brings up how Howden's waiver-exemption status has now expired. Brooks says Howden's offensive skills are non-existent. Well that's true! Brooks says all Howden is now is a fourth line PKer, which wasn't the book on Howden when he first got here. Brooks says Howden is a hard-worker, but his game just isn't there.
Before closing out with Brooks, Duguay asks Brooks for his thoughts on Pavelich. Brooks says it's just tragic. Brooks says he was around during Pavelich's days in New York, but didn't really know him. Brooks says Pavelich was quiet and wasn't much of a media guy. Brooks is just sad about the whole situation. This concludes the segment with Mr. Brooks.
Tom Laidlaw is up next, as he joins the podcast for his second go around. Walker runs down Laidlaw's career. Laidlaw says playing with Duguay was more exciting than being on "Survivor". Duguay says he goes to bed at 3AM every day, while Laidlaw is waking up and working out.
Duguay asks Laidlaw about concussions and Pavelich. Laidlaw says he doesn't know how many concussions he personally had in his career, estimating that he had 10-20 of them while playing. Laidlaw thinks he probably has CTE too. Duguay says Pavelich was a little guy who played big, and how Pavelich always went to the dirty areas. Duguay feels all of Pavelich's troubles are rooted in concussions.
Laidlaw says we don't 100% know if Pavelich's issues are all concussion related or not. Laidlaw mentions how Pavelich was his own guy and wasn't like the rest of his teammates, at least not on a social level. Laidlaw mentions how Pavelich never cared about dressing up, even with a dress code installed during those days. Laidlaw says all Pavelich cared about was playing hockey. Duguay says Pavelich was always at his happiest whenever he was on the ice.
Laidlaw said he never saw any signs of Pavelich being depressed, despite the two hanging out together during their playing days. Laidlaw mentions how a lot of guys were practical jokers back then. Laidlaw says he once pulled a prank on Pavelich and how Pavelich got him back. Laidlaw says Pavelich was a kind soul and was a happy guy with him.
Walker asks Laidlaw about transitioning from a player to an agent. Laidlaw says he's no longer an agent anymore. Laidlaw then talks about relationships between players, agents and coaches.
Walker then asks Laidlaw about his days on "Survivor". Walker says she would never last on that show and how Laidlaw lasted 14 days while being 60 years old. Laidlaw says it was a great experience. Laidlaw mentions he lost 27 pounds while on the show. Laidlaw mentions the whole shitting situation while being on the island and how he would have to "aqua-bomb" in the ocean. That's hilarious. Laidlaw said he would do the show again. This then wraps up the Laidlaw interview.
Closing out the show is an interview with ex-Ranger/NHLer Rob McClanahan, a Rob McClanahan who was also on the Miracle on Ice team. Duguay mentions his time with McClanahan and how the two hung out together during their days in New York.
McClanahan brings up how the Islanders were just a fraction better than the Rangers during that era and how the Rangers always gave the Islanders the toughest series in all four of their Cup runs. The less said about that time, the better!
McClanahan said Pavelich never needed a lot and was a great teammate. McClanahan said Pavelich just went about his business, kept things simple and just loved playing hockey. McClanahan said he never saw any signs of Pavelich having depression, both during their playing days and afterwards. McClanahan also mentions that he and Pavelich traveled together while on the road.
McClanahan said after his hockey days, he worked on Wall Street and how he got into the financial business. McClanahan says he's currently living in Minnesota, where he also coaches. Duguay mentions how Walker is a big fan of the "Miracle" movie and busts her chops a bit. Walker asks McClanahan what was it like playing under Herb Brooks. McClanahan says he never hung out with Brooks and how Brooks was a taskmaster. McClanahan said it was hard to play under Brooks, but if you could, you would have success.
McClanahan said in his days, it was a north-south game and not an east-west game. McClanahan said Brooks would allow guys to circle around, adapting a Euro style of game. Walker asks McClanahan about the movie. McClanahan said he thought Nathan West did a good job of portraying him. McClanahan said the movie was really about Brooks and not about the players. (He isn't saying that with any spite, he's just stating facts.) McClanahan said the movie was accurate in its portrayal of Brooks and that team. That wraps up the interview and the show.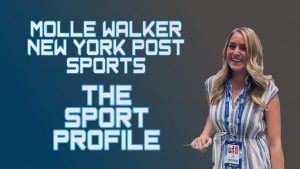 All in all, another great episode of "Up in the Blue Seats". The podcast has certainly found its groove and it remains "must-listen" to me. You get a little bit of everything on each episode, such as current news, interviews and expert insight from Duguay.
---
After the Rangers loss to the Penguins on Tuesday night, the Rangers, like the "Dropkick Murphy's", shipped out to Boston, where they practiced on Wednesday. The big news here was that Artemi Panarin is back. For whatever reason, despite it being an off-day, Panarin was not made available to the media, although David Quinn, Jacob Trouba and Ryan Lindgren were. I mention this, because eventually, Panarin is going to have to talk to the media. I figured it would be good to do it now and get it out of the way, especially on an off-day.
As talked about on previous blogs, with this team having no captain or any real sense of leadership (Kreider is kind of the defacto captain, especially in light of Mika's troubles) David Quinn remains the voice, focal presence and face of the team. Here's DQ talking about Panarin, after Panarin's first practice:
When it came to what DQ said about Panarin, here are the highlights:
— "Like we've said all along, he's been day to day. We are glad to have him back. When he's going to play again, we don't know.  He's just started skating, I wanna focus on moving forward, we are excited having him back, the guys are rejuvenated having him around and happy to see him on the ice."
— "He's here today, practiced today, will skate again tomorrow. As far as I'm concerned, he's here and getting ready to play. To me he is all in and ready to go, he's just been off the ice for a while, so we gotta get him game ready."
— "He's doing good, in a good place when he got here and excited to be back with us. We are all happy he is here and nobody is happier than he is that he is back."
DQ, during this Wednesday interview, mentioned that Panarin wouldn't play on Thursday (tonight's game). To me, as I said on Twitter when this news first broke, and as I said during the "Up in the Blue Seats" recap/review – I don't get it.
---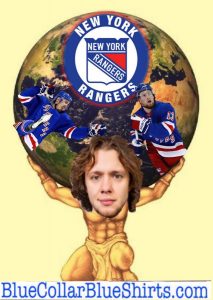 I'll keep this short, as I know this blog is long enough already, but yeah, I don't get why Panarin was held out of tonight's game. A Panarin, even at 10%, is better than Mika at 100%, especially on the power-play. At the very least, Panarin could have been a decoy.
With the season on the line, I just think all of this was a bad look. I thought Panarin should've been back for the Pittsburgh series, as Duguay said. I thought Panarin should've been back here tonight, especially knowing that he's now skating.
Face it, even for the younger fans who hate to hear it – in a different generation, an athlete would've returned, especially with the season on the line. In this era of guaranteed contracts and big money, the incentive to play isn't as great as it used to be.
You know who would've rushed to return? This guy:
While speaking of Ryan Callahan, "Captain Cally" made his MSGN studio debut tonight, as an analyst. More on that in the game review/recap portion of the blog.
Let me be clear – as I've said on past blogs, I totally get Panarin's situation. I get that maybe he can't give us all of the details or the full story. That said, I think we should've got an update from him on Wednesday and I thought he should've played tonight. I still support him and don't hold any sort of "ill-will" or anything like that.
To transition to our next topic, if Panarin isn't going to rush back and try to pump the brakes on the Rangers playoff hopes being derailed; why do people think that Vitali Kravtsov is immediately going to come to America and become a first line winger in the snap of two fingers?
---
Hours before tonight's Rangers vs Bruins game, Vitali Kravtsov and his Traktor team were eliminated from the KHL playoffs. As talked about to death already, this now opens the door for Kravtsov to leave Russia and the KHL once and for all, and after a bump in the road last season, begin his NHL career.
According to media reports, it will take somewhere between 10-14 days, for Kravtsov to leave Russia and go through the NHL COVID-19 quarantine protocols, before joining the Rangers. In a regular AHL season, I could see the Rangers giving Kravtsov a few games with Hartford, just to give him some ice time/get his legs back, after these two weeks of being off. Now, maybe the best idea is just to have Kravtsov join the taxi-squad and practice with the varsity club, in preparation of Kravtsov's NHL debut.
Without question, barring an injury or a COVID-19 setback, Kravtsov will play for the Rangers this season. I don't think that's up for debate. Of course, with Panarin returning as soon as Saturday and with Kravtsov most likely with the team come April 1st, it's up for debate who gets scratched, as Quinn shuffles through his roster. For guys like Lemieux, PDG and Blackwell, it's highly probable that they will spend games up in the press box. Without a shadow of a doubt, these next few games will be crucial for the bottom six wingers, as they try to keep their spot in the line-up.
Kravtsov, despite his team being bounced out in the first round of the KHL playoffs, had a good season for his Traktor team. The Rangers drafted Kravtsov with their first round selection in the 2018 draft. In other words, that was three years ago and no matter who has to get scratched for this to happen, Kravtsov is going to have to play. The Rangers need to see what they have with this kid, even if they put him on display just for trade purposes. (I'm not suggesting the Rangers trade him, I'm just saying that the Rangers have too many skilled wingers and not enough centermen or "tough" guys. The Rangers will have to shed some of these talented wingers this off-season, in order to build a more "complete" team.)
I don't know where Kravtsov starts out with this Rangers team. Most likely, I think it would be with the third line, as it's tough to see any of the top six wingers being bumped right now and because it doesn't benefit Kravtsov or the Rangers to have Kravtsov as a check line winger. Time will tell, and that time is soon upon us. The best of luck to Kravtsov moving forward.
One last news item, before getting into this game, the line-up and everything else.
---
As expected and rumored, the NHL signed a TV contract with ESPN on Wednesday. While the NHL still has one more TV contract to sign, where they could go with NBC/Peacock or Fox; at the end of the day, the NHL will have more than doubled their previous TV contract that the league currently has with NBC. However, as we found out after this announcement with ESPN, despite the NHL increasing their profits two-fold, the NHL salary cap will remain flat. Obviously, this is bad news for the Rangers, as they pretty much gave huge deals to Panarin, Trouba and Kreider, with the thinking that the cap would increase as the years moved on.
Here's the official press release from the NHL, courtesy of https://www.nhl.com/news/nhl-espn-disney-reach-groundbreaking-seven-year-rights-deal/c-322346092  :
The Walt Disney Company, ESPN and the National Hockey League have reached a historic and innovative seven-year television, streaming and media rights deal, taking the new partnership from the beginning of the 2021-22 season through the 2027-28 season. 

The visionary, first-of-its-kind agreement brings the NHL back to Disney and ESPN platforms and illustrates the unique position of The Walt Disney Company to bring the best hockey in the world to millions across its unparalleled collection of media platforms. 
It is highlighted by: exclusive coverage of the Stanley Cup Final on ABC in four of the seven years of the agreement, with the ability to simulcast/megacast on ESPN+ and additional ESPN networks; the return of live NHL action to ESPN networks with 25 exclusive national regular-season games on ABC or ESPN; 75 national regular-season games per season produced by ESPN that will stream exclusively on both ESPN+ and Hulu; half of the Stanley Cup Playoffs on ABC and ESPN each season; and coverage annually of NHL's Face-off (opening night games), the NHL All-Star Game and Skills Challenge, plus other NHL special events each season.

Additionally, the NHL's out-of-market streaming package, with more than 1,000 games (formerly on NHL.TV), will now be available for fans to stream only as part of an ESPN+ subscription.

The agreement also includes extensive highlight rights that will add to coverage across ESPN's year-round news and highlights programming, and to coverage on the ESPN App and social media. International media rights – including in Latin America, the Caribbean and parts of Europe – are also part of the agreement.

"This partnership of the world's top hockey league and the platforms of The Walt Disney Company is a big win for our fans and our game," NHL Commissioner Gary Bettman said. "Not only will this groundbreaking, seven-year deal enable the NHL to benefit from the incomparable power, reach and influence of The Walt Disney Company and ABC/ESPN, it sets a new standard in delivering our game to the most passionate and tech-savvy fans in sports in the ways they now demand and on the platforms they use."

Jimmy Pitaro, Chairman of ESPN and Sports Content said, "This agreement clearly underscores The Walt Disney Company's leadership in the sports media landscape and serves as a blueprint for sports deals in the future. We know the power of the NHL and are thrilled to welcome it back as a significant new pillar across our platforms, and we look forward to connecting more deeply and directly with some of the sports world's most passionate fans."

Kareem Daniel, Chairman, Disney Media & Entertainment Distribution said, "This is the kind of innovative deal that only The Walt Disney Company and our portfolio of media platforms and businesses can bring to life. The combination of streaming leadership with ESPN+ and Hulu, along with our powerhouse ABC and ESPN networks, will bring the NHL into the homes and lives of millions of passionate fans – and help create new ones. It's a hat trick that delivers incredible value to our partner, our business and consumers." 

Stanley Cup Final, Stanley Cup Playoffs and NHL Regular Season action return to ABC and ESPN networks

Under the new agreement, the NHL's Stanley Cup Final and Stanley Cup Playoffs action will return to the ABC and ESPN networks – including exclusive coverage of the Stanley Cup Final in four of the seven years of the deal – beginning with the 2021-22 season. 

Additionally, in each season of the agreement, ESPN and ABC will have live, exclusive coverage of one Conference Final series and half of all First Round and Second Round games from the Stanley Cup Playoffs. 

Throughout the regular season, 25 games from the NHL schedule will be carried live, exclusively on ABC or ESPN. 

Live game coverage, plus studio, surround and original programming plans across all of The Walt Disney Company's networks and streaming platforms will be announced in the coming months, including a new weekly studio show during the NHL season on ABC, ESPN or ESPN2.

NHL Streaming on ESPN+ and Hulu

Beginning with the start of the 2021-22 season in October, ESPN+ will stream more than 1,000 live NHL games per season, including 75 national games per season produced by ESPN and streamed exclusively on both ESPN+ and Hulu, a first. Additionally, ESPN+ subscribers get truly incredible value with more than 1,000 out-of-market games now available digitally only on the industry-leading sports streaming service – making it a must-have for hockey fans. ESPN+, which topped 12.1 million subscribers by the end of 2020, nearly doubling in a year, also features "In the Crease" an exclusive original highlights show, hosted by ESPN's Linda Cohn and Barry Melrose each NHL gameday throughout the season. 

The new agreement also showcases that Hulu is a truly distinctive streaming product and marks the first major sports agreement to include exclusive, live sports rights on Hulu – bringing the NHL to Hulu's 39.4 million subscription video on-demand (SVOD) customers. The 75 games available to ESPN+ subscribers will be available to Hulu SVOD subscribers at no added cost as part of their subscription. 

The agreement also comes as Disney is launching "ESPN+ on Hulu," which will give Hulu subscribers with access to the service's on-demand streaming library the choice to sign up for, and view, ESPN+ – including thousands of live events, and acclaimed original shows, series and documentaries – directly in the Hulu environment.

The combination highlights the value and growth of both services and The Disney Bundle (which offers consumers Disney+, ESPN+ and Hulu, all for $13.99 or $19.99 per month*).

The NHL first appeared on ESPN on Dec. 19, 1979, only about three months after the network went on air. ESPN's coverage recorded milestones both on and off the ice the in the first nine seasons, including being the first U.S. network to produce an NHL All-Star Game in 1986. After a four-year absence, the league returned to the network in 1992 and aired for the first time on ESPN2 the following season, just days after the channel's debut. In the years that followed, the NHL played a key role in the expansion of ESPN2, leading to ESPN and ESPN2 celebrating their 1,000th NHL telecast on March 8, 1998. Over the years, ESPN introduced its innovative production elements to hockey coverage, including electronic cut-ins (1980), MaskCam (1998), SkyCam (1998) and more. The network's most recent TV rights deal with the league concluded in 2005.

Live daily out-of-market game coverage and the "In the Crease" daily studio show have been carried on ESPN+ since 2018. Additionally, Disney (and BAMTech, prior to its acquisition by Disney) has been a technology and streaming partner for the NHL since 2015.

---
At the end of the day, as fans, all we have to do is turn on a channel or a streaming device. It really doesn't matter where these games air, as long as they air. For fans, the only way a new TV deal effects us, is in regards to the salary cap.
In his press conference after signing this deal, Bettman said that this TV deal won't effect the salary cap, at least not for the next three seasons, as the league tries to recoup losses that were incurred during this pandemic. With a CBA signed and agreed on during this past off-season, between the NHL and NHLPA, it also seems like the idea of amnesty clauses won't be a thing either. And trust me, EVERY TEAM in the league would love the return of amnesty clauses. Don't believe me? Ask San Jose (Erik Karlsson). Ask Buffalo (Jeff Skinner). Heck, ask the Rangers (Jacob Trouba).
Again, this blog is a mission tonight, so I'll get more into this topic at a later date. If there's one good thing that I haven't seen mentioned anywhere else, aside from the fact that working with ESPN should increase the league's profile, it's this – this will create more jobs for ex-players as analysts. It should also increase writer jobs as well, as currently, ESPN only has two hockey writers on staff, where neither is very good. It would be a huge coup if ESPN could import talent/reporters from SportsNet or TSN.
Finally, let's get into this game!
---
When it comes to the starting goaltender tonight, as I said last blog, I would've started Keith Kinkaid. My opinions on Kinkaid getting the net tonight are NOT a case of hindsight being 20/20 vision. I just feel Kinkaid is the better goalie right now and have always had the opinion of "riding the hot hand". Unfortunately for Georgiev, Kinkaid, during the second Georgiev start in a row, would have to play mop-up duty in this game. Kinkaid would ultimately finish tonight's game with 13 saves on 13 shots faced, where admittedly, the Bruins never pushed the issue on him.
While I still maintain that Georgiev has been slumping/having bad games since Nick Ritchie sat on his head, he's now facing the biggest dilemma of his young career. A season ago, he looked like he could get a starter's job in the NHL. Now, we have Steve Valiquette talking Hartford and Ron Duguay saying this:
This may be the last game played as a Ranger for Georgiev

— Ron Duguay (@RonDuguay10) March 12, 2021
Honestly, I don't think Vally or Duguay are wrong here. Once CZAR IGOR returns, Kinkaid may be the better back-up goalie for right now. With the season almost at the 50% completion mark and with an expansion draft coming up, maybe the Rangers don't protect Georgiev as originally intended. After all, and as mentioned in the NHL on ESPN segment, the salary cap isn't going up anytime soon. The Rangers may be looking to shed every dollar that they can.
Of course, when it comes to that Seattle expansion draft, due to Trouba's NMC, the Rangers are forced to protect him and that's a contract that's already backfired and will only get worse when trying to re-sign guys like Fox, Miller and Lindgren. As I have always said on this site, if an older Trouba is worth $8M a season, what's Fox worth? $64M?
With Georgiev in net, here was the rest of DQ's line-up: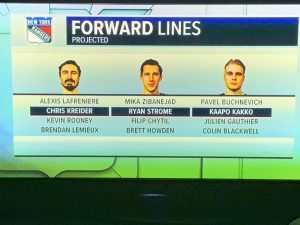 Two more segments and we'll get to the game review!
Up first, the GAMBLING segment. Here's what I said before the game:
Season over-under record: 10-12-2

Georgiev vs #nyr killer Halak tonight. The -5.5 line is correct as these two teams have played a lot of low scoring games.

In a nasty game full of penalties, I see this game going OVER. pic.twitter.com/GrAM4lJ00a

— BlueCollarBlueShirts (@NYCTheMiC) March 11, 2021
Well, I got the stuff about Halak and these two teams playing low scoring games right. However, I thought we were going to see a lot of physicality and nasty penalties, which would then create PPG's, but the Rangers were just happy to skate around aimlessly for most of this game. My record now drops to three games under .500, at 10-13-2.
BOX SCORE time.
The following information and graphics come from the new world-wide leader in NHL coverage, in ESPN.com:
SCORING:
PENALTIES:
GOALIES:
| | | | | | | | | | | |
| --- | --- | --- | --- | --- | --- | --- | --- | --- | --- | --- |
| SA | GA | SV | SV% | ESSV | PPSV | SHSV | SOSA | SOS | TOI | PIM |
| 27 | 0 | 27 | 1.000 | 21 | 0 | 6 | 0 | 0 | 60:00 | 0 |
| | | | | | | | | | | |
| --- | --- | --- | --- | --- | --- | --- | --- | --- | --- | --- |
| SA | GA | SV | SV% | ESSV | PPSV | SHSV | SOSA | SOS | TOI | PIM |
| 14 | 4 | 10 | .714 | 10 | 0 | 0 | 0 | 0 | 24:52 | 0 |
| 13 | 0 | 13 | 1.000 | 11 | 2 | 0 | 0 | 0 | 34:44 | 0 |
TEAM STATS: (While many things killed the Rangers tonight, nothing killed them more than special teams in this game.)
---
In our lone highlight of the night, Captain Cally made his MSG studio debut tonight. In his first foray on the MSGN, I thought he did well. If there was anything "negatively noticeable" out of Callahan tonight, it was the fact that he says "as we'll see on the clips…", as often as Micheletti says the word "FABULOUS". Okay, that's an exaggeration – no one does anything as frequent as Micheletti says the word "FABULOUS", outside of Steve Vagistat talking about his legendary 46 NHL game career during these broadcasts.
As talked about last blog, Cally has done it. He's been there. He had a great and lengthy career, a career that was only cut short due to injuries and a spinal diagnosis. You noticed what Cally brought to the broadcast right away, whenever he was talking about Brad Marchand, due to their history and wars. I also thought Callahan was kind of like Tony Romo in his first season as a broadcaster, as Callahan pretty much accurately predicted this game at the onset of the broadcast. Conversely, Vally talked about "EXPECTED STATS", fake news stats that would suggest that the Rangers are 25-0 right now.
Vally, who was at home and on ZOOM, never explained why he wasn't in the studio tonight. Of course, I am hoping he's permanently removed from these broadcasts all together. While I don't root for anyone to lose their job, (I'm of the belief that if you do that, that's just terrible karma) I am rooting for MSGN to give Vally the boot and let him work with Shannon Hogan on Islander broadcasts. Let those two share stories about their five-holes.
Vally was beyond weird and awful tonight, much more so than usual. No joke, here's a recap of Vally's performance and the crap that flew out of his mouth:
— Vally said he was never pulled from a game. He would keep saying this all broadcast, as if anyone was laughing along with him. I'm sure the Swedish massage parlors say differently, in regards to Vally being pulled.
— Vally then told people to imagine him as if he wasn't wearing any underwear. Right after saying that, he started telling young kids to pay attention to what he was saying. What a Grade A high danger creep. I get that Vally was joking here, but like his career, all of this came off as flat and unwarranted.
— Vally tried to compare his time with the Rangers as if he was in the trenches and in the bloody wars with Cally. Anytime Giannone brought up Cally's great career, memories and moments with the Rangers, Vally would chime right in, using the "WE" word way too much. Associating Vally, with any of Cally's work/time with NYR, is like saying Al Trautwig and his teeth helped lift Mark Messier during the 1994 Cup run.
— Vally plugged his useless fake news stats company. None of that crap applied to the game. I'm still waiting for that expected PPG by the way! However, during the pregame and intermission segments, Cally brought up how Boston was due, how the Rangers were going to be in trouble, the topic of leadership and other things that ACTUALLY PERTAINED to this game. Cally also mentioned that everyone is watching the standings right now, something Vally hasn't brought up at all.
In other words, and as predicted, CALLY > VALLY, leave the stat nerd in the ALLY and I hope NYR will one day RALLY. No more EXPECTED nonsense SALLY, you hear me PALLY?
Okay, that last paragraph was forced! Let's now get to the inevitable and talk about this shit-storm of a game.
---
Before dropping the puck, Sam and Joe were already into their "MIKA SUCKS" spiel. How right they would be. The duo then talked about David Krejci to the moon and mentioned how he had no goals this season. Of course, this reverse jinx would eventually come through, as Krejci would score a power-play goal in this game.
This game didn't start off bad. Strome would beat Bergeron to win the first face-off of the game. The Rangers would shoot the puck a lot in these first opening minutes, something they would later fail to do as the game went on. (NYR had only 3 SOG in the second period!)
If anyone stood out tonight, at least in the first period, it was the Rangers MVP of last game, in Julien Gauthier. He was making power moves to the net throughout the period. In the first three minutes of the game, Gauthier got right into Halak's crease on multiple occasions. In addition, even the patch-work fourth line looked well too, as they aggressively forechecked and created offense.
After a Halak glove save on Ryan Strome, and with the Rangers coming out fairly good in the first four minutes of the game; at the 4:14 mark of the period, David Pastrnak scored from deep. 1-0 bad guys.
On the goal, "The Perfection Line" all picked up a point. Bergeron got the puck to Marchand, and Marchand, who once again ate the Rangers alive tonight (three assists) set-up Bergeron for this one-timer from near the blue line and to the left of Georgiev. While Georgiev may have been partially screened here, these goals allowed happen far too often.
No joke, this goal allowed, which wound up being the game winner, pretty much changed the tide of this game. It should also be mentioned that as a result of this goal, Georgiev only had four saves on his last eight shots faced.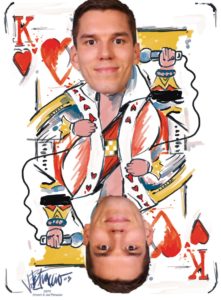 After Gauthier once again buzzed around Halak's net, Georgiev would make a save on Krejci. At the ten minute mark of the period, you noticed Gauthier and Kreider, the two power-forwards of this team, in their attempts to stir up the stagnant Rangers offense.
Mika Zibanejad, who finished with five SOG tonight (but you know the rest) would see Halak juggle a puck that came off of Mika's stick. Sam and Joe went back into their MIKA SUCKS spiel, where this time, Micheletti said that perhaps Mika's training regiment is hindering him. After the game, Cally & Vally wondered if Mika needs new equipment. I maintain that Mika needs to shave his head and start anew, in this proposed act of "rechristening".
DQ must've noticed the Rangers were losing some juice at this time here too, as this was when DQ first started shuffling his lines; putting Lemieux on the second line and putting Lafreniere on the fourth line. Bizarre.
After two tries from Lindgren from deep, Georgiev, on the other end, made what was his best save of the game (feint praise) on Charlie McAvoy.
With 2:53 to go, new Ranger killer Nick Ritchie tripped K'Andre Miller. What happened next sealed the deal for the Bruins victory.
The Rangers power-play, which has been absolutely putrid this season; (DeAngelo > Georgiev) would give up one of their never-ending odd-man rushes during this game. Of course, this Bruins odd-man rush was especially pathetic for the Rangers. While the Bruins were short-handed, that rat Brad Marchand would easily feed Bergeron for the SHG with 2:26 remaining. 2-0 bad guys. Game over.
Right after this goal, the Bruins almost scored while short-handed again, missing by just an inch.
It even gets worse. With the power-play just expiring, Mika would get the puck all by himself, skate into the Bruins zone, where instead of streaking towards the net, Mika stopped, stood flat-footed and waited for the Bruins to catch-up. Mika then dumped the puck for a turnover. Ridiculous.
After one dreadful period, we remained 2-0, in favor of Boston.
---
After our "SECOND PERIOD, WHAT DO YOU LOOK FOR HERE JOE?" comment from Sam Rosen, <a Father Finkin' PPG, ya blowjob> the Bruins would quickly jump out to a 4-0 lead.
With Mika losing the opening period draw, the Bruins would ice the puck twice, where the Rangers wouldn't make the Bruins pay. Of note, Sam Rosen talked about Igor coming back for the third time on the broadcast, which tells you Rosen's confidence level in regards to Georgiev.
After the Rangers top line flubbed a scoring chance, 2:14 into the period, Hajek held Pastrnak. This gave the Bruins an early power-play.
Since Rosen and Micheletti were practically begging for Krejci to get his first goal of the season, that's exactly what happened here, as Krejci scored a PPG at the 3:31 mark of the period. It's tough to hang goalies for PPG's allowed, but once again, you're left to question Georgiev here.
Just over a minute later, DeBrusk scored a goal at the 4:52 mark. 4-0 bad guys and good night Alexandar Georgiev. GAME OVER.
The only people, outside of Bruins fans, that liked that DeBrusk goal, were the NYR media. After all, this goal allowed the media to write up their reports and game recaps, as everyone knew the Rangers were finished and wouldn't even come close to making this game interesting.
After this fourth goal allowed by Georgiev, DQ took a time-out where Keith Kinkaid would then take the net. Georgiev looked miserable on the bench.
I'll say this too, while Georgiev is definitely having his issues, unless you plan to win every game 1-0 via the shoot-out, you can't win if you can't score. The Rangers power-play was god awful again and once this game became 4-0, the Rangers played the most uninspiring and most pathetic hockey you'll ever see. They threw in the towel, as if they were a great team "living to play another day". In addition, DQ would continue to flip his lines, where keeping track of all of these moves was like trying to solve "The Matrix". It's amazing the Rangers didn't take a "too many men on the ice" penalty with all of this line shuffling.
As I type this, I'm at word number 10,984. I could end this blog here, because nothing else happened. The game was over and the next 35 minutes of this game was pretty much an effortless affair, where the Bruins sat back, watched the Rangers screw up and rinse, wash, repeat. That said, I'll try to quickly brisk through the rest of the game rather than pressing the "PUBLISH" button right now.
With the Rangers skating as if they were in mud, Sam Rosen, no joke, said the following five times – "THERE'S PLENTY OF TIME LEFT!" Even Rosen, for as senile as he is sometimes, could hear the sound of remotes clicking throughout Rangerstown, USA.
Blackwell would miss a connection with Lafreniere. Right after, and with Halak violently humping his blue paint, Blackwell missed an open net. A possession later, Rooney would shoot high from two feet away. All of this looked very kindergarten and where I wished that the NHLPA had negotiated a "MERCY" rule, during the latest CBA talks.
With 7:48 to go in a period that felt like it would never end, Lindgren would go to the box after slashing Frederic. Marchand would just-miss a goal here, but eventually, the Rangers got their kill. Right after the kill, Lindgren would get a breakaway/jack-in-the-box chance, and would pull a Mika – you know the rest.
As we neared the final minute of the period, Marchand hooked Miller. During this delayed penalty play, the Rangers had the puck for 25 seconds or so, where with the extra attacker, they couldn't get the puck into the Bruins zone. After looking like jerk-offs, the Bruins mercifully got the puck and the Rangers began their power-play with 66 seconds remaining in the second period.
This power-play was hilarious. Mika would get two SOG here (you know the rest) where on one of them, his stick broke in his hands. When it rains it pours.
Finally, this period concluded, where I couldn't believe we still had twenty more minutes to go. If you hung around for the third period like I did – give yourself a pat on the back. You're a true fan.
---
The third period was as fun as getting a root canal in your ass, if that were to be possible.
Mika continued his shit-show of a night, where WHEN ALL ALONE and with the team down four goals, instead of shooting the puck, he passed the puck right into the skates of a Bruins defender. The guy is just lost. He has to be mentally unstable right now.
Lindgren continued to shoot the puck, where twice on the same shift, went wide. Trouba's game must be contagious.
With Halak dry-humping the ice again, Buchnevich, from a foot away, somehow lifted a puck over the crossbar. More impressively, he did this back-handed.
Kreider joined the parade, where at least he put a shot on net, while all alone and from two feet away. Halak, to his credit, made this save – arguably Halak's best save of the game.
With a new Kid Line on the ice, in 24/72/13, Lafreniere set up Chytil. Save. Kakko would get the rebound where Halak made another save. This was probably the Rangers best offensive shift of the period.
With 9:13 to go, Miller drew another penalty, (three penalties drawn) this time on Pastrnak for holding. The Rangers PP once again sucked here, where you have to wonder, why does DQ constantly change his lines during the game, but never his PP units? (Only time DQ changes his PP units is in the rare event that the Rangers have a big lead in the final minutes of a third period.) Seriously, all of these wasted PP minutes just feels like an exercise to see how low Mika can fall.
Trouba, for all of his bravado, and a Trouba who even had the audacity to say that "the team will accept Panarin"; was pretty much a ghost all game. No one talks more crap, and for less production these days, than Trouba.
As we hit the FOXWOODS FINAL FIVE mark, Rooney would block a shot on his own guy, this time in Colin Blackwell. Ugh. Right after, Strome would feed Kakko, but Kakko, as he did last game, rather than shooting during a four goal deficit, skated backwards and nothing good happened.
The Rangers would get one more power-play towards the end of the period/game, as with 2:45 to go, Nick Ritchie tripped Lemieux. For good measure, the Rangers power-play failed for the fourth and final time here, helping to bolster the stats of the Bruins PK, a Bruins PK which is tops in the league. (The Rangers, to their credit, are second in the league.)
4-0 your final. While I think this loss was to be expected, this was just hard to watch. This game would be akin to watching your kid get slaughtered in a boxing fight.
---
What else is there to say? The Rangers sucked tonight, and even if Panarin and Igor come back on Saturday, I wouldn't be shocked to see the Bruins whip the Rangers ass again. While we're not mathematically there yet, it feels like we're in "play out the string" mode.
If you haven't already, subscribe to this blog for the next update:
---
The Rangers will play the Bruins on Saturday, where following that game, it's two against Philly and two against Washington. Would it shock anyone, where come March 20th, after the second half of a back-to-back set with Washington; that the Rangers will be in the midst of an eight game losing streak before hosting Buffalo on March 22nd?
If you're noticing anything right now, it's that with the season nearly at the mid-point, the good teams have settled in and are taking care of business. The bad teams are falling apart and the Rangers are a bad team in 2021.
Win or lose, I'll drown on this Titanic and will be back Saturday night.
Until then, and as always here, thanks for reading and…
LET'S GO RANGERS!
Sean McCaffrey
BULLSMC@aol.com
@NYCTHEMIC on Tweeter
Follow the BlueCollarBlueShirts.com Facebook Group by clicking this link: https://www.facebook.com/groups/1564026407193056/