"I thought we did a much better job taking their time and space away. One of the things we try to do night in and out is not give them a lot of room and I thought we did a good job of that tonight. Before the game, I was looking at some stats and I don't really pay attention to the league stats a lot, I watch our games and we certainly dissect them as a staff, but we haven't given up a lot of shots, we are 10th in the NHL in fewest shots per game and our goals against are 10th or 11th. We've been pretty good in that area throughout the season, but tonight was one of our better games in that area." – David Quinn, on 3/13/21, moments after the Rangers 4-0 dominance over the Boston Bruins.
---
"He made the saves he had to, some timely ones for sure, you never win a game 4-0 and not have your goalie contribute and he certainly contributed. He's a good goalie, an NHL goalie, we know that, that is one of the reasons we signed him. We knew we were going to need depth this year, you need depth every year and he's had a little bit of a tough stretch the last year and a half and we thought we signed a guy that could play in the NHL and help us and he has." – DQ, also on 3/13/21, when speaking of Keith Kinkaid. As you'd expect, Keith Kinkaid is going to get a lot words out of me today! What a great game out of the kid from Long Island!
---
Greetings and salutations everyone and welcome to another blog here on BlueCollarBlueShirts.com. Well that was much better!
The New York Rangers, after being spanked by Boston on Thursday night, and by a final score of 4-0; returned the favor on Saturday afternoon, by turning the tables and posting a 4-0 victory themselves. For the Rangers, while it's their right to celebrate this win, this win also illustrated a lot of what's been going on all season. Let me now explain.
Without question, a Rangers 4-0 win over a Stanley Cup contending team, like the Bruins are, is nothing to sneeze at. I am not looking to play the role of "Debbie Downer" here. This win was a big one for the Baby Blueshirts. That said, if there's one word to describe the Rangers 2021 season thus far, outside of the word "drama", it's this word – "inconsistent".
All season long, the Rangers have personified the adage of "one step forward, two steps back." This smackdown of the Bruins is the latest case of "one step forward". Looking ahead after this win, the Rangers can ill-afford to move "two steps back", especially with the Rangers chasing the Flyers in the standings; a Flyers team that the Rangers will host at M$G in their next two games.
For people like me, who are people who thought at the start of the season that the Rangers could be a playoff team; today's victory and what we saw out of the Rangers on Saturday afternoon is why we all had this opinion in the first place. Sometimes the word "potential" is thrown around too much, but regardless, I thought the Rangers had a ton of potential going into this season. In this win over the Bruins, we saw that potential realized, at least for one stretch of 60 consecutive minutes.
Of course, in sports, the old NFL expression of "Any Given Sunday" is always applicable and during every game. As you know, "Any Given Sunday" means that any team, no matter what the sport and what the standings may suggest, can win on any day or night. Today's Rangers win is also why I think sports analytics are a huge waste of time. There was nothing from the analytical world to suggest that the Rangers would post a 4-0 shutout over the Bruins, yet here we are. Of course, as always, it's the HUMAN ELEMENT that trumps all. The Rangers wanted this game more than the Bruins, and as a result of that, the Rangers were rewarded with a hard-fought victory.
---
Prior to Thursday night's game with the Bruins, I said on social media how the Bruins top line, "The Perfection Line", of Marchand/Bergeron/Pastrnak, are responsible for something like 70% of all goals scored by the Bruins this season. Prior to today's game, I reiterated that point:
Not mentioned by Vagistat – I believe 70% of all Boston goals this season comes from their top line. Shut them down/make them play like Mika and that's your key to the game. #NYR

— BlueCollarBlueShirts (@NYCTheMiC) March 13, 2021
What happened in today's game? The Rangers limited the Bruins top line to only six shots on goal, which even then, was 33% of the Bruins total shots on goal in this game. By keeping the Bruins top line off the board, the Rangers coasted to victory.
On the pregame show, Vally is just in repeat mode every game, as he will always mention "EXPECTED STATS, HIGH DANGER CHANCES and GRADE A CHANCES". That's all he contributes. Once again, like usual, he was wrong. After all, did he EXPECT a 4-0 Rangers win today? When it comes to analytics, I think most of those stats can be used while reacting to a game. That said, those stats, like most stats, can't predict anything. Just think about it – if any of these "EXPECTED" stats paid off, someone would be cashing out right now in Vegas.
While I'll get into this more in the game recap/review portion of the blog; the Rangers first goal, which eventually turned out to be the game winning goal, was the result of K'Andre Miller blasting a puck from near the blue line, while Chris Kreider had Bruins goaltender Jaroslav Halak screened. Is a shot from nearly 70 feet away a HIGH DANGER CHANCE or a GRADE A CHANCE? I don't think so. In addition, are empty net goals included in "HIGH DANGER" or GRADE A" chance stats? My point – like any stat, all of this stuff can be skewed to fit a narrative.
Rather than Vally's useless nonsense and charts proving true, it was the Rangers HARD WORK and HUMAN FACTOR that created this goal. Once again, Chris Kreider broke his hole, wouldn't budge and screened Halak. Miller bombed a shot from downtown, and boom, 1-0 Rangers, just like that. And really, that's all my contempt for Vally and the whole analytical world – none of their crap means anything when trying to predict or when talking about these games in general.
While I'm not politicking for an analyst job or anything like that (I'm always of the belief that successful players should always have these jobs) who was right in their pregame analysis once again – yours truly, with my stuff on shutting down the Perfection Line or Vally, and with all of his fancy and meaningless adjectives?
Like myself, I hope Vally stays home more often, where in the future, the MSGN won't "zoom" him in on the broadcast! I'll take Cally over Vally any day of the week, twice on Sunday's! And knowing that the MSGN won't bring back Duguay, wouldn't Sean Avery be a nice addition to the broadcast too? Sign me up for that! I will always enjoy hearing about what goes down on the ice, rather than what goes down on Vally's computer.
---
I don't want all of this to come off as depressing, because after all, the Rangers did win this game 4-0. Admittedly, I'm still sour and kind of blah over the team's recent three-game losing streak, which was snapped after this game. As someone who has had the pom-pom's out all season, in my desire to see the Rangers make the playoffs this season; I just feel those hopes have now been dashed. Even with this win today, it's hard to envision this team making the playoffs now, and truth be told, I wouldn't be shocked if the Rangers drop three of their next four games either. However, I can only recap each game as it's played, so I'll try to be more positive throughout this blog.
The Rangers had more positivity than a super-spreader event today, where you can really choose and decide on who to feature as your top star of the game. To me, that player was Chris Kreider.
---
While none of this crap matters, officially, Mika Zibanejad, due to his two assists and great work defensively, especially on the PK, got the first star of the game today. The MSGN had Ryan Strome, Keith Kinkaid and K'Andre Miller as their three stars of the game. Without taking credit away from anyone, as all four of these guys played well, I thought Chris Kreider stood head and shoulders among all.
In today's game, Chris Kreider had what I've dubbed as a "BLUE COLLAR HAT TRICK". Kreider not only scored in this game, but he set up a screen for another goal and then blocked a shot to set up one more goal for the Rangers. This is all hard work and lunch-pail stuff out of Mr. Kreider. Of course, while Kreider's goal and assist (Kreider would later assist on Buchnevich's goal, which was the fourth and final goal of the game) are on the scoreboard, a lot of what he did today doesn't necessarily show up in the box score. It should be stated, and without a shadow of a doubt, that Kreider's play led to all four Ranger goals today.
You guys know I hate the analytical crap. As I've been saying for years on this site, if there are two stats that I think that belong on the back of any trading card and stats that are more important than any "Corsi" or any sort of analytical stat; those stats are salary cap hits and screens for goals. (And to reiterate what I've said in-depth on prior blogs, the NHL has forced fans to talk about salary cap hits. Love it or hate it, you have to talk cap hits when assessing players, due to the hard cap system that the NHL currently has in place. In fact, this is all even worse now, due to the cap staying flat for the next several seasons.)
In another point I've previously made, which was on display today with Kreider; it's that not only are screens more important than the majority of secondary assists given to players, it's that sometimes, screens are also more important than primary assists as well. While you could never go back and try to give assists to players, as a result of their successful screens; tracking screens for goals is something every GM in this league should look at. No one on the Rangers does this better than Chris Kreider, which if you recall, was one of the reasons I campaigned for the Rangers to re-sign him over a year ago.
It's easy for people to get caught up in jargon such as "north-south" and "east-west", but no matter what direction you're going in, screening the goaltender is always important. If you look at a lot of the Ranger wins this season, the Rangers are getting goals off of these screens, where Kreider is usually the deciding factor between a goal or a save for the opposing goaltender.
Yes, Kreider has had two hat tricks this year, including one natural hat trick, but to me, this may have been his best game yet. He was noticeable on every shift and did all the little things that are often glossed over in many post game recaps/assessments/analysis.
---
Away from Kreider and Kinkaid's shut-out, K'Andre Miller had a monster of a game tonight, where I thought he stood out as the best Rangers defenseman in this contest. In fact, the Time On Ice stat is the most telling. Adam Fox, who usually plays something like 3+ minutes more than any other Ranger in every game this season, finished today's game with 23:37 of ice time. K'Andre Miller finished in second place, falling short of surpassing Fox by one second, with a total TOI of 23:36. Of course, all the penalties in this game helped bolster Miller's TOI, but DQ rewarded Miller with all the extra ice time, as he was on-point all game and in all three zones.
Outside of his game winning goal, Miller was just a defensive machine and even with Trouba as his partner, shut down the Bruins all game. Miller tied other Rangers with a team high hit total of 4. He also blocked two shots, with one of them being extremely crucial, which helped preserve Kinkaid's shut-out. While I know the "LONG STICK" commentary gets nauseating, especially since Micheletti says "LONG STICK" nearly as much as he says "FABULOUS" on every broadcast, it's true – Miller's stick work broke up the Bruins offense all game.
Elsewhere today, Mika Zibanejad had one of his better games. While he still can't buy a goal if his life depended on it, he was extremely noticeable, with two assists, a 48.1 percentage at the face-off circle (which is huge for him) and was clearing pucks on every Rangers PK. Speaking of the Rangers PK, they finished 5-5 today. Of course, and really, when trying to find a negative in this game, once again it was the Rangers power-play, which finished 0-5. At least they didn't give up a short-handed goal this time! That said, while the power-play issues will be swept under the rug after a game like this, the power-play issues continue to plague this team.
And oh, did I mention that Artemi Panarin was back today? We're already 2500 words in and I haven't even mentioned "THE BREADMAN" yet. That's how good the Rangers were today.
At this time, let's get into the meat and potatoes of this blog and wrap this intro up. Of course, before doing so, and as usual – the PLUGS segment!
Here are my last two blogs in case you missed them:
---
---
I share the graphic above, because I found it amusing how all the beat reporters, who sometimes come off like messenger pigeons, all tweeted out the Kinkaid news at the same time. What I found most amusing, that it was the old-timers on the beat, in Carpiniello and Stephenson, who were able to get their tweets out first, over their more technically sound and younger counter-parts, in Walker and Mercogliano. This is the stuff that you'll only get on this site!
In addition, it was also announced that Panarin was once again skating with the team, where it was highly likely that Panarin would play on Saturday. That's what happened.
I got two more things on the Rangers beat writers, before getting into today's line-up.
I think I've mentioned this before, so I won't ramble too much on this, but more and more, you're seeing these beat writers begging you to click their links, sign up for their podcasts or purchase a subscription to their site. Outside of the NY Post "Up in the Blue Seats" podcast, which is free to listen to may I add, why would anyone sign up or click the links to these articles? While I read everything as a die-hard fan, for a casual or common fan, there's no incentive to read any of these stories.
What I mean by that last sentence is that all these beat reporters rush to Twitter, to repeat whatever DQ has told them. All of these beat reporters tweet out every piece of information and quote available. An hour later, they ask you to click their links, where their stories are just them re-writing their tweets. In other words, you don't learn anything or gain any new information in these stories, in the event that you follow them on Twitter.
If you notice, Larry Brooks, the reigning and defending champion of the NYR beat, rarely uses Twitter. If you want to hear what he has to say, his Twitter feed doesn't give you much. You have to actually click the links to his stories to get the news. Just an observation.
Another observation I had after this game, was during the Kinkaid post-game interview. As if you don't know this already, Kinkaid, prior to this season, was on the down-swing of his career. In his own Twitter profile, Kinkaid has the phrase "COMEBACK SEASON" in his header. This 2021 season, while Kinkaid needed things to happen in order to get NHL ice time, these things have now happened. (Igor injury and Georgiev not playing well).
Rather than opening up the post-game interview session with comments like "CONGRATULATIONS" or "GREAT JOB TODAY", the media said stuff like "You didn't do much today" and "You really didn't have to face many shots". What's the point? You think the media ever said stuff like this to Lundqvist? I can tell you right now that they didn't!
Oh, and while on the post-game interview sessions, and because I've mentioned this all season – Mika Zibanejad was there after a win. As talked about previously, Mika usually hides after losses. Team leader!
---
Artemi Panarin, who returned three games too late in my opinion, was finally back in the line-up, after previously missing nine games. As a result, Julien Gauthier, who I thought was the best Ranger during the two most recent games prior to this one, got the day off. Also getting the day off was the much talked about Brett Howden, who had his streak of 113 consecutive games played snapped.
Few things here.
I have always maintained on this site that the coach, no matter who it is, knows his guys and team better than any of us. It amazes me when fans pretend that they know these guys better than David Quinn. That said, had the Rangers lost this game, there would be a lot of belly-aching about Gauthier getting scratched. And I have to admit, I'd be one of them. I just thought Gauthier was really solid, despite the losses, in the games against the Penguins and Bruins. I should also add here, I don't know if Gauthier is dinged-up or not, but DQ didn't mention any sort of Gauthier injury in his post-game interview.
Brett Howden, who many Ranger fans want decapitated and have his head served on a silver platter, was the other healthy scratch. This scratch was easy to make since Chytil is now at 100% and able to take face-offs again. Similar to my feelings on David Quinn, I'm in the middle on Howden. To spend all of your time chastising the team's 12th forward seems silly to me. I get what Howden brings. He's a fourth line checker and good PKer. That's it. I'm also aware that he hasn't scored a goal since the Nixon administration as well.
I should also say that with the Rangers PK going 5-5 today and with no real face-off issues either; that for Howden, and similar to Georgiev, who watched his replacement record a shut-out, this game won't help his case.
Really, if the Rangers traded Howden tomorrow I wouldn't care. If there's anything to be "mad" about regarding Howden, it's that the Rangers traded a lot to get him, which is stuff I've already talked about in-depth on prior blogs. (McDonagh/Miller.)
As a prospect, Howden was thought to have goal scoring potential. Guess what – just like EXPECTED stats, sometimes prospect EXPECTATIONS don't go as planned. After all, did you think Kakko would be sitting on two goals after 19 games played this season? Of course, because of Kakko's draft status, I see people give Kakko a pass every day. Hell, you got people dressing up as the Pope of "The Church of Kakko" (not hating, just stating, as I believe that every fan can root any way that they want) and one fan who will tell you that Kakko's farts are the best smelling farts in all of the NHL. (Must be that gluten-free diet!)
To bottom line this and wrap this up, I'd be more worried about Mika Zibanejad's goal scoring struggles than whatever Brett Howden is doing.
---
Defensively, DQ ran out the same sextet as he did on Thursday. As mentioned, I thought this was Miller's best game back since returning, where he even outshone Adam Fox. And while I don't want to do another diatribe on Jacob Trouba and that horrible contract, I thought @Pvarrone9 on Twitter had a great T-Shirt idea – "Trouba Shoots…. and it's WIDE!" I'd buy one!
As mentioned, Keith Kinkaid (we can't use three K's in an attempt to use alliteration here, as in the word King, but we can say KING KINKY) was in net.
Two more segments and it's the game review/recap.
Up first, the GAMBLING segment. Here's what I said before the game:
Season over-under record: 10-13-2
Halak v Kinkaid today. Return of Panarin means at least #nyr won't get shutout. NYR have played well in recent matinee games. Wouldn't bet NYR to win, but I'll take the OVER. pic.twitter.com/WuJouadkJW

— BlueCollarBlueShirts (@NYCTheMiC) March 13, 2021
Well I got some of this right. The Rangers didn't get shutout and once again, they played well in a matinee game. Like the game from Thursday, I thought we'd see a bunch of penalties, but with both teams finishing a combined 0-10 on the power-play today, the OVER misses. I now drop to a season-low of four games under .500, at 10-14-2. And if you're like my buddy Tom C., who had balls and bet on the Rangers to win today, you cashed out at nearly 2:1.
BOX SCORE time.
The following information and graphics come courtesy of the new world-wide leader in NHL coverage, in ESPN.com:
SCORING: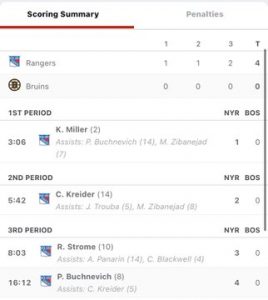 PENALTIES:
GOALIES:
| | | | | | | | | | | |
| --- | --- | --- | --- | --- | --- | --- | --- | --- | --- | --- |
| SA | GA | SV | SV% | ESSV | PPSV | SHSV | SOSA | SOS | TOI | PIM |
| 18 | 0 | 18 | 1.000 | 12 | 1 | 5 | 0 | 0 | 60:00 | 0 |
| | | | | | | | | | | |
| --- | --- | --- | --- | --- | --- | --- | --- | --- | --- | --- |
| SA | GA | SV | SV% | ESSV | PPSV | SHSV | SOSA | SOS | TOI | PIM |
| 18 | 0 | 18 | 1.000 | 12 | 1 | 5 | 0 | 0 | 60:00 | 0 |
TEAM STATS: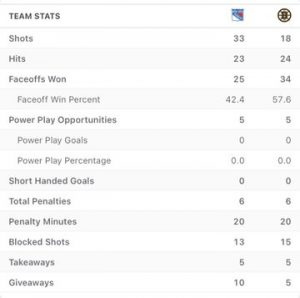 ---
I already talked a bit about the MSG pregame show earlier on this blog, so I won't get too crazy here. I do have some news and an update for you.
The reason why Steve Valiquette is at home is because the MSGN currently has a policy where they only want two analysts in the studio at any given time. Despite the NFL having 5-6 analysts during their season and the NHL & NBC Networks having three people in their studios/at the broadcast desk; the MSGN, due to the pandemic, a pandemic which isn't as severe as it was during the NFL season, want to keep their numbers low.
While I'd rather not have Vagistat on my TV at all, I think this is silly. After all, MSG is now re-open. You can put Callahan, Valiquette and Giannone at a desk and space them out. In addition, this is what NBC does. Whether this is for optics or not, I also thought it was silly that Cally, who was mask-less throughout the broadcast, was then shown wearing a mask while by himself at "The Bud Light Bar". I'm not championing either way on the mask issue and I don't want to go into those waters, but what's the point of wearing a mask if you're not going to wear it the entire time? Does the virus know when you're wearing a mask or not?
Plus, similar to MSG and the way they've tested the media, I'm sure the MSGN employees get rapid tests prior to entry. We know these guys are healthy and okay. I just don't see the point in keeping Vally at home if you're going to use him and why Cally was wearing a mask for one quick segment, while not wearing one throughout the rest of the broadcast.
In addition, because of this MSGN mandate, it sounds like Vally will return to the studio on Monday night, which is sickening to me. At least with Cally here, it limited Vally's face-time on these last two broadcasts. Also of note, I think Cally passed his two game audition with flying colors and I hope MSGN keeps him around full-time.
Lastly, for all of Vagistat's talk about having to make the EXTRA save and how goalies NEED to steal wins, I'd like to see him break this game down:
46 games folks, 46 games and this guy still talks as if he had a career like Terry Sawchuk. If MSGN really wants an established and former NYR goaltender to break down games, they should go after Kevin Weekes. That said, it's probably only a matter of time, before Weekes gets a GM or front-office job somewhere. This may even happen as soon as this off-season, as Weekes has already been on the job interview circuit two times over already.
---
Of note, prior to puck drop, in their pregame analysis, Sam and Joe brought up my point about having to shut down the Perfection Line. It's amazing Vally couldn't come up with this.
With all eyes on Panarin, where really, his return is just a side-story after this game, Mika lost the opening face-off. Then, on the first Rangers possession, Kreider fed Mika, while Mika was all alone with Halak. Of course, Halak made this save. So much for those "high danger chances" and "expected goals". In other words, in the first 30 seconds of this game, Mika lost a draw and would be stoned on a shot that any member of the Perfection Line would've scored on. That said, fortunately, this wouldn't hinder the Rangers at all.
Jacob Trouba, who must think he gets paid by every puck he puts on the boards or on the glass, shot wide and then passed a puck wide. Team leader. At least we know Trouba is okay with Panarin coming back, after those fake news allegations against the Breadman.
90 seconds into the period, Panarin, who was noticeable during many shifts in this game, set up Ryan Lindgren perfectly while on a two-on-one odd-man rush. Halak made this save. Not for nothing, but Halak was the star of this first period, as the Rangers really could've had a 3-0 or 4-0 lead after the first twenty minutes.
With the Rangers looking good early, yet not scoring any goals, (prior to this game, the Rangers had only scored three goals in their last three games played) K'Andre Miller would get on the board, just 3:06 into the game:
🚨K'Andre Miller makes it 1-0 🚨 pic.twitter.com/MBZKuLOhyS

— Rangers on MSG+ @ 12:30 (@RangersMSGN) March 13, 2021
This was the Kreider screen goal, as talked about earlier. 1-0, GOOD GUYS.
To Mika's credit, he won the face-off and because he touched the puck and because Buchnevich passed the puck to Miller, both Mika and Buchnevich got assists here. It's my opinion that Kreider's screen was bigger than either assist rewarded to #93 or #89. Also of note, due to this goal and what they'd do later, both Mika and Buchnevich finished up with two-point games, just as line-mate Chris Kreider did. In other words, a huge day for the Rangers top line.
Also of note, this goal was so good looking, that Micheletti said the word FABULOUS about ten times in two minutes.
---
In a period, and really a game, that was just dominated by the Rangers, 7 minutes into the period, the Bruins only had one SOG. It was here where Miller picked up a huge blocked shot, denying Charlie McAvoy.
With 12:19 to go in the period, Brendan Smith temporarily stunted the Rangers momentum, when he was boxed for holding Sean Kuraly. This Rangers PK would be tremendous here, with Mika and Miller standing out. I think the Rangers had six clears in all here (maybe seven) as the Bruins PP didn't even come close to sniffing the net.
After the successful kill, the Rangers power-play would get a chance with 8:44 remaining, after Bjork (Army of One) high-sticked Rooney. I also have to mention here that Rooney had a fantastic game today. Rooney may get lost in the mix after this one, but make no bones about it, this was one of his better, if not best games of the season. While I know Rooney has had games with goals scored, he received his most amount of minutes this season in this game, due to his great play. (12:58.)
During this power-play, Mika would get two chances, including receiving a puck after a perfect pass from Panarin, but you know the rest. In what was the best Rangers chance on the power-play during this game, after the Bruins failed to clear the puck after batting the puck twice towards the blue line, Kakko, in his most noticeable offensive display of the game, found Lafreniere down low for an easy SOG. However, Halak snuffed Lafreniere, where it looked like Lafreniere waited half a second too long to shoot. In any event, the Rangers power-play failed to produce a PPG.
As we approached six minutes remaining in the period, Kinkaid made a save on Zboril, where you forgot that Kinkaid was even playing, as I believe this was Boston's second shot of the period. A few seconds later, and with 5:51 remaining, Zboril tripped Kreider, giving the Rangers another power-play. (Should be noted that Kreider didn't draw any penalties in the first 15+ games of this season, but is now drawing more penalties regularly.)
This power-play was another disaster, where after the PP1 unit failed, Lafreniere, with 46 seconds remaining on the power-play, hooked Urho Vaakanainen. Rangers power-play over, as we then had 46 seconds of four vs four foreplay, followed by a Bruins 1:14 PP. Of note, what parent names their kid "Your Ho"? (I kid, I kid!)
The Rangers, behind Miller making big plays, would get their kill. With under 2:30 to go, Mika would make a great play on Marchand, where Mika bumped Marchand off the puck, forced the turnover and the puck up to Rooney, where Halak would then rob Rooney of a goal.
Boston would close out the period with an attack, but the Rangers held them off. 1-0 GOOD GUYS after twenty.
The only criticism for the Rangers after one period down was once again their power-play issues. Halak did a really good job as well, because as mentioned, the Rangers really could've had a huge lead after this period.
Also of note – the American Rangers kicked ass today.
---
After our usual "SECOND PERIOD, WHAT DO YOU LOOK FOR HERE JOE?" comment from Sam Rosen, <how about a power-play goal, ya bahstid?> Mika would win the first draw of the period. In addition, in another example of what I say on social media showing up on these broadcasts 10 minutes later, I said this:
#NYR are chasing the Bruins for a playoff spot. Not a fun fact: Bruins haven't played Buffalo once yet.

— BlueCollarBlueShirts (@NYCTheMiC) March 13, 2021
Sam and Joe would bring this point up around the half-way mark of the game, when talking about the Rangers chasing the Bruins in the standings. Sam and Joe then started about Jack Eichel for a lengthy amount of time and for whatever reason.
53 seconds into the period, Lemieux hit Frederic from behind, which sent Frederic through the open door on the Bruins bench and right into his teammates. I saw some people fight tooth and nail over if this was a penalty or not, but I thought it was. Plus, with Lemieux, and now Frederic having reputations, these kind of calls will always be assessed against them.
While Kinkaid would have to make two saves on this NYR PK, once again, the NYR PK was FABULOUS here, holding the Bruins off the board. Heck, Rooney almost had a SHG here too.
After a scrum that featured PDG & Rooney vs Kuraly & Studnika, with 14:18 to go, Kreider extended the Rangers lead:
Kreider with the pretty goal to make it 2-0 pic.twitter.com/j4ExivxCsp

— Rangers on MSG+ @ 12:30 (@RangersMSGN) March 13, 2021
2-0, GOOD GUYS. On this goal, Mika made one of his best passes of the season, an alley-hoop pass if you will, and Kreider buried it. Perfection Line anyone?
Fun fact: with this goal, Kreider now leads the league with most goals on the road, with 9. Of course, those two hat tricks help here!
A minute or so later, the rat was trapped, as Marchand high-sticked Lafreniere. Despite Lafreniere having a trickle of blood out of one of his snot rocket holes, Marchand only got two minutes instead of four minutes.
This was the best sustained offense out of the Rangers power-play in this game. Of course, Mika did his act and Halak would stop Panarin.
After a decent effort out of the PP1 unit, something weird happened, where Sam and Joe didn't even bring the following up. With the PP2 unit on, Buchnevich pushed Lafreniere to the face-off circle. Lafreniere lost the face-off cleanly and the Bruins then cleared the puck on the wing that Buchnevich was supposed to be covering. There was definitely some sort of miscommunication here. While this play means nothing in hindsight, this is just another example of the Rangers power-play having issues.
As we got past the half-way mark of the game, with 9:41 remaining in the second period, Fox was boxed, after Fox hooked Pastrnak. Of note Part I:, this was only Fox's third penalty of the season, which is impressive, considering all the ice time he gets. Of note Part II: this call was soft as hell. You'd never see this call in a playoff game.
In some impressive goaltending out of Kinkaid, and with Buchnevich without a stick & the Rangers needing a stop, Kinkaid made a clean save on Marchand. Crisis averted. Miller would make the final clear of this PK, as the Rangers PK continued their excellent performance. It should also be mentioned that after giving up a zillion odd-man rushes and breakaways last game, I think the Rangers only gave up two (maybe three) odd-man rushes in this game, where none of them were clear-cut. (Meaning that a Rangers defenseman caught up to the rush before damage could be done.)
Let's also give more praise to Kinkaid here. Had Marchand scored or had the Bruins got a rebound for a PPG, this game would've been a one goal game and given the Bruins some life. "Only" 18 saves though!
After this Bruins PP concluded, we then hit a lull, where it felt the Bruins iced the puck as many times as Micheletti says the word "FABULOUS" during a broadcast.
To put the icing on the cake, prior to the period ending, Lindgren absolutely floored Krejci with a hit.
With two periods down, the Rangers remained up 2-0. All the Rangers had to do was close out, which as you know – they would and surprisingly, with ease.
---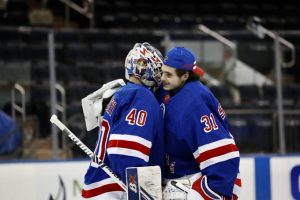 During the second intermission interview, Trouba was interviewed by the Boston reporter. Trouba's interview pretty much went like this: "We gotta battle to win the battle and if we win half the battles that means we're battling to win the battle and winning battles is how you battle to battle when trying to battle to win the battle."
I wonder if battling means putting pucks on boards?
Similar to the start of the second period, the Rangers would take a penalty in the opening minute of this period, with Brendan Lemieux being called for holding on Marchand. This was more of Marchand selling and forcing a call than anything Lemieux did.
13 seconds into this Bruins power-play, Kinkaid came up big once again, making a save on Bergeron. Kinkaid would then make a stop on Krejci and that would be it, as the Rangers PK remained flawless.
With 15:35 to go, and with Mika taking another SOG (you know the rest), Mika drew Bergeron into an interference call. Strome would get the best look on this power-play, as he was stopped by Halak while a foot away. For as good as the Rangers PK is, the Rangers PP is just as bad. Yes, the Rangers PP get "GOOD LOOKS", but this is a production and results business.
As the Rangers power-play concluded, Keith Kinkaid displayed some showmanship, gloving a high puck and with a "child please" attitude behind it.
With 11:57 to go, Ryan Strome joined the party:
Panarin whippin' it to Strome

3-0 😎 pic.twitter.com/4q8ikWhG2i

— Rangers on MSG+ @ 12:30 (@RangersMSGN) March 13, 2021
While this goal is the result of Panarin grabbing a Blackwell rebound and deftly feeding Strome, this play/goal doesn't happen without Chris Kreider. Prior to the Rangers entering the Bruins zone, Kreider blocked a big shot, where after blocking the shot, he skated gingerly to the bench. With the Rangers now having the puck, Strome got his goal. I should also make mention that Kreider was fine here afterwards, as the blocked shot pain was only temporary.
It was at this point in the game, where all the K's were going, such as Kreider, K'Andre and Kinkaid. I'm still waiting for that huge Kakko game and I hope to see him put it all together sooner than later. I mean really, if Kakko and Howden switched jerseys, you'd hear more people questioning Kakko's lack of results right now.
With 7:30 remaining, Marchand returned to the box, this time for blatantly slashing Miller. After a Mika one-timer, (you know the rest) Lafreniere would streak towards Halak, where Halak made a huge save and where due to his speed, Lafreniere wound up getting crushed into the boards. He was fine though, and if there's anything good here, it at least shows you that Lafreniere can take a licking and keep on ticking.
As we hit the FOXWOODS FINAL FIVE mark, the only thing left to see was Kinkaid getting his shut-out. However, before that happened, Buchnevich added a goal with 3:48 to go. 4-0, GOOD GUYS. The best thing about this goal? Halak lost his shit, as he flung the puck towards the other end of the ice and was absolutely furious. You love to see it.
With 73 seconds remaining, Lemieux and Frederic got into it, where I thought this was stupid. While I'm always up for the physical stuff, fights and all that other happy nonsense; with your goalie having a shut-out going, and with seconds remaining in the game, you don't want to see anything ruin that.
Fortunately, these two would take off-setting 10 minute game misconduct penalties, ending their time on the ice in this game. Two quick things about this – one, this just adds to Lemieux's team high PIM. Two, I doubt this would've been off-setting game misconducts if this game was close and if we weren't in the final seconds of this game. Like the Rangers themselves, these referees have been inconsistent this season.
As the final horn went off, the Rangers held their 4-0 lead, winning the game and where Kinkaid got his first shut-out as a Ranger. Great team win all around!
---
All in all, the Rangers needed this win and they did a great job in this game. For whatever reason, even after wins, I see people whining about Quinn and to a lesser extent, Brett Howden, a Brett Howden who didn't even play. While I guess I'm somewhat questionable about the Rangers too after this win, I'm happy with what I saw today. Of course, as has been the issue all season, the Rangers need to do this again, and again, and again, and you get the point.
The Rangers are still in the middle of a rough stretch of games here, with two games a piece against two teams they are chasing, in the Flyers and the Capitals. Unfortunately, due to consistency issues, a bad power-play, an under-performing Mika, drama (both self-inflicted and outside interference) and too many one-goal losses; the Rangers need to rip off a major winning streak here, in the event that they want to have any shot at making the playoffs. This up-and-down or "one step forward, two steps back" stuff won't work from here on out, especially as the Rangers are now two games away from the half-way mark of the season.
For one day however, the Rangers showed us what they are capable of. We'd all just like to see more of it.
If you haven't already, subscribe to this blog for the next update:
---
Enjoy the rest of your weekend. I'll be back Monday night with a game recap/review of NYR vs PHI.
Until then, and as always here, thanks for reading and…
LET'S GO RANGERS!
Sean McCaffrey
BULLSMC@aol.com
@NYCTHEMIC on Tweeter
Follow the BlueCollarBlueShirts.com Facebook Group by clicking this link: https://www.facebook.com/groups/1564026407193056/