"You kind of feel that you are up 3-2, 4-3 and they tie it. You certainly want more and the OT, we spent a lot of time in their end, didn't really get much, a couple of looks. You always want two points, under the circumstances, especially after the slow start we had. I loved the way we responded, thought we had a pretty good third too. Just a little too sloppy, too many odd-man rushes, the breakaways obviously have to stop, better reads on our gaps and pinching, but loved our resolve, came out in the second period and started doing the things we needed to do, our pace was much better, physical and certainly opportunistic and created a lot of chances for ourselves. We have to build on that, disappointed we didn't get two, but under tough circumstances, we got off to a slow start, but we responded." – David Quinn, on 3/15/21, moments after the Rangers 5-4 overtime loss to the Flyers. As DQ mentioned, the Rangers blew two leads in this game, after coming back from a two goal deficit.
---
"I thought we were too content being on the perimeter, I thought we could have done a better job to attack and get inside quicker. We gotta were content staying on the perimeter, it's something we gotta do a better job of attacking and maybe a little bit more of acceptable interference, a few more picks, something we need to do a better job of." – David Quinn, also on 3/15/21, when talking about the Rangers failing to score in overtime, despite controlling the puck for 95% of the extra period. And when it comes to the biggest offender of playing the perimeter game all night, look no further than to the second overall pick of the 2019 NHL Draft, in a one Kaapo Kakko.
---
Greetings and salutations everyone and welcome to another blog here on BlueCollarBlueShirts.com. "The Find-A-New-Way-To-Lose" Rangers strike again. While the Rangers do get a point in the standings, as a result of their 5-4 overtime loss; getting a point in this game is akin to winning a contest for having the "least amount of COVID-19". At the end of the day, while you get something out of this loss, this team, especially this power-play, has a severe case of COVID-19. And as we'd learn prior to puck drop, in reality, this team also has a case of the COVID-19 too – with team MVP Adam Fox, Pavel Buchnevich and Phillip Di Giuseppe now all currently on the NHL's COVID-19 list.
And before continuing, just to be clear, we don't know if Fox, Buchnevich and/or PDG have COVID-19 or not. I know I've said this a million times on this site this season, but I know some people like to twist my words around. The only thing we do know, and with a 100% certainty, is that these three are on the NHL's COVID-19 list. This could mean anything. It could mean that these three guys had a false positive test. It could also mean that they have COVID. We won't know anything until the players return to the roster, where if they choose to, then they can reveal what happened. Until then, all we know is that they are on the list and that is that.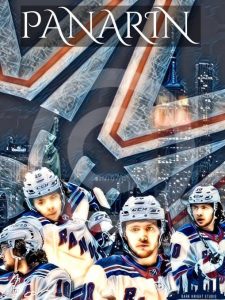 At this point in time, as we're now one game away from hitting game #28, which marks the half-way point of this 56 game NHL season; what else is there left to say, in regards to "Missing" Mika and "Terrible" Trouba? While both players have had solid defensive games this season, they aren't producing at all offensively. Neither of these two expensive players can score goals. In addition, these two overpaid players rarely put shots on net. Once again, due to the woes of Zibanejad and Trouba, in regards to shooting the puck; the Rangers find themselves on the wrong side of a one goal and/or overtime result.
I think I've used all the jokes and all of my best material already, when speaking of these two. "These two couldn't score in a whorehouse with a fistful of $100 bills in their hands." "They couldn't hit the water when shooting pucks off a pier."
I'm now at the point, that akin to the endorsement contract that Mariano Rivera once had with the Yankees, when batting companies signed/endorsed him, due to Rivera shattering bats daily with his nasty slider; that I think that whatever company makes the boards and glass for the NHL, well they should give Trouba and Mika endorsement contracts. No one puts more pucks on the boards and glass than this Beavis and Butthead Blueshirt tandem.
I don't know what it is. I'm not there. I'm not in that locker room. I don't talk to these guys. However, game in and game out, you have to wonder if these two have a bet with each other, where they have money riding on who can miss the net more often. It's like every puck that finds their blade has a magnet on it, where automatically, the puck goes right to the boards or the glass. And to be fair, once in a while these two do put a shot on net, but that's very rare. And when these two do put a shot on the goaltender, the puck is always stopped.
Seriously, and this applies more to Mika than Trouba, but I think Mika is trying to set an NHL record for most shot attempts in a season without scoring a goal. You can't just be this bad and unsuccessful without putting some effort into it. Watching Mika play this season is like that "South Park" episode, where the kids were trying to throw baseball games. You just can't be this bad without purpose.
---
There has to be some "come-to-Jesus" moment, where both Mika and David Quinn have to accept that they are playing hockey. They have to realize that they are not playing horseshoes & hand grenades. What I mean by that, is once again, for the 7678967896789689th time on this site, this is a results and production based business. This isn't about coming close and having a smile after just missing. You're pretty much half-way into this season right now, and Mika is dragging this team down. Yes, Mika is solid defensively and on the PK, but for every good play made behind his own blue line, all of his wide shots to nowhere usually leads to a breakaway and/or odd-man rush for the opposing team. When is enough just enough?
And really, for all the talk out of the Howden Hate club, Howden is nearly as good defensively and at least he isn't turning the puck over with these daily shots that ring around the boards and go the other way.
I know I've done way too many diatribes on Trouba this season, but really, you're almost at the 50% mark of this season, and your $8M defenseman has no goals. Even worse, Trouba was on the ice for all five goals against tonight and it could've been worse, had Keith Kinkaid, who had his worst game as a Ranger in this game, didn't make a few breakaway and odd-man rush saves in-between the five goals he allowed.
This is all broken record stuff, I get it, but what else can you say? When the bottom six and a rookie defenseman (this time in the debuting Tarmo Reunanen) are the bulk of your production, even if Panarin does put up three points, it's tough to win. In addition, when you continue to go 0-fer on your power-play, while giving up two power-play goals, it's tough to win as well.
This loss truly is a shame, because there were a lot of good things that happened. After an initial twenty minutes of sludge and shit, where once again, the Rangers didn't play a full 60 minute game; the Rangers came out hot, potting three goals in the second period. Even better, the Rangers didn't even allow the Flyers to have a SOG in the first ten minutes of the second stanza.
If you're in the glass half-full camp, Tarmo Reunanen, who was forced to debut tonight due to injuries, to both Jack Johnson and Anthony Bitetto, combined with Adam Fox being on the NHL COVID-19 list, (more on this below) he skated well, picking up an assist after a picture perfect pass that Panarin one-timed for a goal.
Julien Gauthier, scratched in the win over Boston, a scratching that I said I didn't agree with; returned in this game, where he picked up a FABULOUS goal, after making a power-move to the net while on a breakaway.
Colin Blackwell, held off the board during these last few games; in this game, as a result of playing with Panarin, Blackwell returned to the score sheet tonight. Heck, the Rangers fourth line even produced a goal, with Kevin Rooney, who had an amazing game in the win over Boston, capitalizing and scoring.
Unfortunately, for all the good things that the Rangers did in this game, including the production the Rangers got out of Artemi "Father Fink You Putin" Panarin, the bad stuff doubled the good stuff.
Keith Kinkaid, who many thought could have the chance to become the #2 goalie on this team, came down back to earth, giving up five goals in this contest. While Kinkaid did make a few good saves in this game, the bad goals he allowed certainly stood out more, especially since the Rangers lost. The second goal he allowed tonight, now with hindsight, was an absolute killer.
Mika and Trouba, as stated, once again, and for a lack of a better word here, "sucked".
K'Andre Miller, who had his best game since returning from the COVID-19 list in the win over Boston, completely 180'd tonight, where he looked horrible all game. This was arguably his worst game of the season and he truly looked like a lost and overwhelmed rookie in this one.
The Rangers penalty kill, which has been dominating this season, once again gave up two power-play goals to the Flyers in this game. Of course, just like the last time this happened, the Rangers were missing two starting pieces of their PK unit, this time in Fox and Buchnevich.
And as usual, the power-play is lost as a non-English speaking tourist roaming the streets of Times Square. The Rangers and David Quinn may as well bust out one of those huge old school tourist maps – you know, the maps that are 10 feet by 10 feet and are impossible to fold back up, as they try to figure out what to do on their power-play. Here's a suggestion – get Mika off of it!
---
Before getting into the meat and potatoes of this manifesto, I also want to get this out of my system. During the first period and prior to the second period starting, Micheletti was blaming the Rangers lack of practice and skating time, due to COVID-19, as a reason for the flat start. That was just a BS excuse. After all, in the Devils first back game after COVID-19, where they had 12 days off and didn't have their complete roster on ice, they whipped the Rangers ass, in what was and still remains as the worst Rangers loss of the season.
In addition, in the Rangers most recent road-trip to Philly, the Flyers were missing six of their starting skaters. The Flyers won one of those games and pushed the Rangers to overtime in another.
In other words, you can't blame COVID-19 after a loss. Every team has had issues with this all season. After all, let's face it – the Rangers caught the Flyers and the Devils during their worst bouts with the virus, and even then, the Flyers and Devils beat a healthy Rangers team. In addition, more times than not, the Rangers always have these sloppy first periods. And needless to say, the Rangers also had a 4-3 lead in the third period, only to allow the Flyers to score the next and final two goals of the game, and that was after a majority of the poor officiating calls. And had the Rangers scored a PPG in this game, this blog would have a different tone.
I got plenty of more to say tonight. I also have the latest news for you as well. However, and as usual, before getting to all of that – the PLUGS segment.
Here are my last three blogs in case you missed them:
---
---
---
If it's not one thing, it's the other for the Rangers this season. Whether it is a self-inflicted situation (DeAngelo) or something that the team has no control over (Panarin), something always nips the Rangers in the ass. This time, it was COVID-19.
Around noon on Monday, seven hours before puck drop, we found out that the Rangers had canceled their morning skate. At around 6PM, we found out that both Adam Fox and Pavel Buchnevich were also placed on the NHL's COVID-19 list, which resulted in this tweet from the Rangers: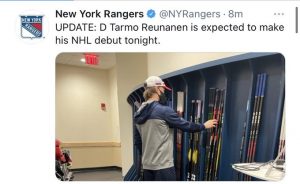 In DQ's pregame press conference, he confirmed reports that the Rangers, due to having three players on the NHL's COVID-19 list, consulted with the NHL, where both parties agreed that it was best to cancel the morning practice/pregame skate. Of course, despite three Rangers on the COVID-19 list, that didn't stop the Rangers from asking fans to take those meaningless and worthless 72 hour PCR COVID-19 tests.
Obviously, while missing PDG isn't that much of an issue; losing your team MVP and the guy who logs the most minutes per game, in Adam Fox, was a rough loss for the Rangers. Missing Buchnevich didn't help matters either.
With Fox out, the Miller and Trouba pairing received the most amount of minutes, with Trouba logging a team high TOI of 27:23 & his partner, in Miller, logging the second highest TOI, with 24:24. You can look at this as one of the reasons to explain the Rangers loss. With Trouba on the ice for all five goals allowed, and with Miller being directly involved in two goals allowed tonight, you'd have to think that if Fox could've played, this game could've been a win for the Rangers. That said, that's all coulda, woulda and shoulda "EXPECTED" nonsense.
Anthony Bitetto still remains out, where I believe he has a back injury. (That's what a family friend told me.) Jack Johnson, who on Sunday, was waived, unclaimed and now on the taxi-squad, is also battling a lower body injury. Igor Shestyorkin, as mentioned last blog, is now on the IR, as his groin injury, and as DQ put it, "has hit a snag". Of note, you don't want a "snag" near your nuts. It should also be mentioned, that despite CZAR IGOR's designation on the IR, it's retroactive/retro-dated to his time of injury, so once he's ready, he can return at any time. And needless to say, the Rangers miss him.
With all of these injuries and interference from COVID-19, here's what DQ put on the ice tonight:
In other line-up news, as expected, after his shut-out on Saturday, Keith Kinkaid got the nod in net, with Georgiev backing him up. If any Ranger "won" tonight, it was Georgiev, who should get the start on Wednesday night, in the event that Igor is unable to return.
In an update to the secondary market, and with this being the start of the second Rangers home-stand since being able to re-open, here was what the ticket situation looked like at 1:30PM:
4.5 hours before game time and you can get into tonight's Rangers game for $35 & get great seats for $60. About 300 tickets remaining on secondary market. If you want to go thru the testing hassle, prices will drop drastically by puck drop. #nyr pic.twitter.com/41VEBrfo48

— BlueCollarBlueShirts (@NYCTheMiC) March 15, 2021
At 6PM, one hour before puck drop, you could've got great seats for only $16 and change:
As predicted, with less people working in NYC these days and with a lot of the NYC work force at home, coupled in with the hassle of having to take PCR test and economic issues; anyone trying to scalp tickets to these games is getting killed. If you have the desire to attend any games this season, there's never been a better time. You'll never find better prices than right now.
In other news, the Rangers tweeted this out early Sunday morning:
Vitali Kravtsov is expected to join the Rangers within the next two weeks, where I'd assume he'll be in the Top 9. With the NHL trade deadline approaching, as we're now a month away from that date of April 12th; the Rangers will also have to make decision on the future of Pavel Buchnevich. They can try to trade him. They can try to re-sign him. They could also play the rest of the season out and then negotiate with him during the off-season, as he will be a RFA.
As explained on past blogs, the Rangers have too many of the same type of players and with the same skill-set. The Rangers will also be fighting a battle against a salary cap that will remain flat for the next few seasons.
If Kravtsov can come out the gate hot, and knowing that he'll be anywhere from $4M-$5M less than Buchnevich, in addition to having a glutton of talented wingers; it may behoove the Rangers to say toodles to the "intoxicating" Buchnevich.
Come this off-season, the Rangers two priorities will be finding a bonafide NHL centerman and some toughness. To make this happen, the Rangers will have to shed some of these wingers, as the Rangers have too many wingers who all do the same thing and not enough roster spots to give them enough time. If Kravtsov can live up to expectations, and that's a big if, considering the way Kakko and Lafreniere have played this season; it would make sense for the Rangers to get the maximum value for Buchnevich now, which would mean trading him away at the trade deadline.
Two more segments and we're off to the game review/recap.
Up first, the GAMBLING segment, where I'm currently getting my ass kicked.
Here's what I said before the game:
Season over-under record: 10-14-2

Another tough one. Under has hit in last three games. Big test for Kinkaid & #nyr d takes a blow without Fox. Since the line is 6, I'll play the trend and take the UNDER, especially since NYR seems at their best on the road. pic.twitter.com/u3tOMxCEg1

— BlueCollarBlueShirts (@NYCTheMiC) March 15, 2021
I'm now 10-15-2, a career low of five games under .500 on this site. As noted, this was much easier to do when Lundqvist was in net for the Rangers, where the over hit at something like a rate of 86% during his last two seasons.
If I go ten games under .500, it will be time to drop this segment!
All I have to say here, is that I did not expect Kinkaid to give up a five spot tonight.
BOX SCORE time.
The following graphics and information come from the new world-wide leader in NHL coverage, in ESPN.com:
SCORING:
PENALTIES:
GOALIES:
| | | | | | | | | | | |
| --- | --- | --- | --- | --- | --- | --- | --- | --- | --- | --- |
| SA | GA | SV | SV% | ESSV | PPSV | SHSV | SOSA | SOS | TOI | PIM |
| 30 | 5 | 25 | .833 | 19 | 1 | 5 | 0 | 0 | 63:12 | 0 |
| | | | | | | | | | | |
| --- | --- | --- | --- | --- | --- | --- | --- | --- | --- | --- |
| SA | GA | SV | SV% | ESSV | PPSV | SHSV | SOSA | SOS | TOI | PIM |
| 24 | 4 | 20 | .833 | 16 | 0 | 4 | 0 | 0 | 63:47 | 0 |
TEAM STATS: (Face-offs and special teams did the Rangers in, once again.)
---
I don't know if Fox, Buchnevich and/or PDG have COVID-19 or not, but I can't imagine they felt any sicker than I did, when watching the seven foot douchebag back in the studio tonight.
In the past, I have talked about how the MSGN usually enjoys going woke and celebrating whatever day or month that the woke crowd has designated a cause to. Of note, during the past 15 days, Willie O'Ree still remains in the closet, as we haven't heard one thing about him since the second the calendar flipped over to March. I guess O'Ree's accomplishments don't mean anything anymore.
Two things here, and I'll do the serious thing first and my distasteful brand of comedy second.
Tonight was "Hockey Fights Cancer" night for the Rangers. To me, this is one of the better social awareness things that the Rangers do, and really, the NHL as a whole does. It was mentioned during the broadcast that the NHL has raised $28M to cancer charities since 1998. If there's one thing that's a credit to James Dolan's legacy, it is his "Garden of Dreams" charity, where ALL of the money is donated to sick kids with cancer and other serious afflictions.
Secondly, I saw this tweet from one of the best trolls on Twitter, in former baseball player Aubrey Huff:
Fellas don't let her forget…. pic.twitter.com/RU0oTBJNya

— Aubrey Huff (@aubrey_huff) March 14, 2021
With all of the designated days and months that the MSGN and NYR have dedicated to various issues, can you imagine if they tried to raise awareness to STEAK AND BLOWJOBS day? I can see it now:
"Oh Joe, steak and blowjobs day Joe, Harry Howell always loved a good BJ!"

"Pardon me Sam, he loved a good Porterhouse too!"

"Steak & BJ day, presented to you by Omaha Steaks and Clear Sight Analytics… and it's a save, I mean a goal!"
Speaking of Mr. Clear Sight Analytics, during the pregame show, Vally once again shamelessly plugged his worthless company, where he then tried to explain Mika's troubles. As if you really needed charts and graphs for that. There would be two other points during this broadcast where Vagistat just stated the obvious.
In one segment, Vally explained how 18-14 = 4. Hard hitting stuff from MSGN's resident mathematician. Later on, Vally explained that if the Rangers won this game, they would jump ahead in the standings. No joke, I really think all the hair dye is seeping into his brain. I think Vally and Mark-Paul Gosselaar (the actor who played Zack Morris) are around the same age. However, MPG stopped dying his hair blonde after he turned 20. Vally should take a note from Mr. Morris.
And to close up on Valliturd here, and to go back to MSGN designating days and months to causes; one of the causes/social awareness issues that MSGN talks about once a year is "LGBTQ?" rights. I don't know what they call it officially, but whenever MSGN does this, they usually light up MSG with rainbow colors and celebrate people with sex change operations, as if these people who can afford these expensive gender surgeries were returning war heroes. I think they refer to these games as "Pride Night".
I'm not going to do the whole rant on "Pride Night" and all that stuff, as I've done all of that in the past. Bottom line, I don't care what you do and who you do it with. I do think people are born gay, just like people who are born straight. When it comes to all the surgery stuff, I just don't think that's natural. That's my opinion and it doesn't have to be yours. And if your opinion on this differs from mine, that's fine too.
I bring this up, because this broadcast sounded like something out of a "PRIDE NIGHT" broadcast. I wish I had the video clips of this to share with you, but no joke, during this broadcast, we got these four quotes (some paraphrased) out of Vally:
— "Look at all the hot guys!"

— "Everyone is too cute."

— "You have to finish off your man."

— "We need a happy ending."
I swear, I think Vally is just trolling me at this point, and he must have some sort of over-under bet on how many times I'll bring up his terrible commentary and analysis on this site!
And I'll save you the old Jerry Seinfeld "not that there is anything wrong with that" quote here. I will say, I just found all of this to be funny and if you can't laugh at this, you're probably one of these idiots trying to cancel comedian Bill Burr right now!
Lastly here, yes, this tangent is my way of delaying the inevitable – dissecting every minute of this eventual and crushing loss.
---
After our "Montefiore Rangers <cough> <sniff> <wet fart> <ACHOO!> Game Night" pregame show, prior to puck drop, the Rangers paid tribute to both Walter Gretzky and Mark Pavelich. Nice touch.
In what's been a trend, Ryan Strome lost the opening face-off, where ultimately, Mr. Strome finished with a horrendous 22.2% success rate at the dot, winning only four out of eighteen face-offs in this game.
The Rangers came out hot to open the period, as Kreider would streak to Hart's net untouched, but wouldn't get  a SOG here. On the next Rangers possession, Blackwell went coast-to-coast, where from behind Hart's net, he fed Tarmo Reunanen at the point. Tarmo shot the puck. Even though Hart made this easy save, I was happy to see this rookie shoot the puck, rather than defer to the veterans, as most of these Ranger rookies do. This was definitely encouraging. And oh, of all Ranger Finnish players, Tarmo was the best Finnish Ranger on the ice.
In a sign of what was to come, Gauthier continued to display offensive awareness, as he and his line had a solid shift. Then, in our first exhibit of horrendous officiating, Mika Zibanejad was clearly interfered with. No call. Of note, you know that Sam Rosen thinks a play is bullshit, when he starts rattling off the names of the referees.
Right after the no-call on Mika, Miller misplayed a puck, watched the Flyers march past him, and with Trouba just watching, Joel Farabee fed James Van Riemsdyk (JVR) for the easy odd-man rush goal. 1-0, bad guys, just 3:47 into the period. This poor defensive play from the Miller and Trouba pairing just wiped out the early good start from the Rangers. Of note, of the five goals Kinkaid allowed, I don't think you can hang him for this one.
However, just 78 seconds later, at the 5:05 mark of the period, the Flyers scored again, where this time, it was 100% on Kinkaid. Ivan Provorov flung a meaningless shot from behind the circle to the right of the Kinkaid, and 2-0, just like that. I still don't know how Kinkaid misplayed this one. It should be mentioned, if Georgiev gave up that goal, Rangerstown, USA would be foaming at the mouth, you know, the residents of Rangerstown, USA that blame DQ for every fart and cough.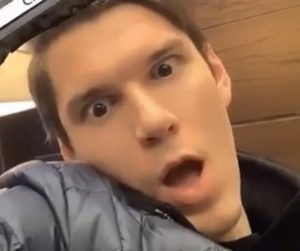 The rest of this period, despite the Rangers being able to hold the deficit to two, was an effortless disaster; where truthfully, this has been a recurring theme during many opening periods for the Rangers this season.
With Trouba and Mika doing absolutely nothing, other than showing their uncanny abilities to never score, the Flyers would go on a long attack, where after a scary rebound, Kinkaid was able to freeze the puck. In the first nine minutes of this game, the Rangers only had two SOG.
As Miller continued to struggle and after another defensive lapse out of #79; with 11:13 remaining in the period, Gauthier was forced to hold Hayes, in order to prevent Hayes from going on a breakaway. The Flyers power-play would get their first of five cracks at it.
The Rangers PK, who were missing Fox & Buchnevich as mentioned, got some lucky breaks here. One Flyer would miss an easy one-timer. Gostisbehere would then miss on a breakaway. Eventually, the Rangers got their kill but it wasn't pretty.
After Panarin drew a penalty, Lafreniere would get open but declined to shoot. Incredible. With 8:13 remaining, the Flyers touched up and the Rangers would get their first power-play. Replacing Fox as the PP1 point man was Trouba, who continued his act of marking up the white boards with black rubber marks. Not to be outdone, Mika Zibanejad then shot high and wide, giving the Flyers a free turnover. Then, once regaining the puck, Mika streaked to the net, put a SOG for a Hart save and then went high from six inches away. The man needs a shrink and a haircut, PRONTO.
It gets worse. Mika, who was on the ice for 110 seconds of this 120 second power-play, closed off the power-play by attempting to screen and crash the net. A Flyers defenseman pushed Mika away and Mika retreated back to the boards to the the right of Hart. No joke, during this power-play, I never saw Alain Vigneault more relaxed while chomping like a cow on his pack of "Big League Chew" gum.
In what had to be a joke, whoever is the DJ at MSG started playing "ROXANNE" by the Police, you know, the song that has the lyrics of "turn on the red light". Mika has been the anti-Roxanne this season.
After the Flyers kill, on Mika's next shift, he would go for a shot, but you know the rest. When it rains it pours.
With 1:58 to go, Farabee blocked a big shot from Miller. Then with under a minute to go, Panarin would force a turnover and get the puck. Rather than going straight to the hopper, he waited for everyone to catch up, where he made a god awful and ill-advised pass. I know how great Panarin is, you know how great Panarin is and we all know how great Panarin is, but really he does this a lot. I know he wants to be unselfish, but sometimes he just has to shoot.
After a first period that felt like Sunday garage sale shopping with a woman you're trying to impress, this period mercifully came to a close. As I said on social media, and I'm not trying to be callous here, I thought that DQ should've brought up the topic of "Hockey Fights Cancer" night to his team and ask them where is the fight. Maybe that's what happened, because the second period would be night and day from this first period.
2-0 bad guys after twenty minutes.
---
After our usual comment of "SECOND PERIOD, WHAT DO YOU LOOK FOR HERE JOE?" <a Father Finkin' PPG, ya nimrod> the Rangers would try to turn their fortunes around. And that's just what they did.
Oh – I want to mention this too. The first period "LEXUS HIGHLIGHT MOMENT OF THE GAME"? Tarmo Reunanen taking the ice for his pregame warm-up. Yep.
After Trouba continued his usual act where he looks like he's about to drop a White Castle shit in his pants anytime the puck comes near him, Hayes would break up a Chytil/Kakko attempt.
I should say the following too, in an attempt to explain myself better from my last blog, in regards to a young Kaapo Kakko. I am not rooting for Kakko to do bad. Frankly, I feel and root the opposite. However, if you continue to make excuses for this guy, you're out of your mind. Again, this is a results/production business and you're not getting anything like that out of Kakko. Granted, I wouldn't use the word "bust" here, but I would use the word "concerned". Nearly 100 games into his NHL career and Kakko just can't put pucks into the net. I believe after this game, he's now on a 16 game scoreless drought. And don't get it twisted – NYR didn't draft Kakko to have "EXPECTED STATS". They want real goals and real assists out of their pimply faced Fin. After Kakko's latest failure to score, DQ juggled his lines here, pushing Lafreniere up to the first line and dropping Kakko to the third line.
In our second exhibit of the officials playing the "head up our Father Finkin' ass" game, a Flyer put a puck over the glass and into the protective netting. This should've been a delay of game call, but nothing was called here. This was now two non-calls that would've favored the Rangers, had the referees done their job.
After Kakko was stripped of the puck by Sanheim, Hart made a save on his own guy, as Sanheim got a wee bit reckless with the puck. During the commercial and after this "save", someone on the MSG ice crew just absolutely barreled over a referee. That member of the ice crew should've backed up and ran this ref over again, especially knowing what we'd later see.
At 8:12 into the second period, the Rangers would strike within one:
GIVE US THAT BREAD 🍞 pic.twitter.com/wlpE1rD2ei

— Rangers on MSG (@RangersMSGN) March 16, 2021
2-1, bad guys, but a beautiful play by the Rangers here!
On this goal, Strome, who gets a fugazi assist here (they all count though) would pass the puck to Panarin. Panarin got it back to Reunanen, and then Reunanen would pick up his first NHL point, after making a laser of a pass to Panarin, where Panarin then finished off Hart with a one-timer!
This was perfectly executed and an example of when doing these cross-ice passes make sense. (No defenders around.) For Reunanen, this was huge and I'll even say here, as a result of this one offensive play, I'd dress him on Wednesday too. And for what it's worth, I didn't notice Reunanen flubbing up defensively once all game. As they say, if you don't notice a defenseman, 99/100 times, that means that's a good thing.
After a rare SOG from Trouba (save by Hart), the Rangers were buzzing, as the Flyers didn't even have one SOG during this stretch of time. Then, with 9:08 remaining in the period, Panarin returned the favor, this time to Colin Blackwell:
Can we just talk about this pass!?! Panarin to Blackwell just killed me 😱 im dead 💀 pic.twitter.com/Jr9lFnCQWC

— Rangers on MSG (@RangersMSGN) March 16, 2021
2-2!
While I'm now 20 years past my athletic prime, and even with a beer in one hand and a glass of Proper 12 whisky in my other hand; I think a former poor hockey player like me could've even scored this goal, after this amazing pass from Panarin. The only person who I don't think could've scored after this pass would be Mika Zibanejad, as he'd probably mess this up and send the puck to the noggin of Sam Rosen. "Oh Joe, I have a puck imprint on my dome Joe!"
This was an odd-man rush goal, where once again, with no defenders in sight, Panarin set-up Blackwell perfectly. Man, I really thought the Rangers were going to win this game at this point.
With about 8 minutes remaining, the Flyers finally got their first SOG of the period, where you were happy to see Kinkaid make this save, since he didn't have nothing to do for a long amount of time. He could've filled out the NY Times crossword while waiting to make his first save of the period.
With the score tied, we had non-stop action, as Kinkaid robbed Farabee. (I think this would've been goalie interference had this puck went in, since Farabee collided with Kinkaid. Luckily, no harm and no foul and DQ wouldn't have to waste a challenge here, a challenge he'd later need.)
Right after, Hart robbed Strome and the Rangers couldn't slam home the rebound. With 4:44 to go, Julien Gauthier broke the tie:
Julien Gauthier may actually be The Flash ⚡️⚡️⚡️ WHERE DID THAT SPEED COME FROM!? pic.twitter.com/mcqrAHSsx5

— Rangers on MSG (@RangersMSGN) March 16, 2021
3-2, GOOD GUYS!
I was so happy for Gauthier here, as I've been raving about him for the last two weeks on this site. Gauthier turned on the jets here, made his power-move and finished Hart off like yours truly slamming home a beer at "last call".
Here's a new stat that's being tracked, that I did enjoy. Gauthier topped off at 24.7 miles-per-hour during this goal. You can't even move that fast on the Van Wyck during most days!
And oh – I guess the excuse of "not having a pregame skate" was now invalid. In addition, after this goal, you couldn't wipe the smile off of Gauthier's face, even if you had a rusty Brillo pad soaked in corona.
With 1:33 to go, Gauthier would make his way into the box score again – this time for a penalty, as he clearly accidentally high-sticked Travis Konecy. This was the right call.
Nine seconds into the Flyers power-play, Farabee scored, tying the game at 3-3. This all started with Mika losing an important face-off and Voracek getting the puck over to Farabee.
After this, with 16 seconds remaining in the period, we had exhibit three and four of the referee's poor performances in this game.
Brendan Smith would lay out Giroux with a clean hit, while the Flyers were in the Rangers zone. Immediately, Nolan Patrick challenged Smith to a fight. As the two were about to go, Voracek jumped in as the third man in. This was bullshit, because Voracek should've got a game misconduct for jumping in. Of course, this non-call would be even bigger in hindsight, as Voracek would score the game winning goal in overtime.
As a result of all of this, Smith, Voracek and Patrick all got two minute minors for roughing. How Smith gets a penalty here is beyond me, as his hit was perfectly legal and he had two Flyers jump him. What was Smith supposed to do, get punched in the face and not fight back?
Also of note here, as Smith was getting attacked, both Kreider and Lindgren skated in to break it up. Mika Zibanejad, who was right there, skated away. Team leader.
The Rangers would get 16 seconds of power-play time here, but did nothing with it. 3-3 after two periods and the officiating would only get worse.
---
As we opened the third period with the Rangers on a power-play, Rosen was burying the officials for the call on Smith and the non-misconduct call on the Flyers.
The Rangers would once again shit the bed on this power-play. Panarin would immediately set up Mika in front of the net. Rather than shooting from 1 foot away and while point-blank, Mika passed to Kreider, where Kreider put a puck right on the left pad of Hart. If Kreider lifted this puck, it would've been a PPG. That said, I don't think Kreider was expecting Mental Mika to pass up a shot during the opportunity he had.
2:57 into this third period, Kevin Rooney would erase the bad feelings of that missed PPG opportunity, as behind strong play from Brett Howden and a pass from birthday boy Brendan Lemieux (he's 25 now), Rooney made quick work of Hart. 4-3 GOOD GUYS! However, the bullshit was about to be turned on and all the way to the max.
At the 4:53 mark of the period, Julien Gauthier high-sticked Claude Giroux, where the end of his blade barely made contact with Giroux's helmet. Giroux immediately sold this, as if he was Ric Flair in 1980 and started crying like a Father Finking twunt on the ice. Here's the key to this – THE REFEREES NEVER SAW THE PENALTY, NOR CALLED IT. However, with Giroux acting like he just got shot, as if he was Michael Corleone's daughter at the end of "Godfather III", the refs stopped the game and went to a video review – OF A PENALTY THEY NEVER CALLED IN THE FIRST PLACE.
The refs were looking to give Gauthier four minutes here, and because Giroux was picking his nose like a third grader, Giroux was able to draw blood. As a result, the Flyers got a four minute/double minor call against Gauthier. Also of note – REMEMBER LAST GAME? LAFRENIERE WAS BLEEDING FROM ONE OF HIS NOSTRILS, ON A PENALTY THAT WAS CALLED, YET THE REFS ONLY CALLED TWO MINUTES. THERE WAS NO REVIEW. THERE WAS NO STOPPAGE TO SEE IF LAFRENIERE WAS BLEEDING. Here, because of Giroux's status as a superstar, the referees rolled out the red carpet for this bleeding bitch and stuck a cattle prod up the five-hole of the Rangers.
Of course, just seconds into the power-play, Claude Giroux, the crying little c-word, scored. 4-4. Complete horseshit.
4-4.
Once again, the Flyers get two PPG's against a Rangers PK missing two of their starters.
---
With 12:25 to go, and with the Rangers killing the second half of the Flyers bullshit power-play, Trouba continued his reputation of sullying up the boards with pucks. Right after, Giroux fell down, where I'm surprised the refs didn't assess some phantom call on a Ranger.
As we got under ten minutes to go, you could just feel the bullshit brewing. The Rangers had already been screwed five times at this point, and you were just waiting for the dagger. However, with 8:20 to go, Rooney drew Raffl for hooking. The Rangers power-play, DESPITE EVERYTHING, and in 4-4 game, had their chance.
During this power-play, which featured a Panarin icing, Mika would miss from three inches away and while on the same possession, turn over the puck. DQ changes his lines every freaking game, yet we're forced to watch the Mika Zibanejad shit show on every Rangers power-play.
As the Rangers power-play expired, Keith Kinkaid, who forced your turtlehead to touch cotton a lot in this game, made a great breakaway save on Laughton. After giving up no breakaways and odd-man rushes last game, the Rangers got bombarded tonight. To Kinkaid's credit, he made more of these saves than not.
Once we hit the FOXWOODS mark, Kreider would hit the crossbar. Another lost opportunity.
With 4:26 go, during a Flyers mad-dash at the net, Strome cross-checked Laughton. This penalty may have prevented a goal.
As we were approaching three minutes remaining, old friend Kevin Hayes beat Kinkaid for what seemed like the third Flyers PPG of the game. However, DQ quickly reviewed this goal, where a Flyer was blatantly off-side. Even if the Flyers weren't off-side here, it would've been wise for DQ to make up something in a review, because after all, the Rangers power-play sucks and they don't have one 6 v 5 extra attacker goal this season.
In a rare case of the officials getting something right in this game, Hayes had his goal waved off and the Rangers would then go on to kill the remaining 45 seconds of the Flyers power-play.
With about a minute to go in regulation, the Mika Shit Show Tour continued, as he missed a wide open Strome who probably would've scored.
With 8.2 seconds left, Kinkaid made a big stop. On the face-off to the right of Kinkaid, Rooney was put on the ice to take the draw, but he lost it. However, the Flyers didn't do anything here, so we remained 4-4 after sixty minutes.
---
In the overtime, Mika, to his credit, won the face-off. The Rangers would dominate the puck for over three minutes here. After a Mika turnover, Panarin would bail his long-haired pal out, preventing a Flyers odd-man rush the other way. However, on their next shift, Panarin would err and Voracek would go on a breakaway. Voracek would deke the hell out of Kinkaid here, where they are still trying to pull Kinkaid's jock off of the Mark Messier banner that hangs in the rafters of MSG. With Kinkaid just absolutely terrorized here, Voracek scored the easy goal, giving the Flyers a 5-4 OT victory. Despite the point in the standings, the Rangers lose ground, as usual.
One step forward, two steps back – put it on the tombstone of this 2021 season.
And yes, while the referees did the Rangers no favors tonight, as the refs influenced this game on behalf of the Flyers; it was still 4-4 late in the game and in overtime, an overtime where the Rangers had the puck for 95% of the time. They just couldn't find that late goal, where really, the Rangers don't have many late goals this season.
If you want to do the finger-pointing game, and you know I am doing this tonight – blame Trouba and Mika. They sucked.
I know I shouldn't be so angry after a loss, because I should be used to it by now; but really, the Rangers should've won this. I just hate losing.
Programming note, our friends at "The Blueshirt Underground Show" return tomorrow night on Stone Cold Steve Austin day (wouldn't mind seeing Austin dropping a stunner on Vally) at 7PM. To watch their show live, where you can interact with the hosts and bemoan about these horrific Rangers, click this link: BSU Show, Tuesday, 7PM.
I also want to close tonight's blog with this, from friend of the blog Howie W., who said this:
"Look the problem is there hasn't been a single game yet this season where the opposing coach has said, "well look we had no answer for that Kakko or Lafreniere tonight" They are not making an impact. That's where I'm concerned."
Howie is spot-on here. You could also add Mika and Trouba to this as well.
If you haven't already, subscribe to this blog for the next update:
---
See ya Wednesday night, for the second game of this home-and-home series with the Flyers. It's St. Patrick's Day Joe, let's get hammered! And as any good Irishman or Irish-American will tell you, nothing beats a home-cooked corned-beef dinner with potatoes and cabbage! (Of note: a secret ingredient in a great corned-beef sandwich? Diced tomatoes. I know adding tomatoes sounds like blasphemy, but seriously, give it a whirl!)
Until then, and as always here, thanks for reading and…
LET'S GO RANGERS!
Sean McCaffrey
BULLSMC@aol.com
@NYCTHEMIC on Tweeter
Follow the BlueCollarBlueShirts.com Facebook Group by clicking this link: https://www.facebook.com/groups/1564026407193056/