"I have no words to be honest, it was sort of surreal." – Alexandar Georgiev, on 3/17/21, moments after the Rangers 9-0 domination over the Philadelphia Flyers.
---
"The game plan was set out for us." – Kris Knoblauch, the head coach of the Hartford Wolpack, also on 3/17/21 and a Knoblauch that would serve as the New York Rangers head coach in this game. More on Knoblauch and David Quinn as we continue on tonight.
---
"Before the game, it was just trying not to complicate things. There wasn't a lot of information or a lot of talk. Just go out and play." – Mika Zibanejad, also on 3/17/21, who on Wednesday night, had the best game of his career, since the five goal game against Washington from over a year ago.
---
Greetings and salutations everyone and welcome to another blog here on BlueCollarBlueShirts.com. Wow. And yes, we're going super-long tonight, so grab your favorite beverage and buckle in buckaroo!
Really, I have no clue how to start this blog, nor know what to feature as the top story of this manifesto. In addition, I also have no explanation for you in regards to describing what happened tonight. All I know is the Rangers absolutely kicked the crap out of the Philadelphia Flyers and I enjoyed every minute of it. I also know this – no analytic, chart or graph predicted this Rangers victory!
As I sit back, reflect and type these words out to you, this game felt like something out of "American Horror Story". I don't know if you guys ever watched that show or not, but throughout their nine seasons, there's always an episode during each season featuring some sort of eerie night. For the Rangers tonight, they had the luck of St. Patrick on their side and pretty much shoved a shamrock up the five-hole of any goalie they saw. For the Flyers, they were the victims of this horror and I couldn't be happier! Father Fink Philly!
After scoring the first two goals of tonight's game, the Rangers then went on to produce a seven goal second period, putting the Rangers up 9-0 by the time the second period ended. When watching the second period and seeing all of this insane scoring, I was reminded of that classic Bill Murray quote from "Ghostbusters", when he said, "Human sacrifice! Dogs and cats living together! Mass hysteria!"
With Mika Zibanejad picking up a hat trick and three assists (6 point game), Trouba scoring his first goal, the power-play scoring and about 78567868689 other positive things that happened during this period; combined with Murray's quote, you can also add the age-old expressions of "pigs are flying", "hell has frozen over", and whatever other cliche you want to use here.
And oh – the Rangers did all of this without head coach David Quinn behind the bench. In addition, the Rangers did all of this without any of the regular coaching staff behind the bench! Let's kick off tonight's blog with that story first.
---
With the Rangers practicing on Tuesday 3/16, (Stone Cold Steve Austin Day!) the Rangers didn't have a scheduled practice for the morning of Wednesday 3/17. (St. Patrick's Day!) Of note, on Tuesday, several players met with the media, including Julien Gauthier, who somewhat campaigned for more ice time. I'll have more on Gauthier in the LINE-UP segment of tonight's blog.
The big story here is that David Quinn also met with the media on Tuesday, where he pretty much instilled no faith in Alexandar Georgiev at all, (at least not publicly) when DQ said, "we'll give Georgiev another shot at it"; as if DQ was casually playing a round of pool with his buddies at some stingy and dank pub. Whatever the case, DQ was fine and 100% healthy on Tuesday.
Come Wednesday morning, David Quinn canceled his morning zoom call with the NYR beat reporters. While this was some cause for concern, no one knew exactly what was going on. For all we knew, Phillip Di Giuseppe, Pavel Buchnevich and Adam Fox could've had COVID-19 and DQ could've been avoiding the media and/or canceling his press conference for his own safety.
At around 5:30PM Wednesday afternoon, which was two hours before puck drop of tonight's game; the Rangers announced that not only was DQ placed on the NHL COVID-19 list, but his entire coaching staff was also on the list. I have to admit, when I saw this, I was surprised that this game wasn't postponed, because we've seen other NHL games this season get postponed over lesser issues. That said, and with hindsight being 20/20 here – I'm sure as hell glad it wasn't!
In what Kris Knoblauch would later explain as being a crazy and a whirlwind day, at 11:30am, he was contacted by Rangers assistant general manager Chris Drury, a Drury who told Knoblauch to be on "stand-by". Ninety minutes later, at 1:00PM, Knoblauch got another call, where he was told to jump in his car and drive down to Madison Square Garden.
Just think about this for a second – Knoblauch coached the Wolfpack's practice on Wednesday morning, was on his phone all morning and in the early afternoon, then drove to MSG. Once arriving, Knoblauch was briefed in about everything, including getting directions and instructions from David Quinn. With this game not ending until past 10PM, even with adrenaline and his heart pumping, Knoblauch must've been awake for nearly 20 straight hours.
Just like players who go on the NHL COVID-19 list, we don't know what DQ's health status is at the current moment. We won't find out until DQ talks again to the media, where then, I'm sure he'll talk about whether or not he had a false positive test or actually had the virus. As of right now, we don't know who will behind the bench on Friday night, when the team travels to Washington for a back-to-back set.
Again, there are a million things to talk about tonight, so while on DQ, let me just fast-forward a bit, and talk about him and Knoblauch for a second.
---
When everything was announced today, in regards to the coaches, immediately, even if you only have two functioning brain cells working in overdrive, which prior to tonight, is a good description of the Rangers power-play; you had to know, that win or lose, David Quinn was going to be a hot topic. I don't think I'm some visionary here for accurately predicting this. (I did call the Mika hat trick though, as I'll later get into!) I also want to get "my shit" in here too – DQ always keeps the same line-up after big wins. With that said, does that mean that Knoblauch should automatically be behind the bench during the next Rangers game? Hmmmm!
It should also be mentioned here, before continuing with this manifesto; that the Buffalo Sabres fired their head coach in Ralph Krueger on Wednesday morning, where I even saw some Ranger fans (some in jest) clamoring for DQ to be fired and for Krueger to be hired. This has been the modus-operandi of some Ranger fans for some time now; where if any coach gets fired, immediately, these fans want the Rangers to replace DQ with that fired coach. Also worth mentioning here? Dan Girardi, and as a result of this Krueger firing, is now part of the Sabres coaching staff. All the best to him. To me, it's just a shame that he's not with the Rangers organization, but he does maintain a home in Ontario, a home which is 20 minutes away from Buffalo.
Like you, I knew that no matter what and especially with a win, (and I had no clue that the Rangers were going to win like this tonight!) that Ranger fans, Ranger fans who are fully entrenched into the "FIRE DQ" crew, would be going bat-shit asking for DQ's dismissal after tonight's game.
As it stands right now, there are many fans clamoring for DQ to be fired (at least these fans are consistent) and asking for Knoblauch to get the "interim head coach" label affixed to him. And after tonight, how can I even argue with these folk? No joke, I don't have a leg to stand on when trying to argue with these fans. Every point they've previously made was on full display tonight. Sometimes you gotta take your "L", and I tip my cap to these fans. For one game, like the Rangers and Knoblauch – these fans, the FIRE DQ fans, are the victors. (Hi Al "SMD" D.!)
On social media, due to my stance of not wanting DQ fired, I've been savagely accused of being a "FILTHY DQ APOLOGIST". That cracks me up. I do find that funny. However, as I always say here, I'm in the middle on DQ. I don't think he should be fired right now; due to all the drama and everything else, but if he was fired, I wouldn't care either. In other words, I hated the firings of John Tortorella and Alain Vigneault. If DQ was fired tomorrow, I wouldn't feel strongly about it one way or the other.
Just to show you how much the majority of Ranger fans (at least the fans on social media) want DQ fired right now, the NYR Twitter page did this:
On this site and during these daily blogs, (for new readers, and there's a lot of you out there, based on recent site traffic; these blogs are always 10K+ words, one click and no ads) I always plug other endeavors of other Ranger fans. Whether it's a podcast, a blog, a site, a Twitter account, a Facebook group or whatever; I always share these links and projects with you, because everyone is entitled to their own opinion. I don't think what I say is the end all, be all. I'm also not afraid to go against the grain of popular opinion. (I will say, most of my unpopular opinions, and with time, are usually proven true and if you need examples of this, feel free to ask or check the archives of this site.)
If you visit other Ranger fan ventures outside of this one, the "FIRE DQ" stuff will be glaring and overwhelming. You won't be able to avoid it. And that's fine.
In his post-game interview, Knoblauch was very complimentary of DQ and gave him a ton of credit. Conversely, what else do you expect him to say? "I showed that Father Finker what's up, suck my cock-a-doodle-doo DQ!" There was never any doubt that Knoblauch was going to speak highly of DQ, no matter what happened tonight.
However, you can't ignore the facts and you can't ignore the "eye-test", an "eye-test" which I always preach on you guys. The Rangers looked horrible, even with the referee interference hurting them, just 48 hours prior to this game. The Rangers couldn't score on the power-play, gave up two PPG's, and gave up a zillion odd-man rushes & breakaways. As usual in that game, most of the fat cats were non-existent too.
In tonight's game, against this same Flyers team, sans a change in net, (Brian Elliott replaced Carter Hart) the Rangers just went bananas. And while I'll get into this in a bit, this wasn't a great night for Elliott, but he's also not the reason why the Flyers lost this game. The Rangers had a trillion breakaways and odd-man rushes in this game, where it feels like the Rangers converted on 90% of these chances.
In addition, this final score could've been much worse for the Flyers, because with the score at 9-0 after forty minutes, the Rangers didn't try to do anything offensively in the third period. In the third period, the Rangers stayed back and due to the 9 goal advantage, didn't try to run up the score at all. The Rangers showed the Flyers mercy and were honored sportsmen.
For all the belly-aching about Mika Zibanejad, and admittedly, I've been louder than most; he shut my fat mouth up tonight, as he had his best game of the season, and really, his best game since that five goal game against Washington. I will say, and this isn't me trying to piss on anyone's parade – Mika has got to do this again. I'm not saying he needs a hat trick and six points every night, I'm just saying he needs to score goals as we hit the second half of the season. This just can't be a case of one great game against a team on one of their absolute worst nights in all of their 50+ year franchise history. In other words, this can't be the highlight of the season. This has to be the catalyst for a strong second half of the season.
I knew that no matter what happened tonight, the conspiracy theorists and DQ haters would be out, where they would have comments that rivaled the stuff from the JFK assassination. After this 9-0 win, I'm now seeing comments that rival the Jack Ruby/Lee Harvey Oswald aftermath. People are hoping for Chris Drury (and/or Jeff Gorton) to shut up David Quinn and all of his "swagger" talk once and for all, and have Knoblauch fill in for DQ, as LBJ once did for JFK. And as said previously, how can I argue the other way here?
Whether it was the "Luck of the Irish" for Mika O'Zibanejad, Pavel Kelly Buchnevich and Alex McGeorgiev, they all had their best games of the season tonight. The power-play scored. The penalty kill returned, where the team finished 100%. If there's anything to moan and groan about, it's the fact that Kaapo Kakko and Alexis Lafreniere couldn't join the goal scoring party.
And real quick here, when talking about Kakko and Lafreniere, I had some of you message me, comment on my tweets and email me, saying I should talk about how Kakko and Lafreniere couldn't get on the board tonight. While you guys aren't wrong, to make that the feature, secondary or even the hundredth story of tonight's blog; well that would be silly. Of course, I'll mention how Kakko and Lafreniere couldn't score against a franchise having one of their worst games of all-time, but to focus on that is a waste of time and a detriment to all of the good stuff that happened.
In an attempt to wrap up here on the coaching situation, I think it's tough to assess. Maybe the players were pissed off. Maybe they were pissed off at DQ and wanted to show him up. There's no way for me, as a jerkoff fan, to know any of this. We can only look at the facts, and under Knoblauch tonight (DQ gets the win on his record, FYI) the Rangers, as Joe Micheletti would say, were "FABULOUS, ABSOLUTELY FABULOUS!"
I will say that we now have something to work off here and that you're only as good as your last game. If Knoblauch coaches on Friday night, and the Rangers lose, then what? However, what we do know is this – if DQ coaches on Friday night, and the Rangers have one of those games where they just look like they are skating in quicksand; everyone will be talking about this 9-0 win for the rest of the season, or for however as long as DQ remains behind that bench. And really, I can't fault anyone with the opinion of "FIRE DQ" right now. Certainly not after this. After all, I was the one who wanted Lundqvist off of this team since 2015! Who am I to challenge anyone with their opinion of "FIRE DQ"?
Lastly on this topic, prior to tonight, I wonder how many of the "FIRE DQ" crew knew who Knoblauch even was? And if they did know who Knoblauch was, I can tell you this – NOT ONCE, have I ever seen any of these people mention Knoblauch as a successor to DQ. The only names I hear these people mention are whatever coach was most recently fired around the league, with many of these fans currently chomping at the bit for Claude Julien.
Man, that was a long intro and there's so much to get into tonight. Let's get the PLUGS segment out of the way.
Here are my last few blogs, in case you missed them: (For regular readers, keep on scrolling!)
---
---
---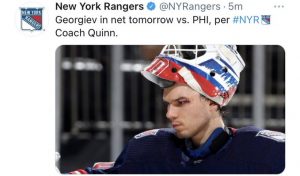 Even though these blogs are the longest Ranger recaps you'll find anywhere on the planet, it's going to be very easy to miss things tonight, in a game full of highlights. (Like you, even though I sleep four hours a day, I do need my sleep somehow!) However, what I don't want to forget here is the performance of Alexandar Georgiev tonight. As you'd imagine, with a 9-0 score, despite the 26 save shut-out, Georgiev won't be the talk of the town right now. (It's Mika and the nine total goals in general. Heck, you can argue the coaching story is the top story, as is evident by my intro tonight.)
Going into this game, people were wondering about the future of Alexandar Georgiev. As I said last blog, Kinkaid having a terrible game on Monday night was great news for Georgiev. Had Kinkaid followed his shut-out from Saturday with a strong game, it's highly likely that Kinkaid would've got the start tonight. And had Igor been healthy, you wouldn't have seen Georgiev at all tonight.
With Igor still on the IR and following Kinkaid's bad game, the struggling Georgiev, (who more than Mika, since Mika's spot is guaranteed) needed to have a great game. Georgiev did just that, as after his split-legged save in the second period, the Rangers went on to score seven consecutive goals. In fact, for most of this game, the Flyers even had more shots on goal, including during the first period. Georgiev didn't break, and despite the Rangers happy to dump pucks in the third period, came on strong as the game went along.
As mentioned at the top of this blog, DQ said "we'll give Georgiev another shot", in the same tone and emotion as a bad gambler buying another losing scratch-off lottery ticket. Again, whether this was Knoblauch or not (I doubt Knoblauch had much to do with Georgiev, as I think this was more Georgiev recovering from the Ritchie play, the way this game went and getting more work with Allaire) Georgiev had one of his best games of the season tonight.
The bottom line here is Georgiev needed a great game. He had it. Unless Igor can come back on Friday (and even then, you may as well reward Georgiev on Friday and then let Igor start the second half of the back-to-back) Georgiev has reclaimed his spot back from Kinkaid. Even if the Rangers won 9-4, 9-5 or 9-6, it would've been bad for Georgiev. Instead, Georgiev did everything that was asked of him and aced this test with flying colors.
Let me reiterate this point and say the following in bold print – GEORGIEV DID EVERYTHING ASKED OF HIM AND ANYTHING THAT WAS NEEDED TONIGHT. YOU CAN NOT SAY ONE BAD THING ABOUT GEORGIEV AT ALL TONIGHT.
---
Line-up wise tonight, we learned that Adam Fox and Pavel Buchnevich were able to return from the NHL COVID-19 list. In other words, they had false positive tests, which really is just ridiculous. Losing these two, over a bullshit false positive test, cost the Rangers a win in the game prior to this one.  PDG remains on the list, where you now have to think that he has the virus. (Not confirmed, I'm just opining based on previous cases/examples.)
With Fox and Buchnevich back, Tarmo Reunanen and Julien Gauthier were scratched. I wasn't a fan of this, because I thought Tarmo had a good game in his debut and despite the penalties, I can see Gauthier coming on. While I doubt the Rangers would ever tell their pimply faced Fin to take a seat, I have seen more out of Gauthier this season than Kakko.
Of course, questioning the line-up here (which DQ made) would be a waste of time and would be frivolous.
Here's what we had tonight:
FIRST LINE: Kreider/Zibanejad/Buchnevich
SECOND LINE: Panarin/Strome/Blackwell
THIRD LINE: Lafreniere/Chytil/Kakko
FOURTH LINE: Lemieux/Rooney/Howden
Defensively, we had this:
FIRST PAIR: Lindgren/Fox
SECOND PAIR: Miller/Trouba
THIRD PAIR: Hajek/Smith
I should also mention here that Anthony Bitetto has been assigned to Hartford. This could mean anything, because after all, he's been out for a while now and may need some ice time in order to get a chance back with the varsity club. That said, if this is all about a rebuild and a youth movement, I don't see why Bitteto (or Jack Johnson for that matter) should get time over Tarmo Reunanen.
We're almost at the game recap/review portion of the blog, I promise. Three more segments!
Up first, the quick and dirty GAMBLING segment. Here's what I said before tonight's ass-whippin':
Season over-under record: 10-15-2 (ugh).

Georgiev v Elliott tonight. You can get this line at -6 or -6.5. #nyr is a mess. I'm taking the over on the -6 line.

— BlueCollarBlueShirts (@NYCTheMiC) March 17, 2021
I'm back in the winning column, as my record now improves to 11-15-2. And if you thought the Rangers were going to win this game 9-0, you should be in a casino right now.
BOX SCORE time. The following information and graphics come courtesy of the new world-wide leader in NHL coverage, in ESPN.com.
SCORING:
PENALTIES:
GOALIES:
SA

GA

SV

SV%

ESSV

PPSV

SHSV

SOSA

SOS

TOI

PIM

26
0
26
1.000
22
0
4
0
0
59:3
| | | | | | | | | | | |
| --- | --- | --- | --- | --- | --- | --- | --- | --- | --- | --- |
| SA | GA | SV | SV% | ESSV | PPSV | SHSV | SOSA | SOS | TOI | PIM |
| 16 | 4 | 12 | .750 | 11 | 0 | 1 | 0 | 0 | 32:30 | 0 |
| 13 | 5 | 8 | .615 | 5 | 0 | 3 | 0 | 0 | 27:30 | 0 |
TEAM STATS:
---
This was an NBCSN game, so thankfully, we didn't have to listen to Steve Vagistat drone on for thirty minutes about EXPECTED stats and all of that other junk. (I wonder if he predicted a 9-0 game and Mika's performance tonight? Fat chance!)
While we did get the great Kenny Albert on the call, along with Flyers homer Brian Boucher, a Boucher who kept looking at this game as a bad game for the Flyers rather than talking about it as a great win for the Rangers; I did miss Sam Rosen and Joe Micheletti tonight. After all, with no Sam and Joe, we missed out on the following:
Bad comedy alert!
Why did I miss Sam and Joe tonight? Easy. We missed out on this:
"Oh Joe, Happy Columbus Day Joe! The Nina, the Pinta and the Santa Maria Joe!"

"Pardon me Sam, it's St. Patrick's Day and it's absolutely fabulous. Just fabulous Sam. Cabbage gas is just FABULOUS!"

"Excuse me Joe, that brings us to our Taco Bell Take!" <Farts on air>
"Sam, this Covid experience isn't fabulous, but Chytil, who gained 10 pounds this off-season including one pound in the pants, well it is just fabulous!"
"And that brings us to our Taco Bell Take Joe!"
"You already said that Sam. Senility and dementia aren't fabulous and blah blah blah…."
And as all of this continues, the game would already be ten minutes deep before either one of them realized it. "It's a save for Elliott…. I mean that puck went in. And it's a goal for Brett Howden, I mean Brendan Lemieux!"
In addition, we didn't get a chance to hear Sam Rosen call out "NOLAN RYAN" again. Keep that in mind as you read along!
Of note, I enjoyed the NBC pregame show. They actually talked hockey, real stats and gave us human-interest stories, including a profile on Kreider. All of this beats Vally saying "high danger chances", "grade a chances" and "look at all the hot guys", during every MSGN pregame show.
---
<Cracking my knuckles and taking a swig of Proper 12 whisky here> Let's now get into the game review/recap!
With tensions rising, and a game featuring as much drama as the main event of Wrestlemania III, (Hulk Hogan vs Andre The Giant) we dropped the puck, where the Rangers won the face-off and in what seems to be a common occurrence, iced the puck within the first ten seconds of the game.
78 seconds into this game, Chris Kreider, who surprisingly didn't score a goal in this romp (he did log an assist and had a +/- of +3) got behind the Flyers defense, where Phillippe Myers was forced to slash Kreider, in order to prevent an easy scoring opportunity for CK20.
With the PP1 unit on for nearly the entire two minutes, Kreider was noticeable on this power-play, as he was screening Elliott and Elliott would later have to make a save on one of his shots. After failing to convert on this power-play chance, all you could do was roll your eyes here and say "not again." Needless to say, no one knew what was to come.
After Elliott denied Howden after a sneaky scoring chance, Kenny Albert started talking about Tik-Tok. I guess Tik-Tok sponsors these games, because that's all you hear about these days. Boucher, who was up-and-down all night, and talked about this game from a Flyers point-of-view, brought up Gauthier, basically making the points I made last blog and during this one. Right after those comments, after a Trouba turnover, Georgiev denied the Flyers during a mini odd-man rush. While I'll get into the goal Trouba scored later on, he had a horrendous first period, where it seemed like he turned over the puck about 7896786785789 times. However with this win, his first period malaise will all be forgotten.
Georgiev continued to play well when this was still a game. After a twig snapped in Lindgren's hands, Georgiev would be forced to deny Rangers killer JVR. Georgiev would then stop the Flyers rebound. With the Flyers seemingly buzzing a bit here, Brendan Lemieux cooled that talk off, as 7:05 into the game, Lemieux put the Rangers on the board:
That's the ICEBREAKER! 🚨#NYR get the scoring started on #WNH.

NBC Sports | @NewAmsterdam pic.twitter.com/SfVtZ5Qwy7

— NHL on NBC Sports (@NHLonNBCSports) March 17, 2021
1-0, GOOD GUYS!
This goal was really the end result of some hard work from Lemieux. After making a solid play in his own defensive end, Lemieux muscled the puck, and despite some Flyers trying to bump him off the puck, Lemieux got the puck deep to Howden. Howden then found Fox camping out near Elliott and as Elliott was cheating to his left, Fox made a foxy (lazy pun, I know) pass to Lemieux.
Fourth line goal, and another point for Howden too! It was at this time I was doing my Howden/Zibanejad comparisons, where maybe I reverse jinxed Zibanejad! That said, I also said this prior to the game: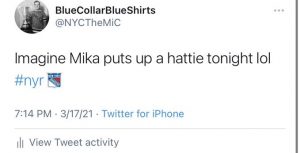 After the Lemieux goal, and nine minutes deep into this game, the SOG were Flyers 5, Rangers 2. In other words, and really, because I don't want anyone to forget this fact – Georgiev was playing well and keeping the Rangers in this.
In more stuff that made you go "not again", Mika would find himself wide open in front of Elliott, where rather than shooting, Mika skated around aimlessly and promptly turned over the puck. Of note, time permitting, and now that we're at the half-way mark of the season; come tomorrow night, I plan on doing a "Mid-Season Report Card" blog. A play like this confirmed that I was going to give Mika F- on the season. That said, after tonight's game, maybe I'll bump Mika up to a F+ or D-. (I can't stress this enough – this was one good game with the Rangers at their best and the Flyers at their worst. We need more out of this from Mika. All we can do is hope this happens, but this one game doesn't erase the 27 other bad ones. Cruel maybe. Truth definitely.)
With 9:25 to go in the period, Myers took another penalty, this time for high-sticking Mika. Of note, both Mika and Kreider once again drew penalties in this game.
During another power-play failure, Elliott would stop Strome. Mika would then get a SOG, but you know the rest. Fortunately, I'm now able to put this "you know the rest bit" to bed after this game!
After the Rangers power-play expired, Lafreniere would get all alone with Elliott, where instead of making the score 2-0, Elliott made a glove save on Lafreniere's rising backhanded shot. Tough break for the kid, a tough break that Boucher hammered Lafreniere for.
Of note, despite two power-plays for the Rangers here, the SOG still read Flyers 5, and with the Rangers now at 4.
Georgiev continued his stellar play, as he would stop JVR on a wrap-around stuff-in attempt. This save kept this game at a one goal lead for the Rangers, a lead that the Rangers would double with 5:13 remaining in the period:
BREADMAN. 🍞

Artemi Panarin extends the #NYR lead. pic.twitter.com/Pyi9HNqZXS

— NHL on NBC Sports (@NHLonNBCSports) March 18, 2021
2-0, GOOD GUYS!
On this goal, similar to the pass Fox made to Lemieux, and with the two plays mirroring each other, Strome capitalized on a turnover, fed Panarin, and "IRISH SODA BREADMAN" delivers. Once again, Strome carries his line and helps Panarin get another goal. (I'm half-kidding here, but really, Strome has been helping his teammates out a lot this season, where you can even argue that Strome helped kick-start Kreider as well.)
After a terrible, and I mean terrible, turnover from Trouba, Georgiev made a save while the Flyers had a 3 vs 0 opportunity. Again, Georgiev comes up grand here! Watching Georgiev all game, it was like he was in "KINKAID WHO?" mode all night.
As the period was reaching its conclusion, Kakko rang a puck off the iron. Dude is cold as hell, you know, the frozen over hell that we saw tonight, which explains Mika's six-point game!
With the score still 2-0 after twenty minutes of action, the only things you could really complain about were the lack of power-play production and Trouba's never-ending turnovers. That would change, starting in the second period, a second period that won't be forgotten anytime soon by Ranger (and Flyer) fans.
---
Unfortunately, we didn't get a "SECOND PERIOD, WHAT DO YOU LOOK FOR HERE BRIAN?" out of Kenny Albert. <A power-play goal please!>
After Strome won another face-off (he was 9-5 at the dot, as opposed to 4-14 last game, and yes, this is another example of something that will be glossed over after this rout) Strome forced a puck to Panarin, which the Flyers easily broke up. However, the Flyers would have to settle for the puck in the netting, rather than in Georgiev's net, during this possession.
In a period that personified the adage of "Death, Taxes & Flyer Goaltending Issues", what happened next is like trying to recap a 20-man lucha-libre match. It was nothing but action.
After Buchnevich tried to set-up Lindgren, (Lindgren went wide) the Rangers maintained possession of the puck. Mika, to the right of Elliott secured the puck and found Buchnevich all alone in the slot. Buchnevich easily potted this one, in what was a pure goal scorer's goal. Just 1:38 into the period, the score was now 3-0, GOOD GUYS! (Of note, I can't include clips of every goal tonight or else this blog would take forever to load!)
Exactly two minutes later, Buchnevich scored again! 4-0 GOOD GUYS, and as one more goal here would've given Buchnevich the natural hat trick. Instead, he "settled" for four points tonight and you can see how happy he was for Mika as this game continued. (Team player.)
On this second Buchnevich goal, Buchnevich tried to hook up with Kreider who was to the left of Elliott. However, and in another example of GOOD THINGS HAPPEN WHEN YOU SHOOT THE PUCK AND SCREEN THE GOALIE, the puck took a Rangers bounce off the skate of a Flyers defensemen and went past Elliott. Up by four, the rout was on. That said, the Rangers weren't even at the half-way point yet, in regards to their total goals scored.
4:48 into the period, Chytil was boxed for tripping Gustafsson. This was a legit call, as opposed to all of that nonsense from last game.
During this Flyers power-play, Georgiev made the best save of the game, if not of his entire season, on Sam Rosen's old friend, in a one Nolan "RYAN" Patrick:
WHAT A SAVE!

Take a bow, Alexandar Georgiev. #NYR pic.twitter.com/Ipzj7FWSZR

— NHL on NBC Sports (@NHLonNBCSports) March 18, 2021
OH BABY!
In the goal that broke the camel's back for the Flyers, Mika Zibanejad, who was still struggling to score goals at this time, would ONCE AGAIN find himself all alone with the puck. As you noticed Buchnevich streaking down the middle, and as you were screaming PASS PASS PASS, Mika went behind the goal line. Before you could say "WHAT THE FATHER FINK MIKA?" Mika dished the puck to the trailing Jacob Trouba and BOOM, Trouba picked up his first goal of the season. 5-0, GOOD GUYS, at the 7:30 mark of the period. Game over Philly! Game over Elliott too, as Hart would then enter the game.
Let's face it. If you're a regular reader of these blogs, I've been harsh on the fat cats this season. To paraphrase Yoda, one good game, a season don't make. That said, I just hope all of this continues and this is the start of something big. Perhaps the Rangers have already pissed away too many games and points, but if they can continue to play like this? Well a boy can dream of the playoffs! At the very least, that's the mentality I choose to adopt!
The funniest thing about this? Right after Trouba went to the bench after scoring the goal, you know, Trouba the team leader, it was second year defenseman Adam Fox giving Trouba the congratulatory hug/fist bump, as he celebrated Trouba ending his goal drought.
What happened next is something we've been waiting for all season.
---
The next 10:10 of game time belonged to Mika Zibanejad, where he picked up a natural hat trick, with a short-handed goal, a power-play goal and an even-strength goal. Fun fact: with these three goals, and in this fashion, outside of the fact that this was a natural hat trick (three goals in succession) these three goals matched all of Mika's production prior to this game. (Mika had 1 SHG, 1 ES and 1 PPG going into this game.)
With 11:41 to go in the period, Lindgren was sent to the box for pretty much a brainless slashing on Couturier. Maybe brainless is an exaggeration, but with the Rangers up five goals and with Georgiev going for his second nyet-nyet of the season, Lindgren slashed Couturier near the benches. He just didn't need to do this, but really, I'm not going to hang Lindgren here, because he's been one of the better and rare consistent member of the Rangers this season.
Eight seconds into the Flyers power-play, Mika Zibanejad SCORED ON A BREAKAWAY. Backhanded too! 6-0 GOOD GUYS! Mika gets his goal and he gets it short-handed, the third NYR shorty of the season! Even better, this was the first shot Hart faced!
After killing the Flyers power-play, and as we surpassed the half-way mark of the game/period, the Rangers would get their third power-play of the game with 6:37 remaining, as a result of Braun tripping Chytil. After failing to score in the early seconds of the power-play, with 5:31 to go in the second period, Mika finally got a power-play goal. I could cry tears of joy here! 7-0 GOOD GUYS.
More impressively, at this point in the game, the Rangers had 7 goals off of 16 shots. INSANE! But wait K-Mart shoppers, there's more!
With 1:23 remaining, Mika got his hattie:
A NATURAL HAT TRICK FOR MIKA ZIBANEJAD! #NYR pic.twitter.com/a1Bgjji46A

— NHL on NBC Sports (@NHLonNBCSports) March 18, 2021
8-0 GOOD GUYS!
I have to say this, just to answer to some of you readers. I think I'm clear on this already, but this site constantly gets new eyeballs, so I'll repeat a point I've previously made on this site.
I take no joy in writing after Ranger losses or talking about Rangers who are playing bad. Do you think I spend three hours a night watching these games, then somewhere from 2-3 hours afterwards, writing about these games, just to shit on this team? NO. However, I can only work with the material I'm given.
Nothing gave me more happiness this season than seeing Mika just go bonkers tonight. This was long overdue and really, I just want to see this going. Yes, the Flyers were historically bad tonight, but all I can do is cross my fingers, eat my Lucky Charms and slam a Guinness, and hope this is the start of something big for Mika.
And oh, on this goal, Kreider, like most Rangers tonight, tossed a perfect pass and the end result was this Mika goal.
I also want to add here, that really, despite a total of nine goals that would be scored in this game, it's really tough to hang the Flyer goaltenders. It was just odd-man rush and breakaways all night for the Rangers and for once, the Rangers made the other team pay for all of these opportunities granted to them.
However, we're not done yet!
With 21 seconds remaining in a period of absolute hell for the Flyers, Chytil put more salt in the wound of Shitty Gritty, as he would score. 9-0, GOOD GUYS. You guys know I don't use the "f" word on these blogs anymore, but give me a pass here – FUCK YEAH!
As the period ended and with the Rangers up 9-0, there were a few thoughts in my head. Those thoughts were:
— I can't wait for DQ's next interview.
— I hope Kakko and Lafreniere score.
— I hope Buchnevich gets a hat-trick too.
— More than anything, I hope Georgiev keeps his shut-out.
— Nothing stupid/no injuries.
---
In a period where all Ranger fans were chanting "WE WANT TEN", (you could hear these chants on TV and I was chanting this at home, as I wanted the Rangers to "Vally" the Flyers) the Rangers pretty much took their foot off of the necks of the Flyers. While the Rangers didn't give up or anything like that, the Rangers pretty much played a "gentleman's agreement" period, where they weren't looking for goals.
If there's anything that irked me, and I use the word "irked" in the least severe version of the word as possible; after two periods, the Rangers only allowed 16 shots on goal. In the third period, they allowed ten, where Georgiev, to his credit, made every stop. I know the Rangers didn't want to run up the score anymore than they already had, but it would've been a shame if Georgiev's shut-out was ruined here. Conversely, Georgiev got a ton of work in this period, preventing people from saying he had a "hollow shut-out".
There wasn't much doing in this third period. You had Ron Duguay tweeting how he wanted to play in this game and join the party. You had the NYR beat reporters being asked if they had any points in this game. This period was basically a celebration, where we all watched the twenty minutes evaporate off of the clock, as if it was 11:59PM on New Year's Eve.
On the announcing side of things, Albert gave us all the stuff and stats on how this game was historical, even dropping Bill Cook's name into the mix; a Bill Cook who is heavily featured in my upcoming "New York Rangers Rink of Honor Book" and a Bill Cook who the Rangers currently shun and ignore from their rafters in the present day. Albert's partner, in Brian Boucher, just kept crying about the "Cryers".
At this time, let me give you all the historical data and info, as a result of this game. All of the following comes from the @NYRSTATSINFO account, the official stats Twitter account of the New York Rangers:
The Rangers' seven goals in the second period of tonight's game are one shy of the single-period franchise record (eight in the third period on Nov. 21, 1971 vs. California). OF NOTE: I HAVE BEEN LOOKING FOR A FULL LENGTH COPY OF THIS GAME FOR YEARS. IF ANYONE HAS IT, PLEASE LET ME KNOW. I'LL PAY CASH MONEY FOR IT. ALL I CAN FIND OF THIS GAME ARE HIGHLIGHTS.
---
The Rangers have recorded at least nine goals in one game for the first time since Nov. 10, 1998 at Tampa Bay (10), and for the first time in a home game since Nov. 21, 1995 vs. Pittsburgh.
---
Mika Zibanejad's five points in the second period of tonight's game are tied for the Rangers' single-period franchise record for points (Bill Cook – Mar. 12, 1933 vs. NY Americans). OF NOTE: Mika would break this record, as you'll see in the next stat.

---
Zibanejad was also credited with an additional assist, giving him six points (three goals, three assists) in the period. The six points are a single-period franchise record for one player.
---
With six points in tonight's game, Mika Zibanejad is the first Ranger to register at least six points in a game since Mark Messier on Nov. 25, 1992 at Pittsburgh.
---
Mika Zibanejad is the second player in NHL history who has recorded six points in one period of a game (along with Bryan Trottier).
---
Mika Zibanejad is the only Ranger who has recorded a power play goal, a shorthanded goal, and an even strength goal in the same game twice in franchise history (also 10/5/19 at OTT). Tonight is the 10th instance of a NYR doing so since special teams goals were tracked in 1933-34.
---
Per the NHL, Mika Zibanejad was the first Ranger player in franchise history who recorded a natural hat trick with one even strength goal, one power play goal, and one shorthanded goal in a single period.
---
The Rangers' nine-goal win tonight was tied for the third-largest margin of victory in a win in franchise history. The Blueshirts won a game by nine or more goals for the 10th time in franchise history.
---
"Throwing in the towel" would be the wrong expression to use here, when describing this third period, but when Knoblauch opened up this period with the fourth line against Philly's first line; well that told you all that you needed to know. The Rangers were just too classy to post a touchdown and a field goal against these schmucks.
Even with Georgiev forced to make big saves, and with the third line wingers needing a goal in order to join the party; the Rangers would soon have a 3 vs 2 rush, with Kakko possessing the puck. Kakko just waited for all the Flyers to catch up, and just stopped skating. I can't knock him. I get it. As fans, "WE WANT TEN", but for the Rangers, they didn't want to be deemed as conceited assholes.
Of note, (I've used that phrase a lot tonight!) there were reports of "FIRE QUINN" chants in the crowd, but I didn't hear it, and neither did reader/friend of the blog Shawn S., a Shawn S. who attended tonight's game. I think that some Ranger fans just wanted to hear that chant. The only thing that I read, which supported that this chant existed, was that someone who was there said that five or so people chanted it. Regardless, throughout the period, you definitely heard "WE WANT TEN" chants, chants that Albert recognized when calling the game.
This whole period was the Georgiev show, with the Rangers being nice offensively here. Put it this way, Adam Fox, who usually leads the team in TOI, had several Rangers surpass his TOI total tonight. In addition, this period was dedicated to the bottom six.
With 19 seconds left in regulation, Laughton slashed Lemieux, which just added to Lemieux's numbers of drawing the most penalties and PIM for the team. The Rangers didn't even look at the net on this abbreviated power-play.
9-0 your final. If you watched this game, you saw history. If you didn't watch this game, all I can tell you is to go back and watch it. I'm currently making a copy of this game on DVD, because this is historical.
---
You know this was some hell of a game, when Buchnevich's four points (2G, 2A) is either the fourth or fifth headline of this game.
While you can't expect 9-0 every night, all I can say after this game, is this –  keep it rolling. The Rangers start a back-to-back set in Washington on Friday. In D.C., the Rangers need to win the one and two goal games. They need a complete 60 minute effort. And for how inconsistent the Rangers have been all season, would it shock anyone if they dropped a 4-1 game to the Caps? All we can do is hope that this is the turning point of the season, rather than a lone highlight.
Our pals at "The Blueshirt Underground Show" returned last night. You can watch their latest episode (and I recommend you do) below:
If you haven't already, subscribe to this blog for the next update:
---
Barring a stint in rehab for over-celebrating tonight's win, I should be back tomorrow with an "Up in the Blue Seats" recap. I'm looking forward to this episode, because Duguay made headlines recently for two things. The first thing was predicting that Mika would get out of his slump. The second thing was for saying that Georgiev had played his last game as a Ranger.
As we're now at the half-way mark of the season, as mentioned earlier tonight, I am planning to do a Mid-Season Report Card blog too. In addition, I expect we'll hear more about DQ sometime tomorrow as well, and if we get any word on his status, I'll report back to you here.
Until then, and as always here, thanks for reading and…
LET'S GO RANGERS!
Sean McCaffrey
BULLSMC@aol.com
@NYCTHEMIC on Tweeter