Greetings and salutations everyone and welcome to another blog here on BlueCollarBlueShirts.com. Much better!
And of course, after attending the previous two games, where the Rangers scored four goals in six+ periods – they scored five goals tonight!
However, I'll happily accept this win!
---
In case you missed it, I wrote a huge "State of the Rangers" blog last night, one that you can find here: https://bluecollarblueshirts.com/31323/
I bring up last night's manifesto for the following two reasons:
1) A lot of what I said 24-hours ago wound up happening tonight, in the Rangers' 5-3 victory over the Capitals.
2) There were many times throughout the ESPN broadcast (more on that in a bit) where my points were mentioned on-air. (I'm not saying that ESPN "stole" my points – I'm just saying "THE MESSIAH" agrees with me on the state of the team!)
---
Following a weird three-game road-trip, where the team netted five of a possible six points, and where the concern levels throughout Rangerstown, USA had started to increase; in their first game back on M$G ice, the Blueshirts opened up like gangbusters, en route to a 3-1 lead after twenty minutes of action.
Without question – this was their best period of hockey played in weeks.
Come the second frame, captain Jacob Trouba sniped another goal, his fourth goal in his last seven games played (seven goals in total this season), as Gallant's Gang increased their lead to three goals.
At the time, the 4:09 mark of the second period, you were feeling pretty good about your favorite hockey team.
For once, it looked like all of the old-and-tired cliches would wash away, much like how Tuesday's rain washed away the snowy streets in the Big Apple.
Not so fast.
Since it's the Rangers, which means that nothing ever comes easy; rather than blowing out the Capitals, who were without Alex Ovechkin tonight – instead, the Blueshirts gave up the next two goals of the contest.
With the Rangers' previous three-goal margin now reduced to one; Washington started to go for the kill – just like the General they were named after during the Revolutionary War.
Unlike good old George W., and his troops against the Brits – Washington wouldn't win this battle.
Down to 2:15 remaining in regulation during a 4-3 game, and where most Ranger fans were expecting another contest to go into overtime; just four seconds later, and with Caps' goalie, Darcy Kuemper, now on the bench – there was Jimmy Vesey, from his own defensive zone, backhanding and flipping a puck towards the empty net.
The rubber found its target and crossed the goal line dead-center.
5-3, GOOD GUYS, as Vesey sealed the deal with this insurance tally.
Better than that? It was nice to see the fourth line rewarded on the scoreboard, as once again, they had a hell of game.
Even better than that?
For the first time in a long time – the top six also had a hell of a game.
Whether it was Mika Zibanejad, Artemi Panarin, Vladimir Tarasenko, Chris Kreider, Vincent Trocheck or Patrick Kane; all of them, sans CK20, worked their way into the box score tonight.
And for Jacob "THE BUCK STOPS HERE" Trouba?
His latest snipe job held up as the game winner.
---
While I'll cover everything during the GAME REVIEW tonight; for the most part, I thought there were many positive takeaways from Tuesday night – and where the few negatives were no match.
Away from the FAT CAT production; it was nice to see Miller have a bounce-back game.
Previously, and even prior to "SPIT GATE," #79 wasn't looking so hot. Tonight, you could see it in his eyes – he was determined to snap his slump, which he did.
However, both Filip Chytil and Kaapo Kakko remain as cold as ice.
Kakko, who didn't take one shot on goal during the three-game road trip, has now increased his no shots on goal streak to four games.
The Finn currently has one goal in his last fourteen games played, where as mentioned last night, the last goal he scored was an "A-Rod" fluke goal, when he scored with just under thirty seconds remaining against the Capitals the last time these two teams last played.
Filip Chytil, even with his "Paris Lover" in the house, Emily Kaplan, is now sixteen straight games without a goal, as he's been searching for goal #20 for nearly a month now.
Their regular linemate, as this third line was reunited tonight, Alexis Lafreniere; the first-overall pick of the 2020 NHL Entry Draft continued to play well, even picking up a "screen assist" on his hero's (Kane) power-play goal.
In a way, it feels like Chytil & Kakko are now "holding down" Lafreniere, but with the top-six and talent that the Rangers have – it's hard to bump #13 onto either of the first two lines.
Simply put – Kakko and Chytil need to figure it out.
If there was anything else truly negative, aside from perhaps the Rangers taking their foot off of the gas once with a big lead; then it was Niko Mikkola, who once again took another bad penalty.
The man just can't stay out of the penalty box, as he's nearly averaging one two-minute minor per game.
We talked all about Mikkola last night, but as mentioned several times before on this site – once Ryan Lindgren is ready to return – then I think that Harpur has to become Braden Schneider's full-time partner.
To be fair to Mikkola – ever since #55 went down – most of the penalties he takes occur during third periods, as #77 is playing out of his role and seems to gas out late.
That all said, especially after a game like tonight – who wants to wade in the waters of negativity anyway?
Let's get into all of the pregame news & notes first, and then get into everything else from Tuesday night.
---
Following their recent three-game road-trip; on Monday, the team took the day off.
Come Tuesday, the team held a morning skate at their practice facility in Tarrytown, NY.
The biggest news from the light skate was that Ryan Lindgren, who was skating with the team on Friday, is now back to skating on his own.
Whether Lindgren suffered a setback or not is unknown, but one can speculate about the former.
As previously mentioned on this site, had the Rangers initially put Lindgren on the LTIR, then he would have had to miss ten games. After tonight, he's now missed eight – and where his eventual return date is still unknown.
Here was Tuesday morning's TURK TALK:
---
The head coach reminded everyone that Lindgren is still "day-to-day," but where he also said the obvious – the team, with a playoff berth all but officially locked up – they are not going to rush Lindgren back until he's 100%.
While Gallant said, that of course, the team is better with Lindgren than without him, and how he can't wait to have him back – Gallant is just going to do whatever the team's doctors tell him.
As far as anything else, Gallant had a laugh about the goalie whisperer, the Rangers' goaltending coach, Benoit Allaire.
I don't know why Mollie "CHUCKLES" Walker brought up Allaire to Gallant, but the head coach said he had no problems with maintaining the longest-tenured coach of the franchise on his staff when he was first hired.
(And let's face it – I don't think that Gallant had a say in the matter to begin with!)
Again, I had no clue what Ms. Chuckles was getting at, or if she was trying to suggest that Gallant would've been better off by hiring his own goalie coach; but as Gallant said, he is more than satisfied with Allaire.
This was just an odd-question, so bizarre (HOW BIZARRE WAS IT?); that CHUCKLES even prefaced her question by saying that it would be strange.
---
Here was the Rangers' line-up from Tuesday night:
FIRST LINE: Panarin/Mika/Tarasenko
SECOND LINE: Kreider/Trocheck/Kane
THIRD LINE: Lafreniere/Chytil/Kakko
FOURTH LINE: Vesey/Brodzinski/Goodrow
FIRST PAIR: Miller/Trouba
SECOND PAIR: Mikkola/Fox
THIRD PAIR: Harpur/Schneider
STARTING GOALIE: CZAR IGOR
BACK-UP GOALIE: THE HALAKNESS MONSTER
DAY-TO-DAY: RYAN LINDGREN
PRESS BOX: The 84 cents the Rangers still have left on their salary cap.
---
BOX SCORE time.
The following graphics and information come from ESPN.com:
SCORING:
PENALTIES:
TEAM STATS:
GOALIES:
| | | | | | | | | | | |
| --- | --- | --- | --- | --- | --- | --- | --- | --- | --- | --- |
| SA | GA | SV | SV% | ESSV | PPSV | SHSV | SOSA | SOS | TOI | PIM |
| 35 | 4 | 31 | .886 | 22 | 8 | 1 | 0 | 0 | 57:50 | 0 |
| | | | | | | | | | | |
| --- | --- | --- | --- | --- | --- | --- | --- | --- | --- | --- |
| SA | GA | SV | SV% | ESSV | PPSV | SHSV | SOSA | SOS | TOI | PIM |
| 31 | 3 | 28 | .903 | 26 | 2 | 0 | 0 | 0 | 60:00 | 0 |
---
Tuesday night's game was aired on ESPN – and on the Disney channel too – and where neither outlet bothered to present a pregame show.
And heck, the second the final horn went off inside of M$G – ESPN, like someone running downhill with a snowball chasing them – immediately got off of the air and went straight to some meaningless college basketball game instead.
The world-wide leader.
This game was notable because for the first time, ESPN tried something new, when they aired an animated version of this game on their sister network, the Disney channel.
Since I have two televisions going on in my man-cave at all times; I watched both broadcasts, but admittedly, had the Disney feed largely on mute.
After all, with Mark Messier calling the game on ESPN – I wasn't going to mute him!
Here's what the Disney feed looked like, and later on, during the Ranger goals, I'll show you how they broadcasted those tallies:
---
---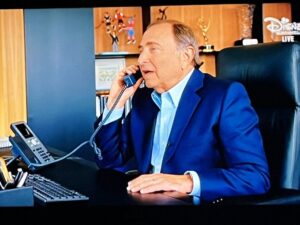 This may shock you coming from me, a traditionalist – but I thought that Disney (via their parent network, ABC) did a fantastic job with this new idea.
And while every new idea doesn't work – at least they are trying.
That said, I thought this idea did land, where my only critique is the timing of it all.
Put it this way – My nieces love whatever this "Big Green City" show is. When I told my sister what the NHL/Disney was doing, she put it on for her three daughters. Elsewhere, I heard from many site readers that their kids, whether it be their own, or their nieces & nephews, also tuned in.
From what I heard – all the kids loved this. I did not hear one negative thing from that perspective. The only negativity I heard was from adults trying to watch this, without understanding why this particular broadcast was presented. Dummies!
The only negative thought that crossed my mind was that the second period didn't begin until a little after 8PM EST – bed time. The game itself didn't end until nearly 10PM EST – where at that time – the target audience had already been asleep for two-hours.
I am really interested to see the ratings for this novel idea, where my prediction is that the first hour did a respectable number, but as time went on – the ratings dipped – and with a huge drop-off at around 9PM EST.
Should ESPN/ABC/Disney ever do this again – and they should – then they should do this during a weekend matinee game – you know – when their target demographic is awake – and when parents want some relaxation time for themselves too!
For a first foray, I really didn't see anything else that needed improvement.
The graphics were colorful and the silly animations, such as exploding goals after scores and using the 1966 "BATMAN" sounds following a hit, like BOOM, was a grandslam homerun.
There were also other entertaining wrinkles, like coming up with funny names for the goalies (CZAR IGOR was "Gramma" and Darcy Kuemper was a 79-year-old man named "Bill") and having the referees portrayed as birds – which was perfect – since these Zebras are usually birdbrains to begin with!
Of note: I think using different names for the goalies was a way to create a story-line for the kids. Maybe I'd change that moving forward, because after all – why deny fans the greatness of CZAR IGOR? You could just have these Gramma & Bill characters pop-up and do other things (and then market them too) – but as said – I can understand the thought process behind this.
And if you paid attention, Weekes, with the benefit of animation assistance, also explained rules such as offside and icing.
Overall – I thought this was a great way to grow the game.
Unfortunately, ticket prices aren't cheap these days – which works out for ESPN – as these kids can now stay home and watch these broadcasts!
And for someone so used to the nauseating Mickey Mouse M$GN broadcasts – this was infinitely better and refreshing.
Not once did you see a gambling advertisement, Sam Rosen praising the other team, Sieve Vagistat promoting his stupid charts – or any of the other usual buffoonery that regularly plagues M$GN broadcasts.
This was fun – and I think that ESPN is on to something here. This could be the future of sports for kids – especially with the addicting animation that resembled something from a video game.
---
Over on ESPN, Steve Levy & Mark Messier called the game from the bridges – while P.K. Slewban attended the game as a spectator.
And while I wouldn't consider "ESPN's Resident Idiot" a "star;" he was one of the many celebrities in-house tonight, as Conor McGregor, Brian Daboll, Liam Neeson and many other big-buckaroos were there.
Also there? TNT's Henrik Lundqvist!
And wouldn't it have been something, in some cross-promotion, if ESPN had Lundqvist do a bit with Messier from the booth?
Perhaps better than all of that?
Despite this being a national broadcast, this felt like the first true hometown broadcast of the season.
Put it this way: If I was a fan of the Capitals, then I'd be pissed off over this three-hour Rangers' love-fest!
Whether it was all the 1994 talk, Messier himself, and all of the high praise for the Rangers (and where this game was also called from their perspective); I found more joy in this broadcast than anything I've seen on the M$GN this season.
Not once did you hear Sam Rosen rattle off 8976786696 different reverse jinxes (although Levy did pull off one on his own – more on that below), Joe Micheletti tell you how he talked to the other team's coach, or Sieve Vagistat push his self-serving bullshit.
For me personally, who just returned home after seeing the previous two Ranger games live?
What a way to return to my couch – as this was the BEST broadcast I've seen all season – and where the Disney one was just as entertaining (and served its purpose).
---
One last thing about the celebrities before moving on.
Similar to the increasing numbers of the hockey media now covering the Rangers; the amount of famous names attending games at the Garden is increasing too.
That tells me that not only are the Rangers a hot ticket – but they have everyone's attention.
And in a way – that's not the best thing for the hardcore fans – as ticket prices will just continue to go up-up-up – and where I'd expect most playoff tickets to hit the four-figure range.
GAME REVIEW time!
---
FIRST PERIOD:
Funny enough, it was Disney who showed us the National Anthem, while ESPN ignored John Brancy's performance.
For shame, for shame!
After that, Levy quickly brought up how Andrei Svechnikov was done for the season, and how the expected first-round series between the Rangers and the Devils may not happen – as we could see the Blueshirts vs the Hurricanes instead.
And you just know that if M$GN was doing this game, then Sam & Joe would've sang love ballads in dedication to Svechnikov for three-hours.
In a new touch, "THE TURK" started his fourth line tonight – and this line would also take the opening face-offs of both periods that followed.
This strategy paid off for the head coach that currently possesses the best points and winning percentages of franchise history.
Two minutes in, you felt a little "gassy," as the Rangers had trouble exiting their zone, and a pass intended for Kreider, who could've had a breakaway had it connected, went for an icing.
Eighteen minutes later – all of those "oh no, not again" feelings would subside – but they'd return during the final frame.
During the third line's first shift, Kakko was wide-open and could've shot the puck. He even could've skated towards Kuemper and increase his chances for a goal. Instead, and perhaps fearing contact, the Finn dished to the Czech, and in turn, Kaplan's now former boyfriend completely missed a wide-open net himself.
(And in case you're new here, and want to "WHITE KNIGHT" against me – Kaplan is aware of my JOKES and horrible brand of comedy. She has a sense of humor, so if you're offended, then be like Chytil's former flame and get a sense of humor yourself!)
I've said my piece about both Kakko & Chytil during these last few weeks, but what was notable here, was that Messier really went off on Kakko.
While Messier didn't say that Kakko was "soft" or "afraid of contact" verbatim (he did imply it though); "THE MESSIAH" did say that Kakko needs to go to the net and shoot. Later on, Lafreniere would make a winner out of #11.
The fourth line, now returned to the ice, continued their string of excellent shifts, as Vesey forced a turnover in the Rangers' d-zone, which soon led to a Trouba Bomb that just missed with 16:15 to go.
A few seconds later and with the first line looking to end their cold streaks, MAGIC MIKA, following a five-game goal drought, was back!
Let's take a look at both the ESPN and Disney versions of the goal, as I was thoroughly pleased with both:
Bill never had a chance 🔥 #MikaMarch

(via @NYRangers) pic.twitter.com/MmG7Qy9Gv1

— Rangers Videos (@SNYRangers) March 14, 2023
---
MIKA!!! 1-0 #NYR pic.twitter.com/tpdGheWNlx

— David 🏒 (@DaveyUpper) March 14, 2023
---
1-0, GOOD GUYS, as DJ MIKA spun a much needed goal – and where for the first time in five games – the Rangers now held a lead.
While Mika gets the credit for the score, don't forget about Vladimir "TarasenGO," as #91's give-and-go pass made this happen.
As Tarasenko drew in two Washington defenders, the former Blue deftly dished the puck to his center in the slot and BOOM – Mika made the net explode!
Right after that, and with the new second line on the ice, Kane was stopped by Kuemper – where my biggest takeaway was – at least the Rangers were shooting the puck.
Following the save on Kane, Trouba almost scored a seeing-eye goal from the blue line and with 15:10 remaining.
Both Kane and Trouba would later score tonight.
Down to 12:30 remaining, Miller, who again, was extremely better tonight, almost scored another highlight reel goal, but as he charged towards Kuemper, he lost the handle at the last second.
Still, this was a good try and it was noticeable that Miller had more pep-in-his-step and confidence too.
Thirty seconds later, the Capitals had Igor beat backdoor, but the pass took a fortunate Rangers' bounce.
Come 10:37 remaining, this is when Lafreniere proved Messier right.
As opposed to Kakko, Lafreniere, after receiving the puck from Chytil, drove right to the net, and in turn, drew Nicklas Backstrom for high-sticking.
Good things happen when you go to the net.
Of note: While Gallant changed his lines tonight, the two power-play units remained the same, including Kane with Panarin and Mika with Kreider.
The Rangers didn't score here, but it wasn't for a lack of trying, as Kuemper made five saves in all.
If there was anything frustrating about this man-advantage, then it was when Kane blasted a puck at the goalie, and once getting the rebound, and with a wide-open net in front of him – Panarin opted not to shoot – as instead, he decided to skate around aimlessly. This then led to a turnover at the end of the power-play.
At the conclusion of the power-play, the SOG stat read as NYR 11 – WSH 0.
The Capitals would finally test CZAR IGOR for the first time with 8:15 remaining, and then thirty seconds after that, #31 soon tripled his save total to three.
As ESPN praised Messier and constantly showed us his banner hanging from the rafters; the Rangers kind of slowed down.
Once leading the SOG statistic 11-0, the Capitals then had the next six shots on goal, where on their sixth, they tied the game.
With just 5:31 remaining, Nicolas Aube-Kubel, from the right circle, cleanly beat Igor – although he was somewhat screened.
1-1 – and where the Rangers' torrid start had now been erased.
Not so fast!
Just sixteen seconds later, this happened:
MIKA!! scores again. #NYR pic.twitter.com/QDzJzD2GZQ

— David 🏒 (@DaveyUpper) March 14, 2023
---
WHAT A PASS BY IGOR AND PANARIN ASSISTS MIKA'S SECOND

(via @NYRangers) pic.twitter.com/jpPdSGO2Kt

— Rangers Videos (@SNYRangers) March 14, 2023
---
2-1, GOOD GUYS!
HOLY ROLE REVERSAL BATMAN!
By now, you're probably acquainted with the fact that the Rangers are extremely prone to giving up goals and/or taking penalties after scoring themselves.
Tonight, the tables were turned – and where you should now buy a lottery ticket!
Following the Caps' score; CZAR IGOR wound up with the puck, made a huge homerun pass to his fellow comrade, and there was Panarin finding Zibanejad for a nifty backhanded goal from the paint.
This completely stunted the Caps' momentum.
And this was also CZAR IGOR's first point of the season – as finally – one of these homerun passes turned into a Rangers' goal!
CZAR IGOR now has the assist to his name – it's now time for the first goal of his career! (It will happen one day – I promise!)
Of course, right after this goal, Panarin turned over the puck in the o-zone, but CZAR IGOR bailed out "The Breadman," when he made a denial on Smith with 4:17 remaining.
As it was brought up that McGregor was in the building, and as Levy teased a Messier vs Conor fight (that sounds like something that Triller would promote); once again, and with 3:15 to go, the fourth line continued to dominate.
I have no clue what the zone possession stats were, but from the realm of the EYE TEST – the fourth line didn't spend much time fooling around in the defensive end.
And when they were in their own end? They drew penalties, as Jimmy Vesey did with 2:53 remaining, as Aliaksei Protas tripped the Harvard alum prior to clearing the puck.
The power-play hummed like a well-oiled engine here, as the Panarin/Kane/Trocheck/Lafreniere/Fox quintet spent the entire man-advantage on the ice – but not because they were being "puck hogs" or selfish – but because they maintained the puck in the Caps' zone the entire time.
While Kuemper came up with a big save on Trocheck, and as the visitors tried to get Lafreniere away from the net; with just 21 seconds remaining on the power-play – perhaps Kane's best goal as a Ranger – or at the very least – his second snipe as a Blueshirt:
PATRICK KANE! IT'S A POWER PLAY GOAL!

(via @BR_OpenIce) pic.twitter.com/fXQHAeCdyE

— Rangers Videos (@SNYRangers) March 14, 2023
---
3-1, GOOD GUYS!
This was an absolute rip-job, as #88 rifled the puck past Kuemper, while Lafreniere had the net-minder screened.
With the assist, Fox picked up his 50th apple of the season. Screw Karlsson in San Jose – the Norris should go to a defenseman on a playoff team!
Following the late goal and down to 35.2 seconds remaining; CZAR IGOR was in search for his second assist, but this time, the homerun pass went for an icing.
Prior to the horn, ESPN panned the Rangers' bench – where everyone was smiling.
You could see it in their faces – this wasn't a "MUST WIN" game – but they needed a period like this.
3-1, GOOD GUYS, after twenty minutes of play.
Here's what I said at the time:
3-1, GOOD GUYS, after 20. 1P Thoughts:
— These are the #NYR that we know & expect
— Mika snaps his goal drought – Kane already 3 goals as a NYR
— 4th line continues to impress
— SOG 19-9, Hits 9-7 NYR; FOs 12-10 Caps
— Chytil & Kakko remain cold; Miller improving
LGR!

— BlueCollarBlueShirts (@NYCTheMiC) March 14, 2023
---
SECOND PERIOD:
It should be noted, that from this point on, the Rangers never received another power-play. Washington soon received four power-plays, where one of them was extremely questionable, while a Capital infraction committed on Schneider went ignored.
At the 1:23 mark, Adam Fox was boxed for holding Protas.
The Trouba & Miller pairing did the heavy lifting here and by the end of the kill – the Rangers didn't give up one SOG.
In total, the penalty kill would go a perfect 4-4 tonight, although some fans may slap an asterisk on the fourth PK, which we'll soon get into.
As Levy reminded us that Caps' captain Ovechkin wasn't playing (and the Capitals are now 1-11 during the past two seasons whenever he doesn't play); the Ranger captain, who was playing, scored:
BOOM! 🚂

(via @NYRangers) pic.twitter.com/m5NW0iRCom

— Rangers Videos (@SNYRangers) March 15, 2023
---
Trouba makes 4-1 #NYR pic.twitter.com/nyTIiS07cA

— David 🏒 (@DaveyUpper) March 15, 2023
---
4-1, GOOD GUYS, as Trouba was the beneficiary of a TIC-TAC-GOAL!
On this play, Kane sauced the puck to his center and Trocheck then found his captain for the snipe.
Who is this "GREAT EIGHT" in the blue sweater? Doug Harvey?
For a man known for his blasts from the blue line, Trouba is now sniping like Lee Harvey Oswald. (Too soon?)
This goal, scored with 15:51 remaining, would hold up as the game-winner – something that fans of the "THREE-GORE" nickname predicted.
In other words, instead of running up the score and perhaps forcing Ryan Lindgren's brother, Charlie, into the net – the Caps fought back.
Down to 12:13 remaining, CZAR IGOR stopped Sandin on his second of three shots on goal. A minute after that, Kreider had a chance for the five-spot, but his attempt through the five-hole was shut.
Now past the half-way mark of the game/period; a Washington defender blocked a Tarasenko shot. Had this block not occurred, then VT91 would've scored into Kuemper's vacated net.
Following another Messier love-fest (and I'm fine with that), and as the two teams went back-and-forth; Levy paid tribute to Sam Rosen when he said, "You know Mess, the Rangers look like they are on a power-play here!"
No less than two seconds later, and with 7:52 to go – BOOM – Irwin exploded the net behind Igor.
4-2, good guys.
It was tough to tell, but it looked like this puck got a piece of Mikkola on the way in, and where following the goal, Kaplan reported that the Finn had to be consoled by Rangers' d-coach, Gord Murphy.
Just 25 seconds later, Miller was called for a phantom penalty, as the referees tried to keep this game close.
On this "infraction," #79 was alleged of tripping Backstrom from behind Igor's net. In reality, Miller made a hit and Backstrom dove.
Puck don't lie.
With Miller boxed, the Rangers' PK didn't afford the Capitals one SOG.
Come 4:20 remaining, the frustrated Capitals made a mad dash at CZAR IGOR, but the goalie, from his rear-end, made two saves. Instead of clearing the crease, the officials watched the Caps hack-and-whack away at #31. In a response, CZAR IGOR took matters into his own hands and threw Backstrom's stick, javelin style, into the protective netting!
Under 3:30 to go, a Kane spinorama chance was denied. Following that, Panarin, who spent 2:00 on the ice during this particular shift, almost scored off a Caps' d-man with ninety ticks remaining.
With 41.9 seconds to go, the Caps had a 3 x 2 odd-man rush – but they passed themselves out of a SOG.
Come five seconds remaining, Vesey had a backhander denied, where 2.5 seconds after that, there was the shit-heel, Tom Wilson, inciting a scrum.
Barclay Goodrow wasn't having any of it.
With Conor McGregor going nuts – and begging for a fight – the officials broke this scrum up before the gloves could be dropped.
As the horn went off, Levy astutely reminded us that Wilson isn't very well liked at M$G.
4-2, GOOD GUYS, after forty minutes.
Here's what I said at the time:
4-2, GOOD GUYS, after 40. 2P Thoughts:
— #NYR really playing like they want this one – even w/the 2GA
— SOG 29-25, Hits 22-12 NYR; FOs 21-20 Caps
— Trouba now has some Makar offensive flash to his game!
— Just imagine how they'll look when 55 gets back
— FINISH!

— BlueCollarBlueShirts (@NYCTheMiC) March 15, 2023
---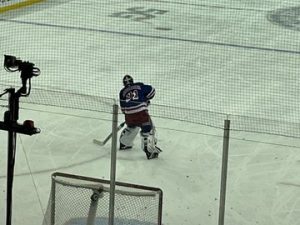 THIRD PERIOD:
This is where the Rangers kind of fell into bad habits.
Whether it was the big lead, playing well or maybe the wear-and-tear of the schedule (fourth game in six nights); the Blueshirts brain-farted through most of this final frame.
And it almost cost them – and had they blown this lead – then can you imagine the state of Rangerstown, USA?
At the two-minute mark, CZAR IGOR made a textbook save on Oshie – an Oshie who never faced any consequences for what he did to Lindgren.
A minute later, Chytil tried to force a pass to Kakko, as these two can not get anything good going right now.
A minute after that, Goodrow and Wilson went at it, but right before the mitts could touch ice; the refs broke them up again and then boxed the pair for two-minute off-setting roughing penalties.
Funny enough, this is when Levy brought up the 2/25 game between the two teams of the Metro Division – and then brought up Messier's war of words with Slewban too!
Down to 15:24 remaining, Panarin took his obligatory penalty, but at least this time, it wasn't of the o-zone variety. Instead, he held Jensen in the d-zone.
The Rangers' killed the 1:22 of the Caps' 4 x 3 power-play.
Now on a traditional 5 x 4 penalty kill; CZAR IGOR made his best save yet, when he absolutely robbed Ryan Strome's brother, Dylan, with a BESSIE save.
That was the only big save he had to make, as the Rangers then went on to kill this penalty.
Down to 12:09 remaining; Zibanejad streaked to the net and the Garden went "OOH" and "AAH" as they were hoping for the hat trick. Instead, he was questionably tripped – but no call.
As we started to approach the final ten-minutes, Levy asked Messier, "Who do you think is the best goalie in New York?"
Messier refrained from answering, but after a minute, then replied, "Would any of the two teams trade their goalie for the other one?"
That was a heck of an answer from the greatest captain of all-time.
Come 10:18 remaining, Mikkola took his mandatory penalty, as he continues to make a living in the penalty box.
No joke, the Rangers' PK didn't even break a sweat here.
However, once killing the penalty and with the Caps now in the Rangers' zone; Nic Dowd put a puck on Igor's pads, retrieved his rebound, and then beat #31 to bring the visitors within one.
4-3, good guys, and with 8:12 remaining.
While the Rangers' skaters did watch this all transpire; at the same time, Igor did give up this rebound too – so if you're going to get on the goalie for any of the goals allowed – then this would be the one.
The Caps, hoping to pull off the comeback, never relented. Neither did Igor.
While you have to be happy about the Rangers' win; at the same time, what once was a "feel-good" game had now turned into a "get the two points and get out of there" type of a game.
Down to 3:30 remaining, the home team had a chance to put this game away once-and-for-all; but following a huge rebound afforded to Kane – Kreider couldn't cash in the rebound. Had he, game over. This was also the second time where Kreider should've had a goal.
As we approached 2:20 remaining, Levy remarked, "I wonder if the Capitals will pull Kuemper?"
Apparently, he didn't see it, nor informed us that the goalie had taken his seat on the bench either, because just nine seconds later, Vesey, from his own zone, scored into the empty net.
5-3, GOOD GUYS!
Following the goal, Kuemper returned to the bench – and Levy saw it this time.
After a few Ranger icings and with ninety ticks to go; the Caps took their timeout.
Miller had two chances for an empty-netter himself, where one just missed by an inch and the other missed by a country-mile.
No matter, because as the final horn went off, the scoreboard remained as 5-3, GOOD GUYS.
The best win in the world? Hardly.
A much needed showing? Definitely.
---
Here's your favorite coach and mine, "THE TURK," following the big win:
---
Gallant pretty much said what I thought. (What a shock!)
However, he didn't take the bait when asked if this was Kane's best game as a Ranger. Instead, the head coach said this was the team's best game since the trade.
And you can see why some of these players don't want to talk to the media, as some of these questions were as if the kids from Disney were asking them, especially when asked, "was this a good game for your team?"
Dumbasses!
---
Up next: a pair of games, both on home ice, against Sidney Crosby and the officials.
Goaltending wise? I think I'd go right back to CZAR IGOR – but if it's Halak – then I wouldn't care either. Gallant and Allaire know what they are doing!
I'd also expect the line-up to remain the same, that is, unless Lindgren is able to return.
While the finish of this game was a bit hairy; overall, I thought this was a huge step in the right direction.
The Rangers beat a weakened team – and as they should have done.
I think Mike Rupp and Ken Daneyko said it best today, when talking about the Rangers on the NHL Network.
There are now fifteen games remaining. If you want to experiment and try to figure things out, then that's okay for the next 5-7 games.
However, once you get down to 5-8 games remaining on the schedule – you have to have things locked down.
The Rangers may be ahead of schedule after Tuesday.
---
I'll definitely be back on Thursday night, with a Rangers/Refguins review.
Should anything major break tomorrow; then I'll post something quick, late on Wednesday night.
Until then, LGR and yep, you know what time it is…
PLUGS TIME!
---
My first plug of tonight's blog – the mandatory plug for my book, "The New York Rangers Rink of Honor and the Rafters of Madison Square Garden."
As mentioned previously, the book is now available in hardcover, in paperback and in Kindle formats. To purchase a copy of the book, visit this link:
https://www.amazon.com/Rangers-Rafters-Madison-Square-Garden-ebook/dp/B09CM5N2WD
For those still looking for signed paperback versions of the book, I have re-ordered more copies. I now have a few signed copies for sale at $25 a pop (includes shipping price) through me directly. Here is all the information on that:
---
My four-volume set of books, "One Game at a Time – A Season to Remember," is a game-by-game recount of the Rangers 2021-22 campaign.
My second title as an author, "One Game at a Time – A Season to Remember," is now available in eBook, paperback and hardcover formats.
To obtain signed copies, visit: https://bluecollarblueshirts.com/onegamebook/
To purchase all four volumes on Amazon, visit: Amazon.com – "One Game at a Time."
---
The greatest volume-set of books on Rangers' history today!
"Tricks of the Trade – A Century-Long Journey Through Every Trade Made In New York Rangers' History," a four-volume set of books that meticulously covers every trade made in franchise history, is now on sale.
All four volumes of the title can be purchased on Amazon.com and are presented in three different formats – eBook, paperback and hardcover.
To purchase Volume I: Conn Smythe (1926) – Craig Patrick (1986), visit Amazon.com
To purchase Volume II: Phil Esposito (1986) – Neil Smith (2000), visit Amazon.com
To purchase Volume III: Glen Sather (2000-2015), visit Amazon.com
To purchase Volume IV: Jeff Gorton (2015) – Chris Drury (2022), visit Amazon.com
To purchase signed copies of all four volumes, visit https://bluecollarblueshirts.com/tricksofthetrade/
---
Here are my last few blogs, in case you missed them:
---
---
---
If you haven't already, subscribe to this blog for the next update:
---
Don't forget to order my new four-volume set of books, "Tricks of the Trade!"
If you don't order through me, all four volumes are now available on Amazon.com
For more details, check out: https://bluecollarblueshirts.com/tricksofthetrade/
Thanks for reading.
LET'S GO RANGERS!
Sean McCaffrey
BULLSMC@aol.com
@NYCTHEMIC on the Tweeter machine