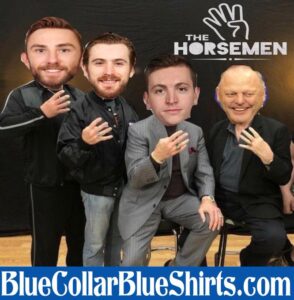 Greetings and salutations everyone and welcome to another blog here on BlueCollarBlueShirts.com. The Rangers are finding a good time to heat up again!
And how about that Vladimir Tarasenko guy – you know – the Rangers' first choice as a right-wing rental this season.
To be clear – that's not a knock on Patrick Kane (no fan wanted him on this team more than me) – it's just high praise for the former Blue – as Tarasenko, now as a Blueshirt, continues to star on Broadway!
---
Following a successful road-trip in the standings (2-0-1), but one that also presented a ton of concern; the Rangers, after vanquishing the Washington Capitals on Tuesday night – for an encore – Gallant's Gang arguably played a stronger game on Thursday night, in their 4-2 win over Crosby and company.
And let's face it – while the Caps have given the Rangers plenty of headaches over the years – and even ushered in the new regime too – as of right now – the Penguins are far more superior than the team from D.C.
(And let's also not forget that Alex Ovechkin didn't play on Tuesday night. The player he's often compared to – Sidney Crosby – as these two are arguably the greatest players of the salary cap era – did play tonight.)
Entering tonight's tilt, the Penguins had won the previous two contests against the Rangers, where both of those games were held on Pittsburgh home ice. And similar to the 2022 Stanley Cup Playoffs – Mike Sullivan's top line continues to wreak havoc whenever seeing the blue jersey at M$G.
Despite an aggressive and spectacular effort from Sidney Crosby (2 assists), Jake Guentzel (1 goal) and Rickard Rakell (1 goal and 1 assist); the Rangers' household names weren't too shabby themselves, as Mika Zibanejad (1 goal and 1 assist), Chris Kreider (2 goals) and Vladimir Tarasenko (1 assist) all found their way to the box score too.
These two warring teams of the Metropolitan Division usually tend to play close games – and where any player can take over a game.
While perhaps the black-and-yellow goaltender, Tristan Jarry, was better than CZAR IGOR on this night (mainly due to the disparity in the amount of shots on goal, and the quality of these shot attempts, that each goalie faced); it was the Rangers' fourth line that put the home team across the finish line.
Ever since Tyler Motte's return from injury, he and his linemates, Barclay Goodrow and Jimmy Vesey, have been phenomenal.
While I'm not suggesting that this line be dubbed or be considered as the "third line;" for all intents and purposes – that's what they've become – as they are now receiving the same amount of ice time as Kaapo Kakko, Filip Chytil and Alexis Lafreniere.
But hey – how can you argue with the results?
Furthermore – balance is what's needed – and for Gerard Gallant – he's receiving an Olympic gymnast level of balance right now!
Not only is this fourth line, perhaps the Rangers' best fourth line trio since the 2013-14 and 2014-15 seasons, shutting down their opponents – but they are also scoring goals too – while also outscoring the line that exclusively features first-round picks.
There's so much to rave about tonight, where I'm somewhat overshadowing the amazing defensive contributions made from Tarasenko, another strong night from Kane – and of course, Jacob Trouba – as the captain continues to be the team's best rearguard ever since Ryan Lindgren went down with injury.
And am I out of line for saying the following:
While many fans wanted Chris Kreider or Mika Zibanejad to wear the "C" this season – Trouba was the right call.
Whether it was the "helmet game" or what we're seeing from him now – Trouba is earning his "Ranger stripes."
No joke – this was a game to be proud of – and where every Ranger fan should have their chests puffed out!
And I'll get into everything from tonight's affair during the GAME REVIEW segment!
Before getting there, up first – the pregame news & notes.
---
Following the big win from Tuesday night, a day later, Wednesday, the Rangers hit their practice facility in Tarrytown, NY.
Not much went down at the skate, where at this point in time, the only real news story is in concern to Ryan Lindgren – as everyone awaits the return of the Blueshirts' top left-defenseman.
Once the practice concluded, head coach Gerard Gallant conducted his daily "TURK TALK."
Here it is:
---
The bench boss didn't really say much, where it was even brought up how there wasn't much to talk about.
On Lindgren, Gallant repeated that his defenseman was still "day-to-day," and reiterated that the team wasn't going to rush #55 back until he was 100% healthy.
After all, as previously mentioned on this site, and as Gallant said again on Wednesday – with the Rangers pretty much having their playoff spot sewn up – there is no dire need to rush Lindgren back.
As far as anything else, I thought that Larry Brooks and "THE TURK" had a good conversation, as Gallant talked about how he coaches whenever the opponent's net is empty.
While Gallant didn't really break any earth-shattering news here; he did reveal when he tells his players to go for the long distance goal, when icings are okay and other fairly obvious stuff – but again – it was nice to hear the coach go on record about this.
And wouldn't you know it – the Rangers saw another opponent pull their goalie tonight!
---
Come Thursday at 5PM, two hours prior to puck drop; Gallant met with the media again, where he revealed that CZAR IGOR would be in net, and that admittedly, he realizes that saying "day-to-day" everyday, in regards to Lindgren's status, has grown tiresome – but that there was nothing he could do about it.
This interview was less than a minute long – as again – there's nothing to talk about as everything remains status-quo.
---
Here was the Rangers' line-up from Thursday night:
FIRST LINE: Panarin/Mika/Tarasenko
SECOND LINE: Kreider/Trocheck/Kane
THIRD LINE: Lafreniere/Chytil/Kakko
FOURTH LINE: Vesey/Goodrow/Motte
FIRST PAIR: Miller/Trouba
SECOND PAIR: Mikkola/Fox
THIRD PAIR: Harpur/Schneider
STARTING GOALIE: CZAR IGOR
BACK-UP GOALIE: THE HALAKNESS MONSTER
DAY-TO-DAY: RYAN LINDGREN
PRESS BOX: The chair with Libor Hajek's ass indents still imprinted on it.
---
BOX SCORE time.
The following graphics and information come from ESPN.com:
SCORING:
PENALTIES:
TEAM STATS:
GOALIES:
| | | | | | | | | | | |
| --- | --- | --- | --- | --- | --- | --- | --- | --- | --- | --- |
| SA | GA | SV | SV% | ESSV | PPSV | SHSV | SOSA | SOS | TOI | PIM |
| 34 | 3 | 31 | .912 | 29 | 2 | 0 | 0 | 0 | 58:42 | 0 |
| | | | | | | | | | | |
| --- | --- | --- | --- | --- | --- | --- | --- | --- | --- | --- |
| SA | GA | SV | SV% | ESSV | PPSV | SHSV | SOSA | SOS | TOI | PIM |
| 32 | 2 | 30 | .938 | 29 | 0 | 1 | 0 | 0 | 59:57 | 0 |
---
I know that my stuff on the M$GN gets redundant (which is why I don't watch the pregame shows whenever Vagistat is there by himself) – but as long as they continue to parade the jackass known as Sieve Vagistat out there – what else am I supposed to say?
Once again, this broadcast was absolutely mind-numbing.
Here you have Henrik Lundqvist, a future Hall of Famer, and to a younger generation, the greatest Ranger of all-time; yet he's marginalized in favor of the worst Blueshirts' backstop of this century.
Again – does anyone from the M$GN ever watch the TNT broadcasts?
The answer – a huge HELL NO!
While TNT does a heck of a job whenever featuring "THE KING OF COMMENTARY;" over on his home network, M$GN, Lundqvist takes a backseat to the biggest boil of broadcasting, The Clear-Sighted Asshole and former Islander, Sieve Vagistat.
It's the same stuff on the M$GN whenever Hank is forced to carry Vagistat again, now as broadcasters.
Don't believe me? Then go back and watch any of these broadcasts – and then-and-only-then – tell me that I'm wrong.
Here's how your routine Hank/Vagistat broadcast always goes:
— Hank will say something smart – and then Vagistat will talk over him.
— Hank, from his perspective, will talk about what it was like going through the wars. Vagistat will then try to "one-up" him, with another one of his nauseating "war stories."
— Vagistat will make another tired joke at Hank's expense. We get it Vagistat – you sucked as a goalie – and we don't need daily reminders that your career didn't measure up to Hank's.
Funnier than all of that? Just watch how each man presents themselves.
Lundqvist, who is always wearing an expensive Rolex on his wrist, will have the luxurious timepiece nestled in underneath the wrist of his suit jacket.
Conversely, Vagistat always has his gaudy and fugazi "Rolex," most likely purchased off the streets in Chinatown, on full display.
The seven-foot doof will do anything to get noticed.
I know that I'm going too long on this, but just check out this photo from tonight's game:
One more time – Lundqvist is a future Hall of Famer – yet fans have to endure Vagistat's role-playing sessions on a daily basis.
And Vagistat's role-playing segments, where he doesn't act out what he did during the bulk of his NHL career and get Lundqvist a coffee?
THEY ADD NOTHING TO THE BROADCAST – much like his self-promoting junk when he routinely bombards viewers with the crap from his company, Clear-Sighted ANALytics.
The 1945 bombs in Japan were less damaging than Vagistat bombing us with his homemade arts & crafts, charts & graphs.
UGH!
If anything, and man-oh-man, was this apparent tonight – then it's time to officially boot Vagistat and promote Dave Maloney full-time.
While this isn't new – Maloney's enthusiasm, fandom and knowledge was a treat tonight. You never question where his loyalties lie – and 99% of the time – he speaks as a fan to the fan – while the smug Vagistat thinks he's the smartest man in the room with all of his made-up EXPECTED garbage.
Most important above all?
Maloney talks about the game and WHAT IS HAPPENING. Vagistat just tells you what he expects from his shitty spreadsheets.
---
For as much as I didn't like the final years of Lundqvist's contract; equally and in the same vein – I always enjoy hearing from him on these broadcasts.
After all, it's not very often where fans can hear from the all-time greats (especially recent ones) and understand their thought process.
And as opposed to the all-time greats prior to Lundqvist – Lundqvist DID get paid. He earned over $100M during his playing days – where in other words – he doesn't need to be there. He can live the high-life without ever lifting a finger again.
However, and similar to Maloney, the former captain of the club – Lundqvist's passion and fandom comes out during every broadcast. It's also a reason why he attends Ranger games at M$G on his off-days – he's now a fan – and his former team is now his favorite team.
Furthermore – it would only be natural for Lundqvist to have some resentment – not because of how his time ended here – but because of all of the offensive firepower that the Rangers have now – something you really couldn't say was there during his peak seasons. However, there's not one ounce of that at all. Instead – he's become one of the club's biggest cheerleaders – music to all ears in Rangerstown, USA.
(And yes – and as previously mentioned numerous times before on this site – for someone who despised his last contract – today, it's like a weight has been lifted off of me. I can now appreciate his glory years and his prime – which is why I get a thrill when watching him on TV today. To harp about the end of his career would be foolish. And as a Rangers' historian – why would I want to focus on the negative times?)
Lundqvist (who watched the Rangers/Capitals game as a fan inside of M$G on Tuesday night), opened up tonight's broadcast by stating the obvious – the Rangers just needed to do what they did during the first thirty minutes from that game. Vagistat immediately horned in and told us that he watched the game from home. Who gives a shit?
Lundqvist was then muted as Vagistat talked about "spray charts." I'm not making this up. I wish I was.
When Lundqvist was finally allowed to talk again, he said, "When you're a top player, the other teams talk about you. You have to adjust your game and find new things. He [Mika Zibanejad] does that."
Vagistat had no reply here, since he was never a top player in the league.
As John Giannone reminded us that the Penguins were embarrassed on Tuesday night against the Canadiens, thus meaning they'd play with some fire tonight; Lundqvist remarked, "Look where the Penguins are at in the standings. They are a desperate team and have to play that way."
Thankfully, the Rangers snuffed out that desperation!
In a fun captain-on-captain interview, Trouba told Maloney that these games against the Penguins are "fun," and when asked about his recent offensive outburst, "THE GREAT EIGHT" said that he's always "offensively oriented!"
What I like about Maloney doing these interviews, is that he always gives his subjects a proverbial (and sometimes literal), pat on the ass and then wishes them the best of the luck – and where you can see that he truly means it.
(And of course, Michelle Gingras can't be slapping players' backsides either!)
Lundqvist's response following the interview? This: "The best thing to gain confidence is to get rewarded. He's doing that."
Vagistat, in his response, then gave us some stats from his fake news company. Clown.
When asked about CZAR IGOR's less-than-stellar season, at least from a GAA and save percentage perspective; Lundqvist, on his successor, said, "Ask anyone if they'd want Igor's record. I see it as a huge advantage going into the playoffs. He can take it to another level when he needs to do."
Lundqvist kind of sounded like Mark Messier from Tuesday night while saying this.
But perhaps in some home cookin' here – isn't that what you want – rather than listening to Vagistat critique Igor like he has one clue what the hell he's talking about?
During their final segment, Giannone asked the pair of former goalies about playing the Penguins three times in a week.
Lundqvist said, "All of the pregame meetings can get tiresome, so less meetings can be refreshing."
Vagistat replied, "HANK, HANK, HANK, PLEASE LOOK AT ME! I WAS THERE ONCE TOO! REMEMBER? I GOT YOU A COFFEE WITH MILK AND TWO SPLENDAS, JUST THE WAY YOU WANTED. PLEASE TELL THE AUDIENCE THAT YOU KNOW WHO I AM!"
Okay – maybe Vagistat didn't say that verbatim – but that's what it sounded like!
Come 7PM, we went to the announce booth where Sam Rosen wished us a Happy St. Francis Day and hoped that the luck of the Italians would bring the Rangers luck.
Okay – he didn't say that – I'm just having my fun here!
What did happen, was both Sam & Joe fellated Crosby and Malkin. Once they came up for air, the puck was ready to be dropped.
GAME REVIEW time!
---
FIRST PERIOD:
Depending on how you view the sport of hockey, these first twenty minutes, and much like the game from Tuesday night, were the best of the game for the Rangers.
However, and unlike Tuesday night – the Rangers also played well during the two other frames.
And also as opposed to Tuesday night, when the fourth line took all three opening faceoffs – tonight, it was Mika Zibanejad who took the first draw of each period. During a game where he was usually matched-up against Sidney Crosby – the SWEDISH JESUS finished 10 of 20, good for 50% – a strong showing if I say so myself!
Right away – this period was in favor of the Rangers – and that would continue throughout.
Just seconds in, Panarin got right to Jarry, but Crosby, to his credit, was able to take the biscuit away from "The Breadman." However, this particular turnover wasn't as bad as the usual turnovers that we see from the highest-paid winger in the league – especially when you consider that it was Crosby who had forced it.
As Sam and Joe continued their love-affair and infatuation with Crosby and Malkin; Chytil took his first shot of the game, his first of four – and one that Jarry stopped.
Jarry would stop the other three Chytil shot attempts, so for the Czech, he's now 17 consecutive games without a goal. That's over 50 periods of play.
I guess it should be mentioned that as opposed to the other games from this cold-streak – Chytil didn't look bad tonight – but still – he can't bury a puck if Emily Kaplan's life depended on it!
Speaking of negative streaks; Kakko snapped his four-game stretch without a SOG tonight, as Jarry finished tonight's game with two saves on the Finn.
At just the 2:51 mark, and with the Rangers' first line returned to the ice, this happened:
Mika Magic is absolutely electric in The Garden ⚡🗣️ pic.twitter.com/vdHqmy09tu

— Rangers on MSG (@RangersMSGN) March 16, 2023
---
1-0, GOOD GUYS – and just like that!
While it was Mika who beat Jarry on the breakaway – don't get it twisted – this goal doesn't happen without Tarasenko, who game-by-game – it's obvious – VT91 is not only comfortable in his new surroundings – but he's owning his new environment too!
From the boards in the Rangers' d-zone, Tarasenko made a defensive play, flipped the puck to Panarin – and BOOM – #10 found #93 wide-open for the breakaway, as DJ MIKA then spun his 35th goal of the season.
Not only is Mika now flirting with another 40-goal season – but this was also his 200th goal as a Ranger.
While I still think that Kreider will be the guy; instead, it could be his BFF that breaks Rod Gilbert's record for most goals as a Blueshirt (406).
And while my daily bet of a 4-0 Rangers' final score didn't hit tonight; no less than three minutes in, my other FIVE DOLLA HOLLA BET hit: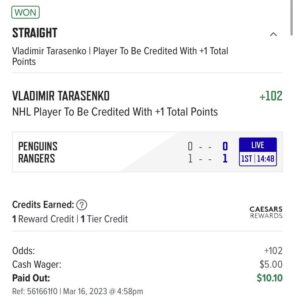 For the Rangers, who had previously struggled to score goals and get the first strike of this game; needless to say – this was huge.
They never let up – but they wouldn't score again during this frame – and you can thank Mr. Jarry for that.
Following Mika's tally; the second line put on some pressure. The third line then came on and at the 3:59 mark, Lafreniere had a good shot sent out of play following a block/deflection. Once the puck was dropped again, Harpur just missed the net as the third line continued to forecheck.
Come 14:48 remaining, Pens' d-man, Jeff Petry, tried to hit Tyler Motte. However, with Motte's back to Petry, somehow, the Pittsburgh rearguard skated face first into Motte's elbow. This was clearly unintentional/accidental, where following the play, where Petry had to be assisted to the locker room (he never returned); Motte asked, "what happened?"
Of course, Motte, a recent victim of a concussion seeking elbow himself (FU Austin Watson), was not looking to do the same to Petry. Again, this was 100% an accident, an unfortunate consequence of a playing a physical sport. The Penguins didn't seem to think so.
And oh – give it up to the fans at M$G – rather than razzing the fallen bird – instead, the fans cheered Petry as he was able to recover and skate off of the ice. A classy act of sportmanship.
Once returned to play, Mika almost scored again, but prior to going to the net, he was high-sticked at the 5:36 mark by Marcus Pettersson.
This Rangers' power-play wasn't very good, as they finished with no shots on goal. However, there was one play, early into the man-advantage, when Brian Dumoulin cross-checked Trocheck into the crossbar. No call.
The power-play ended with Miller turning over the puck – one of his least egregious turnovers of the game.
Now down to 11:45 remaining, CZAR IGOR made one of his few rare saves from this time, as he stopped Zucker from his doorstep. Not to be outdone, just seconds later, Jarry did the same to Goodrow.
As Jarry made the big balls save on Goodrow, this also took place at the same time:
After Jeff Petry skated right into Tyler Motte he has been targeted by Pitts. Just watch Motte. #NYR pic.twitter.com/FPOj0ES8VE

— David 🏒 (@DaveyUpper) March 16, 2023
---
Joseph, in retaliation, head-hunted Motte, as he leveled him with his shoulder, a hit that landed on Motte's chinny-chin-chin.
Motte, like Petry before him, would have to go to the locker room.
Fortunately, Motte's stay with Rangers' trainer Jim Ramsey was short-lived – and just three minutes later – he returned.
A major crisis averted for a player that's been snake-bit by injuries to say the least.
He'd later score his first regular-season goal as a Ranger.
And you know this hit was bad, not only because the officials allowed it – but because Sam Rosen said what it was – pure retaliation. Even Senile Sammy saw it! That says it all!
Now under eleven minutes remaining, Jarry made a robbery save on Panarin – and then stopped Mikkola too – where no joke – it could've been 3-0, in favor of the home team, at the time.
At the half-way mark of the period, Trouba, and as he's been doing a lot of lately, skated towards the net and looked for another goal, but unfortunately – Trocheck accidentally blocked it while crashing the crease.
Down to 8:50 remaining, Harpur prevented a backdoor goal.
Again – once Lindgren gets back – #5, and not #77, would be my choice for #4's partner.
As we approached 7:00 remaining, CZAR IGOR only had two saves to his name. He then made three-rapid saves, where two of them were the end result of rebounds afforded.
After returning from a TV timeout with 6:42 remaining, Dave Maloney, in-between the benches, said it best, "This game is flying and there's a whole lot of smoke out there!"
At the time, both teams were blazing the ice at a breakneck speed – but it were the Rangers who were peppering Jarry, while the Penguins just looked salty about it.
Come 6:00 left on the clock, Kreider almost had a breakaway, but at the last second, a visiting defender caught up to him. Kreider still got the shot off anyway – another save for Jarry.
A few seconds later, and with the third line on the ice; Chytil spear-headed a 3 x 2 Rangers' odd-man rush – but rather than going to the net, and perhaps in fear of contact – opted to dump the puck instead. No SOG.
As the new second line continued to buzz; Jarry stopped Kreider again, and on the rebound afforded – Trocheck was just a half-step shy, as he was looking to smoke the Pens' goalie with 4:20 remaining.
Up next was the fourth-line, who I can't praise enough tonight, who then spent 45 seconds in the Pens' zone.
Seriously – this fourth line continues to spend a bulk of their shifts in the offensive zone, which in turn, just creates misery for the opponent.
Following one more Jarry save on a Lafreniere stuff-in try; we had reached the end of the period.
1-0, GOOD GUYS, and here's what I said at the time:
1-0, GOOD GUYS, after 20. 1P Thoughts:
— Only criticism? You would like more goals – everything else was on-point.
— SOG 12-7 #NYR ; Hits 12-5, FOs 8-6 Pens
— Mika heating up again, can Chytil find his touch?
— Igor looks like Igor when needed
— Glad to see #14 ok
LGR

— BlueCollarBlueShirts (@NYCTheMiC) March 16, 2023
---
SECOND PERIOD:
As opposed to the fast-paced, frantic and feisty first period; the first ten-minutes of this period were kind of slow, as both teams played a more defensive-minded and conservative brand of hockey.
The Pens' had some light offense to start, but after that, each team limited their opponents SOG chances.
As Kreider beat out an icing at the 1:10 mark; Rosen informed us that Chytil had spent extra time on the practice ice on Wednesday, working on his shot. In other words – at least #72 is trying to get to goal #20, after being stunted for seventeen games.
Following that, and after more praise for #87 and #71 of the road-team; Sam and Joe then salivated and wagged their tongues about Pens' coach, Mike Sullivan. I don't know why these two think that Ranger fans want to hear this nonsense.
As we saw icing-after-icing, an offside-after-offside (Igor had two offsides himself – as he's looking for his second assist of the season now!); Jarry came up with pair of saves on Mika & Chytil with 14:30 left to play.
Thirty seconds later, "Rakell, Rakell, The Musical" checked the Czech, which forced a turnover out of Chytil.
And of course, once the Blueshirts' third line was finished with their shift – the fourth line came on again and then spent another thirty seconds or so in the Pens' zone.
As we were just ninety seconds away from the half-way point of the game/period; the Pens finally put their first SOG of this middle frame – a save for Mr. CZAR IGOR.
Right after that, Kreider almost had Trocheck set-up for a backdoor goal, but Jarry shut that proverbial door.
Now with under nine minutes remaining, Zucker blew by the Ranger skaters and put a sure-fire goal towards Shestyorkin. CZAR IGOR then made a BESSIE (glove) save – and where he made this extremely difficult save look elementary, my dear Watson!
A few seconds later, and with the Pens looking for the equalizer; Miller made a nice hit on Guentzel. It's nice to see #79 bring some pop to his game.
Come 7:50 remaining, the Rangers' first line saw the Pens try to clear a puck from their zone, but Tarasenko, despite two teammates behind him, went balls-to-the-wall, when diving and keeping the possession alive. This was something that VT91 didn't have to do at this juncture of the game – but the fact that he did – it tells you how much he wants to win.
As we hit 6:45 remaining – the Rangers' unselfishness reared in its ugly head again.
On a 2 x 1 odd-man rush, Kane had a clear-as-day scoring opportunity on Jarry. Instead, he passed it to Kreider and the longest-tenured Ranger missed the net. Even if he had put the shot on goal – Jarry was right there for the save anyway.
While we know that Kane is still finding his groove and wants to be as unselfish as possible; we saw a similar play against Washington – where he did shoot the puck – rather than forcing a pass for a lower quality of shot. That's what he should've done here – shot the puck – and had the Rangers lost this game – then you would be hearing a lot more about this play right now.
Of course – he's a three-time Stanley Cup champion and a future HOFer – so I'll let this slide – especially since I understand how he's trying to create chemistry with his new team.
The Rangers soon had another scoring chance, as Rust ate some friendly-fire from a teammate. With Rust down on the ice, the Blueshirts had a 4 x 2 odd-man rush, but with 5:36 remaining – they went offside.
All of these mounting up & failing scoring chances soon caught up to the Rangers.
With 5:20 remaining, and following Trouba preventing a Guentzel breakaway; Miller, with the puck to the boards left of CZAR IGOR, lazily tried to wrap the puck around the boards. Since he wasn't looking, he didn't notice that Crosby was right there – a Crosby who then easily intercepted the puck as if it was a pass thrown from Jets' QB, Zach Wilson.
Once with the puck, Crosby, within a nanosecond, found Rakell for the easy goal.
1-1.
When it comes to Miller, who had been horrid as of late previous to Tuesday night; this was a boneheaded play.
Maybe CZAR IGOR has to stop this, but either way – this was a brutal turnover, where at the time, had neutralized the Rangers' lead – and in way – their domination of this game too.
However, Tyler Motte soon picked up his team.
Following Joseph getting away with a penalty on Schneider – Motte would make Joseph pay.
With 3:07 to go, the Rangers answered the bell and regained the lead:
Tyler Motte forces the turnover and his first as a Ranger this season is a big one #NYR pic.twitter.com/IC9S9f1ch6

— Rangers on MSG (@RangersMSGN) March 17, 2023
---
2-1, GOOD GUYS, as Motte put some APPLE SAUCE past Jarry, after forcing an o-zone turnover on Joseph!
Following Vesey and Goodrow scoring goals during the past few games; tonight it was Motte's turn.
There's no other way to say it – this line is H-O-T!
Now back with the lead, the two goalies exchanged two more saves each.
Then, with 38.8 seconds to go, Kakko did his Harlem Globetrotter act, and while skating all over the place with the puck – drew Pettersson for holding.
Of note before continuing – Pettersson was the only player penalized tonight – twice.
In other words, after taking three penalties in less than six-minutes on Sunday afternoon against these same Penguins – the Rangers avoided the sin bin tonight – and that includes both Panarin and Mikkola!
And to not get penalized against the "Refguins?"
That my friends, speaks volumes!
With no power-play goal scored here, the Rangers would open the third period on a 1:22 power-play.
2-1, GOOD GUYS, after two periods.
Here's what I said at the time:
2-1, GOOD GUYS, after 40. 2P Thoughts:
— Both teams are paid to play – didn't expect a SO – so extremely happy with the #NYR response.
— Fourth line > Third line
— SOG 21-18 NYR, Hits 16-15 Pens, FOs 19-all
— Tarasenko is going to be special in the playoffs
— FINISH!

— BlueCollarBlueShirts (@NYCTheMiC) March 17, 2023
---
THIRD PERIOD:
I can't lie to you – I had that feeling in my gut that the Penguins would tie this game – I just didn't know when.
After all, with two Ranger power-plays, and not one penalty assessed to the home team – I thought a phantom penalty was coming.
Plus, as the scoring chances were either wasted or denied by Jarry; as you well know – you've seen this show before too!
Trouba had two bombs stopped on this power-play; while Panarin and Kane had a missed connection. That was the end of the power-play, as the man-advantage units wound up finishing 0-2 tonight.
The Rangers didn't relent after the failed power-play – but neither did Jarry.
Jarry came up with seven consecutive saves to start the frame, while a Trouba Bomb exploded on the post – rather than into the net.
Once down to 12:16 remaining; Igor made his first save of the frame, an easy glove save at that.
Micheletti's response?
"YOU KNOW SAM, THE PENGUINS ARE ONLY DOWN BY ONE. THE RANGERS ARE OUT-SHOOTING THE PENGUINS, BUT ALL MIKE SULLIVAN AND THE PENGUINS WANT IS JUST ONE GOOD SHOT TO TIE THE GAME."
Joe got his wish – that mother-effing jinx.
Down to 10:51 remaining, and as the Pens' top line continued to have their way with the Rangers; there was Guentzel with the equalizer.
2-2.
Prior to the goal, Mikkola had several chances to clear, but like his Finnish brethren Kakko, who is allergic to gluten; the defenseman looked allergic with the puck.
That said, and let's be fair – Jarry, at this point, had over a dozen excellent saves to his scorecard. Igor didn't have as many, and this is one he could've stopped – even if his skaters were gassed a bit in front of him.
And yep – I think everyone saw this tying goal coming too – it's the Rangers' way – never easy!
But the Rangers did FIND A WAY – and that's all that matters!
As fingernails were chomped and as the lungs of chain smokers took a beating; there was CHRISTOPHER JAMES KREIDER, with 8:15 remaining, regaining the lead:
Chris Kreider battles in front and muscles #NYR to a 3-2 lead pic.twitter.com/dLepzhXBQD

— Rangers on MSG (@RangersMSGN) March 17, 2023
---
3-2, GOOD GUYS!
Kreider, who had previously missed the net on what feels like his past ten scoring chances, found a good time to score here!
Kane, who picked up the secondary assist on this goal, as he continues to nearly average a point-per-game as a Ranger; got the puck to Fox. The 2021 Norris Trophy winner then blasted a puck from the point – and boom – there was Kreider, in his familiar spot in front of the net, collecting the loose change for his 29th goal of the season.
As we approached crunch time with 5:30 remaining – I got extremely nervous as M$G serenaded the Penguins with "CROSBY SUCKS!" chants.
At the time, Crosby, arguably the greatest player of his generation, had two assists.
Why Ranger fans decided to antagonize, thus motivating, one of the most famous Ranger killers of franchise history was beyond me.
Just chant "LET'S GO RANGERS" and be done with it – and don't give Crosby some "verbal bulletin board material!"
Thankfully – these chants (can you tell that I'm superstitious and believe in bad ju-ju?) never backfired.
As Jarry came up with a trio of saves on the Rangers' first line; now down to nearly 3:00 left to play, the Pens' top line had an all-out attack themselves, where Trouba was forced to ice the puck in order to temporarily stunt their momentum.
It wasn't until there was 2:45 left to go, and following what was over a minute's worth of a black-and-yellow attack, that the Rangers were able to clear the zone – and make the much needed change.
The Rangers – again – didn't relent.
Instead, they continued to press the issue, and it wasn't until there were only eighty seconds remaining when Jarry could leave his net for the extra skater.
With the game on the line, the Penguins made their last dash at Igor, but the first line retrieved the puck.
In a play that had your asshole in your mouth – Mika Zibanejad had all day to shoot at an empty net. He didn't. Instead, he gave the puck to Trocheck, as Mika must've thought this game was in the bag – despite fifty seconds left to play and with the Penguins seeking blood.
Trocheck then waited to shoot – and a Pens' defender blocked the shot while in the space previously vacated by Jarry.
And thank the hockey gods – Kreider – once again – played clean up man – and took the loose puck and deposited it into the empty net.
4-2, GOOD GUYS – Kreider's 30th goal of the season – and the second season of his career where he's scored 30 or more goals. (You may have heard about what he did last season – CK52!)
Following the goal, which was scored with 49 ticks left to play – Gallant was shown on the bench talking to both Kreider and Mika. I couldn't really tell what he was saying, nor did the media ask him about it either – but I'd imagine he was telling Mika – "IF YOU HAVE AN EMPTY NET IN FRONT OF YOU WITH A ONE GOAL LEAD – THEN YOU SHOOT THE DAMN THING!"
4-2, GOOD GUYS, your final!
Overall – this was a well-played game.
Sure, the Rangers had some "brain-farts," but really, and as noted at the top of this – the other team is paid to play hockey too – and these Penguins are desperate.
This was solid of a win as any – and where the entire roster contributed.
The Rangers are finding their mojo now – and with the playoffs less than a month away – there's no time like the present to get rolling.
---
Here's your favorite coach and mine, Gerard Gallant, following the big two-points in the standings – as the Rangers have now increased their lead to ten points over the two wild-card teams, these same Penguins and the trashy Islanders:
---
As you'd imagine – Gallant was thrilled with the effort – and also made sure to point out how his team took no penalties – somewhat a rarity this season!
Up next for the Rangers: a rematch with the Penguins on Saturday night on ABC (8PM puck drop) at M$G, followed by another home game 24-hours later against the Predators.
In other words, this game was the first of another three games in four nights.
Of note: the Preds themselves are also in the same boat. Following their 2-1 loss to the Blackhawks from Thursday night, they will host the Jets on Saturday afternoon (2PM) and then fly out to New York.
In other words – no excuses – JUST WIN.
And hey – maybe we'll see Lindgren sometime this weekend too.
---
Since I doubt we'll have any real news on Friday – and since it is St. Patrick's Day too – no blog on Friday.
See ya Saturday night, following the fourth-and-final game between the Rangers & the Ice Birds.
PLUGS TIME!
---
On Wednesday night, March 15th, our buddies over at "The Blueshirt Underground Show" returned with a new episode. To check it out, click the play button below:
---
My first plug of tonight's blog – the mandatory plug for my book, "The New York Rangers Rink of Honor and the Rafters of Madison Square Garden."
As mentioned previously, the book is now available in hardcover, in paperback and in Kindle formats. To purchase a copy of the book, visit this link:
https://www.amazon.com/Rangers-Rafters-Madison-Square-Garden-ebook/dp/B09CM5N2WD
For those still looking for signed paperback versions of the book, I have re-ordered more copies. I now have a few signed copies for sale at $25 a pop (includes shipping price) through me directly. Here is all the information on that:
---
My four-volume set of books, "One Game at a Time – A Season to Remember," is a game-by-game recount of the Rangers 2021-22 campaign.
My second title as an author, "One Game at a Time – A Season to Remember," is now available in eBook, paperback and hardcover formats.
To obtain signed copies, visit: https://bluecollarblueshirts.com/onegamebook/
To purchase all four volumes on Amazon, visit: Amazon.com – "One Game at a Time."
---
The greatest volume-set of books on Rangers' history today!
"Tricks of the Trade – A Century-Long Journey Through Every Trade Made In New York Rangers' History," a four-volume set of books that meticulously covers every trade made in franchise history, is now on sale.
All four volumes of the title can be purchased on Amazon.com and are presented in three different formats – eBook, paperback and hardcover.
To purchase Volume I: Conn Smythe (1926) – Craig Patrick (1986), visit Amazon.com
To purchase Volume II: Phil Esposito (1986) – Neil Smith (2000), visit Amazon.com
To purchase Volume III: Glen Sather (2000-2015), visit Amazon.com
To purchase Volume IV: Jeff Gorton (2015) – Chris Drury (2022), visit Amazon.com
To purchase signed copies of all four volumes, visit https://bluecollarblueshirts.com/tricksofthetrade/
---
Here are my last few blogs, in case you missed them:
---
---
---
If you haven't already, subscribe to this blog for the next update:
---
Don't forget to order my new four-volume set of books, "Tricks of the Trade!"
If you don't order through me, all four volumes are now available on Amazon.com
For more details, check out: https://bluecollarblueshirts.com/tricksofthetrade/
Thanks for reading.
LET'S GO RANGERS!
Sean McCaffrey
BULLSMC@aol.com
@NYCTHEMIC on the Tweeter machine