Greetings and salutations everyone and welcome to another blog here on BlueCollarBlueShirts.com. Once again, I need a nap!
As I write these words, I'm now in Pittsburgh, PA – and where due to Daylight Savings time – it's also 3:00AM!
In other words, this is going to be very short tonight – a rarity for this site!
However, I will include over 100 photos that I took during my second day spent in Buffalo.
(To see the photos that I took during my first night in the home of the chicken wing, check out: https://bluecollarblueshirts.com/31023/)
Let's get this blog uploaded as fast as humanly possible!
---
As mentioned last night, I'm working on a crappy laptop, one that is almost as ineffective as the Rangers were on Saturday.
You'd think for a famous author like myself, and a world renowned Rangers' blogger, that I'd have the best machinery possible – but you'd be wrong.
After all, that's why this site is called BLUE Collar Blueshirts and not WHITE Collar Whiteshirts! (White shirts for away games – duh!)
In other words, my game-plan for right now is to share all of my pics with you, tell you what I did – and then expand on everything come Monday – when I'm back home and using my dinosaur computer – but a relic that I appreciate a lot more today!
Following my busy Friday; come Saturday, "TEN O'CLOCK TOMMY" and I traveled to the Anchor Bar – an establishment that claims sole credit for inventing the chicken wing.
And since it's late, and where I really don't see any need to challenge their stake – I believe them.
While I'll have more about this place on Monday; for now, the wings were good – even if the restaurant felt dingy. But hey – that's part of the charm. Even someone like a Jon Taffer would admit that!
That said, once exiting the Anchor Bar, I got a better understanding of why the locals feel that this joint is a "tourist trap" and prefer other places in-town.
(And the way Buffalo residents talk about their favorite wing spots is akin to how New Yorkers talk about their favorite pizza parlors.)
However, don't get it twisted – I had a good time and the wings lived up to the hype.
I should also note, that I met a blog reader named George and his friends at the Anchor Bar – I'd then run into him ten more times during my travels – my apologies – he must be sick of me!
And no joke, when T.O.T. finally entered our hotel room in Pittsburgh at 1:30AM EST (Sunday), I remarked – "I'm surprised George isn't here!"
After gorging ourselves with chicken – where after all of the meals I ate in Buffalo – I feel like I'm going to fart out a few feathers, as if I was Sieve Vagistat hanging out at "The Ramrod;" we then traveled to the Labatt Blue Brewery – just fifty steps or so away from the Keybank Center.
As you may know, and as I said just last night on this site – while I never eat this much at home – I do drink this much at home. Heck, how do you think I wrote nine books in a time-span of two-years!
While some may get sluggish following a few pops; it just fuels me!
Need proof? Here you go:
As we traveled from Buffalo to Pittsburgh, I stayed up the whole way as T.O.T. manned the wheel for three-hours (to fall asleep in the car during a road-trip like this breaks MAN CODE – and comes with a three-game suspension too!) – and now as it's 3:15AM – I'm rambling on this site while he's snoring.
Ah, how the tables have turned!
Long-story short, and a story that will be expanded on come Monday – I had a blast at the brewery – especially since Labatt is one of my favorite beers!
That all out of the way, let me blow through the horror I saw on Saturday – and then close with the photo gallery.
---
As mentioned all of last week, no GAME REVIEW for this particular contest – and thank the hockey gods for that – as this game s-u-c-k-e-d – even if Patrick Kane scored a goal.
And better than Kane? CZAR IGOR playing like a Vezina Trophy winning goalie.
Here are my quick and most important bullet-point observations from the Rangers' 2-1 overtime win:
— Fingers-crossed, and hopefully sooner than later, the goalie and his skaters will click at the same time.
— While CZAR IGOR played well sans one inexcusable gaffe; the team in front of him, one that used to score touchdowns on a daily basis, has not. And yep – this is pretty much a role reversal from most games played this season.
— On CZAR IGOR's brutal turnover that went for a goal but was quickly waved off for an offside – in real-time, I thought the Sabre was offside as he was changing. That said, offside or not – #31 can get cocky – and while he's a good puck-handler, if not the best in the league – sometimes his cockiness is his downfall.
— For the second consecutive game, I thought that Jacob Trouba was the best Ranger on the ice – even more so than CZAR IGOR, because of that one mistake. The captain remains flawless in my eyes. His partner, K'Andre Minus, does not.
— As has been the case for the past fourteen games now – Chytil can't score. Worse than that, Kakko rarely, if ever these days, looks at the net. Once again, Lafreniere was the stud of that line.
— I thought the fourth line was the most consistent line for Gallant – which is probably why when "THE TURK" went to the blender, this line remained in-tact.
— As far as Gallant teasing changing up the lines on Friday and then doing so today – I was fine with it. Something had to give. One goal, with this offense, and especially against this team that had just given up ten goals 48-hours prior – well that's inexcusable.
— I also liked Gallant's post-game interview, where he pretty much told Newsday's Colin Stephenson to go eff himself, as the head coach said verbatim in regards to his many in-game changes:
"I'm going to do what's working. We tried it, it worked tonight, and maybe we'll try it again tomorrow. We'll see."
Listen to it for yourself (available on the Rangers' YouTube page), as Gallant definitely sounded snippy and fed-up about being challenged following wins.
I also believe this is the first time that the head coach has blown up on Stephenson too, as usually (and exclusively), "The Turk" saves his venom and vitriol for the two worst reporters of the beat, the law firm of Wince & Walker – aka – We Know Shit LLC.
— The lack of SOG were absolutely alarming. At one point, past the half-way mark of the game, the Rangers had something like eight SOG – and it wasn't because they had other attempts blocked, shot wide or hit the iron. They just couldn't get into the Sabres' zone at all – and this was a Buffalo team that's known for playing odd-man rush hockey.
— While I did think that the Rangers were trying to stress defense and protect their goalie, and as perhaps as the 2-1 OT final would indicate – that wasn't really the case. CZAR IGOR made about a dozen, if not more, robbery saves. He stole the first point. The officials may have stolen the other point away from the home team.
— In a rarity, and let's be fair and call it as it is – especially if we are so vocal when it goes the other way – I thought the officials were hellbent on awarding this game to the visitors.
That's great for me – but for my fellow hockey fans residing in Buffalo? They have every right to be pissed off – extremely PO'd at that.
Between missed calls (two blatant penalties went undetected, a high-stick from Harpur and a hook from Panarin), not even allowing the Sabres to challenge Jost's waved-off goal, bad icing whistles, awarding the Rangers a power-play during the overtime, and a few other things too – the Sabres, in my opinion, weren't just playing the Rangers – but they were up against The Zebras too.
— I'd peg the crowd as 65% NYR fans/35% BUF fans, where this dynamic produced some electric energy through all of the dueling chants and fever-pitch noise. However, these multiple sparks could never ignite the Rangers themselves.
— The Rangers, a Cup contender, needed a fluke goal from Kane, the refs to ignore multiple infractions, and then needed perhaps a gifted power-play too, to seal the deal in overtime.
— And if CZAR IGOR played like shit? This game would've been a Buffalo Blowout, as the Sabres would've chewed and discarded the Blueshirts as if they were chicken wings.
---
In a way, I do wish I had more time to write about this game, but on the other hand – I'm glad that I don't!
I just want to see this team right this ship – but I am nervous.
After all, if the last-place and Connor Bedard seeking Canadiens can push the Rangers to a shootout, and if the Blueshirts needed overtime to beat a franchise a few weeks away from extending their playoff drought to twelve consecutive seasons – then what's Sidney Crosby and co. going to do – especially since the Penguins may as well be Elephants – as they have not forgotten what took place during May of '22.
In other words – expect a ton of boos for Jacob Trouba – while I chant "OH JOE, THOSE ARE TROOOOOOOOOOOOS JOE!"
---
Final update before bombarding you with photos.
Following the game, Johnny Brodzinski, who didn't play tonight, was re-assigned to Hartford, where he'll resume his duties as the captain of the 'Pack.
This news means that Ryan Lindgren will make his long awaited return on Sunday in the Steel City – as there would be no other reason to send Brodzinski back down.
(In case you don't know – the Rangers have no cap space – which is why JONNY HOCKEY will return to Connecticut. They can only carry a twenty-man roster until the playoffs.)
---
One last time, sorry for going short here – but hey – I'm writing all of this into the wee hours of the morning – and with a matinee to be played later this afternoon!
And as mentioned – this laptop is as useful as a Sieve Vagistat chart – so for whatever reason, these pictures appear in an inverse order.
In other words, if you want to view these photos in a chronological fashion, then scroll to the bottom and work your way up back to these words.
Enjoy!
---
---
---
---
---
---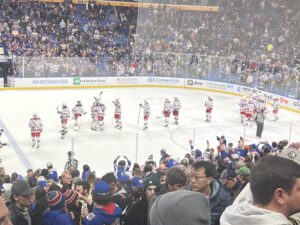 ---
---
---
---
---
---
---
---
---
---
---
---
---
---
---
---
---
---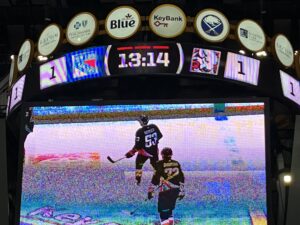 ---
---
---
---
---
---
---
---
---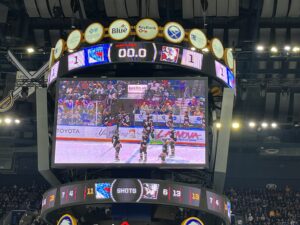 ---
---
---
---
---
---
---
---
---
---
---
---
---
---
---
---
---
---
---
---
---
---
---
---
---
---
---
---
---
---
---
---
---
---
---
---
---
---
---
---
---
---
---
---
---
---
---
---
---
---
---
---
---
---
---
---
---
---
---
---
---
---
---
---
---
---
---
---
---
---
---
---
---
---
---
---
---
---
---
---
---
---
---
---
---
---
---
---
---
---
---
---
---
---
---
---
Rangers vs Penguins later today.
I'll do the same thing I did here following that tilt – a photo gallery – and with more thoughts to come on Monday.
For me it's bedtime. For you, should you continue your journey on this site, it's…
PLUGS TIME!
---
My first plug of tonight's blog – the mandatory plug for my book, "The New York Rangers Rink of Honor and the Rafters of Madison Square Garden."
As mentioned previously, the book is now available in hardcover, in paperback and in Kindle formats. To purchase a copy of the book, visit this link:
https://www.amazon.com/Rangers-Rafters-Madison-Square-Garden-ebook/dp/B09CM5N2WD
For those still looking for signed paperback versions of the book, I have re-ordered more copies. I now have a few signed copies for sale at $25 a pop (includes shipping price) through me directly. Here is all the information on that:
---
My four-volume set of books, "One Game at a Time – A Season to Remember," is a game-by-game recount of the Rangers 2021-22 campaign.
My second title as an author, "One Game at a Time – A Season to Remember," is now available in eBook, paperback and hardcover formats.
To obtain signed copies, visit: https://bluecollarblueshirts.com/onegamebook/
To purchase all four volumes on Amazon, visit: Amazon.com – "One Game at a Time."
---
The greatest volume-set of books on Rangers' history today!
"Tricks of the Trade – A Century-Long Journey Through Every Trade Made In New York Rangers' History," a four-volume set of books that meticulously covers every trade made in franchise history, is now on sale.
All four volumes of the title can be purchased on Amazon.com and are presented in three different formats – eBook, paperback and hardcover.
To purchase Volume I: Conn Smythe (1926) – Craig Patrick (1986), visit Amazon.com
To purchase Volume II: Phil Esposito (1986) – Neil Smith (2000), visit Amazon.com
To purchase Volume III: Glen Sather (2000-2015), visit Amazon.com
To purchase Volume IV: Jeff Gorton (2015) – Chris Drury (2022), visit Amazon.com
To purchase signed copies of all four volumes, visit https://bluecollarblueshirts.com/tricksofthetrade/
---
Here are my last few blogs, in case you missed them:
---
---
---
---
If you haven't already, subscribe to this blog for the next update:
---
Don't forget to order my new four-volume set of books, "Tricks of the Trade!"
If you don't order through me, all four volumes are now available on Amazon.com
For more details, check out: https://bluecollarblueshirts.com/tricksofthetrade/
Thanks for reading.
LET'S GO RANGERS!
Sean McCaffrey
BULLSMC@aol.com
@NYCTHEMIC on the Tweeter machine