Greetings and salutations everyone and welcome to another blog here on BlueCollarBlueShirts.com. Pavel who?
Seriously speaking – what a thriller! Even better? No points for "Captain Happy" either! More important than that? Two points in the standings, as the Rangers now trail the Pittsburgh Penguins by one point for second place in the division, and with a game in-hand too. LGR!
On Wednesday night, the Rangers took home ice, where they hosted the red-hot St. Louis Blues. While of course, the name of Pavel Buchnevich garnered a lot of attention; somewhat lost in all of that, was the fact that the Blues were riding a four-game winning streak too. Just like the Rangers recent two-game losing streak, following this game – the Blues winning streak was snapped as well.
Tonight's game was the 54th contest of the Rangers season. This particular tilt was unlike anything we've seen from the previous 53.
While we've seen the Rangers unite and put forth strong efforts routinely throughout this 2021-22 campaign – we've never seen Igor give up three consecutive goals after three consecutive shots either. For the first time in a long time, it were the skaters in front of Igor who battled their way to victory and "stole the game," for all of you "stolen win" people!
Put it this way – following most Ranger victories (and losses too), CZAR IGOR is usually one of the top three stars, if not the first star, of the game. Tonight, these were your three stars:
Of course, in no way am I slighting CZAR IGOR here at all. Far from that. After all, who has been praising this guy since 2017 in this space? That's right, yours truly:
Contrary to what we've seen all season long, and really, ever since CZAR IGOR first took Madison Square Garden ice in January of 2020 – Igor Shestyorkin is human. He's not going to carry the team every night – even if it feels that way! And even on an off-night for him, he still made a bunch of tremendous saves, including a breakaway save on Pavel Buchnevich, which we'll soon get into.
This game was a battle, where going into it, I thought we'd see a fight and physicality tonight. (My Twitter feed doesn't lie, and many people were upset with me for suggesting such acts of barbarism, but what happened? Yep, a fight and many big hits throughout the game. Funny how the eye-test never fails!)
Throughout the first 37 minutes or so of this game, as a Rangers fan, you were feeling really good. Not only did Alexis Lafreniere score the opening goal, which meant that the first line produced a goal; but Ryan Strome later scored, which meant that the second line also had a tally on the scoreboard. This is the production we expect from the top six forwards.
Following these two goals, was the Rangers' biggest brain-fart in some time, as the team gave up three goals in a span of 2:14.
To be fair, while we now pretty much expect CZAR IGOR to stop every shot known to man – it's tough to solely blame him for any of these goals allowed. It's just the rapid-succession in how they were scored, which led to chain-smoking, fingernail biting and other nervous tics/habits.
(In addition: I can only imagine how Ranger fans would've reacted, had Georgiev been in net during all of this. I'm sure that reaction would've been logical, sane and calm!)
Down 3-2 to open the third period, and as we've seen all season – the Rangers rebounded and never gave up. I've said the following a lot this season, and even during losses too – I never count the Rangers out whenever CZAR IGOR is in net.
What happened next? Patrik Nemeth, fresh off of the birth of his son Vincent, birthed the equalizing goal. Following that, after a strategic timeout from Gerard Gallant, which we'll get into during the game review; Chris Kreider scored another power-play goal, for his 35th goal of the season. The Rangers would never look back.
And did I mention, that for all of the never-ending pregame ballyhoo regarding the M$G return of Pavel Buchnevich, who younger fans of this fanbase treat as if he were the second coming of Eddie Giacomin; finished the game like this:
For those wondering, Alexis Lafreniere, who is now a bonafide member of the top line, a spot that perhaps wouldn't have been available had Drury not traded the once soon-to-be unrestricted free agent; scored a goal and finished with a plus/minus stat of 0.
Want more, as I take my victory lap here? How about this – Dryden Hunt, often in the cross-hairs of the analytical-Buchnevich-can-do-no-wrong crowd; finished with a game-high plus/minus stat (a real stat) of +3. Buchnevich finished with a -2.
And if my celebration and giddiness about this win hasn't been over-the-top and disgusting enough already; the TNT broadcast went to yours truly tonight as well:
Okay, okay, okay – I'm done with the Barry Horowitz act for now; but seriously, everything I said before this individual game, and really, about the Rangers all-season, was echoed on the broadcast tonight.
And before moving on from all of this, I should mention (and even as recent as during my last three or four blogs), that I've talked about how bad the non-Henrik Lundqvist M$GN broadcasts have been, and how the ESPN broadcasts are even worse. When I expressed those opinions (you may like those broadcasts and that's fine too), I stated that I thought that the TNT network did the best job of the lot.
It was nice to be rewarded with some free publicity tonight, where I'm not shitting you here – I noticed (through my Amazon email notifications) that I sold six copies of my book tonight, a book that's been out since August of 2021!
Better than that? Just what the tweet said – it was great to hear Wayne Gretzky praise Alexis Lafreniere, a #13 who must be gunning for the cover of a Wheaties box right now. Whatever he did during the All-Star break – I hope he keeps on doing it!
---
If you can't tell, I am really happy about this win tonight. These Rangers showed me a lot in this game.
After that disgusting loss to Vancouver, I really thought that the Rangers needed a "feel-good" win, and as talked about in-depth during my last blog.
While of course, this wasn't a "MUST WIN" game, or anything as severe as that; at the same time, the Rangers needed two huge points in the standings. Even better – for all of the fake news chatter about how "THEY CAN'T BEAT ANYONE GOOD," the Rangers did just that tonight – as St. Louis currently sits second-place in the Central Division.
Now beat the Devils on Friday!
At this time, let's get our usual segments out of the way, and then get into the GAME REVIEW.
Up first, the NEWS segment.
---
Following the pair of losses from the weekend, the Rangers took Monday off. While the Rangers didn't make a trade, they did announce that they have re-signed Jonny Brodzinksi.
Here's what the Rangers said about the signing, courtesy of https://www.nhl.com/rangers/news/rangers-agree-to-terms-with-jonny-brodzinski/c-331283130?icmp=int_web_nyr_news_rightrail  :
New York Rangers President and General Manager Chris Drury announced today that the team has agreed to terms with Jonny Brodzinski on a two-year contract extension.

Brodzinski, 28, has split his 2021-22 season between New York and the Hartford Wolf Pack of the American Hockey League (AHL). With the Blueshirts, he has played five games and recorded three shots and plus-1 rating. In Hartford, Brodzinski has recorded 18 goals and 21 assists for 39 points in 36 games. He leads the Wolf Pack in goals and points and ranks second in assists.

A Ham Lake, Minnesota native, Brodzinski has registered seven goals and six assists for 13 points in 67 career NHL games with the Rangers, San Jose Sharks, and Los Angeles Kings. After signing with New York as a free agent on October 9, 2020, he played five games with the club during the 2020-21 campaign, scoring one goal.

The 6-1, 211-pounder has skated in 250 AHL games over parts of seven seasons, registering 94 goals and 100 assists for 194 points and a plus-31 rating. Brodzinski established AHL career-highs in goals (27), assists (22), points (49), and shots on goal (184) with the Ontario Reign in 2016-17, and he was selected to play in the 2017 AHL All-Star Classic.

Brodzinski was originally selected by Los Angeles in the fifth round, 148th overall, of the 2013 NHL Entry Draft.

---
For Jonny Brodzinksi, it doesn't look like that he has a clear-path to the varsity club. However, he's currently the team captain of the Hartford Wolfpack, and this re-signing is a raving admission that he's doing a good job in that role.
All the best to JOHNNY HOCKEY moving forward.
---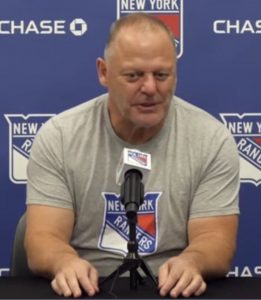 On Tuesday, the Rangers reconvened for practice. Following the skate, "The Turk" met with the media. Here's his press conference:
---
Gallant pretty much said what you'd expect him to say, as the head coach continued to practice his "one game at a time" ideology.
If there was anything truly "newsworthy" to come out of Gallant's short "fireside chat," it was that he confirmed that Filip Chytil would be in the line-up against the St. Louis Blues.
While not saying this verbatim, with Chytil back, this meant that Morgan Barron would be out. That would become the case come puck-drop.
Later on in the day, and following Gallant's press conference, the Rangers announced this: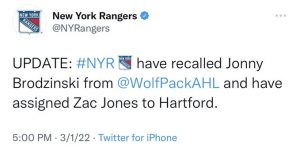 I'm not going to repeat what I've written about 786866896966 times before, but these daily transactions don't bother me. We know why Nemeth has to play.
In addition, for all I know, calling up Brodziniski could be the Rangers' way of rewarding their newest "re-signee," as with a call-up, he gets an NHL salary, as opposed to the significantly lighter AHL payday.
Furthermore, I wouldn't be shocked to see Jones recalled either on Friday night or on Saturday morning, in preparation for the Rangers upcoming four-game road-trip.
---
On Wednesday, Gallant met with the media for his usual pregame interview. Here it is:
---
Gallant, who as noted before, said that he'd never tell the media who his starting goalie would be ever again, and as he stated just three weeks back; for the third consecutive game, announced who his starting goalie would be (CZAR IGOR). That's music to the ears of Rangers and the under bettors!
Gallant also confirmed that Nemeth and Chytil would be returning to the line-up.
As far as anything else, Gallant praised Ryan Strome for being a team leader, even mentioning that the second line center often treats the younger players on the team to dinners. Stuff like that goes a long way.
---
Here's what "The Turk" went with for this game, featuring two teams that Emile Francis once led:
FIRST LINE: Kreider/Mika/Lafreniere
SECOND LINE: Panarin/Strome/Hunt
THIRD LINE: McKegg/Chytil/Gauthier
FOURTH LINE: Goodrow/Rooney/Reaves
Defensively, we had this:
FIRST D-PAIR: Lindgren/Fox
SECOND D-PAIR: Miller/Trouba
THIRD D-PAIR: Nemeth/Schneider
And in net, CZAR IGOR.
---
BOX SCORE time.
The following information and graphics come from the new world-wide leader in NHL coverage, ESPN.com:
SCORING:
PENALTIES:
TEAM STATS:
GOALIES:
| | | | | | | | | | | |
| --- | --- | --- | --- | --- | --- | --- | --- | --- | --- | --- |
| SA | GA | SV | SV% | ESSV | PPSV | SHSV | SOSA | SOS | TOI | PIM |
| 28 | 4 | 24 | .857 | 22 | 0 | 2 | 0 | 0 | 58:01 | 0 |
| | | | | | | | | | | |
| --- | --- | --- | --- | --- | --- | --- | --- | --- | --- | --- |
| SA | GA | SV | SV% | ESSV | PPSV | SHSV | SOSA | SOS | TOI | PIM |
| 32 | 3 | 29 | .906 | 24 | 0 | 5 | 0 | 0 | 60:00 | 0 |
---
I've talked so much about the Pavel Buchnevich trade in the past, where I don't really want to make this entire blog into the "haha, I told you so" blog.
However, I do think, had the P.K. Slewban incident with Sammy Blais never occurred, it would've made the Cult of Buchnevich less angry about the trade. (In addition: who knows who the Rangers will draft, and what that player turns out to be either? Another possibility? The Rangers trade that pick for a rental.)
I'm not going to rehash everything I've said in the past about the trade. (Although I did have fun riling a few of the kids on Twitter on Wednesday afternoon, by saying that I hope Ryan Reaves lays a big hit on him, which was pretty funny too – because these people will wish death on you for supporting your own team, instead of having a blind devotion to a former Ranger! Go figure!)
All I'll say here is that if you can't figure out why the trade was made, then I don't think you understand how the salary cap works. I've talked about this already and don't wish to play my "Greatest Hits" again.
That said, I will say the following:
At the time of the trade, I do believe that Chris Drury was trying to free up money for Jack Eichel. It just didn't work out. Furthermore, and in reality, by moving on from Buchnevich, it gives Lafreniere more playing time. And had Vitali Kravtsov not been a baby, who knows? (Plus, even if you're the most ardent Buchnevich supporter – what NHL general manager bats 1.000?)
After listening to ESPN go on-and-on about Tom Wilson a few games back, it was nice to see that TNT didn't make Buchnevich the entire story of the game – even if they did run prop bets about Buchnevich scoring. And let me be clear – TNT had to mention the Buchnevich story. It was a story. It was warranted. I just didn't want a whole broadcast of it, as ESPN had previously done with Wilson.
No joke – I had friends, and saw other people too, post on social media how they bet Buchnevich to either score a goal or a pick up a point. And really, I can't blame them. After all, in just this season alone, we've seen Tony DeAngelo, Brett Howden, Mats Zuccarello, JT Miller, and other ex-Rangers torch these 2021-22 Blueshirts.
(This was another reason why I wanted Reaves, or someone of his caliber, to lay the body on Buchnevich too – I didn't want him to get comfortable like all of these other former Rangers. And if you don't know – every player in the league wants to show up their former team. It's human nature.)
Of note – what did I bet on? A Rangers victory, and yep, a CZAR IGOR shutout too! While I didn't get my patented 4-0 shutout, I did make money with the Rangers win. I'll take it!
The TNT pregame show wasn't much, although it was discussed that if you're a big guy, that sometimes you have to be a prick and use your size. This quote, of all people, was attributed to all-around nice guy Larry Robinson. Funny enough, Anson Carter, Rick Tocchet and Wayne Gretzky said this when talking about the Blues, and not when talking about K'Andre Miller.
Speaking of Carter and Tocchet, Tocchet was like me, and was in pure Rangers "rah-rah" mode. He, and later on during the broadcast, former Ranger Eddie Olcyzk too; said that the Rangers should go "all in" at the trade deadline – where they both added that the two words of "all in" doesn't mean Alexis Lafreniere or anyone else of that stature – much to Carter's chagrin.
Carter, who still collects a payday from the M$GN, although because of his work on Islander broadcasts these days, rather than with the Rangers; went into Sieve Vagistat (who should be sent to Islander broadcasts too) analytical mode a bit, saying that the Rangers weren't ready to compete yet. Perhaps if M$GN kept his "M$GN Hockey Show" on-air, he would've had a different opinion!
Nothing against Carter (not a Stanley Cup champion), but I'm glad that both Tocchet and Edzo, two Stanley Cup champions; see things my way. It makes me feel more confident in the opinions that I express on this site!
Tocchet and Edzo pretty much reiterated what I've said on this site in the past – the Rangers have the best goalie in the league, the best defenseman in the league, and when this top-six gets motoring – WHY NOT THE RANGERS?
And yep, this is the fan, and the "glass half-full" mentality in me too – but why shouldn't I believe in this Rangers team? As a Rangers fan, what's your argument against?
Anything can happen in the playoffs, and when you have the best goalie in the league, a CZAR IGOR who may not even be in the prime of his career yet – and as I was since day one of the firing of the old regime – I'm fully on board with this team. And I haven't even mentioned how head coach Gerard Gallant has pressed all of the right buttons either.
Let's get into the GAME REVIEW.
---
After Strome lost the opening face-off, Albert and Edzo talked more about Reaves being an ex-Blue rather than Buchnevich being an ex-Ranger. I found that humorous. It was like they were speaking to me!
In the opening minutes of the period, Kreider's speed negated an icing call and this set-up Rooney for a shot on goal on Blues' goalie Ville Husso. Husso, who is currently challenging Igor in the save percentage and goals allowed statistics, made the save.
(Husso doesn't have enough games to challenge for the Vezina yet, but soon enough, he may very well do just that. Currently, the Blues have both Jordan Binnington and Husso himself, making a claim to the starter job. For what it's worth, Husso was always supposed to be the guy, but Binnington came on hot during the 2018-2019 season and you know the rest.)
Igor was lights out in the first period (and eventually, the third period too), as early on, he made a glove save on Krug while being partially screened by the returning Filip Chytil. Really, all of Igor's saves were clean and crisp, as he rarely afforded a rebound.
After being screened again, this time by the Blues, Igor then stopped Parayko as well.
As it always goes, Julien Gauthier then received the puck, looked at Husso, swooped around the net, and rather than putting a shot on goal – turned over the puck. At least this play didn't lessen Gauthier's already disastrous shooting percentage numbers, where CZAR IGOR isn't that far behind #15.
And let me say this, and I know I've said this about 7867869678967896789 times before – but for all of the crying about 12th/13th forwards, and 6th/7th defenseman too – Greg McKegg is far superior in his role than Gauthier and Chytil are in their respective roles.
The irrational hate that McKegg gets, not only from the fan base, but the media too (check the PLUGS section for more), is kind of ludicrous. Of course, these are the same people who said that "REAVES AND GOODROW WILL SUCK AND SINK THE RANGERS" during the off-season.
(Isn't it amazing Suzyn how the analytical community is ALWAYS wrong?)
After Fox ate a hit from Buchnevich; #23 regrouped and then broke up a Buchnevich one-timer attempt. On the other end, Miller took two shots, where one was blocked, but either way – it was nice to see Miller shooting the puck.
5:19 into the period, Hunt took a bad penalty when he boarded Schenn. Sixteen seconds later (and a save from Igor too), Rooney drew Tarasenko for a high-stick.
I don't know if this penalty/high-stick was what hurt Rooney, but after this period, he wouldn't return to the game. After the game, the Rangers said that he had an "upper-body injury," but wouldn't expand more on these three words.
During the "foreplay," Buchnevich almost scored – on his own goal.
Mika and Kreider, who were just fantastic on the penalty kill tonight, broke out. As Mika went to set-up Kreider for a deflection/tip, Buchnevich tipped the puck instead. Husso, who wasn't sleeping at the wheel, bailed out Buchnevich from an embarrassing moment.
With 12:24 remaining, and following a Buchnevich "tribute video" too, you know, for his eight playoff games (where three of them were from the bubble, if you count them as playoff games), and where he only picked up one point during them (I wonder if Tony DeAngelo will get a tribute video later this season too?); we returned to full strength.
(Holy horrible grammar and run-on sentence Batman!)
Just over a minute later, this happened:
Former first overall pick 🤝 current first overall goal scorer in tonight's game @NYRangers #NHLonTNT pic.twitter.com/58fs5mJK6C

— NHLonTNT (@NHL_On_TNT) March 3, 2022
---
ALEXIS LAFRENIERE, 1-0, GOOD GUYS!
On this goal, Husso initially made what I determined to be a lucky save on #13 in blue; but as we've seen a lot of recently, the 2020 first overall pick stayed with it. Once the puck went back to Fox, the 2021 Norris Trophy winner fired the galvanized rubber at Husso and there was Lafreniere for the cash-money rebound.
Two quick things:
One – Fox, who had been hesitant to shoot the puck as of late, reversed all of that in this game. He was firing away. In turn, he picked up two huge assists. (He'd get a third as well, on Panarin's late empty netter.) Needless to say, Fox is at his best when he's throwing pucks on net. Need proof? Look at Kreider's 35 goals – where without the stats in front of me – I'd imagine that Fox has assisted on more than half of them.
Two – Lafreniere is really dripping in the word that David Quinn used to say all the time – "SWAGGER!" Prior to all of these recent goals, and right out of the All-Star break; you could see #13 going to the net, playing more physical, not afraid of any incoming contact, etc. All of Kreider's positive attributes are rubbing off on him. I love this.
---
The Rangers almost got a quick second goal here, as Strome forced a turnover and found Hunt wide-open. Rather than shooting, Hunt forced the puck cross-ice back to Strome, where as a result, he committed a turnover himself. Not good.
Around this point in the game, the Blues hadn't had a shot in ten minutes of time. The Rangers were blocking everything and clogging lanes like Friday night traffic in the Lincoln Tunnel.
By the time that the period had ended – the Rangers had blocked eleven shots, as opposed to the Blues' one blocked shot. (This tells me that the Rangers were doing everything possible for their beloved goalie.)
As we got under five minutes remaining, Igor continued to make the stops, where he stopped Krug, Parayko and Ryan O'Reilly. It was also around this time where the Rangers didn't have a shot on goal for a while either.
In what was kind of weird; with under two minutes to go, Chytil had the puck all to himself and skated into the Blues zone, where three members of the Blue Note were waiting for him. Rather than getting aggressive, they allowed Chytil to simply dump the puck and skate away, as if this was a pre-arranged marriage transaction.
With 1:10 to go, we had more magic out of the CZAR, as #31, with a lot of traffic in front of him, made one save. The shot was so hard that he fell on his regal hiney, but despite the ice cooling his butt-cheeks – he made another save on the rebound anyway. Incredible.
After one period, we remained 1-0, GOOD GUYS.
---
The second period of this game was mostly all-Rangers – or at least it was until the final three minutes or so.
After a plug for yours truly on the TNT Network, we returned to play; where Krug laid a big hit on Strome, and following it, Hunt sent Tarasenko into Igor's cage with such force, that the net popped off of the moorings.
With the Blues showing off some pop, they made a mad dash to Igor, which drew the Rangers netminder out of the hopper. Thankfully, Mika Zibanejad was there, and right behind Igor, as he prevented a goal by sweeping a puck before it could cross the goal line.
Just 2:20 into the period, Reaves was boxed for interference, after a cross-check on Ivan Barbashev. This was a legit call.
Both units of the Rangers penalty kill were excellent here, as neither allowed a shot on goal.
Mika, Trouba, Kreider and McKegg really stood out during these two minutes of man-down, where speaking of "man down," let me remind you that the Rangers were now down to eleven forwards, with Rooney (a PKer himself) out for the game.
Once Reaves got out of the box, he tried to set up Kreider, but with a Blue trailing CK20's six, the man of soon-to-be man of 35 goals had his backhanded try denied.
In a fast-moving period, both goalies exchanged saves. Each team traded a few turnovers as well.
In what I thought was the save of the game, we saw this:
Buchnevich was sooooo close 😮 #NHLonTNT pic.twitter.com/HruswnOdet

— NHLonTNT (@NHL_On_TNT) March 3, 2022
---
There's CZAR IGOR, stopping his passenger and comrade, Pavel Buchnevich, on a breakaway. The crowd went nuts for this, even if some Ranger fans (the dumb and young ones) were upset that their Buchy-Boo-Boo Bear didn't score here.
We have talked about the Henrik Lundqvist comparisons before, and how it's natural to compare a new goalie to the one from old; but Igor on these breakaways reminds me of Lundqvist when he was in his prime. Heck, this save reminded me of Richter stopping Bure!
Speaking of Henrik Lundqvist; happy 40th birthday to the best analyst on the M$GN today, as "The King" of M$GN turned forty years old on March 2nd. It still amazes me that he's three months older than me. Needless to say, he probably has more money in his bank account than I do!
As this period continued to fly by, both teams stepped up their hitting. It was noticeable. Then, with 3:24 remaining, Strome found the insurance goal:
Ryan Strome goes between the wickets on the wrap for @NYRangers goal number 2! #NHLonTNT pic.twitter.com/ehYtQUuNb0

— NHLonTNT (@NHL_On_TNT) March 3, 2022
---
2-0, GOOD GUYS!
This was somewhat "fluky," for a lack of a better word.
Trouba got the puck to Panarin, and Panarin, rather than shooting, hesitated a bit. Strome then pretty much said "Father Fink This!" and slammed the puck home. Again, I'm happy for Strome here. The dude loves New York and I hope he re-signs.
What I wasn't happy about (nor was any Ranger fan), was the end of this period.
Rather than wading in the waters of negativity; I'll try to be brief (tough ask for me) here.
With 2:30 remaining, Ryan O'Reilly, on a two vs one, beat Igor. Nothing Igor could do here, as I don't think even Julien Gauthier could've messed this up.
A minute later, Barbashev scored when streaking to the net, where he pretty much deposited the puck into the same high left corner that ROR did.
Then, with just 15.8 seconds on the clock, Perron scored.
In a span of 2:14, a 2-0 lead was now a 3-2, bad guys, deficit.
While the end of this period sucked, my faith never wavered. I swear!
For what it's worth, you could see that Igor was pissed, but I'd hardly give him 100% of the blame for any of these goals. I think the Rangers just let up a bit with the lead.
3-2, bad guys, after forty minutes of play.
---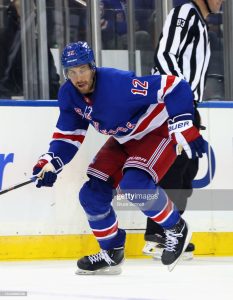 After Husso made a strong save on Hunt to open the final frame; Panarin then set-up Chytil with a perfect pass, but the Czech couldn't even put the puck on net.
Following an Igor head save, the Rangers first line survived a long shift in their own zone. Then, with 15:45 to go, Panarin tried some razzle-dazzle, only for Husso to make the save.
With the game getting chippy a bit, Trouba ran over Sundqvist. This would play into the game later on.
After many chances, at the 7:27 mark of the period, Nemeth tied the game:
Patrik Nemeth finds the open net and ties this thing up at 3 in the 3rd 🥅 @NYRangers #NHLonTNT pic.twitter.com/xQOS3RCRf2

— NHLonTNT (@NHL_On_TNT) March 3, 2022
---
3-3!
This was kind of a "right place, right time" type of a goal, as Hunt had Strome set-up at Husso's door-step. The puck took a fortunate bounce right to Nemeth, and from "Downtown Julie Brown," the Swede buried the puck home. What a great week for Nemeth. Congratulations to him on his new son, and the goal too!
Perhaps even better – this assist was certainly needed for Hunt as well.
Lafreniere, who continues to shine, almost had his second goal of the game, but despite some great offensive awareness, Husso was able to prevent that.
The turning point of the game occurred with 10:08 to go, when Parayko sailed a puck over the glass, which then gave the Rangers a power-play.
With the Rangers motoring on the power-play, Husso made a stop with 43 seconds to go, which gave his PKers a breather.
In what I was thinking, and what Edzo was clamoring for too, Gallant took a timeout. And why not? After all, the PP1 unit did everything in the first 1:17 of the power-play but score.
Turk's coaching decision paid off:
Exactly how they drew it up 👨‍🏫 @NYRangers take the lead on the power play #NHLonTNT pic.twitter.com/yiN4McD2LE

— NHLonTNT (@NHL_On_TNT) March 3, 2022
---
4-3, GOOD GUYS!
As we've seen so many times before, Fox bombed a puck from deep, Kreider got a piece of it, and bada-bing, bada-boom – it's a power-play goal once again for #20 in Rangers blue!
Good things happen when you shoot the puck!
Now with 8:20 to go, the intensity on the ice increased.
Just seconds after this goal, Trouba trucked Blues wonderkid Jordan Kyrou. In a response, Brayden Schenn skated over to Trouba and dropped the gloves. While Trouba lost this fight, I admire the way he's been fighting and hitting this season. I also had no problem with Schenn defending his teammate, as I always preach that the Rangers should do this.
That said, and of course – no instigator penalty was assessed to Schenn either. It's funny what rules are ignored these days.
What wasn't ignored, was with 4:27 remaining, a Lafreniere slash on Saad. While this was a legit penalty, I do wonder how you call this at this moment of a one-goal game, but then turn your head the other way on the Schenn instigator. Ah, the life of the NHL official, where accountability is never a worry. I'm sure my buddy Howie S. had a few things to say about this!
During a wild penalty kill, where Igor made three saves, including two on Buchnevich; Lindgren was hurting after blocking a shot. In something I've rarely seen before, CZAR IGOR then somewhat helped Lindgren up, by pushing him towards the Rangers bench while on this penalty kill.
Take a look:
"I get by with a little help from my friends" 🎶 #NHLonTNT pic.twitter.com/nidchMnL4g

— NHLonTNT (@NHL_On_TNT) March 3, 2022
---
With 1:58 remaining, Husso was pulled. Six seconds later, Panarin sealed the deal with an empty netter. 5-3, GOOD GUYS!
5-3, in favor of the Rangers, remained as the final.
The only "sad" thing about the final 1:52? Igor never had a chance to go for an empty net, as the Blues net remained empty following Panarin's insurance goal. It will come one day!
---
All in all, this was an entertaining game to watch – where of course, the scoreboard is a big reason why!
Obviously, I'm happy that the Rangers won, as listening to 48 hours about the end of that second period would've been nauseating. Instead, we're talking about the Rangers ability to rebound, Gallant's smart coaching decisions, the top six performing, and a three-point game for Adam Fox, amongst other things.
As far as anything else not covered – I really hope that Ranger playoff games are on TNT, and not on ESPN. You guys know how critical I can be of these broadcasts, and I really enjoyed this.
TNT, just like they have done with the NBA, have made these broadcasts "must watch."
Great team victory tonight! Keep it rolling!
PLUGS time!
---
On Monday, February 28th, "The Blueshirt Underground Show" returned with a new episode. To watch it, click the play button below:
---
On Wednesday morning, the "2 Guys, 1 Cup" podcast also returned with a new episode. To listen to it, check out:
Episode 37! Alexis Lafreniere improved play since the ASG, Recaps of the past 3 games, a look ahead at the 4 games this upcoming week, Neil Smith's appearance with Staple, and our response to Brooks' article on whether or not Kakko is untouchable #NYR https://t.co/CSF4LXzNO0

— 2 Guys 1 Cup Podcast (@2G1CRangers) March 2, 2022
---
Also on Wednesday morning, "Up in the Blue Seats" returned with a new episode, where Miss Walker wasn't very nice to Greg McKegg, to say the least!
On the show, Kenny Albert is interviewed, and it's a great chat at that. Albert's ability to recall old stories is a treat.
Of note, for the first time on the podcast, Duguay's current relationship with Sarah Palin was acknowledged. While the crew didn't get into the relationship, it was noted that Duguay was currently in Alaska.
And I don't know if it's me, as an accused "boomer;" but I really feel that Brown and Walker get too much air-time. I get it though – you want to appeal to a younger demographic. Maybe I'm crotchety as I approach my 40th birthday, but I get more out of Duguay, Larry Brooks, and whoever the guest is, than I do from Walker and Brown.
That said, I do want to be clear here – I think Walker and Brown do a good job of catering to a younger audience (which advertisers love), but their lack of Rangers knowledge has been woefully apparent recently.
After all, they still run a clip of mocking Mark Messier for his "beat 'em in the alley" quote, a quote that neither one of them have bothered to find the origination of. (It was Conn Smythe who first said this, the first ever general manager in Rangers history – a fact that Duguay and Brooks would know, but a fact that the two younger co-hosts still don't know.)
To listen, click the link below:
Up In The Blue Seats Podcast: @RonDuguay10, @MollieeWalkerr & @JakeBrownRadio chat with one of the best broadcasters in sports @KennyAlbert about rooming with a young Barry Trotz and the fake arrest prank Barry pulled on him in their 20s https://t.co/NEjbHQjZ9X pic.twitter.com/EUvBnwF7nc

— New York Post (@nypost) March 2, 2022
---
The hardcover version of my book, available now at Amazon.com
The first plug of tonight's blog – the mandatory plug for my new book, "The New York Rangers Rink of Honor and the Rafters of Madison Square Garden".
As mentioned previously, the book is now available in hardcover, in paperback and in Kindle formats. To purchase a copy of the book, visit this link:
https://www.amazon.com/Rangers-Rafters-Madison-Square-Garden-ebook/dp/B09CM5N2WD
For those still looking for signed paperback versions of the book, I have re-ordered more copies. I now have 2 signed copies for sale at $25 a pop (includes shipping price) through me directly. Here is all the information on that:
---
Here are my last few blogs, in case you missed them:
---
---
---
If you haven't already, subscribe to this blog for the next update:
---
Up next: The Rangers host the Devils on Friday night. This will be the first meeting between the two Hudson rivals since the P.K. Slewban game, where #76 in Devils red ruined Sammy Blais' season. Let's hope someone in Rangers blue takes a run at Slewban – it's long overdue.
As always here, thanks for reading and…
LET'S GO RANGERS!
Sean McCaffrey
BULLSMC@aol.com