Greetings and salutations everyone and welcome to another blog here on BlueCollarBlueShirts.com. Much better!
Following three questionable games, where it should also be stated that the Rangers picked up five of a possible six points after them; on Thursday night, after their three-day break, the Rangers came out to play. From the second when Mika Zibanejad scored the game's opening goal at the 12:57 mark of the first period, you could see this Rangers team wasn't the same team from the last three games. In turn, they routed the Capitals by a final score of 4-1.
While ESPN would not shut-up about Tom Wilson all night; astute Ranger fans (and Capital fans too) knew how big this game was for the standings.
As a result of the Rangers victory, the Blueshirts not only widened their lead over the fourth-place Capitals (65 points in 53 games played), but better than that – the Rangers took sole possession of second place in the division too, following a surprising (and welcomed) Thursday night Devils 6-1 blowout of the Penguins.
Yes, there's plenty of hockey left to play, but there are a lot of things to feel good about too.
If you watched this "national" broadcast tonight, you're most certainly aware of the following – CZAR IGOR isn't only the odds-on favorite for the Vezina Trophy – he's a Hart Trophy candidate too. It's one thing for Ranger fans to feel this way about their favorite goalie – it's another thing when the entire league feels this way. You love to see it!
(And hmmmmm…… who said in 2017 that CZAR IGOR would be the man and should be signed by the Rangers ASAP? I'll stop patting myself on the back now. All that patting has left a welt mark!)
While first-place Carolina (74 points in 50 games) has three more points and a game in-hand over the Rangers (71 points in 51 games); the once red-hot Pittsburgh Penguins (70 points in 53 games played) are now on a three-game losing streak. Of course, and as if it were fate itself – the Rangers next game takes place in Pittsburgh on Saturday afternoon.
However, before getting into all of the hockey drama (and this humongous Rangers victory as well); once again, we're forced to step outside of our little happy hockey world, and take a look at real-life issues. After addressing this horrible Russian/Ukraine conflict (hopefully for the first and last time on this site), we'll get back into this Rangers ass-kicking of the Capitals.
---
To begin, and in a FYI type of a deal – I don't like to talk politics on this website. I'm just not a fan of politics in sports in general.
With that said, obviously, in recent years, we've been forced to mix these two topics together – especially when it comes to the topic of Russia, and specifically in regards to the Artemi Panarin situation from last season.
When it comes to what's currently going on between Russia and Ukraine today; without question, it's a sad situation and a conflict that hopefully has a peaceful resolution. Right now, that doesn't look like that will be the case – but I'm hoping for the best.
As we await to see what happens between Russia, Ukraine, and the rest of the world; there is some hockey stuff to talk about here as a result of all of this.
Keep in mind, I'm not trying to make light of a serious situation, but I know that you don't want to hear my opinions on politics, nor do I feel that a hockey website should devote time to them either. With that stated, just some thoughts and questions:
Can Vitali Kravtsov, who jettisoned himself from America and then returned home to Russia at the beginning of the season, even leave Russia right now?
I have no clue what Putin is going to decide in Russia, and I doubt anyone else knows what the Russian President is thinking either. For all I know, he could demand a military draft, where in theory, a young man like Kravtsov could be forced to serve in some branch of the Russian military.
For what it's worth, Kravtsov's father is a Russian patriot and who proudly served his country. In addition, last I heard, Yuri Kravtsov, the father of Vitali, isn't even allowed into America. Furthermore, Yuri wasn't in Dallas when the Rangers selected Vitali with the ninth overall pick of the 2018 NHL Entry Draft either.
And of course, this isn't just exclusive to Vitali Kravtsov, as there are plenty of other Russians playing in the KHL right now, players who also have their NHL rights claimed by other teams. Will Putin let any of them leave Russia? Is Putin even thinking of the word "defection" right now? (Seriously, when I first heard about this story, the name of Petr Nedved came to mind.)
Rangers-wise, does this current situation devalue Kravtsov's stock a bit?
As we all know, presently, Kravtsov is linked to many trade rumors. If he can't make the jump to America after the KHL season, in order to help an NHL club out at the end of this 2021-22 season – would any NHL team go out of their way to trade for him?
Again, these are all just questions from the hypothetical realm, questions that I do not have the answers to.
---
Without trying to delve too much into politics here, I think it's common knowledge that the hockey media, which is younger than it has ever been before, skews to the left. That's their right, but at the same time, you have to take some of what they say with a grain of salt – as many of them, including members of the Rangers media, will allow their politics to influence their writing.
(Case in point: all of them had plenty to say about Tony DeAngelo's opinions on Donald Trump. Outside of Larry Brooks, none of them gave DeAngelo equal time either. And when Henrik Lundqvist was donating time and money to the NYPD at the height of the BLM riots – none of these reporters covered that. Heck, they barely covered the 2020 Steven McDonald Extra Effort Award either. However, they all did cover a Jacob Trouba tweet that was in support of the BLM movement. Sometimes, the story is the unwritten one.)
And I have to say this – talk about timing.
Of all the days for Putin to get crazy and go after Ukraine, it took place just 24 hours prior to tonight's Rangers/Capitals game, a game featuring two of the biggest Russian stars in the league, Artemi Panarin and Alex Ovechkin – two people who couldn't be anymore different when it comes to the political situation in their native land. I don't think I have to rehash all of that for you.
What I didn't like today, were all of these beat reporters (which includes "reporters"/quote transcribers from the Rangers beat too), who all tried to link/blame Ovechkin for Putin's decision to go after Ukraine. Really, do these morons think that Ovechkin is telling Putin what to do?
Ovechkin has most certainly supported Putin in the past, both publicly and privately. But to link him to what has been going on during the last few days is foolish. It's like linking any comedian or actor that ever appeared on "The Cosby Show" to what Bill Cosby did.
NHL reporters, reporters that cover the league, the Rangers, the Capitals or any other team; were all upset that Ovechkin didn't talk to the media today. When reading what these reporters had to say, reporters who in the past, have all publicly stated that they subscribe to left politics – it truly felt like a witch hunt.
In fact, I wouldn't be shocked at all to hear that these reporters already had their anti-Ovechkin stories written, and were just waiting a quote from #8, in order to slam him in their self-serving articles.
The hypocrisy from these types never ceases to amaze me, especially in this "damned if you do, damned if you don't" situation. Anything Ovechkin would've said would have been slammed. Heck, some reporters are slamming him without a quote!
Here you have all of these reporters condemning Ovechkin for his relationship with Putin, but at the same time – they all want a quote from the future Hall of Famer in regards to Putin.
Even worse? These reporters are all on their soap boxes, and screaming about the virtues of human rights. What's next, telling us how cancer is bad? Where's Captain Obvious when you need him?
If any of these cretins actually believed in the stuff they were preaching, they would leave Ovechkin alone right now.
After all, while I 100000000% understand that this is a story, and that you have to ask Ovechkin about this, especially since #8 has been so vocal in his support of Putin in the past – at the same time, you have to think about Ovechkin's family too.
Currently, Ovechkin's entire family is in Russia right now. Do you think Ovechkin wants to say anything that could be remotely deemed as anti-Putin right now, especially with whatever state of mind Putin may be in? I know I wouldn't.
What I'm really trying to say is this – it's easier for an American like myself, and these reporters too, to criticize Putin openly than it is for Ovechkin or any other Russian player in the league today, especially players who still have family in Russia.
---
As I wind down on all of this, it's unfortunate that I'm even talking about this stuff at all. However, going into this game between the Capitals and Rangers, it was the top story (or at least for anyone that doesn't work for ESPN) leading into the contest. Leave it to Putin to make the Tom Wilson game a distant memory.
For Panarin, CZAR IGOR, Ovechkin, and all of the rest of the Russian players in the league who have family in Russia; it has to be tough for all of them right now. While I understand that asking them about what's going on in Russia is something reporters have to ask – at the same time, I don't blame any of these guys if they choose the route of "no comment."
Power and instability is a dangerous mix, and who knows what Putin will do if one of his "national celebrities" speaks out against him?
As I close out on this topic, as noted before – it's a wise idea for athletes to shelter the public from their opinions on politics, as these thoughts could always lead to backlash and unnecessary headaches. After all, what was the first thing Panarin said this season? He said that he wouldn't be talking about current affairs in Russia anymore. Of he and Ovechkin, I'm sure Panarin has the better peace of mind right now.
Let's talk puck.
---
On Wednesday, the Rangers practiced again, where not much really took place – outside of Dryden Hunt joining the second line.
As mentioned before on this site, I don't really overreact to the lines and pairings like most in Rangerstown, USA do, because one, head coach Gerard Gallant knows what he's doing, and two, lines can be changed in-game. To spend every fiber of your being worrying about who plays where seems like a waste of time to me. To each their own.
What I found most interesting from Wednesday, was Gallant's post-practice session with the birdbrain beat, where only Larry Brooks is excluded from this birdbrain branding. Here's Gallant:
---
Poor Turk, poor Turk!
Here's a former Jack Adams winner, now in a dream job – coaching an Original Six team. If you were "The Turk," you'd think that one aspect of your job would be dealing with a hockey savvy media. And if "The Turk" thought like that, he'd be wrong – because outside of Larry Brooks, these interchangeable and dime-a-dozen reporters are absolutely clueless.
I'm not even making this up. One of the dolts on the beat asked Gallant if he wanted to win the division. What kind of question is that? What does that reporter expect Gallant, or any other coach in the league, to say in response? "You know, I was thinking about winning the division, but I'd be happy to finish in fourth-place."
Gallant, like a crossing guard, then had to proverbially hold this reporter's hand, and explain that the playoffs are tough and that every team who qualifies for the tournament will be a hard out.
Another one of these clueless jackals, who can't go one game recap without quoting every analytical stat that he can find from NaturalStatTrick.com, then asked Gallant if Thursday night's game with Washington would be a playoff preview. Of course, this is also the same reporter that has posted 7896786789678678686 trade scenarios, which means that if any of these potential trades take place – then come the playoff time, both rosters would be completely different.
You could hear Gallant's eyes roll, while he successfully restrained himself from kicking the crap out of this bozo. Gallant, like a teacher talking to a first-grader, said that there were still 32 games left in the season and how it's faulty to be thinking about "playoff previews" right now.
Seriously, there's never been an easier time than right now to become a journalist. In fact, it's harder trying to win a stuffed animal out of one of those old 25 cent toy crane machines, machines that you'd usually see in front of a diner, than it is to become a journalist these days.
Again, the following applies to everyone on the beat that's not named Larry Brooks, as no joke, when Brooks starts asking questions, you can pretty much hear Gallant breathe a sigh of relief, and say, "finally, someone who knows what they're talking about."
With the current crap crop on the beat, we're not too far away from these questions:
"Coach, do you think it's a good thing if your team scores more goals than the other team in the same game?"
"Gerry, if a player is struggling, would you like to see him turn it around?"
"Turk, you guys won in overtime tonight. Would you rather win in regulation?"
And I think I have made my point! NEXT!
---
In other news from Wednesday, Sean Avery, a member of the Rangers alumni who was most noticeably absent from "Henrik Lundqvist Night" from a weeks back, has announced his return to professional hockey. He's now skating with the Orlando Solar Bears of the ECHL.
Previously, on his podcast, Avery has teased a return to hockey and has stated that he'd like to get a shot in camp with some NHL team next season. Avery will be 42 years old come the Fall, as he has a birthday of April 10th, 1980.
Not to be outdone, Avery's former sparring partner on the ice, and his current sparring partner on Twitter today, Matt Barnaby, a Matt Barnaby who is also another member of the Rangers alumni; has stated, and in a tongue-in-cheek fashion, that he'd like a job with an ECHL team, just so he could run Avery on the ice.
For what it's worth, Avery seems sincere about one last run, while Barnaby is pretty much clowning around – although Barnaby has expressed a somewhat serious interest in fighting Avery.
At this point, Triller, which is a freak show fight promotion, should just book Avery vs Barnaby on a Jake Paul under-card. In 2022, they'll make more money off of this one fight, than they would by playing hockey.
Whatever the case, all the best to Sean Avery in trying to achieve his dream… again.
And heck, consider this – Sean Avery announces his return to hockey and as a reaction, the whole world goes to hell. Go figure!
---
On Thursday, at 5PM, Gallant met with the media, where he gave out several key pieces of information. Here's the presser:
---
Off of the bat, Gallant said that Patrik Nemeth, originally slated to play, wasn't going to be in the line-up.
If you recall, on this site and on social media, when everyone was speculating about what Nemeth's "personal issue" was, I said that I heard something, but didn't want to say anything about it until the Rangers did. After all, I'm a beer-bellied blogger and not Elliotte Friedman.
On Thursday, Gallant confirmed what I heard – Nemeth's wife was expecting. I don't want to get into everything else I heard, but you can pretty much put two-and-two together, and as anyone knows, not every pregnancy is a walk in the park.
(And while maybe the Rangers beat reporters didn't want to talk about this either – it felt like none of them knew that Nemeth's wife was pregnant.)
In either event, good luck to Nemeth and his missus. (And there are some people out there, that shared some scandalous stuff about Nemeth, where for the people who put some of those rumors out there – they owe Nemeth an apology today. I don't want to say anything more than that.)
With Nemeth out, Zac Jones was recalled. All of that "JONES IS IN HARTFORD" hysteria for nothing, and as I predicted/said word-for-word last blog!
In other roster news, Gallant said that Filip Chytil was under the weather, with a non-COVID ailment. In turn, Morgan Barron returned to the team, a return many wanted to see. He stepped up to the plate big-time tonight.
---
Here's what "The Turk" went with for this Eastern Conference game:
FIRST LINE: Kreider/Mika/Lafreniere
SECOND LINE: Panarin/Strome/Hunt
THIRD LINE: McKegg/Barron/Gauthier
FOURTH LINE: Goodrow/Rooney/Reaves
Defensively, we had this:
FIRST D-PAIR: Lindgren/Fox
SECOND D-PAIR: Miller/Trouba
THIRD D-PAIR: Jones/Schneider
And in net, CZAR IGOR.
---
BOX SCORE time.
The following information and graphics come from the new world-wide leader in NHL coverage, ESPN.com:
SCORING:
PENALTIES:
TEAM STATS:
GOALIES:
| | | | | | | | | | | |
| --- | --- | --- | --- | --- | --- | --- | --- | --- | --- | --- |
| SA | GA | SV | SV% | ESSV | PPSV | SHSV | SOSA | SOS | TOI | PIM |
| 21 | 4 | 17 | .810 | 16 | 1 | 0 | 0 | 0 | 58:37 | 0 |
| | | | | | | | | | | |
| --- | --- | --- | --- | --- | --- | --- | --- | --- | --- | --- |
| SA | GA | SV | SV% | ESSV | PPSV | SHSV | SOSA | SOS | TOI | PIM |
| 37 | 1 | 36 | .973 | 30 | 0 | 6 | 0 | 0 | 60:00 | 0 |
---
The entire theme of tonight's broadcast wasn't about Panarin vs Ovechkin. And while the conflict between Russia and Ukraine was slightly brushed upon, that wasn't ESPN's focus either. Instead, ESPN spent the entire broadcast, even into the short five-minute post-game show, talking about Tom Wilson.
You see, despite the Tom Wilson incident taking place nearly over a year ago, ESPN had an out-of-control and raging boner for a Wilson vs Reaves tilt tonight. It's why I photoshopped CZAR IGOR's head on that infamous Wilson mean-mugging picture from May of 2021.
Even if you weren't a hockey fan, you could see that ESPN was doing their best, in their attempt to be Don King, and promote a fight. And just like King himself – this promotion was fraudulent and ill-advised.
Despite the Rangers having already played against the Capitals earlier this season; ESPN had tunnel-vision on Wilson's return to M$G. Not mentioned once, was how the rosters were different, how the two teams are jockeying for playoff positioning and how it would be a dumb idea to take a penalty and/or risk suspension.
I've said this so many times already this season, but it remains true. Ryan Reaves is a deterrent for opposing teams. He isn't some punch-drunk over-the-hill boxer looking for a payday. Reaves and Wilson aren't Bob Probert and Tie Domi, and nor should they be.
The league has changed so much from over thirty years ago. Furthermore, Reaves' possesses a high hockey IQ and picks-and-chooses when to fight. He isn't going to hurt his team by taking needless penalties, despite that being the desire of ESPN. Don't get me wrong, if things go down, Reaves will be there. But to fight for the sake of fighting isn't something Reaves has done once this season, and again, nor should he.
(Not mentioned by ESPN tonight – Reaves logged an assist in this game.)
If it wasn't for ESPN talking about Tom Wilson for the entire broadcast (and I'm not making this up, this really happened), I would've thoroughly enjoyed this broadcast. After all, unlike M$G, and the franchise themselves, ESPN also paid tribute to Rangers legend Bryan Hextall. (They'd later bring up Lynn Patrick's name too!)
(The saddest thing about the tribute? An ESPN camera going to the rafters to find the career-long Ranger's name, as Hextall not only was inducted into the Hall of Fame because of his time with the Rangers – he's also a 1940 Stanley Cup champion too.)
The reason for the tribute? Leah Hextall, Bryan Hextall's great-granddaughter, was in-between the benches. In a cool moment, Leah showed us Bryan's Hall of Fame ring on camera. At this time, I'll spare you from another one of my rants on how the Rangers piss on and ignore all of their legends. (That said, I have heard there is a book out there about this! It may be featured in the PLUGS segment of tonight's blog as well!)
Anyway, it was a breath of fresh air not to be bombarded by Steve Valiquette and his meaningless fake news charts tonight. However, the Wilson stuff nearly became as unbearable as one of Vally's never-ending war stories from his epic and legendary NHL career of 46 games – the most magical 46 NHL games ever played.
That was one of my complaints about the broadcast.The other one? The fact that ESPN didn't show us the Emile Francis tribute video from M$G; as instead, they continued to slobber at the mouth when talking about Tom Wilson.
Away from the Tom Wilson crap, I thought that ESPN did a great job otherwise. We'll find out on Saturday if ESPN/ABC love Sidney Crosby as much as Pierre McGuire once frequently expressed on NBC broadcasts.
GAME REVIEW time!
---
Right before puck drop, ESPN showed us a shot of the Rangers bench, where Alexis Lafreniere and Chris Kreider were going back-and-forth with the same smelling salt, akin to the way two drunks would share lines of cocaine in a dive-bar's bathroom. (Don't ask me how I know this.) Whatever was in those salts worked, as both Kreider and Lafreniere scored in this game – where it should also be mentioned that the 2020 first round overall pick had the game winning goal too.
Since ESPN had their mouths full with Tom Wilson, it wasn't mentioned that CZAR IGOR and Ilya Samsonov were in net. It also took some time before ESPN realized that TJ Oshie was back for the Caps too.
And oh, since I brought it up last blog – there was no Emile Francis shoulder patch on the Rangers jersey tonight. I'm not shocked about this, but at the same time, I am disappointed. The Rangers just hate their history.
As a general statement about this game, I thought the entire team looked great.
Sure, Ryan Strome took two stupid penalties that we'll soon get into, and Gauthier took another; but without a doubt, the entire team, whether it was the goalie, a rookie, a young player, a veteran or anyone else on this roster – they all played their hearts out. NOT ONCE, could you question the Rangers effort in this game – although admittedly, perhaps they were in "celebration mode" towards the end, which again, I'll soon get into.
The Rangers new fourth line, or at least for the time being; played strong tonight, where within the opening minutes, Reaves and Rooney almost connected for a goal.
Morgan Barron, who got a chance with Filip "One Step Forward, Two Steps Back" Chytil sick, most certainly "capitalized" on his new-found opportunity. While he didn't score tonight, he did lead the team in shots on goal with four in all, and where his passion for pucks to the net was extremely noticeable. In addition, his three hits were only second-best to Ryan Reaves, who finished the game with five hits.
The Rangers didn't have one of their normal flat first periods, as they were pressing the issue early. Ryan Strome tried some razzle-dazzle. Lafreniere went to the net where a puck went high. Mika almost scored. Igor went for one of his homerun passes, where while this pass didn't connect, the puck still reached Samsonov anyway, thus negating an icing.
Defensively (where the team's defense has been on display since the break), the Rangers continued to excel. Lafreniere, who as mentioned several times in this space, seems like a new player. Once again, he single-handedly muscled a puck out of the zone. Don't take this as a shot at Chytil or Kaapo Kakko, but of the three, I'm seeing more physicality out of Lafreniere and it paid off for him tonight.
CZAR IGOR, in one of his many FABULOUS saves, made a textbook kick save on Sheary. On the rebound, Ovi missed the net.
Ten minutes into the period, despite playing strong, the Rangers were losing the battle at the dot 5-1 and were being out-shut 4-3 as well.
After Gauthier put a SOG (you know the rest), Igor came up with another big save, this time on Dowd. I should also mention here, that just like the Rangers, the Capitals have a dominant fourth line as well.
As the two teams continued their feeling out process, with 7:03 to go in the first frame, this happened:
A ROCKET FROM MIKA 🚀🚀🚀

(via @Sportsnet)pic.twitter.com/9APvDtnIfD

— Rangers Videos (@SNYRangers) February 25, 2022
---
1-0, GOOD GUYS!
On this goal, Alexis Lafreniere, channeling his inner Bun Cook, the former Ranger who invented the drop pass; made the best drop pass of the season, which set-up Zibanejad for this missile. Not only was I happy and excited about Lafreniere's execution of this drop pass – it was even better to see Zibanejad make the Capitals pay for allowing it to happen.
After Igor continued his denials on the Caps, Barron put another hard shot on Samsonov. Again, while Barron doesn't appear on the box score, make no bones about it – he had a TREMENDOUS game tonight.
As we got into the final minutes of the period, Gauthier went into video game mode, and put a puck through his legs during a deke. In what looked like a shot-pass to Fox, the puck didn't connect cleanly, thus no second goal here. If only Gauthier could ever score on his 7867867896796789689 chances.
Following a terrific play out of Zac Jones, where he broke up a Sheary scoring opportunity; Zibanejad was set-up for a one-timer, and as the puck missed the net and bounced off of the backboards, Kreider had the rebound try blocked.
In a classic case of "clock mismanagement," Strome erred, and with .2 seconds to go in the period, he tripped TJ Oshie behind Igor's net. While this penalty may have been soft, you have to be aware of the clock and the situation you're in. There was no way that Oshie was going to score from behind the net with a second to go, so there was no need to commit this penalty.
1-0 GOOD GUYS after twenty. Outside of the Strome infraction, this was pretty much a flawless period, where at the time, I was raving about Lafreniere. He wasn't done yet.
---
Following an intermission that was dedicated to Tom Wilson; we resumed play in the second period, with the Capitals on the power-play. The Rangers penalty kill quickly received a three vs one odd-man rush, but Goodrow forced a pass for a turnover. He'd later redeem himself.
Just 67 seconds into the Caps power-play, Ovechkin hooked Rooney. After some foreplay and a decent enough looking power-play out of the Rangers, where they dominated the puck for the entire possession; we returned to full-strength.
On one shift, Barron went to the net again, and after being denied, leveled Jensen with a big hit.
5:01 into the period, there was your CZAR, as Igor stoned Hathaway on a breakaway. I'm saying this matter-of-factly, which is a testament to #31's abilities on these plays.
During a long Capitals attack, Igor casually skated behind his own net, broke up a pass that was wrapping around the boards and just killed the attack all by himself.
These are the little things that makes CZAR IGOR better than Lundqvist, things that the ESPN announcers said themselves – as CZAR IGOR continues to handle pucks with ease, where Lundqvist handled pucks as if they were hand grenades. And it's not just Lundqvist that should be used as a comparable either. Not many goalies handle the puck in the fashion that Igor does. (As mentioned before, Igor's the best puck-handling goalie I've ever seen since the days of Uncle Daddy in Jersey.)
(Also worth stating, just like Lundqvist was once compared to Richter, we're now seeing Igor regularly being compared to Lundqvist. This has been going on forever. Just take your pick – Kerr to Rayner, Rayner to Worsley, Worsley to Giacomin, Giacomin to JD, JD to Beezer, etc.)
Panarin, who for whatever reason, never seems to star in games against the Capitals; tried some Harlem Globetrotter moves, but it was all for naught.
With 8:15 to go, the CZAR IGOR SHOW continued, as following a bad Rangers turnover (really, the only horrific turnover of the game – it happens), Igor made a stick save on a Sheary blast. The puck was shot so hard, that Igor's shaft (not that one perv), broke. To follow that big save up, Igor then froze a loose puck with his glove. He makes it look too easy.
On the Capitals next attack into the Rangers zone, K'Andre Miller, who must've burned the game tape from Sunday; #79 broke up a 2 vs 1 odd-man rush, where instead of looking like a PRAYING MANTIS, he looked like a caterpillar. Excellent defense and a good way to help out your goaltender too.
With 5:01 remaining in the period, Kreider was boxed for high-sticking Jensen. This looked debatable, but no matter, as the Rangers PK didn't even allow a shot on goal during this Capitals man-advantage.
Once back to five vs five, with 92 seconds to go, the Capitals iced the puck. Up next, this:
Replay of the goal by Alexis Lafreniere#Capitals 0 #NYR 2 P2 pic.twitter.com/oDrT0edgrF

— Sᴘᴏʀᴛs 24/7 (@Sports_24x7_) February 25, 2022
---
2-0, GOOD GUYS!
On this goal, Lindgren ripped a puck from deep, and Lafreniere, now channeling his inner Chris Kreider, had no problems getting physical, worked his way to the net, and was there for the tip-in goal. All skill and will on this goal!
Now up 2-0 with 1:12 to go, you'd figure that the Rangers would go to the locker room unharmed. Not so fast.
Just as he did in the first period, Strome took another dumbass penalty, as he tripped Joe Snively with just a second remaining in the period. After these two penalties, you'd think that Strome was Russian and was worrying about his relatives from the Soviet nation.
I'm a Strome fan, and I don't like to kick players when they are down – but yeah, these two penalties were pretty brutal and unnecessary.
2-0 after forty minutes.
---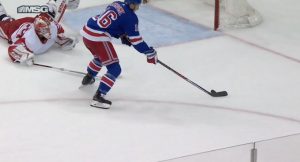 After holding the Capitals power-play off of the board on their first two tries, the Rangers gave up five shots on goal during this penalty kill, where as we've seen plenty of times this season – CZAR IGOR was a one-man penalty kill.
Right away, CZAR IGOR stopped a John Carlson bomb. Evgeny Kuznetsov was right there for the rebound, where Igor made another highlight reel save, when he made a sprawling left leg save. Incredible.
Following the kill, Igor stopped Carlson and Ovechkin again.
With 16:42 to go, Martin Fehervary hooked Julien Gauthier. The Rangers power-play, one of the best in the league, had an off-night man-advantage here, as they could never set the puck up, rarely got into the zone and as a result – didn't log one power-play shot during this.
As time started to wind down, I was thinking about a wager I placed earlier in the day:
With 13:03 to go, Kreider boosted my wallet:
#34 for Kreids!

(via @NYRangers)pic.twitter.com/PwgqzUJ4vA

— Rangers Videos (@SNYRangers) February 25, 2022
---
3-0, GOOD GUYS!
As a result of Kreider's offensive awareness, he's now one goal shy of league-leader Auston Matthews, who has 35 tallies.
And following goal #34 for CK20, which snapped his "three game drought," Kreider was all smiles and full of vim and vigor.
As Igor continued to rack up the saves, he made another breakaway save, this time on comrade Alex Ovechkin, with nine minutes to go. As is the norm at M$G, the crowd then serenaded the goaltender with "IGOR! IGOR! IGOR!" chants.
Up by three, and with 8:51 to go, the fourth line sealed the deal:
BARCLAY MAKES IT 4-0!

(via @NYRangers)pic.twitter.com/J3KsX45vCY

— Rangers Videos (@SNYRangers) February 25, 2022
---
4-0, GOOD GUYS!
On this goal, Ryan Reaves worked for a puck in the d-zone, the puck squirted out to Rooney, and on a two vs one odd-man rush – Barclay Goodrow made a beautiful back-handed move to put the biscuit into the basket.
I know I've mentioned this a few times on this site already – but yep, Goodrow is enjoying a career year in New York. Let's hope that just like Patrick Maroon, he gets his own personal Stanley Cup three-peat come June!
Prior to the "FOXWOODS FINAL FIVE" mark, Leah Hextall remarked that the Capitals bench looked defeated. Music to my ears!
With 4:45 to go, Gauthier took a bone-headed penalty, when he held Hathaway during a Rangers attack. Know the situation, know the situation. Up 4-0, and with the puck deep in the Caps zone, there's no reason to be taking any penalties.
During the Caps power-play, head coach Peter Laviolette pulled Samsonov. Just like you and everyone else in Rangerstown, USA – I was hoping for that CZAR IGOR empty-netter. Plus, with this being an ESPN broadcast, had Igor scored here, it would've saved us from Steve Vagistat telling us about the time he attempted an empty net goal during a juniors game in Kamloops, British Columbia.
The Rangers killed off this penalty too, which meant that they were 4-4 on the night. Sadly, Samsonov also returned to his net, thus denying us of an Igor empty net try.
With 2:26 to go, Ryan Lindgren and Sheary went at it. The refs broke up this fight as soon as it started – much to the dismay of ESPN. And to be fair – I don't know why this fight was broken up either. In fact, instead of giving each man a five-minute major – the refs gave both players double-minors, thus ending their night.
Approaching a minute remaining, Igor was sitting on a 35 save shutout.
And hell, the Rangers were up 4-0 too. I really thought that would be the final score. I was hoping for that score so bad, just so I could troll my buddy Derek "NO FLEX," where to date, he never lived-up to his prior bet on a 4-0 CZAR IGOR shutout, and has officially welched on eating a shoe. What a strange man. Always honor your bets!
In what I thought was a case of celebrating too early; the Rangers lost a defensive zone face-off with 65 seconds remaining, and with just 62 seconds left on the clock, Putin's buddy, Alex Ovechkin, broke up the shutout. There was nothing Igor could do here, but yeah, this sucked.
As the clock reached triple zeroes, Rangers 4 – Capitals 1.
Of note, you could see that Igor was upset a bit about losing the shutout. I don't blame him. I know I was pissed about it too. Instead of celebrating, and flashing a smile full of pearly whites, Igor had that "ah shit" look on his face. And to be clear – I don't think Igor was upset at his teammates, he was just disappointed in allowing a goal, where again – the goal allowed wasn't on him. Ovi was wide-open in the crease for a tip-in.
I bring this up, because if you told me, or any other Rangers fan, that the Blueshirts would win this game 4-1 – we'd all be doing back-flips and cartwheels. Instead, you had a feeling akin to a football gambler, who gets a bad beat following a "garbage time" touchdown with two seconds remaining.
(Instead of focusing on losing the shutout; we should all be talking about how Igor improved his win, save percentage and goals allowed average numbers. He's having a season for the ages.)
That all said, and Ovi's bullshit goal aside; WHAT A WIN! That's the Rangers I know. It's now time to crush the ice birds – after all, the Devils did so!
PLUGS time!
---
On Thursday afternoon, Ron Duguay and company returned with a star-studded show, where Pete Stemkowski paid tribute to Emile Francis, and where 1986 Vezina Trophy winner John Vanbiesbrouck was interviewed. And as usual, the most notable segment from the show was the Larry Brooks segment.
To listen to the show, click the link below:
Up In The Blue Seats Podcast: @RonDuguay10, @MollieeWalkerr & @JakeBrownRadio honor the late Emile Francis with @NYP_Brooksie & Pete Stemkowski. Former Rangers goalie & USA Hockey GM John Vanbiesbrouck also joins.

Apple: https://t.co/BSJoaOt7uP
Spotify: https://t.co/n7rx8vsr4w pic.twitter.com/wBKvUc01x3

— New York Post (@nypost) February 24, 2022
---
The hardcover version of my book, available now at Amazon.com
The first plug of tonight's blog – the mandatory plug for my new book, "The New York Rangers Rink of Honor and the Rafters of Madison Square Garden".
As mentioned previously, the book is now available in hardcover, in paperback and in Kindle formats. To purchase a copy of the book, visit this link:
https://www.amazon.com/Rangers-Rafters-Madison-Square-Garden-ebook/dp/B09CM5N2WD
For those still looking for signed paperback versions of the book, I have re-ordered more copies. I now have 2 signed copies for sale at $25 a pop (includes shipping price) through me directly. Here is all the information on that:
---
Here are my last few blogs, in case you missed them:
---
---
---
If you haven't already, subscribe to this blog for the next update:
---
Up next: a pissed-off Pittsburgh team on Saturday afternoon.
I'm interested, as usual, about who gets the start in net for this game.
CZAR IGOR is white-hot right now and this is a big game for the standings. However, and as we've seen previously this season, Gallant takes everything "one game at a time." The last time the Rangers had a similar situation, Georgiev played first-place Carolina on the road, while Igor took the following game, a home affair, with the last-place Coyotes.
In addition, Gallant seems to really believe in "protecting home ice," which would explain a Georgiev start on Saturday.
Either way, I don't envision CZAR IGOR getting back-to-back starts this weekend, as Gallant has stated that he'll never do that unless it's the playoffs or at the end of the season, when looking for a playoff berth.
I'm leaning in thinking that Georgiev plays Pittsburgh and Igor gets Vancouver on Sunday night, just because of what has Gallant has done in the past. And if Igor plays against Saturday? I'll be more than happy about that!
As always here, thanks for reading and…
LET'S GO RANGERS!
Sean McCaffrey
BULLSMC@aol.com
@NYCTHEMIC on Tweeter