Greetings and salutations everyone and welcome to another blog here on BlueCollarBlueShirts.com. Yuck.
On February 26th, in Pittsburgh, PA, the Rangers and Penguins played a spirited game, a contest that emitted vibes of a playoff atmosphere. While the shots on goal numbers weren't that high – the quality of shots that both goaltenders faced were.
Both CZAR IGOR Shestyorkin and Tristan Jarry were incredible in this tilt.
Saturday's game was full of intense physicality, where during the early stages of the third period – it also looked like this game was heading to a 0-0 shoot-out. The referees would soon change that.
I do want to be clear off of puck drop tonight – while the officiating in this affair was absolutely brutal, horrific and inexcusable; at the end of the day, the Rangers didn't score a goal in this game.
For all of the moaning and groaning about the officials (and I'm as guilty as anyone with my complaints too), and where all of that is completely merited and warranted as well; at the same time, the Rangers had two power-plays in this game. The Rangers, despite their seven power-play shots on goal, could never get Jarry to break.
The Rangers also had a strong first period, where none of their many attempts went into Jarry's net either.
Figure this one out: Tristan Jarry, the lone reason why the Islanders eliminated the Penguins in the first round of the 2021 Stanley Cup Playoffs, and the same goalie who just gave up five goals on nineteen shots to the lowly Devils this past Thursday night; stood on his head and blanked the Rangers on Saturday afternoon. As I always like to say, "that's hockey Suzyn."
Without question, while the Rangers do deserve some of the blame themselves – Jarry was great in this game too.
That said, if it weren't for the officials, and had all things played out as they did – the Rangers would've at least received one point in the standings. Then, if Pittsburgh then went on to win the game, whether during the 3 vs 3 overtime or via a shootout; the Rangers and Penguins would have 72 points each, where the Rangers would've remained in second place, since they have two games in-hand on the black-and-yellow.
Instead, the Penguins are the ones with the 72 points, and with the Rangers just one point behind. In other words, while this loss sucked because of the officials – it's not the end of the world either.
Of course, another adage for a season full of them – "shoulda, woulda, coulda."
Before further examining this game, let's hit the NEWS first, and then everything else, including the GAME REVIEW. Up first, Sean Avery!
---
That was quick.
On Friday, February 25th, the Orlando Solar Bears announced the following:
We've released forward Sean Avery in our latest @pizzahut Transaction Report: https://t.co/kzIxN0J6PX

— Orlando Solar Bears (@OrlandoHockey) February 25, 2022
---
Sean Avery, after months about talking about his comeback to professional hockey, was released just 48 hours after signing with the Orlando Solar Bears of the ECHL.
While Avery's announcement of signing with the Orlando Solar Bears felt "gimmicky" at the time; he did sound somewhat serious about his intentions of playing hockey again.
Rather than reporting to Orlando, Avery said on social media that he wanted to stay home and raise his family. Why he changed his mind so quickly is unknown.
For the Orlando Solar Bears, I understand why they signed Avery.
For them, signing Avery was akin to a minor-league baseball promotion, as they attempted to do something to get people talking about them and to garner interest. However, Avery's flip-flopping here does make the Solar Bears look like the top attraction of Orlando – Mickey Mouse.
This Avery story is one that you can laugh at. Here's one that you can't laugh at:
The NHL must immediately suspend contracts for all Russian players! Every athlete represents not only himself and his club, but also his country and its values and actions. That is a fact. If the NHL does not do so, it has indirect co-responsibility for the dead in Ukraine.

— Dominik Hasek (@hasek_dominik) February 26, 2022
---
As noted last blog, I don't want to talk about this Russia/Ukraine conflict unless it directly impacts the Rangers or a major NHL story. However, with Dominik Hasek, one of the greatest goalies to have ever lived, to suggest that the NHL suspend contracts of every NHL player that was ever born in Russia – well that seems both silly and ridiculous to me.
On Friday, Alex Ovechkin spoke to the media about the situation in Russia, stating that he doesn't want war and just wants peace. We all do.
As talked about in-depth on Thursday night, he was put in a bad situation since his family still lives in Russia. He had to choose his words carefully, and with Vladimir Putin in whatever state of mind he's in – Ovechkin couldn't run the risk of upsetting his friend, especially with his family just miles away from Putin.
I don't want to rehash everything that I wrote on Thursday, so just check that blog for more if you haven't read it already.
I most certainly understand why Hasek is furious with Putin and Russia right now, but to suggest that the NHL takes this out on their players, players who have nothing to do with this – again, just ridiculous.
I don't think I have to explain why this is ludicrous to you, but yeah – many Russian natives that play in the NHL call America home today. An "NHL Russian Internment Camp" is not the path to go down, or at least not in my opinion.
And that's all I have to say about that. Back to the comedy!
---
Attendance numbers are currently light in the land of Newark, NJ, so much so, that the Devils are now offering anyone who has ever attended a game at "The Pebble" free tickets to an upcoming game. Of course, a Rangers road game in New Jersey is excluded from this offer.
(And if you don't know this already, I, just like anyone else, are put on the mailing lists of opposing teams, since I have bought tickets from these teams when watching the Rangers on the road.)
While I am not a fan of the Devils, this is somewhat sad to see, as all Ranger fandom aside – "The Rock" is one of the nicest arenas in the NHL. I've always maintained this opinion on this website.
In what is just crazy, funny and also sad, and all at the same time; is that the Colorado Avalanche, currently tops in all of the NHL, and the odds-on favorite to win the Stanley Cup too, are part of this Devils promotion. Just as nutty? Hockey fans can see the Avalanche play the Islanders on March 7th (one night before the Avalanche play the Devils) at the brand new IBS Arena for just five bucks.
Needless to say, if I were a fan of the Devils or the Islanders – I'd have much more money in my bank account!
No joke, I tip more on an UBER EATS Chinese food delivery order than what it would cost me to see the best team in the NHL play both the Islanders and the Devils.
Right now, I could see the best team in all of the NHL play two games, and it would be cheaper than a tip on an order of chicken with broccoli. That can't be a good look for the NHL, a league that will have the Arizona Coyotes play in front of a capacity crowd of 3,000 people next season.
Let's now get into the Rangers news.
---
On Friday, prior to the flight to Pittsburgh, Gallant met with the media. Here's the press conference:
---
This was one of the best and most relaxed press conferences of the season, as it was pretty much a one-on-one between Larry Brooks and "The Turk." With Brooks not making the trip to Pittsburgh, he had full access to Gallant, as his peers were making their way to the steel city. (When Brooks doesn't go on the road, Mollie Walker covers the team for the New York Post.)
If you watch enough of these things, you can really tell the difference whenever Gallant is talking to Brooks as opposed to anyone else. I've illustrated this point countless of times this season.
Another strong interview from Friday featured Brooks and Ryan Reaves:
---
Ryan Reaves, who always provides a good interview, once again delivered. My favorite part? When he trashed analytics! I knew I liked this guy for a reason!
The topic of analytics was brought up, because Steve Valiquette, aka Sieve Vagistat, went on Twitter on Friday morning, and suggested that CZAR IGOR single-handedly stole the win over Washington for the Rangers. Anyone with at least one functioning eye-ball could tell you that Vagistat was wrong as usual.
One person with two working eye-balls, and a Hall of Famer to boot, Larry Brooks, called Vagistat out for his made-up foo-foo stats:
Wildly misleading. This was not a stolen win. https://t.co/eVvAJWJqCo

— Larry Brooks (@NYP_Brooksie) February 25, 2022
---
After the Hall of Famer sonned the goalie of the most magical, legendary and iconic 46 games ever played in all of NHL history; Brooks then slammed analytics and Vagistat on the New York Post. You can read the article here: https://nypost.com/2022/02/26/rangers-unbothered-by-misleading-analytics/
As you might suspect, a younger generation of fans, who have grown up with Vally's nonsense (and don't know anything else), were none too happy about Brooks' article. What these people ignore, is that Vally uses his own company to promote his horseshit. It's in his best interest to pump out this junk because it helps his wallet.
Plus – anyone can take any stat that they want, and then spin it in order to suit their own narrative.
And yep – I'm still waiting for a player, head coach or a general manager to thank their analytical department after a win.
While Brooks never played 46 games in the NHL; I do value his opinions on the Rangers more than someone with a self-serving cause. Needless to say, I get more out of Brooks than I ever do with Valiquette.
I'll spare you from another one of my 9566757575758 word rants on why analytics are worthless, but yeah – go Larry Brooks!
---
Finally, in our last bit of pregame news, a happy Gallant spoke with the media two hours before today's puck drop with Pittsburgh:
---
As talked about before; after the All-Star break, Gallant said that he'd never talk about who his starting goaltender would be ever again. I predicted he'd soon go back on this, where I said he'd go back on this statement during a winning streak. (Blogs don't lie, check the archives!)
Lo and behold, on Saturday, Gallant announced that CZAR IGOR would be getting the start today. That was music to my ears, because I thought that the Bulgarian Beast, Alexandar Georgiev, would be getting the nod in net – an opinion that was solely based on Gallant's previous decisions. I was happy to be wrong with this opinion/observation!
It now seems like a sure-bet that Georgiev will play against Vancouver on Sunday night, that is, unless "The Turk" goes against previous precedents, and what he's previously said about not wanting a goalie to play on back-to-back nights.
In more positive news, Gallant also confirmed that Patrik Nemeth's wife delivered a healthy baby boy on Friday. Nemeth is still away from the team, as he takes care for his wife and new son. Congratulations to Nemeth, and to his family.
Lastly, Filip Chytil, now healthy, was scratched for this game. This led to mass overreactions in some parts of Rangerstown, USA, reactions that I thought were frivolous and stupid.
Some people thought this scratch meant that Chytil would be traded tomorrow. Some people thought Gallant was foolish. All of that is junk to me.
In my opinion, I had no problem with Chytil being a healthy scratch today.
After all, 99% of the time, following a big win, an NHL head coach will go right back to that same line-up. That's what I think Gallant did here and I had no issues with it – not that he needs my approval!
---
Here's what "The Turk" went with for this game featuring bitter divisional rivals:
FIRST LINE: Kreider/Mika/Lafreniere
SECOND LINE: Panarin/Strome/Hunt
THIRD LINE: McKegg/Barron/Gauthier
FOURTH LINE: Goodrow/Rooney/Reaves
Defensively, we had this:
FIRST D-PAIR: Lindgren/Fox
SECOND D-PAIR: Miller/Trouba
THIRD D-PAIR: Jones/Schneider
And in net, CZAR IGOR.
---
BOX SCORE time.
The following information and graphics come from the new world-wide leader in NHL coverage, ESPN.com:
SCORING:
PENALTIES:
TEAM STATS:
GOALIES:
| | | | | | | | | | | |
| --- | --- | --- | --- | --- | --- | --- | --- | --- | --- | --- |
| SA | GA | SV | SV% | ESSV | PPSV | SHSV | SOSA | SOS | TOI | PIM |
| 27 | 0 | 27 | 1.000 | 19 | 1 | 7 | 0 | 0 | 59:57 | 0 |
| | | | | | | | | | | |
| --- | --- | --- | --- | --- | --- | --- | --- | --- | --- | --- |
| SA | GA | SV | SV% | ESSV | PPSV | SHSV | SOSA | SOS | TOI | PIM |
| 26 | 1 | 25 | .962 | 22 | 0 | 3 | 0 | 0 | 58:15 | 0 |
---
A couple of words on the broadcast today, before getting into the game review.
For whatever reason, during the first period, ABC didn't bother to show us the power-play clock. For all the bells and whistles ABC/ESPN employ during these broadcasts, you'd think showing us the power-play clock would be one of them.
Emily Kaplan, the roving arena reporter, wore black-and-yellow. Maybe this is me reaching here, but I thought it was a bad look when she was interviewing Penguins while wearing matching colors. Even Pierre McGuire, the biggest Penguins fan in the world, never did this during his days with NBC.
As they've been doing a lot of as of late, ABC, the parent company of ESPN, bombarded us with these birds-eye view angles all game. I don't mind these angles for replays, but these camera shots must make an epileptic go crazy, as ABC goes to these shots during play. One second, you're watching a traditional angle, the next second it's like you're on a roller-coaster. It's very puke-inducing.
As talked about before, just because you have this technology, it doesn't mean it makes for a better broadcast. Sometimes "tired and true" is what works best – where again, I think these camera angles are better suited for replay, rather than when the game is going on.
I some some Ranger fans complain about announcers Sean McDonough and Ray Ferraro for being "basic" and for saying stuff that was blatantly obvious, but I understand that. This game was on national television and sometimes you have to be elementary for a casual audience.
Lastly, as we approach the month of March; now five months into the season, of TNT and ESPN, I think TNT has done a far superior job with their NHL television rights deal than ESPN has done. At times, some of these ESPN broadcasts make me long for the days of the FOX "glow puck."
At this time, let's breeze through this game review, as I'm still sickened over these officials that swung this game.
---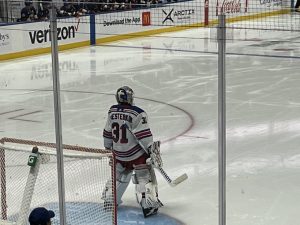 The ABC/ESPN crew, who didn't have a pregame show, aside from two minutes where Steve Levy pronounced Zibanejad as "Zibinijid," and where Chris Chelios also told us that he hated afternoon games; didn't bother to tell us that Tristan Jarry was in net today. However, just fifteen seconds into the game they would, as "Zibinijid" had a shot denied by the Pens netminder.
The Rangers dominated this first period, but as you know – could never score.
After Jarry denied Mika, the first line had a mini 3 vs 2 odd-man rush, where Lafreniere went wide. Once the second line came on, they had a chance too, when Jarry stoned Strome from a foot away.
Just 1:50 into the game, Strome, who took those two bad penalties on Thursday night, drew a penalty himself. While behind Jarry's net, Rodrigues held #16 in white. However, the Rangers couldn't make the Penguins pay early, as Jarry was the key to the Penguins penalty kill during these two minutes. While the Rangers man-advantage game has been good this season – this was an opportunity wasted.
Six minutes into the period, the Rangers were out-shooting the Pens 6-0, as everyone was going to the net. Kreider (six SOG, team-high), Zibanejad (4 SOG) and Trouba (4 SOG) were most noticeable, but Jarry would never let the "FAT CATS" eat.
Around the 7:30 mark of the period, the Penguins got their first SOG on Igor, a save for the future '22 Vezina winner.
In a period where the Rangers barely gave up an inch of ice; with under ten minutes to go, Reaves laid a thunderous hit on Kris Letang.
Worth mentioning? Reaves (4) didn't lead the team in hits today as he usually does. Jacob Trouba (6) did. Perhaps more surprising than that? Julien Gauthier (5) had more hits than Reaves – which is not commonplace at all. (Of note: Lindgren had five hits too.)
The second line, which had what felt like 78678686867896 chances in this game, could never put the biscuit in the basket. Then, with 6:17 to go, Kreider was called for a soft penalty after a tussle with former Ranger Brian Boyle.
The following statement applies to this entire game: the referees were inconsistent throughout this contest. You never knew when they were going to call something and when they'd ignore something. In this moment, they decided to call a penalty on Kreider here, but then ignored similar infractions for the rest of the game.
As you all know, even if the officiating is bad, you'd rather see the officiating be consistently bad, rather than being all willy-nilly with calls, as these officials were in this game. In other words – if you're going to be bad, be bad consistently. Being inconsistent is much worse.
Once the Penguins won the face-off on their man-advantage, Lindgren denied one shooter, and on the next play, CZAR IGOR made one of his usual highlight reel saves.
Zibanejad, who starred during this particular penalty kill, became a one-man show, when he forced a puck out of the zone, streaked up the ice and then set-up Trouba during an odd-man rush. Save for Jarry.
In exhibit #78678667989686789676 of the league being fully installed up the ass of Sidney Crosby; with 3:20 to go, #87 in black-and-yellow cross-checked K'Andre Miller no less than three times. No call.
Miller, who isn't that much of a fighter anyway (that's an understatement), couldn't do anything but to push the pest away. Had Miller cleaned Crosby's clock as he had the right to – he would've been ejected from this game and probably would have been suspended too. Refer to the NHL Rulebook: "no player is allowed to retaliate against Crosby."
(Mark Messier and Chris Chelios would later say what I said at the time on social media, and what I just said in the paragraph above, during their intermission analysis – although they didn't exaggerate as much as I did.)
Alexis Lafreniere, who I thought had another good game today, once again muscled a puck out of the defensive zone, got the puck into the Pens zone, and then found Zibanejad for a pass. Mika then dished to Kreider, but no dice.
On the Penguins next possession, and with 62 seconds to go, Igor made another one of his patented homerun passes for a clear. He'd do it a few more times in this game, where the ABC announcers just stopped talking about it because this amazing feat is now expected and has become the "new norm."
At the end of the period, we had a scrum. In what would lead to the first of three off-setting calls in this game, both Rooney and Malkin were boxed.
After one period, we remained scoreless, and where the Rangers had doubled-up the Penguins in the SOG department, 12-6. Of course, the only stat that matters is goals for. That said, it did look like the Rangers had carried over their momentum from their win over the Capitals, but that would be short-lived.
---
Following Mika's faceoff win to open the period, and with the teams at 4 vs 4; Zibanejad had another odd-man rush, this time with Kreider flanking him. Instead of passing to CK20, MZ93 made a great move on a Pens defender and took the puck to the hopper himself. "Save by Jarry" – three words that were also infuriating today.
K'Andre Miller, who Mark Messier actually compared to Larry Robinson during the intermission segment, tried one of his newly patented wrap-around plays, but Pens defenseman John Marino had it sniffed out.
Once back at full-strength, just 48 seconds later, Rooney and Malkin were boxed again for off-setting penalties. For the Rangers, you'd take a trade-off of Rooney for Malkin 10/10 times. You'd take this trade-off 1000/1000 times too. However, despite these two chances, the Rangers couldn't capitalize.
After CZAR IGOR made a stone cold save on Jeff Carter, Shestyorkin was challenged again. In a play that didn't get enough talk out of the announcers, Igor, on his belly, made a save and then casually slid the puck to the far boards for a Rangers defenseman. After a Rangers turnover, Igor then made two quick stops on Crosby. The CZAR makes it look so easy.
As the refs ignored what felt like 78678678686789678 different penalties on the Penguins; with 12:09 to go, Igor made one glove save, and then followed it up with a sweeping glove save on Hiney Heinen. Had this game been at M$G, you would've heard those "IGOR! IGOR! IGOR!" chants.
Now under ten minutes to go, CZAR IGOR, who probably deserves a video-montage after every game recapping all of his saves from the realm of big balls; made another, this time on Guentzel.
With eight minutes remaining, the Rangers were being out-shot in this period 8-1.
Then, with 7:27 remaining, Dryden Hunt, who also played well today, where he most certainly was an agitator, drew Marino for a call. However, since Hunt defended himself, he was boxed too. (Hunt didn't deserve the penalty that was assessed to him, but prior to getting into it with Marino, he did get away with an interference and/or boarding call.)
Now in Act III of "foreplay," Jarry made two quick saves on Kreider and Fox. Ryan Lindgren, looking for a rebound, tried to avoid Jarry but made contact with him anyway. This led to another scrum between the two teams.
With 6:20 to go, Igor made another homerun pass, his best of the game, to Ryan Strome. Jarry survived.
Now back to full-strength, Reaves laid another monster hit, this time on Pettersson. The announcers then praised Reaves for his hockey IQ, without saying the two words "Hockey IQ."
With just 5.7 ticks left on the clock, Jarry stopped Trouba again.
After forty minutes, we remained scoreless, and in a game that was becoming a goaltenders' duel and a great game full of both physicality and defense. The refs would soon ruin that.
---
The second line continued their great scoring chances, but yep – failed to score. On their first shift of the final frame, Panarin had a puck deflected high while Hunt had a one-timer denied.
Four minutes and change in, the refs ignored three calls. Zibanejad drew an infraction. No call. Lafreniere drew two of them, including a slash and an interference. No calls at all.
However, with 15:25 remaining in this scoreless affair, the refs decided they needed that new extension on their houses. Who else but Sidney Crosby to pay for it?
As Crosby went to the net, Lindgren smothered the crybaby and executed a perfect stick-lift. No matter, the refs boxed double-nickel for hooking anyway, where Lindgren's stick was nowhere in position for such a call.
Everyone, including Islander fans that I know, were screaming at the officials for this horrible call, a call that destroyed what had been an entertaining and excellent game to watch. This horrendous call was the turning point of the game, and was part of the reason why the Rangers didn't at least get a point in the standings.
With the Rangers now having to play two members of the animal kingdom, the Penguins and the Zebras; 34 seconds after this call of pure buffoonery, Malkin scored on a one-timer. 1-0, bad guys, and with 14:51 remaining.
You could somewhat feel the wind being taken out of the sails of the Rangers at this point. They knew they were screwed.
All of these ignored calls, only for Lindgren to be called on this – it was a screwjob. It was also a goal that my Penguins buddy, "EL SHOES," had fun trolling me with. I'll always have the Martin St. Louis 2014 playoff series over him. (Of course, the Pens then went on to win two Stanley Cups, but the less said about that the better. Still, "Father Fink" El Shoes and his "Funko Pop" collection too!)
The game, now marred by the inept bozos in Footlocker tops, was done at this point.
Again, while the refs most certainly bent the Rangers over like a sleazy porn producer with an "aspiring starlet," the Rangers never scored like a porn producer. It wasn't for a lack of trying, but there were times where the Rangers would just overpass themselves out of situations.
Igor continued to make save-after-save. However, the refs weren't done yet.
With 11:40 remaining, Pettersson cross-checked Dryden Hunt no less than eight times. I'm not exaggerating. On the eighth cross-check, the refs finally decided to give Pettersson a penalty – much to their chagrin.
The Rangers almost picked up the equalizer, as after Jarry stopped Mika, Kreider and Panarin; Fox rang a puck off of the iron. However, the Rangers couldn't bury the puck, despite multiple chances.
Igor did everything he could. The Rangers, after failing on the power-play, saw their "Star Czar" make a bevy of saves, including a right leg kick save on Rust and a pop-fly save on Letang.
Jarry, not to be outdone, then stopped another Hunt one-timer, and with 3:50 to go.
Following a brutal turnover by Jacob Trouba, a turnover just five feet away from Igor's net; #31 kept the Rangers' chances alive, when he stopped Guentzel. He'd then make another save following a turnover, when he stopped Rodrigues too.
With 1:48 left on the clock, Igor went to the bench.
No joke, with the way the Rangers handle these 6×5 attacks, they may as well let Igor join the rush. If all they are going to do is pass-pass-pass, why not let Igor do so as well? After all – there aren't many on this team who handle the puck as well as CZAR IGOR does.
After about 786786896968967896897678967896 passes, rather than taking a shot and looking for a tip, deflection, rebound, a defenseman's skate, a puck-on-pads play or anything else that you can come up with here; Jarry stopped a Mika one-timer with six seconds remaining. 1-0, bad guys, your final.
---
It's one loss. It happens.
In addition, sometimes you run into a hot goalie, and Jarry has resurrected his career after that disastrous performance during the 2021 Stanley Cup Playoffs.
That said, and I know I keep going back to this – while the officials were scumbags, the Rangers also had plenty of chances to at least score one goal. That's really the crux of the issue here.
I know that many Ranger fans race to the ledges of bridges after a loss, but that's not me. In fact, I'll share this personal story with you:
One of good friends of over two decades, Mikey Z., was a casual Islander fan for most of his life. Due to CZAR IGOR, and the way this team has played this year, he's now a full-blown Rangers fan, and about to buy a #31 jersey for his five-foot frame – a jersey he can easily afford, especially if he continues to bet on the Rangers and the under this season!
As a fan, I enjoy low-scoring games like these, especially when the goaltenders are fully on display. It's just a shame that the refs had to ruin an otherwise great game of hockey.
At least the Rangers will be able to get the bad taste of this loss out of their mouths tomorrow. Whether or not the officials remove the taste of the Penguins out of their mouths – well that remains to be seen.
PLUGS time!
---
The hardcover version of my book, available now at Amazon.com
The first plug of tonight's blog – the mandatory plug for my new book, "The New York Rangers Rink of Honor and the Rafters of Madison Square Garden".
As mentioned previously, the book is now available in hardcover, in paperback and in Kindle formats. To purchase a copy of the book, visit this link:
https://www.amazon.com/Rangers-Rafters-Madison-Square-Garden-ebook/dp/B09CM5N2WD
For those still looking for signed paperback versions of the book, I have re-ordered more copies. I now have 2 signed copies for sale at $25 a pop (includes shipping price) through me directly. Here is all the information on that:
---
Here are my last few blogs, in case you missed them:
---

---
---
---
If you haven't already, subscribe to this blog for the next update:
---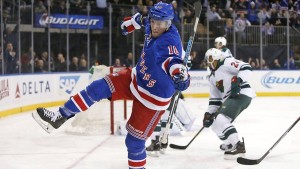 Up next: JT Miller and the Vancouver Canucks on Sunday night. I'd expect Georgiev in net, and no less than two points out of the ex-Ranger Miller too. Hopefully, the Rangers can score a goal or two as well!
As always here, thanks for reading and…
LET'S GO RANGERS!
Sean McCaffrey
BULLSMC@aol.com