Greetings and salutations everyone and welcome to another blog here on BlueCollarBlueShirts.com. The Rangers are now 0-1 in the "Patrick Kane Era" – but I wouldn't worry about it.
As mentioned last night, due to a major assist from reader Marc G., and his wife Martine, I was able to attend Thursday night's overpriced affair at M$G – where as you may have heard – was the first time during the hard salary cap era where a Blueshirt wore the #88 on their back.
Since it's late as I write these words (and I didn't get my usual pregame nap in either!); for tonight's blog, I'm just going to share with you all of the photos that I took from Thursday night, in addition to some of my thoughts from M$G. I'll then return sometime Friday afternoon with more thoughts on both the game and the Rangers themselves.
And of course – with Friday, March 3rd, being the final day of the NHL Trade Deadline – should the cash strapped, or should I say "cap strapped," Chris Drury have another move in him – then I'll have that news for you too.
For now, my biggest takeaway from tonight's 5-3 loss to the Senators was that the power-play had issues – duh – but I somewhat expected that to be the case, as both the team and the head coach figure it all out.
If anything was obvious, then it was the fact that the new first power-play unit was hellbent on getting Patrick Kane going. During his post-game "TURK TALK" (I'll have it for you on Friday if you haven't already seen it), Gallant pretty much said the same.
And of course, come March 9th – the Rangers won't be without their top two left-defensemen either. (Let's also not forget that CZAR IGOR didn't play tonight too.)
In the moment, the loss, one game out of eight-two, sucks – but just like my previous opinions on both Patrick Kane and Vladimir Tarasenko – this team will only be judged on whatever they do during the playoffs.
Silver lining from tonight? With the win, the Senators, led by CAM TALBOT, are now chasing the Islanders – and perhaps can bump them from playoff contention. Glass half-full, glass half-full!
The last piece of news that I want to share with you for now is that both the NHL Store (located one block away from M$G), and the Rangers' team store on 33rd & 7th, were completely sold out of Patrick Kane jerseys.
In the case of the NHL Store, they ran out of the letter "K," as apparently, Niko Mikkola jerseys are flying off of the shelves!
When it comes to the Rangers/M$G store – I was shocked that they didn't have any Kane merchandise available.
After all, everyone knew this trade was going to take place during the past two weeks – and for a franchise that will slap their logo on anything – including officially licensed douches, toilet seats and hemorrhoid cream – I'm surprised that they completely whiffed on a major cash grab/influx opportunity.
Not for nothing, but just based on the people that I talked to, and the overall energy in the building too – the Rangers could've just slapped a picture of Kane on the back of a $20 box of popcorn – and that would've sold out.
And with a bunch of road games coming up (the Rangers won't return to M$G until March 14th, when they look to seek revenge on the Washington Capitals) – it just shocked me that the Rangers weren't ready for the demand – where tonight was their biggest opportunity to cash-in.
Again, more tomorrow, but for now – here's over one hundred pictures that I took from my seats on Thursday night.
Enjoy and as always – LGR!
(FYI: it's late and I'm not really a webmaster anyway – so these pictures run in an inverse order. My apologies!)
---
---
---
---
---
---
---
---
---
---
---
---
---
---
---
---
---
---
---
---
---
---
---
---
---
---
---
---
---
---
---
---
---
---
---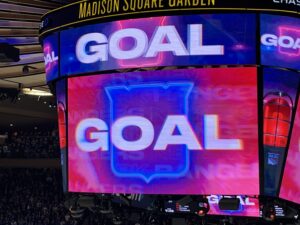 ---
---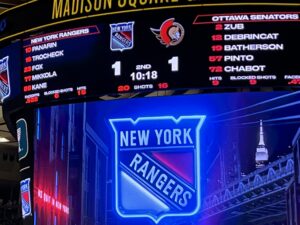 ---
---
---
---
---
---
---
---
---
---
---
---
---
---
---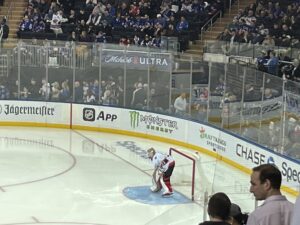 ---
---
---
---
---
---
---
---
---
---
---
---
---
---
---
---
---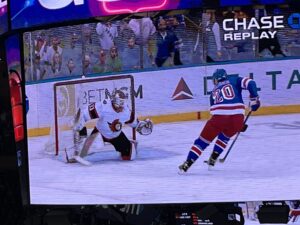 ---
---
---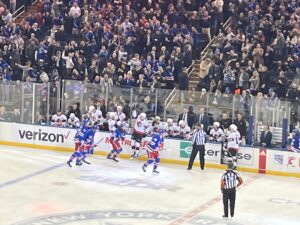 ---
---
---
---
---
---
---
---
---
---
---
---
---
---
---
---
---
---
---
---
---
---
---
---
---
---
---
---
---
---
---
PLUGS TIME!
---
My first plug of tonight's blog – the mandatory plug for my book, "The New York Rangers Rink of Honor and the Rafters of Madison Square Garden."
As mentioned previously, the book is now available in hardcover, in paperback and in Kindle formats. To purchase a copy of the book, visit this link:
https://www.amazon.com/Rangers-Rafters-Madison-Square-Garden-ebook/dp/B09CM5N2WD
For those still looking for signed paperback versions of the book, I have re-ordered more copies. I now have a few signed copies for sale at $25 a pop (includes shipping price) through me directly. Here is all the information on that:
---
My four-volume set of books, "One Game at a Time – A Season to Remember," is a game-by-game recount of the Rangers 2021-22 campaign.
My second title as an author, "One Game at a Time – A Season to Remember," is now available in eBook, paperback and hardcover formats.
To obtain signed copies, visit: https://bluecollarblueshirts.com/onegamebook/
To purchase all four volumes on Amazon, visit: Amazon.com – "One Game at a Time."
---
The greatest volume-set of books on Rangers' history today!
"Tricks of the Trade – A Century-Long Journey Through Every Trade Made In New York Rangers' History," a four-volume set of books that meticulously covers every trade made in franchise history, is now on sale.
All four volumes of the title can be purchased on Amazon.com and are presented in three different formats – eBook, paperback and hardcover.
To purchase Volume I: Conn Smythe (1926) – Craig Patrick (1986), visit Amazon.com
To purchase Volume II: Phil Esposito (1986) – Neil Smith (2000), visit Amazon.com
To purchase Volume III: Glen Sather (2000-2015), visit Amazon.com
To purchase Volume IV: Jeff Gorton (2015) – Chris Drury (2022), visit Amazon.com
To purchase signed copies of all four volumes, visit https://bluecollarblueshirts.com/tricksofthetrade/
---
Here are my last few blogs, in case you missed them:
---
---
---
If you haven't already, subscribe to this blog for the next update:
---
Don't forget to order my new four-volume set of books, "Tricks of the Trade!"
If you don't order through me, all four volumes are now available on Amazon.com
For more details, check out: https://bluecollarblueshirts.com/tricksofthetrade/
Thanks for reading.
LET'S GO RANGERS!
Sean McCaffrey
BULLSMC@aol.com
@NYCTHEMIC on the Tweeter machine