Greetings and salutations everyone and welcome to another blog here on BlueCollarBlueShirts.com. Any news?
The answer to that question – YES!
In fact, if everything goes accordingly, then I may be doing a "Two For Tuesday" on this site today.
For this particular blog, I'll be covering all of the latest Rangers' news prior to 5PM Tuesday, where at that time, and unlike a Sieve Vagistat "EXPECTED" stat – the Blueshirts are EXPECTED to finally execute their final move of what feels like an 88-step plan – the trade for Patrick Kane.
After all, here's what Elliotte Friedman, who of course, got the jump on all of the Rangers' beat reporters, tweeted at 9AM Tuesday morning:
Good morning: if NYR want to acquire Patrick Kane and have him count against their cap on Wednesday (not today), they can acquire him after 5 pm (ET). Things continue to be put in motion behind the scenes (approval, equipment, logistics). We'll see when it happens.

— Elliotte Friedman (@FriedgeHNIC) February 28, 2023
---
Once the Rangers make the news official – then I'll return later tonight – with a full breakdown of whatever the complete trade is – and what this all means.
In addition, I'll also explain why I don't care about Kane's past, a past full of hoaxes and false allegations. (But maybe I just explained all of that with this one sentence!)
However, as an appetizer, Stan Fischler has already requested me to write something for "The Hockey News," in preparation for the trade.
I believe the following article will either run on Wednesday or on Friday on THN, but for you loyal readers, you guys get it first. Enjoy!
---
The worst kept secret in the NHL was finally revealed on (insert day here), as "The Cap Gymnast," Rangers' general manager, Chris Drury, announced his acquisition of "Showtime" Patrick Kane.
Without question, the trade between the two Original Six clubs was not only Drury's most intricate trade yet; but arguably, the most meticulous swap of Blueshirts' history too – a history that covers nearly one hundred years.
Unlike Drury's "secret," it's no secret that the Rangers have coveted "shiny new toys" during the past century – and where many of these toys lost their lust faster than Sam Rosen belting out, "And it's a power-play goal!"
In the case of Kane, the new #88 of Broadway (Ken Hodge and Eric Lindros being the others), while having heavy expectations bestowed upon him – isn't expected to be "The Messiah" either, as Mark Messier once was.
In fact, for a player of Kane's caliber, the now former Hawk comes to the Rangers with little risk – and perhaps with a heavy reward come June.
The Rangers already have their core and stars, including 2021 Norris winner Adam Fox, 2022 Vezina winner Igor Shesterkin and high-end talent including Mika Zibanejad, captain Jacob Trouba, the 52-goal scorer from last season Chris Kreider and a bevy of others. Further down the line-up includes blue-chippers such as Kaapo Kakko, Alexis Lafreniere, Filip Chytil and Braden Schneider.
Did I mention yet that Kane will also join a former teammate in the Big Apple, "The Breadman," Artemi Panarin too?
In their first season together in the Windy City, albeit seven years ago, Panarin won the Calder Trophy while Kane, already a three-time Cup champ at the time, added a new piece of hardware himself, the Hart Trophy.
And oh yeah – the Rangers, prior to landing their "white whale," had already made their rental trade for their 2023 postseason run, a former Stanley Cup champion himself, Vladimir Tarasenko.
In other words, Kane, a pure rental, is the Rangers' equivalent of a kid receiving a new bike for Christmas – and then opening up a Playstation 5 too.
It's exciting times for the Rangers, as the franchise, who had already suffered a 54-year Cupless drought (you may have heard about this – especially from Islander fans!), looks to prevent a thirty-year drought in June.
And similar to 1994 – one of the team's biggest rivals will stand in their way – the New Jersey Devils – as the two warring teams from either side of the Hudson are set to write another chapter of their history during the first-round of the 2023 Stanley Cup Playoffs.
In what's become an arms race in the Eastern Conference; Drury, the Rangers and their fans are hoping that Kane, now previously the worst kept secret in the league, will now become the Blueshirts' secret weapon.
---
Following the Rangers' back-to-back set from the weekend; on Monday, the team had the day off – but spent the night hosting their annual "Casino Night," where of note, Braden Schneider, due to his paper transaction of being assigned to Hartford, wasn't in-attendance.
Both Mika Zibanejad (ankle) and Ryan Lindgren (upper-body, thought to be his shoulder) were also MIA, as both recover from their recent injuries.
In addition, Zibanejad, and his wife, Irma Helin, announced on Monday via Instagram that they are currently expecting their first child – as Zibanejad will now become a first-time "ZibaneDAD." (Har-har-har!)
And who knows – Chris Kreider, the head of the family as the longest-tenured Ranger, may be announced as "The Godfather" too!
Also of note, Patrick Kane, assumed to be in New York & moving into his new digs at the time, wasn't at Casino Night either!
From all reports, and is usually the case, "Casino Night" was another smashing success for the Rangers – and their fans – as long as the fans had over four figures to part with!
The annual event, designed to raise money for the "Garden of Dreams," was held at the Cipriani Wall Street and for the first time ever – was sponsored by "Caesars Sports Book" – where I'm sure that Henrik Lundqvist, who was in-attendance, told every fan, "WE ARE ALL CAESARS!"
As of this writing, the event, which also accepted online donations, has raised over six-figures for James Dolan's charity. The exact figure hasn't been released.
Here's a photo that the Rangers posted from the event:
Prior to "Casino Night," there was some news made in Rangerstown, USA – and on the behalf of a current Ranger – and the latest member of the Blueshirt alumni too.
On Monday afternoon, the Vancouver Canucks introduced Vitali Kravtsov to their media, via a zoom call. At the time, the player formerly known on this site as "the player who shall not be named," was in Dallas, in preparation for the Canucks vs Stars game to be played later that night.
Here's the interview:
Vitali Kravtsov meets with the media for the first time since joining the Canucks.@theprovince | #Canucks pic.twitter.com/sH9dHD7JGV

— Vancouver Canucks (@Canucks) February 27, 2023
---
To his credit, Kravtsov, even when prodded, wouldn't say anything bad about the Rangers. Whenever asked about his first NHL club, the mercurial Russian just said that he was looking forward to his future and playing with the Canucks.
Kravtsov also laughed when asked about his four-and-a-half hour Uber ride from Washington D.C. to New York, following the news of his trade. Once in New York, Kravtsov packed his bags and flew to Dallas to meet his new team – a team that akin to the Rangers, features many Russian players – but as opposed to the Rangers – the Russians in the Pacific Northwest are all represented by the same agent, Kravtsov's agent too, Dan Milstein.
Kravtsov said that the Milstein connection was more of a coincidence than anything else and that he was just looking forward to a fresh beginning.
If there was anything else to truly to note, then it was the fact that Kravtsov looked uncomfortable at times, and when asked about his confidence level – didn't really seem that confident is his response either. In a way, he sounded like Stephen Root's character in "Office Space."
Of course, part of the reason for that was most likely due to the language barrier – but to his credit – Kravtsov, whose native tongue is Russian – speaks English much better than I speak Russian!
My point? Similar to the rare times when he'd conduct a lengthy interview as a Ranger – I thought the Canucks should've provided him a translator as the Blueshirts once did – and still do – for their Russian speaking natives.
Just watch the interview for yourself, should you care, and you'll see what I mean.
Following his interview, the Canucks upset the Stars in overtime by a final score of 5-4.
During his fifteen shifts and 8:53 of ice time; Kravtsov went without a point.
No word if he's demanding a trade yet out of Vancouver! However, I can report that there isn't one Canuck fan stating the following:
"RICK TOCCHET DOESN'T KNOW WHAT HE'S DOING! KRAVTSOV MUST PLAY SIXTY MINUTES A GAME!"
Moving along – and goodbye and good riddance once-and-for-all!
---
As talked about on Sunday night on this site, following "SPITGATE;" Miller immediately claimed that his sharing of his saliva with the Kings' Drew Doughty was an "accident."
Furthermore, it was later confirmed by both players that Miller had apologized for what he had done.
On Monday afternoon, following the news that he would be receiving a phone call on Tuesday to discuss his upcoming suspension, Miller took to Twitter and posted this statement:
While I still have my suspicions on this disgusting display of behavior being "accidental;" at the same time, at least Miller publicly apologized.
In my eyes, I think Miller just got caught up in the heat of the moment, wasn't thinking straight, and boom – loogie time.
I just wish that the people who are still claiming that Doughty uttered a racial slur, and like Miller himself, would apologize for their own reckless actions. Simply put – that's not what happened at all.
In addition, Miller, who these people marginalized by using his skin color to suit their own narratives, wouldn't be baited into their junk either.
Following Miller's statement, I saw many people (Ranger fans) suggest that Miller receive a pass and that the league allow him to go on without suspension.
Despite my own Blueshirt fandom – I can't agree with those opinions at all.
After all, if Miller were to receive a pass, then what kind of precedent would that set?
Players can spit on anyone, and as long as they say "it was an accident," then they'd allow to go on unpunished?
Why stop there? Why not just pull your shorts down and piss on opposing players too? "It was an accident" after all!
At the time of this writing, the current precedent for spitting on an opponent is a three-game suspension, apology or no apology, and whether accidental or not.
In addition, the Department of NHL Player Safety has yet to make a ruling. I'll have an update on whatever they do later tonight – after the Rangers make Kane official!
And as stated on Sunday on this site – what's done is done. All you can do now is move on, which Miller seems to be doing.
---
One award, exclusive to the Rangers, is near-and-dear to me, "The Steven McDonald Extra Effort Award."
After all, I think every season, I'm the first fan, writer, blogger, whoever, to bring up up this award and list who I think should win it. Furthermore, it's also why McDonald was listed in my "New York Rangers Rink of Honor and the Rafters of Madison Square Garden" book.
As opposed to recent seasons, where there really wasn't much debate on who should win (Kreider in 2022, Fox in 2021); this season, there are a bevy of candidates for the award – and where for the first since 1990, the only time when this happened – you could have co-winners too (John Vanbiesbrouck and Kelly Kisio).
The history of the award has been mixed in recent years. While in the early days of the award, you had role-player types win, over time, you saw more and more "superstars" win the prestigious hardware.
The last true "role-player" to win the award was Cam Talbot in 2015, the one-time Rangers' back-up goalie who shined and dominated following a throat injury to Henrik Lundqvist – a former two-time winner himself.
This season, I can see the arguments for multiple Rangers.
Should the award continue down the superstar path, then no one is more deserving than Mika Zibanejad, who has won the award twice before (2019 and 2020).
Should the award go back to its original intent, then I can't think of anyone better than Ryan Lindgren to win it for the first time.
And should the award go the dark-horse route, and truly honor the role-player of all role-players – then who better than Jimmy Vesey?
For the purpose of this blog, I recently conducted a poll on Twitter, where the fan voting basically broke down as 49% for Zibanejad, 49% for Lindgren and 2% for others, where names such as Filip Chytil, Barclay Goodrow and Jacob Trouba were brought up.
Gun to my head? (And why someone would put a gun to my head about this I do not know!)
Should all things stay the same – then I'm campaigning for co-winners – Lindgren and Zibanejad.
Either way, having so many candidates for this award is a good problem to have!
---
Following playing Blackjack and Craps on Monday night; come Tuesday morning, the Rangers reconvened at their training facility in Tarrytown, NY.
Prior to the morning skate, it was announced that Barclay Goodrow (maintenance), Mika Zibanejad (maintenance), Ryan Lindgren (upper-body injury) and Ryan Carpenter (off-ice workout) would not participate.
While the belief is that Lindgren's injury isn't as severe as originally feared; in the case of Carpenter – everyone knows his fate, including #22 himself – he's gone once the Kane deal goes through.
Not much of note took place at the practice – and where the lines don't matter either – because as you may have heard by now, Patrick Kane, Patrick Kane, Patrick Kane!
As of this writing, the Rangers have yet to post Tuesday's "TURK TALK." In other words, I'll have what Gallant said for you later today.
In fact, let's close today's blog here – and then await what happens later today!
PLUGS TIME!
---
On Monday night, 2/27, our friends over at "The Blueshirt Underground Show" returned with a new episode. To check it out, click the play button below:
---
Later on Monday night, our other pals, over at "2 Guys 1 Cup," returned with a new episode themselves. To check it out, click the link below:
Episode 73 is live!
How will this team look with Kane coming to town? What have we seen from Tarasenko? What will this premature Rangers Devils series look like? Recaps of the games from this past week and a look at the gauntlet of March. #NYRhttps://t.co/CSF4LXzNO0

— 2 Guys 1 Cup Podcast (@2G1CRangers) February 28, 2023
---
My first plug of tonight's blog – the mandatory plug for my book, "The New York Rangers Rink of Honor and the Rafters of Madison Square Garden."
As mentioned previously, the book is now available in hardcover, in paperback and in Kindle formats. To purchase a copy of the book, visit this link:
https://www.amazon.com/Rangers-Rafters-Madison-Square-Garden-ebook/dp/B09CM5N2WD
For those still looking for signed paperback versions of the book, I have re-ordered more copies. I now have a few signed copies for sale at $25 a pop (includes shipping price) through me directly. Here is all the information on that:
---
My four-volume set of books, "One Game at a Time – A Season to Remember," is a game-by-game recount of the Rangers 2021-22 campaign.
My second title as an author, "One Game at a Time – A Season to Remember," is now available in eBook, paperback and hardcover formats.
To obtain signed copies, visit: https://bluecollarblueshirts.com/onegamebook/
To purchase all four volumes on Amazon, visit: Amazon.com – "One Game at a Time."
---
The greatest volume-set of books on Rangers' history today!
"Tricks of the Trade – A Century-Long Journey Through Every Trade Made In New York Rangers' History," a four-volume set of books that meticulously covers every trade made in franchise history, is now on sale.
All four volumes of the title can be purchased on Amazon.com and are presented in three different formats – eBook, paperback and hardcover.
To purchase Volume I: Conn Smythe (1926) – Craig Patrick (1986), visit Amazon.com
To purchase Volume II: Phil Esposito (1986) – Neil Smith (2000), visit Amazon.com
To purchase Volume III: Glen Sather (2000-2015), visit Amazon.com
To purchase Volume IV: Jeff Gorton (2015) – Chris Drury (2022), visit Amazon.com
To purchase signed copies of all four volumes, visit https://bluecollarblueshirts.com/tricksofthetrade/
---
Here are my last few blogs, in case you missed them:
---
---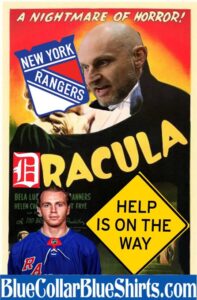 ---
If you haven't already, subscribe to this blog for the next update:
---
Don't forget to order my new four-volume set of books, "Tricks of the Trade!"
If you don't order through me, all four volumes are now available on Amazon.com
For more details, check out: https://bluecollarblueshirts.com/tricksofthetrade/
Thanks for reading.
LET'S GO RANGERS!
Sean McCaffrey
BULLSMC@aol.com
@NYCTHEMIC on the Tweeter machine