Greetings and salutations everyone and welcome to another blog here on BlueCollarBlueShirts.com. Just like how they drew it up!
And to think – some fans were on the ledges and doing the "GLOOM & DOOM" act on Tuesday night!
Prior to Tuesday night's 3-2 loss to these same Canes from Carolina, an off-night for Gallant's Gang; the Rangers had previously won the first two games between these two warring teams of the Metropolitan Division. Better than that, the Blueshirts had made a statement in those pair of wins, behind final scores of 5-3 and 6-2.
Heading into Thursday's tilt; at worst, all the Rangers could do was split the season series, at two wins a piece.
Instead, behind another stellar showing from CZAR IGOR, the 2022 Vezina Trophy winner, and a star goalie who now looks ready for playoff action; the Rangers knocked off the Hurricanes by a final score of 2-1 – and as a result – won the season series, 3-1.
A lot of what took place tonight felt like déjà vu from Tuesday night.
In fact, much of what I wrote on Tuesday (you can find that blog here: https://bluecollarblueshirts.com/32123/ ) applied to tonight's game, especially when I said:
"That's kind of what Carolina did tonight – played at their best – although the Rangers somewhat made it easy on them, as their 0-3 power-play didn't help matters. Neither did their lack of top-six production.

"Had the Rangers struck on one of these man-advantages, where none of these three power-plays were particularly good – then it's a whole different story and vibe right now.

"While the Blueshirts' offense was stagnant tonight, as a lone Tyler Motte goal, which was scored with just 3:00 remaining in the first period, was the only score of the contest as we approached ten minutes left in regulation; conversely, CZAR IGOR was incredible.

"Then the final ten minutes happened, where CZAR IGOR was hit-up for three goals allowed, and where it is tough to really get on him for the trio of tallies.

"After all, if it wasn't for #31 – then this game would've been long over before the final frame even began."
---
48-hours removed from that loss, once again, the power-play wasn't very good – and if it wasn't for CZAR IGOR – then the Rangers' hopes of winning tonight's game would've been up-in-smoke prior to an equalizer scored by Artemi Panarin – which was then followed by Adam Fox's eventual game winning snipe.
But since CZAR IGOR was phenomenal – the vibe is different right now – as what could've been a negative feeling is now a positive one.
If anything, then this game showcased one of the oldest cliches hockey – "It's a sixty-minute game."
For the Rangers, they were on the right end of this one, as despite playing poorly for nearly 50% of the game – the Canes didn't do much during that time in order to make their visitors pay.
Then again, CZAR IGOR wouldn't allow it.
Whether the strategy was to "ROPE-A-DOPE" the residents of Raleigh or not; either way, as the game surpassed the half-way mark – the Rangers were soon able to turn the proverbial table.
A glorious feed from DJ MIKA to THE BREADMAN negated the Canes' 1-0 lead at the time, which took place at the 10:33 mark of the second period.
(And no, and as opposed to whenever CZAR IGOR has a shutout going – Sam Rosen and Joe Micheletti never applied their special brand of magic to Frederik Andersen's no-no!)
This tying goal, obviously huge at the time, also took away some of the sting from the Rangers' 0-3 power-play, where prior to Panarin putting the biscuit into the basket – the Blueshirts also failed on a near two-minute 5 x 3 two-man advantage.
Now tied, and with the heroics of CZAR IGOR perhaps inspiring his skaters too; the Blueshirts flipped the script.
Panarin, who had scored following a perfect pass from Zibanejad; "The Breadman" returned the favor himself at the 4:01 mark of the final frame, as it was #10 who found #23 with a perfect pass for the go-ahead goal.
The Rangers, now up 2-1 in the match, had not only negated their poor start – but better than that – they finished strong too.
And oh yeah – so much for all of that silly "THREE-GORE" talk that returned on Tuesday night! (I'm looking at you Shawn S.!)
On this night, it was "1GOR" – and where it was tough to blame the one goal allowed against #31 himself – and who was also paying tribute to Mike Richter during this game. (More on this below.)
---
As talked about on Tuesday (and really – all season long too); not every win is a Picasso – and what's often lost is that the other team is paid to play hockey too.
One singular loss shouldn't derail anyone's faith in this team – and once again on Thursday night – the Rangers showed that they can win in a variety of ways.
Tonight it was about goaltending and defense, where the excellent performance from Niko Mikkola, who arguably had his best game as a Ranger, shouldn't be swept under the rug either.
It's amazing how well Mikkola looks when he's not spending time in the penalty box.
But of course, there are lessons to be taught following this victory, and where I'm not breaking any news here – Gallant and company must figure out how to get the power-play going again – a power-play that was also the focus of the team's practice from Wednesday morning.
(But to be fair – you can look at any team in the NHL and look for improvement on their respective power-plays. No one bats 1.000.)
After all, as alluded to on this site just two days ago, and a few paragraphs earlier too – had Igor had an off-game – then the tone in Rangerstown, USA would be much different right now, negative at that – and where every finger would be pointed at the power-play when explaining such a loss – and as my ten fingers were pointed on Tuesday night.
Winning covers up weaknesses – and that was certainly the case tonight.
There's a ton of stuff to talk about tonight – so let's get into all of the pregame news & notes, talk about the Blueshirts' alumni who are making the news and then get into the GAME REVIEW.
Sound good to you? Good! Let's roll!
---
Following their 3-2 loss to the Hurricanes on Tuesday, a day later, Wednesday; the team skated at their practice facility in Tarrytown, NY.
While the line-up and roster remains the same (although both Motte and Lindgren had "maintenance days"); the head coach tinkered around with his power-play units.
Previously, "THE TURK" had said that he would try new things on the power-play, as he tries to find the best options prior to the playoffs commencing.
Rather than using the two quintets described as "1 and 1A;" instead, the head coach tried out these five-man groups:
PP1: Kreider/Zibanejad/Kane/Panarin/Fox
PP2: Trocheck/Lafreniere/Chytil/Tarasenko/Trouba
In other words, Gallant reunited Kreider & Zibanejad with Panarin, while also allowing Tarasenko to anchor his own man-advantage unit.
The only thing that remained to be answered was how the power-play time would be doled out, which we'd later find out during tonight's game.
(And as we saw tonight, the first power-play unit dominated the TOI, including remaining on the ice for a full 1:50 5 x 3 power-play. And yep – the power-play can use some more practice too – to say the least!)
Here's what Gallant had to say, following the practice and prior to the team boarding their flight to Raleigh, North Carolina, during Wednesday's "TURK TALK":
---
Most of Gallant's interview was centered around the power-play – because really, and as noted – there's not much else to talk about.
Here's one of "THE TURK's" quotes in regards to shaking things up:
"Just trying to get 'em going a little bit, get it back to where it should be. We gotta get more chances, gotta create more and, again, we played against one of the best PKs in the league last night, they did a good job. We're just a little stale and hopefully get more going, put them in a little bit different position, some of the guys. It should be good."
Obviously, returning Mika and Kreider to the first power-play unit was a good idea, in order to "get going."
As far as anything else, the head coach was also asked about Lindgren and Motte (their maintenance days), where Double G. pretty much said what he said last year at this time – expect a bunch of maintenance days for his regulars as we hit the final stretch of the regular season.
(Keep all of this in mind – as Lindgren's status would change during pregame warm-ups.)
Since the Rangers can't recall anyone from Hartford right now (which they were able to do last season); Gallant will be resting his regulars during practice/non-game days.
Following Gallant's interview, and with the Rangers now in the air; a member of the alumni officially announced his retirement.
---
In news that's somewhat relevant to the Rangers of today; Brian Boyle announced his retirement on March 22nd – and where he will now begin his post-playing days as a studio analyst with the NHL Network.
Presently, many believe that the current Blueshirts' fourth line, Motte/Goodrow/Vesey, has the potential to become the best fourth line trio of franchise history.
And should this team win the Stanley Cup come June of '23 – then potential will become reality.
(It should be mentioned that while the Rangers have been around for 97 years – fourth lines haven't been around for nearly as long – as they really didn't first emerge as a valuable asset until the 1970s – when even then – fourth lines weren't as important as they are today.)
While people debate over what's the best line of franchise history (my pick is "The Bread Line" – The Cooks & Frank Boucher, while others would argue for the "G.A.G. Line" – Vic Hadfield, Jean Ratelle & Rod Gilbert); it is generally considered that Emile Francis' third line, Ted Irvine, Pete Stemkowski & Bruce MacGregor, are the Rangers' best third line trio of the past 97 years.
When it comes to the greatest fourth line of franchise history; yours truly, and many others, would look no further to Alain Vigneault's final trio from the magical 2013-14 season – Brian Boyle, Dominic Moore & Derek Dorsett (and with a tip of the cap to Daniel Carcillo, who alternated with Dorsett towards the end of that campaign).
While you can read all about Boyle's career at https://bluecollarblueshirts.com/tricksofthetrade/; the former #22 of the Rangers spent the bulk of his career in the Big Apple, before becoming the second Blueshirt, of an eventual wave of them from this era, to head south to the Tampa Bay Lightning. (Ryan Callahan, who is also a studio analyst these days, was the first, following the 2014 trade deadline deal that netted the Rangers Martin St. Louis.)
Following one of the greatest fourth line performances of franchise history, including a run to the 2014 Stanley Cup Final; just a year removed from an Eastern Conference Final win, and where the salary cap was a huge part of it too – only Moore remained a season later, where he was now flanked by Tanner Glass & Jesper Fast.
While that trio had some success – they weren't as strong as the Boyle/Moore/Dorsett line.
Boyle, who became a journey-man following his two-plus seasons spent with the Bolts; would later be diagnosed with cancer (leukemia) – and would then beat that cancer in October of 2018.
"THE BOYLERMAKER," now 38-years-old today, last played during the 2021-22 season with the Penguins. (For what it's worth, he didn't play during the 2021 pandemic-plagued season.)
The former first-round pick of the star-studded 2003 NHL Entry Draft (one of the greatest drafts of all-time, and where Boyle went 26th overall to Los Angeles), finishes his strong career with 871 games played in the show.
This retirement news was expected, as previously, Boyle had attended some Ranger alumni events, including playing during a Rangers vs Islanders alumni charity game from earlier this year.
However, it just makes you wonder why the M$GN didn't give Boyle a try-out in their studio – especially since Boyle is now representing the iconic Blueshirt at alumni events.
Seriously – how much more of Sieve Vagistat does one need?
As repeated about 4086786786786786 times before on this site – the M$GN needs a skater in-studio – just to give viewers a different opinion/perspective.
And should the broadcast ever become Henrik Lundqvist and a former Ranger skater on a full-time basis (it doesn't have to be Boyle, but since they've already passed on Callahan, Moore, and others – then why not?) – then the M$GN would have a winner.
Rather than a former skater to pair up with "THE KING OF COMMENTARY;" instead, M$GN is hellbent on ruining the lives of Ranger fans with a former Islander back-up goalie – and one that just spends his entire time on-air plugging his useless analytical company.
Good luck to both Brian Boyle and the NHL Network moving forward.
Up next, a somewhat "controversial" topic; where if you've had enough of the 967896679686896 "PRIDE NIGHT" articles and opinions that are all over the internet, then scroll on down to the picture of CZAR IGOR's new bucket.
That said, since I cover everything Rangers, including the alumni, I can't ignore our next story.
---
I don't want to get too deep on our next topic (easier said than done!) – because after all, I've already done so many times in the past – including recently during these pair of 10,000+ word manifestos from January of 2023:
https://bluecollarblueshirts.com/pride/
https://bluecollarblueshirts.com/12723/
I share these links with you just because I'm not going to rewrite everything that I've previously said. Instead, I just want to add some new thoughts and opinions.
Let's begin from where we last left off.
---
Ever since Ivan Provorov became the first NHLer to publicly abstain from wearing a rainbow jersey – the league has dealt with daily "controversies" surrounding the topic, as Provorov has now become a "Pioneerov."
Provorov, for a lack of a better comparison, has become the NHL's "Rosa Parks" on this issue – one that's now turned into religious freedoms vs token wokeness.
Once Provorov refused to "wear the ribbon" (that's a Seinfeld reference) – not only have other players around the league found the courage to stand up for what they believe in – but many teams throughout the league (including the Rangers) have just dropped all of the PRIDE themed jerseys and equipment all together.
(It should be mentioned that while the rainbow colored sticks and jerseys have been dropped by some teams, but not all – every team – whether they wear the ribbon or not – have made sizable donations to LGBTQ charities and whatever other sexual sects they are claiming under their umbrella today – as I can't keep up with the always-changing acronyms – one that I think now includes punctuation marks and numbers – as if it were your Apple ID password.)
(And yes, as noted before – I just don't know what gay and lesbians have to do with transgenders and every other non-straight person. To me, it's apples and oranges – but let's not get off-topic – admittedly, a tough task for yours truly!)
Obviously, one issue surrounding this PRIDE stuff, where I do feel the message has validity and merit, but it's often presented as forced, as these companies & teams just want "social media brownie points;" is the separation of sports v. politics.
After all, the NHL's Network EJ Hradek (a liberal), following Provorov's refusal to wear the rainbow, stated that the Flyers' d-man should be sent to war in the Ukraine. How tolerant! Hockey is for Everyone!
With more players and teams not wearing ROYGBIV – does Mr. Hradek now want nearly half the league in Putin's war?
(Of course, another issue is the topic of having a sex talk during a hockey game. After all, should the NHL ever partner with the Disney Channel again, for another "BIG CITY GREENS" game – would sexual preferences – straight, gay or whatever other terms that are being invented today – be discussed during such a broadcast?)
Prior to the statement made by the Staal brothers on Thursday; the Sharks' James Reimer, citing his Christian faith, was also in the news for refusing to wear the ribbon.
While the Sharks backed up their goalie; they also spent an entire game posting tweets that had nothing to do with hockey. Rather than you know – talking about the game that was being played at the time – instead – they posted a manifesto about the history of LGBTQ community, where I'm not making this up, they actually tweeted this:
"The muxe gender is a respected third gender in Zapotec cultures in Oaxaca, Mexico that has existed for centuries. Gunaa are those who were born as men but who identify as women & are attracted to men. The Nguii are those who were born as men and are attracted to other men."
What?
And come on – even if you're the most staunch supporter of everything LGBTQ – you can see how that above tweet can be a turn-off – and way too "preachy" as well.
It also deviates from the original message of "PRIDE" too.
(For more of the Sharks' non-hockey related tweets, check out: https://www.outkick.com/san-jose-sharks-go-on-twitter-spree-about-gender-diversity-tout-mexican-civilization-that-believed-in-human-sacrifice/?utm_medium=Social&utm_source=Twitter#Echobox=1679350141 )
---
Before continuing, I do want to mention here, that as opposed to previous years, where Muslims and people of the Russian Orthodox faith have not worn the rainbow – we're now seeing Roman Catholics abstaining from wearing the rainbow too – Christians that had previously worn these colors.
If anything, then these Christians who are now refusing to "taste the rainbow," as if it were a Skittle; they have taken some of the heat and stereotypes away from their Russian and Muslim counterparts.
As depicted above, Marc Staal (and his brother, Eric, too) had previously worn the LGBTQ/rainbow jerseys.
So what has changed during the past few years? Many things.
One, not only has Provorov made it okay not to wear them – other players and teams have followed suit. In turn, fans and commentators, who in the past, wouldn't dare say a word in support of these players and teams in fear of being canceled – are now rallying behind these players and teams.
Two, and as noted before, it's not just lesbians, gays and bi-sexuals anymore. Also included are about 97867867869 other sexual preferences and genders – where not only has the original message been lost – but it has gotten way out of hand too – where for some people (and to be clear – A TINY MINORITY and NOT the vast majority) of this lumped-all-together community – they also support/defend the letter "P," as in "pedophiles."
(I also wonder if all of these former men, now turned women via surgery, defeating natural-born females in sports, races and other athletic competitions, also plays into this. It's one thing to support someone born gay, it's another thing to support a former male beating the snot out of a female – as I recently saw in an MMA fight.)
I mean, just look at what the Sharks tweeted out. It's not about supporting people from the rainbow community anymore – they pretty much want you to join the community too – and where it feels like if you're a straight person – then you're 100% in the wrong.
Three, I think the "wokeness" of it all, where the original intent of this night has long been lost, has turned off these players.
In my deepest heart of hearts – I 100% believe that no NHLer cares if a player or fan is gay. I just believe that the message has gone so far off of the beaten path, that these players want to rebel a bit – especially with their own personal and religious freedoms being attacked, which brings me to…
Four, and this is the most important, people are just sick of being attacked for having their own beliefs.
---
Let's face it – all of this stuff is media-driven – because after all – how many fans really inspect every player during pregame warm-ups?
(Heck, I even bet there are ton of Washington Capital fans out there that haven't realized that Alex Ovechkin has been wearing yellow laces in his skates for nearly the past twenty years!)
I do wonder if these players hadn't said anything, and just sat in the locker room – then would this even be a story right now?
They could say they had an equipment issue or were in the trainer's room – but because of the media, one that skews very young and liberal – these players are now forced to talk about this.
I think it's also telling that rather than making up an excuse to sit out – players are now feeling confident about speaking up and defending their own beliefs, religious or otherwise.
Whatever happened to just playing the game?
Today, in 2023, and by Gary Bettman's design – players are now forced to defend their religious freedoms and their right to believe in whatever they want.
I don't want to get into the whole "cherry-picking" debate, but I will acknowledge that many of these religious texts, if not all, aren't exactly the cheeriest of tomes.
That said, and as the Constitution states, I do believe in one's freedom to believe in whatever religion they desire (except for Scientology – ha!) – and I say that as a heathen atheist!
Instead of talking about the games and the stuff on the ice – players now have to explain their religions – where 99% of the time after doing so – they are then attacked by the "HOCKEY IS FOR EVERYONE" tolerant left.
And to use the lazy defense of – "BUT BUT BUT, WHAT ABOUT MILITARY NIGHT? WHAT ABOUT HOCKEY FIGHTS CANCER NIGHT?" That's what it is me – a lazy defense – as one's religion doesn't impact their view on patriotism and life-and-death ailments. (It does impact the way they think on the afterlife though!)
I just go back to what I've said from day one – HOCKEY IS FOR EVERYONE – as long as you have the money – as the only color of the rainbow that the league and Bettman cares about is green.
As long as you have greenbacks to spend – then white, black, brown, straight, gay or transgender – you will be welcomed inside of any NHL arena – and where the online stores will happily accept your money too.
And while talking about every race, skin color, creed and sexual preference of fans at hockey games?
In all of my years of attending hockey games, nearly forty in all – the only color, besides green, that matters, is the color of the uniform that I'm rooting for.
In other words, whenever the Rangers score, I, nor anyone else, ever stop to examine the fan sitting next to them, nor present to them a questionnaire either.
Instead, all of us, no matter our own individual backgrounds, religious beliefs and political affiliations – all high-five each other and celebrate as one entity – which is why sports will always be the great uniter – that is – until these leagues decided to unnecessarily press the issue themselves.
The "HOCKEY IS FOR EVERYONE" message is a positive one – but for many – only if you agree with the way they think. (And this works on both sides of the aisle – left or right, Republican or Democrat.)
Should you believe in a faith that makes you want to refrain from the rainbow? Then for some – hockey isn't really for everyone after all.
It should be noted, that the Staal brothers, just like the other players before them who wouldn't wear the rainbow in 2023 – they have stated that they have no problems with what anyone wants to do in life, nor what they are either.
To accuse them of being "homophobes" and/or bigots, which is presently taking place on hockey social media right now, is erroneous.
They just want their religious beliefs to be respected too – and they aren't pushing their beliefs on anyone – which is what the NHL somewhat does with all of these pandering PRIDE nights.
The NHL really opened a can of worms this season – not because supporting the LGBTQ community is wrong – but because of the fashion in how they do it – where as we are now seeing – they are alienating allies – where the "Soap Box" Sharks were the biggest offenders.
(As previously noted on this site – I do support the PRIDE Night stuff. I have gay & transgender readers and friends. But I don't care who is against it – and as someone who doesn't mind the night – the Sharks stuff was certainly off-putting and did more damage than good.)
At the end of the day – there will always be people who subscribe to the "stick to sports" mantra – and who want all theme nights removed. And that's fine.
For me, and as stated many times before?
For a league that needs to boost their salary cap numbers – I'm just surprised that we don't have 41-themed nights per season!
Lastly, as yes, I know that this topic feels never-ending – I've never seen so much attention paid to what players are wearing during warm-ups before!
Rant over!
Back to hockey – "God" willing!
---
Just like his predecessor before him, Henrik Lundqvist – on Thursday night, CZAR IGOR paid tribute to the greatest goalie of franchise history too, #35, Mike Richter. (And that comment will spark more debate than PRIDE NIGHT!)
For me, I always like how the goaltending community is close-knit and whenever netminders pay tribute to the past.
And I'm sure that one day – CZAR IGOR will wear a bucket in honor of #30 too – a soon-to-be much deserved homage paid to "THE KING."
And fingers-crossed?
One day, many years down the line, there will be a Rangers goalie wearing a mask that pays honor to CZAR IGOR – who at that point in time – will be known as the second goalie of franchise history to win both the Vezina and the Stanley Cup! (Only Davey Kerr, in 1940, has won both pieces of hardware.)
And when whoever that goalie will be has his #31 inspired bucket on?
That Shestyorkin's last name will be in the rafters too, along with Lundqvist and Richter!
But yes, I'm getting WAAAAAAAAY ahead of myself here!
WAAAAAAAAAY ahead!
After all, and as Gallant always says, "ONE GAME AT A TIME!"
Speaking of "THE TURKMASTER GENERAL;" on Thursday morning, and now in Raleigh following the Rangers' optional skate, Gallant spoke to the media one more time prior to tonight's tilt against Carolina.
Here's what he had to say:
---
While I first said it on Tuesday night, and then brought it up earlier tonight; during this episode of "TURK TALK" – even the media admitted that they didn't have much to ask Gallant about!
And as previously mentioned – that's a good problem to have.
Outside of announcing that CZAR IGOR would return to the net; "THE TURK" also brought up the careers of his current third line, Lafreniere, Chytil and Kakko, and said that you couldn't label this trio as "THE KIDS" anymore.
Wow – I've only been saying that all season!
Gallant brought up how each member of the first-round draft pick line have over 200 games of NHL experience (Chytil has 300+), and that they have to be just as accountable as anyone else.
Gallant wasn't criticizing these three – this was just a reply to a meaningless question on a slow news day.
And yep – you can expect these pregame "TURK TALKS" to be redundant and boring as the Rangers complete their 82-game regular season schedule.
---
Come 6:30PM Thursday, everything seemed to be back to normal – but of course – that's not the Ranger way!
During pregame warm-ups, it was announced that Ryan Lindgren had pulled himself from the game, as he wasn't feeling 100% after tweaking his shoulder on Tuesday night.
At the time, it was thought/reported that Lindgren could've played had this been a playoff game, but since it wasn't – #55 sided with caution over pressing the issue – the right choice.
For me, and I'm sure for you guys & gals too – I was fine with this.
There's no reason risking further injury during the regular season.
Big picture all the way – and that's the playoffs folks!
With Lindgren out, Gallant went back to the line-up that he used during the eleven games that his starting LD had recently missed.
---
Here was the Rangers' line-up from Thursday night:
FIRST LINE: Panarin/Mika/Tarasenko
SECOND LINE: Kreider/Trocheck/Kane
THIRD LINE: Lafreniere/Chytil/Kakko
FOURTH LINE: Vesey/Goodrow/Motte
FIRST PAIR: Miller/Trouba
SECOND PAIR: Mikkola/Fox
THIRD PAIR: Harpur/Schneider
STARTING GOALIE: CZAR IGOR
BACK-UP GOALIE: THE HALAKNESS MONSTER
DAY-TO-DAY: Ugh, Ryan Lindgren
PRESS BOX: The memories of Dryden Hunt
---
BOX SCORE time.
The following graphics and information come from ESPN.com:
SCORING:
PENALTIES: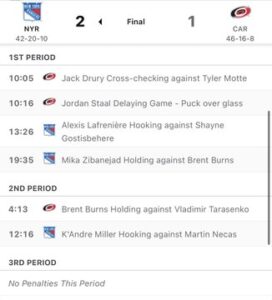 TEAM STATS:
GOALIES:
| | | | | | | | | | | |
| --- | --- | --- | --- | --- | --- | --- | --- | --- | --- | --- |
| SA | GA | SV | SV% | ESSV | PPSV | SHSV | SOSA | SOS | TOI | PIM |
| 16 | 2 | 14 | .875 | 10 | 4 | 0 | 0 | 0 | 57:51 | 0 |
| | | | | | | | | | | |
| --- | --- | --- | --- | --- | --- | --- | --- | --- | --- | --- |
| SA | GA | SV | SV% | ESSV | PPSV | SHSV | SOSA | SOS | TOI | PIM |
| 30 | 1 | 29 | .967 | 27 | 2 | 0 | 0 | 0 | 59:16 | 0 |
---
Come 6:30PM, I tuned into the M$GN, where I was immediately disappointed by the appearance of the smug Sieve Vagistat. Come 6:30:01PM, I flipped my television back to the NHL Network – where the Staal brothers were being discussed!
Between Vagistat's never-ending bullshit and another discussion between religious freedoms vs rainbow jerseys; come 7:00PM, I was just waiting to see a hockey game be played!
Once again, Sam Rosen and Joe Micheletti had their Carolina cheerleader regalia on – as for the next two-and-a-half hours – M$GN turned into the Raleigh Sports Network.
Between the love our favorite bumbling duo has for anyone who has ever worn Carolina red, and the Blueshirt jinxes sandwiched in-between too – these two were brutal.
I will say, following Tuesday's blog, I received this entertaining, yet truthful email, from site reader Mike K.:
Talk about Rosen's biggest REVERSE CURSE and JINX!
And thanks Mike for the laugh!
Finally, and I know thatit took me a while to get here, let's now talk about tonight's game – where if you want to get to the good parts – then skip the first period!
---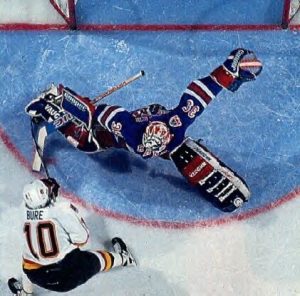 FIRST PERIOD:
As you may have heard – this was not a good period of Ranger hockey.
By the end of it, the Rangers had squandered a 5 x 3 power-play – and didn't register one 5×5 (even-strength) shot on goal.
As a generality, this period, and whole game, was dominated and predicated by the greatness of CZAR IGOR.
What you may have also heard was the PNC Arena in Carolina pumping in fake crowd noise all game. At points, the barn sounded like Times Square at 12:00AM on January 1st.
This fake noise was woefully apparent during the latter stages of the game, as chants of "IGOR, IGOR, IGOR!" and "LET'S GO RANGERS!" drowned out these artificial noises of home team support – noises that Carolina kept in their system following the pandemic – where then, and only then, was it acceptable to pipe-in crowd noises.
---
Following Trocheck winning the first faceoff of the game; Sam and Joe immediately got down on their hands and knees, and then unzipped the pants of Brady Skjei, Brett Pesce and Jack Drury – as for whatever reason, these two think that Ranger fans want to hear praise for the other team all broadcast.
If you bet the -100 over-under on how many times Sam would say "OH JOE, BRETT PESCE JOE" and/or "JACK DRURY IS CHRIS DRURY'S NEPHEW JOE;" then you cashed in big tonight.
At just the 1:05 mark, Trouba broke up Martin Necas chance. Joe's response? (And I'm not making this up) – "BRETT PESCE IS FABULOUS SAM!"
At the 1:45 mark, Chytil, from a foot away, went wide in front of Andersen. Fifteen seconds later, CZAR IGOR stopped Tuesday's goal scorer, Chatfield.
By the 2:30 mark, CZAR IGOR had already amassed four saves, as most of this period was spent in the Rangers' end. ("OH JOE, THE RANGERS' END JOE! PRIDE NIGHT JOE! A BAD JOKE JOE! TRY TO LAUGH JOE!")
Come 15:53 remaining, Igor made a glove save on Slavin, his sixth stop of the contest.
On the Rangers' next shift, the third line danced around in the Carolina d-zone, but as is often the case – couldn't register a SOG.
Combined, Lafreniere, Chytil and Kakko finished with a total of three shots on goal – one for each skater – and where that total feels like a high number these days.
As Goodrow was stripped from the puck with 14:10 remaining, Vesey laid a big hit on Chris Drury's nephew – where it sounded like Sam & Joe were at a funeral after witnessing this textbook hit.
The hit led to Drury going to the locker room, but he only missed a shift or two before returning – "GREAT NEWS JOE! I CAN BREATHE AGAIN JOE!"

By the 8:00 mark, the Rangers hadn't tested Andersen once; while Igor watched a Jarvis tip-in try go ever so wide.
Forty-five seconds later, Kakko created a turnover, but once dishing the puck to his center; a check on the Czech created a Carolina turnover too. This happens a lot.
At the 10:05 mark, the Rangers, with no shots on goal to their ledger at this time, drew a penalty.
Following a Motte hit on a returning Drury; the most famous nephew, now with his helmet off – retaliated and cross-checked #14 in white.
Two things about this penalty drawn.
One, Motte had now drawn the last three consecutive Ranger power-plays.
Two, you could argue that Drury deserved a double-minor, because as the rules stipulate – once you lose your helmet – you can't play the puck and you have to return to the bench.
Just ten seconds into the Rangers' power-play, Jordan Staal was boxed, following a Carolina D.O.G. infraction, as Staal had deposited the puck over the glass and into the quiet and real crowd.
In what would've been the story of the game had the Rangers lost, and really, this is still a story regardless – with 9:44 remaining, the Rangers' now had a 1:50 5 x 3 power-play.
With 9:15 remaining in the period – Andersen made his first save of the game, when he stopped a Panarin one-timer.
Come the end of the power-play, and with one more save made on Kane – the Canes & Andersen had successfully killed the two-man disadvantage.
And you know what I always say – if you can't score on a 5 x 3 power-play and/or on a five-minute major – then you don't deserve to win.
Fortunately, that didn't apply tonight.
And you know how it goes too – more times than not, if a team can't score on a major power-play advantage – then they are the ones who are next to the sin bin.
That applied here.
With 6:34 remaining – Lafreniere was boxed for hooking. The officials loused up this call, because while the Rangers did take a penalty – it was Tarasenko – and not Lafreniere – who committed the infraction.
This fake news call had me wondering – what if Lafreniere was in the running for the Lady Byng Trophy? These two PIM would've hurt his cause – all because the officials blew it – literally.
Of course, this is a hypothetical, as Lafreniere has no shot of winning the trophy that Frank Boucher once made famous.
The Rangers' PK, which has been red-hot lately, did their job here, where of note – Sam was begging for Drury to score during these two-minutes.
There's just something wrong with Rosen these days – although to be fair – when the Rangers do win – he does sound excited. It's just everything else that takes place during the preceding sixty minutes.
As the Rangers couldn't find a way to muster up one shot on goal, the inevitable.
With 3:13 remaining, Sebastion Aho got to the side of Trouba and then fired a wicked wrister past CZAR IGOR.
1-0, bad guys.
A few thoughts about this goal:
1) I saw some people getting on Igor for allowing this goal. Please. It was a great shot from a great player. And again – the other team is paid to score goals too.
(Also, whenever assessing these types of plays – look at it from the other side. After all, was Fox's snipe a bad goal allowed by Andersen? I don't think so.)
2) Micheletti tried to blame Trouba for screening Igor. That wasn't the case. Aho just simply beat Igor.
3) Carolina was peppering CZAR IGOR throughout, and you just knew that one of these many attempts would finally go in.
4) The most important thought? This was the last goal that Carolina would score.
"THREE-GORE" my ass! ("MY ASS JOE, THE STAAL BROTHERS JOE!")
---
As Sam continued to lavish praise on Ranger opponents; Igor made a stop on Brent Burns with 1:44 remaining.
Yep – you guessed it – following Igor's big denial – Sam & Joe then told us why Brent Burns is the greatest of all time.
With just 24.5 seconds remaining, the officials assessed Zibanejad with a soft holding penalty on Mr. Burns himself – an o-zone penalty to boot – and one that you'd never see called during a playoff game – where at times – is what this game felt like.
The Rangers got out of this period only down by one – and you can thank Mr. Igor for that being the case – not that Sam & Joe would ever say that!
Here's what I said at the time:
1-0, bad guys, after 20. 1P Thoughts:
— That 5 x 3 PP was inexcusable.
— Sam & Joe are brutal, but at least Rosen can't jinx a shutout tonight.
— SOG 12-3, Hits 9-8, FOs 10-8, all CAR
— No 5×5 SOG for #NYR
— Gallant must be going nuts
— Lucky to only be down by 1
LGR

— BlueCollarBlueShirts (@NYCTheMiC) March 23, 2023
---
SECOND PERIOD:
Despite an attempted hex from Rosen, "THE PENALTY KILL HAS BEEN PERFECT JOE;" the Rangers survived this latest "reverse curse" and then killed off the 1:36 remaining on the Canes' power-play.
However, once returned to full-strength – CZAR IGOR was then immediately forced to come up with a pair of saves himself, as he did, when he stopped the announcers two favorite players, Pesce and Skjei.
Just two minutes into this period, the SOG stat was 15-3 – and with the Rangers still looking for their first 5×5 SOG of the contest.
Come 17:47 remaining, a major crisis was averted.
Following a clean hit from Kotkaniemi on Chytil; the Cane's momentum took him over Carolina's bench – and where his skates almost clipped the Czech's neck.
On replay, it looked like the side of his skate caught Chytil in the mush – but following a brief visit from Jim Ramsey – Chytil not only remained – but he stayed on the ice for the next faceoff too.
Seriously, this could've been another Evander Kane type of a play – but again – and fortunately – the best case scenario played out here.
As we hit 16:20 remaining, Miller directly passed the puck to Skjei on a horrible clearing attempt, which then led to another save for Mr. CZAR IGOR.
It was also around this time where Gallant tinkered with his lines, when he flip-flopped Panarin and Kreider.
Just seconds later? With 15:47 to go, Tarasenko, after driving towards Andersen, drew a holding call against Burns. (Keep this in mind for later.)
Now back on the power-play and a chance to tie – the Rangers' power-play couldn't do much. The M$GN cameras even caught Panarin dropping f-bombs – so yes – he does speak English!
The only real save Andersen had to make during these two minutes was an easy stop on a rising Trocheck attempt.
Now down to 12:36 remaining, perhaps the best save of the game:
Igor with the outstanding full stretch save on the 2-on-1 opportunity #NYR pic.twitter.com/2xlhS7yUL9

— Rangers on MSG (@RangersMSGN) March 24, 2023
---
Here's CZAR IGOR, on a Canes' odd-man rush, denying a Stepan-to-Puljujarvi one-timer. Had this shot went in – I'm not so sure that I'm writing about a Rangers' victory tonight.
Come 11:50 remaining – the Rangers first even-strength shot on goal, as a Chytil breakaway was stopped by Andersen. With this rare SOG, the SOG stat now read as Carolina 19, New York 6.
Up next, we saw Miller go wide from a foot away and then make up for it, when he wiped out Jesper Fast in the other end.
Then, with 9:27 remaining – a glimmer of hope:
Tarasenko to Zibanejad to Panarin 🚨 and the Ranger fans are LOUD in Raleigh 🗣️🗣️🗣️ pic.twitter.com/LoMoZWDosI

— Rangers on MSG (@RangersMSGN) March 24, 2023
---
1-1, as the first line, now returned, picked up this highlight reel goal, as Panarin buried Mika's no-doubt-about-it pass into the net.
Talk about a much needed goal – and one that had erased the previous thirty minutes of slog just like that.
This was one of these goals allowed that Carolina had to be kicking themselves over – because they were, and by far, the superior team on the ice. However, they were tied where it mattered.
It was this goal that helped give the Rangers some momentum – but CZAR IGOR wasn't done either.
Following another big hit from Miller that negated a Canes' attack, this time on Stepan; the officials decided to swing this game.
If you recall, Tarasenko had been tripped/tackled/interfered/hooked by Burns earlier, which earned the team a power-play.
We then saw a carbon-copy replica of this play take place – but this time – the refs swallowed their whistle. Just seconds later, they coughed-up their whistle, as with 7:44 remaining, they boxed Miller for hooking Necas.
This was just brutal officiating.
Had the penalty on Burns been properly assessed, then this play never happens – nor would the Canes have an odd-man rush – which is why Miller took this penalty – as without it – the home team would've most likely scored.
In other words – this was a good penalty to take – but that won't show up in any analytic or spreadsheet!
Gallant was furious about this. It only took Micheletti two minutes to figure out why. Also taking place during these two minutes? The Rangers third-and-final successful penalty kill of the game.
For as shaky as the power-play has looked as of late; conversely, the penalty kill has been steel-strong.
Once back to full-strength with 5:00 remaining; the Rangers' third line and third pair got stuck out there for too long; but fortunately, the Canes couldn't capitalize on the tired Blueshirts.
With 3:19 remaining, it was Andersen's turn to match his peer, as he made a huge save on a Panarin snipe-job – and then stopped the ensuing rebound too. Give props to Mikkola here as well – as he set all of this offense up for "The Breadman."
Following a forced Kane pass to Panarin in the o-zone, a turnover; CZAR IGOR then denied Fast with 2:10 to go.
It was also around this time when Micheletti mentioned that Trouba went to the locker room – where this was never mentioned again – nor was any replay ever shown of what could've possibly caused a potential injury to the captain.
(Trouba was right back on the ice for the start of the third – and where Micheletti didn't peep a word about it. I guess he was too busy salivating over the Hurricanes to follow up on what he said.)
As Igor made two more saves in the final seconds, we remained 1-1 at the end of forty minutes.
Here's what I said at the time:
1-1 after 40. 2P Thoughts:
— Fugly game, but they didn't give up. Other team is paid to play too.
— CZAR IGOR Show.
— SOG 25-11, Hits 18-14, FOs 23-17 all CAR
— If #NYR don't win, then blame the PP. But let's not think like that.
— Need a Trouba update
— LGR

— BlueCollarBlueShirts (@NYCTheMiC) March 24, 2023
---
3P time from Raleigh. This could be a resolve & resounding #NYR victory, or a head-scratching loss. I choose the former!

— BlueCollarBlueShirts (@NYCTheMiC) March 24, 2023
---
THIRD PERIOD:
Whether the Rangers paid tribute to Muhammad Ali or not – I do not know. I just know that most of this period felt like the Rangers had found their second wind, while the Canes just looked winded.
Following an opening save on Burns, where Kane then flung the rebound out of the zone; CZAR IGOR then made two more saves as we approached the four-minute mark.
These saves kept the game tied – and also allowed Fox to score the go-ahead goal:
Adam Fox with a HUUUUUGE goal for #NYR pic.twitter.com/PoHiu03oa2

— Rangers on MSG (@RangersMSGN) March 24, 2023
---
2-1, GOOD GUYS!
While I don't think that Fox's goal drought was as big of a deal as Rosen made it out to be; needless to say – this was a good time to make it rain!
After all, just prior to this tally, Trocheck had hit the post on his solo chance with Andersen.
On this FOX TROT, Panarin found Fox wide-open and BOOM- the "former property" of the Hurricanes then went top-shelf on Andersen!
But of course, since it's the "RANGERS WAY" (trademark pending); the Canes almost scored the equalizer within nanoseconds – but Braden Schneider made a save on a Carolina odd-man rush.
This was the real last scare the Hurricanes would have – at least until they pulled Andersen.
Prior to Andersen going bye-bye; Panarin, Kreider, Trocheck, Miller, the third line, and Panarin one more time, were all denied of scoring the insurance goal.
For whatever reason, following a CZAR IGOR homerun pass that went for an icing with nearly 10:00 remaining; Sam and Joe presented us with a Brett Pesce video package. This is on the network too, who had this graphic ready to go.
WHY? WHY? WHY?
A 2-1 game, now in crunch time, and the home network is running promo pieces on the opponent.
Ridiculous.
Following some strong defensive work from all six rearguards, and a few more saves from CZAR IGOR too; with 8:14 remaining, Andersen kept his team alive when he outright robbed Lafreniere.
At the FOXWOODS FINAL FIVE mark, the second line were on an all-out attack, but Andersen survived and knocked down Trocheck too. NONNA's BAMBINO was fine – but he did wince a bit on the bench.
He never missed a shift.
HOCKEY PLAYER!
Come the two-minute warning, Andersen took his seat on the bench.
Forty seconds later, following a Vesey icing, the Canes took their timeout. For whatever reason, Gallant was dropping f-bombs at the officials, as he looked like an enraged UFC fighter.
During this stoppage, M$GN, and to their credit, caught Goodrow blocking a shot away from the camera, where following it, his skate blade popped off.
As Goodrow tried to one-leg it to the bench – once there – his teammates lifted him up over the boards – thus preventing a potential too many men on the ice penalty.
Smart hockey.
Team.
Once returned from the timeout, the Canes tried, but following clears from Fox and Trouba – the Rangers held on and proved their resilience.
2-1, GOOD GUYS, final – and on a night that very easily could've went south.
Here's my favorite coach and yours, "THE TURK," following the big win:
---
As you'd imagine – the head coach was very pleased with his team's "NEVER GIVE UP" approach – but yeah – the power-play must improve.
You can't expect CZAR IGOR to carry the team every night – even if that's what he's been doing a lot of as of late.
At this time, take a look at the updated standings:
Up next for the Blueshirts: A Saturday late matinee in Sunrise, Florida – against those Christian Staal brothers!
I doubt that Sam & Joe, nor anyone else from the M$GN, will bring this story up either!
Just as the Penguins did on Thursday night, the Panthers, currently flirting with a wild-card spot, also lost (6-2 to Toronto).
As we approach the end of the season – more and more, it's looking like the Islanders will be safe – and indeed – will clinch a playoff berth.
Should that be the case, then for the first time since 1994 – the Rangers, Islanders and Devils will have all qualified for the postseason – and we know what happened that year!
For the Penguins, and the Rangers' next opponent, the Panthers – neither can go on a run and put the other team out of contention.
For me? Obviously, I'm rooting for two more points on Saturday.
I'm also rooting for the Penguins to outlast the Panthers and to clinch the final Eastern Conference wild card spot.
Why?
Easy.
Should the Penguins reach the playoffs, then that means that Gary Bettman and company can't rig another draft lottery for Pittsburgh – a city where the word "rebuild" has been often mentioned!
I also feel that the Bruins would steamroll the Penguins in a seven-game series – where I also believe that the Islanders could upset the 2023 Presidents' Trophy winners.
---
I'll be back on Saturday night with a Rangers/Panthers GAME REVIEW.
As far as who goes in net – I'm fine with either CZAR IGOR or THE HALAKNESS MONSTER.
However, with crappy Columbus up next following NYR/FLA – I'd lean towards #31 and then let Halak start against the non-playoff and draft lottery bound team.
It wasn't easy tonight, but whew – a great result.
Thanks for sticking with me during this super-long blog! (Yep – I don't have work on Friday – whew!)
See ya Saturday, and until then, LGR… and you know what time it is…
PLUGS TIME!
---
My first plug of tonight's blog – the mandatory plug for my book, "The New York Rangers Rink of Honor and the Rafters of Madison Square Garden."
As mentioned previously, the book is now available in hardcover, in paperback and in Kindle formats. To purchase a copy of the book, visit this link:
https://www.amazon.com/Rangers-Rafters-Madison-Square-Garden-ebook/dp/B09CM5N2WD
For those still looking for signed paperback versions of the book, I have re-ordered more copies. I now have a few signed copies for sale at $25 a pop (includes shipping price) through me directly. Here is all the information on that:
---
My four-volume set of books, "One Game at a Time – A Season to Remember," is a game-by-game recount of the Rangers 2021-22 campaign.
My second title as an author, "One Game at a Time – A Season to Remember," is now available in eBook, paperback and hardcover formats.
To obtain signed copies, visit: https://bluecollarblueshirts.com/onegamebook/
To purchase all four volumes on Amazon, visit: Amazon.com – "One Game at a Time."
---
The greatest volume-set of books on Rangers' history today!
"Tricks of the Trade – A Century-Long Journey Through Every Trade Made In New York Rangers' History," a four-volume set of books that meticulously covers every trade made in franchise history, is now on sale.
All four volumes of the title can be purchased on Amazon.com and are presented in three different formats – eBook, paperback and hardcover.
To purchase Volume I: Conn Smythe (1926) – Craig Patrick (1986), visit Amazon.com
To purchase Volume II: Phil Esposito (1986) – Neil Smith (2000), visit Amazon.com
To purchase Volume III: Glen Sather (2000-2015), visit Amazon.com
To purchase Volume IV: Jeff Gorton (2015) – Chris Drury (2022), visit Amazon.com
To purchase signed copies of all four volumes, visit https://bluecollarblueshirts.com/tricksofthetrade/
---
Here are my last few blogs, in case you missed them:
---
---
---
If you haven't already, subscribe to this blog for the next update:
---
Don't forget to order my new four-volume set of books, "Tricks of the Trade!"
If you don't order through me, all four volumes are now available on Amazon.com
For more details, check out: https://bluecollarblueshirts.com/tricksofthetrade/
Thanks for reading.
LET'S GO RANGERS!
Sean McCaffrey
BULLSMC@aol.com
@NYCTHEMIC on the Tweeter machine