Greetings and salutations everyone and welcome to another blog here on BlueCollarBlueShirts.com. The Rangers do it again!
Friday night's game at M$G was near-flawless (and the effort the team put forth was most certainly so), where I didn't even know who to feature with tonight's silly blog header photo. You could made a case for at least six different players, if not more.
It was tough to single-out any one Ranger, so I decided to go with Gerard Gallant, due to the criticism he received from the many bozos/self-proclaimed head coaches, who all pollute social media like a greedy oil baron.
Off of puck drop tonight, I must profess to you that I'm aware that I'll have to try to limit myself with the "I told you so" stuff.
That so eloquently stated – "I TOLD YOU SO!" (Sorry, I'm excited after this Rangers victory!)
---
In case you missed yesterday's blog (which you can read here: https://bluecollarblueshirts.com/32422/ ); while the majority of Rangerstown, USA were crying out real tears over Gerard Gallant's line-up changes, I told you the Rangers would be fine.
Hell, if you go back just two blogs ago (the loss to the Devils), I told you that the Rangers would win this game against Pittsburgh, thus erasing those disappointing feelings from Tuesday.
Once again, the eye test prevails, while the analytical sect of the fan base has nothing to show for their never-ending complaints – that is, outside of a pile of tear-soaked charts.
"BUT, BUT, BUT – THEY CAN'T BEAT ANYONE GOOD!" Yeah right!
As they've done so frequently and often this season following a bad loss; once again, the Rangers rebounded and as a result – absolutely crushed the Pittsburgh Penguins on Friday night.
For the Rangers, the biggest test in this contest was not blowing a quick 3-0 lead and continuing to play well after the first period. The Blueshirts would ace this particular exam, where Professor Gallant has to be head-over-heels with this response.
Also head-over-heels (figuratively, and not literally), is yours truly:
Last night, I told you that I felt like I had a good read on Gallant and his team.
Hell, I've been predicting the Rangers to be amazing all season, where as you know by now – I said this team would make noise in the playoffs, which I first said going all the way back to when Drury first took the big chair at 33rd and 7th. I'll leave it at that, as you can just check the archives of this site for all of my past predictions, predictions that are ringing true (and loudly at that) today.
Tonight, I felt like 98% of my predictions hit, which personally, for me, makes me feel great – especially if I can hit my biggest prediction of all – your 2022 Stanley Cup Champions, the New York Rangers!
I know, I know, I know – "PUMP THE BRAKES, IT'S ONLY ONE WIN. YOU ALWAYS OVERREACT TO BIG WINS."
That said, why shouldn't I feel this way?
In the past week alone, the Rangers have knocked off the two-time Stanley Cup champions (Tampa Bay), the first-place team of the division (Carolina), and now after tonight, the Pittsburgh Penguins too – a steel city team who the Rangers now only trail by one point for second-place in the division. (But don't forget – the Rangers have a game in-hand.)
If there's anything that gives me extreme joy right now, it's watching Gallant, for what feels like the 86786789686896th time this season, once again pushing the right buttons.
As I bellowed last night – "IN TURK WE TRUST!"
While the media and fans were worried about Gallant's line-up, and even had the AUDACITY to ponder if CZAR IGOR is struggling – the Rangers debunked all of that junk on Friday. Now do it again on Sunday – where SPOILER ALERT – I believe they will.
---
As I take this victory lap, in my moment of vibrant elation and jubilation following this win; there were a few things that I predicted tonight that wound up happening:
— A blowout victory for the Rangers.
— A Copp goal.
— A Kreider goal.
— Questionable officiating after a goaltender's freeze.
— Two points for Alexis Lafreneire. (He only had one, but I'm going to count his one goal as a win here!)
— A shutout for CZAR IGOR. (He gave up one goal, a power-play goal. However, he did shut out the Penguins at even-strength, so I'm going to chalk this up as a win too. And for what it's worth, and as mentioned 7867867869689 times this season – it's always one brain-fart by the Rangers defense, that has prevented CZAR IGOR from achieving at least ten shutouts this season. More on that in the GAME REVIEW.)
— A big game out of Jacob Trouba.
— Gallant's decisions paying off once again, as the tone-deaf analytical crowd all became mutes!
---
Without question, this was a bell-to-bell, wire-to-wire, sixty minute effort for the Rangers. This is a win to be proud of.
Sure, some fans may get on Nemeth for taking a penalty late into the game while up 4-0; but we're so used to Sidney Crosby drawing phantom penalties that I wasn't bothered by it.
If you're "glass half-full" like me; there was a lot of positivity to take out of this game, where you can look up-and-down the roster and rave about anyone, where yep, yet again – that also includes the head coach.
I have to be up extremely early tomorrow, so let's now get into the NEWS segment (which is very light tonight, since I covered most of it yesterday), followed by everything else, including the main event – the GAME REVIEW.
---
Two hours before puck drop, head coach Gerard Gallant met with the media for his daily pregame chat. Here's the mini press conference:
---
There were a few news and notes coming out of this latest edition of "Turk Talk."
Gallant said that Kaapo Kakko and Kevin Rooney, despite their status on the IR, are currently skating on their own. In other words, while they aren't able to play just yet – they are keeping up with their conditioning.
The head coach also expanded on the subject of Alexis Lafreniere, pretty much echoing what I said yesterday – this isn't a demotion for Lafreniere – it's a way for the 2020 first overall pick to play at his natural position.
Gallant praised his twenty year old left winger, where he reminded everyone once again that the Rangers are deep at the left wing position. Gallant said he wouldn't dare move Kreider and Panarin to the right side, because after all, CK20 is having a career season (42 goals), while Panarin currently leads the team in points.
As far as anything else, Gallant confirmed that CZAR IGOR would be getting the nod in net – and as everyone expected.
---
Here's what "The Turk" went with for this "Petr Nedved Tribute Cup" game:
FIRST LINE: Kreider/Zibanejad/Vatrano
SECOND LINE: Panarin/Strome/Copp
THIRD LINE: Lafreniere/Chytil/Goodrow
FOURTH LINE: Motte/Brodzinski/Hunt
Defensively, we had this:
FIRST D-PAIR: Lindgren/Fox
SECOND D-PAIR: Miller/Trouba
THIRD D-PAIR: Nemeth/Schneider
And in net, CZAR IGOR
---
BOX SCORE time.
The following information and graphics come from the new world-wide leader in NHL coverage, ESPN.com:
SCORING:
PENALTIES: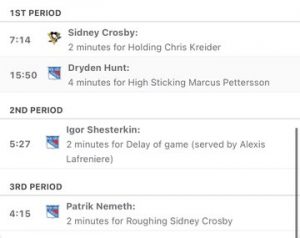 TEAM STATS:
GOALIES:
| | | | | | | | | | | |
| --- | --- | --- | --- | --- | --- | --- | --- | --- | --- | --- |
| SA | GA | SV | SV% | ESSV | PPSV | SHSV | SOSA | SOS | TOI | PIM |
| 30 | 5 | 25 | .833 | 22 | 1 | 2 | 0 | 0 | 55:41 | 0 |
| 3 | 0 | 3 | 1.000 | 2 | 1 | 0 | 0 | 0 | 4:19 | 0 |
| | | | | | | | | | | |
| --- | --- | --- | --- | --- | --- | --- | --- | --- | --- | --- |
| SA | GA | SV | SV% | ESSV | PPSV | SHSV | SOSA | SOS | TOI | PIM |
| 21 | 1 | 20 | .952 | 18 | 0 | 2 | 0 | 0 | 60:00 | 2 |
THREE STARS: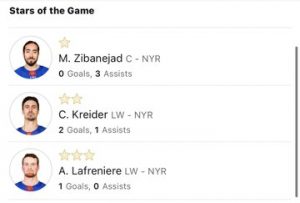 Since Ryan Reaves received a night of rest; we didn't get our usual "SHESTY, RELEASE US!" clip. What a shame!
I know I've said this before, but I always feel these daily screams from #75 not only pumps me up as a fan, but more importantly than that – Alexis Lafreniere too. Thankfully, Lafreniere was able to motivate himself tonight, where he would go on to shine in this game in his natural role as a left-winger.
Also not appearing on this broadcast was Henrik Lundqvist, as instead, we were forced to suffer with Sieve Vagistat's banality and inane opinions.
No joke, to open the broadcast, the legendary goalie of 46 NHL games, the most epic NHL games to have ever been played in league history; actually said that this game would sort out the pretenders from the contenders.
Even had the Rangers lost this game, would your faith in the club become tested?
After all, as mentioned 986786696986 times within the last 48 hours – Gerard Gallant is tinkering with his line-up, as he tries to find the perfect solution. This is the time to play around with the line-up – and not in the playoffs.
And since the Penguins, who were without Evgeni Malkin tonight, lost this game – does that mean their season is now over?
Again, just more stupidity out of the Clear-Sighted Clairol King.
More stupidity? The iconic goalie of 46 games critiquing CZAR IGOR's recent performances.
If Henrik Lundqvist has an opinion, I can take value and knowledge in it. I just don't value the opinion of some chart freak in the same way that I value Lundqvist's opinion.
---
If you recall a few blogs back, when the Rangers first traded for Justin Braun; I mentioned how many fans were crying real tears, where they stated, "CHRIS DRURY AND GALLANT DON'T KNOW WHAT THEY ARE DOING! HOW DARE THEY BENCH BRADEN SCHNEIDER!!!!"
In turn, it was announced early into the broadcast that Schneider was playing, while Braun joined Reaves, Julien Gauthier, Greg McKegg and Libor Hajek in the press box.
Dave Maloney, who looked extra spiffy tonight, and as always, rock-solid in his segment too; then broke down the Rangers successful power-play, where he gave a ton of praise towards the direction of #93, Mika Zibanejad.
Up next was a John Giannone interview with Frank Vatrano, where the new "eye-talian" in the #77 jersey said that he was excited about the opportunity to play with Zibanejad and Chris Kreider.
Giannone then added that Vatrano is currently living with CK20 (or is it CK44 after tonight?) until Vatrano can find a more suitable arrangement.
And if you're keeping track, that means that both Kreider and Trouba, two of the 7896786786879696 alternate captains on this team, and two men who seemed like the front-runners for the captaincy role at the start of the season too – both #8 and #20 are hosting the Rangers' latest faces at their homes. That's what a good team does. That's true leadership.
(Long story short? Yes this is a business, but these 2021-22 Rangers have each other's backs. It would be very easy for these team leaders to show these new Rangers directions to the nearest NYC hotel.)
Once "Bless His Heart" Sam Rosen (he couldn't get any player names correct tonight) and "Jumpin'" Joe Micheletti took the air, they reiterated what John and Steve had previously said – Lafreniere should do well as the team's third line left-winger.
Lastly, as I wrap-up on the M$GN segment of this blog; Micheletti's "Taco Bell Take" tonight? The following:
"SAM, THE RANGERS PLAY THE PENGUINS THREE TIMES IN THE NEXT TWO WEEKS." Expert analysis. That's why Micheletti makes the big moolah!
GAME REVIEW time!
---
In a game featuring two solid goaltenders, CZAR IGOR and Tristan Jarry; we began the game featuring two premier centers too, where Sidney Crosby defeated Mika Zibanejad at the dot to open the game.
This would be the lone "win" that the Penguins would have in this period, as the next five minutes were the Rangers imposing their will on the black-and-mellow-yellow attack, where by the end of it, the Blueshirts took a quick 3-0 lead.
Following the opening faceoff, the Rangers went into King Kong on a banana flavored steroids mode. They could not be stopped.
This is a general statement of not only this first period, but the entire game too – if you're looking for two words to sum up this 5-1 win, those two words would be "Gallant" and "leadership."
Gallant put the right players together and the Ranger leaders would not be beaten or shown up on this night.
Prior to puck drop, I said this on the Tweeter machine:
Prediction: Turk pushes the right buttons again and Lafreniere has a two-point game at his natural position of left wing. #NYR

— BlueCollarBlueShirts (@NYCTheMiC) March 25, 2022
---
I also said this:
I am hoping that tonight's officials are aware of when to blow a whistle for a goaltender's freeze, and that you can call a penalty after one crosscheck, rather than waiting for ten of them in a rapid succession. #NYR

— BlueCollarBlueShirts (@NYCTheMiC) March 25, 2022
---
Keep those tweets in mind as you read ahead.
Right away, on the Rangers' first possession, Jacob Trouba, who had a hell of a night, where he was laying thunderous blow after thunderous blow on Crosby's merry band of bitches, and an alternate captain who wouldn't give the Penguins an inch (yes, there was one turnover, but no one is perfect); put a long distance shot on goal, a shot that Jarry struggled with, despite making the stop.
Following two back-to-back shifts where the top six were buzzing; the new third line came on the ice.
At the 2:07 mark of the game, and about ten seconds into their shift, this happened:
Laf started us off

(via @RangersMSGN)pic.twitter.com/sX2pPjc9RE

— Rangers Videos (@SNYRangers) March 25, 2022
---
1-0, GOOD GUYS, as Lafreniere backhanded a feed from Chytil right past Jarry!
"BUT, BUT, BUT – GALLANT HATES LAFRENIERE AND DOESN'T KNOW WHAT HE'S DOING," am I right?
As we've seen so many times before, you needed ice packs for Lafreniere's cheeks, as he could not stop smiling after this opening tally. Who can blame him?
And I want to say this now and get it out of the way – this was a spectacular and stupendous game for the third line (Lafreniere/Chytil/Goodrow), where they all made plays on both ends of the ice – and I say that as someone who has been down on Chytil all season.
And isn't it amazing Suzyn, how much better the third line is without Julien Gauthier around? It's hard to envision him ever dressing for the Rangers again, barring injury and/or illness.
Even better? This was a pure third line goal, as Goodrow got the puck to Chytil, prior to #72's perfect pass to #13.
Also worth noting? Sam Rosen said that Frank Vatrano scored this goal. Vatrano would soon prove our beloved, yet always confused, announcer correct.
The Rangers weren't even close to being done just yet.
After Trouba laid a big hit on Pettersson, it was time for the Mika and Kreider show:
Then came Kreider for the 2nd goal

(via @NYRangers)pic.twitter.com/WxYbW8ddGL

— Rangers Videos (@SNYRangers) March 25, 2022
---
2-0, GOOD GUYS, just 3:58 into the first frame!
On this goal, Zibanejad found Kreider all alone, and the unofficial captain of the team went on a breakaway and put the biscuit into the basket for his team-leading 43rd goal of the season.
As you can imagine, M$G was electric after this goal.
Eighteen seconds later, this happened:
And then it's Frank Vatrano for his first Ranger goal as the Rangers get off to a 3-0 start!

(via @NYRangers)pic.twitter.com/2wT3VJIZqN

— Rangers Videos (@SNYRangers) March 25, 2022
---
3-0, GOOD GUYS, as Frank Vatrano picked up his second goal as a Ranger (his first non-empty netter too), as the top line scored again!
On this goal, Kreider got the puck to Mika and the Swede then found Vatrano a foot off of Jarry's paint for the third score of the match.
"BUT, BUT, BUT, FRANK VATRANO ISN'T A FIRST LINER! GALLANT IS STOO-PID!"
What a bad night for the analytical assholes! You love to see it!
Following the goal, Pens' bench boss Mike Sullivan called a time-out.
---
During this time-out, Micheletti went into a "FABULOUS" overdrive, where he said the word so many times, that you thought it was a gambling ad that he was forced to plug.
At the 5:14 mark of the period, ONCE AGAIN, for the fifth game in a row, we had another case of "what is, and what isn't" a goaltender's freeze.
On this particular play, Igor had a puck frozen, but a Penguin pushed him and the puck then went into the net. The refs correctly ruled "no goal" on the ice, but they wasted our time with a goal review anyway.
(This is also where Trouba had his turnover, but with the way he's been playing ever since game sixteen of the season – I'm not going to waste time dissecting this play. Shit happens. That's why you have CZAR IGOR to wipe it up.)
It's amazing how many times we're seeing these freeze plays lately. It's also amazing how an official ruled that a Penguin made contact with Igor prior to the call, yet no penalty (goaltender's interference) was called.
As I've been saying during the past two weeks – these officials are going to screw some team in the playoffs this year. Let's hope the Rangers can avoid such a situation from these stumbling buffoons on-ice.
---
With 12:46 to go, the officials actually called Crosby for tripping Kreider while CK20 was behind Jarry's net. This was a clear-as-day penalty; but with Crosby on the ice, you never know what the officials will allow him to get away with.
The PP1 unit had a few chances, where Jarry, to his credit, stopped Kreider, Mika and Fox. The PP2 unit then came on with 52 seconds remaining on the man-advantage, but Jarry would stop them too.
Now back at full-strength, JONNY HOCKEY put a great shot on goal, where again, Jarry had settled down and then made the save. (Brodzinski would then stop Crosby on a scoring chance too!)
During Monday's trade deadline, and based on all reports out of the Great White North; it seemed like the Rangers were either going to land Andrew Copp or Rickard Rakell. As we all know, Drury went with Trouba's buddy, and in a response, the Penguins traded for Rakell.
On its first night on Broadway, the musical of "Rakell, Rakell" bombed. Not only did he finish this game with no shots on goal, but he finished this affair with a plus/minus rating of -2 too.
In other words, the erotic journey from Anaheim-to-Pittsburgh didn't work out for the newest ice bird.
A journey that worked out? Copp's journey from depressing Winnipeg to the bright lights of the big apple, where the new #18 in Ranger blue (thank you for your service Marc Staal) put the finishing touches on this game, enroute to receiving the "Broadway Hat."
Maybe the Rangers should've given Rakell a "Playbill" after watching Copp show him up!
(And yep, I surprised myself with my own knowledge of the theater!)
---
Under eight minutes to go, and after Rakell had a shot blocked by Trouba; the SOG stat read as 8-2, in favor of the good guys.
Chytil, as already noted as having a good game tonight; showed some physicality too, as he laid a nice hit on Jake Guentzel. Trouba would soon one-up the Czech, and laid a bigger hit on Guentzel himself.
Igor, who was a homerun hitter on this night, as he kept making home-run pass after home-run pass; with 5:45 to go, found Panarin at center ice, but "The Breadman" couldn't handle it. If he had, this could've been goal number four.
With 4:10 remaining, Dryden Hunt, near the blue line, high-sticked Marcus Pettersson. The hunter drew blood, as Pettersson had a cut between the eyes. In turn, this gave the Penguins a four-minute power-play (double-minor) to close out the period.
The Rangers penalty kill responded big-time.
Everyone on the penalty kill did their jobs, and after what felt like 6-7 clears during all of this, the Rangers preserved their three-goal lead. Hell, the Rangers penalty kill had better scoring chances during these four minutes than the Penguins power-play did.
To show you how great the Rangers penalty kill was here, Igor only had to make two saves during all of this, where he was barely tested at all.
After one period, we remained at 3-0, GOOD GUYS.
Considering the competition and the circumstances (and I know that Malkin was out for the Penguins), this first period was as good as any from this season.
---
Worth mentioning before moving on to the middle frame? It was announced by Rosen that M$GN broadcaster Michelle Gingras had delivered a healthy baby boy earlier this week. She sure did a good job of hiding her pregnancy this season, as if you didn't check her social media pages – you'd never know that she was pregnant, based on solely watching these broadcasts.
Also of note: Michelle Gingras is reporting that Charles Lindbergh's baby is OUT of the Rangers line-up. (Yes, that's a CALLBACK joke.)
In any event, congratulations to the Gingras family.
---
Once the second period began, yours truly, Micheletti, and pretty much anyone else who roots for this team, all thought the same thing – NO MELTDOWN!
There would be no meltdown on this night, as the Rangers continued to press the issue with their lead.
Following Crosby's faceoff win over Mika (later on in the game, Gallant would have Copp take draws against Crosby, and then have #18 revert back to the wing), Igor made a glove save look casual.
On this save, and as we've seen so many times before; Igor quickly dropped a puck off to his defenseman, rather than freezing it for a d-zone faceoff.
Three minutes in, Jonny Hockey made a pass that I'd consider to be "highly suspect," as Brodzinski erroneously set-up the Penguins dead-center, and a foot away at that, from CZAR IGOR. Igor bailed #76 out with his huge denial, which in turn, preserved his no-no.
Igor, completely feeling it on this night; with 14:33 to go, tried another one of his patented home-run passes, but with the Pens' forecheck pressuring the Russian, Igor airmailed the puck over the glass.
I actually saw some fans complaining about Igor here, where some idiot said, "Igor is too cocky."
The CZAR has made these plays all-season, and he's bound to have a mistake here and there. To get upset about this was ridiculous. Plus, this mistake was on him, where after viewing this error, I had no doubt that Igor would blank the Penguins on their power-play. A "pissed-off-at-himself" Igor is perhaps the best version of the '22 Vezina winner.
What happened next?
Igor then made two home-run clears on his own.
Better than that? This:
Kreider and Mika doing Kreider and Mika things pic.twitter.com/ztbUL7aU9a

— Rangers on MSG (@RangersMSGN) March 26, 2022
---
4-0, GOOD GUYS, just 1:09 into the Rangers' penalty kill!
Once again, Mika and Kreider did it again (hi Nick A.), where as a result, Kreider not only scored his second short-handed goal of the season – he also picked up his 44th tally of the season too!
In other words, with seventeen games remaining, Kreider is now ten goals shy of tying Jaromir Jagr for the franchise record of 54 goals. Not even I, who has no trouble patting himself on the back, predicted that at the start of this season!
This goal also ended Jarry's night – at least temporarily.
With back-up goaltender Casey DeSmith now in net, and with the Rangers returning to full-strength too; CZAR IGOR made another home-run pass to Panarin. Panarin found Goodrow all alone, and to his credit, DeSmith, who just entered the game ice cold, then made a fantastic save on #21 in blue.
As we hit nearly nine minutes remaining, Strome was denied by DeSmith – the goaltender's third and last save of the game.
Following the save, and during a TV timeout, DeSmith entered the tunnel. On replay, we were shown that the fat ass of Pens' defenseman, Brian Dumoulin, hit DeSmith's head, and his noggin then hit the post.
Whether DeSmith was pulled because of a concussion spotter or not wasn't known, but I'd assume no, as DeSmith would never return to the game.
In turn, just 4:19 after being pulled, Jarry returned to this smack-down, where he then went on to play his best hockey of the game.
Jarry made a bevy of saves in his return, where he stopped the third line and Hunt right away. In a response, CZAR IGOR then stoned a GOOD LOOK from Crybaby Cindy.
After a long shift in the Pens' zone from the second line and the Trouba/Miller pairing; with under four minutes to go, CZAR IGOR made a casual glove save on Brian Boyle, where it was at this point where I remembered that Boyle was now in Pittsburgh. That's how unnoticeable he was tonight.
As the horn went off to signal the end of the second period, the Rangers were still up 4-0. All they had to do was close out!
(And yep, with a 4-0 score, I was giddy over the idea of my 4-0 prediction hitting for the third time this season. I'll have to wait a little bit longer, but it will come, I promise!)
---
The third period began in front of a somewhat quiet M$G crowd, as perhaps the audience was a bit burnt out and overwhelmed from this dominating performance. The game was pretty much over at this point, but the Rangers wouldn't sit back.
Just 29 seconds in, Jarry was forced to stop Mika. A minute later, Trouba made a pair of defensive plays to limit the Pens' SOG stat.
As the Rangers kept grinding away; with 15:45 to go, Nemeth was called for a phantom roughing penalty on Crosby. You'd never see this called in the playoffs – even if the precious Crosby, who was crashing the net, was touched.
The Rangers penalty kill, as they did three times before, cleared the puck within the first ten seconds of the kill and continued to play strong. However, with just 15 seconds left on the Penguins' man-advantage, Jeff Carter had CZAR IGOR completely screened and then got a piece of a puck that had whizzed off of the stick of Kasperi Kapanen.
4-1, good guys, at the six minute mark of the final frame.
This goal sucked, just because it ruined CZAR IGOR's shutout. There was nothing he could've done here. And unlike others, I can't get on Nemeth for taking this penalty, as he was trying to clear Igor's net at the time of it, and as we always see – Crosby got his call.
Of note: my four-goal win bet was now in jeopardy too!
Jarry wouldn't do me any favors in the next few minutes either, as he made a few highlight reel saves, where he stopped tremendous chances from both Vatrano and Lafreniere.
As we got under ten minutes to go, and as the clock continued to go tick-tick-tick; with 6:38 remaining, Mika and Kreider had another odd-man rush, where Kreider was the puck carrier. Having learned from his mistake from Tuesday night; Kreider took the shot himself, rather than passing the puck for a turnover. In turn, Kreider went two feet high from recording another hat trick.
As we got under three minutes to go; I was hoping that Sullivan would pull his goalie, so either Kreider could get his hat trick or Igor could go for the empty net. (Plus, a Rangers ENG would've given me a four-goal lead too!)
The Rangers wouldn't need the empty net.
With 2:13 remaining, Copp, all alone, and a foot from the paint, blasted a puck past Jarry. 5-1, GOOD GUYS!
During the final minute of play, Lafreniere lost his stick and then made two soccer plays to get the puck out of the zone.
As the final seconds dripped off of the clock, M$G serenaded their goalie with "IGOR! IGOR! IGOR!" chants. The goaltender finished the game with "only" twenty saves, as the Garden Faithful could've chanted the names of all nineteen Rangers who played during this affair.
Of course, despite his "limited" workload tonight – it's #31 who has been the backbone for this team all season.
5-1, GOOD GUYS, your final!
---
Enjoy this win – especially if you're an eye-test fan! I know I will! See ya Sunday!
PLUGS time!
---
On Thursday afternoon, Ron Duguay and company returned with a new episode of "Up in the Blue Seats," with Sam Rosen as the featured guest.
To listen to the show, click the link below:
— Ron Duguay (@RonDuguay10) March 24, 2022
---
The hardcover version of my book, available now at Amazon.com
The first plug of tonight's blog – the mandatory plug for my new book, "The New York Rangers Rink of Honor and the Rafters of Madison Square Garden".
As mentioned previously, the book is now available in hardcover, in paperback and in Kindle formats. To purchase a copy of the book, visit this link:
https://www.amazon.com/Rangers-Rafters-Madison-Square-Garden-ebook/dp/B09CM5N2WD
For those still looking for signed paperback versions of the book, I have re-ordered more copies. I now have 2 signed copies for sale at $25 a pop (includes shipping price) through me directly. Here is all the information on that:
---
Here are my last few blogs, in case you missed them:
---
---

---
If you haven't already, subscribe to this blog for the next update:
---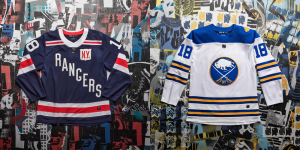 Up next: a Sunday showdown with the Sabres. Of note, this game starts at 5PM.
As always here, thanks for reading and…
LET'S GO RANGERS!
Sean McCaffrey
BULLSMC@aol.com