Greetings and salutations everyone and welcome to another blog here on BlueCollarBlueShirts.com. How are you enjoying your lockdown and/or quarantine?
At the start of this unprecedented time in sports/world/American history, it was my goal to do 2-3 blogs a week. Therefore, I apologize for not getting this particular blog up sooner. Unlike the other sites or blogs out there, I just can't do 767856696 three paragraph articles a day. I rather write one big ass blog, and you can read it at your leisure and at your own pace. And truth be told, I lost a ton of time this week, as like many of you, I spent countless hours using Amazon Prime and Netflix! And hell, I'm posting this blog early Sunday morning, a time that is typically slow for web traffic. However, this blog and this site, has always been a fan passion gimmick, so I hope you enjoy this manifesto, no matter what time and what day this blog is posted!
And while many of you are aware about this show already, if you're looking for something new to binge-watch this week, check out "OZARK" on Netflix. I literally watched the new season, season three, in one day. It's that good. It's somewhat like "Breaking Bad", but the show has its own identity. It's easy to get into the characters too. While on the topic of Netflix, I also heard this trashy "Tiger King" show is good too, but I haven't checked it out yet. I'm sure I can find some time next week, as it looks my work-life will be slow for a bit.
In tonight's blog, I'll recap all the latest Rangers and NHL news updates. After that, we'll take a look at the Rangers vs the Stars, from February 6th, 2009, a game that many of you have requested me to recap on this blog for fun. And who am I to deny you of some comedy?
However, before getting into everything, as always, here are my last few blogs in case you missed them:
---
---
---
---
Before getting a bit serious here, with the news segment of the blog, here's a lighthearted parody song of "My Sharona". As you'd imagine, the song is called "My Corona":
Laughter is always the best medicine. At least that's the doctrine I prescribe to!
In the latest news from the NHL, in regards to the Corona Virus, NHL.com posted an article covering Deputy Commissioner, Bill Daly, and his comments about the pandemic plaguing the world. The following comes from https://www.nhl.com/news/bill-daly-nhl-window-in-summer-to-complete-season/c-316423918 :
The NHL has not reached the point where it has ruled out finishing the regular season and staging the Stanley Cup Playoffs in full, after pausing the season March 12 because of the coronavirus pandemic.
"I think as time has gone on, we've recognized we might have a bigger window than we had originally thought with respect to the summer months and when we have to finish things to be ready for a full regular season next year," Deputy Commissioner Bill Daly said Friday.

The International Olympic Committee announced Tuesday the postponement of the 2020 Tokyo Olympics, opening TV time on NBC networks in July and August. The NHL has asked teams for arena availability through the end of August.

"I will say that it remains our hope, if not our goal, to be playing hockey sooner than then," Daly said. "Depending on how things play out, we'd love to be playing sometime in the spring, and then if we have to leak into early summer, we'd love to have that problem. But I don't think we're far enough along in understanding where this is going to know what's possible at this point in time. …

"We think if we were required to, we might have the ability to play in August. If we have to fit games in, we'll find ways to fit games in."

The NHL has reached the end of the original two-week period it directed players to self-quarantine. The period now extends through at least April 4.

Three players have tested positive for the virus: two from the Ottawa Senators and one from the Colorado Avalanche. Daly said others have tested negative and others have test results pending. He declined to give specific numbers but said they were "very low, relatively speaking."

"We're getting a handle on the overall health of the NHL community, and I think by all accounts, we're relatively healthy, knock on wood," Daly said. "I think that bodes well as we kind of continue to navigate this and continue to hope for an opportunity to return to play."

Some players have expressed concerns about staying in shape while self-quarantining and starting immediately with the playoffs if the NHL cannot finish the regular season.

"There's going to be an adequate training camp with an ability to get back up to speed," Daly said. "In terms of the first meaningful game, I'm not in a position to say what that's going to look like, but we certainly understand the sentiment and the concerns about kind of jumping right back in."

The NHL announced Wednesday the postponements of the 2020 NHL Scouting Combine, scheduled for June 1-6 in Buffalo; the 2020 Bridgestone NHL Awards, scheduled for June 18 in Las Vegas; and the 2020 NHL Draft, scheduled for June 26-27 in Montreal.

NHL Central Scouting director Dan Marr is sending a memo to teams covering policies and protocols for draft prospects. Teams will be permitted to conduct interviews and psychological tests, but remotely at this point.

"I don't think we can probably replicate a combine at this point in time," Daly said. "I think Central Scouting's going to do what they can to supplement and enhance the database and the information that clubs have with respect to draft prospects between now and whenever we have a draft."

The Deputy Commissioner said the NHL cannot make decisions on the 2020 NHL Draft Lottery or order until it knows if and how the season will resume. As for the draft, the preference is to stage a typical draft, but options include holding a streamlined event or conducting it electronically.

The Montreal Canadiens will host a draft at Bell Centre at some point, the Deputy Commissioner said.

"It's an unfortunate circumstance, obviously, but they've been fantastic partners in terms of making the decisions we needed to make on the timeline that we felt like we needed to make them," Daly said.

The NHL has not made a definitive decision not to stage an awards show, but the calendar is crowded.

"You have to prioritize what needs to get done with what can get done," Daly said. "If we can pull off an awards show that's worthy, we'd love to have one. Not understanding what the realities are yet and how big our window will be, I would say there are other things that are going to have to come before the awards show."

If the rest of the regular season is canceled, will the NHL still hand out awards?

"I have not even begun to consider it at this point in time, so I can't tell you one way or the other on that," Daly said. "I'll add that on the list of items that need to be decided."
---
Like most of these NHL.com news updates; and really like every news update from the wide world of sports, everything remains in a state of limbo and in a state of unknown. No one can comment on the future yet. No one can say anything concrete. You can't fault any of these leagues and I doubt anyone is. The only criticism I've seen from fans, is that some fans would rather see the NHL and the NBA just cancel the rest of their season, rather than playing this game of "what if?"
When it comes to fans wanting to see the NHL and the NBA officially wrapping up their respective 2019-2020 seasons, I get where these fans are coming from. I'll be clear here once again – I DO NOT WANT TO SEE THIS. I rather a mini-training camp, an extended playoff tree system that I outlined several blogs ago, and in the case of the NHL, a Stanley Cup awarded. I rather see a Cup awarded in front of no fans, rather than seeing the playoffs 100% canceled. And as I've said just as recent as last blog, I think that as far as the regular season goes, that's over. If the NHL does return, I just see them starting with the playoffs, even if that means adding several teams to the mix.
I bring this all up, because I try to give all views and opinions on this site. As far as the fans who want the NHL to just move on to the 2020-2021 season, here are their reasons, and with my comments about those reasons:
1— It's a safety issue.
I can't argue with people who feel that way. Who knows what will happen in the future? From all news reports, especially here in New York, we haven't reached the peak/apex of this pandemic. It will only get worse. No one knows when this will end and when things will return to normal again. And who knows if things will ever return to a state of normalcy again?
To me, and I've explained this in detail already, this is the worst thing to happen to Americans since 9/11. While 9/11 is its own separate entity and a day of tragedy; a week after 9/11, the MLB was back in operation. The NFL was in full-swing. As Americans, while many people were effected, we did fight back. No doubt about it, our way of life was changed forever, but it only took a week for things to slowly get back together. With this corona virus, life has already been changed for over three weeks time now, with no signs of normalcy ahead. In addition, the economy wasn't as severely negatively impacted during 9/11 as it is right now.
Furthermore here, just two days after 9/11/01, the WWE was running shows in front of large audiences. Three weeks into this corona virus in America, the WWE is now running "Wrestlemania", a taped (as opposed to live, as normal/usual) "Wrestlemania" at that, in front of no audience.
I will say, while comparing 9/11 and this corona virus is apples and oranges; at least in my lifetime, these are the two biggest stories of my soon-to-be 38 year old life. And I can't say the following from personal experience, since I am a New Yorker & know tons of people who lost loved ones during 9/11, but I think if you lived elsewhere, like in Iowa or Alabama, 9/11 didn't effect you as much as if you lived in the tri-state area. EVERYONE, not only in America; but in the WORLD, is directly effected by this corona virus. I hope this comes off in the right way. I love to joke on this blog, but on this topic, I don't want my words being twisted or my message coming off as distorted.
---
2— The financial aspect/economical impact.
As far as sports returning, when it comes to the topic of money, this is a multi-layered issue.
For starters, the big fish here are the season ticket holders. While there are only something like 6-8 home games left for each NHL team, the NHL isn't handing out refunds to their season ticket holders yet. Who knows, many teams may not give out refunds at all, and may just opt to give credit for games next season, or use the money paid for 2020-2021 season tickets, should 2019-2020 season ticket holders opt to renew.
This is a Rangers fan blog, so I'll just use the Rangers here. As you know, Ranger tickets are the most expensive tickets in the league. How much are Ranger tickets worth right now? If are currently paying $200 for your seat, while we all know it's overpriced, what is the VALUE of your seat right now?
We know how the NHL operates. If the NHL comes back with playoffs tomorrow, ticket prices will be higher than your regular season seat. The NHL is more likely apt to move your regular season seat from 2019-2020 to 2020-2021, rather than giving you a playoff seat, if there are playoffs to be played this Spring or Summer.
Once all this corona virus shit ends, it is my opinion, that people aren't going to be so quick to go out again. I think people will limit their outdoor activity or at least only go out when it's necessary. Sure, while there will be some overeager people, who will be first in line or the first to return to their bars, the movies, the restaurants, or in this case, NHL games; there will be a lot of people who will remain on timeout, as they take precautionary measures.
I've talked a lot about the STUBHUB trick/secondary market ticket sniping on this site. We may have the "Corona Virus Effect" on sporting event tickets soon. Going back to a hypothetical $200 ticket from an unplayed regular season game from March and April of 2020, what will that ticket be worth in 2020-2021? Will people be packing these arenas at the start of next season? What will supply and demand be? If anything, I think teams will have to cut ticket prices a little, in order to get people to go.
After all, who wants to pay crazy prices, and take a low-to-medium chance of getting sick? Even if a vaccine or a cure comes out, who wants to go through all of that? Of course some will, but many won't. As it is right now, many fans of an older generation don't go to games anymore. With new diseases/viruses always effecting older people first, why take a chance, especially when it's so much easier, convenient and cheaper to stay home?
If the NHL has any sort of advantage here, of the other three major sports in North America, it is the fact that the NHL game is better live than the other three. Baseball is boring. Football is made for TV. Basketball games don't mean jack until the final minute. The NHL game is action-packed and the apparatus in play, in this case the puck, is always in motion.
Of course, as noted above, many people are out of work right now. Disposable income activities, which hockey games are, will be lessened. While unemployment money and the Trump stimulus check are nice, I would venture to guess, that for 90%+ of New Yorkers, all of that money is going towards bills. I would assume most people would rather a roof over their head, rather than sleeping in a cardboard box. Again, going back to that $200 ticket and supply & demand, what is the value of that ticket right now? For many people, those ticket holders would rather their money back, so they can use that money to pay for life-essential items right now. A credit doesn't fix things.
And if you go away from the on-the-bubble/outside-looking-in Rangers, how about the down and 100% out of the playoff teams, like the Senators, the Devils, the Red Wings etc? If you're a season ticket holder or have a ticket to a postponed/canceled game from those teams, why would you want the schedule to resume? You much rather have your money back, than pay for another meaningless game.
Of course, if you're the NHL, you want as many games as possible, because of the four major leagues in North America, the NHL relies on their live gate receipts/attendance the most, when it comes to profits. However, due to the economy and the financial impact this pandemic has had, even in such a short time, the amount of people in the ticket buying public has been lightened.
---
The final thing I'll say here, at least on this blog, in regards to the 2019-2020 season, is that as redundant as it sounds, we're still in a "no one knows" world right now. As I'm writing this blog late on Saturday night, I just saw this piece of news, on Rangers/Knicks owner, James Dolan.
The following comes from: https://www.news10.com/sports/knicks-owner-msg-chairman-james-dolan-has-coronavirus/:
James Dolan, the executive chairman of Madison Square Garden Company and owner of the New York Knicks, has tested positive for the coronavirus.

The Knicks announced Dolan's diagnosis Saturday night. It is not clear when he was tested or when he received the diagnosis.

Dolan is the first U.S. major pro sports owner known to have tested positive for the virus.

"The Madison Square Garden Company Executive Chairman and Chief Executive Officer Jim Dolan has tested positive for coronavirus," the team's statement said. "He has been in self-isolation and is experiencing little to no symptoms. He continues to oversee business operations."

New York has been the hotspot for the pandemic in the U.S.

All 50 U.S. states have reported some cases of the virus that causes COVID-19, but New York has the most, with over 52,000 positive tests for the illness and more than 700 deaths. About 7,300 people were in New York hospitals Saturday, including about 1,800 in intensive care.

For most people, the new coronavirus causes mild or moderate symptoms, which can include fever and cough but also milder cases of pneumonia, sometimes requiring hospitalization. The risk of death is greater for older adults and people with other health problems.

---
Even when James Dolan remains sober, he still gets a Corona. Okay, bad joke, I'll stop. And really, I have about 100 more of these types of jokes, but I'll keep them to myself for the time being. On the bright side, depending on how you feel about Dolan, he's reportedly okay and feeling fine, which is why I made that bad joke to begin with.
Truth be told, I have not written many positive James Dolan articles over the years. However, I'm always fair here. Prior to Dolan being diagnosed with the 'rona, the following news was broken by Larry Brooks, on the NY Post, on Saturday afternoon:
(Original story appears here: https://nypost.com/2020/03/28/james-dolan-sets-up-fund-to-pay-msg-employees-until-may/)
Madison Square Garden has established a relief fund to provide financial assistance to employees while also committing to paying qualified venue employees through at least May 3, per correspondence sent out Friday night, The Post has confirmed.

The MSG Relief Fund was established with a $1 million donation from the Madison Square Garden company that was matched by a similar contribution from the Dolan Family Foundation. James Dolan is the Garden CEO.

Another $300,000 has been contributed by the MSG management team with the expectation that the fund will grow with contributions from the Rangers and Knicks.

The fund has been set up to provide direct assistance to employees for a variety of expenses, including health care, rent/mortgage, food and other necessities, while the arena is shuttered due to the coronavirus pandemic.

MSG employees who averaged at least 20 hours per week over the previous six months will receive pay through May 3, with the possibility that the time frame could be expanded as the situation is monitored.

"I knew they'd do the right thing and they did," union president James Claffey, who represents 4,000 stagehands/entertainment workers managed by Dolan, told The Post. "It's a very generous offer. It wasn't negotiated. They just gave it, here's what they wanted to do for our stage crews and other entertainment workers. We didn't request it. And they're taking care equally well of the other unions."
Dolan is paying into May workers from the Garden, Garden Theatre, Radio City, Beacon Theatre, The Forum and two venues in Chicago.

---
All jokes aside, I hope Big Shot Jimmy comes out of this with no issues. While his current situation doesn't change my opinion of him, as I think he's the worst owner in sports today and the worst owner in the history of NY sports (52+ combined seasons of ownership, with no championships between the Rangers & Knicks, plus a litany of issues with alumni & fans) I do commend Dolan for doing the right thing by his employees. Not very often are we talking about James Dolan and his philanthropy and/or doing the right thing; but in this case, when it comes to taking care of his employees, he is.
In my opinion, Dolan should be commended for this. He could've easily taken the other road here. It's not like his terrible reputation would've taken much of a hit had he done so. Thank you Dolan, for doing the right thing. While I'm not one of his employees, as an American and as a human being, I'm happy to see Dolan doing what he can for his people.
Obviously, just from a quick glance of social media when the story about Dolan's corona virus infection broke, the bulk of the negative talk and jokes came from Knick fans, and not Ranger fans. I don't think I have to explain why. Dolan has always had his grubby fingers on the Knicks, while treating the Rangers as a 25 cent pack of gum that he bought as an impulse purchase. Then again, if Ranger fans really looked into it, they should hold Dolan accountable for letting Senile Sather run the team for as long as he did.
Quick pause here – maybe I shouldn't just block out 4-5 hours to write a week, there's a ton of news tonight! After all, prior to all the Dolan madness, Rangers reporter/M$G Networks jack-of-all-trades, John Giannone, reported that his sister has the corona virus. According to Giannone, who said this on a recent episode of the Steven Napolitani podcast, his sister has immune system issues, so unlike Dolan, the situation Giannone's sister has right now is a little bit more serious. Best of luck to her and the Giannone family. And really, I wish the best for everyone here.
Of course, this all ties into what I've been saying all blog – this corona virus crap hasn't reached its peak yet. While I'm holding out and hoping the NHL has their playoffs, even if they are held in front of no fans/empty arenas, we haven't hit the downswing of this virus yet. And I haven't even mentioned on this blog yet, that the KHL, the premier hockey league of Russia, has canceled the remainder of their season and playoffs. So yeah, shit is a lot more serious than any of us thought it would be, at this time one month ago. Just a month ago, BORGATA RAY & I were making fun of TEN O'CLOCK TOMMY, for being nervous about going to Pittsburgh and Buffalo with us. Days later, the NHL shut down. TOMMY was right; we were WRONG. SAD!
In a series of tweets on Wednesday, March 25th, Henrik Lundqvist announced that his foundation would be donating $100 to various food banks around New York. Here's one of the tweets: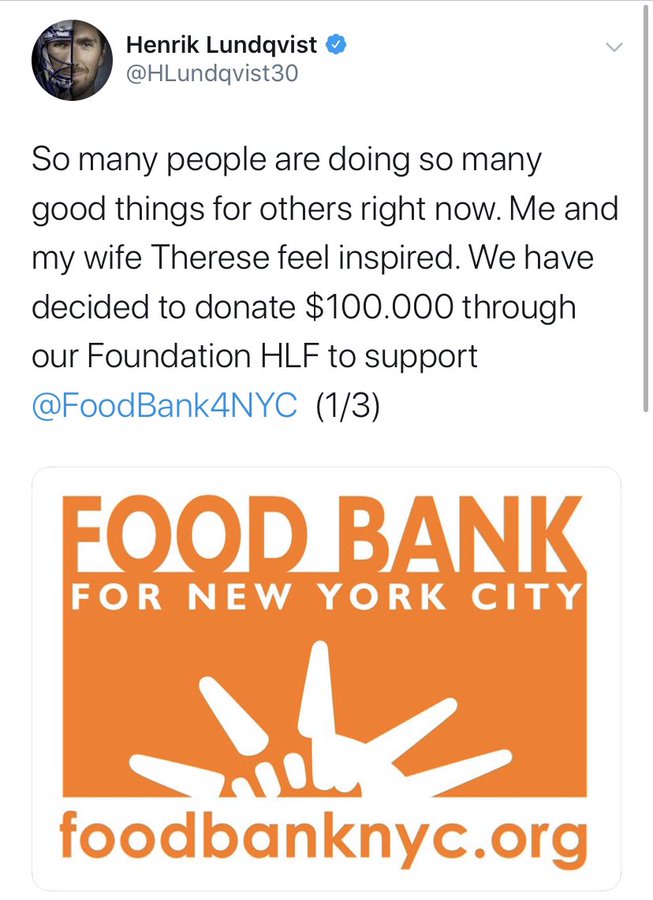 Okay, okay, okay – he obviously meant $100,000 and not $100. Maybe the decimal system is different in Sweden. Then again, Lundqvist sure knows how to rob American owners out of American money!
Whatever the case, Lundqvist is donating $100,000, on behalf of his foundation, to people who need food. It's a nice gesture. Of course, I'm that guy. I do have to say this, because I can't help myself – the $100,000 that Lundqvist is donating, is coming from his FOUNDATION, a foundation that receives donations. In other words, the money isn't coming out of Lundqvist's pocket. Maybe some is, but the majority of it comes from donations. After all, he's not Drew Brees: https://www.tmz.com/2020/03/28/drew-brees-donation-coronavirus-pandemic-ease-minds-new-orleans-louisiana-five-million-dollars/
Listen, what both guys are doing are great. But let's put this into perspective here. Lundqvist, who's stolen money from this franchise for years, is giving $100,000 from a FOUNDATION. Drew Brees, who already donated his own millions of dollars after Hurricane Katrina, is now donating $5M from his own personal bank account. This announcement of pure generosity and philanthropy has brought people to tears:
When you hear stuff like this, you hope Drew Brees gets one more crack at winning another Superbowl. While he didn't spend his entire career in New Orleans, he's a Saint for life. How many athletes have that deep bond and connection with a city like Drew Brees has in New Orleans?
While Drew Brees and Henrik Lundqvist are donating money and trying to better the world during these tough times, you have these raging assholes, like AOC and Nervous Nancy, trying to politicize this pandemic. Disgusting.
---
As far as other Ranger news, JD released a corona virus PSA:
https://www.nhl.com/rangers/video/message-from-john-davidson/c-5366773
In the wide-world of Twitter, Ryan Strome and Tony DeAngelo are having fun with Ranger fans. Of course, not everyone can be happy with these guys.
Strome, poking fun at himself, after the last Ranger game with Colorado, posted this video:
Just finished working on my game…went 7/7 today! Back to Call of Duty. Goodbye Twitter👋🏼😂 pic.twitter.com/0CB3laNC9R

— Ryan Strome (@strome18) March 26, 2020
This then led to a topic about Strome, who I've discussed plenty on these blogs. I think he's a team leader now, which is why many in the media go right to him after games for interviews. (It also helps that he speaks English, when many guys don't.) This then led to this twitter exchange:
Strome is trying so hard to be loved by the media and the fans. He's the new Kevin Hayes. Everyone likes the guys personality but Strome isn't close to the answer as a 2nd liner. Should have traded him. Better not overpay to keep him!

— The Sports God (@SportsGod20) March 26, 2020
Strome replied to the above, by saying:
"Players don't engage and fans want to see and hear more. You engage on social media during a quarantine and you get this! You just can't win in this world! First I'm trying to be loved by the media and the fans….now I'm sensitive? All I did was make a group chat with my teammates and engaging with fans a little during this awful time in the world…calm down! I respect you opinion!"
I'll say this, and this also goes for Tony DeAngelo replying to the people who hate him based on his political beliefs – by replying, you're validating. That's why Lundqvist doesn't reply to me!
Tony DeAngelo, one who has never shied away from a good Twitter beef, is currently going back and forth with the anti-American/anti-Donald Trump crowd. Here's one of the exchanges:
When did 2 become "so many" weren't u the person just calling me a moron?? 😂 🤡

— Tony DeAngelo (@TonyDee07) March 25, 2020
All of this stuff, which happened on Wednesday, March 25, has simmered down, as neither man has gone on to comment about anything else of significance. Maybe they are watching "OZARK" too!
---
I quickly touched on this last blog. M$G Network producer, Steve Napolitani is currently in the podcast game. He has already put out four podcasts in five days. I have listened to the the first three, featuring Dave Maloney, Kenny Albert and John Giannone. Steve just released his Joe Micheletti episode today, which I'm looking forward to listening to. Imagine that, clamoring for some Micheletti right now? You can listen to the new episode, and all the episodes, by going here:
For the @Spotify listeners. Episode 4! Hockey analyst Joe Micheletti https://t.co/5HF3fWn7TZ

— MicCheckonSportsPodcast (@CheckonMic) March 27, 2020
Real quick, these are fun and easy podcasts to listen to. With everyone pretty much home, if you're going to release a bunch of podcasts at once, I guess this is the time to do it. In a normal time, I think this is a bad idea, because people don't have time and once they can't catch up, they give up. Plus, you also run the risk of burning through all your guests, as Steve has now already interviewed four of his co-workers.
For my time, the Kenny Albert podcast was the best of the lot. Then again, he's the best broadcaster of the group too. After all, did you see this: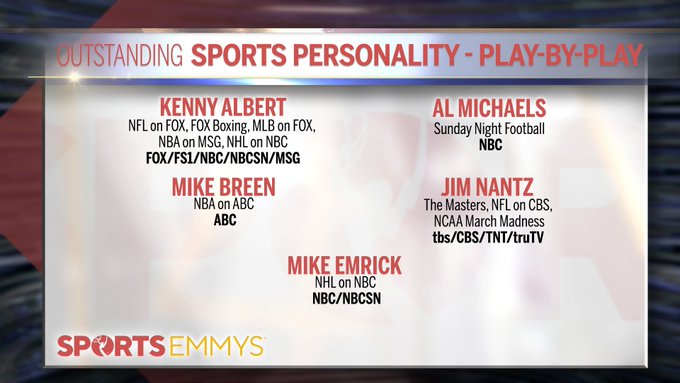 If I've said it once on these blogs, I've said it 89789676780676868 times. If I were the M$G Networks, I'd back up a truck of cash to Kenny Albert, and try to convince him to take over Ranger games full-time. Of course, that would hurt Kenny's national profile, as he's a huge asset in the NFL and MLB worlds, but hey, I'm a Ranger fan – I want the best.
As I said when Kenny Albert did that game with Joe Micheletti, when Sam Rosen was attending a Jewish ceremony for his grandson, it was the best play-by-play game on the M$G Networks all season. That's not a knock on Sam, who's an institution here, it's just to say that Kenny Albert is the best at what he does. That's all.
Speaking of podcasts here, you can also check out the new Ron Duguay podcast, by clicking the link below:
— Ron Duguay (@RonDuguay10) March 25, 2020
On the latest episode of "Up in the Blue Seats", in a role-reversal, Larry Brooks plays the host, and interviews Ron Duguay. It was a nice touch, and I'm not a big Larry Brooks fan. At the end of it, Larry Brooks once again pushed for the Rangers to retire Brad Park's jersey. I get where Larry is coming from, but what, no respect for Frank Boucher or Bill Cook? How about a night for the 93 year old Emile Francis? And really, for as good as Park was (check out my last blog) Greschner meant more to the Rangers organization than Park. Ditto Ching Johnson. Again, refer to my last blog for more on the best ever Rangers defensemen.
Elsewhere on the podcast, Duguay riffed with his friend Chris Roach. Chris Roach is a comic, who is probably most famous for his role on "Kevin Knows Best." I've seen Roach do stand-up before – he's great. He did a stand-up benefit show for a mutual friend of ours, who happens to be a bar owner in Rockville Center, NY. He did that show before he "got famous". My friends and I had a few belts with him after the show and he is a great guy. Continued success to him.
And this story is true -Roach is 100% a diehard Rangers fan. I know my buddy Dancin' Larry will attest to that as well! As Kreider told Roach, and as Roach said on the podcast, "of all the people sitting in the good seats, you're the only one watching the game for the entire 60 minutes." It's amazing the players notice that stuff too.
There are so many good Ranger themed podcasts out there. Check out the links section of this site for more. If I don't have your link up, contact me and I'll plug it.
---
When it comes to the topic of Steve Valiquette, my opinions are well known about him on this blog. In Vally's time, an era where back-up goalies just needed to play 10 games or so, for the Rangers, Vally was a cheap hire. In today's era of hockey, Valiquette would never make it, which is why he retired young. In today's era of hockey, despite Vally retiring from the NHL 10 years ago, in 2010, at the age of 33, the league has changed that much in just a decade's time. In today's NHL, back-up goalies need to be impressive. They need to be able to shoulder bigger loads. They need to play more. And really, never in the history of the NHL, has the disparity among starting goalies and back-up goalies ever been tighter.
This is all stuff I've recapped on past blogs, so check the archives for more. However, just to give you something quick to think about, if you look at recent Vezina winners and Vezina contenders over the last 2-3 seasons, the majority of them were former "cheap" back-up goaltenders, who played their way into a starter's job. In addition, if you look at recent Cup winners, rookies like Matt Murray and Jordan Binnington outplayed their starter, and in turn, helped win their respective team a Stanley Cup.
Of course, and not to pat myself on the back here, I've been saying this stuff for over five years now, in regards to my stuff on Lundqvist. To this day, I will go to my grave believing that the Rangers would've won the Stanley Cup in 2015 with Cam Talbot. Forget whatever happened to Talbot after that season. In that moment of time, Talbot gave the Rangers the best chance to win and the team was on fire in front of him. It would take five more years of losing with Lundqvist, before David Quinn, worried about his job, said enough was enough and asked for CZAR IGOR. That said, even prior to CZAR IGOR's arrival, DQ was giving Georgiev more time in net than Lundswiss.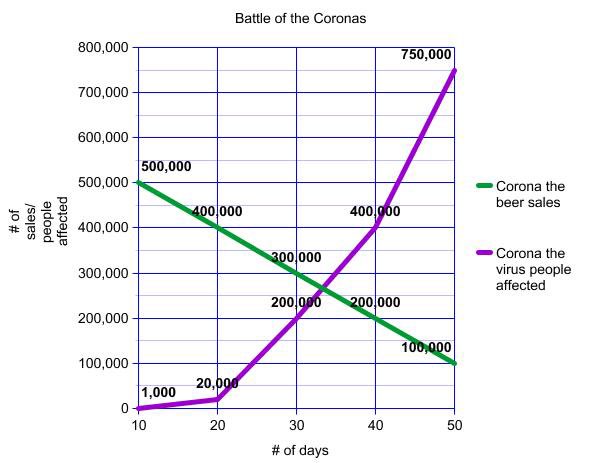 When Steve Valiquette first came to the M$G Networks, during the 2014-2015 season, I thought he provided a good balance to the broadcast. From there, and for the next few seasons, I thought he was good in his role. This was around the time the Rangers were trying to find a partner for Ron Duguay to bounce off of. If you remember, the Rangers/M$G tried another goaltender out, in Glenn Healy, for this role too.
In my opinion, things started to change last season, when the M$G Networks decided not to renew Ron Duguay. Again, a topic I've discussed 76786374393 times already on these blogs. In short, I thought it was a bad move. I still think it was the wrong move. When it comes to these broadcasts, you need personalities and people not afraid to speak their mind. That's why guys like Walt Frazier and Keith Hernandez are the best at what they do. (I'm not even much of a Knicks fan, and I'm a Yankee fan, but that said, these two are perfect for what they do and  for what they bring to the table. Again, I'm always fair here.)
Last season, especially towards the end of it, and with hindsight being 20/20, I think Vally got too comfortable in his role as the only and featured analyst. Sure, Anson Carter pops in from time-to-time, but without doubt, Vally is now the lead analyst for the Rangers. A guy who played 46 NHL games, as opposed to Ron Duguay, who logged 860 games in the NHL, with the bulk of them for the Rangers. And NEWSFLASH: Ron Duguay was a beloved Ranger. Valiquette is just a footnote and an "oh yeah, he played for the Rangers", type of guy.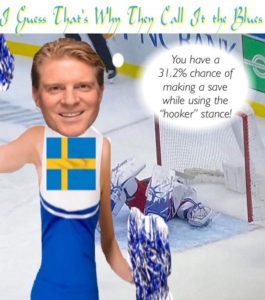 By far, the value that Steve Valiquette once brought to these broadcasts, has sunk to a low that Ranger fans have never seen before. During this 2019-2020 season, Valiquette, perhaps way too comfortable in his role, especially with the dismissal of Ron Duguay, who would challenge Valiquette on his bullshit, has gone off the deep end.
I've pointed all of this stuff out in past blogs. Just read my game review blogs from this season. We've heard Valiquette lobby for a trade of Alexandar Georgiev, REPEATEDLY, even after a game where GEORGIEV POSTED A SHUTOUT. We've heard Valiquette hammer Andrew Hammond, for no reason. We've seen Valiquette bring up bad contracts in the league, while ignoring the $8.5M one in front of him. And in a new twist this season, Valiquette has talked about his NHL career in nearly every broadcast. The way Valiquette talks about his career, you would think he had a career like Marty Brodeur. He didn't even have a career like Marty Biron!
Again, in the effort of being fair, when it comes to analysts and especially coaches, sometimes the best people for those jobs are bench-warmers and/or back-ups. They sat near coaches. They saw things unfold. And truth be told, when it comes to elite talent, not many of them succeed in other roles. When you're an elite talent, things come natural to you. It's tough to teach or explain things, because things flow like water for you. Sometimes, you grow a lack of patience too, as you don't understand why others can't pick up things like you do. In all of sports, when it  comes to any ELITE athlete, and I'm talking the cream of the crop here, the only ELITE athlete to enjoy any type of success as a coach, in all of sports, is Larry Bird.
However, while Vally fancies himself as a coach, even if he's in the analyst position (he has a goalie school after all, a goalie school that hasn't produced one NHLer) despite backing up Henrik Lundqvist in his prime, Vally talks about himself as if he had the career Lundqvist once had.
I don't hide my biases and dislikes on this blog – I freaking hate the ANALytics and chart shit. Even a recent NHL player poll, found that over 90% of NHL players don't give one crap about ANALytics or even look at them. For nerds like Valiquette, and the legion of followers who buy his bullshit, these ANALytics have given people like Vally and others, a job in hockey. In turn, REAL hockey men have been pushed out of jobs.
And to give you another example about this crap, something I've said 867896789 times before, the Toronto Maple Leafs use Valiquette's CSA Stat Nerd service. What has that gotten them? NADA! (Ironically enough, the Rangers don't employ CSA. How telling!)
What guys like Ron Duguay and others understand, and what Vally will never understand, is that games are won on the ICE. Not on a spreadsheet. Not in a videogame. Not on a computer. No chart or stat has ever predicted a Stanley Cup winner. For all of these fancy charts, that sometimes looks like the topography of the Moon, none of them can accurately depict stuff that matters or the intangibles. No chart can tell you about heart, emotion, line chemistry, the will to win, the schedule, rivalries, bad bounces, bad penalties, fluke plays, or anything else related to the human factor. The worst stat of them all here? The "EXPECTED" stat, something that is 100% on the eye of the geek/beholder making the chart. What's expected?
Put it this way – I don't care who you are. At this stage of the game, you expect Shestyorkin to make tougher saves than Lundqvist. Does that mean that Igor's EXPECTED STATS are unfairly skewed higher than Lundqvist, meaning that Lundqvist gets a break in this department? Again, this is all foo-foo Bud Light Seltzer soy boy bullshit. And really, the only stat that matters is WINS. Again, if any of these nerds and their charts meant a damn, these poindexters would be cashing out in Las Vegas. Instead, they infect our televisions, almost as bad as the corona virus is infecting America.
What's been so bothersome about Valiquette this season (and full disclosure here, he used to talk to me all the time, until I made opinions known that I wasn't a fan of his work this season. Rather than having a civil debate about this, he blocked me on Twitter!) is that he's so smug and cocky in his self-serving bullshit. Rarely, he's ever right about his stuff. And I'm not even talking about the love affair he has with Henrik Lundqvist. It's like he held Lundqvist's bags once, and from that day on, Vally has been enamored with Lundqvist ever since. Even long-time Giant fans, announcers and critics, admitted that it was time for the Giants to move on from a 2x SuperBowl champion in Eli Manning, perhaps the greatest on and off-field Giant of all-time. (The off-field comment is made to exclude LT56 here!)
For Steve Valiquette, despite Georgiev being 8 times cheaper, having a better WINNING percentage, SAVE percentage and Goals Allowed Average than Lundqvist; Valiquette campaigned for the Rangers to move on from Georgiev, and politicked for Henrik Lundqvist to get more starts. During other broadcasts, he was mocking other high priced goalies around the league, while keeping his 9 foot head in the sand about Lundqvist, his age, the Rangers rebuild and that horrible deal.
And when CZAR IGOR came up and got hot? When the topic of Lundqvist vs Igor came up, Vally said, and I quote, "I'm not going there." Oh, that's where you draw the line? It's okay for Vally to critique every other goalie and their contract in the league, but Vally allows his biases to bleed through the broadcasts. And again, that's what hurts Vally and his credibility – he can't assess Lundqvist fairly. It's bad enough we have to listen Vally talk about his mediocre and borderline NHL career, it's another thing for this coward to run the other way when a real topic comes up. And again, that's what made Duguay great – if shit was bad, Duguay said it.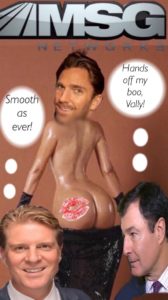 One more time – let me be fair here. Detractors of this blog may say the same thing I'm saying about Vally here – both will be better once Lundqvist is gone. And who knows, we may have seen the last of Lundqvist as a Ranger. (That's a blog for a different time.) That said, I'm not peppering you with FAKE NEWS and Candy Ass & Candy Land charts either.
Holy Father Fink, this blog is going long. Again, 10K+ words, one click, no ads! Hell, print out this blog when you take your next dump, and if you're out of toilet paper, and if your hole isn't that sensitive, feel free to wipe as you rifle through each page!
Originally, I wanted to review this New York Rangers vs Dallas Stars game, from 2/6/2009, as a Delorean blog feature. However, despite all my attempts, I could not find a full length copy of this game anywhere. However, I've been told that the Rangers have plenty of 1994 footage available on their networks. (One last time, and say it with me if you heard me say this before – "I WANT THE EDDIE GIACOMIN RETURN GAME TO BE REBROADCASTED ON THE M$G NETWORKS!")
While I couldn't find full length footage of this game, I was able to find several YouTube videos covering the game.
I do want to preface my thoughts on this game with this – the only reasons I'm talking about this game, is because several of you contacted me about this, and thought it would be a funny blog idea. Furthermore, I just want to give you Vally's NHL career stats real quick:
Games Played: 46
Record: 16-14-5 (Meaning that he had a lot of mop-up games in his limited career.)
GAA: 2.74
Save Percentage: .905
I bring this up, because during this entire 2019-2020 season, Valiquette often talks about himself, as mentioned. He compares his career, as if he's a Hall of Famer, against many back-up goalies in the league. Facts: all of these goalies that Vally talks about, have had better numbers than Valiquette. Furthermore, Vally had the advantage of playing  with the Torts Rangers, a team designed to play defense first, block shots second and score occasionally.  Again, go back to Lundqvist here. Lundqvist's best season, his Vezina season, came with Torts at the bench. Once Torts left, Lundqvist never came close to having a season that he had in 2011-2012. Torts, after moving on, and in Columbus, would see another one of his goaltenders win a Vezina, in Bobrovsky, who was greatly propped up by Torts and his system.
Another thing that Vally always brings up on M$G Network broadcasts, because he's 9 feet tall on skates, is how taller goalies are more successful than their shorter counterparts. Omitted from all of that? Alexandar Georgiev, in his short three year run as a Ranger, has had better career numbers than Valiquette. Furthermore on this, Valiquette is 6 inches taller than Shestyorkin. Who would you rather have in net?
From all of my internet scouring, I found four different, yet incomplete videos, of the Stars 10-2 win over Valiquette and the Rangers, from 2/6/2009. Ironically, the best and longest video, a ten minute video, was posted by a YouTuber, promoting "Rangers Classics." I don't know how this is a Rangers classic, unless you hate Steve Valiquette! If anything, this was the best regular season Dallas Stars game in history!
Here is the video I'm using here:
Since I can't give a complete review of the game, what I can give you here, is the box score, courtesy of ESPN.com:
SCORING SUMMARY: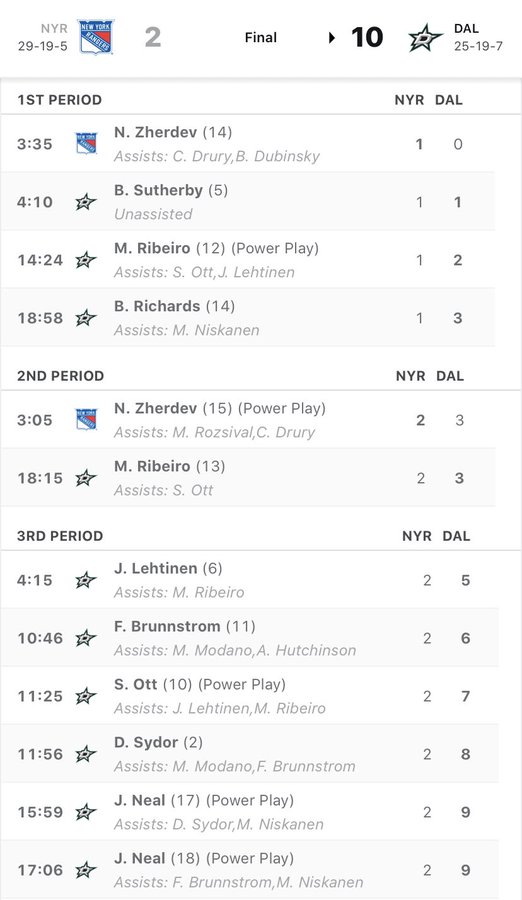 Steve Valiquette's stats from that game? Here you go:
— 29 saves on 39 shots faced.
— Save percentage of .744
— GAA of 10.0
— 5 power-play goals allowed. (Earlier this season, Vally blamed Georgiev for a loss, after one power-play goal allowed. Vally gave up 5 here!)
Of note, Dallas goaltender, Marty Turco, despite being down 1-0, would hold down the fort, making 20 saves on 22 shots.
Since I know this blog is going long and I can't review this game in full, let's take a different look here. We will take a look at all the goals scored. Follow along by watching the video posted above! Let's roll!
FIRST PERIOD
GOAL ONE: Nikolay Zherdev, in his lone year with the Rangers, before moving on to the KHL, scored the first goal of the game, after taking a rebound off the boards, wrapping around and beating Turco. 1-0, GOOD GUYS, 3:35 into the period. As you are aware of, things kinda went downhill from here!
Rangers 1 – Stars 0.
---
GOAL TWO: In true Rangers fashion, after getting a lead, the Rangers quickly blew it, as 35 seconds later after the Rangers goal scored, Brian Sutherby catches Valiquette not paying attention, grabs a puck from Gomez (UGH) and ties the game on a flukish goal. If Vally was paying attention, he perhaps makes this save.
Rangers 1 – Stars 1.
---
GOAL THREE: After ten minutes of scoreless action, with a 5 vs 3 power-play about to expire, Mike Ribeiro beats Valiquette after Vally made two good saves while on the two-man disadvantage. I'd like to break Vally's balls here, but I can't. You HAVE to score when on a 5 vs 3 PP. Vally says this himself to this day. He's not wrong on that. Easy goal for Ribeiro here, with the NYR PK tired, with Chris Drury (how he ever wore the "C" for the Rangers, I do not know) on the ice.
Stars 2 – Rangers 1.
---
GOAL FOUR: With 1:02 left in the first period, after a Rangers turnover at the blue line, Brad Richards (yes, that Brad Richards) marches up the ice, and tries to make a cross ice pass. Instead, the puck bounces off the skate of Erik "WHO?" Reitz and goes by Vally. Again, I'm fair on these blogs. Not Vally's fault here.
Stars 3 – Rangers 1.
That would be the score after twenty minutes. One more time, and I won't say it again. I'm always fair here. In this first period, Vally could only be blamed for one goal allowed, and that's even questionable. So far, the Rangers let him down, and not the other way around.
---
SECOND PERIOD
GOAL FIVE: On a Rangers power-play, Nikolay Zherdev scored his second goal of the game, just 3 minutes and change into this period, just as he did in the first period. This would be the last Rangers goal of the game.
On this goal Zherdev deflected a pass/shot from Rozsival into the net.
It's funny, at this time in my life, this is when I was heavily entrenched in the wrestling business, as my company was catching fire at the time. For me personally, financially, 2009-2012 would be the years that I made the most amount of money in my 10+ years in the wrestling business. During this stage in my life, and before this blog's existence, I'd attend one or two Ranger games a year. I was just too busy in this point in my life to see everything. I really got the most of my Ranger news from my dad during this time.
One of my memories from this season? Seeing people wearing Zherdev jerseys and wondering why. Fast forward 10+ years later, Panarin, a Russian, is the hottest selling Ranger jersey today.
Stars 3 – Rangers 2.
---
GOAL SIX: Again, with under two minutes to go in the period, like his hero Henrik Lundqvist, Valiquette gave up a back-breaking goal. The Rangers couldn't clear the puck and this resulted in Ribeiro easily beating Vally. Once again, oh wait, I said I wouldn't say that again – not Vally's fault. It was a one-on-one play, after a bad clearing attempt by the Rangers.
Stars 4 – Rangers 2.
After two periods, the Rangers had a two goal deficit to overcome.
---
THIRD PERIOD
GOAL SEVEN: After some lazy play, just four minutes and change into the period, Jere Lehtinen beats Vally. Vally could've had this one. Tough save attempt here, but we've seen Georgiev and CZAR IGOR make these saves before.
The wheels were off now.
Stars 5 – Rangers 2.
---
GOAL EIGHT: With under 10 minutes to go in regulation, Fabian Brunnstrom takes a simple shot at Vally. I 100% expect every NHL caliber goalie to save this type of shot. This goal is all on Vally here. Of the goals scored so far, this was the easiest save to make.
Stars 6 – Rangers 2.
---
GOAL NINE: The Rangers frustrated and taking something like a zillion penalties now, saw Steve Ott score a PPG, nearly 40 seconds after Brunnstrom tripled the Stars lead.
Steve Ott from the slot here. A Royal Road goal allowed! I never blame goalies for PPG's allowed, unless it's something egregious and this wasn't egregious.
Stars 7 – Rangers 2.
---
GOAL TEN: 30 seconds after Ott's goal, Darryl Sydor scored. Vally should've had this one, but at this point, understandably, his confidence was long gone. NYR HC Tom Renney didn't look thrilled.
Stars 8 – Rangers 2.
---
GOAL ELEVEN: After Sam & Joe questioned the Rangers pride and ethic, in the FOXWOODS FINAL FIVE portion of the game, James Neal scored a PPG.
Of note here, this was Neal's rookie season. He's had a great career, despite his recent seasons. Vally could've had this one, but it was a PPG, as a result of an Orr penalty.
Funny note on Orr. I had a reader & ex-player tell me (name withheld to protect the innocent) who played in a charity game with Colton Orr. His comments, and I'm paraphrasing here, were "Orr had the worst hands I've ever seen. After one charity game, he was skating around, holding his child. I was worried he was going to drop the kid!"
Stars 9 – Rangers 2.
---
GOAL TWELVE: Just 67 seconds later, Neal scored his second PPG of the game. Again a PPG, so tough to blame the goalie, but Vally could've had that one.
Sam Rosen here: "Is there a mercy rule?"
Stars 10 – Rangers 2, your final from Dallas.
---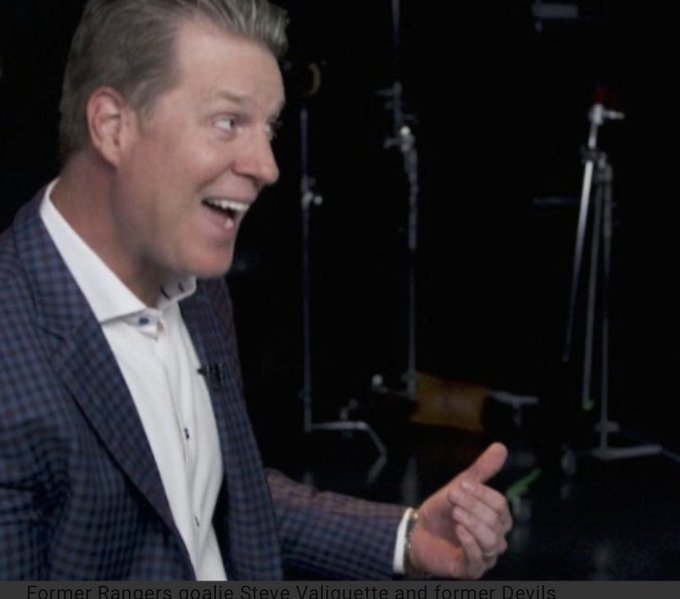 All in all, what have we learned from the worst game in Vally's career, at least statistically? Truth be told, while he could've been better, the Rangers really didn't give him much help. And that's me saying that!
That said, Vally's career doesn't compare to the goalies he buries. His career also doesn't compare to the goalies he wants traded, such as Georgiev. Perhaps Vally is jealous that Georgiev has had a much better career, wearing the same #40, that Vally used to stink out M$G in.
I went into this game with an open-mind. I didn't see this game live at the time. (I was running a wrestling show that night.) I read about this game in the dailies the next day. I can't slam Vally for this loss. The Rangers stunk the joint out. That said, I'm glad I watched this mini-game video, just so I could be fair and have an objective opinion. That said, Vally's career was a blip on the radar and is as good as a Bud Light Tamale infused with Kale Seltzer beer. To have the ego Vally has, and to bury the people he does; well, it all comes off as sour grapes!
I can't believe I spent this much time talking about Vagistat on this blog. That's how you know things are slooooooooooow right now.
---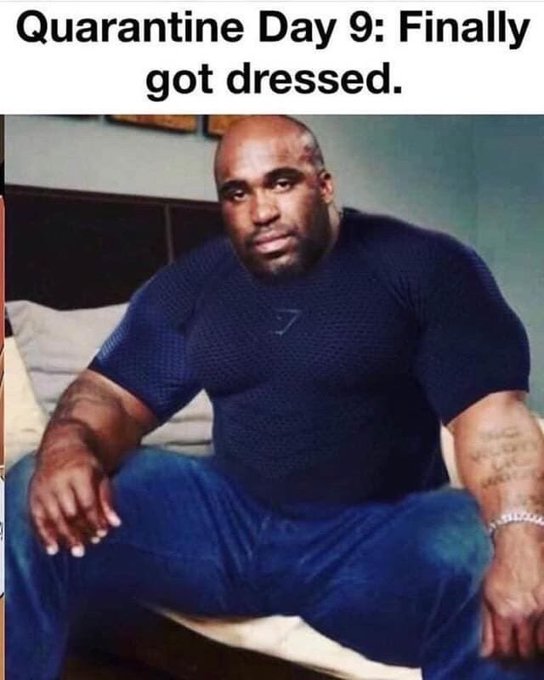 I was going to do a bit about the question the Rangers twitter account posed this week – "Who's better, Martin Brodeur or Henrik Lundqvist?" However, this blog has gone on long enough. The answer is Brodeur. If you think it's Lundqvist – you're delusional, mildly-to-deeply retarded, don't know anything or in the Cult of Lundswiss. When it comes to a Mount Rushmore of goalies, it's Brodeur, Roy, Hasek and Sawchuk. If you want to argue for any of them as number 1 and the GOAT, I get it. If you want to argue Plante here too, I'll allow it. However, and this is 100% fact and not an opinion – Lundqvist has nothing to do with these names.
As we finally get to the end here, I'll definitely be back soon. I guess I could do the Final Report Card of the 2019-2020 NY Rangers season, as the regular season, at least in my eyes, is kaput. I could also do an NHL Year End Awards blog, but there are so many people doing that already, and really, I don't have anything different to say here. You could argue semantics, and who should win what, but all the candidates are the same. Whatever the case, I'll come up with something fresh in the future; something as fresh as a nice cold brewed beer!
I know this was too long tonight, but hopefully you got through all of it. I rather write in one long time block, than do 76676667666676689 short blogs for artificial web traffic.
Until next time, I'm off to check out "Tiger King".
As always, thanks for reading and of course…
"LET'S GO RANGERS"
Sean McCaffrey
BULLSMC@aol.com
@NYCTHEMIC on Twitter
PS: Screw washing your hands. Wash your ass!
PPS: Happy belated 56th birthday to @FIXXSER! Or is it @FIXXXser?